Sis, I've got a story to tell. There were thousands of dollars on the table, rent to pay, and lots of phone calls and texts in between. I mean I thought I'd found a perfect match: A mature, seasoned businessperson, a high achiever, and someone who seemingly had a good reputation. This was a win-win situation where we'd talk for hours, share stories, encourage one another, and nurture each other's interests. It was bliss, such a comforting place to finally be after dealing with the financial and emotional challenges of the pandemic.
Then suddenly the calls stopped. I could no longer reach this person by email, phone, or text, yet they were "following" my IG stories, liking LinkedIn posts, or actively tweeting. They weren't deceased or busy. Think I'm talking some raggedy fool I met on a dating site? Nah. I have a whole fiance, sis. This is a case of professional ghosting.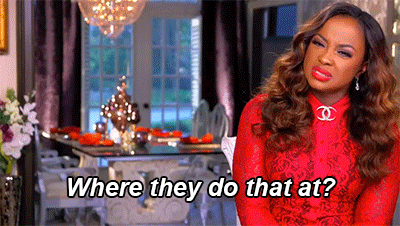 Image via Giphy
I was paid dust by someone I respected and had grown to admire and depend on. I had no reason to believe there was an issue. We'd worked together previously on multiple projects, all of which were completed and paid for.
Actually, this person commended me multiple times on my great work ethic, and offered several projects to me before the ghosting even happened. After a few weeks of silence, I even sent emails inquiring about their welfare—as I was truly concerned. The messages went unanswered. Voicemails. DMs. Nothing. So you can only imagine my utter surprise and disgust when I saw them all up in my social notifications a week or so later.
Listen, I'm not the only one who has dealt with this type of B.S. A recent study found that 77 percent of job seekers have been ghosted by a prospective employer during the pandemic, and 10 percent have reported that they've even been ghosted after a job offer was given.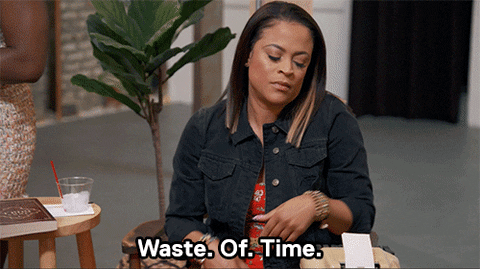 Image via Giphy
The Gall of It All Is...
It's one thing to not get a response after follow-ups about an initial round of interviews for a job, or to hear nothing back after pitching yourself or your concept. There's a healthy understanding, on the part of job- or opportunity-seeker, that not every employer or professional has the time to send follow-up emails to the candidates who didn't make the cut or offer individual feedback on why. I also know that most recruiters and prospective employers aren't even legally obligated to follow up with a candidate or tell them their reasons for going in another direction. I get it.
But it's a whole other jar of stank, unprofessional, annoying pickles when you've gotten an offer or you're in good standing with moving forward toward landing an upcoming project only to be met with passive aggression, vague responses, or no response at all in reference to specific next steps. It's also a whole other thing when you knew the person, thought you had a good relationship with them, and they just cut you off with no explanation, .
It's even more infuriating when the "vetting" or planning process took weeks, if not months, so you'd already put in more hours of work to get ready for the multiple stages of that process and you might have even quit or turned down another opportunity in preparation for the one you thought you had in the bag.
Think about it like this: A doctor can charge people for no-shows. So can a hairstylist, therapist and others who offer quality services. When you ghost them, they see it as lost wages (because they could've given your spot to another paying client or patient in need), and it leads to a disruption of their schedules as well as their money flow.
So... what now?
For me, being professionally ghosted was devastating at the time, not simply for the potential money loss but the loss of respect and relationship with the person who ghosted me. Oftentimes, at least in my case, it's not all about the money. Cultivating relationships takes extensions of the heart and use of time that can never be replaced. I was initially very angry, then bitter, then sad, and I kept wondering what I could've done to cause the sudden cut-off. I mean, it's the lack of closure for me. Then the words of my Granny came to mind: "Silence is an answer."
Three things helped me cope and better prepare to avoid the recurrence of emotional trauma and negative financial impact in the future: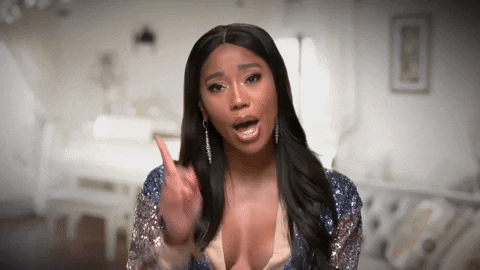 Image via Giphy
1. Stop taking it personal. It's them, not you.
I had remind myself of why I'm great at what I do and why they're in the wrong for ghosting. I also applied grace and thought back on times when I might have made some professional mistakes, been part of misunderstandings that just couldn't be explained at the time, or made questionable decisions related to work in the past. I then thought about the idea that maybe something was indeed going terribly wrong in that person's life and it might be causing them to embrace unhealthy communication and relationship-building habits. I prayed about it, gave it to God and let it go.
It was also helpful to talk to a trusted mentor in the industry to assess the situation and give me balanced, outside-looking-in advice. A huge part of overcoming situations like this is the self-reflection, because I really didn't have control over much else.
If you need to write down your feelings in a journal, block the person just to feel like you've taken your power back, talk to a loved one to get reminders that you're an amazing person, or seek a therapist to deal with your feelings of abandonment, frustration, or anger (yes, sis, it can be that serious), do that as well. Hey, they ghosted you, so this ain't got nothing to do with being petty or dramatic. It's about learning from it and turning a negative to a positive. Word to Biggie. (Just please, avoid harassing the person with more calls, messages, or emails, and definitely don't talk about the person to others. They no longer deserve any extra energy from you.)

2. Focus on other projects and ways to enrich yourself.
Just like when they say there are "other fish in the sea" when it comes to dating, the same goes for your career opportunities. When I was ghosted by this particular person, I had other clients, so I could focus a bit less on the ghosting than if I didn't. (While ghosting can strike a huge blow to the ego, I've always been one to get pretty nervous about putting all my eggs in one basket anyway, whether it's dating, applying for jobs, or working as a freelancer.)
Just remember that there are plenty of other companies or brands who would love to hire or work with you. Edit your LinkedIn page, get more engaged on the platform, and update the settings to reflect the opportunities you're looking for. Find other platforms where you can find a community of support in your industry as well. (There's an awesome list of other platforms here.) Apply for more jobs, and take charge of your journey to be successful.
If you're unemployed, create projects for yourself like building your professional website (or redesign the one you have), and research new ways to get leads on opportunities. Try volunteer work or building relationships via offering another service you love doing and are great at. Expand your network by attending virtual events, reconnecting with professionals you may have lost touch with during quarantine, joining a professional or mentor organization, or applying for jobs in a totally different sector where your skills might be an ideal fit. Being booked, busy, and blessed (or at least present, positive, and productive) is the best revenge.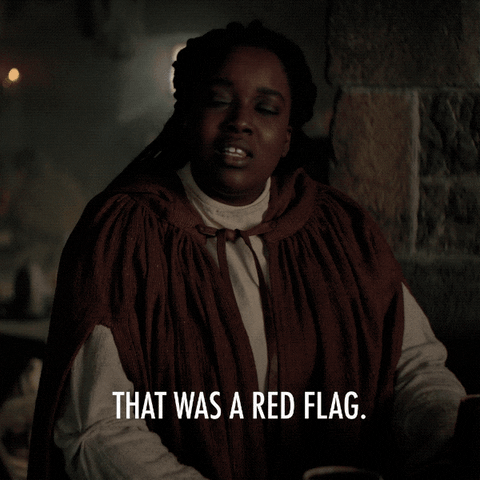 Image via Giphy
3. Upgrade your vetting process for considering opportunities.
Sometimes we ignore signs that somebody is full of ish in business, just like we do while dating someone. In my case, this person had previously exhibited some pretty suspect behavior related to a previous person they had worked with. They'd insert comments about the other person's personal business during project-related calls with me, and they had a shaky payments and project acquisition process.
Sis, sometimes the signs are there that you might not be dealing with an ideal client or employer. For job seekers, doing a bit more research on a company before even agreeing to the interview can be helpful in avoiding a potential ghoster.
Look up their online reviews, try to connect with someone you know who has worked at the company (or with the particular brand), and find out as much as you can about whether they'd be a good fit for you before the first call—or round of calls—even happens. If you're still impressed and interested, you can peep more red flags during the first round like their urgency to get started with no plan or specifics, or their disrespect of your time when setting up meetings. (I often raise eyebrows on folk who either don't ask me when I'm available and just assume I'll be available whenever they are. Or how about those who don't really seem to be on point when it comes to knowing their own calendar and constantly feel the need to reschedule, for example.)
Ask more questions, get to know people a bit more, and try to build a discernment against BS. Maybe they're a bit overzealous, exhibit signs of stress or anxiety, or they just give you a bad feeling. Their brand or company could have even made the news due to financial problems, workplace scandal, or recent layoffs. Maybe their bare-bones website is a reflection of the type of experience they offer to potential clients or employees or the scarcity of resources. Oftentimes your gut isn't wrong about someone, whether you have proof of eminent danger or not.
You'd feel a lot less offended about a potential ghosting if, in the long run, the person or brand was not up to par in the first place, so exploring involvement wasn't really worth your time anyway.
The moral of the story is...
Nobody deserves to be professionally ghosted, and at the end of the day, it might even be an unavoidable part of life. Direct, specific and consistent communication are true indicators of great leadership, and these have been the main common factors among many of the awesome clients and brands I've been blessed to consistently work for or with.
I now operate the same on this as I have in the past while dating: Not to toot my own horn, but most men have never even had a chance to ghost me. I'd see the passive aggressive, suspect red flags super-early, and I'd kindly decline and delete. (I also approached dating with a deep sense of the fact that power is with me, not them. I do the choosing. But again, that's another story.)
I've always known that any man who wants me will make his intentions clear quite early, and he will almost immediately begin consistently communicating or taking actions to show he's serious. I look into his background and try to get to know people who know him, no matter how we met. (My fiance knew he wanted to marry me the first week we met. He's a Jamaican man who does not hold his tongue nor waste time. He also knew I thought he was crazy for even admitting that, and I reiterated that I had no plans of marrying for several years. He simply slowed his roll and showed, through consistent and deliberate action, that he was serious. Four years later, we're still together.) Any real boss operates the same way to tap into top talent, nurture relationships, and protect their reputation.

Are you a member of our insiders squad? Join us in the xoTribe Members Community today!
Featured image by Shutterstock
Keep reading...
Show less
It's happened to all of us. You sent a text. The recipient read it. Or at least that's what the read receipt says. And now, nothing. Silence. Crickets. Congratulations, you've just been left on read! I'm sorry, I know it's not a laughing matter. In fact, it doesn't feel good at all. It sucks. Especially if the person you texted was someone you were dating and really liked. You have so many questions. Was it something I said? Are they ghosting me? Are they mad at me? Have they found someone else? You can drive yourself crazy asking questions if you're not careful.
In all honesty, the answer could be in any of those questions above, or it could be really simple: they aren't texting you back because they don't want to text you back. And in those moments, the better question to ask is: what do you do when you're left on read?
Keep reading to learn what to do when the person you're into left you on read.

Put Down The Phone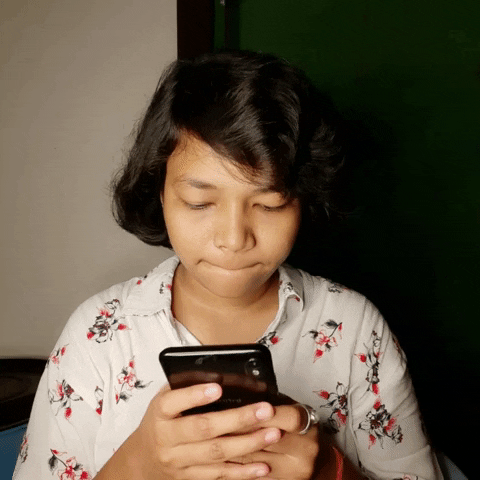 I Am Free Text GIF
Giphy
No, seriously, put the phone down. Find something else to occupy your time. Obsessing over why they aren't texting you will only give you more anxiety and make you feel worse about the lack of communication. Watch a movie, do your nails, or hell, reach out to someone who wants to talk to you. Whatever you do, stop obsessively checking your phone for the one person who isn't. Refocus your energy elsewhere.
Don't Double Text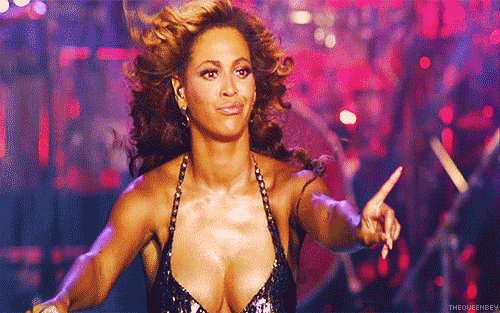 beyonce no GIF
Giphy
I know you want to but I strongly advise against double texting. If you find that the person did intentionally leave you on read, double texting is usually a move that you'll eventually regret.
Double texting, especially out of context can reek of desperation, or worse, feel like a disregard of someone's obvious reluctance of not wanting to speak to you. Whatever their reason may be, the ball is in their court, so let them come to you.
Re-read Your Text(s)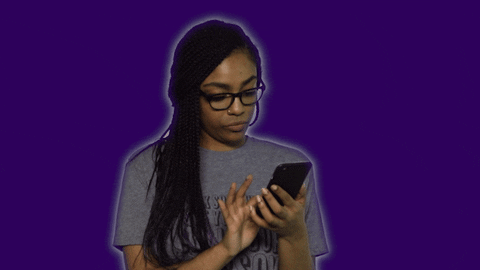 Heben Nigatu Wtf GIF by anotherround
Giphy
Now before I explain, it's important to note that you should only re-read your text one time. Do not obsessively read your text over and over. I recommend re-reading your text once to see if it warranted a response. A text exchange has to eventually end at some point, right? So maybe the text you sent didn't actually warrant a response. If that is truly the case, it may be OK to text again after a few days of no response.
However, if you do, make sure you are texting about something completely different so that it is clear that it is not an attempt at a continuation of the last conversation (hold off on the passive aggressive, "Thanks for ignoring me yesterday." Throw it away, just throw it all away). But if after re-reading your text you find that you asked a question or it was a statement that warranted a response, see above and do not double text!

Don't Assume The Worst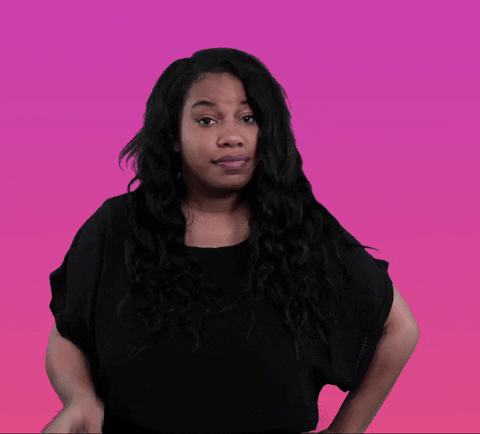 No Way Smh GIF
Giphy
There are multiple reasons why the person you texted could have unintentionally left you on read. They could have intended to text back, got super busy, and then forgot to circle back and text you. They may be sick. They may be dealing with some really heavy things right now like the death of a friend or family member, depression, or anxiety. This is why it's important to allow some time to pass between the conversation and the lack of follow-up.
As time passes, it will become clear whether leaving you on read was intentional or unintentional. Not only that, but it will also allow the person to reach back out to you when they are ready to have a conversation.
Don't Take It Personally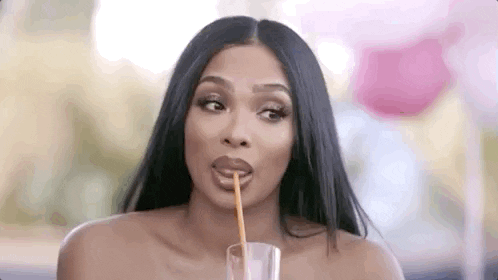 love and hip hop Sips GIF by VH1
Giphy
No matter the reason, do not take being left on read personally. Remember that people's actions very rarely have anything to do with you and more to do with that person and what they are currently going through. What they do or don't do is solely on them. It is not a reflection of you, something you've done, or how they feel about you as much as it is a reflection of themselves in that moment in time.
Forget Him/Her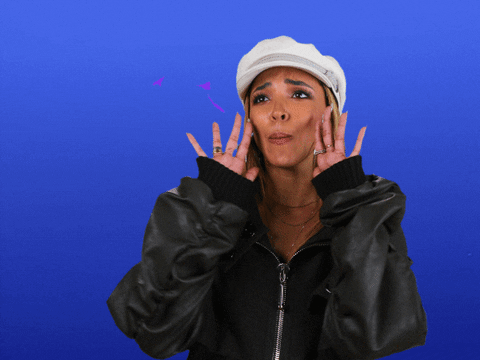 Boy Bye GIF by Tinashe
Giphy
The hard truth is that being left on read (especially for days, weeks, or months) could very well be the person's cowardly way of saying that they are no longer interested in dating you, being friends with you, or communicating with you. Some people prefer to ghost than to communicate their issues with you or hardships in life. If this is the case, think of it as them doing you a favor.
With them gone, you now have room to receive the relationships and friendships that you deserve.
Are you a member of our insiders squad? Join us in the xoTribe Members Community today!
Featured image by Shutterstock

Keep reading...
Show less
Lately, I've been trying to be more intentional about my dating life. In the past I've been afraid to voice the things I want and that's resulted in a few experiences I'm not proud of. One of the worst experiences is being "ghosted". For those who aren't familiar with the term, it's when you're dating someone and it seems to be going great, and then, poof, they disappear. Pre-Quarantine, I was actively making an effort to date more and become comfortable with transparency. That process made me wonder about a few mistakes from the past.
There was a guy I dated about a year ago. I always admired his hard-working spirit and honesty. We had a lot in common and always seemed to get along fine. And then one day, he disappeared. There was no argument or monumental moment to cause it, he just stopped communicating. Naturally being the non-confrontational woman that I am (sometimes to a fault), I stopped reaching out. I assumed all sorts of annoying reasons like: he made up with his ex, he wasn't attracted to me, I opened up too much, etc. But instead of confirming any of these things, I simply unfollowed him online, deleted his text thread and moved on. Looking back I feel embarrassed at my reaction; it was pretty childish.
Why did I assume I was at fault? Why didn't I feel comfortable enough to have a conversation? Recently, curiosity and free time got the best of me (blame Quarantine), and I asked.
To my surprise, I learned that around the time we were dating, he had lost his job and became very withdrawn from life. We ended up discussing a few of the hardships he endured and how we really enjoyed each other's company. "I've come to realize I don't do well dating when my life isn't in order," he said. That made sense. Actually, it made perfect sense. But it made me wonder how many times my girlfriends and I had gotten it wrong. Sometimes we assume the best or worst, when really we just need the truth.
So I decided to ask five guys to give me honest feedback on ghosting. Why they do it, and was it the woman's fault. And whew chile, the responses. Check out some of the stories below.
Featured image by Shutterstock
Keep reading...
Show less
Being a 38-year-old woman who has never been married, it probably comes as no surprise that I have had my fair share of dating nightmares and relationship fails. After every experience, I learned a little about myself. I learned what I can do better, what I need, what I want, what I like, and most definitely what I don't like. Unfortunately that didn't stop me from encountering cheaters, liars, and time wasters. Nor did it stop me from experiencing ghosting, inconsistency, and words with no actions. It all honestly left a bad taste in my mouth and not very much hope in the male species. I was very close to just giving up and living my life as my nephew's rich auntie that travels the world solo.
That is until I met Brandon.
Now, before you start thinking that this is going to be a How Stella Got Her Groove Back story, let me disappoint you right now and say that is not the case here. Sorry, ladies. 25-year-old Brandon is just my friend. We have developed more of a big sister/little brother relationship. However, I learn just as much from him as I hope he learns from me. I met Brandon on Instagram after a mutual friend posted me on their page and he reached out with questions on how to start a blog. From there, we started to talk about everything from fitness, fashion, career, life, and of course relationships. It was when Brandon started talking to me about his girlfriend that I was truly intrigued. Compared to me, he is so young but he has such a mature view on love and relationships.
Brandon probably has no idea the impact some of those conversations had on me and what I took from them. Most are things I've heard a million times before but this time I guess I was ready to receive them. I think the things he said resonated with me so much because they were gentle reminders that weren't forced on me like they had been in the past. There was no arrogance or self-righteousness. He was simply sharing his truth and inadvertently helping a friend too.
Being friends with Brandon has taught me:
1. Don't give up.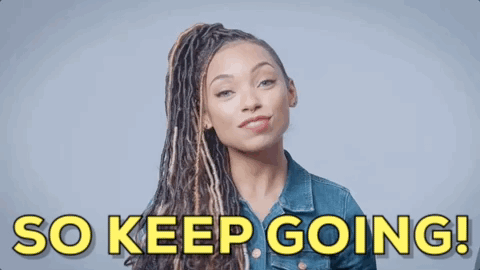 If love is something that you really want to experience, don't give up. It doesn't mean you have to go searching for it but you do have to be open to receive it. Brandon shared that he too dealt with being unlucky in love and had his fair share of let-downs in the romance department but that all changed when he met his girlfriend. It was the gentle reminder I needed that I am not alone in this and that those that have found "the one" only did so because they didn't give up.
2. ​Men have to be "chose" too.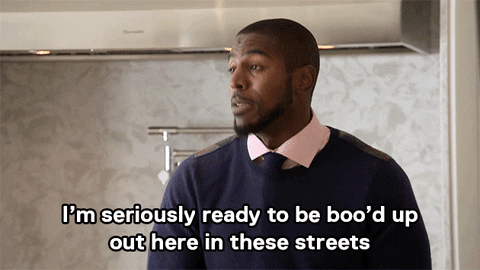 Brandon told me once that he was trying to be the best boyfriend he could be because he wants to be seen as husband material by his girlfriend. It made me think about how much pressure we as women put on ourselves to be "chose" by the opposite sex. We forget that we have a choice too ladies. We have to choose them to be our lovers, friends, boyfriends and husbands. Don't ever forget that. Take the pressure off yourselves about being "chose" and remember they need to prove to you that they are deserving of you choosing them.
3. Be open.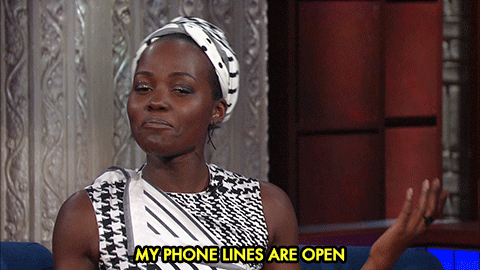 I shared in an Instagram story once that I was carrying a pack of bottled water from my car to my building one day. In the parking lot, a guy asked me if I needed any help. I told him "no" and then proceeded to have every single bottle of water fall out of the pack. And yes, the guy was still standing right there. Brandon replied to my Insta-story and laughed profusely but after he gathered himself he told me that the guy could have been the one and asked why I didn't let him help. Besides being used to being super independent, I also realized that I was also closed off to the opposite sex. While it's highly likely no love connection would have been made between me and that guy, Brandon helped me realize that it doesn't hurt to be a little more open-minded when encountering the opposite sex.
4. ​Romance is not dead.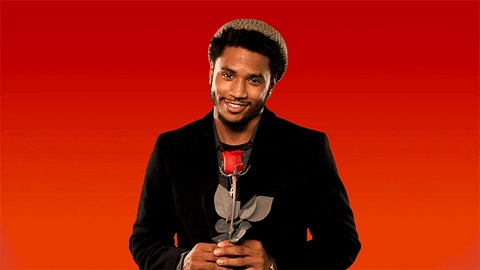 I remember one time Brandon shared with me that he had to pick up his girlfriend at the airport. Knowing that I practically live at the airport, he reached out to ask me some questions. I was touched by the level of thought he put into something that most think is a mundane task. He wanted it to be perfect, he wanted to be on time, and yep he got her flowers. He told me once that because of all of the amazing qualities she possessed, it wasn't hard at all to do nice things for her. He also told me once that he recognizes the importance of continuing to date his girlfriend and knows he has to continue to be all of the things that made her fall in love with him.
5. ​Everybody doesn't cheat.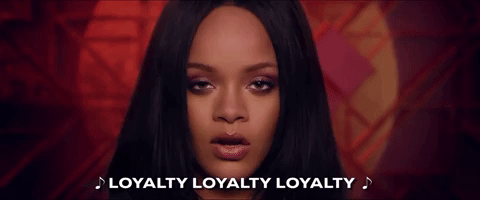 One day, Brandon shared a meme with me that made a joke about cheating. My response was, "Facts." He was truly shocked by my matter-of-fact and negative response. I shared with him how many married men and men that are in relationships find their way into my inbox on a weekly basis trying to shoot their shot. His shock was genuine and also refreshing. I needed that reminder that while cheating is something that I'm sure will go on until the end of time, there are still people out there that don't.
In a world that glorifies the misogyny and disrespect of women, it was beautiful to hear such a young guy speak with such love about a woman. Brandon and his girlfriend are blessed to have found each other and hearing about them through his eyes was the gentle reminder I needed that it's possible for me too. Just like everyone else in the world I have kissed a few frogs (or two) but it will happen…when the time is right because I have no plans of giving up.
Thank you, Brandon.
Want more stories like this? Sign up for our newsletter here and check out the related reads below:
Why Guy Friends Are Essential For Your Growth
5 Things You Should Ask Yourself Before Having Sex With A Friend
You Like Him But He Just Wants To Be Friends
Featured image by Shutterstock
Keep reading...
Show less
Our girlfriends are our chosen tribe.
They pull us out of funks. They bring the wine when we've had a tough work day. They celebrate our babies and birthdays and new hairdos with the fervor of a winning football team. Our girlfriends don't fear telling us when we're wrong and they walk with us as we get it right.
So, what happens when your girlfriends exhaust you with perpetually poor life decisions?
Most would agree that the mature thing is to sit them down and say, "Hey, you're wearing me out. I've given all the advice I can give. Your choices are harming you and as a result, I am exhausted and I do not want to stand by and watch. So, I need a break."

Being honest, though intimidating at times, is the best way to deliver not-so-great news. But for those of us who feel that being honest and attempting to set boundaries has not worked, ghosting seems to be the next best thing.
As a 30-something with almost twenty years of healthy friendships to celebrate, I wasn't 100% sure what to do when one of my girlfriends started to drain me. I was past the age of talking smack but I wasn't quite seasoned enough to know how to take a break from a friend whose lifestyle was...well, toxic.
For the Living Single fans, I am the mediator spirit of Synclaire and the sarcastic humor of Khadijah, rolled into one. I don't want to see anyone downtrodden or harmed. Ever. However, I have a cap for crazy. Recently, a close friend pushed that cap and my mediator spirit almost flatlined.
We've been friends for over a decade. Even though I knew her relationship with her boyfriend was toxic, I didn't say much in the first couple of years. I kept my opinion to myself until she asked for it. I chose to be unequivocally honest. I let her know that from the information she presented and what I witnessed, her boyfriend does not respect her and that he does not value the fullness of who she is. Fast-forward years later and she has not let him go.
The drama has continued and intensified.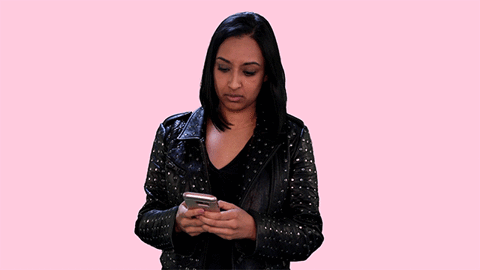 I found myself at a crossroads. I don't have the capacity to coddle someone who is not willing to make healthy choices. I was consumed with her problems to the point that I was putting my own major life decisions on the backburner. Perhaps I was a bit arrogant to think that I could help. I now know that I am not equipped, called, or certified to continue being her ear on this matter. I'm just not and that's ok.

So, I stopped answering her phone calls. I needed a break and I took one. I went ghost.
Ghosting my homegirl offered me peace of mind when I was just struggling not to curse her out. And, you know, yes, perhaps it's better to be straight up but when you're all tapped out, you'd rather just distance yourself. It's a reality.
While ignoring her attempts at communication and journaling myself through the experience, I realized that I had allowed too many people - not just my friend - unlimited access to me, to my schedule, to my spirit, to my listening ear under the banner of "being a good friend."
Exercising my right and ability not to answer my phone when I do not want to has been one of the most freeing ways I've cared for myself this year. The right not to go into crisis mode when my friend texts me six paragraphs about the same boyfriend who has been cheating on her for years felt like a radical act, staking my claim to freedom.

Sometimes, we're so caught up on establishing and loving our tribe that we build codependency into our relationships without realizing it. (Yes, it can happen even after college.) We want to ensure that we're there for one another and that we exemplify what a good friend should be but that can often lead to us overextending ourselves. And overextension can lead to a mess of problems, including but not limited to, resentment, pettiness, isolation, and disinterest.
Some crosses aren't ours to bear. Some problems aren't ours to try to fix.
Being a good girlfriend to our girlfriends does not mean we are their saviors, therapists, or pastors. It simply means that we commit to doing life with one another in as healthy a way as possible.
In just the first week of not interacting with my girlfriend, my sleep was less restless and I could think with more clarity and focus. Her troubles were taking up less emotional space and I could begin to redirect that energy to my own path.

Once I was able to find the peace of mind I'd been missing, I called to let her know I would not be in contact for a while. I didn't say how long and I didn't blame her. I kept the focus on me, letting her know I had a series of huge life decisions I needed to tend to and would be out of contact. She accepted that graciously.
While our girlfriends are all of the wonderful things, there is room for evaluation and repositioning. Being a good girlfriend doesn't mean blindly accepting harmful behavior.
Loyalty to a fault is is not admirable or commendable. It's unhealthy and a disservice to all parties involved.

I'm not yet equipped with the language, energy, or desire to jump 100% back into relationship with my friend. I'm just not. So, the best thing I can do is love her from a distance and take care of myself until I can.
Do you have a story to tell? Check out these guidelines and share your truth with our audience by emailing submissions@xonecole.com!

Keep reading...
Show less
I don't know about you, but when I stop to think about the guys that I was actually in a relationship with—meaning, we weren't just sex buddies and the fact that we were exclusively together was a mutual decision—when it comes to the ones who make me purse my lips and roll my eyes, it's not really due to the relationship itself. It's mostly because the break-up was insensitive, a complete blindside or handled very immaturely. It was like no honor or respect was given, and that's what made it hard to heal and at least be at peace with those jokers…I mean, men.
Think About If You Want a Friendship or Not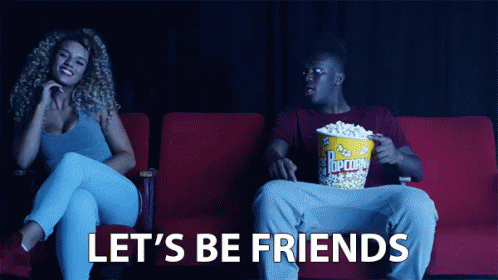 Granted, if you're about to break up with someone because they treat you like dirt or refuse to meet your needs, there's probably not much of a friendship to salvage (shoot, there may not have been much of a friendship there to begin with). But if you think it's time to go separate ways on the romantic tip simply because the timing isn't right, you both want different things or you don't see much of a future, you may want to end things on a super amicable tip.
If this is the case, come at them in a way that would make them not want to block you on social media or ignore your calls. Try and avoid the whole "It's not you, it's me" or "I still want to be friends" line, even if that's the truth because it's too cliché to be taken seriously. But do come at them open, kindly and real. Let them know that you value them and, even if they need time to think it over, you still want them in your life; you just don't want to stand in their way of getting what they really want in a relationship.
I can speak from personal experience that when my relationships ended with dignity, friendship—even if it was "friendly-ship"—was able to manifest. Eventually.
Avoid Ghosting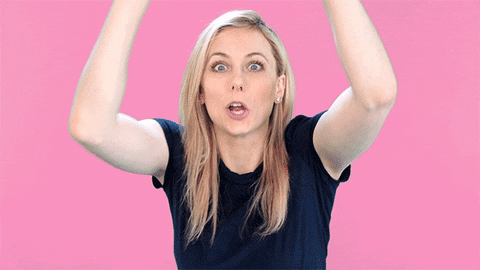 Giphy
It's my personal opinion that ghosting is cowardly. Oh, it's mad disrespectful too. Maybe I feel that way because a childhood best friend did it to me. Maybe because I'm a communicator (some might even say an over-communicator). Whatever the case is, I don't like it.
If you were man enough to talk yourself into the relationship, please be man enough to verbalize your way out.
Besides, unless someone is low-key loco, I can't think of one good reason to think that going radio silent is a wise or compassionate thing to do to anyone you once cared about. Unless you didn't, which would be another article for another time.
Give Them a Bit of a Heads Up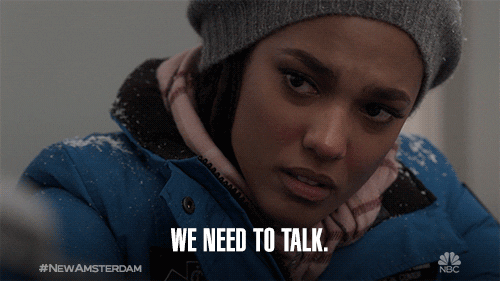 The only thing I hate more than ghosting is blindsiding. That said, it's so not a good look to call someone you're dating and be like, "Hey! How about we meet up for dinner?" sounding all happy 'n stuff, only to drop the bomb on them once they arrive. A heads up of what's to come is uncomfortable but it's the right thing to do. Something along the lines of, "Do you have some time this weekend? I really need to talk about our relationship" is good. If they follow it up with "What's wrong?", be honest but not super-detailed. "I've been doing some thinking about where this is going, but I think it's better to discuss it all in person." If they've got an IQ in the triple digits, they're gonna get the gist. They might even push to do it over the phone but don't agree to that. This brings me to the next point.
Do It in Person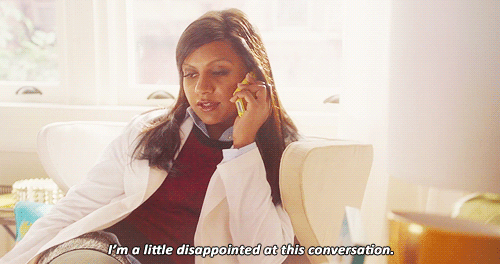 There's a guy I know who is in his 40s and completely notorious for breaking things off with women in text. It doesn't matter if she was his girlfriend for two years or a jump-off for five (he's quite the "recycler" too), according to him, when he's done, he's done and the courtesy (?!) of a text should be enough. When I gave him push back on that, he said, "Shellie, my showing up at their house to look them in the eye isn't gonna change things. I'll just stand on their porch, read the text verbatim and leave." Ugh. Sounds to me like 1) he doesn't want to deal with the fallout of break-ups (which is why he's texting in the first place) and 2) at the very least, he is super-emotionally immature and/or narcissistic.
OK. So that look that you're giving your monitor as you read about ole' boy. Uh-huh, keep that same energy if you're even close to considering breaking up with someone in text, via email or over the phone. Yes, it's insensitive. Yes, it's rude. And yes, you are no better than the guy I just told you about if you up and decide to do it. Unless they were abusive to you, they deserve your presence. Give it to them.
Be Honest. And Empathetic.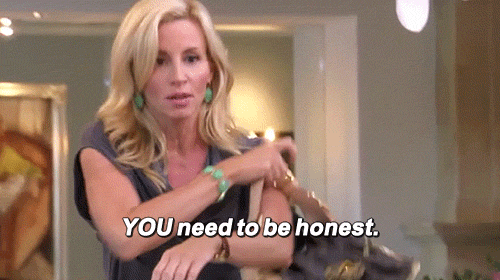 You aren't doing anyone any favors by sugarcoating, or worse, withholding reasons for why you want to end your relationship. Remember, if we're all doing this relationship thing right, each one teaches us lessons that can make us better for the next one that we decide to get into. If you're unhappy, tell him why. If the intimacy (any kind of intimacy) was unfulfilling, put that on record. If you don't see a future, share that too. Is it mean? That doesn't depend on what you're saying but how you say it. That brings me to the next part of this point.
I don't think that a lot of us have a hard time hearing someone's truth. It's their delivery that can put us on the defensive. I still think that honesty is important, just so everyone is crystal clear, moving forward. At the same time, it's a sign of emotional maturity and intelligence to take a moment to process in your head what you are about to say and think about how you would feel if it was delivered in a harsh, flippant or totally insensitive manner. Empathy is a close friend of honesty. Make sure that they both show up in your break-up conversation.
Encourage Them to Fully Express Themselves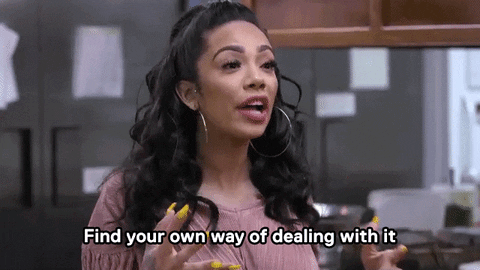 It's not right or fair that you're able to get everything that you need to say off of your chest, but you won't allow your soon-to-be ex to do the same. Although you might be the one who's officially calling things off, don't be so delusional, presumptuous or (worse) arrogant as to think that everything on their end was blissful or that you didn't have a few missteps that they tolerated along the way as well.
Yes, when someone is getting broken up with, sometimes pettiness can come into play, simply because their feelings are/may be hurt. But so long as he is being respectful, be willing to hear him out. If you really want to grow as a person, take it a step further and ask him what his thoughts are. Just by offering this kind of platform for him to share, it can soften the blow and help things to end in a more loving way.
Back It Up with a Letter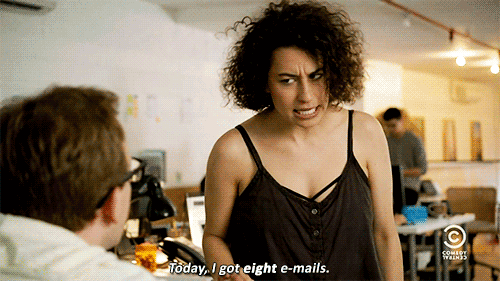 Giphy
Although this might seem a little odd, this is where I'm coming from. There's a pretty good chance that at least one of the reasons why you're ready to end your relationship is that you don't feel as connected as you once did or as you think you should be at this stage in the game. That usually happens because somewhere along the line, there was a breakdown in communication. As far as poor communication goes, if there's one time when all kinds of things can get misconstrued, it's when you're letting someone go.
I can't tell you how many times something that I said in the heat of the moment was either quoted back to me incorrectly or was totally taken out of context. That's why I'm known for backing up deep convos with a letter or follow-up email. That way, we both have a copy of what I said, it can be processed and, if needed, clarified later on—whether that's next week, next month or a couple of years from now.
Again, this is not a "mandate recommendation", but when I tell you that it can spare all kinds of potential future drama, I ain't neva lied.
Commit to a Clean Break—at Least for a Season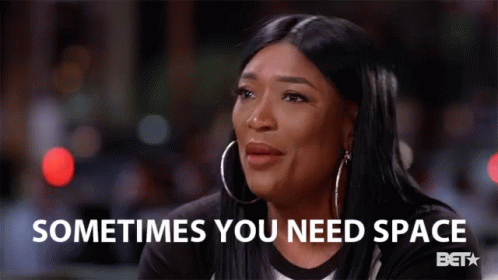 On the surface, it might seem odd to say that clean breaking with someone is classy but look at this from my perspective. When you know someone isn't right for you (even if that means they aren't right for you right now), it only complicates things—which is a nice way of saying it's super-duper messy—to keep talking on the phone, flirting online or (worst of all) having sex. There needs to be a season when the two of you are completely apart so that you both can process, heal and know what you truly want and need from each other (if anything) up the road.
So yeah, if you really want to be a grown-and-classy woman in your break-up, BREAK UP. Completely up. Saying what you mean and meaning what you say may hurt him for a while, but after the dust settles, you'll gain (or maintain) his respect. Which is a nice thing to have once a relationship finally comes to an end.
Featured image by Getty Images
Want more stories like this? Sign up for our newsletter here and check out the related reads below:
Keep reading...
Show less