As a writer, it can be fairly easy to succumb to the dreaded phase of creative block in my process. When the ideas flow, they feel light and airy, and the words leave my mind with little to no effort. And when they don't, I can easily find myself staring at my laptop, both overwhelmed and underwhelmed by the blank page in front of me. Filling the blank space with words no longer feels like second nature, and where there once was ease, there is suddenly resistance. Whether it's due to burnout or the ideas are just not as free-flowing as I'm accustomed to, brain fog is real. However, through trial and error, I have learned that it is very possible to access creativity by exercising those areas of the mind.
I never thought the answer to not being able to write could be more writing, but there is something there in that recipe. Through journaling, I have been able to free myself from the confines of mental blocks, find my center, release anxious thoughts, and discover answers to questions I didn't know I had. Recently, I have taken journaling a step further by moving away from guided journaling and embracing flow even more through the practice of morning pages.
What Are Morning Pages?
For those of you unfamiliar with what morning pages are, it consists of writing three pages in a stream of consciousness. No rhyme or reason, just writing your thoughts by putting pen to paper and thereby offering you a release. The concept of morning pages got its origin from author Julia Cameron and her book The Artist's Way. In it, she described how utilizing the tool has transformed her ability to create. Although her solution was given in the context of being a writer, creativity flows in and out of our lives in a plethora of ways. You don't have to be a painter or a musician to be creative.
Creativity is everywhere. It finds us as we create solutions for problems we may encounter in our life, love, and work just like it does when we're thinking of composition in the next photo we take. Bottom line, morning pages are an outlet for decluttering your mind while also helping you connect to your creativity which in turn speaks to your inner child in a nurturing way.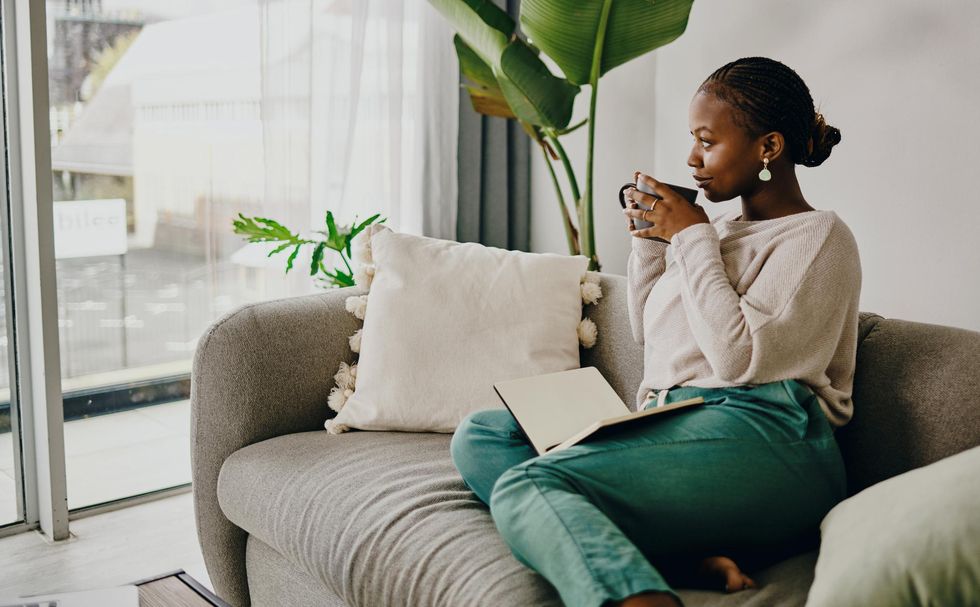 Delmaine Donson/Getty Images
The Difference Between Journaling and Morning Pages as a Daily Practice
​For people who might already be into traditional journaling, you might be wondering what the difference between journaling and morning pages is. While both practices can be done daily and act as tools for catharsis, morning pages hold a deeper purpose, and the practice is done in a more ritualistic way. Morning pages is a practice that is structured, as you do it daily, it acts as a means to spark your creative process, and isn't bound by feelings. Instead, morning pages are more focused on the mind and clearing what's in it. As Cameron said in her book, the intention behind morning pages as a daily practice is to "sweep our consciousness clean."
Journaling, however, is often done more sporadically with the intent to write out your feelings. Journaling can cross over into morning pages territory but is often less rigid in frequency and length. Conversely, morning pages are written every morning and are generally three pages in length.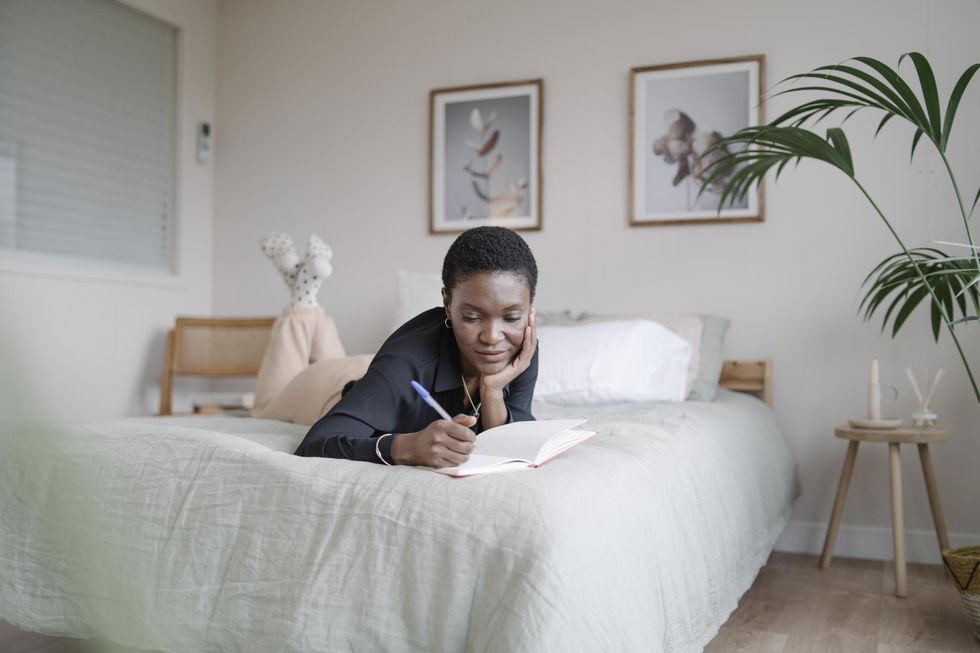 COROIMAGE/Getty Images
Prompts for Writing Daily Morning Pages
So, what do you write in your morning pages? It is encouraged to take time in the morning to sit and write down your thoughts for three pages with a pen to paper. The beauty of writing morning pages daily is that you begin your day with clarity and creativity. There is no specific guideline about what you have to write about. However, for people who might find themselves stalled on where to begin, prompts for writing morning pages might be helpful to start.
If you want to start writing morning pages but don't know how to begin your practice, here are 10 prompts for morning pages to get you started:
Do you believe your dreams speak to you? If so, what have yours been saying to you lately?
What are you currently most grateful for in your life?
If gratitude is something you're just adopting, what was the journey to gratitude like?
Name 5-7 things you love about yourself and your life.
Name the things you feel neutral about in regard to yourself and your life.
What are things that you absolutely don't like about yourself or your life?
Is pleasure something you allow yourself to feel freely? What are some ways you give yourself pleasure?
Where are you right now and what are things about your surroundings that make you feel safe?
Are there things about yourself or your life that you haven't forgiven yourself for yet? Why or why not?
What is a word that defines your life right now? In turn, what are some lessons you're currently learning or relearning?
Featured image by COROIMAGE/Getty Images
Whenever I have clients who are engaged, something that I make sure to say to them, almost every session, is it's important to understand that oftentimes, what causes the end of a marital union isn't anything "big." Nah, it's more about the little irritants that, after a few years of them happening over and over again, it starts to drive one or both partners so completely up the wall that they would rather be alone than have to continue to endure what is basically the equivalent of listening to fingernails on the chalkboard.
And what does this have to do with the title of today's post? Well, a "chalkboard issue" can actually be if you are a morning person while your partner is a night owl. It can affect sleeping patterns. It can affect pillow talk (i.e., quality time) moments. It can affect your sex life. So yeah, if you're contemplating sharing your bedroom, every day with someone, for years to come, definitely discuss who gets up at 5 a.m. and is thrilled about it vs. who can stay up until 2 a.m. with no problem at all.
Speaking of morning people, if you've ever wondered just what causes someone to be all bright-eyed and bushy-tailed before the sun even thinks about rising or if you're someone who would like to become more of a morning person, I thought you would find some of this intel interesting. Because, apparently, morning people don't "just happen." It goes so much deeper than that.
How to Find Your Chronotype. Revisited.
OK, so before we get into what the personality traits of a morning person appear to be, let's first touch on what chronotypes are. If you're unfamiliar, what they basically boil down to is being the kind of things that cause our body to naturally want to fall asleep at certain times of the day. Chronotypes also help you to gain a better understanding of what causes you to be more alert at certain times of the day too.
As far as chronotypes go, they basically break down into four different categories that have the names of animals:
BEARS: They like to go to bed around 11 p.m., wake up at 7 a.m., and are most productive between 10 a.m.-2 p.m.
WOLVES: They like to go to bed around midnight, wake up at 7:30 a.m., and are most productive between 5 p.m.-12 a.m.
LIONS: They like to go to bed around 10 p.m., wake up at 6 a.m., and are most productive between 8 a.m.-12 p.m.
DOLPHINS: They like to go to bed around 11:30 p.m., wake up at 6:30 a.m., and are most productive between 3 p.m.-9 p.m.
In order to learn more about chronotypes and what they entail, the blog Casper has a great read on it here (also, if you want to take a quiz to find out what type you are, click here). The reason why it can be a good idea to get to know what your personal chronotype is is that it can give you greater insight into why your days naturally go the way that they do. It can also help you to better understand what kind of "tweaking" you would need to implement if you happen to want to be more productive during your early morning hours (even if it's just temporarily).
OK, so now that you get why you may naturally or naturally not be a morning type of person, let's explore what the personality of a morning person is like.
What's the Personality of a Morning Person Like?
Aight, so with that ah-ha moment (for some) being out of the way, what are the traits of a morning kind of individual? I mean, really — what is it about a person who can jump out of bed singing, having a burst of energy, and being so optimistic before the day even officially begins that roosters are even giving them a perpetual side-eye? Well, according to some research that I recently checked out, personality types definitely play a role in if someone is a morning person or not and it would appear that some traits of a morning person include that they are more conscientious and self-disciplined while also being less direct, open-minded and thrill-seeking.
When I thought about this from the angle of some of the married clients that I work with, I can definitely cosign on this. One couple, in particular, that I've worked with before, the husband is an engineer and the wife is in the entertainment industry. He is definitely an early morning person while she is a night owl and when I think about how they approach life, he is so Type A (conscientious and self-disciplined) that it can almost be suffocating. Meanwhile, for example, he's not even a good flyer (he's pretty close to being afraid to fly) while his wife travels for a living and doesn't give it much of a second thought (open-minded, thrill-seeking). If it wasn't for him being so over-the-top with his disciplined lifestyle (especially financially), I'm pretty sure she'd be close to flat broke; meanwhile, if it wasn't for her "hey, let's try it" outlook on life, he would be boring — and limited — as hell.
Bottom line, there is nothing wrong with being a morning person — or not being one. There are benefits and advantages to both. Now what I will say about morning people is it's a lot easier to get a lot more done when you're up in the wee hours of the day and knocking out a lot of what needs to be done. Not only that but a lot of the morning folks who I personally know tend to be less stressed because they oftentimes get so much done before noon. That's why, even if you're not a morning person, I am in full support of you at least considering getting up earlier, a couple of days a week, in order to make the most of your time. And just how do you do that?
6 Tips for Becoming More of a Morning Person
Again, there's nothing wrong with not being a morning person. Still, if there is a part of you that knows you would be better off being more conscientious and self-disciplined so that you can get more out of your own morning time, here are some ways to make that happen.
1. Get on a sleep schedule. How crazy is it that a lot of us think kids should be on a sleep schedule, but we shouldn't? Chile. Because the CDC even says that grown folks should get no less than seven hours of sleep every night so that you can be more alert and refreshed come sunrise, and because that is so much easier to do when you have your own nighttime routine, you definitely should put yourself on a sleep schedule. An article that can help you do that is "These Sleep Hacks Will Make Getting A Good Night's Rest So Much Easier."
2. Sleep earlier. Awaken earlier. Out of all of the hacks to help you become more of a morning person, this one might be my favorite because it's so easy to implement. Basically, if you want to wake up 30 minutes earlier, it's probably best to go to bed 30 minutes earlier as well. That way, the extra zzz's that you're missing on the back end, you can get on the front.
3. Nix the naps. I'm actually kinda laughing about recommending this because if there is someone who will take a nap in a heartbeat, it's Shellie Reneè Warren. However, I'm also someone who enjoys sleeping like it's Six Flags or something. That said, if you know that more than a cat nap (around 25 minutes or so) will make it hard for you to sleep at night and/or will have you groggy in the morning, it's probably best to go without naps altogether.
4. Watch what you eat and drink. Have mercy, Lawd. Why am I finally at that age where drinking something an hour before bed will get me up twice in the middle of the night, making it harder to go to sleep? Yeah, it really is common sense that if you don't want to wake up at night, you should drink no later than a couple of hours before turning in. Also, try and keep sugar (including carbs) and caffeine at bay. Instead, opt for foods that are high in magnesium (it helps your neurotransmitter GABA at a healthy level so that you can sleep more soundly) instead. Some of those include almonds, pumpkin seeds, yogurt, dark chocolate, and mineral water.
5. Have sex. I'm not sure what can make you sleep better and harder than having some (good) sex before turning in. From a scientific standpoint, orgasms have the ability to reduce your stress levels while also producing the hormones oxytocin and prolactin in your system. Both of these work together in order to mellow you out, put you in a good mood, and also make you feel safe and secure with your partner —and all of these are the foundation of a great night's rest. That's why sex before going to sleep can improve your quality of sleep. And morning sex can inspire you to set your alarm clock 30 minutes earlier so that you can get out of bed with a big smile on your face. Hell, who said it had to be either or? Why not both?
6. Give yourself something to look forward to every morning. Let me tell it, what I just said in the point above this should count as something to look forward to; however, if sex isn't on the docket (for whatever the reason), still try and give yourself a reason to want to wake up earlier — a favorite breakfast food, time to read a chapter of a book or listen to your favorite podcast, a few minutes to catch up with a friend…anything that can make raising your head off of your pillow, not the top thing on your list to do the following morning.
I know we kinda covered a lot of ground here — what are chronotypes of sleepers, what are the traits of morning people, and how to become more of a morning person yourself. Yet I hope that the greatest takeaway is 1) morning people are oftentimes born more than made; 2) their ability to be morning people resonates in more than their sleeping patterns (because I don't know about you but most of the morning people that I know are extremely self-disciplined) and 3) you can create ways to enjoy the morning more than you might think. It's all about choosing to not view the early hours as your "enemy" but as a way to make the most of your time — from sunrise to sunset. Literally.
For more inspiration, self-care, and healing tips, check out xoNecole's Wellness section here.
Featured image by Getty Images
You've seen them—women who are completely about their business. And they are damn good at it, too. Some refer to them as bosses and others refer to them as Queens, but no matter what you call them, know that they didn't get where they are without hard work and determination. And their road to success always includes an intentional daily routine for healthy body and mind.
Mindfulness is essentially the ability to be aware and fully present of what you're doing and where you are. And because you are fully present, you aren't easily overwhelmed by what may be going on around you (i.e. a whole pandemic). So often we find ourselves becoming distracted, overwhelmed, and dare I say obsessed over what's going on around us or even what may occur in the future. This can lead to anxiety, getting off track, and eventually becoming stagnant which will without a doubt affect your ability to level up in your career. Practicing mindfulness or developing a mindfulness routine takes practice. It's both a mindset and a lifestyle.
I reached out to 5 successful career women who so graciously spilled the tea on their morning routines, intention-setting, and how practicing mindfulness has helped them in their careers. They even shared advice on things they do to stay present and in the moment. Take notes.
Featured image courtesy of Monique Doughty
Originally published on November 16, 2020

The lead quote that I just shared? For the record, I hope that most of y'all know that it's shared I jest. Well, kinda. While it definitely should be no one's life goal to find ways to annoy someone else (lawd), the reality is we're all human. And when we sign up to share a living space with another person, long-term, there are going to be things that they do that annoys us just like there are gonna be things that we do that annoys them. Not on purpose. Just because.
Another term for annoy is "pet peeve" and if there's one thing that I find myself dealing with, when it comes to married couples, it's them figuring out how to navigate through their own pet peeves about one another, so that they can have more peace—even fun—so that they're less irritated, bothered…annoyed with one another.
Thankfully, 10 couples that I know were willing to share with me how they get through some of the things about each other that would technically fall into the pet peeve category. My goal in you seeing them is, if you take note of their issues and approach, it can either help you to work through what annoys you in your own marriage or, if you're single, further prepare you for what could definitely be in store someday. Are you ready to figure out how to deactivate daily marital triggers? Let's go.
1. The Taylors. Married 3 Years. Morning Routine.
Husband: "The thing that I wasn't prepared for was the fact that my wife is an early riser. I mean, early. And she wakes up hyper, happy and sometimes horny. I know that sounds awesome to you single folks but when you've got kids and sometimes have only had 4-5 hours of rest, someone humming and opening curtains at 5-6 a.m. isn't fun. I used to snap about it which got us off to a bad start. Now, I ask her to cuddle for 10 minutes or so. It helps me to ease into waking up. And not being jolted makes me more pleasant. Even though I prefer sex at night, it can make morning sex more appealing too."
Wife: "Can you see me rolling my eyes? I know you can. Who turns down morning sex? This guy. This guy right here. What caused me to feel less rejected was realizing that I'm basically my husband around midnight when he'd prefer to get it in. As far as him hating the morning, I used to feel like we should begin the day together. For the past year or so, I usually just leave him alone and take advantage of the quiet time by myself. At least once a week, he's got to get up, though. He knows why."
2. The Johnsons. Married 7 Years. Living Habits.
Husband: "I hate a messy kitchen. My wife hates a messy bathroom. For me, when dishes are left in the sink, I'm pissed. For her, if there are towels on the bathroom floor, I won't hear the end of it. The solution? I clean the kitchen most of the time and she cleans the bathroom. Life gets a lot easier when you accept that your spouse isn't gonna see life the way that you do. Rather than us both arguing over why our partner doesn't see things our way, it's best to just figure out the easiest way to get things done. Remember that and you'll have a lot less drama in your life."
Wife: "My husband's closet looks crazy. I mean, CRAZY. It drives me up the wall, but we don't share one. Ladies, men didn't sign up to marry their mama, auntie or big sister. Walking around, dictating how they should live is the best way to cause them to shut down and shut you out. I rarely have to go in his closet for anything, so that's how I handle it. What I don't see won't hurt me. I just make sure he knows that I don't want what's in his closet to be in our shared living space. It took a minute, but we've found our groove on that."
"Life gets a lot easier when you accept that your spouse isn't gonna see life the way that you do. Rather than us both arguing over why our partner doesn't see things our way, it's best to just figure out the easiest way to get things done."
3. The Richardsons. Married 11 Years. Finances.
Husband: "S—t. This is what no one really gets until they get married. It's really hard to always find your spouse appealing when you're arguing over bills and budgeting. A business partner for a wife is A LOT. Plus, my wife and I don't see the same way about money. At all. She's more of a 'If I got it, why not spend it?' while I'm more of a 'We don't have it if we don't have passive income yet'. I used to get really pissed because she seemed reckless with spending. Eventually, we found a way to set aside a certain amount of money each month that she can go ham on and a certain amount that we save. I can't tell you that I'm thrilled with our arrangement because a lot of what she gets seems like a waste of money to me but hell, marriage is about compromise, right? If you ain't ready to do that, damn near every day, don't get married. Don't. Get. Married."
Wife: "When we were dating? Girl, my husband could romance with the best of 'em. A big spender too. That's why I was thinking that we saw money from the same perspective. We absolutely don't. It was like the minute he put my three-carat ring on my finger, he damn near became a miser. What I had to learn was a man wooing you and providing for you can be very different things—he wooed me to get me and now he's more concerned with providing for my needs. That way of thinking is something that I had to learn to respect and appreciate. Don't get me wrong, a brotha still has to date a sistah. I've just learned that him pulling back the coins is about making sure I'm good."
4. The Talberts. Married 5 Years. Sex.
Husband: "Married sex is better than a lot of my friends said that it was. I think some of them chose the wrong partner but that's on them. My main pet peeve is that sometimes my wife can get lazy when it comes to sex. Like, she's always down to have it but she's sometimes like, 'How can we get this done in under 10 minutes?' when I like to draw it out like we did when we were dating. She says it's because she likes sex but has a ton of other things to do. I've just learned to get in where I fit in and try and create romantic scenarios where she wants to have sex for longer periods of time. It's not perfect but it's ideal."
Wife: "I married a lover and I love that. The sex is so good and, I'm not just saying this because he's in earshot but, my hubby really is the best partner I've ever had. The thing I wasn't prepared for is having to have sex all of the time. Like, all of the time. When I was single, if I wanted to do it every day for a week or only once a month, it was all good. Everything was on my terms. Married sex isn't like that. You have to take your partner's needs into account. Negotiating sex can be annoying. It's definitely not sexy. But if you want to keep your marriage, afloat, you've gotta do it. Marriage is one big negotiation test. It really is."
"When I was single, if I wanted to do it every day for a week or only once a month, it was all good. Everything was on my terms. Married sex isn't like that. You have to take your partner's needs into account. Negotiating sex can be annoying. It's definitely not sexy. But if you want to keep your marriage, afloat, you've gotta do it."
5. The Wilkersons. Married 15 Years. In-Laws.
Husband: "I can't stand my wife's mother. I really can't. She's nosey. She's controlling. And she is way more involved in my marriage than she needs to be. For the first half of our marriage, it was so bad that I wasn't sure we were gonna make it. Singles, when the Bible says to 'leave and cleave', take that to heart. If you can't leave your family to start your own, marriage may not be for you. My wife still lets her mother into our business more than I would want her to, but counseling has helped us a lot. It's helped my wife to see that her mom has never been good with boundaries. It's also helped her to understand that no one should cost you your marriage. I don't care who they are."
Wife: "I've got to admit that I still have some resentment towards my husband because of how he feels about my mom. What I've had to learn is she's not his mother. She's mine. I've also had to get that just because I really like his parents, that doesn't mean that he has to like my mom, even though I wish things were different. My mother? She's not gonna change. I don't even really want her to. But I have had to let her know that my marriage is important to me. I've also had to learn, sometimes the hard way, that she's not my go-to about him. He is. I still hope things will change someday. I'm not holding my breath. I have found a way to keep them both close without expecting them to be the best of friends. I'm not thrilled but it's finally become much more tolerable."
6. The Andersons. Married 13 Years. Child-Rearing.
Husband: "We've got two kids and didn't realize how different our approach was to parenting until after they were born. Our parents reared us very differently when it comes to spirituality and discipline and it has caused all kinds of fights that we didn't have before our children got here. Assuming that things will just 'work themselves out' is ridiculous when it comes to raising kids with another person. Get as clear as you can on the front-end and be open to seeing a therapist about child-rearing in the process. We've done it to learn how to communicate and compromise. I'm not sure our marriage would've made it without it."
Wife: "Having kids is hard. Lord, have mercy! And you don't really think about how different your spouse sees things until they get here. My husband is right. We have had to walk through some really murky waters when it comes to how we chose to raise our children. I think what has spared us is we ultimately want the same goals for our kids, long-term. We want them to have a spiritual center. We want them to be kind and giving. We want them to value education and be financially independent. Our approaches aren't the same most of the time, but the end goal is. We work on ways to meet in the middle to reach those goals. That has saved us."
"Assuming that things will just 'work themselves out' is ridiculous when it comes to raising kids with another person. Get as clear as you can on the front-end and be open to seeing a therapist about child-rearing in the process. We've done it to learn how to communicate and compromise."
7. The Kendricks. Married 5 Years. Hygiene.
Husband: "Lawd. I didn't live with my wife before we got married. I had no sisters and my mom was super private. So, adjusting to periods was something for me; I ain't gonna lie. My wife does something called 'free bleeding'. I don't know if you know what that is but f—k, it's a lot. For a while, she would come at me on some, 'I'm a woman, deal with it' but when I shared that it affects our sex life, we found a way to make it easier. I've tried having sex with her when she's on her period. It's not my fave but it's not as bad as I thought it would be. And she will wear, what's that thing called, a cup during her heavier days. I'll just say that hygiene habits need to come up before marriage. It can be more of a deal-breaker than people think it is."
Wife: "He's over here talking about my period while I'm still trying to figure out how grown men can hit the toilet and not clean up the pee they leave behind. Ugh. When you're dating, everything is sexy because you're both always trying to turn each other on. When you're married, you see it all. I mean, IT ALL. Having a sexual relationship with someone who does things that can seem pretty gross is a fine balance. I would just say, always remember why you chose him, remember that you've probably got some stuff that he doesn't like and always be open to improving. Marriage isn't for folks with a weak stomach. You heard it here."
8. The Gordons. Married 10 Years. Personality Differences.
Husband: "I could go on for days about this. I'll just start and stop with the fact that my wife is an extrovert and I'm absolutely not one. When we were dating, I thought it was cute that she liked to be the life of the party. In marriage, it has definitely been a pet peeve that I've had to manage just because she likes to host things, she wants to be out with her friends a lot and she wishes I wanted to go out more. We spent the first 3-4 years pretty mad at each other because we both were like, 'Why are you like this?' Now, we've learned that we balance each other. Sometimes, going out with her gets me out of my shell and my head and getting her to stay in gets her to slow down and enjoy peace and quiet. You can be 'in love' all you want but if you don't find a way to discover each other's personality needs, you can end up hating each other."
Wife: "My husband can be boring. He's loving. He's affectionate. He's a great listener. He's spiritual. He's fine. And he is BORING. I hate being bored. I really thought that because we love each other so much that, once we got married, we would be the best of friends who would do everything together. Nah. And that's disappointing for me. The good thing is my husband is very confident and not jealous, so he's cool with me hanging out even if he doesn't want to come. I'm still working on that 'balance' thing that he's talking about and I definitely wish he was less of an introvert, but love is about acceptance. I choose to accept how he is."
"We spent the first 3-4 years pretty mad at each other because we both were like, 'Why are you like this?' Now, we've learned that we balance each other. You can be 'in love' all you want but if you don't find a way to discover each other's personality needs, you can end up hating each other."
9. The Moores. Married 8 Months. Space.
Husband: "I can summarize this pretty quickly. Ladies, please stop asking us what we're thinking. If we've got a thought that we want to share, we'll let you know and if you ask that and we say 'nothing', that's what we mean. I really like being married. So far, there are no regrets. But I do think that men and women both have to learn that we are very different people. We shouldn't be out here trying to make our partner think and feel like we do. Just accept the differences and chill TF out. The space to be me is what I've had to fight for the most. We're getting there, though."
Wife: "We're still newlyweds, so I'm sure some more curveballs are coming. What I've had to get used to is just having someone who is always around. You're always sharing a bed. They might always be in the room you're in while you're having a conversation [with someone else]. And even though you love them more than anything, sometimes you really just want to be by yourself; especially if you're in a mood that you can't really explain that you want to just be alone to deal with. My husband isn't clingy, but his top love language is physical touch, so I've had to navigate through not making him feel rejected when I just want some room to breathe and process. He's very different so, just saying what I need usually does the trick. It's when I expect him to know that I want space that things get dicey."
10. The Deckards. Married 7 Years. The Future.
Husband: "It's funny that you would ask me about my marital pet peeve because it's kinda weird. I love just about everything about my wife. But if there's one thing I wish she would do, it's chill TF out more. I'm someone who lives in the moment—you know, I take things as they come. She, on the other hand, wants to have a plan for everything. A plan for tonight. I plan for next weekend. What we're going to do 10 years from now. And don't get me started on all of her damn lists. The first couple of years of our marriage, all of that drove me crazy because I'm calmer than she tends to be. But her focus on looking ahead has helped us to save some money, dodge a few blindsides and get organized in some ways that I've gotta admit probably wouldn't have happened without her. Damn, I never really told her that I appreciate that. I'll get her some flowers or something today, so thanks for asking."
Wife: "He told you that? That's funny because we just got into it last night about making a plan for a summer vacation. Yeah, I'm definitely the planner of the two. I spent a lot of time thinking it was my job to make my husband see things the way I do. That's not what marriage is about. It's about seeing how your strengths and weaknesses can work together to make each person better. If he wasn't with a planner, I'm not sure he'd been financially where he is now. If I wasn't with someone more relaxed, I very well could've stroked out from always being on-10. Recognizing what your spouse does for you gets you through the annoying times. Don't change them. Just see them for what they are."
That last line? It's a keeper. Through pet peeves 'n all.
Join our xoTribe, an exclusive community dedicated to YOU and your stories and all things xoNecole. Be a part of a growing community of women from all over the world who come together to uplift, inspire, and inform each other on all things related to the glow up.
Featured image by Portra Images/Getty Images
For Saweetie, having a morning routine is super important.
So important, that the "Tap In" rapper recently shared it in Elle's November episode of Waking Up With. From giving us the tea on her skincare faves, to introducing what she calls her "Skin Safe" (a safe of her favorite beauty products that she takes everywhere with her), sis definitely put us on game all the way down to the affirmations that she recites to herself.
But what caught our attention most, wasn't the type of products she uses for her clear AF skin. It was actually her deodorant hack, which consists of not wearing any at all. She uses lemons instead, which she credits for her smooth and clear pits. This hack has been so rewarding for her, that Saweetie ensures that she has lemons everywhere she goes. In regards to the hack, she said:
"A lot of people don't know this, but when you use deodorant, it traps the toxins in there, and that's why you always be musty. In order to alleviate that, put lemons instead of deodorant under your armpits!"
She went on to show us how she used them and explained why as she applies them over deodorant:
"It also lightens it. So dark marks, and all the funk, that's caused by bacteria. So, instead of putting that nasty, unhealthy deodorant that blocks your pores, get you some lemons."
#WigAdjust
So, get into waking up exactly like Saweetie, from start to finish! Her full morning routine, as told by her, is below:
First things first, wash your face, sis!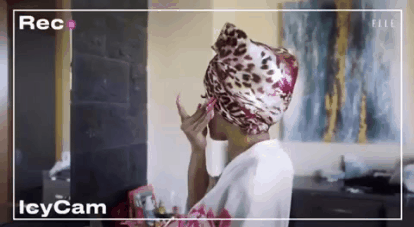 Elle/YouTube
First, the Icy Girl washes her face, using hot water to open up her pores and wake her up.
Next up, Saweetie grabs her favorite toner, and has a chat with God.
As she applies her favorite toner (or Vaseline), she takes a moment to thank the Almighty.
"I always just thank God for waking me up and giving me another day just to be grateful. I always just thank God for the position I've been put in because I'd rather be doing this than doing what I was doing four years ago, so I really should not be complaining at all."
She continued:
"I love to pray, I like to make sure I'm mentally prepared for the day. I like to take care of my skin, and if I have some time, I normally schedule in a massage 3-4 times a week because if mental is not good, if the skin's not good, or the body is not good, then Saweetie don't work and if Saweetie don't work, nothing works, OK? I think it's really important to take care of yourself so that everything else can function nice and smooth, with clarity and purpose and with intention."
Saweetie has a designated skin safe, full with all of her skincare faves inside.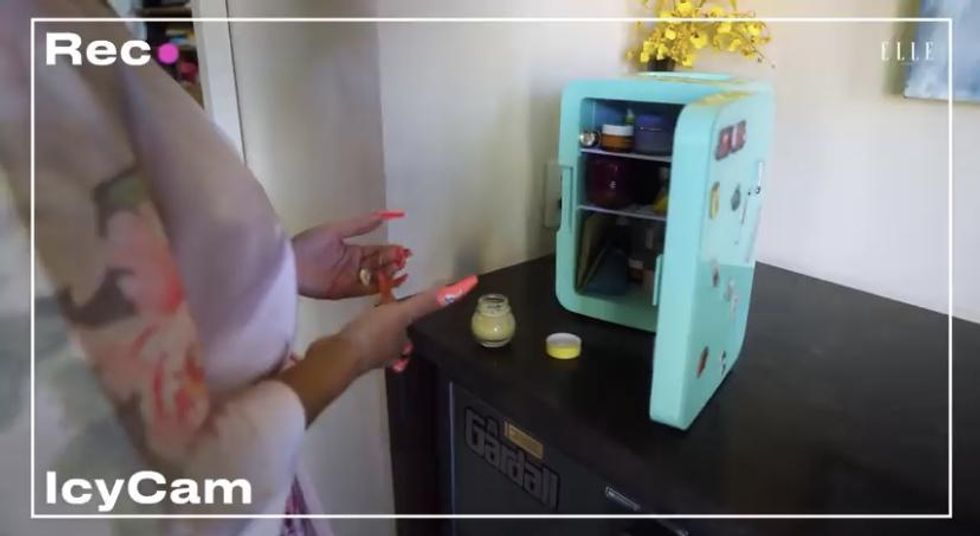 Elle/YouTube
Saweetie then grabs some of her favorite products to begin applying her skincare routine. First up is Glow Recipe Banana Soufflé Moisture Cream ($39). This is Glow Recipe's latest banana-scented moisturizing formula that soothes and hydrates the skin.
"So, now I am about to go to my little skin cabinet--gotta moisturize. [Make sure] the face is nice and succulent and glowing."

Also in Saweetie's Skin Safe was theTatcha Violet-C Radiance Mask ($68).
Saweetie then massages lemons into clean armpits.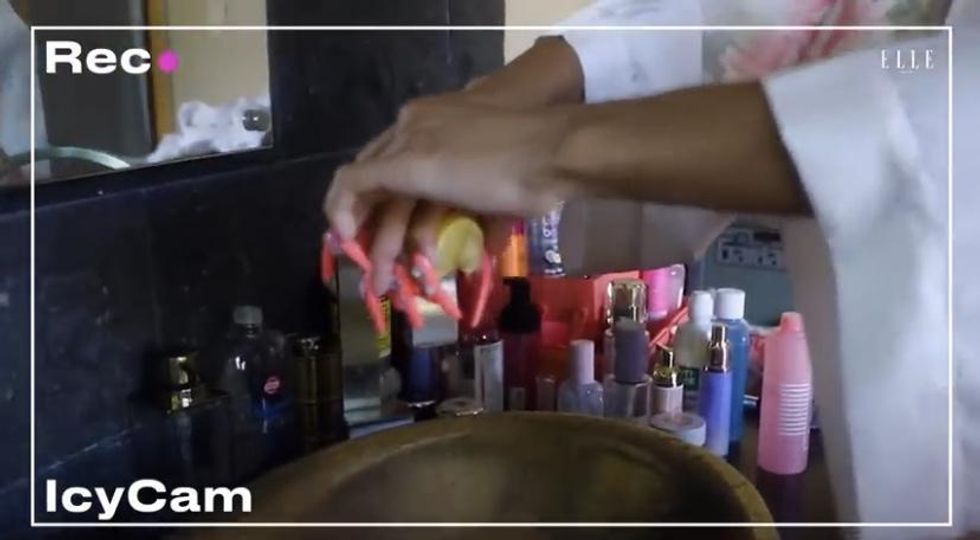 Elle/YouTube
"Just squeeze it to get the juices flowing. I'm going to let that sit for about 15 minutes and then we'll wash it off."
Saweetie then applies *refrigerated* gel eye masks.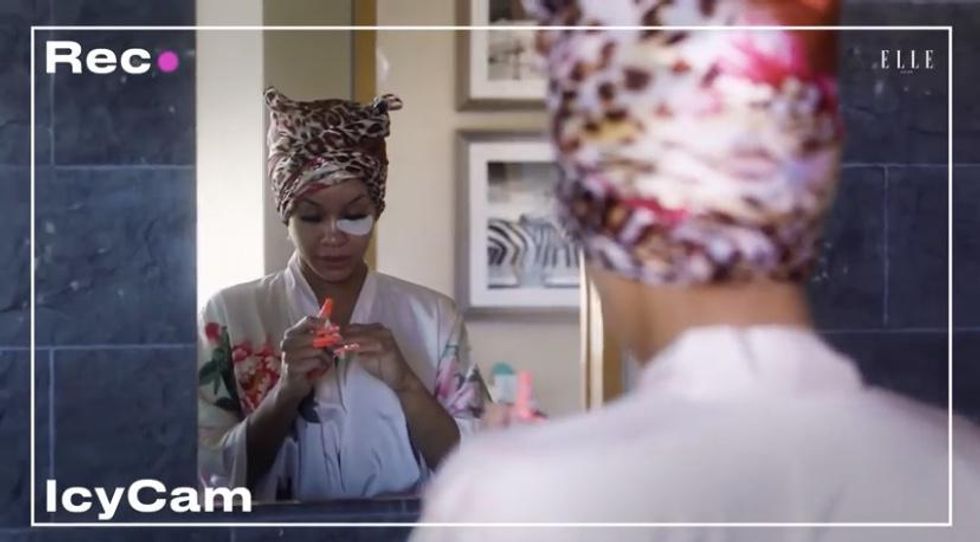 Elle/YouTube
While waiting on the fresh lemon juice to dry under her armpits, she applies her boscia Triple Hyaluronic and Honeydew Moisture-Boost Gel Eye Masks ($26).
"These are some of my favorite strips, I normally put them on before I start my day. When you put these strips on, it's really soothing, especially when you keep them refrigerated."
Time to wash off the lemon juice, boo.
"Alright, it's been 15 minutes, and now I'm going to take off the lemon juice. [After wiping it off] you should be good for a couple of days. I only do it like once a week, but if I have a hectic schedule from eating bad, I might have to put lemons on my armpits like three times a week. When I'm eating good and drinking a lot of water, I can do the lemon treatment like once a week. And then you don't have to use deodorant no more! You save the money, and you put some natural good ingredients God made, so do that. It makes you smell nice and clean."
Next, she books that appointment for a relaxing massage.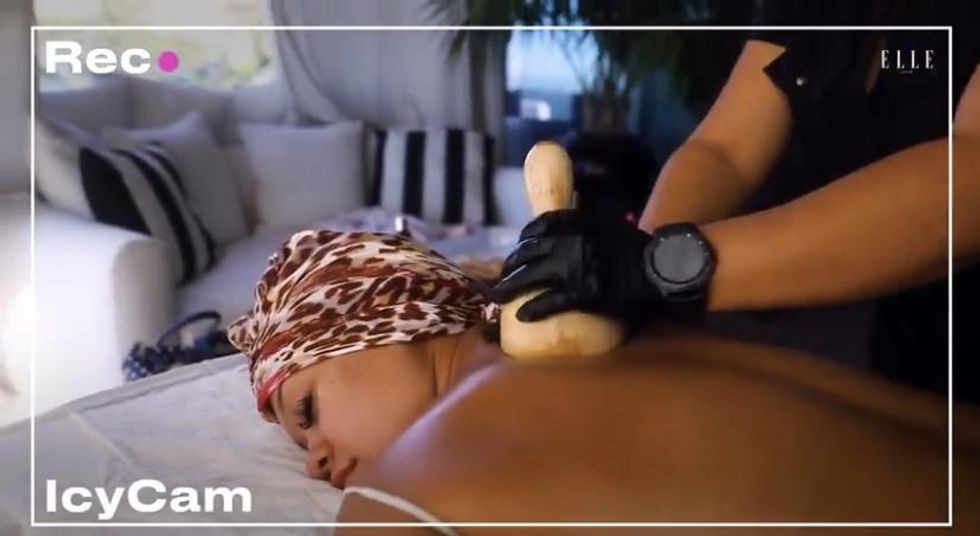 Elle/YouTube
"I'm going to let these eye patches sit, and I'm going to go out and get my massage."
Last, Saweetie recites her affirmations and is ready to face the day!
"Another thing I like to do is I like to have my affirmations because when you train yourself to think positively, positive things will happen. I'm all about mental peace, positivity, and thinking in ways to make sure I am doing what I am supposed to do. My days usually end at around 1am, which is why I think it is so important to take care of self mentally, spiritually, and physically."
Saweetie concluded her morning routine on a peaceful note before heading to wash off the morning and start her day.
Such a refreshing morning, we feel more relaxed already! Would you try Saweetie's morning routine?
Watch the full video here or below.
Are you a member of our insiders squad? Join us in the xoTribe Members Community today!

Feature image via Saweetie/Instagram
For full transparency, I envy the person who can jump out of bed in the morning and conquer the day. While I do consider myself a morning person, because I set my bedtime at 10:30pm, I admit I need to ease into my day. I've found that the best way to do this is through something that can set the tone on how I want it to end: on a good note. Talk to anyone balancing their success with inner peace, and they'd tell you morning routines play a huge part in the color of their lives.
In light of that, I was curious in trying different ways to start my mornings off right and wanted to share my experience to the world. And let's just say my experiment on morning routines was surprisingly helpful in all sorts of ways. Let's dive in, shall we?
I Tried 6 Different Morning Routines
The Wim Hof Method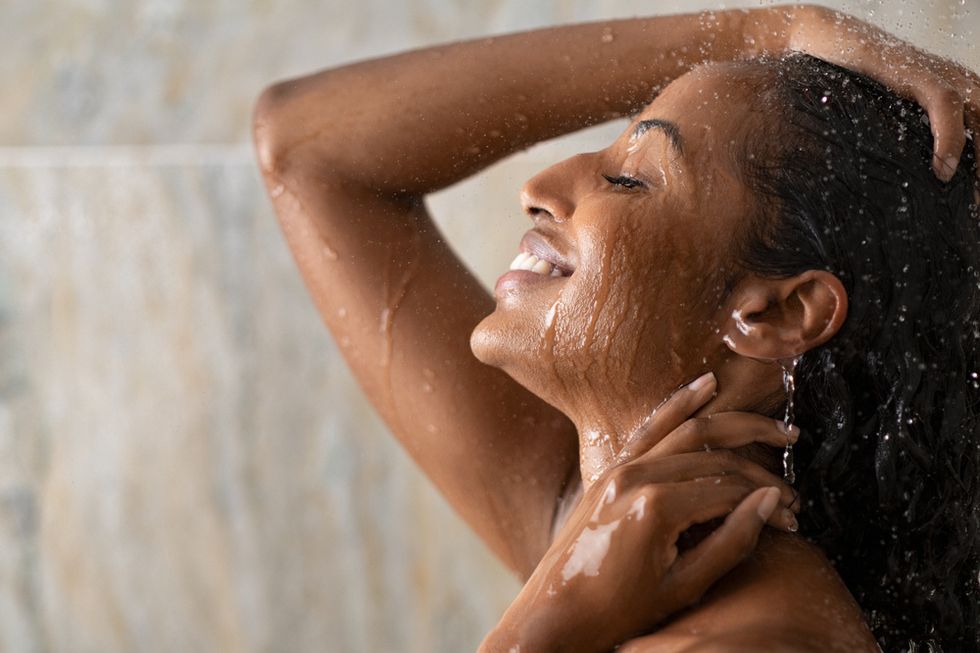 Shutterstock
Recently, I came across this new regimen called the Wim Hof Method. It was founded by a Dutch extreme athlete named Wim Hof who is known as "The Iceman'' for his cold exposure achievements which have landed him in the Guinness Book of World Records. The Wim Hof Method consists of three pillars: Breathing, Cold Therapy, and Commitment. The benefits include increased energy, better sleep, reduced stress levels, enhanced creativity, etc. How it works is, you start with a breathing exercise, take a cold shower, then end the regimen with a commitment that you are going to accomplish a task or goal for that day.
When I got to the cold shower part, it was exactly what I expected it to be, COLD. I am a warm/hot shower type of woman myself, so the cold shower did give me the wake-up call I may have needed. Despite the few sneezes I got afterwards, I felt I was more alert and it allowed me to be more focused and disciplined with the work I had to get done. The laziness was gone folks! If you are interested in trying the Wim Hof Method, you can download the free mini class here.
Video Log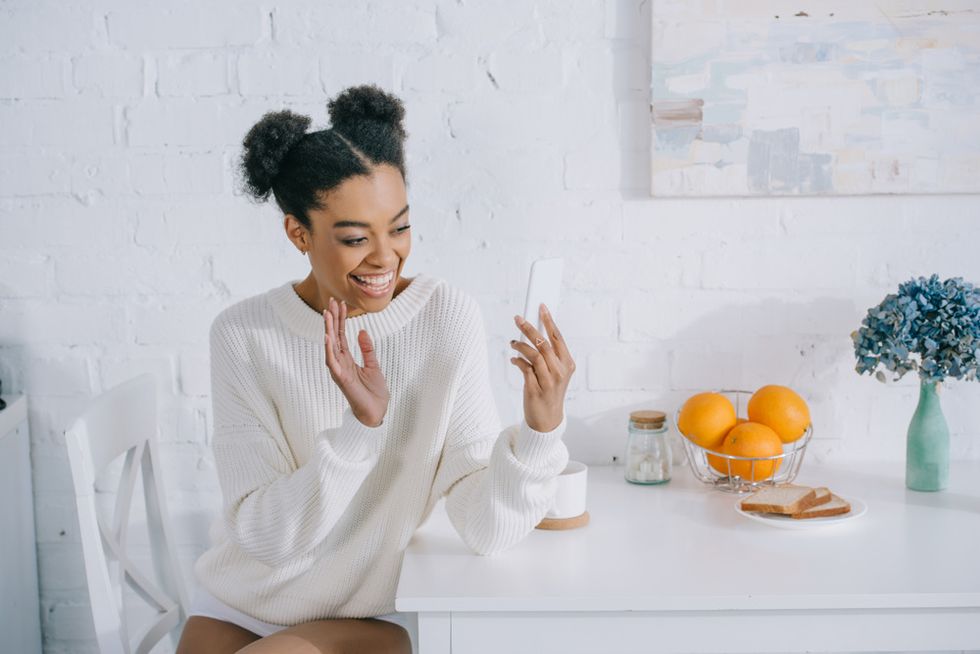 Shutterstock
I love a good vlog. Watching someone share their story, tips, or shared activity with you through a video is engaging and interactive. According to YouTube stats, out of 2 billion monthly users, people upload 500 hours of video every minute and each visitor spends 11m 24s per day on the site, on average. That's a lot of video time, am I right? So why not use it for your own personal life?
With this morning routine, it was about starting a video diary. Start your day by talking about whatever you want, to yourself for yourself. There was something about looking at myself in the camera, messy curls and all, and saying what was on my mind that made me feel at ease. It was a good way to say, "Hey, you good sis?" We can get caught up in social media and need a break from technology sometimes. But taking the time to use technology and giving myself the space to be vulnerable made me feel like a weight was lifted off my shoulders. It feels necessary to do in such a digital world. I approve.
The 5-Hour Rule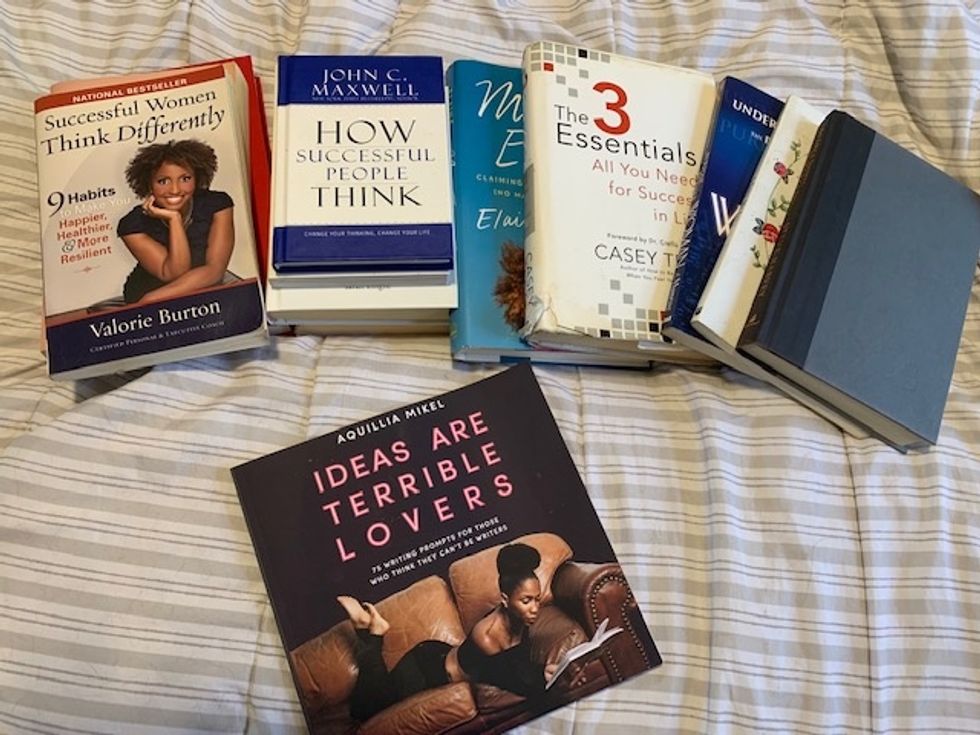 Kiara Byrd/xoNecole
Knowledge is power, right? We have probably heard that personal development should always be a part of our wellness goals. When you learn a new skill or talent, you feel better about yourself. So I applied the 5-hour rule to my mornings. It has been practiced by Bill Gates, Warren Buffet, and Oprah herself. The 5-hour rule is simply you intentionally setting aside 1 hour a day (equaling 5 hours a week) for learning or practicing a new skill.
You can do this by reading a new book, reflecting on small/large achievements, and/or experimenting by practicing a new skill or brainstorming new ideas. The 5-hour rule is honestly one of the things I used to manage my mental health better. When I was able to give time to myself with zero distractions, I was able to focus better on my 9-5 work and even my school work. I felt more in control in a sense. I didn't feel like time got away from me or that something was missing because I made the choice to start my day doing what I wanted, to get my brain going. This is a routine I appreciate continuing to help with my growth.
Future Journaling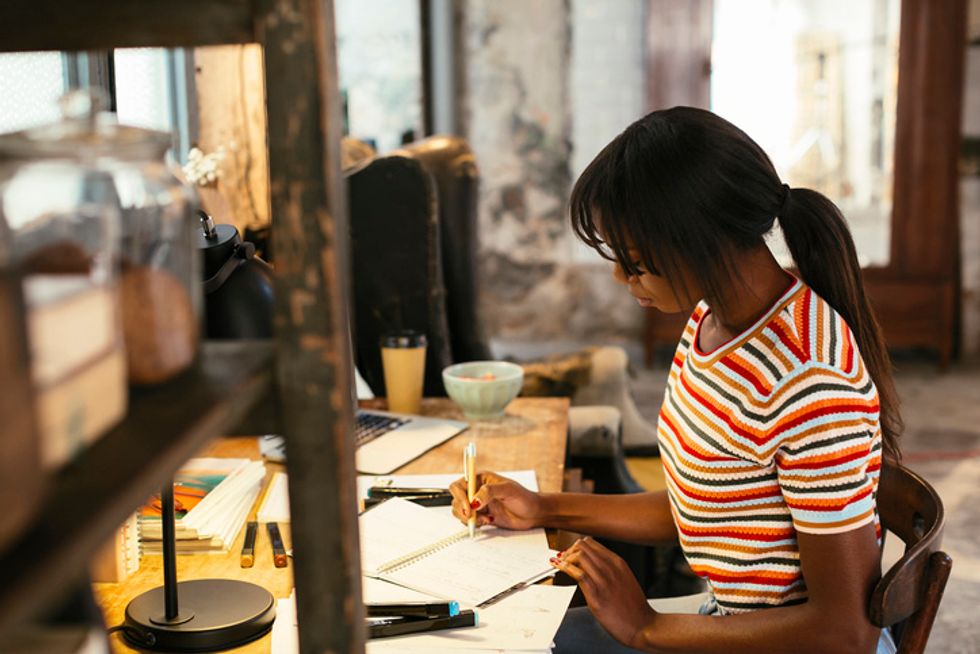 Getty Images
Writing is my therapy. I have countless journals and hundreds of pages filled with my thoughts, feels, and wild imagination. So I figured the concept of future journaling would be great to try. The key is to write a detailed letter to yourself from your future self. It can be as detailed as you want with the lifestyle you dream about. There are no rules when it comes to future journaling because it all boils down to making dreams into reality.
When I wrote down my future, I took the next step in taping it to my wall and reading it out loud. I even wrote my future in different stages (overachiever, this one). This kind of writing reminded myself that my life is mine and no one else's. Everything that was written is the life I am working towards and I am setting intentions while tapping into manifestation. I am my number one motivator and personal hype man. As we all should be.
Dancing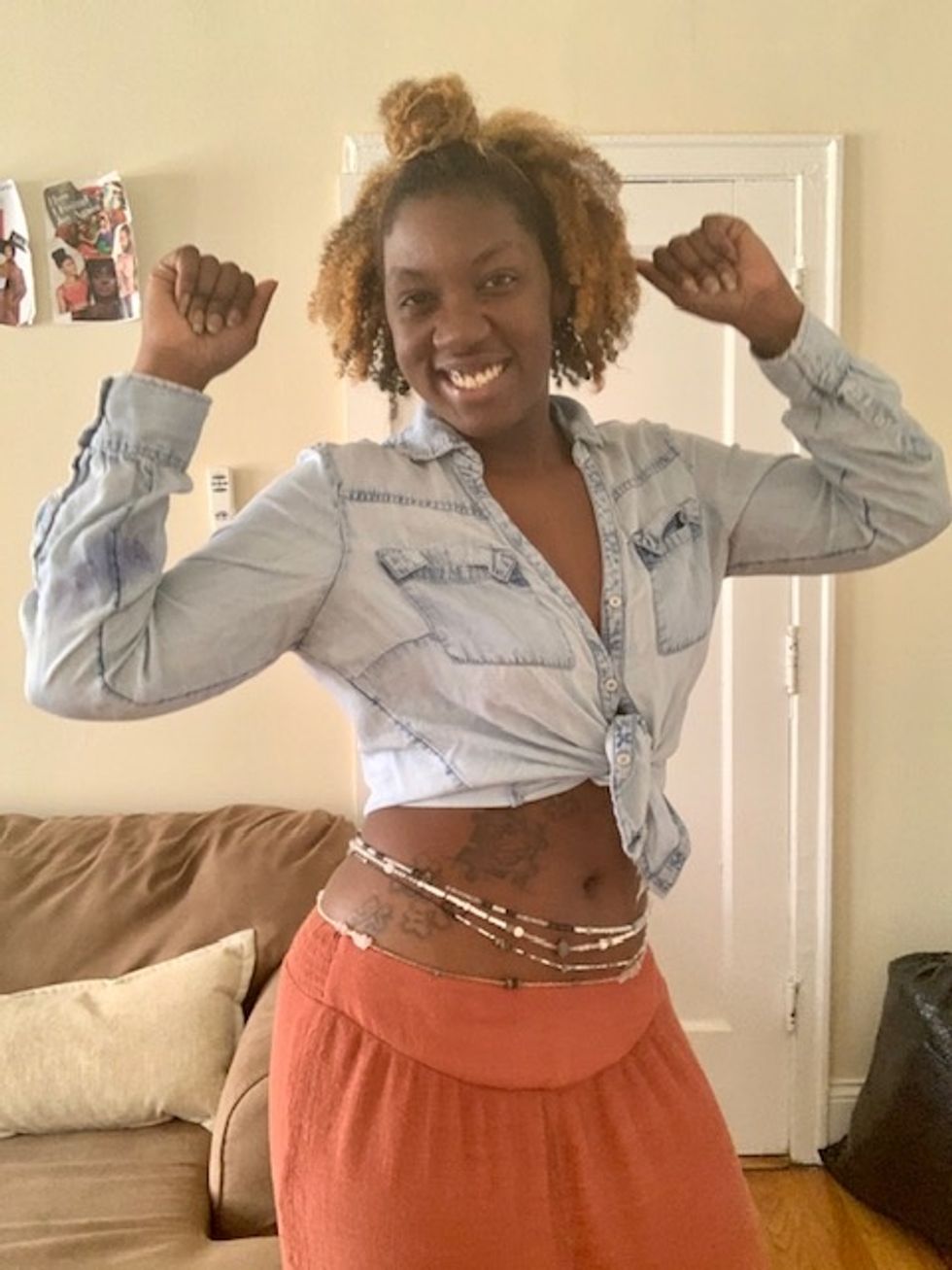 Kiara Byrd/xoNecole
We all love a good playlist. When we are driving in our cars or in our rooms alone, there is always that one song that hypes us up and gets us in a good mood. I took a nice 10 minutes out of my morning and danced my ass off; no matter how good or bad I looked. The song of choice was "CROWN" by CHIKA. Let me just say, if you haven't listened to this song yet, I'm going to need you to download it ASAP.
The words of this song mixed with my controversial dance moves made me feel happy, sad, empowered, and unapologetic all at the same damn time. I felt free. I felt that all my worries of yesterday were shaken off and left in the past. Bringing my body to movement helped me become more energized and just overall better emotionally. It's important to work hard, but I prefer to play harder.
Free Hugs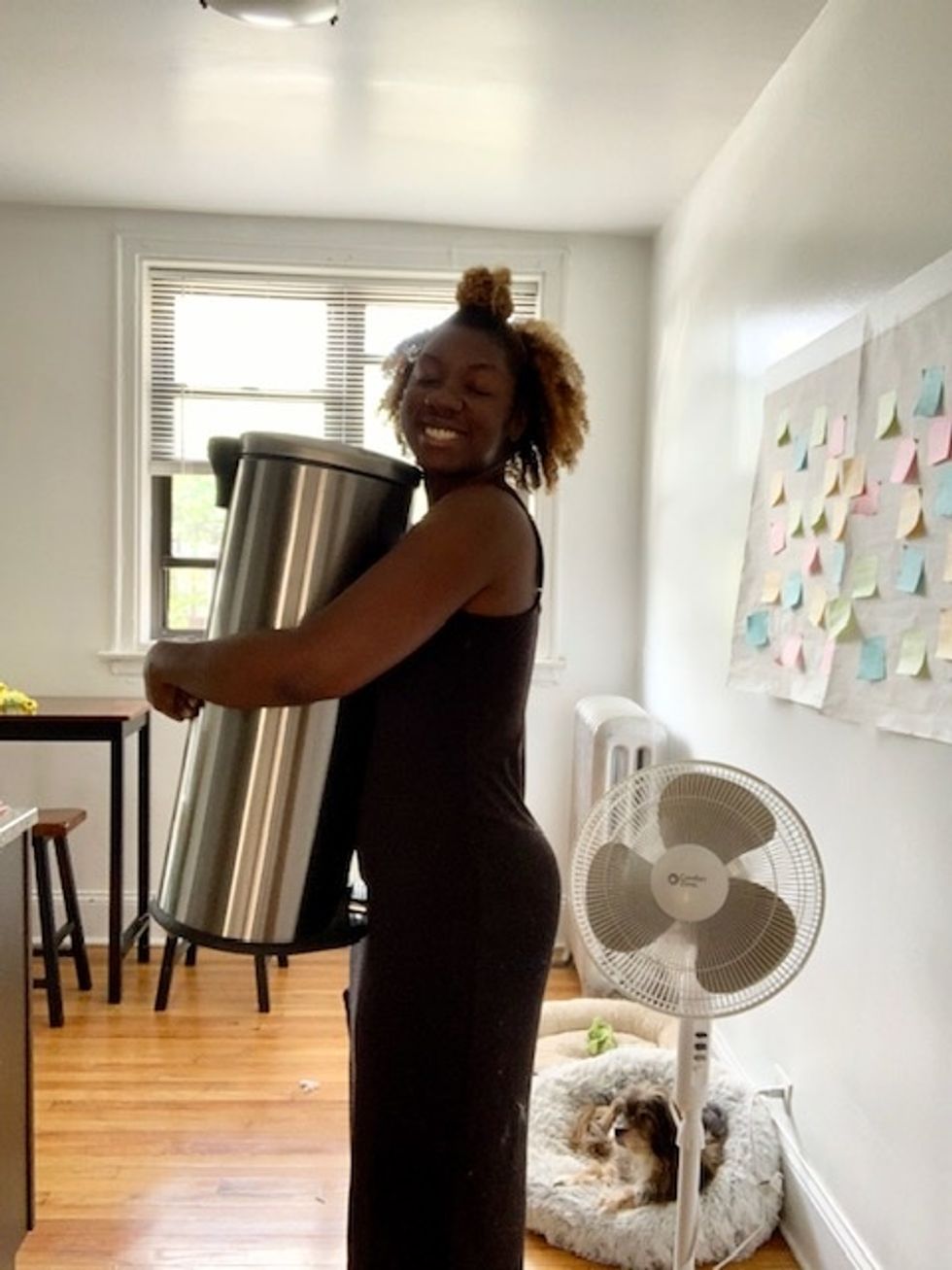 Kiara Byrd/xoNecole
Now this one, this routine surprised me the most. It was one of the simpler routines that I found to be the most rewarding. With these 'Free Hugs', I was able to be present with my surroundings and give myself grace. We can get caught up in the next big idea or working towards that new promotion. But we forget to stop and just say thank you. This routine gives you time to appreciate what you have that is right in front of you. I went around my apartment and hugged everything I had, while saying "I appreciate you and I am grateful for you."
This honestly felt really nice for me. I started hugging things like my pets, my bed, and my clothes. But the more I was hugging, the more comfortable I was in hugging things you probably don't think about. I hugged my table, my shower, my wall paintings, and even my trash can. Yes, I said my trash can. I ended my hugging spree with hugging myself, because why the hell not? Embracing what I currently have allowed me to feel more content and grounded. Even though it's not something you typically hear people do during their spare time, I think everyone should at least try to incorporate 'free hugs' in their lives. When you feel you are always on the go and need to take second to rest, hug something. Enjoy the moment and appreciate all the blessings you have in order to look forward to the blessings that will continue to come. Definitely recommended.
Join our xoTribe, an exclusive community dedicated to YOU and your stories and all things xoNecole. Be a part of a growing community of women from all over the world who come together to uplift, inspire, and inform each other on all things related to the glow up. We drop xoNecole events and special opportunities into our Tribe first.
Featured image by Shutterstock