Jorine Dorcelus
Jorine Dorcelus is a content creator with a deep love for social media! Jorine has spent the last 10 years in the beauty space with a focus on all things hair and makeup. She posts GRWM's and weekly natural hair care + maintenance videos. Join her world on social @jorinedorcelus.
Selena Gomez is once again the reigning queen of Instagram, reaching a whole new level of support at 400M+ followers. Whether you are a Selenator or not, you have to admit it is pretty legendary to leave the platform for as long as Gomez has, only to return and become the most followed woman to date. This massive growth and general outpour of support are heavily influenced by the success and impact of her brand, Rare Beauty.
If you are not familiar, Rare Beauty supports mental well-being across age, gender identity, sexual orientation, race, cultural background, physical or mental ability, and perspective. The beauty brand's mission is heavily intertwined with Gomez's experience in the public eye and struggles with mental health. Rare Beauty celebrates uniqueness and individuality, stepping away from unachievable and unrealistic beauty standards, which has, in turn, set Selena Gomez apart.
Rare Beauty encourages us to question what would happen if we stopped trying to be perfect. They open the door for honest dialogue around conventional beauty and the correlation it has on our mental health.
It's clear to see the heart of the brand not only through the Rare Impact Fund but the faces behind the brand. Rare Beauty truly celebrates inclusivity. My favorite example of this is Toni Bravo, known as @bonitravo on TikTok, a former Rare Beauty Social Associate.
Bravo, through several viral videos showcases the depth and range of Rare Beauty products with her unique sunset blush combos for deep and dark skin tones. Bravo spotlights the areas in the beauty space where Black women are generally left out of the conversation. She emphasizes complexion products with the proper undertones, and blushes and highlighters with deep enough shades to complement and enhance our features.
Like Bravo, my Rare Beauty favorites that sparked my love for the brand are:
The Positive Light Tinted Moisturizer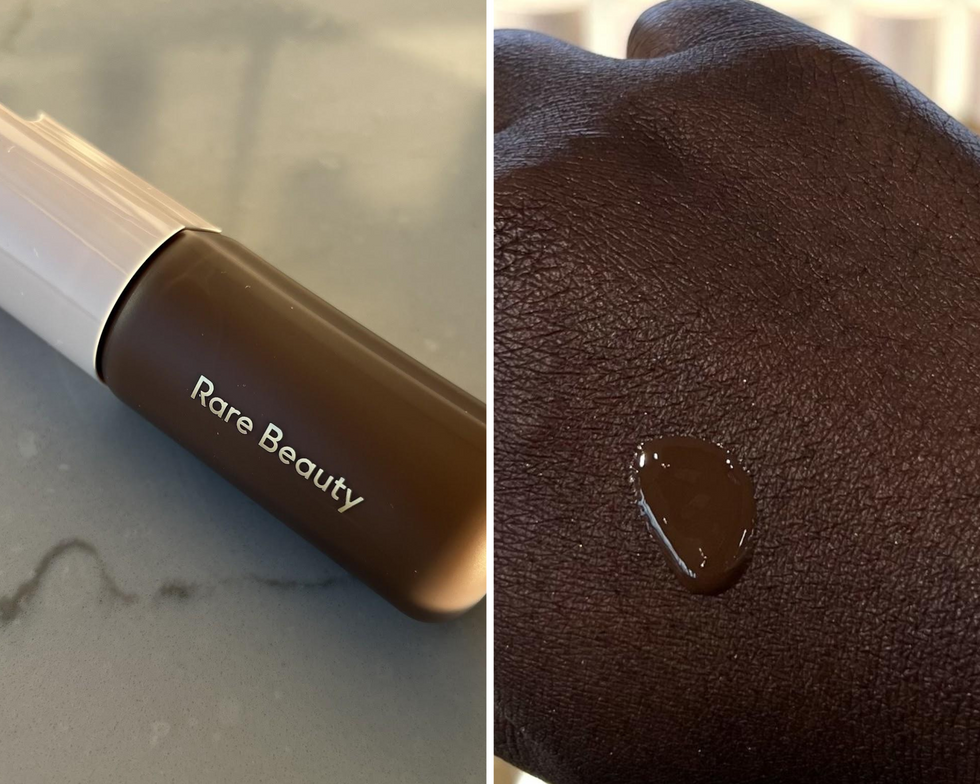 Jorine Dorcelus/xoNecole
I'm in the color 56N and the shade match for the Positive Light Tinted Moisturizer is flawless!
The Always an Optimist Soft Radiance Setting Powder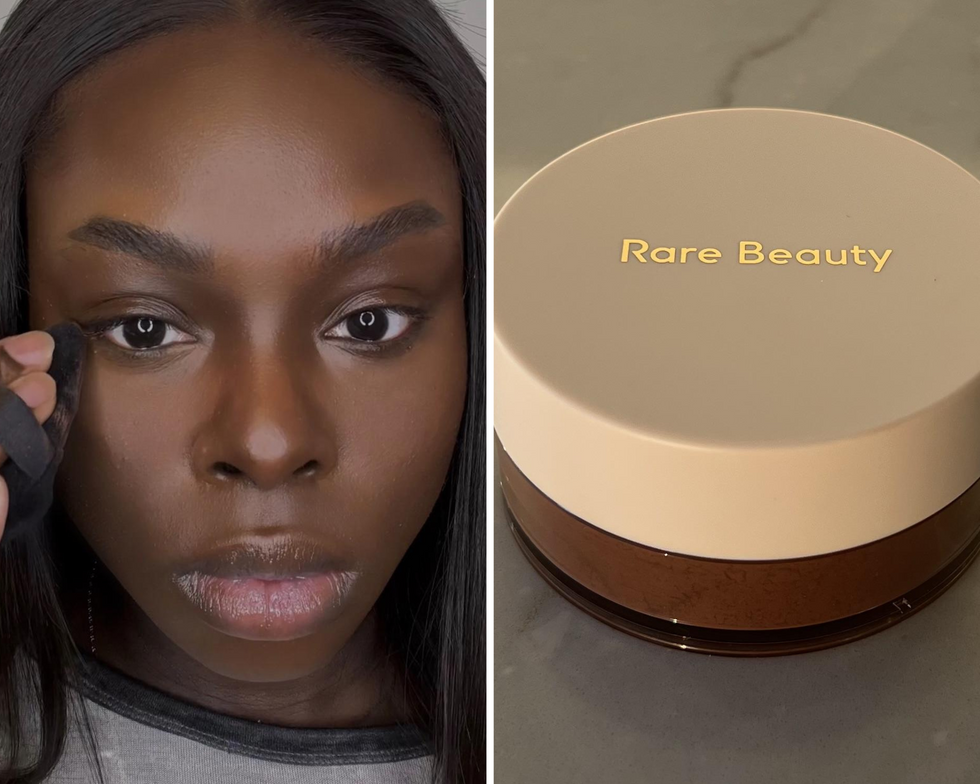 Jorine Dorcelus/xoNecole
This setting powder doesn't get mentioned enough and sets the face beautifully.
The approach Rare Beauty takes in shifting the narrative is refreshing. 2023 feels like a full-blown social media era, with every platform challenging our perception and pushing the limits for perfection.
It's vital to have brands like Rare Beauty hold space to keep us grounded and individually rare.
Let's make things inbox official! Sign up for the xoNecole newsletter for daily love, wellness, career, and exclusive content delivered straight to your inbox.
Featured image by Jorine Dorcelus/xoNecole
Scrolling through TikTok in recent weeks, it has been almost impossible to not come across the new Bold Glamour Filter. This filter has new AI capabilities, unlike the TikTok filters we are accustomed to. The past filters map your 2D face onto a 3D model, resulting in glitches with movement allowing the viewer to clearly identify that a filter is being used.
The Bold Glamour Filter is the first introduction to how transformative AI-powered tools are and how much harder filters of their kind will be to detect. The new filter adds fluffy symmetrical brows with sharp contouring to the sides of the face and the nose. The complexion gives a flawless smooth matte base, with an enhancement of the lips allowing them to appear plump and full.
The hype with the Bold Glamour Filter comes from the filter's ability to move with your face and adapt and adjust even when a masculine face is presented. This filter barely distorts with movement garnering shocking first impressions videos across the platform.
Filters like Bold Glamour raise the question of whether should filters be this good. With over 10 million videos shared since its introduction, the reactions present two opposing opinions. On one end users find the filter "terrifying" discussing the impact filters this transformative can have on self-perception and mental health. While the majority of users seem enamored with the capabilities and elated at how difficult it is to detect.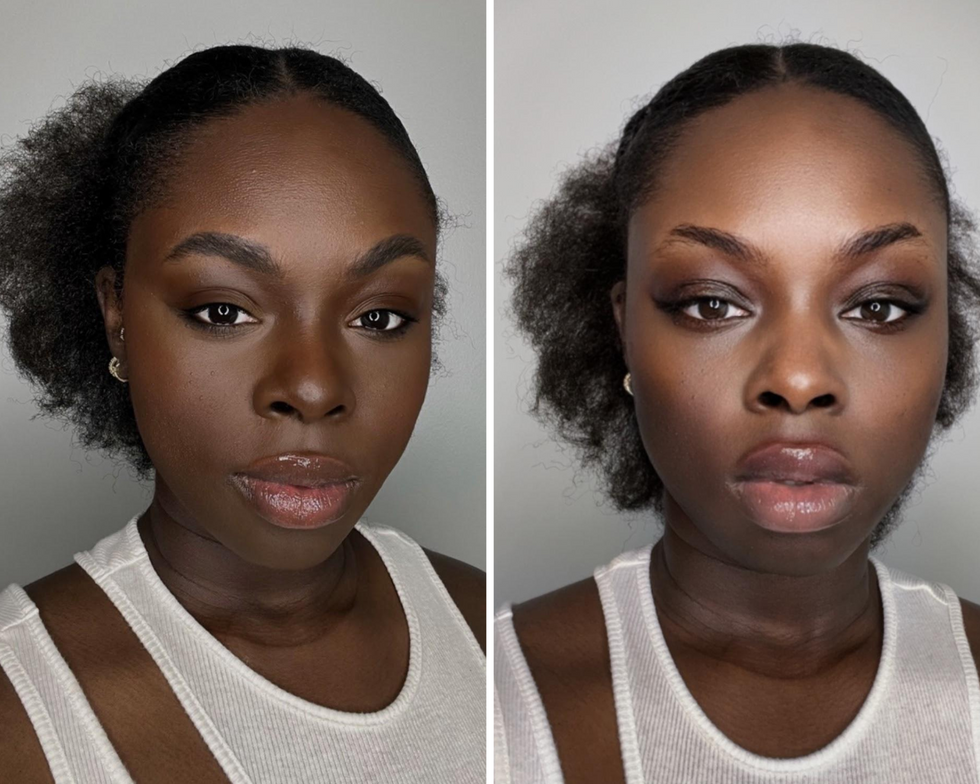 Courtesy of Jorine Dorcelus
While I love a good filter, personally I prefer not to use them in an effort to mitigate reliance on them. The videos recreating the Bold Glamour's soft glam look stuck out to me the most. I had to see if it was possible to achieve the same soft glam look and recreated the Bold Glamour Filter on myself, pictured above. The image on the left is solely makeup application and the right is using the Bold Glamour Filter.
Would you use this filter and do you think that filters of this caliber are what we can now expect as the new norm across social media platforms?
Let's make things inbox official! Sign up for the xoNecole newsletter for daily love, wellness, career, and exclusive content delivered straight to your inbox.
Featured image courtesy of Jorine Dorcelus
Mary Phillips is the makeup artist behind the "soft glam" makeup look often seen on celebrities like Hailey Beiber and Jennifer Lopez. Phillips has taken over our TikTok "For You" pages with her viral tutorial on how to achieve the same look at home. The technique uses Phillips' version of "underpainting," which is a method of makeup application where contour and highlight are applied to the skin as the base prior to applying foundation.
Mary gave us her secret sauce, and I'm breaking it down step by step so you too can master this effortless glam. Keep reading to learn how to achieve this soft glam makeup technique.
Step 1: Apply bronzer.
The first step is bronzer and highlight which Phillips refers to as "laying down the bones under the skin." Take a bronzer shade of your choice and apply it to the following parts of the face:
The cheekbones: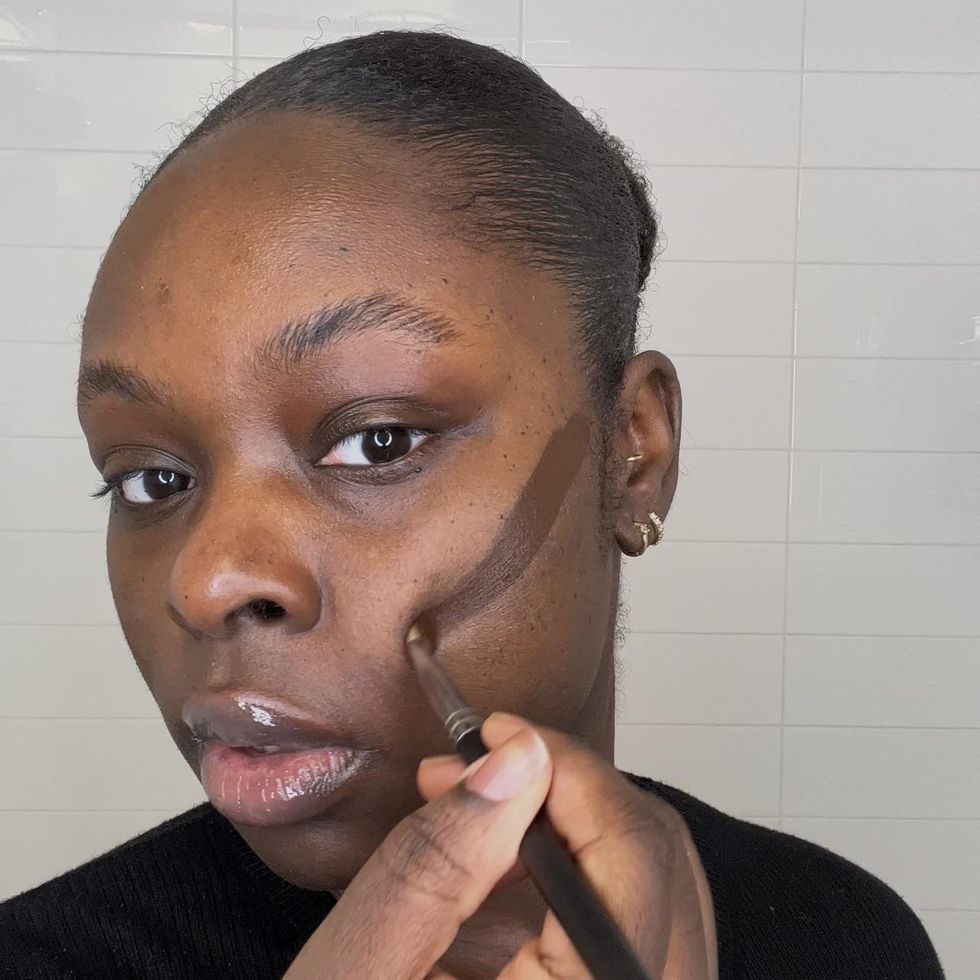 Jorine Dorcelus
The forehead: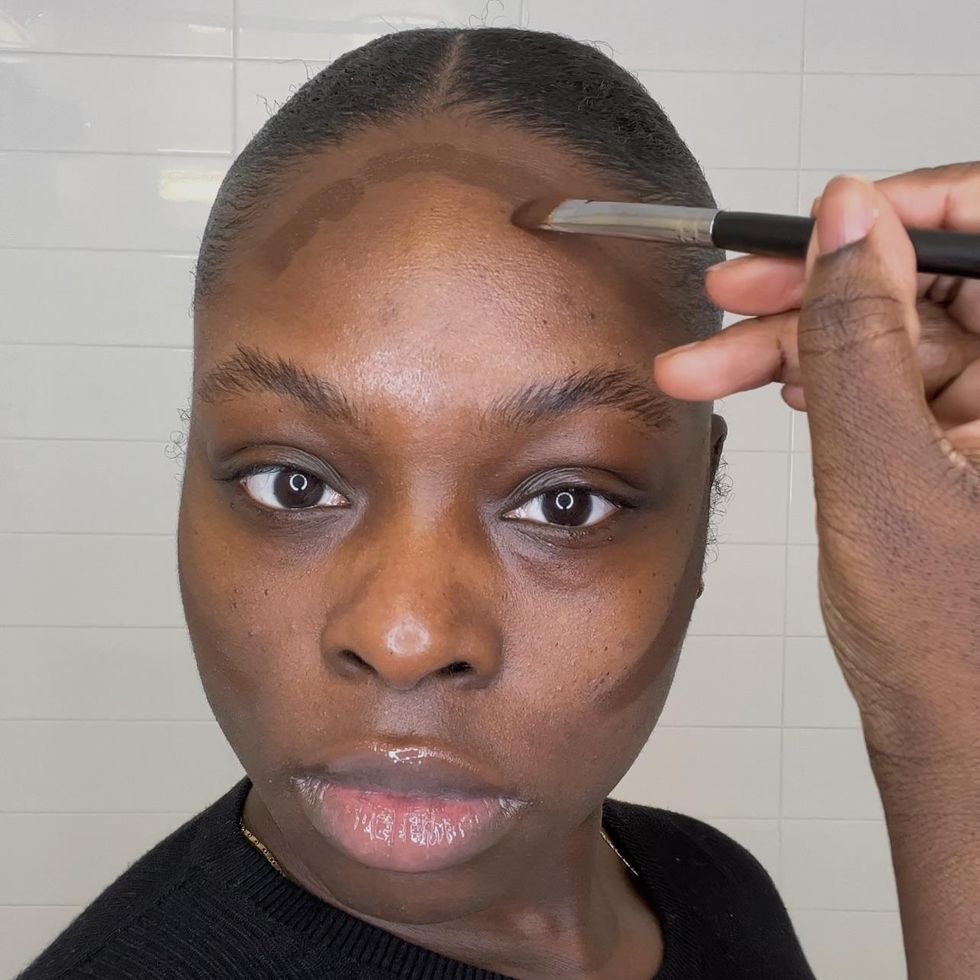 Jorine Dorcelus
The brow bone: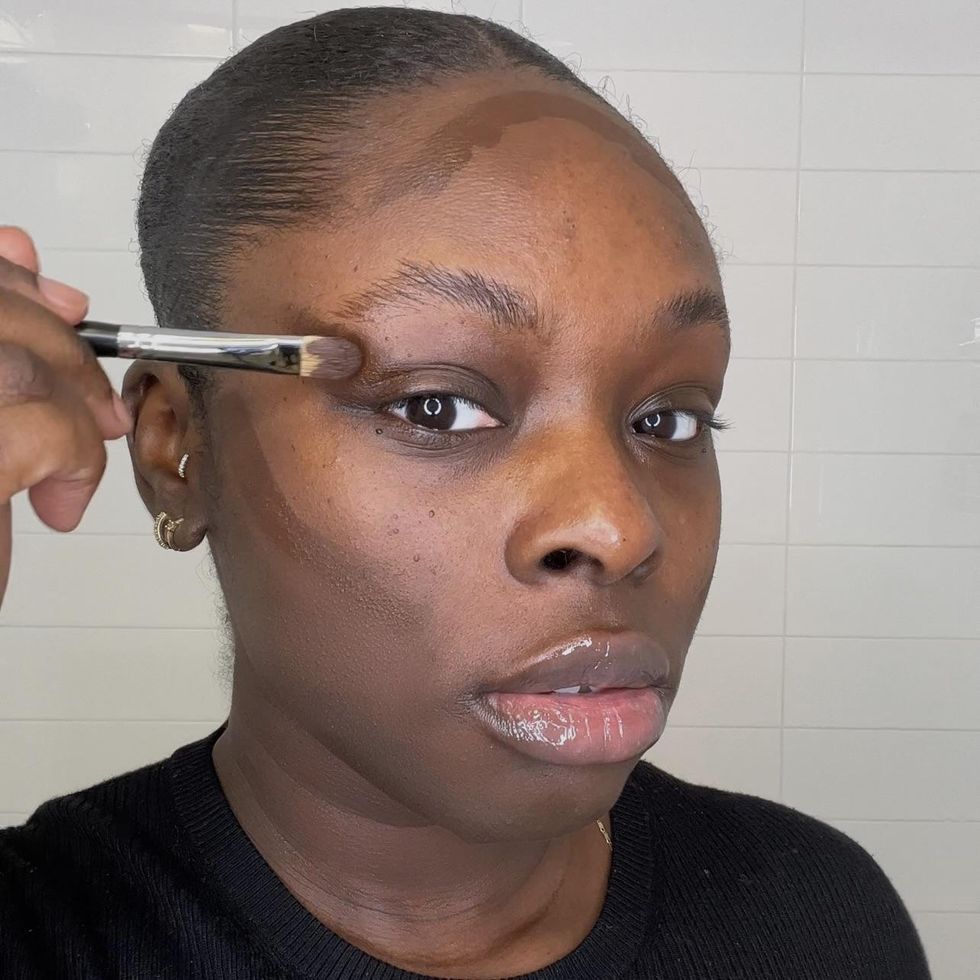 Jorine Dorcelus
The jawline: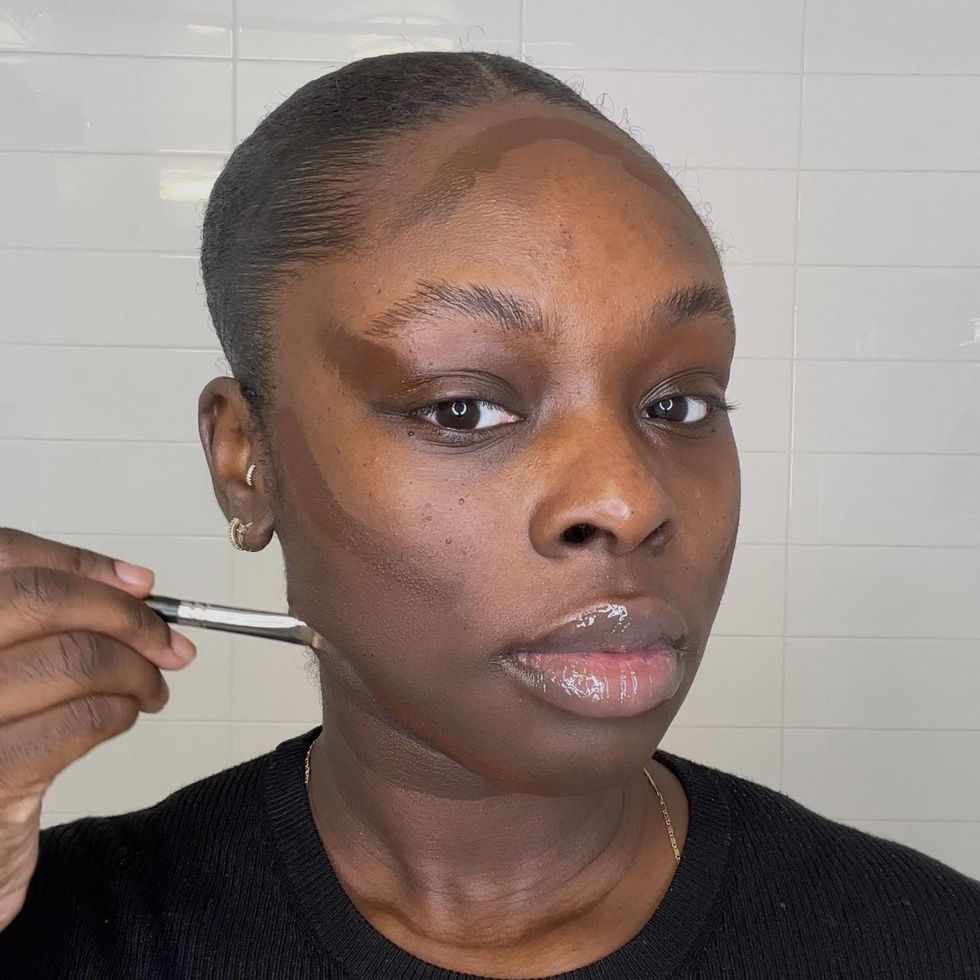 Jorine Dorcelus
Down the nose: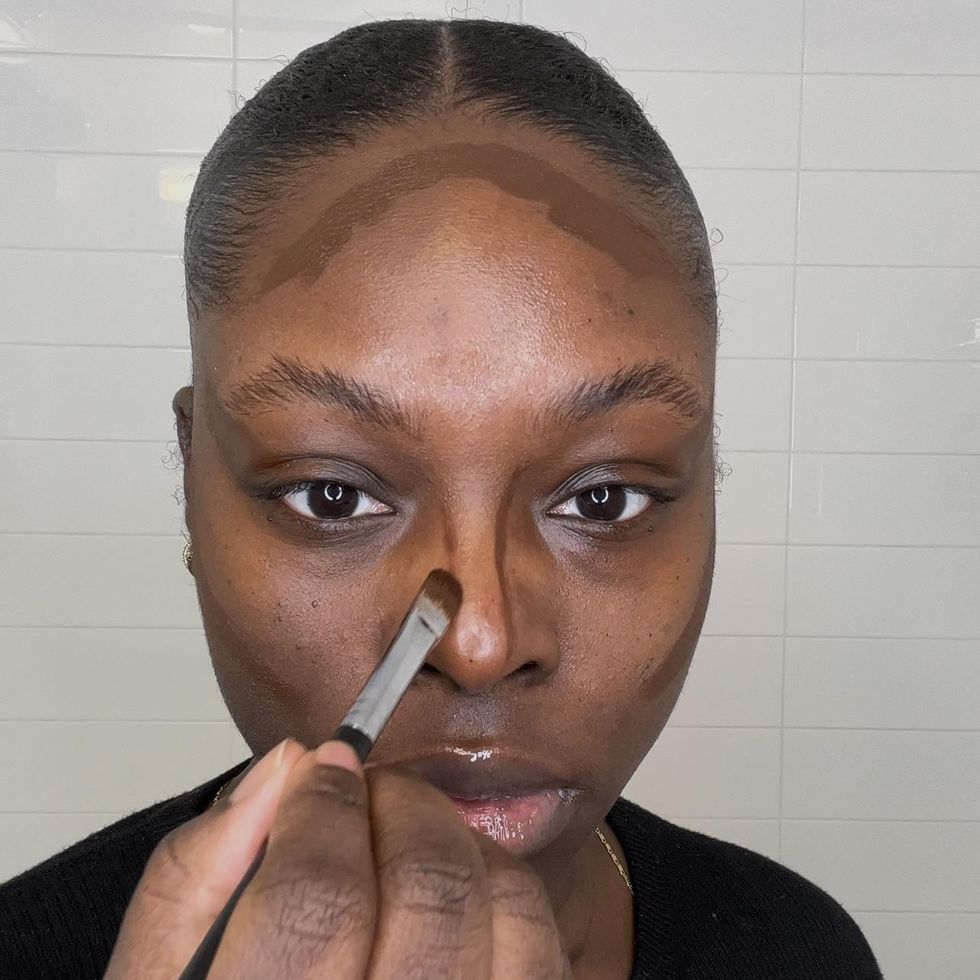 Jorine Dorcelus
​The completed bronzer placement should look like this: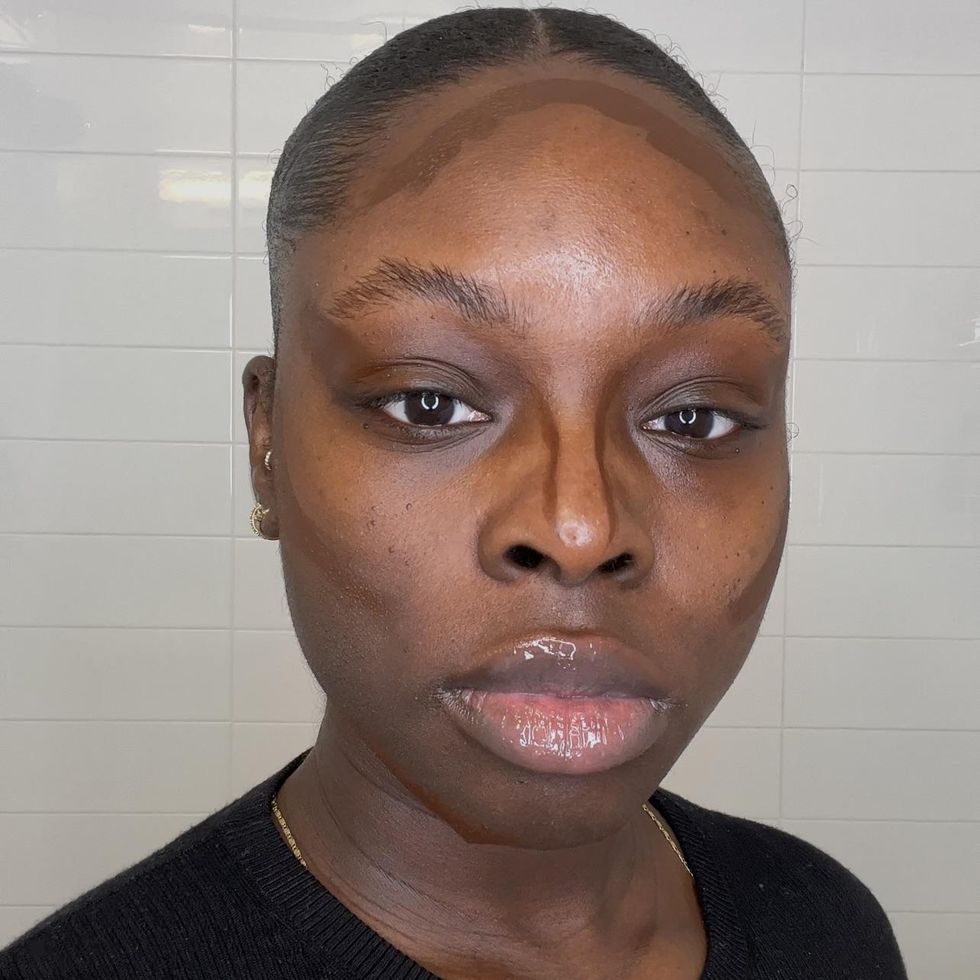 Jorine Dorcelus
​The blended result should look like this: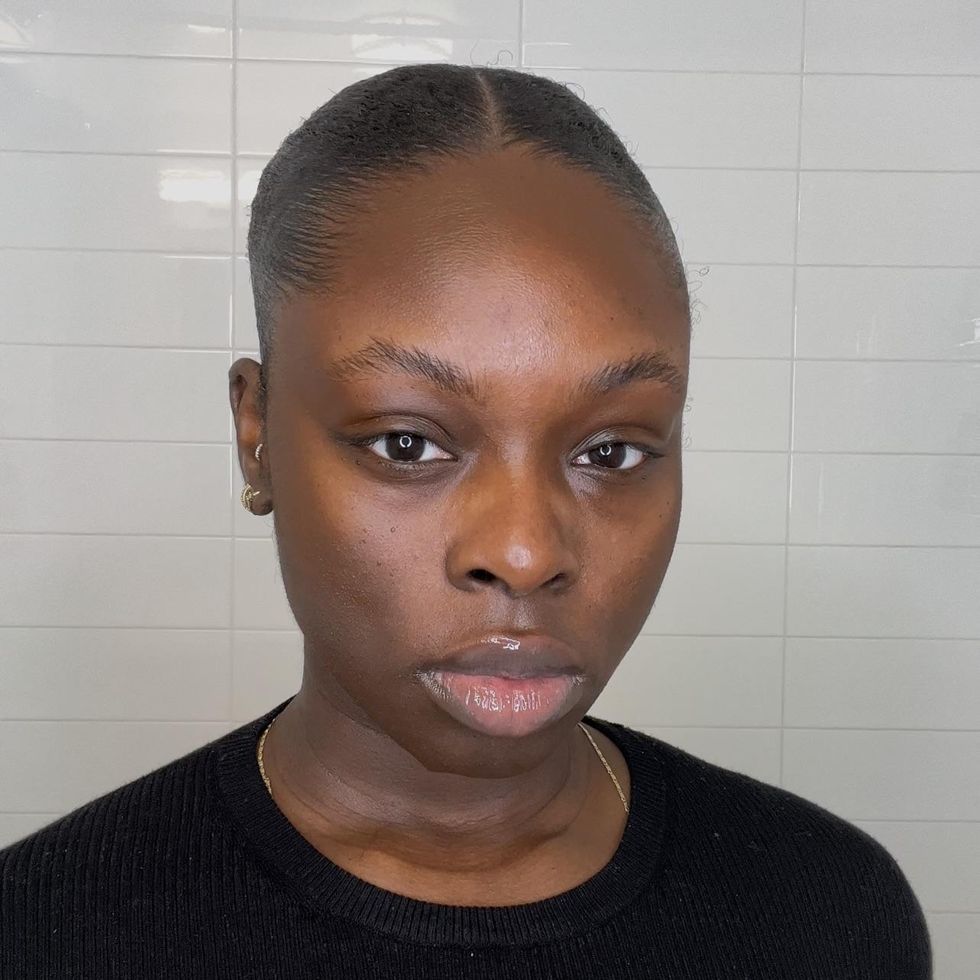 Jorine Dorcelus
Step 2: Apply highlight. 
​Now for the highlight. For the highlight in the Mary Phillips technique, you can use a lighter shade of concealer as I did, or use a shade closer to your skin tone.
The placement for highlight starts right under the bronzer on your cheekbones: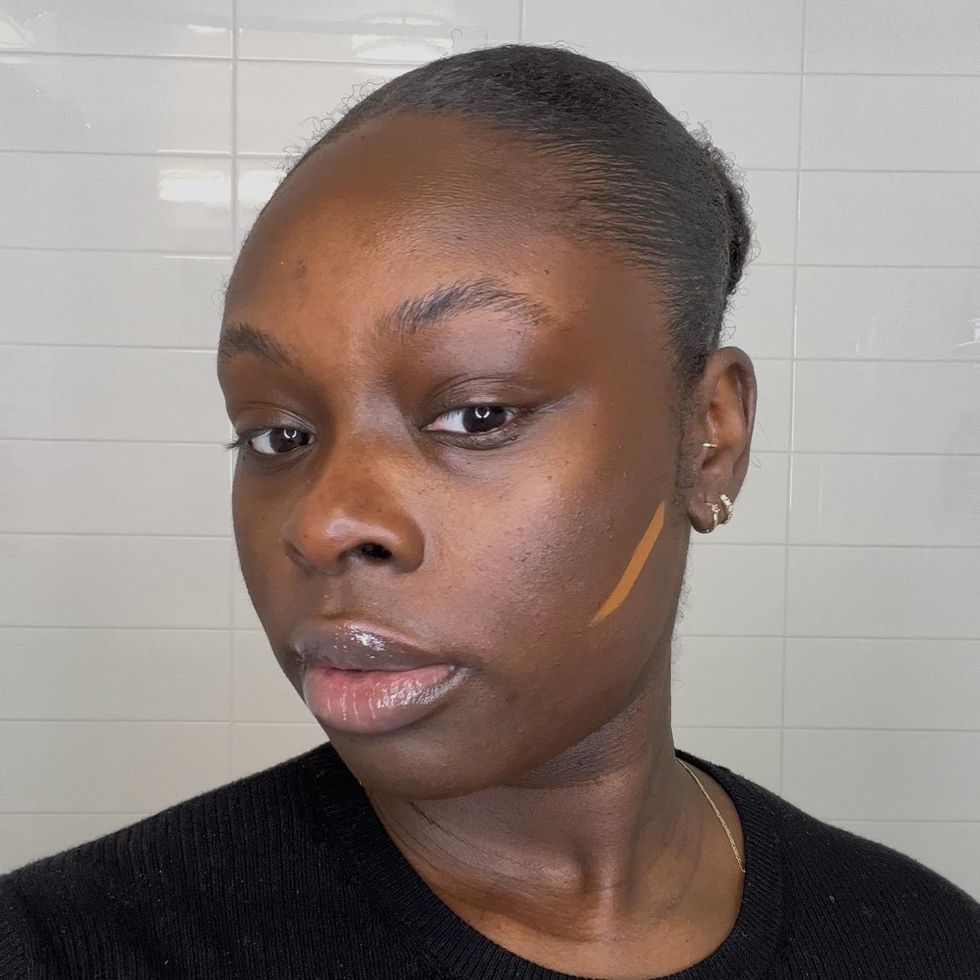 Jorine Dorcelus
Under the eyes: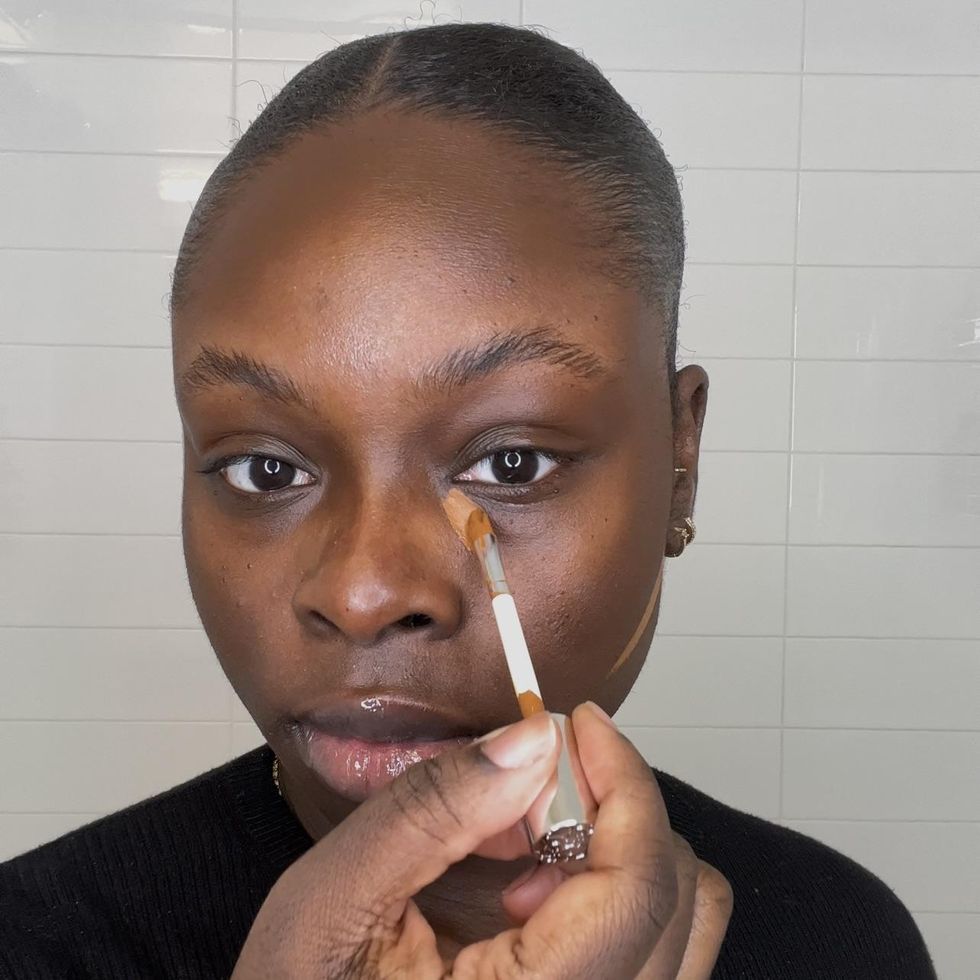 Jorine Dorcelus
Down the bridge of the nose: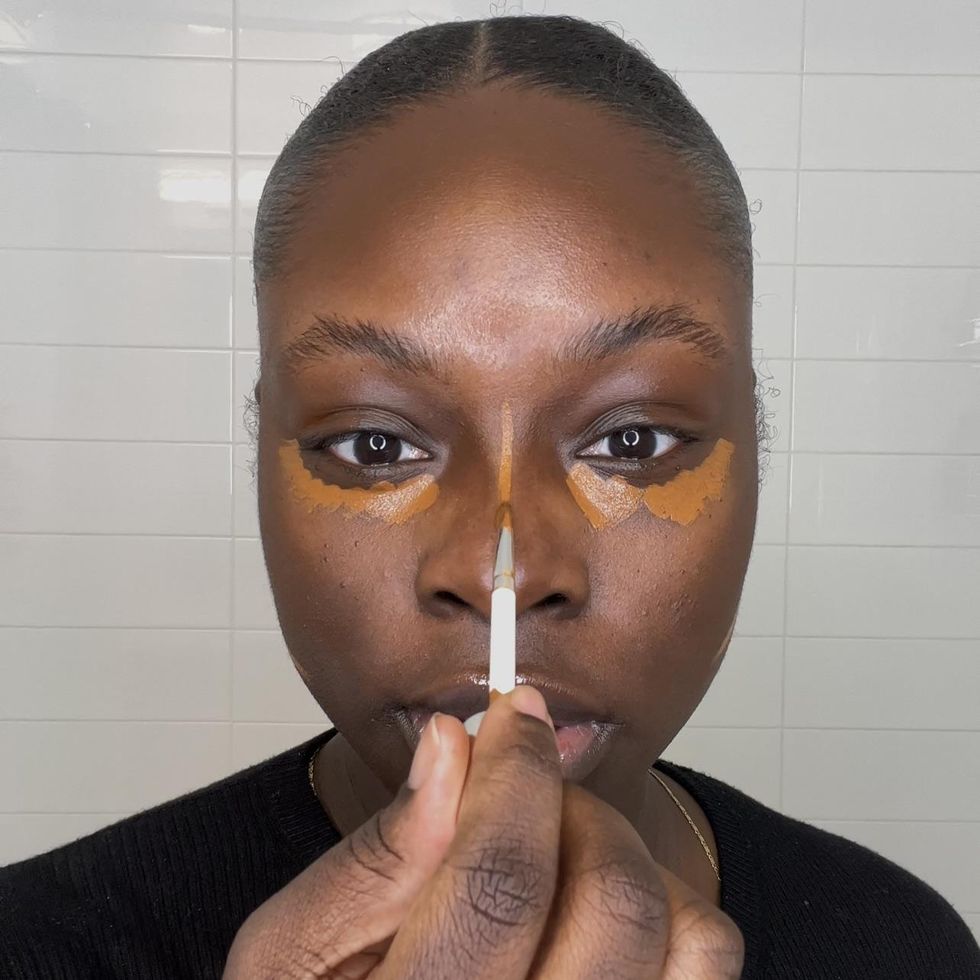 Jorine Dorcelus
​Blend for a result that looks similar to this: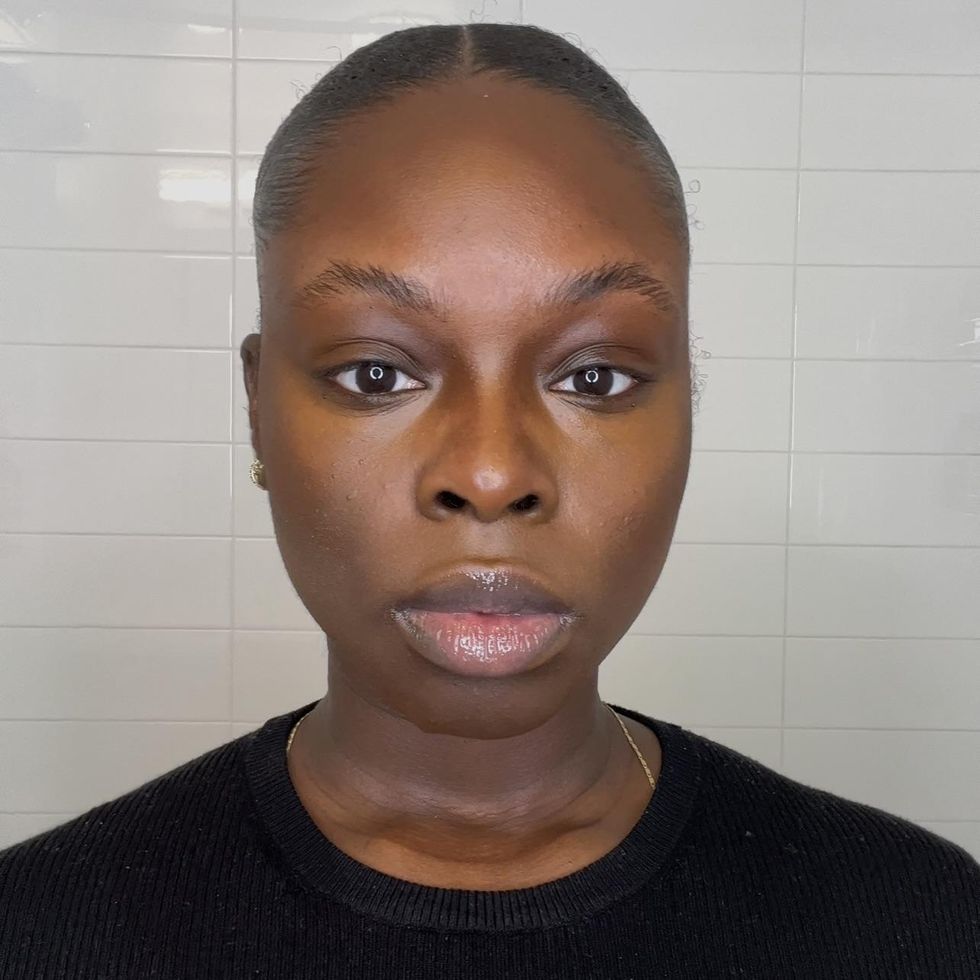 Jorine Dorcelus
Step 3: Apply foundation.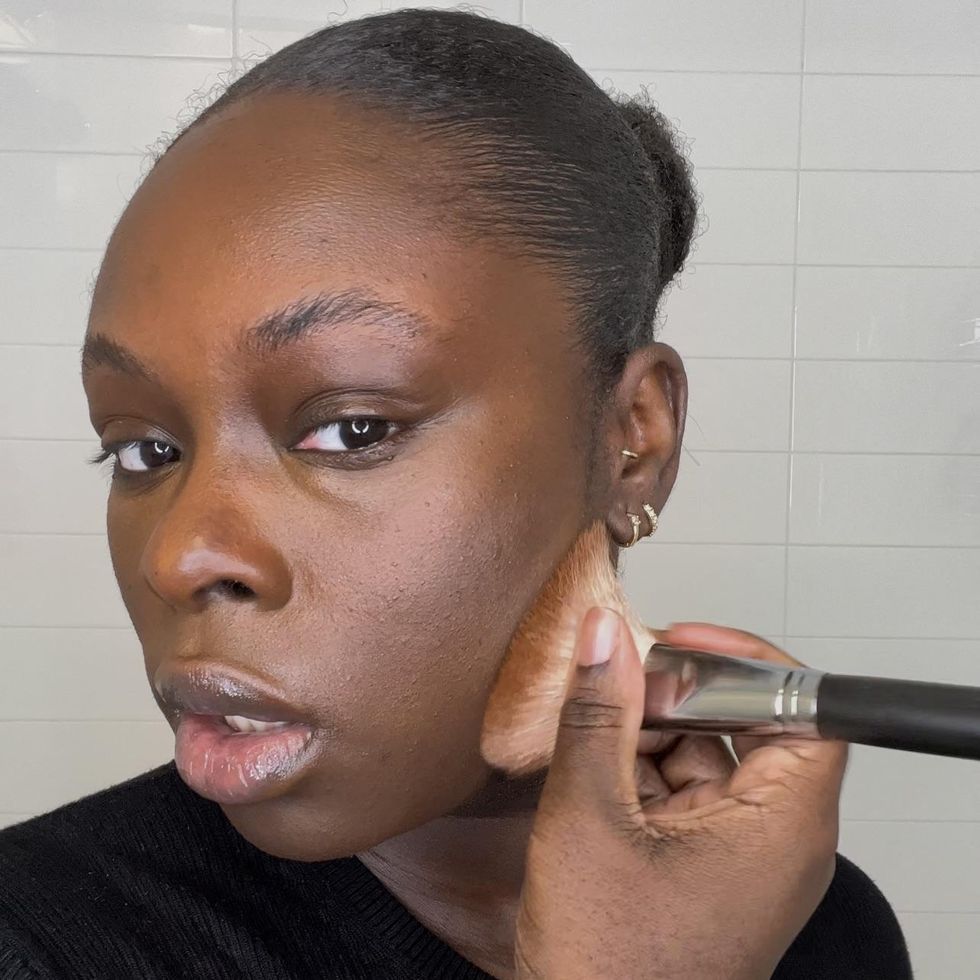 Jorine Dorcelus
Use one pump of foundation and a fluffy brush to blend everything together with a light hand. The key is making sure you don't cover the base you just created.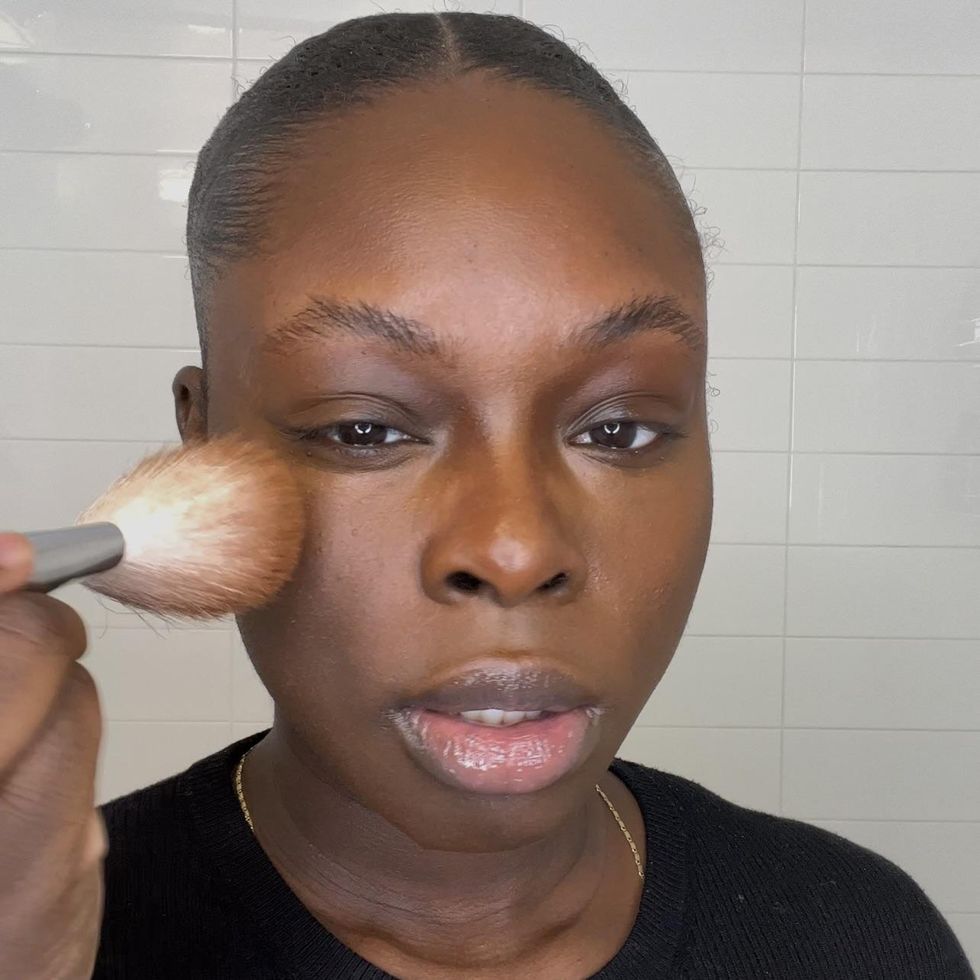 Jorine Dorcelus
Step 4: Add blush.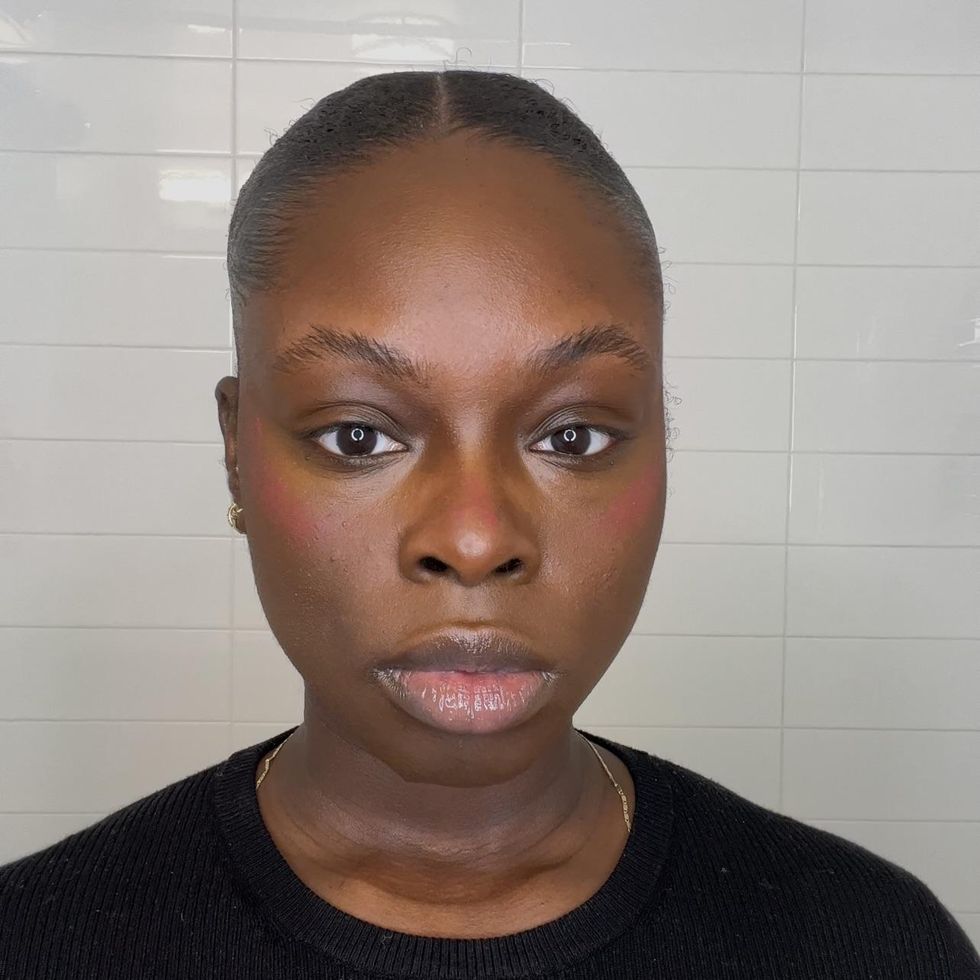 Jorine Dorcelus
I apply blush by using my finger and tapping the blush into the high points of my cheeks and over my nose.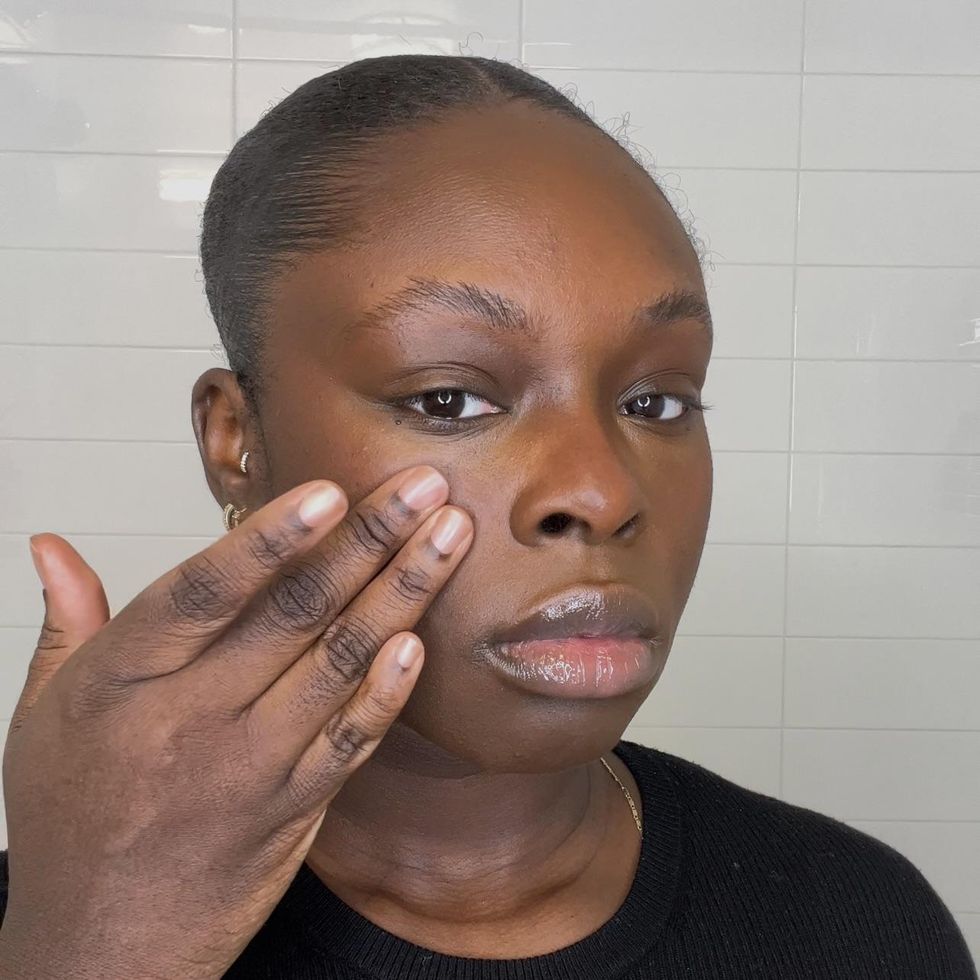 Jorine Dorcelus
Step 5: Complete the look with the optional addition of mascara and lipgloss.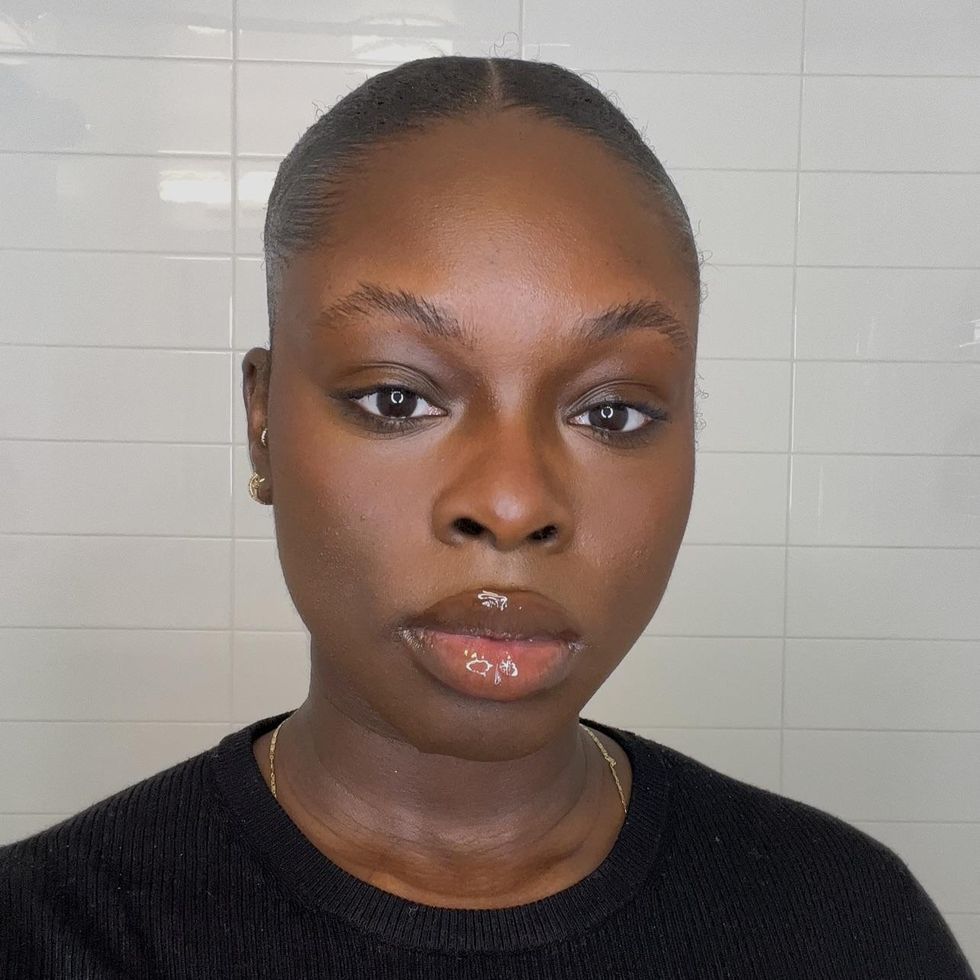 Jorine Dorcelus
Mary Phillips' technique blew me away the first time I tried it! I wasn't expecting the amount of dimension while maintaining a soft, glowy, and effortless look. It is a new standard in my routine.
If you are a fan of "no makeup" makeup, you need to try this!
Featured image by Jorine Dorcelus/xoNecole
The second month of 2023 is flying by, and I hope it's not taking your hair goals with it. As I move into the fourth year of my natural hair journey, I'm reminded of all my past New Year's resolutions. I was always convinced the current year was the year my hair would hit waist length. Only for the year to come and go without taking any real action toward the resolution. I'm sure all my natural hair besties can relate!
Although I didn't hit my length goals, my flop era was fruitful in other ways. It taught me how to maintain the natural hair I had been dreaming of all those years. The game changer was simple: it's consistency.
Regardless of the simplicity, being consistent is a real challenge. No one wants to hear that healthy hair is on the other side of doing 52 wash days for the year. However, it's highly effective and I want to share the simple 3-step routine that has kept me consistent on my journey!
Step 1: Shampoo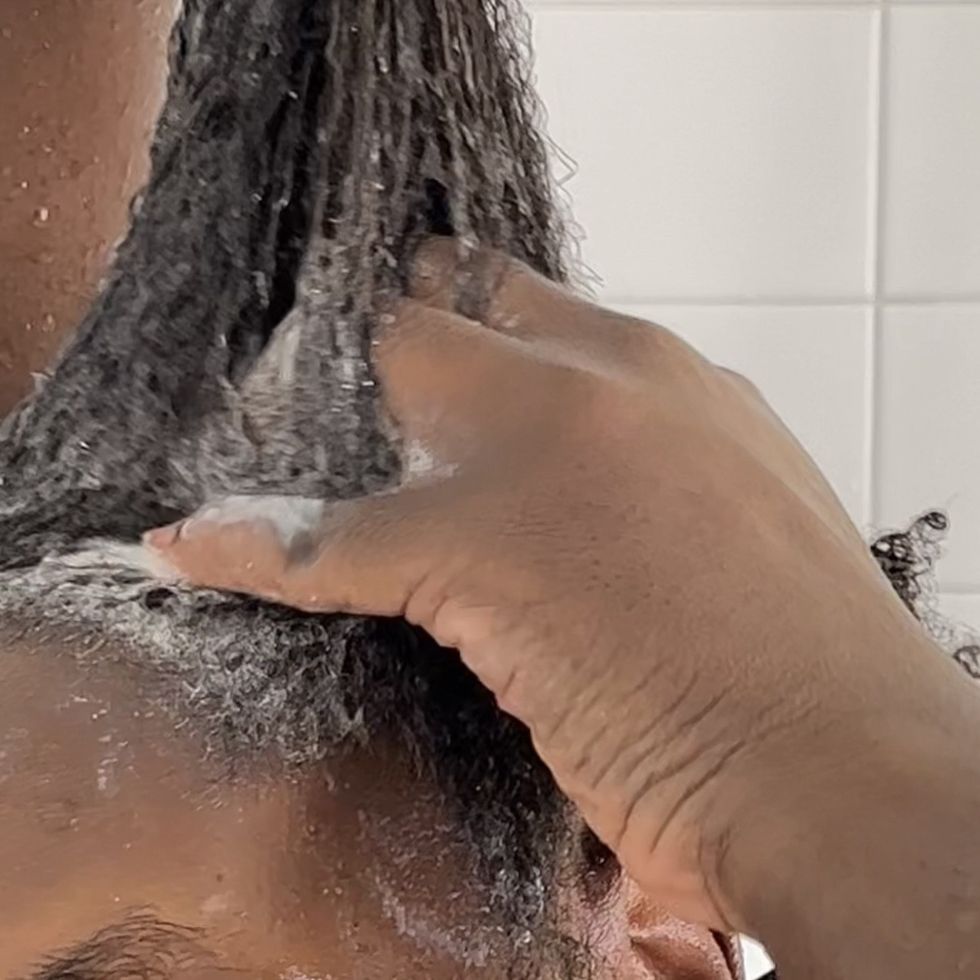 Courtesy of Jorine Dorcelus
Wash your hair at least once a week. Our hair needs a clean environment to support optimal hydration, and we receive hydration through the shampooing process.
Step 2: Deep Condition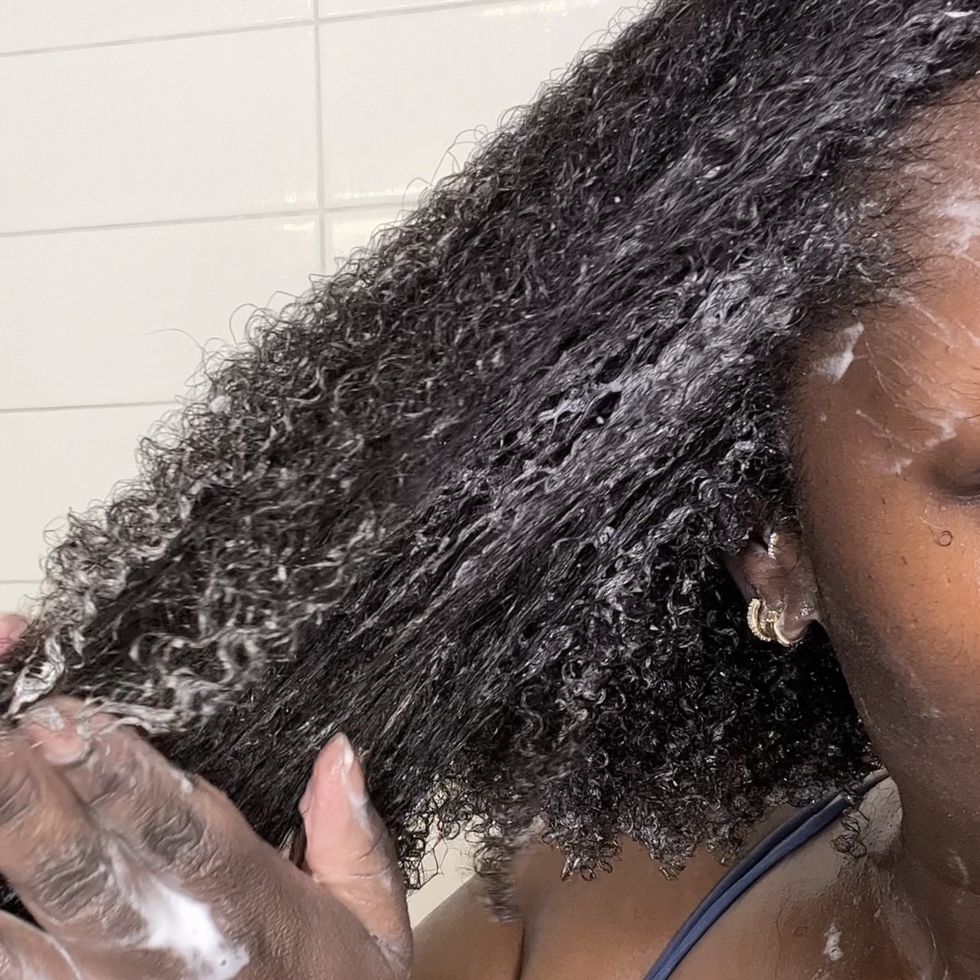 Courtesy of Jorine Dorcelus
Along with your once-a-week minimum for shampooing and effectively cleansing the scalp, work in a deep conditioning treatment. It can help prevent breakage and allows moisture to penetrate the hair shaft while maintaining overall hair health.
Step 3: Style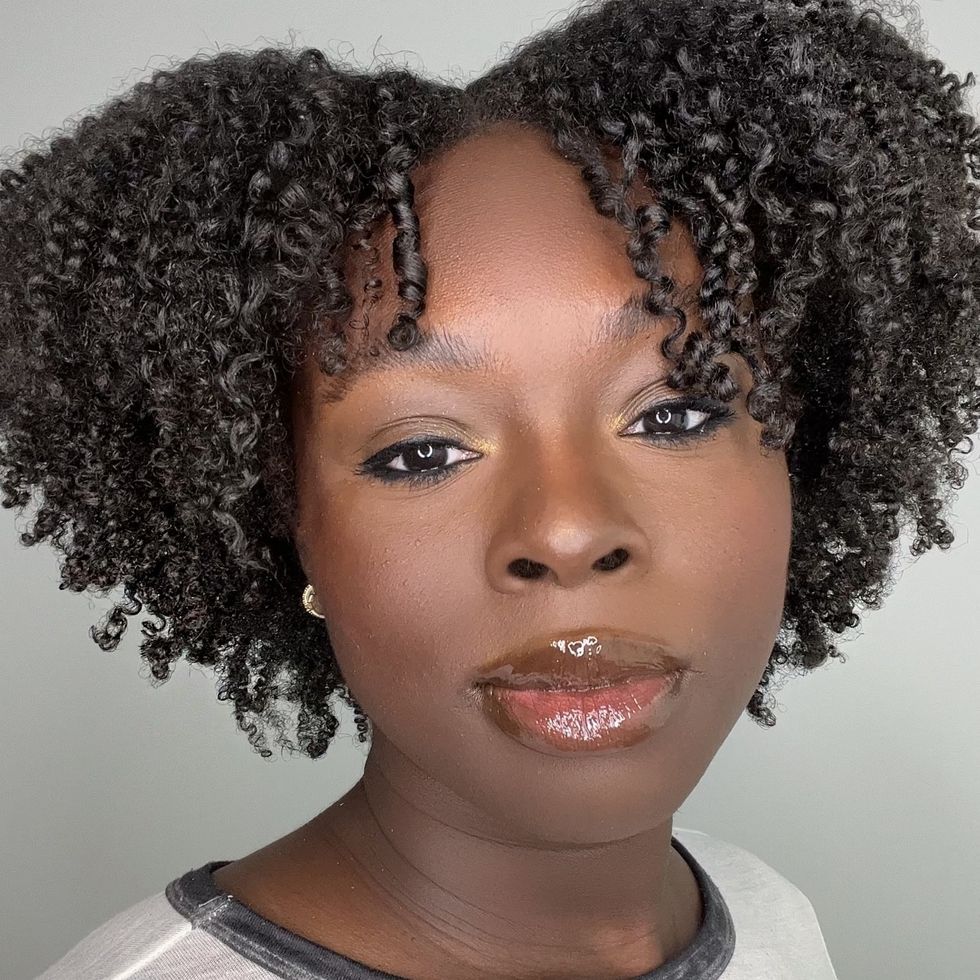 Courtesy of Jorine Dorcelus
The third step is styling. To maintain your hair health, opt for a protective style or a low-manipulation style to ease the tension off of your strands. I chose wash-and-go's, however, any tension-free/low-manipulation style you can wear often works for this step.
It's a new year, this is the perfect time to make your natural hair care easy and commit to a simple wash day routine that will allow your hair health to flourish.
Let's make things inbox official! Sign up for the xoNecole newsletter for daily love, wellness, career, and exclusive content delivered straight to your inbox.
Featured image courtesy of Jorine Dorcelus