The last few weeks were all about love for Stephen and Ayesha Curry. The couple celebrated their 11th wedding anniversary on July 30 with a dreamy vacation to the south of France. On their wedding anniversary, Ayesha shared a few snapshots from their trip and wished her hubby a happy anniversary.
"11!!!! Today we celebrated 11 years married! It's truly flown by. Getting to spend my life with my best friennnnnd, my love, my rock, my everything," she wrote. "Every year just gets better! I am so grateful and feel so blessed. More than half way to 20! That's crazy!!! Okay… back to celebrating . I love you"
Featured image by JC Olivera/Getty Images
Keep reading...
Show less
How We Met is a series where xoNecole talks about love and relationships with real-life couples. We learn how they met, how like turned into love, and how they make their love work.
One thing I've been seeing return to my social media feed is the opportunity to travel. Since the top of 2020, the world has been trying to figure out what "catching a flight" will look like in the future. And when you travel with your bae, it is an extraordinary experience that should be on everyone's bucket list. On a baecation, you are able to unwind from the daily Zoom meetings and experience another culture together. It's also another way to really take your intimacy to another level and grow closer to your boo mentally, physically, and emotionally.
One couple who prioritizes their love for travel and love for each other are digital creators LaNaiza Kelly and Mahdi Gaines. Originally from New Orleans, LaNaiza and Mahdi met each other at work when Mahdi noticed LaNaiza around the office and attempted to get to know her. One day, Mahdi joked that whenever she was around him, that there should be a smile. This exchange turned into an authentic relationship where they'd go everywhere together, including traveling the world.
As their love for each other grew, they created their own platform, Love at First Flight, where they share their journey of love and travel. This is a couple that knows how to put the bae in baecation. After three years, LaNaiza and Mahdi are still showing up for each other through amazing global experiences and smiling every step of the way.
In this installment of xoNecole's How We Met, LaNaiza and Mahdi share how their love story is based on honesty, authenticity, and unlearning bad habits.
How We Met
Mahdi: I was in marketing and she was in sales. I actually transferred over to the sales department and that's when we met. LaNaiza used to walk around with this mad look on her face. She is not a morning person. One day I asked her, "Why do you look so mad in the morning?" And she told me, "Don't worry about it." My response was, "Well, you need to make sure you smile when you're around me," and she told me she will make sure she smiles next time.
LaNaiza: Yeah, I think it was a pretty well-known thing at work that I was not a morning person, so I never looked happy in the morning. Then this guy tried to tell me to smile, and I was like, "OK." I am super-sarcastic, so every time I saw him after that I had the biggest smile on my face. That's really how things got started. It was just a bunch of sarcasm with each other.
First Date
Mahdi: Usually LaNaiza and I would hang out, but it was always with a group. But one day, we decided to go to this place called Barcadia. She came over that evening to my place and she was all dressed up. She blew my mind when she showed up. I felt I was underdressed. We had a really good time that night. It was amazing.
LaNaiza: I was a ball of nerves that night. I was actually really nervous and tried to avoid any kind of feelings toward him. I wasn't looking to be in a relationship, but he was very persistent. We hung out a lot already, but I felt that this time was different and it was turning into something more. I started freaking out. But that night was a really good night at the end of the day.
The One
LaNaiza: I think the moment when I started to like him, I was thinking to myself, 'I don't want to do this anymore.' But I couldn't deny it, you know? I would notice myself feeling salty if I couldn't hang out with him sometimes, so I had to be honest with myself that I was ready [for a relationship].
Mahdi: It was pretty early on for me. Even when we were hanging out, I noticed that I stopped wanting to hang out as a group and more one-on-one with LaNaiza. At a certain point, I kind of knew that a relationship with her was where my mind was going. One night we were hanging out at this club and I told her, "You know what, what's going on here? I'm interested in you for real.'" I kind of laid it out on the table.
"At a certain point, I kind of knew that a relationship with her was where my mind was going. One night we were hanging out at this club and I told her, 'You know what, what's going on here? I'm interested in you for real.'"
Favorite Things
LaNaiza: I love that Mahdi is super goofy. He has a great sense of humor and can make friends with anyone you can imagine. I really admire that about him because sometimes I can be a little standoffish. He still embraces that inner child in him. I believe that's the core of who he truly is.
Mahdi: LaNaiza has this hard outer shell that everyone knows about but she has the biggest heart ever. She cares about people, animals, you name it. That is something that really attracted me to her. Earlier on when we were dating, I noticed that soft heart. That really means a lot to me.
The "L" Word
Mahdi: I think it was a couple of months into the relationship for me. We moved so organically and I had strong feelings for LaNaiza. We were so close and she was my best friend. I could talk to her about anything even before we became a romantic relationship, so when we finally got together, it just clicked. This was everything I ever wanted and I have never felt this way about anybody. I started thinking about my future and she was the only person I wanted to be in it with me.
LaNaiza: For me, I knew I loved him but I didn't want to admit it. When I started to feel my walls coming down and I was comfortable to just be myself around Mahdi, that was when I knew. I used to never think about the future with someone and it just felt right with him. It was just one of those things where when you know, you know.
"I knew I loved him but I didn't want to admit it. When I started to feel my walls coming down and I was comfortable to just be myself around Mahdi, that was when I knew. I used to never think about the future with someone and it just felt right with him. It was just one of those things where when you know, you know."
Love Lessons
Mahdi: What I've learned about love is that when you love somebody, you give that person the real you. A lot of people like to put up a front or try to be someone else in order to fit this ideal partner. But with LaNaiza, she is unapologetically herself. She reminds me all the time (laughs). I love that because that makes me want to be unapologetically myself too.
LaNaiza: I have learned that love is a job. It is a continuing thing that you have to work toward every day. There are times where we butt heads, but if you really love someone, you have to put in the work and the effort to keep the love alive—to show up for one another.
Early Challenges
LaNaiza: In the beginning, we were both coming out of serious relationships. We were both in unhealthy relationships where we developed bad habits. We had to unlearn those habits in order to be with each other. We were honestly figuring out how to love essentially and learning how we would want to receive love. One habit I had to unlearn was communication. I am not good at communicating (laughs). I am very quick to express when I am angry. But for me it was learning how to express how I'm feeling when I am feeling it. Instead of holding it in and blowing up later.
Mahdi: For me, I had to unlearn a lot of things. I felt that I had to take care of everything like I did in my previous relationship, but LaNaiza taught me that I don't have to do everything. We are a team. With her, I feel like I am in a true partnership. I have never felt like this before. I remember we went on our first trip to Puerto Rico. The room was in my name and we were checking in. At first, I was going to take care of everything, but then LaNaiza stepped up and handled the check-in—honestly, better than I would have. As I watched her, I thought to myself, "You know what, I like this!"
Individual Self-Care
LaNaiza: We both have busy lives, so I think it is important to carve out some time for hobbies. One of my favorite things to do is salsa dancing. It's a time for me to be social and it's also how I like to unwind. Mahdi and I spend a lot of time together so we try to carve out our alone time when we can.
Mahdi: So LaNaiza is a night owl and I'm an early bird. So I like to get a morning workout [in] at around 6 a.m. It's a good start to my morning and it helps me clear my head. Then when night comes around, I'm already tired but LaNaiza is still working on emails and things. It just works because she knows I'm out for the count anyways.
Shared Values
LaNaiza: I think one shared value is just being honest with each other. I think that should be the foundation in any relationship.
Mahdi: We also talk about our life goals a lot to each other. We keep each other motivated and focused on what the end goal is. We have meetings about it and everything.
For more of LaNaiza and Mahdi, follow them on Instagram @loveatfirstflight_.
Featured image via Love at First Flight

Keep reading...
Show less
Dwyane Wade and Gabrielle Union are living their best livesssss hunni, and we are here for it! The 39-year-old retired NBA player, and 48-year-old actress left the kids at home and took off to vacation in the Mediterranean with friends, as they enjoy relaxing sunsets and pull up to gems on a yacht that has us all screaming in poor.
The two couldn't care less about who's watching, packing on the PDA, all of which Union has been documenting throughout the trip.
Additionally, sis' story is filled with views on views on views, as she enjoys life with bae without a care in the world. The two have been traveling quite a bit over the last few weeks, and anyone who has been following the couple for a while knows that a "Wade World Tour" is what the two call their baecations together. And the best thing about the trips? All of the photos, of course! What else?!
The Wade World Tours are (mostly) annual, as in the past, (and pre-pandemic) they've visited Ibiza and the Greek Isles for other hugely documented trips--trips which the couple credits to keeping their marriage in tact. They told PEOPLE:
"This is both of our second marriages, and we're super transparent about that. We didn't do it right, the first time around. There's another way—to be more collaborative and equitable. We humble ourselves, listen and we meet in the middle."
Ever since, the couple have been open about what works for them, no matter how big or small.
"In this partnership, there are times when I have to lead, times when I have to step back and times where we are side by side."
Thankfully, this trip is just in time, as Union is scheduled to go out on tour for her new book, You Got Anything Stronger? in September, and Wade has a new TV game show and journey into NBA ownership.
Keep scrolling for some of our favorite moments!
When Dwyane showed off why he's the GOAT in a video of himself jumping off the yacht. "There's no going back," he captioned the video:
When a huge flamingo made an appearance and rubbed it in our faces that he made the trip:
When Gabrielle showed us that perfect moments do exist:
When we learned that sleepovers with friends can happen on water:
When they were the most beautiful part of France:
And finally, when Gabrielle had one important question:
Currently, there's no word on how long this vacation will be happening, but we do know that we will be tuned in.
Now, let me check these flights to the Mediterranean...
Are you a member of our insiders squad? Join us in the xoTribe Members Community today!

Featured image by Johnny Nunez/Getty Images for Stance
Keep reading...
Show less
I'm not sure how many times we can brag on Ciara and Russell Wilson, but here's one more for you. The two traveled to Venice, Italy to celebrate their five-year anniversary and we can't help but to swoon over the pics.
It all started last week when a video of the two broke the internet while posing for photos in a hotel suite. Captioned:
"He said pack your bags, we're going to Italy."
The lovebirds rocked shades and matching Versace for the gawds and showed off their usual enviable love.
Russ followed Ciara with:
"5 years of Love as husband & wife, mom & dad, best friends, business partners and more. You leave me speechless. There are no words that could ever describe my love for you. Only Heaven knows. 5 years & Forever to go! Andiamo!"
The rest is in "OK, it's time for a baecation" history as they visited landmarks, ate in the best restaurants, and more.
And as they should, because Venice has become a popular celeb/tourism hotspot.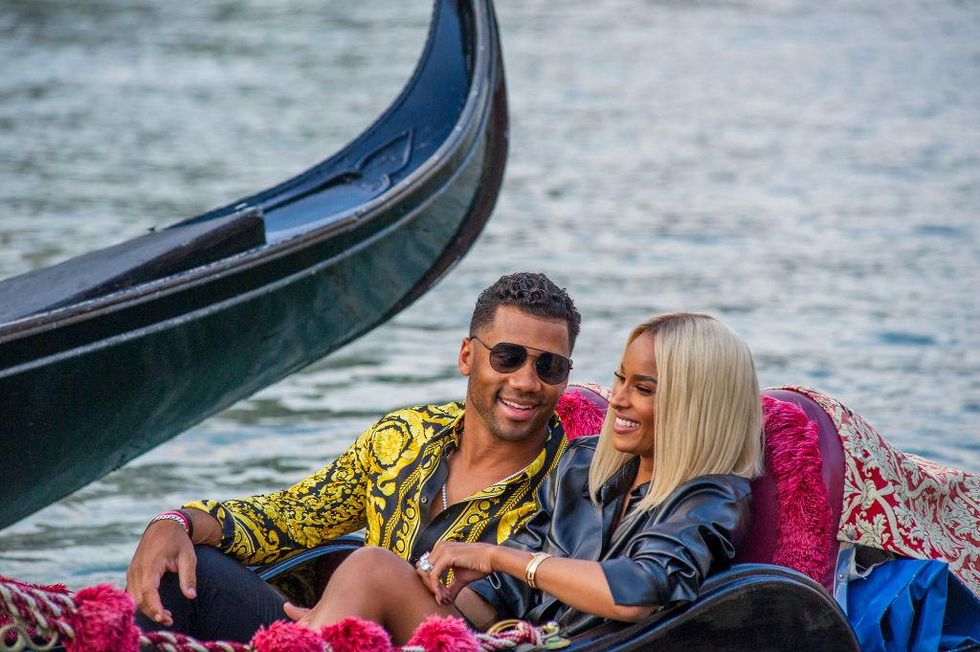 Luca Zanon/Awakening/GC Images
Actually, Italy has always been a popular celebrity romance destination, with couples such as Katy Perry and Orlando Bloom and John Legend and Chrissy Teigen recently trading in the fast life and heading to the land of pasta, architecture, and love with bae. And in 2018, Serena Williams famously told her husband she wanted pasta for dinner and he swooped her off to Venice for a few days as well. But now, with outside opening back up, Venice is becoming a hotspot for them hot spots, m'kay?!
So, if you and the boo are looking to Venice for your next baecation, here's what you should check out while there:
The Food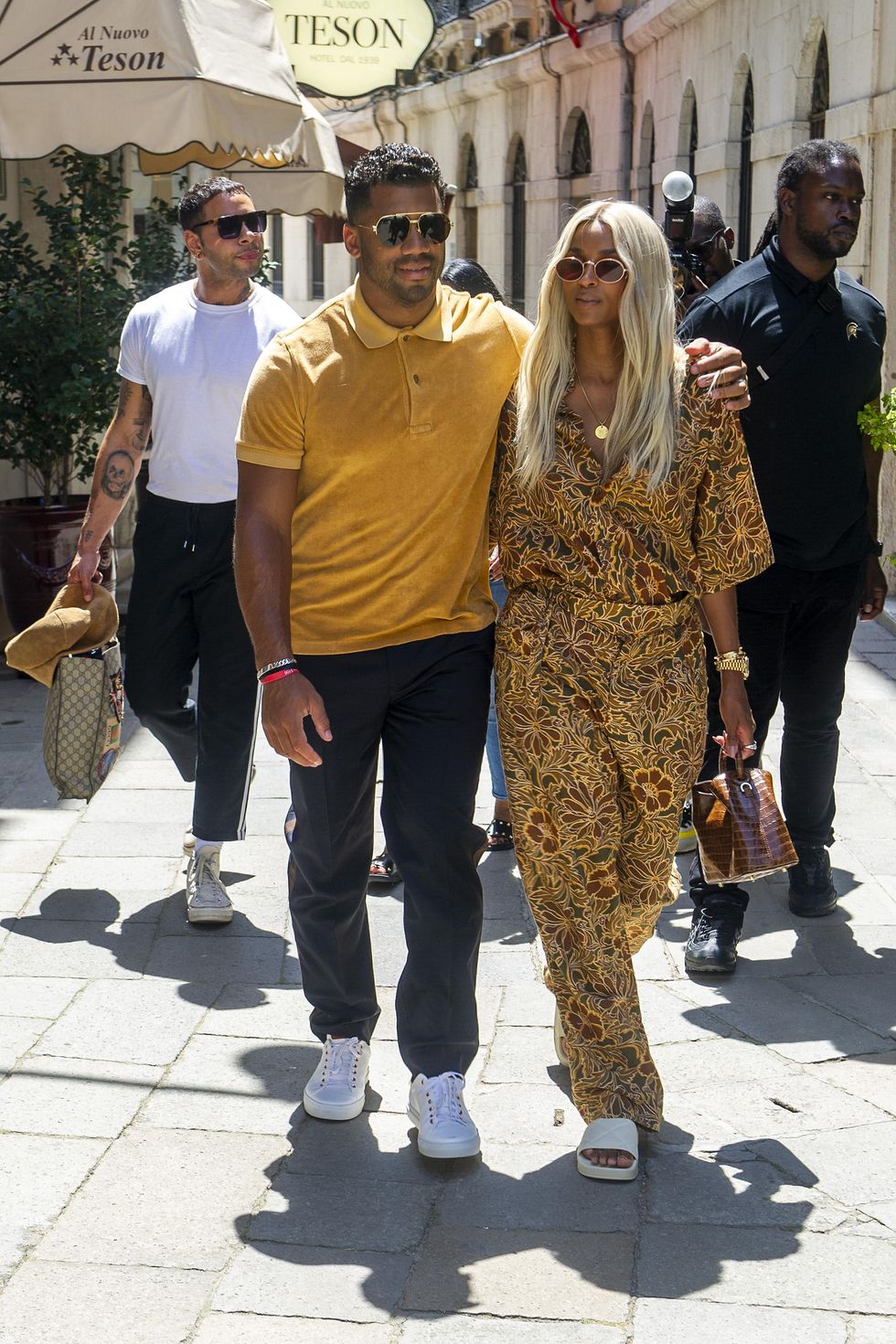 Luca Zanon/Awakening/GC Images
Italy is known for its endless food contribution to the world. But actually being in Italy, gives Olive Garden a run for its money. With freshly made pastas, and ingredients that will even make granny mad, visiting the various amounts of restaurants, or taking the time to take a cooking class is what baecation dreams are made of. And although pasta and pizza are staples, the reality, however, is that Italy is home to variety of cuisines and people often make the mistake of flocking to touristy eateries serving food that reflects their expectations (such as pasta and pizza) and not what the locals or veneziani really eat.
But Venice's unique lagoon location and proximity to the island gardens of Sant'Erasmo, means that their genuine cuisine consists of some truly flavorful and refined dishes relying heavily on fish and vegetables.
Spend a night out on the town and try local dishes such as the sarde in saor, risotto al nero di seppia, fritole, or the various, various amounts of wine. Bon appetit!
The Canals + Gondola Rides
The gondola is a traditional Venetian rowing boat, similar to a canoe, that's flat-bottomed and narrow in order to fit along with other gondolas into small canals in Venice. The gondola is operated by a gondolier with a rowing oar. In the past, it was used as a major mode of transportation in Venice. These days, however, the gondola ride is primarily a tourist attraction.There is no better way to see many amazing parts of Venice without this gondola ride. Venice historically has been connected by canals, so the only way to see many historical sights or just beautiful architecture is from the water.
Also, riding the gondola gives you a different angle from the water and you get a much better view of many structures. Plan to be serenaded by the gondoliers and see the best of what Venice has to offer.
(Rides are generally 40 minutes and during the day, costs 80 euros. If you want a longer ride, every 20 minutes will cost you $40 extra. After 7 p.m., the gondola rides are slightly more expensive, costing 100 euros for a 40-minute ride).
The Architecture Tours
If you don't appreciate architecture, then Venice may not be the place for you. Venice's architecture is unlike that of anywhere else in the world—owing, of course, to its natural context. Everything is built on stilts in the middle of a lagoon and it's so amazingly popular, that the Venice Biennale of Architecture exhibition, also known as Mostra di Architettura di Venezia (in Italian), is held every other year. Grab bae and explore the history of Venice through its buildings, squares and canals to see the works by Carlo Scarpa and Mario Botta (who shaped much of Venice).
Also, add the Rialto Neighborhood, St. Mark's Square, Campo San Giovanni e Paolo, and Campo Santa Maria Formosa to your to-do list as well.
Enjoy, guys!
Are you a member of our insiders squad? Join us in the xoTribe Members Community today!

Featured image by Luca Zanon/Awakening/GC Images
Keep reading...
Show less
There's nothing like a good ol' chocolate, caramel, or vanilla-wafer brotha who is not only open to adventures in business, love, and the bedroom but who is always down for the extraordinary trip of a lifetime. And sis, we as a community are doing more and more traveling---especially to international locales---these days. According to research, black travelers contribute a whopping $63 billion to the tourism industry, and 17% of us take one or more trips outside of the U.S.
It's fun to enjoy a solo trip every now and again, but sometimes it's good to get a little companionship from a guy who knows how to let it all hang out and make new memories.
These 10 men are changing the game in the travel world---venturing off the beaten path and letting us in on how royally our kings roll around the world:
Agoro, a Nigerian-American entrepreneur from Chi-town, offers premium content via his travel platform, Passport Heavy, which features vlogs from his experiences in places like Mexico City, London, Accra (Ghana), Lagos (Nigeria), and Medellin (Colombia). His videos always invoke feelings of yearning, possibility, and aspiration, and he's always super-motivational. He also gives so many details about how you can replicate the experiences. (Added bonus: His Website says he's "looking for romance", so ladies, go ahead and hit up thet DMs. Let's hope that by the time this is published, that's still true.)
This guy's Instagram is packed with black boy joy and photos that look like they came from a modeling portfolio. The consultant who proudly proclaims his Howard University alumni status, has shared experiences from Budapest to the Philippines to Puerto Morelos, Mexico, and relishes in more than his share of luxe. We can dig it.
A self-proclaimed "travel engineer", Brian proves that we can all get past travel stereotypes (and throw away the phrase, "Black folks don't go there.") He's taken trips to Cambodia, Finland, and Haiti, and offers a glimpse into luxury experiences in places some of us might not have previously considered a must-see. He also candidly shares the highs---and lows---of TWB (aka traveling while black). Brian keeps it moving, around the world, surpassing 90 countries visited.
As founder of a travel community and content platform that has grown to more than 77,000 followers, Rondel proudly travels with his wifey---sorry, ladies---and advocates for black travelers going beyond the usual. He's had journeys from Africa to the Caribbean to Europe, and with more than 60 countries visited, gives us a view not only into the sweetness of black love but the euphoric feeling of getting one more passport stamp.
This Jamaican vlogger is known to take a baecation or two to explore nontraditional venues within the country of his birth. He also creates memorable experiences like "Catch & Cook" lobster and jungle treks in Mexico. Stephen-Philip reminds us all that though we might have a favorite go-to vacay spot, we must still be open-minded to going beyond the typical resorts and Airbnbs. I mean, our travel and love lives get stale otherwise.
Curry is a chef who has made amazing strides with his platform that showcases healthy living. The creative entrepreneur also takes readers along on his travels, some of which include food adventures in Bangkok, Chiang Mai, and Morocco. As if his dishes aren't swoon-worthy enough, Curry shares his fitness and gym routines that might have you sneaking to the other room to binge watch. (Sorry, bae.)
A Southern-bred professional with a doctoral degree who plays the organ and travels? Chile, go ahead and faint. The clinical pharmacist shares reviews and experiences from his trips via his Website and gives us a sneak peek of global adventures on his IG. Japan, Croatia, Kenya, and Switzerland are just a few spots he's landed on, and the list continues to grow. Can't vouch for his relationship status, but hey, don't let that keep you from fantasizing or even doing a bit of Web stalking---I mean, research---to find clues.
OK single ladies, you might want to steer clear of knocking over that wine glass or coffee cup near your laptop while checking out his IG page. When this photographer is not traveling with his Omega Psi Phi bruhs to locales like Louisiana's French Quarter and the Louvre in Paris, he's luxuriating on Bali's Kelinking Beach or at Croatia's Palmizana. What better way to up your (Instagram) travel profile than having a bae who knows his way around the world and behind a camera lens?
A photographer and engineer, Andrew travels with his wife, an entrepreneur in her own right, on global explorations. The two give us all the tripspiration feels via IG. You'll find ideas for plans with your current boo (I'm taking notes) or future hubby you've been prayed about---from honeymooning in Bali, to anniversary revelry in Kenya, to yacht lounging in Italy.
He touts himself as "The Jetsetter", and the name is quite fitting since he's been to more than 50 countries. You'll find photos and back-stories for some of his most inspiring trips, from playing soccer with local kids in the West African nation of Togo, to enjoying coffee outside Poland's infamous Crooked House. Throw in a beard, muscles and mention of Hebrews 11:6, and he might be the formula for a travel-bae match made in heaven. (But don't quote me on his marital status, as that is unknown based on his IG. Guess you'll have to shoot your shot and see.)
Want more stories like this? Sign up for our newsletter here to receive our latest articles and news straight to your inbox.
Featured Image by Shutterstock
Keep reading...
Show less
Valentine's Day has come and gone but the romance in your relationship doesn't have to and if you're looking for a way to add some fire to your love life, Taraji P. Henson and Kelvin Hayden just proved that a baecation to Cabos San Lucas should be at the top of your list.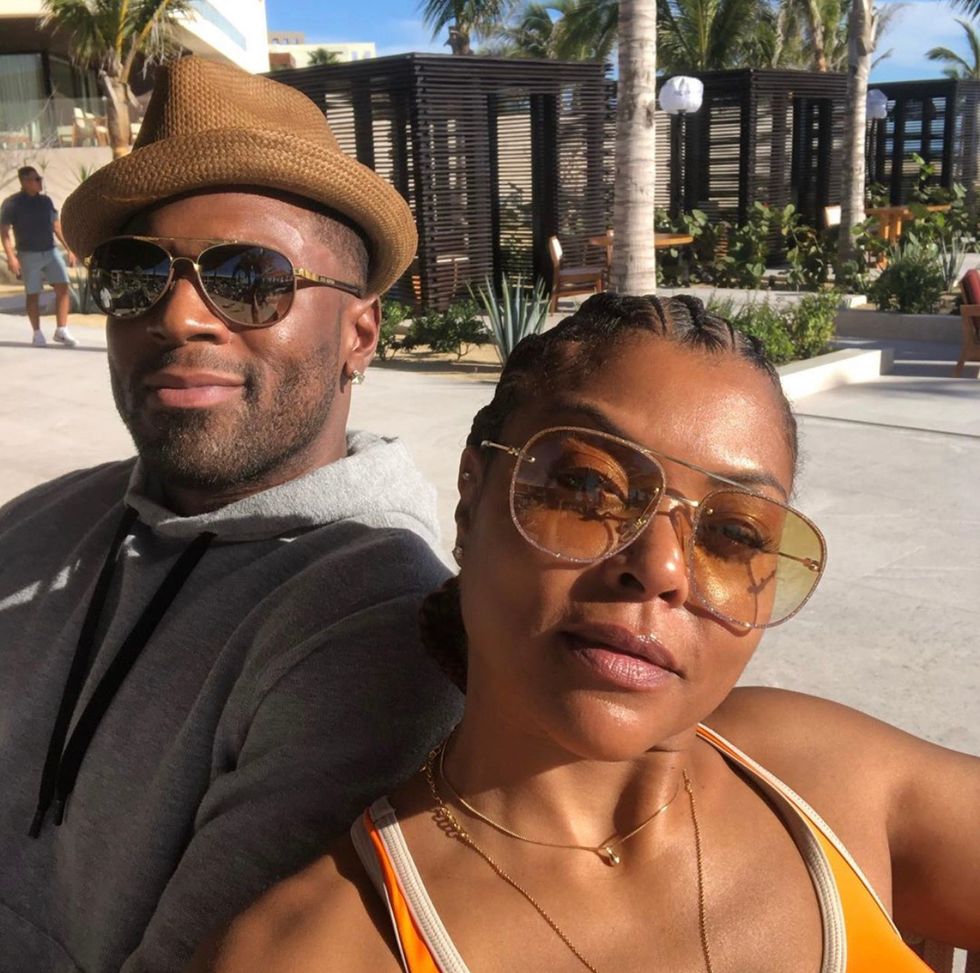 Instagram/@tarajiphenson
Last May, the couple announced that they were happily engaged and while the couple hasn't confirmed an official wedding date, Taraji and Kelvin's never-ending honeymoon has already started. In a recent Instagram post, the actress revealed that she and her boo embarked on an epic romantic getaway to Mexico that has us ready to pack our bags, too.

The 49-year-old actress, who gave us our entire lives in the sexiest black one-piece, posted an image of her posing at Nobu's luxurious Los Cabos resort and gave us hella wanderlust.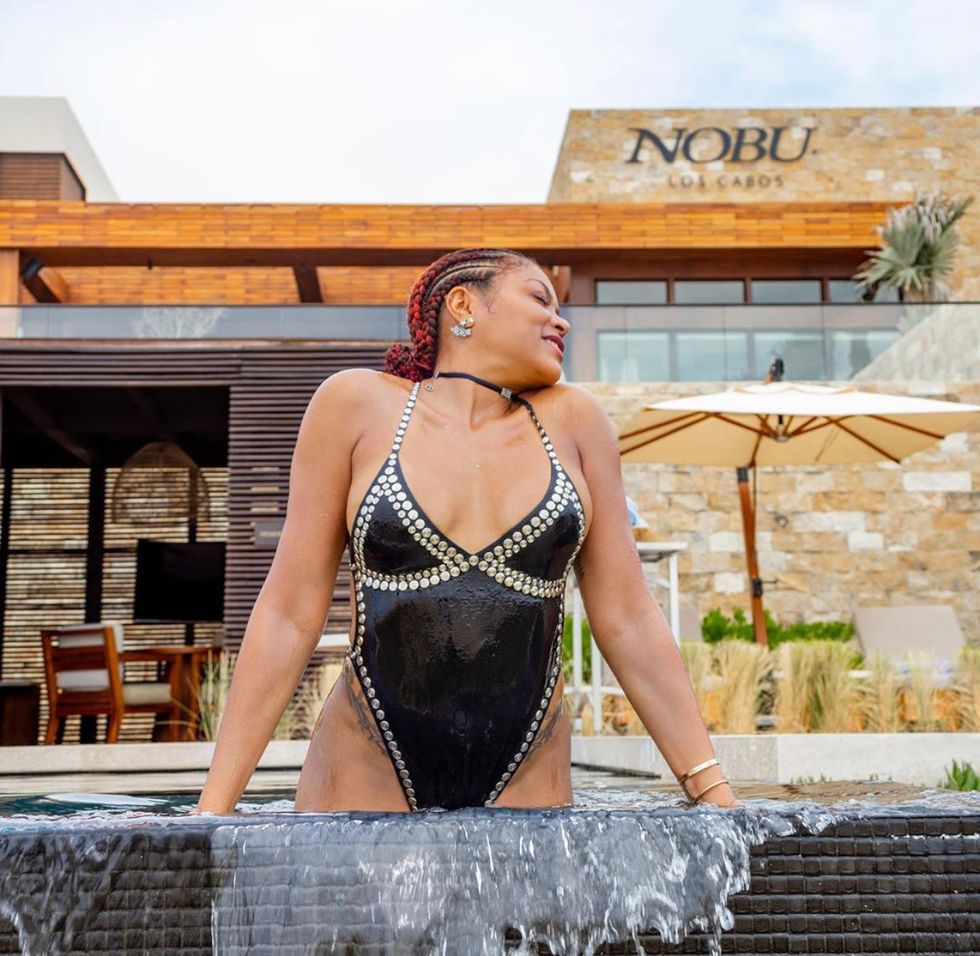 Instagram/@tarajiphenson
If you needed an excuse to book a flight and head to Mexico with the one you love for a celebrity-inspired baecation, I'll give you 3.

Here are a few couple-friendly hotels and resorts you should definitely consider when traveling to Cabos San Lucas.
Ballin' On A Budget: The Bungalows Hotel
You don't have to break the bank to have the baecation of your dreams and The Bungalows Hotel will allow you to have a ball while keeping your budget in-tact with rooms starting at $128 a night. Upon googling this 3-star destination, you'll find hella five-star reviews that rave about the hotel's friendly staff, Spanish-style furnishings, and convenient location.
The Extravagent Traveler: Waldorf Astoria Los Cabos Pedregal
If you and your lover are looking for a bad and bougie baecation destination that will allow you to live like royalty for a few days, check out the Waldorf Astoria Los Cabos Pedregal. While rooms are $736 a night, more than 2,000 online reviews guarantee that you won't be disappointed. Each room at the resort comes with room service (with the option to upgrade to butler service), a private plunge pool, and all of the ambiance you and your man need to get the mood right.
Somewhere In Between: Pueblo Bonito Pacifica Golf & Spa Resort
For the couple who isn't trying to blow a bag and desire a more humble flex, check out Pueblo Bonito Pacifica Golf & Spa Resort. Their in-house spa was named one of Conde Nast Traveler's "Best Spas in Mexico & Central America" in 2013 and while you're getting your self-care all the way together, your man can even work on his swing on what Golf Digest calls one of the greatest golf courses in the world.
Featured image by Instagram/@tarajiphenson.
Keep reading...
Show less