---
November 2016, I met who I thought was going to give me everything I needed. I was right in the thick of my post-grad depression , finding myself, figuring out what I wanted out of this life, and how I could make the most out of it. We met via social media (of course) and I remember telling my friend that it just seemed way too good to be true. He was just "too perfect". Well, he was .
It began as any normal relationship, however, that quickly changed as time went on.
He didn't want me to be around any of my male friends. He would get jealous of what I wore or try to check my phone to see who was texting or calling me. But, he made me feel a way, a way that made me look past all the red lights that were constantly being thrown at me. A little over a month into our relationship is when the psychical abuse actually began. He got mad at me for something so dumb, so we argued about it, and then he hit me. I remember being so shocked that someone had the audacity to put their hands on me.

It was the first time, but it was not the last.
For the next six months, we fought. We went back and forth. We'd fight and then he would apologize. There were plenty of times where I thought that I was for sure going to be killed, but I was so terrified of what people would think of me, a girl who thought things like this wouldn't happen to her. I didn't say anything. The only one who knew at that time was one of my best friends and my roommate at the time. Still, all the while, he'd observe my insecurities and use them to his advantage, which pulled me into a deep depression. I lost weight, dealt with suicidal thoughts, and allowed myself to be consumed by this toxic environment.
Every time I said I was done, he would do something to make me think he would change. I was always the strong friend , the one who other people would call when something bad or crazy happened. So, for me, being the girl who's life had completely hit rock bottom, I was beyond embarrassed. Embarrassed of what my family and friends might do or say. Embarrassed that I allowed something to continue for way longer than it should have, because I knew better. I knew deep down that the situation would never change but maybe I was just too scared to actually leave him.

After a few weeks went by of me trying to get the actual courage to leave, I found out that I was pregnant, and then I really felt stuck. I was so depressed, because I knew that having this baby would mean that I was connected to this man for the rest of my life and that was something I did not want to do. Maybe it was God, or just the negative energy I was giving out, but I ended up having a miscarriage. And while of course losing a baby was hard, the sense of relief I got made me realize that THIS was my sign, my chance, my opportunity to let him GO!
Once I finally found the strength to walk away, I still dealt with the aftermath of the remnants from that relationship. It was not easy at all.
Picking up the pieces and trying to find myself again, I found myself at rock bottom, pleading with God to give me a reason to keep going. None of my family knew about the abuse, so I was dealing with it all on my own. Holding that pain in is too much for anyone to deal with by themselves.
I remember sitting on my couch literally talking to Him and asking Him what was my purpose? I was trying to find the light at the end of the tunnel, but I just could not. So, everyday I would write and journal my thoughts and feelings. It took real work to acknowledge that I was in such a dark space, and maybe that's what God was waiting for: For me to actually acknowledge that I was in a very dark space and I couldn't come out of that alone.

A few months later, He gave me the idea for Glow Candle Bar . It would become the business that saved my life and changed me. I always had a love for candles, the way they made me feel when I lit one and how the different scents lifted my mood, even when I was at some of my lowest points. I started just making them for fun and I found out that I was actually pretty good at it, so I decided to see if I could make this into an actual business. I wanted the candles to be a reminder of the light I found at the end of the tunnel, and in turn being that same light for someone else who might be going through a certain situation and they can't find hope. I wanted my candles to be the thing that held everyone accountable for their own happiness and journey.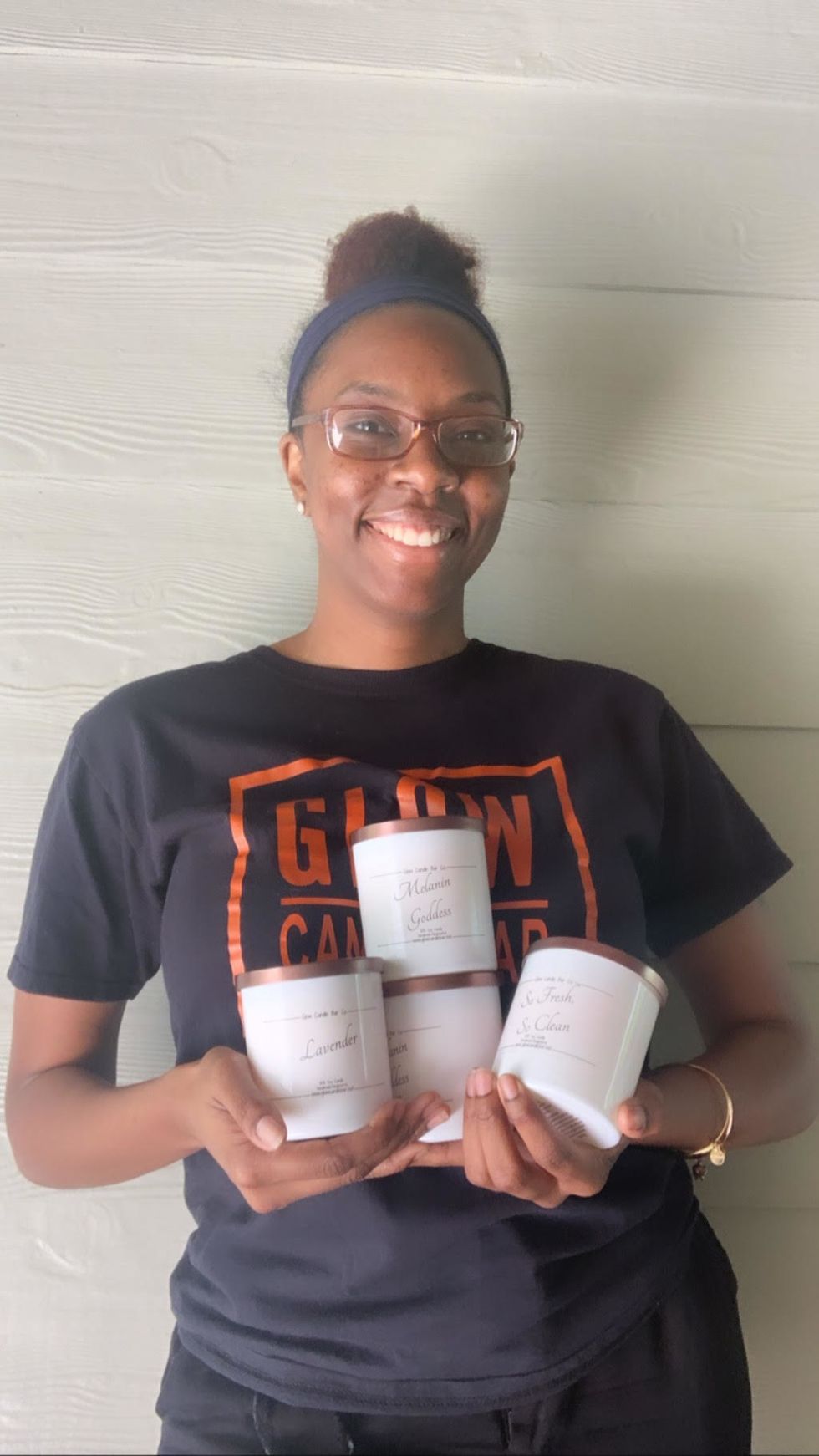 Courtesy of Brianna A.
Once I started sharing my mental health journey, at first, I was so scared. I thought if I revealed this about myself, I would be made to feel like I was a victim and that I would be judged. But the exact opposite happened. Even though in the beginning of that journey, I did not share the parts of my abusive relationship and miscarriage because I didn't want to reveal that part of me, writing this and sharing it all with you now is the biggest breath of fresh air I've had in years. I'm grateful.

Nowadays, people from all walks of life tell me how sharing my truth has inspired them. I was overwhelmed. A few months after launching Glow, I started "Mind Your Business", a mental health event in Charlotte, NC that is catered to black and brown women and men to help bridge the gap on the stigma we have in our community. I realized that creating safe spaces for people who look like me is also a part of my purpose.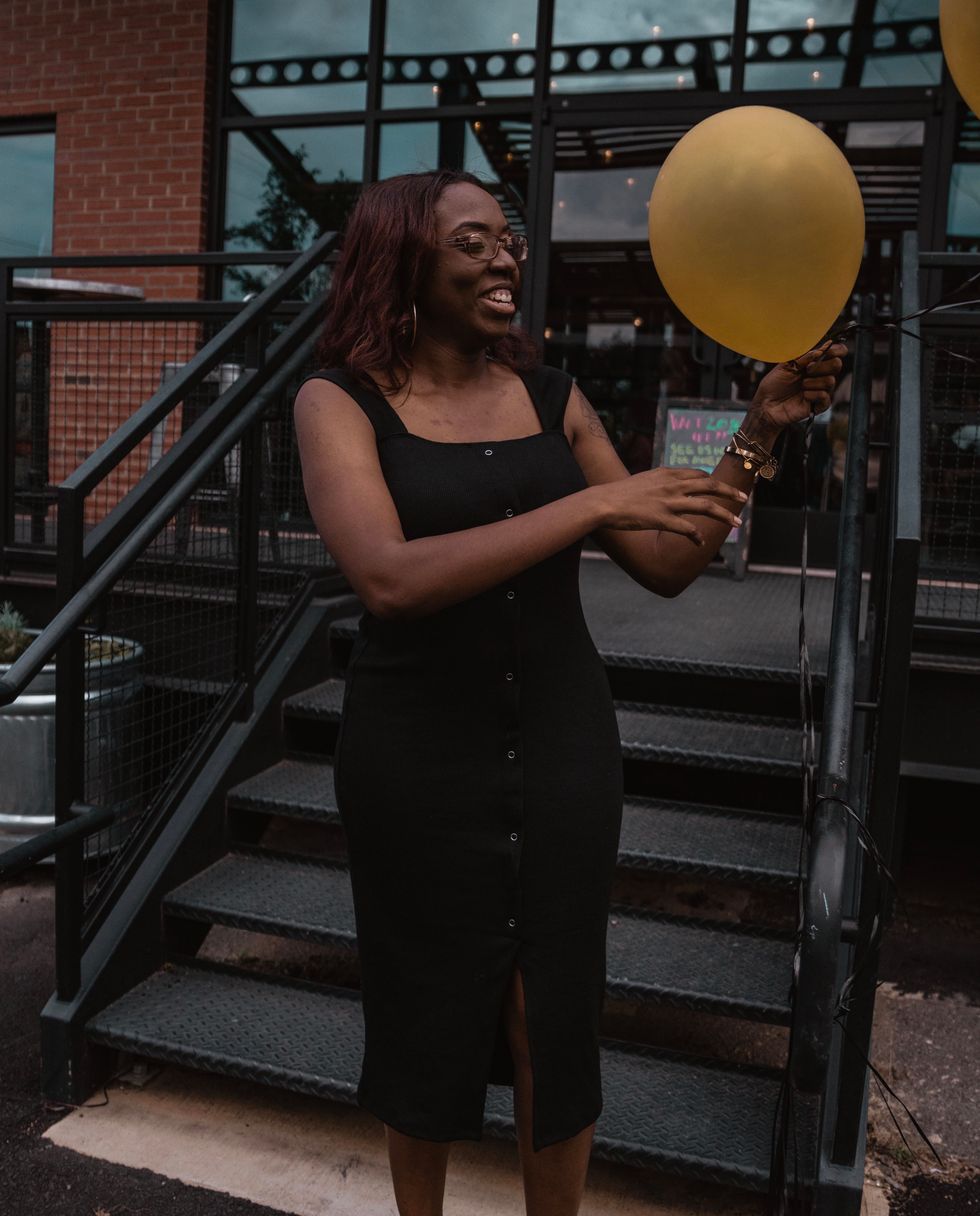 The light at the end of the tunnel. Courtesy of Brianna A.
Finding the light at the end of the tunnel from my situation is helping others find their light. I sit here grateful that this made me realize 1) I am not a victim, I am a survivor, 2) I can use my story to help others find their light, 3) I rebuilt my life and became a new person who speaks her truth always.

And lastly, I am not weak, I am stronger than I could ever imagine.
xoNecole is always looking for new voices and empowering stories to add to our platform. If you have an interesting story or personal essay that you'd love to share, we'd love to hear from you. Contact us at submissions@xonecole.com.
Featured image by Shutterstock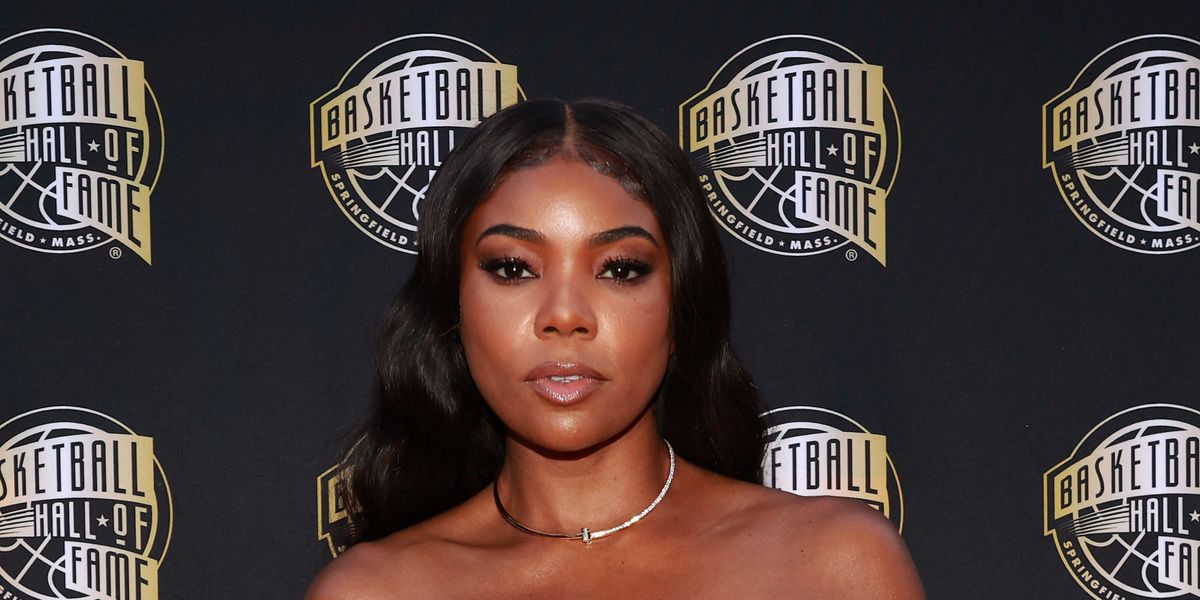 Whenever Gabrielle Union graces the movie screen, she immediately commands attention. From her unforgettable scenes in films like Bring It On and Two Can Play That Game to her most recent film, in which she stars and produces Netflix's The Perfect Find , there's no denying that she is that girl.
Off-screen, she uses that power for good by sharing her trials and tribulations with other women in hopes of helping those who may be going through the same things or preventing them from experiencing them altogether. Recently, the Flawless by Gabrielle Union founder partnered with Clearblue to speak at the launch of their Menopause Stage Indicator, where she also shared her experience with being perimenopausal.
In a xoNecole exclusive, the iconic actress opens up about embracing this season of her life, new projects, and overall being a "bad motherfucker." Gabrielle reveals that she was 37 years old when she was diagnosed with perimenopause and is still going through it at 51 years old. Mayo Clinic says perimenopause "refers to the time during which your body makes the natural transition to menopause , marking the end of the reproductive years."
"I haven't crossed over the next phase just yet, but I think part of it is when you hear any form of menopause, you automatically think of your mother or grandmother. It feels like an old-person thing, but for me, I was 37 and like not understanding what that really meant for me. And I don't think we focus so much on the word menopause without understanding that perimenopause is just the time before menopause," she tells us.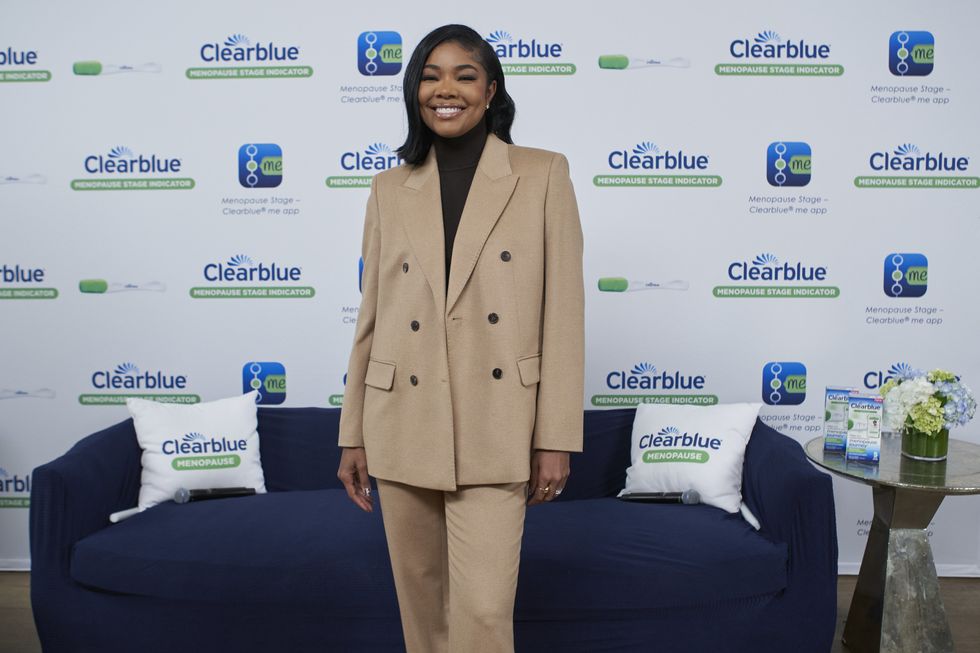 Gabrielle Union
Photo by Brian Thomas
"But you can experience a lot of the same things during that period that people talk about, that they experienced during menopause. So you could get a hot flash, you could get the weight gain, the hair loss, depression , anxiety , like all of it, mental health challenges , all of that can come, you know, at any stage of the menopausal journey and like for me, I've been in perimenopause like 13, 14 years. When you know, most doctors are like, 'Oh, but it's usually about ten years, and I'm like, 'Uhh, I'm still going (laughs).'"
Conversations about perimenopause, fibroids, and all the things that are associated with women's bodies have often been considered taboo and thus not discussed publicly. However, times are changing, and thanks to the Gabrielle's and the Tia Mowry 's, more women are having an authentic discourse about women's health. These open discussions lead to the creation of more safe spaces and support for one another.
"I want to be in community with folks. I don't ever want to feel like I'm on an island about anything. So, if I can help create community where we are lacking, I want to be a part of that," she says. "So, it's like there's no harm in talking about it. You know what I mean? Like, I was a bad motherfucker before perimenopause. I'm a bad motherfucker now, and I'll be a bad motherfucker after menopause. Know what I'm saying? None of that has to change. How I'm a bad motherfucker, I welcome that part of the change. I'm just getting better and stronger and more intelligent, more wise, more patient, more compassionate, more empathetic. All of that is very, very welcomed, and none of it should be scary."
The Being Mary Jane star hasn't been shy about her stance on therapy . If you don't know, here's a hint: she's all for it, and she encourages others to try it as well. She likens therapy to dating by suggesting that you keep looking for the right therapist to match your needs. Two other essential keys to her growth are radical transparency and radical acceptance (though she admits she is still working on the latter).
"I was a bad motherfucker before perimenopause. I'm a bad motherfucker now, and I'll be a bad motherfucker after menopause. Know what I'm saying? None of that has to change. How I'm a bad motherfucker, I welcome that part of the change."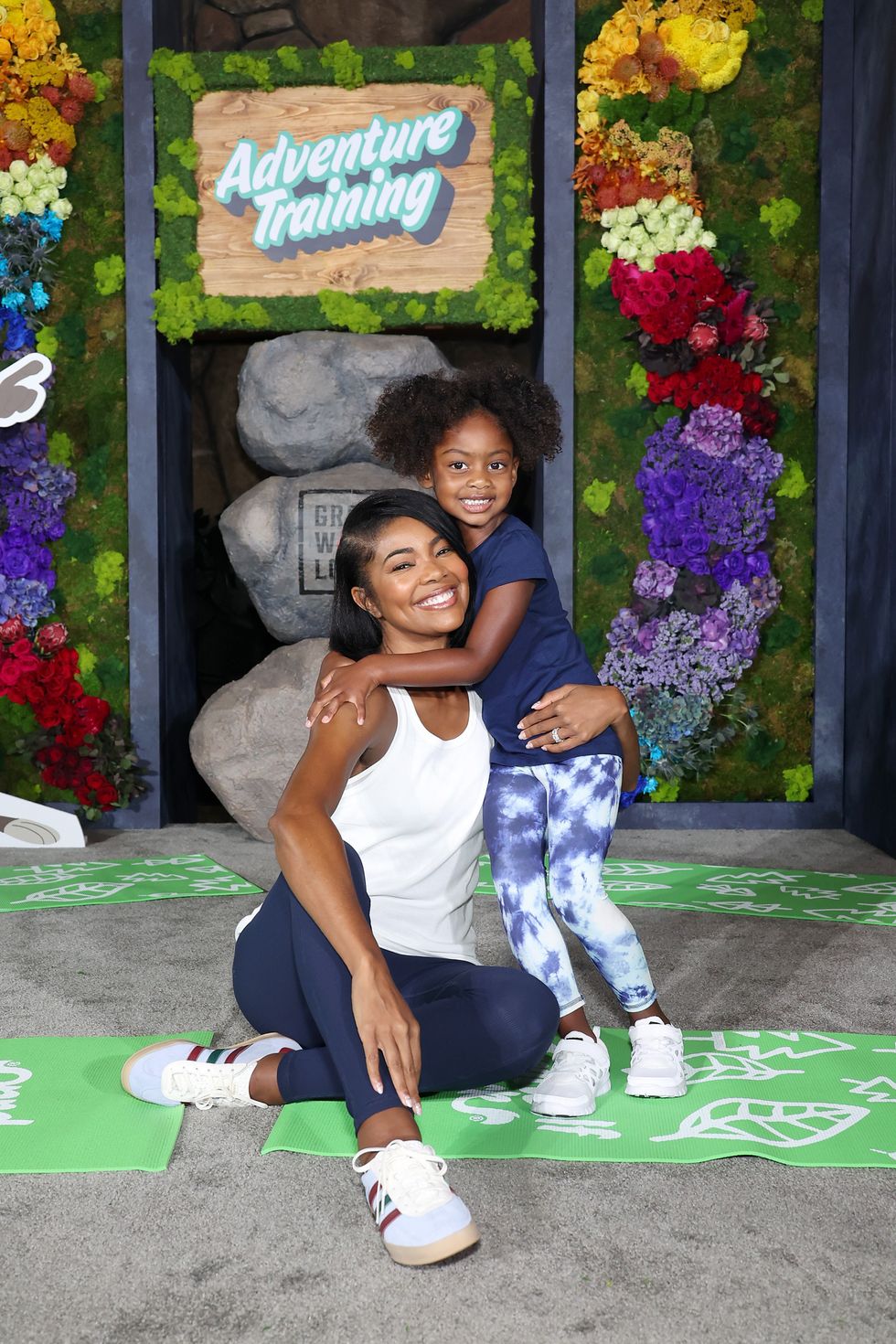 Gabrielle Union and Kaavia Union-Wade
Photo by Monica Schipper/Getty Images
"I hope that a.) you recognize that you're not alone. Seek out help and know that it's okay to be honest about what the hell is happening in your life. That's the only way that you know you can get help, and that's also the only other way that people know that you are in need if there's something going on," she says, "because we have all these big, very wild, high expectations of people, but if they don't know what they're actually dealing with, they're always going to be failing, and you will always be disappointed. So how about just tell the truth, be transparent, and let people know where you are. So they can be of service, they can be compassionate."
Gabrielle's transparency is what makes her so relatable, and has so many people root for her. Whether through her TV and film projects, her memoirs, or her social media, the actress has a knack for making you feel like she's your homegirl. Scrolling through her Instagram, you see the special moments with her family, exciting new business ventures , and jaw-dropping fashion moments. Throughout her life and career, we've seen her evolve in a multitude of ways. From producing films to starting a haircare line to marriage and motherhood , her journey is a story of courage and triumph. And right now, in this season, she's asking, "What's next?"
"This is a season of discovery and change. In a billion ways," says the NAACP Image Award winner. "The notion of like, 'Oh, so and so changed. They got brand new.' I want you to be brand new. I want me to be brand new. I want us to be always constantly growing, evolving. Having more clarity, moving with different purpose, like, and all of that is for me very, very welcomed."

"I want you to be brand new. I want me to be brand new. I want us to be always constantly growing, evolving. Having more clarity, moving with different purpose, like, and all of that is for me very, very welcomed."
She continues, "So I'm just trying to figure out what's next. You know what I mean? I'm jumping into what's next. I'm excited going into what's next and new. I'm just sort of embracing all of what life has to offer."
Look out for Gabrielle in the upcoming indie film Riff Raff , which is a crime comedy starring her and Jennifer Coolidge, and she will also produce The Idea of You , which stars Anne Hathaway.
Feature image by Mike Lawrie/Getty Images

Earlier this week, I slipped on my favorite flip-flops and hurriedly walked out the door, only to turn around a few seconds later and swap them for a pair of boots. That's when it hit me – fall is here, and "winter is coming.'' In Atlanta, the heat lingers for a while, but I think it's finally time to retire the sleeveless tops and denim shorts and commit to long-sleeved shirts and stylish slacks. Change is constant whether we want to accept it or not, and nothing displays this quite like the weather. But as someone who's been working in sweats and t-shirts for the past few years, I realized my closet was no longer giving what it was supposed to give. Half of my wardrobe felt outdated, and the remainder only partially reflected my current style.
So, after giving away a few bags to Goodwill and Insta-stalking my favorite influencers , I decided that my current "mood" would influence my style – but this still presented a problem. I wasn't sure exactly what mood I wanted to convey. Because I enjoy the confidence of business casual looks. But if I'm honest, I also like the power I feel in more sensual styles. Still, the majority of the time, I love a comfy, cute, and casual fit. Luckily for me, I learned I don't have to commit to just one, and neither do you. Our fashion choices can be just like us: multifaceted. Still, it doesn't hurt to have an overall idea of your signature style.
So we talked to a few women who can help. Here's 6 Black fashionistas you should know, along with their style advice for the colder season.
For Sneaker Lovers
Melissa Carnegie, Kicks and Fros Founder
How did you go about starting your sneaker collection, and what advice do you have for women looking to build their own? I started my sneaker collection, buying sneakers I liked and that fit my style. Advice I have for other women looking to build their collection is to start where you are. Outlet stores will be your best friend. You don't have to break the bank when starting your collection .
Give me three staple sneaker styles that should be in every woman's closet.
I would say an Air Force 1, Adidas Stan Smith, and Jordan 1.
What are a few ways to incorporate sneakers into our professional looks?
Always be yourself and pair kicks with your everyday style. One way I take them into a professional setting is pairing them with suits. Maxi skirts, slacks, and graphic tees also look great when rocking sneakers.
There's a narrative out there that heels, sandals, etc., are more girly or "feminine" than sneakers. What are your thoughts on this, and can you share some fashionable ways you incorporate sneakers into your style to dispel this?
I don't agree with this narrative at all. You can 100% give all feminine energy when wearing sneakers. Sneakers with dresses always bring a feminine, soft edge. Crop tops, skirts, and cropped fitted tops with baggy loose bottoms also give feminine energy .
What's next for Kicks and Fros? Also, can you share a personal goal you're working on?
We launched a sneaker cleaner in the beginning of October I'm super excited about. It's a project we've been working on for two years, and I can't wait for our community to have it in their hands. A personal goal I'm working on is scheduling downtime to do something fun, something other than work, lol!
For Thrifters
Bicoastal B, Stylist
What's your favorite thing about thrifting? What advice would you give to people who struggle to find nice pieces while thrifting?
My favorite thing about thrifting is finding designer/high-end brands for cheap. It literally gives me a high. I have been thrifting all my adult life, pretty much. The best advice I can give individuals who are wanting to thrift is to go with patience and kind of already have in mind what you're looking for. Don't be afraid to pull out your Pinterest board to look at inspo while shopping.
Are there any staple pieces you recommend we add to our collection?
Blazers are great to throw on with literally anything, and boom you're that girl. Also, I'd say a leather jacket, a nice turtleneck, and a good pair of jeans and slacks.
When did you realize you wanted to be a stylist, and what services do you offer?
I first realized I wanted to be a stylist when I lived in Tokyo . I was putting looks together and posting them on IG. I had one lady DM me and asked if I offered a service, and the rest is history. Now, I offer a number of services: style boxes (where I thrift shop for your personal wardrobe based on a brief questionnaire), personal shopping, and photoshoot styling.
For Fashionistas
Pilar Scratch, Stylist
What's the fall fashion tip you swear by?
When it comes to autumn fashion tips, layering is key. To achieve a chic look, you can try out some of these top combinations: a long coat and neck sweater, white tee and wool pants, a long quilted vest, white button-up, & knee-high boots. When layering for the autumn season, it's essential to balance proportions and mix up textures. Keep this in mind, and you'll have a fantastic wardrobe in autumn!
How did you cultivate your signature style?
My signature style was honed through my study of vintage fashion, mainly influenced by the edgy yet classic look of the '80s and '90s. I delved into Pinterest boards and even interned at Patricia Field's boutique in the early 2010s before it closed. I was fortunate enough to study under some of the fashion industry's greats, and the experience was invaluable.
Who are your style influences, and what have you learned from them?
I'm grateful to have worked closely with my fashion influences, Ty Hunter and Patricia Field. Ty is a dear friend of mine now. They've both had a significant impact on my sense of style. Through them, I've learned that fashion is an art form that manifests in clothing, and it's a fabulous way to express oneself. Additionally, it's crucial to not be afraid of taking risks in the fashion industry. Remember, the bolder the statement, the greater the risk.
Sometimes I go to events and it feels like we all shopped at the same place. Tell me about a few of the ways you keep your looks so stylish yet unique.
You can revitalize your wardrobe with a clothes swap . Try swapping clothes with your most fashionable friends. One great way to keep your wardrobe feeling fresh is to adopt a one-in, one-out policy. Get rid of items that haven't been worn in months and trade them for something your friend has grown tired of wearing. It's a win-win situation! By doing this, you can acquire distinctive items that will give you the feeling of a shopping spree.
What services do you offer, and what's the best way to connect with you?
Currently, I have the pleasure of working as a celebrity wardrobe stylist and serving as the Editor-in-Chief of Fashion Gxd Magazine. Our magazine is sold at Barnes and Noble, Walmart and is Amazon's best-selling magazine. We showcase a diverse range of entrepreneurs and their life journeys. I have been working as a wardrobe stylist and fashion/shopping expert for the last decade, dressing celebrities such as Fatman Scoop, Musiq Soulchild, Rah Digga, Mariah Lynn, Jim Jones for Fashion Gxd Magazine, and River Mason Eromosele. My expertise has been recognized by several reputable sources, including The Wall Street Journal , Insider , Instyle , Yahoo , Essence magazine, BET , People Magazine, The Source magazine, Bustle , Men's Health , and Huffington Post .
For The Girls Who Like A Little Sex Appeal
Taquiela Wright, Designer of Lingerie Brand Delisa Rose
I like that your designs feature different styles and textures (lace, chiffon, velvet). It gives more of an elegant look. Are there other stylistic elements women should try to upgrade their style?
Play around with different fabrics for your skin tones, body type, and body shape. As I've put on a little weight, I pick fabrics that accentuate my curves. But for your lingerie closet, for example, work with stretchy materials and things that will form to the body. Know your body type but also the comfort. The form, fit, and color is all important. Little secret: I do a lot of focus groups, and red is always the #1 color my girls prefer for sexy styles.
Talk to me about making sure our clothing is environmentally friendly.
It's a journey with that because sustainability in top quality material is expensive. But you want to get something that's durable. Velvet and lace is what I play around with most with Delisa Rose. But it's good to pick materials that can be washed several times or collectible items.
Inside or outside of the bedroom, what are a few ways we can upgrade our look and add a dash of sex appeal?
Stick to the classics – like, the look of Chamise (her design) is not a new thing. It's just the way I created it. So, I pair transitional sensual pieces with classics. That way, you can feel elegant and nice while walking outside while still owning your sensuality and sexuality. (For example, she was wearing a bright pink blazer in the interview and paired it with a lingerie teddy underneath.)
Now you have an interesting background. In addition to being a designer, you're an engineer. How did your engineering background impact your journey into Delisa Rose?
I have to mention the manufacturing process. I didn't think about how this was going to come together. I just decided I wanted to design a brand you can wear in and outside of the bedroom, so I had to learn garment production, but that was such an easy transition because of my manufacturing skill and sorting. I specialize in raw materials, so before it's even processed I can tell if the purities meet the requirements, and that helps with laces and stretch quality.
For Risk-Takers
Monique F., Stylist
Are you big on accessories? What are a few must-haves you recommend?
I firmly believe in always accessorizing when leaving the house because these little additions, whether it's a piece of jewelry, glasses/sunglasses, a hat, scarf, or even a belt, have the power to elevate any outfit to the next level.
Who are style influences, and what have you learned from them?
My style is influenced by remarkable individuals such as June Ambrose, Tracee Ellis Ross , Rihanna , and Zendaya . They've taught me the importance of embracing risks when defining your personal style. Fashion, for me, is not just about clothes; it's an extension of self-expression. It's a means to showcase who I am authentically.
What services do you offer, and what's the best way to connect with you?
I provide a range of services, including personal styling, personal shopping, wardrobe revamping, and wardrobe styling for on-set photoshoots and videos. The best way to get in touch with me, you can find me on Instagram at @Morefined and reach me via email at morefined@gmail.com .
For The Girls Who Live Out Loud
Tomi Randall, Stylist
How did you cultivate your signature style?
Over time, by allowing my authentic self to shine through. I was able to align myself with the brands that aligned closely with my own personal values while being unapologetic AF.
Can you tell me about one of your style must-haves?
Necklines: turtlenecks, crewnecks, v-neck, or a cowl are great. Each neckline deserves its own unique necklace that complements the shape of each given silhouette. So it's MAJOR to give yourself options that help you elevate your look.

What have you learned from your style influences?
— June Ambrose; said " I'VE NEVER CONSIDERED MYSELF TO BE A "FASHION GIRL." BECAUSE I DIDN'T GO INTO IT NEEDING TO BE ACCEPTED BY THE FASHION DESIGNERS AND THE HOUSES. I WAS BUILDING MY OWN ATELIERS AND WRITING MY OWN TICKET, CREATING MY OWN PATH. "
I've learned through the hard work & dedication June Ambrose possessed at harnessing and honing in on her authentic eclectics in the carvings of her path that I too can strive to create a standard, my own standard, the new standard.
Sometimes I go to events and it feels like we all shopped at the same place. Tell me about a few of the ways you keep your looks so stylish yet unique.
It's not what you wear, it's how you wear it. My style is divinely guided by my higher self. She comes alive with texture, embodies moods, & sets the tone for any room she enters.
What services do you offer, and what's the best way to connect with you?
I provide my client the full luxury experience for both styling and couture design services for red carpet appearances, interviews, music videos, commercial, film and TV and one one-on-one image consulting/ virtual styling


Feature image by Jeremy Moeller/Getty Images