2023 is in full motion, which means we're gearing up to walk into our greatest season yet. While New Year's resolutions can look different for everyone, every woman needs a trusty journal to write her dream into a reality.
Journals secure our goals, document our lives, and keep our to-do lists in check. And while studies show that on average, one-third of resolutions don't make it past the end of January, that won't be our story. Because we've tapped the expertise of Jasmin Foster, founder of the inclusive stationery and gifts brand, Be Rooted for insight on how to utilize journals and planners to crush our goals all year long.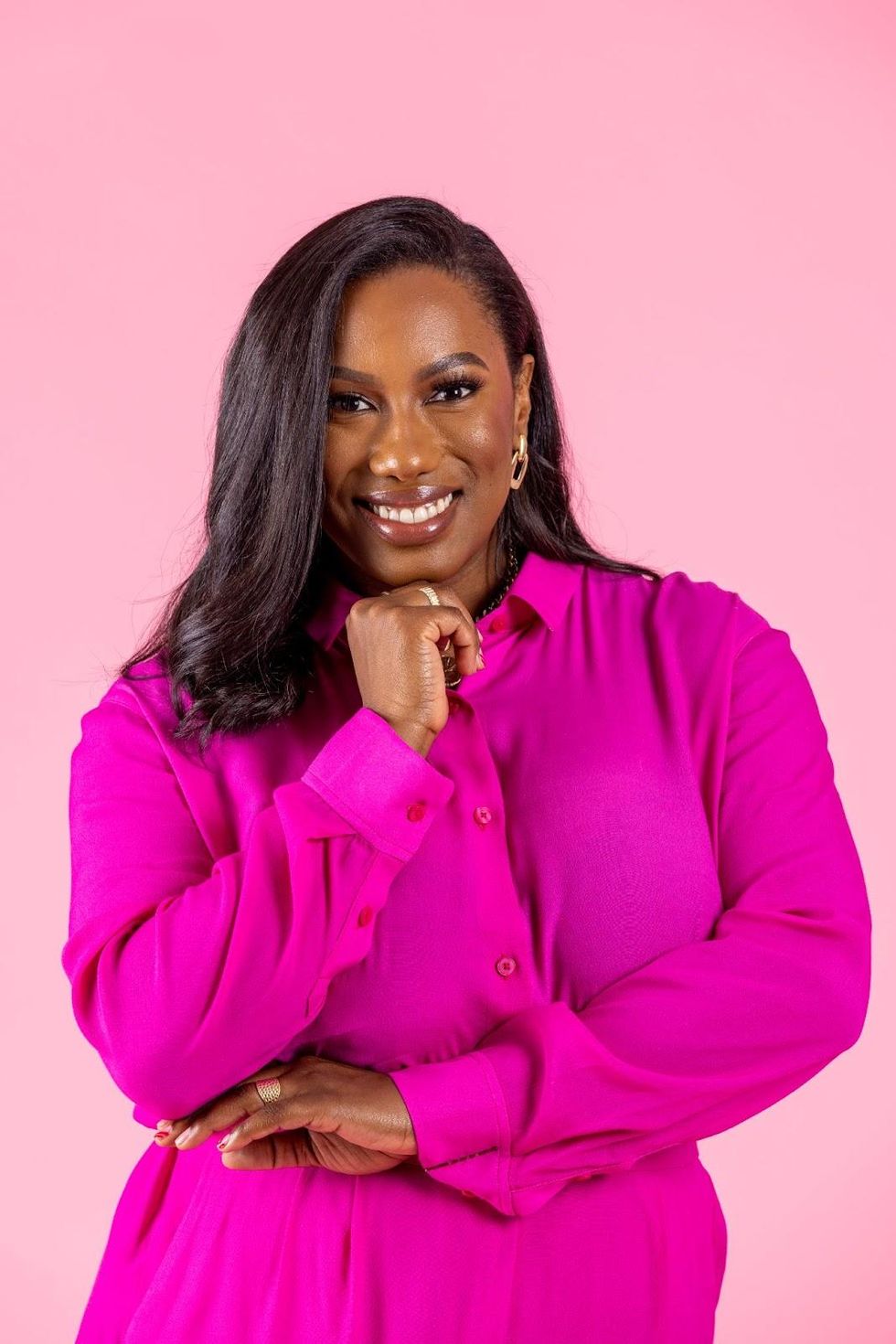 Courtesy of Jasmin Foster
When Jasmin launched her brand in 2020 as a passion project, it was the first time she wasn't chasing someone else's dreams; instead, she began to prioritize her own. Jasmin established her brand with the belief that Black women deserve to feel seen and represented across covers and within the pages of their journals. It is both a reflection of our stories and an affirmation to be rooted in ourselves, our culture, and our desires. "I want women to be able to see our products and not feel like they had to make a choice," Jasmin tells xoNecole.
Since launching, Be Rooted has made history by becoming the first Black-owned stationery brand to be sold at Target and continues to inspire Black women to explore their inner muse and celebrate themselves. "I want our customers to know that there's a brand out there that believes in them and wants them to succeed," she says. "We are just one of the tools in their toolbox that allows them to increase their productivity and to achieve their dreams."
For xoNecole, Jasmin drops gems on best journaling practices, how to make measurable goals, how a chance encounter with Issa Rae taught her the importance of being specific while manifesting our dreams, and more.
​On the importance of representation through design: 
Choosing journals that reflect one's personality and identity is a key part of the journal selection process. Here, Jasmin shares her intentions behind selecting designs that make Black women feel seen. "We wanted to have products that people could carry with them in their everyday life that were reflective of them and encouraged them throughout the day. There weren't a lot of brands, especially national brands, that were putting Black artwork on the covers in the stationery space. Having artwork that was more inclusively designed and reflective of our community was something that really hadn't been tapped into in a large way."
Courtesy of Jasmin Foster
Jasmin adds, "As we create every single design, we're taking into account who we're trying to talk to, how we're embodying her vibe, and taking into account different skin tones, body types, and hair textures. People are coming to our brand to either find a reflection of themselves or a reflection of someone in their life that they're looking to connect with; and if it's not the artwork, they're looking at the words."
On her Number #1 tip for getting started in your journaling practice: 
Jasmin explains, "Journaling doesn't have to be something that you need to sit down every day and be like, 'Dear Diary...', it should be for when you're ready to sit down, write those honest truths, and recap your day. I'm never going to be the person that is going to push that you have to write every single day because that may not be everybody's authentic truth. However, if you are someone who is looking to make it a daily habit, as a goal of yourself, I would say there are some amazing journal prompts that you can leverage as a starting tool. Some examples that I think are important are, 'What am I grateful for the day?' and 'One thing I was proud of is…' Using these journal prompts is a great way to get started," she shares.
​On being specific about your dreams: 
Jasmin shares how a chance encounter with actress and producer, Issa Rae, revealed the importance of making your goals as gradual as possible. "While at Essence Festival this year, we were running into all these amazing celebrities, and I thought, 'What if by the end of the week, I could finally meet Issa Rae?' I didn't want to meet her as a fan, I wanted to meet her while we were eating dinner or something where I could have a conversation. I went to dinner an hour later and guess who walks into the restaurant? Issa Rae. And she gets the table across from me. I realized I have to be a little bit more specific with my dreams because I meant to tell God that I wanted her to sit at the table with me," she says laughingly. "Be very intentional with what you ask for."
Courtesy of Jasmin Foster
On how to make your dreams measurable: 
"Be very clear about what you want. I think in the vision board space, we focus on collecting pretty pictures. But we should also take the time to write a couple of action steps to start marching towards that goal. Think of what the pathway is to get there. Another kind of gut check that I've been doing for myself is, as I'm writing down goals, putting timeframes around them. If every goal is something I can complete in the next six months, I'm not dreaming big enough."
On giving yourself permission to dream beyond the surface-level: 
"Because I'm moving so fast at building a business, I often don't take the time I should to reflect on all the amazing things that are actually happening in my life. One prompt that I use at the beginning of the year is, 'My dream is…' and then build upon it. For many of us, our dreams can be very surface because we need to feel like we're able to actually achieve them. So for me, it's important to write, 'My dream is…' and then push it beyond that and take it up another level."
​On how journals and planners can help create structure and routine in one's life: 
While some people may look to journals as a means to file away tasks, they can also be a great tool for organizing our life. Jasmin shares how she creates structure through daily planning. "I live by my planner. With my busy schedule, I have to write everything down that needs to get done. One thing I love about planners is that it gives you a structured space to prioritize everything. Oftentimes, we use our notebooks to create to-do lists that are 25 items deep, but when you prioritize the top five things that you're going to do for today, it becomes way more achievable. I leverage those tools to help increase my productivity on a daily basis."
Courtesy of Jasmin Foster
On what journaling has taught her about herself over the years:
Jasmin shares how getting your thoughts out on paper can help you get honest about your dreams. "Journaling has allowed me to be honest when I'm ready. I oftentimes find that I will stay in the ruminating phase of dealing with my thoughts/ideas in my head until I'm ready to write them down and put them on paper; and at that point, it becomes real for me. A lot of people are trying to figure out how to take their ideas and then turn them into reality, and journaling did that for me.
"The moment I put my thoughts on paper, I have to be honest with whatever goes onto that paper. You can tell yourself different lies or ignore your beliefs and thoughts when they're in your head, but when you write them down, that makes it real."
​On the affirmation she's taking into the new year: 
Simply put, "I'm that girl." Jasmin says, "I've always played small and been comfortable being behind the scenes while figuring out how I can elevate and uplift those around me. I still want to do all of those things, but I'm stepping into the season of, 'I'm that girl.' I'm not going to play small. I'm not going to diminish myself. I'm going to fully embody the person that I'm trying to become, and y'all are gonna see that."
"I think a lot of us need to own that we are 'that girl' in whatever space that looks like. We all need to stand tall and own the greatness and power that we have," she adds.
Be Rooted is available for purchase at berootedco.com, Amazon.com, Target.com and Target Stores Nationwide.
Featured image courtesy of Jasmin Foster
As a writer, it can be fairly easy to succumb to the dreaded phase of creative block in my process. When the ideas flow, they feel light and airy, and the words leave my mind with little to no effort. And when they don't, I can easily find myself staring at my laptop, both overwhelmed and underwhelmed by the blank page in front of me. Filling the blank space with words no longer feels like second nature, and where there once was ease, there is suddenly resistance. Whether it's due to burnout or the ideas are just not as free-flowing as I'm accustomed to, brain fog is real. However, through trial and error, I have learned that it is very possible to access creativity by exercising those areas of the mind.
I never thought the answer to not being able to write could be more writing, but there is something there in that recipe. Through journaling, I have been able to free myself from the confines of mental blocks, find my center, release anxious thoughts, and discover answers to questions I didn't know I had. Recently, I have taken journaling a step further by moving away from guided journaling and embracing flow even more through the practice of morning pages.
What Are Morning Pages?
For those of you unfamiliar with what morning pages are, it consists of writing three pages in a stream of consciousness. No rhyme or reason, just writing your thoughts by putting pen to paper and thereby offering you a release. The concept of morning pages got its origin from author Julia Cameron and her book The Artist's Way. In it, she described how utilizing the tool has transformed her ability to create. Although her solution was given in the context of being a writer, creativity flows in and out of our lives in a plethora of ways. You don't have to be a painter or a musician to be creative.
Creativity is everywhere. It finds us as we create solutions for problems we may encounter in our life, love, and work just like it does when we're thinking of composition in the next photo we take. Bottom line, morning pages are an outlet for decluttering your mind while also helping you connect to your creativity which in turn speaks to your inner child in a nurturing way.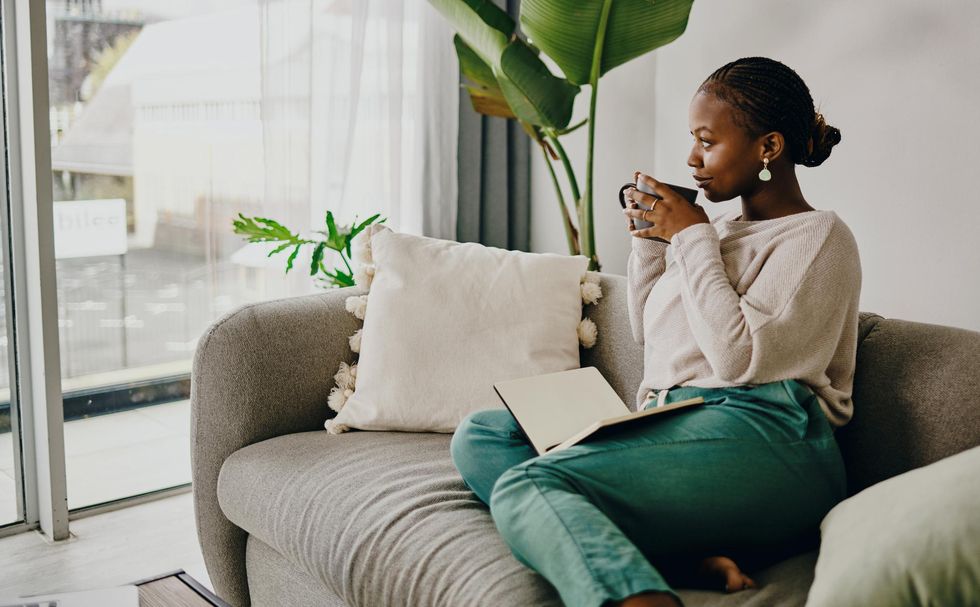 Delmaine Donson/Getty Images
The Difference Between Journaling and Morning Pages as a Daily Practice
​For people who might already be into traditional journaling, you might be wondering what the difference between journaling and morning pages is. While both practices can be done daily and act as tools for catharsis, morning pages hold a deeper purpose, and the practice is done in a more ritualistic way. Morning pages is a practice that is structured, as you do it daily, it acts as a means to spark your creative process, and isn't bound by feelings. Instead, morning pages are more focused on the mind and clearing what's in it. As Cameron said in her book, the intention behind morning pages as a daily practice is to "sweep our consciousness clean."
Journaling, however, is often done more sporadically with the intent to write out your feelings. Journaling can cross over into morning pages territory but is often less rigid in frequency and length. Conversely, morning pages are written every morning and are generally three pages in length.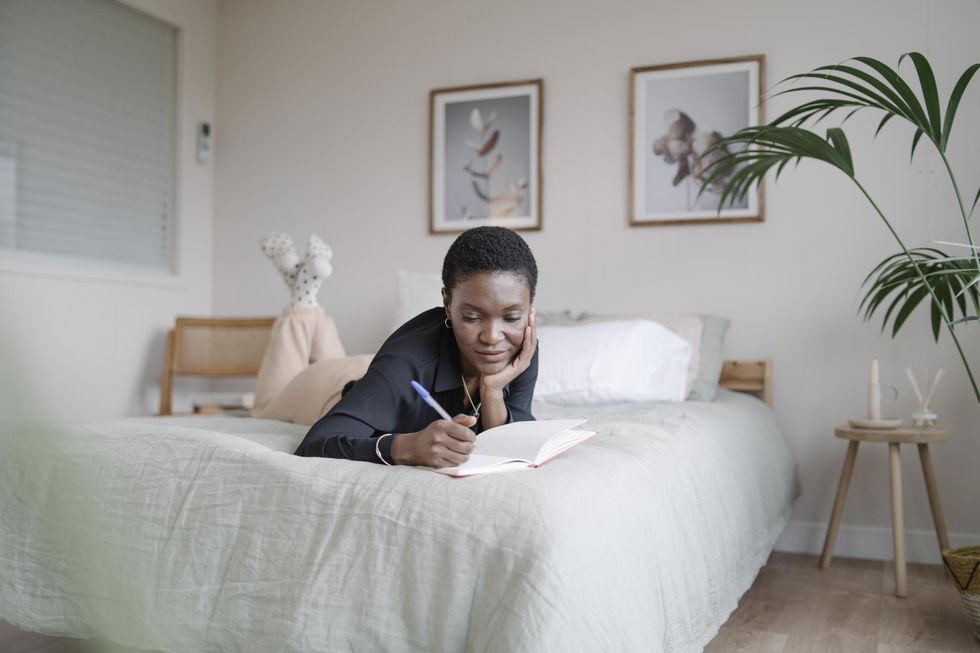 COROIMAGE/Getty Images
Prompts for Writing Daily Morning Pages
So, what do you write in your morning pages? It is encouraged to take time in the morning to sit and write down your thoughts for three pages with a pen to paper. The beauty of writing morning pages daily is that you begin your day with clarity and creativity. There is no specific guideline about what you have to write about. However, for people who might find themselves stalled on where to begin, prompts for writing morning pages might be helpful to start.
If you want to start writing morning pages but don't know how to begin your practice, here are 10 prompts for morning pages to get you started:
Do you believe your dreams speak to you? If so, what have yours been saying to you lately?
What are you currently most grateful for in your life?
If gratitude is something you're just adopting, what was the journey to gratitude like?
Name 5-7 things you love about yourself and your life.
Name the things you feel neutral about in regard to yourself and your life.
What are things that you absolutely don't like about yourself or your life?
Is pleasure something you allow yourself to feel freely? What are some ways you give yourself pleasure?
Where are you right now and what are things about your surroundings that make you feel safe?
Are there things about yourself or your life that you haven't forgiven yourself for yet? Why or why not?
What is a word that defines your life right now? In turn, what are some lessons you're currently learning or relearning?
Featured image by COROIMAGE/Getty Images
Recently, I read a tweet that said something along the lines of, "We're not working at home. We're living at work." Y'all, as someone who does work from home (I have for years, even before this pandemic hit), something about that really touched every part of my soul. Because even though I really like working from home, even though I'm an ambivert (which is basically an introvert that is assumed to be an extrovert, at times) and even though I 1000 percent enjoy my own company, I have to accept that something COVID-19 has done—and is continuing to do—is alter our social lives in ways where it seems like we just keep going…and going…and going. No movie breaks. No lunches with friends. No hanging out at other people's homes for a change of scenery. And so, since we're in the house—our house—so much, while oftentimes trying to figure out what to do to break up some of the monotony of our lives, we work. And when we're not working, we plan. And when we're not doing either, it's like for feel guilty for not doing both.
If that resonated with you on levels that you didn't even realize it would until you read it, let me just say that what I'm about to share, I wrote with you specifically in mind. With all that the pandemic has taken out of us, it is so important that you give yourself permission to take a break. I'm not talking about going to sleep or surfing the 'net before you turn in at night. I mean taking real bona fide breaks without any guilt, reservation or apology. And here's why I am fully at peace with recommending that you do so.
What Does It Mean to Plan?
Fail to plan, plan to fail. We've all heard that saying before. Let me tell it, it's a huge part of the reason why a lot of us are either totally overwhelmed or low-key workaholics. It's because society really has programmed us to think that if we're not acting like a human version of the Energizer bunny, we're somehow being irresponsible. That we're not making the absolute most of our time.
So, let's break out of that toxic way of thinking, shall we? By definition, a plan is "a scheme or method of acting, doing, proceeding, making, etc." It's also "a specific project" and "a definite purpose".
We plan what we're going to wear to work. We plan how we're going to spend our time at the office. Then we plan what we're going to eat for dinner—only to get up and repeat this cycle (this semi-vicious cycle) all over again. And shoot, that's not to mention the "bigger plans" that fill up our minds on a daily basis.
It's because of all of this busy-ness that "plan" seems so much like an action verb. Yet look at the definitions again. In reality, the word "plan" is actually a noun. And you know what? Who said that coming up with a plan always had to be about being on the go (or preparing to be on the go) all of the time? The definitions certainly don't. Again, a plan is simply a method of proceeding, a specific project and something that has a definite purpose. So, why can't rest be a plan? Y'all, that's not a rhetorical question because, the reality is, it absolutely should.
What Does It Mean to Rest?
A couple of years ago, I wrote an article for the platform entitled, "How To Handle 'Purpose Fatigue'". Pardon the pun but, I really encourage you to plan to check it out at some point. For now, I'll just say that the reason why a lot of us do not thrive in life isn't because we don't have the skills, knowledge or expertise. At the end of the day, it boils down to the fact that we're freakin' tired. Worn out. Drained. And you can never make good decisions—plans—or present your best self from this kind of head and heart space. Yet again, because we don't give ourselves permission to rest, when we get to the point of being super fatigued it alters our judgment. Suddenly, we're out here wondering if we're in our purpose, if we should stay in our marriage, if we made the right decision by having kids—the list goes on and on. And if we feed into this psyche for too long, all planning goes out of the window as we exchange it for a truly not giving AF mentality instead. As a result, we find ourselves out here going through the motions—aimless. Never refueling. Just…out here with no real direction or desire…for anything, really.
When it gets to this point and place, there really is only one remedy. Y'all, it's to rest. Resting isn't just about sleeping, yet it's unfortunate how much this very simple point gets overlooked. Resting is about conscious inactivity, especially after working. And the purpose of rest is the refresh and relieve oneself.
OK, let me reiterate that last part. First, rest has a purpose. Second, the purpose is to refresh and relieve oneself—specifically from labor. This means that if whatever you're doing and calling rest isn't refreshing (restoring) and relieving (freeing you from anxiety, alleviating distress, easing you of burdens) you, it…isn't.
The reason why this is so important to put on record is it's very common for a lot of us to crash in the bed for a weekend and come out of it just about as tired as we were before we got in. It's because we were physically exhausted and perhaps we slept yet we still didn't really rest. If your mind was still going in a million directions, if you were still on social media, if you answered every (or every other) phone call—sis, that wasn't resting. Unless you are refreshed and relieved, YOU DID NOT REST (and yes, I am yelling that).
No one can say they have rested, unless they are refreshed and relieved by doing it. When's the last time you've been able to say that?
How Rest and Not Planning Is the Ultimate Plan
Let's tie this all in, so that you can put a rest plan together, OK? Remember how the title of this said that not planning is planning? That wasn't clickbait. It's the truth. When you make a decision to not do anything that you normally/typically do in the name of refreshing and relieving yourself—how is that not a plan? Again, a plan is a method of proceeding. A plan is a specific project. A plan is a definite purpose. Since rest restores you, planning to do it and nothing else is all about deciding that you are going to proceed with a project that consists of doing absolutely nothing for the purpose of reestablishing you, bringing strength and vigor back to you, and getting to a point and place of holistic health and well-being. Sis, if that ain't one hell of a plan, I don't know what is.
Now that you know this, how are you going to put your rest-and-not-planning plan into place? Whatever "it" is, it can't be work-related. Whatever it is, it can't require doing anything that won't refresh and relieve you. Whatever it is, you've got to come out of it feeling completely restored. Otherwise, you didn't rest at all.
Isn't it crazy that when you take the true essence of rest into consideration, you suddenly realize that you probably rarely ever do it? And yet, there's no time like the present to start. Pull out your journal, pour yourself a glass of wine, put on some soothing music and figure out how to plan to not plan. How to be OK with sitting in a tub for an hour. How to be at peace with turning everything with an "on" button off for an entire weekend. How to not feel guilty for letting your kids stay an extra night with a trusted loved one. How to be good with saying, "I don't know" when someone asks you what your plans are for next week when you want to just not think for a while. How to choose to not plan for next month or year for a couple of weeks so that you can catch your breath and process from a more balanced space.
I know what I'm like when I'm tired. I make plans that I normally wouldn't if I were in a more rested space. That's why, these days, I typically refuse to plan anything until I've gotten some real time off of the clock in order to rejuvenate myself. And y'all, when that happens, I rarely ever regret what I decide to do.
Rest is not a luxury. If you want to live your best life, it is an absolute necessity. Don't let anyone or thing make you feel otherwise. Plan to not plan—soon. Your mind, body and spirit will be all the better for it. And then some.
Join our xoTribe, an exclusive community dedicated to YOU and your stories and all things xoNecole. Be a part of a growing community of women from all over the world who come together to uplift, inspire, and inform each other on all things related to the glow up.
Featured image by Unsplash
Now that 2021 has come to an end, I have to admit that I have had to do some personal readjusting. I have had to reprioritize career goals, friendships, and figure out what my purpose in life is going to be. If you know where I'm coming from, there may be some self-discovery work to do. What exactly does self-discovery look like? Self-discovery can be an exciting opportunity of reflection and it can be a reality check of letting go of things that no longer serve you. Both ways are beneficial for self-care and personal growth. I am here to tell you that it is OK to get a little bit uncomfortable with yourself and ask those deep questions to get in touch with who you are.
Self-discovery is about tapping into your potential, your purpose, and allowing yourself the space to create what your future self may look like.
I have come up with a list of 18 daily journal prompts that you can do to start your self-discovery journey for the new year. Whether you journal in the morning, in the afternoon, or in the evening, it is up to you how you set that intention for yourself. Self-discovery is a life-long journey of exploration, so there's no need to rush. Take your time sis. Set your own pace. You can even reuse these prompts as much as you want to. There is no limit to figuring out all of the parts that make you, YOU. There are always going to be times of change, so getting to know yourself will shift just as life does.
Just remember, it is all about taking that first step. This first step is writing it down. I hope these self-discovery journal prompts are useful and beneficial to you on your journey.
Journal Prompts for Self-Discovery
What does your ideal day look like?
In my journey I am _____________, to be at a place where _______________.
What do I know to be true today that I didn't know a year ago?
In this moment, what are four things you are grateful for?
Inventing possibility: I've been pretending that (negative thought about yourself), when in fact (positive thought about yourself).
What distractions are hindering your productivity? How can you reduce them?
If my money could talk, what would it say about me? What would I want my money to say about me a year from now?
When do I feel most in tune with myself?
What are your top 10 goals for the year?
Describe in great detail what five years from now looks like for you. Where do you live? What's your ideal job?
How can you feel more fulfilled in your life?
If you could be your own superhero, what type of person would you be? Think about ways to bridge the gap between who you are now and what being your own superhero looks like.
If you could live in another time period, what would it be? What would you be doing?
What's one toxic thing or person in your life that you need to let go of?
What fears do you have that may have been holding you back from living your best life?
If someone could write a book about your own success story, what would they say? Write down everything that comes to mind.
How can you take better care of yourself? Write down five self-care practices you like to do or would like to try.
What makes you feel alive? And when was the last time you felt that way?
Featured image by Shutterstock
While I don't get to do it, nearly as much as I used to (because when you write for a living, doing what I'm about to share in your leisure time, often feels like, well, work), something that I am trying to make time for (again) is journaling. Even though it's been a hot minute since I've done it on a daily (or even weekly) basis, I recently revisited some of my journal collection—and man. While the act of journaling is proven to de-stress, organize thoughts, set goals and inspire creativity, what I really like about it is journaling is a great way to self-reflect. When you actually make the time to document your own thoughts and feelings, on a consistent basis, and then you reread the things that you said six months, one year or even 10 years ago—it really can blow your mind to do a compare and contrast of where you are now vs. where you used to be as a person. As a bonus, journaling can bring a lot of clarity to your mind and spirit too.
When it comes to types of journaling, believe it or not, there are all kinds that you can do. For instance, off the top of my head, our platform has covered bullet journaling as well as sex journaling. But what I wanna spend some time on today, is why you should absolutely consider a method known as self-love journaling. Whether journaling is a part of your daily routine or it's something that you've never done before, hopefully this article will convince you to, at least give the practice of writing down words with a total self-love focus (ooo, doesn't that sound good?), a shot.
What's Self-Love Journaling?
Last year, I wrote an article entitled, "Every Woman Should Write A Love Letter To Themselves". If you've yet to check it out (or you'd like the CliffsNotes version as a reminder), it was basically a write-up on why it's important to write a letter, expressing the love that you have for yourself; not just write it but revisit the words from time to time as well. Well, self-love journaling is very similar to this, only with two main differences.
One, if you're someone who struggles with your self-esteem (don't feel bad about that; most of us have at some point or another in our lives), sometimes being told to simply "love yourself" can prove to be so much easier said than done; even when it comes to sitting down and writing words of love, admiration and respect to yourself. Well, self-love journaling can help to inspire and even "prompt" you to come up with ways to see yourself in a positive and self-nurturing light.
Another difference between self-love journaling and simply writing yourself a love letter is it's something that you don't do just once. Some people do it every day. Many people do it as a seasonal project. What I mean by that is, they may implement a 30-day period where they set aside time, either every morning or every night, to write in their journal. Then, after the 30 days are up, they will write a closing paragraph about all of what they self-discovered during that period of time. They might leave the paragraph in their journal or they might print it out, frame it and hang it up as a piece of art in their home. Then, they make a point to do it every winter, spring, summer and fall, in order to keep track of their progress.
Basically, self-love journaling is all about using a journal to cultivate ways to learn more about you, so that you can love yourself better. An added bonus to this is, once you know how to love you, you are better equipped to teach others how to do the same.
Here's How to Start Doing It
If the more you read about self-love journaling, the more down you are for doing it, how about I share some steps for how to get started.
Start off with a fresh new journal. Make sure it's not some grocery store notebook or even a generic-looking journal that you would find at a local bookstore. Remember, this is all about cultivating self-love, so invest in a journal that represents either how you feel about yourself or how you want to end up feeling about yourself in due time. The fancier and individualized, the better.
Create an atmosphere for journaling. This exercise isn't gonna go as well as it should if you simply decide to plop down on your couch and scribble down a few words while you're watching television. You need to create a haven of peace and tranquility. Hey, no joke. Invest in some scented candles. Put on some music that makes you feel nothing but good. Put your smartphone in another room. Make sure you're wearing something comfy. Consider doing a little meditating first. And then, get to writing. Writing what? This brings us to the next instruction.
Consider incorporating some self-love prompts. If you're like, "I don't know how to start" or "I don't know what to say", I get it; not a problem. Sometimes prompts can inspire your juices to get to flowing. When it comes to self-love journaling, I've got some that might be able to motivate you a bit.
What is your favorite thing about yourself?
What are your special gifts and talents?
In a perfect world, what is your idea of a perfect day?
When's the last time you pampered yourself? Why did you do those things?
If you were a flower, what kind would you be and why?
What does love mean to you? Do you personally reflect that definition?
When's the last time you've forgiven yourself?
What do you want to get more out of in life?
How do you feel God sees you?
What are the wonderful things that you bring to your relationships?
Do you believe that you deserve the very best things in life? Why or why not?
What are five of your favorite personal character traits?
What do you love about your mind, body and spirit?
How can you love yourself better?
What's holding yourself back from loving yourself more?
Set aside (at least) 15-30 minutes to respond to one of those prompts. I only shared 15 prompts that came to mind. However, if you go to your favorite search engine and you put "self-love prompts" in the search field, there are many others that you can choose from. Anyway, pick a question each day, then set aside some time to answer it. Some days, the answer might be a sentence long while, on others, it might be 2-3 pages. Don't worry about that. Just share what comes to your mind and stop when you start to feel overwhelmed or like you are forcing the process. On some days, you will have an "answer" that feels pretty close to being complete while, on others, you might not get much out. Remember, you can always revisit the prompt. Just make sure that you log in the date and time, every time you write something down for each prompt, so that you can track your insights and, eventually, your progress.
Try and initially make a self-love journaling commitment. What I mean by this is, once you start self-love journaling, you might want to do it all of the time. But for starters, commit to seven, 10 or 30 days. No matter what else is happening in your world, stick with it doing it every single day of your designated time. Sometimes it will be a great stress release. Some days, you will find yourself excited to write an entry. Other days, you might prefer to go to the dentist for a root canal if writing about yourself if super challenging. Yet trust me—the more you get used to loving on yourself in this fashion, the more self-love journaling will become about as natural as bathing or breathing even.
Why Self-Journaling Is the Ultimate Emotional Self-Care Exercise
Belgian fashion designer Diane Von Furstenberg (who just happens to be credited for the wrap dress), once said something that I really like and can personally vouch for—"When a woman becomes her own best friend, life is easier." Lord, y'all, mere words cannot even begin to express, how much unnecessary-ness we could avoid if we simply loved ourselves more and better. By making the time to self-love journal, you'll be amazed by all of the things that you'll learn, relearn and also release in the process.
Back when I was prayer journaling (something we'll have to tackle at another time), the more spiritual revelation that I received, the stronger in my purpose I became. And the times when I've self-love journaled, it has actually helped me to get clarity on a relationship, create boundaries with certain people in my life, set aside money to pamper myself, actually implement self-celebration rituals (oh, I'm good for toasting myself!) and, not just set standards but raise them, both personally as well as professionally.
That's why I say that self-love journaling is the ultimate emotional self-care exercise, and yes, Ms. Von Furstenberg is spot-on. The more you love you, the more you end up liking yourself. And the more you like yourself, the more you only want to be around those who feel the same way about you as you do.
I really could go on and on about self-love journaling because that's just how dope it is. For now, I hope I've provided you with, at least enough reason, to purchase a journal and give it a shot. After all, how can you lose when you're actively doing something that helps you to love yourself more? My thoughts exactly.
Join our xoTribe, an exclusive community dedicated to YOU and your stories and all things xoNecole. Be a part of a growing community of women from all over the world who come together to uplift, inspire, and inform each other on all things related to the glow up.
Featured image by Shutterstock
Seven years ago, I was homeless, pregnant, and hopeless. At the top of 2012, I was gearing up to graduate from college, and at the end, I was figuring out where I was going to live and how I was going to take care of a baby. It was scary, to say the least.
Between extreme morning sickness and vertigo, I was unable to work the first few months of my pregnancy. Staying with family became a less than ideal situation, but there was no other choice. This wasn't supposed to be my life. I had envisioned late nights in the office and living out of a suitcase, as I traveled the country for work. Left with only my thoughts, I took the time to accept my reality and put the focus on what I could control. The first step was managing my emotions. I knew the women I wanted to be, but I wasn't sure of how to become her. So, I started with a vision board. I needed to visualize my happiness and take control of my life.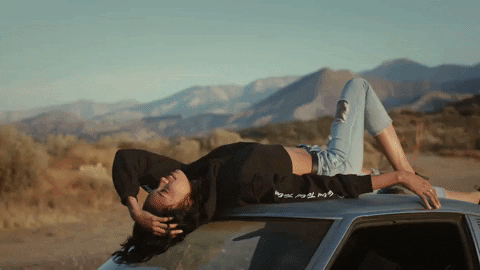 Giphy
With paper and glue I bought from the dollar store, and old magazines left around the house, I created a collage of all my hopes, dreams, and wishes. In one corner, there were photos and words that represented home with a comfortable bed where I felt safe, in the bottom-right, it showcased health and fitness. The most important components of this board were family, seeing myself as a loving mother who could provide for her child and the strong fierce woman that was placed in the middle to empower me.

Every night, I would look at my visions and pray to God that my circumstances would change. I knew that I had to believe in the possibility of change, so I clung to it with every fiber in my body.
Journaling allowed me to let go of angst but what really moved the needle were affirmations. An affirmation is positive statements that can help you to challenge and overcome self-sabotaging and negative thoughts. While the vision board was broad, affirmations allowed me to be specific and focus on my intended goals. With these newfound tools, I was able to make space for change. I was less anxious, gaining confidence, and more vocal about my needs. I resisted the part of me that focused on lack because I knew I wouldn't cultivate abundance.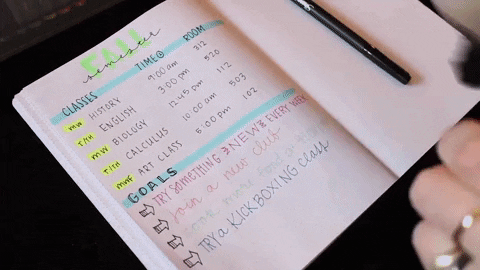 Giphy
Every time I thought of an idea that seemed too big to obtain on my own, I wrote it down, signed and dated. It became clear that I needed the universe to convene my requests. In this case, it was getting a car, finding permanent housing, and going back to school for my master's. After aligning my goals with my actions, this part of my journey was called trusting the process. Within two years, I had manifested everything on my list. I was gainfully employed, in a loving relationship after leaving a toxic one, and happily raising my child in our new apartment. I graduated from my master's shortly thereafter.

When thoughts materialize in the real world, this is manifestation. It is the act of intentionally creating what you want.
Could this be an act of luck? Maybe, that's a plausible thought. But, I believe my thoughts and actions were aligned and I was very clear on what I wanted. Although I didn't have a solid plan of action, I knew the work was being done to receive blessings. I remember my first night's sleep on my bed, the feeling was indescribable, as I stared at the ceilings smiling from ear-to-ear. I had manifested my home and this bed and it was mine all mine.

Everyone has the ability to manifest anything they desire – wealth, optimum health, love, houses, cars, peace of mind. You just have to learn how to use it. Here are seven steps to manifest a life worth living:
Step 1: Get clear on what you want.
Step 2: Ask the universe.
Step 3: Work toward your goals.
Step 4: Trust the process.
Step 5: Receive and acknowledge what you get.
Step 6: Keep Your Vibration High.
Step 7: Clear your resistance.
The truth is we are responsible in some way for creating our world and our reality. Whatever your heart desires there's enough to go around. Manifesting starts with your thoughts and if you're open, the possibilities are endless.
Want more stories like this? Sign up for our newsletter here and check out the related reads below:
How To Manifest The Life Of Your Dreams In 5 Steps
What's Blocking You From Manifesting Desires
How To Use Social Media To Manifest Your Dreams
Featured image by Shutterstock