2023 is a good change of pace from what 2022 was for a lot of people. In 2023 we enter a 7 numerology year, which is a year where the vibe is more about peace, faith, reflection, and going within. Emotions are high, but through introspection and spiritual clarity, this can be an enlightening year for a lot of people. There are some very important, once-every-decade transits occurring this year, which is why 2023 is such a game-changer.
Next year, Saturn ends its transit in Aquarius where it has been since 2020, and we all remember what happened in 2020 and the tone of that year. Saturn leaving this air sign closes that chapter, and it's time for the collective to heal. Saturn enters Pisces in mid-2023, and a spiritual awakening will be occurring. Another significant transit occurring in 2023 is Pluto's move out of Capricorn and into Aquarius. Pluto has been in Capricorn since 2008 and has been showing us the power struggles of this world and where they are coming from. Pluto moving into Aquarius gives the power back to the collective, and anything that isn't authentic or freeing will transform.
Overall, 2023 is a powerful year for clarity, manifesting, and showing yourself the power you hold as the creator of your life. Learn from others, help highlight something for someone else and give them clarity as well, and work with the community around you to create something beautiful.
The world is going through a rebirth in 2023, and your mantra for the year reflects how you personally can move through this year while living your best and healthiest life.
Featured image by Delmaine Donson/Getty Images
As we leave last year behind us, I can admit that things still feel like nothing has changed. It is hard to not forget what last year has done to us mentally, emotionally, and physically. While we can't change what has happened, we can change how we move forward, regardless of what is to come for 2021. Offering an assist in helping us find our way back and improve our mental health is licensed professional counselor, Pamela Smith. When it comes to mental health and prioritizing it for yourself, she mentioned that it is easy for us to get so wrapped up in our everyday obligations that it hinders us from realizing what exactly we actually need for positive mental health.
"Being a black woman is very difficult. As much of an honor it is, it can be extremely difficult. So my self-care is knowing when. Not only will my body tell me it's time for me to have several seats, but mentally you can feel [yourself] becoming more and more drained." Pamela Smith was willing to share 5 mental health practices with xoNecole that we all can apply for the year 2021. If you apply these practices, it will help you differentiate if you are operating in survival mode vs actually living for yourself.
1

.

Maintain a Schedule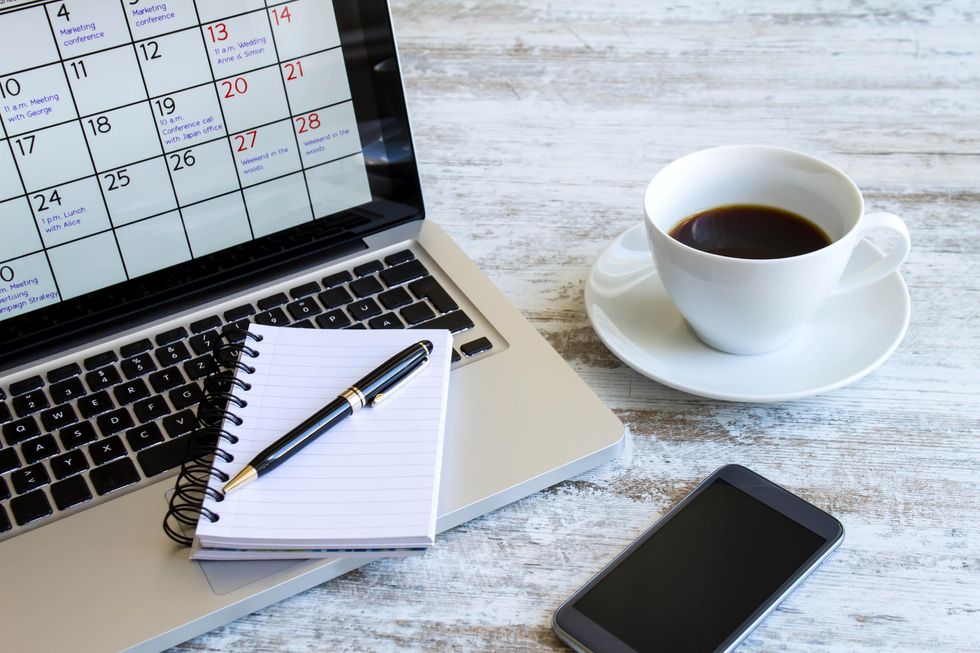 Shuttershock
"The pandemic hit everyone off their balance. This sense of normalcy was hijacked and it caused a lot of fear in people. In my profession, what I have learned is that uncertainty is a true root of anxiety. You need to bring back something that can ground you and to keep you tethered to life," Pamela explained. "This year, one thing you can do is create a new schedule for yourself and maintain it. You can bring in some of the old things you used to do in your routine, while also opening up to adding something new. Part of creating a schedule, with or without limited resources, can help with that fear of uncertainty. You have something to look forward to and you feel less and less impacted by things you don't have control over."
It is something about setting intentions that helps with the flow of each day for people. We cannot predict what each day will hold, but putting in certain daily tasks for yourself can help you stay focused, feel more grounded and centered.
2

.

Be Kind to Yourself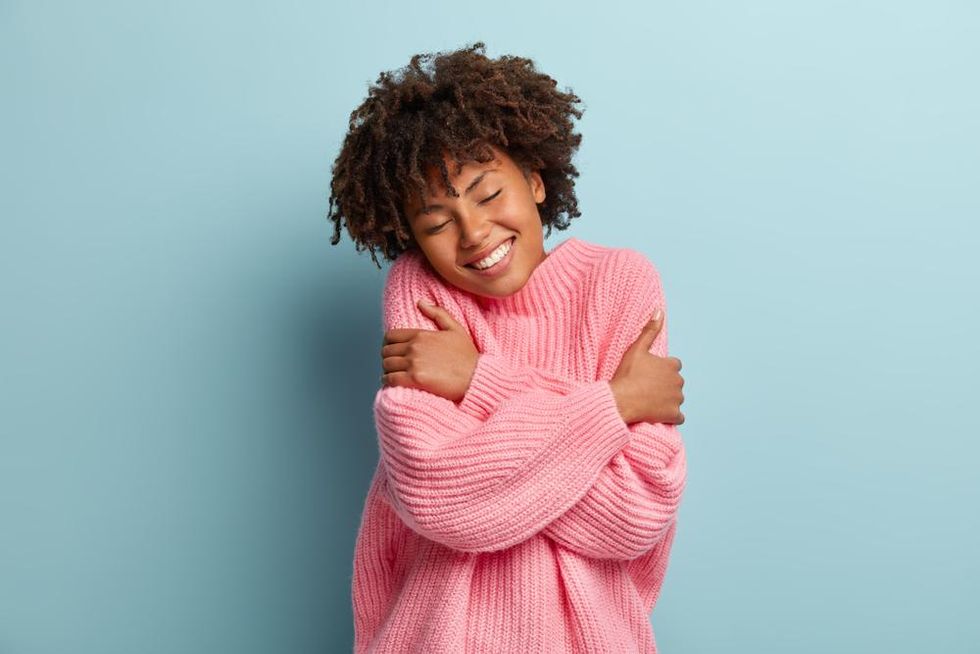 Shutterstock
"We are our own worst critics. We don't need somebody else to beat us up because we do a really good job doing that on our own. In this new realm that we're in, remember you are not by yourself. It may feel lonely right now, but I promise you are not alone in this. There are a lot of people feeling the exact same way," Pamela began. "To help with that aloneness, learn to quiet that voice in your head that is telling you those negative thoughts. Give yourself grace and know that you are just doing the best you can."
"If you are not doing the best that you can, then step your game up. When you are able to be kind to yourself, it can ease that feeling of something's missing. It will allow you to live with a mindset of positivity and gratitude."
What does being kind to yourself look like? Is it reading positive affirmations out loud to yourself, taking a nice bubble bath, or letting out a good cry? Whatever comes to mind that can pivot those negative mental stories when we are alone, apply and repeat. These kinds of moments will always come, so practicing your go-to act of kindness will go a long way.
3

.

Take That Nap, Sis!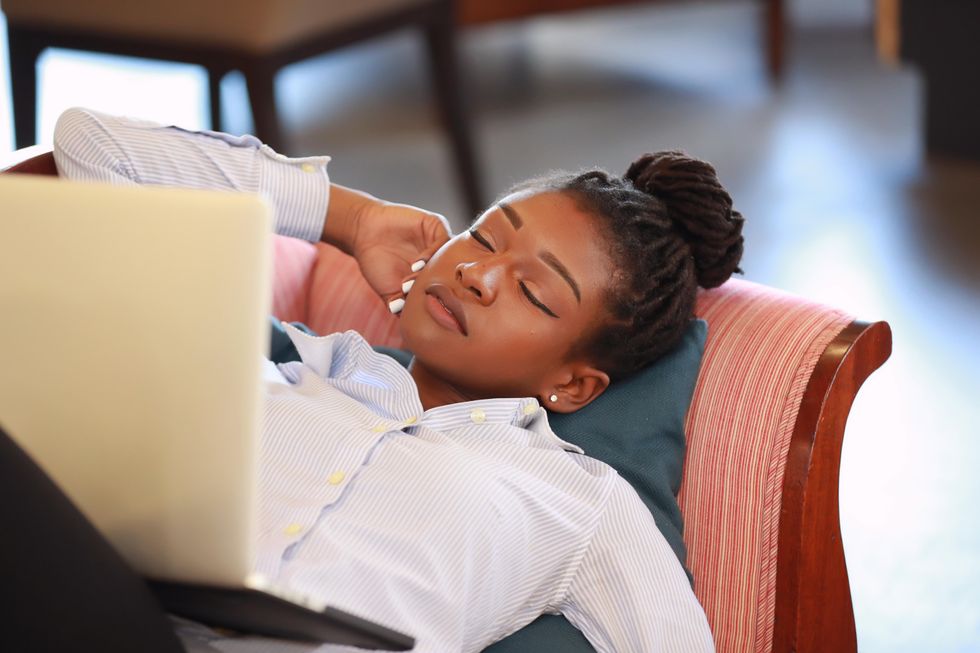 Shutterstock
"I will admit that this is the most difficult one. We give so much of ourselves to others, that it's hard to find time to pour back into ourselves. Every day we are the employee, the mother, the daughter, the friend, the soror, you know we are all of the things. So this certain self-care technique is beneficial to add to the daily hustle and bustle. I recommend getting a good sleep regimen to get some quality rest," Pamela shared. "Even if it's not a nap and you need to plan for times to eat or exercise, do that for yourself. It is those moments of pause that makes a huge difference for your body's energy. Think about your cell phone. When you see that 10 percent notification come on, we instantly put it on the charger. If we treated our bodies just like we treat our cell phones, we would be able to perform a lot better."
A moment of pause is exactly what we all need. It is easy to lose track of time and it is difficult to imagine where to fit in this moment of pause. But if you are determined to add 15-30 minutes of recharging, you will find a way to fit it in. You can create your own time during the day and there is no wrong answer. It is OK to give yourself permission to relax and it will not stop you from completing the rest of the world's demands of you.
4

.

Practice Forgiveness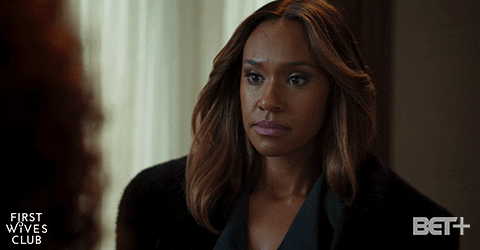 Giphy
"I don't think I have met anyone that hasn't experienced some sort of trauma. The severity differs, but I do believe that everyone has had some sort of trauma or traumatic event in their life. Oftentimes, we don't know how to deal with that trauma because we don't know who we are. Not knowing who we are doesn't afford us the ability to forgive ourselves for something we did in our past. Forgiving yourself will be beneficial for self-discovery and once you can do it for yourself, you can forgive others."
"Everything that you are now is a sum total of all your experiences. Accepting that you will not rely on your past experiences can help with you reimagining a new definition of how you are showing up for yourself."
Self-reflection and letting go of some of that baggage is important for this one. Just like we said goodbye to 2020, try and say goodbye to things that you have been holding on to that no longer serves you. You may have done something you regret or the way someone mistreated you is still in the back of yor mind. Right now, you owe it to yourself to not let the past have so much power over you. You cannot change what happened. So let us accept what was, acknowledge the heaviness it brings, and be brave enough to leave it exactly where it is in order to move forward.
5

.

Accepting Life Adjustments Aren't Always Bad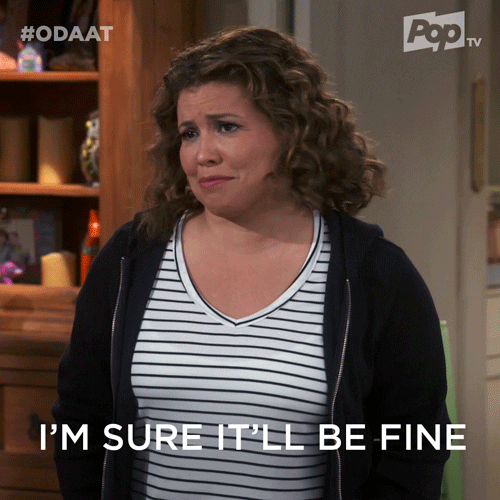 Giphy
"We got very creative during this pandemic. Us as a people, if we can't do anything else, we are going to make things happen. This pandemic allowed us to be on a time out. To sit and think for a moment on what is important to us. Because of this time out, we have readjusted our priorities a bit. We went back to the basics to try and maintain our relationships and build new ones," she began.
"While the pandemic has been hard for us, our values have shifted and who is to say that is not what we needed? Who is to say that by adjusting our values and accepting what we have zero control over, this doesn't help us in the long run? We started to appreciate things we already have instead of looking for the next thing to gain."
To learn more about Pamela Smith and her practice, you can check out her website here and follow her on Instagram.
Featured image by Shutterstock
Goddess Erykah Badu said, "Write it down on real paper, with a real pencil, and watch shit get real." And if Erykah said it, it's law. More than ever, we are consumed with our phones and laptops that the craft of planners and journals have become somewhat obsolete. We also think that 2020 didn't help with all of its drama – people literally burned their planners after March. In a Zoom kinda world, I'm still glad I got my planner.

What better way to set the tone for this new year than with a planner full of intention? Using a planner has shown to have benefits including better time management, realistic productivity, improved focus and lower stress levels. Without further ado, we have gathered six planners that will change your life in the most fabulous way!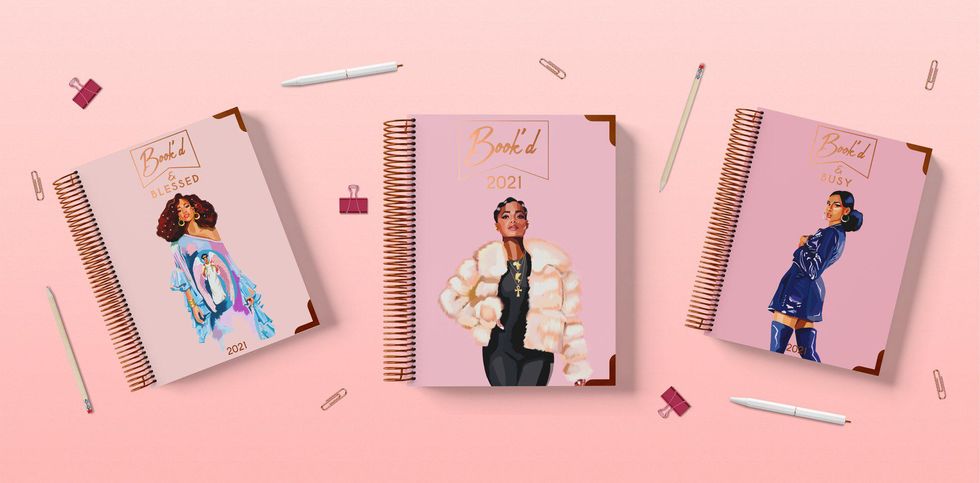 The Book'd Store
I fell head over heels in love with my Book'd Planner last year despite the year being a shit show. It was an easy purchase because of the beautiful product AND the creators are Black women. According to Tamera and Adrienne, "Book'd Store is a luxury stationery and lifestyle brand for Black women that is super stylish, uniquely quirky, and most importantly, speaks directly to who we are." Each page has an inspirational quote to help you plan your life and be intentional about how you'll slay each day. It's the details, the stickers, and the everything for us.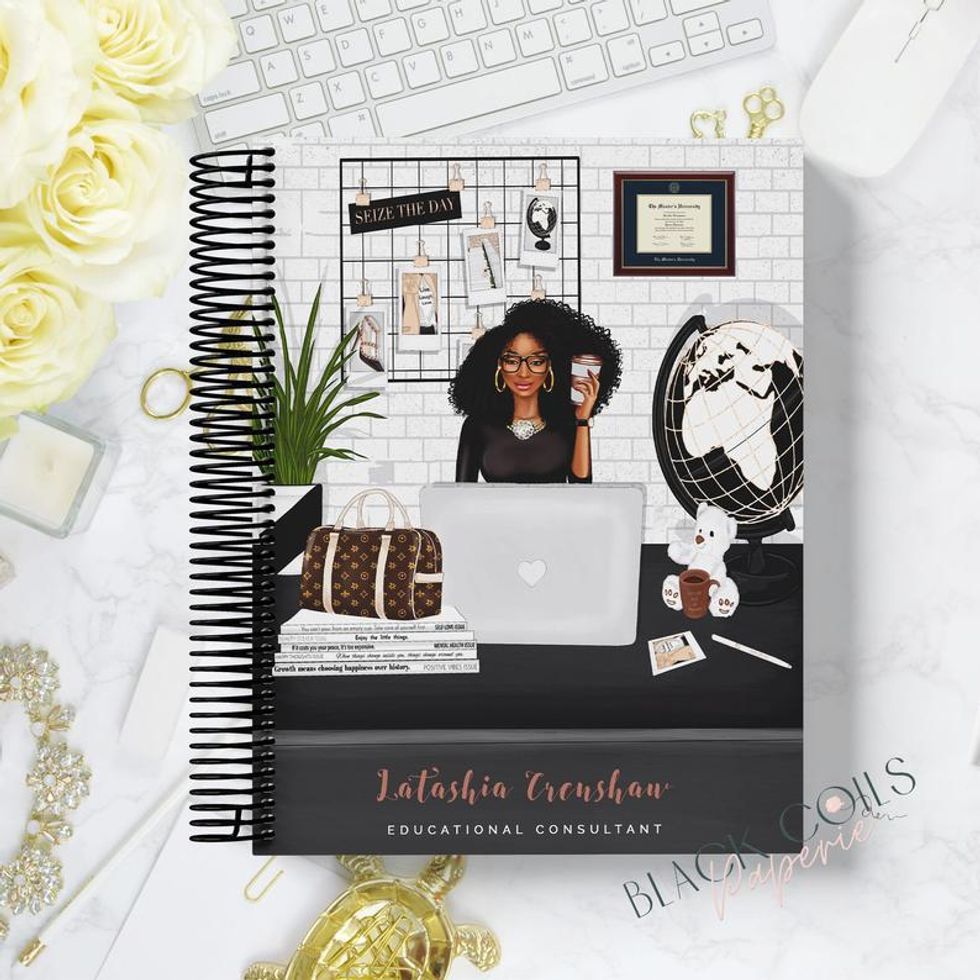 Black Coils Paperie
This handmade planner is a crowd favorite. You can customize the cover with your name and title to really show off your boss babe status. It means everything to see the Black woman clipart all up and through these pages. You can even choose different date ranges in case you're still processing 2020. Between your many goals and priorities, the Black and Educated Planner is most definitely a winner.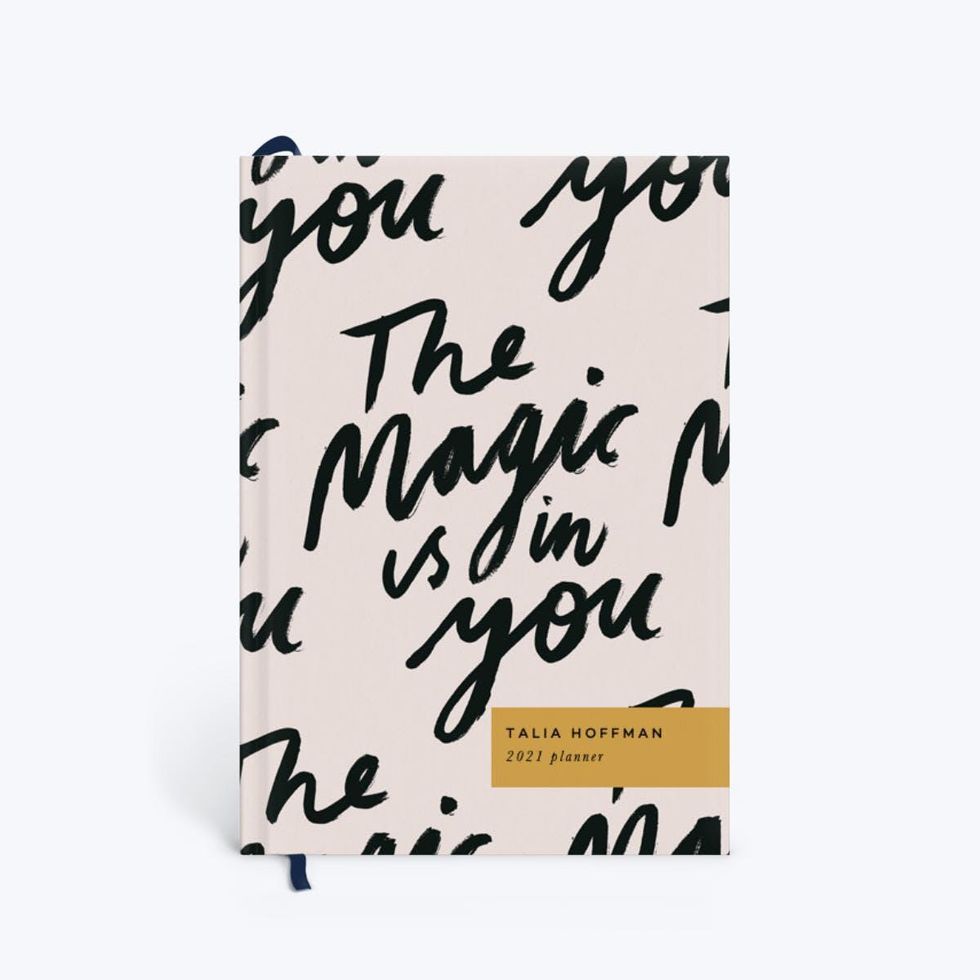 Papier
You are the magic, baby girl. And the magic will only get more powerful as you start to organize your plans and goals. Papier created this planner with you in mind. Made up of weekly, monthly, and daily overviews, you can easily document all the things on the smoothest paper ever. You can also personalize the cover to your liking.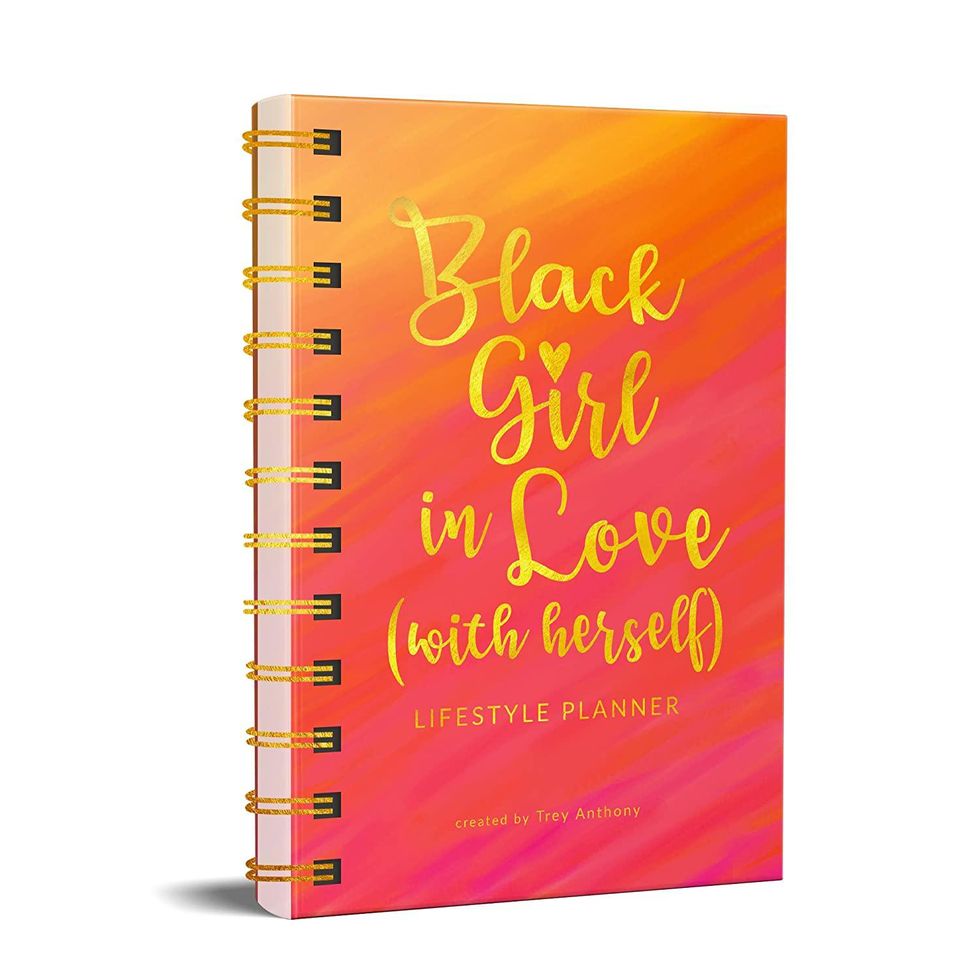 Black Girl in Love
Made for a Black girl by a Black girl, Trey's lifestyle planner will have you feeling like you have the same 24 hours in a day as Beyonce. It's the perfect place to write down everything, from your hair appointments to your next vacation. Consider this the planner dedicated to meeting the professional needs of Black women so we can really fall in love with our essence.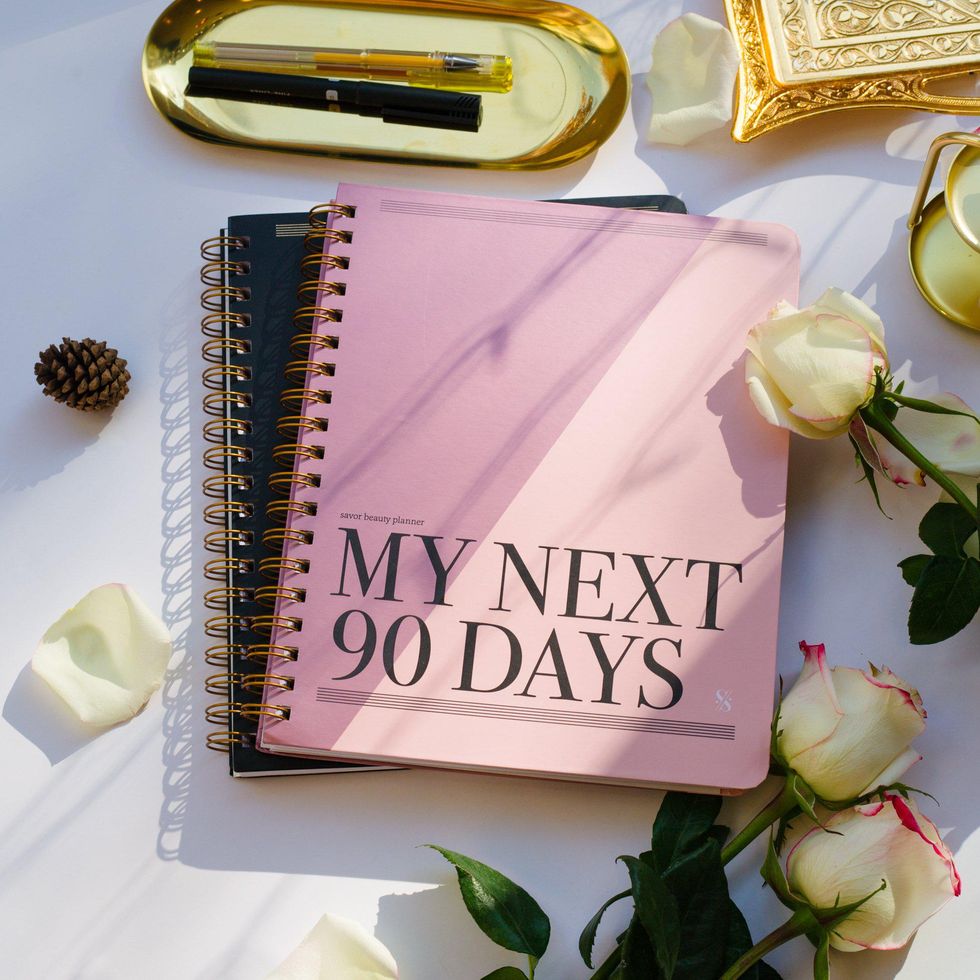 Savor
Daily Worth claims the Savor Planner is, "The planner that changed my life." We believe it's life-changing because it's centered around self-care. Inside the planner, you'll find four monthly calendars, 90-day vision worksheets, Organize Your Gorgeous Chaos layouts, and a place to Detox Your Brain. Before you know it, you'll be taking it one day at a time and you'll need a new 90-day planner.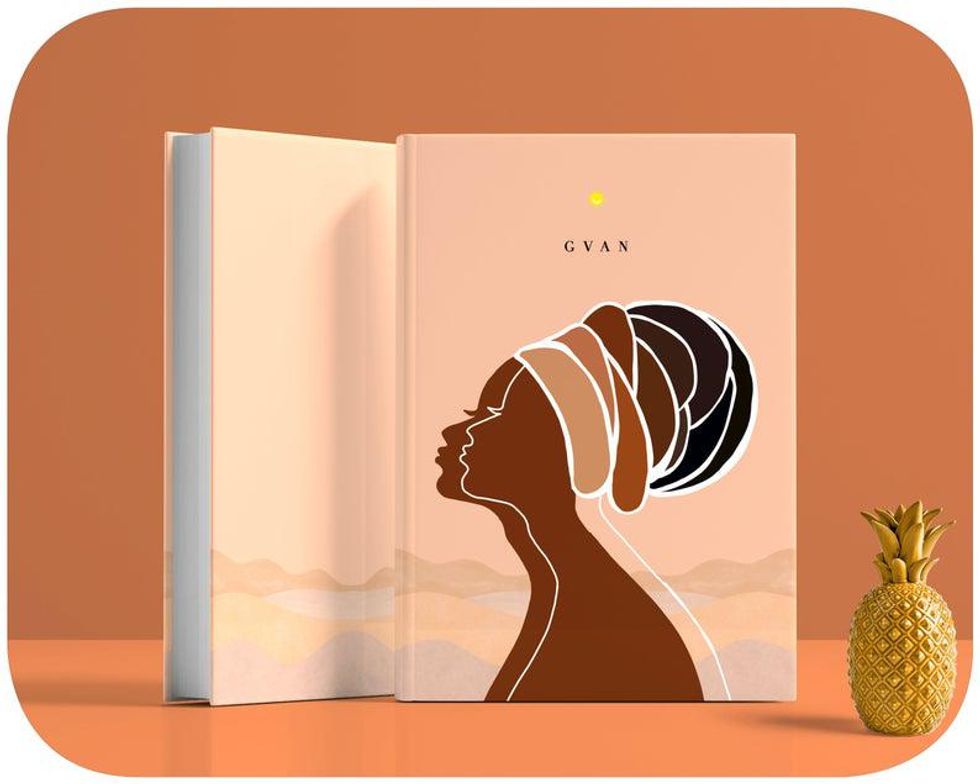 BeatificHappyPlanner
Create the life you desire with this weekly planner. It is devoted to helping you learn to value yourself by fighting for your happiness. One of our favorite things about this planner is that you can choose the color of the cover to match your skin tone. Not only are there pages to show gratitude but there are also amazing plans for your diet, hydration, and self-reflection questions to help set goals.
Are you a member of our insiders squad? Join us in the xoTribe Members Community today!
Featured image by Shutterstock
Ari Lennox is a fairly newcomer to all of our lives as far as the entertainment realm is concerned. But that doesn't mean that she shouldn't be protected at all costs. She exudes a raw, realness that not many (new) artists come packaged with, and her sister-in-our-head vibes keeps us wanting more.
So, when she took to social media to show off her latest haircut, we had so many feels.
Lennox shared the moment on her Instastories, as she simply parted her hair into two sections, sectioned the back off by ponytail and snipped it all off. Then she trimmed several inches more, and finished like, "new hair, who 'dis?!"
Captioning the video, "Happy you year," she took to the 'gram to clear her profile, show off her tapered, conditioned locs, and start the year fresh. And sis was clearly feeling herself because while showing off her new 'do, she posed in various angles and even twerked 'sum a lil' bit. She hasn't given an explanation as to the reason for the cut, but either way, we are here for everything she does.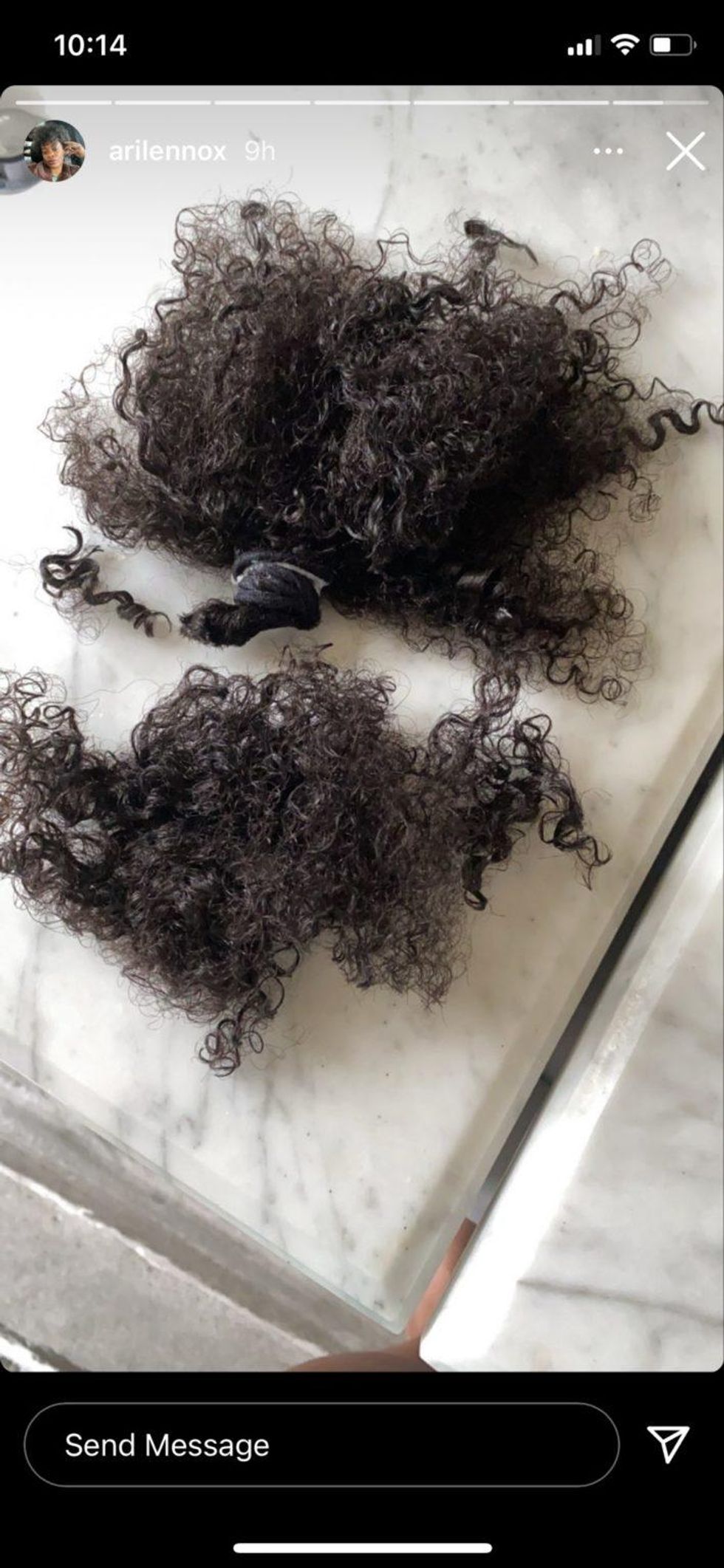 Instagram
And she isn't the only one.
Many other entertainers have taken the plunge as well.
Insecure'sYvonne Orji, who had been rocking natural styles for much of 2020, decided to cut off her hair in the summer. She began the message:
"Woke up this morning and wasn't feeling it. Watched a sermon, and still wasn't feeling it. Laid in bed scrolling online, and didn't feel it then either. Finally decided to get up and said to myself, 'something good will happen to me today.' Showered, got cute, and bumped the essential @kirkfranklin playlist. That's when I felt it: JOY."
She continued:
"My JOY kicked in when I decided to do something about it," she continued. "Now, Every day won't feel as good as a hot Cinnabon fresh out the oven, but you get to CHOOSE how you react to it. Today, I chose to get my joy back, and my prayer is that you choose YOU like never before!"
China Anne McClain of Black Lightning, had a similar notion in mind, when she went low over a year ago. Of her haircut she profoundly noted that women cut their hair for various reasons, with public approval absolutely not being one of them. "I did it because I wanted to," she said. And she suggested that men who put a woman's looks before her character could be blocking their blessing.
"To my women, God handcrafted you into a piece of art. And there's a reason why he made your hair optional. Because you don't need it to be beautiful and to be everything that he made you to be."
Tamar Braxton may have had a tough year, but prior, she was proudly full-on wearing the liberation of going bald.
She captioned a selfie:
"I'm over feeling captive to a wig, weave, people, people's comments & opinions hell...even my OWN feelings! WE can choose to stop these things from having the power and victory over us!! And for me, that starts TODAY."
At the end of the day, we are here for any choice that black women make for themselves--from jobs to hair. Haircuts signify different things for different women. So whether you choose to grow it out, chop it off, or shave it off, our vote will always be to do what you want to do. #itsjusthair
Are you a member of our insiders squad? Join us in the xoTribe Members Community today!

Featured image via Ari Lennox/Instagram
The New Year has finally arrived after the wild ride that was 2020. This month we've got Mars finally shifting out of impulsive Aries after a six-month stint into down-to-earth Taurus for the next couple of months, gifting us with a more grounded, steady approach to our 2021 resolutions. When Venus and the Moon meet up in Capricorn, it's time to get serious, whether that's taking a relationship to the next level or committing to that new career goal. The middle of the month could shake things up once Uranus goes direct. Towards the end of the month, things are getting a little weird with our first Mercury Retrograde of the year. Read more to see how this month's cosmic blueprint affects your zodiac sign!
Aries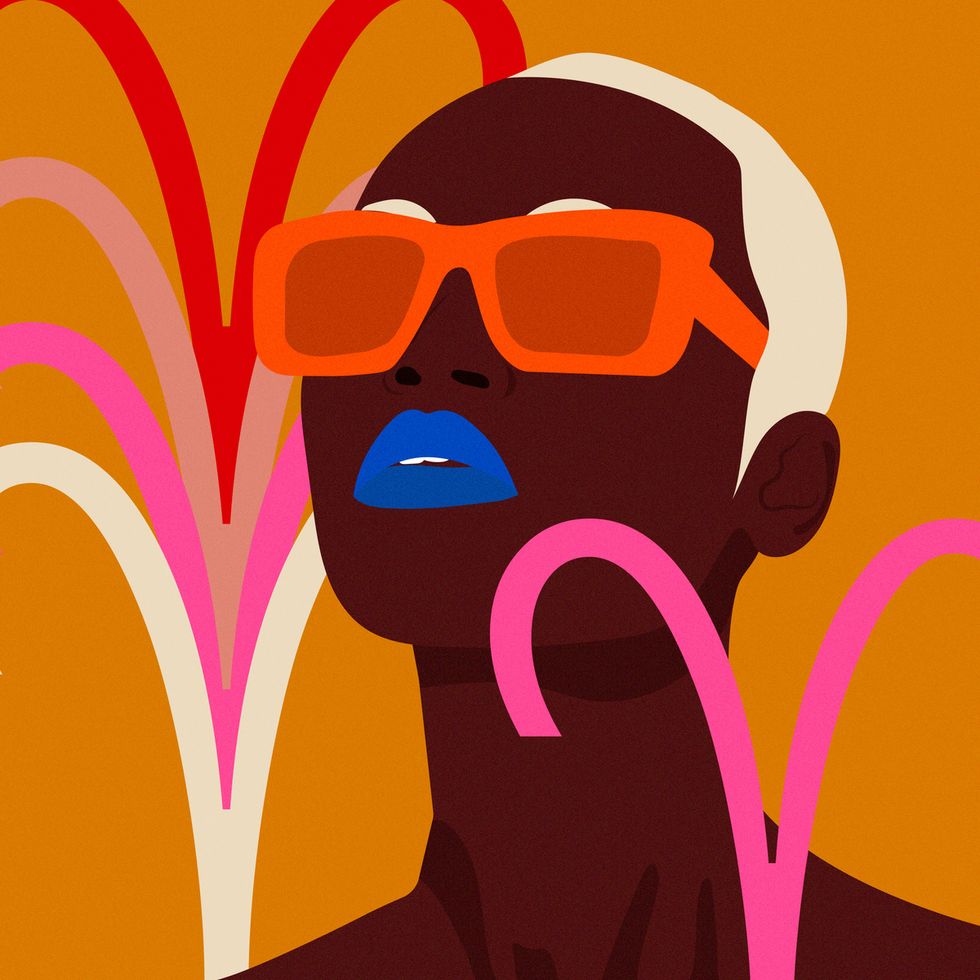 Laci Jordan for xoNecole
The New Year starts off on a high note with Mars leaving your sign and transitioning into Taurus to help mellow you out. When Mars enters Taurus on the 6th, you're taking a slow and steady pace towards your financial goals. On the 8th, Mercury shifts into Aquarius reigniting the flame of passion towards your dreams. Rally the troops, Aries. There are people that can't wait to be a part of what you're creating! When Venus and the Moon meet up on the 13th, you're attracting positive feedback from an influential figure that could help boost your own social status through an opportunity extended to you.
On the 14th, Uranus goes direct which could require you to switch up your approach to making money. Don't limit your abundance by pigeon-holing yourself into one lane when you have the ability to expand in other directions. When Jupiter squares this part of your chart you're encouraged to embrace the changing tide guiding you toward a new tribe. Aquarius season officially begins on the 19th, assisting you in making new friends and growing your social media following. The Full Moon on the 28th invites you to nurture your inner child by going on an adventure or doing something creative. Some of you may even announce a pregnancy around this time. January winds down with Mercury going retrograde, giving you a chance to revisit some old connections that may have the potential to be integrated into your life again.
Taurus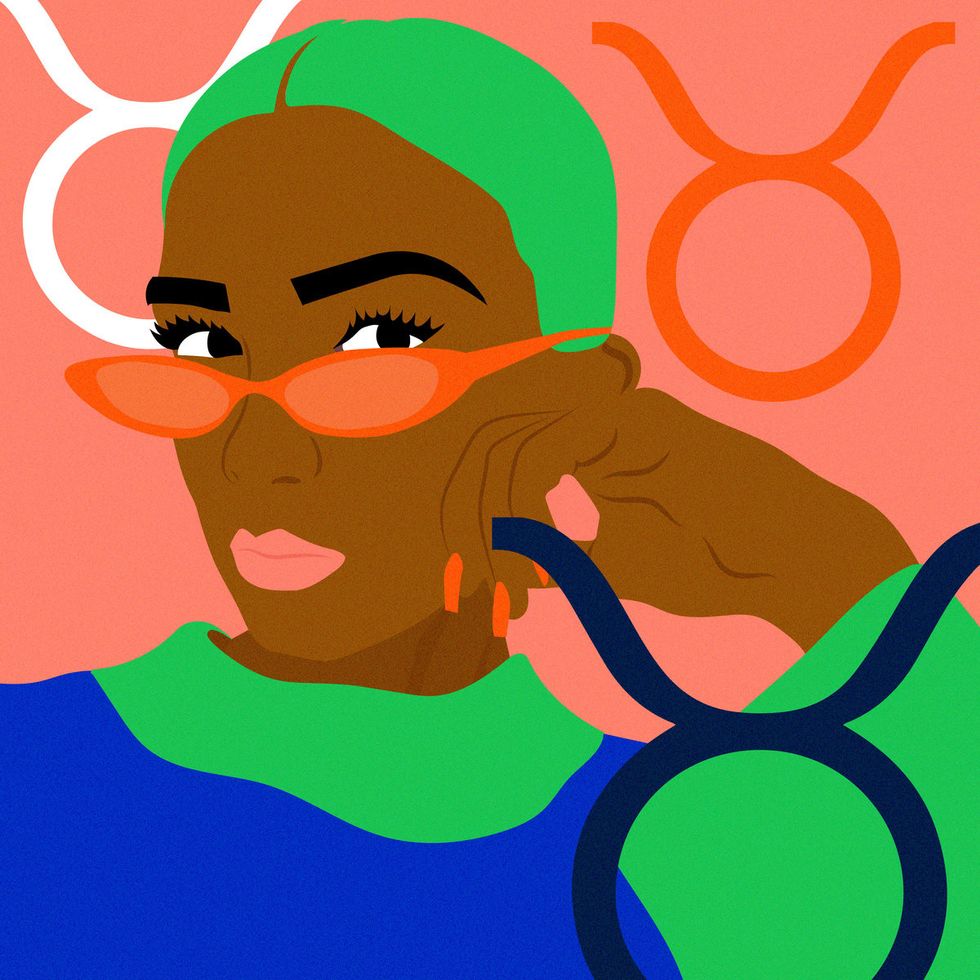 Laci Jordan for xoNecole
January begins with Mars transitioning into your sign after a six-month long stint in Aries. Over the next couple of months, you'll have a lot more energy to get things done with a slow and steady approach. When Mercury enters Aquarius, you're focused on strategizing your way up the career ladder. On the 13th, Venus meets up with the Moon which could have you attracting romance from overseas or from someone who is culturally different from you. When it comes to finances, imports and exports are on the brain as you come up with some ways to work around the current shipping delays.
Uranus goes direct on the 14th which could have you feeling a little agitated. Be mindful of your temper leading up to Jupiter squaring off with Uranus on the 17th. Either your supervisor, or someone in a position of authority, is getting on your last nerve. Don't let them take you there! On the 19th, the Sun enters Aquarius which could have you receiving recognition for handling a recent career challenge with such grace. The Full Moon on the 28th could stir up some tension within the home environment or family unit. Take a deep breath and count to ten before responding. The month closes with Mercury going retrograde, inviting you to reassess your strategy for success. Work smarter, not harder.
Gemini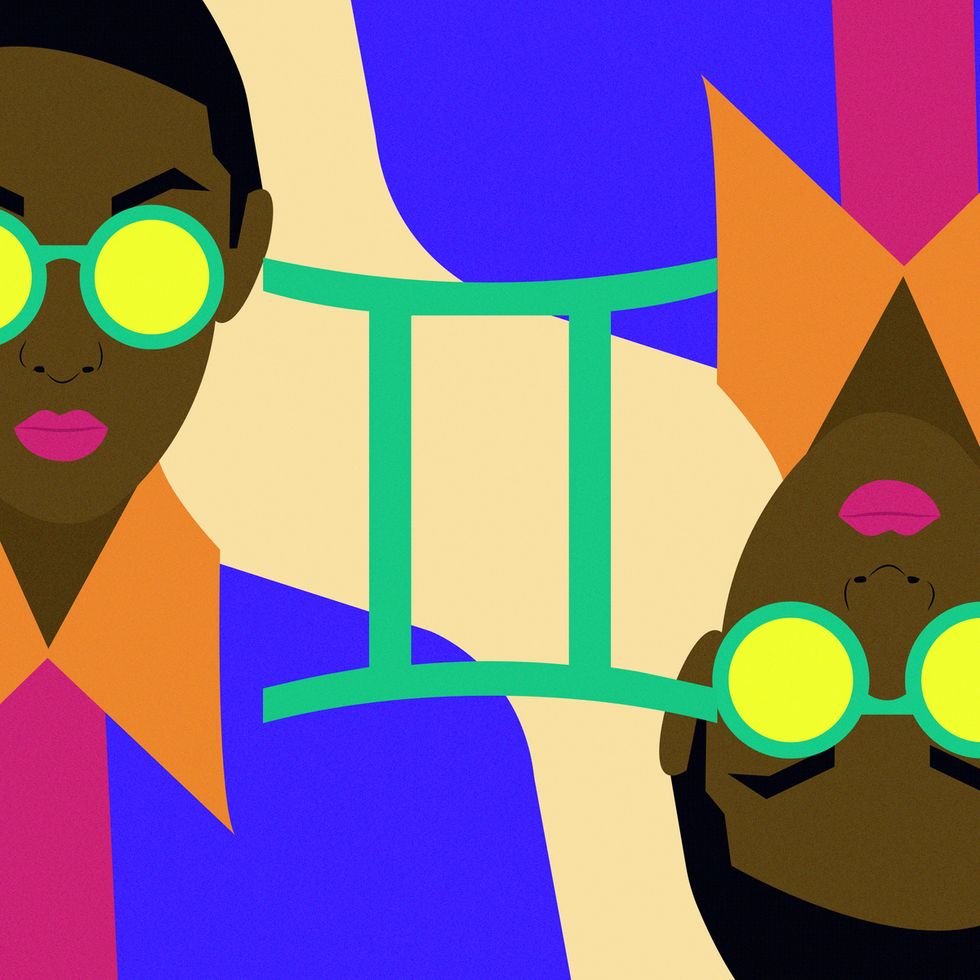 Laci Jordan for xoNecole
The New Year kicks off with Mars entering Taurus on the 6th which could have your energy levels lower than usual. Avoid doing the most during this transit and pace yourself when it comes to achieving your goals in the year ahead. When Venus and the New Moon meet up on the 13th, financial support lands in your lap from an unexpected source. On the 14th, Uranus stations direct after disrupting your subconscious for the past five months. The greatest revolution is our personal, inner transformation. When Jupiter squares this part of your chart, you may feel like someone is trying to enforce their way onto you as if they're some Higher Power. Avoid getting sucked into their drama of self-righteousness and continue along your own path.
The Sun enters Aquarius on the 19th, encouraging you to expand your horizons and making this a good time to go back to school or sign up for that workshop to refine your knowledge. On the 28th, the Full Moon motivates you to use your gift of gab to catapult you into the spotlight. It's your time to shine, superstar! January winds down with your ruling planet going retrograde, making it a good time to review any travel plans, study material, or written work to make sure everything is in order. If you're taking a trip, make sure to arrive at the airport earlier than usual to avoid delays!
Cancer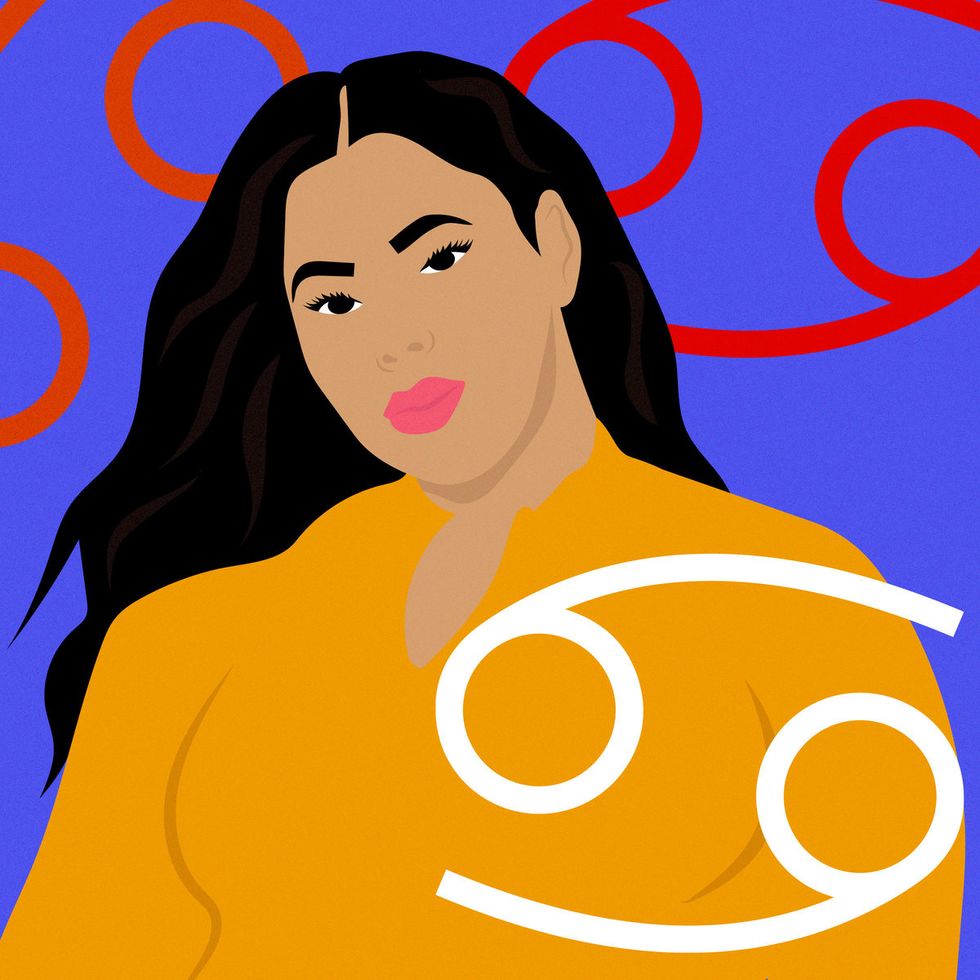 Laci Jordan for xoNecole
You can finally breathe a sigh of relief now that Mars has exited fellow cardinal sign Aries and transitioned into slow and steady Taurus. The troops are rallying around in support of you so make sure you're using your social network to your advantage. When Mercury shifts into Aquarius, you're focused on analyzing your emotional landscape which could have you feeling a bit disconnected from others. On the 8th, Venus enters Capricorn which has you considering a long-term commitment with your current partner. If you're single, the New Moon on the 13th could orchestrate a fated encounter with someone who will be significant to you in the year ahead.
On the 14th, Uranus goes direct which could be the lucky break you've been waiting for to catapult your brand or business to the next level. Unfortunately, with your success comes jealousy from those intimidated by your will power to make sh*t happen. The Sun enters Aquarius on the 19th, inviting you to take a more objective look at some of the painful experiences you typically cling to, but this energy helps you healthily detach that old sob story. The Full Moon on the 28th helps you resolve any financial issues by clearing out debt and those frivolous spending habits you've developed during the quarantine. January wraps up with Mercury going retrograde, guiding you to uncover another layer of your healing process.
Leo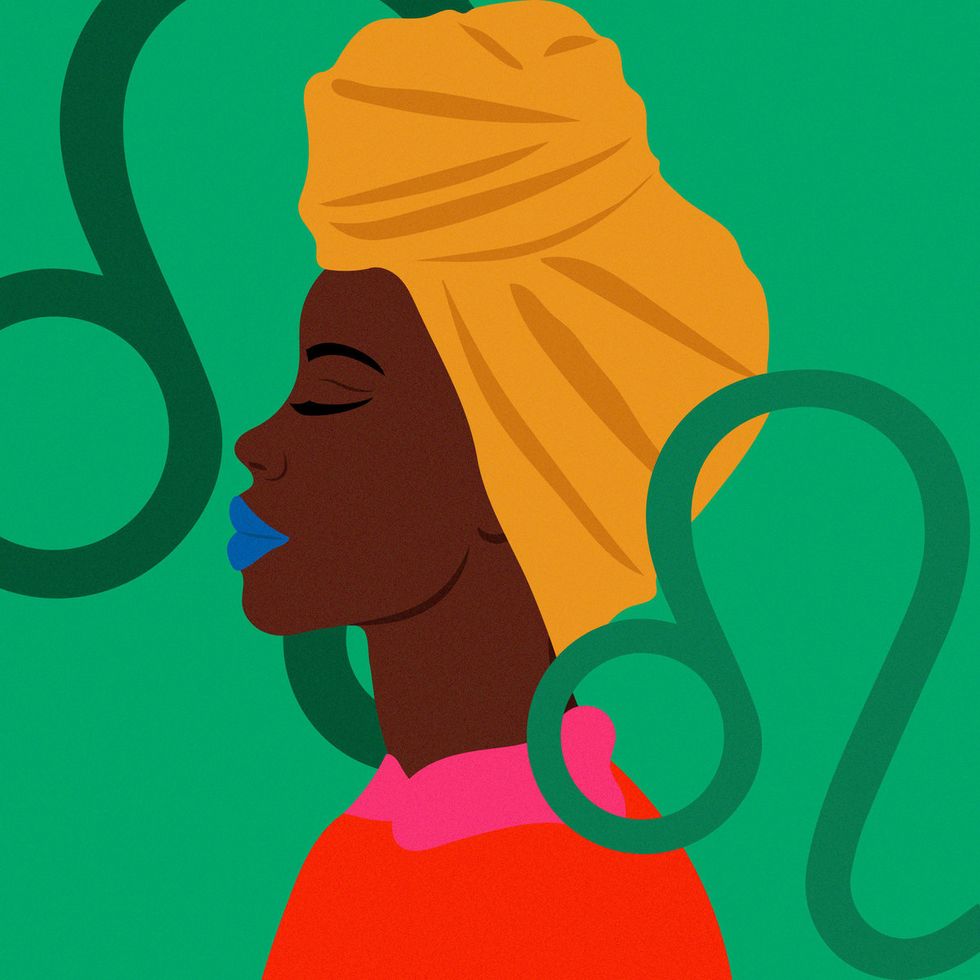 Laci Jordan for xoNecole
There's a lot of action taking place for your sign this mont,h starting off with Mars transitioning into Taurus which has you feeling the pressure to make an impression within your chosen career path. When Mercury enters Aquarius on the 8th, you're having some important conversations with a significant other, business partner, or employer. On the 13th, Venus links up with the New Moon in Capricorn inviting you to get more disciplined when it comes to your health. A new workout plan could be just what you need to jumpstart your fitness resolutions.
Lay low around the 14th as there will likely be a bit of a shake up when Uranus stations direct. Between your boss and your spouse, you may feel like you've had enough of everyone's demands when Jupiter squares Uranus on the 17th. The Sun enters Aquarius on the 19th, encouraging you to partner up with more like-minded people that can help you achieve your dreams. The Full Moon in your sign on the 28th is a great time to reveal your new hairstyle or ensemble you've been dying to show off. The month winds down with our first Mercury retrograde of the year giving you a chance to revise existing contracts and agreements so they serve all parties involved.
Virgo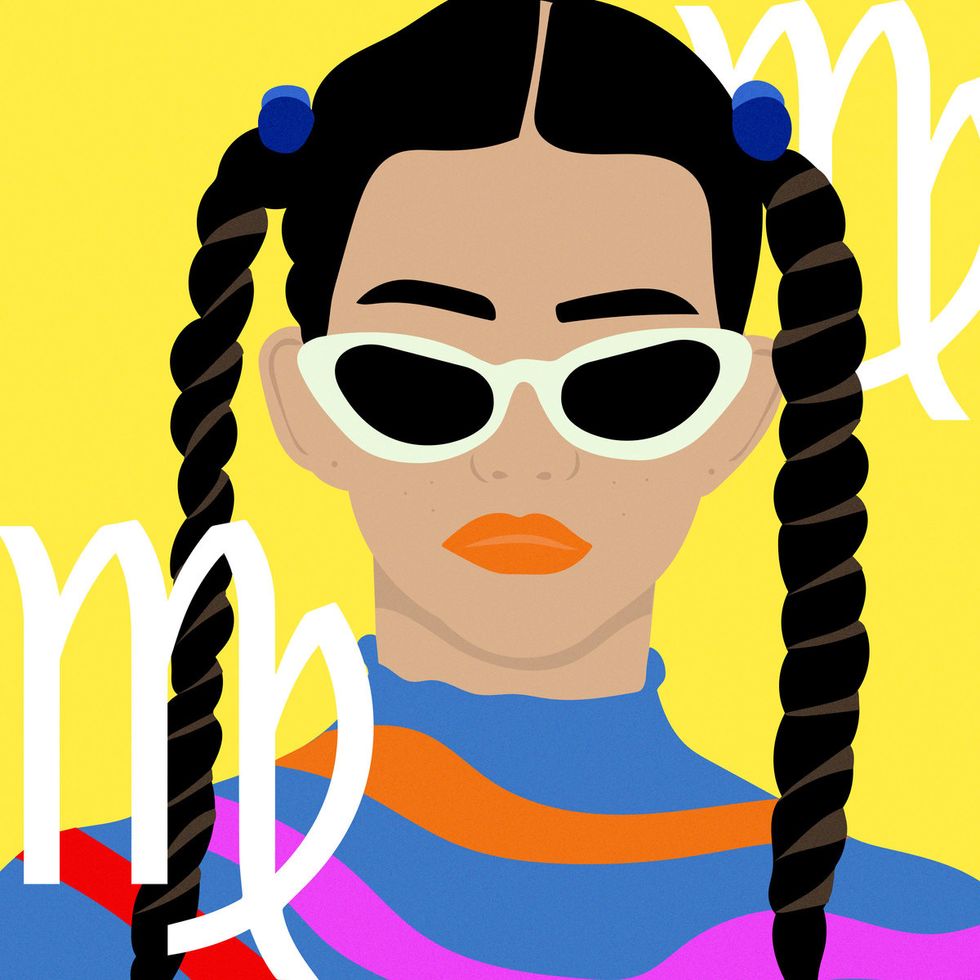 Laci Jordan for xoNecole
After a crazy 2020, you're still feeling pretty optimistic about the New Year, thanks to Mars finally letting up on the gas in Aries and transitioning into Taurus on the 6th. Over the next couple of months, your energy will be exerted towards higher learning, international affairs, and long-distance travel. When Venus and the New Moon meet up in Capricorn, you're feeling the romance in the air. Work can wait another day. Schedule some time to cuddle with bae or have a coffee date with a new suitor. On the 14th, Uranus goes direct, gifting you a much-needed "a-ha" moment about something that has been holding up your spiritual growth.
Be mindful of how much time you're spending on online—whether you're researching your latest topic of interest or casually scrolling through Twitter. When Jupiter squares Uranus on the 17th, you could be experiencing technology burnout. Close your laptop and put your phone on DND for a day. On the 19th, the Sun enters Aquarius encouraging you to find a community to hold you accountable for your health and fitness goals. The Full Moon on the 28th motivates you to wrap up a cycle in which you've been dimming your shine. January comes to a close with Mercury going retrograde, inviting you to revisit an old routine that contributed to a more balanced lifestyle.
Libra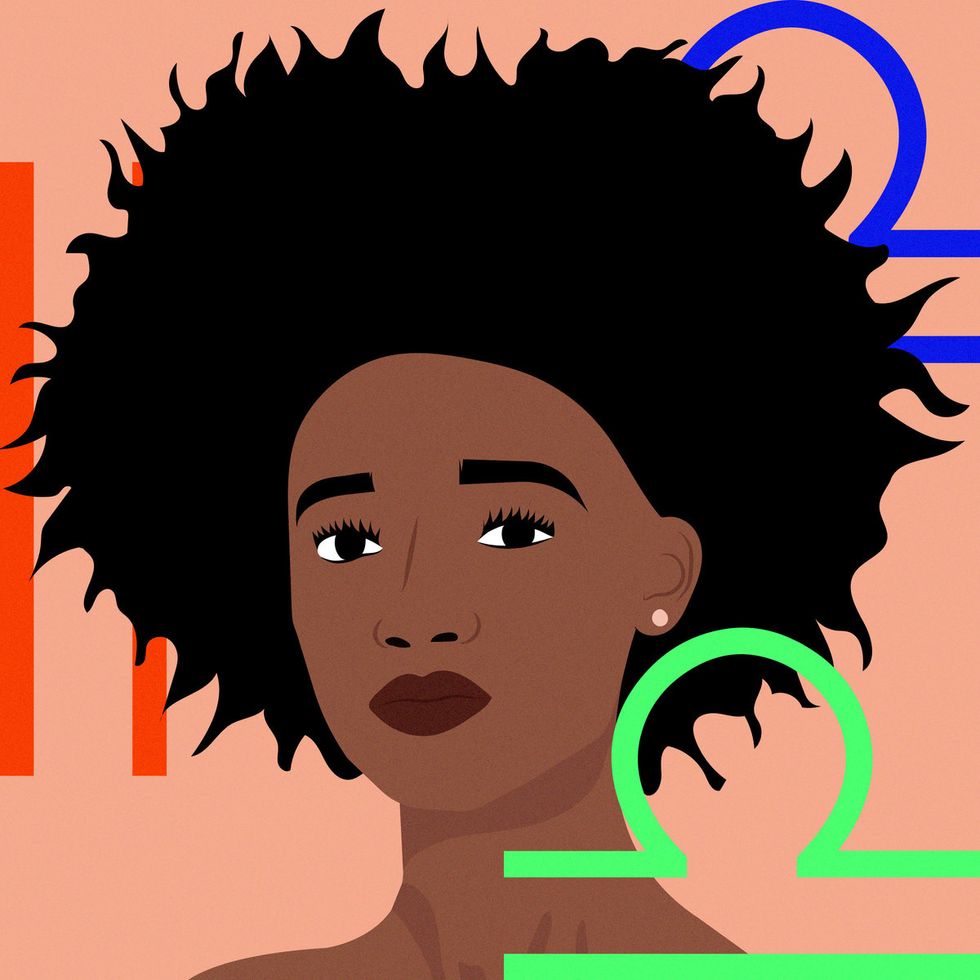 Laci Jordan for xoNecole
The New Year kicks off with Mars entering Taurus, directing your energy towards healing emotional wounds and traumas that affected your self-esteem. On the 8th, Mercury enters Aquarius encouraging you to indulge in some romance. If you're single, you could actually wind up getting lucky on a dating app over the next few weeks. When Venus and the New Moon meet up in Capricorn, you're setting new foundations with some long-term investments, making this the perfect time to buy a new home or rental property.
Uranus goes direct on the 14th which could cause some emotional disruptions, especially when Jupiter squares this part of your chart on the 17th. You'll be a little more sensitive around this time so be gentle with yourself and avoid harsh people that ruffle your feathers. On the 19th, the Sun enters Aquarius, reminding you to let your freak flag fly. Most people know you to be prim and proper but it's time to let your wild side out to give voice to your creative genius. The Full Moon on the 28th could be a time of sudden growth, especially if you're an aspiring influencer. January wraps up with Mercury going retrograde and some former romantic interests hitting you up in your DMs.
Scorpio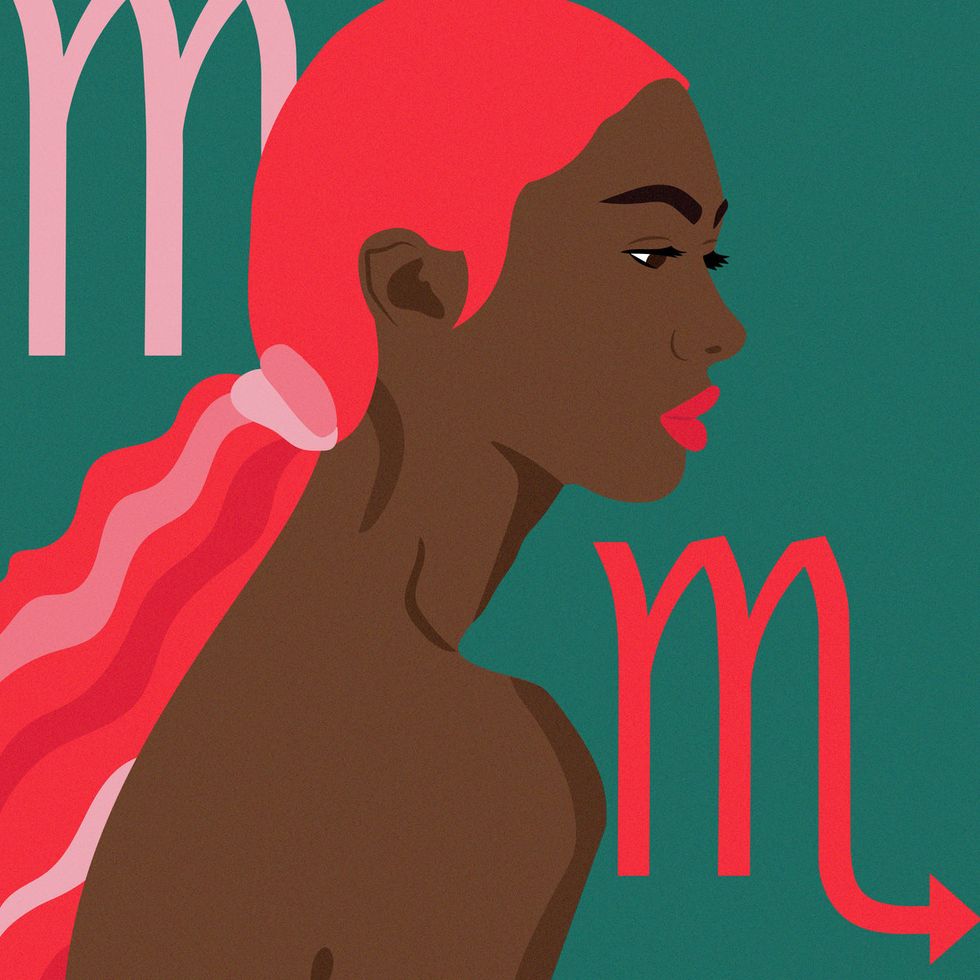 Laci Jordan for xoNecole
January is packed with a lot of action for you this month, starting out with Mars entering Taurus which has you directing your energy towards relationships, business partnerships, and contractual agreements. Over the next couple of months, you could find yourself solidifying more solid connections, whether professionally or romantically. When Mercury enters Aquarius, home and family matters receive much of your attention. On the 13th, Venus nestles up with the New Moon in Capricorn which has you on the receiving end of some important communications about your career and finances.
A minor shake up in a significant partnership can occur when Uranus goes direct on the 14th. When Jupiter squares this part of your chart, be mindful of reacting strongly to other people's annoying behavior. The Sun enters Aquarius on the 19th, encouraging you to redefine what family means for you. Planning for renovations or a relocation is also supported. You could be celebrating a long-awaited career breakthrough around the Full Moon in Leo. See where hard work and consistent effort gets you? The month comes to a close with Mercury going retrograde. Avoid signing a lease or closing on a house until mid-March to avoid issues later down the line.
Sagittarius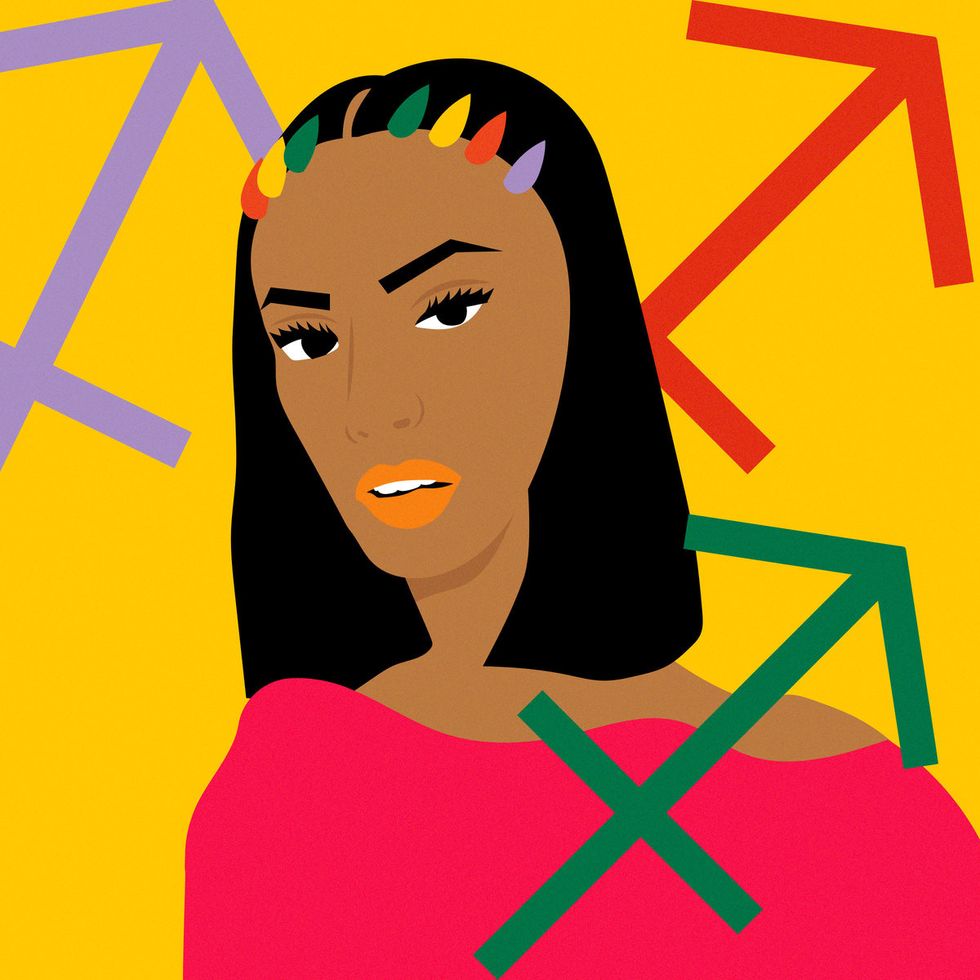 Laci Jordan for xoNecole
The New Year kicks off with you setting some intentions to improve your health when Mars enters Taurus on the 6th. Although this is a time in which you'll likely want to lean into what makes you comfortable, you're encouraged to create some new habits and routines that truly support your well-being. When Mercury enters Aquarius, you're strategizing ways to expand your reach on within your local community, making this a good time to embrace your humanitarian side. On the 13th, Venus meets up with the Moon in Capricorn, helping you attract a new opportunity that will help you achieve more long-lasting financial security.
When Jupiter squares Uranus on the 17th, be mindful of erratic communication, particularly with people in the workplace. With these planets duking it out in fixed signs, there could be a clash of opinions. Do your best to handle it with grace. On the 20th, the Sun enters Aquarius, making this a great time to work on that novel, blog, or website you want to launch. Revamping your social media aesthetic is also favorable during this time. The Full Moon on the 28th illuminates your path through some sort of spiritual breakthrough. The month wraps up with Mercury going retrograde, giving you a chance to make some final touches for your big debut.
Capricorn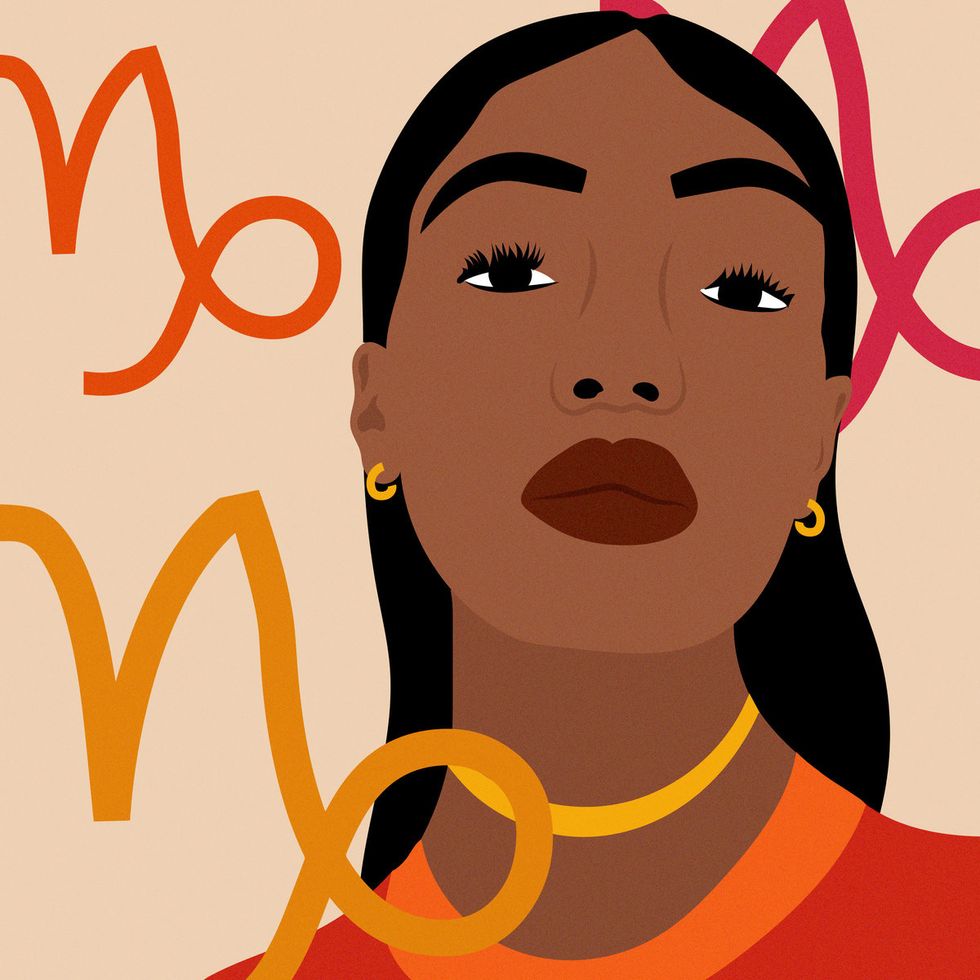 Laci Jordan for xoNecole
Creativity and romance are lighting up your world when Mars enters Taurus on the 6th. If you've been wanting to start a project, now is the time to get to work. Just make sure to carve out some time for your inner child to play as well. When Venus enters your sign on the 8th, your personal magnetism has you on the receiving end of some amazing opportunities that can help you establish long-term wealth. The New Moon on the 13th invites you to reinvent yourself in some way, making this the perfect time for a new hairstyle or an overhaul of your wardrobe.
Around the middle of the month, Uranus goes direct, resulting in a pleasant surprise from a romantic suitor or someone that admires your creative gifts. You never know who's watching you these days. When Jupiter squares Uranus on the 17th, be mindful of making erratic decisions about your money. Aquarius season officially begins on the 19th, encouraging you to explore innovative ways to get in your bag. The Full Moon on the 28th motivates you to overcome any fears of standing out from the crowd. January wraps up with Mercury going retrograde, making this a good time to reassess your budget, debt, and savings plan.
Aquarius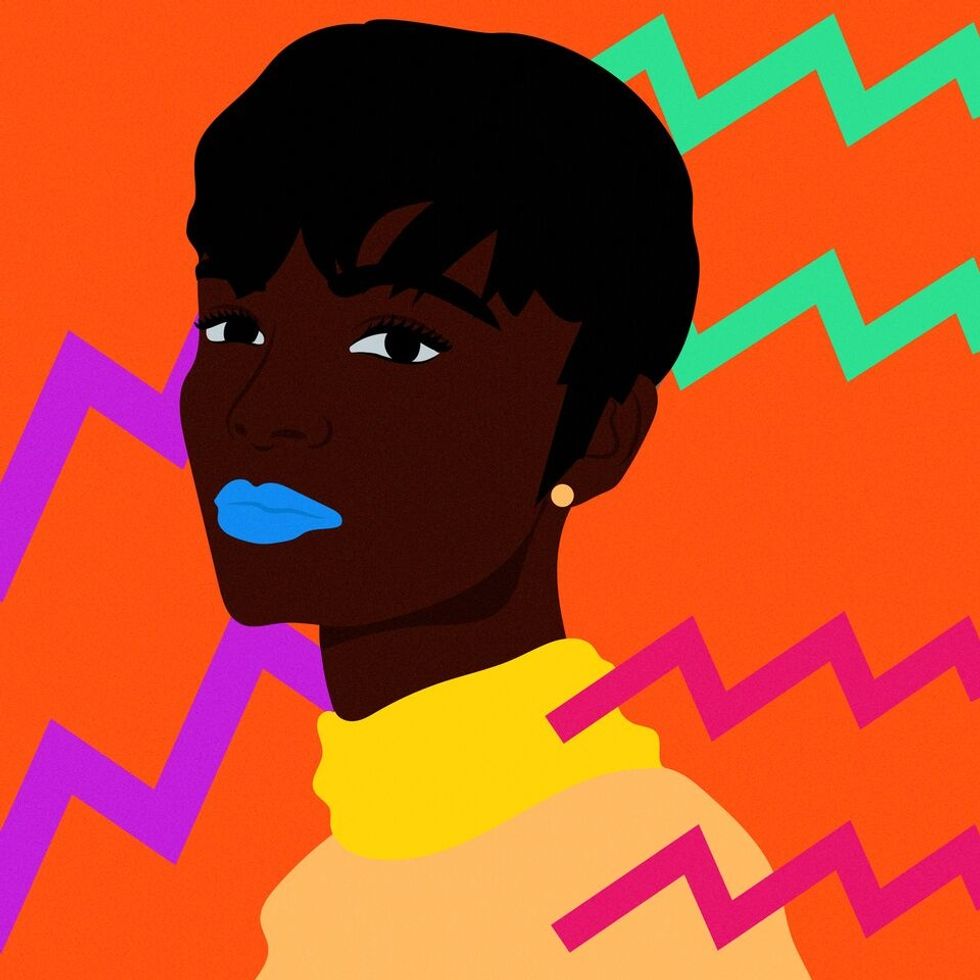 Laci Jordan for xoNecole
January is packed with action for you this month starting off with Mars directing your energy towards your home environment. The next couple of months invite you to indulge in your creature comforts. When Mercury enters your sign on the 8th, life is getting busy and everybody wants to be all up in your business. Don't be afraid to use the DND option on your phone when you need a break. On the 14th, Uranus goes direct which may require you to think on your toes if a sudden change arises on the home front. Emotions may be on edge when Jupiter squares Uranus so be mindful of family drama around this time.
Your birthday season officially begins when the Sun enters your sign on the 19th. It's time to reintroduce the world to the new you. The first quarter moon in Taurus helps you smooth out any tension that may have occurred with your family or roommates. A significant relationship or business partnership could be going through some changes as you choose to strike out on your own. The month comes to a close with Mercury retracing its steps through your sign, giving you the opportunity to double-back on an important conversation that was left open-ended.
Pisces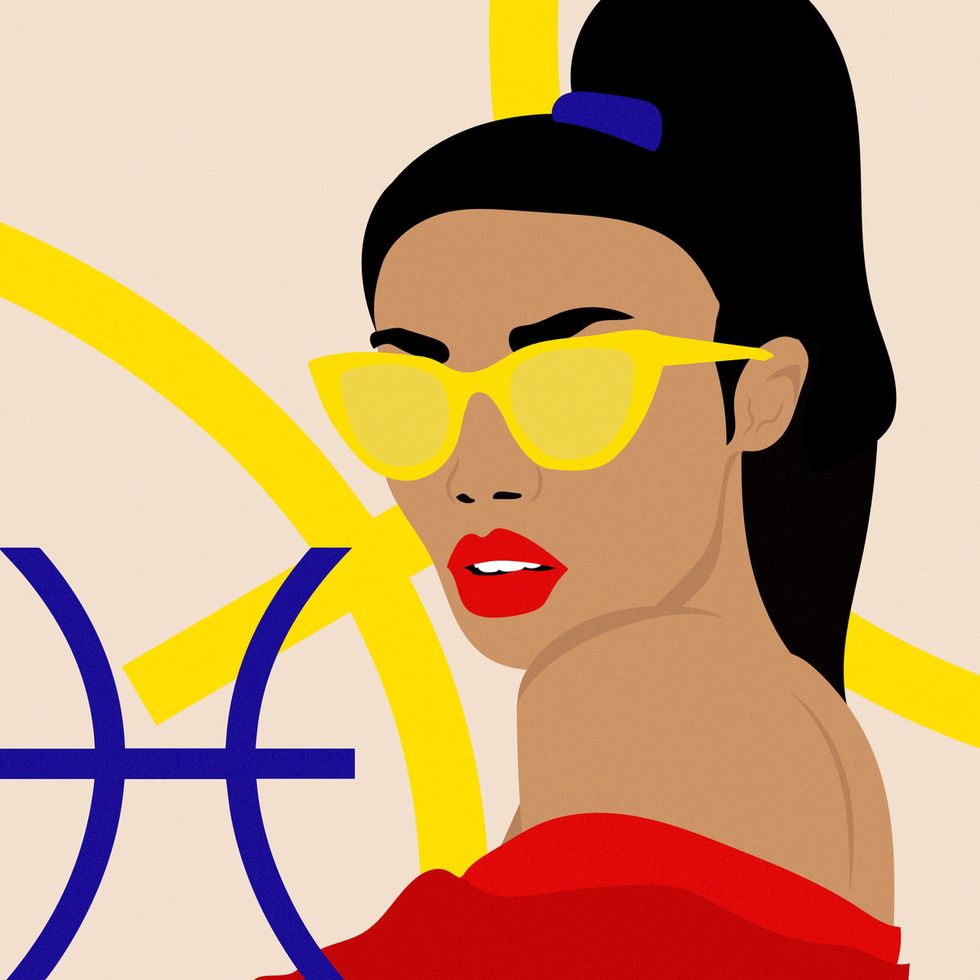 Laci Jordan for xoNecole
The month begins with Mars directing your energy towards all of the amazing money-making ideas you've had lately but lacked the vitality to follow through on. Roll up your sleeves and get to work. Your disciplined effort can have you seeing big results in a short amount of time. When Venus enters Capricorn, you could find yourself attracting a lot of attention online, making this an opportune time to gather supporters for your dream team. The New Moon on the 13th encourages you to shoot for the stars and surround yourself with people that truly want to see you succeed.
On the 14th, Uranus goes direct which could have you striking gold with a genius idea. When the Sun enters Aquarius take some time to disconnect from the daily grind to reconnect with your Higher Power. The Full Moon on the 28th could reveal some hidden motives from someone in the workplace but it's nothing you can't handle with some nice, assertive boundaries or a simple "No, thanks. I'm not interested." January wraps up with our first Mercury Retrograde of the year inviting you to tie up loose ends so you can start your new solar year baggage-free.
Are you a member of our insiders squad? Join us in the xoTribe Members Community today!
Featured image by Laci Jordan for xoNecole.com
I think it's fair to say 2020 is not what anyone envisioned. This year has been a whirlwind full of COVID-19 cases, protests, millions without employment, an intense election, and much more. 2020 has worn us out, honey! I'm tired. You're tired. We're all tired. But, as we close the chapter of 2020, it's only right we do some reflection. This time of year is perfect for discovering what we need to work on, what lessons we've learned, and how we can do better moving forward.
I love using journaling prompts this time of year for reflection. Through these reflection prompts, I have been able to be grateful for the challenges I have overcome, and look forward to the lessons ahead. If you are in search of a path to move forward in the year ahead but don't know where to begin, here are some key questions to ask yourself before the new year.
What is one thing you could have done, but were too afraid too?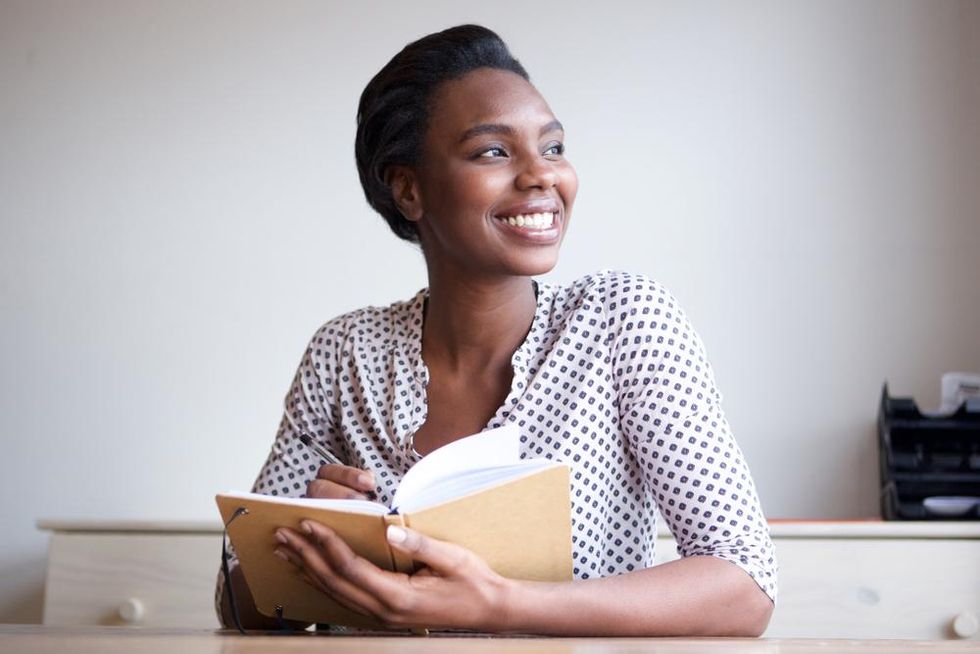 Shutterstock
It's incredible how many people never achieve their dreams because of fear. Some of us are lowkey having anxiety over what people will think or say. Psyching ourselves out because we don't want to be seen doing "too much". We can even be afraid of failing and making a fool of ourselves too. Nothing positive can come from staying in your comfort zone because of fear. The only thing that can manifest from fear is being stuck in a situation you don't want to be in.
I was stuck at a dead-end serving job for years because I was too afraid to quit my job and become a freelancer in digital media. I was so concerned with how people would see me as irresponsible for quitting my job and going for my dream. Eventually, the misery of working at a job I had no passion for took over, so I quit.
Fear is mental more than anything else. Once you get past the mental aspect of fear, there is not much that can stop you. If there is anything you always wanted to do, but didn't out of fear, make it your goal for next year. Achieving the things that scare you the most will give you the confidence to challenge your goals. As cliche as this may sound, you never know what can happen if you don't try. Life is too short to be living in fear.
At what point this year could you have been gentle with yourself? 
I am my biggest critic. I believe my critiques of myself comes from being a perfectionist and wanting to be the best at what I do. The negative side to this trait is sometimes I can stress myself out. I have learned through trial and error; that my best is enough and perfection is an illusion.
We need to be better at checking in with ourselves and being mindful of our needs. What's the point of filling our cup if we are the ones also draining it?
Reflect on times you were in a stressful state; how did you talk to yourself? Change up that inner dialogue. Were there times when you overworked yourself? Take more breaks. Did you do anything to celebrate yourself or your wins? Treat yo' self! Being gentle with ourselves is keeping our cup inflow.
What can you thank yourself for this year?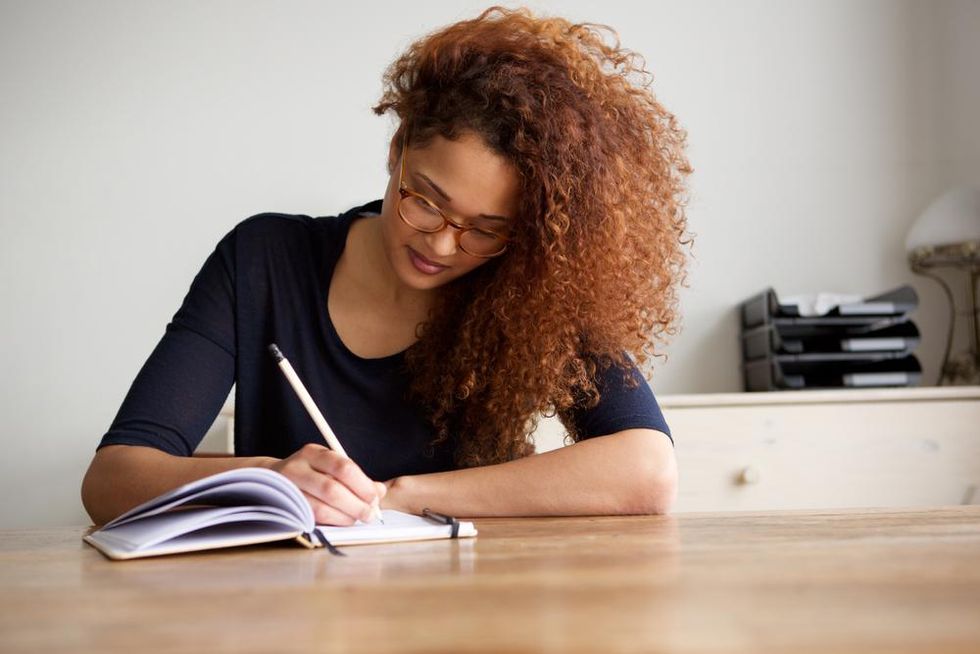 Shutterstock
First off, let's all thank ourselves for making it through 2020. We all deserve a T-shirt that says: "I survived 2020." Seriously though, thanking ourselves may seem like an odd thing to do at first. We are so used to people thanking us or validating us for our efforts, but we can also do this for ourselves. We don't need to wait for anyone to acknowledge our efforts.
I'm a huge fan of thanking myself because they're milestones in my life people don't see. This year, I focused on myself and healing inner child wounds. I invested in therapy, meditation, and journaling. All of these tasks were done privately. For me, this was a huge step towards connecting with my higher self. I worked on my inner child wounds for me, so it's only right that I thank myself. Thanking yourself can feel a bit egotistical at first, but there's science behind the madness. We thank ourselves to recognize the value we've provided for ourselves. By thanking ourselves; we are subconsciously encouraging ourselves to keep going and not relying on anyone for validation.
Who in your life deserves a big thank you?
There were times during this year I didn't think I was going to make it. Times when I thought it was all "too much" for me to keep going. Having a strong circle of friends and family to help me see the light when I couldn't have been a lifesaver.
I truly believe in showing gratitude to those who have been there for you. Letting your loved ones know you recognize their efforts will strengthen your relationships.
People need to feel like they are appreciated. If not, the relationship will eventually start to deteriorate. Let your loved ones know you appreciated them during those times.
What do you want to be a student of in 2021?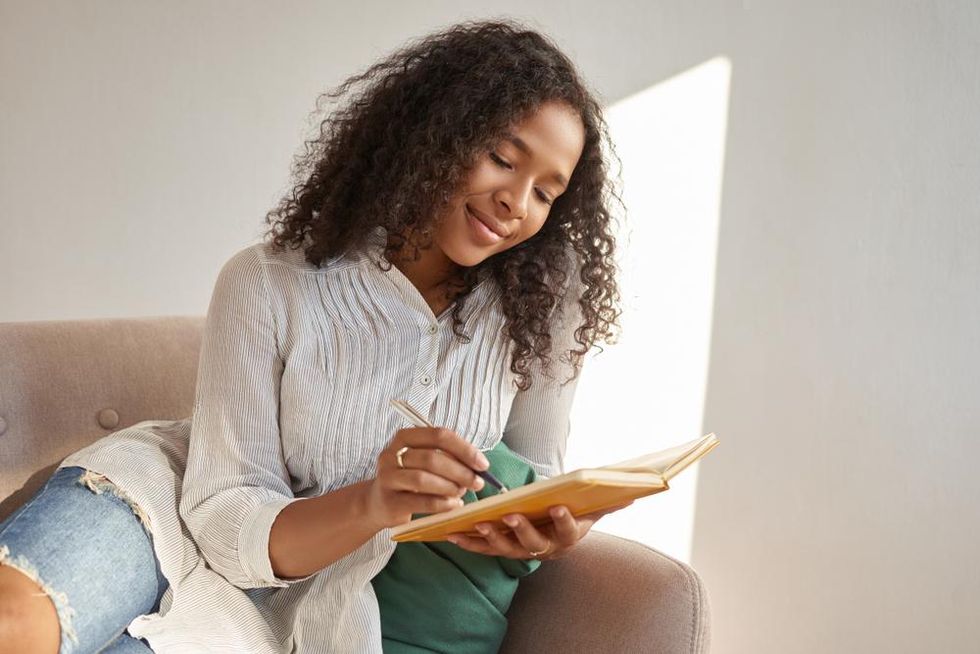 Shutterstock
In life, the only way you can continue to grow is if you never stop learning. Being a student of life keeps you fascinated when things aren't going right. Instead of being frustrated when life isn't going according to plan (aka 2020), you can view situations from a productive mindset. Asking yourself questions like, "What can I learn from this situation?" or "How is this making me better?" can be helpful tools when navigating through a difficult season.
Before the pandemic, I was a DJ. Live events and large crowds are the heart of the industry, two things COVID-19 rightfully banned. I was no longer able to do my job, so it was back to the drawing board. Instead of dwelling on being unemployed, I decided to stay curious and see where life was taking me. Now here I am with the best writing job ever, working from my living room, and helping you glow up.
Being a student of life is the best gift you can give to yourself. Flowing with life's obstacles can lead you to some of life's greatest treasures. Observe, remain curious, and stay hungry for more. In the words of Forrest Gump, "Life is like a box of chocolate. You never know what you're going to get."
I hope you all have a new year full of blessings, happiness, and growth.
Are you a member of our insiders squad? Join us in the xoTribe Members Community today!
Featured image by Shutterstock