It's always a good look when you're able to get to the final step of a job interview. You've made it past the first round of interrogation, the second round of meeting with your prospective manager, and now you're at the last stop, where you pretty much have the job but still have the opportunity to either accept or decline the offer. Before you say yes, though, think about the environment women work in today and consider your options in terms of pay.
Last week, Equal Pay Day was commemorated on March 15 in order to mark how far into the year women must work to earn what men earned during the same time last year. While some companies' leaders are doing the best they can to not only raise the bar on equal pay for all employees but actually set better standards for pay altogether, many companies still struggle to get with the equal-pay program.
So, when you're having that virtual meeting where the hiring manager asks, "So, any more questions on the position that will seal the deal for you?" here are three you shouldn't leave the conversation without asking: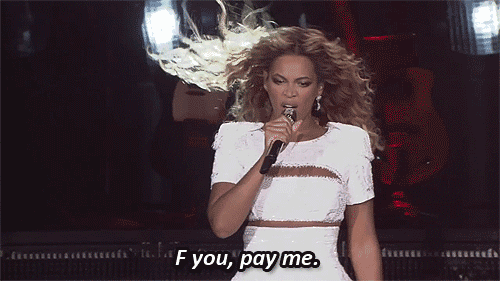 Giphy
1. "How are professionals at your company rewarded for good work or tenure?"
This is the time when you'd be able to get insights about the process of pay raises or rewards for good performance or find out whether they might be having you work for eight years, doing well before a pay raise is even considered. (This happened to me, and I literally struggled while making a yesteryear's salary with modern-day bills.) Ask them follow-up questions like, "When would I have the opportunity for a raise upon performing well?" or "Is there a policy in place that rewards those who have been at the company for a while or for tenure perks?"
When you do well, you should be compensated. And remember, inflation and bill collectors don't pause, so you must advocate for yourself by finding out how your salary might increase (or not) over time.
If they can give detailed responses on this, you might have found a good fit here in terms of getting what your skills and talents are worth. If they have to "get back to you" upon your acceptance of the offer, they don't have any specifics on these things, or they simply say, "No, there are none in place at this time," you might want to reconsider saying yes to the job. It's a good idea to get ahead of the possible future of burnout and frustration.
And depending on your industry, some perks based on how much time you've been at a company are industry-standard or even legally backed.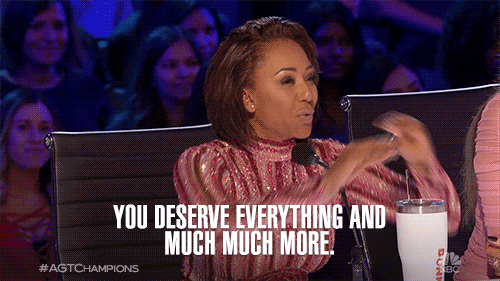 Giphy
2. "What retirement, other investment options, or perks are available, and does the company offer a match to my fund contributions?"
While the realities of COVID have impacted many businesses, it's still a good idea to at least ask this question. (And if you don't know anything about a 401K, you should still be asking about this. You could be leaving thousands of dollars on the table by avoiding this conversation.) Find out all the options for perks and funds, and ask your prospective employer about the investment firms or financial institutions they work with so you can do your own investigating as to what might be best for you. When I got my first job, I knew nothing about a 401K and didn't really understand what I was contributing to every paycheck. Fast-forward years later, when I hit a stint of unemployment.
My mom asked, "Hey what happened to your 401K funds? You need to check." Sure enough, there were thousands of dollars in an account at my disposal due to that company matching my contributions. The money had just been sitting there for years. Luckily, by the time I'd inquired about the funds, I was just in time before missing the cutoff date for dormant accounts.
While you might think you're too young (or too far from living that life), it's always good to plan ahead to save for retirement even if it might not come for another couple of decades. Also, retirement or investment funds can come in handy way before it's time for you to clock in for the last time. Some people have been able to use investment funds to start their first business, travel, or take a break from working for months or years at a time.
And if you're up for a job that requires a lot of travel, physical exertion, time away from your family, or use of technology, ask whether there are stipends, discounts, business credit card accounts, or funding options to cover expenses related to those things. Again, making sure you're financially, mentally, and physically able to not only support yourself but the duties you need to succeed in the role is key.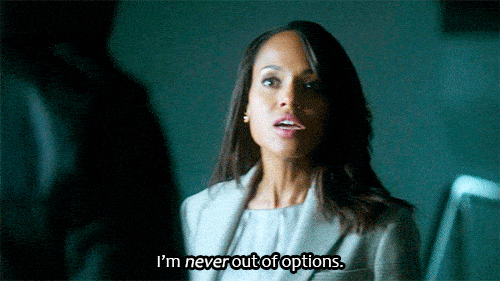 Giphy
3. "How is my salary broken down: hourly or annual?" 
This is key because, though some companies offer a "salary," they're really paying you for a certain number of hours, and those that do this also typically offer overtime pay. Again, you want to be clear on this because if you find yourself working 10-12 hours but only getting paid for 8, you'll need to really either reevaluate your time management or face the tough reality that your managers might be requiring effort from you for work that you aren't being compensated for. Hey, sometimes a certain project or task takes more time than your work shift–no matter how great you are at time and project management, and depending on the company culture, you might be expected to just suck it up and get the job done.
If you're paid the same amount, regardless of the hours it takes to complete a task or job, and there's no overtime pay, consider whether the way the company might pay you will impact your quality of life or happiness in that role.
I once had a salaried job, for example, that paid a flat rate (not by the hour at all) but the workload required me to complete tasks throughout the night, well after my office hours, with no overtime pay. (The job also had a sales component, and while I was selling thousands of dollars in said product a month, I received nothing for my prowess in doing so.) Once I calculated how much I was working versus what I was being paid, the numbers just didn't add up, and while I loved the job, I couldn't justify the return on my time and energy investment. I was making the company thousands of dollars a month, on top of doing my other duties, yet I was being paid peanuts.
True, you could wait and discuss this with your manager once you're at the job, but why not get ahead of things by asking, during the interview, about the salary breakdown, and then, make a decision, based on the type of job you're applying for, on whether it's a good idea to take the offer.
While there are still prevalent issues related to systemic sexism and racism that pose challenges for Black women in getting our fair pay, at the end of the day, you can take charge of getting the salary you deserve (if not more) and you can plan ahead to earn the money that will help you reach your financial and lifestyle goals.
Let's make things inbox official! Sign up for the xoNecole newsletter for daily love, wellness, career, and exclusive content delivered straight to your inbox.
Featured image by Ariel Skelley/Getty
It's always inspiring to hear a story of someone who has not only created their own opportunities, but has won big by doing so. Alicia Scott, CEO and founder of Range Beauty, is an avid researcher and savvy communicator who initially Googled her way into finding a solution to a problem that impacted not only her life, but the lives of other Black women: inclusive yet clean cosmetics. And her efforts took her to business and bankable success, turning $300 into $300,000 within the first three years of business.
The idea turned into a mission when Scott was working in the fashion industry and saw how Black models had to carry their own makeup kits because artists claimed they didn't have the tools to create looks on darker skin tones. "It made me think of the lack of shades available to us. On top of that I was dealing with eczema and acne-prone skin, so I wanted a line that wouldn't irritate my skin," Scott said in an interview with xoNecole.
"That was in 2014, [when] there wasn't as much of a clean beauty trend [around] as there is now. So when I would look for alternatives, a lot of the products that would come up were very fair shades. In doing more research, I found out about the issues with Black women being exposed to twice the amount of toxic beauty products due to the lack of products for our skin tone. Just thinking about how those ingredients were tied to breast cancer and hormone disruption, I just really wanting to create a solution."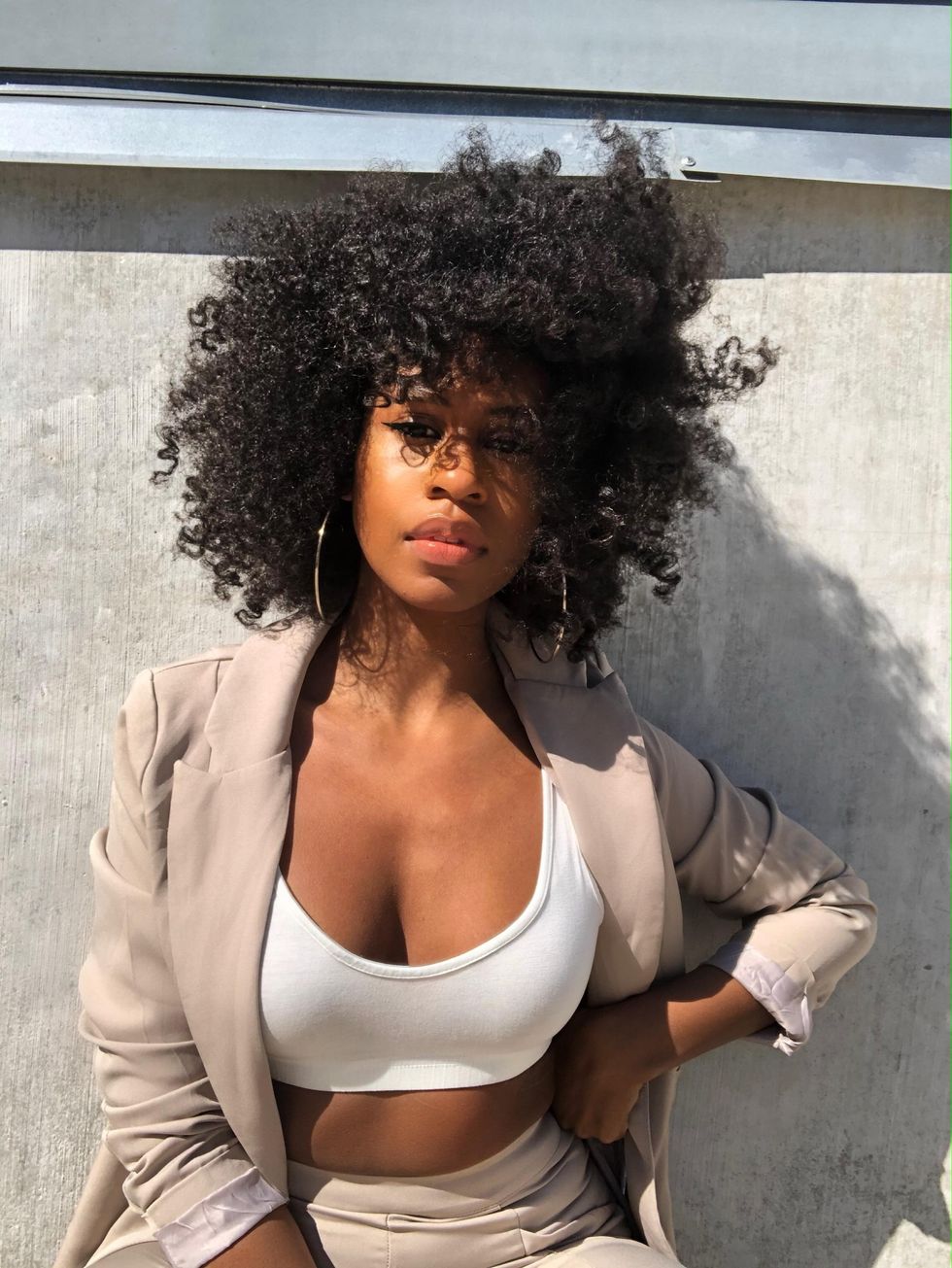 Image courtesy of Alicia Scott
"I found out about the issues with Black women being exposed to twice the amount of toxic beauty products due to the lack of products for our skin tone. Just thinking about how those ingredients were tied to breast cancer and hormone disruption, I just really wanting to create a solution."
Google Me, Baby
Fast-forward to 2017. Scott knew she needed to do her research and used one of the best free resources available: the Internet. She was able to connect with a woman-owned manufacturer to help her create what she wanted to offer. "I didn't have the funds to work with a lab, so I skipped that step. I said, 'Well what can I do next?' I found a manufacturer by Googling what I wanted to create and came across a site called Cosmetic Index. It contains everything you'd need to start your brand. I knew I wanted one based solely in the U.S. and narrowed [the list] down to those that had detailed information. I then found her page, went through her website and Googled information about her. I called the number that was listed and went from there."
Scott's manufacturer already had experience in cultivating products for sensitive skin after personally dealing with the issue from a face surgery. "That was perfect because it was such a niche. I was able to speak with her and tell her what I wanted to create and the mission behind my line, and then work with her to get the line started. I was using calendula flower and chamomile extract [for the eczema] as a way to avoid having to use steroids which was recommended by the dermatologist. I want to be sure to keep oil at bay, so what can we use as an alternative. A lot of products that have mattifiers aren't great for our skin and can clog our pores so we talked about using French clay as an alternative. That's how everything started."
A starter kit with Scott's final formulation was sent to her home, and on her living room floor, she was able to create multiple shades of brown foundation. She came up with packaging, registered an LLC, and in 2017, Skinny Dip Cosmetics was finally born. The initial cost for the soft launch: $300. Revenue came in at about $1,000 in the first three months, Scott recalled.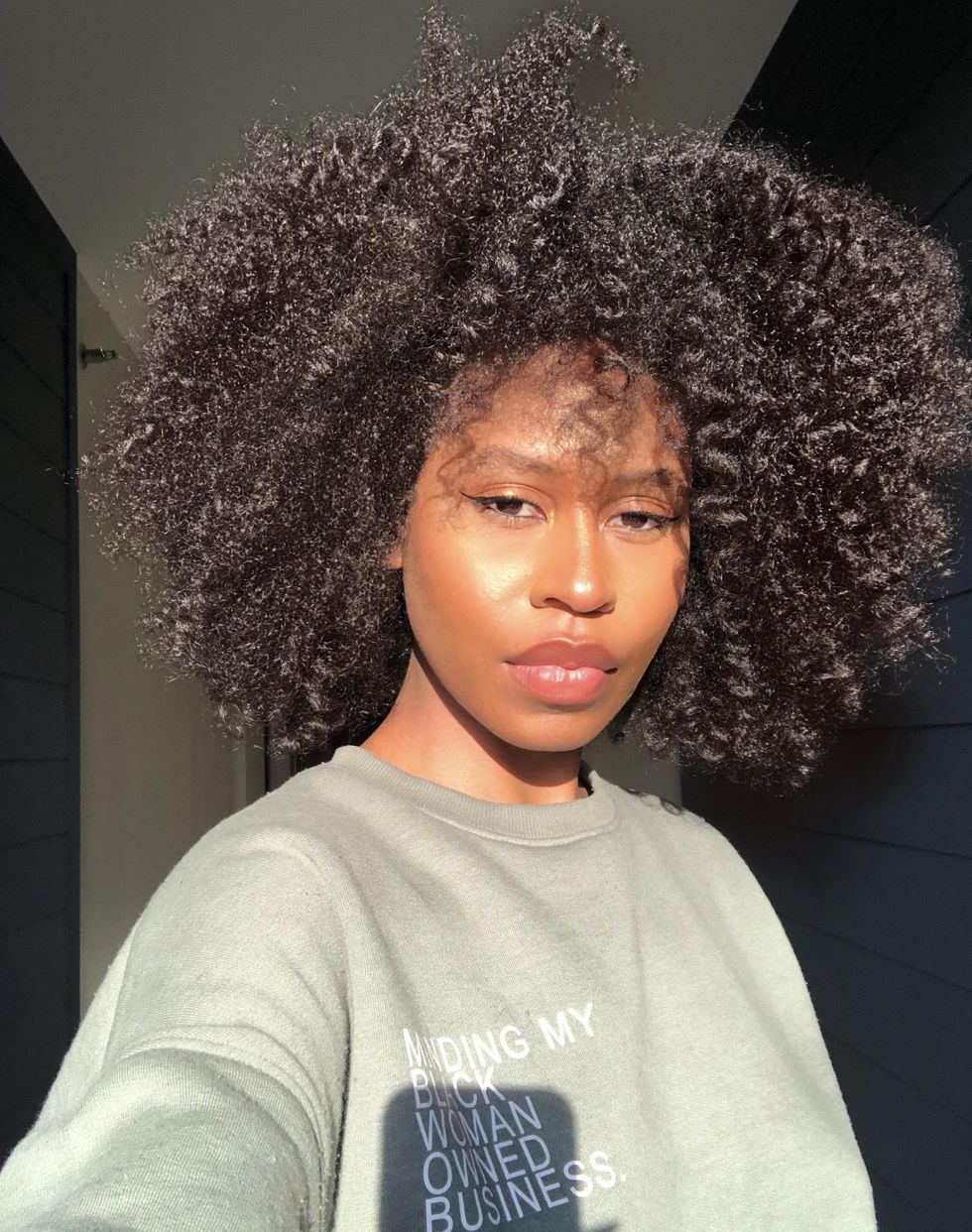 Image courtesy of Alicia Scott
Social Media For the Win
Scott took the next step of building up a social media following, using yet another free resource to build her customer base, further launching Twitter and Instagram accounts for the brand. "One day, I took a picture of the product and posted it on Twitter, and one of the major influencers at the time saw it and reposted it with [the phrase] 'This is what you call Range,' and it just blew up."
She decided to close shop in order to rebrand and officially relaunched as Range Beauty in 2018. After the relaunch, revenues hit $20,000 and then went up to $45,000 by 2019. She was finally able to leave her 9-to-5 working in diversity and inclusion for a tech company, and by the end of 2020 she'd made $300,000 by the end of last year.

How was she able to scale in such a way to see big wins? More research, pitch competitions, and honest feedback. YouTube star Jackie Aina is behind a pivotal moment in Scott's journey to raise funds and continue building revenues. She revealed, "[Years ago,] I was following YouTube mogul Jackie Aina, and she posted that she was doing a grant competition for Black founders. I think the first prize was $5,000, and I was like, 'OK that's something cool.'"
"That was my first time applying for a grant or even knowing what a pitch competition was. From there, I looked into what I needed to have ready. I was already an avid watcher of Shark Tank, and I went online to search the commonly asked questions. After that, I applied, and I got into the competition. They flew us to L.A. and I pitched on her YouTube channel. I was one of two who won the grant."
After that, Scott said she got so much great feedback, that she kept applying for any grants she could, whether they were targeted to women-owned or Black-owned startups. It was at an event in Atlanta that she received direct feedback that led to a major pivot and more money for her business.
"[I participated] in a pitch competition with what is now called the Fearless Fund, headed by Arian Simone. At the time she was doing these individual pitch competitions. I applied, made it through the first two rounds, and then we went to the headquarters. I remember a judge saying, 'You have a good pitch and great energy, but when it comes down to your product, you're not telling us what sets you apart from your competitors.' At that time, Fenty had just launched, so me coming from this inclusive end saying, 'Oh we have all these shades,' and Rihanna launched with all these shades and had a whole campaign--- it's like, 'Oh, you can't really come from that angle anymore, so now what's next?'"
Switch Up and Level Up
Scott knew she had to shift her approach a bit to remain competitive and continue seeing success in getting capital. She knew she didn't want to get business loans, and she also knew she wanted to be able to sustain her company's growth. After much thought, she finally had a light-bulb moment.
"At the time, I wasn't speaking to the fact that I created this brand with eczema and acne in mind and with skincare benefits. There wasn't anyone doing that with inclusivity at the time. Once I switched the messaging and started applying that, everything started taking off. I joined New Voices [Foundation] family very early on after seeing Melissa Butler speaking on it. They would send emails that [informed subscribers] about different grant and pitch competitions and I'd just apply to all of them. I began tailoring my pitch and my application to the point where I was becoming a finalist. All in all I've received $50,000 in grant money, and I just received my first investment of $200,000 off of a pitch competition."
Range Beauty products can now be bought on the company's Website as well as in Target, a company whose relationship she's proudly maintained and cultivated since 2018.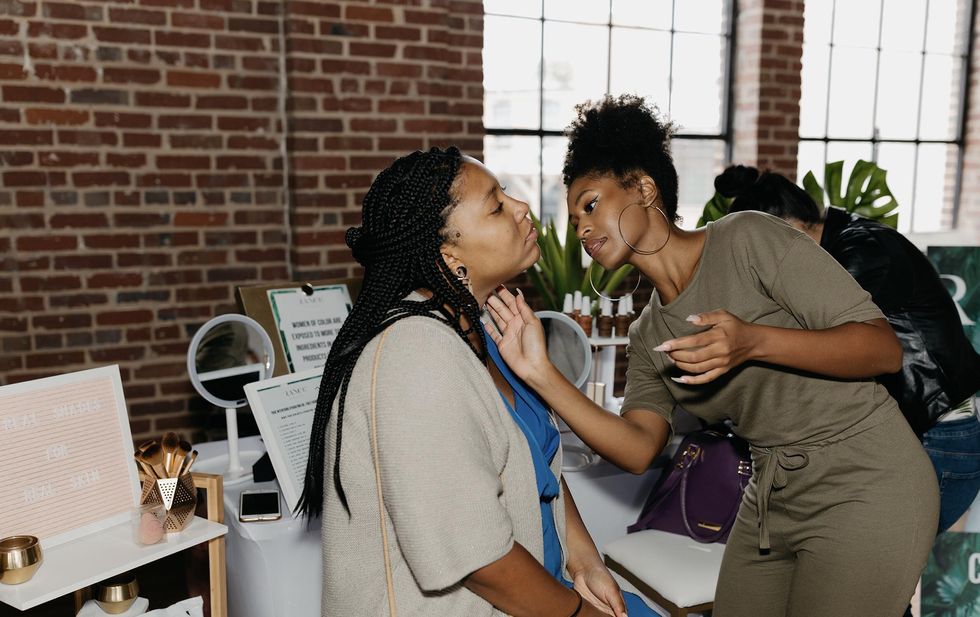 Image courtesy of Alicia Scott
"At the time, I wasn't speaking to the fact that I created this brand with eczema and acne in mind and with skincare benefits. There wasn't anyone doing that with inclusivity at the time. Once I switched the messaging and started applying that, everything started taking off. All in all I've received $50,000 in grant money, and I just received my first investment of $200,000 off of a pitch competition."
"[By 2019] they saw me at the Essence + Target Holiday Market, and they introduced me to the accelerator team. I applied, and I was accepted for the March 2020 class. Going through the program and just receiving the welcoming I did--- the excitement about what I created---and having them say we want you on Target.com or in store was pretty validating. Even though I knew what I was doing was great for Black women for the community, having such an authoritative figure like Target say this is amazing...it was a huge thing for me."
Also, Scott counts the exposure her company received during the Black Lives Matter movement as a huge catalyst for her business growth. "To see our name pushed to the top of a lot of lists and receiving the exposure and having that followed up with different retailers reaching out, that was again, very validating. I ended 2019 and said, 'I want our sales to be at least 10K per month for 2020,' so ending the year at $300,000 in revenue was like, 'OK, this is what happens when I put myself behind this full force and full-time.'"
Find more about Range Beauty via their website or on IG @Range_Beauty.
Featured image courtesy of Alicia Scott

Money Talks is an xoNecole series where we talk candidly to real women about how they spend money, their relationship with money, and how they spend it.
As the co-owner and Marketing-Logistics Director of Atlanta's own Transformations Beauty Studio with her twin sister Derricka, Erricka Traylor is sure to know a thing or two about money management and financial wellness. After losing nearly everything after an engagement gone wrong, the Atlanta native had to learn the hard way through experience that having everything tied to someone you aren't bonded to by marriage is not always the ideal route to take.
Following financial hardship and the ultimate heartbreak, Transformations Beauty Studio was born and thus a monthly six-figure income followed. "I save 35 percent of my income each month. In order to save this, I set a weekly budget for spending. Use my calendar to view any travel and about my spending as needed so that I hit my goal," Traylor shared with xoNecole. Though she saves with a high-yield savings account, she told xoNecole that she opts to use CapitalOne. "They are known for taking care of their existing customers. Most banks give you a great rate coming in but it drops after six months."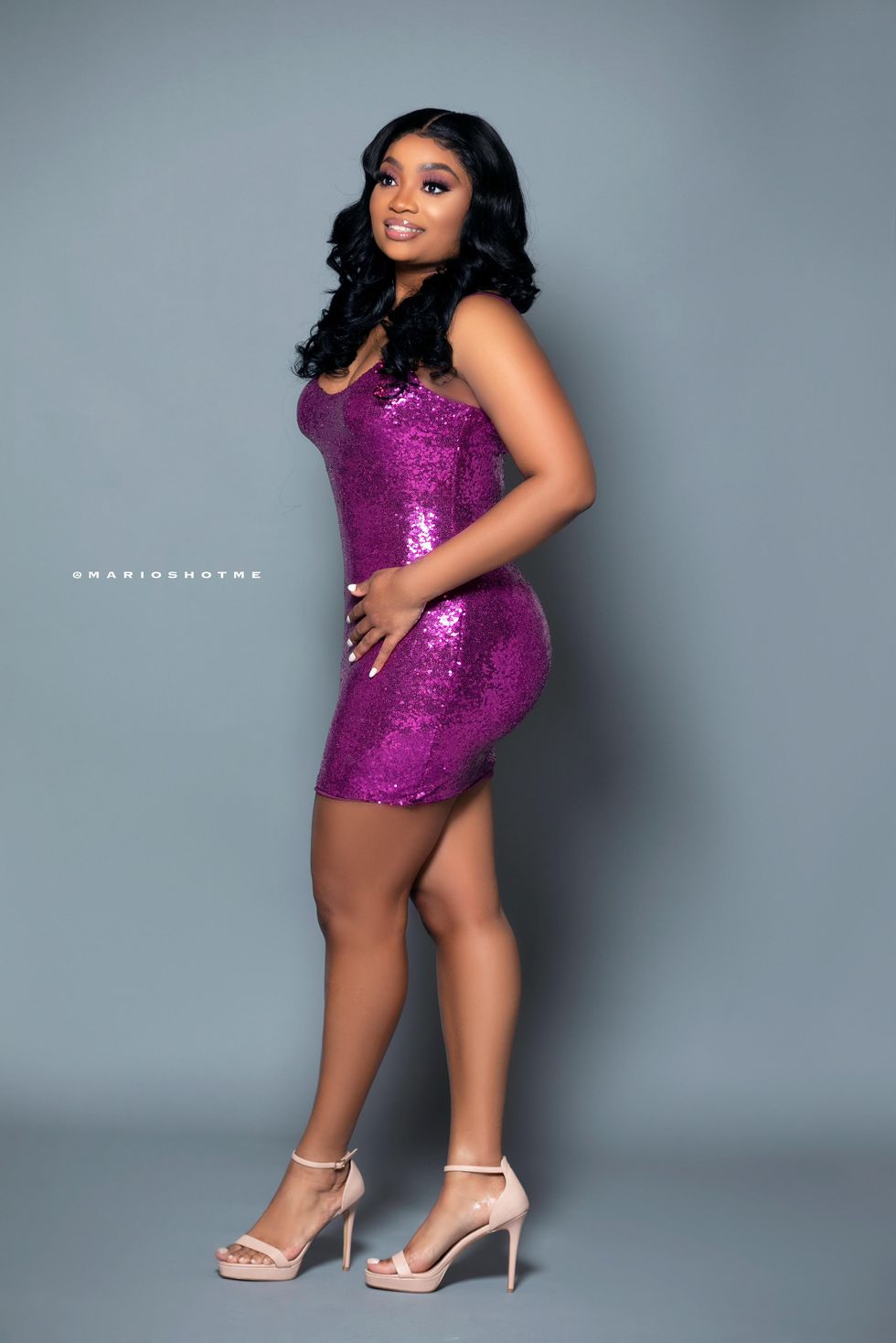 Courtesy of UMGMT Strategic Communications & Public Relations
In this installment of "Money Talks", xoNecole spoke with Traylor about purchasing a brand new car on a random Tuesday without consulting anyone, the simplicity of her savings goals and the importance of her multiple income streams.
On her definitions of wealth and success:
"Wealth, to me, is defined as having balance in my life. What I mean by that is having excellent health, freedom when it comes to spending, using my time wisely, and most importantly, leaving a legacy for my family. I define success as facing your biggest challenge or fear and overcoming it. Success is going after your goals and never giving up, no matter how hard things get. Success is also about making a better choice in life and leading by example."
On the lowest she's ever felt when it came to her finances and how she overcame it:
"The lowest I ever felt about my finances was after a breakup. I was in a long-term relationship, and we had tied a lot of finances up together. After the breakup, I lost out on a lot of my savings and assets. I felt low because I didn't make sure that I would be financially OK if we decided to split. It made me feel low and upset with myself because I knew better. Unfortunately, at that time, I didn't do the right thing to secure myself. I overcame it by going back to the basics. Watching my spending, saving money and investing money in a business that will help me increase my revenue. The most critical component was I changed my mindset. I no longer felt upset and low. I felt empowered to do it right this time around for myself."
On her biggest splurge to date:
"My biggest splurge was purchasing a new car. It was the first car I purchased without anyone's money or input. I purchased my car on a random Tuesday. I was over my current car and just ready for a change. My previous car was goldfish tan and it wasn't a car that I really wanted. I was so determined to get me a new car that day. I literally pulled up to the dealership with no appointment two hours before they closed. I already knew which car I wanted and color. When I spent the $32,000 on my car, I was nervous but I also felt good at the same time. It was my mark of financial growth and independence. I was able to see that I can and will accomplish goals if I stay focused on the goal and plan. I was so happy."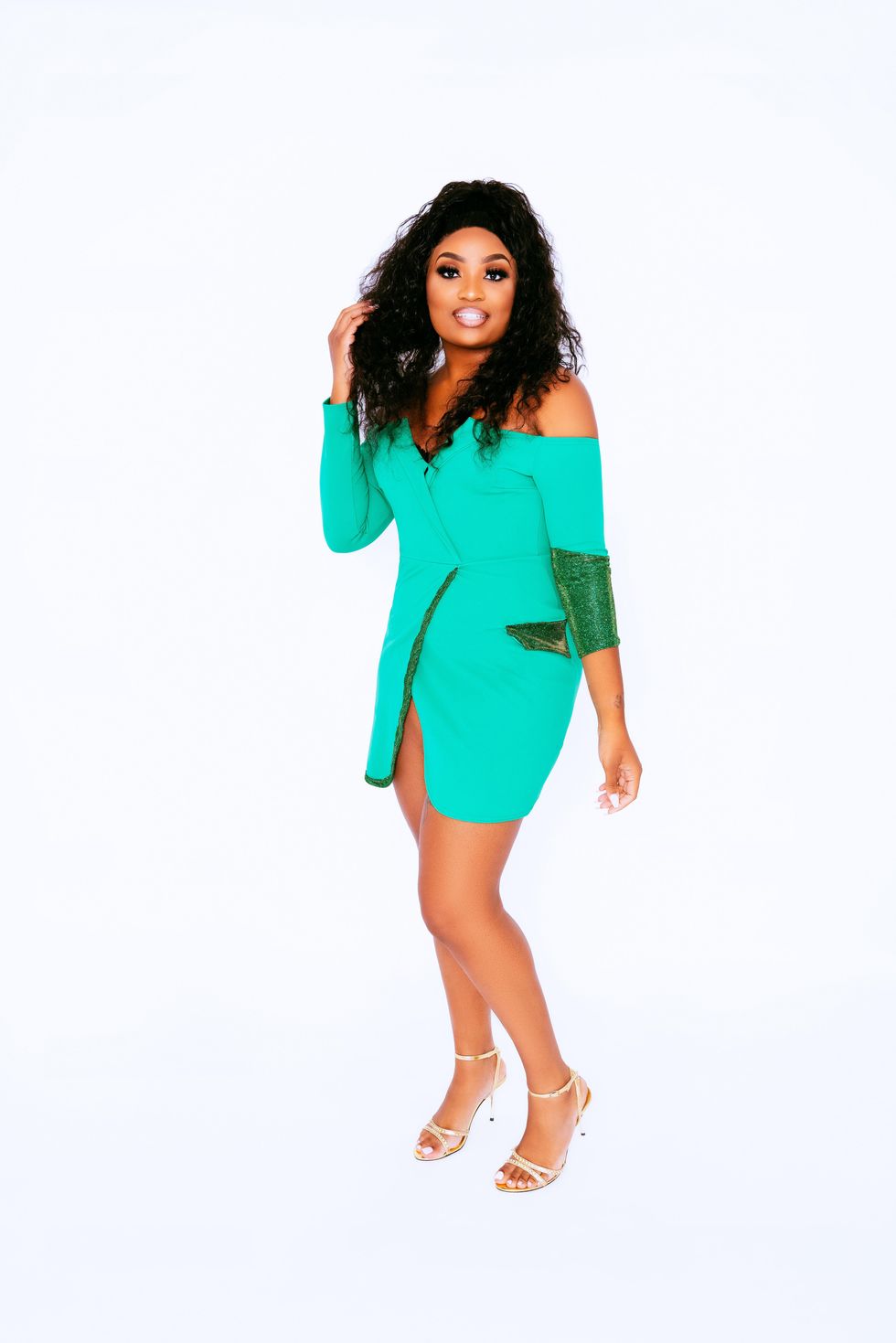 Courtesy of Milan Mobley
"When I spent the $32,000 on my car, I was nervous but I also felt good at the same time. It was my mark of financial growth and independence. I was able to see that I can and will accomplish goals if I stay focused on the goal and plan. I was so happy."
On whether she's a spender or a saver:
"I consider myself a saver nowadays. When I was younger, I was a spender! I trained my mind to start to think of my future, [to] think of my family and what I can provide them with. I gave myself small goals and advanced over time. Now it's just routine."
On the importance of investing:
"To me, investment is essential. I invest conservatively in stock. I have restricted stock, preferred stock, brokerage CD. I also invest in the business to help grow my income and savings. My business investments are hiring the right people. For each new person added, we spend money on training, payroll, marketing etc. Investing in my company marketing and advertising is also a strategic investment that I use to gain more revenue."
On her savings goals and what retirement looks like to her:
"My saving goal is simple. Save enough money to have financial freedom before and after retirement. Retirement for me is on track and closely watched."
On her budgeting must-haves:
"My must-haves are housing, utilities, entertainment, groceries, transportation, self-pampering. I use Mint to help guide me with my personal finances. The system is easy and it keeps me on track with my goals and budget. I also write things down the old fashioned way. The first thing I do is take my savings percentage and put it towards my savings. Then I write out my essential bills for the month and subtract it from my monthly income. I then write out my other finances like entertainment, etc and go from there. I also add to an emergency account for small emergencies. I do this every month to keep things right and tight."
On unhealthy money habits and mindsets:
"Some unhealthy mindsets that I had to let go of were shopping all the time for clothing [and] not sticking to my savings goal. Also cutting down on eating out so much. My mindset changed and then my bank account grew and my will power got healthy."
On the worst money-related decision she's ever made:
"The worst money-related decision I made was tying all my money and assets with someone just because I was in a relationship with them. This was a very bad decision that I made at the time. I didn't do the right thing with my money. It's like I just gave it away in a sense. I made costly business decisions and didn't think about the consequences that I may face. I learned a valuable lesson to read over every contract, review the pros and cons, and think about the what ifs. If I had done this, it would have saved my 10s of thousands of dollars."
On her intentions behind multiple streams of revenue:
"My streams of revenue are product revenue, salon revenue, [and] spa revenue. I started each one at different times during my career. One reason why was because I had to build up my income. Each one of my new business revenue helps start the next one. It was important to me to start another stream because, number one, I wanted to grow my business as much as possible and, number two, I wanted to grow my income. Having these different streams of income taught me to be more flexible, organized and it gives me a sense of security In finances."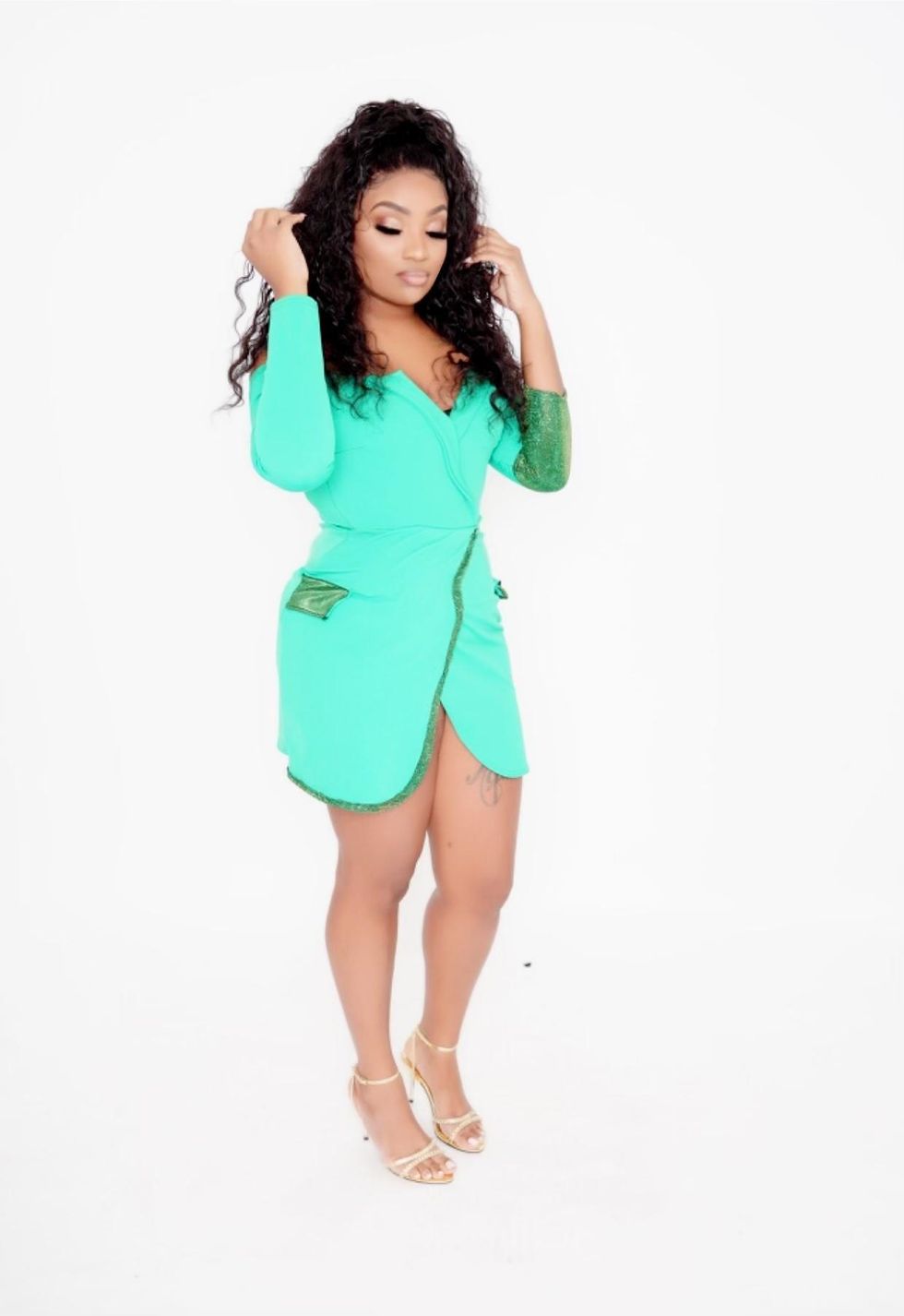 Courtesy of Milan Mobley
"My streams of revenue are product revenue, salon revenue, and spa revenue. Having these different streams of income taught me to be more flexible, organized and it gives me a sense of security In finances."
On her money mantra:
"I am worthy of all the richness I desire."
On her budget breakdown:
Rent/mortgage?
"$1,600 mortgage."

Eating out/ordering in?
"$200/month."
Gas/car note?
"No car note, but gas is probably $150 a month."
Personal expenses?
"Maybe $200 per month."
For more information on Erica, follow her on Instagram and The Body Transformer's Studio official Instagram account.
Featured photos courtesy of UMGMT Strategic Communications & Public Relations

In 2021, we are reaching our money goals! We have heard many times before that having multiple streams of income is the way to go. You may have heard that most millionaires have seven streams of income that they traditionally use. Those seven streams of income are:
Earned Income
Profit Income
Interest Income
Dividend Income
Rental Income
Capital Gains
Royalty Income
According to an article by the career site LinkedIn:
"There's a lot of hype going around the get-rich-quick industry about how to become a millionaire overnight, but the truth is that most people don't have an overwhelming, all-consuming desire to earn a great deal more money than they need to live comfortably. I believe that what most people want isn't to make 20 million USD in a few years. What they really want is to stop trading their time for money – or at the very least, reduce the amount of time they spend making that money."
Reducing the amount of time you spend making money is the ideal situation. There are 24 hours in a day, it is necessary to maximize that time to stream in income. Luckily, with smartphones literally at the tip of your fingers, you can turn your screen time on apps into an avenue that makes you money. It may not make you a millionaire right away but it can bring in a few hundred to thousands of dollars a month. Check out these apps to stream more income into your bank account.
TaskRabbit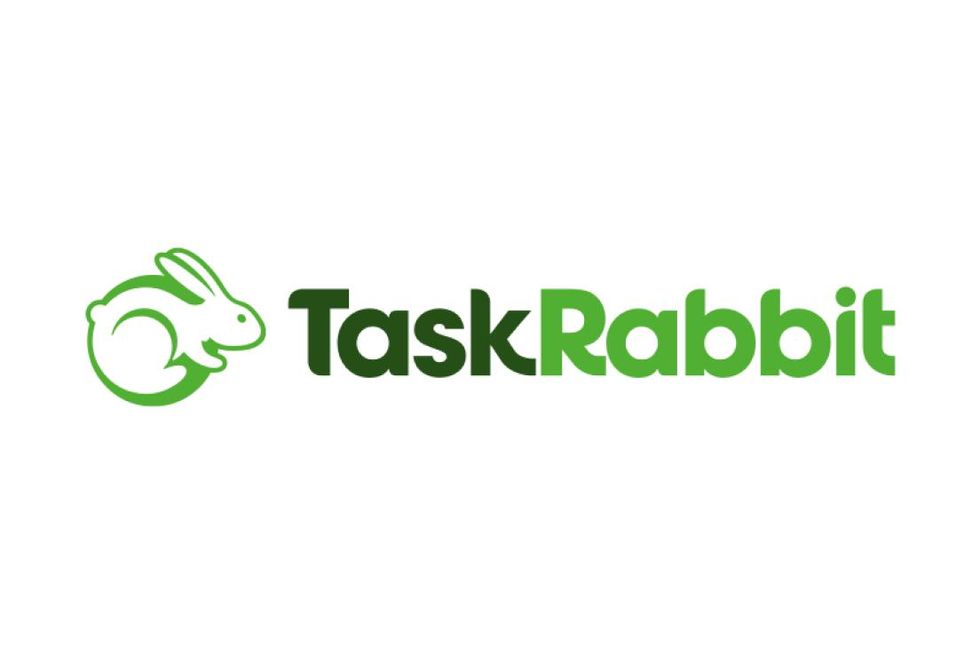 TaskRabbit
TaskRabbit is an app where you can list your services in any area and people who need those specific things can contact you for work. The most common things that appear on this app are moving furniture, mounting a TV, household cleaning, and IKEA assembly. To get started, you simply create a profile on TaskRabbit and highlight your most valuable skill. From there, you set your rates on what it takes for you to complete the job and then people are able to contact you immediately. The key to this app is the more tasks you complete, the better chance you have of getting selected to complete tasks in the future. Also, once you have completed a task, you can receive reviews that help people to select you over other taskers.
OfferUp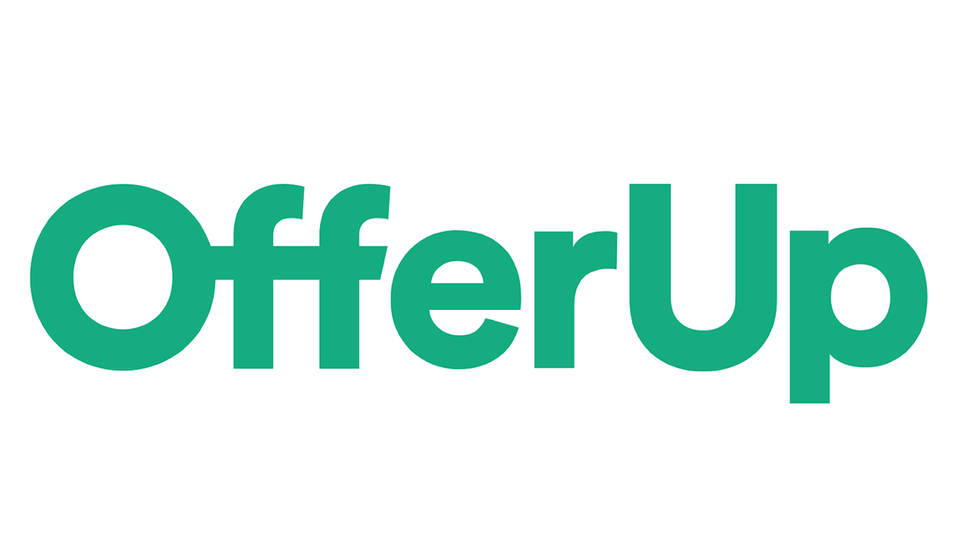 OfferUp
If you have an eye for selling things online, then this is the app for you. This app offers a great platform for sellers to sell their used items to buyers in their local area. To use this app, you upload pictures, a description, and a price point for the items you want to sell. There are sellers that have listed everything from clothing to cars on OfferUp currently. To get your listing to be viewed more often, there is an option that the app has where you can pay to promote your listing. OfferUp can be used to make quick cheap buys and flip them to make a profit. This app recently added a feature where you can ship items nationwide which can expand the seller's pool of buyers.
Acorns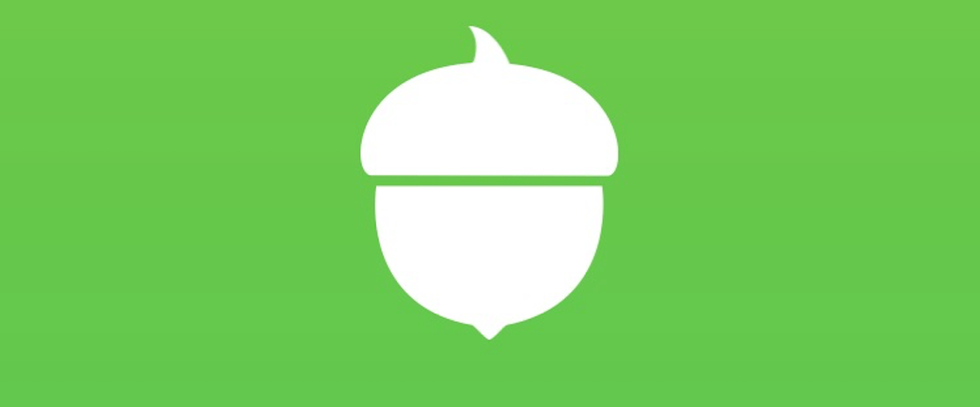 Acorns
There has been growing popularity amongst apps that help you save money in your bank account by creating a budget as well as helping you invest that money. Acorns is no different by putting your money to work by investing it. This is great for newbie investors who are looking for ways to start building up your account. The microinvesting app rounds up your spare change from card purchases and deposits it into an investment account. If you don't have lots of money to start investing, this can be the perfect way to find some extra cash laying around. Acorns has a few questions for you to answer about your risk tolerance and they will assist in the best portfolio with your needs in mind.
Bookscouter

Bookscouter
If you are like me, you have a never-ending bookshelf full of books. Some I have bought and sit in a "plan to read pile" for months on end and some that I have collected over time never to be read again. If this is sounding familiar, then Bookscouter is the app for you to get rid of those books that are taking up space in your home. Marie Kondo taught us to only keep things in our home that spark joy, and that includes books. This app allows you the opportunity to sell books online and to locate the highest bidder easily. You can choose to sell your old and used books by downloading the app, scanning the book barcodes, looking at the aggregation of buyback prices, and selling to the highest buyer. The shipping for this app is free.
Getaround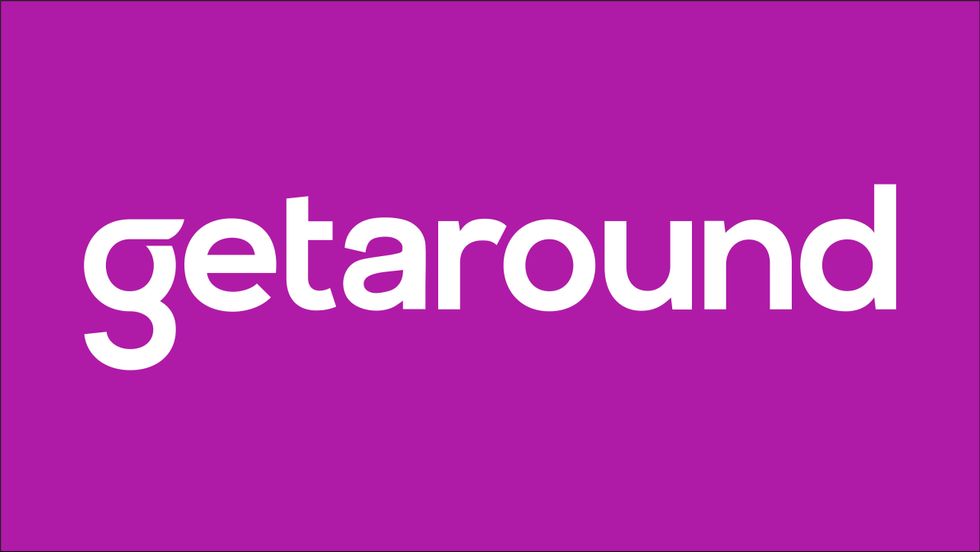 Getaround
This app is similar to Turo where it is based on the idea of people sharing their cars with strangers. According to a USAToday article:
"Getaround enables members to rent out their vehicles to strangers. Those willing to share their vehicles pay $99 for Getaround to install a device that can unlock the vehicle through a smartphone app. There also is a pouch in which the owner places the key. In addition, owners pay a $20 monthly fee to be connected to the company's network."
OK, so you can list your car starting a $5 an hour and higher based on Getaround's recommendations. If you get a client, Getaround does keep 40 percent. The app guarantees that you will make $1,000 in the first three months. However, your car can be no older than 10 years old and needs to have less than 125,000 miles. I personally have seen many people build businesses that are extremely successful and lucrative off these sorts of apps.
So, kickstart your 2021 with some of these apps and bring in that extra cash you need. There are many more out there but it is my suggestion to do your research and make sure you get cashback and not rewards. Also, apps sound like they put money in your pocket but you need to read the fine print. However, the apps I mentioned above should get you started in the right direction.
Are you a member of our insiders squad? Join us in the xoTribe Members Community today!
Featured image by Shutterstock
Everyone seems to be talking about side hustles and making more money in the new year. You can't scroll on Instagram or scan Facebook without somebody talking about the next big money-making product, trend, or brand to invest in. Even if you're not a hustler, aren't into entrepreneurship, nor looking to start a new brand, you can find ways to at least bring in a little extra income to reach your personal and professional goals by incorporating income-producing activities (IPAs). It's basic, deliberate actions you can take each day, week, or month to either make extra cash or further expose you to the potential of doing so.
We could all use a good check-in with ourselves on whether the things we're doing throughout our day are actually leading to tangible results and well, getting to the money. Are we really getting a return on our time investment? Below are 7 IPA tasks to look into adding to your to-do lists in the new year:
1. Etch out at least an hour a week to reconnect with your network and make new contacts.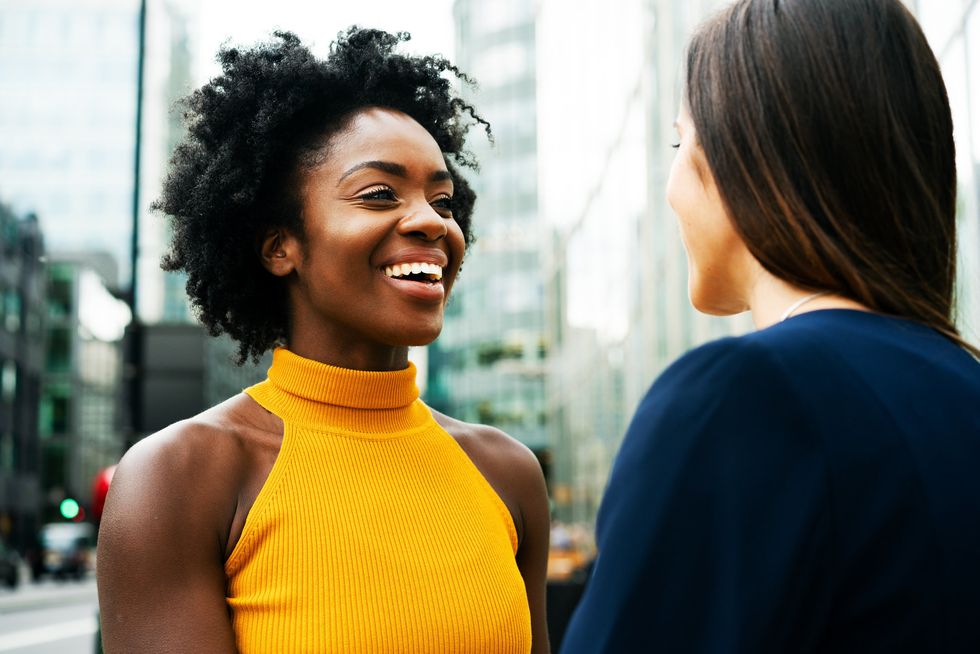 Shutterstock
We can all take a nod for the sales buffs with this one.The age-old cliche, "Your network is your net worth," rings especially true in pandemic times because many of us can't really meet up and network in the traditional way we're used to. It's important to continue to connect with people and cultivate new relationships while nurturing the old ones. A good way to do this is to check in with your current network, keep up with what they're doing via LinkedIn, Twitter, or local news, share information, congratulate them on professional wins, and offer ways to support. Go for the easy icebreaker and send a holiday card—via snail mail or online—or offer ways to partner up or help with a cause they're passionate about. You can also still join professional groups, participate in virtual events or meetups, or offer your knowledge for podcasts and blog posts.
And don't forget the art of the follow-up. Don't just let contacts sit on an email list or in your phone. Keep the conversation going about opportunities, events, and conversations in ways that are authentic, well-timed and relevant. If you find yourself at a loss for words or simply feeling awkward try using templates for writing emails to introduce yourself or thanking your network.
2. Commit to acts of service that go beyond seasonal one-offs.
Volunteering is yet another way to network, and when you give, you get. It's just a simple rule of reciprocity and karma. So many professionals can attest to the power of service and how working with others to help communities has led to paid opportunities or at least a link to a money-making resource. Be sure your act of service aligns with your values and is something you actually enjoy doing, and be strategic about the organizations and professionals you align yourself with. Also, this is a good way to get your foot in the door or try a different career if you're looking to pivot into a new industry due to pandemic-related layoffs.
3. Persistently and strategically invest in professional development to improve your skills.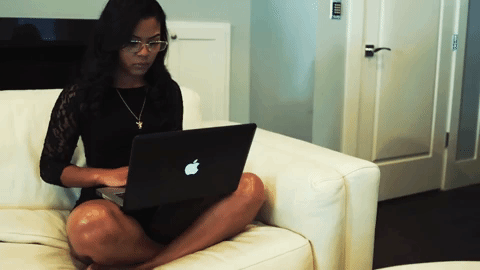 Giphy
Some experts would disagree on this being an IPA, but research has shown that upping your skill set can open you up to pay raises and income increases. This doesn't just apply to higher education. Getting certifications and special qualifications in your field can open you up to more opportunities to earn extra cash. Look into the needs of your industry, especially those that complement the main business operations (i.e. cybersecurity, first aid, search engine optimization, project management, human resources, or organizational leadership.) Some specialized courses will cost but there are plenty of free courses online and certifications classes as well. Also, participating in courses or master classes can expose you to your industry peers who are doing great things and are forward-thinkers—yet another opportunity to network.
4. Host a weekly or monthly webinar, online class, YouTube video or podcast.
Since Covid-19 hit, Web consumption has gone through the roof, increasing by more than 200% from March 2019 to March 2020. That means even with borders reopen and restrictions lifted, people are still online now more than ever. Take advantage of this by offering your expertise on a subject or teaching something you're passionate about. You can charge per class or partner up with brands or rganizations to collectively broach a subject, raise awareness, or present a how-to. From fitness and cooking to accounting and parenting, there's a webinar or online course topic out there that needs your special take or approach. (A few good tips on how to launch a webinar, YouTube video, or course can be found here.)
5. Think of a residual problem in your industry and present a solution for it.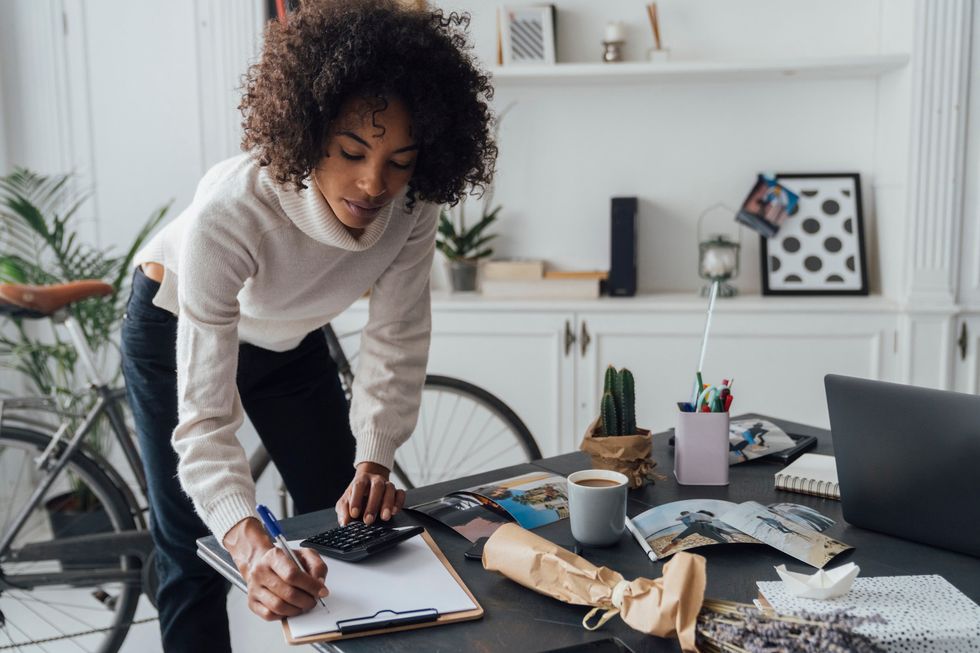 Shutterstock
Oftentimes we get caught up in one major aspect of what we offer professionally, and we don't think of related skills or problems we can solve within our industries. A good way to surpass these limits is to write down needs you see within your company and the soft or related skills you possess to help fill the gaps. For example, if you're in the healthcare field but have a love for innovation or creativity, you can offer products or processes that would make the jobs of your peers easier such as selling glow-in-the-dark face masks for essential workers on the night shift. In the beauty or wellness industry? Offer tailored a-la-cart services for busy CEOs who neglect self-care. Love travel and keeping up with the latest updates on Covid-19 restrictions? Offer services or products to overwhelmed travelers or airline professionals to help them organize information, testing appointments, travel kits, and itineraries.
6. Incorporate technology to automate smaller tasks to make room for larger income-generating tasks.
If you're not automating activities, especially as a high-achieving professional or business owner, you're losing valuable time that you could be using to do more IPAs. Also, some activities are best done either by a third party or via the use of technology because they may not be what you're that great at in the first place. Accounting, cleaning, schedule management—these are all tasks that can be automated or delegated so that you can free up energy and time to do what you do best. Automation can also help you reach more people at once in terms of email correspondences, social media interactions and pitching for your brand or business. Those who use technology to give them a leg up often open themselves up to more opportunities to put money in their pockets and beating out the competition—whether that competition is a coworker or a brand. (Find a few tools and resources for automation here and here.
7. Complete a project that can earn passive income.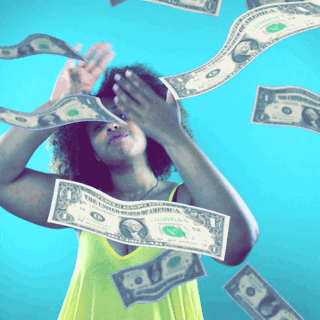 Giphy
Investing in stocks, real estate, or an AirBnB space are all great ways to build avenues of passive income. Also, offering popular products such as T-shirts, mugs, apps, downloadable art, or e-books is a good way to generate, as experts say, "income while you sleep." It will take time and planning, but you can start by listing what you'd be most interested in offering, find out how to offer it, and learn the best way to sell it. Then make it a habit to etch out time each day to specifically focus on execution. (Tips on how to create streams of passive income can be found here and here.)
Are you a member of our insiders squad? Join us in the xoTribe Members Community today!
Featured image by Shutterstock
When we think of jobs that bring in real bank, we often think of medical, legal and tech industry gigs. And true, those jobs do pay substantial salaries, but they often require a bachelor's or master's degree. However, believe it or not, there are jobs where you can earn a good amount of money without investing in a four-year degree. Here are the top 15 high-paying jobs for women without a college degree:
Sound Engineer Technician
These professionals are responsible for setting up audio equipment, ensuring sound quality in a studio, performance hall or other venue, working the lights and syncronizing sound. The median annual salary for a sound engineer technician is $52,390 and those interested in pursuing this can either take online courses, get into an associate's program, or learn by trial and error by getting your own equipment and experimenting.
Hearing Aid Specialist
As a hearing aid specialist, you'd be evaluating the quality of hearing for patients, talking them through the best options and managing dispensing and maintenance in this job. The median salary for hearing aid specialists puts you at 52,770 per year, and the only education requirement starting out is a high school diploma. It's a good idea to pursue a trainee position and learn a lot via courses or on-the-job mentorship.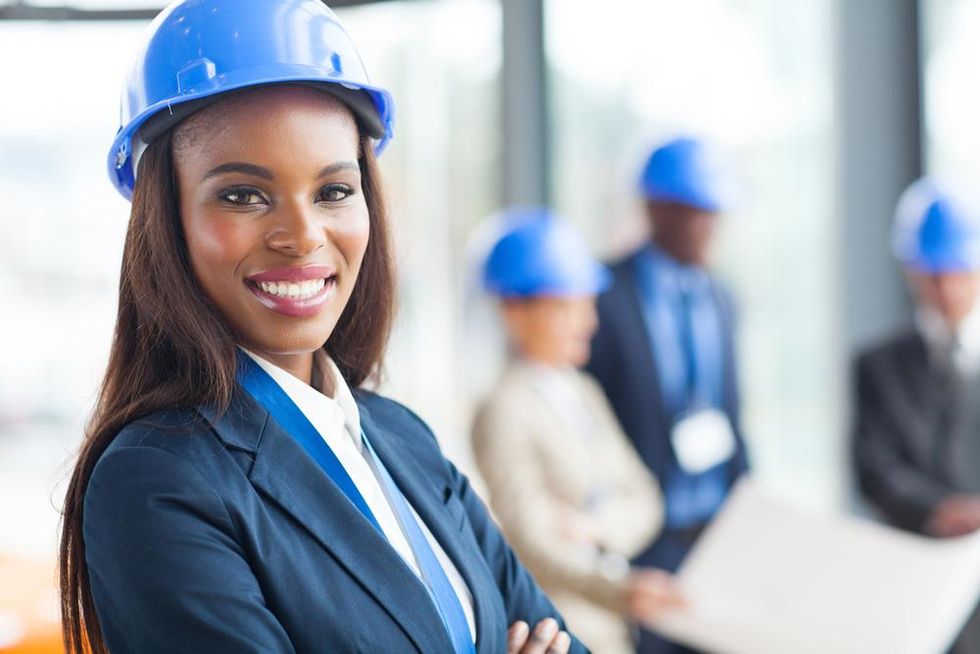 Image via Shutterstock
Electrician
The median salary for an electrian is more than $55,000 per year, and you'd have a wide range of options in terms of duties and environments. Some electricians work independently with real estate developers and construction managers. Others work for major corporations. You can pursue a trade school program or go in as an apprentice with an experienced professional.
Sales Rep
This is a job that can hit various industries and businesses, and the options are almost limitless. The median salary for a sales rep is more than $58,500 and the minimum education requirement is a high school diploma. You can also boost your skills by getting an associate's degree.
Executive Assistant
Extreme attention to detail, great communication skills, ability to multitask, and a knack with project management are the key skills required to be an executive assistant. The median annual salary for an executive assistant is more than $54,000.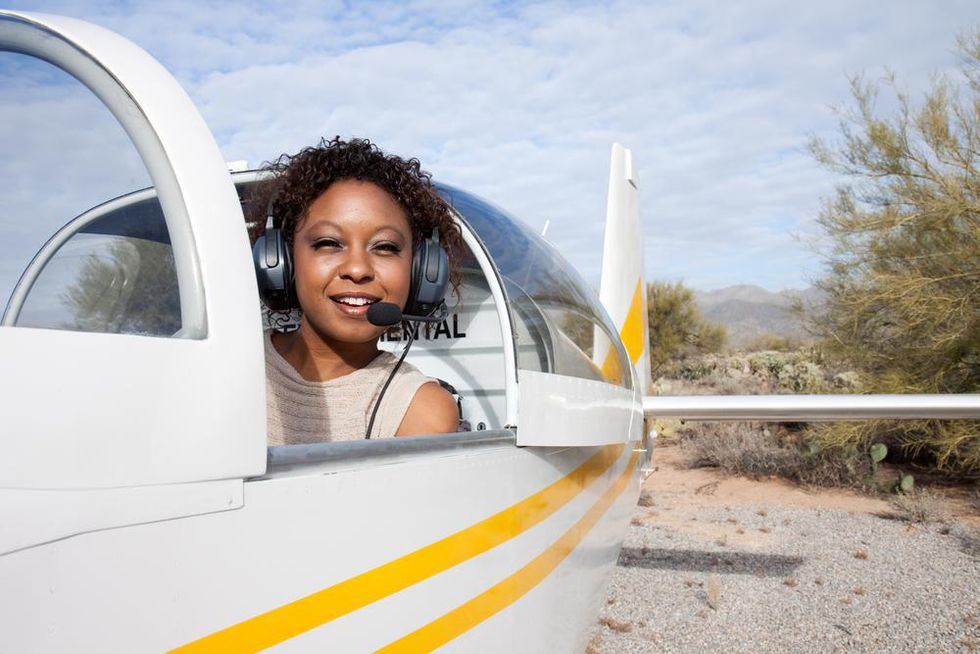 Image via Shutterstock
Commercial Pilot
You can start off in this industry with a high school diploma and learn from a certified instructor. (If you're looking to work for an airline, be prepared to invest in a bachelor's degree. The requirements are different for major airlines.) As a commercial pilot, you can fly private jets for independent clients or you can work for a company providing services for their executive or travel needs. The average base pay for a commercial pilot is well over $80,000 per year.
Patrol Officer
This job requires a focus on public service and attention to law, and the median salary for a patrol officer is $61,380. If you're into making a difference, working to protect and serve and want to attempt to change the system, this might be the job for you.
Microblading Artist
You can earn up to $76,000 a year sculpting eyebrows that slay as a microblading artist. Some professionals work on their own, catering to clients via a salon or mobile services, and some work within a professional salon network. If you're looking for an example, check out Love and Hip Hop star Sierra Gates, who swears by the profitability and potential for flexibility with this career path. You can take courses and get experience by apprenticing with a pro.
Food Stylist
The average salary for the job of a food stylist is more than $62,000, and though some firms require a college degree for positions, you can still get your foot in the door at others with just a high school diploma. If you have an eye for aesthetics, don't mind positioning food for photographs, films and other productions, and know a bit about styling techniques, this is for you.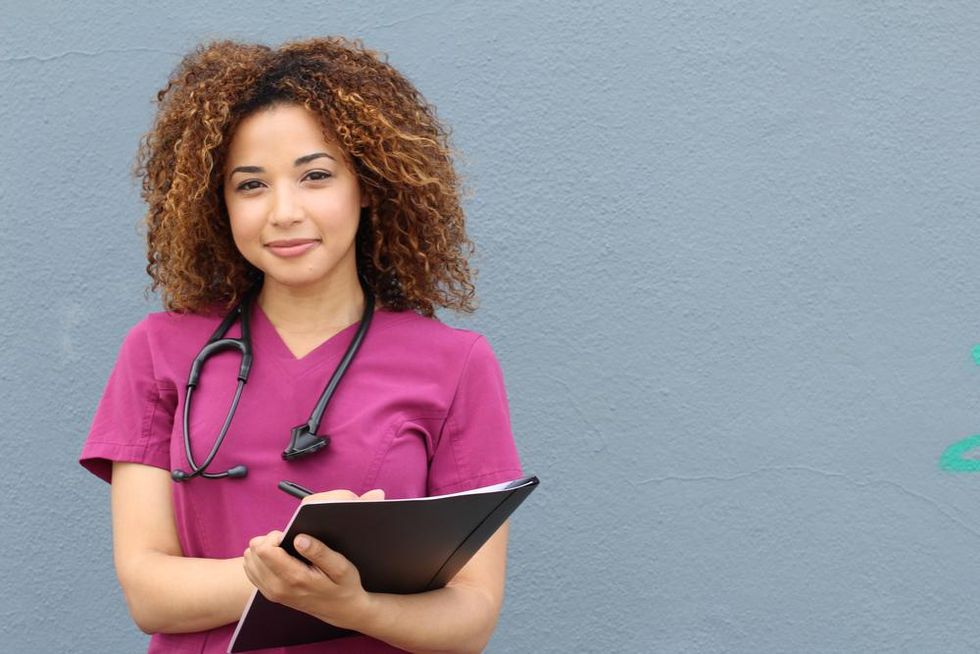 Image via Shutterstock
Licensed Practical or Licensed Vocational Nurse
Not to be confused with a registered nurse (RN), these profesionals support RNs in major functions such as checking vital signs, performing enemas, delivering medicines and massaging muscles--among other duties---and the role of a licensed practical or licensed vocational nurse requires no more than one to two years of education via a state-approved diploma or certificate nursing program. The median annual salary for an LPN or LVN is more than $42,000.
Funeral Service Manager
Compassion, creativity and great people skills are important for the role of funeral service manager, and it can bring in up to $66,666 per year. You'll need an associate's degree in funeral service or mortuary science which can take up to two years, and you'll also have to work as an apprentice or trainee.
Fashion Designer
If you have a natural knack for sewing, pattern making and textile sourcing, you're a perfect fit for fashion design. Though some designers study at top schools in Los Angeles, New York, Paris, and Italy, you don't necessarily have to have a four-year degree to pursue this job and actually make good money doing it. You can take certifications or other courses to specialize in a certain type of fashion or audience to cater to. The median income for a fashion designer is more than $57,000 per year.
YouTube Personality
When you see the title, you might think it's a long shot. Think again. Top earners on YouTube can get from $50,000 up into the millions yearly. If you're great at video editing, engaging with an audience, offering content people love, and connecting with sponsors, the YouTube personality route might be a great path to pursue.
Insurance Sales Agent
Insurance sales agents earn a median salary of $50,600 and are responsible for selling auto, health, home or life insurance to consumers. Once you've passed the required tests, you can either work for a particular company or start your own.
Surgical Technologist
Surgery support professionals are a vital part of the success of medical procedures, and they are often responsible for tasks like sterilizing the operating room, setting out tools for the doctor, or prepping a patient. The median salary for a surgical technologist is $47,300.
Are you a member of our insiders squad? Join us in the xoTribe Members Community today!
Featured image by Shutterstock