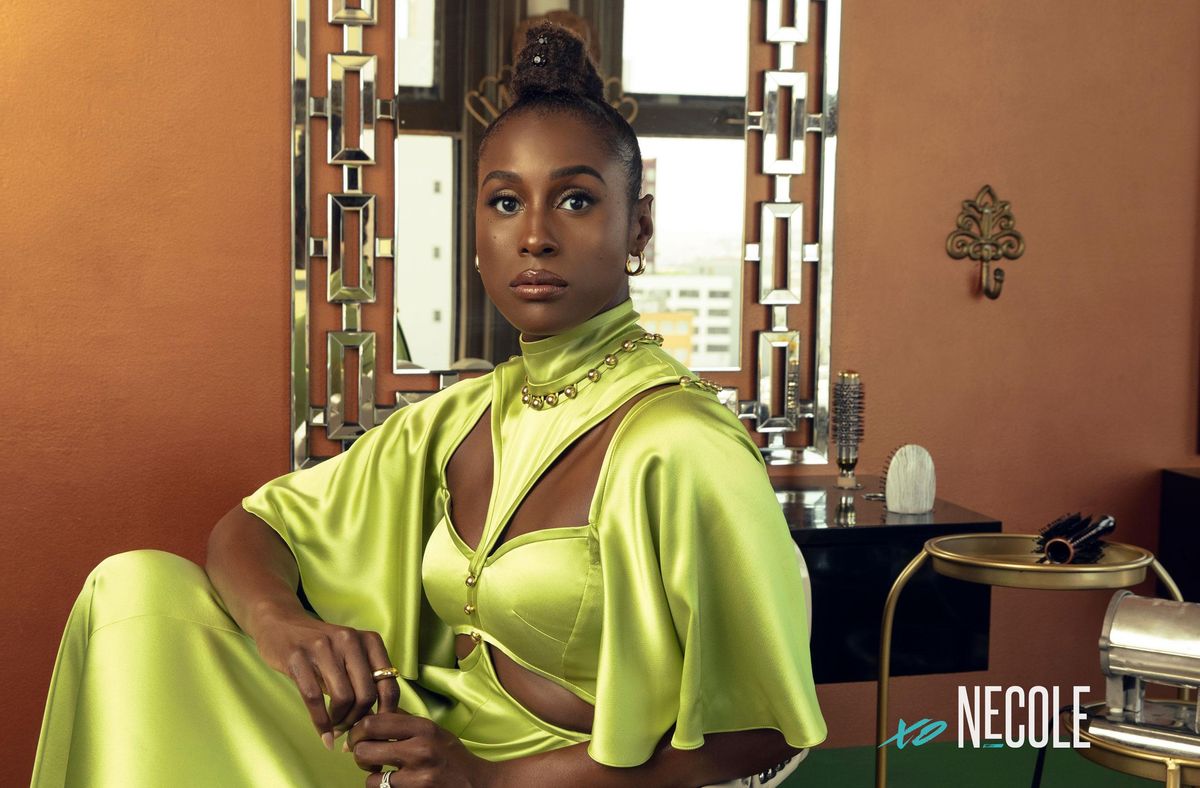 Cover Story: Issa Rae Comes Full Circle
xoNecole's inaugural digital cover star and natural hair icon talks community, Black trauma and what makes her feel loved.
Issa Rae is ethereal when she walks into the Black-woman-owned hair salon in downtown LA to star on xoNecole's first digital cover. The salon seems named for her: Melanin on 6th. The glow on her skin that you see in photos is no filter; that's all her light. She's wearing a burnt orange bikini top and slacks from The Sei's prefall '22 collection like she invented the color. But her hair is the real show stopper.
With this cover shoot, we knew we wanted the images of Issa to tell a hair story, celebrating her role as a natural hair icon. Since she became a viral sensation in 2011 for writing, directing and starring in her YouTube webseries The Misadventures of Awkward Black Girl, Issa's natural hair has been a focal point. Her subsequent starring role in the HBO series she created, Insecure, launched her into Hollywood stardom. Her commitment to rocking and styling her natural hair – in the face of an anti-Black industry and world that seeks to degrade and even punish us for our hair – revolutionized the way natural hair is portrayed on screen.
"I hadn't seen that length of hair, that texture, be featured on television from a lead before [Insecure]," Issa shares later that day during the filming of an episode of xoNecole's podcast She Comes First. "And so, I do feel like we were able to change the game. And I feel honored that [Felicia Leatherwood, Issa's longtime hairstylist] was able to be a part of it and showcase what she does amazingly."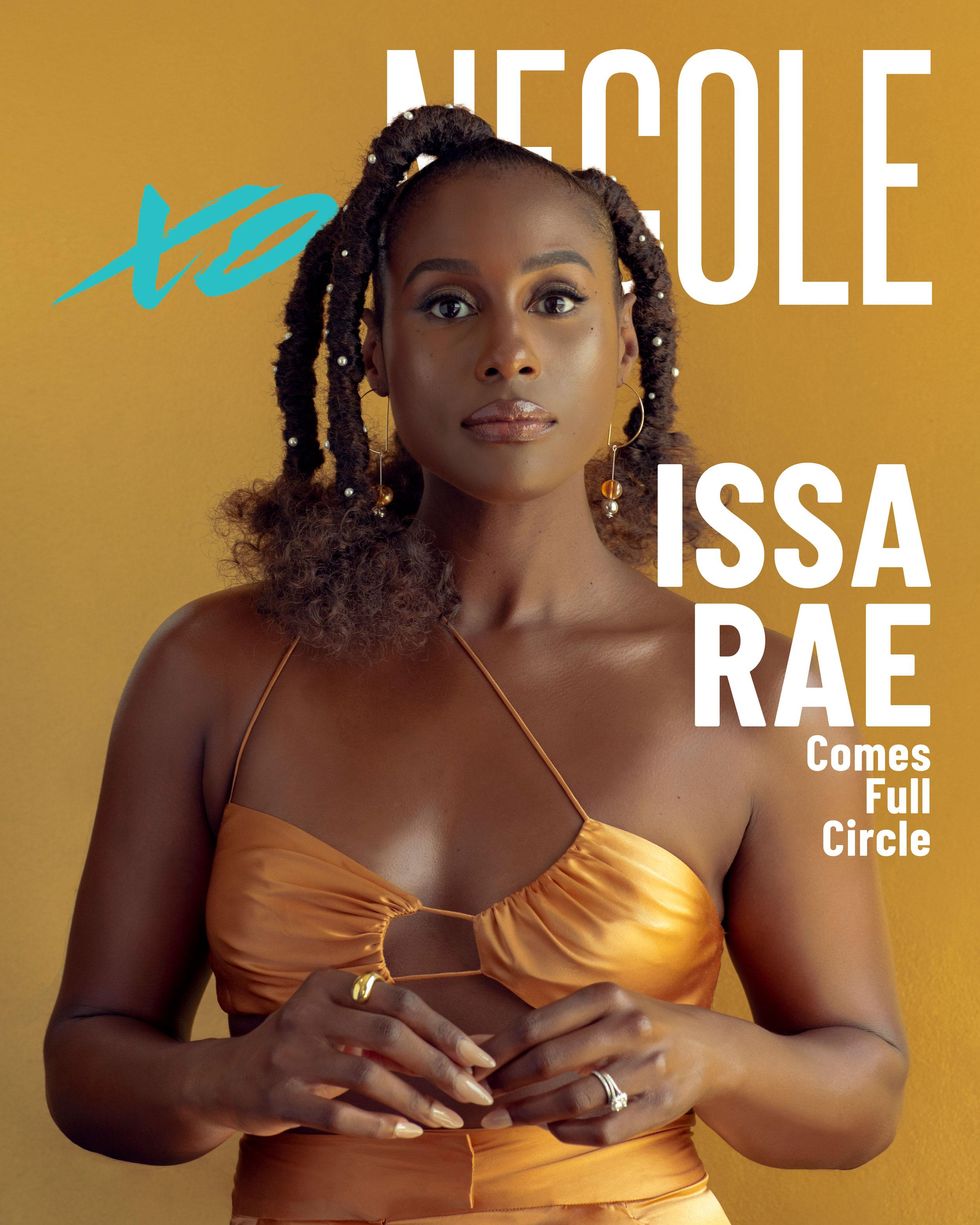 xoNecole September 2022 Digital Cover
Photo Credit: Cécile Boko
Fashion Credits: Earrings by Jalxndra
Top and pant by The Sei
Ring by Khiry
Leatherwood is on hand for our shoot, and has sectioned Issa's natural locks into four unicorn ponytails, each wrapped with afro kinky hair to elongate Issa's hair and create what Leatherwood calls an "extraterrestrial," AfroFuturistic look.
"[It's] an African American version of the West African Thread style," Leatherwood explains of elaborating on the tradition of wrapping thread around hair to stretch it. For an extra glamorous touch, Leatherwood has added white pearl beads throughout each ponytail. This style, she says, "represents the past and the future."
It also encapsulates the essence of Issa. Born Jo-Issa Rae Diop in Los Angeles, California, to a Senegalese father and a Black American mother from Louisiana, Issa spent her formative years moving between LA, Senegal and the suburbs of Maryland. She details in her 2016 New York Times best-selling memoir named after her webseries that the culture shock of moving back to LA included her classmates mocking her natural hair. She found comfort watching Black women rock natural hair styles on TV shows.
"When I moved to Los Angeles and the kids said I talked white but had nappy hair, I found a sort of solace in knowing that Freddie from A Different World and Synclaire from Living Single were napped out, too," she writes in her memoir. "I could be worse things."
It's part of the reason Issa describes her relationship with her hair as "tumultuous" during our podcast conversation: "I love my hair at the end of the day, and I love how versatile it is. But for me...I just like ease and comfort, and there's times where it doesn't feel easy and comfortable. But I just love all that it can do. So, it's a genuine relationship," she says. "We have ups and downs."
By the time HBO approached her about creating an original series for the channel, Issa was confident enough in herself that she couldn't be swayed by the Hollywood machine. "I was like, [HBO,] 'You all are letting me be in my show,'" she says on the podcast. "I wish somebody would tell me that I couldn't wear my hair a certain way. By that time, I was, like, confident in the fact that it's my hair, it's my show – there's nobody that can tell me anything."

She also knew that she wanted to have the same impact on viewers that Freddie and Synclaire had on her. "I wanted to be what I wanted to see on TV; what younger me wanted to see – what I needed to see," she says. "So, there wasn't really a question for me about wearing my hair in that way."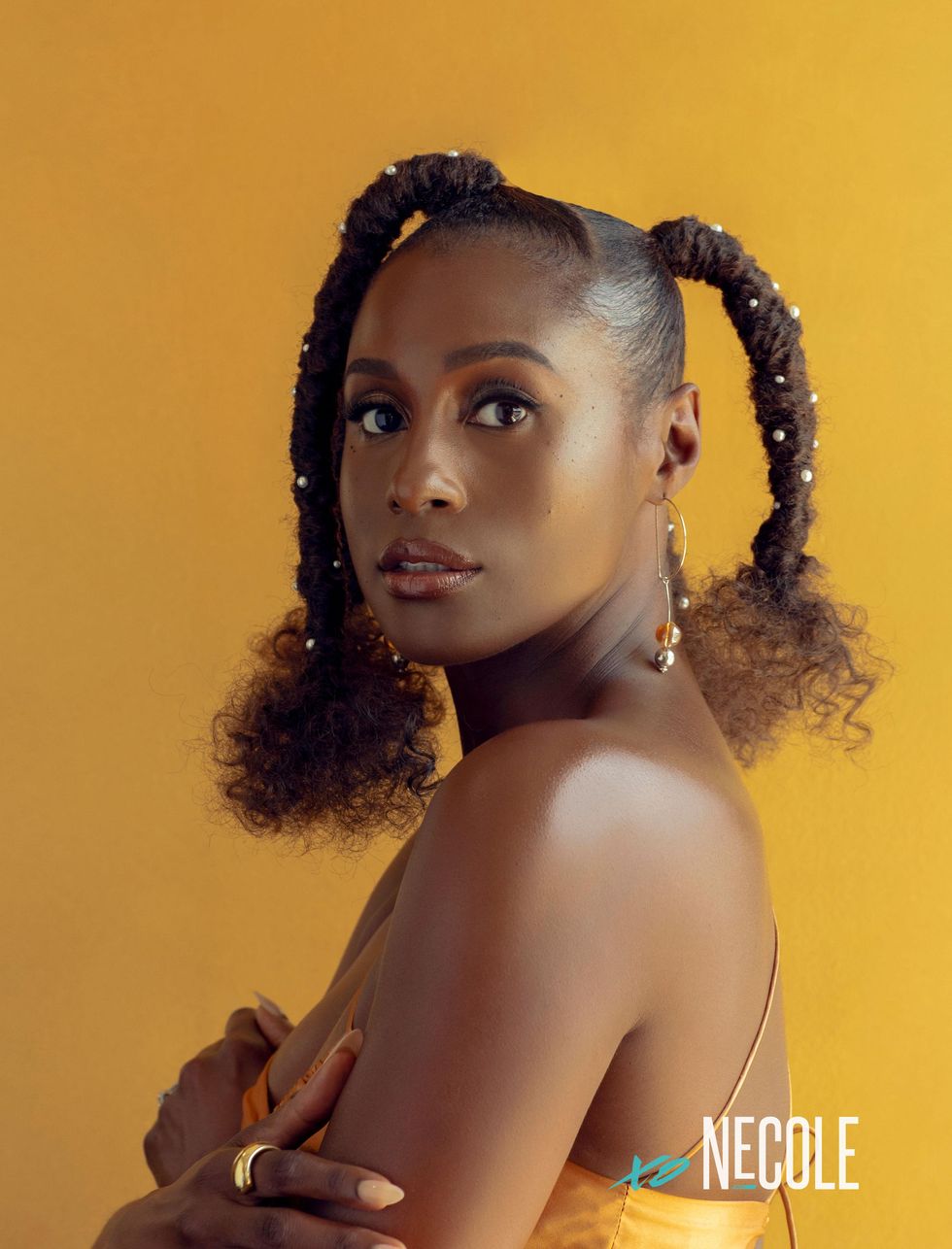 Photo Credit: Cécile Boko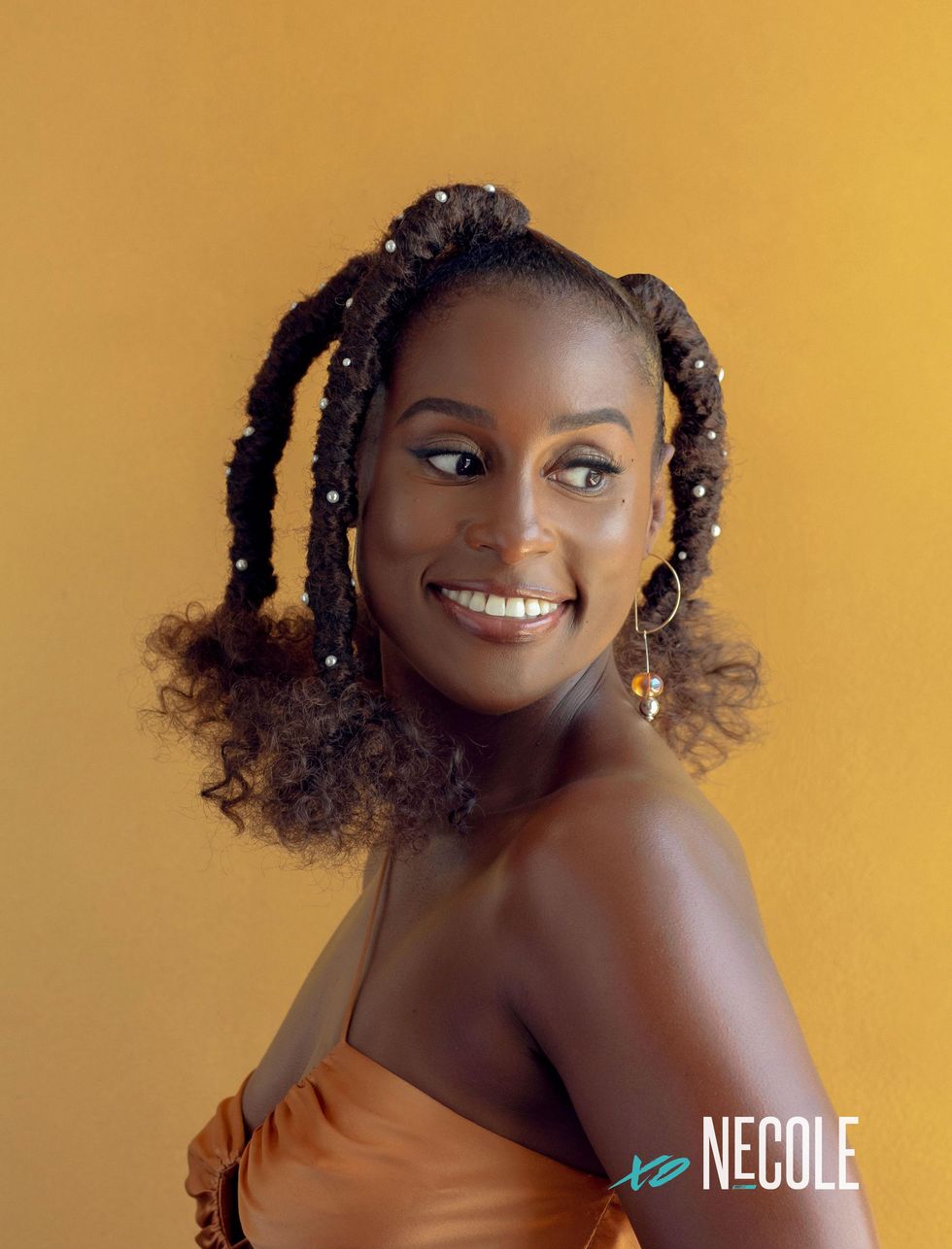 Photo Credit: Cécile Boko
The second look for Issa's shoot is a stunning lime green Prabal Gurung gown. Leatherwood has transformed Issa's four unicorn ponytails into Bantu knots in the shape of a mohawk, using kinky hair by Latched and Hooked. She's pressed small black faux diamond studded earrings into each Bantu knot. As Issa lounges, self-possessed, on a lush dark green velvet couch, posing effortlessly, exuding glamor, I get teary-eyed, recalling a passage from her memoir.
She'd recounted a time in her childhood when her grandfather had made a cruel comment about her appearance in front of her frenemy. "Yet another reason why I didn't fit in; or why the boys in my school looked past me; or why I'd never be considered as pretty as my friends."
If only little Jo-Issa could see herself now.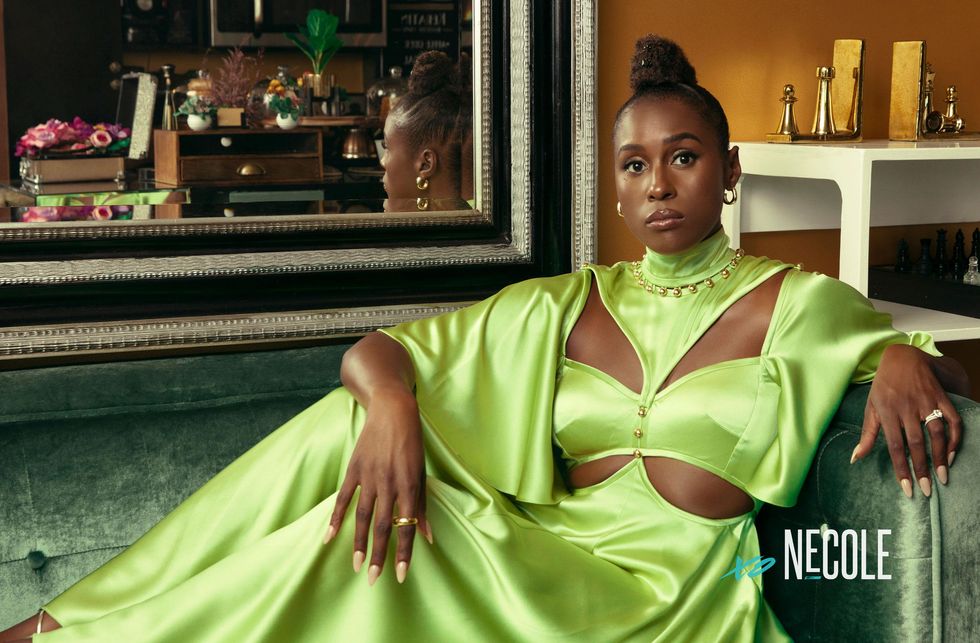 Issa Rae wearing Prabal Gurung for xoNecole
Photo Credit: Cécile Boko
Fashion Credits: Earrings: Stylist Jason Rembert's own
Dress by Prabal Gurung
Ring by Khiry
Besides being acknowledged as one of the most beautiful people on the planet, the Hollywood mogul has a portfolio of community-oriented businesses that celebrate our culture and the things she's loved since childhood. After inspiring Black women to rock their hair natural, she's become the face and co-owner with her sister-in-law, Hanna Diop, of a Black natural hair care company, Sienna Naturals. After obsessing over R&B and hip hop and being in rap groups of her own growing up, she now owns the music label Raedio, where artists have complete ownership of their masters.
Raedio and its artists also supply the music and music direction for her hit shows and films, from Insecure and The Photograph, to her latest HBO Max series, the reality show Sweet Life: Los Angeles and scripted show Rap Sh!t.
Loosely based on the City Girls, Rap Sh!t is Issa living vicariously through the fictional female rap duo Shawna (Aida Osman) and Mia (KaMillion) as they make their way from obscurity to viral fame. It's "for the best," she says, of why her own rapper dreams didn't work out. "I didn't know that I was not talented [at rapping]." Though she's not acting in this series, she did create, write and produce season one.
"I love female rappers so much," she says. "Even to be able to collaborate with some of my favorite rappers to write the music for the show, to craft the sounds…I feel like in some ways, I'm living through them."
Two of her favorite rappers that she worked with on the show are, of course, the City Girls, JT and Yung Miami, who are also credited as executive producers on the series. The series also shares a name with one of their earlier tracks.
"We had that first initial meeting where we were kind of picking their brains about what we were going to put in the show, what they thought that was acceptable, and told them we were going to lean on them for Miami culture," Issa says of their collaboration, which, spoiler alert for the season one finale, features Shawna being pursued by police for credit card fraud. In real life, JT did a bid for credit card fraud from 2018-2019.
This also encourages speculation that fan favorite character Lamont (played brilliantly by RJ Cyler), who's the father of Mia's daughter, might meet his demise in season two, as the father of Yung Miami's child was killed in real life. Whether the series will portray this heartbreaking event is yet to be seen; but what we do know is that, in an Issa Rae production, Black trauma will not be exploited.
"There's absolutely nothing wrong with trauma, obviously," Issa shares of her philosophy on portraying Black life on screen. "It happens; it's a real thing, and we're not shying away from that," she says. But, there are limits.
In season one, Mia has an horrific encounter with two white men where the threat of sexual assault is real, yet we never see the scene on screen. We watch her slowly unravel, knowing that something happened to her in that hotel room, but what, we can't be sure of – until Mia tells Shawna what happened in a later episode. The writers had a conversation about whether to show the events in some form and decided against it.
"You know what happens to her," Issa says. "I don't need to see her live through that. And I think, for me, I always rely on that understanding that we have as Black audiences," she says. "And I think that's the advantage of creating for Black audiences; it's like, 'Oh, we know. We understand the language.'"
Even in the development process of the show, Issa received feedback asking about why we don't see what Mia experienced. Her response was "No, no, no, no, no, no. We got it. We don't need that," she says. "There's plenty of other shows that will do that and will do it gracefully. But it's just not for me, for this show."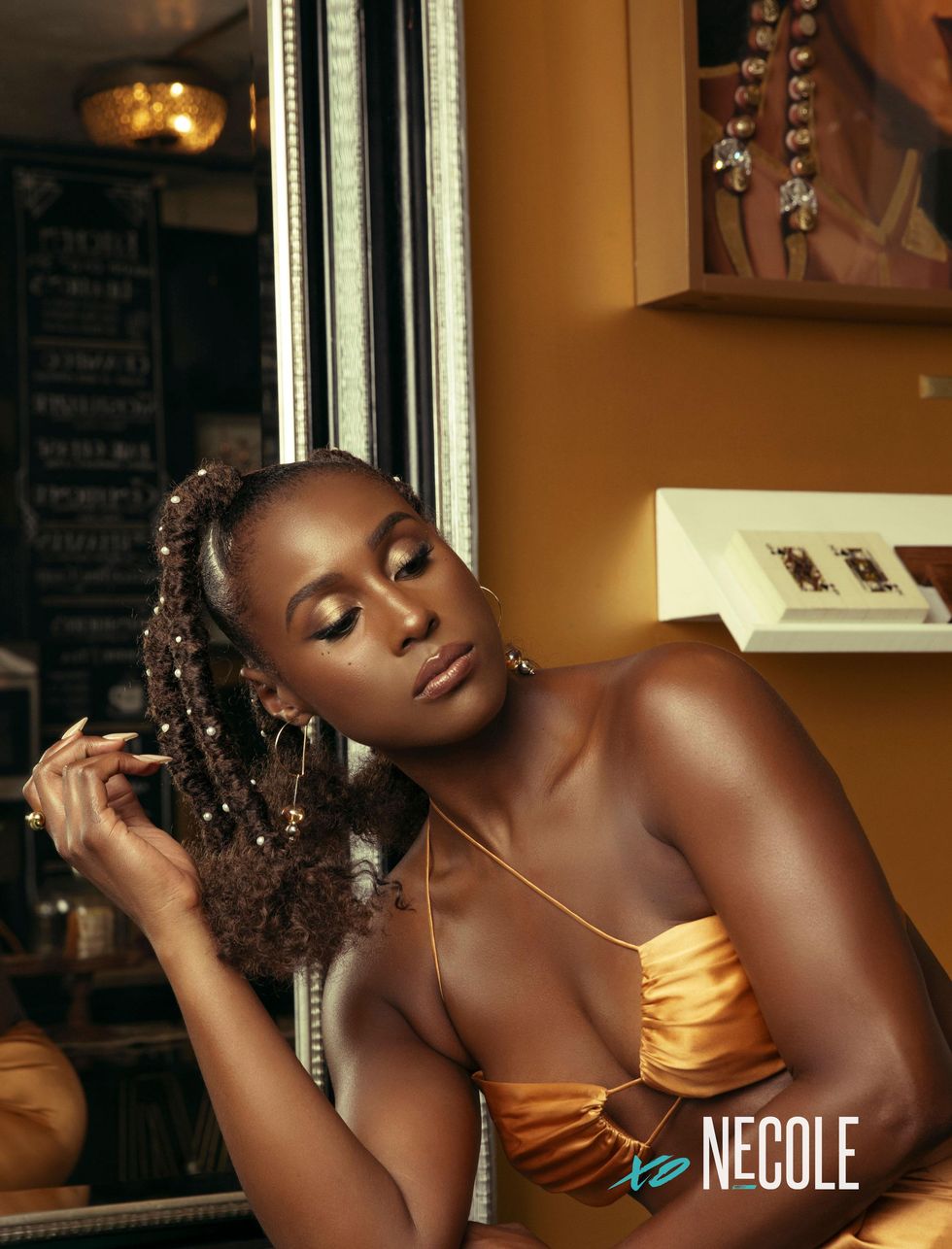 Photo credit: Cécile Boko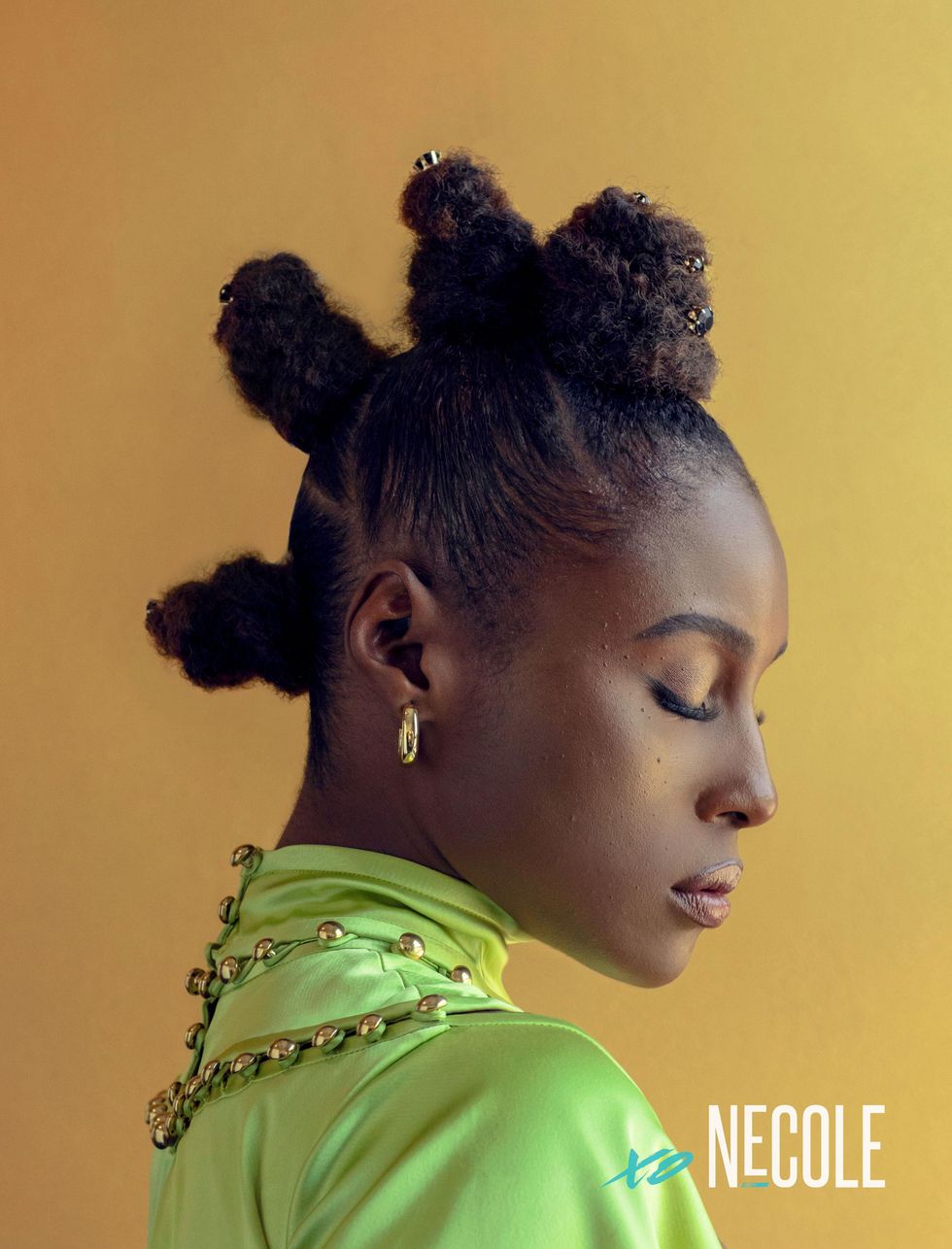 Photo credit: Cécile Boko
In her on-screen productions, music ventures, hair care line, Hilltop Coffee + Kitchen chain, and more, the through line is a deep and obvious love for Black people and community. "That really comes natural to me," she says. It's no surprise, since she comes from a family whose Senegalese traditions include allowing guests to stay in your home for as long as they want. She's also named after her late aunt, Rae Louise Hayward, who created the annual Art of Living Black exhibit, which showcased upcoming Black artists in the Bay Area. If there's one thing Issa's going to do, it's put Black people on.
Mere days before Los Angeles shut down at the beginning of the pandemic in March 2020, I attended one of Issa's Find Your People parties at her Hilltop Slauson Ave. location. The event's purpose was to help Black and people of color writers, producers, editors, directors and cinematographers connect. It's just another example of the way that she makes space for other Black artists and artists of color who are intentionally shut out of the industry. It also builds on the advice she's been preaching for years: that creatives should network laterally rather than fighting for the attention of those creatives at the top. "The intentionality [of my business ventures] is something that I place at the forefront," she says. "I don't want to get involved if it doesn't mean anything to me."
For all of her passions that lead to business ventures and community opportunities, Issa has become very good at setting boundaries and saying "no" to protect her own peace.
"When I'm real with myself, it's so easy to just be like, 'Oh, I can't do it. I'm sorry. But, I can recommend you to this person.' I'm great for a recommendation…and then it's up to them to decide if they have boundaries or if they want to be open and help out," she says. "But for me, I love saying, 'No.'"
It frees her up to do the things she needs and wants to do. Ever since overworking herself right up to her wedding last year in the south of France, she's also learned how to take time off when she needs to. "I've just been really intentional about making sure that I have at least one day of the week to myself, and a day to procrastinate, which is always like a half-work, half-I'm-not-writing-today day. That's been really great."
Though we all saw her beautiful wedding photos on social media last year (where many people also saw her long-time boyfriend-turned husband for the first time), Issa has been famously private about her relationship, dropping a few anecdotes about him in her memoir and not much else since. She does share, however, what makes her feel like she's being loved well.
"It comes in the form of community, but also just support," she says. "I realize, in my relationships, generally – friendships, familial – I love knowing that I have a shoulder to lean on. I love people taking my mind off of stuff. I love a good hug," she says. "It's just about being able to just lose myself in someone and be my full self with someone, and that makes me feel loved."
In the final moments of our chat on the She Comes First podcast, I divulge to Issa my own full-circle moment with her. It's been eleven years – almost to the day – since my first interview with her, fresh off the success of The Misadventures of Awkward Black Girl,season one. I had my own lifestyle blog back then, and could only imagine how my dreams of being a professional writer would take off, just a year later. She too had big dreams for herself. I remind her of what she said in our 2011 interview about what she hoped her legacy would be:
"That people will think of me as someone who made it happen for herself; That I challenged what was; That I inspired people to believe that you can create your own stories and your own characters; The only one stopping you is you. So, just do it. Nike."
She laughs at the words of her former self and talks back to her. "What the fuck?! First of all, girl, you were six months into [the success of Awkward Black Girl], so that's crazy," she laughs. But still, she spoke her legacy into existence and fulfilled it. And she's just getting started.
With four shows streaming on HBO Max (including A Black Lady Sketch Show, which she executive produces), two Emmy nominations, and a stable of music, film and TV projects under her HOORAE entertainment banner, Issa says she still has "so much" she wants to achieve.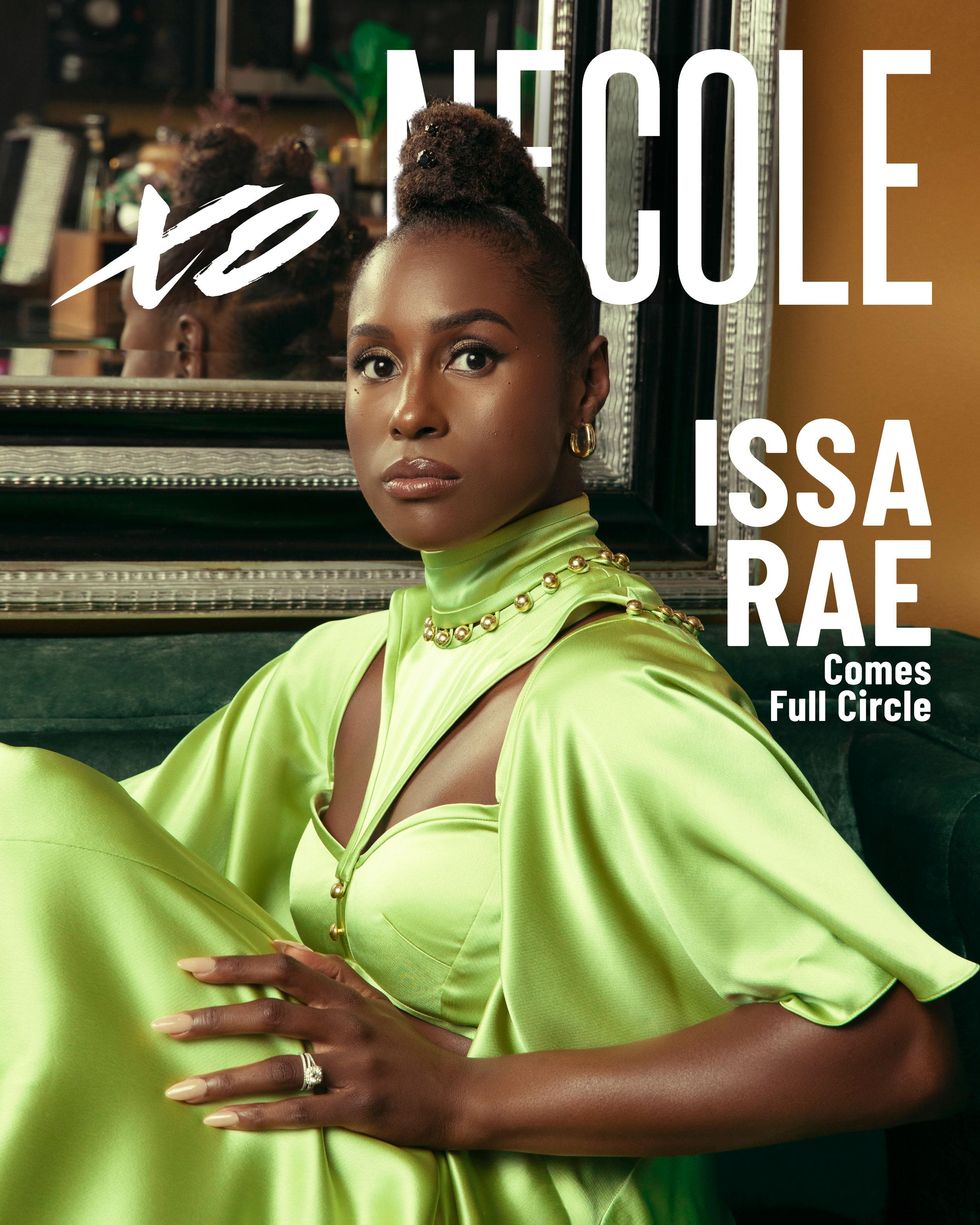 xoNecole September 2022 Digital Cover
Photo Credit: Cécile Boko
"I've created two shows, and that's it. So, I want, obviously, more in the television space and I want to be able to have my movies and just really see what else I can do, honestly; see what other stories that I have to tell, in addition to the slate that we're producing," she says. "But for me, it's just constantly about challenging myself and seeing what I have to say and what I have to offer."

When I compare her Thursday night shows streaming on HBO Max over the summer to her mentor Shonda Rhimes "owning Thursday nights" at ABC, (back when Rhimes had hit shows Grey's Anatomy, Scandal, and How to Get Away with Murder airing back-to-back) Issa calls it "blasphemous!"
"I still strive," she says. "I'm chasing after Shonda." But if Issa's life thus far is any indication, the race she's running will keep on bringing her right back to herself.
Read all of the stories in the Issa Rae: She Comes First editorial series here.
Credits
Editor-in-Chief / Creative Director: Brooke Obie
Executive Producer: Tracey Woods
Photographer: Cécile Boko
Photo Assistant: Joyce Charat
Digital Tech: Kim Tran
PA: Luiz Carlos "Apu" Gomes
Video Director/Editor: Third and Sunset
DP: Sam Akinyele
Art Direction: Ronda Thompson
Audio: Taylor Tosh
Stylist: Jason Rembert
Stylist Assistant: Christina Arroyo
Tailor: Matthew Reisman
Hairstylist: Felicia Leatherwood
Hair Assistant: India Hammond
Makeup Artist: Joanna Simkin
Manicurist: Eri Ishizu
Location: Melanin on 6th
Let's make things inbox official! Sign up for the xoNecole newsletter for daily love, wellness, career, and exclusive content delivered straight to your inbox.