If you've ever been up late on Pinterest trying to scroll yourself to sleep, you've probably come across a photo of a luxurious bathtub filled with an array of floral elements, herbs, and sometimes even slices of fruit. This commonly used practice is known as a spiritual bath within the mystical community.
These baths combine various elements of nature, including sea salt as a major component, to adjust our energetic frequency in times that we may be low on vitality, psychologically overwhelmed, or just stuck in some area of our lives.
The Benefits of Taking a Spiritual Bath for Wellness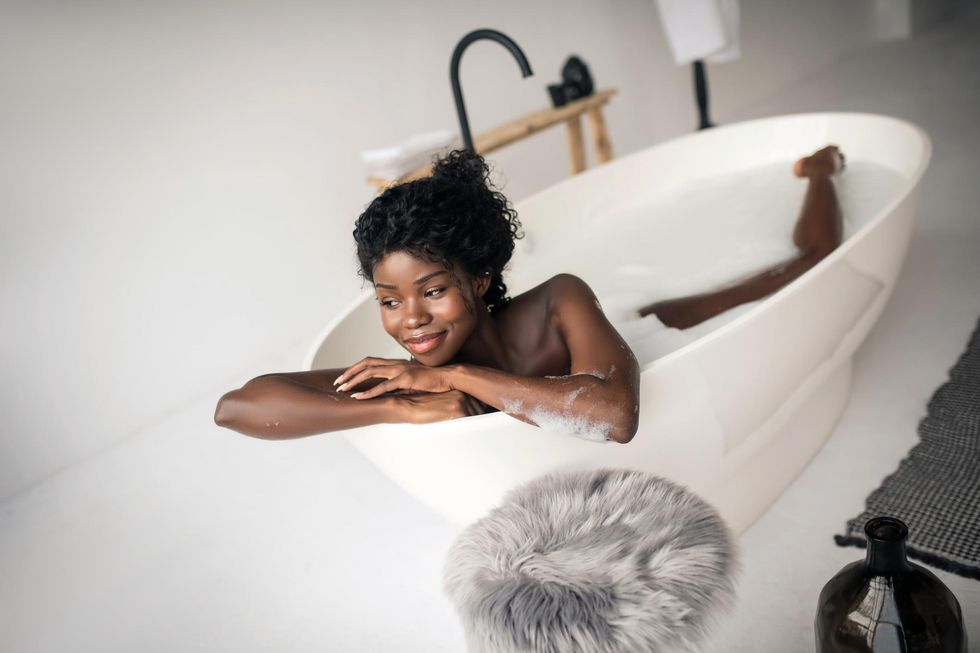 Getty Images
So what are the benefits of taking a spiritual bath? They can vary in nature depending on the ingredients you use and the intention you set prior to taking the bath. However, the most common purpose of a spiritual bath is to cleanse not only the physical body but also the etheric body (a.k.a. the aura).
Energy is everything and in our fast-paced, technologically-driven lives, it's easy for our aura to be impacted by external stimuli—whether it be the people we interact with (even digitally), the environments that we frequent, and even the entertainment that we consume. Everything has a signature, energetic imprint that can either harmonize with your vibes or disrupt them entirely (if you identify as empathic or a Highly Sensitive Person, then you're all too familiar with this concept).
We can't always control how much we engage with the outside world but we can equip ourselves with the energetic tools needed to cleanse, protect, and uplift our energy along with a host of other good things.
Cleanse Your Energy With Spiritual Baths
Wondering if a spiritual bath is what you need? The answer is yes. This simple, yet highly effective practice, can be used by anyone in addition to the routines that you may already use to cleanse your energy whether that's smudging, praying, using crystals, or speaking positive affirmations over yourself. If you're up for it, you can even combine these various energy clearing techniques in a self-care ritual.
Check out the how-to guide below for making your own spiritual bath to help you counteract negative vibes and the S.A.D. blues:
Ingredients for a Spiritual Bath Energy Cleanse 
Sea Salt
Calendula (Marigold)
Jasmine Flowers
Bay Leaves
Lemon(s)
Orange(s)
Lemon Verbena Essential Oil
Lavender Essential Oil
Eucalyptus Essential Oil
How-to: Spiritual Bath Energy Cleanse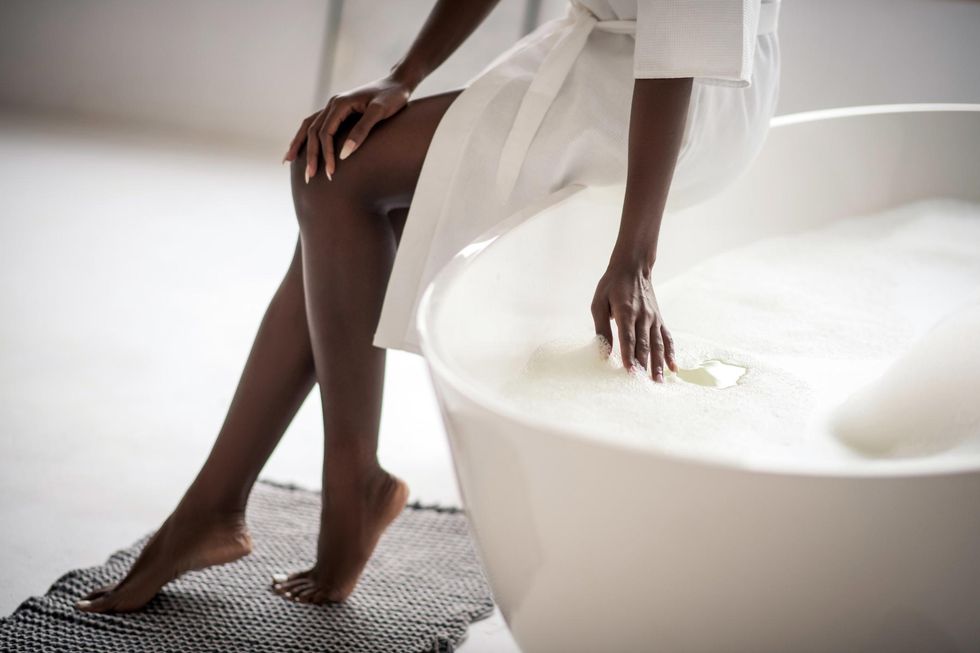 Getty Images
Prior to preparing your spiritual bath, make sure your environment is clean. Scrub your tub, burn some Sage, and shower before you take your bath. You may wish to light some candles to set the mood for your spiritual bath.
After taking your shower and rinsing the tub, prepare your bath water to a temperature of your liking. Add at least 1 cup of sea salt to the water.
Sprinkle the Calendula, Jasmine, and Bay leaves into the bathtub (if you have sensitive skin, you may want to try soaking your feet first). Feel free to use just as little or as much as you'd like.
Slice up a few lemons and oranges and add them to the bathwater as well.
Pour a few drops of Lemon Verbena, Lavender, and Eucalyptus oil into the bathwater.
Swirl the bathwater around with your hand while saying a prayer or setting your intention for the bath (Example: "May these various elements join together to cleanse my aura of energies that don't belong to me.")
Soak in the bath for at least 30 minutes. Relax into the water and allow all of your worries to drift away as you engage with the fragrances and sensations of the natural elements against your skin.
When you're done soaking in your spiritual bath, drain the water and gather the flowers, herbs, and fruit to either discard them in the trash or to offer them back to the earth by placing the elements at the base of a tree. Thank your Higher Power for assisting you in this cleansing process.
Featured image by Getty Images
Originally published November 8, 2020
I don't care how old we get, we can never be too old for a sleepover. So, why don't more of us do it? While things like schedules, partners and kids can make it challenging, I honestly believe that it's because a lot of us aren't sure how to throw one in such a way that it doesn't feel awkward or, let's be honest — childish.
If that's exactly what your line of reasoning is, because I personally think that there is something that's so wonderful and unique about sisterhood bonding, I've put together 15 tips that can make you want to host a grown ass sleepover and also cause your friends to want to RSVP ASAP.
1. Come Up with a Theme
To me, party themes are all about building up anticipation. It doesn't have to be anything deep. You can ask everyone to wear a certain color. You can focus on them coming dressed from a particular era. If you plan on going with a specific type of cuisine or music, folks can show up representing that. It's totally up to you. One way to give your guests an idea of what to expect is to send an e-card invite that has the theme featured on it. Paperless Post, Evite and Smilebox are just some of the online options you've got to choose from.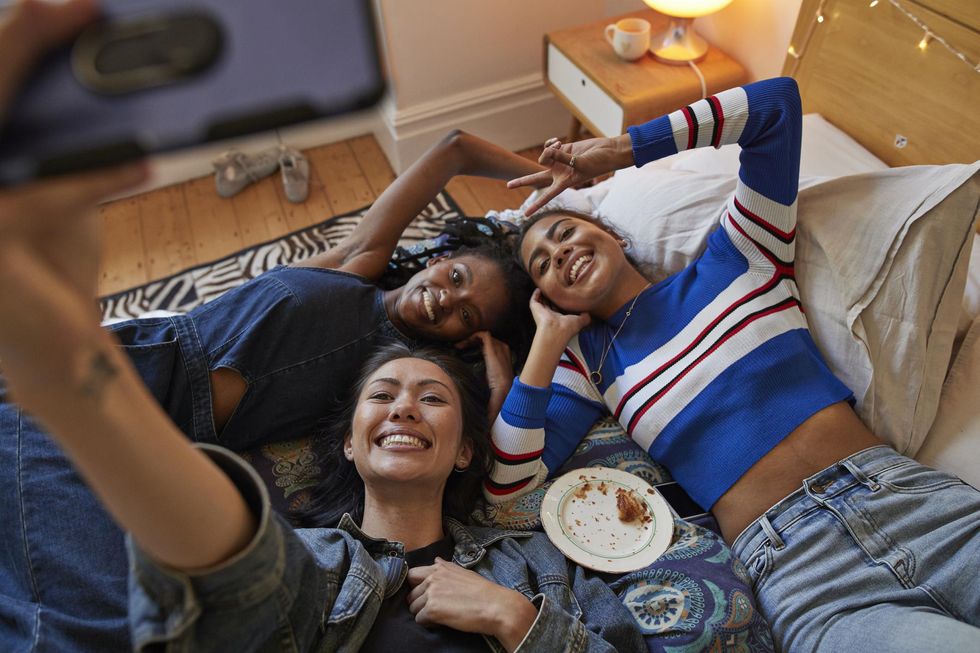 Getty Images
2. Cop Some Mattress Toppers
I'll be honest — sometimes I'll pass on an event like this (or not stay the night) simply because I'm getting too old to be sleeping all uncomfortable on the floor, even with a sleeping bag. Something that can immediately prevent this from being an issue is going to your local Walmart and picking up some mattress toppers (you know, like egg crates). You should be able to find a few for under twelve bucks. They can provide a bit of extra cushion, so that folks aren't waking up with a killer backache the following morning.
3. Potluck It. Kinda.
I recently had a birthday (Geminis, stand up!). When one of my friends asked me if I thought I would ever throw a party, in true Gemini fashion, I said, "Why? So I can go into debt while some folks weren't even thoughtful enough to bring a present?" Chile, please. Along these same lines, just because you may be the one who is hosting the sleepover, that doesn't mean that you need to be trying to figure out how to pay your rent once everyone leaves. Since food is probably going to be the biggest expense (well, that and liquor; I'll get to the latter in a bit), why not have everyone bring something? And to avoid ending up with nothing but plasticware, make specific requests. A dish and a bottle of something to get lit with should do.
4. Get Some Old School Candies
As you're gonna see with some of these other points that I'm going to make, one of the most fun things about a grown woman sleepover is cultivating an atmosphere of nostalgia. One way to do that is to include some bowls of candy that include old-school brands. Something that I like about the website Old Time Candy is it breaks candy down into sections like eras, flavors and types. You can peruse to your heart's content by clicking here; then order and have what you want delivered directly to your house.
5. Serve Snacks That Are Liquor-Infused
Speaking of stuff to snack-on, why not make the kind that are liquor-infused? There's a recipe for vodka chocolate-covered strawberries here. A recipe for vodka-spiked watermelon here. A recipe for drunken salsa here. A recipe for tequila-spiked caramel corn here. And all kinds of recipes for boozed-up ice cream here.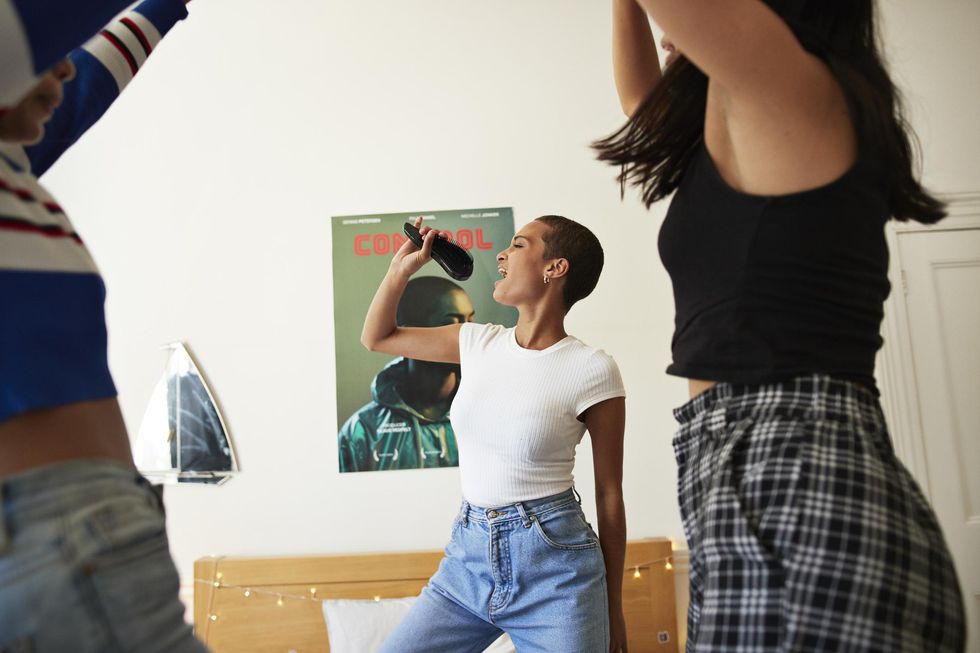 Getty Images
6. Put Together a Playlist from Your Collective College Years
Listen, I adore 90s R&B so much that I've got at least five graphic tees in honor of it. Every time I listen to music from that decade, I can literally hear a sigh come out of my body as I recall my college days. Taking out a couple of hours to put together a playlist from your own college years is a great way to get people hype and to hear some pretty awesome stories while songs are playing in the background — whether you went to school with your homies or not.
7. Stream a Couple of Throwback Movies
I already know that y'all got at least three streaming subscriptions thinking that it would be lower than your cable bill was (is it? LOL). So, why not look ahead of time for one or two movies that will take all of you back to either a simpler or more fun time (college anyone? 20s anyone?)? If you don't have streaming or cable, you might be able to find some gems on Tubi. It takes a little bit of digging and there are random commercials that pop up while viewing, but how much complaining can you do about a free app. Right?
8. Or, Binge-Watch a Favorite Black Sitcom
A show that I binge-watched a couple of years ago and thoroughly enjoyed is Survivor's Remorse. Now that it's back on BET, I've been catching up on it again. I also dig that TV One has put A Different World into rotation. Not only are both shows really good, they take me back to a time and place in my life that hold certain memories that I oftentimes don't think about until I do some binge-watching. Whether it's one of these or something else, maybe pull out five favorite episodes of a show that you and your girls used to like to watch all of the time. Even if you end up eating and talking while it's on, good Black programming always sets the best kind of atmosphere and tone.
9. Create a Signature Cocktail
Sometimes, I will do writing for wedding websites. It's there that I first heard of signature cocktails, and I like everything about the concept. Oftentimes, at wedding receptions, the bride and groom will have their own customized drink or they will come up with something that symbolizes them as a couple.
To commemorate your sleepover with your girls, why not make your own drink too? If you're down yet have no idea where to start, Sip Awards has some helpful tips here. Or, you and your friends can take a signature drink quiz, they can send the results to you and you can come up with a couple of mixtures that way (a cool quiz is right here).
10. And/Or Have Some Cotton Candy Cocktails on Tap
If you just read what I said and thought to yourself, "Girl, I'm gonna be good just to host this thing. What else, you got?", another option is to serve up a cocktail that already exists. One that tends to be a fan favorite is cotton candy cocktails that has strawberries, champagne, vodka, rosè, limes and cotton candy in it (the recipe is here). Talk about a drunkety-drunk-drunk sugar rush!
11. Then Play 20 Questions, Truth or Dare or Never Have I Ever with It
I've played all of these games with some of my girlfriends before and you know what — no matter how long I've known them and how much we've discussed before, when they've got some drinks in them, the game never ends without my mouth falling wide open, at least a couple of times. The main point here is to get an understanding, beforehand, that everything that is shared is confidential. Hell, if you want to makeshift some NDAs, I ain't mad at you. Celebrities do it all of the time. I totally get why.
12. Or, Go a Round of Social Sabotage
If y'all are more of an actual card or board game kind of person, BuzzFeed actually created a game called Social Sabotage (and yes, it's a card game). Basically, the box comes with two sets of cards — where and what. The best way to explain it would be that it's an online/smartphone version of truth or dare with a whole lot of twists to it. Things really could get kinda wild. Anyway, if you want to buy the game, go here. If you want to watch a video that explains how the game works, check that out here.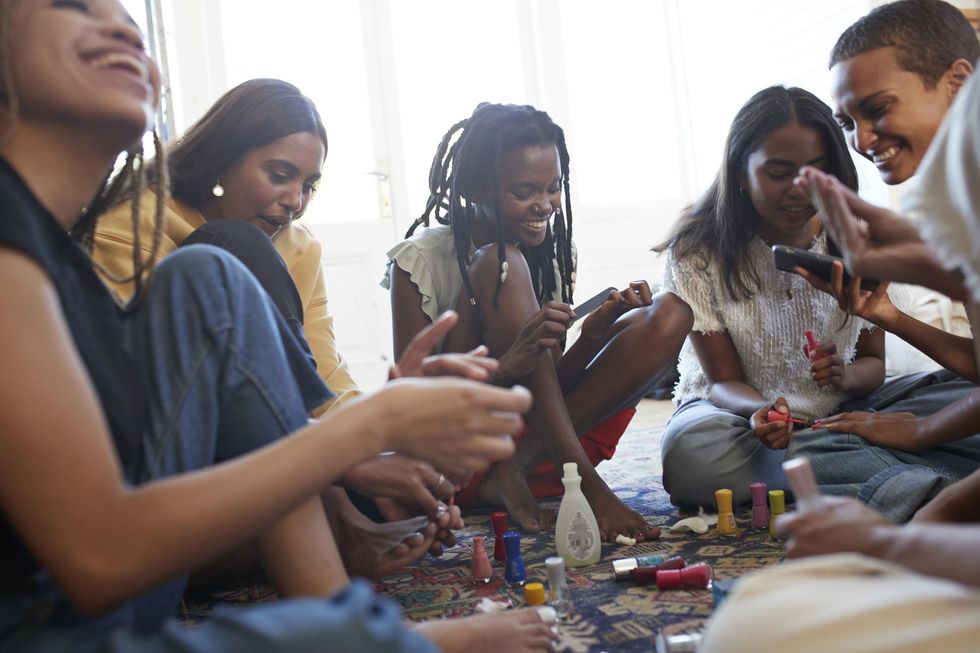 Getty Images
13. Paint Each Other's Toenails (or Fingernails)
OK, while I know that spa activities are a traditional girls' night in move, my experience has been that oftentimes they end up being a lot more trouble than they're worth when it comes to setting up and cleaning up. A happy medium is to have some polishes available for folks to either paint each other's toenails or fingernails. Personally, while I'm good when it comes to my feet, I'm always thrilled when someone can help me to switch out colors for my fingernails when I'm in between mani/pedi appointments. It's a cool way to slow down the night.
14. Give Everyone Their Own Bonnet as a Party Favor
Y'all and these bonnets, boy. One day, I'll write something, just on that alone. For now, can we all agree that they were initially made to protect our glorious hair while we sleep at night? That said, I can't think of a more profound way to end a Black woman sleepover than to hand out a party favor in the form of a new bonnet. If you go to Etsy and put "bonnet" in the search field, you can find a variety that are made from Black women. Some merchants even customize, chile. #yourewelcome
15. Have Breakfast Delivered the Next Day
Once half of y'all are either slightly hungover or too tired to make that big breakfast that you see folks do on TV, I've got an idea. Since actually eating breakfast can help you to feel better after a night of getting totally lit up (so does drinking water or chewing on some ginger, by the way), why not have breakfast (or brunch, depending on the time y'all wake up) delivered?
If you're up to trying something new, My Recipes published "51 of the Best Breakfast Destinations in America". Also, your favorite delivery app should have a breakfast section for you to peruse. It's the perfect way to end an awesome sleepover, don't cha think? Have fun!
Join our xoTribe, an exclusive community dedicated to YOU and your stories and all things xoNecole. Be a part of a growing community of women from all over the world who come together to uplift, inspire, and inform each other on all things related to the glow up.
Featured image by Getty Images
The first day of spring this year is March 20. If you're someone who hates cold weather, that's the good news. In the meantime, there are still several weeks ahead where you'll have to bear with the cold temperatures, bitter winds, and messy wet weather—things that can do a real number on your hair and skin if you're not careful. In order to make it all more tolerable, I thought it would be a good idea to offer up some really cheap and easy DIY beauty tips for you during these freezing times. Are you ready to get through the rest of the winter season?
1. Make a Water-Based Moisturizer
Does it seem like you can always write a word on your skin with your nails, no matter how much moisturizing you do? It could be that your moisturizer has the wrong kind of base. What I mean by that is some are made from oil while others are made from water. If you want to lock in as much moisture as possible, a water-based one is gonna be your best bet. Not only does a water-based moisturizer help to keep your skin moisturized longer, but it also helps it to replenish nutrients within it without clogging up pores (which could lead to breakouts) like oil-based ones can sometimes do. There are water-based moisturizers that you can buy at your local drug or department store; however, if you'd like to make your own, I found a pretty easy recipe right here.
2. Add Sugar to Your Shampoo and Honey to Your Conditioner
I don't know about y'all, but something that drives me up the wall about winter weather (and I'm actually a winter fan) is it tends to make my scalp a lot drier. Something that has helped to give me relief is putting some sugar into my shampoo. I'm dead serious. The granules of the sugar helps to exfoliate the scalp. Plus, if I use brown sugar since it's a humectant, it can help to pull more moisture from the air into my hair and scalp.
Speaking of humectants, something else that is one is honey. If you add some to your conditioner, it can make your hair extra soft, the alpha-hydroxy acids in it can also gently exfoliate your scalp and the properties in the honey can help to soothe your hair follicles and smooth out your hair's cuticles.
Also, honey has a way of adding sheen to your tresses too. How much of either? Eh. I'd say no more than two teaspoons in a full bottle is more than enough.
3. Use Dryer Sheets on Your Hair
This one might sound odd, but it really does work. Between the low humidity that winter weather can sometimes bring, along with all of the hats that many of us wear during this time of year, it's not uncommon for our hair to be more "static-y" than usual which can sometimes result in fly-aways (especially if your hair is relaxed). Something that can nip this in the bud is rubbing dryer sheets on your locks. They work because they are able to neutralize the charge in your hair. As a bonus, whatever scent the sheets are will transfer to your hair. A cool hack, indeed.
4. Switch Up Water Temperatures
Here's something that you may not have known before now. While it's pretty much a given that you should consume more water during the winter in order to stay hydrated from the inside out, did you know that the temperature that you drink is important too? The reality is that colder liquids will actually absorb much quicker into your system than ones that are hot or even room temperature. That's why, if you want to be hydrated for a longer period of time, it's best to go with the latter—especially if you're someone who spends a lot of time outdoors.
5. Bathe in Herbal Tea Bags
Question. When's the last time you took a bath in some herbal tea? If your answer is "never", you really are missing out. Tea baths can do everything from detox your skin and balance out your skin's tone to reduce inflammation and soothe psoriasis and eczema-related symptoms. During the winter season, another benefit to soaking in herbal tea is it helps to promote the rejuvenation of your skin's cells.
As a result, no matter how much the cold weather may try and wreak pure havoc on your skin, the herbs from the tea can help to keep your skin soft, protected and undamaged from the harsh weather and the UV rays from the sun.
All you need to do is put about five tea bags into a large pot of water. Bring everything to a boil and then let it steep for 20 minutes before allowing it to cool (at least to a temperature that you can stand). Then pour the tea into your bathwater and soak for another 20 minutes. If you do this twice a week, you will notice a real difference in your skin within a couple of weeks.
6. Seal Moisture in with Sweet Almond Oil
I'm all about sealing in my skin's moisture. Been doing it for years. I simply make sure to cover my body in some sort of oil, right before stepping out of the shower. I typically try and leave it on for a couple of minutes and then towel dry off. It's a great way to lock the oil into my skin so that no lotion (which really isn't the best thing for you anyway because it can clog your skin's pores and make it dull and sensitive over time) is needed.
While there are a few carrier oils that work well (avocado, rosemary and grapeseed come to mind), a personal favorite of mine is sweet almond oil. For one thing, sweet almond oil has vitamins A and E, along with essential fatty acids, proteins and zinc in it. Also, it's the kind of oil that fades scars, soothes dry hands and feet, dislodges impurities from your pores and deeply moisturizes so that your skin is soft and has a vibrant glow. If you don't do anything else on this list, do this. It's one of my favorite beauty regimens to-date. Not too many things top it.
7. Pamper Your Lips with Rose Petals and Almond Milk
Am I the only one who, no matter how much water I might drink, my lips still seem to get chapped? If you can totally relate, a hack that you might want to try is soaking some rose petals into a bowl of almond milk overnight. Rose petals are dope because they're loaded with Vitamin C (which is a powerful antioxidant) and they help your skin to retain moisture. Almond milk is great because, not only does it have antioxidants in it too, it also contains Vitamin E and magnesium—both of these are able to nourish your skin (including your lips) so deeply that chapping and chaffing are significantly decreased. Just mash the petals up the following morning and apply them onto your lips for about 10 minutes before rinsing them off. Your lips will feel silky smooth all day long.
8. Soak Your Feet in Mouthwash
When it comes to this specific DIY winter-related beauty hack, the key is to get Listerine mouthwash. Because it's so potent, the antifungal properties found in menthol and thymol that it contains can help to keep your feet smelling fresh. And if you soak those bad boys in a mixture of 1 ½ cup of Listerine, one cup of white vinegar and 2 ½ cups of warm distilled water for about 30 minutes, the combo will help to break up any stubborn dead skin that might be on your heels. All you need to do after soaking is rub your heels with a pumice stone and the dead skin should literally peel right off.
9. Pamper Your Tresses with Heavy Whipping Cream
Let me circle back to the hair for a moment. If you want a way to deep condition your hair with as little chemicals as possible, I know this might sound crazy, but you should definitely consider applying some heavy whipping cream to it. Not too long ago, I checked out a video that featured a pretty Ethiopian woman doing a tutorial that showed how to make a moisturizing hair butter out of nothing but heavy whipping cream and water and chile—it's right on up there with Chebe powder to me. It's apparently a traditional Ethiopian beauty treatment and since heavy whipping cream is full of protein, fat and lactose acid, it makes sense that it would soften the hair. Anyway, if you want to give it a shot, you can check out here video by clicking here.
10. DIY Some Cuticle Cream
Since outdoor air is colder and the indoor air is drier (because of the heat) during this time of the year, it should be no shocker that your nails are more susceptible to being brittle and breaking. That's why it's better to wear your natural nails at a shorter length and that you keep your cuticles moisturized with some cuticle cream. If you'd prefer to make your own, I found a recipe that consists of lavender and myrrh essential oils that is absolutely amazing. Lavender smells delightful, contains antifungal properties and soothes dry skin. Myrrh oil helps to fight infection, heals the skin and is loaded with antioxidants. If you apply a little bit of your DIY cream in the morning and again at night, your nails will be stronger and you'll decrease your chances of getting hangnails (which is always a bonus) too. You can get the recipe for this cuticle cream here.
11. Sleep in Shea Butter and Aloe Vera
If you're looking for a creamy kind of all-natural moisturizer that will have your skin feeling buttery smooth, you really can't go wrong with combining shea butter and 100 percent pure aloe vera. Shea butter is the fat that is taken out of the shea butter tree. It's rich in vitamins A and E, plus it has antioxidant, antibacterial, and antifungal properties in it. I can personally vouch for the fact that if you use it consistently, your skin will be really soft, your tone will even out, fine lines and wrinkles will fade, collagen production will increase and cells will regenerate.
Adding some pure aloe vera to it will give your skin a nice dose of vitamins C and E which increases skin elasticity, heals skin imperfections and hydrates your skin. Applying a half and half amount of the two to your skin every night can give your skin enough time for the combo to deeply moisturize for hours, so that your skin is as soft as ever, come morning.
12. Use Flannel Sheets
Speaking of bedtime, make sure you're sleeping on some flannel or (my personal favorite) jersey knit sheets. Not only can the warmth of them help to keep your electricity bills down but they both tend to be hypoallergenic, breathable and will help your skin to retain heat and the moisture that you add to it. Plus, they're comfortable as all get out if you prefer to sleep naked, even during the winter months. Just one more thing that can beautify your skin until the flowers start blooming and the birds begin chirps again.
Join our xoTribe, an exclusive community dedicated to YOU and your stories and all things xoNecole. Be a part of a growing community of women from all over the world who come together to uplift, inspire, and inform each other on all things related to the glow up.
Featured image by Shutterstock
Jada Pinkett Smith's influence is undeniable, she reigns supreme as one of the top in the industry. And one of the best things about her, is she is more than willing to share her journey with us all. From work, to a bit of her personal life, to her self-care, sis has no problem letting us know how she gets down.
People often assume that the way these celebs live their lives is unattainable to common folk like us, but in reality, her day-to-day routines usually involve basic DIY regimens that we can do right in our own homes.
Recently, the actress and mother of three, took to her social media to help us get these feet together, and we couldn't help but to sign up. And listen, during the winter, our feet need all of the things, so we didn't hesitate to give it a try.

Additionally, according to Smith, this simple routine will have our feet ready for bae's rubs just in time for Valentine's Day.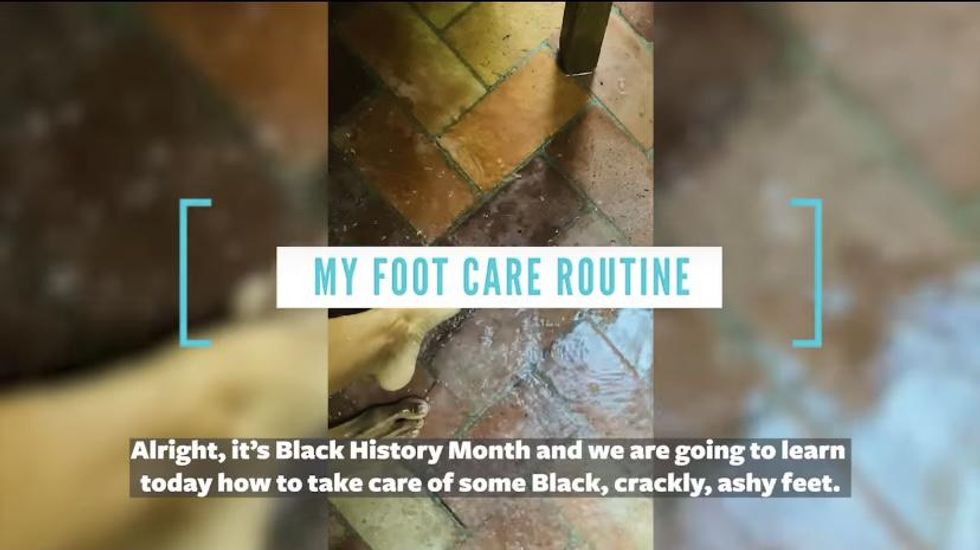 Jada Pinkett Smith/Instagram
Ya'll ready? OK, perfect, here's what you'll need:

Grab your best exfoliating rag, your favorite soap, a foot file, some extra virgin olive oil, any kind of plastic bag (or even Saran wrap) in whatever size fits your feet (she used gallon-sized Ziploc bags), moisturizer (she recommends raw shea butter or some Whoop Ash), and a pair of socks. Dassit!
First, wash feet with exfoliating rag and soap: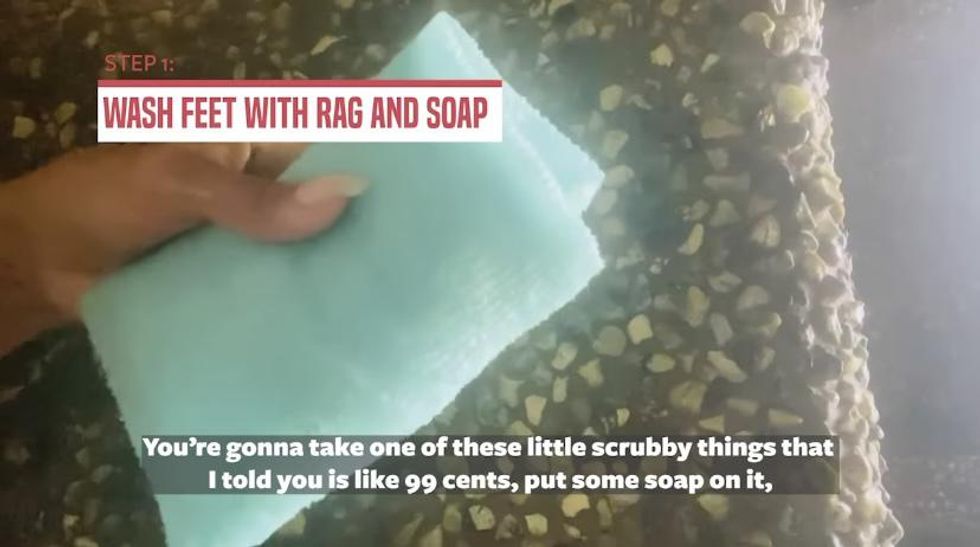 Jada Pinkett Smith/Instagram
First things first, we've got to loosen up that dead skin, so Smith washes her feet with the needed exfoliating rag.
"You're gonna take one of these little scrubby things, that I told you is like 99 cents, put some soap on it. Scrub it good because you want to loosen up dead skin on your feet."
Exfoliate your feet with a foot file: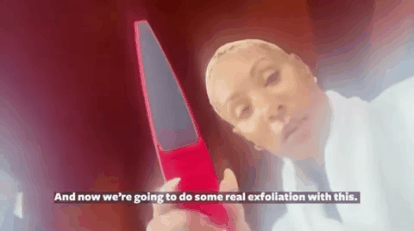 Jada Pinkett Smith/Instagram
Next up, is scraping those bad boys.
"And now we're going to do some real exfoliating with this [shows foot file]. Little scrub a dub on the feet, you know what I'm sayin'? Get that dead skin off."
Warm up olive oil: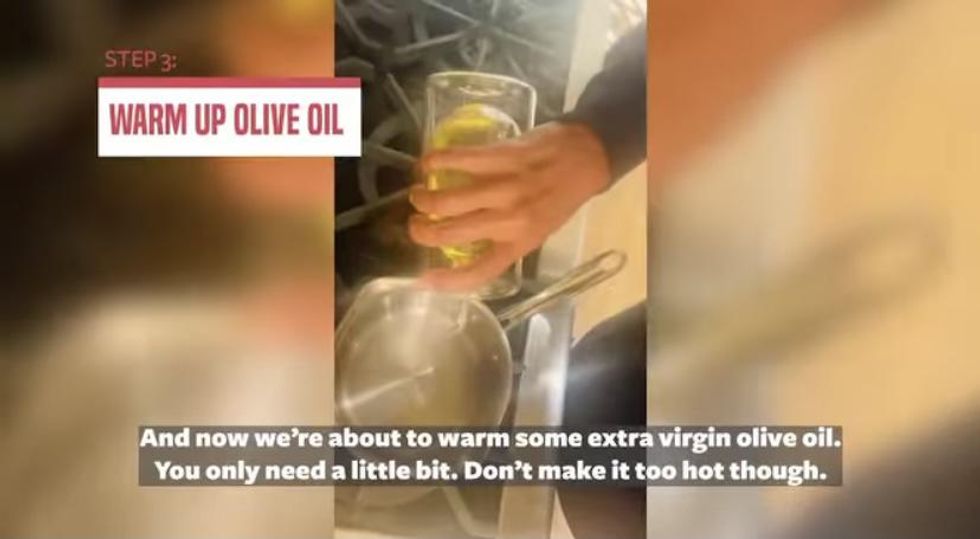 Jada Pinkett Smith/Instagram
Up next, head to the stove, grab a pot, and warm up your olive oil.
"Now we're about to warm some extra virgin olive oil. You only need a little bit, don't make it too hot though."
Apply moisturizer to feet: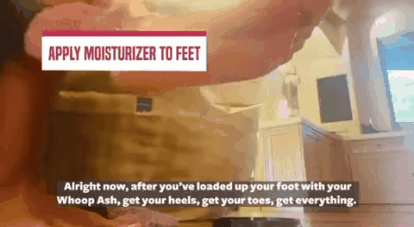 Jada Pinkett Smith/Instagram
Once you're done with warming up the oil, find your favorite moisturizer, and apply it all over the feet.
"You can either get some raw shea butter or I'm about to use some Whoop Ash. I love this stuff."
She continues:
"After you've loaded up your feet with Whoop Ash--get your heels, get your toes, get everything--you're gonna fill your bag with a little olive oil, but it's gotta be just warm. It can't be hot, or it's going to melt the plastic."
Place your feet in bags with olive oil: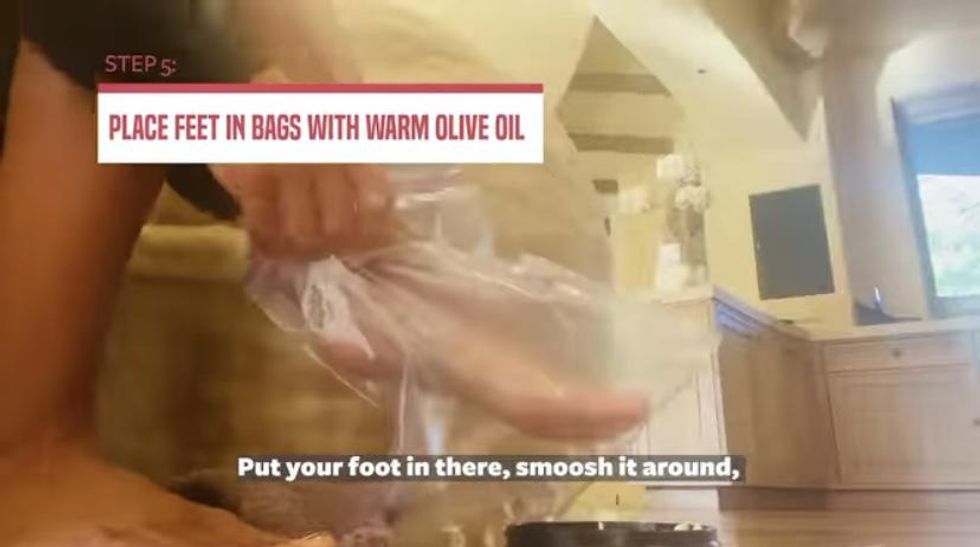 Jada Pinkett Smith/Instagram
"Put your foot in there, smoosh it around..."
Apply socks over the bags: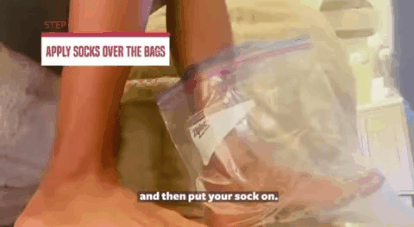 Jada Pinkett Smith/Instagram
And finally, cover your feet by putting on the socks. Voila!
Go find something to do and let your feet sit for a couple hours: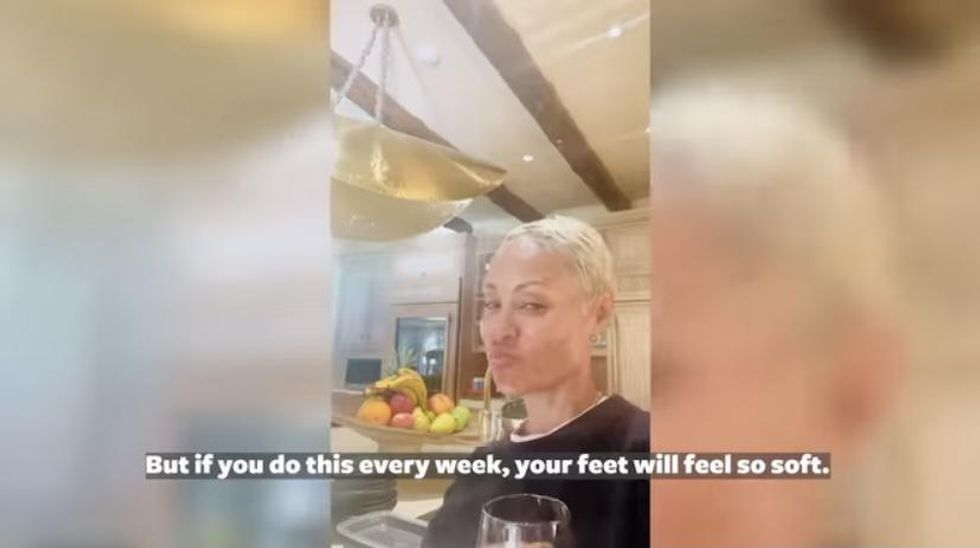 Jada Pinkett Smith/Instagram
"I'mma let that sit for a couple hours and drink my beet juice. But if you do this every week, your feet will feel so soft."
--
Do you plan to try Jada's routine?
Watch the full video here.
Featured image via Jada Pinkett Smith/Instagram
December is a month that's always super crazy to me when it comes to how I process time. The reason why is because, no matter what has transpired in the months leading up to it, once the final month of the calendar year pops up, I'm always caught off guard. Something tells me that a lot of you can totally relate—especially since we're literally just days away from Christmas Day.
Whether you're the consummate last-minute shopper or you're struggling a bit to figure out what to do this year because money is tighter than it's been in a while, I've got a few ideas on gifts that you can make for the special man in your life that are sweet, thoughtful and that you can put together for under $20 (before tax and wrapping paper). Hopefully, this will give you one less thing to stress out about before Christmas comes.
1. Date Calendar
I believe I've shared in an article on this platform before that, to this day, one of my favorite DIY gift ideas comes from a husband, who, on one of his wife's birthdays, he gave her an annual calendar. It wasn't just any ole' calendar, though. He actually went through every single month and pre-planned dates for them to go on. He also included a handwritten letter about how, no matter what life would bring their way, she would always be his top priority. How thoughtful, romantic and—one of my personal favorite words—proactive was that?
You could do the same thing by picking up a calendar and pre-planning some dates. For the record, it doesn't always have to be something that's over the time; you can have some dates right from the comfort and convenience of your own home (check out "10 Romantic Dates You Can Go On (In Your Own Home)"). Shoot, you could really put a smile on your man's face and throw in a few sex datestoo.
If you really wanna DIY it, you can make your own Instagram calendar (check that out
here
), create your dates in the form of a journal calendar (some easy instructions for that are located right
here
) or, you can even make a pencil holder type of calendar for his desk (tips on how to do that are
here
).
2. Personalized Candle
Two things I've come to learn that a lot of men like are flowers and candles. So yeah, if you and your partner happen to be apart this Christmas and you know that he enjoys a fresh bouquet from time to time, having one delivered could definitely put a smile on his face. Or, if he enjoys coming home, turning on some music, opening up a bottle of wine and lighting a few candles, a sentimental approach would be to carve your initials (you know, like how kids used to do on trees back in the day) or a short 'n sweet message onto one. All you need to do this is a linoleum cutter, a metallic pen and some tape. Oh, and a (tall) candle, of course. If you want to take a stab at this, you can get some step-by-step instructions here.
3. Beard Oil & Aftershave
There is something that is oh so sexy about a man who rocks a well-manicured beard. But something that a lot of us—and by "us", I mean women—don't really think about is a great beard goes well beyond a shape-up. Self-care products like beard oil are necessary too. So, why not make your man some to put into his Christmas stocking?
All you need is a carrier oil and essential oil, along with the right kind of storage bottle and you're good to go. If you'd like a CliffsNotes read on which oils are able to accomplish what (as far as facial hair is concerned), Wise Beards has a cool article entitled, "7 Do It Yourself Beard Oil Recipes—The Ultimate DIY Guide". If you'd like to accompany the beard oil with some homemade aftershave, I found some great recipes for that here, here, and here. (Arts and crafts stores typically sell bottles to package items like this in, by the way.)
4. Customized Gift Basket
Sometimes, when funds are low and I want to do something thoughtful for an individual in my life, I'll go to an arts and crafts store to pick up a basket, some cellophane, some tissue paper and a bow and then fill the basket up with random stuff. Maybe some homemade muffins or cookies. Some homemade spices or infused sugar blends. I've even been known to make body washes and lotions too. It really depends on what kind of theme that I want the gift basket to be.
Well, another cool DIY Christmas idea is to make a gift basket for your partner. It can have a food theme, an office theme, a car theme, a sports theme, a self-care theme, a sex theme—it's totally up to you. For instance, on the self-care tip, you can put in some travel-size toiletries, a beard brush, some shaving razors, some DIY massage oil and a new nail kit.
5. Wallet Cards
Who hasn't heard of a love (or sex) coupon book? A masculine twist to those is to make wallet cards instead. It's the exact same thing, only you print your "free for one massage" or "free for your favorite kind of movie night" on a card that fits conveniently into his wallet, so that he can carry his coupons wherever he goes. Click here to print off some that are already designed with messages on them. Also, if you want to laminate the cards so that they'll last longer, t here's a YouTube video that can show you how to do it without an actual laminating machine here.
6. Sex Box
There's a young Black couple on YouTube that I check out from time to time (mostly because I remember when the guy was a playboy online and now he's all in love 'n stuff; it's cute). Their channel is called Cey & Jai. Anyway, Jai recently got Cey a PS5 for his birthday and ever since, pretty much not one video goes by, where she doesn't slay something slick about wishing that she never got it…because he is always on it.
If you can totally relate, I recently saw a "fix" for that—a DIY sex box. What you do is create controller pieces and add duel-adhesive foam stickers to them so that they end up having a 3D effect. Then you write sexy messages on the back; you know, things that will make your man want to put the game down and play with you for a while. If this has piqued your interest, you can get the deets on how to make your own sex box here.
7. Throw Blanket
Who doesn't like to cuddle up with their boo under a comfy blanket during this time of the year? Well, even if you're not a master knitter or crocheter, you can still make one for your partner. How? By doing something that is known as finger knitting. Basically, you get yourself some Bernat Alize Blanket EZ Yarn, download some instructions (some are here) and you're all set.
The long-short of it is this works because, since there are already loops in the yarn, you can use your fingers to connect the loops rather than applying an actual needle (how cool is that?). Just select your man's favorite colors and then, once you're done, put his favorite scent (on you) on it. It'll easily become one of his favorite presents of all time.
8. Lipstick Art
Here's an idea that is super easy while being both cute and sexy too. If you want a subtle way for your boo to think of you while sitting in his office, why not give him some lipstick art? All you're literally doing is choosing different shades of lipstick, kissing a piece of blank paper and then framing the final result once you're done. Then you can put a personal message either in the corner or on the back of the frame. You can get an idea of what the final result would look like by going here.
9. Personalized Coasters and Cup Sleeve
What if you want to get something for your significant other that is more on the practical side of things? How about some customized coasters and a couple of personalized cup sleeves for his favorite drinks—hot and cold? A site called Thinking Closet can walk you through a whopping 30 different DIY coaster ideas (check it out here). Some felt and Velcro can help you to make the cutest cup sleeves (DIY instructions are here).
10. DIY Bedroom Board Game
I write way too much about sex on this platform to not end this DIY Christmas gift idea piece with some kind of gift that will get the fires burning in your bedroom. If you and your man enjoy unplugging and doing something as simple as playing a board game sometimes, The Dating Divas offers up some helpful tips on how to make your own (right here). Just make sure that you've got a mistletoe, a Santa hat and a prize for the winner close by. It's sure to be a naughty with a side of nice night once he opens this up. Merry Christmas, y'all!
Are you a member of our insiders squad? Join us in the xoTribe Members Community today!
Featured image by Shutterstock
Something that I enjoy doing from time to time is treating married couples to a hotel night on me. As a marriage life coach, I am a huge fan of marital intimacy (which is a polite way of saying that I want husbands and wives to have sex, just as much as they possible can). Well, one time, when I extended the offer to a particular couple and I told them that a jacuzzi bathtub was included with the room, I'll never forget what the husband said. "Shellie, that's sweet of you but baths are nasty to me. Who wants to soak in their own filth? The only way that I'll do a bath with my wife is if we take a shower together first." Hilarious. But I get it.
You know, I've written a few articles, shouting out the beauty and benefits of bathing on here before (check out "Did You Know There's A Right & A Wrong Way To Take A Bath?" and "Make 'National Bathtub Party Day' Your Favorite Day Of The Year"). But if you happen to be a lot like the husband that I mentioned or you're simply too pressed for time to always have a long hot soak, I've got a few ways for you to make your showers feel just as pampering and tranquil as if you were taking a bubble bath. All you need to do is apply the following 10 tips and your shower will miraculously turn into your very own at-home spa.
1. Upgrade Your Showerhead
Before we get into anything else that can help you to feel super pampered while you're taking a shower, it's an absolute must that you reevaluate your showerhead; after all, this one upgrade can literally change your entire showering experience for you.
Your best bet is to look for a showerhead that sprays in a wide pattern and offers up a good amount of water pressure. Budget-wise, it's also smart to look for a low-flow showerhead because they can save you as much as 60 percent of the water that you would use without one.
If you really wanna take things up a notch, you can even get shower light showerhead; one that comes in a variety of colors (like this one right here). As far as what a great showerhead costs, you can expect to pay somewhere between $50-100. But when you stop to think about how many showers you take a year, that's pennies in comparison to all of the luxury that it will provide. If you want some help with selecting the best showerhead for you and your personal needs, Consumer Report has a guide right here.
2. Apply a Mask Before Showering
Something that a spa treatment does is rid your body of built-up toxins. Well, one way that you can do that at home is to apply a mask. It can be a mask for your face or even a mask for your armpits, which is where a lot of toxins tend to go unnoticed (check out "When's The Last Time You Detoxed Your Armpits?"). Some other reasons to consider applying a mask, once a week, is it can also refine your pores, firm your skin and even your skin tone. A bonus is, if you apply your mask and let it sit for about 15 minutes before hopping into the shower, you can easily rinse it off once you're in there, so there won't be any mess that's left behind. The Healthy is a site that offers 13 DIY facial mask recipes (that you can also use on the rest of your body). You can check them out here.
3. Buy a Spa Robe
I don't even know a lot of people who own a bathrobe anymore. If you don't, there really are some benefits that come with getting yourself one. On the practical tip, if you invest in a microfiber robe (which is the route I would suggest), they're absorbent (so you can walk right out of the shower and put it on), along with being mold, mildew and stain resistant. On the pampering tip, they also feel really soft and super fluffy. And, if you throw any kind of bathrobe into your dryer for 15 minutes before getting into the shower, your robe will have you feeling so warm 'n cozy that you'll never wanna get out of it.
4. Get a Suction Wine Glass Holder
Some of y'all would like to take a bottle of wine with you everywhere you go. Chile, I already know! If you're unapologetic about being in that number, did you know there is such a thing as suction wine glass holders? A company called Sip Caddy has 'em so that you can have a glass of wine (or a can of beer or anything else you like to drink) while showering or soaking in the tub. Just when you think they've thought of it all, chile.
5. Bring a Plant into Your Bathroom
If you've never had a plant in your bathroom before, I might be able to convince you to consider it. For starters, putting a plant in that room of your house is great because they are really good at absorbing excess humidity and bacteria. Plus, plants have a way of reducing stress levels and helping to put you into a good mood (which is great to know if you happen to wake up on the wrong side of the bed). And, if you get a shower plant specifically, they're so low-maintenance that you don't have to worry about giving them the kind of attention that other plants in your house may require.
Another cool thing is, greenery being around you while you're showering, creates an atmosphere that is oh so tropical and serene. It can literally make you feel like you're someplace else for those few minutes that you're washing up. (You can read up on a list of plants that are ideal for your shower here.)
6. Install a Bathroom Diffuser
Every time I've gone to a spa, something that I really liked was how good it smelled, in every room that I entered. If you want to experience a delightful scent to your own bathroom, how about installing a bathroom essential oil diffuser? It's pretty much a device that distributes essential oil evenly throughout a room. Not only can using an essential oil to disperse various oils pamper your sense of smell, but essential oils can also help to purify your bathroom space as well. Plus, a diffuser is a lot safer than using candles (that could catch fire or burn you). Therapeutic scents for your spa shower time include citrus, peppermint, lavender, sandalwood, neroli and vanilla.
7. Invest in a Shower Bomb
Another approach to achieving diffuser results without actually purchasing one is to get yourself a few shower bombs (some call them shower steamers, by the way). All you've got to do is place one down close to your drain (not too close or it will dissolve really fast). Once you turn the water on, you'll start to notice a dense fog along with a smell that is absolutely amazing. It all will seem as close as you can to being in a sauna without actually being in one. There are plenty of places where you can buy shower bombs (Lush has a cute and affordable collection). Or you can always customize your own. They're really not that hard to make at all. You can check out a few DIY videos here, here and here.
8. DIY Your Bath Wash
One of the reasons why I'm such a fan of homemade bath washes is because a lot of the popular commercial brands contain chemicals that can irritate your skin or throw off your skin's pH balance. This is especially the case when it comes to vaginal washes (check out "Love On Yourself With These 7 All-Natural DIY Vaginal Washes" and "Are You Washing Your Vagina Correctly? You Sure?"). But really, if you want your skin to feel and smell divine, from head to toe, without worrying about what is in your body wash, you can always make your own. Hello Glow's got 11 recipes that are really easy to make and can keep your skin feeling really soft. You can cop 'em here.
9. Try Some Exfoliating Sponge Pads
Each of us sheds somewhere between 30,000-40,000 dead skin cells on a daily basis. Thanks (but no thanks) to dirt, sweat and humidity, sometimes those cells get stuck and can lead to breakouts and dull-looking skin. Something that can help to prevent this from being an issue is exfoliating your skin. Some other reasons why it's a good idea to exfoliate on a consistent basis is it helps to detoxify your pores, increase blood circulation and keep ingrown hairs at bay. While I'm personally a huge fan of DIY body scrubs, another convenient way to exfoliate your body as you're taking a shower is to get yourself some exfoliating sponge pads. They're pretty easy to find. Even most local Walmarts carry them.
10. Apply Some Scented Body Oil Before Getting Out of the Shower
A lot of you have probably heard of sealing the ends of your hair before. Basically, it's a process that consists of locking in your hair's moisture after washing it, so that your ends don't become dry and brittle. Well, if you want to lock in the moisture that you just received from taking a shower, it can never hurt to "seal your skin" too. All this consists of is applying a relatively light carrier oil like sweet almond oil, avocado oil, or grapeseed oil onto your skin, right after you do your final rinse and right before you dry off. Let the oil sit for a couple of minutes and then use your towel (Oprah offered up a list of some of her favorite ones this past July; the list is here) to pat yourself dry.
If you really want to bring a perfect end to our shower spa experience, add 5-7 drops of your favorite smelling essential oil to the carrier one. Oh, and if total relaxation is what you're after, lavender, jasmine, rose, lemon balm, and patchouli, will all have you feeling like you are walking on a cloud. You'll be smelling and feeling truly wonderful; like you just spent a mint on a spa day, when all you did was walk into your very own shower.
Join our xoTribe, an exclusive community dedicated to YOU and your stories and all things xoNecole. Be a part of a growing community of women from all over the world who come together to uplift, inspire, and inform each other on all things related to the glow up.
Featured image by Shutterstock