I am a foreign woman, in every definition of the word. I am all of the things that it evokes in feeling, memory and sound. I am a womanhood that exists on the outside of history, record, country, marriage and love.
In this blank space, at the edge of the world, I peered over. This is where I began my journey into more than womanhood, but into the creation of a new world, a place where women like me are loved.
The chasm in between the two is where I found myself, though it required a bit of a fall. I grew up thinking that the world was a place of great freedom. I came of age thinking that the world was one of great lack. How did we get here? Girls and little queer kids with eyes full of bright possibility at the wonder and mystery of life turn to women who recoil from living. If I had a daughter, how would I save her from the brutality of being shamed into acts of humility that deny her life?
I vastly underestimated that some people use a deeper understanding of you, not to love you more efficiently, but to hurt you more intimately.
When I first embraced myself and openly embarked on the journey of womanhood, albeit a queer one, I was excited about the prospect of what a more modern world would have to offer a Black trans woman. I kicked off the weight of my teen years -- experiences that rendered me both invisible and hypervisible -- and fearlessly led with exploratory pride in my multilayered identity. I truly believed that the only barrier the world had to loving women like me was a lack of understanding and misplaced memory. I believed that if I spoke truthfully enough that I could help set the world on the course of miracles. There was a robust history of women who had done the same and now was the turning point. This wasn't untrue, however I vastly underestimated that some people use a deeper understanding of you, not to love you more efficiently, but to hurt you more intimately. And therefore, I learned to use discretion in where I place my energy.
This is a lesson I learned both romantically, professionally and in my own personal activism. Slowly, I began to realize that there is no convincing someone to love you and anyone who pretends that there is, by demanding the education of your pleading, is exploiting your need.
Whether it be people who love to watch you labor for love in the interest of their own validation, at best; or collective movements that are hellbent on misunderstanding you for nefarious political ends, at worst. You especially cannot convince the many people you meet as an "othered" woman, who waffle back and forth between obsession, desire, need and refusing you their heart because you are the "wrong type" of woman. Ultimately, there is freedom in not being able to convince anyone to love or accept you. Only then can you put down your arms and allow love to blossom wildly, where it wishes, rather than trying to bend the earth where its brutality denies you.
Venus, in fact, was teaching me: How not to pour my offerings into the plates of other people and their gods, but to pour the best of myself first in the temples of love in my own heart.
For so much of my life, it really felt like Venus, the Goddess of love herself, was really coming down to tell me, "You are just not that girl." Slowly, I learned that Venus, in fact, was teaching me how not to pour my offerings into the plates of other people and their gods, but to pour the best of myself first in the temples of love in my own heart. Within this temple, I found my heart atop an altar rather than trying to find value within romantic relationships that finally validate the social markers of my womanhood. It is a grueling lesson in love, but one that each of us must learn in the journey back to our own humanity.
The biggest lesson I learned was that not even a legacy of colonialism and its present imperialism can deny my humanity. It can create material conditions that threaten my life and disrupt the systems that are for my survival, but it can not move me out of my own body and lay claim to my soul or birthright as a divine being on this planet. I do not have to fight for love. It endures within me. I do not have to shrink from desire, it is an expression of my hunger for living and emboldens me to be more alive. I do not have to carve acceptance out of my own blood, because I am never forgotten or alone, as long as I do not forget or abandon myself.
I do not have to fight for love. It endures within me.
Now, as a slightly more experienced woman, my values are the same. They are just more embodied. Being Black is more about the moments of private comfort that I truly embrace myself and find peace, instead of trying to bend the world to my will and shout it into loving me. Being a transgender woman is more about the recognition of what it means to be alive, instead of forcing myself into a static and restrictive ideal, and therefore receptive to the mystery of the feminine; to be trusting enough in that mystery to remain open, while confident enough to enforce boundaries without the fear of being abandoned for expressing human needs and desires. In this space life gives to me, though I don't always understand or know what the final fruit will yield, I give life back with my offerings of creation in response to it.
My moments of embodied womanhood and humanity are now about looking at myself, not through the eyes of what is considered to have social value, but through my own eyes before I learned any of those things.
In the blossoming of this new world and in the creative act of opening its door, I invite you into more love. I invite you into seeing yourself, not through an imagination of lack and competition, where you "are" because others "are not." I invite you into new eyes. I invite you into a feeling of "enoughness." I invite you into strangeness, a place that never denies the contradiction of your need in response to the harshness of the world. I invite you into embodied being, a place where women like you are always loved because it is an undying act that will always find its way back home.
Read all of the stories in the Issa Rae: She Comes First editorial series here.

Featured Image: Ponomariova_Maria / Getty Images

Let's make things inbox official! Sign up for the xoNecole newsletter for daily love, wellness, career, and exclusive content delivered straight to your inbox.
Congrats are in order for Adrienne Bailon Houghton and her husband Israel Houghton! The couple made the exciting announcement that they are now parents to a newborn baby via surrogate. The news was shared on Instagram with a black and white photo of the couple and their son Ever James Houghton. The caption on the post was equally adorable as the photo as they gushed over their baby boy.
Featured image by Jamie McCarthy/Getty Images for Elton John AIDS Foundation
Judge Faith Jenkins shared some exciting news with her social media followers. She and her husband Kenny Lattimore are expecting their first child together. The TV host/attorney made the announcement alongside Kenny and their adorable dog who wore a sign that read "Mom & Dad are getting me a human."
"Season two of my crime show isn't the only thing I've been producing this summer! 😉," Judge Faith said with a wink emoji. "My husband, @kennylattimore, and I are SO excited to share that we are expecting our greatest blessing yet!"
"Kenny as I've told you countless times over the last three years I simply could not ask for a better husband and life partner and – now - father to our soon-to-be little human!! ❤️"
She added, "We cannot begin to express how thrilled we are for this next chapter in our lives! Cooper is still warming up to the news 🤣"
Judge Faith and Kenny got married on March 8, 2020, at the First Congressional Church of Los Angeles after getting engaged six months after meeting in 2019. The couple opened up about their relationship during an appearance on Tamron Hall.
How Judge Faith Jenkins and Kenny Lattimore Met
The couple met during a blind lunch date that a mutual friend set up. "Before I met Kenny, six months prior to us meeting, I'd actually gone through a breakup," the judge said. "And I just decided in that time period in my life, having been single and out in the dating streets for a minute in New York and L.A. that I wanted to be clear about what I wanted and I had to get real with myself. So, I listed out everything and it ended up being a list of 50."
"I joke with Kenny because I tell him he was 49 out of those 50 things because he is not 6'2'' but that was on my list. I was happy to meet someone who just really exceeded my expectations."
How Kenny Lattimore Proposed to Judge Faith Jenkins
As far as the proposal, Kenny surprised the legal commentator by setting up a photo shoot in New York City, which is one of her favorite places. The "For You" singer had a friend fly in to meet them after the photo shoot to help Kenny create the special moment. "He walks up, he's like oh my God, you guys are so beautiful and I see couples all the time and I want to encourage them and pray for you guys," he said. Faith didn't know who the man was and was skeptical. However, they formed a prayer circle in the middle of Central Park and Kenny's friend began praying for them.
"After the prayer circle, he reached in his pocket and he pulls out the box that has the ring in it and he hands it to me but it was so unexpected because I was just looking in her eyes and I was like gosh, it's such a perfect day today. If only I had the ring. So he pulls out that box he gives it to me and the rest is history."
The couple got married five days before the COVID-19 pandemic shut the world down. This is Faith's first child and Kenny's second. The singer shares a son with fellow artist Chanté Moore.
Kenny Lattimore & Judge Faith Jenkins On Getting Married Days Before the World Shut Down
Let's make things inbox official! Sign up for the xoNecole newsletter for daily love, wellness, career, and exclusive content delivered straight to your inbox.
Featured image by Leon Bennett/Getty Images
It is like witnessing magic when you watch an athlete do what they do best. To see a mere human soar in the air over to the other side of a bar or to witness someone run at a speed quicker than a human thought. A basketball player defying gravity just to get a ball into a hoop. A ballerina turning their body into a top, spinning and spinning without fatigue.
We all know the athletes whose talents have defied logic. The Jordans. The Woods. The Copelands. However, there is probably no person who has achieved alchemy in their career quite like Serena Williams.
For decades we've watched the magnetic chemistry Williams has fostered between her racket and the ball. The thunderous force in which she served. Her muscular physique that looks as if it's been sculpted in the image of a Goddess.
In the recent issue ofVogueshe speaks on her plans to retire or "evolve," as Williams put it, from tennis, the sport she's dominated since the 90s. In the article, Williams is frank about the mixed emotions she's experiencing with this decision she's made. "There is no happiness in this topic for me," Williams says. "I know it's not the usual thing to say, but I feel a great deal of pain." She continues: It's the hardest thing that I could ever imagine. I hate it. I hate that I have to be at this crossroads. I keep saying to myself, I wish it could be easy for me, but it's not. I'm torn: I don't want it to be over, but at the same time I'm ready for what's next."
It seems like Williams' anxiety over leaving can only be rivaled by fans' sorrow of having to say goodbye to the sports legend's career.
To have watched Williams play tennis since she was just a child was a chance to watch as someone took the gift they were born with and turned it into something otherworldly. From the moment she stepped into our collective imaginations donning a head full of beads that adorned her braids at just 14 years old in 1995, she was bringing all of us Black girls along with her.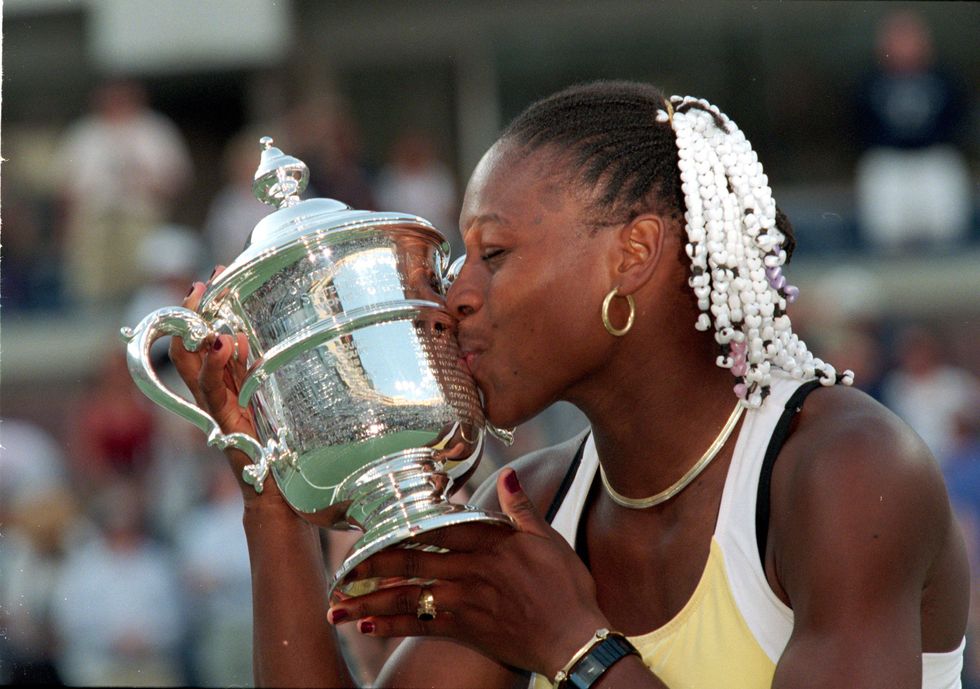 Serena Williams 11 Sep 1999: American tennis player Serena Williams kisses her trophy after winning a match (against Martina Hingis of Switzerland) during the US Open at the USTA National Tennis Courts in Flushing Meadows, New YorkCredit: Jamie Squire /Allsport
There were people perplexed that a Black girl and her equally talented sister hailed from Compton, California — a place that had become synonymous with violence and poverty. Their story had become one about defying the odds, as if not becoming a casualty of the various societal ills was an accomplishment and not an indictment of the system they had to work against in the first place.
This would become a recurring problem throughout her career. From dog whistle comments from the "competitors" she frequently bested like Maria Sharapova, to the media and sports officials, Williams was never able to be just an athlete. She was also forced by the many instances of misogyny and racism in her career to embrace a life of activism.
It's difficult to surmise how much she's impacted a new generation of athletes like Naomi Osaka, Sloane Stephens, and many more Black girls who see themselves in Williams. We are her legacy of Black woman magic and excellence. Whatever the future holds for her is yet to be determined, but if it's anything like her tennis career, it will be iconic.
Let's make things inbox official! Sign up for the xoNecole newsletter for daily love, wellness, career, and exclusive content delivered straight to your inbox.
Featured Image: Getty Images

It's been weeks since WNBA star and two-time Olympic gold medalist Brittney Griner was arrested in Russia, allegedly for having vape cartridges that contained hash oil (cannabis oil). But the world only found out recently when Russian media released her alleged mugshot. Brittney, one of the world's best basketball players who's been playing for Russia's UMMC Ekaterinburg team during the WNBA off-season since 2015, faces a prison sentence of up to 10 years, if convicted.
Because WNBA salaries can be as low as $60,000 and max out at $228,000 (as compared to the astronomical millions top NBA players can make), it's common practice for WNBA players to go abroad in the off-season, where they can make more than $1 million. When Russia invaded Ukraine, WNBA players began evacuating both countries, but Griner was arrested at Moscow's airport.
So, why is Brittney's arrest a major concern? With Russia being at war with Ukraine, it's reasonable to fear people fear that the two-time Olympic medalist's arrest and imprisonment is a calculated move against the U.S. and a way to use her as a pawn in the war.
Featured image by Michael Hickey/Getty Images
Originally published on March 10, 202
Health and wellness have always been trending topics on social media. Our social media feeds are oversaturated with resources for balancing our hormones, improving our reproductive health, and prioritizing our mental health. Even the concept of spirituality has become a wellness trend. We focus on questions like, "What does it mean to be spiritually healthy?" But for the purpose of this article, let's focus on gut health.
Gut health has been a highlighted conversation in the wellness industry. More and more people are recognizing how our gut health plays a role and affects our bodily systems. I myself, also have become more aware of how to heal my gut with food and probiotics. And thanks to TikTok's newest wellness trend,internal showers, we now have the latest at-home remedy to make "going number two" a whole lot easier.
What Is an Internal Shower?
The concept of an internal shower is a holistic approach that many TikTok users have been swearing by to help alleviate constipation. And how do you make one? An internal shower is a concoction of two tablespoons of chia seeds, the juice of half of a lemon, and a cup of water which is consumed and said to help relieve constipation and Irritable Bowel Syndrome (IBS). But the key is the mixture has to sit for ten minutes to turn into a gel-like substance prior to consumption for it to work. So, what happens next? You let your body do its thing and be prepared.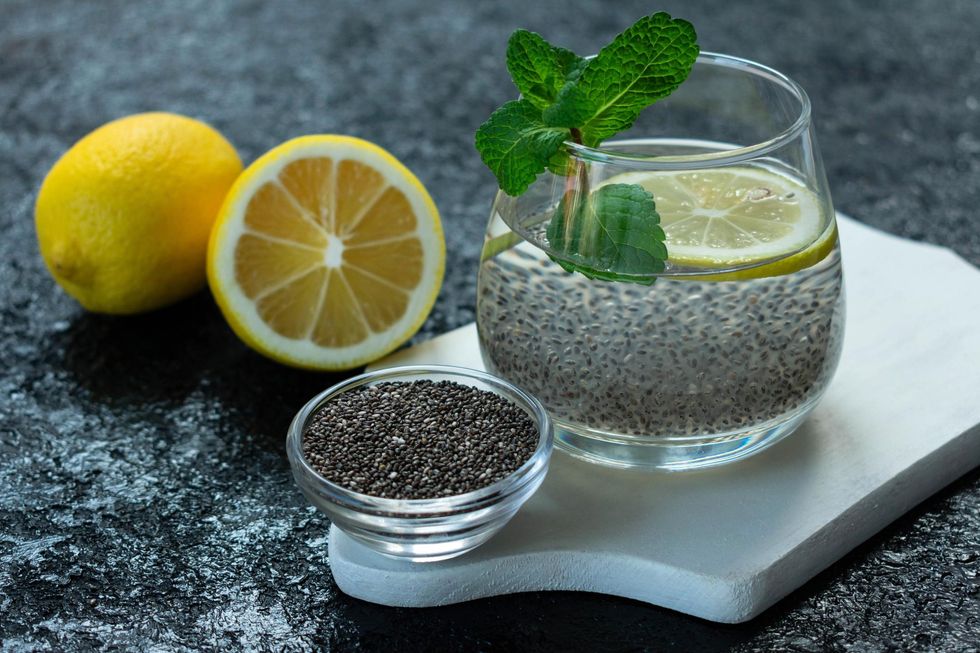 Olivka888/Getty Images
Where Did It Come From and How Does It Work?
​It has been said that board-certified chiropractor and celebrity nutritionist Dr. Daryl Gioffre is named the creator of the internal shower drink. He promotes it as a "constipation reliever shot" that has helped him with his owndigestive and gut health issues. OneTikTok user, (@_mimzilla) has said the origin of the drink isn't a trend, it's an ancient Aztec and Mayan tradition known as "agua de chia" (chia water). According toCosmopolitan, the link between chia seeds and constipation is that fiber is needed to bulk out the stool, and water helps soften it. Now you know why they say drinking a lot of water helps you go to the bathroom. As long as there is enough water and fiber in your system, it is easier to pass bowels with less pain and constipation.
Is Drinking the Internal Shower Drink Good for You?
The short answer is yes and the long answer is no.Chia seeds are considered a superfood packed with protein and antioxidants. Chia seeds also contain about half the daily fiber our body needs (25 grams per day). So, two tablespoons of chia seeds is an adequate amount of fiber to meet your daily intake. But while we are told our bodies need fiber, too much fiber can cause abdominal pain, bloating, cramping, and gas. If we consume more than the daily amount of fiber required, it can lead to diarrhea or constipation.
The internal shower drink is generally safe but not recommended to be a part of one's daily routine. I was once told by a gastroenterologist that we should be having bowel movements at least three times a week and anything over that is excessive. You have to listen to your body, what is normal for someone else, may not be normal for your body. It is highly recommended by most doctors, nutritionists, registered dietitians, and wellness practitioners to eat a regular balanced diet that includes fruits, vegetables, and high-fiber foods like oatmeal, whole grain bread, or avocado.
With over 150 million views on TikTok, the internal shower has become a popular wellness trend to try. I am not sure if I would try the internal shower drink. The issue with health and wellness trends is that they are quick fixes and oftentimes can be addictive. It is not always sustainable and can cause more damage than good. And sometimes the damage done to the body can take several months or years to reverse or repair. To be honest, I am going through this right now, and healing the body is a very slow yet frustrating process. But nonetheless, natural home remedies do work and can be incorporated into your daily routine depending on what they are.
Now that you know what TikTok users have been raving about, would you try an internal shower?
Featured image by Kateryna Onyshchuk/Getty Images