Recently, while having a conversation with a friend who is currently going through the PTSD of a divorce, one of the things that they kept saying over and over is, "I'm just so disappointed in myself." If you've read my content, even a little bit, then you know that I am pretty word-specific and so I gave that statement — one that is pretty common when you really stop to think about it — quite a bit of thought. Although I think a lot of people feel that being disappointed in themselves (or someone else) means that they feel bad about something that they said or done, the word actually means "to fail to fulfill the expectations or wishes of" and "to defeat the fulfillment of (hopes, plans, etc.); thwart; frustrate."
And while, on the surface, that might seem like I'm splitting hairs, when you factor in the lead quote, I'm actually…not. Sometimes, no matter how much you tried to make something work, it doesn't and that shouldn't result in you beating up yourself; it simply means you should learn how to manage your expectations better. For instance, when it comes to a relationship that's gone sour, if you really did give your all (be honest with yourself on that, by the way) and you expected things to last long-term, you've still got to factor in things like another person's free will, changes of circumstance and you possibly not being on the same page as your partner was/is.
See what I mean? While I'm not the person who lives by the motto "expect nothing and you'll never be disappointed" (because it sounds like a jaded or bitter person made that up), I am someone who thinks that we should not get so frustrated with ourselves — again, especially to the point that we beat ourselves up — when what we hoped for didn't exactly pan out. Instead, I think there are other far more productive and beneficial ways to utilize that energy. Here are seven of them.
1. Do Some Journaling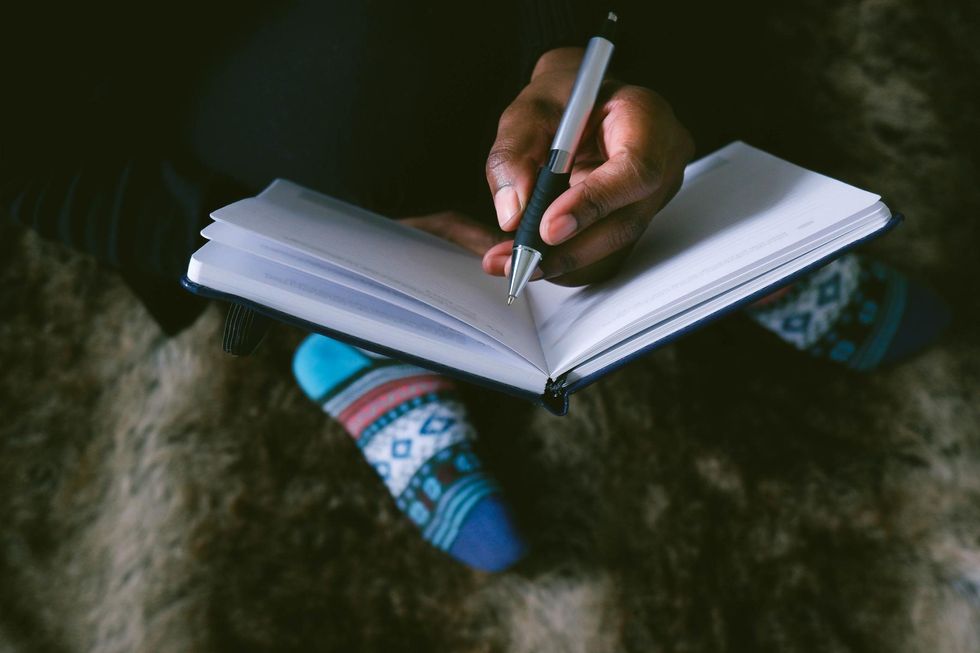 As a writer, I'm sure it's no shock to you that I'm a pretty big fan of journaling. Aside from the fact that it's a great way to plan out goals and improve your writing skills, journaling is proven to also help you to de-stress, to get your thoughts together and to track your progress. That said, sometimes, when we're disappointed about something and all we do is keep going over it again and again in our minds, it can be hard to make sense of the internal chaos — it can be challenging to separate feelings from facts and what you should "own" and what you shouldn't. That's why I definitely recommend that you do some journaling when you're in this kind of headspace because it can help you to vent and then see things from a much clearer perspective after you do.
Chile, there have been many things that I've been disappointed about yet because I put the date (and even the time) on my entries, it has been freeing like a mug to look back every few months to see how all things indeed worked together for the good. So yeah, journal about what has truly disappointed you before the year concludes. It's never (ever) for naught.
2. Have the "Hard" Conversations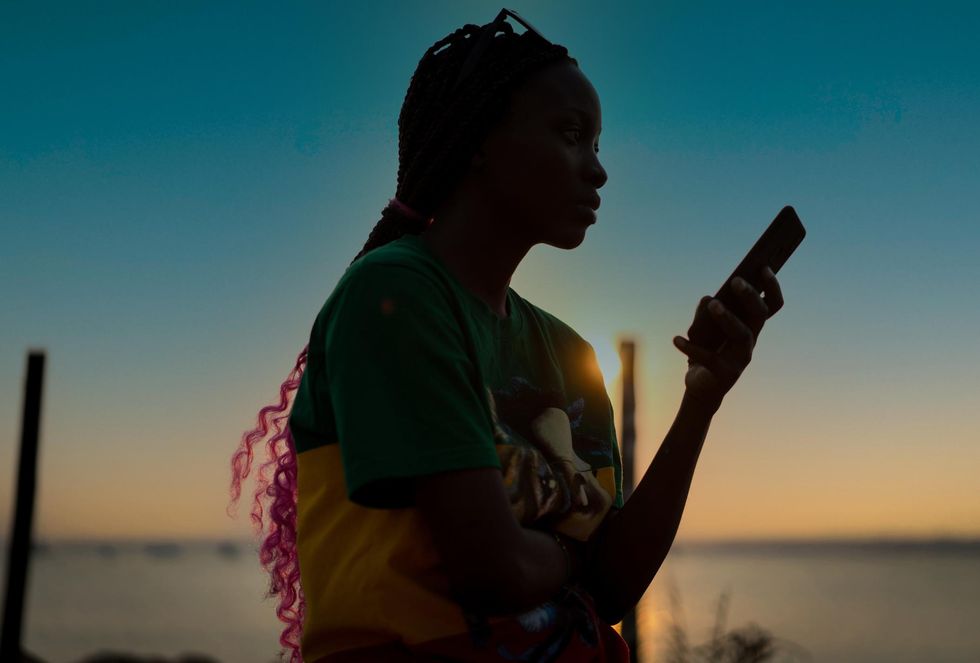 Anyone who knows me (and only I would know that; check out "5 Signs You Really Know A Person") knows that ghosting is totally not my style. If anything, I'm someone who is going to communicate ad nauseam, just to make sure that folks are crystal clear about where I am coming from. For me, that means that whether we decide to work things out — personally or professionally — or we choose to part ways, you know exactly where I'm coming from and how I feel about the ultimate decision that has been made. This resolves confusion and where confusion is lacking, peace can dwell.
Whether it's from counseling, observation or personal experience, I honestly think that, 8 times outta 10, ghosting either comes out of fear or cowardice. Because it's literally running from a situation and not dealing with it. To me, having the hard conversations is actually what makes it easier to feel like something is worth fighting for or that it's worth releasing because all of the feelings, on both sides, are out on the table.
For instance, I know someone who has a pretty dysfunctional relationship with her mother. Yet she vents to everyone-and-their-grandma but her mom. As a direct result, over the years, nothing has really changed. She keeps telling me how disappointed she is yet she's in her 30s at this point and so I'm like, "You claim your mom is not meeting your expectations while assuming she should know what they are. That's your bad." Holding someone captive because of what you trumped up in your mind without giving them a heads up is no one's fault but your own. If you're that shook up — don't run. Deal. Ghosting doesn't accomplish that. Discussing does.
3. Forgive Yourself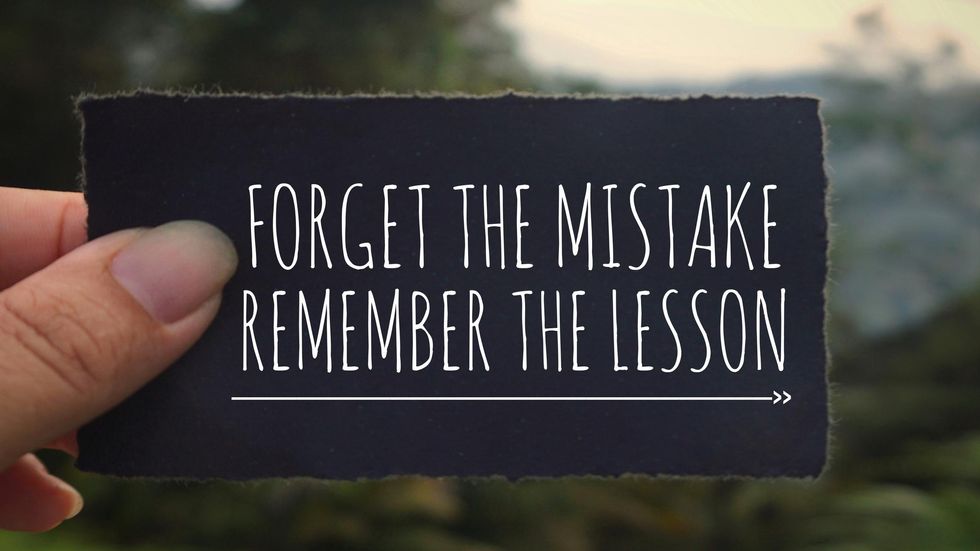 I don't know what it is about this year, in particular, that caused so many people to either tweet or state that a definition of self-care is to forgive someone and never speak to them again. Every time that statement crosses my path, all I think is, "Gee, I hope folks can handle being forgiven in the way that they choose to forgive others." Because, if you've got even an ounce of humility in you, you know that the time is going to come, sooner than later, when you're going to need someone to forgive you — and the way you forgive has an uncanny way of boomeranging.
Besides, the more you learn about the purpose and benefits of forgiving other people (check out "Are You A 'Bad Forgiver'? Read This And See."), the more you want to do it. Trust me. You know, folks who claim that they don't believe in forgiving other people? Oftentimes, whether they realize it or not, they are putting out on front street, just how bad they are at extended mercy and grace — not to others but to themselves. And when you're so hard on you that you can't pardon yourself for when you did what humans do — mess up — that's a pretty miserable way to live; not just when it comes to you dealing with yourself but the people who try and walk out life with you as well. Self-forgiveness is necessary in this life. Be intentional as possible about doing it.
4. Come Up with a Personal Expectations-Related Mission Statement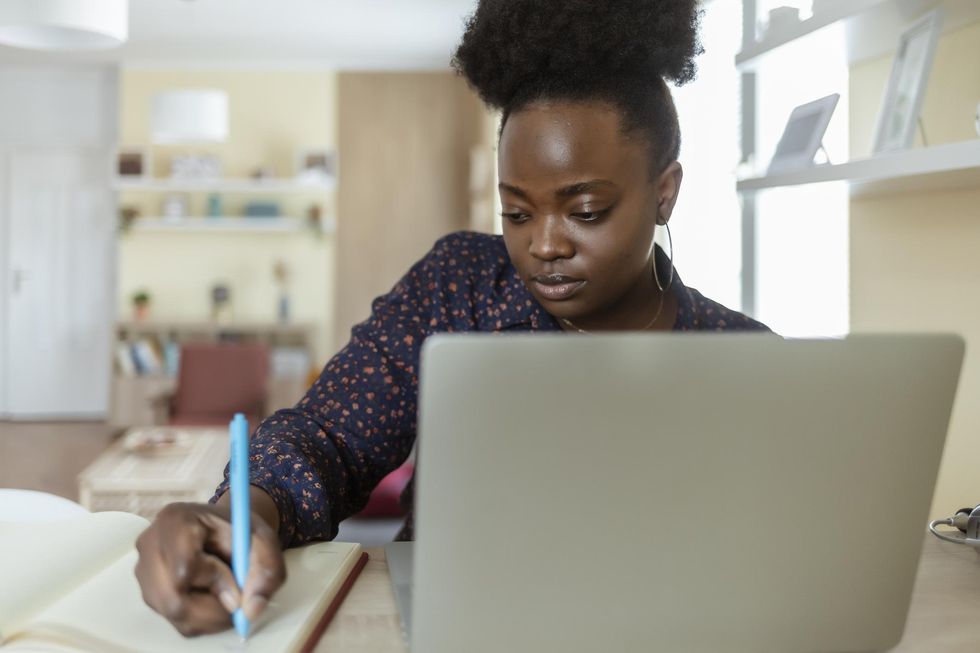 Honey, I'm all about creating a mission statement. Again, because I'm a writer, I'm pretty sure that some of the reason is a little bit of an occupational hazard. At the same time, though, I like them because they remind me to be concise when it comes to figuring out an overall mission that I want to accomplish. And so, if you're someone who is either trying to shake a particular disappointment or protect yourself from becoming more disappointed in the future, it can never hurt to jot down a paragraph or two about what you will commit to, moving forward, when it comes to effectively managing your expectations — what you will do to make sure that they are realistic, how much you will invest into trying to manifest them and how you will evoke self-care if things don't go as planned.
Because here's the thing — while there are many factors that play a direct role into expectations, wishes and hopes coming to be, when they don't go as you wish, with a mission statement in tow, you actually have more control over your disappointment than you might actually think. Because the more realistic you are, the more you're aware that you become of the fact that you can only control what you can control and the more you're willing to love on yourself when you did your best and things went another way, the easier it will be to move on from said disappointment…so that you can thrive in another direction.
5. Don't Wait until 1/1. (That's a Joke.)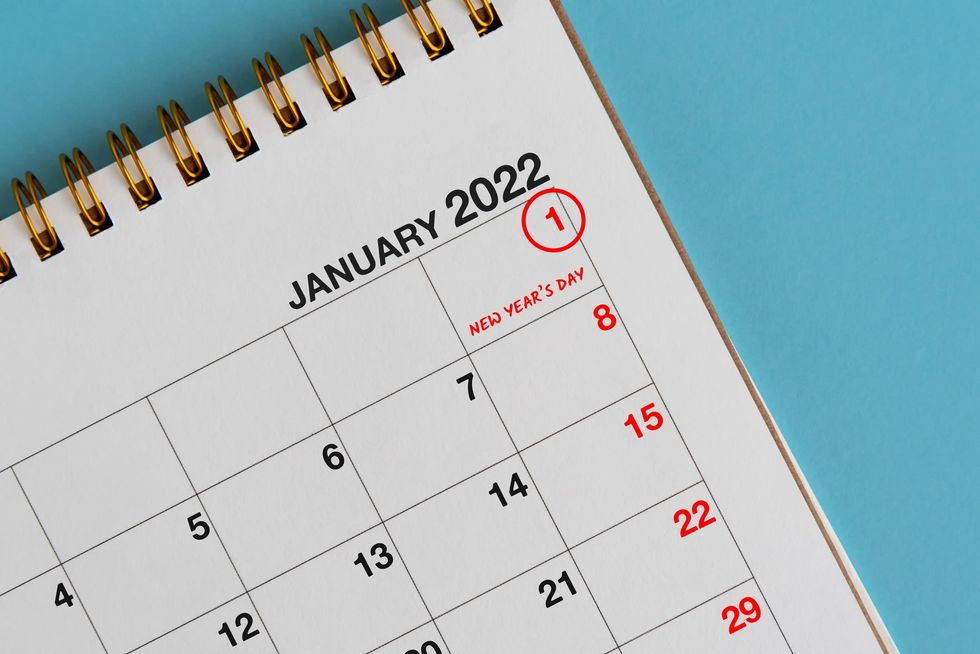 You wanna know an underrated sign of being a procrastinator? It's when you tell yourself that next year is when you'll make some real changes in your life? Lawd, let's all release the shackles of honestly thinking that something special happens between 12/31 and 1/1 because, really, when it's all said and done, it's just another day. And since you still have a few weeks before the New Year even starts, there's no time like the present to get a leg up on doing some things that will totally change the narrative, come this time next year.
It's actually with this point in mind that I penned, "Why Fall Is The Perfect Time To Prep For The New Year" for the site last year. Oh, and while you're at it, check out "12 Monthly Self-Love Themes That Will Make This Your Best Year Yet." Devoting the rest of this year to reflecting on all of the wishes unfulfilled that you had really doesn't make a lot of sense. However, shifting that time, effort and energy into putting some short- and long-term goals together and then working on them, right here and right now? That is the kind of mentality that will put disappointment right in its place — far, far away from you.
6. Remember That You've Still Got Time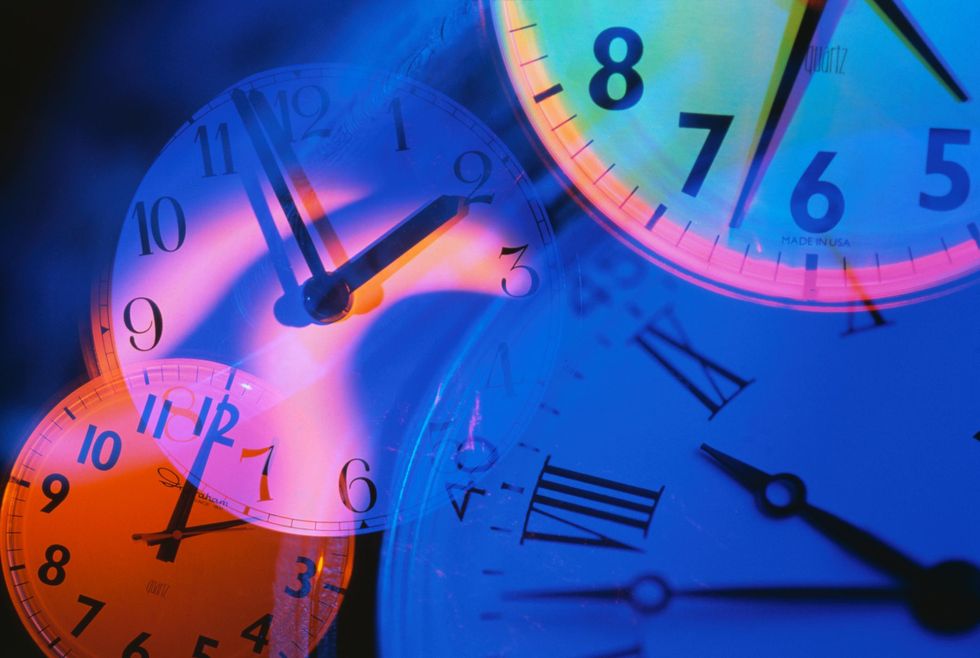 As a doula, it's not uncommon for a woman in her early 30s to talk to me about her ticking clock (check out "Tick Tock: How To Get Over The Fear Of Your Biological Clock"). Whenever that happens, something that I say, pretty much every time, is I've had several clients, well into their late 40s, who've had healthy and happy babies. My point? Disappointment will have you so distraught that you'll think that there is nothing past the moment that you're in when that couldn't be further from the truth.
So long as you've got breath in your body, you've got time. Time to start that business. Time to get into your dream relationship or job. Time to make that house or car purchase. Time to be a better friend to the current or even the next people who come into your life. Time to get into shape. Time to conceive a child. Time to love yourself more and better. A great remedy for disappointment is honoring your time by not wallowing in it. This is something else that I can personally attest to.
7. Focus on the Good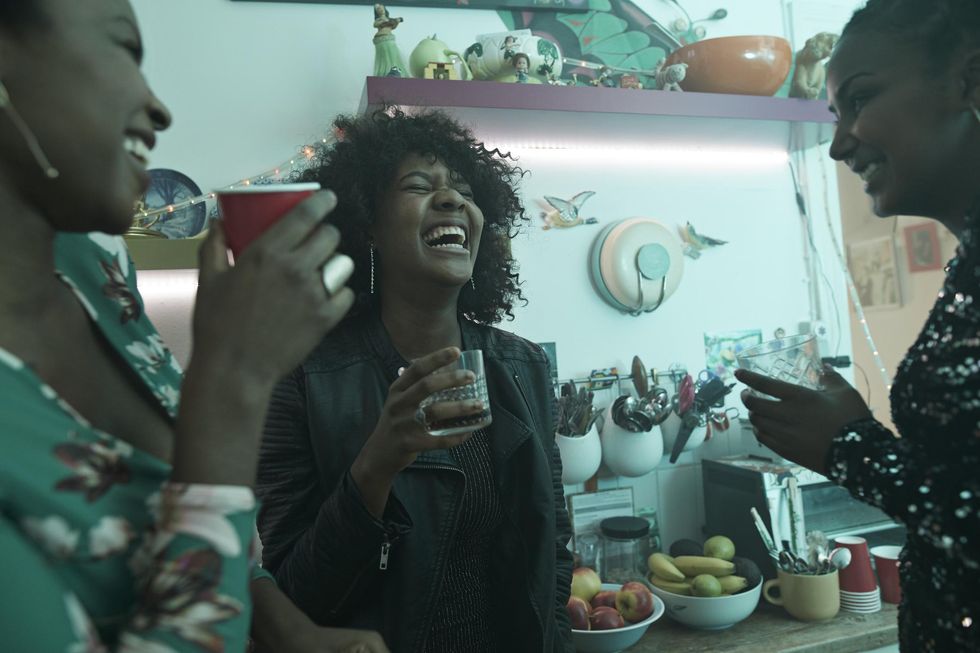 Author Mike Hawkins once said, "You don't get results by focusing on results. You get results by focusing on the actions that produce results." Author Napoleon Hill once said, "Focus on the possibilities for success, not the potential for failure." Another wise person once said, "When you're focused on the good, the good gets better." Focus on your actions. Focus on your possibilities. Focus on the good. Disappointment doesn't want you to do any of this yet when you push through its barriers and choose to do these things instead, you'll be absolutely amazed by how bigger your world is than your disappointment, how much you've got to be thankful for beyond your disappointment and how much you can still accomplish outside of your disappointment.
Disappointments? They come and go to us all. Yet the more intentional you are about giving it less time and energy (than usual), the easier it will be to get through and past them. You and your time are so precious so, sis, please make sure that you do.
Join our xoTribe, an exclusive community dedicated to YOU and your stories and all things xoNecole. Be a part of a growing community of women from all over the world who come together to uplift, inspire, and inform each other on all things related to the glow up.
Featured image by Getty Images
Keep reading...
Show less
Ready for the New Moon in Sagittarius on Saturday, December 4th? Ready or not, it's coming for you. Fortunately, it promises to bring good tidings and positive blessings just in time for the holidays! This month's New Moon features a total solar eclipse. Solar eclipses are extremely significant events that usher in new beginnings and bright new opportunities.
Inevitably, when something new begins, something old comes to an end. Whatever is outdated or that no longer holds a relevant place in your life is likely to be eclipsed out of it during this time. Whatever leaves your life now wasn't intended to remain with you on the next stage of your journey. Let it go with grace, gratitude and peace of mind.
The energy of an eclipse doesn't exist only on the actual day of it. Instead look at the 5 days preceding and 5 days following the date of this eclipse for any significant messages, occurrences or epiphanies. You may experience something as significant as moving to a new place, or something as small as a casual remark from a family member or friend that delivers a startling wake-up call to you.
As significant or as insignificant as these experiences may seem, they are likely to have a long-standing impact on the way you approach your life moving forward.
Examples of experiences that eclipses often bring are:
News of a birth
Marriage
A proposal
A new job opportunity
The establishing of a business
A home purchase
A breakup
The loss of a friend, family member or pet
Graduation
Divorce
Surgery
Sudden epiphanies
Eclipses mark a major turning point in your life and this one is no different. The Sagitarius energy of this eclipse amplifies and expands this energy even further, providing you with the courage and boldness to go after what you need in your life at this time and the bravery and decisiveness to let go of what's no longer relevant, despite how painful and reluctant you would normally be.
Eclipses provide the energy, drive and reassurance for you to accomplish things you normally would avoid or be too timid to pursue. They also bring experiences that speed up decisions that the universe knows are inevitable for you - whether you choose to remain in denial about that or not!
Eclipses often bring the blatant and inescapable truth about a person, place or situation right to your doorstep and psyche. Trust any hunches or gut feelings that you receive during this time, even if they come in the form of something as insignificant as gossip or social media posts, the messages that you receive and that resonate with you on or near an eclipse are extremely significant.
Lean into them.
The energy of the New Moon in Sagittarius is optimistic and positive. Because it features a solar eclipse, this energy will feel especially strong and hopeful. Carry or meditate with an empowering sacral chakra crystal like Carnelian or an intuition-strengthening crystal like Amethyst in order to make the most of this powerful energy.
If you are a Sagittarius or Gemini, you will be particularly affected by this eclipse. This especially true for those born between November 30th and December 9th, and between May 31st and June 9th.
Here's what you can expect for your sign amid the Total Solar Eclipse in Sagittarius: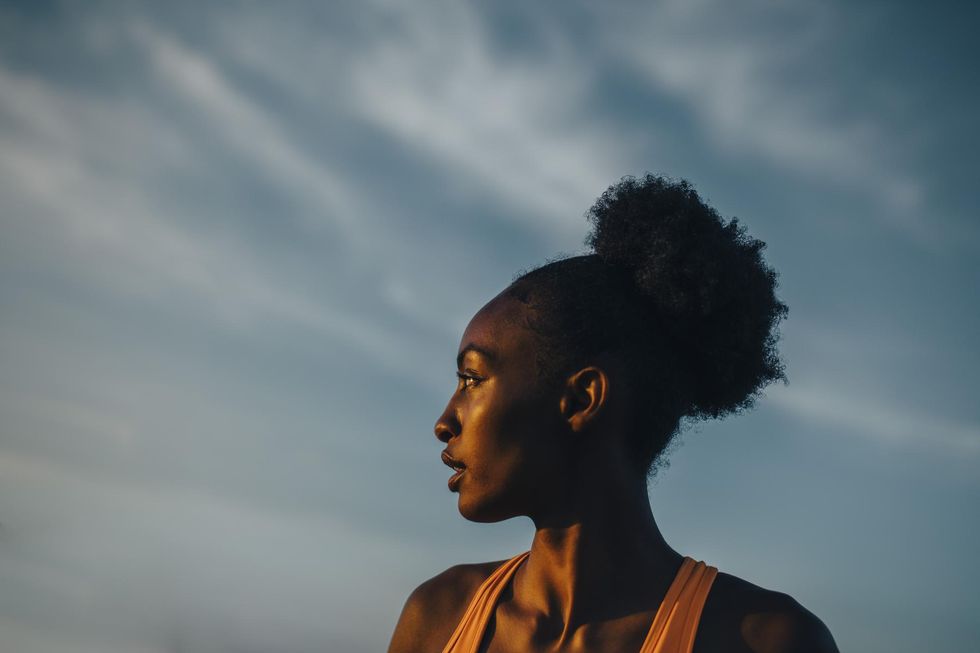 Getty Images
1. Aries
Expect new beginnings and gut instincts as it relates to the way you approach child-rearing, dating, flirtation, sexual and/or creative expression. You are likely to receive insights about your kids and potential lovers, Aries.
2. Taurus
Don't be surprised if you receive revelations about your health or your job during this time, Taurus. Picking up a new lifestyle habit, exercise routine or diet is favored by this eclipse.
3. Gemini
Are you looking to take things to the next level in your relationship, Gemini? You may find yourself falling in love. Expect to begin a significant new chapter in your relationships and with those closest to you.
4. Cancer
Your intuition will be at its height during this Moon phase, Cancer. Lean into any hunches or gut instincts that you experience during this time. Sexual experiences are likely to be deeply transformative under this influence. You may unexpectedly receive money and/or find yourself reflecting on mortality a bit more than usual. Take time with yourself and allow yourself to experience the full range of emotions that you are inevitably going to experience.
5. Leo
It's time to expand those horizons, Leo! Lean into your natural-born courage and boldness. Whether you're contemplating a trip to an exotic locale, registering for college courses, or exploring a discipline you don't know much about, don't be surprised if you decide to finally check something off of that bucket list this week!
6. Virgo
New job opportunities are highlighted for you during this period, Virgo! You may finally receive that job offer or promotion, otherwise you'll decide that the career you're in actually isn't the one for you after all. Check in on a father figure of your life during this time.
7. Libra
Any revelation that you receive about a friend should be taken seriously now, Libra. If you've wanted to know who, when all is said and done, will have your back until the very end, you are likely to find out for sure now.
8. Scorpio
The time you spend alone, in contemplation or in meditation, will be especially valuable to you during this time, Scorpio. Take time to journal, introspect, or to enjoy a spiritual bath. The insights you receive now, while alone, will be significant and potentially life-altering.
9. Sagittarius
You are in the spotlight during this eclipse, Sagittarius! You are likely to make a significant decision or to experience a strong epiphany ushering you in a brand new direction regarding the way you approach and experience your life. Any conservatism that may have hindered you from pursuing your truest dreams and deepest desires will be unveiled and released now.
10. Capricorn
Your focus will be on fine-tuning the elements of your life that make you feel valued and secure - or the complete opposite of that! Whatever is getting in the way of you being your best self at work or in relationships are likely to feel intolerable to you right now, Capricorn. This eclipse will give you the decisiveness and drive to go after what builds your confidence, or to remove the aspects of your life that tear down your self-esteem.
11. Aquarius
Expect significant news and messages via text, social media or from siblings and neighbors. Take whatever information you receive now seriously, Aquarius.
12. Pisces
Your family arrangement or living space is likely to be spruced up or changed altogether, Pisces. Home purchases, signing a new lease, a new roommate or a new addition to your family are highlighted during this eclipse.
Here's to bold moves and fresh new beginnings this December!
Featured image by Getty Images
Keep reading...
Show less
I didn't want to say that I was having bad luck. That's not something I'd ever want to speak into existence over my life. But I will say something wasn't right. I had a few coins stacked in my purse from a one-time project as well as from an ongoing one. Then I received emails from not one but two publications within days apart asking me if I'd like to contribute a few articles every week. Opportunities and money were flowing in. If you follow the law of attraction, you'd say I was vibrating on a high frequency.
What exactly is this vibration, though? Well, according to Chopra.com, "a vibration is a state of being, the atmosphere or the energetic quality of a person, place, thought or thing." Our vibration can affect everything that happens arounds us or to us. It may sound all "woo-woo" and new-agey but we often talk about manifestation or karma or a particular person giving off bad vibes and we do everything in our power to avoid them. Likewise, it could be a person having a good vibe and we want to constantly be in their presence. It's all energy and our intuition picks up on it.
Whether you're vibrating at a high or low frequency depends on the physical and emotional feelings that you're experiencing. Low frequencies are often associated with jealousy, resentment, anxiety, desperation, unfulfillment, confusion, extreme fatigue and unforgiveness. High frequencies are associated with joy, happiness, love, self-awareness, self-discipline, self-love, inspiration and constant gratitude.
We're never 100% on either end of the spectrum and we can shift from one end to the other. Sometimes that can be rather quick. I switched environments shortly after I secured the bag and those gigs. But apparently my bag had a hole in it because my money evaporated and I hadn't even bought anything! The business owner with the ongoing project didn't need my services anymore. There was no issue; she just didn't have any upcoming events that required marketing collateral. Any subsequent projects I got came with drama. And the two publications? Well, I can't say it was my best writing. I'll just say I wrote something. Eventually, I stopped writing altogether. The inspiration simply wasn't there. That high frequency quickly short-circuited.
I have a horrible habit of adapting to my surroundings and a lot of times it's subconsciously. It's my automatic mechanism for survival, fitting in or blending in. Not only did I shift my mood and personality, but I also assumed the frequencies of those around me. My peace was replaced with worry and chaos. My joy became despair. My optimism turned to helplessness. I felt stuck with no signs of progress. And when I looked in the mirror, I no longer knew who was staring back at me.
I didn't rebound until I changed my environment again. Once that happened, money and opportunities quickly found their way back to me.
Ironically, one of the ways Chopra.com says you can raise your frequency is to surround yourself with uplifting people who speak positivity, not "I'm broke" or "I can't" or always seem to find something wrong. You also want to be in the company of those who believe in you and make you feel better about yourself. If you're around individuals who constantly create unnecessary drama, doubt your abilities, demean you or speak death over your goals and dreams, it definitely takes a toll on your mental state and it becomes inevitable that you'll begin to vibrate at a lower frequency.
Granted, moving on is a huge, costly step and trying to walk away from relationships may prove to be difficult, especially if they were long-term. But it's important to note that those people will naturally fall off anyway as you seek to raise your vibrations. Nevertheless, here are five quick ways to increase your frequency today.
Express gratitude. 
Chopra.com says this is the easiest way to amp up your vibration. It's probably an activity we already do every day. If not, it's as simple as being thankful for life, that first sip of a chai latte or a stunning sunrise. You can either recite your gratitude aloud daily or record it in a gratitude journal.
Declutter inside and out.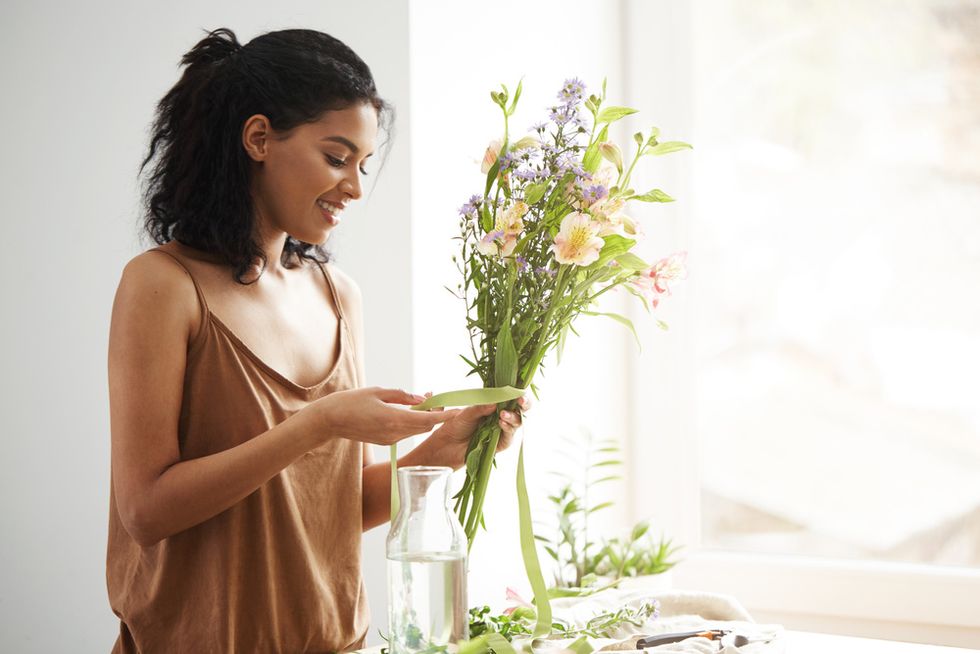 Shutterstock
Clutter is a telltale sign that you're operating on a low frequency. What's interesting about clutter is that a messy space of neglected mail, dusty knick-knacks, ish you don't use anymore, unwashed dishes and piles of dirty laundry strewn about is often indicative of something that's going on within. An article in Psychology Today refers to it as the "clutter effect", which further subjects our well-being to stress and life dissatisfaction. Cleaning up a bit can make us feel better therefore raising our vibrations.
Eat high-vibrational foods.
Food is "prana", or life force energy, unless we're eating a lot of "dead energy" in the form of meat, fried foods or processed foods. Prana-rich foods are high in nutrients and include raw and unprocessed items like locally-grown, organic fruits and vegetables. Consuming these foods brings our energy back into alignment.
Listen to high-vibrational music.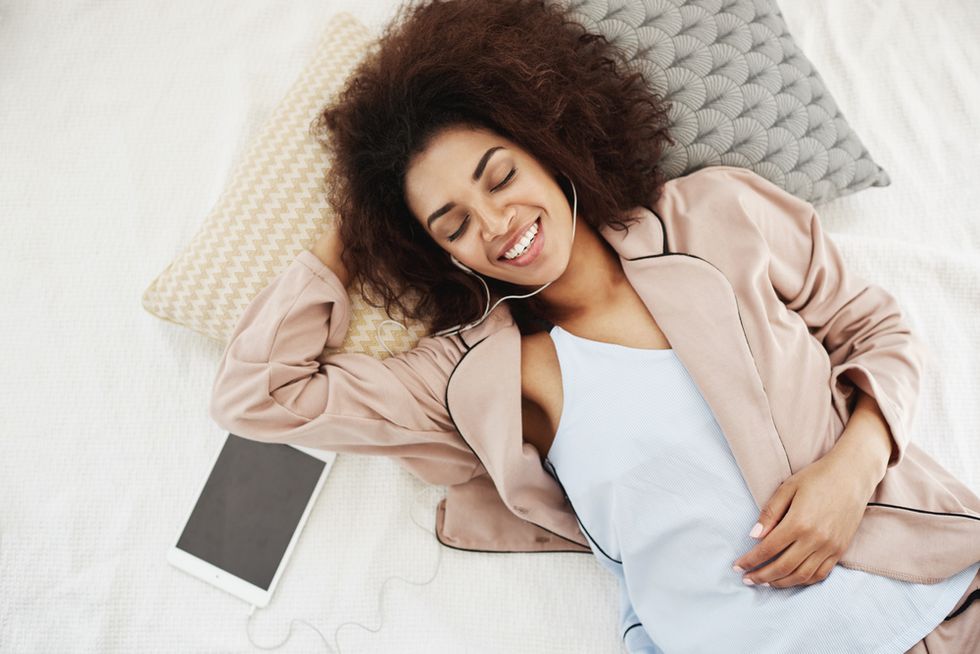 Shutterstock
Did you know that there are certain frequencies associated with music? And each hertz is supposed to heal a particular chakra and balance energy? You can do a quick search for Solfeggio frequencies wherever you stream your music or on YouTube. But I rotate between Lalah Delia's Energy Cleanse and Miracle Tones' Chakra Healing Frequencies Solfeggio playlists on Spotify.
Forgive.
Forgiveness is the answer to everything, huh? I added it to this list although it's not an act that everyone can immediately perform. But it's important to note that unforgiveness can hold us hostage on the wrong end of the frequency spectrum. In fact, blame is low energy according to the emotional guidance scale. The emotional guidance scale is a system that ranks 22 emotions according to an upward spiral (positive emotion) or downward spiral (negative). Blame ranks 15 on the downward side. If we can find it in ourselves to fully forgive, we can release ourselves of this lower energy.
While I'm a work-in-progress when it comes to forgiveness, I try to be aware of any negative thoughts and feelings that I may be harboring and actively do the work to clear them. But what I'm not going to do again is match energies because the last thing I want is to join forces with another outside influence only to block my own blessings and breakthroughs in the end.
Join our xoTribe, an exclusive community dedicated to YOU and your stories and all things xoNecole. Be a part of a growing community of women from all over the world who come together to uplift, inspire, and inform each other on all things related to the glow up.

Featured image by Shutterstock
Originally published on August 23, 2020
Keep reading...
Show less
Tinashe has learned a lot about her mental health while growing up in the entertainment industry. The singer/songwriter began dancing at four years old and had her first movie role at five years old.
From there, she went on to be in a girl group The Stunners and act in TV shows like Two and a Half Men. Now as an independent artist focusing solely on her music, the "All Hands on Deck" singer opened up about the struggles she faced in the industry.
The 28-year-old sat down with fellow singer Becky G on her Facebook Watch series Face to Face with Becky G to talk about the lack of support many artists get when it comes to their mental health.
Before becoming an independent artist, Tinashe was signed to a major label for seven years. And while she had much success, there were also a lot of hurdles that began to take a toll on her confidence due to her and the label having many creative differences.
"When you're working with a company and there's so many people that you have to please, you start to make these little tiny compromises here and there," she said. "And before you know it, it's too much and you've lost this sense of really who you are and what you want to do. I felt that in order to get that back, I needed to just do it on my own."
The "2 On" singer also hit back at people who say that celebs "signed up" for the pressures that come with fame.
"I feel like that's easy to say, but I do think that waters down the fact that people work really hard to be and maintain and stay in that spot, you know? I don't think to minimize anyone's experience or their mental health or anything like that because 'You signed up for it,' is ever really a totally valid excuse."
While she may have "signed up" for the career she has, she doesn't let the stress stop her from achieving her goals. Tinashe is a believer of manifestation and she believes that she manifested her blooming career even the bad things.
"I created this whole career for myself because I believed I was going to. I kept booking jobs. I kept finding ways to be in entertainment and I really manifested everything that I've made for my life. I also think I manifested the bad things in my life because at the end of the day, they taught me a lot of things. I've grown a lot. I've learned a lot from every experience I've had in my life," she said.
One of the things she's learned from those bad experiences was to always put herself first. "It's not worth it to make sacrifices for other people. I think I'm always somebody who's always kind of willing to put other people first sometimes and I think it's important to put yourself first," she said.
Featured image by Jason Kempin/Getty Images
Keep reading...
Show less
Now that the weather is finally starting to feel more like it should (being that it is officially fall 'n all), I thought it would be a stellar idea to share with you, not just some drinks that can help to take some of the chill out of your bones, but also ones that are great when it comes to relieving stress. Because, let's face it, even though autumn and winter can be some of the most exciting times of the year, when you factor in all of the activities on your plate, the family that you will be seeing, the money that you'll be spending and whatever else that you've got on your upcoming to-do list — whew, they can also trigger feelings of anxiety, restlessness and even low-key frustration, if you're not careful.
So, this week, do your mind, body and spirit a favor and treat yourself to one (or more) of the 10 drinks on this list that can help to soothe and de-stress you. Because, in just a minute, you'll see why they are such bomb ideas on every health-related level. (Where's your favorite mug at anyway, chile?)
1. Apple Cider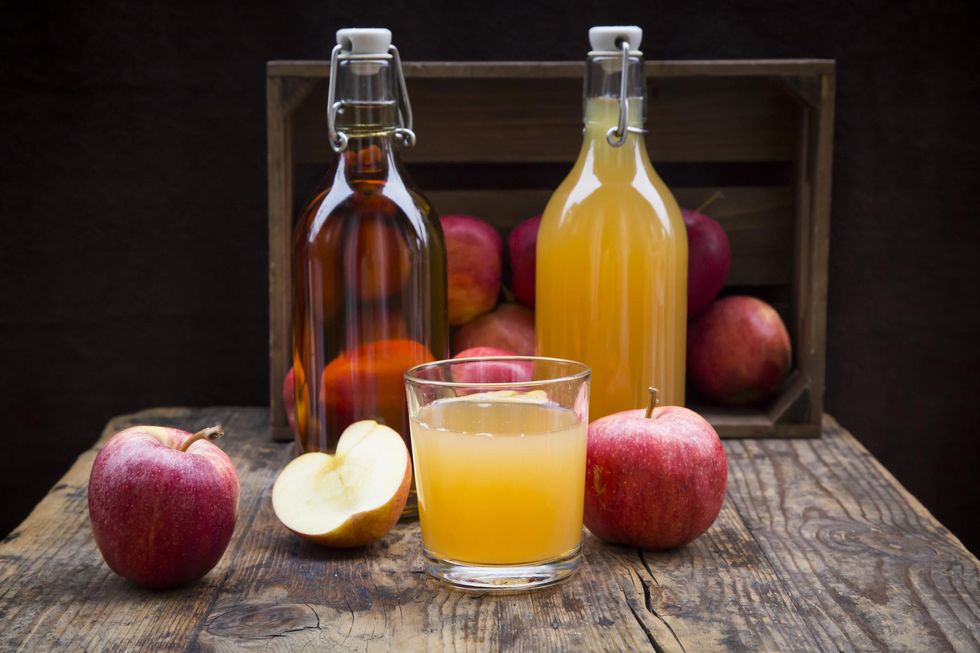 If there's a part of you that's always wondered what the difference is between apple cider and apple juice, cider is simply an apple drink that is totally unfiltered and unsweetened. This means that, at the end of the day, you are getting the benefits of apples in their purest form. Some of those benefits include the fact that they are a good source of fiber and Vitamin C, they can help to lower your diabetes risk and prevent cancer and they even contain compounds that fight cancer. As far as relieving stress goes, apples are good for you because the phosphorous and iron in them can help to reduce oxidative stress which, at the end of the day, is basically an imbalance of oxygen in your system. So yeah, if you want to calm your system down so that you can rest and relax easier, a warm cup of apple cider can easily do the trick.
Make Some: Homemade Apple Cider
2. Oat Straw Tea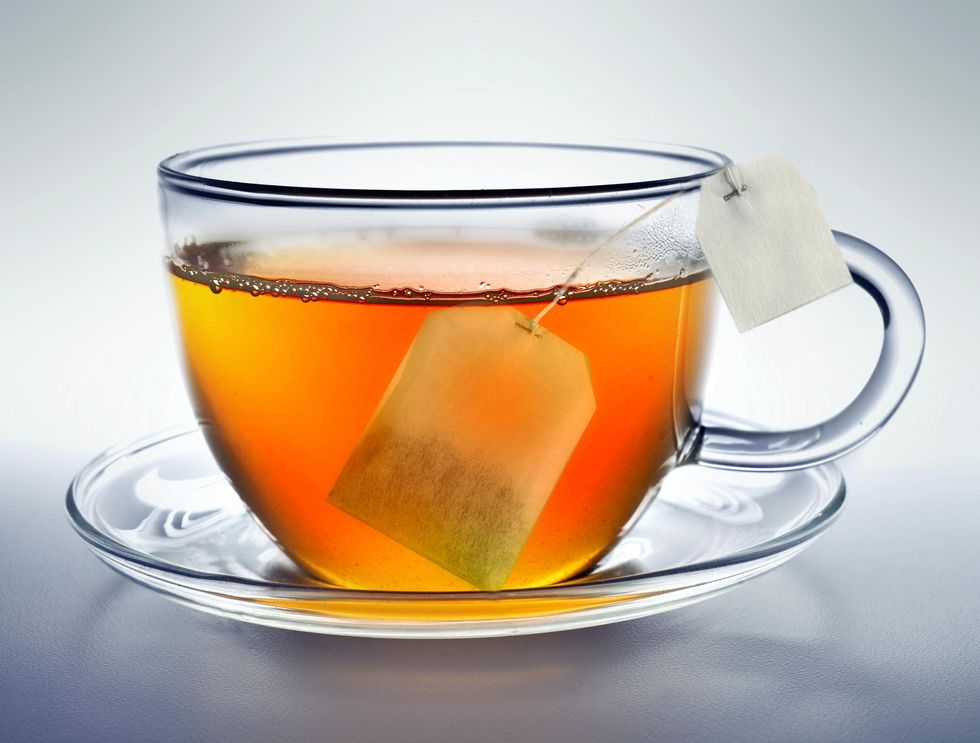 Whenever I do articles like this, I try and find things that aren't commonly mentioned. Personally, I think oat straw tea qualifies.
It's a tea that also goes by the name avena sativa and has a great reputation for being a mild relaxant as well as a sleep aid. Some other cool things about this particular tea is it has a reputation for helping women when it comes to strengthening our bones, stabilizing our blood sugar levels, soothing our nervous system, reducing depression-related symptoms and, some say that it can even help to boost our libido. A part of the reason why it can pull all of this off is because it's rich in B-vitamins.
Anyway, if you've never given oat straw tea a shot, you just received some pretty solid science-backed reasons to.
Make Some: Oat Straw Tea
3. Winter Lemonade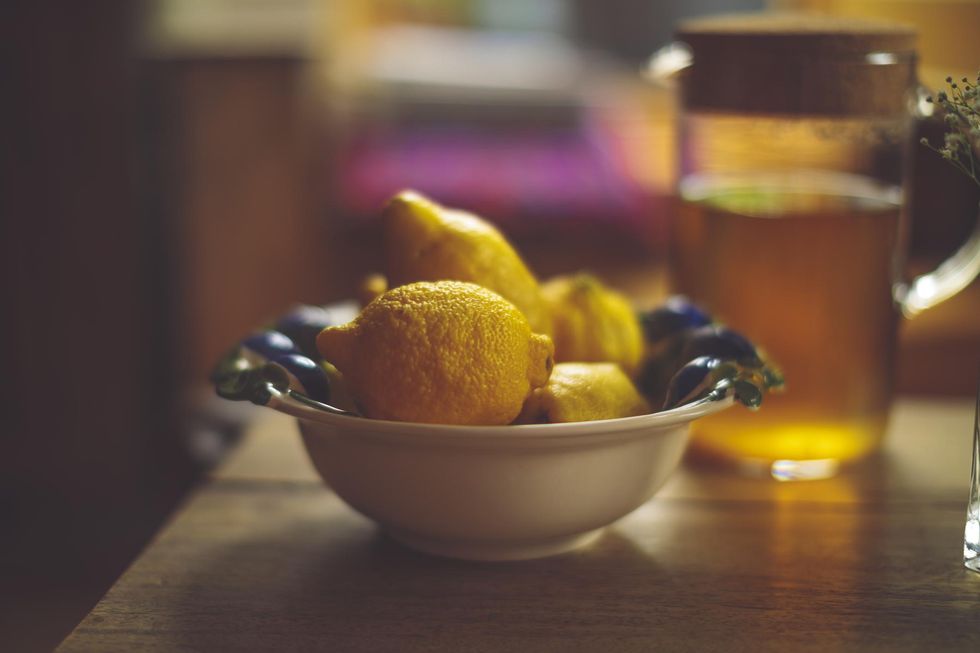 If you're a fan of lemonade yet you've never had the pure pleasure of drinking the twist on it known as winter lemonade, sis, what are you waiting on? While there are all kinds of variations to the recipe, it generally has ginger, cloves and cinnamon (and sometimes vanilla) in it. Lemons are great because they are a natural detoxifier which is always beneficial when it comes to keeping stress levels down. Ginger is bomb because it contains powerful medicinal properties, can reduce menstrual pain (if that's when you're feeling the most stressed) and helps to fight off infections (being sick is always stress-filled).
Cloves are cool because they're loaded with antioxidants and are able to help kill bad bacteria as it strengthens your liver (which pulls toxins out of your skin). Cinnamon is a lick because it also has strong medicinal properties, can help to reduce inflammation and is full of antioxidants. As far as vanilla goes, it contains anti-inflammatories that boost brain health; plus, it has antioxidants in it too. Drinking this kind of lemonade warm or cold is not only delicious but so satisfying to your senses as well.
Make Some: Winter Lemonade with Ginger and Cloves
4. Warm Oat Milk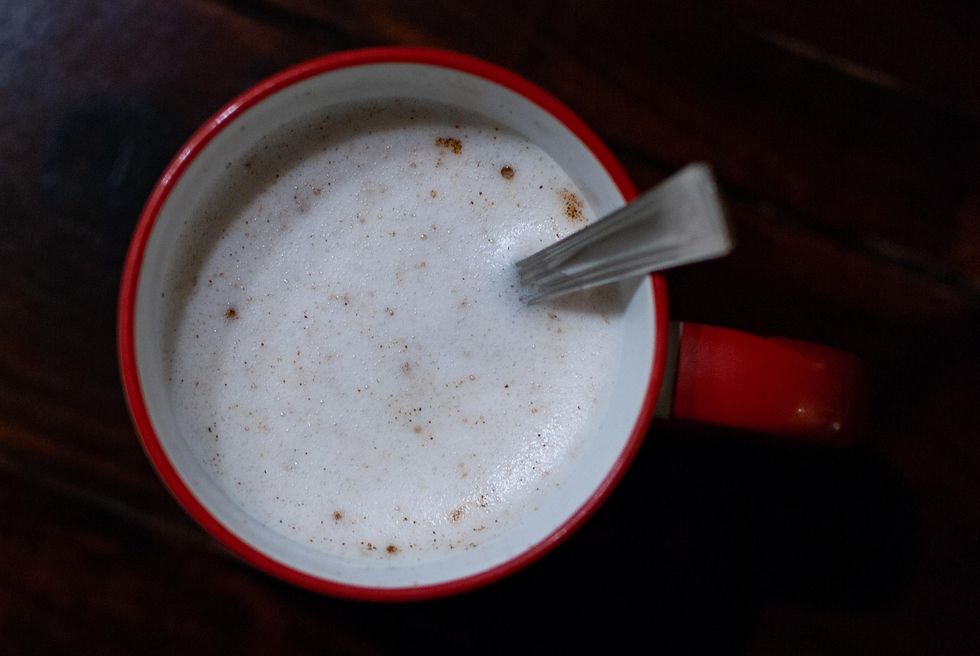 Once I realized that almond milk isn't the best thing for the environment, I switched over to oat milk and haven't looked back since. Aside from the fact that it's dairy-free, oat milk is good for you because it is high in fiber and B-vitamins. Plus, it's cholesterol-free, can help to regulate your blood sugar levels and, thanks to the magnesium and zinc that's in it, oat milk can relax your nerves and muscles too. And because drinking anything warm or hot can be truly relaxing, if you're looking for something to help you sleep at night, a cup of warm oat milk in your favorite mug just may be what you've been looking for all this time.
(Heads up: the recipe that I've enclosed contains espresso which you would want to leave out at night…for obvious reasons.)
Make Some: Spiced Oat Milk Latte
5. Cinnamon Hot Chocolate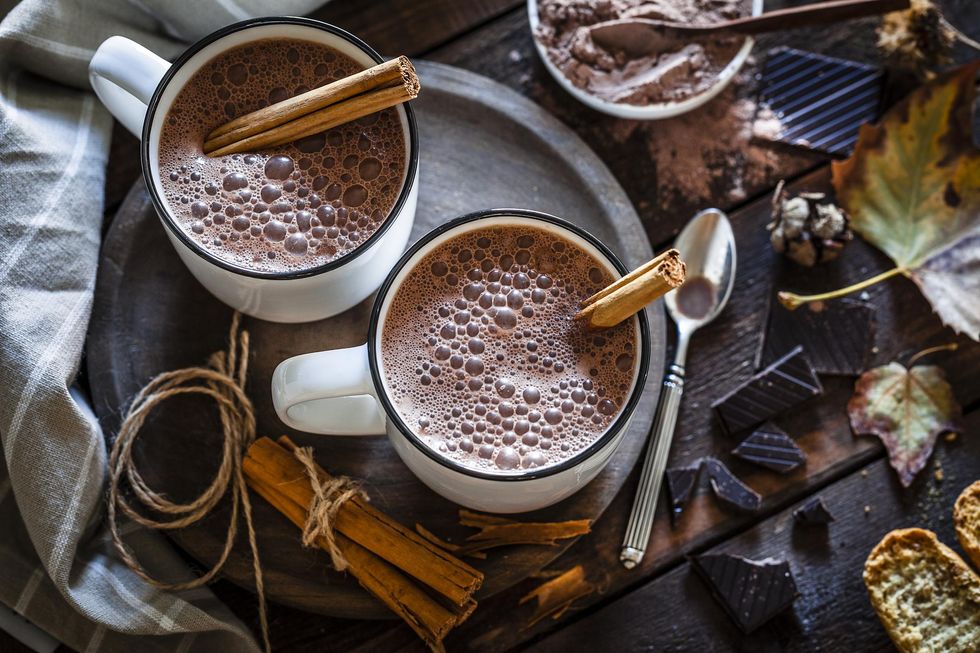 Anyone who doesn't like hot chocolate gets an immediate side-eye from me. I mean, what in the world, y'all? Not only does it taste like a slice of heaven, if it's dark chocolate, there are some pretty impressive health benefits that come right along with it too. Dark chocolate's got fiber, magnesium, iron, copper and manganese. Dark chocolate is a good source of antioxidants. Dark chocolate can also help to lower your blood pressure, improve your brain function and increase blood flow throughout your blood.
And just what does it do for you stress-wise? Aside from the magnesium that's in it, dark chocolate has a way of altering your brain frequency to where your body's natural stress hormone cortisol's levels are able to drop which can cause you to feel calmer. And since something else that cinnamon can do is help to soothe anxiety and depression-related symptoms, how could you not want to make yourself a cup of hot cocoa and then sprinkle some cinnamon spice on top of it?
Make Some: Homemade Cinnamon Hot Chocolate
6. Ashwagandha Tea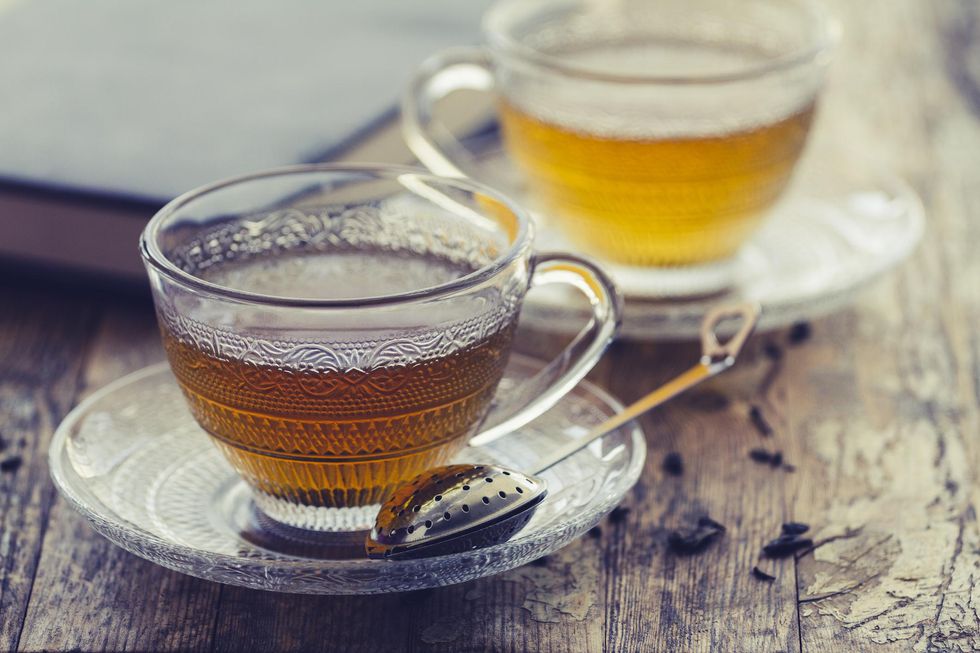 An herb that's pretty popular in Ayurvedic medicine is ashwagandha. Health-wise, it's good for you because it contains properties that regulate blood sugar, helps to reduce the growth of cancer cells, reduces bodily inflammation and even can boost fertility in men (although pregnant and breastfeeding women should consult their doctor before consuming it). Ashwagandha makes this de-stressor list, though, because it's another tea that has a great reputation for keeping stress at bay. That's because there is plenty of data to support that it plays a significant role in reducing cortisol in your system.
Make Some: Ashwagandha Sleep Tonic
7. Warm Vanilla Milk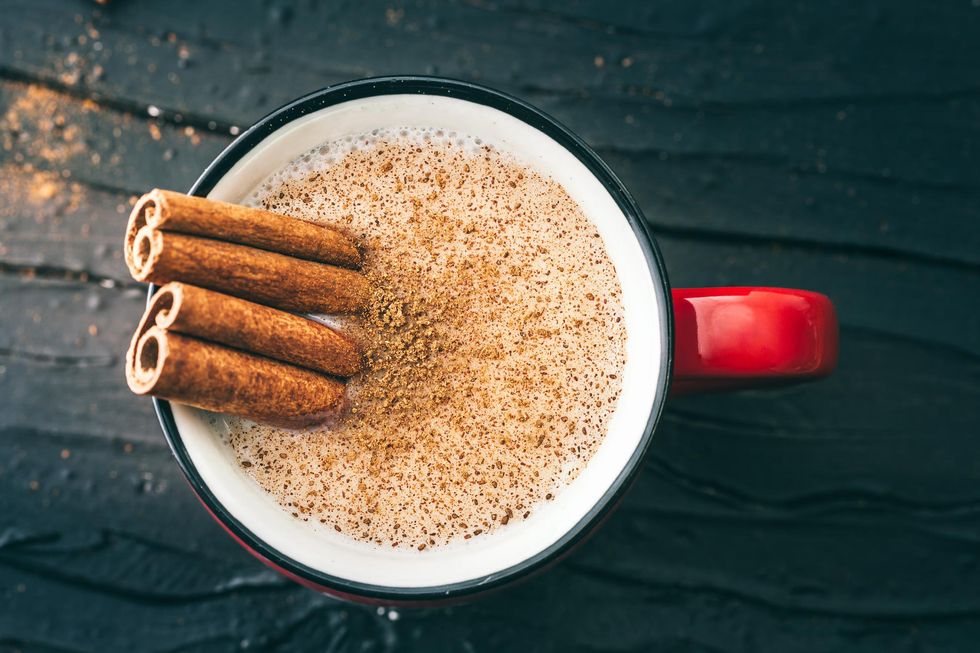 While I've already touched on what a cup of warm milk can do, because vanilla milk is so delicious, I had to circle back and emphasize a couple of other reasons why vanilla can benefit you when it comes to de-stressing your system. For starters, just the aroma of vanilla has a way of creating a calming effect (which is why, as an essential oil, it's considered to be a de-stressor). Also, because it also has antibacterial properties, drinking some warm vanilla milk can be good for you if you're trying to prevent a cold or if you need help falling asleep if you already happen to have one (check out "Got A Killer Cold? These 10 Hacks Will Help You To Sleep Better.").
Make Some: Hot Vanilla
8. Lavender Hot Chocolate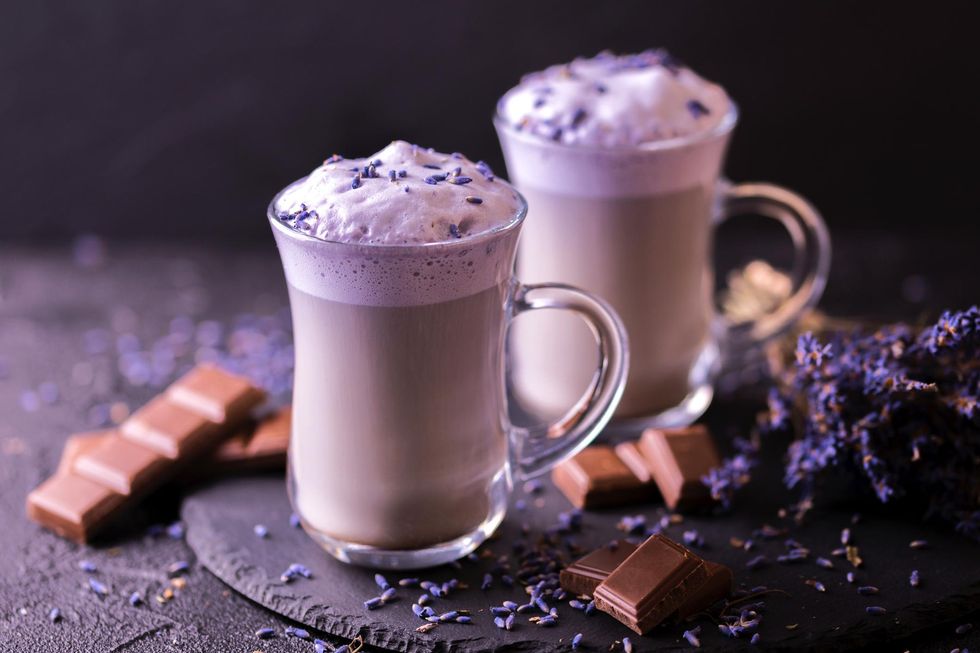 If cinnamon is so not your thing or you want to step out of the box a bit when it comes to the variations of hot chocolate that you're typically used to, have you ever had lavender hot chocolate before? When I tell you that it is something that tastes truly divine!
Not only that but lavender contains properties that help to heal chronic pain, lower your blood pressure and heart rate, lessen hot flashes that are directly related to menopause and improve your quality of sleep.
The key here is to not make your hot chocolate with lavender essential oil. Look for drops that are food grade or add some dried lavender to your recipe.
9. Mulled Wine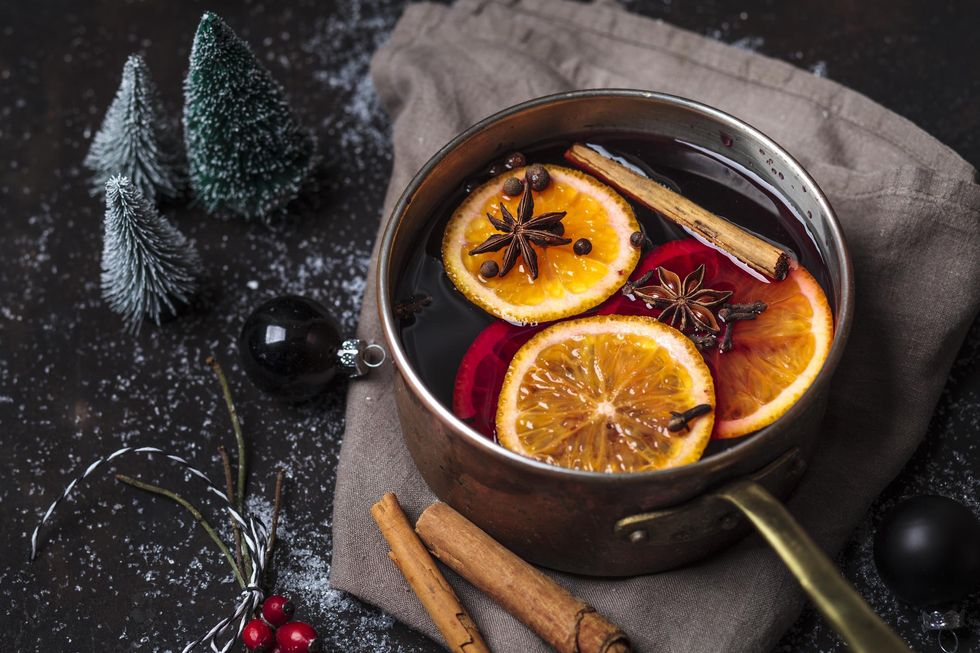 A pretty popular drink during the fall and winter months is mulled wine which is basically red wine with some fruits and spices in it. The recipe that I've included calls for red wine, apple cider, orange, honey, cinnamon, cardamom and some brandy if you really want to get buck wit it. Red wine is good for stress because the compound resveratrol that's in it helps to literally protect your DNA from being affected by stress. Oranges help to bring stress relief thanks to the Vitamin C in them that help to lower your cortisol levels.
Honey's good because it reduces stress levels and produces a natural calming effect. Cardamom is a dope spice because it aids in lowering cortisol and your blood pressure. And brandy's cool because it contains soothing properties that can actually help you to sleep more soundly at night. Definitely another reason to pick up another bottle of red wine and do some steeping, if you ask me.
Make Some: Mulled Wine
10. Chai Latte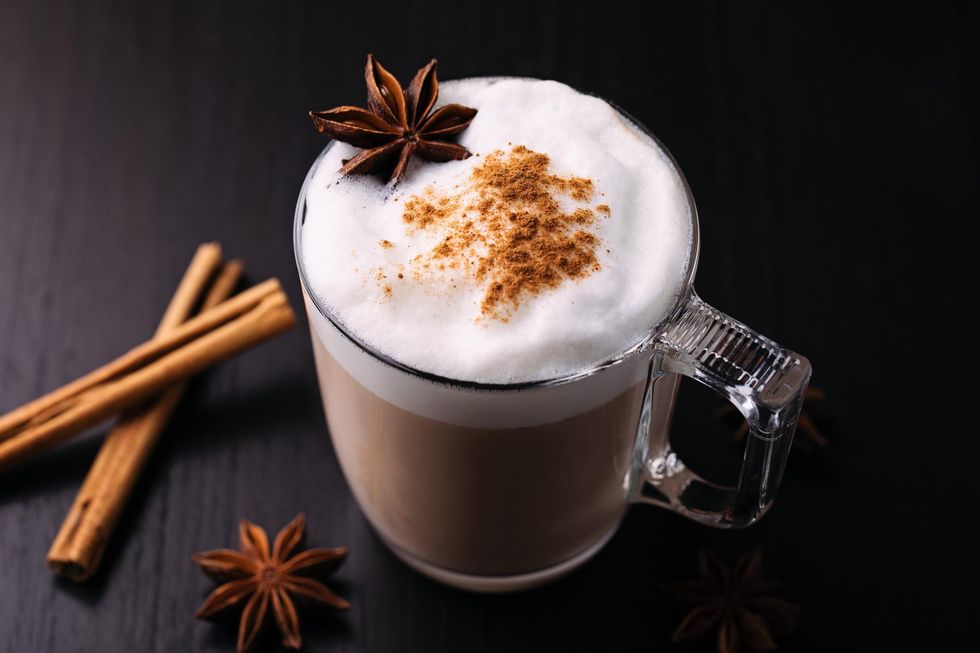 If you want to go all out and make your own chai lattes from scratch, you'll need some black tea, cinnamon, ginger, cardamom, nutmeg, allspice, honey and milk (or a milk alternative). Black tea is ideal because it lowers stress levels. Nutmeg is beneficial because it acts as a natural antidepressant. Allspice assists with lowering your blood pressure. So, if there is a warm drink that is the de-stressor of all de-stressors, it's a fair conclusion that chai latte would probably be it. Enjoy!
Make Some: The Ultimate Chai Latte
Join our xoTribe, an exclusive community dedicated to YOU and your stories and all things xoNecole. Be a part of a growing community of women from all over the world who come together to uplift, inspire, and inform each other on all things related to the glow up.
Featured image by Getty Images
Keep reading...
Show less
Are you sitting down? Good. You need to be. November's full moon on November 19th highlights a partial lunar eclipse in Taurus - and frankly? It's going to be a little over the top! In astrology, full moons are periods of culmination. Unresolved issues that have been lurking in the background will be brought to the forefront of your consciousness for resolution and closure.
Lunar eclipses intensify the standard strength of your typical full moon, adding to its sense of urgency and emotional charge. Things that have been swept under the rug in your relationships and life circumstances will be brought to a head for a conclusion.
Featured image by Getty Images
Keep reading...
Show less