OK, I'm about to age myself here, but Richard and Tina Lawson are what the young folks would call, "couple goals". No seriously, no matter how long you've been married, or even if you simply aspire to be married, they are a breath of fresh air to look to for a sense of comfort. Their love story isn't perfect, or what society tries to tell us about when marriage happens, but it is perfectly for them.
You see, Tina Knowles and Richard Lawson wed on April 12, 2015. She was 61 years old, and he was 67. And it all took place on a yacht on the waters of Newport Beach, California. Yass.
This was six years ago, marking their sixth wedding anniversary this week.
And boy did they celebrate in the cutest way, I mean, like, cue the 'awwwws'! Mama Tina was up first, as she took to social media to pen a message:
"Six years ago today we got married. We celebrated with the Road Dawgs yesterday! (Right) I have known you for 39 years and you have always been an amazing, compassionate, kind, brilliant man. Full of love and Talent and optimism! I have learned a lot from you ! The most important lesson is to not take life and myself so seriously! to be free, to laugh, dance, to be silly sometimes, to be human and unapologetic. Thank you Baby for contributing to my happiness! I love you more each day Happy Anniversary !! @mrrichardlawson"
Awwwww! (See, I told you.)
But it was Richard's message to her that got my attention most.
Because if you believe in manifesting, and understand the guidance of love on a deeper level, his is what you need to see. He tells their story:
"Dear Teene B, 39 years ago my sister Gwen (RIP), your best friend, introduced us. I thought you were one of the most beautiful women I had ever met. Breathtaking.!! The thing that was so striking was that your beauty continued to be enhanced by your incredible heart, compassion, empathy, generosity, and philanthropy. You were pregnant with Beyonce at the time, and married, so my incredible attraction for you then, could only live in my fantasy."
Oop.
"As we remained friends throughout the years, I took great pleasure in observing you become the ultimate mother, especially for your own daughters, but also for the way you care for and nurture women all over the world. It took 32 years for my attraction for you to come full circle. It was well worth the wait. You're a revolutionary, visionary, incredible artist, a fashion icon, a leader, a cultural beacon, a hot sexy ratchet God warrior and only second to God, You are my wife. How highly favored Am I???"
Lawd, my chestttttt.
As we all know, Mama Tina was previously married for over 30 years, Richard for 11 years. Even though the actor was struck by her beauty, she was a married at the time, and his sister's best friend. Instead, he sat back and waited. He was patient, their love was patient.
Since marrying, the Lawsons often take to social media to show what living and loving in your best life looks like. Whether they're on vacation with a few famous friends, fighting for social justice, or simply dancing the night away to a few Isley Brothers' jams, these two are pure empty-nesting joy.
Happy anniversary, you two kids!
Are you a member of our insiders squad? Join us in the xoTribe Members Community today!

Featured image by Tina Lawson/Instagram
Keep reading...
Show less
Whew, weddings. Whether it's in our heads or on paper, most of us start planning our wedding day long before any "suitors" come into the picture. One of my best friends and I constantly joked about having a wedding binder even though there were no potentials in sight. But when my now-husband popped the question, our efforts didn't seem so crazy. I was ready ready and couldn't wait to bring my plans to life. Still, my Pinterest pages, vision boards, and saved snapshots on Instagram had nothing on what I was in for.
Yes, I had a wedding planner because… weddings are stressful. There are so many little details that are easy to forget (did I order ribbons for the chairs on the end?). But with or without a pro by your side, wedding planning books are game-changers and stress relievers for novices and experts alike. From budget checklists and typically forgotten to-dos to advice from wedding planners to the stars, they remove (most of) the stress and make it as fun of an experience as possible.
Your wedding planning - and maybe even your sanity - isn't complete without these books.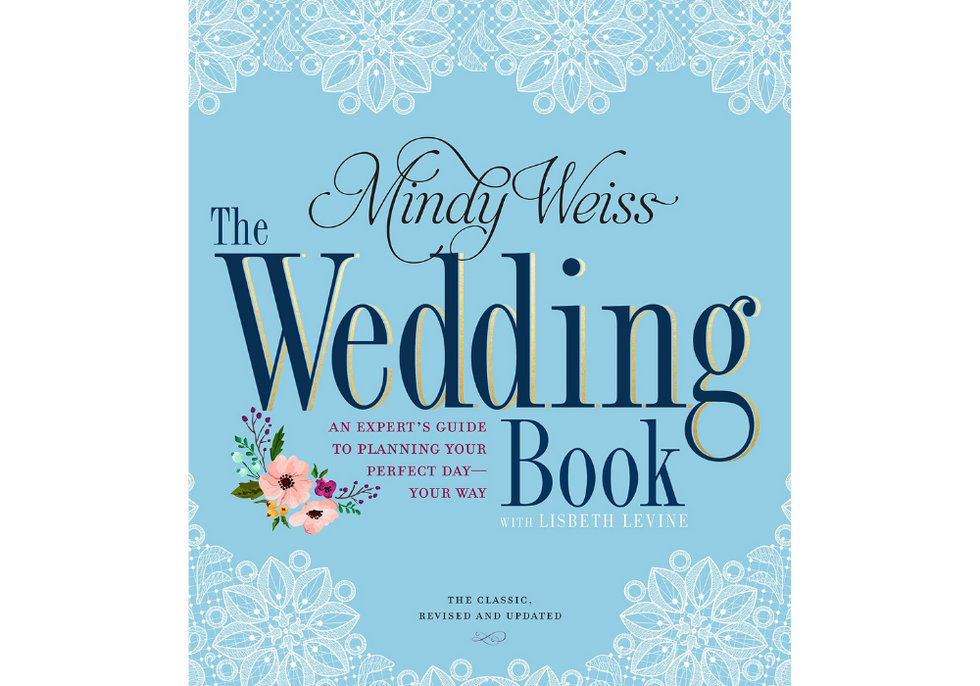 Amazon
If you've looked at any celebrity wedding or event in awe, you've probably seen one planned by Mindy Weiss. She's been the creative mind behind ceremonies and celebrations for some of our faves like Diana Ross. But if you're like most of us who don't have Diana Ross money, you can get as close as possible with Weiss' book (which has been dubbed the ultimate wedding planning bible). It serves as a step-by-step guide to achieving your dream wedding, even with a small budget. It gives tips and advice on all things wedding etiquette and other aspects like selecting a menu, wardrobe choices, and how to get the most bang for your buck.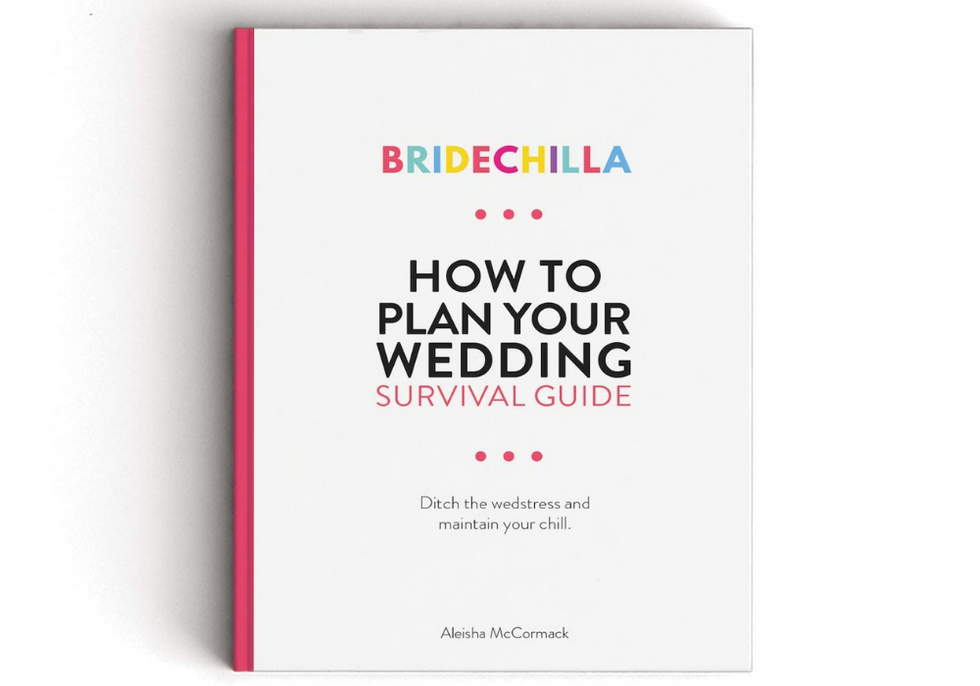 Amazon
We said we wanted to put the fun in wedding planning, right? This book does just that. I'm not saying that there won't be any stress involved in planning a ceremony. It comes with the territory. But it definitely shouldn't outdo the fun involved. That's where this book comes in. It gets rid of the pressure to stick with ceremonial traditions and motivates you to do.your.own.thing. But of course, it doesn't leave you hanging. It offers amazing alternatives and provides inspiration for aesthetics and the not-so-fun specifics.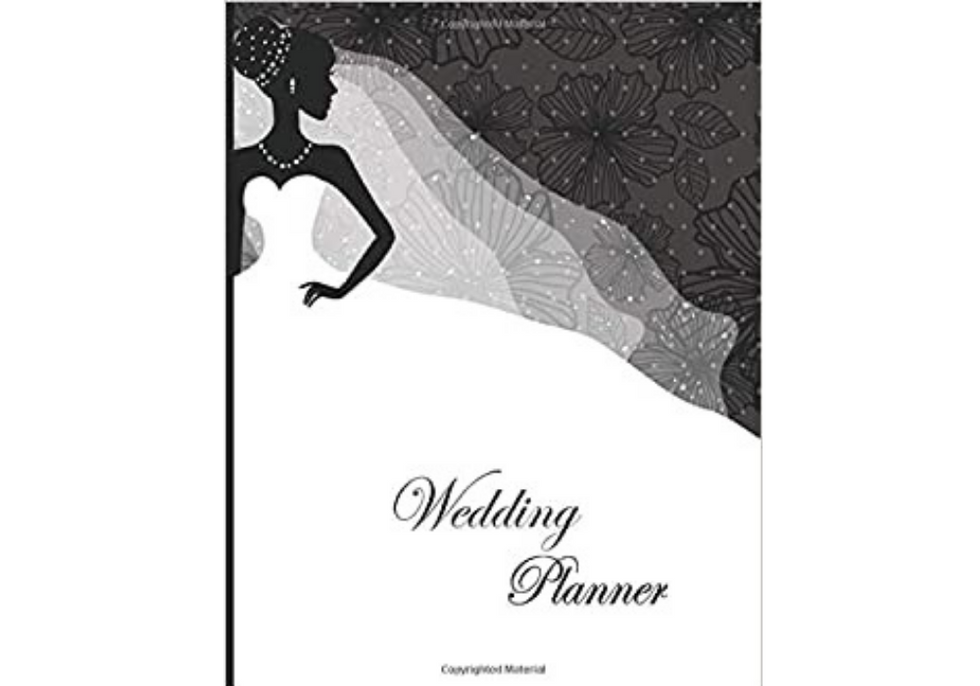 Amazon
It offers much more than just tips for ironing out details of your wedding. It caters to black brides and features motivational quotes for your ceremony. The creators literally thought of everything like a space for reception music playlists. The best part? It can be kept as a keepsake to look back on long after you say "I do."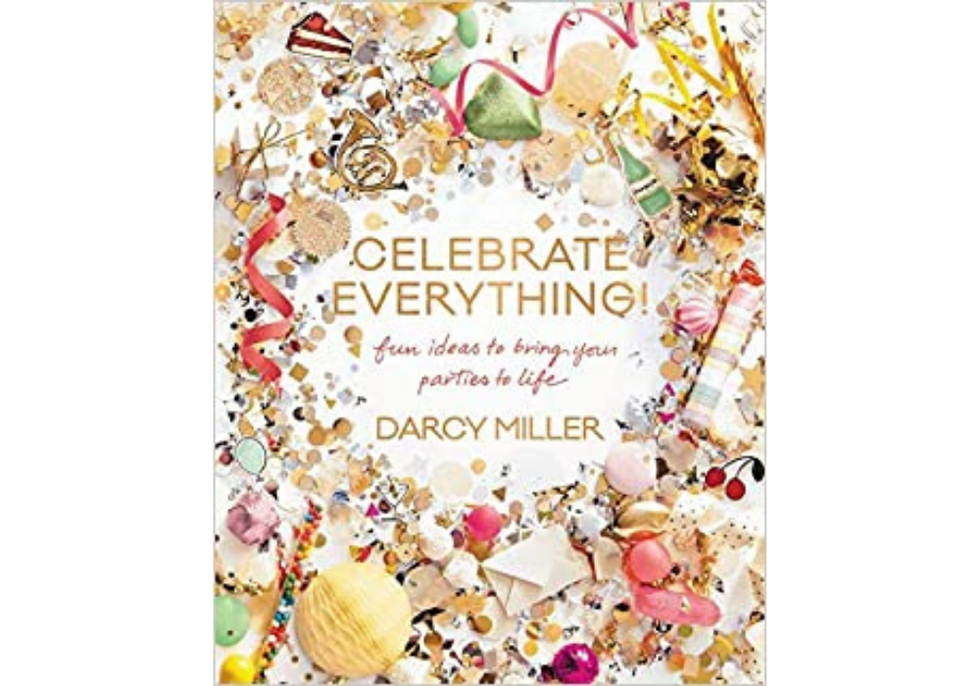 Amazon
This book just screams, "Let's plan a party!" It emphasizes the fun and stress-free factors of planning your big day (and other life celebrations), helping you look back on your wedding with a smile instead of a cringe. What I love about this one is that event planner Darcy Miller threw in D.I.Y. projects and recipes to help make your celebration all your own. She also included expert tips and some of her own inspirations to make your party planning experience a less stressful one.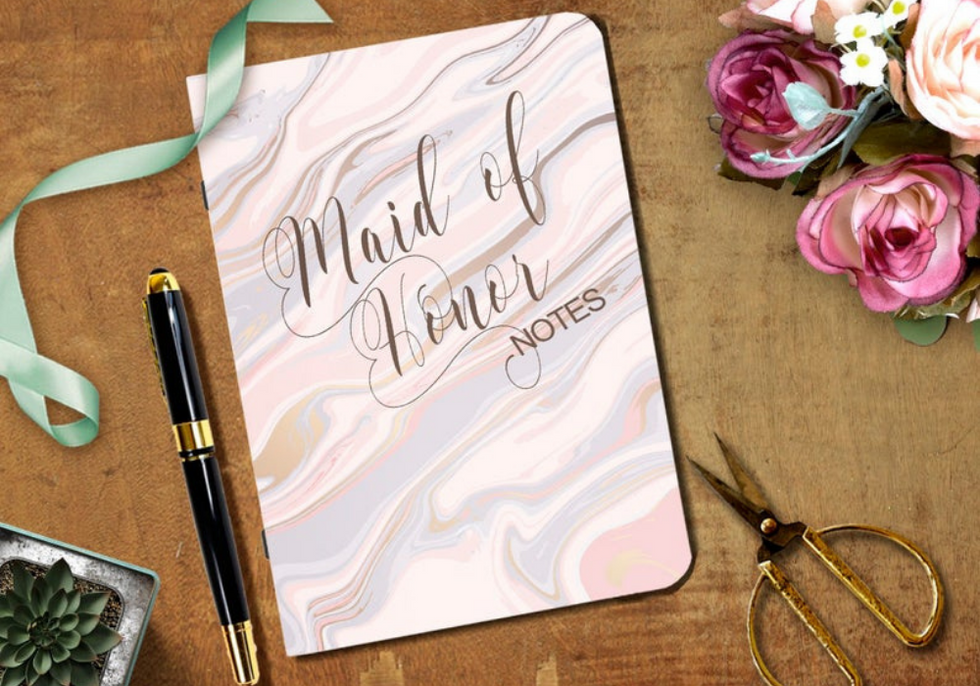 Etsy
The maid of honor potentially has just as many responsibilities, and sometimes more, than the bride herself. So it only makes sense to have a book with her in mind. It's such a unique way to show love and appreciation to the woman who will stand closest to you on your big day. It includes details of the dress she'll wear, her tasks before, during, and after the wedding, as well as a bridal shower checklist and planner. Your maid of honor is a superhero and will certainly be deserving of a cape in the form of this book.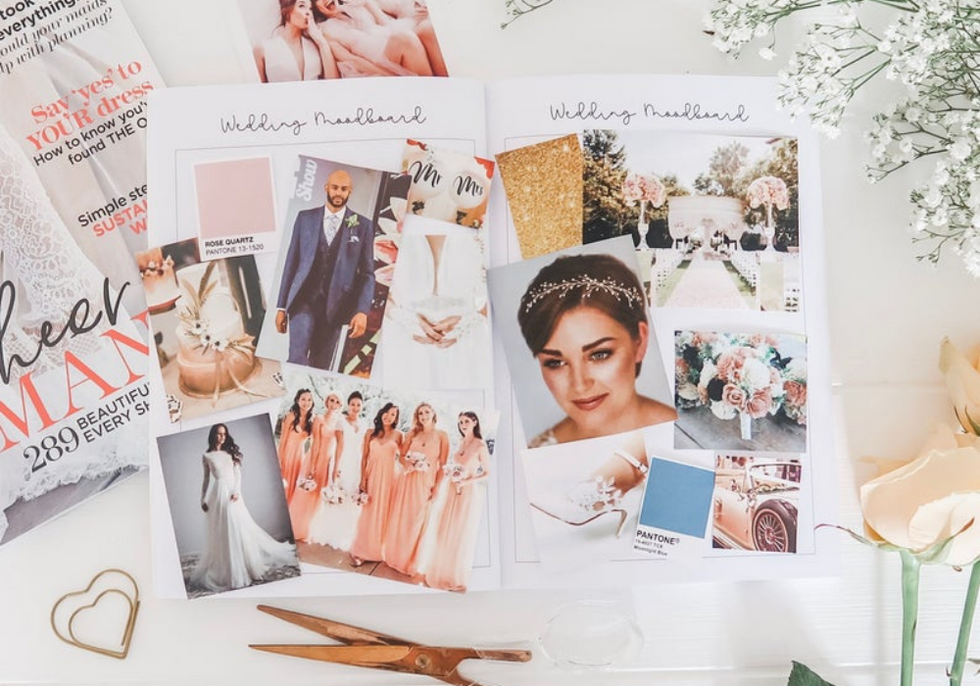 Etsy
For the well-meaning brides who are indecisive at heart, this wedding planning book is for you. The appearance and pages are so inspiring to look at you can't help but want to jump in and execute plans for your big day. It comes with 140 pages of checklists, tips, advice, vision boards, countdowns, and even quizzes to help you make those extra tough choices. You can even personalize it and get your and the groom's name on it to make it extra special. That's what your day is all about, right?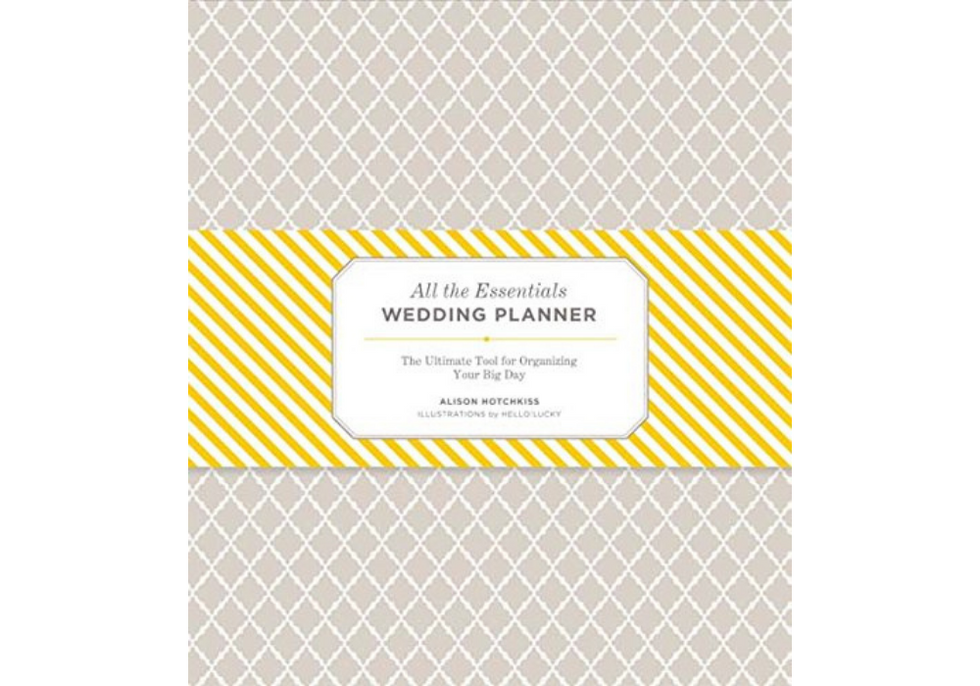 Amazon
Created for the overanalyzing strategic bride (which could be any future wife at any given moment - so don't be ashamed!), this book not only comes with a to-do list but features a calendar to help you stick to deadlines and stay on track. The calendar goes as far as 18 months out for those with longer engagements who are itching to start planning sooner than later. It even includes a detailed budget checklist for expenses like gifts for those in your wedding party and thank-you notes for guests.
Are you a member of our insiders squad? Join us in the xoTribe Members Community today!
Featured image by Shutterstock
Keep reading...
Show less
A couple's wedding day is arguably one of the most important days of their lives which is why it can also be an extremely stressful time. There's so much to decide on: wedding party, guestlist, bridal party, colors, venue, food, etc. And then, there is the wedding dress. The dress sets the tone for the big day and all eyes will be on the bride as she makes her entrance. So many factors play a part in choosing the perfect wedding dress: budget, personal style, wedding theme, and timelines, so it's no wonder it can all seem overwhelming.
Add a pandemic to the mix and you might be ready to just march down the aisle in some sweatpants. But, before you do, I spoke to some amazing women who have been where you are and they are giving me the lowdown on why they chose the dresses they chose and how they knew it was the one. Whether you had to postpone your wedding until next year, change the venue, or downsize, we hope that these brides provide some inspiration for your upcoming special day.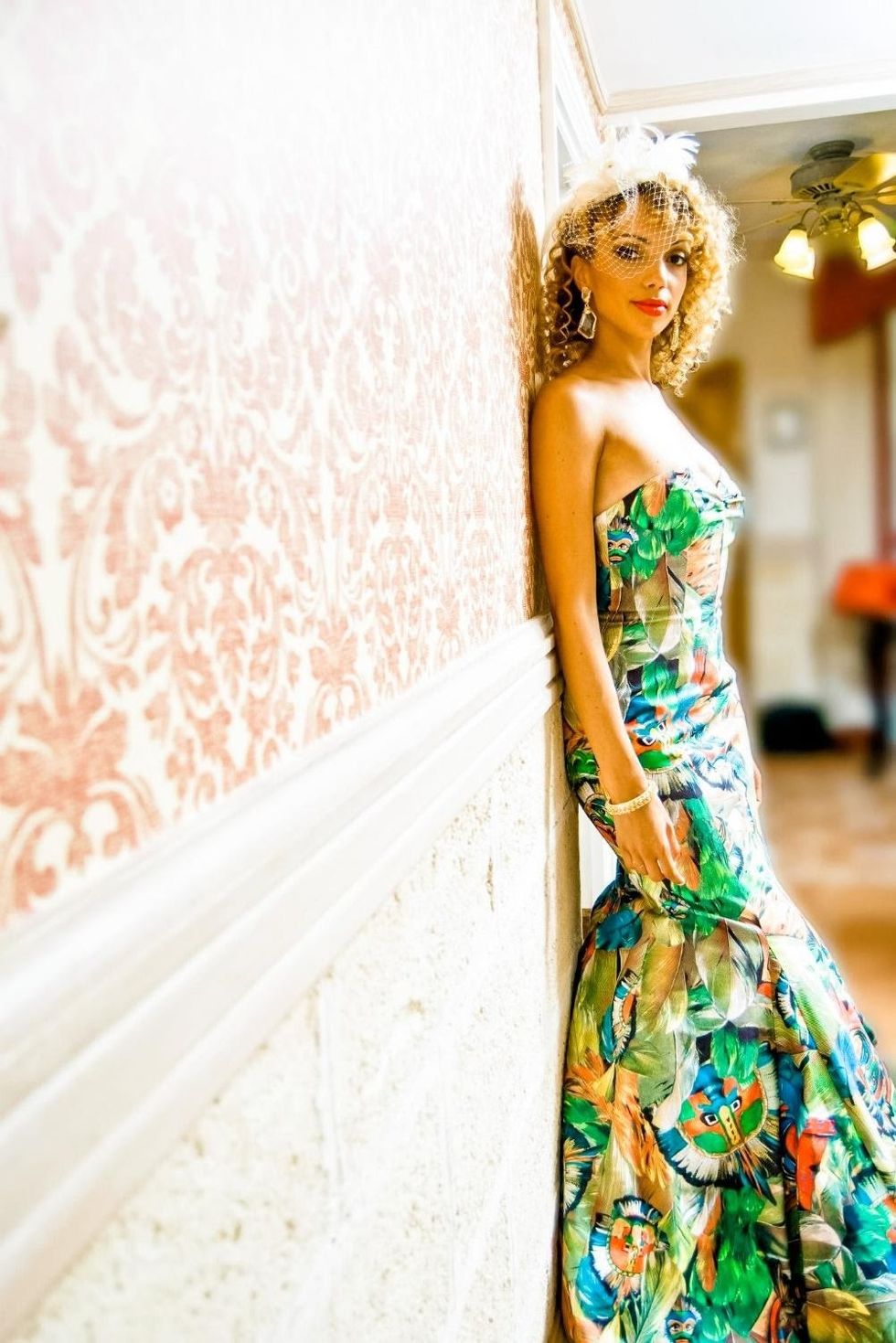 Courtesy of Charmaine
"Everything leading me to this dress felt like it was destined to be. I left a disappointing wedding dress appointment, and as I walked to get a bite to eat, I saw a store window that was merchandised with so many elements that screamed ME! A gold mannequin (I am a gold fanatic), peacock feathers (my wedding colors), and of course, the dress...MY dress. I instantly said, 'Now that's what I wish I could wear.' It was far from white and anything typical, so it hadn't crossed my mind that I could wear something so unique.
"I went in the store, tried it on, it fit perfectly, and I just knew in that moment that I was going to wear what felt the most authentic to me. Coincidentally, my bridesmaid dresses had already been chosen at that time, and they just happened to be green, so it really felt like that dress was made for me."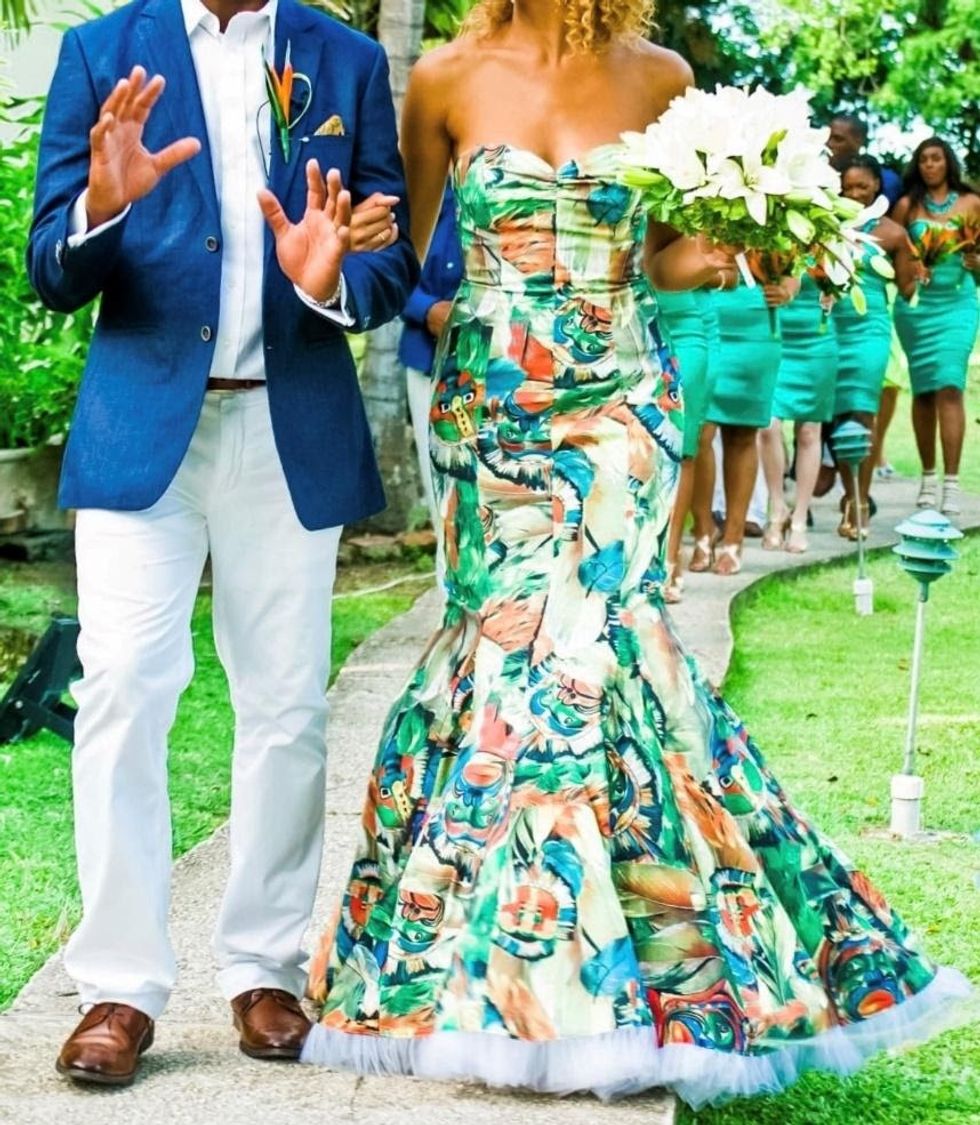 Courtesy of Charmaine
"I got married in 2012, and I was on my dress hunt while living in Toronto, Canada, so the selection was quite limited at the time. This was during the blurry instagram food pics era, so I definitely didn't have many inspiration photos saved. This is to say, I didn't have a major vision as I honestly doubted the options available. I figured that accessorizing my look would be the best bet for a unique colourful moment, and I am just happy I was able to find my dream dress by a fun twist of fate after a failed dress appointment."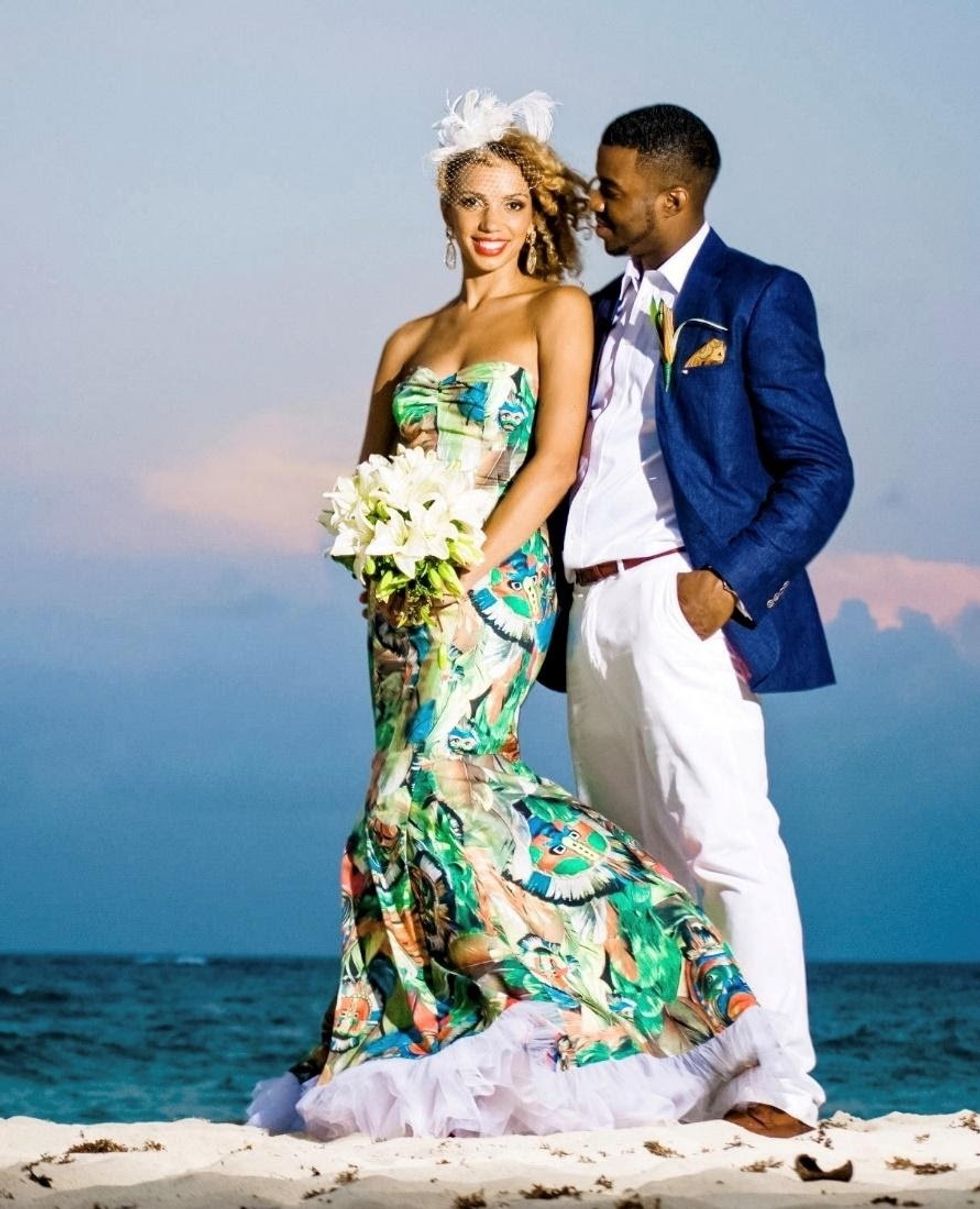 Courtesy of Charmaine
"My dress was created by TOME from the Tome Dress Salon in Toronto, Canada. It was really special to wear a dress while working with the actual designer, because I am a creative person with DIY tendencies. The moment I tried the dress and it fit and I teared up, I looked at Tome and said, 'Can I wear this to get married?' And he said, 'You can do whatever you like!' We laughed and I honestly felt empowered, because I knew he was 100% correct. I then said, 'Now let's make it bridal!' So we worked together to make it more of a mermaid silhouette with tulle peeking out, and added a feathered headpiece. I have Caribbean roots and my wedding was a destination wedding in Barbados, so it just felt perfectly on theme as well."
For more of Charmaine, follow her on Instagram @charmsie.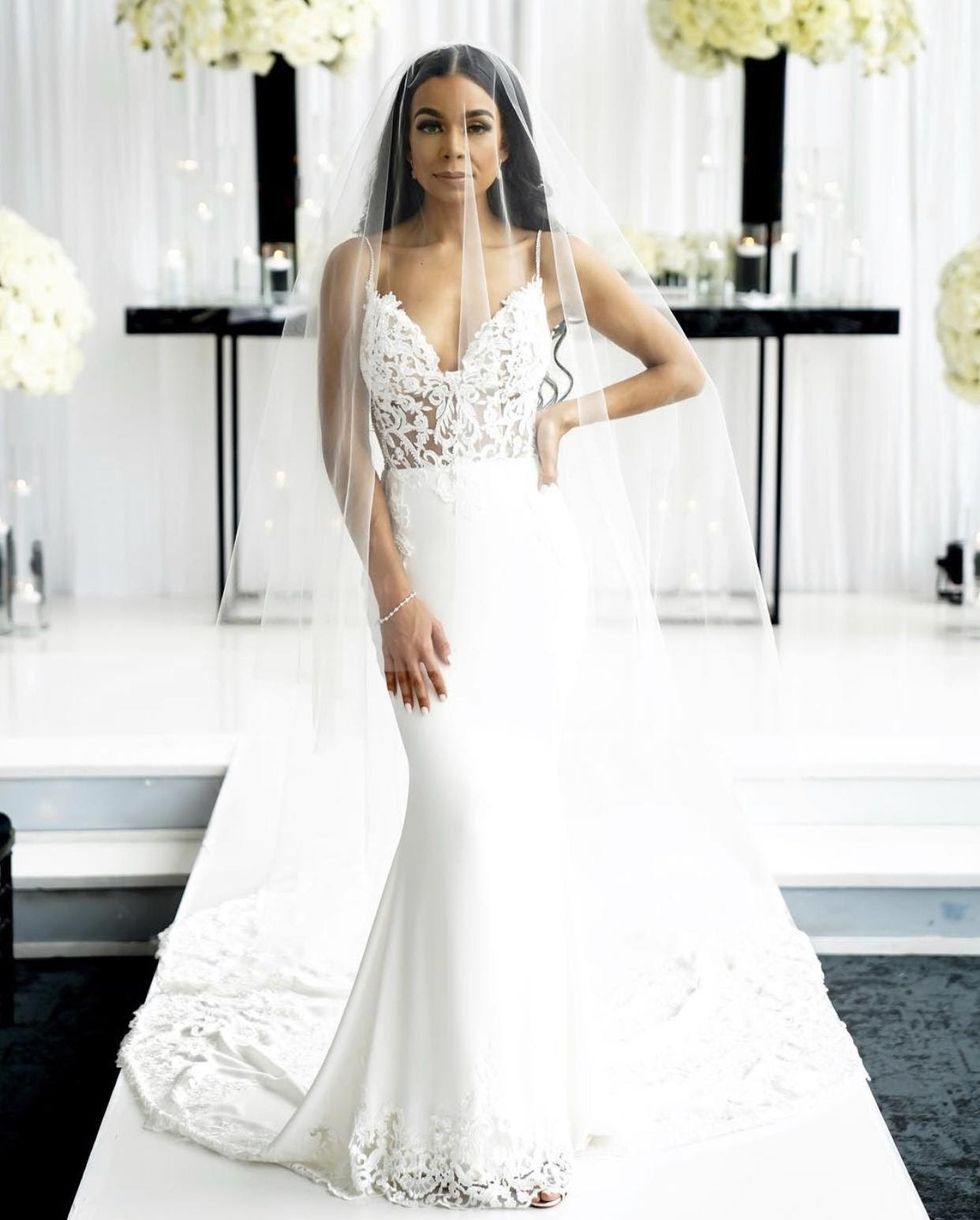 Courtesy of Courtney Brand Agbetola
"There was no overwhelming feeling of it being the one when I put it on, if I'm being completely honest. My first go-round with dress try-ons, I found a Berta gown that I was so certain was the one and I had my heart set on it. I wanted to buy it on the spot, but knew that my now-husband wouldn't be too happy if I spent $14,000 on the first dress I tried on. He encouraged me to go to at least one more bridal shop to try on dresses just so that I'd be sure. A designer I was following on Instagram was having a trunk show at this small neighborhood bridal shop close to me called Parvani Vida that had been there since I was a little girl, so I asked my sister if she wanted to go with me to look. I ended up finding both of my dresses that day and neither one of them were a part of the trunk show that I went there for.
"When I tried on that dress, I loved that it was bright white and showed just enough back and chest, but it was the train that made me say 'yes'. The dress was simple, but the six-foot train was extravagant and all I could imagine was it trailing behind me down the aisle in all of its lace and beaded glory. It was the quiet wow that I really wanted."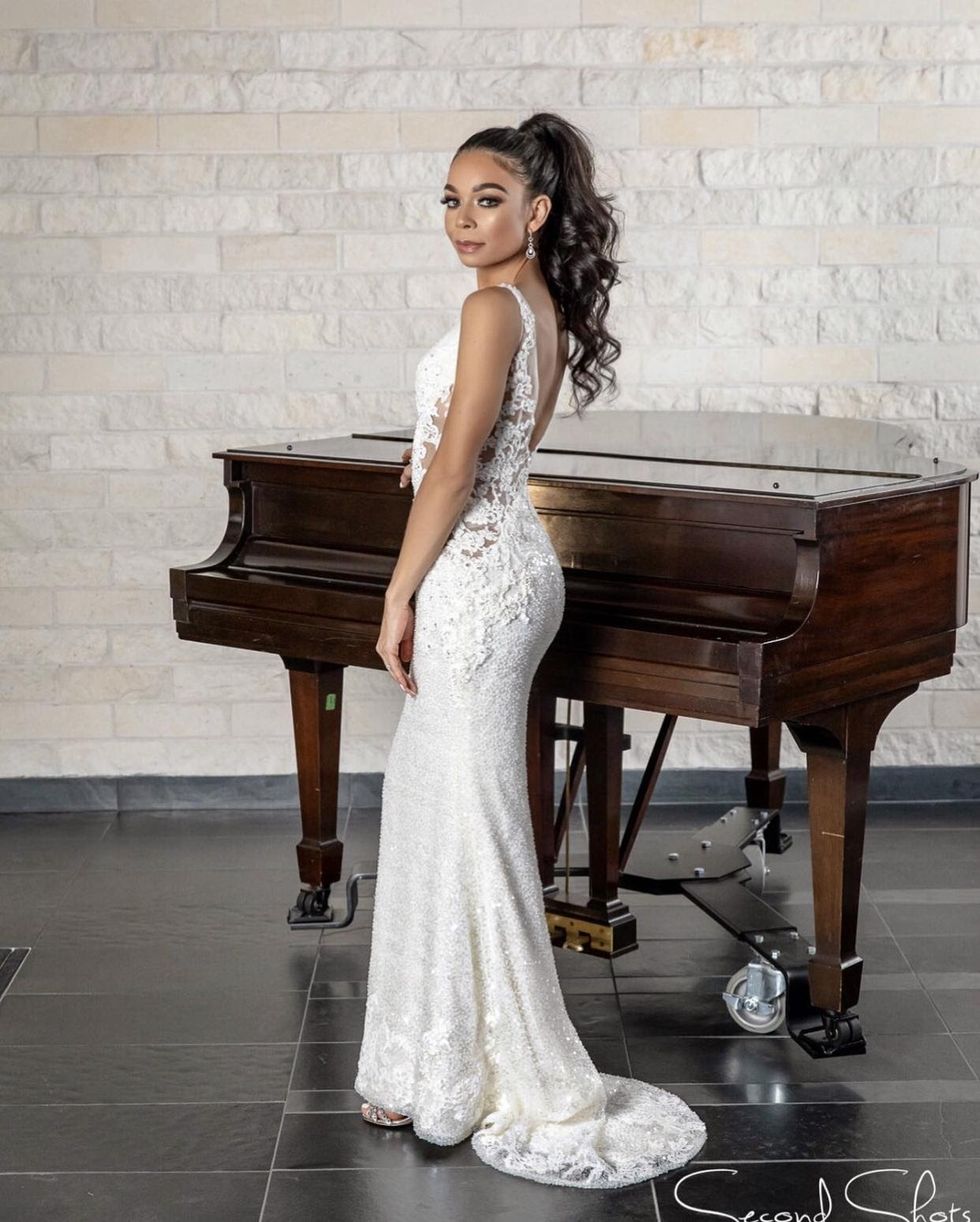 Courtesy of Courtney Brand Agbetola
"I was really wanting to choose something classic, that I'd be proud to look back on in five, ten or fifteen years and still be happy with my choice. I also wanted a dress that was reflective of who I am as a woman. This particular dress felt like it embodied me. A little daring, but simple. A little sexy, but timeless and sophisticated with just enough detail. Gorgeous enough to make a statement without being too loud. I also had to consider what kind of bride my husband wanted to see walking down the aisle. I didn't want to look like a princess, but I did want to look like an angelic version of myself as I walked towards him. This dress hit all of those points.
"I could have gone on and on with dresses, but I chose that one and had to be done with it, because unless you're designing a dress from the ground up, it's so easy to feel like your dress is missing something. Both of my dresses were Enzoani wedding gowns. Prior to getting engaged I'd never really imagined myself in a wedding dress, so I can't say that I envisioned myself any particular way. I did know that I didn't want a strapless gown, or a ball gown. I knew I wanted something form-fitting with no overwhelming ruching or any fabric that was noisy. Looking back, I looked exactly how I wanted to look on my wedding day and wouldn't have changed a thing about my dress, hair, makeup or even jewelry. It all truly worked out perfectly."
For more of Courtney, follow her on Instagram @greeneyesgoldsoul.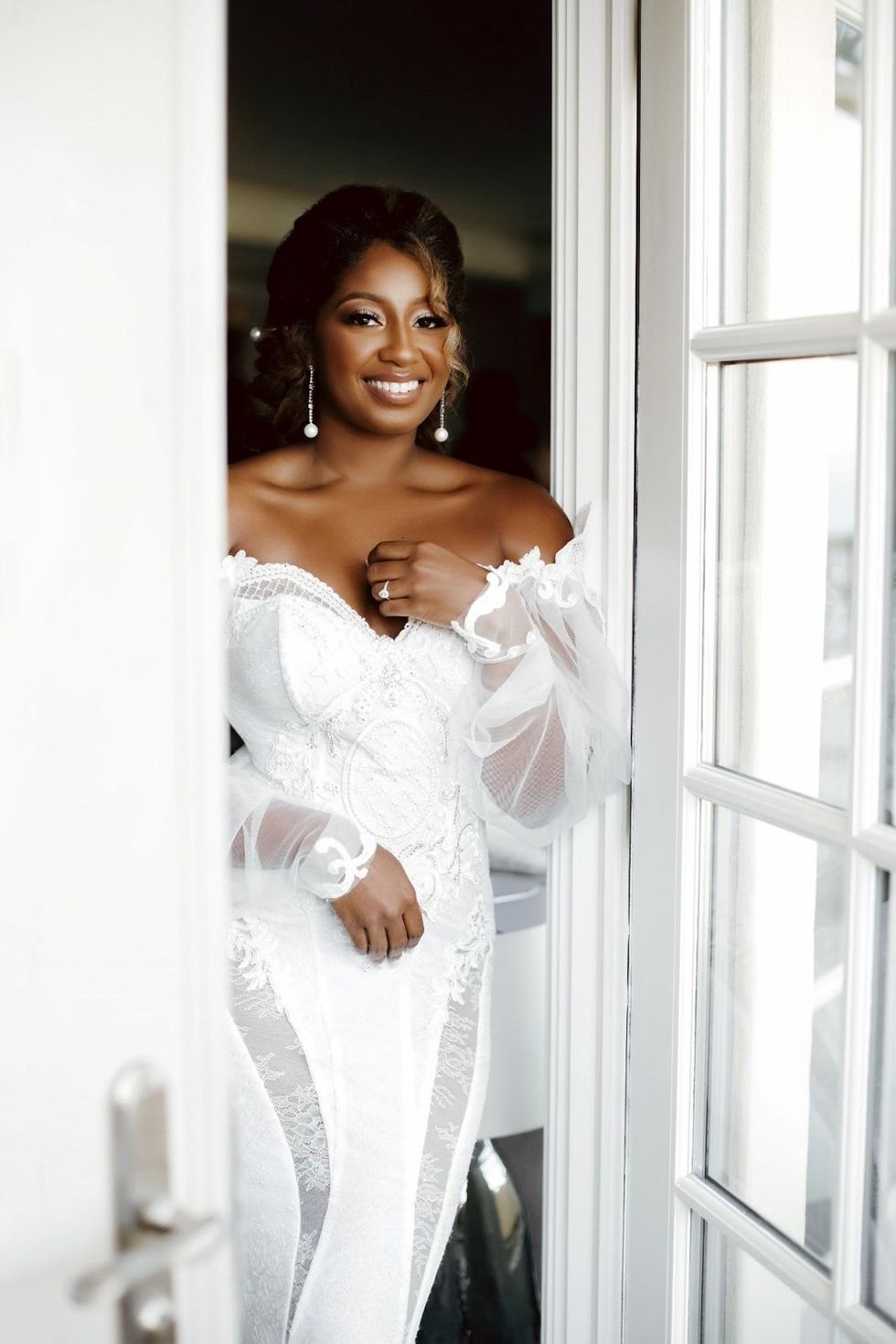 Courtesy of Courtney Bryant
"The day I found my dress, the location we visited was the 3rd or 4th place we had been to. I still hadn't found anything I absolutely loved, so by the time we arrived to this particular location I was excited but pretty certain I would have to get my dress made. When my bridal stylist Leandra McCall pulled the dress, I was reluctant to try it because it didn't look anything like I envisioned but she convinced me. It was the 2nd to last dress I tried on and every single dress that I tried that day and prior to had to be shimmied and jumped into but my dress, it slipped on with so much ease. It fit like a glove and it actually took my breath away. I didn't want to be the cliche and cry but as I looked in the mirror I felt the tears well up. And I was shocked because I really almost didn't try it on.
I fell in love with it the moment I slipped it on. I felt classy, sexy and comfortable in it and the drama and glam was exactly what I wanted. It complimented me in all the right places and I felt like I could dance in it all night."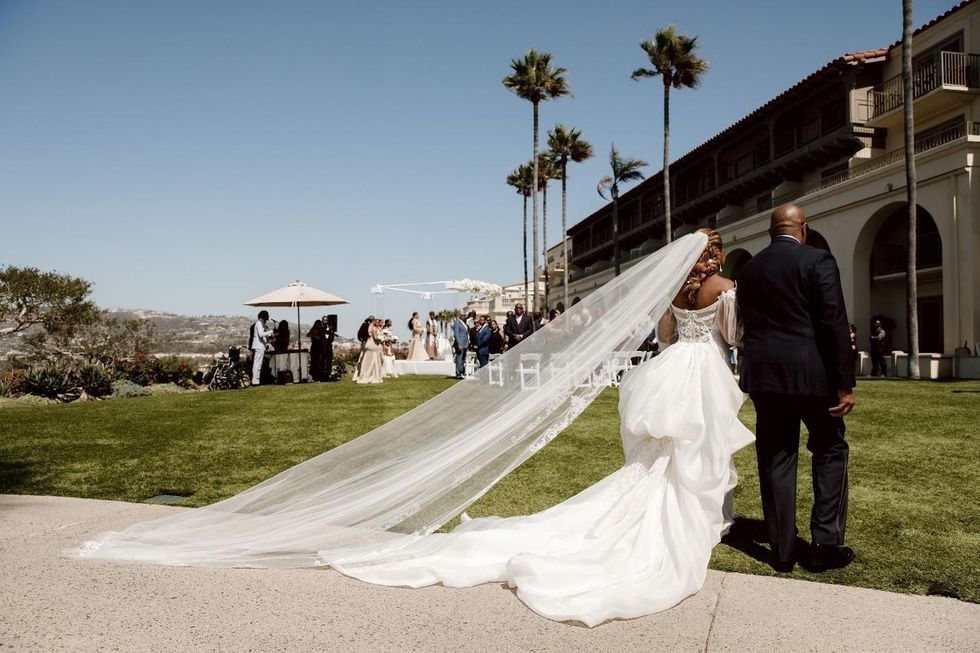 Courtesy of Courtney Bryant
"Also, this one dress could be 'customized' into three different dresses. My skirt and sleeves detached so I walked down the aisle with my skirt and long sleeves. For dinner, I wore off the shoulder sleeves and the skirt. And for dancing, I removed the skirt before changing into my second dress."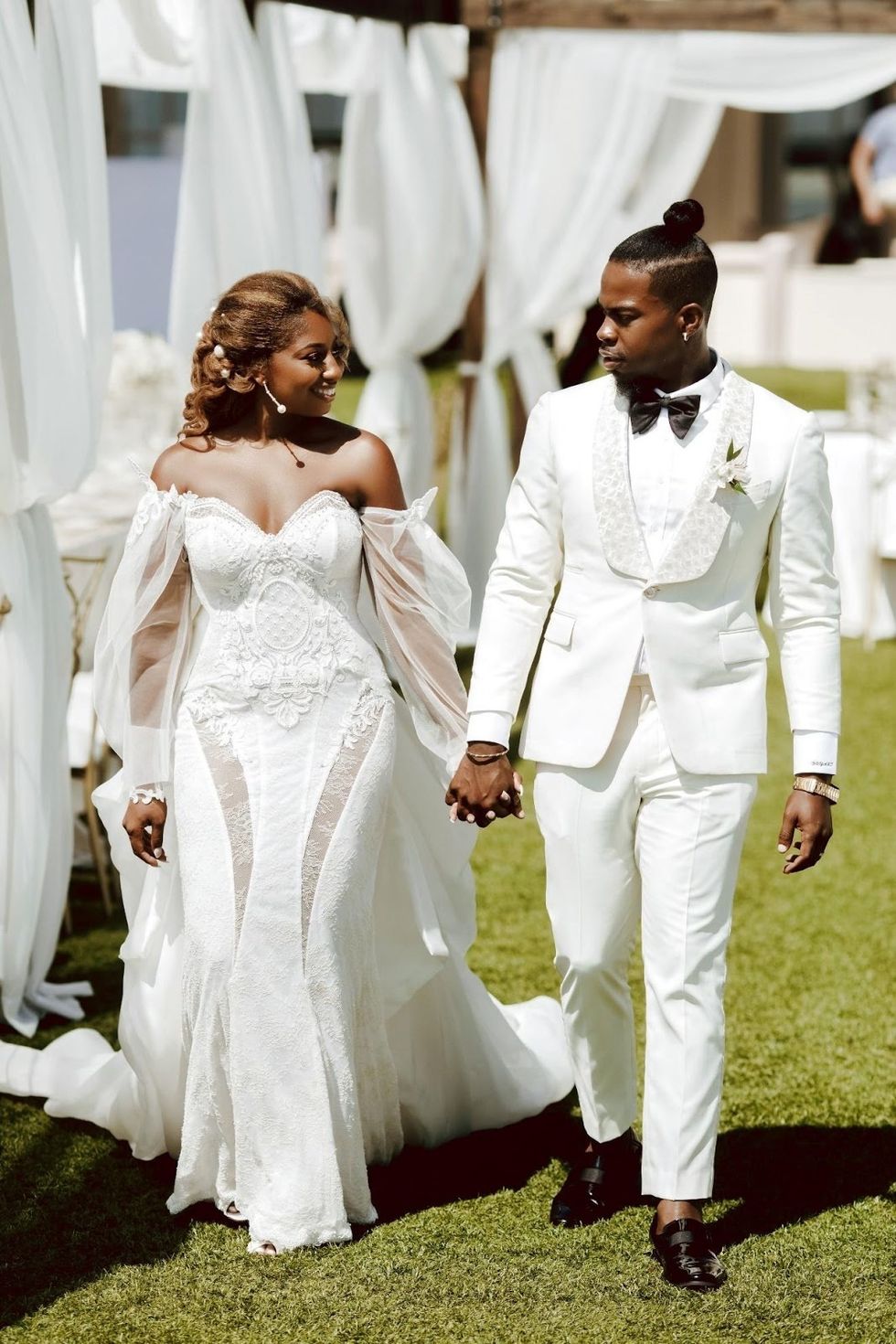 Courtesy of Courtney Bryant
"I purchased the dress at Bridal Reflections on 5th Ave and it was created by Galia Lahav. We customized the both sets of sleeves, the train on skirt, the sheer panels on the back and the beaded design in the front to really customize it to my liking. Fun fact: I was so nervous to really love the dress that I had to visit it three times before committing to it."

For more of Courtney, follow her on Instagram @curlsandcouture.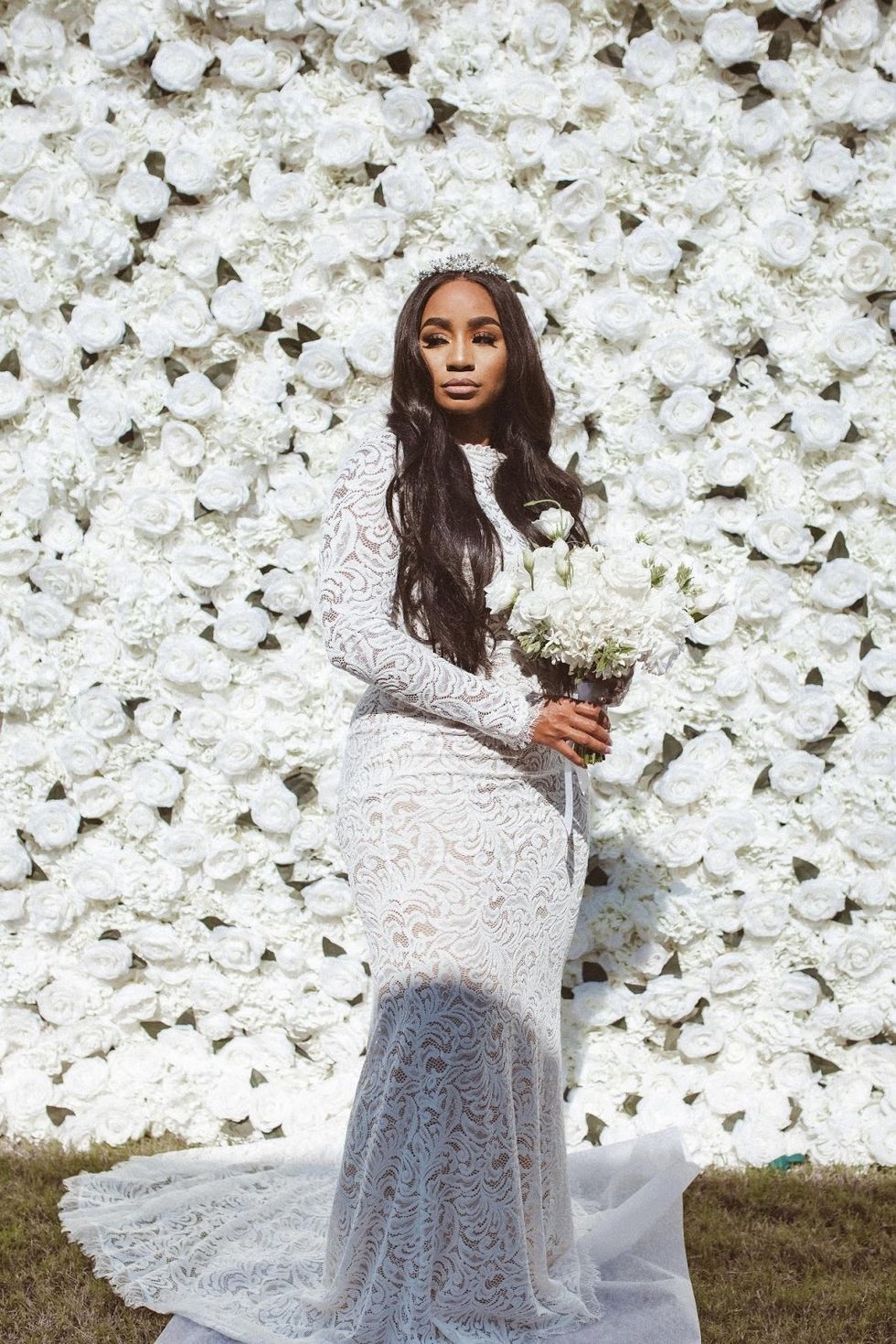 Courtesy of JaLisa E. Jefferson
"With my husband and I knowing and planning that whenever we got engaged, we'd want to get married right away, I ordered a dress on ASOS the day after he proposed. If you are a frequent online shopper like myself, you know they don't play about their two-day shipping. Long story short, it came Monday evening and did not fit. My manager then reached out to Grace Loves Lace right away hoping we could pull something off. They were clearly sent by God. They opened the store on a 'closed' day and had someone come in on their off day, all to move mountains and get me in this amazing dress and veil—the morning of the wedding! In 20 minutes, I tried on this dress and was out the door! I am so grateful for them, their incredible service and for accommodating me on such short notice.
"In a sense, I kind of feel like this dress chose me. Like I previously stated, this dress was truly a saving grace moment. Upon visiting Grace Loves Lace and trying on my wedding dress, I knew this was the one. It fit like a glove and was exactly what I envisioned it to be!"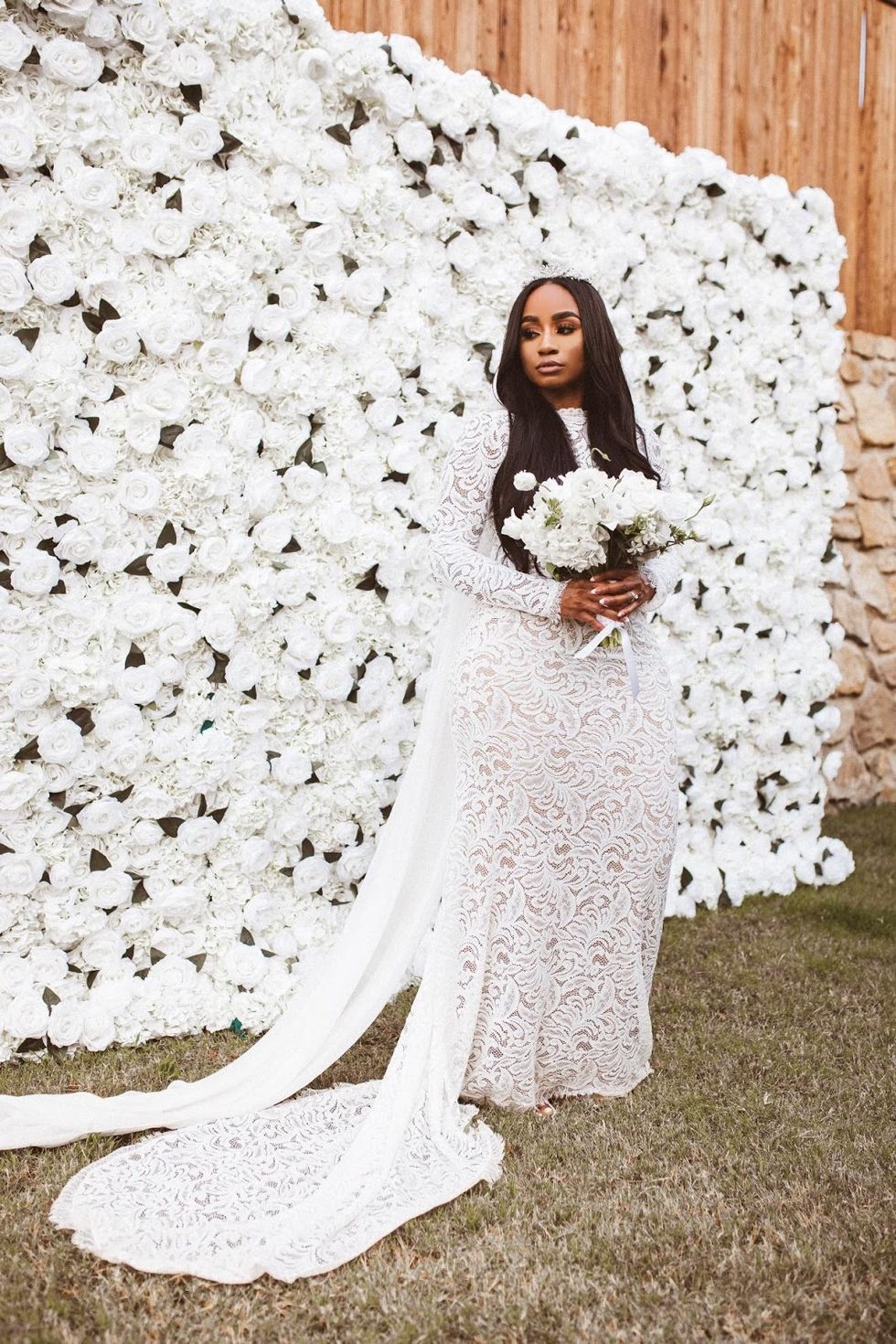 Courtesy of JaLisa E. Jefferson
"Although I initially had a totally different vision for my wedding dress, I quickly realized this was what I needed and didn't even know it until it sort of just happened. My initial disaster of a wedding dress quickly turned into the most beautiful gown I'd ever seen."
For more of JaLisa, follow her on Instagram @jalisaevaughn.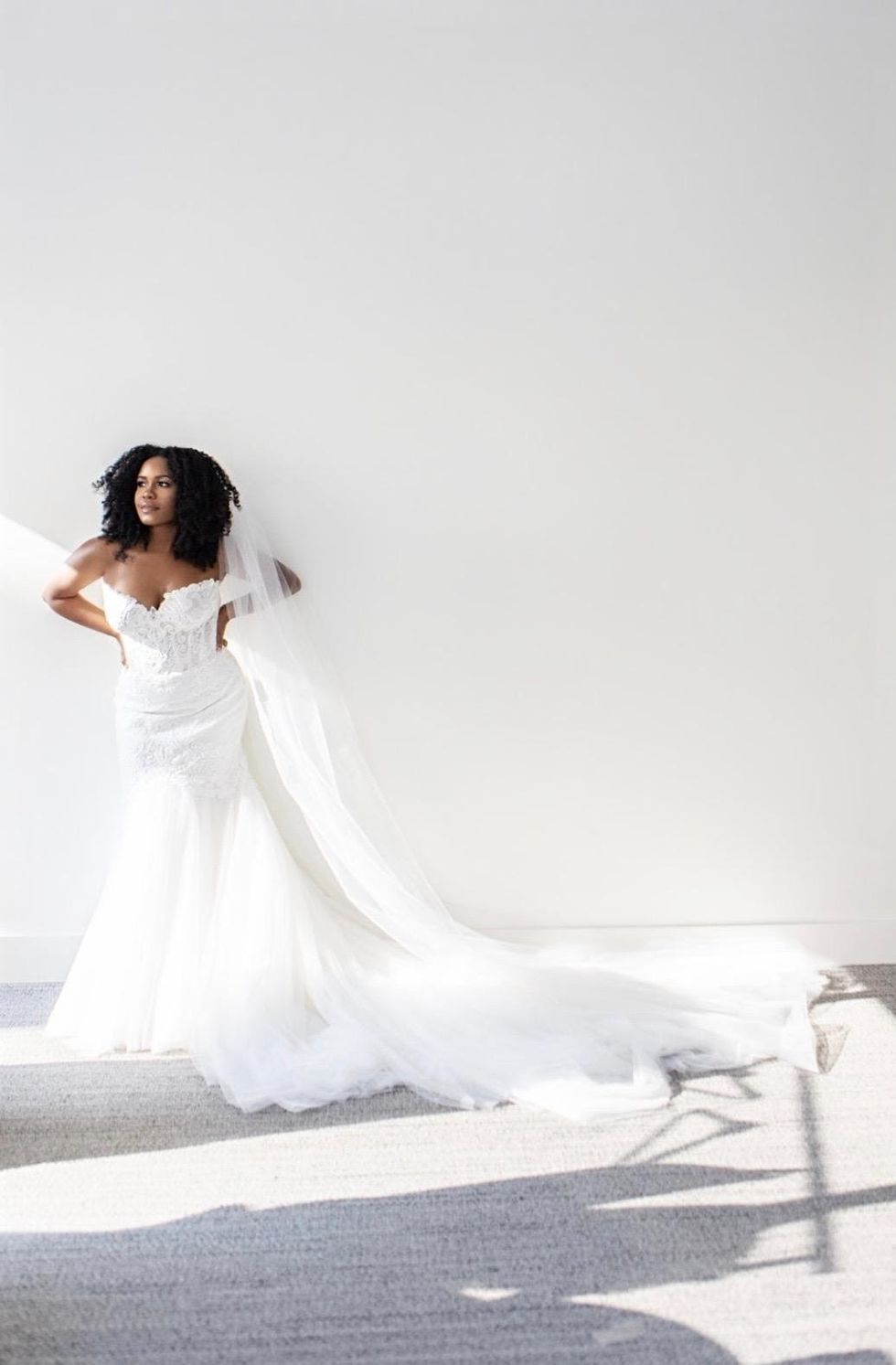 Dress Details: Bridal Boutique: Adorn Bridal located in Nashville, TN.
Designer: Rita Vinieris Rivini
Courtesy of Kristen Desiree
"Before finding the perfect dress for me, my family and I had been shopping around all day long at different boutiques before stopping at our very last appointment for the evening. None of the dresses I had tried on up until this point had given me the 'WOW' factor just yet. I must admit I was beginning to get discouraged a little bit. As soon as we arrived at the last boutique, I immediately said to myself, 'I'm going to find my dress here.' I began trying on different ones and as I tried on 'my dress', I could just feel it. Keep in mind there were no mirrors in the fitting room. The stylist helping me started to say, 'Oh my goodness, Kristen' as she was helping me put it on. My heart started racing because I was so anxious to see.
"As I walked out, the looks on my mother's and sisters' faces were in awe, just speechless. Their mouths hit the floor and my sister said, 'You look absolutely breathtaking.' I walked over to the mirror, completely shaking, and the second I saw myself, emotions of joy and happiness took over. I had never felt more beautiful before in my life and that's when I said this is 'The One'."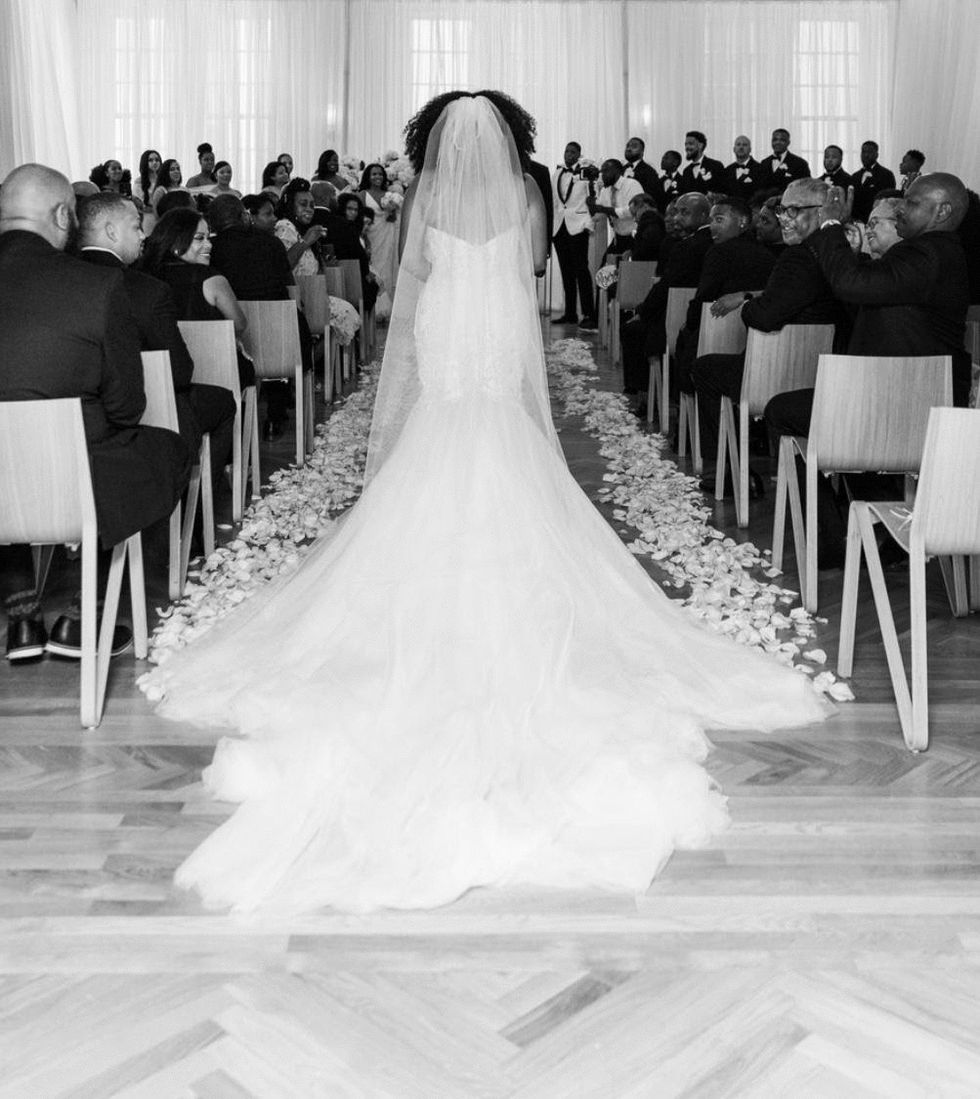 Courtesy of Kristen Desiree
"Honestly, my dress is a slight departure from what I envisioned simply because I always saw myself walking down the aisle in a long-sleeve lace detailed dress with a dramatic train! I was set on having sleeves and had specifically said from the beginning, I did not want it to be tube top. But, little did I know, a sleeveless gown was meant for me."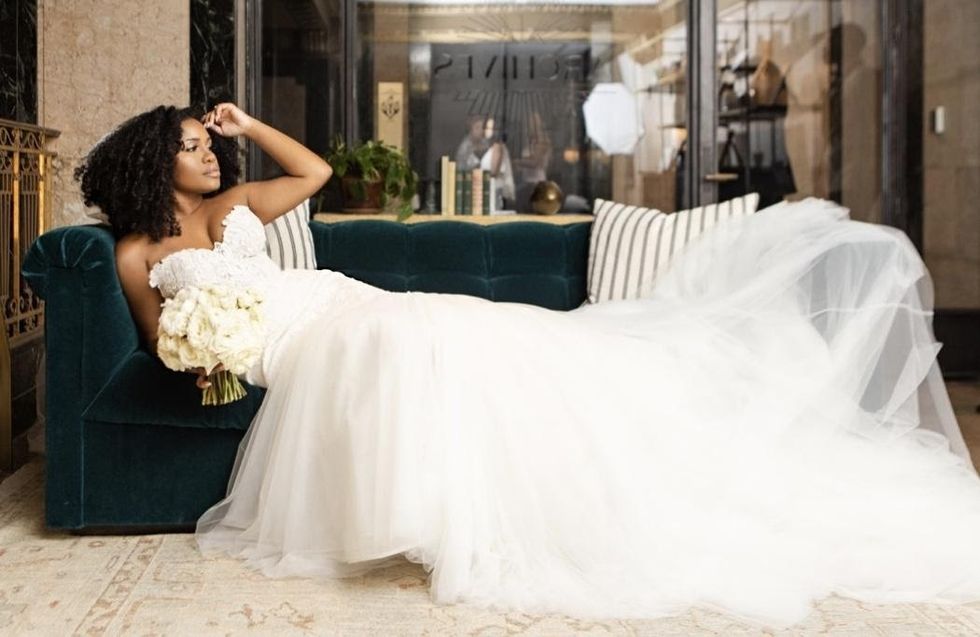 Courtesy of Kristen Desiree
"I chose this dress because not only did it stun all of the most important women in my life, but I didn't have not one negative thought about this dress. I knew I wanted to feel extremely confident and beautiful walking down the aisle to my best friend, soulmate, confidant, and soon-to-be husband. This dress solidified that for me. There are a million beautiful dresses in the world, but when you find that one that instantly fills your heart and the room with emotion and love, you have to say 'yes' to the dress!"
For more of Kristen, follow her on Instagram @curlyhairedchik.
Featured image courtesy of Charmaine
Keep reading...
Show less
As Told To is a recurring segment on xoNecole where real women are given a platform to tell their stories in first-person narrative as told to a writer.
This is Lorelle Oliveria's story, as told to Charmin Michelle.
My wedding date was weeks ago, but we never got married.
We were actually about 35 days out from our ceremony when the pandemic really began to affect us and our loved ones. Our original date was scheduled for April 4, 2020 in the beautiful landscapes of Georgia, with 250 of our closest family and friends.
But we all know what happens next.
Initially, I was so overwhelmed with where to start—and at times I still am, actually. For the amount of planning that goes into a normal wedding, imagine having to battle an entire year's worth of a bridal season, scrambling around, as they are doing exactly what you are trying to do.
Will I be able to reschedule?
How will our guests be able to make alternative arrangements?
I was ruined. Everyday, I'm on the phone calling vendors and the wedding venue like a madman, trying to renegotiate and secure a new date. It was also a priority for us to keep our guests as informed as possible. The communication aspect of a wedding is so draining—especially if you don't have a planner—and since we didn't have one, most of the tying loose ends has fallen on my plate. I am grateful for my sister Lindsay (who is my maid of honor), my bridesmaids and my mom because they have really been there for me. The support of family and friends is really comforting.
So now, I've finally reached a point where I'm like "Lord, let your will be done" and I've quite literally let go and let God.
My fiance, Greg, and I met when we were kids—I was childhood friends with his sister. His sister and I were in a talent show together, and won second place after dancing to "Survivor" (thanks, Kelly, Michelle, and Bey haha). Although I've known his family for years, Greg and I lost contact until well into adulthood. He went off to University of West Georgia, and me, FAMU. Greg and I connected later through a message on social media (he slid in the DMs). We went out on our first date and had such a beautiful time. I quickly realized that the Greg I thought was quiet and reserved, was actually really funny and silly. And in turn, he said he thought I was sweet and down to earth, so we definitely hit it off. Supposedly, the date ended with me saying "CALL ME!" ...so he says, but I don't remember this happening. *side eye*
Anyway, Greg and I became best friends: talking on the phone, FaceTime-ing every night and meeting up occasionally when I was in town from Tallahassee. We continued to build a friendship over the course of two years through outings and deep conversations. He and I established a mutual love and respect for one another with God at the center of it all.
Eventually, we'd get engaged and the rest is history.

Our engagement has been bliss. Our wedding planning has been stressful, but rewarding. And throughout, I've felt a range of emotions. First, stress and anxiety when the pandemic first began. I was trying to remain positive and I was hopeful that we could still have our wedding on April 4. After watching the news, and seeing all of the gathering restrictions, that hope dwindled. I knew what was coming next. We also had out of town guests and members of the bridal party who were not going to be able to make it anymore, which was devastating.

So, Greg and I made the heartbreaking, but very necessary, decision to postpone.
And ironically, I felt a sense of peace when we did. It was just too much trying to anticipate and prepare for the worst and simultaneously the unknown. I was emotional. But I've welcomed the decision now.

The good news is we haven't lost any money in the process; our vendors have been more than amazing and accommodating.
Today, we have a new date scheduled and everything is falling into place. #thankyoulord
—
One of my biggest blessings came in seeing how—now more than ever—Greg really will go the extra mile to make sure I am healthy and OK. He really cares about my heart and does everything to make sure no matter what, that we are a team before anything.
I actually believe postponing has brought us closer.
We rarely hear from the fellas in these situations, so I felt it was only fair to share with you guys his true feelings on rescheduling our wedding. So I asked him, and to my surprise, here is what he said:
"I was definitely disappointed but I was more concerned with how Lorelle would feel about postponing. I think for the bride, they invest so much in the planning and details and it hurts deeper for them to have to let go of that day. I just wanted to be there to support her. I prayed that God would help us both with that decision. I think now we are focused more on the silver lining within the situation. God continues to provide the resources we needed to continue planning and also the transition has been smooth. We are both grateful for that and for our health during this incredibly challenging time."
Whatta man, whatta man.
Even on the day of our original wedding date, Greg bought our favorite meal, prepared a special slideshow presentation of us over the years and gifted me red roses. It made us strong and showed us that our love can get us through tough situations. Our bond was built to survive this.
Ladies, basically what I'm saying is nothing catches God by surprise and all things will work together for our good. I think I was wrapped up in my own plans that having to change them devastated me. But, once I relinquished my stress and anxiety to God, I realized that He is still able to make our dream wedding come true in His perfect timing. I just have to trust that and lean on that; not sit in a pile of worry and fear.
So, if your wedding has been impacted by the coronavirus:

Pray first. Ask God to give you clarity and revelation about your wedding and the decision to postpone it. Ask Him to give you signs that you are moving in the right direction.
Do not stress yourself out. I was worrying myself sick everyday (literally would have a migraine daily) just thinking about all of the things that were going wrong, rescheduling, disappointment and trying to find the strength to still complete my wedding checklist. Take one moment at a time but do not contemplate worst case scenarios and get worked up. It just isn't healthy.
Get a wedding planner or delegate to people to help you. When I decided to reschedule, I told Greg directly that I was overwhelmed. After the stress of moving our wedding date, I do not have the energy to complete all those tasks over again by myself. I just can't do it. If you need to contact guests, florists, vendors etc. delegate someone to do that so you can be at peace. You deserve a moment to catch yourself and to wrap your mind around a different vision and reality.
Discuss with other brides in the same situation. Talking to other brides going through this pandemic has really helped me. I even found a cool forum on Wedding Wire that allowed me to read other brides' stories. You can find hope in the fact that you are not going through this alone.
Everything will work out for all of us how it is supposed to, we've been through too much this year for it not to. Just know that nothing is bigger than your faith in Him. Not even a deadly global virus.
To keep up with the progress of Greg and Lorelle's wedding, you may follow Lorelle here on Instagram. Also, feel free to send her well wishes on their journey as the rescheduled date approaches!
Keep reading...
Show less
As Told To is a recurring segment on xoNecole where real women are given a platform to tell their stories in first-person narrative as told to a writer.
This is Racquel Kristi's story, as told to Charmin Michelle.
Our name? PopBliss.
We curate beautifully crafted $250,000 week-long secret wedding experiences for multiple couples in a group ceremony—with celebrity guest appearances, industry-leading professionals, luxury gifts, surprises, and excitement around every corner. Our couples and their guests are unaware of the details. All they know is the city and date. Keeping the details a surprise allows our couples to cherish a milestone while focusing on developing a strong union and starting their new journey in the best and most loving place possible.
It's their wedding day—just with five other couples, too.
We design an incredible, customized itinerary with more than six events, including the bridal brunch, cocktail parties, glam and dapper suites, tons of elite services plus a live-streamed wedding viewed across the country, keeping the bride front and center while highlighting the best of the host city.
Through our business model, we've created an unbiased community of couples who align with our core values, which become part of the longevity of their relationship—even after wedding week.
A little background about me: I'm a first-gen American, born to Jamaican parents and raised in New York. My mom was always naturally creative, and my father was always the business-minded dreamer. Most of my personality comes from and is influenced by each of them, but of course, I add a little of my own "curry" to the mix.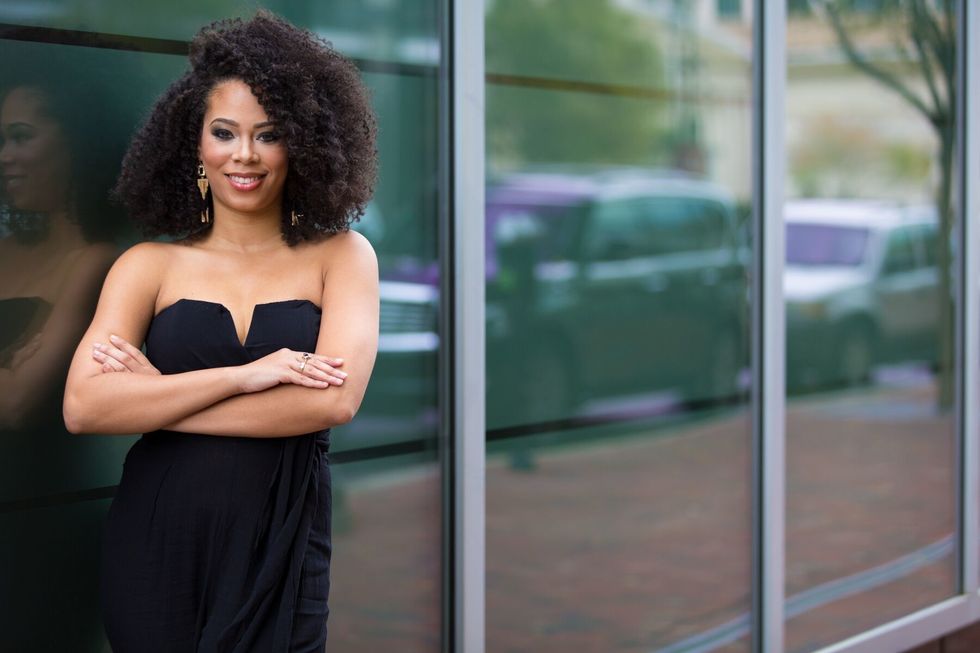 Courtesy of PopBliss
I remember the moment I fell in love with hospitality. My mom threw me a Sweet 16 party, and just by witnessing the planning and details she put into my special day, I remember being so enamored. I'd initially wanted to be an entertainment attorney. Ugh. All that quickly faded. A single party changed the course of my life.

I attended Howard University where I began taking classes in hospitality management, mostly because I thought owning a catering hall was what I wanted. I realized I preferred event production after watching The Wedding Planner (thanks, J.Lo!), so I became obsessed with all things event-related: I watched every show, read every magazine and book, and studied the top planners and designers in the world.
I needed to know it all, so I began my journey of getting it.
I wanted to create something no one could ever take away from me, but I didn't want to just be a wedding planner. I instead decided to become a celebration lifestyle brand.
And PopBliss was born.
Since launching, there have been many lessons learned, many setbacks, and many rewarding moments along the way. And most importantly, I've learned so much—good and bad. I remember my favorite wedding: New York, 2016. After several years of working endlessly, spending tons of money, taking lots of risks, enduring sleepless nights, and never giving up, there was a moment at our welcome party when I saw all the couples excited and dancing as they awaited their wedding day. I had a moment when I was lost in the full visual of what was going on. Like, I really built a brand, and everyone around me was appreciating it. It was amazing—a dream come true.
I created this. I did this.
It was surreal for me, and the absolute best moment of not only my event-planning career, but for appeasing that entrepreneurial little girl inside me who wanted to show all that she can do.
Reality soon set in, as we know that with group weddings, there are stigmas that come with it. Many women have their own fairy tale about what they want their wedding to look like.
Share a wedding event with someone else? No way!
People make assumptions. Some think group weddings are cheap and impersonal. Some think of it as a crowdfunding-style celebration or a fancy alternative to courthouse weddings or elopements.
In fact, it's the exact opposite. For us, we focus on the full experience of celebrating your union in a new, creative, individualized celebration that encompasses all that couples find important in their marriage and phase of life. We would never be described as "cheap"—are you kidding me? That would imply a lack of quality, which isn't the case at all. You can't knock something you've never experienced, and group weddings can be extremely magical.
And what's crazy is, I can remember one of my biggest career failures that made me believe otherwise. Just as success comes with the good, success comes with way more bad (whether your favorite entrepreneur admits it or not). I was planning a pop-up dinner party with over 700 guests, and well, let's just say Murphy's Law didn't play nice. Everything that could have gone wrong, literally did. I had thousands of dollars in an account that I couldn't access to pay vendors, our outdoor event site got rained on the night before, the caterer was five hours late, we lost sound, an ambulance had to take someone to the hospital, a team member of mine found out she had a terminal disease the day of the event—the list literally goes on and on. I thought Ashton Kutcher was about to jump out and tell me I was being "punk'd". Like, we got our butts handed to us. That was the day I learned high-level crisis management—and how quickly I could get to my local store for wine.
That was also the day I learned I was built for this.

When I'm overwhelmed, I walk away from whatever or whoever is stressing me and take a moment for myself. Then I do something that makes me happy, like watch a TV show or sit outside in the sun—basically, anything that allows me to collect myself and think through whatever is upsetting me. Also, water is my secret healer. Any time I seek clarity, I take a shower or go swimming. Putting yourself first involves being self-aware of the good and the not-so-good things about yourself. You have to consciously improve. I listen to many speakers on YouTube, and I have a gratitude journal that I write in daily. To relax, I cuddle in my bed and burn a good candle.

To top things off, my computer isn't allowed into my room. My room is for relaxation.
Ultimately, ladies, my world has taught me that love is love. No two people see love and marriage the same way. Both come in many forms and are never one-dimensional. The brides I work with are sure about themselves, what works for them, and what doesn't. They are confident in their unions, which in hindsight is a quality to have in order to be involved with group weddings. These women love celebrating who they are, and they want their style, their house, their partner, and their wedding to reflect that as well.
I've realized that your true love, your soulmate, your twin flame, or someone who might seem impossible to find, can be right in front of you and you never know.
Life gives you what you ask for and in no particular order.
It's not always "first comes love, then comes marriage, then comes baby in the baby carriage". Sometimes, it's all in reverse, but regardless of what your ideal love story looks like, the goal is to have healthy, happy, withstanding love. And if standing by five other couples while saying your vows is what that looks like, then there's absolutely nothing wrong with that.
PopBliss is currently accepting applications for couples who wish to tie the knot or renew their vows in a nontraditional, adventurous way. You may visit their website for more details.
If you have a story you'd like to share but aren't sure about how to put it into words, contact us at submissions@xonecole.com with the subject "As Told To" for your story to be featured.
In xoNecole's Our First Year series, we take an in-depth look at love and relationships between couples with an emphasis on what their first year of marriage was like.
It's true what they say, "absence makes the heart grow fonder," and after being in a three-year long-distance relationship the love between Ijeoma and Jonathan Kola is absolutely adoring! These love birds crossed paths freshmen year on the campus of Harvard University. Both bright-eyed and bushy-tailed, the two were eager to jumpstart their college careers and take on the world. But, as fate would have it, cupid interfered and redirected their sights.

"He gave me very 'fresh off the boat' vibes. I'm from Nigeria. I was born in Nigeria, but I grew up in America and Jonathan was born in Kenya and grew up in Kenya. He came to college from Kenya. To me, he was very African," recalled a hysterical Ijeoma. Jonathan's Prince Akeem in Coming to America persona didn't scream husband material to Ijeoma right away, but Ijeoma's bubbly personality and positive spirit intrigued Jonathan instantly.
During the couple's senior year, their friendship blossomed into a full-blown relationship. After graduation, Jonathan moved across the globe to Nigeria and Ijeoma moved to New York to pursue a second degree. She admitted she wasn't thinking about marriage then, but being in a long-distance relationship really forced them to really get to know each other on an emotional level. Two years later, Jonathan moved back to the U.S. to attend graduate school in California. By the second year of their long-distance romance, Ijeoma knew she could spend eternity with Jonathan. "I knew that I wanted to be with him, but I also knew I didn't want to be long-distance," said Ijeoma. She spiced things up when she presented Jonathan with the ultimate ultimatum.
Read carefully ladies, Ijeoma told Jonathan, "If you don't propose by my birthday, we got to keep it moving." Keep it moving was clearly the last thing Jonathan wanted to do. A few days before her 25th birthday, Jonathan popped the question and the rest was history. In this installment of Our First Year, Ijeoma and Jonathan sat down with xoNecole and gave us all the details on their struggle with communication, loosening family ties, and the best advice they received during their first year of marriage. Here's what they had to say:
*Responses have been edited and condensed for clarity.
The One
Ijeoma: I don't know if there was an exact moment [when I knew he was the one]. Maybe after the second year of being long-distance. I was living in New York, and I had other options. I kind of felt like if I was willing to do this long-distance with this guy who's so far away in Nigeria at the time, then I must really care for him. I think that's when I knew he was the one. It was during that long-distance process.
Jonathan: When we started dating in college, marriage wasn't really on my radar. As we continued dating and things were working out well, it was pretty natural just to fall deeper into the relationship. Until Ijeoma said, "If you don't propose by my birthday we have to keep it moving." I was just about to graduate. I was trying to picture myself down the road. I was trying to figure out life. She made me see that it was the right time. For me, it was natural with a bit of encouragement. We were dating, we kept dating, and it was going well.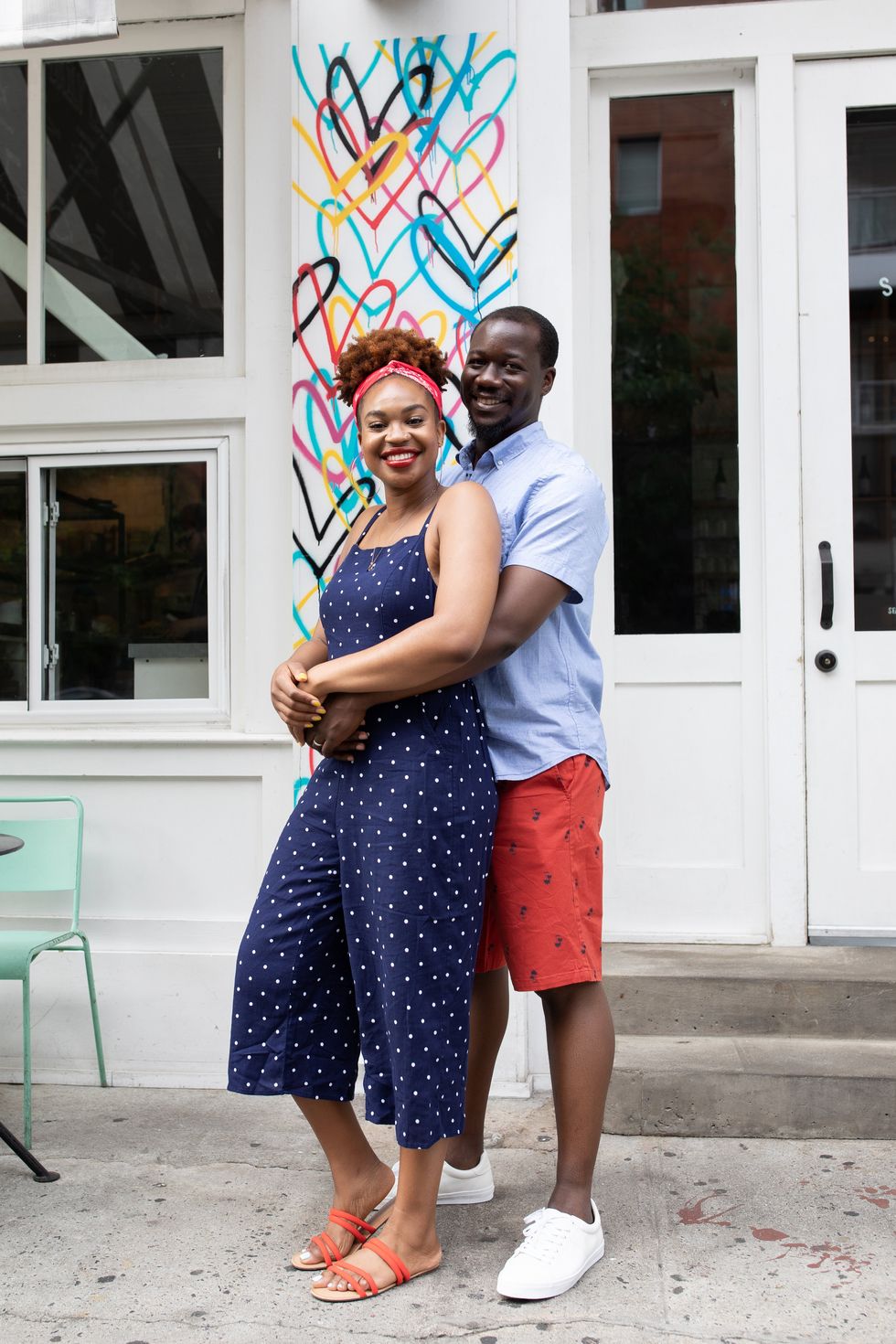 Courtesy of Jonathan & Ijeoma
"I was trying to figure out life. She made me see that it was the right time. For me, it was natural with a bit of encouragement. We were dating, we kept dating, and it was going well."
Meet Me At The Altar 
Ijeoma: After his first year of business school, which I think was the summer of 2015, he was in school in California. We were doing long-distance. He did an internship in New York, so we lived together for that summer. In general, I am not comfortable living together before marriage, but we decided to do it because of financial reasons. That process of living together made me feel I wasn't going to shack up with somebody who wasn't trying to marry me. So, I think us living together in that summer, at least from a time perspective, made me feel like marriage was the next thing that we needed to do if we wanted to spend so much time together. If we wanted to be together all day and create a shared space together, then we should get married. Emotionally, I was probably there before then, but I think from a practical perspective it was after that summer. I was like, oh no, we need to get married if you trying to be with me all day.
Jonathan: I think for me knowing that I could spend the rest of my life with Ijeoma in a relationship was one thing, but taking the steps to get married and formalizing that was a different thing. You can feel one way toward somebody, but still feel like in your mind this isn't the right moment to get married. It was just a natural progression for me. She was exhibiting all the right things I liked like being caring, loving, sweet and I just enjoyed spending time with her. Those are things that reveal themselves over time, but they all add up to that feeling of okay, this is the one.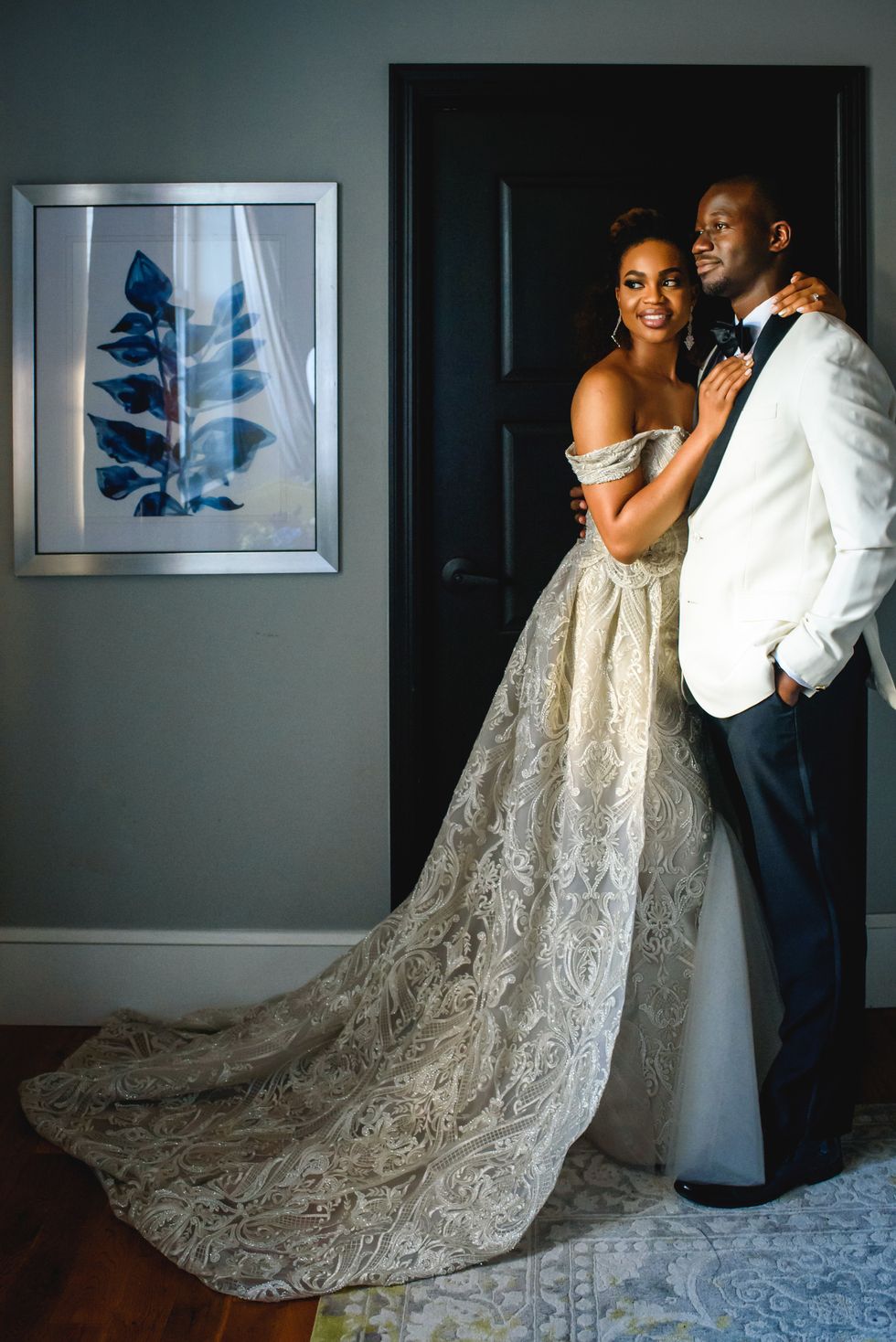 Courtesy of Jonathan & Ijeoma
"It was just a natural progression for me. She was exhibiting all the right things I liked like being caring, loving, sweet and I just enjoyed spending time with her. Those are things that reveal themselves over time, but they all add up to that feeling of okay, this is the one."
Overcoming Fears In Marriage
Ijeoma: Before getting married, I would talk to my mom about everything. So, something I believed would have to change if I wanted my marriage to be successful [was that there would have to be] things that I talk about with my husband that I don't share with the outside world because it's just between us. I have to train my mind to remember he is my family now. Sharing goods new with him is sufficient, and I don't need to go talk to my mom. Even when I'm looking for advice, it's okay for things just to be between him and I. I think that is what I was most worried about--whether I would be able to keep my mouth shut and not reveal all our business to my parents and to my other friends. I'm doing an okay job.
Jonathan: My biggest fear going into marriage was probably my biggest default--that was my trajectory. In my mind, from day one when I left Kenya, I thought I was going to move back and get a job. When you meet someone and make a commitment, all that stuff kind of goes out the window. In my mind, all those things that I wanted to do, I had to reevaluate. That was scary. Then I realized, marriage is two people coming together and being able to bring different goals and perspectives and trying to make it workable for both. I think it's something we are still working on, and we are taking short-term steps to see how we work. I think it is one of those challenges you face in marriage to become one.
Conflict Resolution 
Ijeoma: For me, similarly, it's communication but on the opposite side of the spectrum. Growing up, I saw from my mom interestingly, not even from my dad, but my mom's style of communication to anyone was pretty abrasive when she is upset. Early on, I would raise my voice. Which would only be exaggerated when he would close the door, and go somewhere and not talk to me for three hours. I had to unlearn saying exactly how I felt at that moment. Although that might work for me and make me feel good, that might not be what the other person is ready to hear. Our unlearning goes hand in hand because they come from such different sides of the spectrum of conflict resolution and communication.
Jonathan: Whenever I'm pissed off, my initial reaction is not to tell her why I am pissed off. I just like to scowl at her for a couple of hours. It's not a good thing and I recognize that. That's one area where I'm trying to be better. Getting over things more quickly.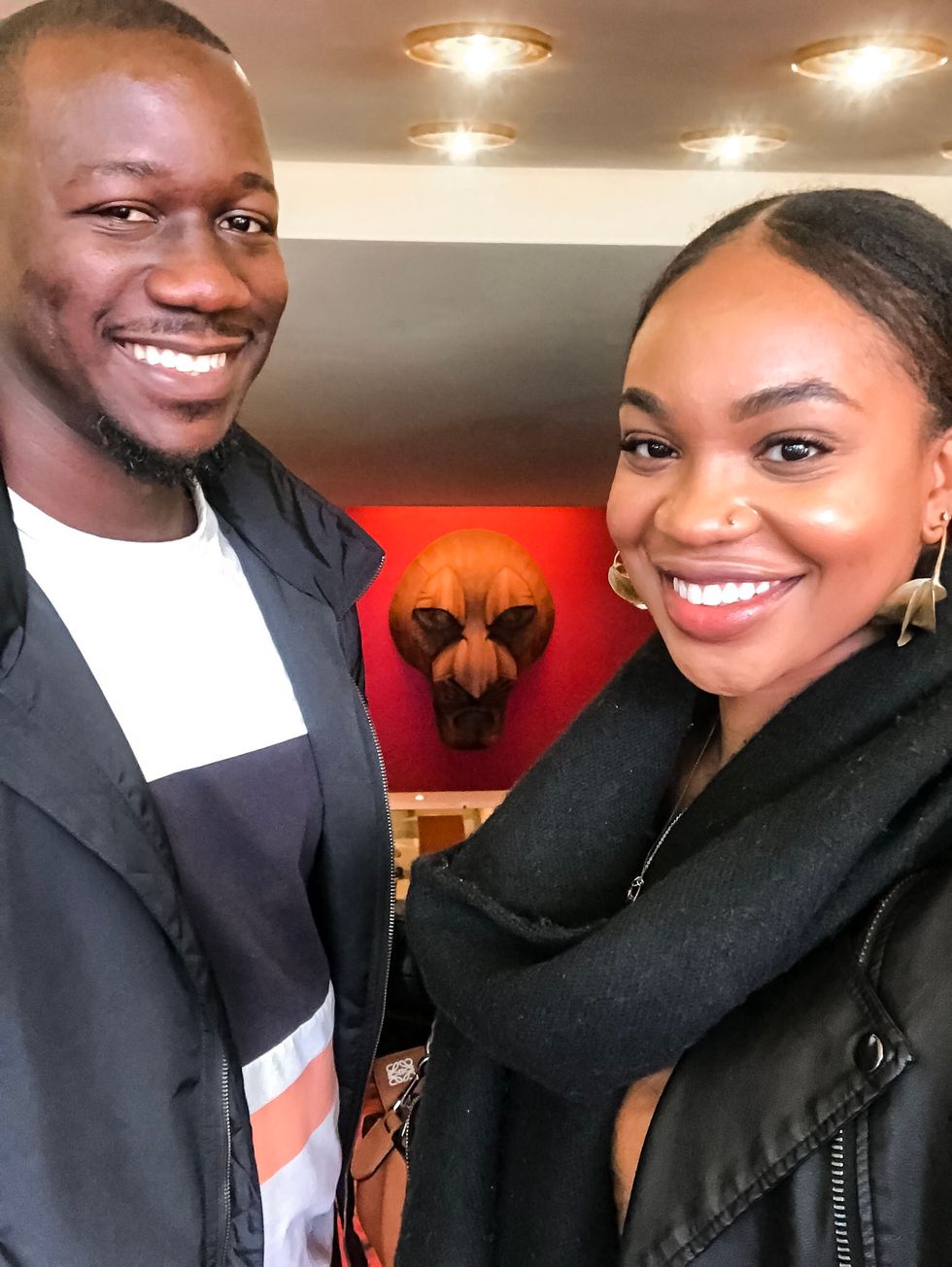 Courtesy of Jonathan & Ijeoma
"I had to unlearn saying exactly how I felt at that moment. Our unlearning goes hand in hand because they come from such different sides of the spectrum of conflict resolution and communication."
Important Lessons In Marriage 
Ijeoma: I actually learned a lot about myself. Loving him has taught me that I am capable of doing things I didn't think I was capable of doing. He has supported me through my Ph.D. journey. I wanted to quit so, so, so many times, and he really was my rock on numerous occasions. He encouraged me endlessly, and also gave me the freedom to feel I can do it in my own way. The only reason I was able to finish is because I was able to let go of the traditional understanding of getting a Ph.D., going to conferences, and writing papers. He encouraged me to look beyond the typical traditional task and forge my own path, and do it in a way that would make me happy and fulfill my needs. That was the only way I was able to get it done. His support showed me that I am really, really strong and I can do a lot of things.
Jonathan: For me, [I've learned] everything is a choice. The way you respond to things is a choice. Sometimes I'm just stubborn. The sun will shine the next day and life will go on. Bad behaviors that build up over time can become very toxic. Just in the state of giving good vibes and good energy, it's the little small choices that can bring the right energy. It's healthier, and you grow from it.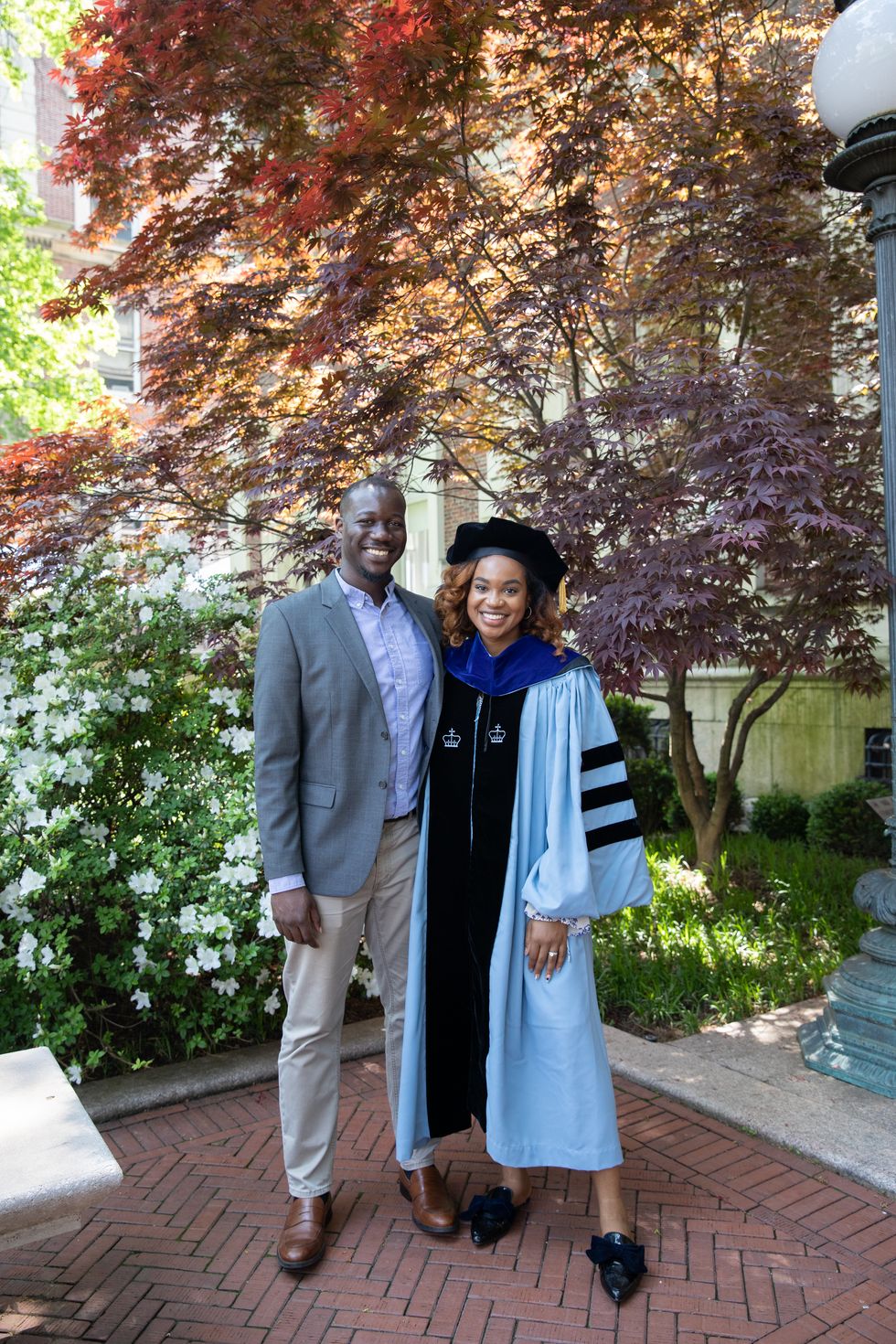 Courtesy of Jonathan & Ijeoma
"He has supported me through my Ph.D. journey. I wanted to quit so, so, so many times, and he really was my rock on numerous occasions. He encouraged me endlessly, and also gave me the freedom to feel I can do it in my own way."
Love Language 
Ijeoma: With me, it's about trying all the love languages and seeing what sticks that day. Jonathan is pretty simple when it comes to love language. For him, acts of service and quality time are the top two. We spend a lot of time together. We are very fortunate to spend a lot of time together. I'm quite messy, so I try to do things I know will make him happy or will take a load off him. I will often take on things I know he has to do or forgot to do. We took the test before we got married which definitely helped us.
Jonathan: Some people switch up their love language. They'll tell you it's one thing, but it's another. Sometimes you just have to do all five.
Common Goals
Ijeoma: A couple of weeks before we got married, we took a weekend trip and wrote out our marriage mission statement and our marriage values. It was Jonathan's idea. I don't know where he got it from. It was actually really good! It helped set a foundation for us. Our goal in marriage is to love one another the way that God loves us and to use our marriage as a way to share God's love and light with other people.
Jonathan: I wouldn't change anything she said. I want to amplify one point. It's really about making sure both of us are fulfilled and happy. As for goals, it just has to fit in the context of our marriage. If my individual goals don't fit into the context of our marriage, then I can't do it. At the end of the day, that's what's important.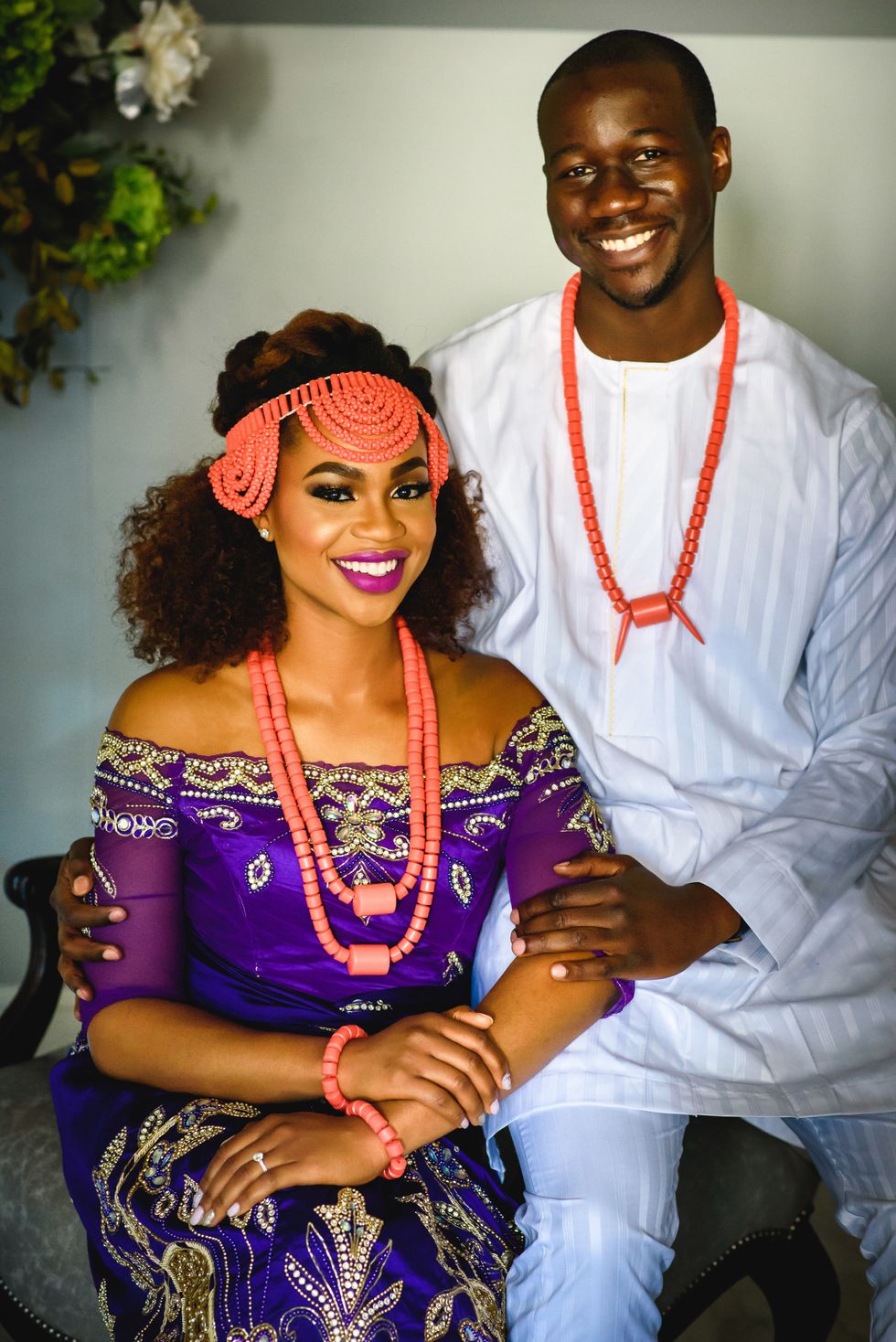 Courtesy of Jonathan & Ijeoma
"Our goal in marriage is to love one another the way that God loves us and to use our marriage as a way to share God's love and light with other people."
Favorite Advice
Ijeoma: There was a time where I was on the phone with my mom, I was cooking and Jonathan had just come home from work. I had her on speakerphone, she asked, "Is that your husband?" I said, "Yes." She said, "Okay then, bye." I told her it's okay Jonathan doesn't mind, we can keep on talking. She said, "No, your husband is home. It's now time for you to be with him and spend time with him. You and I can talk some other time." That was a super-powerful moment because as I said earlier, that was something I had to work on--prioritizing my relationship with my husband as my first earthly relationship. Once we are back in the same space, it doesn't matter who you are on the phone with, what you're doing, stop and take time for each other and spend a little bit of time together.
Jonathan: The most memorable piece of advice I got was from a cousin who said, "Whenever I travel somewhere, I should bring back something small for my wife." Whether it's a hat or makeup bag, just something random. It's such a small gesture but it goes a long way.
For more of Ijeoma and Jonathan, follow her on Instagram and read her lifestyle blog here.
Update:
Soon they'll will have to make time and space for their first bundle of joy. Congratulations are in order as Ijeoma and Jonathan welcome their first child! To learn how Ijeoma broke the news to Jonathan, watch the video below. Stay up to date as they navigate marriage and parenthood by subscribing to Ijeoma's YouTube channel.
The Kola Family Is Expanding! Pregnancy Q&A www.youtube.com
Keep reading...
Show less