With more than 84% of women experiencing painful periods, there's no wonder why "that time of the month" is filled with negative connotations. As someone who doesn't fall into the 84% percent noted in that study, I can still attest to factors like age, stress, and lifestyle affecting my menstrual cycle and the way I experience my periods. Gone are the days when my symptoms peaked at salty and sweet cravings, and in its wake, I've been introduced to cramping, low estrogen levels, and a heavier flow than I've experienced in all my years of having a period. Where I used to look at my periods as a time of the month when was indifferent, I am now feeling the effects and I can only imagine how the other 84% of women reporting period pain go through (more power to y'all, for real).
Two things changed the menstruating game for me. One, the conscious decision to look at my cycle for the full 28 days that it is (anywhere between 21-40 days is considered "normal.") instead of just the 5-7 days I am actually in the menstruation phase of my cycle. And two, looking into cycle syncing as a holistic way to change my relationship with my period and my cycle overall. You see, instead of acting in opposition to what I experienced during my periods, I could lean into it and restructure my life in a way that aligned with the different phases of my cycle, and therefore the different "seasons" I was in. When it comes to all that cycle syncing entails, ladies and gentlemen, this is just scratching the surface.
Berrion L. Berry, founder of Optimize Your Flo and menstrual health educator, explains, at its core that cycle syncing "is aligning different aspects of your lifestyle such as fitness, nutrition, wellness, and even business with the phases of your menstrual cycle." And although the results could vary from person to person, it is still something she recommends to women and menstruators to see if it positively affects the way they experience their cycles. She adds that not only can cycle syncing transform your periods, but it can also evolve the way people with periods work.
"As more and more research is being conducted we're finding things that are so unique. Did you know that there are times throughout the cycle perfect for brainstorming new ideas like during the menstrual phase?" Berry continues, "When practicing cycle syncing and understanding changes that happen, people can actually work more effectively and I think that's incredible. Especially if you're someone who's looking to go from feeling burnout to embracing the soft life."
Keep reading for the phases of the menstrual cycle and how to optimize each phase for ultimate alignment as well as potentially less painful periods.
The Phases of the Menstrual Cycle
Phase 1: Menstruation (Winter)
Phase 2: Follicular (Spring)
Phase 3: Ovulation (Summer)
Phase 4: Luteal (Fall)
Cycle Syncing During the Menstruation Phase (Days 1-7)
Menstruation is the "shedding of the uterine lining and when your period happens." Berry notes that since the hormones are in an 'off' position during this time, your overall energy can feel low. Nourish the body with unprocessed, nutrient-rich foods and filtered water to keep your blood sugar and energy levels steady.
The Optimal Way to Nourish the Body:
"A good mix of lean proteins, healthy fats, and low GI carbs such as root vegetables, whole grain, and legume-packed stews, can support the energy-intensive process of menstruation."
The Optimal Way to Move the Body:
"Since your body is physically releasing, the best thing you can do is rest or active recovery. The reason you want to do this is so that you don't apply additional stress (increased cortisol) to the body and create an inflamed, exhausted, or overwhelmed environment within the body.
"Light jogs, long hikes, a nice yoga flow for most people. If you're someone who likes to train a lot, one of the best things you can do during this time is a low-intensity workout like Pilates as well, preferably mat Pilates.
Cycle Syncing During the Follicular Phase (Days 8-13)
The follicular phase is "the time between the end of the period and ovulation" and can be viewed as the "spring" season of your cycle. To prepare for ovulation, the body's hormone levels are on the rise as your egg follicles mature, Berry explains. In contrast to the low energy levels you might have felt during the menstruation phase, during the follicular phase, you may start to feel more energized.
The Optimal Way to Nourish the Body:
"Supporting your gut aids the body in processing estrogen and potential toxins that may be in your body. The more micronutrients you focus on getting during this time, the better. This is a good time to incorporate light, fresh and vibrant foods, such as salads and fermented foods like kefir, probiotic yogurt, or sauerkraut, which support gut health and detoxification."
The Optimal Way to Move the Body:
"During this time, since your hormones are beginning to rise, it's the perfect time to pick back up on your workouts and training. Exercises like reformer Pilates, boxing, spin class anything a bit intense and vigorous is perfect for this. You may also want to consider adding a bit of resistance training in."
Cycle Syncing During the Ovulation Phase (Days 14-21)
Berry refers to the ovulation phase as "the main event" of your menstrual cycle as it is when the egg is released from the ovary. "During ovulation, hormone levels are skyrocketing and estrogen is the life of the party. It aids in the ovulation process along with a surge in LH. Our basal body temperature also increases during this time, which can impact increased energy levels."
She also adds that "ovulation is not always day 14 of a cycle no matter what you've been taught in the past. Ovulation can actually change based off so many things, so just make sure you know your body."
The Optimal Way to Nourish the Body:

"Consuming foods that are nutrient-dense, but also refreshing like a smoothie bowl or salad is definitely a must. See, excess estrogen can have a negative impact on our cycle, including breast tenderness and increased spotting, however, consuming nutrients that support the liver to remove estrogen is good to include and are found in foods such as kale, broccoli, onions, garlic, and radishes."
The Optimal Way to Move the Body:
"During this time, since your hormones estrogen, LH, and testosterone have surged, it's the perfect time to do those higher intensity workouts and anything that will have you actively sweating and increasing your heart rate. Exercises like spinning, sprinting, and heavy lifting are perfect during this phase."
Cycle Syncing During the Luteal Phase (Days 22-28)
​The last phase of your menstrual cycle is "the time between ovulation and before the start of menstruation when the body prepares for a possible pregnancy if the egg is fertilized." Berry continues, "During this phase, there's a shift in hormones, and around day 23 of your cycle, your body begins to prepare for the shed of the uterine lining. You may notice your cravings are a bit more intense, and you just want to eat everything in sight."
The Optimal Way to Nourish the Body:

"With estrogen on the decline and progesterone on the rise, you'll want to make sure that you focus on nourishing your body with additional nutrients like iron, magnesium, and zinc as well as complex carbs."
The Optimal Way to Move the Body:
"Since your body is preparing to physically release, the best thing you can do is low-intensity workouts and active recovery. The reason you want to do this is so that you don't apply additional stress (increased cortisol) to the body and create an inflamed, exhausted, or overwhelmed environment within the body. I suggest light jogs, long hikes, or a nice yoga flow for most people."
How to Start Cycle Syncing
If you want to start cycle syncing and optimizing your period health, Berry has the perfect method to start. In her teachings, Berry recommends beginning your cycle syncing journey through a process of habit stacking where you optimize cycle syncing by building on basic healthy habits you've already mastered. Berry sums this process up with the statement, "Standardize before you optimize." Her step-by-step process to standardize healthy habits is as follows:
The O.N.E method:
O is for "organize your meals in sync with your cycle;"
N is for "nurture your adrenals" which Berry says means working out in sync with your cycle, making time to meditate, journal, or pray at least once a day, and getting on a regular sleep schedule;
E is for "execute daily" which Berry created a checklist to help people with this step (download the checklist here).
After utilizing her method to standardize your healthy habits, Berry advises looking at where you are in your cycle to optimize your lifestyle habits according to the recommended lifestyle habits according to the phase you are in. For more specifics, check out her guide on fertility awareness here. "Once you know where you're at in your cycle, I like to recommend people start with nutrition, then add fitness and wellness, but ultimately people can start with wherever they want," Berry shares.
If you are starting your cycle syncing practice and don't wish to go the DIY route, Berry has a wealth of resources, including classes that she advises period havers to take if they are looking for a step-by-step plan with all of the details. Learn more about her classes here.
For more information about cycle syncing and daily tips, follow Berry on Instagram or TikTok @berrionlberry.
Featured image by Kevin Kozicki/Getty Images

Keep reading...
Show less
For years, well into adulthood, I was horrible at tracking menstruation. The signs would be there but I was not attuned and attentive to what was going on with my body. At some point during the pandemic, I started gardening and using menstrual blood to fertilize my plants. That was the catalyst for my interest in menstruation, but just a mild interest in the way that I tend to live. And during this brief period of piqued interest, I for some reason was prompted to look into tracking my period based on the lunar cycle.
This immediately made sense to me as the moon is often viewed as all things maternal, emotions included, and it works under a similar 28-day cycle (29.5 days to be exact) from the first phase to the last: New Moon, First Quarter, Full Moon, Last Quarter. Somewhere in between those phases, you also have what is known as Waxing and Waning Moons, which often signify transitional stages in life as you'll see shortly.
While I'm no expert on this matter, I'm going to do my best to make this all as plain as possible in explaining. I encourage you to do your own research in addition to the information provided here today. Whether you learn to love it or not, I think you might be intrigued to find out if your cycle is white, purple, pink, or red. And the particulars of each.
The White Moon Cycle & Its Meaning
The white moon cycle is the most common type of cycle and it means that your menses flow on or around the New Moon, while ovulation occurs on or around the Full Moon. Since the Full Moon is said to be the most fertile time for planet Earth, this particular phase usually occurs when women are in the role of nurturer to their current children and family or themselves. The other possibility regarding children is that you may feel ready to conceive children and ready to become pregnant. These women tend to be highly favored and revered by the patriarchy as women who gladly step into what is said to be "their place in this world."
The Red Moon Cycle & Its Meaning
​It has often been said that women who are on the red moon cycle are healers and witches, at least amongst our dear ancestors of many moons ago. Those who menstruate during this cycle, found less often than the white moon cycle, were said to be focusing creative energy inward. Their cycles begin on or around the Full Moon and conversely they ovulate during the New Moon. Arguably, in my opinion, these women are well-rounded – though they too may be mothers, they are mothers who prioritize self-development, ongoing growth, and community. They look for themselves outside of that one title, mother, and seek out more in life. This is not to say there is anything wrong with wholly fulfilling the role of caregiver, as both require the same amount of commitment and energy.
The Purple Moon Cycle & Its Meaning
Purple moon cycles tend to happen for those who menstruate when the moon is waning – this occurs when the Full Moon is transitioning to the New Moon. If you're someone who gets your menses during this time of the lunar phase, it is said that you are also in a transitional stage of your life. However, the shift more specifically can mean you're moving into a place of darkness or rest in the same way that the moon asks each of us to do when we go from a bright New Moon to the darker skies of the Full Moon. Use this time to reflect on what's not working for you. Reflect, but don't act quite yet.
The Pink Moon Cycle & Its Meaning
While having your period during the Waxing Moon, also known as a pink moon cycle, is similarly about transitions in your life, it oppositely means you're leaving a period of rest and rejuvenation and walking into the light so to speak. Once you've come out of resting, the idea is that you will walk into strength and power, love and light.
Please note that your "moon day" can be consistent but should it switch to another phase don't be alarmed, as it's actually common that it changes based on where you are in life. Instead, use that as a compass to guide you and reveal what type of nurturing advice Mother Moon is attempting to offer you here.
Let's make things inbox official! Sign up for the xoNecole newsletter for daily love, wellness, career, and exclusive content delivered straight to your inbox.
Featured image by Getty Images
Keep reading...
Show less
Ironically enough—considering the way the word begins—the love-hate relationship that we have with menstruation is comparable to the way in which we navigate the world of men. It's very much "can't live with it, can't live without it" vibes when it comes to women and their cycles. But the older I get, the more I learn to hate that time of the month a little less. A lot of my learning to embrace my period has come with learning the fun, interesting, and "witchy" stuff while discovering more natural, in-tune ways of minimizing the pain in my ass (those cramps know no bounds) amongst other places.
However, not everyone has this relationship with their periods. Not to mention, we've become so accustomed to Western medicine that we opt for or at least consider options such as birth control to cheat our periods—everything from stopping them completely to skipping them when it's an inconvenience for us.
We all know someone like this, and if we don't, it may be because we are that someone. In fact, according to a stat Pandia Health posted on Instagram 58% of women would "turn off" their period if they knew it could be done safely. Whenever I do think about "stopping" periods, I hear the age-old bit about your period being necessary to keep the rest of your reproductive system flowing like clockwork.
So, it begs the question: Is there a safe way to stop one's menstruation? 
According to Dr. Alex Robles, board-certified OB-GYN and fertility blogger, turning off your period is not only safe but the easiest and safest way is the tried-and-true birth control pill. "If the pills are taken for 21 consecutive days with a seven-day placebo week, you will get your period at the end of the seven-day stretch, he says. "However, you can do an extended or continuous regimen in which you take an active pill for three months straight without using a placebo week. In this situation, you will not get your period aside from occasional spotting here and there."
He continues, "In general, it is considered safe to delay your period for three months at a time—many birth control pills come as a three-month continuous supply. Long-term use may delay the time that it takes for your cycle and your endogenous hormones to get back to a normal pattern."
Robles notes other more invasive methods that can also help "stop" menstruation. These methods include:
Hormonal: Progestin intrauterine device (IUD)
Implant: a small rod placed in your arm that secretes progesterone every day
Depo-Provera shot: a one-time progesterone shot that can last up to three months
But what about the "cleansing" or purifying effect that menstruation has on our bodies? To that, Roble says, "As far as purifying, the medications are purposefully keeping your endometrium thin, so there isn't a lining growing thicker in the uterus. As such, there isn't much to shed, which is what naturally happens in a normal menstrual cycle."

Let's make things inbox official! Sign up for the xoNecole newsletter for daily love, wellness, career, and exclusive content delivered straight to your inbox.
Featured image by Getty Images
Keep reading...
Show less
Wellness seems to be the "it" buzzword of the day, but it's not something to take lightly. As Black women, it's important to be able to tap into what keeps us happy, mentally balanced, and all-around good. And while beauty and fashion are important aspects of life, there are a few trends we all should at least consider in order to not only stay on top of what keeps us ticking, but also upgrade out of the obligatory coach seat of that wellness journey.
Here are four trends that might be your perfect intro to a new way to approach wellness and meet the needs of that glow up you've been experiencing (or are set to achieve) this year:
Featured image by Getty Images
Keep reading...
Show less
Back when I was touring heavily and the topic of my abstinence journey would come up, it never failed that, during the Q&A portion, someone would ask me how they could effectively attempt, at least a few months of being "eggplant free". Something that I would share, consistently so, is "watch who you're around when you're ovulating" — you know, when it's that time of the month when an egg is released from one of your ovaries and it has about 48 hours to be fertilized by somebody's son's sperm (this typically happens around the 14th day if you're on a 28-day menstrual cycle or 4-5 days before or after the midpoint of your period). Why was that my advice?
Simple. I'm thinking that it's pretty common knowledge that, overall, we're the horniest when we're ovulating. So, if you're trying to avoid "giving it up", that would be the time to binge-watch some television, hang out with your platonic homies or take up a new hobby. Here's what's interesting, though. Aside from the fact that your ovulation time can make you more, umm, amorous than usual, there are some other things that can transpire during that semi-intense time of the month too; things that you may not have heard of or considered before.
Are you ready to learn what eight of them are? The answers just might surprise you — and help you to connect a few dots.
1. You're More Productive
Actually, what inspired me to pen this piece is an article that I checked out on the Independent's website, not too long ago. The title was "Women do their best work when they're ovulating, according to a new study." The rationale is, one thing that happens when we ovulate, is our estrogen levels spike. This, in turn, can cause us to actually get into a better mood and, you already know — the better you feel, the more inclined you are to get more stuff done.
So, if you've got a big project coming up or there's something that you've been putting off for a while that you know needs to get done as soon as possible, waiting until you're ovulating (a period app can help you to figure that out, by the way) is definitely a scientifically-proven way to go.
2. Your Voice "Goes Up"
While I haven't exactly tested this one out (meaning, I haven't really noticed), I think I will next month (meaning, I will ask some of my male friends) because if ovulating really makes my voice higher, I'm super intrigued. The logic is this — since ovulation is when we can best conceive and we need a man to make that happen (the old-fashioned way, anyway), it seems that we will go up in our speaking voice as a way to appear more feminine which, in turn, makes us more appealing to men. Very interesting.
3. Your Sense of Smell Intensifies
Here's something that's kind of a trip. Did you know that when you're ovulating, your sense of smell intensifies too? A study that consisted of women who are both on and off of the pill and smelling things like lemon, peppermint, rose, musk and the male pheromones revealed that "naturally cycling women" were extremely sensitive to the smell of lemons and male pheromones. The belief is that our olfactory sensitivity is connected to our reproductive system. This makes sense when you think about the fact that a lot of pregnant women experience a heightened sense of smell too. By the way, word on the street is men can smell when we're ovulating as well; especially if they have a higher level of testosterone. Which, to me, also makes sense.
4. You Like the Colors Red and Pink More
Do you tend to not think about wearing red lipstick or that cute ass pink sweater until the middle of your period's cycle? While it might seem random, it actually isn't. There is also data to support the fact that a lot of women are prone to want to rock red and pink shades during their ovulation time. One, because both are hues that are sexy and feminine. Two, because we tend to want to draw more attention to ourselves, these are two colors that typically do it. I mean, with red symbolizing things like love, passion, and desire and pink being about love, femininity, and romance, this doesn't seem too off base either.
5. You Up Your Chances of Having Less Health-Related Issues
Something else that happens when we ovulate is we get an extra dose of the hormone estradiol and progesterone. Why is this such a good thing? Well, estradiol assists with the long-term health of our bones, brain, and heart while also promoting muscle gain as progesterone helps to reduce bodily inflammation, balance our immune system, and support our thyroid. In short, this means that something else that's cool during our ovulation time is our health tends to be in peak form as well.
6. You're Meaner. Kind Of.
One study I read that tickled me comes out of the University of Texas. Apparently, something else that may transpire when we ovulate is we become meaner. "Meaner" in the sense that we're more competitive with women (including professionally) while also being nicer to men. I'm pretty sure you get why this would be the case. If you want to copulate, you want all prospective obstacles moved out of your way. Chile. CHILE.
7. You're Willing to Take More Sexual Risks
Do you have more sex-related dreams around the middle of your cycle? Does your taste in clothing seem extra provocative/seductive around then too? Does almost every image that you see resemble something sexual in your mind? Do beards and deep voices make you wanna climb the walls more than ever? All of these things are also directly tied to ovulation.
And because we are more…sexually intense during this time of the month, it can be a lot easier to convince ourselves to take sexual risks or perhaps even do things that we never would consider doing otherwise. Y'all be careful out here. #wink
8. Your Processing of Men Is…Varied
And finally, another sign of ovulation is how we see men. For one thing, we're better at determining a man's sexual orientation. The pure physical attractiveness of a guy matters so much more. And something that's a real trip? It would appear that the mere thought of catching up with our dads — whether in person or even just hearing their voice — is one of the last things on our to-do list. Because, well, who wants to think about their father when they're also thinking about getting some?
The body is an amazing and very detailed machine. Nothing about it is happenstance — clearly. So, the next time your ovulation cycle rolls around, take note of if these eight things transpired and then think about how cool it is to be a woman. Even our period's seasons are pretty dope and entertaining. Hey, this article just proved it.
To learn more about all things vaginal health and wellness, check out the xoNecole Women's Health section here.
Featured image by Getty Images
Keep reading...
Show less
Do we blame Eve for biting the apple? Did God curse women with periods because Eve partook in the forbidden fruit? This word-of-mouth story has been passed down for generations by mothers to daughters and in this game of telephone it seems that we developed "The Miseducation of Cycles." Welp, it's time to spread the truth about the menstruation cycle and the two most important phases — menstruation and ovulation.
First things first, let's start with some misconceptions around our cycles:
Using tampons as a virgin will break the hymen and take a woman's virginity.
Hormones define women.
Every woman gets PMS, and it always manifests as irritability and crankiness.
Periods are shameful.
You can't get pregnant if you have sex during your period.
Having menstrual sex is unhealthy for the woman and can kill the man.
These myths and misconceptions around our cycles can be haunting especially around such a controversial topic. One of the things I love most about being a woman is the way our bodies create magic naturally. But I will be honest in saying that I am not extremely knowledgeable about the processes. One of the biggest blockades being menstruation vs. ovulation.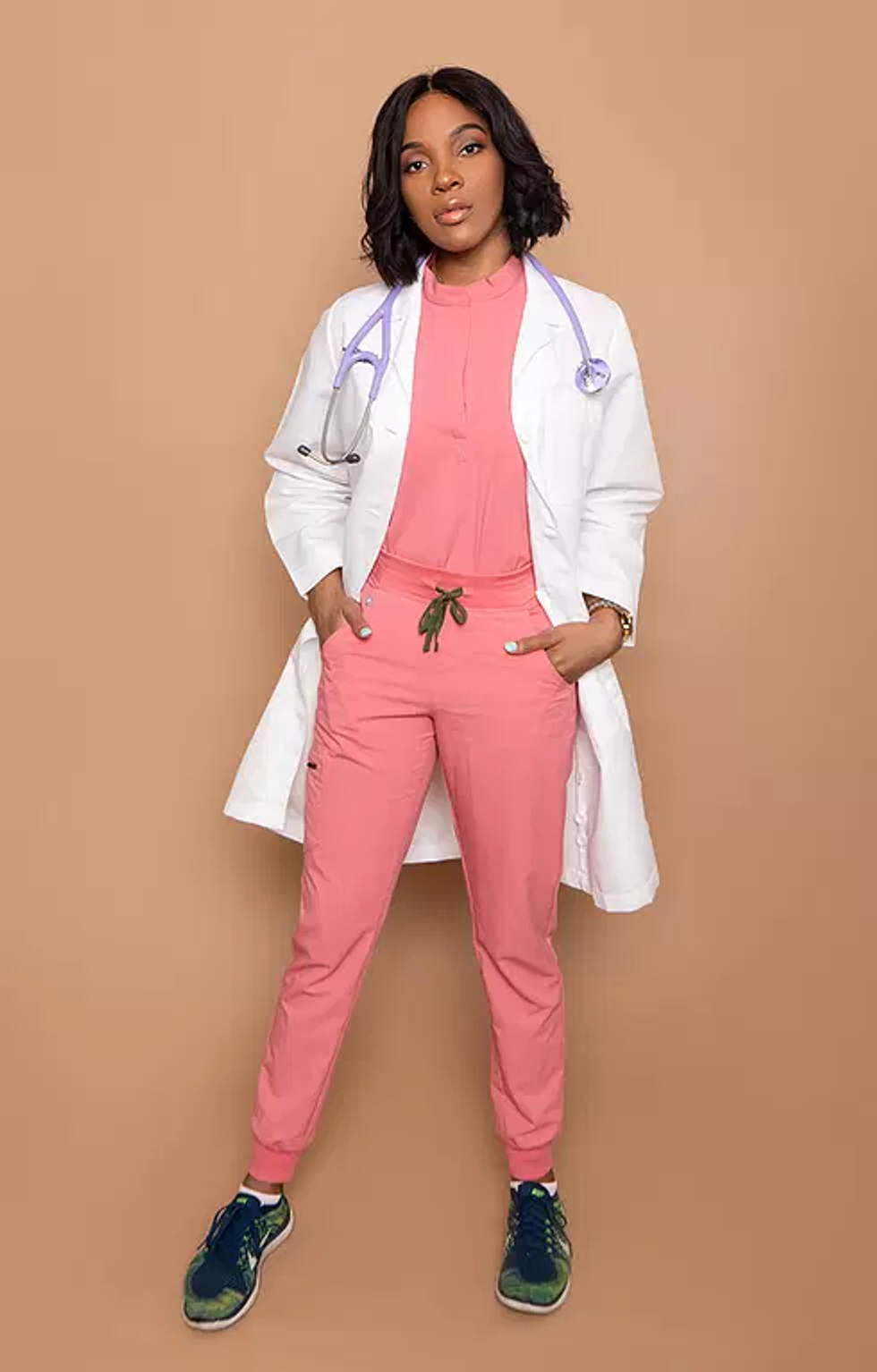 Photo Courtesy of Dr. Chi
To set the record straight, we had to ask our girl and Family Medicine Hospitalist Physician, Dr. Chinyere Okpaleke, more popularly known as Dr. Chi. When she's not saving lives, she somehow finds time to promote health and self-love AND teach free yoga to her diverse community. Read on as she explains the difference between your period and ovulation.
Why Do Women Have Periods?
"Your monthly period and the time of ovulation are both parts of the menstrual cycle. They are both crucial moments in a women's reproductive system that play vital roles each month."
Dr. Chi went on to say, "The menstrual cycle is made up of two major phases: the follicular phase and luteal phase. During the follicular phase, the cycle starts with a period, or menses, where the uterus sheds its lining, indicating that your egg was not fertilized for pregnancy. Most periods last on average 4-7 days."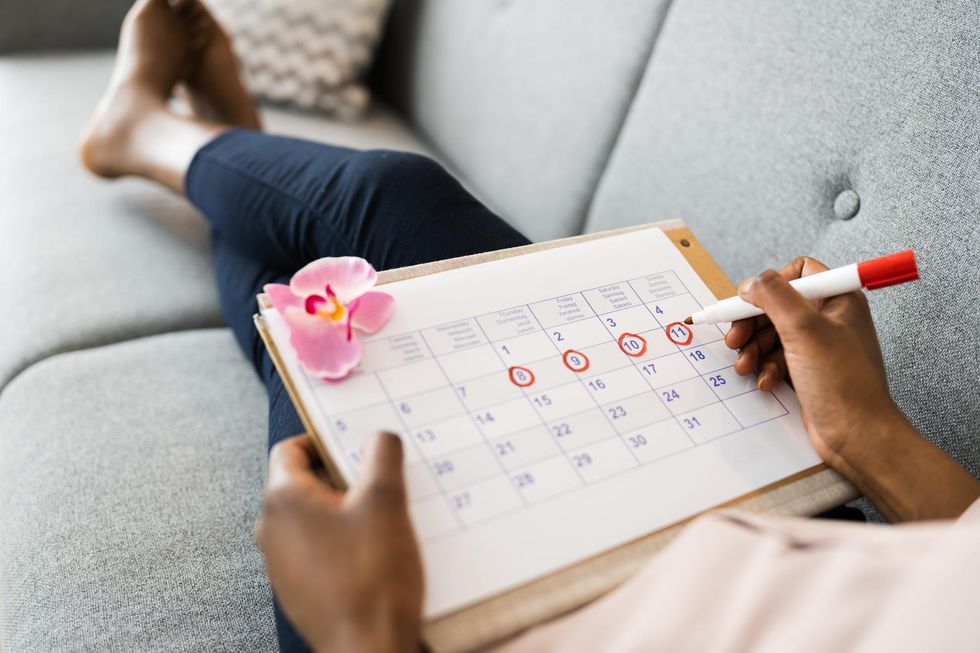 Getty Images
What Is Ovulation & When Do Women Ovulate?
The Florida resident shared that after your period, the body is still basically preparing the ovaries to release an egg in the next phase, and this normally takes about 7-14 days. "This a very short time span where the egg is released from the ovary into the fallopian tube in hopes to meet its match with a sperm-mate."
She adds, "Now if this does not happen, we move on into the last phase of the menstrual cycle called the luteal phase where the hormone progesterone is in full effect preparing all over again for team period… say hello to pimples, cramps, and tender breasts."
Featured image by Getty Images
Keep reading...
Show less