What is your credit score looking like sis?
As women, we often keep it real about everything except for our bank accounts. We desire prosperity but operate with a broke mindset, and sometimes tie material things like a house, a car, and even getting our hair and nails done to our self-worth. Not to mention that social media has us showcasing our wins and not the journey it took to get there.
On the latest episode of the xoNecole Happy Hour Podcast, we tackle all things money and more as the hosts Necole Kane, Sheriden Chanel and Amer Woods spill the tea on everything from their finances and credit scores, to dealing with money shame in the digital age and keeping up with the Joneses. During the podcast, inspired by the xoNecole article, I Paid Off $40k In Debt in 18 Months, Necole shares her story of how she spent $30,000 in one year as a celebrity gossip blogger in an attempt to stay "glammed up" and the sacrifices she is now making to tackle her tax debt, while Amer talks her change in lifestyle after losing her six-figure job. And Sheriden explains how she's taking strides to improve her credit while also revealing that a man's salary is low on her tier when it comes to choosing a partner.
You'll also learn about some of their favorite resources to help transform your money habits and keep you inspired on the road to financial freedom.
Things the hosts share in this episode:
Their credit scores
Their current relationship with money
The amount of their student loan debt
How they are currently saving
If they talk about money with their girlfriends and the men they are dating
If credit scores and salaries are important to them when choosing a partner
If their self-worth is defined by their financial situation
Their biggest financial mistake
Things you will learn in this episode:
How Dave Ramsey's snowball method for paying off debt works
Financial apps that will help you stay in an abundance mindset
Savings techniques to fit your lifestyle
How sacrificing now will prepare you for the lifestyle you desire
How entrepreneurs can still save for retirement
Debt vs Savings financial strategies
xoNecole articles mentioned:
Tune in every Wednesday for your mid-week refill! You can connect with us on Twitter, Facebook and Instagram at @xohappyhour and use the tag #xohappyhour to join the social convos.
Share this podcast with your Twitter followers using this Click to Tweet link: https://ctt.ac/a9z1B
Leave us a voice message on xohappyhour.com to share your story with us or ask a question for a chance to be featured on the show!
Photography by Tailiah Breon
As young millennial women, we don't talk about money enough - how we use it, how we earn it, how we feel about it, and everything else in between. Money Talks is an xoNecole series where we talk candidly (and anonymously) to real women about how they spend money, their relationship with money, and how they get it.
In this installment of Money Talks, xoNecole chats with Simone Faulker*, a 25-year-old graduate student who had her credit card debt paid off by a sugar daddy who also sends her to Bergdorfs and pays for her facials. Here's what she had to say.
Interview has been condensed and edited for clarity. Names have been changed to protect identity.
Did you always want a sugar daddy, or did you meet this man out of the blue?
I met him out of the blue, definitely. One night I was out at the bar with my friends, and Tim* came over and introduced himself. Of course, I wasn't paying him any mind because I could immediately tell he was older, but he was extremely persistent in a grown man way. I gave him my number and he called me the next day, and we started going out on dates.
Were you judged by family and friends when they found out you were dating an older man?
People definitely side-eyed me when he and I first started going places. My friends were surprised that I was still talking to him, which is understandable because he and I are twenty years apart. He and I didn't care though because we both wanted something out of this and we were both fulfilled.
What were the things you and he wanted?
Well, Tim works in finance and has worked in the industry for a long time. He made it known to me, almost immediately, that he had money and he wanted to financially take care of me. Of course, he also 'wins' because he gets a pretty girl on his arm when he has to attend galas and fancy meetings and whatever else he has to go to. We love to sit and talk to each other, so it's not like we can't stand one another.
Did it ever bother you being financially dependent on a man? There are still money taboos around women when it comes to money.
I was uncomfortable at first and would tell him he didn't need to buy me this or that. But if we were in a department store and he saw me looking at something, he would come back and get it later if I didn't agree that I wanted it then. Money is not the most important thing in the world, but I definitely learned how liberating life could be when you don't have to worry about bills and you can have a lot of the things you want. Sometimes he would just give me money, which I would use for things like my tuition money, books, and my hair or nails.
"Money is not the most important thing in the world, but I definitely learned how liberating life could be when you don't have to worry about bills and you can have a lot of the things you want."
Are there any parameters you have to abide by?
Not really. Obviously there's an emphasis on my looks, like making sure my hair or my nails always look nice. I get facials once a month and have a membership at Equinox so I can stay in shape. He usually doesn't like for me to wear the same thing at events, so he will usually schedule for me to go somewhere like Barneys or Saks to get a dress and any alterations. I get asked by my friends a lot if I am obligated to have sex with him, and that's never been something he has pushed on to me or forced me to do in exchange for money.
There are other women he talks to and possibly wines and dines, but that has never been a breaking point for us and something that directly impacts our relationship.

But do you guys have sex?
Yes.
What's been the largest financial act he's done for you?
The largest single moment was when he paid off my credit card debt. It was about $15,000, and had mostly happened from a lack of knowledge on using a credit card while in college. One day he came home and said that he had paid it off. Of course, he pays for other things that can get pretty close to that number, but that's the biggest one that comes to mind immediately.
If you don't mind me asking, what else does he pay for?
He pays my rent, gives me money for food, my hair, my nails, and sometimes a clothing allowance. I pay for graduate school myself because investing in my own education is very important. I use that for important events or situations that I need something to wear. I wish people, not just women, would stop looking down on situations like mine because they don't know everything on the backend. People may see me as small or dependent on him for finances, but I know how to take care of myself. I'm in important rooms with important people and I get to learn and network. I get to focus on the things that matter to me while also having fun.
If that's not liberating, or at least reclaiming power in my own way, then I don't know what is.

"If that's not liberating, or at least reclaiming power in my own way, then I don't know what is."
To submit your story for a chance to be featured in a Money Talks conversation, submit your email address here and you'll be contacted. All conversations will be anonymous and/or names will be changed for privacy.

Our credit scores are one of those things that can be out of sight out of mind, and yet impact our entire lives. Whether we check our scores as much as we check our text messages or happily turn a blind eye, they are still impacted because of our spending habits and the way we view money. If you've been thinking about getting serious about money goals and getting your funds together, your credit score is a key place to start.
Now, I know that looking at it can be intimidating, and that's probably why it gets this out of sight out of mind reputation. But with these small and simple steps, you can help rebuild and improve your score to get it to where you truly want it to be.
7 Steps To Rebuild & Improve Your Credit Score
1

.

Knowledge Is Power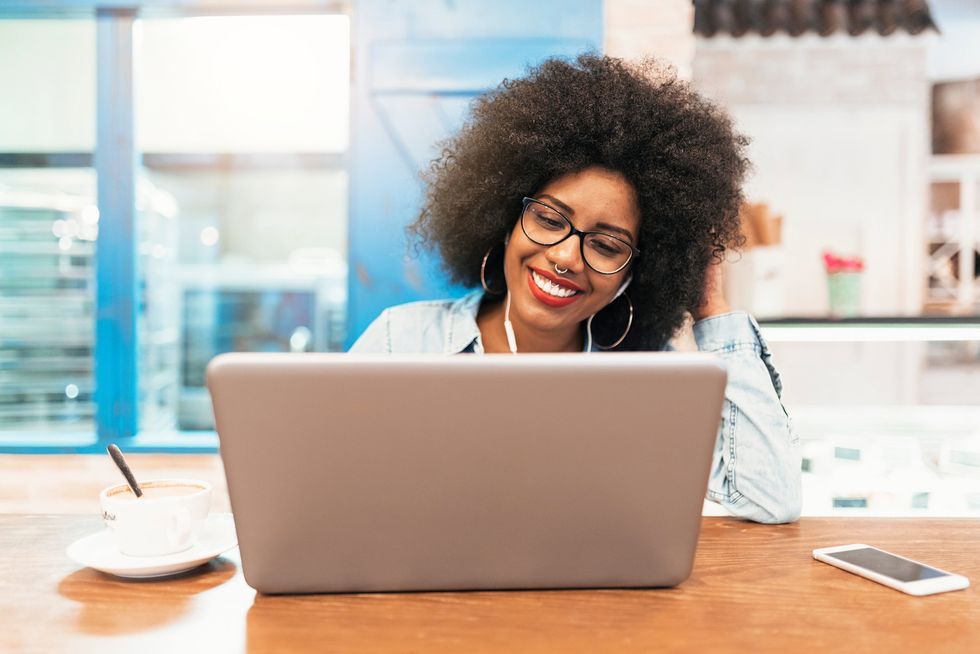 Getty Images
For starters, what is your credit score? While it's none of my business, it's certainly all of yours. Those little three (seemingly petty) numbers have the power to determine some of life's most major moments we hope to experience. But if it is worthy of a side eye, then that can definitely be a downer.
The first step in building or improving your credit is actually knowing your score. Sites like Credit Karma do an amazing job of not only giving you your score and entire credit report history as many times as you want it for free (without making your score go down), it also alerts you of any changes that are made. They allow you to learn more about your credit habits and why your score might not be as high as you like. While they offer tips for improvement, the most important factor is that you have to know what your score is to begin with. After that, you can get to work.
2

.

Set A Goal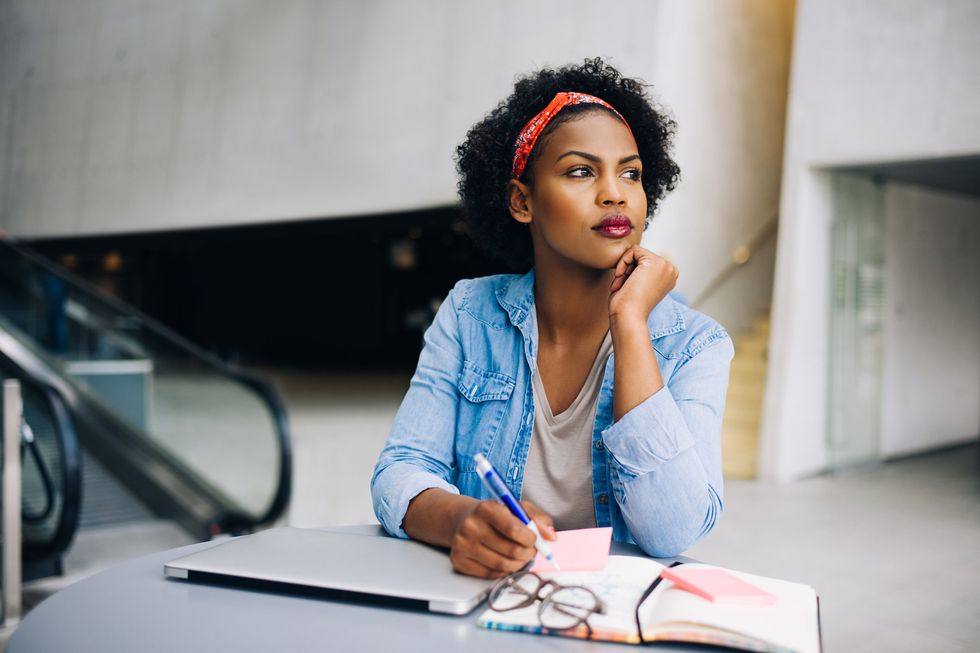 Getty Images
Now that you know your score, what's your goal? Let's be realistic and aware. Be realistic in knowing that your score might not jump up as fast as 1,2,3 (despite what some credit repairing companies tell you), but also be aware of what some companies and lenders look for in a credit score. This will determine how far you need to go so you can set goals that will actually help you measure your success.
The best part is, once you reach your goal, and you certainly will, you can set another. Eventually, you will have not only surpassed it and have a booming credit score that will have companies reaching out to you for business, but you will have mastered smart and disciplined money habits that can positively impact your finances for the rest of your life. Get it, girl!
3

.

Pay Off Debt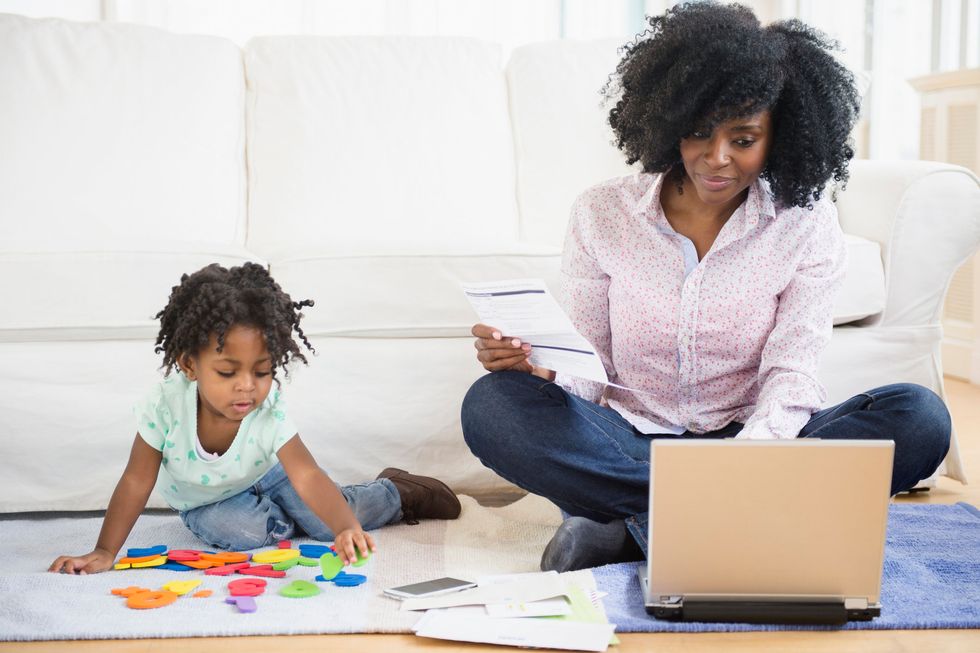 Getty Images
Once you know your score and set a goal, now is the time to start putting it to work. The first true actionable step is to start paying off debt. While that's obviously a necessity in improving your credit score, it's safe to say that most people really don't know where to start. In reality, a lot of us are asking ourselves how we got in this position to begin with.
Still, there's hope for a turnaround. Most experts say it's best to start with the smaller debts first (i.e. the snowball method). This helps knock off some of those delinquent and collections accounts from your credit report so your score can start growing slowly but surely (although it might take years to see the true results of these actions). Plus, when you start to see accounts make their way off your report, you will build your confidence for the bigger ones so they don't seem as intimidating. By the time you get to the higher ticket accounts, you'll be kicking tail and taking names, asking who's next.
4

.

Dispute Anything Incorrect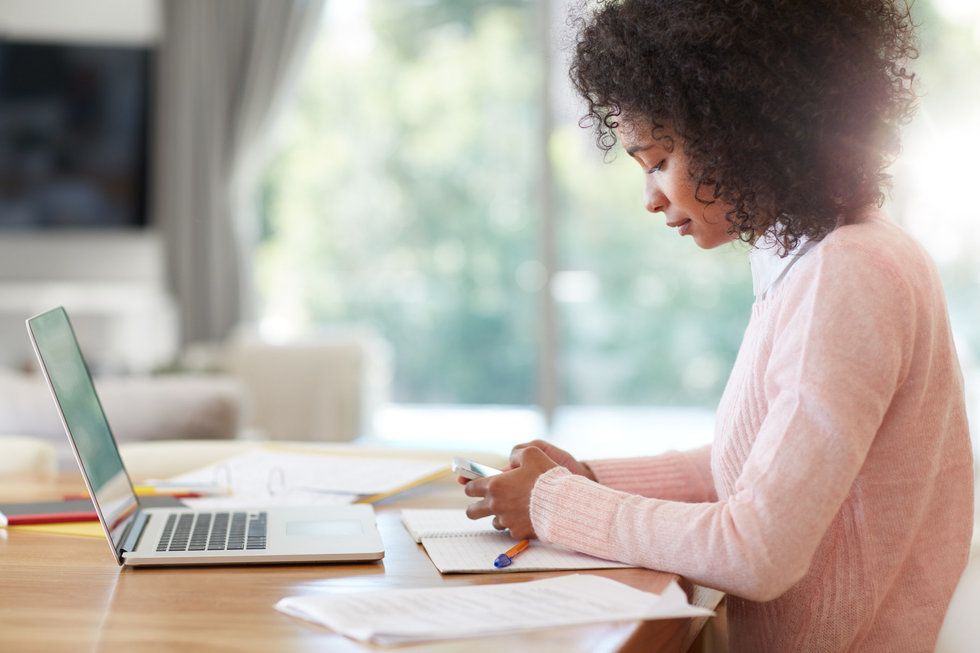 Getty Images
As you start paying off debt and evaluating your score on the regular, you might realize some things on there that you have no idea where they came from. This actually happened to me and is pretty common. If there's anything on your score that you don't recognize, dispute it. I would recommend contacting the company as well as the credit agency that the item is displayed on (Experian, TransUnion, etc.).
You'll be asked to explain why you are disputing it and if it's really not supposed to be on there, it should get removed from your credit report sooner than later. This might be the smallest item, but you shouldn't have to pay for something you're not responsible for, especially if you're trying to boost your credit; your hard earned money can go elsewhere. This can also lessen some of that time it will take to raise your score to your desired number.
5

.

Contact Your Creditors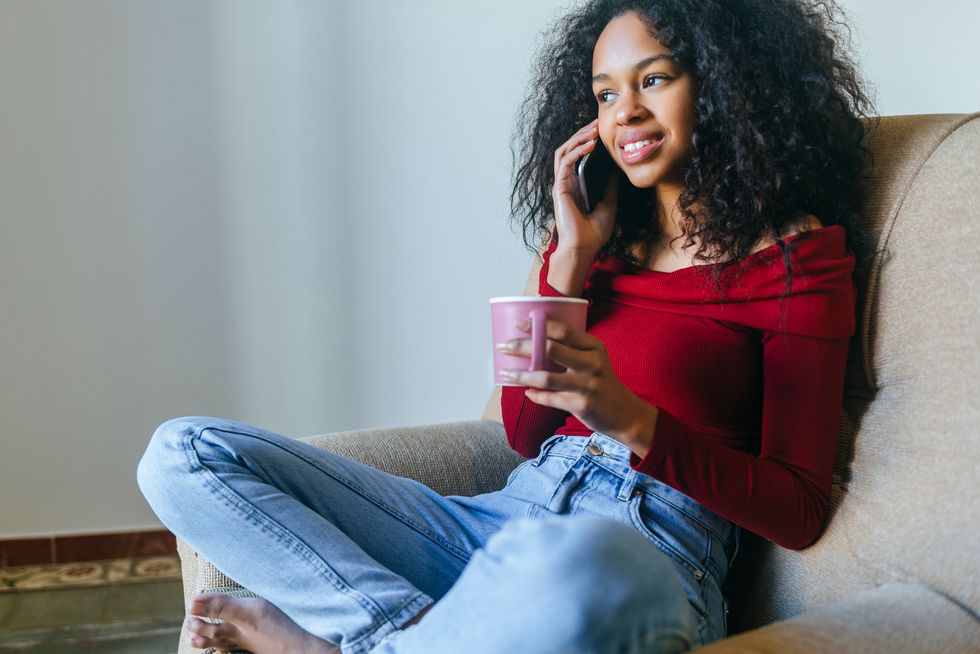 Getty Images
They might not be as intimidating as they seem. I've had times where I've called my creditors to set up a payment plan and once they realize that I really did have every intention pay, they were really understanding. Even if it's just a few dollars a month, the fact that you're at least trying says a lot. It's a completely different experience from trying to avoid them hoping that maybe their system will crash and they'll lose your record altogether.
Ultimately, your credit score is a number that says how much creditors can trust you. If we're dodging them left and right and getting an attitude about money that we spent and have to back, that's not a good look. You never know, you might have favor with them and they can make moves for you that you didn't think they would.
6

.

Keep Those Credit Card Balances On The Low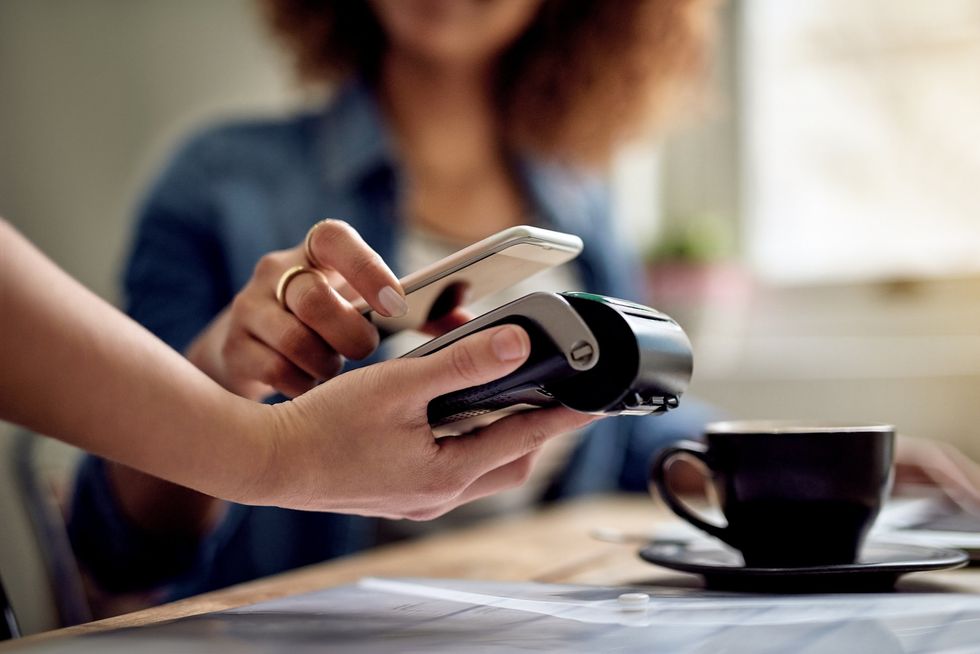 Getty Images
Life happens, so it makes sense to have a credit card and as a result, credit card debt. Unfortunately, some credit companies have no soul and don't care why credit card debt has skyrocketed. So, it's our job to make sure we keep our balances as low as possible. The ideal amount is below 30 percent. Once you go past that, your score will take a dip baby, dip.
At the same time, please, I'm begging you, don't take out a ton of credit cards to boost your available credit because this will have the exact opposite impact from what you're trying to do.
Another tip with credit cards is to refrain from closing ones that you don't use. The best and most proven way to improve your score when it comes to credit cards is to pay down your debt (if you can, going beyond the minimum amount owed), and keep the balances below 30 percent.
7

.

Be Consistent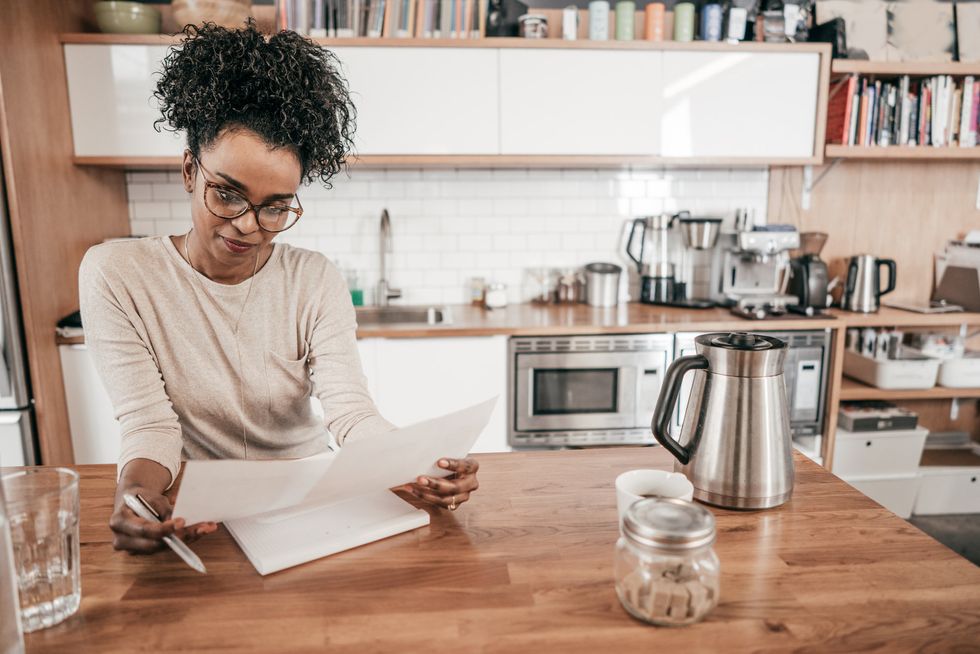 Getty Images
I'm going to be honest with you. I'm 31 and have had debt since I was 18. I was one of those many people who gave in to the banks and credit unions advertising credit cards on college campuses (they should really be ashamed lol).
But I've learned that even though it can take years to get an amazing credit score you can be proud of, it will happen. As much as we want it to take 30 days, if we're real with ourselves, it didn't take 30 days for us to get to this point. It took years, so it will most likely take years to get out of it. But that's okay. Just be patient, set goals, be consistent, and your credit score will be worth bragging about.
Feature image by Getty Images.
Related Articles:

The Budgetnista Tiffany Aliche Reveals How Her Credit Score Went From 547 To 800+ – Read More
I Cleared $35,000 Worth Of Debt While Making $12 An Hour – Read More
A 5-Step Guide To Getting Out Of Credit Card Debt – Read More
6 Things To Do With Your Tax Refund – Read More