At only 25, Normani has already faced many hardships in the music industry. As the only Black member in Fifth Harmony, she previously opened up about not having the same opportunities as her group members and facing online racism from their fans. And since going solo, Normani keeps getting compared to her former group member Camilla Cabello, who faced backlash in 2019 for resurfaced racist posts from her Tumblr page.
In a 2020 Women's Health issue, the "Wild Side" singer admitted that the racist comments she received in the group "altered the perception" she had about herself, but she has since learned from those experiences and has found the confidence that has been there all along.
"I constantly remind myself to be kind to myself," she shared in an interview with Yahoo Life! "Even though you can't expect the rest of the world to do that, it's like at the end of the day, somebody has to, so why not show up for yourself? Why not lift yourself up?"
There were many people in Normani's life that helped her to see her worth and appreciate her beauty as well as entertainers that influenced her to love herself.
"A lot of that has to do with being raised in a household with women that I really, really looked up to," she said. "That being my grandmother, that being my mom. And then my dad being the first man in my life that I love and him always encouraging that I was beautiful."
Beyoncé and Janet Jackson also served as her role models in music, which isn't surprising. Normani's performance style is often compared to the two megastars and her 2019 music video "Motivation" paid homage to Beyoncé's iconic "Crazy in Love" video.
"I feel the pressures too. Being a Black woman, just to be seen or noticed, we have to do a lot more and work 10 times as hard," she said. "It was so important for me to have a Janet [Jackson] and have a [Beyoncé] with curves to find my place and to also know that, 'Okay she looks like me. And she's successful. She's beautiful and I can do the same thing.' Little Black me needed to see that."
But they weren't the "Fair" singer's only influence. In 2021, Normani praised Kelly Rowland for helping chocolate women like herself feel seen. "Kelly Rowland is someone I've always looked up to and never felt like I couldn't go to for advice," she revealed. She also said the "Kisses Down Low" singer "was a great person all around."
Normani is working on her solo debut album and her latest single "Fair," has been receiving rave reviews.
Featured image by Jerritt Clark/Getty Images
Keep reading...
Show less
When Megan Thee Stallion first stepped onto the scene, people quickly became enamored. Not just by her good looks, statuesque body and hypnotic twerking, but also her confidence in herself. That same confidence rings throughout her music and even on stage. But she wasn't always this fearless. The H-town hottie had to discover who she was in order to stop being what everyone else wanted her to be. Like many women, finding her voice was a journey, and in the 26-year-old's case, she used that voice to achieve an accomplished career.
Megan Thee Stallion, born Megan Peete, already has three Grammy awards as well as several BET awards and she launched a line with Fashion Nova and has her own Hottie sauce with Popeyes. Now, she is gearing up to graduate college soon.
While it may appear that her career happened overnight, it actually has been a long road for the "Savage" rapper and she recently spoke with Glamour magazine about it after they named her one of the "Women of the Year," a deserving title I might add.
The raptress recalls wanting to satisfy everyone when she was growing up. Something that a lot of people can relate to.
"I used to be a people-pleaser because I did want everyone happy," said Megan. "If you come around me, I always try to make sure everybody good. Before I was grown, I'm doing whatever my parents say. I'm doing things that make my parents happy. At school, I'm trying to figure out what's going to make these kids stop bullying me. But when I started getting older, I started figuring out, everything that y'all asking me to do not make me happy."
She added, "It seems like I can never satisfy everybody. So then I started being like, 'What do I like?' I'm an only child, so I had a lot of time to spend by myself to think about it. I'm here by myself all day; what we gon' do, Megan? That's how I figured out I really do enjoy writing music. I love writing stories. I started living for me."
By the time Megan reached college, she was ready to show everyone the real her and that meant you had to respect it.
"How I come off, that's how everybody treated me. If I commanded my respect, I demanded my respect; if I'm showing you how confident I am, then you have no choice but to treat me that way."
Now a rap superstar, Megan has become an example for people, particularly Black women, that our voice matters and that our feelings matter.
In October 2020, the "Girls in the Hood" rapper wrote an op-ed essay for The New York Times where she addressed violence against women following the alleged shooting by Tory Lanez, women in hip-hop being pitted against each other, and more.
She wrote that she believes violence against women "happens because too many men treat all women as objects, which helps them to justify inflicting abuse against us when we choose to exercise our own free will."
Keep up the good work, sis!
Featured image by Theo Wargo/Getty Images
Keep reading...
Show less
Ego is a hella hard battle to beat, sis. Every day can feel like our ego is being tried and tested. It's always ready to show out, and sometimes it's hard to hold her back. I think we can all agree, Ms. Ego is always ready to pop off. Did your roommate drink your apple juice? Ms. Ego wants to pop off. Co-worker threw shade in the Zoom meeting? Ms. Ego is trying to pop off. Did someone beat you to the last seat on the subway? Ms. Ego said, "It's. on. SIGHT." Whatever the situation is, Ms. Ego is a part of ourselves we are all trying to navigate.
I've found myself in many situations where I've gone head to head with my ego. I have to admit there were times when she would win. The battles I have lost to my ego I've always looked at as an opportunity for growth. One of the growing pains I've learned about ego is: We should not kill our ego. Why would we destroy something that is a part of us? We shouldn't shame our ego but instead, nurture it. We should look at our egos as a guide to our insecurities. The ego is a beautiful piece of ourselves that is continually transforming. One way I'm changing my ego is by learning how other successful women work through their egos.
I've had the pleasure of speaking with three amazing and successful women who have had to work through managing their egos in their home life, work-life, relationships, etc. Here are their strategies for how they put Ms. Ego to rest.
Building Community to Address Ego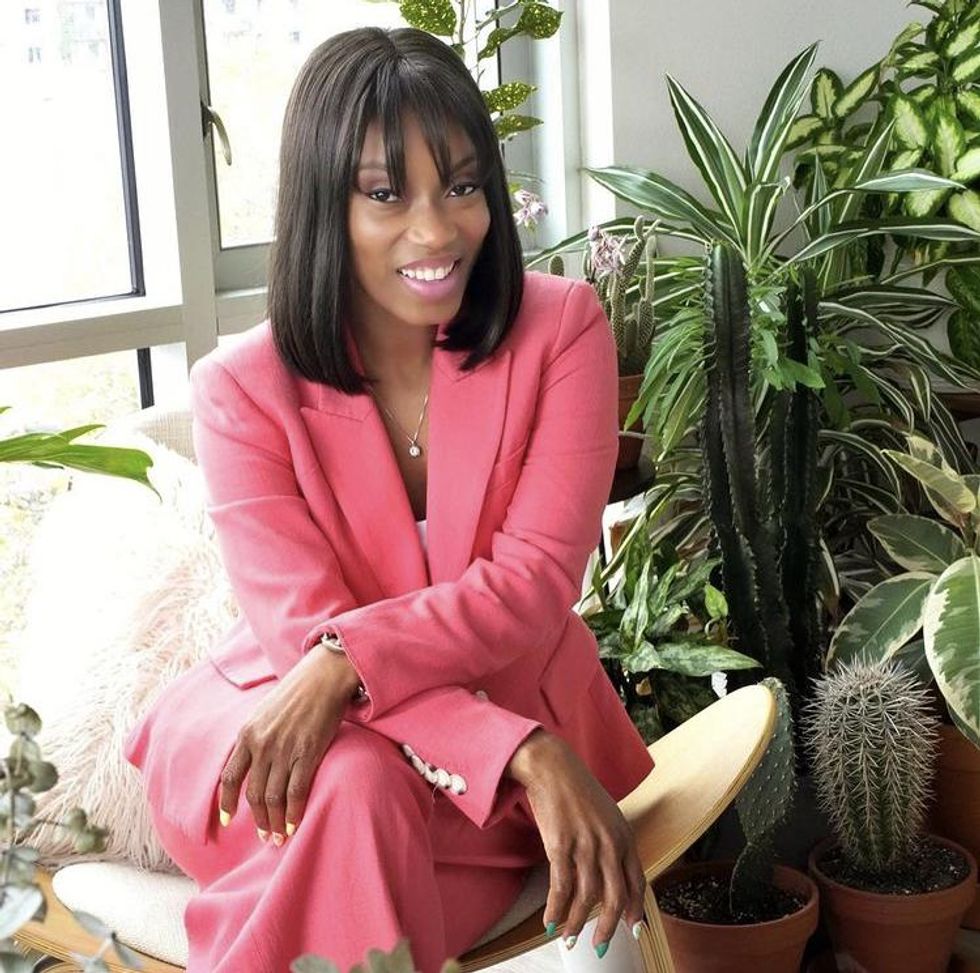 Courtesy of Alechia Reese
"My ego appears the most when I'm triggered! I started a podcast called Triggered AF with my life coach and sister-friend, Dani Foster, to work through the things that trigger anger and frustrate me. It's necessary to know what activates your ego and also to learn how to manage it. I consider my ego to be my protector and worth-reminder, so it tries to run wild when those are threatened. In the podcast, we work through triggers together, providing invaluable insight to help us all grow.
"I don't believe in defeating my ego. Just as masculine doesn't work as well without feminine. My ego is necessary for sustenance. I don't defeat my ego. I bring her back to her baseline. "
"I'm a firm believer in moderation in all aspects of life. I began working on controlling my thoughts and conscious mind in my mid-20s. Your mind is the most powerful element behind our energetic spirits, so learning to leverage and use it for good was a personal focus of mind. I bring myself back to myself by creating a baseline for who I am, how I want to feel, and who I want to be. When I feel my ego stepping far past that equilibrium level, I mentally walk myself back - while also giving myself grace for when it's too late."
Fighting to Get What I Deserve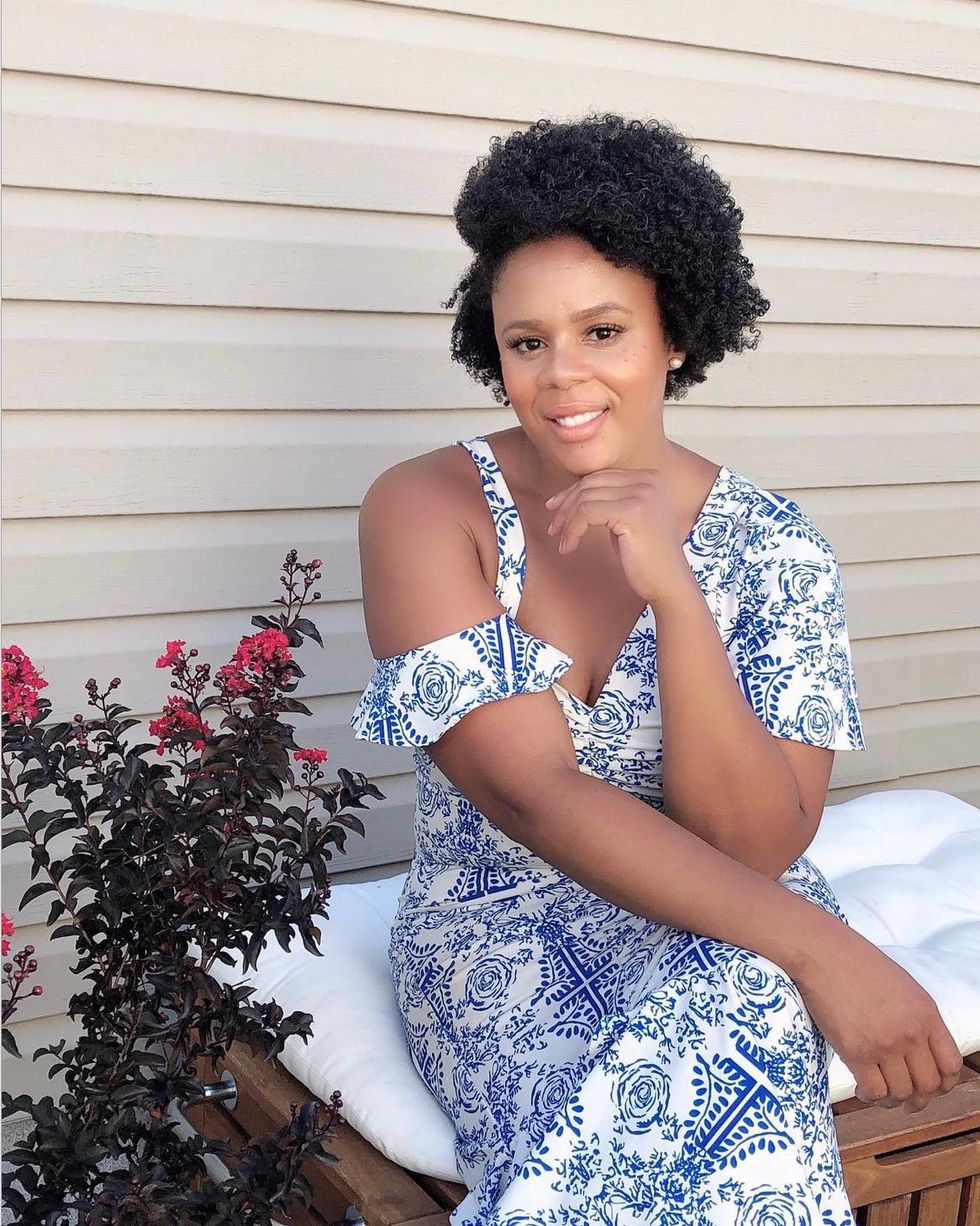 Courtesy of Aja Robinson
"Growing up, anytime I shared an idea with my mother, she always cheered me on. One of the most memorable ideas I had as a kid---a third-grader, to be exact--- was that I wanted to go to Howard University. Not only was Howard a long way from home, as I grew up in Wichita, Kansas, tuition for this university would be costly for my middle-class upbringing. Despite the many reasons one could think of to deter a third-grader from this big idea, my mother was my biggest champion and eventually made sure I'd see this idea to fruition. Confidence was instilled in me at a young age; I would also say my ego was boosted in a healthy way.

"Many would say, leave your ego at the door when negotiating, but I knew I needed to approach the situation with a certain level of independence and self-centeredness. Speaking up for what you deserve can be so challenging."
"A time I leaned into my ego to work for me was the first time I negotiated a salary. My first experience with salary negotiations was my first job out of college. I worked in retail while in school, and upon graduation, I was offered a promotion into a new role. I was beyond thrilled about the opportunity, but the salary was not precisely what I was expecting or in line with the value I was already contributing to the business.
"Long story short, I went back to the owners of the company and negotiated a higher salary. They didn't give me exactly what I wanted, and that was OK because as I really enjoyed working for the company and probably would've taken the job regardless, but most importantly, I appreciated the fact that they listened and acknowledged my value to the organization. In this particular situation, I'd say there was a nice balance of ego and self-confidence."
Channeling Spirituality to Build Humility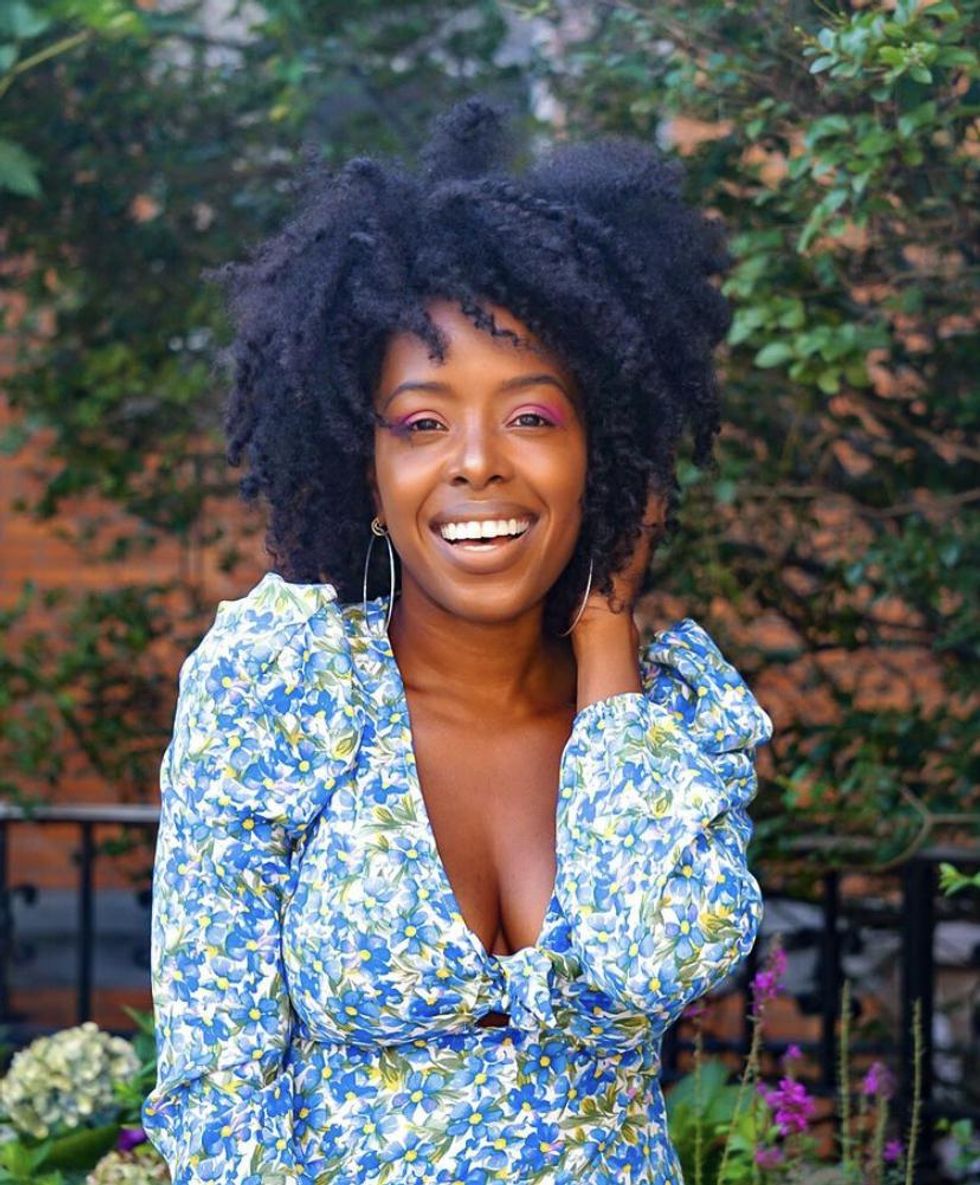 Courtesy of Sade Solomon
"The Holy Spirit has helped me defeat my ego! Here's the thing, there are a lot of the things I know I need to handle or overcome. I cannot do it in my strength. As a believer, I am super reliant on God's power to work through me because I cannot do it alone. If I had a choice, I wouldn't forgive anyone who has wronged me. I would be seeking out revenge right now! But I am reminded that God fights my battles, so I don't have to; I find strength in Him, to forgive. It is a journey because as long as we live: 'People will be people.' We will be wronged, hurt, talked about, and mishandled; we can't control what happens to us, only how we respond. The greatest strategy to defeating my ego is allowing God to help me.

"I have noticed a huge gap between who I think I am and how God has created me and views me. I haven't fully caught up to the depth of my worth in the eyes of God, but I am getting there. This gap is what I define as low self-confidence and worth."
"When God reads me and shows me a mirror of myself, that is a sure-fire way to calm my ego down. I don't think that I am always aware of being prideful or self-absorbed, even in my best attempt to be mindful. Interestingly, we think we know so much about ourselves until God shows us those ugly parts of us that we don't think are there. Hello, church!"
Are you a member of our insiders squad? Join us in the xoTribe Members Community today!
Featured image courtesy of Sade Solomon
Keep reading...
Show less
Big, beautiful women were dominating the sex game long before Drake showed love when he rapped, "I like my women BBW." I'm on the curvier side and my husband can't get enough of squeezing, grabbing, and caressing my curves and edges. It's just something extra special when there's more to hold on to while he (literally) sits back and enjoys the ride. My sex drive has been through the roof lately, and there are only so many ways we can missionary and doggy style, no matter how much flesh and skin is at the party. But... all sex positions are not created equal.
This isn't to shame any size - petite, curvy, or anything in between - but the reality is, what's orgasmic for a BBW might not hit the spot like it does for a size 2. And even beyond that, every woman is different anyway - no matter her size. It's all about the positions that make you feel confident, sexy, empowered, desired, and in control (and of course, sometimes being the "submissive" one).
These positions have proven to help the BBW reach her climax every time - from the inside out.
1

.

Randy Rider
This is my jam (*Lauren London in ATL voice*). For this position, your guy sits back against a couch, headboard, or comfortable armchair. Wherever you set the scene, make sure you have plenty of room because it can get crazy. Once you're settled, have him wrap his arms around your waist and move you up and down. Flaunt what you're working with and move your hips and waist in subtle movements to get maximum stimulation.
2

.

Cook It Up
What's better than sex in the kitchen? It might be a cliche but that's because it works so well. Does it ever miss? Hardly. For this position, all you have to do is sit on the kitchen counter and let your man enter while you both get all passionate and whatnot.
3

.

The Ohm
This is a solid switch-up when you want to try something new (even in the moment!). Here's how it goes: You lay on your back and lift your legs at a 90-degree angle. Your partner kneels with his legs near your chest. His pelvis should align with your vulva when he makes his way in. To make things more interesting he can move your legs to the same side. His torso stays upward and you should also squeeze your vagina (hope you've been practicing your Kegels!) to make sure he stays inside.
4

.

Cowgirl Remix
If you like being in control, this is for you. Just like when you're doing the cowgirl, kneel on top of your partner and lean on his chest to help your thighs go to work. But this time, let your partner grab onto your hips as they thrust themselves up to meet you. This makes orgasms easier for both of you.

5

.

The Z
Now, this is an adventure. But *sigh* it feels oh so good. With your partner kneeling on the bed, you lay in front of him (on your back) with each foot on his shoulders. This is actually a very intimate position because it encourages eye contact and gives him a full view of your body and all that it has to offer.
6

.

Missionary 2.0
Having sex without the missionary position is a hard habit to break. But no one said you had to give it up altogether. The fact that it's so basic only means there are ways to mix things up. While he's inside, you can play with his balls, put one leg up and one leg down, and slow it down to enjoy every moment. You can also lift your pelvis, add more lubricant, and even put a pillow underneath you to get a new angle.
7

.

Magic Mountain
This one might be easy, but don't underestimate its power. You and your partner both sit with your legs bent, leaning back on your forearms while facing each other. Slowly get closer to one another and rub your clitoris on his pelvis. To make things even sexier, put ice cubes on his chest so the water drips to his pelvis.
Are you a member of our insiders squad? Join us in the xoTribe Members Community today!
Featured image courtesy of Shutterstock

Keep reading...
Show less
I know firsthand what it is like to feel disconnected from my body, and trust me, it's a painful place to be. Pre-pandemic, I always felt connected to my body. I consciously decided to live a reasonably healthy lifestyle and rarely had any health issues outside of a common cold. I worked out regularly, went for morning runs, and was a regular at my local yoga studio. The work I put into my body contributed to my confidence, and it showed in other areas of my life. At the time, my dating and sex life were as fluid as any other single girl in New York City. When it came to my body, I felt like I had it all. I had good health, a healthy sex life, and a sweet peach to go with it (thanks, squats!).
The early days of the pandemic is when the relationship between my body and I began to shift. I could no longer attend the gym due to COVID. Yes, I could have done an at-home workout, but staying in bed and watching movies became more appealing. My dating life, sex life, and social life came to an immediate halt. Like many of us, I had to sit with myself for the first time in a long time. The only company I had were thoughts I had suppressed.
My mental health eventually took over my physical health.
So there I was, depressed, lonely, and horny as hell. I've never felt further from myself. I tried following the suggestions of every wellness page on Instagram, but nothing worked. Until one day, I came across an article on Goop titled "Finding the Pleasure in Your Body". The article discussed how using our sexual energy can help us connect to ourselves. Now I have to be honest, I didn't agree with everything in this article, but it did inspire me. I then found my erotic ways to tap back into myself. Here are sensual habits that helped me reconnect with my body.
Indulge In Self-Pleasure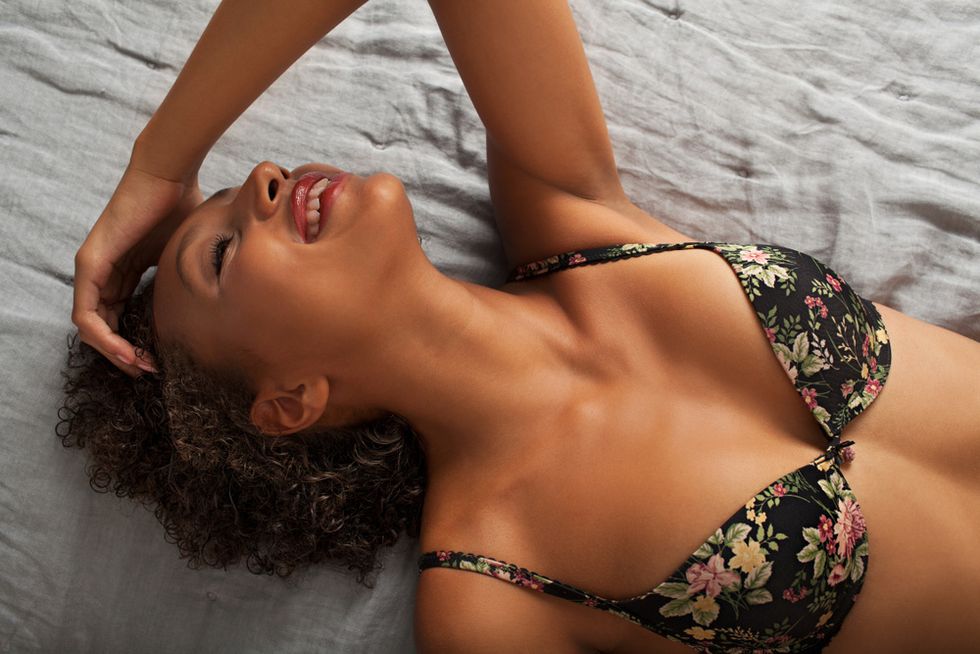 Shutterstock
We are all adults here, so let's keep it real. Have you ever felt triggered, stressed, or depressed, but then you have an orgasm and you feel fine? Don't lie; God is watching. I'm not saying self-pleasure will help solve all of your problems, but it sure as hell will alleviate some stress. It definitely cleared my mind.
After indulging in self-pleasure and having an orgasm, I felt lighter for the first time in months. There is something special about being entirely comfortable with myself that felt so empowering. Knowing that I can give myself an orgasm better than any sweaty man and not have to do the walk of shame was liberating.
Engage In Sensual Body Movement 
Sensually moving your body creates a pathway to accepting your feminine energy. You can sensually move your body at any age or body type. Most people assume you have to know how to dance or be a good dancer, but this is not the case. Sensual body movement is moving in a way that allows you to listen to your body and feel good. A few sensual body movements can include: moving your hips, pole dancing, twerking, or moving in a way that freely expresses yourself. I wouldn't consider myself a professional dancer, but I can move like Beyonce when alone. However, the sensual movement was a different experience.
Tapping into myself through sensual activity felt uncomfortable at first. I found myself in my head, wondering if my movements were awkward. These thoughts only proved how disconnected I was from my body. To get past the voice in my head, I decided to create a character, just like Beyonce. Her name is Alexandra, and she moves sexier than Sasha Fierce herself.
Once I got out of my head and into character, there was no stopping me. I was no longer Celeste, who was subconscious about sensually moving her body. I was now Alexandra, who had no problem dropping it like it was hot. Alexandra felt sexy, free, and fully aligned with herself. In her head, she was the baddest thing out there, and her body was out of this world.
Take A Spiritual Bath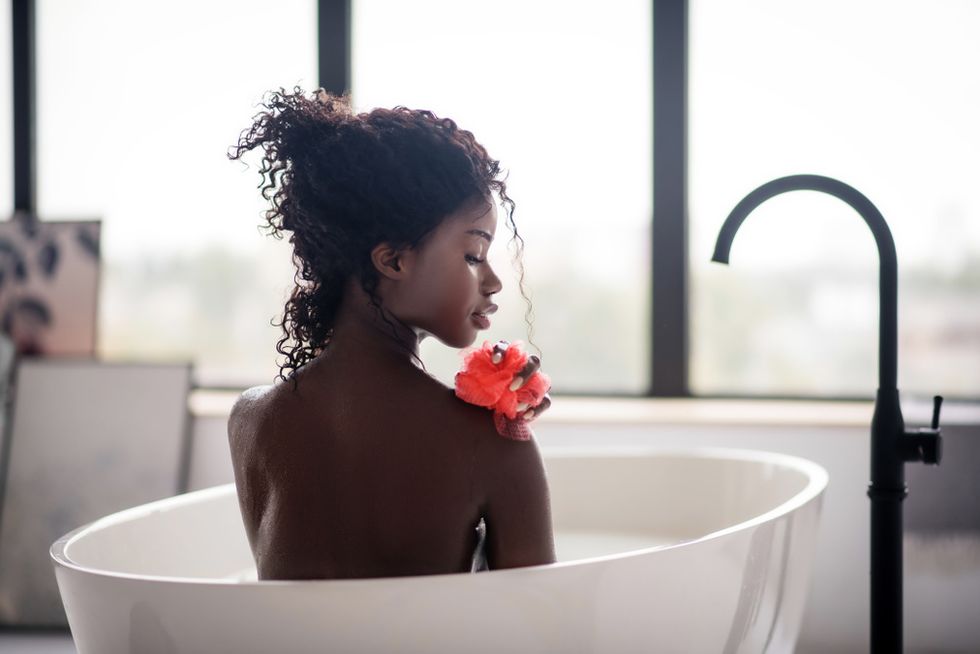 Shutterstock
Spiritual baths are every girl's Instagram dream aesthetic. You can fill them with all kinds of elements that can make any woman feel like a goddess. You can customize your spiritual bath with roses, oranges, strawberries, crystals, herbs, and so much more. Spiritual baths are recommended to correct any spiritual or physical blockages you might be feeling. Although spiritual baths are not scientifically proven, they have been a part of many cultures and religions.
Spoiler alert: I'm not much of a bath girl. I'm a shower girl all the way. Now I know what you're thinking, "So, how did you take a spiritual bath then?" I simply incorporated it into my shower routine. Before my shower, I took a gallon of water and put strawberries, blueberries, freshly squeezed lemon, oranges, and let them soak overnight. When it came time for me to shower, I rinsed myself with the infused water. I also surrounded my bathroom with candles and played lofi music to set the mood.
My spiritual shower experience was...well...relaxing. As I poured the infused water over my body, I truly felt like I was washing away every blockage that took me further away from myself. I rinsed away thoughts of disapproval, judgment, and hurtful narratives I had told myself about my body. As silly as it may sound, I felt like I had initiated a rebirth between my body and me. I was making a new path of love, acceptance, and awareness for myself. I vowed then; I would no longer allow myself to become disconnected from myself.
Recite Body Affirmations
Body affirmations are a way of retraining your mind into body acceptance. Several studies show that if we continue to repeat affirmative dialogue to ourselves, we will likely believe it. This study also goes for the negative narratives we tell ourselves. The goal behind affirmations is to retrain our brains and retrain the way we see ourselves. This is all hard and embarrassing to admit, but it's my truth, and I want to share it with all of you.
Through my months of feeling disconnected from my body, I consciously and unconsciously told my body hurtful things. Meaning my body wasn't good enough or pretty enough. Comparing myself to other women I saw on Instagram and in magazines, and lastly, questioning my self-worth because I didn't have the fattest ass or the curviest body.
I've chosen three affirmations that have helped me embrace my body. Here they are: "My body radiates beautiful kindness"; "I accept my stretch marks as beauty marks"; "The acceptance of the color of my skin starts with me". These three affirmations have brought me closer to my body than ever before. I repeat these three affirmations when I'm feeling insecure, in the shower, or when I have a negative thought. I learned through these affirmations that acceptance doesn't start with society; it begins with me.
Wear Some Lingerie For You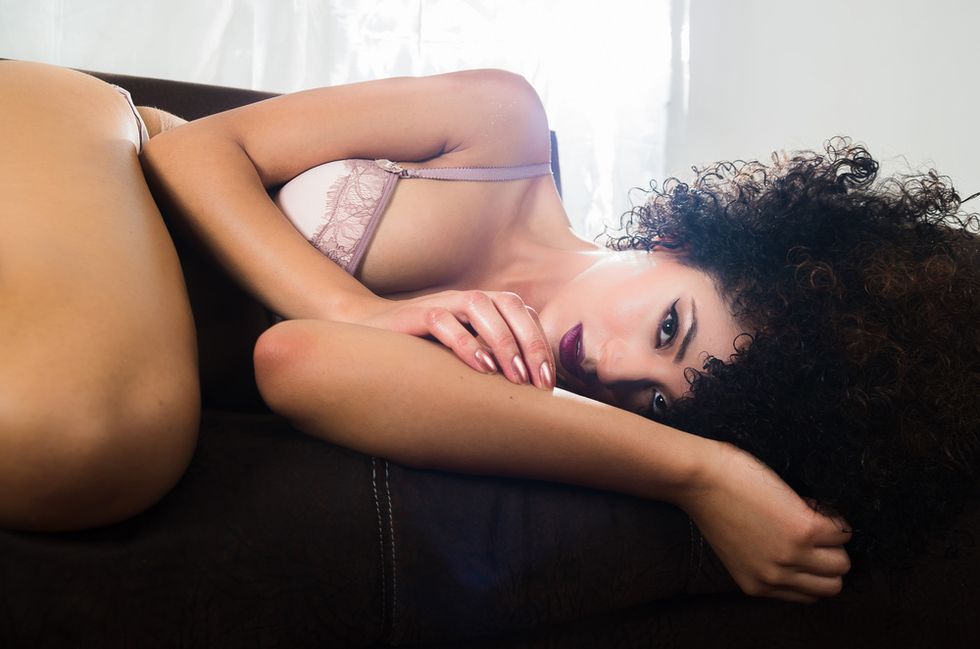 Shutterstock
I don't believe there is any scientific data behind wearing lingerie, but it sure as hell makes you feel good. Through my personal experiences and conversations with girlfriends, I've learned most women wear lingerie for someone else. I loved spicing it up in relationships and frequently wore different kinds of lingerie to make that special someone feel good. I picked out lingerie in hopes that Mr. Man would see my body in a sexy way, but what about how I saw my body? Did I see myself as a sexual being? The short answer is no. I was wearing lingerie for external validation, but I didn't see myself as sexy without that validation.
I began wearing lingerie before bed every night. I have all types of lingerie in my closet, but my preference was a nice silk slip (if you know, you know). Just like the sensual body movement, I felt silly wearing lingerie for myself at first. I knew it was time to tap into my alter ego again, Alexandra. I may have felt awkward wearing lingerie, but Alexandra? You couldn't tell her anything. Alexandra felt like a bad bitch. She wasn't a snack; she was the whole damn meal, period! It took no time for Alexandra and me to see ourselves as a sexy Mamacita.
I know in this article, I made my journey back to my body sound easy but I want to clarify that it took some time and practice to get to the right place with myself. I had to consciously put in the work every single day to fight past the criticisms of myself. Although it took some time, it is possible. If you're in a dark place now, just know that I am here with you. Your body may not be perfect, but you can get to a place of love and acceptance. Your body is the temple that protects your soul.
Nourish it, respect it, listen to it.
Are you a member of our insiders squad? Join us in the xoTribe Members Community today!
Featured image by Shutterstock

Keep reading...
Show less
Behind every Black woman, there's a group of Black women screaming "ayyyyyeee" and real ones know that "ayyyyyeee" is a love letter in itself. When God created the woman, He knew that we would create boundless magic and that we would empower other women to do the same. Isn't that so powerful? To think, that by you simply being your fierce, feminine self, that you are igniting the fire in another woman. Women are creators in every sense of the word and thank all of the gods for choosing our chromosomes to have this blessing.
Being that we are in the middle of Women's History Month, we wanted to be extra intentional about how we honor the women in our lives who create memories for us. Life is so delicate and gives fleeting moments that we must learn to treasure. So, we asked a few women to write a thank-you note to the woman who has affected their lives the most and this is what they had to say.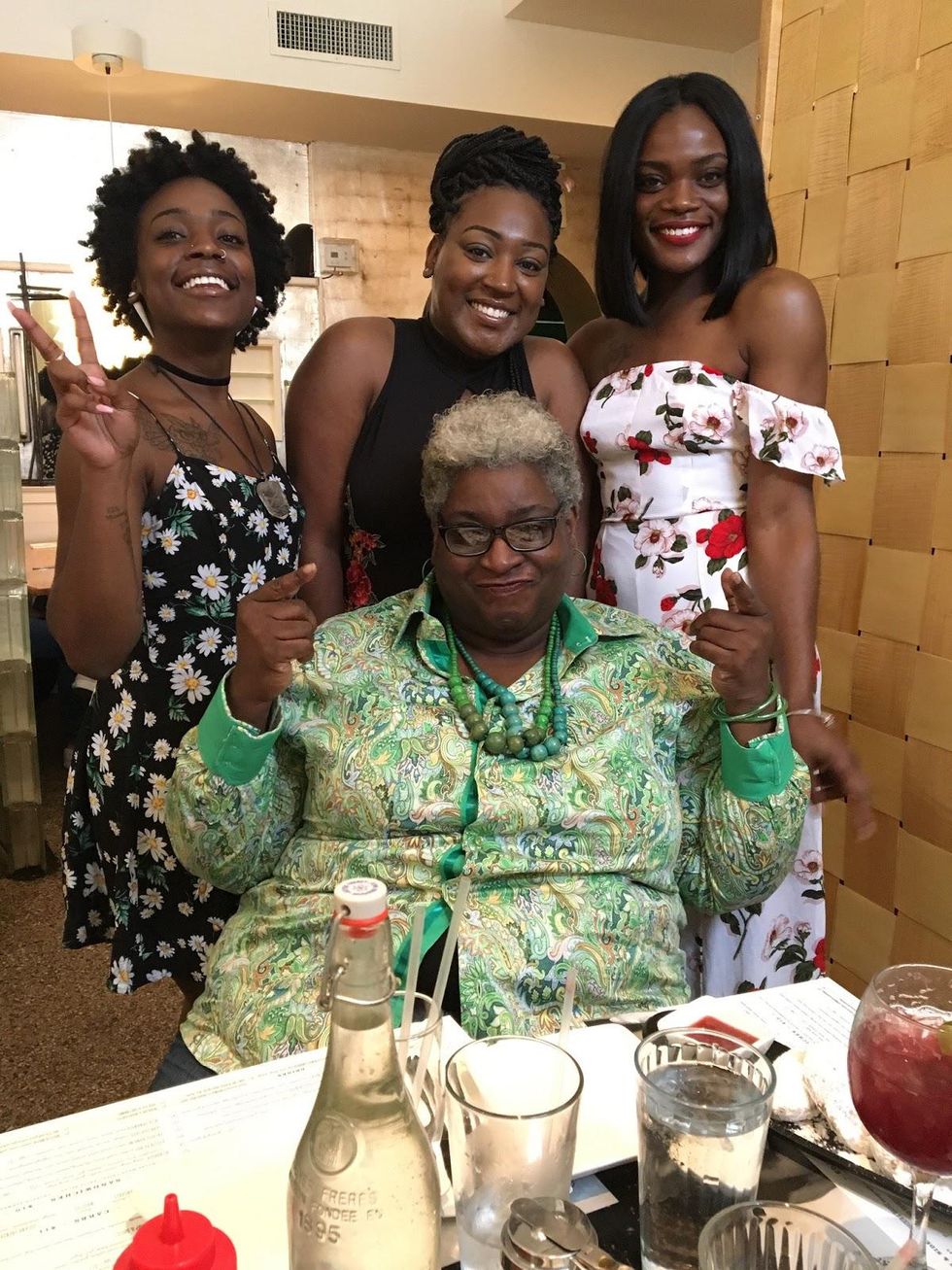 Courtesy of Elizabeth Antoinette
To: Mama Shadonna

Dear Mama,
One of my favorite parts about our relationship is you telling me stories about my childhood, and the one that sticks out the most is that of a conversation with my first-grade teacher. Funny, because a lot of people that know me now wouldn't imagine that little Liz was as shy as a turtle back then, but my intellect made me shine in a different way, and apparently everyone wasn't fond of that.
Somehow this teacher didn't know what kind of parent she was dealing with and had the nerve to tell you, "She thinks she can be whatever she wants to be." And you responded to her, "And she can."
There's more to the story that I'll save for the sake of brevity, but I am so thankful for you always standing up for me and my siblings then and even now, through your example of strength and steadfast prayers. You taught us the importance of family, education, and faith, and pressed on us that it didn't matter what we lacked, we could achieve anything we set out to accomplish. You more than proved that yourself when you decided to go back to college and obtain your degree.
So, I'll always think of you to thank for your influence on me as the woman who's affected my life the most.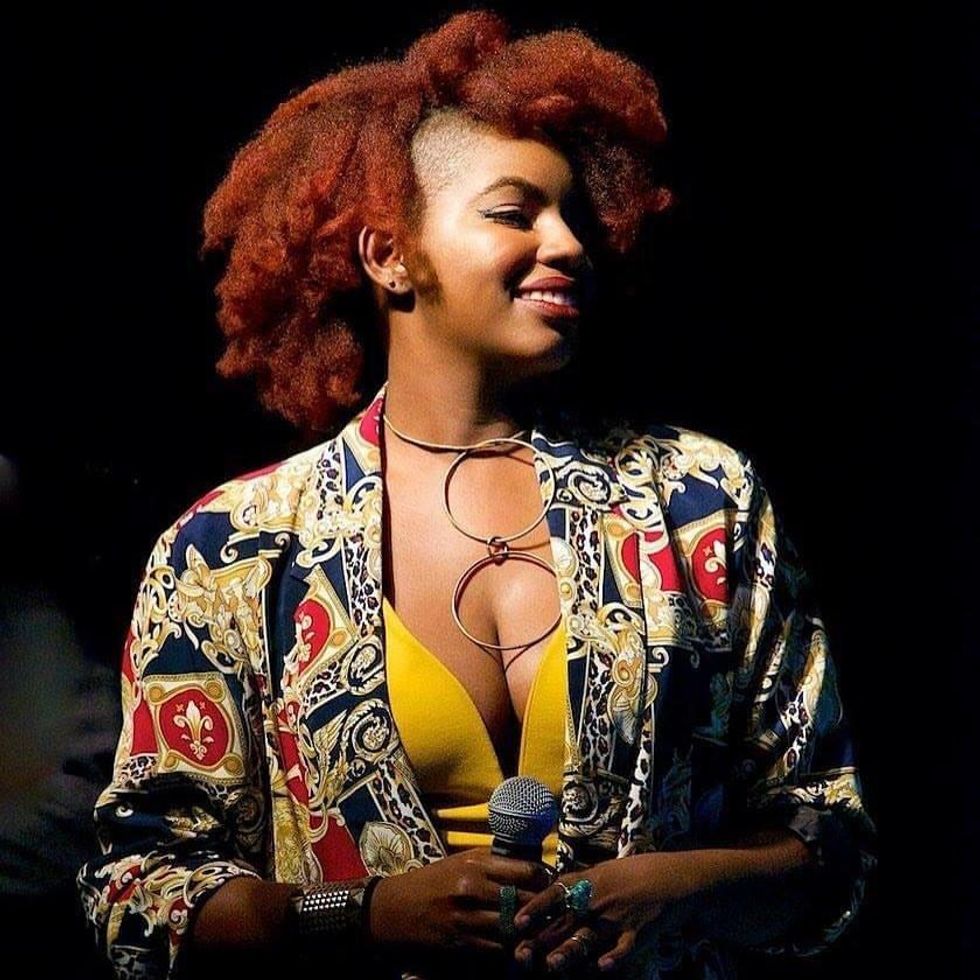 Courtesy of Chassidy Jade
To: Terri Meredith
I met you at a time when I was really confused about my career. Little do you know, you set me up for life. I came to your poetry events faithfully at my cousin's spot being filled with inspiration from so many creative and strong women. You were the first person to let me touch the mic without the "politics''. Once we were formally introduced, Zombii mentioned I was a filmmaker listing my resume that I was quite shy about. You looked me dead in the eyes and said, "People do a lot of things if she doesn't showcase it herself who cares..." Ha! I crawled into my 22-year-old shell and ate that because you were absolutely right! Work was slow and my writing took a back seat.
You were on me every single week asking me wtf I was doing with film. I went home every night and finished writing my first short film, Brown Ballerina, and named the main character after you. You proudly hosted my first film screening and the film went off to be selected to the Toronto Shorts Film Festival, being viewed all over the world. I also dedicated my art shows to you, which only highlights various female artists of color. You were brutally honest in a loving way.
You re-sparked my voice. You continue to motivate me and so many others. YOU DESERVE YOUR FLOWERS. I am forever grateful for your love.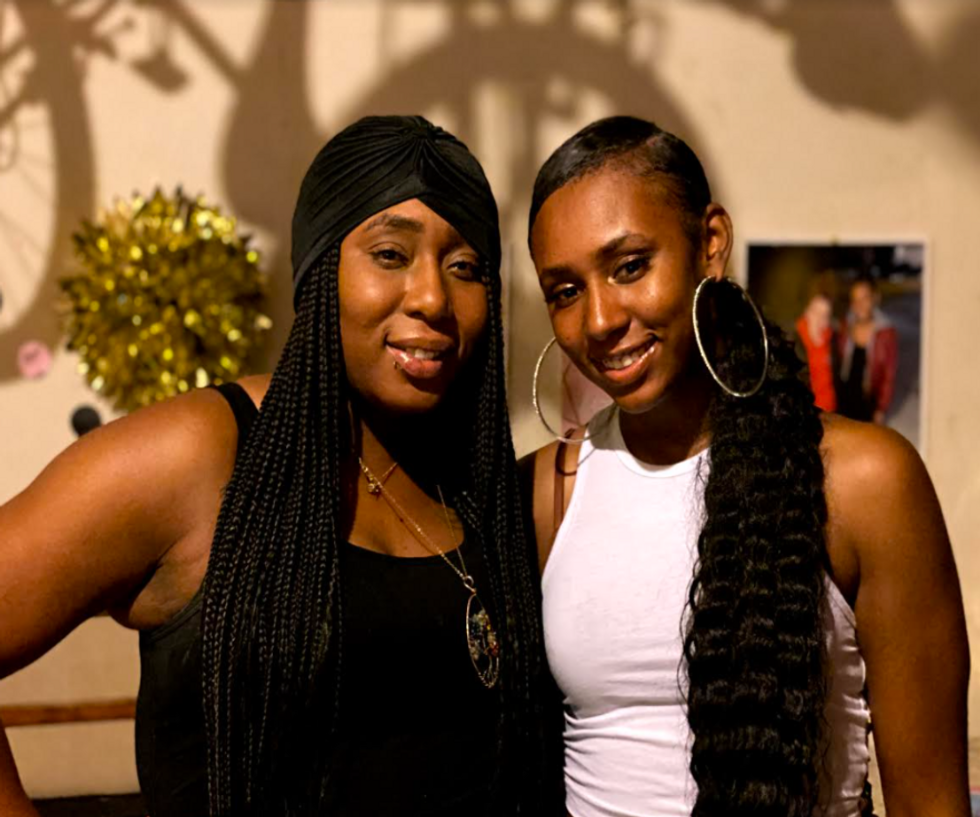 Courtesy of Dianne Myles
To: Tiara Lucas (My Daughter)

My baby! Thank you for being fearless and unapologetic with your voice. You have forced me to choose what type of mom I want to be. You hold me accountable to my word, and you make me evaluate myself daily. I now understand that as a mom, you teach me as much as I teach you. You are smart, bold, courageous, passionate, and beautiful. You put family first in all you do, and I admire that about you.
Thank you for choosing me 16 years ago, today, and always!
I love you,
Mom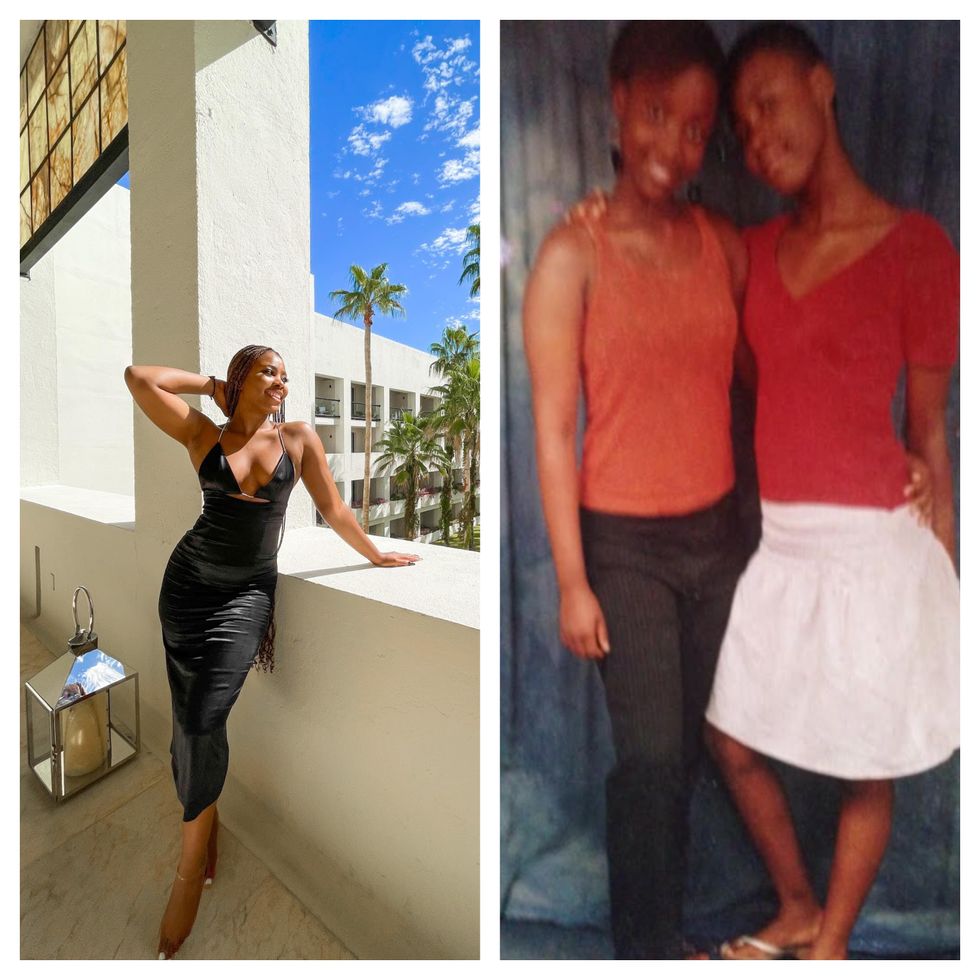 Courtesy of Anita Aloys
To: My Older Sister, Liberty

Dear Lili,
I know I always tell you this, but I love you very much! I don't know if you are aware of the role you played in making me the woman I am today or how important your presence is to my life but I want you to know that it is significant. When mom passed, you took me under your wing and nurtured me so lovingly that even though I felt the hurt of losing a mother, I never felt like I grew into my adult years without a mother. I've always wondered how you did it, how you could be so selfless even from thousands of miles away, also while dealing with losing a mother too! I don't know if I say thank you enough, but I am really grateful.
I am so glad to have you in my life because you are a reminder that soulmates exist. You are the best friend I prayed for, the confidant that I never knew I needed and an inspiration in every way.
I am so proud of the woman you have grown into, how happy you are, flourishing in your career choices and about to get married and start your own family! I hope you know how much I love you and that no matter how far apart we are, I'll always have your back and be in your corner.
I hope I see you again soon because nine years apart has not been easy.
Your loving sister,
Anni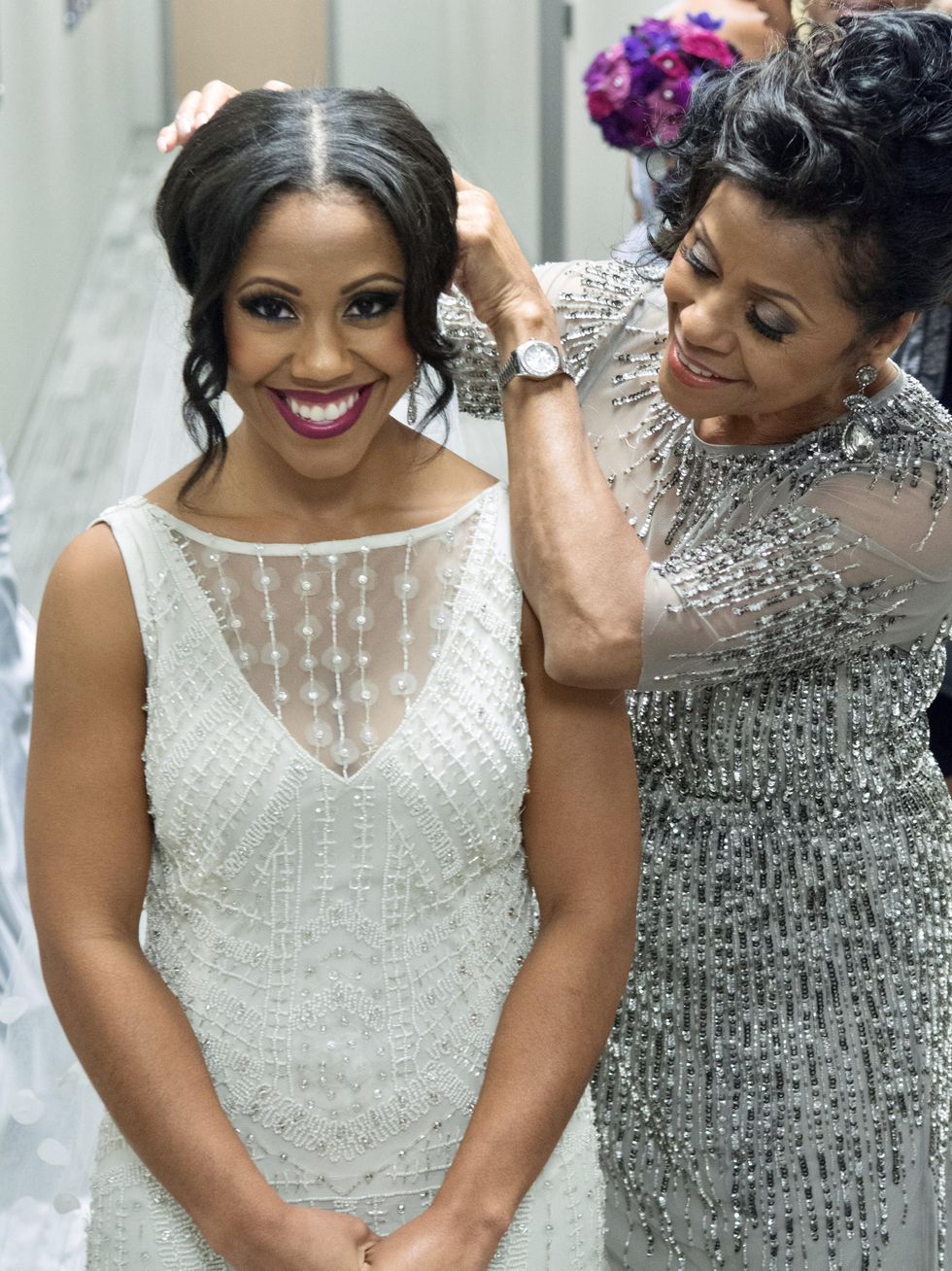 Courtesy of Majesty Acheampong
To: My Mother, Pastor Brenda Timberlake
My mother was the first woman who showed me that it was OK to be bold and unapologetically fierce. Her confidence shaped my life and how I carry myself as a woman today. She never tried to hide or dim her light, Brenda was the light, OK! Her style always made a bold statement, and on any day you could catch her in sequins or a bold hue, even if it was just for an errand or trip to the grocery store. Her makeup was always flawless, and her curls always perfectly coiled.
The best part about my mom is that her interior matched the fly of her exterior. Her warmth and kindness always made an impact on others, and she showed kindness to everyone she met. My mother influenced me to show up as my authentic self at all times boldly and to make a big statement and impact on this world. My mom has been a pastor for over 30 years, so she inspires the lives of others from her pulpit. Although I am not a pastor like her, she has influenced me to use my influence as a content creator for the greater good, so I treat my platform like a pulpit of sorts to empower and uplift other women.
I celebrate my mom today and every day for inspiring me to show up bold and fierce in every way both in person and on social media!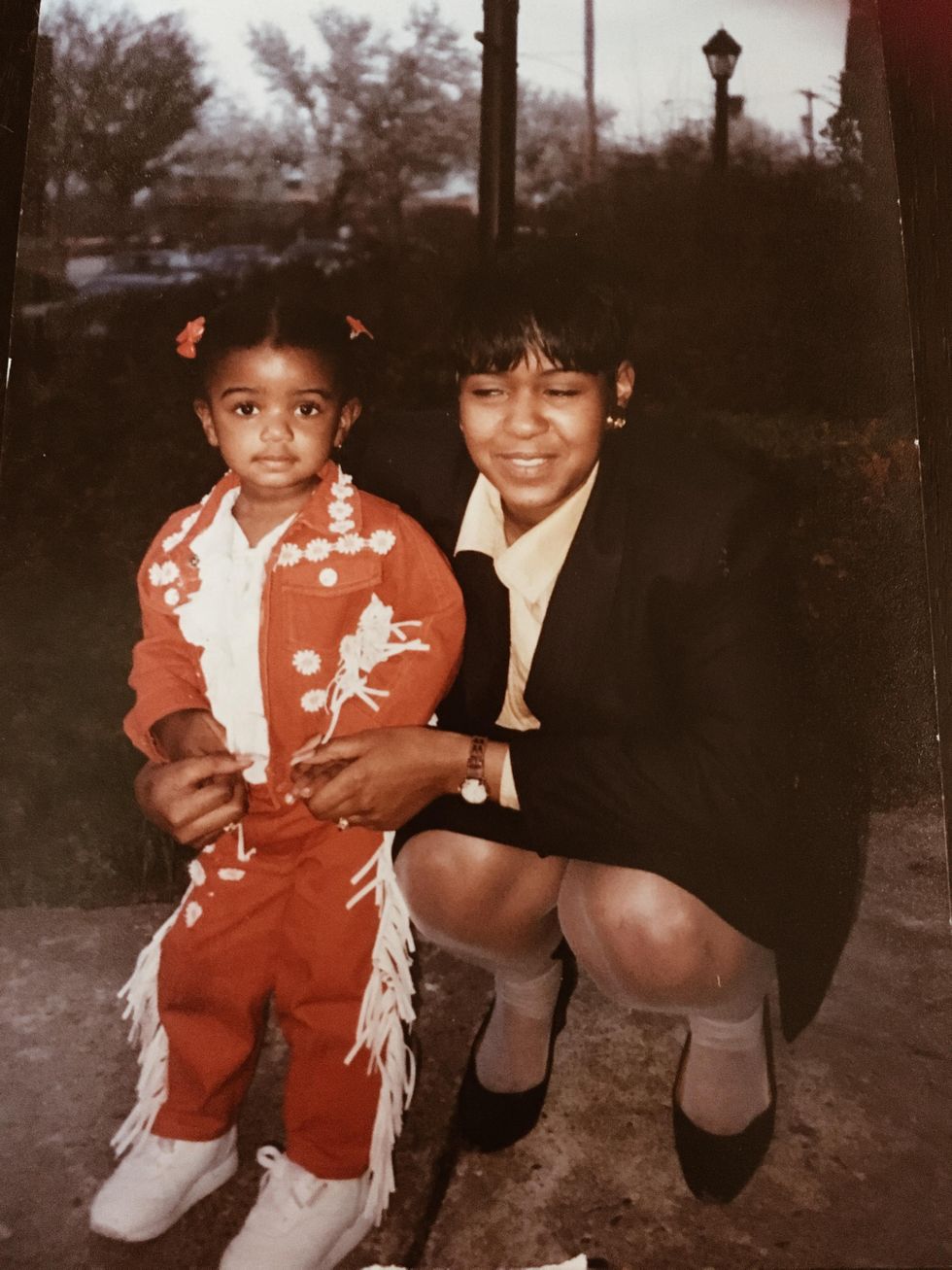 Courtesy of Taylor Baldwin
To: My Mom
Thank you for literally everything because all this magic wouldn't be possible without you. You gave me life but have gone the extra mile to pouring into me the confidence to be the woman I am today. You made and continue to make sacrifices for your children that I cannot begin to repay you for. Thank you for giving me the room to be myself and create my own path, even when you didn't understand. I am beyond grateful to have you as my mother, bodyguard, therapist, and everything above. I know you worried about me growing up because I was so shy and such a loner but just know that I have found myself in my art.
I hope you know I am truly happy with the way my life has unfolded. A lot of my success and life choices are because of you! Thank you for giving me the room to grow and glow in my dreams.
​From: Dominique Webb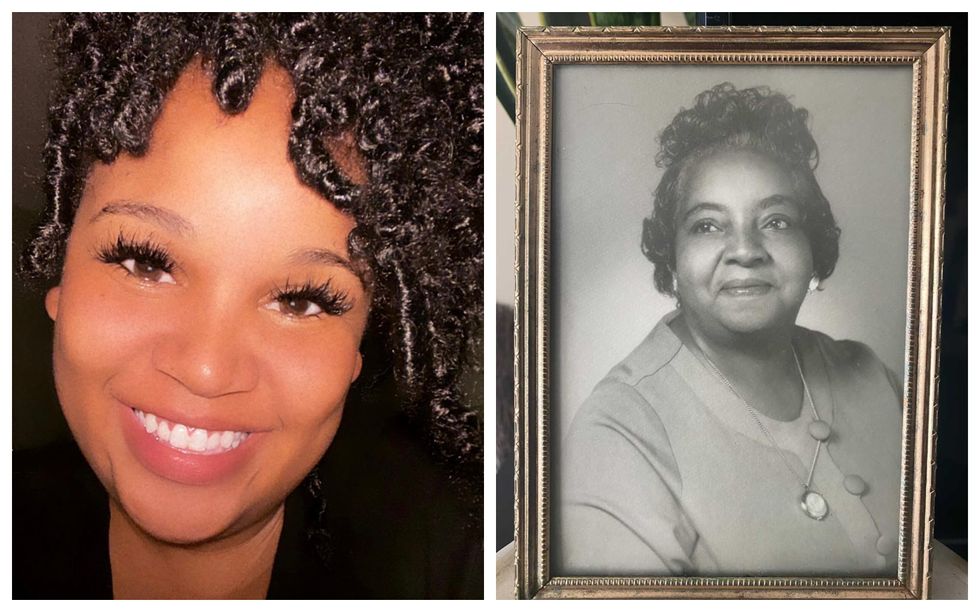 Courtesy of Dominique Webb
To: My Granny, Doris Webb
Sometimes I think I can still smell you. I can smell the rubbing alcohol you used to douse your knees with, and the sweet peppermints you'd pop into your mouth right before telling me to hand you the remote. I miss those subtle moments. Where we just sat together while you rambled on about the neighbors, or whatever mundane thing you wanted to fuss about that day.
I miss you complaining about how my nails were too long or my hair was too long. I miss your teachings. You taught me not only how to be a woman but how to be a strong woman. You taught me the power of being a praying woman.
You taught me the power of being a praying Black woman. You taught me my magic. You taught me how to use my powers for good.
You taught me how to act with poise, speak with grace, but to speak even if my voice shakes. I can never repay you for the things you've taught me. But as you always used to say, "You do good and you pass it on." Thank you for teaching me to do good and pass it on. Thank you for teaching me how to be a strong Black woman.
What a blessing it is to have known you in this lifetime.
I miss you and I love you Granny. Always.
Featured image courtesy of Dominique Webb
Keep reading...
Show less