Imani Tutt
Imani Tutt is a therapist-LP and intuitive. Her approach is rooted in intuitive knowledge that trusts in the innate knowingness of the conscious mind and body. She creates a safe for people to confront their inner wounds with bravery, curiosity and care. Her playful spirit makes the healing process enjoyable as she invites people to meet her for soul-centered transformations of the mind, body, and spirit.
I saw a tweet the other day that said, "The dating pool has piss in it." This message came from a woman talking about an unfavorable courting experience she recently had online. Now, I've seen this phrase numerous times online and I've also heard multiple people say it when discussing their frustrations with dating in this day and age. The amount of times I've heard this line of thinking has me thinking that there may be some truth to this phrase. According to Olivia, an author/blogger on the website, The Right Kind of Black Girl, folks are tired. And I can see why.
In a recent post, she shared her thoughts on whether or not there's really pee in the dating pool, stating:
"Men are tired of being used as EBT cards. Women are tired of being asked what they bring to a table with no legs. I'm personally tired of the inability to hold a conversation and plan a date."
If you ask me, she has a point! When it comes to dating, people are tired of being treated as objects rather than human beings. We have so many expectations around what men and women "should" be doing when they are dating because so many of us are afraid of someone seeing our insecurities, but when we set up all of these rules and expectations for dating, we rob people of the authenticity they need to express to cultivate relationships with people who are in alignment with their values.
Whether you want to admit it or not, we all have some red flags about us because we are human. The dating pool may have 'piss' in it but it's all about your perception and what you're calling in. Your perception of your dating experiences will come from the lens you are viewing them through.
Are you viewing your dating life through a lens of abundance and wholeness or through a lens of lack and insecurity? What are you learning from these experiences? How are you showing up differently in the types of people you are choosing? I believe now more than ever, people are becoming more aware and unapologetic about what they want out of their dating experiences and setting the standard to achieve those things.
As we continue to navigate through the "pissy pool" of dating (your words, not mine), the following are some dating trends to expect to see in 2023.
Featured image by andreswd/Getty Images
I'll never forget a quote I heard one time from motivational speaker, Tony Gaskins. He said, "Communication in a relationship is like oxygen. You need it in order for the relationship to survive." I'd even take it a step further and add that "effective communication" is needed for a relationship to survive and thrive. You see, it's important that we communicate our needs, our values, and our boundaries in our relationships. However, if we are not conscious of how we communicate with our partners, we can unintentionally hurt them simply by not knowing any better.
Oftentimes a lack of effective healthy communication skills comes from what was modeled to us as children. Was the environment you grew up in very volatile and hostile? Were your caregivers able to communicate in healthy ways or was there constant yelling, screaming/name calling to get certain points across? How did your caregivers respond to your needs? Was communication very passive in your household or very aggressive? Did you watch your caregivers communicate with each other in ways that were effective or did they ignore each other?
These are all important questions to reflect on because whatever we see and feel in childhood is more than likely to be replicated into adulthood because our nervous system has been trained to connect in this way. Even if communication was dysfunctional, oftentimes it's difficult to "do better" when it's the only template we can operate from because it's the only thing that we know.
As human beings, we all want to be seen and heard in our relationships but we may have difficulty communicating how we feel if we are using violent phrases to elicit a caring response from our partners. At the moment, we may think our partner will finally be able to understand us, but it actually does the opposite of what we want because it pushes our partner away, creating more tension and feelings of resentment in the relationship.
The following is a list of ten phrases you should avoid if you want a thriving relationship:
1."You always…"/"You never…"
When we speak to our partners in absolutes we are usually extremely frustrated, angry, and overwhelmed by what is happening in the relationship. When we are overwhelmed in this way, we tend to put emphasis on what our partner is/isn't doing, which focuses more on the behavior rather than the collaboration to find the solution. When we use absolutes such as "you always" or "you never," we are speaking in extremes. In these moments, it is important that we ground ourselves with the facts. Is it true that your partner is always ignoring you or do you often feel unheard in the relationship? Is it true that your partner never listens to you? Does feeling heard by your partner help you feel more connected and considered in the relationship?
These are all requests for connection, we just have to refrain from using absolutes to get our point across. Using absolutes may point towards parts of you that may be resentful. It does not plant the seeds for resolution and effective communication in the relationship, it just plants seeds of hurt, pain, and defensiveness.
Moving forward, try to focus on what is working for you in the relationship, and what you do like/love about your partner. Start showing gratitude for the little things that you may sometimes overlook and outwardly praise your partner to show appreciation and reaffirm the behavior.
2. "Get over it."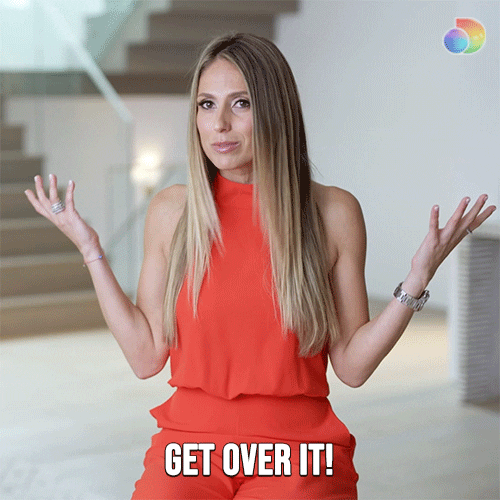 Get Over It Hamptons GIF by discovery+
Giphy
When your partner expresses a concern and you respond with, "Oh well, get over it," it's extremely dismissive and very harmful to the health of the relationship. Think about it: Have you ever been hurt by someone you confided in and they told you that you shouldn't be feeling the way you feel? I'm sure this has happened to so many of us and it is one of the most hurtful and invalidating responses to our emotional experiences.
When your partner is expressing something that is hurting them, it's important that you do not dismiss their feelings even if you disagree with them. We must learn to put our ego to the side when this happens. If we do not put our ego to the side and create a safe space for our partner to share with us, we push ourselves further and further away from creating emotional intimacy with our partners.
3. "You're just like my _____."
No one likes to be compared to someone else especially someone you're most likely not too fond of. When you say things such as "You're just like my last boyfriend" or "You're just like my dad," you are passing a moralistic judgment on your partner based on your past experiences rather than seeing them for who they are. Yes, our partners may have certain characteristics that remind us of a familiar relationship dynamic but that does not mean that they are "just like" that person. Your partner is a human being with their own authentic expression. When you compare them to someone you have a conflicted relationship with, you are rejecting your partner by shaming them. This in turn will create more resentment in the relationship, creating more of a wedge between the both of you.
4. "Oh no, here we go again."/"What did I do this time?"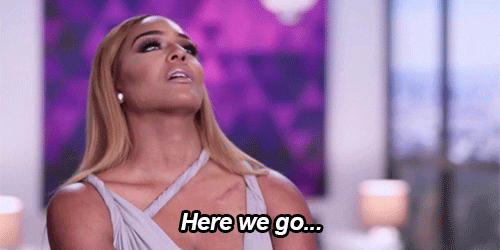 GIF by VH1
Giphy
This was actually one that I had to work on in my relationship and my therapist actually called me out on it in a couples therapy session. (The therapist calling out the therapist, I love it LOL.) Saying things like, "Oh no, here we go again" or "What did I do wrong this time around?" to your partner when they are expressing a concern to you is highly dismissive and invalidating. What you are doing is showing that your frustration with your partner's concerns triumphs over their feelings. This may not be your intention but this type of response may cause your partner to shut down and avoid the conversation altogether, which does nothing to solve the issue at hand, it just adds more fuel to the fire.
5. "You're so stupid."
John Gottman, couples therapist and CEO and founder of the Gottman Institute, researched and studied what he called The Four Horsemen of the Apocalypse in relationships. Each horseman describes the four communication styles that destroy relationships, also known as relationship killers. In his studies, Gottman noticed that couples who handled their conflict conversation with contempt ended up divorcing. He concluded that contempt was the biggest destroyer and predictor of divorce and separation out of the Four Horsemen.
Contempt is when we talk down to our partners by being mean to them, insulting them, calling them names, etc. Attacking someone's sense of who they are is unloving, yet so many of us do it not because we do not love our partners, but because we were spoken to in those same ways. It becomes a cycle where we belittle our partners in the same way because we have not learned the tools to regulate our emotions.
Phrases like "You're so stupid," or "You're an idiot" are harmful to the connection; if it happens for long enough, it also erodes safety in the relationship.
6. "I'm sorry, but…"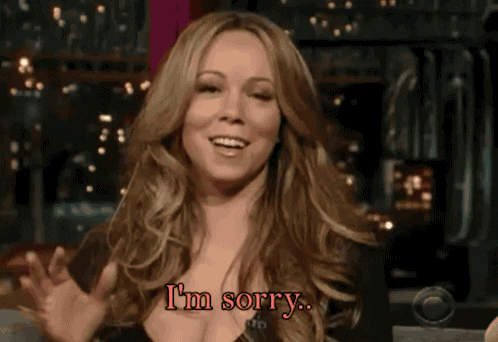 sorry not sorry GIF
Giphy
I don't know who needs to hear this but, "I'm sorry, but..." negates the "I'm sorry." When you apologize, the word 'but' then counters the apology. Especially when it is usually followed by criticism or an excuse because you are most likely in a state of defense. In couples counseling, I always tell my couples to hold themselves accountable with compassion and understanding. Accountability does not mean punishment, it is simply a way to take into account what was done and acknowledge the harm that was caused by it.
When you can show compassion for the times that you may unintentionally hurt someone because you were hurting, it comes naturally to show kindness to others.
7. "I don't care."
This one is pretty self-explanatory. When we say things like "I don't care," we are dismissing our partner's feelings. When we communicate this way, we are giving off the impression that our partner's feelings do not matter, which can trigger feelings of abandonment/rejection. This can create a barrier to connection because not only does your partner get the message that their feelings don't matter but they also receive the message that they don't matter.
Just like I mentioned at the beginning of this article, we are social beings. We need to be heard, seen, and deeply felt in order to survive. If we think we do not matter in our relationships, it destroys our sense of belonging.
8. "Well, at least I've never…"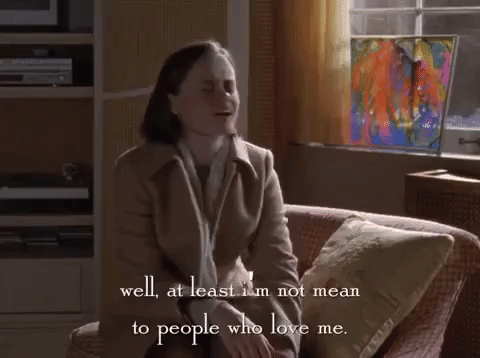 season 4 netflix GIF by Gilmore Girls
Giphy
​When we say, "Well, at least I've never...," we are deflecting in order to avoid having to take accountability. According to MindBodyGreen, "Deflection is a defense mechanism that involves redirecting focus, blame, or criticism from oneself onto another person, in an attempt to preserve one's self-image."
I would also like to add that often this is done to relieve our own anxiety around how we are perceived. However, it is not healthy to deflect because if we are constantly looking for something or someone outside of ourselves to "blame," we are not taking accountability for our choices and how they impact our relationships. This behavior can drive our partner away because at its core it's manipulation.
9. "You need to relax."
"You need to relax" is another way of telling your partner they shouldn't feel what they are feeling. Granted, how we respond to certain situations may not always match the situation. For example, if your partner tells you 'no' and you burst into anger and rage, being told to relax might be warranted in a way that isn't in most other cases. (Keep in mind that we tend to view situations through the lens of our unhealed wounds. Depending on what is triggering us at the moment will determine the lens we see it through which will then influence our reaction to the trigger.)
Nevertheless, telling your partner "you need to relax" is not going to automatically make them relax. It actually does the opposite by making them even more upset because they feel invalidated, dismissed, and unheard. Remember, it's important to respect how your partner feels even if you don't agree.
10. "I told you so."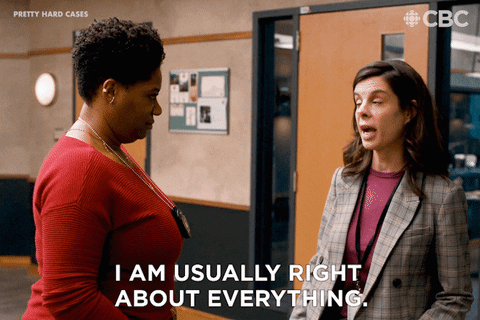 Im Right Told You So GIF by CBC
Giphy
When you say, "I told you so" to your partner, you are adding insult to injury. It's like having an open wound and picking at it to make it worse. Your partner probably already knows they made a mistake. It is unloving to make them feel even worse by reiterating you were "right." Instead of focusing on how you were "right," show compassion for how your partner feels and use the situation as a learning lesson to move forward in a way that feels empowering to the relationship.
Let's make things inbox official! Sign up for the xoNecole newsletter for daily love, wellness, career, and exclusive content delivered straight to your inbox.
Featured image by Drazen_/Getty Images
No one is ever 110% ready for a relationship. Let that marinate because I know it may sound strange, but really think about it. No one is ever really 110% ready for anything. You kind of just make a choice to move forward and take any feelings of fear or anxiety with you instead of allowing them to cripple you. Although no one is ever 110% ready for anything, I think it's important to still have an idea of what to expect from ourselves to make sure we are walking into new relationships with healthy intentions.
In order to assist with this, I curated a list of questions to ask yourself to assess your "readiness" to date. If you find yourself getting stumped over any of these questions, don't beat yourself up! No one is perfect and we all have things we can improve on. What is most important is that you have an open heart and an open mind as you read through these questions to explore what comes up for you with compassion and curiosity and whether you believe these questions are essential to you and your journey as you move toward dating and cultivating healthy relationships.
Featured image by Marko Geber/Getty Images
Last month, Michelle Obama sent the internet into a frenzy by opening up about her marriage to Barack Obama. During her conversation with NPR's "Life Kit" podcast, she shared her thoughts on the glamorization of dating and its impact on the reality of marriage, how partnerships are rarely 50/50, and when it comes to the ebbs and flows of commitment "young people quit too soon." She later clarified her thoughts in an Instagram post:
"As an adult, I've lived in a number of places, but as far as I'm concerned, I've only ever had one real home. My home is my family. My home is Barack. But here's the thing—our marriage has never been perfectly 50-50. One of us is always needing more or giving more. We have to be willing to listen to each other, honestly and without defensiveness. Only then can we evolve together. Over the years, a lot of young people have asked me about marriage. And my response usually goes something like this: You have to prepare yourself for long stretches of discord and discomfort. You have to learn how to make real compromises in the way you've lived as an individual. Glamorizing a relationship while you're dating will lead you straight to difficulty once you're married. You can't paper over problems when you're living with someone day in and day out."
Her caption continued, "So you've got to ask yourself: What are you trying to get out of this relationship? Have you truly thought it through? Do you want a wedding or do you want a lifelong partnership? Those are two very different things. Together, you are answering the question: Who are we and who do we want to be?"
I completely respect everything she mentioned above because that is her experience of what it takes to sustain a long-term, successful marriage and that is what has worked for her. While I believe that what she mentioned is true, I think it's important that we also get into the nuances between trying to make a relationship work with someone who is equally committed to the relationship as you are versus trying to make a relationship work with someone who has reached an expiration date in your life.
Not every relationship is meant to last long-term and that doesn't have to be a "bad" thing. Some people come into our reality to show us who we are so we can learn and grow and some people come into our lives to spend a lifetime with us. As you are dating, it's important to discern the difference.
To help you do that, I have compiled a list of eight signs that it might be time to break up with someone. Check it out and share your thoughts below in the comments.
Featured image by Vladimir Vladimirov/Getty Images
Sometimes in relationships, things can get…well, boring. Sometimes you just need a little healthy spontaneity to continue to get to know your partner on a more intimate level, especially if you have been in a committed relationship for some time now and things are starting to feel really comfortable, if you know what I mean. As humans, we are always evolving and changing. The person you are with today is not the same person you met when you first started dating.
They have their own autonomy, their own dreams, their own goals, their own insecurities, and their own fears. Because we are ever-evolving, it's important for us to take the time to continue to get to know our partners so we communicate to them that we are curious about their lives and we care enough about watering the relationship so it can continue to grow and be fulfilling for both parties involved.
If you've been feeling stuck in a rut with your conversations with your partner as of late, carve out some time this week, and set up a date night with no distractions (for my folks who are busy, even a small date night over dinner could be helpful). And take date night up a notch by asking each other the questions below to deepen your level of intimacy in the relationship.
As you ask the following questions, remember to stay curious about your partner's responses. Instead of judging or criticizing them for what they are feeling, notice what comes up for you in their responses and address it with patience, empathy, and compassion so you both can have an open dialogue about those feelings.
1

.

What is your honest opinion about me? 
​In relationships, sometimes we tend to put so much emphasis on "telling our partners about themselves," pointing out all the things we don't like about our partner, and telling them where they need to improve in order for us to feel better, especially during conflict. But when you're comfortable with your partner, or maybe you're even going through a rough time in your relationship, it's important for us to focus on what we do like about our partners.
As humans we are wired for connection, we need connection not only to survive but thrive in our lives. In order to receive authentic connection in our relationships, we need to be loved and affirmed for who we are without our partner putting pressure on us to change the essence of who we are. Therefore, in order to have a healthy connection, we need to be affirmed for who we are in order to feel good about the relationship.
This question is great because it's not just focusing on what you don't like about your partner; it's all about honoring and respecting our differences without communicating to the other person that they are unlovable because of their difference. I love this question for healthy relationships because it reminds you of whyyou chose to be in a relationship with your partner. It also shows you that you can still love someone, even if you both have some differences or even if they do small things that might annoy you. As long as it's not detrimental to the relationship, that's what true love is all about.
2

.

What has your childhood taught you about love and relationships?
Our earliest relationships set the template for how we will connect/disconnect in our adult relationships. As children, we are dependent on our caregivers to help us not only navigate life but also show us what safe relationships look and feel like. If we didn't have a template of what a healthy relationship looks like, it comes with a lot of shame and insecurity. And ultimately this may have an effect on our romantic relationships going forward.
It is imperative for us to become curious about what our partner learned in childhood, not to judge them but to better understand them. Depending on what your partner saw in childhood, it could potentially have an impact on your relationship. It's helpful to ask this question so you can better understand your partner. Remember to enter into this conversation without judgment and remember to stay curious if you need more clarification on anything that comes up.
3

.

What are you afraid to show others that they probably need to know in order to connect with you on a deeper level? 
This is my favorite question because it leads to deeper levels of emotional intimacy and vulnerability. Our authenticity is the essence of who we are. If we are afraid to show people or even our partners all of the parts of ourselves, we're not giving them an opportunity to love us for who we really are because we may struggle to love, honor, and respect who we truly are.
I love this question because it taps into the most intimate part of a person's being, heart, and soul.
4

.

When you look at me, what parts of yourself do you see in me?
Intimacy is into me you see. In other words, our partners should show up as a mirror of everything we see in ourselves (healthy traits and characteristics). This question helps to deepen emotional intimacy by seeing your partner beyond their physical form and seeing them from the perspective of the soul. This is what we would call a soulmate. Someone who reminds us of so much of ourselves but also someone who teaches us so much about ourselves.
5

.

What does our love remind you of?
This is a great question as it prompts your partner to think about some of the things that your relationship reminds them of. Your partner may surprise you with their answers but what's most important is to lead with curiosity and respect your partner's autonomy with their experience of their relationship with you. Perception is reality.
6

.

Tell me about the first time you felt it was safe for you to be vulnerable with me. 
This is another one of my favorites. In relationships, so many of us remember that moment when we felt safe enough to let our guard down with someone and unfortunately they mishandled our hearts. But, to be in a relationship with someone you can let your guard down with, and they communicate with you through their actions that your vulnerability is safe with them? That's a feeling that is unmatched.
This question prompts you to think about the very first time you felt safe with your partner to do something that so many of us are afraid to do for pretty valid reasons. I love this question because it can really help you to stay in the present moment of how much emotional safety means to each of you.
7

.

Do you believe love is freely given or does it have to be earned?
This question is really good when you want to dig deeper into your partner's beliefs and values. Some people believe that love is unconditional, it is freely given regardless of the circumstances. Some people believe that love is conditional and that the act of loving someone has to be earned. This question can help you learn more about your partner's beliefs when it comes to love and commitment.
If you both have different beliefs around love, lean into why your partner feels this way with compassion and curiosity. What experiences in their lives have shaped their view on this? How can you both come to a place of common ground around love specifically for your relationship? What are the limits and boundaries when it comes to love for each of you? It's definitely something worth exploring to deepen emotional intimacy.
8

.

How can I continue to support you in this relationship?
​Oftentimes when I'm working with couples in therapy, one or both partners will come in expressing their grievances around their relationship, specifically towards the other person. Sometimes we can become so consumed with getting our needs met that we don't take the time to think about what probably needs to happen in our relationship in order for both parties to feel more supported.
No one likes to feel like they are the "problem." This leads to defensiveness, emotional withdrawal, and resentment because the relationship is no longer a safe space, it's a warzone. Safe spaces are not always going to make us "feel good," but they compassionately hold us accountable so we can see ourselves a little more clearly.
Asking your partner how you can support them shows that you are thinking and considering their needs as well as yours.
Let's make things inbox official! Sign up for the xoNecole newsletter for daily love, wellness, career, and exclusive content delivered straight to your inbox.
Featured image by PeopleImages/Getty Images
"When you heal, you go from wanting to be chosen to doing the choosing." This quote came to mind one day while journaling. It had been almost two years of doing the work to heal my inner child wounds. For almost a decade, I spent most of my teenage and young adult years unconsciously looking for someone to rescue me. Someone who would show up for me "full-time" the same way I wanted my caregivers to show up for me full-time.
Yes, I love my parents, and yes, my parents did the best they could with what they had but they weren't always able to attune to my needs in the way that I needed them to consistently. It was not until I found myself in a cycle of trauma bonds and a pattern of unhealthy relationships that I realized that I was seeking to be chosen.
After experiencing one of the worst heartbreaks of my life, I realized that it couldn't just be everyone else. There had to be something in me that was making me a match for these experiences. After working with a therapist and doing some inner child work, I realized that I had spent so much time in these unhealthy relationships because I was looking for someone to choose me.
By them choosing me, I was hoping their validation would finally make me feel good about myself. But I realized time and time again after every failed relationship, the reason why I wasn't being "chosen" had nothing to do with me not being "good enough." It was because I wasn't choosing myself.
I kept getting into relationships constantly abandoning myself, giving other men the loyalty that I needed to give myself. I would disown my boundaries and shapeshift into whoever they needed me to be to receive love from them.
If they wanted a girl who didn't "nag" or "complain," I made sure that I kept my feelings to myself. If they wanted a girl who would turn into their mother, I would make sure that I spent the majority of the relationship fixing and rescuing them from their problems so I didn't have to deal with my own.
I realized that I had to come face to face with my inner child wounds and grieve what I never received from my parents. It wasn't until I was able to allow myself to feel that discomfort that I put myself in a position of power to finally give myself the things my wounded inner child was looking for in other people.
Evolving beyond the point of wanting to be chosen to doing the choosing does not happen overnight, but with inner work healing is possible. And how do you know you've entered your healing era? Here are 7 signs that you are shifting from that mindset and a pathway to healing:
1

.

You have identified your needs and built your confidence in getting those needs met: 
When I'm working with my clients 1:1, I constantly remind them that the key to your healing is not only identifying your needs but building your confidence in getting those needs met by giving them to yourself. If you are not aware of your needs, you will become a slave to someone else's standards. And you see where that may lead you, right? When you work on giving your needs to yourself, you're building your confidence in them by being a living example of the standards you would like to see in others.
If you want someone who is honest, when was the last time you were honest with yourself? If you want someone who is consistent, when was the last time you followed through on a promise you made to yourself? Once you start to identify your needs and build your confidence in them, you will start to see that it is possible and you'll know that it's possible because you're a living testimony of it. When you pour into yourself in this way, you will be able to confidently recognize these characteristics in someone else without having to guess. It increases your level of discernment when you're choosing a partner.
2

.

You honor your boundaries by standing firm in them:
Boundaries define who we are. They are where we end and another person begins. Boundaries are not barriers to connecting but are simply healthy limits to ensure that we can maintain a healthy sense of self in a relationship with another person. So many people get into relationships trying to melt into another person, disowning their boundaries and standards just to say they have a connection with someone. Nevertheless, a healthy connection has a healthy separation between two people.
Rather than enmeshing with each other, two people in a healthy relationship honor and respect each other's differences in order to preserve the relationship, not push each other away. When you are in a relationship and you do not honor your boundaries, you are not allowing people to see you clearly and experience true intimacy with you. This is why so many of us may find ourselves in unhealthy relationships because the longer you disown your boundaries, the more you hinder the right people from showing up in your life.
3

.

Your mindset is shifting during the dating process: 
When you meet someone new, you are no longer trying to figure out if this person likes you. You're no longer altering your appearance to please them or ruminating on if this person sees a future with you. When you make this mindset shift, you take your power back. You shift your focus from altering yourself to be "liked" to actually giving yourself and other people the opportunity to see you for who you truly are.
You are also giving yourself an opportunity to see the other person clearly for who they are. You're paying attention to what qualities they have that may be compatible with you. You're spending less time ruminating and altering yourself and more time assessing if you like them, rather than focusing on if they like you or trying to change them.
4

.

You're more confident in who you are: 
When you're healing, you are embracing who you are authentically. Instead of wearing a mask and performing for love, you've taken the time to truly get to know yourself and be unapologetic about it.
5

.

You are actively healing your inner child wounds: 
When you're healing, you take the time to heal any inner child wounds that may be sabotaging your relationships. Not having boundaries, not accepting people for who they are, and disowning your values become a thing of the past. Although our inner child may have used these coping strategies to ensure our survival in childhood, it's realizing that your survival is no longer dependent on your parents and it is your responsibility to find healthier ways of connecting. You start to challenge what you've always considered "normal" and start to assess if the unhealthy patterns and behaviors you fall into empowering you to get the type of relationship you want.
6

.

You're more in tune with your values:
Our values define what is important to us at each stage of our lives. Think about when you were younger, you may have valued things such as playing with friends, creating a hobby for yourself, and going to school. As you get older, your values change as you change. Now as an adult, you may value working long hours in your career or you may value spending more time with family. When we are in tune with our own values, we give ourselves an opportunity to find people who share similar values as us, rather than trying to change or alter people into valuing the things that we value.
Ten times out of ten, our values cannot be compromised. Our values guide our decisions and lead us in the direction of the type of life we want to live. When we are in tune with what is important to us, we can confidently let go of people who may not value the things we value.
7

.

You offer yourself more grace and compassion: 
Healing is hard work. You are discovering all of these parts of yourself that you were completely unaware of. As you are healing, you learn to give yourself more grace and compassion. You understand that you are not always going to get it right and instead of chastising or punishing yourself; you are able to compassionately hold yourself accountable and work towards making a different choice in the future.
Let's make things inbox official! Sign up for the xoNecole newsletter for daily love, wellness, career, and exclusive content delivered straight to your inbox.
Featured image by Artem Varnitsin/EyeEm/Getty Images