Someone once told me that being happy was a choice. Like the English aphorism, "fake it until you make it" the idea of obtaining happiness can be as simple as imitating an optimistic mindset and achieving what you seek. Though this idea has been proven true and beneficial in many situations, it is not the solution for everything and rarely works 100 percent of the time. In fact, sometimes, the only way to be truly be happy, is to first embrace the sadness. Sometimes, giving yourself the permission to fall apart, break down, and cry it out, is all one needs to truly find happiness.
So, to assist you on your quest to contentment and relentless joy, I present to you 20 movies (and limited series) on Netflix that will give you the cathartic release you need. Whether you're looking for a happy cry, angry cry, or sad cry, xoNecole's got you covered with films guaranteed to open the floodgates.
Fatherhood (2021)
Based off the 2011 memoir, Two Kisses for Maddy: A Memoir of Loss and Love by Matthew Logelin, comes Netflix original film, Fatherhood. Fatherhood tells the story of Matthew Logelin (Kevin Hart), a new father, who struggles raising his daughter, Maddy, after the sudden death of his wife. In the comedy-drama film, watch as Logelin deals with "doubts, fears, and heartache" as he learns to navigate life and fatherhood after his devastating loss. In addition to Hart, the film stars DeWanda Wise, Alfre Woodard, Deborah Ayorinde, Melody Hurd and Anthony Carrigan.
Loving (2016)
In another biographical piece comes the story of the Lovings. Loving follows interracial couple, Mildred and Richard Loving, as they navigate being in love during the Jim Crow Era. Shortly after marrying in 1958, the Lovings are arrested for the crimes of living as husband and wife. In hopes to avoid jail, the Lovings agree to leave the state of Virginia never to return, again. Nevertheless, after growing tired of living in isolation, the Lovings return to the Virginia to challenge the anti-miscegenation laws, laws that reinforce racial segregation by prohibiting interracial marriage, in the Supreme Court and across the nation. The film stars Joel Edgerton and Ruth Negga.
Get on Up (2014)
Starring the late Chadwick Boseman is 2014 biographical drama, Get on Up. Based on the life of singer James Brown, the film nonlinearly tells of Brown's journey from a childhood riddled with poverty and abandonment, to an adulthood of fame and stardom. Though, the film has comedic moments from time to time—the opening scene comes to mind—the heart of the film comes from moments of reflection, where Brown considers what has been sacrificed for the sake of his dream. Also starring Viola Davis, Octavia Spencer, Nelsan Ellise, Craig Robinson and Dan Akroyd, this is a film that will have you seeing legendary musician James Brown in another light.
When They See Us (2019)
When They See Us is a limited series by award-winning and critically acclaimed director Ava DuVernay, which focuses on a group a teenage boys, coined "The Central Park Five." After a brutal attack on a white woman in Central Park, five teens from Harlem become the targets of a racially influenced allegations when they are falsely accused of rape and violent assault. A biographical story, When They See Us shows the lives of Kevin Richardson, Raymond Santana, Antron McCray, Yusef Salaam, and Korey Wise as they face the racial profiling, discrimination, and inequality of the American justice system and media while on a heavily publicized trial.
13th (2016)
Exploring the "intersection of race, justice, and mass incarceration in the United States," is the 2016 documentary film, 13th. Reframing American History, director Ava DuVernay explores how the 13th Amendment, infamously known for freeing those enslaved, led to an epidemic of mass incarceration in the United States. In the 13th amendment, lawmakers created a loophole, which proclaims a form of slavery is acceptable in the legal form of criminal punishment.
Due to this loophole, America's prisoners make up 25 percent of the world's prisoners, despite the American population making up for five percent of the world population. In this heart-wrenching documentary, watch how DuVernay and experts, explore the shortcomings of America's justice system and politicians, while demanding the acknowledgement of racial injustice and the influence of racism in our criminal and legal systems.
American Son (2019)
When their son goes missing, an estranged couple reunite at a police station in hopes to find an answer. Based on the 2018-2019 Broadway play of the same name, American Son, discusses the social issues of discrimination and racial inequality in the legal system. Starring Kerry Washington, Steven Pasquale, Jeremy Jordan, and Eugene Lee, American Son shows the devastation and helplessness one faces when the system one should trust remains untrustworthy.
I Am Not Your Negro (2016)
Inspired by Remember This House, an unfinished manuscript that consists of a collection of letters and notes written by James Baldwin in the 1970s, I Am Not Your Negro explores the fate of a nation Baldwin believes is intertwined with that of a Black man. In James Baldwin's critique of American society, he states, "I can't be a pessimist, because I'm alive...so I'm forced to be an optimist. I am forced to believe we can survive, and we must survive. But the future of the Negro in this country, is precisely as bright or as dark as the future of the country. It is entirely up to the American people..."
Divided into four chapters, the social documentary focuses on the school integration era of the Civil Rights Movement, the depiction of the White gaze in film and its impact on society, social racial division, and the continuous exploitation of Blacks in America.
I Called Him Morgan (2016)
I Called Him Morgan is a documentary on the life and death of jazz trumpeter Lee Morgan. Created over the course of seven years, the documentary is told as Helen Morgan recounts the couple's life and Morgan's triumphant legacy, decades after she has been imprisoned for his murder. This enticing documentary beautifully, captivatingly, and unapologetically tells a story of what happens when an exasperated, possessive lover, an adulterous recovered musician, and a record breaking blizzard collide.
Miss Virginia (2019)
There is no doubt that systematic inequality creates barriers to jobs, healthcare, and education within the Black community. In Miss Virginia, the challenges facing Black America are brought to light when a struggling mother sacrifices everything to ensure her son is given a good education. Based on true a story, Virginia Walden places her son into a private school, as a last resort to losing him against drugs and violence of the street. When tuition proves unreasonable, she creates a movement to change the system that is destroying him and other minorities alike. In an impassioned performance, Emmy Winner Uzo Aduba is Virginia Walden Ford, a single mother who fought for the creation of a scholarship program for at-risk students and won.
Becoming (2020)
"Unplugged for the first time" is Michelle Obama in the 2020 documentary Becoming. Focusing on the former First Lady, Becoming is based on the bestselling and acclaimed memoir of the same name. The documentary highlights footage of Michelle Obama as she travels and works during her time as First Lady. Nevertheless, the film also chooses to focus on Michelle Obama's accomplishments before joining the White House. Returning to her children in South Side of Chicago, the documentary travels through Obama's days in school, her old law firm, early stages of marriage, parenthood, and even marriage counseling.
In this 90-minute film, Michelle Obama invites the audience to explore—with supervision—her accomplishment and life outside of her husband's legacy. After all "so little of who [she is] happened in those eight years, so much of who [she was] happened before."
Monster (2018)
"What do you see when you look at me? Boy? Artist? Outsider? Should one moment define my life?"
From 1999 book of the same name by Walter Dean Myers, Monster tells about the injustices young, Black men face at the hands of the court and legal system. Once an aspiring artist, Steve Harmon, a 17-year-old, and three others are labelled "monsters" as they stand trial for murder. Arguing to have only been involved in a robbery and not a murder, Harmon must convince the jury that he made the mistake of being look out, while discrediting the claims that he pulled the trigger.
Two Distant Strangers (2020)
It is fascinating, yet terrifying to think that you're most celebrated day, could also be your worst. In this Academy Award-winning live action short film, Two Distant Strangers meet and launch an examination of Black American deaths at the hands of the police. Carter experiences his best day and worst nightmare when he finds himself stuck in a Groundhog Day time loop. In a loop that inevitably ends in death, Carter tries to get home to his dog, after he is repeatedly confronted and harassed by white Officer Merk. In this clever, yet enraging short film, cast Joey Bada$$, Andrew Howard, and Zaria Simone, show the frustrations and helpless Black Americans feel while merely existing in America.
Giving Voice (2020)
From executive producers Viola Davis and John Legend, Giving Voice follows the annual August Wilson Monologue competition, and the high school participants who compete for the opportunity to perform on Broadway. Well-known for creating stories that were "epic in scope, tragic in circumstance, and yet still somehow hopeful," August Wilson leaves behind the legacy of "giving voice" to the voiceless Black community. Now, in hopes of honoring his legacy, young students and actors work alongside coaches and teachers as they speak up and out about their love for theatrical performances and Wilson's life-changing work.
Middle of Nowhere (2012)
Nine years ago, Ava DuVernay released her first acclaimed written and directed film, Middle of Nowhere. Winner of Best Director Award for 2021 Sundance Film Festival, Middle of Nowhere tells the story of nurse, and aspiring doctor, Ruby who devotes her time to visiting her imprisoned husband Derek. When she discovers the legitimacy of her husband imprisonment and deception, Ruby must decide whether to stay in the familiarity of living in the "middle of nowhere" or embrace the uncertainty of navigating the world alone.
In Our Mother's Garden (2021)
"Black women often aren't exposed to the idea that healing is possible."
In her debut film, In Our Mother's Gardens, Shantrelle P. Lewis creates a space for Black women and the lineages who helped shaped them. Celebrating the determination and resiliency of Black women and families, Lewis explores the idea of self-healing, self-importance, and self-care while analyzing the relationship between Black mothers and daughters. Throughout the film, various Black women account impactful stories that show feminist love and familial love, within the African-American community. Often explaining the central issues Black women face today, In Our Mother's Garden inspects the issues Black women face with imposter syndrome, ingrained indoctrinated servitude replacing self-care, and the generational trauma of racism and sexism.
Da 5 Bloods (2020)
For decades, the idea of joining the military has been sold to the American people as one's patriotic duty. From the World War to the Afghan War, the idea of joining the forces has been encouraged amongst all communities alike. Though, within the Black community, joining the armed forces is viewed with more trepidation than patriotism. This is mainly due to the Vietnam War where African-Americans risked their lives for a country—which at the time—openly showed they wouldn't do the same. In Spike Lee's Da 5 Bloods, he explores the imbalanced relationship between Black veterans and the country they fought for. Returning to Vietnam 50 years later, four Black vets attempt to find the body of their fallen brother and the gold they've buried as repayment for fighting "an immoral war."
Come Sunday (2018)
Based on the excommunication of Christian minister Carlton Pearson, is the drama Come Sunday. After the death of a relative, Reverend Pearson (Chiwetel Ejiofor) experiences a moment of introspection which causes him to question his faith. Unable to accept the idea that suffering people who haven't been saved will be damned to Hell, he concludes, that there isn't a Hell at all. After announcing this conclusion within his sermon, his trouble begins when his congregation demands his removal.
Let It Fall: Los Angeles 1982-1992
After the publicized death of George Floyd, the chairman of Black Lives Matter of Greater New York, Hawk Newsome, told an interviewer, "If this country doesn't give us what we want, then we will burn down this system and replace it." This warning came after years of civil protest, demands for change, and government inaction. As if history demands to repeat itself, this same cry for justice can be heard from decades before in the cities of Atlanta and, more recently, Los Angeles. In an in-depth examination of a clamorous time in the city of Los Angeles, Let It Fall: Los Angeles 1982-1992, details a decade of tension that leads to the culmination of citywide violence in 1992. After years of oppressive police aggression, failed justice for Black lives, and continuous neglect from government officials, citizens of Los Angeles show what happens to a city when its people decide to let it fall.
Whose Streets? (2017)
"We're trying to mourn, and you came here with 300 cop cars and riot gear and canine units. This is the same thing that pretty much got us here."
Whose Streets? is a documentary about the killing of Michael Brown and the Ferguson uprising of 2014. Told by activists and leaders, instead of news reporters and government officials, Whose Streets? follows the lives of the men and women who live and breathe the Black Lives Matter Movement. This documentary doesn't only focus on unrest ignited by Brown's killing and verdict, but it also focuses on understanding the people lived it. With a lens that seeks to understand the community, Whose Streets? focuses on the trauma and confusion created by those in Ferguson, Missouri when they officials have given them nowhere to turn. Directed by Sabaah Folayan and Damon Davis, Whose Streets? is a film definitely worth watching.
Ma Rainey's Black Bottom (2020)
Ma Rainey's Black Bottom is a biographical musical drama based on August Wilson's 1982 play of the same name. The story follows influential blues singer, Ma Rainey (Viola Davis), who has been recently contracted, by white producers, to record a record. During her recording session, she collides with an overconfident and overly ambitious trumpeter, Levee Green (Chadwick Boseman) who hopes to gain his own record deal, and the producers who only seem to be "interested in [her] voice." Played stunningly by Viola Davis and the late Chadwick Boseman, Ma Rainey's Black Bottom is a "celebration of three real-life Black artists and legends."
Honorable Mentions:
Fruitvale Station (2013)
Les Miserables (2012)
Tangerine (2015)
The Boy Who Harnessed the Wind (2019)
See You Yesterday (2019)
Irreplaceable You (2018)
I Will Follow (2010)
Little Boxes (2016)
Roxanne, Roxanne (2017)
Rodney King (2017)
Featured image by Getty Images
Keep reading...
Show less
One of our forever first family members are making some moves and we are here for it! The eldest daughter of the Obama clan, Malia Obama, has joined the writers room for a potential series that Donald Glover is producing as part of his newly inked 8-figure overall deal for Amazon Studios, according to The Hollywood Reporter. And this is quite the first job for the upcoming college grad who is set to graduate from Harvard University as part of the class of 2021.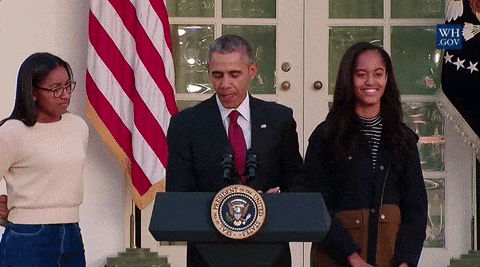 Our good sis has shown interest in Hollywood for quite some time, as in the past, she landed an internship with The Weinstein Company (2017) after having previously interned on HBO's comedy Girls and worked as a production assistant on CBS' Halle Berry drama Extant.
Or in other words, don't play with our cousin, she is coming for her coins!
The usually lowkey daughter may not be on TikTok (although she has had her own stint of living her best life), but she is ready for her close-up. And it showed in her mom's documentary, Becoming, where she was able to speak life into her mother after watching her on a tour stop. She says to her mom:
"You're so good, I love you too much."
After reiterating how proud she is, she then adds:
"This has demonstrated in a way ... those eight years weren't for nothing. You know? You see that huge crowd out there and that last kind of speech you gave about — people are here because people really believe in hope and hope in other people."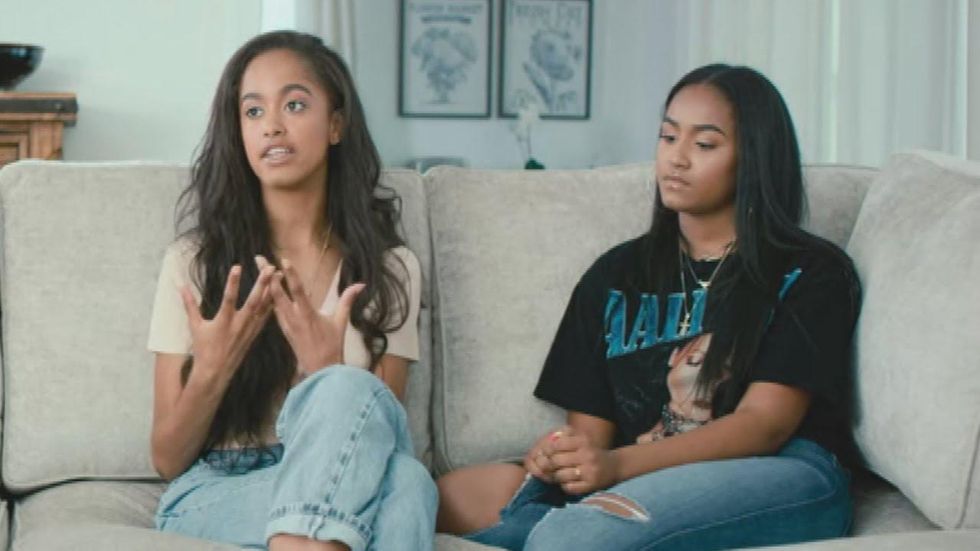 Netflix/Becoming
Another scene cuts to a glimpse of the two sisters discussing what's next for their very famous family. "I'm excited for her to be proud of what she's done," Sasha says in the clip referencing her mom. "Because I think that's the most important thing for a human to do is be proud of themselves."
"No longer facing that same scrutiny, being able to let all of that leave your mind, creates so much more space," says a fearless Malia.
The same was done for dad, who disclosed that over the summer, the two were in "organizer mode" for BLM protests last summer. 
"I didn't have to give them a lot of advice because they had a very clear sense of what was right and what was wrong and [of] their own agency and the power of their voice and the need to participate. Malia and Sasha found their own ways to get involved with the demonstrations and activism that you saw with young people this summer, without any prompting from Michelle and myself, on their own initiative. They didn't do it in a way where they were looking for limelight. They were very much in organizer mode, I could not have been prouder of them."
We stan philanthropic, young black ladies who step fully into their purpose!
--
As for Glover, the multi-multi-multi-hyphenate is taking his talents to Amazon after having previously worked with FX. The new deal cancels out current deal with FX, where his critically acclaimed series Atlanta, which has been on hiatus since 2018, is set to begin production on seasons three and four in March.
We can't wait to see the brilliance this duo has up their sleeves!
Featured image via Kamil Krzaczynski/EPA
Keep reading...
Show less
As Told To is a recurring segment on xoNecole where real women are given a platform to tell their stories in first-person narrative as told to a writer.
This is Rocky's story, as told to Charmin Michelle.
It was another performance, another night in Seoul. Here I was, on stage, dancing in super tight latex bottoms that had my tiger stripes on full display, and wondering how I had gotten to that point. My group and I were performing at a nightclub that night as we would often do. I remember looking over and seeing a couple watching nearby. The guy was really into my performance—his girlfriend, not so much.
Anyway, these particular latex bottoms showed part of my butt cheek, which made me so self-conscious about even setting foot on stage. But this was the performance that I signed up for, so I went for it. I gave it all that I had. The audience loved me.
Suddenly, the girlfriend got upset, and the couple left the club.
To be honest, I was so confused by her reaction. Like, sis, I'm working. But this night, like so many others, jump-started a clear understanding of how much of an impact that we can have on others. Here I was, extremely insecure about my own body, and unknowingly inducing such a strong reaction from the strangers I was showing it to.
If you haven't figured it out yet, no, I'm not a stripper, I'm a burlesque dancer in the depths of Seoul, Korea. I've been doing this for years, actually, and I'm one of the best in the industry. I started on a whim and used it as a means to make money and get acclimated to performing.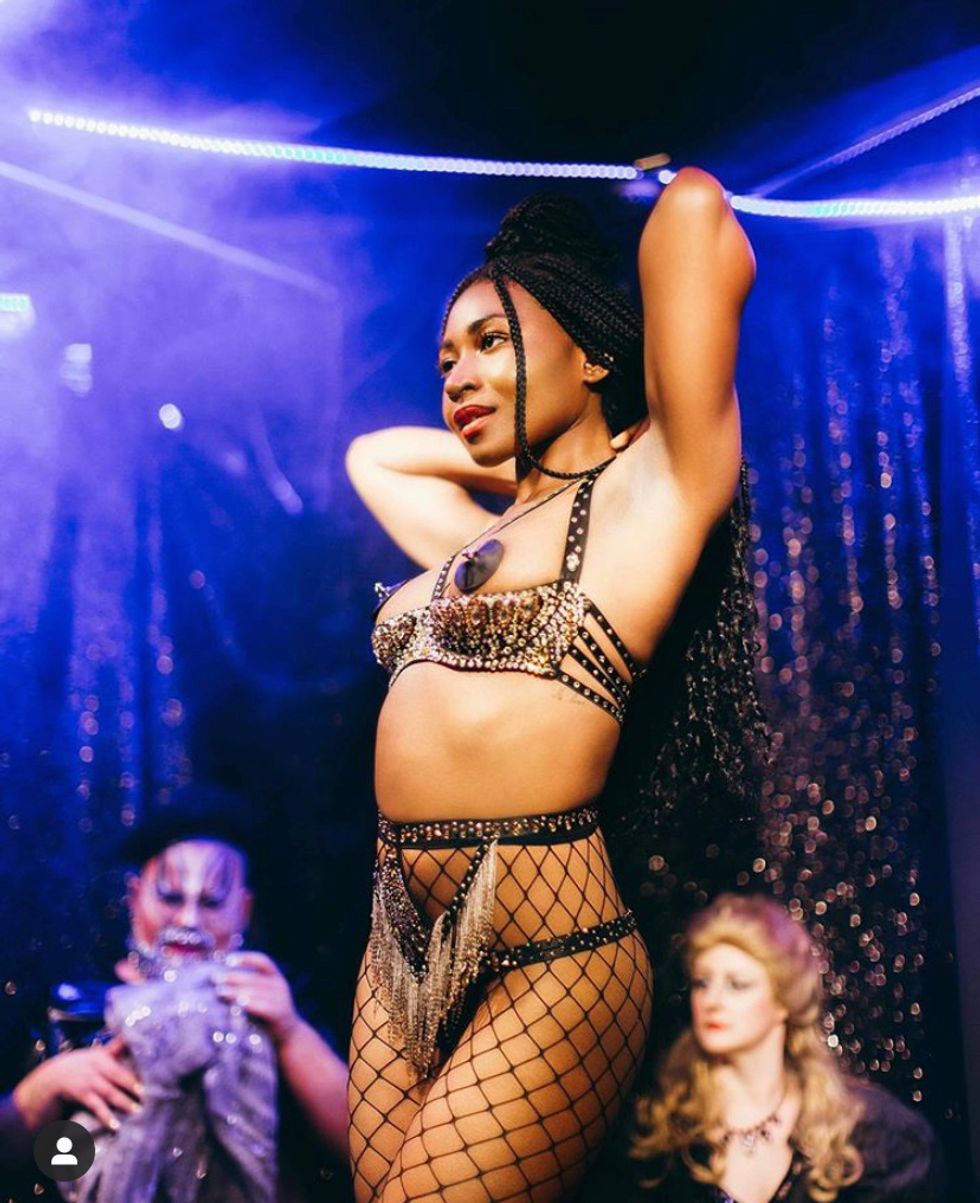 Photo Courtesy of Erockfor
I've lived in Korea off and on since 2014, initially to teach English. Basically, I was broke and needed a source of income because my bills were piling up. Relocating for a career became my plan of action.
My aim wasn't to move to Seoul to pursue music. It was to get myself out of debt.
I got married at the young age of 23, and I'll be the first to say that both of us were too young to have made that decision. We weren't compatible at all. We fought all the time about everything—big and small. It was abusive, even—something I've never said out loud before. Nothing about my marriage felt right.
A couple years into it, I started a translation business and was fortunate to see it do well during its beginning stages. One month, I made $6,000, which is major to a married 20-something. I felt on top of the world. Because of my success, I was willing to stay in the relationship even though it brought me zero joy. This caused me to put every ounce of my focus into my business and making money. Then, when my business started failing (my main client didn't need as much work anymore), I was stripped of everything I had relied on to bring me joy.
I was confronted with how miserable my living situation was. I was also broke again, which made everything worse.
So, in 2014, I took my little booty and boarded a plane to Seoul. I didn't have a plan whatsoever, and ultimately, I was just running to escape my bad relationship and financial woes.
It was the bravest thing I had ever done, even though I had no clue I was brave.
Life In Seoul
I'm of Cameroonian descent, born and raised in Montreal, Canada. So, although I stand out, a new culture never phased me. When I arrived, I got so caught up in pursuing "realistic" careers, that I put my music on hold and decided to publish a poetry book while working as an English teacher, writer, and translator.
I remember the first negative review I got on it too. It was my first attempt at creativity outside of my usual burlesque performances, and I was so crushed—in tears, even. Eventually, I developed a thicker skin.
I can't be everyone's cup of tea.
Also, lots of people simply try to project how they feel about themselves onto you. It's rarely personal, so I stopped taking it that way.

Another tough lesson.
Anyway, Korea is an amazing place once you become familiar. The dating is terrible, though, and I've had more weird run-ins than I care to count. But I also learned the importance of having confidence in myself. I mean, you have to be confident to live abroad—whether you're aware of that confidence or not. It's hard being away from my family. It isn't always the most fun thing, but, I'm happy I chose this path.
Okay, getting back on track with my story: one day, out of the blue, I decided I was done with just getting by. Singing makes me so freaking happy, I couldn't imagine doing anything else.
It was time.
The Birth of Erockfor
When converting to a full-time artist, I knew I didn't want to release music to crickets. By this time, I had built a platform as a poet (from my book release), and I knew I could rely on it to gradually test the waters. The plan was to pull a switch on them, like surprise! I'm a singer now! Well I always have been, but hopefully y'all will still rock with me! I mean, I do music for the love of it, but I also have to be able to sustain myself, so I've had to learn how to sell myself.
And self-belief is a superpower.
You can make great music, but what's your story? I've had to become clear on what my story is.
Now, I'm in a good space. I've been covered by various publications, and I've somehow managed to gain a crazy amount of support from Korean millennials. I've been compared to Macy Gray, Cyndi Lauper, Erykah Badu and Amy Winehouse—which vocally, it definitely makes sense. I've also been exploring more Afrobeats. It's important for me to have that element of my heritage present in my music, as well as exploring different genres. Montreal is an extremely multicultural city so I have so many influences.

My music represents me perfectly and other first-gen kids who grew up in big cities.

Legacy, Legacy, Legacy
I believe in healing and taking the utmost care of my being. I meditate, I make holy water (which I bless myself, spray all over my apartment and drink), and I do yoga. I look over my intentions for 2020. I remind myself that my great-grandma was a high priestess and that I'm named after her. I recently got into stoicism, so I try to see the opportunity in everything and try to observe things objectively. I'm also very spiritual. I protect myself with mantras, which can act as spells.
Mantras are magic.
It's not lost on me how amazing it is to be able to travel and live life abroad. When I was a kid, my family couldn't afford it—it just wasn't my reality. But because higher learning is really affordable in Montreal, I was able to pay for my education just by working at coffee shops or restaurants and freelancing as a writer. My undergrad experience is the reason I was able to teach in Korea in the first place. When I was choosing a country to teach in, the fact that there was a community of black women definitely swayed me. I've gotten messages from black women asking me how I was able to teach here or sing and act here. I think it's important to tell your full story, as much as you feel comfortable to do so. Representation is important and I'm happy to show that a first-gen Canadian of Cameroonian descent can pursue a blossoming singing career all the way in Seoul.
At one point, I said I'd be content only singing in cafes or bars. And that's fine if it's not coming from a place of fear. But it was, and I was afraid of my potential in failing. Now, I see stadiums and award shows in my future. Why not? Ladies, let's go for it. Build on your skills. Never disqualify yourself, ever. Just try.
You may watch Erockfor's latest visual for "How Will I Know" here. You can also follow her on Instagram for her latest updates.
If you have a story you'd like to share, but aren't sure about how to put it into words, contact us at submissions@xonecole.com with the subject "As Told To" for your story to be featured.
Featured image courtesy of Erockfor
There's no greater feeling in the world than curling up with a good book, losing yourself in the pages, and forgetting the world around you. But in between juggling busy schedules and the demands of our personal lives, finding the time to crack open one of our favorite titles can seem like a goal only achievable through the imagination. But for one "Bookstagrammer", it's not just a fairy tale, it's her reality.
Meet Kici Cofield, a 25-year-old bookworm who has managed to read 52 books a year for the last two years (that's one book for each week of the year, if you're keeping count). The Hampton University and Northwestern University alumna is a self-proclaimed introvert who found solace in the recharging powers of the stories she would read.
Since many of Kici's friends would turn to her for book and food recommendations, she decided to launch an Instagram page, Well Read and Fed, solely dedicated to her latest reads and foodie adventures. What started off as a "just a little side project" has turned into a growing community of millennial readers eager to share and exchange their love of books and recommendations among one another.

Still, you're probably wondering how she fits so many books in throughout the year; according to her, it all comes down to focus. She says, "I try to read 100 pages a day in whatever I'm reading so, that's what helps me get through the books so easily. The secret is honestly just putting your phone down, picking up a book, and giving it your full attention!"
If there's anyone who knows where to find a good read, it's Kici. So, we chatted with her to learn her top book recommends to gift to our girlfriends this holiday season. Check them out below:
*This list is specially curated by the xoNecole team and some links are affiliate links. If you purchase an item from an affiliate link, xoNecole might earn a small commission.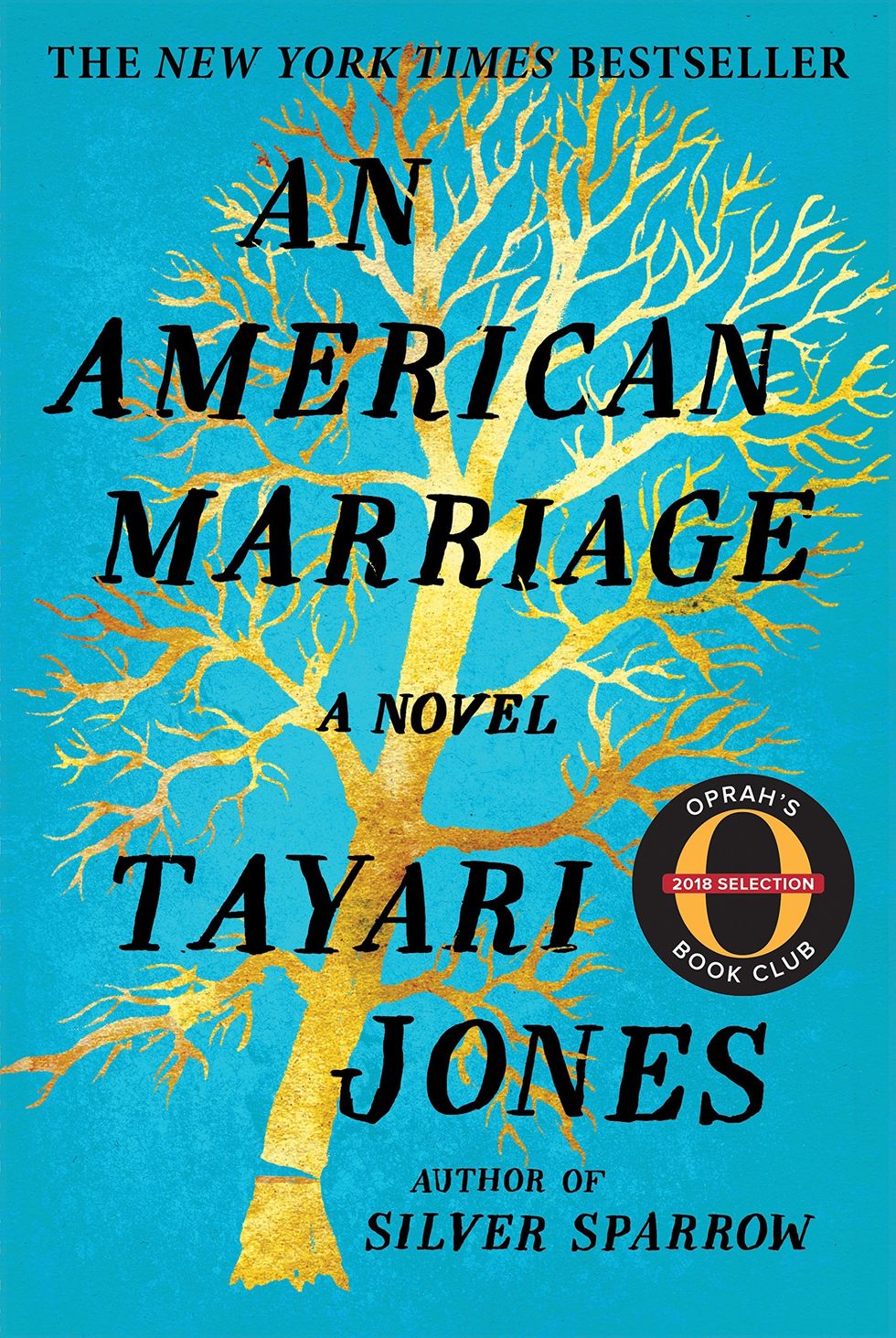 Amazon
"This book is based on the wrongful imprisonment of a young Black man and how it affects both him and his new wife. From the moment I started reading it, I knew that it was going to be a good book. After reading it, I experienced the worst book hangover! I couldn't stop thinking about this book simply because things like this happen in our community every day. If I just got married, would I be willing to hold my man down in prison knowing that he was innocent? Would I be able to allow all of the things I worked towards remain on pause while I try my best to live my life? It was ridiculously good. I would recommend both reading it and gifting it to a friend so that you can discuss it!"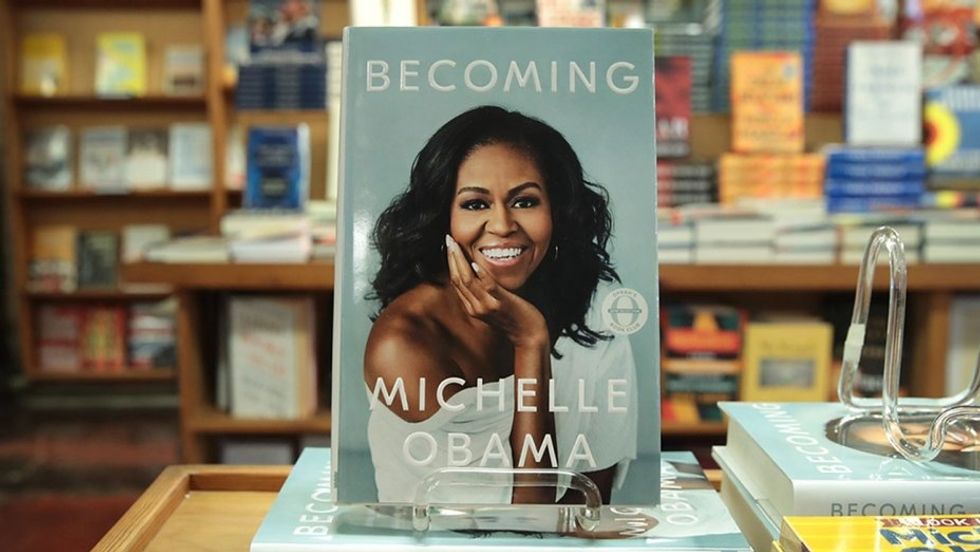 Scott Olson/Getty Images
"If you didn't buy your close friend Becoming for Christmas, are they really your friend? I LOVE Michelle Obama. Her ability to 'go high when others go low' is something that I've always strived to do in life. Though I knew that she was already a BB from her time in the White House, this book gave me an inside view of her life outside of the White House. I experienced a lot of emotions but mostly pride that I got to experience the First Black First Lady in my lifetime."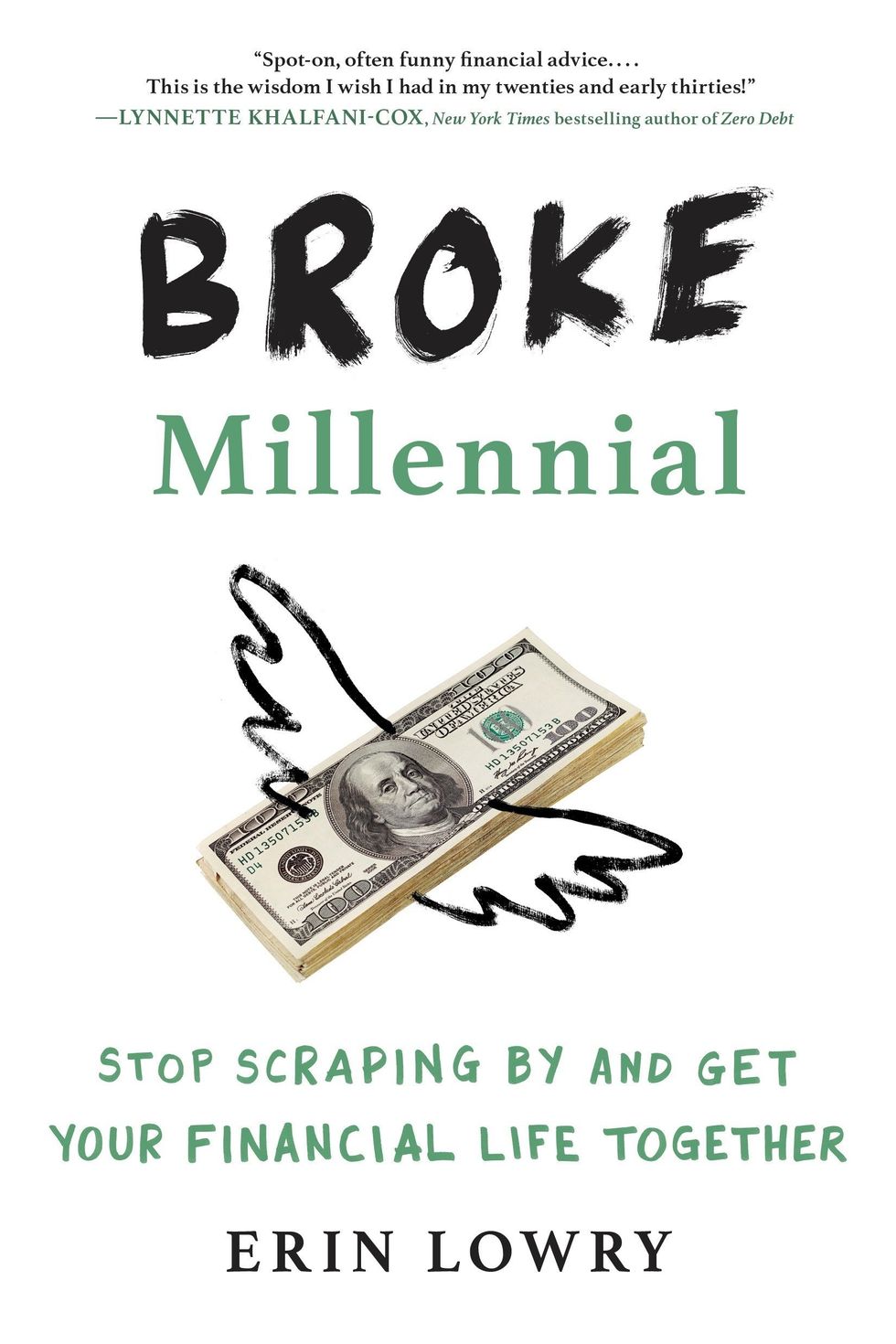 "Growing up, my parents didn't teach me about finance and how to properly manage my money. This was partly because they themselves were ignorant and not in a good space financially. So naturally when I graduated college, I opened lines of credit and found myself in debt trying to balance student loans, credit card payments, and the cost of living. Though I've been reading a lot of other books on financial literacy, I loved how relatable this book was. It was written by a millennial for millennials, so I would definitely gift it to a friend that wants to be more financially literate!"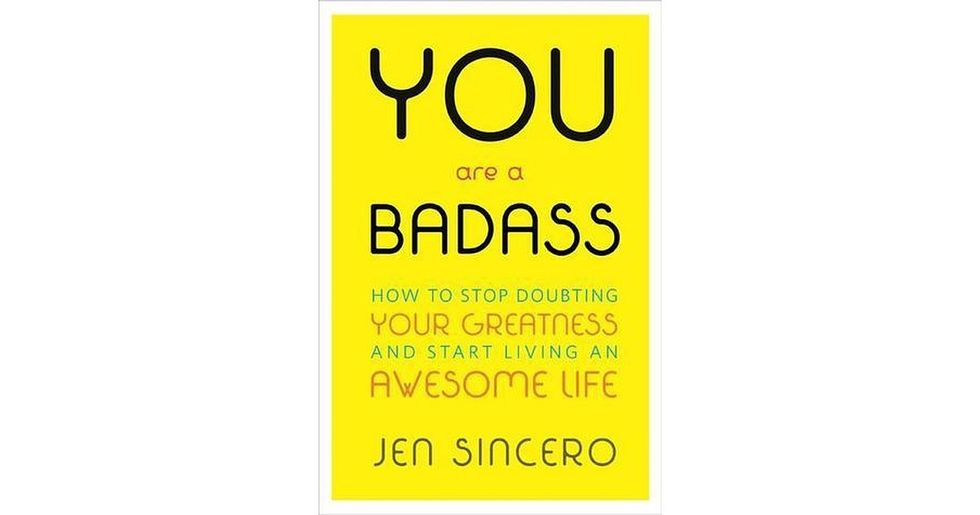 "This is the self-help book of all self-help books. While I was reading this, I had a hundred notes in my phone of quotes that really stuck with me. This book is all about realizing and owning your self-worth. I was in a patch when I picked this book up and it was the best book I've ever read. Whenever my friends ask for recommendations, this is one of the first books I recommend because it's that good. Perfect for someone that needs a little reminder that they are a badass!"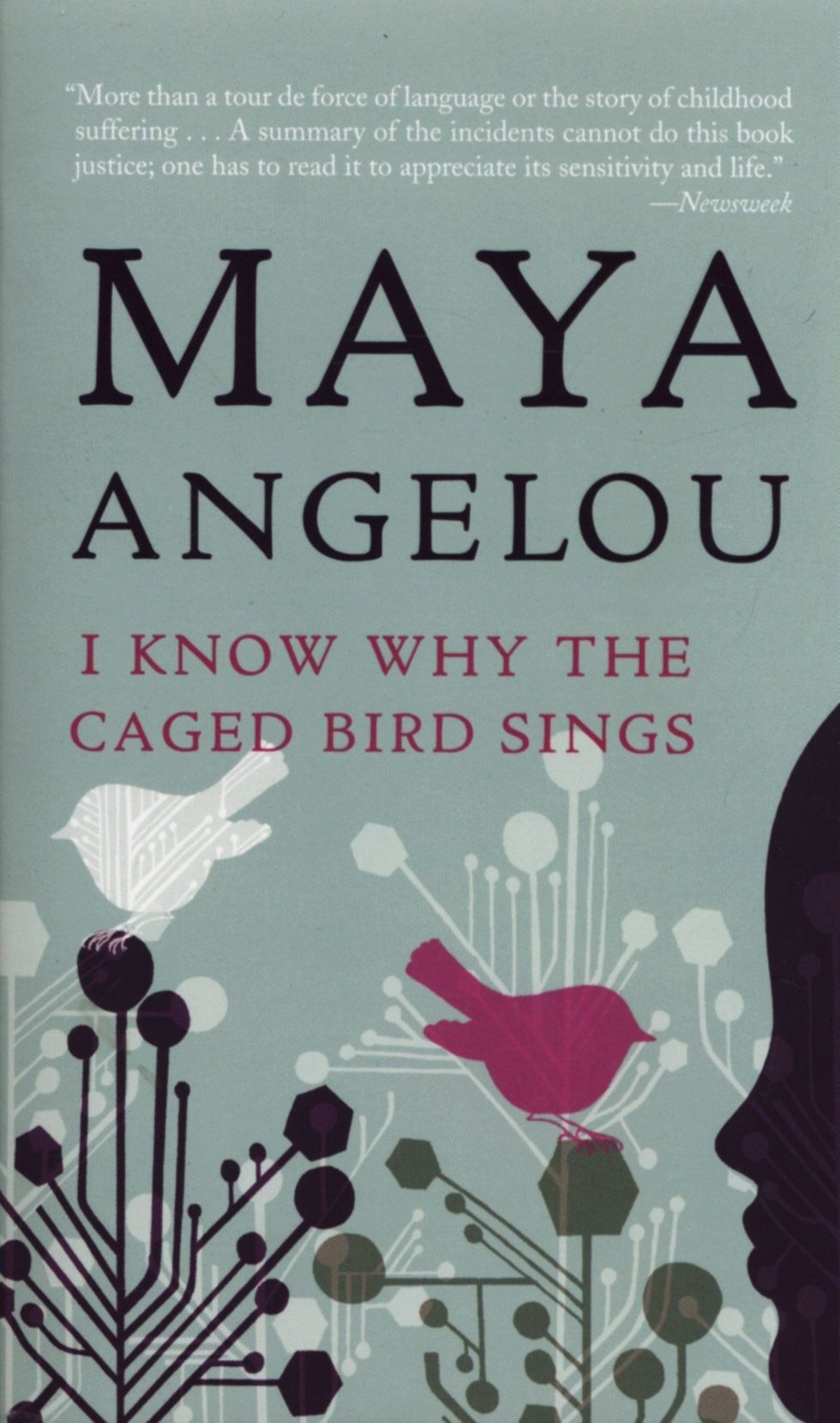 "I have a slight obsession with Maya Angelou. She's always embodied grace and success to me. It wasn't until this year that I actually started reading her books and poetry. I fell in love with this story because it was similar to mine. It tackled things like rape, the idea of belonging, and self-acceptance. I believe that some books have the ability to bring healing and this was certainly one of them."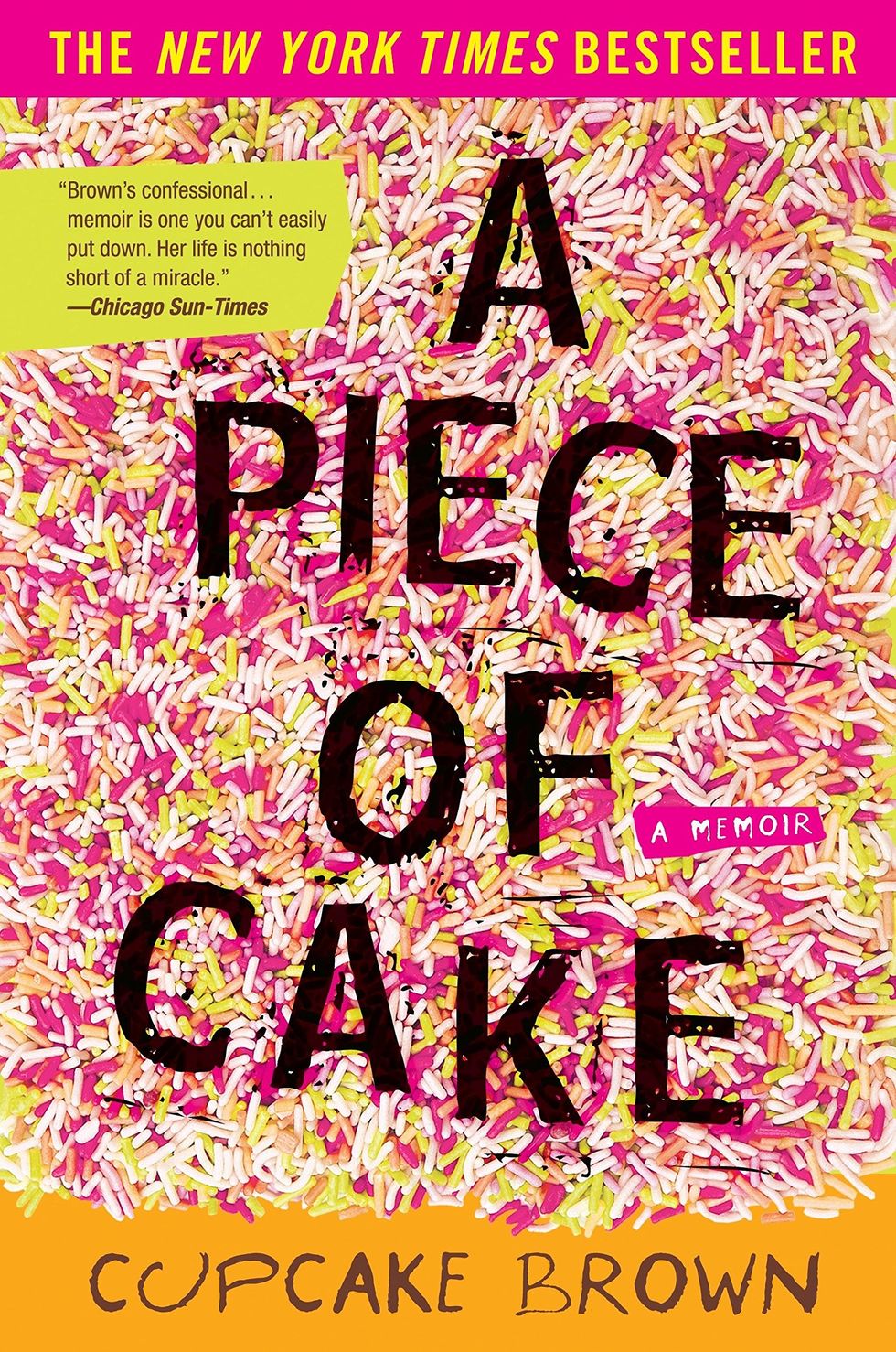 "I came across this book right after Beyonce's Lemonade album. Someone did a write up about books they felt the album was based off and so I had no idea what the book would be about. When I tell you that I opened the book and couldn't put it down, I am not lying. I started reading the book and literally stayed up to finish it. It was a memoir about a girl, Cupcake Brown. The book describes her descent into teenage prostitution and drug addiction. Although some of the stories seem unrealistic, she holds to her story being true. I would gift this to a friend that doesn't like to read because 9 times out of 10, they are not going to be able to put this book down."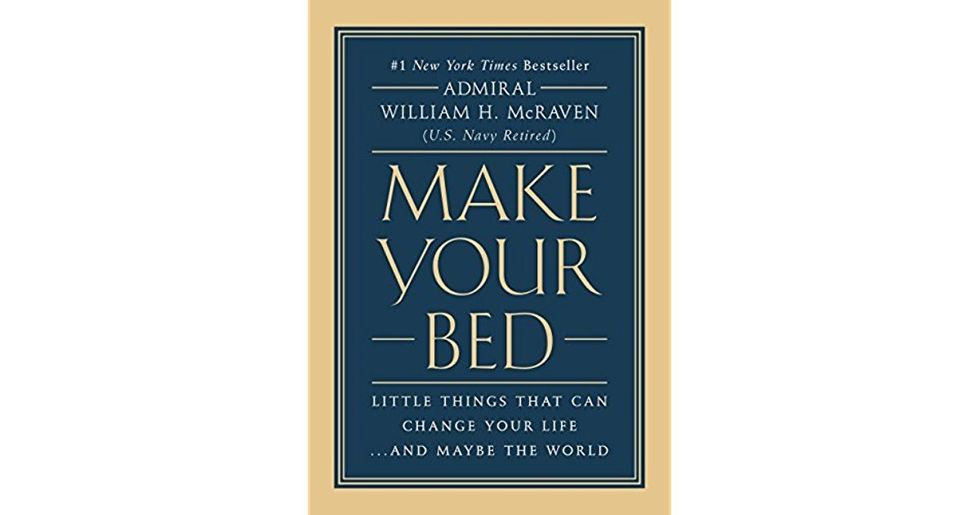 "I was definitely at a point in my life recently where I felt like I had zero self-discipline. So, me being me, I decided to find a self-help book based on the idea of discipline. Make Your Bed was written by a former Marine and he shared stories about his experiences while tying them back to self-discipline. It's all about little things (such as making your bed every day) that can change your life. This book is perfect for a friend that has goals that they want to reach but can't seem to locate enough discipline to put the work in!"
For more book recommendations year-round, follow Kici's latest titles on Well Read and Fed Instagram here.
Featured image by Getty Images
Originally published on December 8, 2018
Keep reading...
Show less
Whenever our forever First Lady Michelle Obama speaks, we listen…but if you're like me, then you pack a journal and take notes. This is exactly what I did recently when I attended Michelle Obama's "#IAmBecoming" tour in Atlanta.
I -- along with my mother and more than 20,000 people "dressed to the nines" -- pressed our way into the arena like we were on a mission to go see the Queen (which, for many of us, she basically is our Queen). The energy was electrifying from the time we arrived until the time she exited the stage and even as we departed and headed back to our designated cars. We were so excited just to get a picture next to her life-size posters and banners that were strategically placed throughout the arena.
Often times, we refer to or classify her marriage to President Barack Obama as "#RelationshipGoals" or "#BlackLove" – something that she is very much aware of. For many of us, they provide hope; an awe-inspiring example and vision of love for those who aspire to experience something like that. While Michelle is humbled and appreciative of the titles associated with her and Barack, she candidly acknowledged that love and marriage is hard work no matter who you are.
One thing we love most about Michelle is the fact that we see so much of ourselves in her because of her transparency and authenticity. And this occasion made it even that much more apparent especially when she shared - so eloquently and honestly - some gems and insights about love and marriage.
1

.

"You don't have to aspire to just be the wind beneath someone's wing…Prioritize yourself."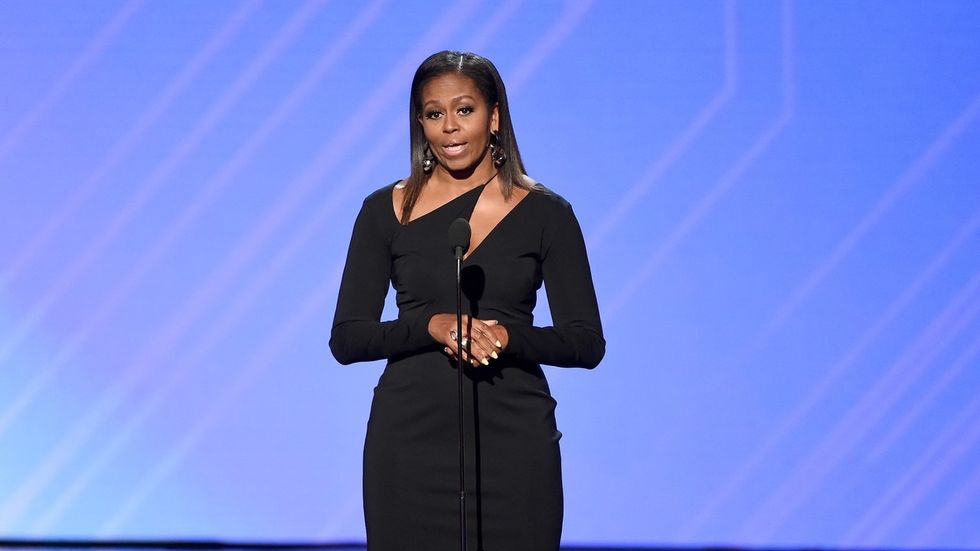 Getty Images
It was evident from the beginning – as an adolescent, as a Princeton and Harvard graduate, as an attorney, and even as a First Lady - that Michelle Obama believed and was committed to her personal belief that, "it's up to me to establish and define my voice." She's more than Barack Obama's wife, more than a First Lady, more than a mother, more than a daughter…she is becoming the woman she was destined to be.
During the event, Michelle revealed that at a certain season in her life, she realized that she had made everyone else a priority except for herself. She went on to share how even though she struggled with it as a wife, a mother, and career woman, "Barack had no problem with making himself a priority." He did what he wanted to do.
She, like many of us as women, realized that she needed to do the same - focus on making herself, and her self-care, a priority. As she's mentioned before, "We need to do a better job of putting ourselves higher on our to-do list." Nevertheless, she became more committed to doing things that she enjoyed as well.
Like Michelle, we too must realize that our "happiness isn't predicated on our spouse making us happy." Instead, we find happiness in the simple pleasures of life and by doing what we love, instead of expecting others to do what we aren't willing to do for ourselves.
2

.

"When it comes to our partners, we aren't just reviewing their stats, but their story and their soul." 
"Barack was different for me…He made me stop and think about things." Instead of merely going through life and checking off her list, Michelle was challenged to think deeper about why she was doing what she was doing versus just checking off a list of accomplishments.
Finding the love of your life is more than just what's on paper: where did they go to school, how much money do they make, what is their social status, etc. Nevertheless, it's more about what lies beneath the surface. It's the difference between love versus lust, and romance versus intimacy. It's knowing that the other person feeds our soul more than they drain us; they help us more than they hinder us; they treat us differently and better than those who came before them.
3

.

"Relationships have different seasons and different chapters."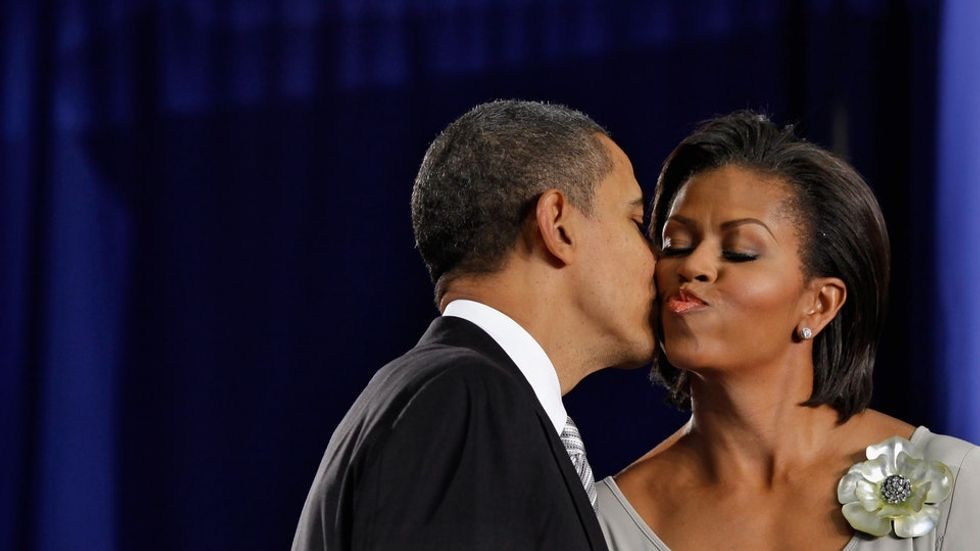 Getty Images
None of us will truly understand the peaks and valleys of being married to the President of the United States. However, anyone who has been in a relationship or has been married long enough knows that you will have ups and downs. Michelle reminded us that the "test of a marriage comes when you build things together."
So, whether we're building the relationship, bridging the two backgrounds, or building a family, we're going to have obstacles. At the end of the day, we have to be more committed to fighting for each other than against each other.
4

.

You can't just "fix" someone. 
It's no secret that Michelle has been open about her and Barack going to marriage counseling. During the tour, she openly shared how initially she "took Barack to counseling to fix him." Nonetheless, to her surprise, the counselor's attention soon shifted from Barack to Michelle…something she wasn't necessarily expecting. Hence, it was evident that their marriage issues weren't going to resolve if she, too, wasn't able to look within herself as well.
Obviously, we can't force anyone to change – including our spouses. Nevertheless, we can't become so obsessed with trying to better someone else that we miss the opportunity to better ourselves. Both spouses have to be willing and committed to doing the "self-work."
5

.

"You can't expect your spouse to do for you what you know they won't do."
When Michelle described their marriage counseling, she also admitted: "I wanted him (Barack) to do for me what he wasn't going to do." The reality, however, was that Barack was doing what she already knew he would do.
So often, we expect people to do or be something different from who we already know them to be. Part of learning to truly love someone else is learning to love them for who they truly are. Real love allows you to be your real self.
6

.

"Don't sit in isolation with your problems."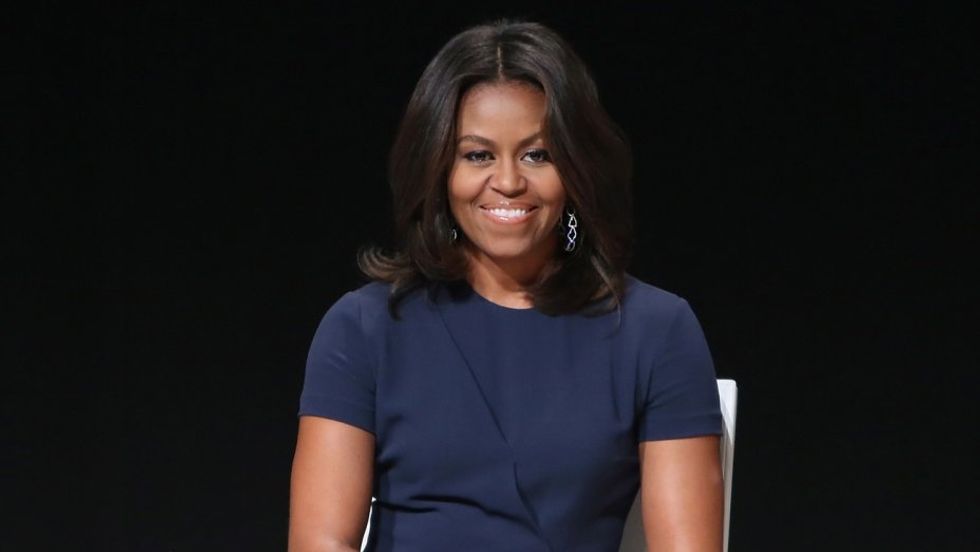 Getty Images
Although Michelle was referring to younger couples as well as young mothers, this tip applies to so many areas and challenges of our lives including: love, relationships, mental health, illnesses, and simply living life as a black woman.
Whether you're a woman and a mother, a wife, a girlfriend, a sister…Michelle reminded us that "we are not alone…that's why it's important to surround yourself with wisdom. We owe it to our young people to be better." No more acting like we have a perfect life, and allowing others to believe that what they're going through is uncommon. Often times, just knowing that we're not alone in our journey, and especially our struggles, can be quite comforting and can often lead us on a path towards healing.
As Michelle said, we have to "believe in the validity of who we are and have the courage to share our stories." It benefits no one when we act like we have the perfect marriage, the perfect career, or the perfect life. The more we're honest about our journey, the more we can help heal each other and encourage other women to do the same.
Want more stories like this? Sign up for our newsletter here to receive our latest articles and news straight to your inbox.
Keep reading...
Show less
Our forever FLOTUS recently published her memoir Becoming, following her from her childhood through the eight years she and our forever POTUS graced the White House.
Since its release, Becoming has managed to sell over a million copies in its first week and has broken the record for the longest #1 best-seller on Amazon since Fifty Shades of Grey. I just finished it and, baby, let me tell you, it was a game-changer for me. With my one-hour commute, I listened to it on Audible – she reads it herself and that only adds to the magic.
At 34, I have lived an entire life already, and not the life that I wanted to live. As it turns out, Michelle Obama could not only relate, but has been there herself.
Her courage in sharing her deepest fears and experiences makes the already down-to-earth woman even more personable and relatable. You feel more like you're listening to the story of a friend instead of one of the most powerful women in the United States. While she is aware of the gravity of her responsibility, she insists on remaining the Michelle Robinson she was growing up on the southside of Chicago, even as she slowly became the Michelle Obama that we all know and love.

I don't intend on doing a full report on the book, but wanted to share my takeaways, in the hopes that, if you haven't read the book, you now go get it in whatever version works for you, and you can perhaps feel motivated and inspired for the same reasons I do.
It is Beautifully Written.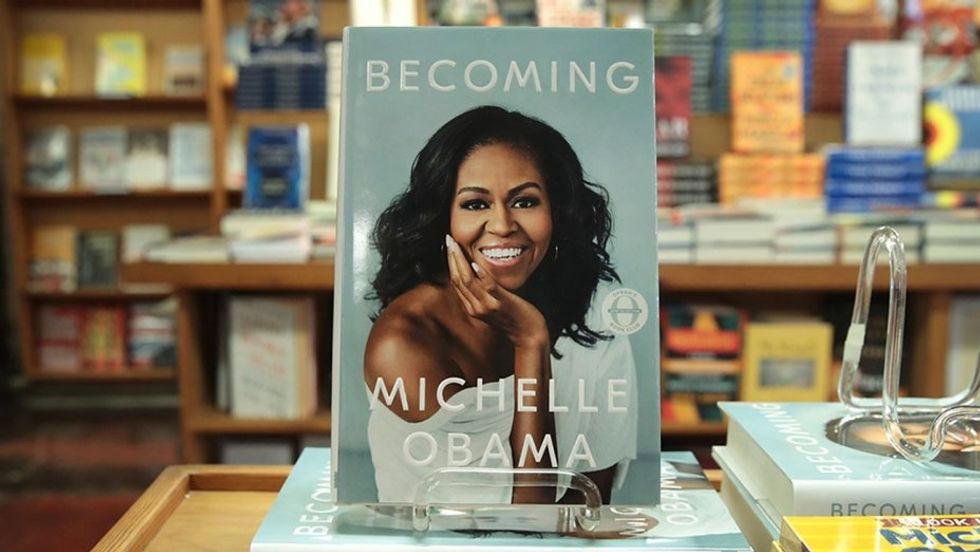 Getty Images
I don't remember reading a memoir at any point in my life that has been written in the style of Becoming. In fact, I have avoided many biographies for that very reason. But at times, this book is almost poetic in its delivery with descriptions so vivid, I sometimes felt that I was there at that time in history with her. This adds to the beauty of the work itself – as Michelle describes striving for excellence, her work is written in such a way that you have no choice but to elevate to her level and not the other way around. You will feel like a better person for reading this book.
She Understands the Power of the Tribe.
While we know it takes a village to raise a child, we also know that it takes a tribe to raise and support a woman. Over the course of the book, several times she invokes the names of her soul sisters, identifying women from her lifetime who have been a part of her tribe. From women who were working mothers like her who needed support during her time with Barack before he even went into politics, to women she became close to on the campaign trail and while in the White House. She truly celebrates and honors those women and drops life lessons about how vital a tribe is to the psyche and soul of a woman, supporting and loving each other and cheering each other on. To have that validated by Michelle truly makes this point hit home.
She Upholds Family First.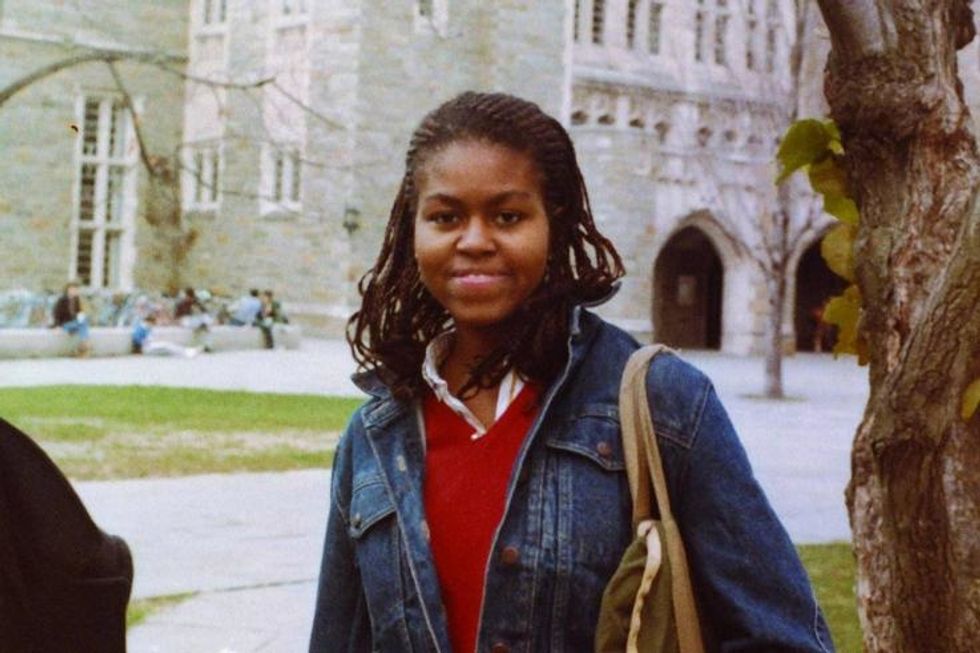 Michelle Obama at Princeton in 1984
Michelle Obama
Michelle Obama started as Michelle Robinson in a family of four that had little in terms of possessions but a lot in terms of love and life lessons. She and her brother Craig both grew up to be very successful and accomplished individuals – something she attributes almost solely to her mother and father's influence. She painfully details her father's lifelong battle with Multiple Sclerosis but with a pride that only a daughter could have for her father. He never gave up or used his circumstances as an excuse, and this was the running theme of her childhood.
As extraordinary as her children were, Michelle's mother was quick to say that her children were no better than the other children in their southside Chicago neighborhood (which she represents all throughout the book), all capable of the same type of success. It's a truth that Michelle has carried with her throughout her life in her work with the youth and the community.
She Doesn't Like the Cheeto in Chief, Either.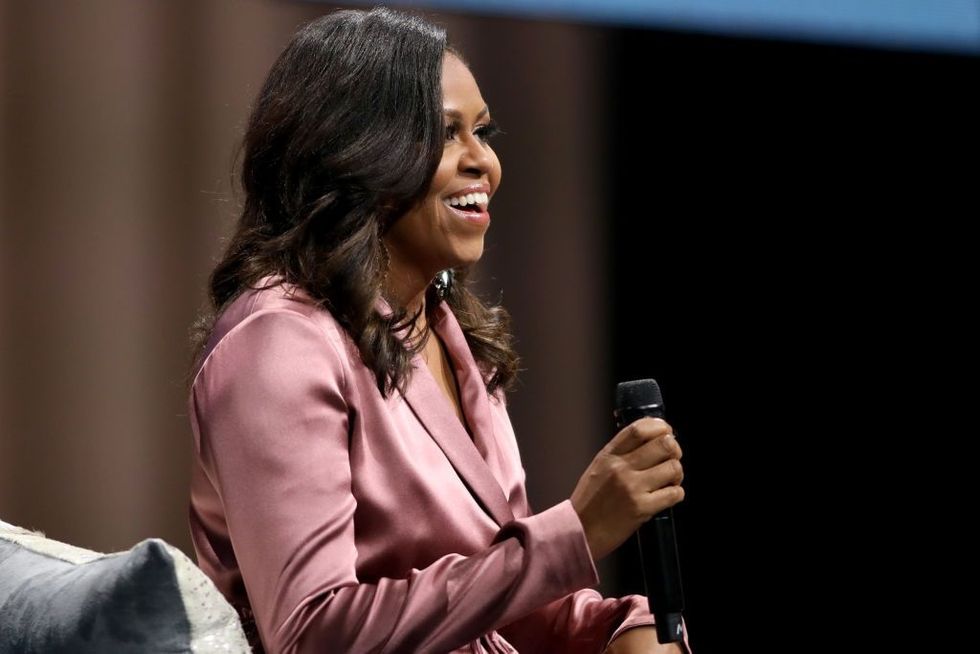 Michelle Obama "Becoming" book tour stop in San Jose
Getty Images
She keeps it all the way 100 with us in her book, and doesn't mince words when it comes to Trump. She doesn't like him, period. He's a disgrace for how he treated President Obama during his Presidency with the whole birth certificate issue and she hated everything that came out regarding his character. She spoke from the heart in the final days of his campaign, displaying her disgust with him and everything he stood for. She could hardly believe that he was voted into office and blames it solely on the Electoral College but she is quick to bounce back and remind us to have hope no matter the circumstance, or who is in office. She firmly stands by her belief that our country is greater than its worst moments and that we will get through this and come out stronger than before – just like any other tragic situation.
For me, the biggest lesson in the book was that we can become who we want to be at any time – it's never too late to do so. Michelle recounts how much she hated being an attorney, even though she was good at it and made a great salary. She ended up taking a pay cut for an opportunity that was more suited to her purpose in life – working with, and helping, other people in the community. She knew she wouldn't be able to do that in her position as an attorney. I can totally empathize, having to work in Corporate America to collect a check but wanting to eventually live my life doing what I love – writing full-time, among other things. Y'all pray for me.
Ultimately, Becoming isn't just her story.
Yes, it recounts the moments in her life, but she is quick to relate her story to any of our stories. She wants us to know that her story is no more remarkable than any of our stories, and that as we all become who we were meant to be, we do so through the lessons we learn from our experiences, education and every moment. Instead of wondering why something is happening to you, you have to ask what lesson can it teach you.
Michelle recounts all the lessons for our benefit, and makes the reader or, in my case, the listener, better for it...
Related Stories:
9 Life-Changing Books Recommended By Celebrities – Read More
These 4 Platforms Are Putting Us On To Books For Us By Us – Read More
7 Books You Should Gift Your Girlfriends, According To A Bookstagrammer – Read More
This Book Completely Changed My Outlook On Life – Read More
Featured image by Getty Images
Keep reading...
Show less