Dear Queen:
"Protect me."
"Honor me."
"Love me."
The asks from you, our sisters are deceptively simple; yet executing those asks, for too many brothers, is apparently too hard. I should know. It's been hard for me, as much as I'd like to lie and say it wasn't.
Showing care shouldn't be complicated - especially when those same women shower me with examples of the care I can't seem to reciprocate.
This isn't to say I don't know the worth of Black women.
Oh, I do.
I love your brutal honesty that, almost always, is accompanied by an offer to help; a wisdom that borders on clairvoyance; an almost obsessive desire for self-improvement; endless empathy for the disenfranchised.
I appreciate your walk, emboldened with confidence culled from the spirits of a thousand ancestors, all sashaying in unison with your stride; selflessness that borders emotional immolation, yet ultimately yields communion with the divine; loyalty that extends beyond reason; so far beyond reason, in fact, that it breaks rules of time and space, creating the confidence to validate your loyalty in the first place.
I value your ability to laugh at the inane, the insane, and the immature; a supernatural focus on setting, measuring, attaining and celebrating goals; multitasking skills that allow for so many very different things (child-rearing, jobs, weekend side hustles, brunches with the girls) to be done at the same time, well.
I appreciate your style - all of your styles, from the bourgie to the round the way to everything in between - that are emulated but never fully duplicated.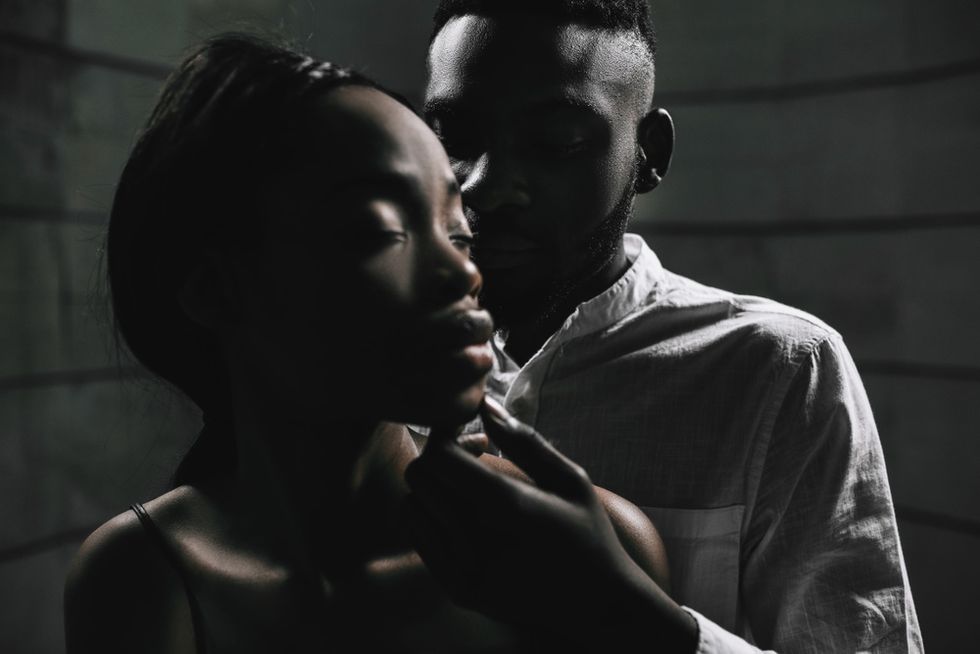 Shutterstock
I appreciate the intentional way you approach life. Always thought-out. Always planned.

Always true.
So yes, I know what I love well. And I know so much - too much - of what I love is centered around enduring and overcoming the obstacles I place in your way.
I struggle with expressing my love for Black women, then, because the things I appreciate too often come from acceptance and forgiveness of my shortcomings: patience because I was lost; kindness because I needed healing; strength when I was not enough.
My entire concept of appreciation, then, is rooted in selfishness. The fact that Black women know this and still choose to love me despite me is a point of appreciation, sure, but also a point of guilt.
I have not protected you when the protection did not include me. I did not honor you when they could not hear my voice. I only loved you to the extent I received that love from you two times over.
I have to do better. I must do better. I will do better. And the first step in doing better is admitting that I was not doing enough to begin with.
So, for the Black women who say, "I love you Black man," but don't hear it back. For the Black women hurting for Ahmaud and George but feel like Breonna was forgotten. For the Black women who work under Amy Coopers but don't have the luxury of videotaping her, I love you. I always have. I always will.
And I will work on myself so I can finally show you better than I can tell you.
Dear Queen is a series dedicated to letters from women and men written for themselves and other women. Have a "Dear Queen" letter? We want to read it! E-mail your letters to submissions@xonecole.com. Subject: 'Dear Queen'
Featured image by Shutterstock
Dear Queen:
Congratulations! You've survived another year. You've had a handful of uncertainty in one hand and hope in the other. Last year, you stepped out on faith and decided to break generational curses to attend therapy. To finally get a taste of what healthy relationships mean, to set strong and firm boundaries that can be felt on the other side of the world, and to use your tests as your testimony. Before jumping into February with both feet, I would advise you to stop, sit down and take three long breaths. This is a memorable moment.
You can look back and be proud of the woman you are becoming. You will never feel this sense of relief ever again. You have now graduated to take life by the horns and control your destiny.
These next ten years will be the most fruitful. It's time to really start to think about our thoughts and the words that exit our lips. Affirmations of positivity and love will be spread this year and the next. How do I know this? I've been there. Approximately four years ago, I lived life with a broken spirit and a weak mind. I allowed others to dictate how I felt about myself and what dreams I wanted to follow. I let others' insecurities create doubt and negativity about how I felt about myself. My fear of speaking up for myself created such angst and resentment amongst family and friends that I became miserable.
I found myself repeating the same things others would say about themselves. I became addicted to feeling sorry for myself. It wasn't until a little prayer and encouragement from loved ones suggesting that therapy would become beneficial to me. Five months earlier, I read a quote that will forever change my outlook on life and about myself, "Old ways won't open new doors." This means changes are needed to get the results you want. What do you have to lose? So, thank your therapist for the glow-up.
If You Can't See It…Speak It
We've all become a victim of our eyes playing tricks on us. If we can't see it, then it can't be real. Wrong. Just because you can't see something doesn't mean it isn't practical or obtainable. It just simply means you weren't ready or were never presented with the tools to accomplish this gift. You are bombarded with apps, books, journals, and websites like xoNecole that give you a jump start on affirmations and how they can come to fruition. When I was introduced to the word "affirmation", I was confused.

I was instructed to write thoughts or phrases that I can speak daily that would somehow lift my spirits. While stating these affirmations out loud, I didn't feel a burst of energy to tackle the world. I felt awkward and still confused, so I stopped. After about a week of self-sabotage, I had to remind myself that being uncomfortable is the first sign of change. I had nothing to lose. All I had to do is reach out to a different doorknob and turn it. I tried a variety of things.
My first attempt was the Being Mary Jane style of writing affirmations. I purchased extensive sticky notes and wrote what I thought I would want to hear repetitively and stuck them all over my room. Everywhere I turned, I had something to read. A week later, I found myself glancing at the bright yellow sticky notes and not reading them. The second method was to Google affirmations. I came across a sixty deck of affirmation cards through Amazon. I make it a point to read at least one card a day before I start my day. It sets the tone.
Use Your Imagination
You are never too old to daydream. If you aren't dreaming, then you aren't living. If affirmations aren't your forte, you can always dive deep into your thoughts. Your thoughts can be as powerful as your words. To obtain this 20/20 vision, you need to have clear and prestigious insight into your accomplishments. Can you see yourself landing that dream job? Can you see yourself on that solo vacation? Or see yourself starting that business? It's incredible how you can narrate your own story by simply just daydreaming it.

My main goal for this year was to have one of my articles featured on a website. All last year, I've been practicing different writing techniques. I didn't know exactly how that plan will be fulfilled, but deep down, I imagined my words being some inspiration for women of color. Here I am two months into the year, and I'm on xoNecole. As someone who used to be pessimistic, I can attest that a simple shift in our vision can open a road to endless possibilities.
It's time to lead with gratitude and not sorrow, it's time to shake off the insecurities and anxiety. The envisions will now become your visions. Keep shining, Queen.
Dear Queen is a series dedicated to letters from women written for themselves and other women. Have a "Dear Queen" letter? We want to read it! Email your letters to submissions@xonecole.com, subject: 'Dear Queen'.
Featured image by Shutterstock
Dear Queen:
I know that last year made you question your worth in self, in love, and in all relationships. Often, you felt that you were barely making it and that "they" (people, places, things) were celebrating life with quenchless zeal while you were on the sidelines barely able to breathe, barely able to get out of bed, and barely able to make sense of the day. As you force yourself to endure waking up, depression gripping your very soul, you made a choice to put your feet on the ground, you bellowed the last deep cry. You shake yourself, walking to the bathroom with feet of bricks, to shower, then put on clothes as you cover your tear-stained cheeks with makeup and a smile. Queen, you hide your hurts because you feel the mandate of the ancestors to champion causes for others. You don't give yourself a break due to people needing you to be there, in place, without a misstep or change in character.
Queen, right here, this moment, know that you are phenomenal and broken.
Phenomenal and broken, you question. Yes, phenomenal and broken. Queen, this oxymoron does exist. You are the living embodiment of it. Your value has not diminished. You have not stopped operating in the spirit of excellence, but when you get behind closed doors, your mortality hits you like a ton a cement blocks and no one but God can hear your whispers of help because the pain is too great to handle, let alone being able to endure the savage pain of loss, betrayal, guilt, and shame. These demons haunt you as you can barely manage to eat, sleep, gossip with a friend, or even post on social media. As tears run down your face, you seek solace from knowing that tomorrow may be a better day.
Queen, it will.
In your brokenness, know that your worth does not change. Queen, let's look at this example, a $100 bill is a note for tender - money. It is our way of buying the things we need. Before I go to the store, I decide to crumple up the $100 bill. The value of the bill does not change, it is still a $100 bill. If I take the same crumpled bill, and throw it on the ground, I will still have a crumpled up $100 bill ready to use in its condition. If I decided to dig my heels into that same crumpled up, dirty bill, I will still have a $100 bill ready to use with dents and imprints from being stepped on. When I flattened out the bill and smooth it for use, the bill has all of the wrinkles of misuse but never loses its worth. It is still a 100-dollar bill.
Queen, once you come of the seasons of change, your value has not diminished but actually increased.
Queen, you hold genuine lessons that you would not have ordinarily gathered on a simple excursion of this journey called life. That my dear makes you and your experiences phenomenal. You are uniquely equipped to help someone in that same situation once you heal. You are an expert to the pain and an expert to how you have gotten out or over the hurt or pain. Queen, if you are reading this, know that today is a great day of joy! Queen, you withstood the crumpling, the stepping on, the abuse, the manipulation, the misuse, the hate, and the fear that have brought you to this point of greatness.
Pop your collar Queen, you are undeniably and unquestionably ready to fly. You, my dear, are phenomenal and no longer broken.
Dear Queen is a series dedicated to letters from women written for themselves and other women. Have a "Dear Queen" letter? We want to read it! E-mail your letters to submissions@xonecole.com. Subject: 'Dear Queen'
I see you, young Black girl; starting businesses, advancing your education, traveling the world… I'm so proud of you. I'm only 33, but as an older Black girl, I couldn't be more pleased with how my younger peers are taking matters into their own hands and creating their happiness.
You're on the way up, on a trajectory towards success. So that's why I felt it necessary to tell you… beware of Black men.
Now as you read this, understand two things: A.) I know advice from older generations goes in one ear and out the other because you feel they just "don't get it". Yes, the last time I was single, Facebook didn't exist; but I am still only 33, and I do get it. B.) You've been told to "buy Black".
Black men are the sexiest, strongest, and most intelligent men on the planet. However, that statement should be revised to say "some" Black men. Unfortunately, there are too many who despise your success, are insecure, and are battling mental health issues and family drama… Babygirl, some of them just aren't on your level.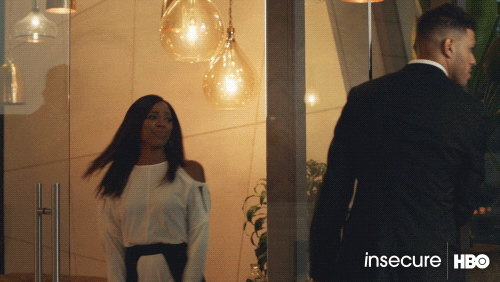 Giphy
For those that aren't:
Don't date them. Don't try to save them. And most importantly, don't marry them, because I did.

I was just like you. I was a director at 20 and started my own marketing company at 21. I put myself through college while working full-time. At one point, a family friend noticed my writing talent, even inviting me to New York for an informational interview at his company. The family friend was Len Burnett Jr., CEO of Uptown Media Group, a company that produced magazines like Vibe, Vixen, and Uptown Magazine.

The day before my informational interview, my boyfriend at the time was hospitalized for having a seizure. I was terrified of losing him and leaving his side. I called "Uncle Len" and told him I couldn't come up to New York because I needed to remain at my boyfriend's hospital bedside.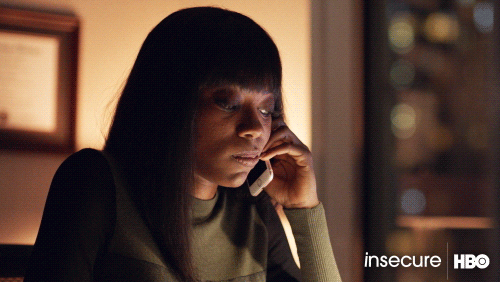 media.giphy.com
That was a pivotal moment in my professional career. I never got the opportunity to reschedule the meeting, and haven't heard from "Uncle Len" since that day. I don't blame Len. I don't even blame my boyfriend. I didn't deserve another opportunity. I blame myself for excusing the warning signs. I knew my "boyfriend" wasn't epileptic, he had a drinking problem; one I continued to hide from friends and family. Even when I built up the courage to leave him because of it right before our wedding, he begged me to reconsider and marry him anyway, saying he'd change.

Well, ten years, two kids and a divorce with no child support later, he didn't.
Eventually, I did leave him, and as my friends now lovingly put it, "dropped the dead weight". But in some ways, although I'm now a bestselling author, speaker, and marketing strategist, the damage has been done. Like I said, this isn't true for ALL Black men, and I'm having trouble currently letting the love of a good Black man enter my spirit. Plus, I can't help but think back to the moment I chose a man over my career—a life as a writer in New York City.
I mainly reflect on these moments when I see my best friend moving from promotion to promotion as a record label executive in New York City. Since we were young, she never allowed men to stop her from getting the paper, and I admire her for that. In fact, when my 8-year-old daughter visits "Ms. Tee" in New York City, she gushes about how she dreams of her life in the Big Apple, not mine.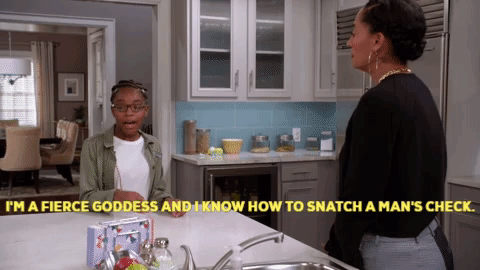 Giphy
I recently had lunch with another Black author in her 40s who told me about a similar story, when she derailed her career in the military for her husband because he was so bold to vocally despise her success. She retreated into herself and dulled her shine like me, so she could be his wife and cater to his expectations of what a wife should be. She also shared how she warned one of her teenage son's girlfriends (who was an aspiring lawyer) not to "come down to his level" because he didn't want her to travel the world before law school.
With concern in her eyes, she told me, "I wish we would stop teaching our young girls to believe in the fairy tale of marriage." But in reality, who's showing our Black girls what the "fairy tale" looks like after the commitment has been made.

I felt compelled to tell you my story, babygirl because I think I'm old enough to have learned the lesson but young enough that you'll heed my advice. My career is still on the trajectory, and though I came down five levels for a husband, I managed to find my way back up.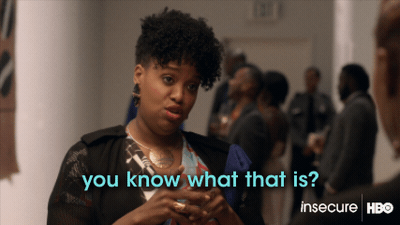 media.giphy.com
Sweetheart, I love you so much, and please do reach out to me on social media whenever you need to. Just, heed my warning. Remember, God gave you the greatest gift in the world when He made you, a Black woman; He made you powerful, influential, and resilient.
Don't waste those talents on a Black man who's no good for you, or worse, recovering from the damage a Black man has done to you.

Featured image by Shutterstock.
xoNecole is always looking for new voices and empowering stories to add to our platform. If you have an interesting story or personal essay that you'd love to share, we'd love to hear from you. Contact us at submissions@xonecole.com.
The chains are broken. You broke them. I broke them. We broke them together.
Born to a teenage mother, perpetuating the troublesome cycle, at 17, I too became a teenage mother. Yet, MY truth be told, I became way more than that. I became your mother, I became me.
Your birth altered the course of my life and altered the course of my reality. Your birth placed me in a position to have to fight the greatest battle of all time (well in my mind); it placed me in a position to RISE up, rise up out of all the woes condemned for a teenage mother and rise up out of all the woes condemned for a child of a teenage mother.
Your birth was revolutionary, it changed my life, which universally, has and will continue to change the lives of many.
I remember living in the "projects" (as they call them, we call them "pyramids") in Irvington, New Jersey with no food to eat. All I had was spaghetti noodles and sauce, and even the sauce we were running out of. I calculated my money and I had enough to get back and forth to work, but not enough for the both of us to eat, so I didn't. I didn't eat for three days so you could. I went to work and drank coffee to keep me going, I added half a cup of creamer and eight packs of sugar to make it filling. Gross, right? I know. On the last day of the three, I picked you up from work, you were sick and threw up on the bus.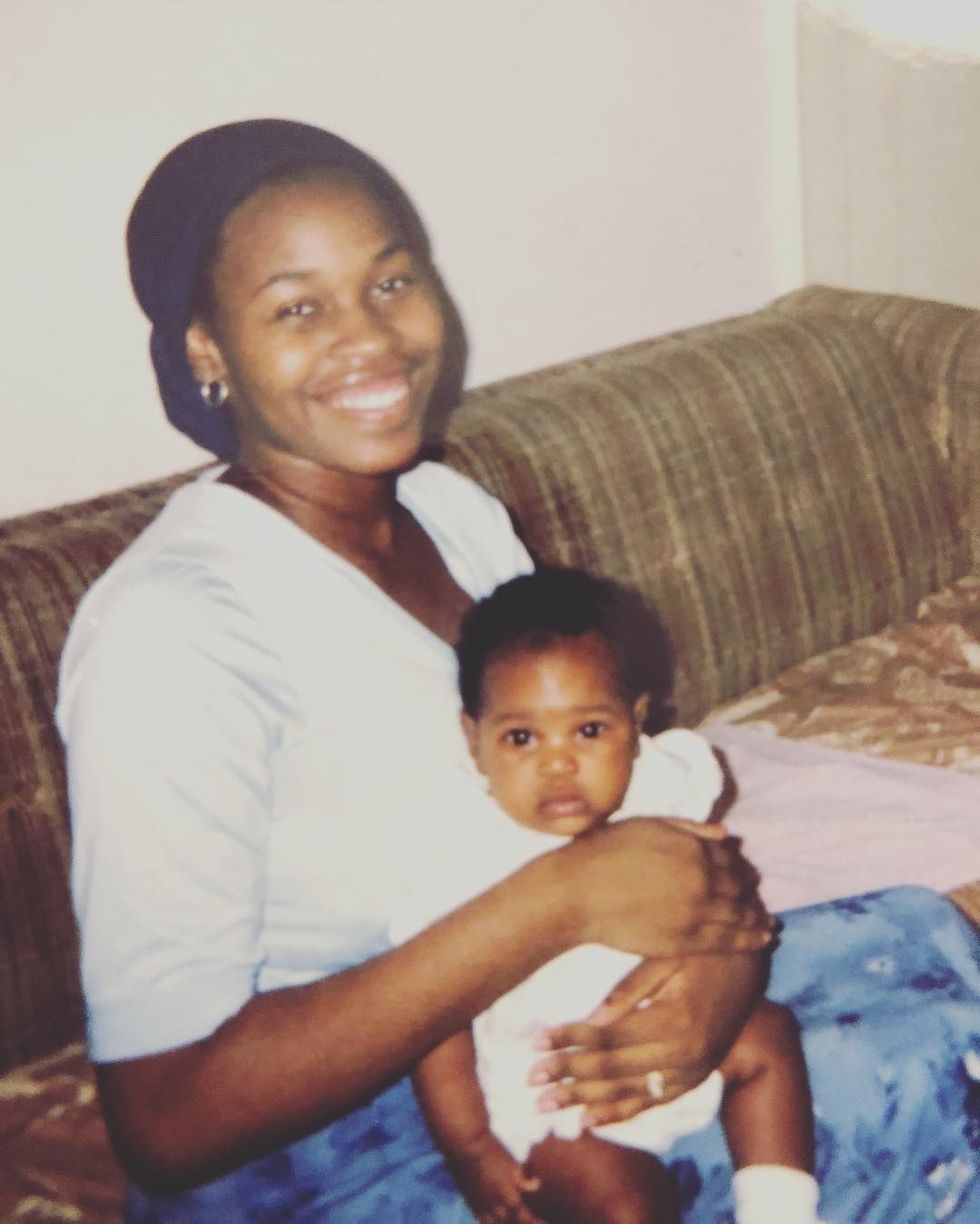 The author pictured with her daughterCourtesy of Dr. Malachi
Hungered, and frustrated, I said, "Oh nooo Sareen, maaaan come on." Another passenger said to me, "It's not her fault," and I responded, "I know, I'm sorry, I'm so very sorry, I'm just exhausted." By that time, we were already on our fourth bus, one hour into our two-hour journey home. When we got home, I had nothing to feed you that would soothe your aching belly, all I had was those spaghetti noodles and sauce. So, I boiled water, boiled the noodles and put a hell of a lot of spices in it and called it soup. You ate it and you felt better. I was still hungry, but I didn't care, all that mattered was you felt better. On this very day, I said NO MORE.

Teenage mother or not, I refused to allow my child to experience these circumstances.
I refused to allow you to live in the "projects", a home filled with roaches, where bloods were tagging up the building, and drug transactions were taking place in the stairwells.
I refused to allow you to live in a neighborhood where victims of the crack epidemic roamed freely in the streets, looking for their next hit, pipe in hand. I refused to allow YOU to become another statistic, a "fatherless", "born to a teenage mother", raised in the "ghetto" (as they call it, others call it "home") statistic.
On this day, I became a warrior, a fighter, I became sister Betty Shabazz. I became Queen of Sheba. I became Oshun's daughter. I became courage, strength, fortitude, destiny. I became the best version of your mother I could possibly be. I dropped to my knees in plight and rose to my feet in strength and I began to fight!
I fought EVERY SINGLE destructive thing that would get in my path. I balled up my fist, I stuck out my chest, and I fought.
I fought as you watched. You watched me rise. You watched me scream out when I felt like I would break and could no longer endure. You watched me cry out when I had a broken heart, you watched me in fury, you watched me in rage, you watched me roar like a lioness in the jungle watching over her cub. You watched me come up against oppressors, you watched me in elation, you watched me praise. You watched me rise. You watched me become a Social Psychologist (of all things), the President and Chairman of Determined to Obtain Pure Excellence youth development program, an author, and a woman of Delta Sigma Theta Sorority, Innnnnnncorporated. You watched. You watched me win the war, the battle I fought with all my strength so that you could win.
We won.
Lord God, I still have no idea what that rise looked like from your eyes and still, I may be too sensitive to hear it, to hear your truth. But in my sensitivity, I will never shield you from telling it, as I've always taught you to speak your mind and to SPEAK YOUR TRUTH.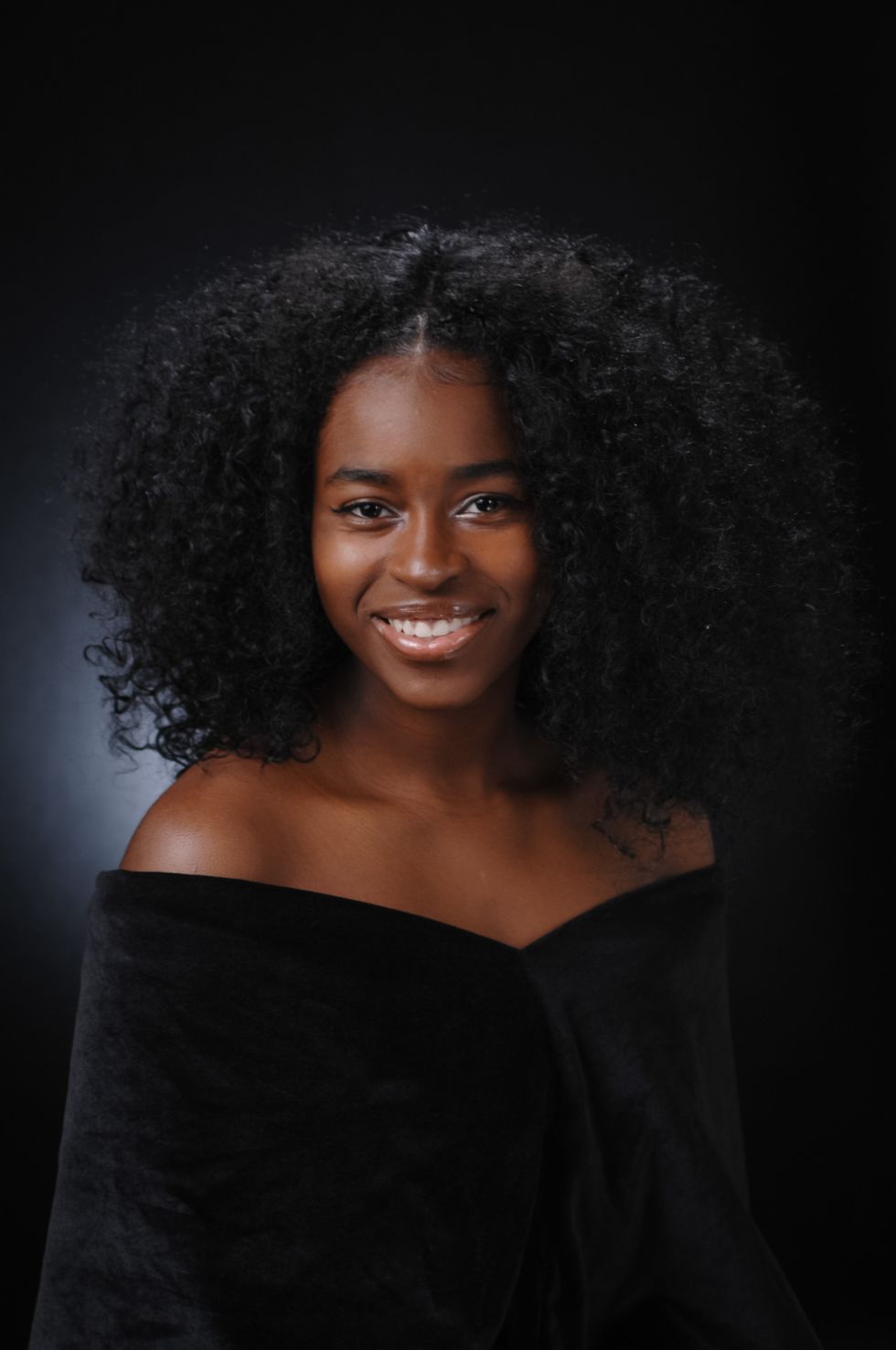 The author's newly graduated daughterCourtesy of Dr. Malachi
This morning, I woke up and realized that I can finally put my weapons down, that the battle is over and I no longer have to fight for you to live.

Graduating from high school with a 4.1 weighted GPA, I no longer have to fight. Graduating from high school with approximately $1,000,000 in scholarship offers, I no longer have to fight. Attending a top performing arts school in the fall, I no longer have to fight. Selected to speak at Kenwood Academy's high school graduation, I no longer have to fight. The war is won man, it's over! Statistically, we were slated to fell, yet, we won! We fucking won! We rose above our circumstances, no we soared above our circumstances.
Battle scars, bruises to our egos, bruises to our spirit, bruises to our hearts, bruises to our soul, bruises that will heal and fade in time, bruised but victorious -- we are victorious!
Now that we've won, I've taken off my armor, my shield is down and I can be vulnerable once again. Vulnerable and soft; a feminine-energy-that-can-heal-a-nation kind of soft. The kindest, most loving, most giving version of myself that I can be for you, your sister, the world and most importantly for me. However, this does not mean I will ever stop fighting for you; I will tear up the concrete from the road with my bare hands should something happen to you. It sounds impossible, but I am certain I possess this kind of strength. For because of you, I know where the strength of a mother lies. I know where my strength lies.
The chains are broken. We broke them. Together, united as mother and daughter, in a single solitary queendom, we broke them. The chains are broken.
Be Blessed my Daughter,
Mom
Dr. Niama T. Malachi is a Social Psychologist, Author, and President and Chairman of D.O.P.E., Inc. (Determined to Obtain Pure Excellence).
Featured image courtesy of Dr. Malachi
Everything I do receives all of me.
I put my heart, mind, and soul into anything with my name attached to it. Believe it or not, I consider this a lot easier than half-assing things. In love and in my career, I am driven by passion and am sometimes caught off guard when that same passion is not reciprocated. From jobs to men, it's important to me to feel as though every last bit of me is desired and needed.
I've come across men whose only ties with love are spelling it correctly. They knew nothing about passion because their emotions knew nothing beyond the surface. I've come across jobs that didn't even require my mind, let alone my heart. They only required that I show up on time and be the placeholder who did everything the boss felt was beneath him/her.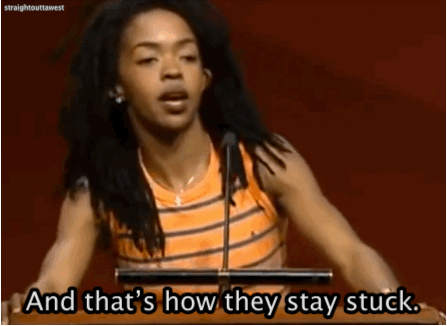 Being a woman driven by passion, it is important that I only tend to things that will bring that passion out of me. It is also important that I don't let anything or anyone make me feel bad for having a fire burning inside of me.
Here's an open letter to all of the women who try to hide that fire in fear of what others may think:
Dear Queen:
Be yourself and be yourself without an apology to follow.
Be who you were born to be unapologetically.
Instead of feeling like it's a curse, know that it's a blessing that you're able to use your heart time and time again.
Don't be ashamed for wearing your heart on your sleeve.
Don't feel weak for not being able to do others how they've done you.
That's strength, not a weakness.
I pray that you don't water yourself down to allow others to simply float in your presence.
I pray that you don't partake in anything that doesn't require or even want all of you.
Because all of you is all you know.
All of you is all you know how to give.
Demand that they take everything that comes with you or leave you where you stand.
You're not crazy.
Not for loving hard and not for chasing everything you've ever dreamed of.
You're passionate.
And if you've ever felt bad about that, forgive yourself.
If someone was able to convince you that you're "too much," forgive yourself.
Unlearn the notion that only part of you is good enough.
Always remember that the world needs you.
Passion has the ability to heal and whether you know it or not, your passion has healed someone's wounds.
Your passion has given someone courage to keep fighting.
Your passion has changed the world in one way or another.
Your passion has kept everything from a person to a company above water.
Dear Queen, the women who's on the verge of putting out her fire, I pray that you choose more fuel instead.
Dear Queen is a series dedicated to letters from women written for themselves and other women. Have a "Dear Queen" letter? We want to read it! E-mail your letters to editor@xonecole.com. Subject: 'Dear Queen'
Featured image by Getty Images