Often misconstrued as the cry baby of the zodiac, this cardinal water sign is not one to play with which is why their symbol is the crab. Born between June 22nd and July 22nd, Cancer season carries us into the summer months. Ruled by the Moon, this zodiac sign is notorious for its changeable emotions that seem to synchronize with the lunar phases themselves. As sensitive as they can be, more often than not, the emotions that they express are not always their own.
Due to their sponge-like nature of absorbing other people's energies, Cancerians easily run the risk of becoming an unknowing host to energy vampires—a.k.a. emotionally incompetent individuals. Throughout their lives, people with strong Cancer placements eventually learn the art of strengthening their energetic boundaries which ultimately protects their tender hearts and even their physical vessel.

Associated with the fourth house of the astrological wheel, Cancerians strive to create security for themselves—both emotionally and physically. Oftentimes, these individuals are found tending to their quaint abode or caring for their family members and close friends. Generally, their nature is pretty calm which is why they typically prefer enjoying the peace of their home unlike some of the more extroverted zodiac signs.
Given their empathic nature, it's vital for those with strong Cancer placements to prioritize solitude so they can recharge their energy after being in an overly-stimulating environment. Once they rejuvenate themselves, they're back to being the supportive caregiver to the ones they love the most.

The Cancer Zodiac Sign: An Overview
Cancer rules the chest, breasts, and stomach which is how they received the reputation of being the Mother of the zodiac. Their keen ability to just know what someone needs makes them thoughtful and devoted partners whether in romance, friendship, and even business. It is thanks to their ruling luminary, the Moon, that they are deeply intuitive and, for some, even psychic. If a Cancerian is under any stress, however, their intuitive hunches can easily be misinterpreted and muddled by their own suppressed emotional wounds.
There's no coincidence that they're associated with the crab who has the ability to relentlessly latch on to whatever it gets its claws on. The same goes for these sensitive souls who don't have the easiest time letting go. Once they experience some pain or heartache, it can take a while for them to bounce back given their nostalgic nature.
Although this zodiac sign isn't typically viewed as the most adventurous of the bunch, they're far from the wet blanket that are often labeled as. Initially, Cancerians can be cautious but once they feel secure within a relationship or environment, you'll see a whole other side to them that radiates. As the first water sign of the zodiac, these individuals actually have a very youthful demeanor about them when they're not busy playing mommy or daddy for those around them.
Keep in mind that they can be a bit unpredictable at times due to their lunar influence; however, their malleable energy will keep you mesmerized just like the light of the Moon.
Cancer Best & Worst Personality Traits
Best Cancer Traits:
Empathetic
Nurturing
Intuitive
Protective
Worst Cancer Traits:
The Cancer Zodiac Sign in Career 
Fueled by their big hearts, Cancerians can often be found working in caring professions or charity. Their instinctual desire to support and nurture others makes them excellent nurses and childcare providers. Whether they want to have their own children or not, these individuals are motivated by the idea of passing the baton off to the next generation which makes sense as to why their astrological house is also associated with our ancestors.
In addition to them working in fields that require their compassion and devotion, Cancerians are naturally creative as well. Their ability to tap into the collective unconscious allows them to put words to emotions that most can't. Channeling their feelings into music, poetry, or some form of art can be extremely therapeutic, and even lucrative, for these talented water signs.
Given their homebody nature, their artistic abilities are often utilized in their home. Interior design, architecture, and real estate are all supportive avenues for them to explore. This zodiac sign embodies the ability to turn a house into a home.
The Cancer Zodiac Sign in Love
When it comes to love, Cancerians seek security. They are also attracted to people with strong family values. Best believe, they will definitely judge you by the way you treat your mother. You'll get some extra brownie points if you make an effort to connect with their parents as well. If a Cancer allows you into their precious space trust that, in due time, you will become an extension of their own family. It may take a little time for these cautious lovers to warm up to you but once they put down their guards, you can trust that you'll have a devoted partner for life.
Like most Cancerians, they've gone through their fair share of heartache so don't let their hard exterior fool you. At the core, they're as soft as a pillow.
They just don't allow any ol' body to access that part of themselves. Given their indirect—and sometimes passive-aggressive—nature, it's important for a Cancerian's partner to be just as perceptive as their crabby lover. They may not always tell you when something is wrong and more often than not, they hope you'll just "get it" like they often do. Once you start to learn the changing rhythms of their lunar energy, you'll be able to navigate their moodiness with ease and grace.
In love, these sensitive lovers are generally compatible with other water signs (Cancer, Scorpio, and Pisces) as well as Taurus, Virgo, and Capricorn.
Famous Celebrity Cancers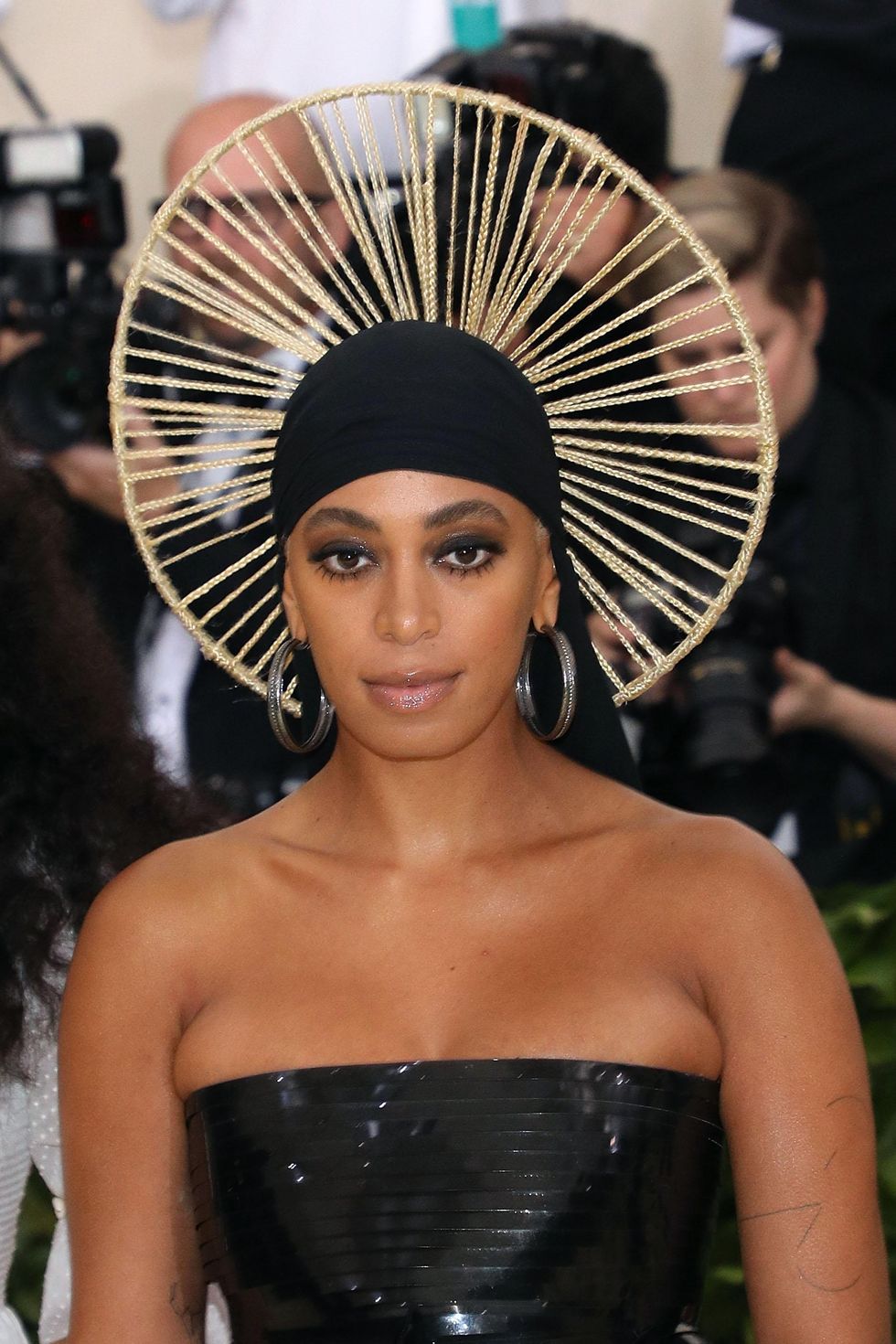 Taylor Hill/Getty Images
Jamie Foxx
Fantasia
Missy Elliott
Tia and Tamera Mowry
Forest Whitaker
For a more in-depth look into what is in store for your zodiac sign each month, read our monthly horoscopes.

Featured image by Taylor Hill/Getty Images

Keep reading...
Show less
Whether you're in a long-distance relationship or you're just looking for a way to spice things up with your man, something that I think you should never underestimate is what a good, long and sexy round of phone sex can do for you and yours. While I already know that it's oftentimes seen as some wack-ass, bootleg consolation prize, I personally think that's just because there isn't enough forethought and prepping that is put into it. Hopefully, though, after reading these 12 suggestions, not only will you see phone sex in a whole new light—you'll be excited about having a few session with your boo thang, just as soon as you possibly can.
1. Download the Right Sexting Apps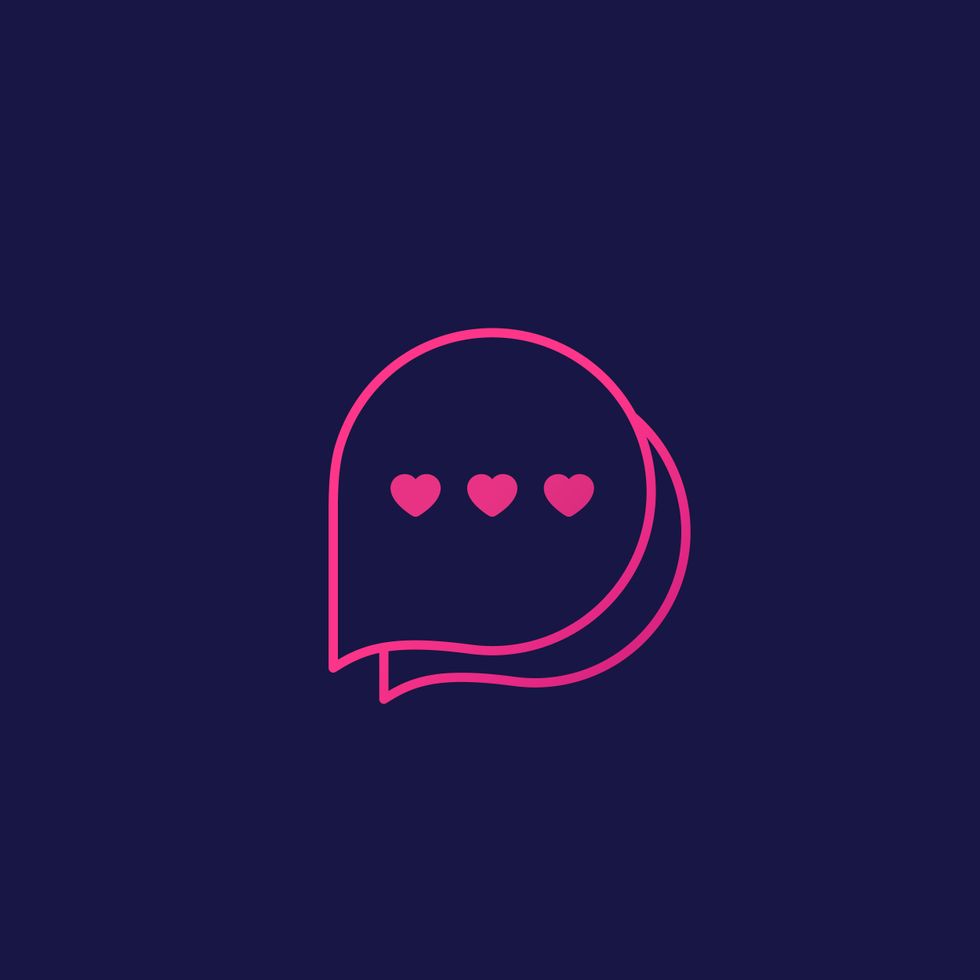 Before getting into all of the ways to make phone sex better, I'm thinking that you're probably most concerned that what you say (and do) remains between you and your partner. Noted. That's where certain sex apps come in. Dust is a sexting app that literally turns everything that transpired to "dust" after 24 hours. If you want to send some screenshots, Confide will "gray out" any of the ones that might be shared with someone other than the originally intended individual. We-Connect is cool because you can connect vibration sensations to your sexts. LokLok is great because you can actually scribble messages to your partner to give a more personalized effect (which is great when it comes to foreplay or afterplay). Wickr isn't exactly a sexting app; still, it's really secure when it comes to sending photos and videos. Bottom line, these are some popular apps that can put your mind more at ease, as far as confidentiality is concerned.
2. Send Each Other a Phone Sex Gift Pack Ahead of Time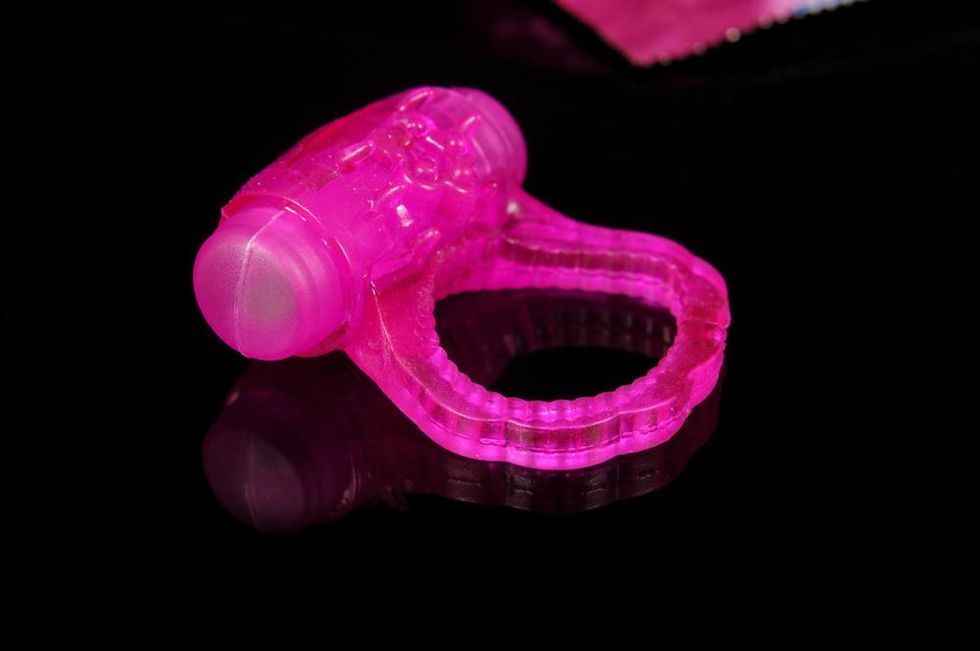 Now that you can feel more confident that, whatever you and yours are game for while being on the phone, no one else will have to know about it, it's now time to get into some tips on things that you can do that will help to create the mood. Let's start with making a sex gift pack, shall we? This is something that both of you can customize and then send to each other.
If you're totally down yet you're not sure what yours should include, I've got a few ideas: lubricant; sexy underwear; the perfume (or essential oil) that he likes to smell on you; a handwritten note that consists of some of the things that you want to do to him; a phone grip (so that he can either hold his phone with one hand or not at all); a voice-controlled vibrating egg or cock ring; some satin sheets; a blindfold; some champagne (or a bottle of whatever their favorite liquor is and, some chocolate sauce (or whatever their favorite sexual condiment is).
How can someone not get excited at the sight of receiving items like this, chile?
3. Set the Stage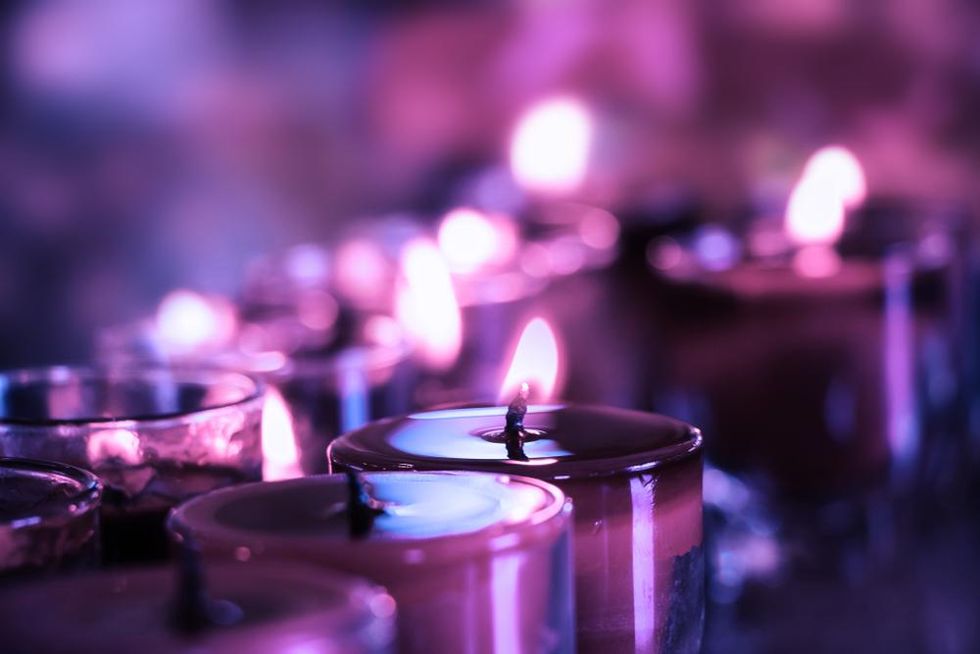 Whether or not you plan on video chatting, you still should set the stage/scene for some erotic romance. Turn off your overhead lighting and either light some scented soy candles (jasmine, lavender, vanilla, rose, patchouli, cinnamon and nutmeg can all help to get you in the mood) or install a colored LED light bulb (blue, purple and red are really sexy). Get yourself a sex pillow; it can make getting into certain positions, so much easier. If you want to play some soft and sexy music in the background, do that. Shoot, some people like to have phone sex while soaking in the bathtub. Others prefer to roll around on the floor. The key is to create the kind of atmosphere that makes you want to have sex while encouraging your partner to do the same.
4. Dress Up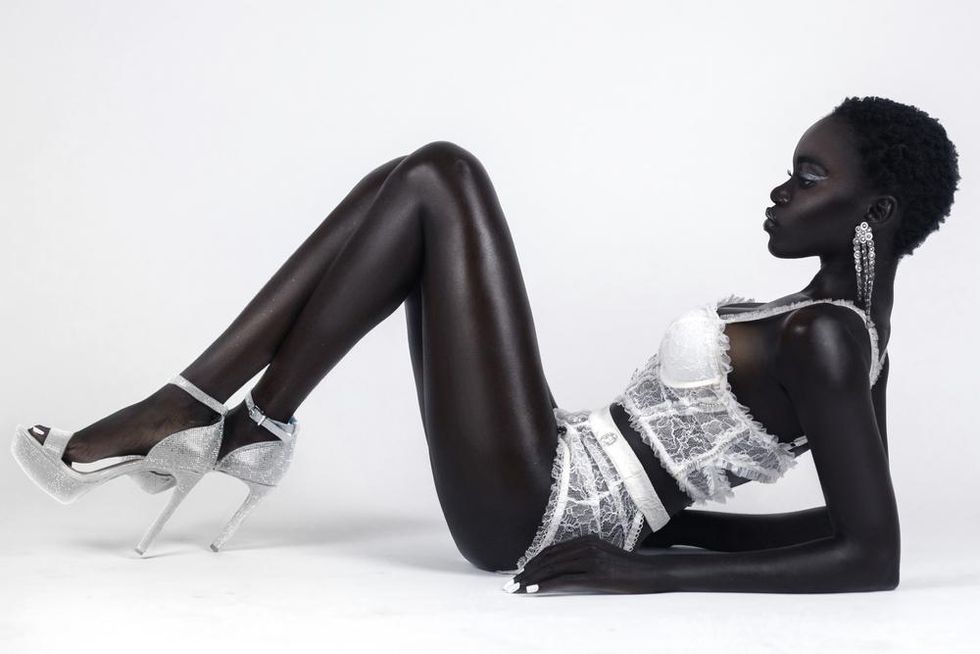 I won't lie. About half of the men that I know, whenever the topic of lingerie comes up, they tend to shrug their shoulders and be like, "I prefer you just get naked." About another 30 percent say that they like to see their lady in it, with or without sex happening. Then there's the other 20 percent (a lot of them are husbands) who say that lingerie is like the gift wrap that's around a present. Personally, I like lingerie, even just for me, because it makes me feel sexy, sensual and super seductive, especially when I get something that feels really soft on my skin, that's in a color that I like, that accentuates my favorite parts of my own body. Anyway, whether your man likes lingerie or not, whether you plan on getting on video or not, phone sex should be treated like a special occasion. Dress up for yourself, if no one else. It has a way of putting you into a headspace that is sexually unmatched.
5. Bring in Some, Umm, Sound Effects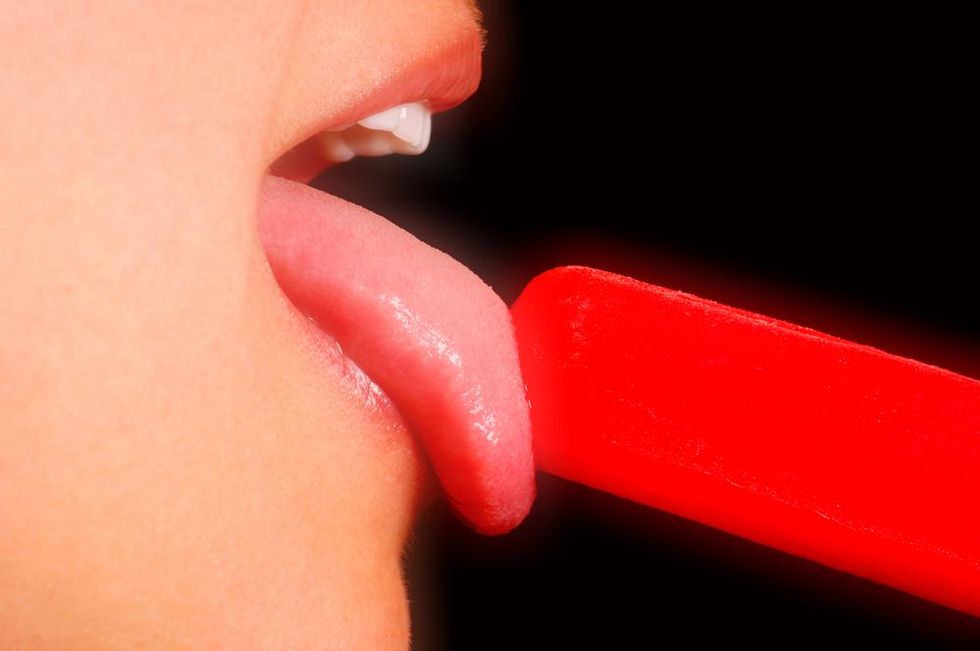 This might be a "something new" for some of you. Have you ever heard of auralism? Some people consider it to be a sexual fetish. Personally, because it literally means that you're turned on by sound, I just think it's something that takes arousal up a few notches while encouraging us to tap into all of our senses (sight, sound, taste, touch, hearing). Anyway, when you're physically with your partner, auralism is a reminder that while some people might prefer "silent sex", most of us do not. Use your "dirty" words. Moan. Apply more lubrication, so that you can hear the sounds of wet movement. Don't be shy about the sounds that are made during oral sex. Let loose. It's hot.
During phone sex, you can mimic some things that create certain sounds. Take oral sex, for instance. If you want to act like you are literally performing fellatio, get a popsicle in your favorite flavor. All of that slurping will be sure to turn both you and him on. See what I mean?
6. Watch Your Tone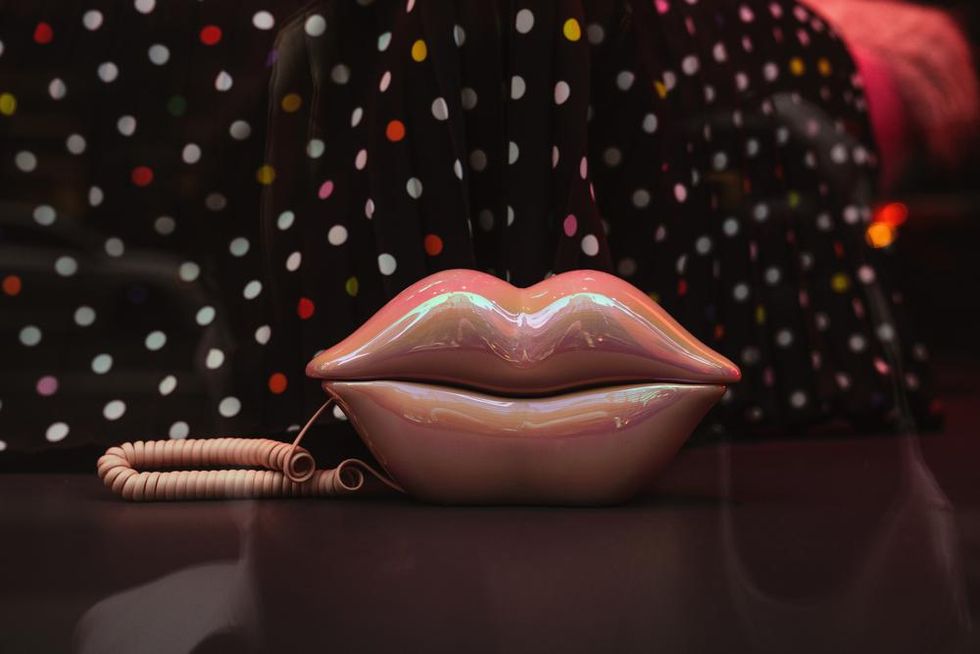 Although A Different World continues to be one of my all-time favorite shows and I actually own a shirt with a picture of Dwayne and Whitley on it, something that I always wondered was how Dwayne could put up with Whitley's voice. Lawd. Especially in a sexual setting. That said, there's a guy from my past who, while the sex was definitely something special, it was his voice that totally did me in. Matter of fact, when we caught up on the phone a few years ago, I had to cross my legs, a few times, because of just how good his voice sounded through my smartphone.
Yeah, something that is totally underestimated when it comes to giving good phone sex is one's tone of voice. How impacting is it? One of my male friends was just telling me about a woman he's been considering seeing beyond something casual. The interesting thing is, although he's not over-the-moon attracted to her on the physical tip, he can't seem to shake her voice. In fact, her voice has "made his nature rise" (lawd, who invented that saying?), on a few occasions. Enough to make him want to learn—and experience—more. So yeah, there go three examples of why focusing on your tone—as he does the same—during phone sex is semi-crucial.
Sit up straight. Breathe in deeply. Speak slowly. Control your volume. Moan more. Whisper at times. Smile while speaking. Believe it or not, all of these things can help to make your voice sound more soothing which always works when you're trying to seduce your partner.
7. Ask a Few Questions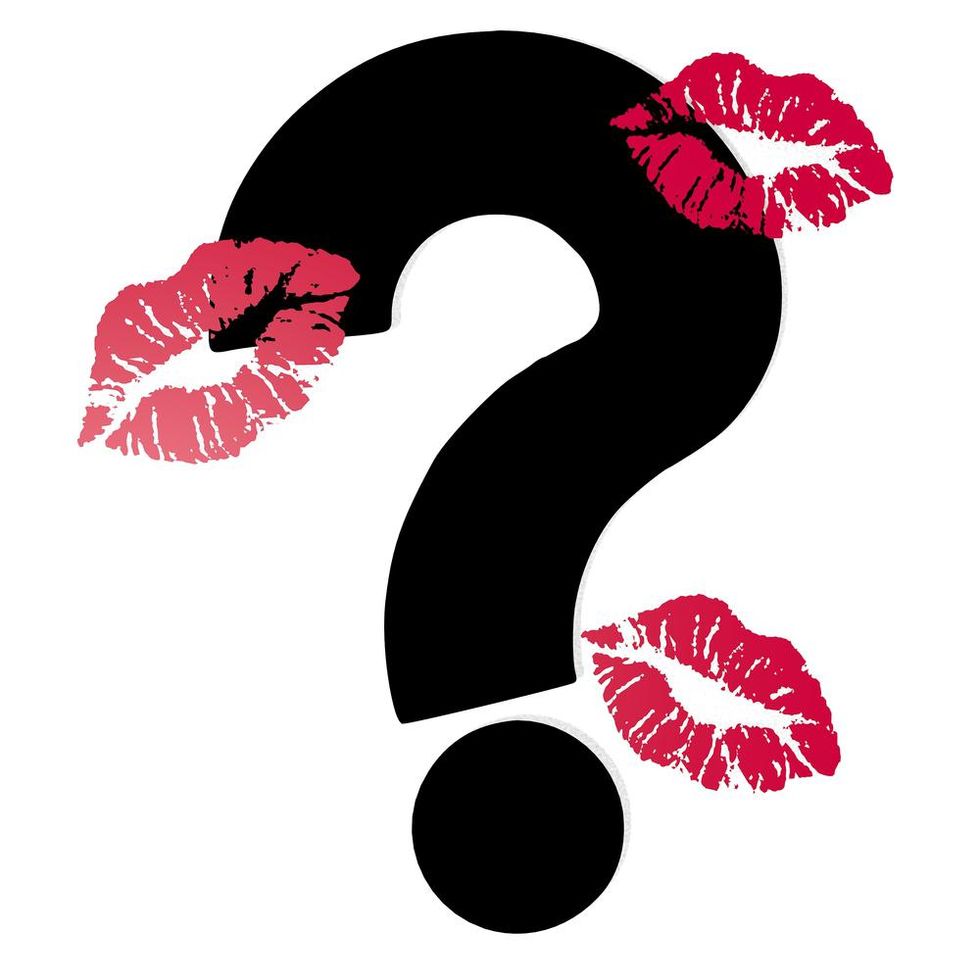 Some people struggle with phone sex, simply because they're not sure how to get things started. Like, what do you actually say to get the ball rolling? This is where some pre-game foreplay sexting can come in handy. Hours before, text your partner to let them know, just how excited you are about what is coming later on. Also, share with them some of the things that you find to be so appealing and alluring about them in the sexual sense. With one of those apps that I mentioned earlier, send a racy pic or message too.
Then, once you both get on the phone to get the party started, you'll both already know what time it is. From there, you can simply ask each other some questions. Forget that, "So, what do you have on?" generalized stuff. How about something like:
What's your favorite part of my body?
Where can I touch you to turn you on the most?
What do I taste like?
What's your favorite sexual position?
What's something that we've never done that you'd like to try?
How do I feel when I cum?
What's your favorite part of me going down on you?
What do you wish we'd do more often?
What do you wish I was doing to you, right this second?
How hard are you?
Between your questions and his answers, trust me, the self-consciousness that you might initially feel will soon be consumed by how turned on you both end up getting.
8. Take a Walk Down Memory Lane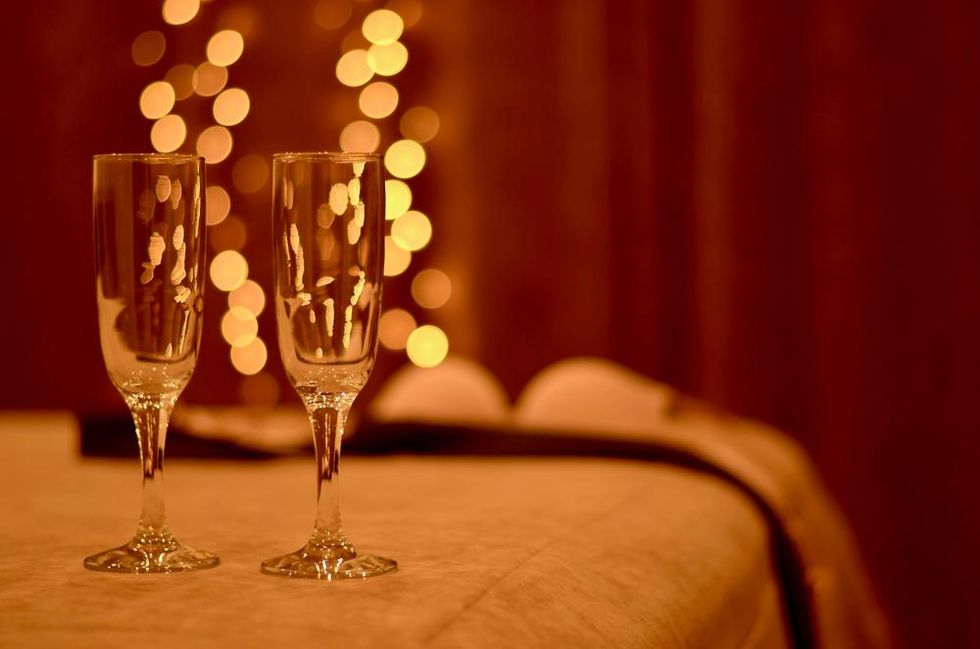 First up, did you know that the more sex you have, the better your memory tends to be? The reason why is a bit complex; however, in a weird way, it confirms why this next point should be incorporated. I've mentioned before that a past sex partner of mine says that he firmly believes in what he calls "sex memory"; that there are certain times of the year when he will crave certain women because 1) that was the time of year when he started having sex with them and 2) the sex was so good that it impacted him long-term. I thought he was being ridiculous until I thought about my own sex memory and indeed, there are certain months when I'll be like, "I wonder how so-and-so is doing" which will follow some sort of memory of a sexual encounter that we had.
Now, if a past partner can have this effect, imagine what recalling some of your favorite sexual experiences with your current boo can do. Be direct. Be specific. Set the scene of where you were, how you felt and the parts of the encounter that were your absolute favorite. Sometimes, it's remembering the past that can ensure that you will thoroughly enjoy the present.
9. Share Some Sexual Fantasies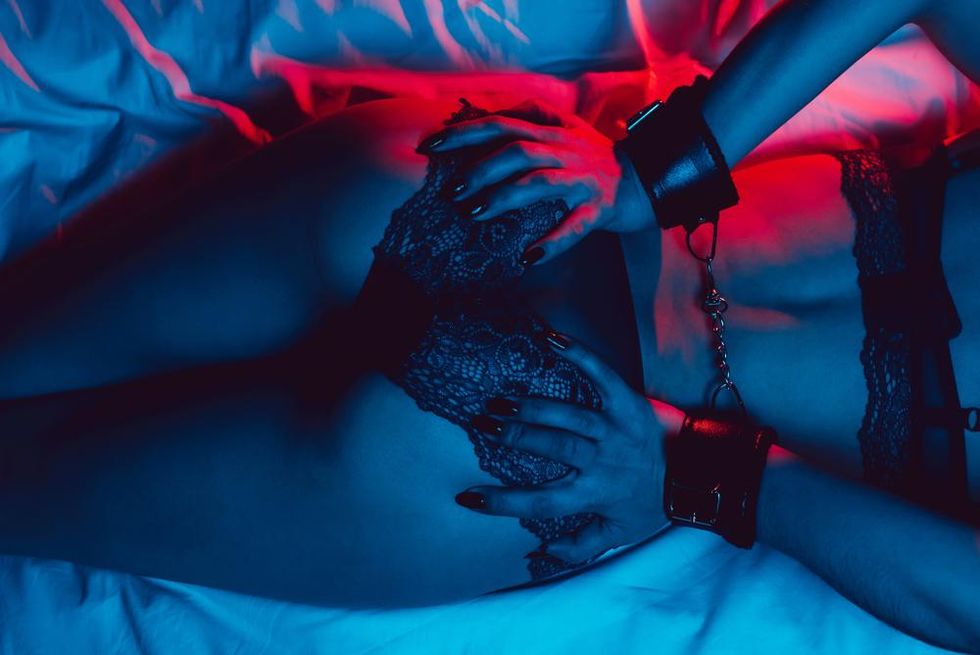 Some of y'all probably remember when Darius Lovehall said in the movie Love Jones that when people say that romance is dead, what they are really saying is that they've exhausted the possibilities. Say that. SAY. THAT. When you really stop to think about the fact that all men basically have the same equipment and we as women do too, whenever couples talk about how bored they are, if they wonder what it would be like to be with someone new, oftentimes it all stems from a lack of imagination and creativity that's transpiring within their current situation. This is why sharing sexual fantasies can be so important. I mean, think about it. Of course, if you're always in the missionary position in your bedroom at 10 p.m., stuff is gonna get the yawn effect. The "cure" for this is to create your own sex bucket list (check out "This Is How To Create The Best Kind Of 'Sex Bucket List'") and then to share your list with your partner. And when it comes to some good phone sex? That's one of the best times to bring the lists(s) up. Share together. Dream together. Be as graphic as possible. Getting your creative juices stirred up is a great way to get other things to…flowing.
10. Do Video Sometimes. Sometimes Not.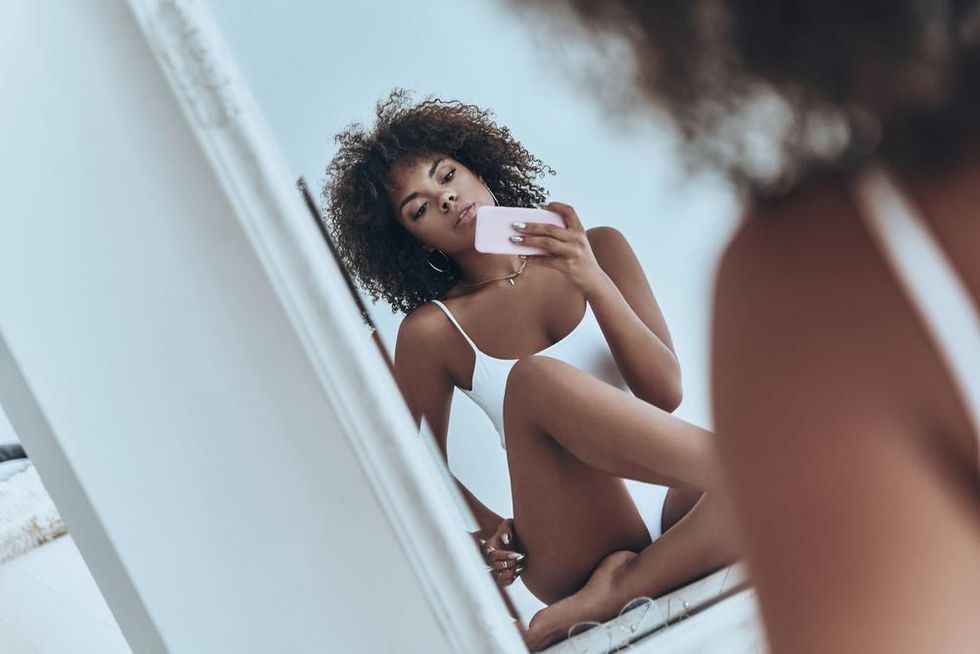 To use video or not to use video. When it comes to phone sex, that is the question. My two cents would be to alternate. Sometimes, when you solely rely on the video feature, it can make you a little lazy when it comes to finding unique ways to turn your partner on. Besides, if you take the sound suggestions that I already mentioned, just hearing each other get aroused can be enough to bring about a few climaxes. Look at it as a challenge. (If you know what I mean.)
11. Play a Lil' Bit of 'Simon Says'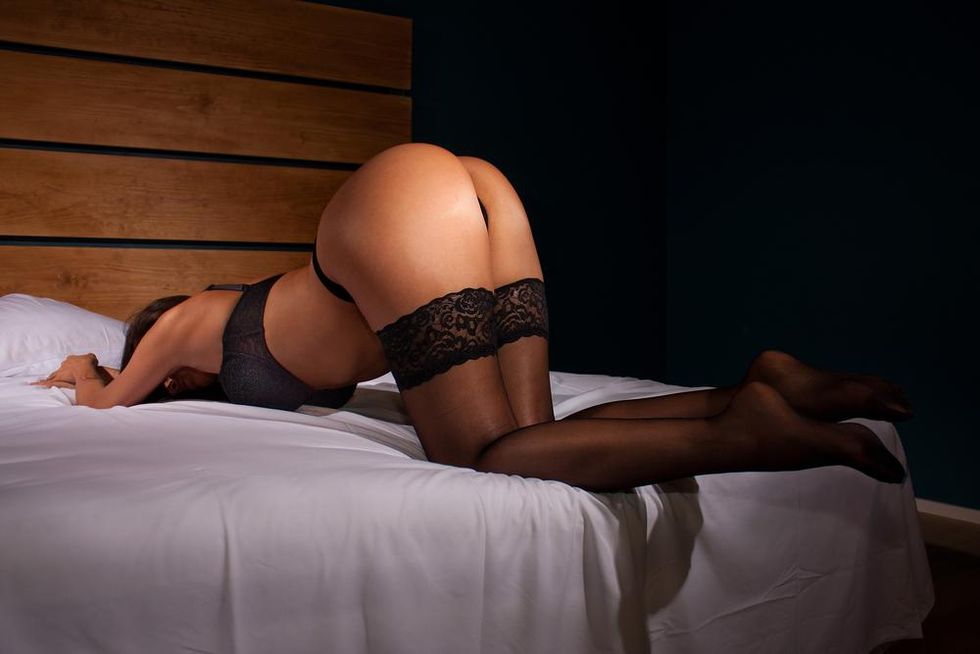 I don't know about y'all but blatant directives during sex is kind of a turn-off (to me). When you're physically with your partner, body language, changes in breathing and dirty talk can go a long way without feeling like you're in the military. When you're not together, though, and you're engaging in some good ole' phone sex, a "nasty" version of Simon Says can be the lick (no pun intended). Y'all remember the game Simon Says as a kid, right? One person would give instructions, starting with saying "Simon says" and they would keep doing it until folks got so used to hearing those two words that they would slip in a directive without pre-empting it with the phrase. Whoever did the directive anyway, they lost the game.
Well, in an erotic version of Simon Says, you and your partner can swap out "Simon" with your own name and "says" for "likes". Then, each of you can take turns playing the game the same way. For example, if your name is "Sharon", you can say something like, "Sharon likes it when you stroke yourself". Keep on giving instructions and then if you go without saying "Sharon says" and he still does what you stated, give him a consequence of something that he has to do. Like maybe rub himself down with an ice cube while you watch. Simon Says will never be the same again, chile.
12. TAKE. YOUR. TIME.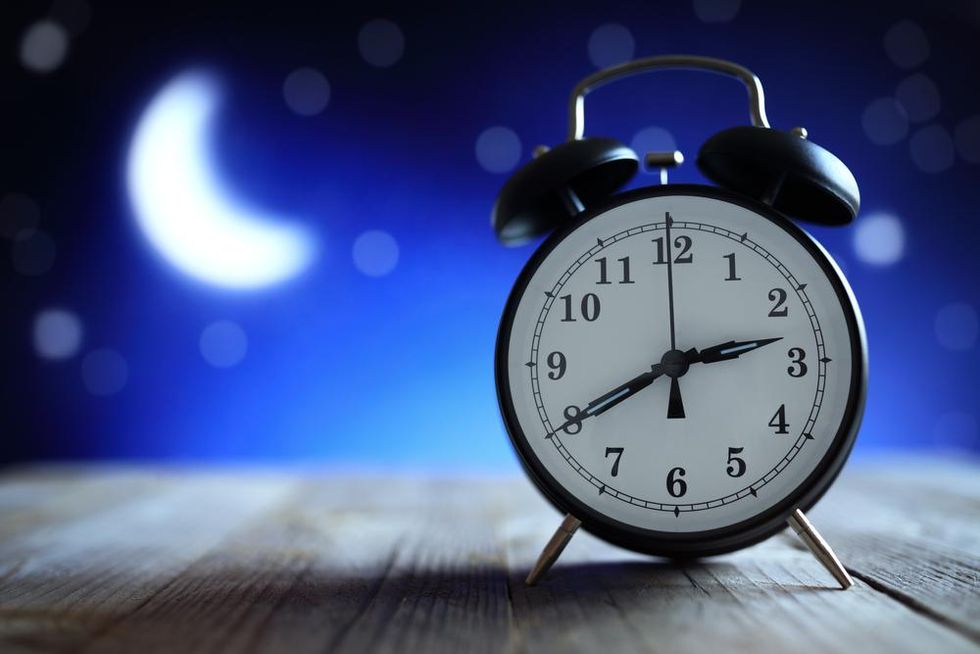 One of the best things about phone sex is it truly is all about the art of seduction. It really is about seeing how good you are at turning on your partner, even when you aren't around, as they do the same thing for you. That said, don't try and see this as a "sprint". Instead, treat it more like a marathon. In fact, right along with Simon Says, have a prize for the person who could hold out (from climaxing) the longest. You might look up and realize that phone sex isn't some lame consolation prize. It might end up being one of the absolute favorite things that you and your partner like to do. Whew.
Join our xoTribe, an exclusive community dedicated to YOU and your stories and all things xoNecole. Be a part of a growing community of women from all over the world who come together to uplift, inspire, and inform each other on all things related to the glow up.
Featured image by Shutterstock
Keep reading...
Show less
Leave it to the ladies sitting at the red table to shed some light on a juicy topic courtesy of wise-beyond-her-years Willow Smith. It was last year when the 20-year-old first identified herself as polyamorous, but last week she followed up that confession with an in-depth chat on Facebook Watch's Red Table Talk with her cohosts.
"With polyamory, I feel like the main foundation is the freedom to be able to create a relationship style that works for you and not just stepping into monogamy because that's what everyone around you says is the right thing to do," she explained to her mom, Jada Pinkett Smith and her grandmother, Adrienne Banfield-Norris.
"So, I was like, 'How can I structure the way that I approach relationships with that in mind?' Also, doing research into polyamory, the main reasons why monogamous relationships — or why marriage, why divorces happen — is infidelity."
BTW in case, you were wondering…
Polyamorous: characterized by or involved in the practice of engaging in multiple romantic (and typically sexual) relationships, with the consent of all the people involved.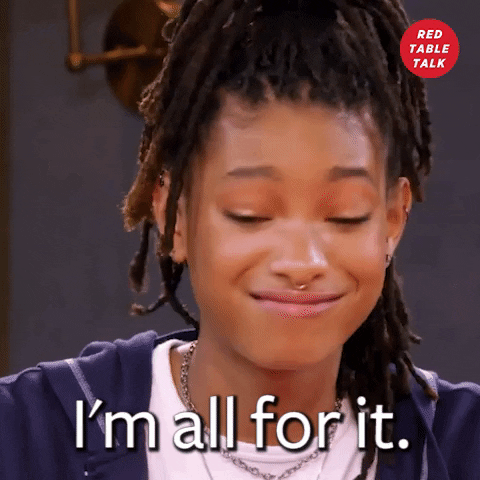 Willow was sure to clear up any misunderstandings around polyamory that are often chalked up to promiscuity, which is not the case. According to her, it's a "natural way" to approach romantic bonds where needs are met without relying solely on one person.
Jada's reaction?
"When you were like, 'Hey, this is my get down', I was like, 'I totally get it.' Wanting to set up your life in a way that you can have what it is that you want, I think anything goes as long as the intentions are clear. You know what I mean?"
Gammy seemed accepting too once she got the scoop on how it all works. Willow's polyamory confession definitely sparks a conversation around the relationship status considered taboo by some and completely natural by others. Even the New York Times did an expose exploring how and why polyamorous relationships work for some.
Now that Willow has thrust the subject into the limelight once again, we asked men and women this: Do you agree with Willow that it's the most natural approach to romantic relationships, or are multiple intimate relationships just "entanglements"?
Here's what they had to say.
As a Person of Faith, I Don't Believe In It
"As a person of faith, I don't believe in polyamorous relationships for myself. I want my significant other to be devoted to the union we have and to honor the intimacy that only we share together. I understand why others may not feel the same, and I completely get that for them. I respect that everyone wants different things, so as long as both parties are on the same page and create boundaries and agreements upfront, I can see that working for others." —Valentina Gonzalez, 31, Digital Marketing Manager
My Man Is My Man
"Multiple intimate relationships are indeed 'entanglements'. Once you are involved with multiple people and it's intense, romantic, and emotional, it gets complicated; because you are now obligated to play a role. I don't believe in polyamory, my man is my MAN. And that's on that.
"The most natural approach to a romantic relationship is casual dating. No serious attachment, you put your feelings aside, maybe no sex?. You are not committed to this one individual, therefore you can explore (in a safe and mature way) meeting new people, learning about yourself, where you have an idea of who and what you want [in a monogamous relationship.]" —Kateri Fischer, BET, On-Air Promo
It's Certainly Not for the Insecure
"[Polyamory] I often feel is based on how secure you are emotionally as a person and it's certainly not for the insecure or the jealous. If love is to be shared physically and emotionally, be prepared to be left out sometimes and feel no way about it. Just enjoy knowing that you have more than one escape." —James Cameau, 30, Behavioral Health Therapist
It's Hard to Believe That It'll Work 
"Before watching this episode of Red Table Talk, I was like... 'that sounds a lot like being single or an open relationship…' After watching this episode I think it's a great way to be open about your relationships with all the people you love. It's hard to believe that it'll work because: 1) Who has time to dedicate all that energy to all those people EQUALLY. I barely have time for myself.
"[And] 2) Jealousy and commitments sound like blurred lines in these arrangements because naturally I think people want to feel like a priority not an option. Even after explaining that all your partners hold different spaces in your heart and mind, I'd still feel a void. Part of love/loyalty is not only being there when you want to be but when you need to be. But I respect the foundation of honesty in this approach. So more power to it!" —Hala Maroc, 29, Multimedia Personality
Multiple Partners Consumes Both My Time and Money
"I'm personally not into polyamorous relationships. I understand for myself I like monogamous, exclusive relationships. I think juggling multiple women or partners consumes both my time and money, so I'd rather stick to one partner and focus on building the best life with one person." ––Jeffrey DeRose, 31, Startup Advisory Group Founder
Understand What It's Really About
"I think that honestly people should just do what works for them. I think polyamory is meant for procreation benefits, financial benefits and supportive benefits as well. Our partners aren't meant to be everything but that is why we have friendships outside of our relationships.
"To me, having friends with different intimate bonds allows us to take pressure off our romantic relationship. It's about trust and security in yourself, your partner and your relationship to have these kinds of outside bonds. If people can handle it, then sure, but they should make sure they understand what it's really about. It's more than just sex." —Amiyah Deziire, Author, Midnight Confessions
I'm Too Selfish for All That
"I personally could never, I'm too selfish for all that. However, I'm not one to judge how other people choose to navigate their own personal relationships. What other people do in their bedrooms is none of my business." —Tiffany Ervin, 30, Visual Artist
I Don't Think There Is Such a Thing as "Most Natural"
"I have nothing against polyamory and those that believe in it, but it's not for me. Personally, I don't have the desire for more than one person at a time, nor the energy. I like the idea of having a special connection with only one other person, and I'm completely satisfied by that. I don't agree that it's the most natural approach to relationships, and I don't think there is such a thing as 'most natural.' I believe what's natural is completely subjective to the person/people involved." —Evans Alexandre, 27, Photographer/Photo Editor
Are you a member of our insiders squad? Join us in the xoTribe Members Community today!
Featured image by Jerritt Clark/Getty Images for Savage X Fenty Show Vol. 2 Presented by Amazon Prime Video

Keep reading...
Show less
Something that I grew up around were worry warts. It wasn't until I grew up and was able to create my own energy oasis that I realized how toxic that space actually was because worrying really does tend to create issues/problems that don't exist. I mean, just think about what the word means—"to torment oneself with or suffer from disturbing thoughts; fret". What about that sounds healthy, beneficial or productive? Exactly.
As a marriage life coach, I oftentimes see people literally manifest their own drama in their relationships because they worry about things that, at the end of the day, they really shouldn't worry about—either because it's not that big of a deal or they couldn't really change it if it happened anyway. That's what I want to touch on today. If you want to keep your relationship in a good space, long-term, start by not tormenting yourself—and ultimately your partner—by choosing to have fear, anxiety and/or doubt about things that…really aren't worth it at the end of the day.
1. Titles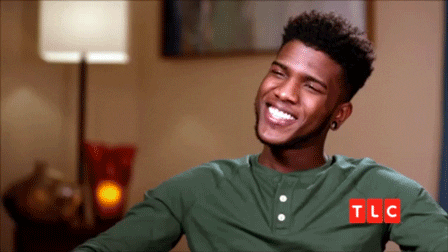 Titles are an interesting topic. When it comes to romantic relationships specifically, on one hand, they can help to bring about clarity. On another, if you're too consumed with them, they can create a lot of unnecessary drama. As someone who has said, many times, that I am too damn old for a boyfriend (check out "Why I'll Never Call Someone A 'Boyfriend' Again"), a title isn't that big of a deal to me. What I need to know is that we're on the same page (check out "The 'Pre-Commitment Interview' Every Dating Couple Should Have"), that the page isn't a secret to those who know us, and I'm all good. Besides, titles typically only come up when folks are being introduced to other people, right? It's like the title is needed in order to validate the relationship and, trust me, if you're being treated well and right, you will automatically feel confident—both in and out of the presence of folks.
The only real caveat to this is when a man refuses to put a title on your relational dynamic when it's something that you actually long for. I know a married couple like this. While the wife claims that she and her husband were a couple for many years prior to jumping the broom, her man is adamant that nothing "official" ever transpired before they said, "I do". Hmph. That low-key sounds like, "If I say you were my girlfriend and you find out all of the dirt that I did, I can't excuse my way out of it by saying we were never a couple in the first place." SMDH.
Still, people like that tend to be the exception and not the rule when it comes to this particular point. Besides, a title means nothing if the actions aren't backing up the words. For instance, I know another guy who, when he's asked if he has a girlfriend, he sometimes says, "She might think I'm her boyfriend but I don't have a girlfriend." This ninja. So yeah, why spend a lot of time worrying about if there's a title to your situation or not? Because it has to matter as much to the person who you're in a relationship with as it does to you, anyway. Instead, focus on if your needs are being met. If they are, chill. And what if the "need" is to have a title? If so, ask yourself why. Then discuss it with your partner. You might realize that you wanted one only because it's so-called what everyone else is doing and not really because it's that big of a deal to you. Or, you might discover that you and he want different things and it's time to do some shifting because of it. Either way, you win.
2. Social Media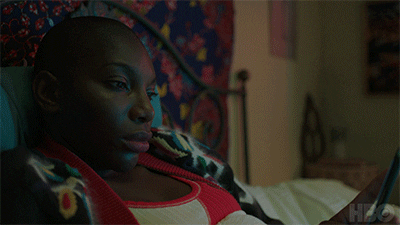 If any of you have been watching the current season of Ready to Love, you know that there's a two-time divorced guy on there by the name of David who said that he believes that long-term couples should give each other full password access. While I do think that a marital dynamic is different than two folks who are dating, this is still something that I've never personally desired in any kind of relationship. I mean, for what? When I think of other situations where passwords are shared, it's automatically parents and children that come to mind and it's usually because either a parent doesn't fully trust their child's online actions or they don't think that they're mature enough to handle social media without their guidance.
Adults aren't children, so what's all of the grown folks monitoring about? And if someone isn't your actual spouse, I really don't get why you should have that kind of access.
Being in an intimate relationship doesn't mean that someone has to give up their individuality or privacy. Besides, if you can't trust your partner when it comes to how they interact with people on Instagram (or they can't trust you), why are the two of you together to begin with?
Some folks cause worry to make mountains out of molehills when there shouldn't be one. That said, just because some attractive woman likes your man's page or he's friends with folks you don't know online, that doesn't mean that you need to hop into his DMs or "check" anybody. Geeze. Things grow when they have space (more on that in a sec). Not when they are being suffocated. Your partner doesn't need you monitoring them. If you disagree, the issue is probably way bigger than social media. Real talk.
3. Your Partner's Opposite Sex Friendships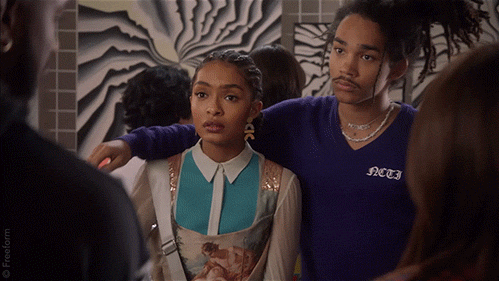 Do I think that men and women can be "just friends"? 1000 percent. I've got a few male friends—single and married—to prove it. When two people are truly platonic (check out "The Word 'Platonic' Is Sacred. Literally."), there really is nothing to worry about because a "spiritual love-based relationship" oftentimes takes on a very different kind of energy. Like me? I adore all of my male friends and they each bring something very special into my life. Yet lawd, the thought of anything sexual or romantic transpiring with any of them basically makes me want to throw up in my mouth. I'm not exaggerating. That's why I'm so over the myth that just because someone has a penis and you've got a vagina, there is an automatic temptation there—even if it's dormant—between two people. Who said?
Case in point. I just went out with a very close male friend of mine not too long ago. He is adorable and hella photogenic. And yet, we can talk about him and all of the women who want him 'til the cows come home because I can't even get my mind around us being anything more than what we are. He listens to me. I listen to him. We provide each other with a perspective that our same-sex friends are unable to provide and that's about the extent of our connection. That's all that it ever will be.
Unfortunately, some people get into relationships and think that a part of their job is to get their partner to "clean house" when it comes to their opposite sex friendships when what they're actually doing is putting an expiration date on their relationship (at least 8 times out of 10). Listen, unless "she's" hella disrespectful (check out "What If Your Guy Friend's Girlfriend Isn't Feelin' You?"), she seems to be trying to influence you man to distance himself from you or she's putting strain on him to the point where he can't take care of the other priorities in his life (none of these instances sound very "platonic" to me, by the way), who cares if he's got female friends in his life? If they were gonna be together…they would've been together. Don't create problems that don't exist, just because you've heard too many times that men and women can't be "just friends". That is absolutely not the truth.
4. Not Seeing Everything Eye to Eye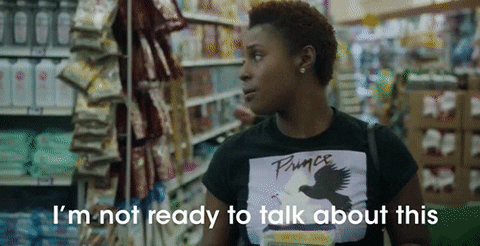 I personally think that one of the biggest mistakes people make in relationships is expecting their partner to become their clone. Shoot, worse than that, they put themselves in the position to become the "clone trainer" when no one (especially their partner) asked them to do so.
You know, a part of what comes with being emotionally intelligent in a relationship is understanding that people who are different than you are can help you to evolve in ways that folks who are similar never could. So, if you're out here worrying that you and your partner won't work out because you're not in agreement about everything under the sun, what is it that grandma used to say? You're just borrowing trouble.
How can you know if the differences are potentially problematic? That's a fair question. If you don't share similar values. If you don't have the same long-term goal(s) for the relationship. If you communicate in a toxic way. If you don't respect one another's religious and political points of view. If you don't complement one another. If any of this is going on, you shouldn't shrug it off. However, everything else? You're far better off being open-minded when it comes to why the two of you have different approaches to matters than assuming that you're doomed, just because y'all are not Bobbsey Twins. A lot of marriages end, unfortunately, because one or both spouses don't get this very point. Your partner isn't supposed to be just like you—again, they are to complement you. Oftentimes, differences are what do that because they challenge you to grow. RELAX.
5. Being on Other People's Timetable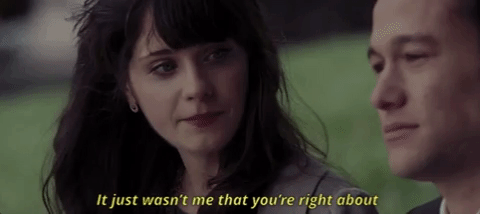 A couple of years back, I wrote an article for the platform entitled, "Experts Say You Should Date This Long Before Getting Married". If you're rushing and you want the bottom line answer, many relationship experts say that it shouldn't take longer than two years for two marriage-minded people (check out "One Overlooked Yet Obvious Indicator That A Man Is Husband Material") to date and at least get engaged. For the most part, I agree with that (by the way, it's also not the wisest thing to stay engaged for more than two years; engagement really should mean that you are in a period where you are planning your wedding not sitting around forever with a ring on your finger). What I will also say is this is a generalized conclusion—and each couple is different.
If you and yours live in two different cities, states or countries. If you and yours are trying to get your finances together (lawd, PLEASE get your finances together). If the both of you know that you love each other and still would like to take out some time to do some self-work (via therapy, etc.) in order to heal some issues before taking things to the next level. If there are certain things that you know would be easier for you to accomplish as a single person before getting married. If you've got kids and you want to make sure that things will "blend well"—don't let what relationship experts, your mama or your married girlfriends think deter you from what your gut instincts say is best.
It really is sad, how much a lot of us worry about things that we're really not all that worried about; it's just that people and their opinions come in and try to plant seeds of fear, confusion or doubt. So long as you and your guy are clear about your relationship short- and long-term goals and you're both working to meet them, give the clock a bit of a rest. Haste makes waste. That's not just a random saying. There is a ton of truth to it. Just ask a lot of the divorced people that you know.
6. The Need for Space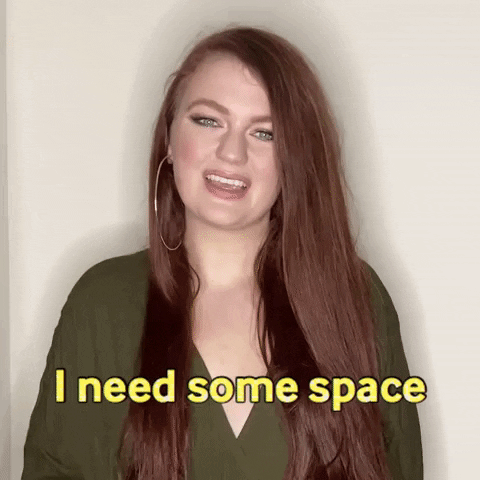 I honestly don't know anyone who doesn't want their own space from time to time. I take that back—yes, I do. Needy people. Controlling people. Insecure people. Folks with a low-key love addiction. Yet one thing that all of those individuals have in common is they typically look for their relationship to fill voids that they need to work on as individuals. So, if you're someone who knows that you kinda suffocate your partner, I say this in love when I say, "heal thyself".
While I get that sometimes there can be challenges in this area because, for instance, your primary love language may be physical touch when your partner's isn't or you enjoy spending as much time as possible with the ones you care about while your partner is cool with you only seeing each other a couple of times a week, tops, it's not fair to assume that someone who wants space is someone who doesn't care about you, isn't being on the up-and-up when it comes to what the two of you have agreed to do and not do out of each other's presence or that he can't be trusted on some levels. Right as I'm typing this, I can think of a woman who is constantly finding ways to not be out of her husband's presence. I mean physical presence, online presence—you name it. And you know what? It's taking a major toll on the relationship because while she's calling it "love", he's calling it "annoying AF" and "hella insecure".
I believe that we've all heard the saying that absence makes the heart grow fonder. Deeper than that, being a couple doesn't mean that someone doesn't want their own "me" time.
Encouraging your partner to have time alone. Being cool with them spending time with friends when you're not around. Not feeling like all of your free time needs to be spent together—you'd be surprised how much that can make him feel like you are secure in the relationship. And that kind of confidence is sexy as hell.
7. That It Won't Work Out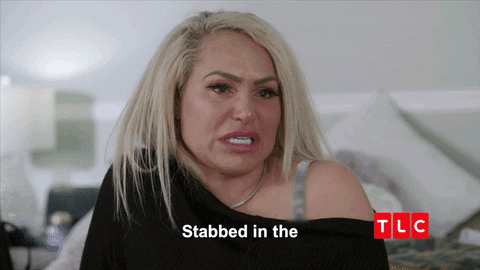 I've got a friend who, right at this very moment, is going through the grieving process of a break-up. Something that's a bit fascinating about the situation is he basically saw red flags in the dynamic and blatantly ignored them. And so, although he knew that there was an expiration date to the relationship, he kept putting off the inevitable which led to him becoming more attached, which caused the break-up to ultimately become more painful. Still, in the midst of it all, he's seeing some personal growth and lessons that he may not have learned any other way.
My point? I don't know many people who go into relationships with a plan to end them (some folks are narcissists, users or commitment-phobes which is why I couldn't say that I don't know any). So yes, if/when the relationship comes to an end, it can be really difficult. Sometimes, even devastating. I've been there. Believe that. Yet when it comes to myself and the folks I know who've shared their relationship and break-up stories with me, only maybe 10-15 percent have a lot of regrets. The reason why is because they see that some things naturally run their course after a season, that sometimes breaking up is a pruning process that helps us to grow and/or that if they hadn't ended that relationship, they wouldn't be with the person they're with—someone who is far better for them—now.
Besides, sitting around worrying that a relationship could end could play itself out to be a form of self-sabotage because you end up bringing so much fear, negativity, confusion, testing (you know, testing someone to see how loyal or committed they are; that gets old) and/or drama to the situation that it ends up running its course—even if it wasn't supposed to.
So, STOP WORRYING. As long as you bring your best self to the relationship, that's all you can do. Let the universe handle what you can't control. If you remain in this head and heart space, you'll realize that there really isn't all that much to worry about anyway. What will be, will be—and ultimately, it will be for your better good. If not immediately…eventually. Amen.
Join our xoTribe, an exclusive community dedicated to YOU and your stories and all things xoNecole. Be a part of a growing community of women from all over the world who come together to uplift, inspire, and inform each other on all things related to the glow up.
Featured image by Getty Images
Keep reading...
Show less
Astrology is gaining new popularity with many beginning to acknowledge what our ancestors have realized for civilizations - that astrology can reveal an awful lot about our lives, our personalities, and our psyches. Sure, we're all pretty familiar with the personality types of certain signs, but did you know that astrology can also reveal insights about your relationships with certain people? Specifically, your Moon sign can shed a ton of light on your relationship with your mother - for better and for worse!
Are you and your mother thick as thieves, or is your relationship with her strained? Can you tell her your deepest and darkest secrets, or do you find it difficult to be yourself around your mother? Are you the apple of your mother's eye, or do you feel like you were never able to really please her?
Knowing your moon sign can reveal a lot about the way you view the person who brought you into this world.
If you do not know your full birth chart, find your moon sign here and then check out the information below to get a glimpse inside you and your mom's emotional dynamic.
I. Moon In Aries:
If your moon is in Aries, your mom is the leader of her household. Growing up, you viewed her as brave, bold and fun-loving. She was fiery and knew exactly how to put others in their place, if needed. You respect her, but may have found her to be overbearing at times.
II. Moon In Taurus:
If your moon is in Taurus, your mom knew how to tend to all your creature comforts. She expressed love through food and the material nourishment she provided to you. She was a very hands-on, affectionate mother but also extremely headstrong and stubborn. Not the best at negotiating, your mom wants things to go her way or the highway!
III. Moon In Gemini: 
If your moon is in Gemini, your mom is extremely expressive and intelligent. You felt most connected to her through words and your stimulating conversations with her. Her behavior, at times, seemed unreliable to you, but you admired her on an intellectual level. Always moving, you probably felt like she was difficult to pin down as a child.
IV. Moon In Cancer: 
If your moon is in Cancer, you are the apple of your mother's eye. You love and care for her deeply. In fact, sometimes you served as a mother to her - comforting her and constantly expressing your understanding of her emotionally. You are extremely close - sometimes too close. Your mom tends to err on the clingy, over-mothering side.
Growing up, you sometimes felt like you needed more emotional and physical space from her. You share a psychic connection with your mother - it's easy for you to take on her emotions and moods as your own, for better and for worse.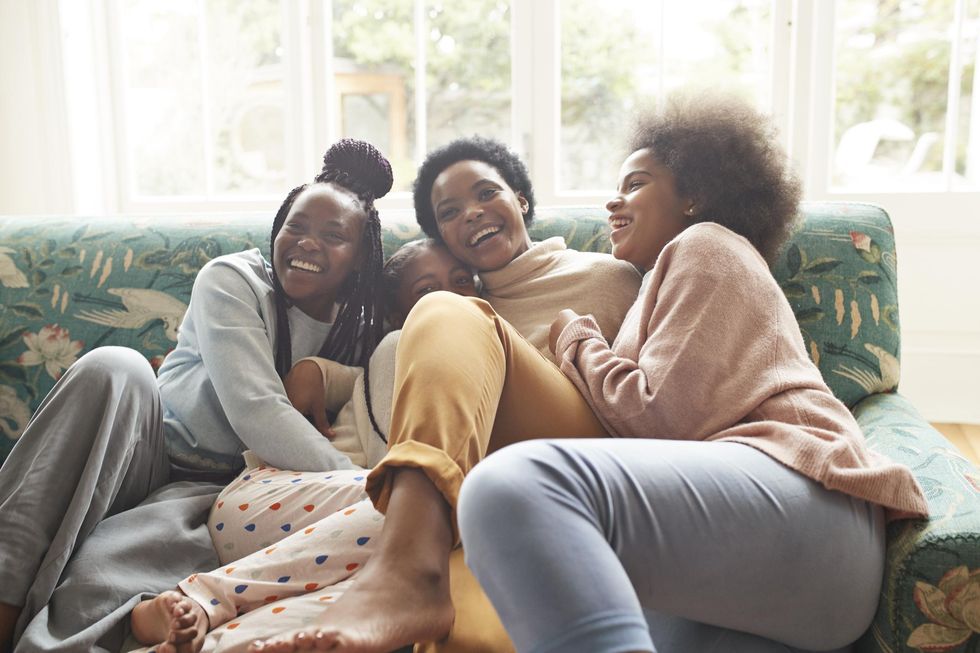 Klaus Vedfelt/Getty Images
V. Moon In Leo:
If your moon is in Leo, your mother has always been a large presence in your life. Growing up, you felt a pressure to present yourself a certain way in order to preserve your mother's reputation. You felt the way you looked and behaved was a direct representation of your mom so you had to stay sharp! Your mom was potentially someone of public note, someone that many people in your neighborhood or community knew very well.
VI. Moon In Virgo: 
If your moon is in Virgo, you love your mother dearly and would move mountains for her. You are extremely protective and defensive of her. Your mother is your world. Though you've always needed her deeply, you sometimes felt like she was unable to be there for you in the ways that you yearned for. You've been aware of her shortcomings since birth; otherwise, you found her to be very nit-picking and critical of you.
VII. Moon In Libra: 
Growing up, your mother was known for her attractiveness, fashion-sense, her ability to throw a fun party and the beautiful way in which she kept her home. If your moon is in Libra, it is likely that your mother was popular for her congenial and pleasant personality. Erring toward the formal and structured in your relationship, you've learned to establish specific roles in each other's lives, making sure not to over-step them in order to maintain peace and a sense of fairness between you both.
VIII. Moon In Scorpio: 
Your mother has affected you in deep and profound ways; deeper than she or you may even realize. If your moon is in Scorpio, your relationship has gone through major transformations through the years. You've felt that she was, at times, out of tune with your emotions.
You wished and expected that she would be able to intuitively understand you. When she didn't, you may have felt somewhat abandoned by her.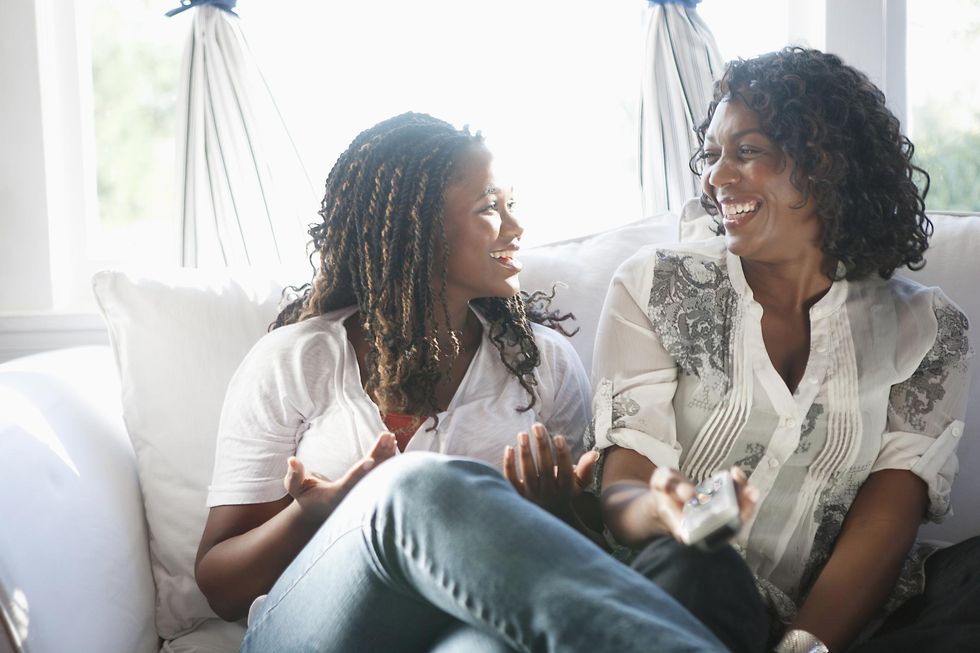 Jennifer Boggs/Amy Paliwoda/Getty Images
IX. Moon In Sagittarius: 
If your moon is in Sagittarius, you've always required freedom in life. If your mother respected this, you both enjoyed a fun-loving and adventurous relationship together. If she did not fully respect your desire for freedom, you may have felt unfairly held back or restricted growing up. Wise beyond your years, you may have perceived her to be immature and naive, learning to rely on your own judgement rather than hers.
X. Moon In Capricorn: 
If your moon is in Capricorn, your mother has always been more concerned with the serious matters of life. She viewed you as mature and knew she could rely on you for support and sound judgement. Self-sacrificing, she always put work before play and constantly had tons on her plate. You sometimes wondered why she worked so hard and why she didn't take an easier approach to life. She held extremely high standards for you growing up. Favorably, she pushed you to be ambitious in pursuing your goals.
XI. Moon In Aquarius: 
If your moon is in Aquarius, you've always viewed her as more of a peer than a parent. Being chastised by her felt unnatural and foreign to you - almost silly! Parenting was unconventional - you did not have the typical parent-child dynamic. You were raised to be emotionally self-sufficient and didn't rely on her for an overly emotional or affectionate relationship.
XII. Moon In Pisces: 
If your moon is in Pisces, you share an extremely intuitive bond with your mother. You often took on her burdens and emotions as your own. You were extremely sympathetic to the things she went through in life and were mindful not to add anything else to her plate. You felt like her caretaker in certain ways. You loved her extremely deeply and would fight for her. You are keenly aware of all of the sacrifices she's made in life for you. You wish you were able to rely on her more as a child and may have felt like you had to grow up much quicker than you would have liked.
What's your moon sign and how would you describe your relationship with your mother?
Are you a member of our insiders squad? Join us in the xoTribe Members Community today!
Featured image by Klaus Vedfelt/Getty Images
Keep reading...
Show less
Tiffany Haddish is on a path. She's hustled for most of her 20's. She built a successful comedic career in her 30's. And now that she's hit her 40's, our girl is gearing up to be a mommy!
That's right, the actress exclusively revealed to E! News that she has taken a big step in her adoption journey. In an Interview with the Daily Pop, she tells host Justin Sylvester:
"I'm taking parenting classes now to adopt."
She continued:
"I'm looking at [ages] five and up, really like seven. I want them to be able to know how to use the restroom on their own and talk. I want them to know that I put in the work and I wanted them."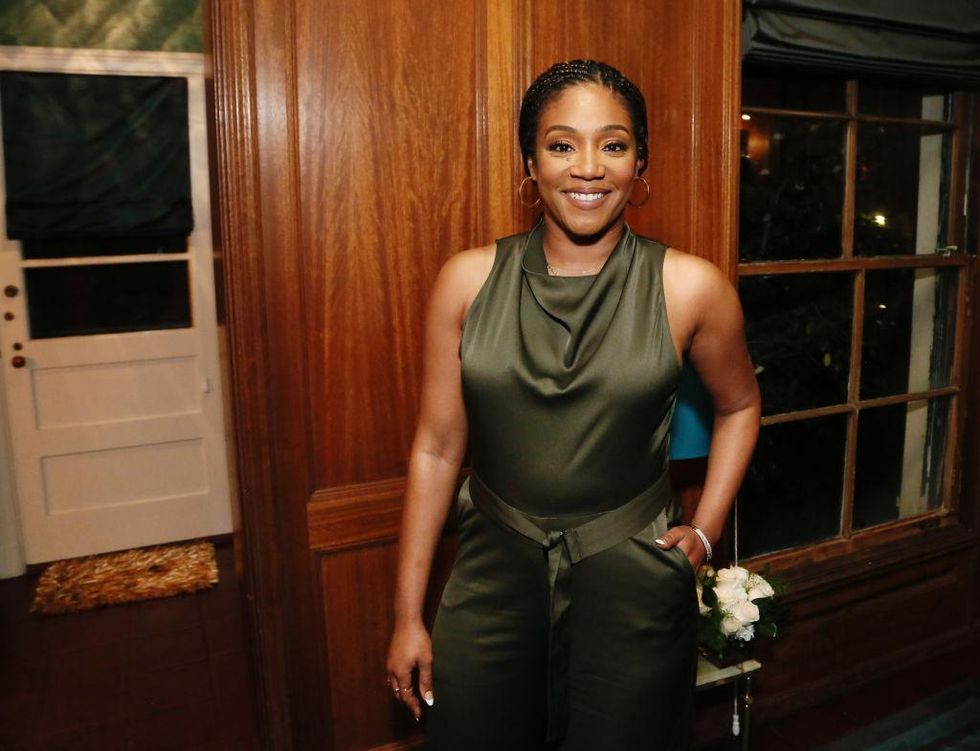 Gabriel Olsen/Getty Images for Absolut Elyx
Haddish, who has been in a relationship with rapper Common, since early 2020, true to fashion, joked that she wasn't interested in having a baby with her bae until she was married, exclaiming, she's "not going to be the baby mama," but a wife. However, naturally having a baby seems unlikely to her at the time.
"Here's something everybody don't know, I'm going to tell you: when I was 21, I was really hard up with money and gave up a bunch of eggs. So who knows? I might got some kids out in these streets. I doubt it though because I never got the bonus."
Oh, Tiff.
This moment comes full circle, as just last year, after a frustrating year of continuous Black trauma, her sentiments were the opposite. During an appearance on Carmelo Anthony's weekly YouTube series, What's in Your Glass, Haddish discussed how racism has played into her fear of having children:
"I'm a little older now and people are always asking when I'm gonna have some babies? There's a part of me that would like to do that, and I always make up these excuses like, 'Oh, I need a million dollars in the bank before I do that, I need this, I need that.' But really, it's like, I would hate to give birth to someone that looks like me knowing that they're gonna be hunted or killed. Like, why would I put someone through that?"
Whew.
But the Grammy-winning, Kids Say the Darndest Things host, has since had a change of heart, thankfully, cementing the fact that if anyone deserves the love she has to offer, it is a child who comes from a seemingly hopeless situation--one she is all too familiar with.
We couldn't be any more excited to witness where her journey takes her from here!
Watch the full interview below:
Are you a member of our insiders squad? Join us in the xoTribe Members Community today!

Featured image by Gabriel Olsen/Getty Images for Absolut Elyx
Keep reading...
Show less