When it comes to sex, you can never have too many tricks up your sleeve. A long-term relationship can quickly become boring, and nothing kills desire faster than boredom. When people get comfortable in long-term relationships, they often lose their spark. Relationships are like monthly subscription services. You get the first month for free, but after that, you have to actually start investing in order to continue to reap the benefits.
It is possible to rekindle the sexual spark in your life if the flame has fizzled out. There are a lot of easy fixes that are enjoyable. Getting out of a bedroom funk can be challenging, so here's what you need to do.
Featured image by LumiNola/Getty Images
I don't know about you, but I'm making "gratitude sex" a thing this season. I've felt such a positive shift in my life since leading with an attitude of gratitude, and I thought, why not apply that to how I approach my sex life? Sex for me has always been a space for connection, renewal, and restoration.
Whether I'm on my knees, in complete control on top, or relishing in surrender while on my back, the pleasure I feel, the vulnerability I experience, and the touch, sight, and sounds of the man I'm writhing against as I reach my peak of completion are reminders of the power of great sex. Every time I breathe out "oh sí, oh sí" in rapid succession and the stroke hits my center just right, I'm also served a reminder of the gratitude that comes with cumming. But gratitude sex is more than being grateful for the actual act of sex, it's about placing yourself in positions (pun intended) where you can be on the receiving end of pleasure, attention, and appreciation.
This season, and any season really, I encourage you to add some gratitude to your sex life and give yourself permission to be the object of desire. As women, it turns us on to be the turn-on in sexual situations. And lately, the sex positions on my radar are a testament to that sentiment. The 'gratitude' sex positions below are positions that make my pleasure the focus. And trust and believe, the sex positions below are making sure your pleasure is served.
Keep reading for gratitude sex positions to try whenever you want to feel like the main course.
(Editor's note: "Receiving partner'" refers to the partner receiving the penetration. "Giving partner" refers to the partner doing the penetration.)
1

.

The Pretzel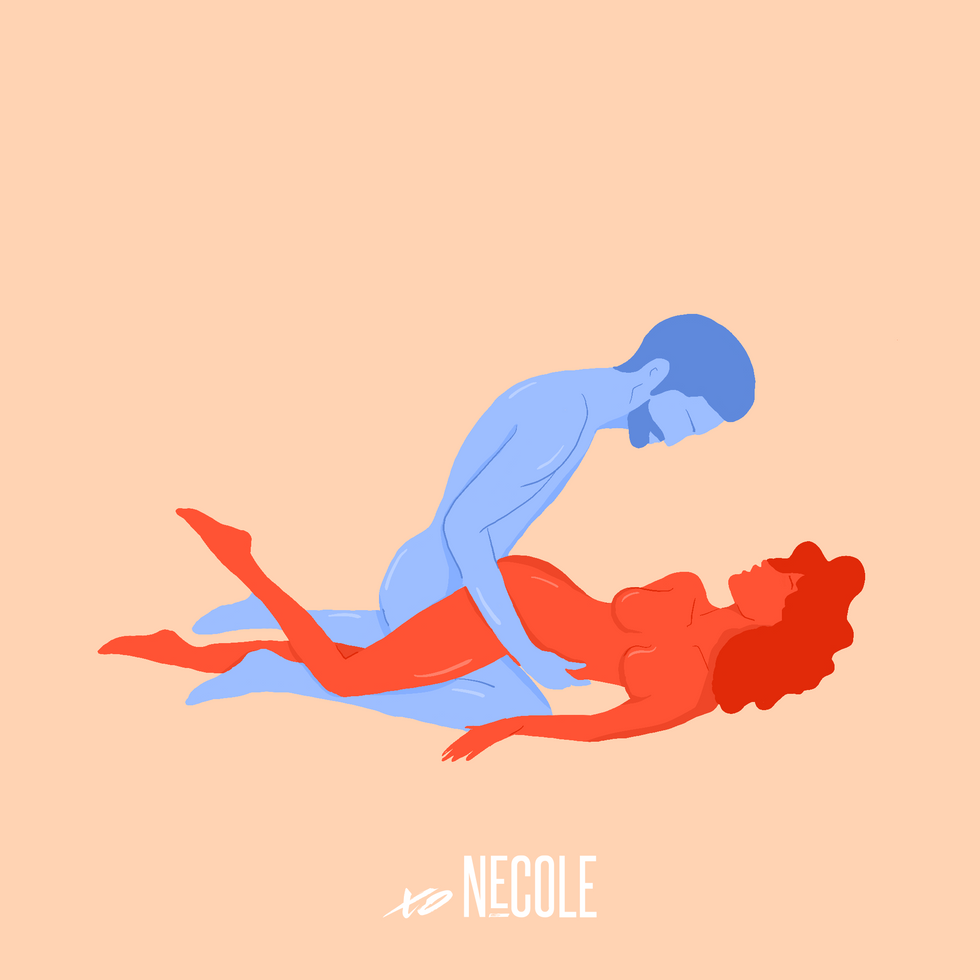 Qori B.
Depending on who you ask, this sex position is referred to as the Pretzel or even the Linguini. Either way, it is a purveyor of earth-shattering orgasms (due to the depth both parties feel) that not enough people pull up on their sex position rotation. To do it, the receiving partner lies on their side. The giving partner will then kneel behind the receiving partner's ass before pushing one of their knees in between the receiving partner's legs for access to penetrate.
The receiving partner can relax while the giving partner does the work in this position but can also opt for using a headboard as support to throw it back. Anal play is also easy to add to this position.
2

.

Begging for Mercy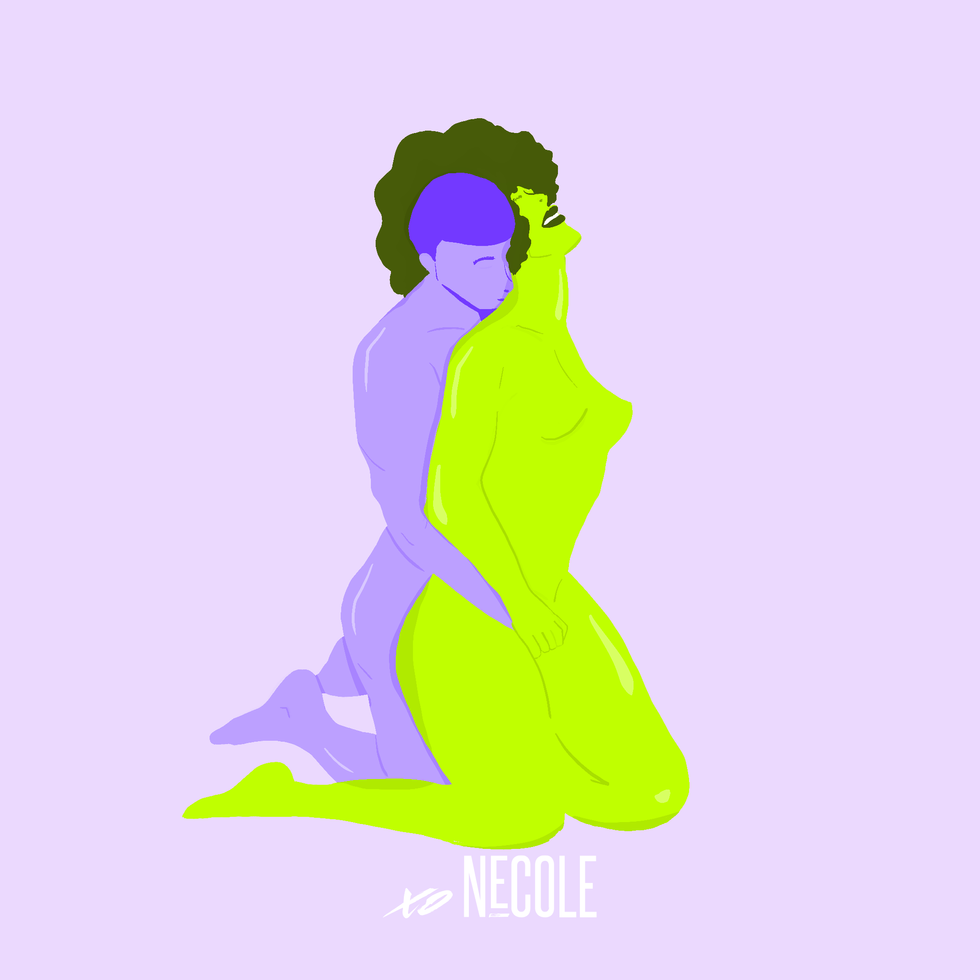 Qori B.
Although I am a big fan of doggy, I understand those who aren't the biggest fan of the position. But if you love the depth of doggy style but don't want to sacrifice a feeling of intimacy, look no further than this position. In this variation, instead of the receiving partner being on all fours, both partners will kneel and position themselves upright. The giving partner will enter from the back and the both of you will rock against each other. For maximum pleasure, the giving partner can play with your clit as the two of you writhe. Orgasms unlocked.
3

.

Asian Cowgirl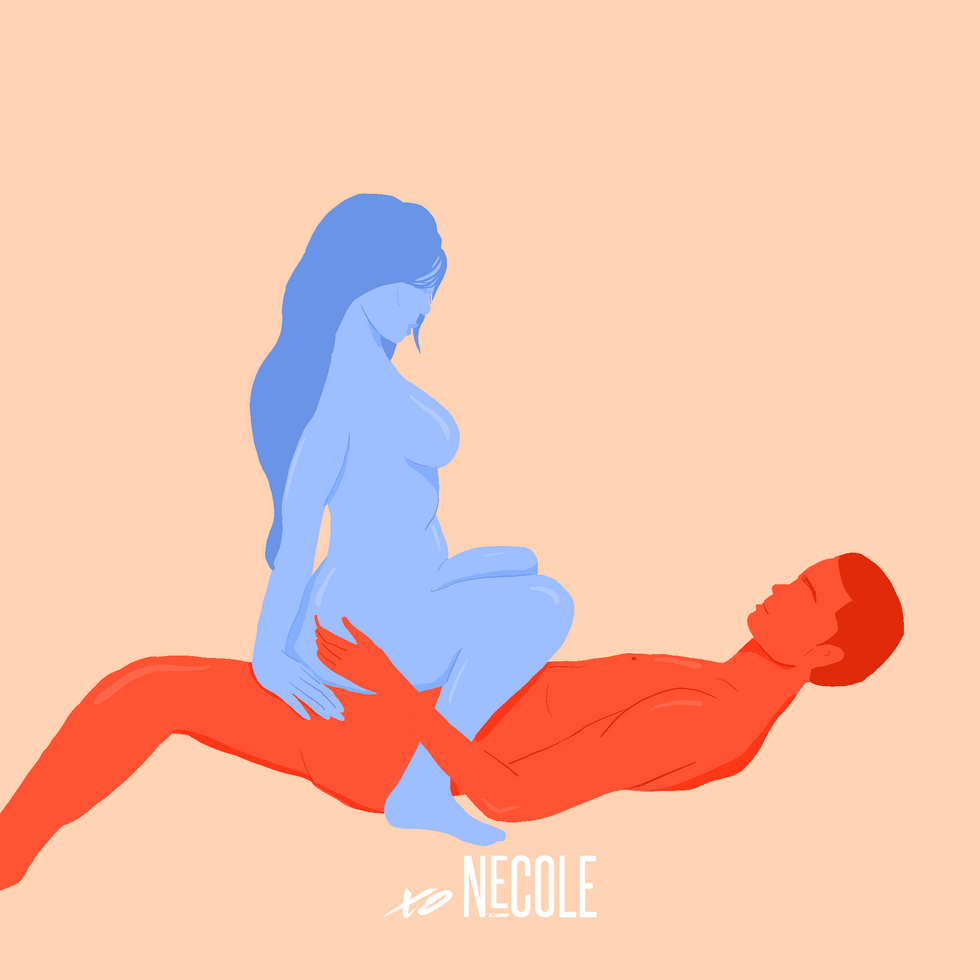 Qori B.
Very similar to the OG Cowgirl position, Asian Cowgirl is a variation of the classic woman-on-top sex position. I say if you have the knee and leg strength to do it, give this one a go because it's great if you're looking for a more intense ride and deeper penetration while being on top. In order to do this, the receiving partner will get on top of the giving partner and squat over them, resting their feet on the bed. The receiving partner will then move up and down along the giving partner's length, using the giving partner's legs or chest for support as needed.
4

.

The Bridge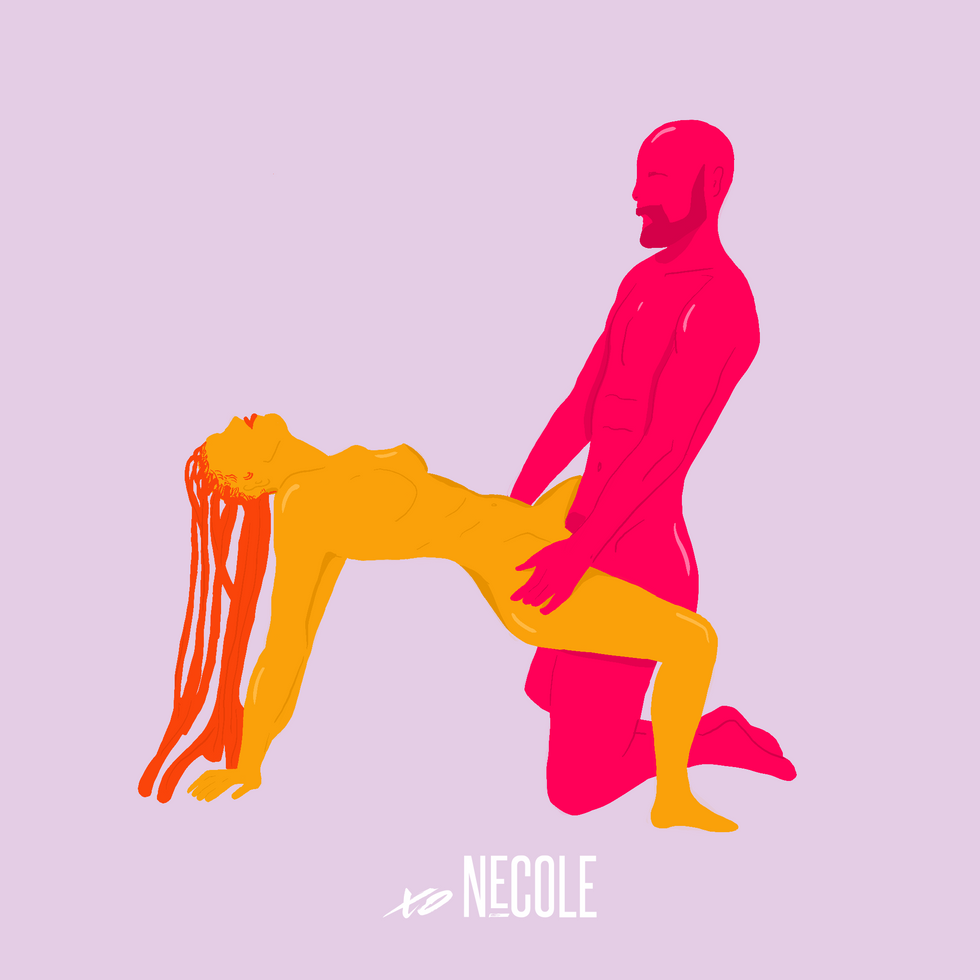 Qori B.
The giving partner might have to put a little more work in for this one but the clitoris access makes it so worth it. For The Bridge position, the giving partner will prop themselves up on their hands and feet by making an arch. Once they are in position, the giving partner will kneel in front of the receiving partner and penetrate them. And then, the receiving partner just receives as the giving partner puts in the work with their stroke.
For added support, the giving partner can lift the receiving partner's ass while thrusting. The giving partner can feel free to add some breast and nipple play into the mix while they're at it for even more intensity.
5

.

Bent Spoon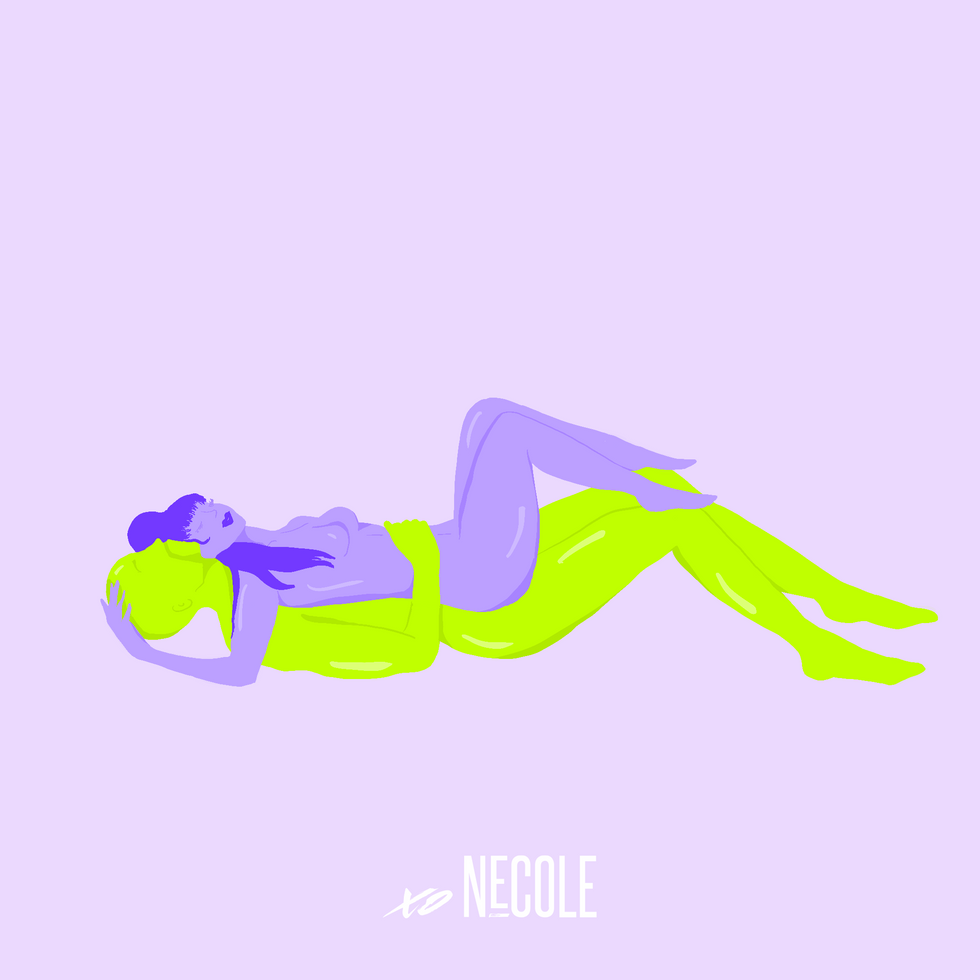 Qori B.
A variation of the classic spooning sex position, the Bent Spoon is highly regarded as a catalyst for G-spot orgasms to be made possible. Balance is most definitely required, but the fruits of your labor will truly taste sweet. In order to do the Bent Spoon, the giving partner needs to lie on their back. After that, the receiving partner will get on top of the giving partner. In the end, they will both be facing upward while they are on top of each other. The giving partner will then spread their legs and bend their knees slightly to balance themselves.
Once they are both balanced, the receiving partner will bend their legs, bringing their knees higher to their chest as the giving partner begins their thrusts. For further support, the receiving partner can prop their feet on their partner's knees.
6

.

Rock the Boat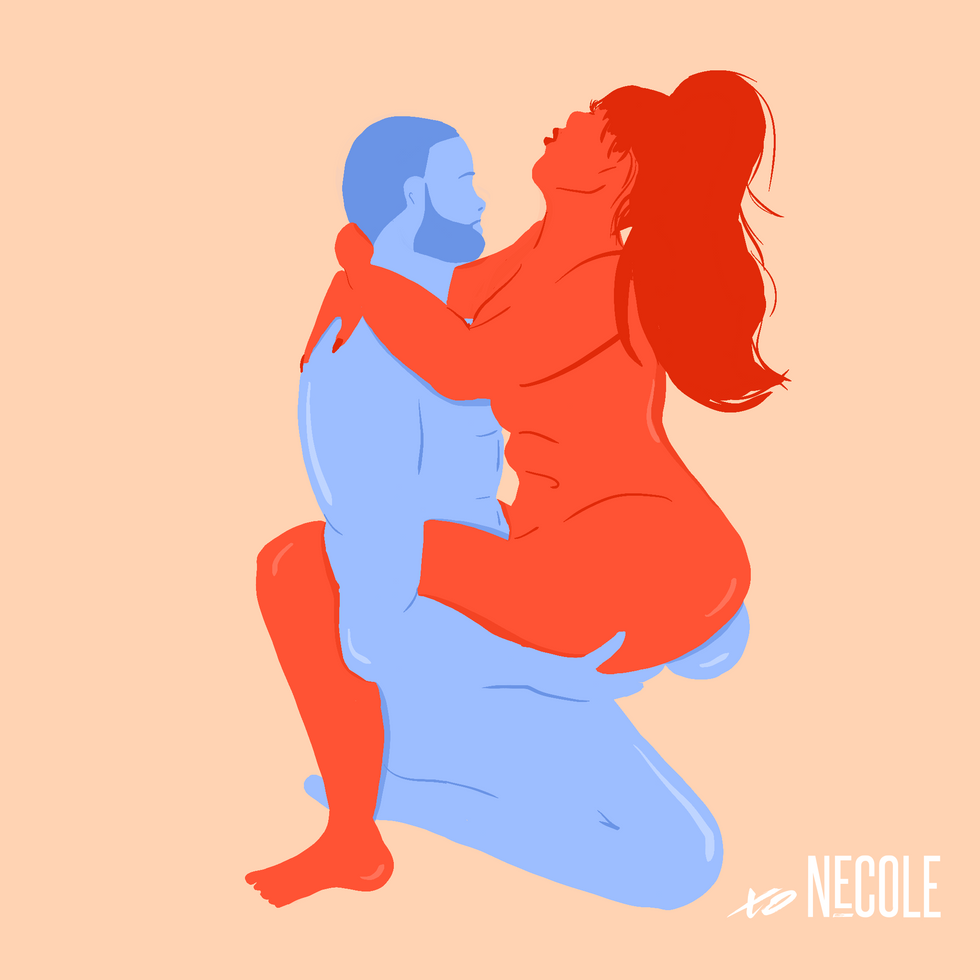 Qori B.
In this kneeling position, the giving partner will get on their knees and sit down against the backs of their legs. The receiving partner will then get on top of them by sitting down in a squat and taking in the giving partner's length slowly. The magic is in the teamwork for this one. The receiving partner will use their legs for strength and balance as they move up and down the giving partner's length. If additional support is needed, the receiving partner can wrap their arms around the giving partner's neck.
7

.

Polar Opposites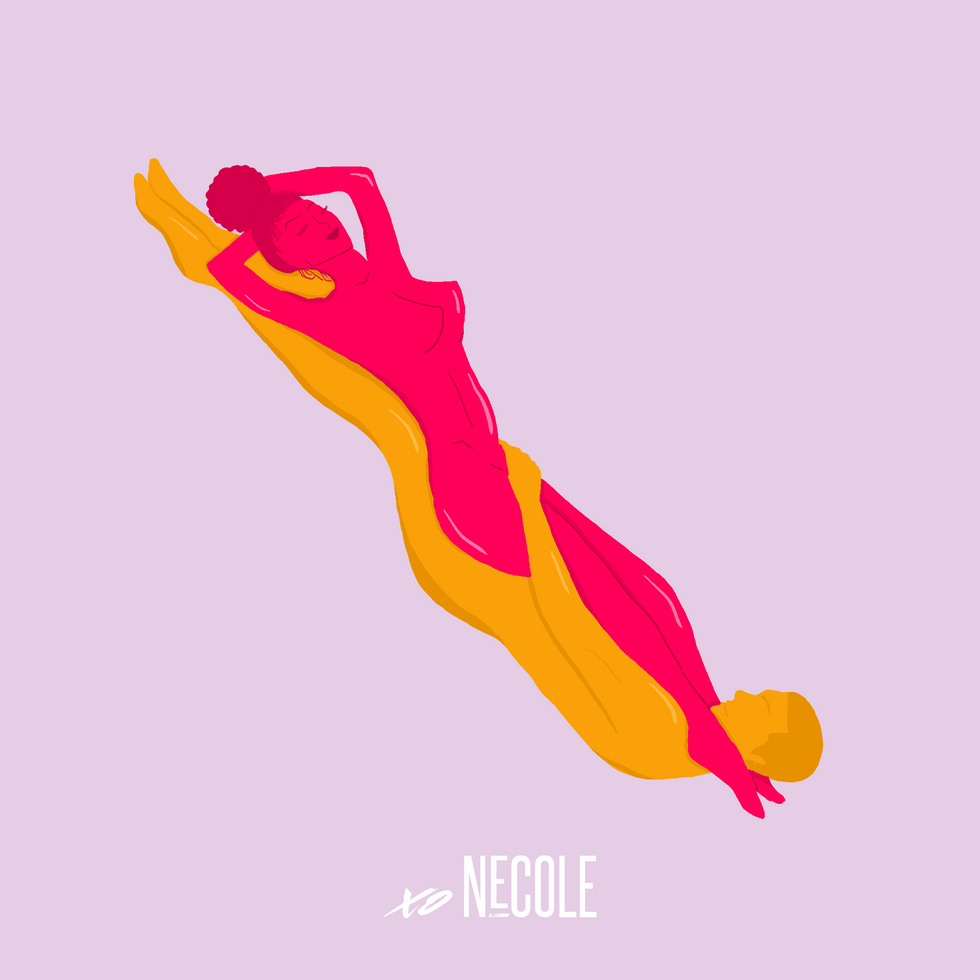 Qori B.
You know what they say, opposites attract, and for this sex position, Polar Opposites highlight exactly why that is. To do this sex position, both partners will lie down facing upwards but in the opposite direction (as illustrated above). The giving partner will lie down first with their legs closed and the receiving partner will position themselves on top of them in the opposite direction. The giving partner will penetrate from behind while the giving partner is positioned on top of him. For more intensity, the receiving partner can close their legs more tightly, allowing the giving partner's head to rest comfortably between the receiving partner's feet.
Let's make things inbox official! Sign up for the xoNecole newsletter for daily love, wellness, career, and exclusive content delivered straight to your inbox.
Featured image by Blue Images/Getty Images
Have you ever dreamt that your partner was cheating on you? Or that you were cheating on your partner? Let's face it: Dealing with any sort of scandal (even in your slumber), can leave you feeling confused or anxious af. Maybe you've already suspected your partner of cheating and your subconscious is trying to send you a sign. Perhaps your dreams are a result of unhealed trauma from a previous relationship? Or maybe you just ate too many tacos before bed last night?
Before you shake your S.O. awake to begin interrogating them, it's important to know that dreams of infidelity aren't exactly uncommon. In fact, according to this study of 1,000 people, 31% of the women have dreamt of their partner cheating and 23% have dreamt of them cheating on their partners. (So, if this has happened to you, you are not alone!)
According to the Sleep Foundation, some psychologists argue that dreams provide insight into a person's psyche or everyday life, while other psychologists find their content to be too "inconsistent or bewildering to reliably deliver any true significance."
Now, don't get me wrong, I do believe that dreams *may* convey real information and that they often reflect our everyday thoughts and feelings — as well as our deepest desires and concerns. However, that doesn't mean that each dream is to be taken literally. Cheating dreams could equate to you simply feeling a sense of neglect or abandonment in your relationship.
"When we dream, we are tapping into our subconscious mind," explains astrologer, Ashanti Ransom, also known as The Heaux Healer on IG. "We are dreaming about any and everything that you've ever thought of, seen, or imagined. The subconscious is such a deep place that almost anything can pop up in the mind's eye."
So, why do people dream about cheating?
"Because we are human, we all will experience nightmares from time to time," says Jacqueline 'Dr. Jac' Sherman, licensed clinical psychologist and intimacy and relationship coach. "Bad dreams about cheating can feel equivalent to a bad nightmare because the dream can cause emotional distress, and sometimes even cause sleep disturbances. Additionally, there is research that suggests that people who have experienced infidelity in their relationships are more likely to have bad dreams involving their partner betraying their trust by being unfaithful."
What are some of the potential meanings behind cheating dreams?
"Sometimes when you are grieving a traumatic situation like finding out your partner has been cheating, it can trigger abandonment wounds in your subconscious mind which may lead to nightmares," notes Dr. Jac. "Also, when a current relationship is going well and someone has been cheated on by an ex, they may be holding on to emotions such as fear, insecurity or worry that can create anxiety and bad dreams."
"When a person is deeply in tune with [their] mind, body, and soul, a dream of a partner cheating could very well be a message from your spiritual team that it's time to pay attention to what's happening in the relationship in waking life," says Ashanti. "It's almost like a warning. You also want to pay attention to what's happening in the dream. What is your partner doing? How are they acting? This may give you a clear indication of what could be happening. It may also be a play-up on your fears from a previous relationship that you haven't taken the time to heal properly."
Could cheating dreams be a result of a person's intuition or could they be unchecked damage from a past relationship?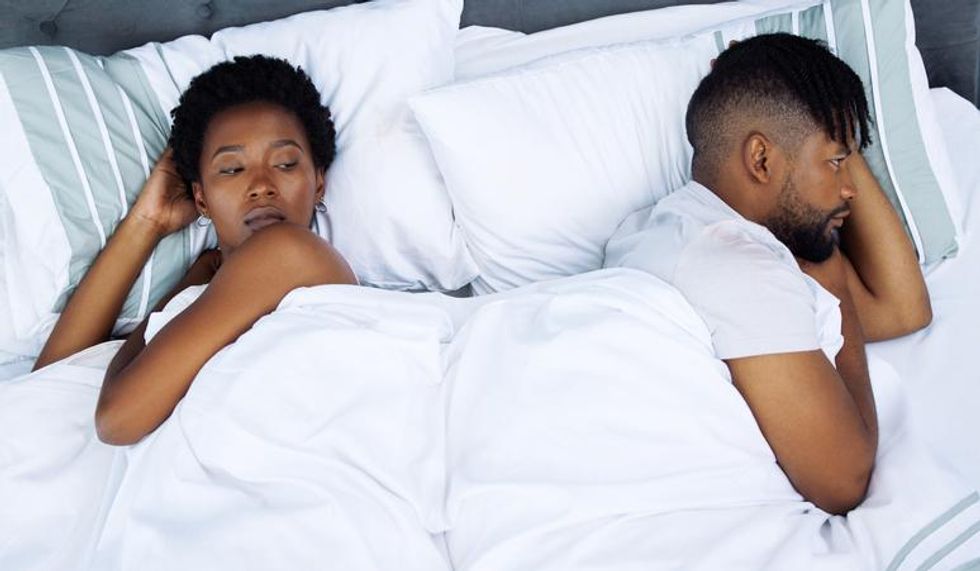 PeopleImages/ Getty Images
"Honestly, it can be a little bit of both. Sometimes past relationship trauma or infidelity can trigger emotions of jealousy, paranoia, and fear that can result in bad dreams," says Dr. Jac. "Additionally, our intuition can help us realize that something does not feel right. If someone is having an intuitive feeling that their partner is cheating, this might lead to more thought rumination about betrayal. As a result, their anxiety may increase resulting in bad dreams, and nightmares are a symptom of anxiety."
"Whenever a woman feels any type of uneasiness about a situation, I recommend that she follow her gut feelings," explains Ashanti. "However, the dating pool right now is leaving lots of suitors scarred mentally and emotionally so, it very well can be from past trauma. In my opinion, I feel like the dating generation right now is operating from a place of getting hurt or being hurt. Nobody wants to be the hurt person so everyone is trying to beat each other to it."
What do we need to do with these dreams about being cheated on once we have them?
"Most importantly, pay attention! Pay attention to how the dream made you feel when you were in it," Ashanti explains. "How did you react once you heard or saw the news unfold? There isn't much you can do because it may or may not have happened yet. I would also recommend talking to your partner. Look for that reassurance in your partner so you can feel some type of ease."
"If the dreams do not bother you, I would say do nothing, overall, they are just dreams!" says Dr. Jac. "If the dreams are bothering you emotionally and/or are recurrent, I would suggest journaling about the emotions the dream elites from you. Journaling helps to provide self-awareness and insight, so starting here can help you recognize any distress you may be feeling as a result of the dreams."
Here are four journaling prompts Dr. Jac recommends for a self-reflection process: 
What do you imagine this dream might mean for your relationship?
What do you imagine this dream might mean about your partner?
Is there anything from your past that this dream has triggered?
What emotion(s) do you feel after experiencing this dream?
Let's make things inbox official! Sign up for the xoNecole newsletter for daily love, wellness, career, and exclusive content delivered straight to your inbox.
Featured image by LaylaBird/ Getty Images
Tia Mowry has a refreshing take on divorce. The Sister, Sister star stopped by TODAY with Hoda & Jenna and opened up about divorcing Cory Hardrict and why instead of looking at ending her marriage as a failure, she is looking at it as a "graduation."
"I knew when I really started to focus on my happiness," she said when asked when she believed her marriage was over. "I feel like women, we tend to focus on everybody else's happiness, making sure that everybody else is okay — meaning our children, our friends, our family."
"But at the end of the day, it's about self-love. When you start to really work on yourself, love yourself, know your value and know your worth, then all of a sudden, there's this awakening. And it's not easy. It's a hard journey, but at the end of the day, I feel like it is so, so worth it."
The 44-year-old's social media followers have had a front-row seat to her self-love journey. Over the last couple of years, Tia has shared inspirational posts about self-love, self-care, and happiness. Sprinkled in were also adorable moments with her family. She shares two children with the All-American: Homecoming actor, Cree, 11, and Cairo, 4.
While surveying her life, she started therapy and also uncovered that she was dealing with a bit of sadness. "I feel like when I started to, again, like I said, focus on myself, but there was this sadness. And I knew that life is short," she said. "I had actually lost my grandmother. We had lost Alaina Housley (Tia's twin sister Tamera Mowry Housely's niece who was killed in the 2018 California mass shooting.) And both of them at the same time."
She continued, "There was just an 'aha' moment in me where I said, 'You know what? We need to tap in, see what's really going on with your happiness. Life is short. Let's go. Let's start working on you and really focusing on what really, really matters here, which is at the end of the day, your peace, your joy and your happiness.'"
Tia announced her divorce from Cory in an Instagram post on Oct. 4 after filing the day before. The divorce documents cited irreconcilable differences as the reason for their marriage's demise. The Game actress, however, is looking at the end of her marriage through a different lens.
"My marriage was a success. I look at it as like a curriculum when you're in college or high school. You're learning, you're growing, you're evolving, you're creating. I was able to create with Cory some beautiful, amazing children," she explained. "At the end of that curriculum, there's a graduation, there's a celebration. So that's basically how I'm looking at it now."
"And I feel like ... when (people) look at marriage, success equals longevity. But, no, at the end of the day, it's are they happy? Are they thriving? Are they growing? I feel like that is what is most important. It's not about staying in something because however long you are in that situation that equals success. It's about really, again, are you happy? Because life is really short."
Tia and Cory were married for 14 years.
Feature image by Albert L. Ortega/Getty Images
Let's make things inbox official! Sign up for the xoNecole newsletter for daily love, wellness, career, and exclusive content delivered straight to your inbox.
Okay, I know what you're thinking: WTF is a liquid vibrator? Or you might even be wondering, Does a liquid vibrator work the same way as a regular vibrator? I admit, when I first heard the term 'liquid vibrator,' I was a bit curious and confused as well. Turns out, a liquid vibrator isn't a vibrator at all, it's a clitoral arousal gel. Aphrodisiac herbs and other elements such as ginger, leaf oils, and sometimes menthol are used in arousal gels to enhance sexual pleasure.
Clitoral arousal gels have been on the market for quite some time. However, with so many types of liquid vibrators on the market, it's hard to know which is the best option. Upon doing some research, I discovered Buzz by Doc Johnson produces pleasurable pulse-like sensations that leave your vulva all tingly. I was dying to experience those 'pulse-like sensations' for myself, so I had to order a bottle. I'm single AF so any type of clitoral excitement was worth a try.
Doc Johnson's Buzz Liquid Vibrator Review
How to Use the Buzz Liquid Vibrator:
Buzz Liquid Vibrator comes in a small, discreet tube, similar to that of lip balm, that can easily fit in your purse without drawing suspicion. The gel's formula is made from natural ingredients and is paraben-, glycerin-, and sugar-free. Rather than being runny, it has a semi-thick texture that allows it to stay in place. For the most part, there was no sticky residue and it essentially stayed only in the areas I applied it.
As per the directions, I applied two to three drops onto my clitoris. The angled tip on Buzz makes it super easy to use to apply. Simply squeeze one to three drops on your finger then apply to your vulva or whatever erogenous zone and wait. There was a light buzzing sensation upon application but nothing to write home about. It warmed my clitoris within three to five minutes but never really escalated to a tingle. I waited about 30 minutes to see if the sensations would intensify but they never did.
Looking back, maybe I should've added more gel, but I was afraid to overstimulate my clit.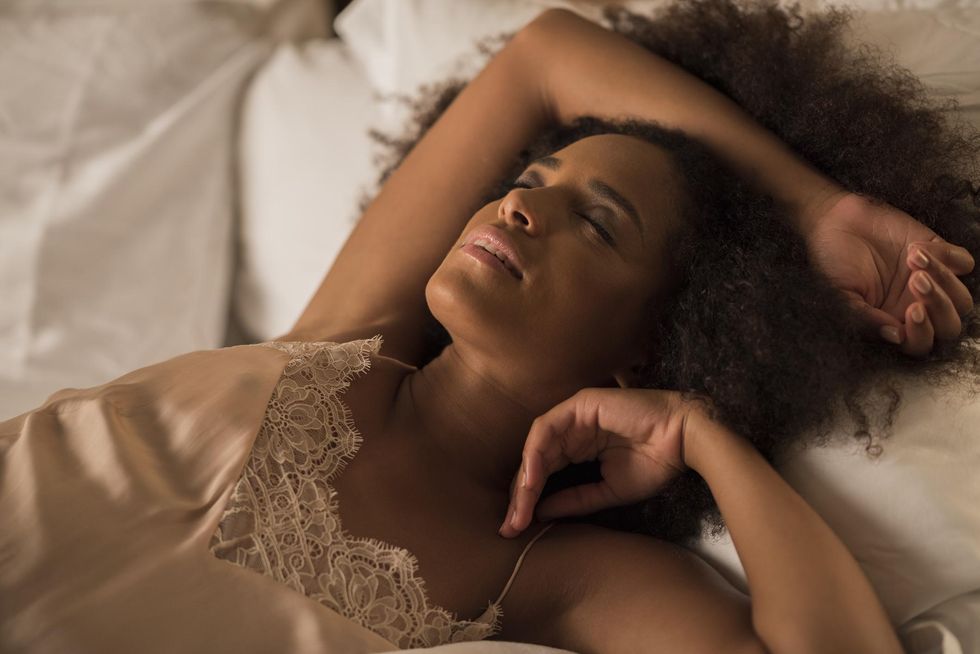 Bob Thomas/Getty Images
Do Liquid Vibrators Actually Work?
I waited for lightning to strike, but when nothing happened, I thought I might try the liquid vibrator on my nipples.
If I'm being completely honest, I love nipple play. Playing with my nipples is a must during sexual encounters. I added two drops of Buzz to my nipples but then decided to add some extra for good measure. After about a minute, I started feeling a very light, warm sensation on my nipple. Instead of tingling, it felt like the warm feeling you get when someone lightly plays with your nipple.
The feeling lingered around for a pretty long while after I applied the gel. I could still feel it stimulating my nipples almost an hour after I put it on. I'm barely capable of focusing on anything for more than 30 minutes, so it was refreshing to feel that arousal for longer than my usual 10 minutes.
My Thoughts on the Liquid Vibrator Overall:
Overall, Buzz Liquid Vibrator didn't turn me into a one woman orgasm-having machine. I was underwhelmed by the lack of 'pulse-like sensations' I felt on my clit. But baby, those nips though! Those nips were thoroughly pleased! I think next time I'll try using it while having sex to see if it brings me better orgasmic results.
Featured image by Bob Thomas/Getty Images
What would you do if you had a higher sex drive than your partner? Leave, cheat, suck it up or try to work it out? I received an email from a woman with this very dilemma. She wanted to know how to move forward with what she described as a "sexless marriage." She and her husband of eight years were not sexually compatible, to say the least, she had a very high sex drive and wanted sex as often as possible while he, on the other hand, was satisfied with sex once or twice a month. In his defense, she stated that this is how he's always been. She has always been the one who wanted sex more frequently in their relationship.
Even though this was the norm for their marriage, she was writing me because she was now frustrated, horny, and desperately looking for a solution that didn't involve leaving her husband. Quiet as it's kept, mismatched libidos are common for most couples, however rarely do I hear this complaint from women. Oftentimes it's usually the male partner who's dissatisfied with the lack of sex, but as we know women are just as sexual as men. And regardless of gender, libido fluctuates for varied reasons. Therefore, finding a partner who will always match yours is few and far between. So, do you throw out the baby with the bath water? No. You figure out the why and become one step closer to fixing the problem.
Throughout our lives our desire for sex changes, which can be caused by aging, stress levels, family life, work, etc. According to one study, desire and frequency issues (both low sexual desire and desire discrepancy) are the most reported sexual concerns (34%) among women. A more recent study delivered similar results, with 40% of participants reporting low sexual desire. Scientifically speaking, there are only two desire styles—-spontaneous and responsive.
Spontaneous desire is when you experience desire first then arousal. This is the kind of desire that is usually portrayed in movies and porn. Spontaneous desire is experienced more by men than women, about 15% of women and 75% of men to be exact. Responsive desire is quite the opposite. With responsive desire, your mind and body need to be aroused before you desire to have sex. About 30% of women and 5% of men have responsive desire. That's a pretty big discrepancy, right? If couples understood these statistics and learned the factors behind their desire or lack thereof, this would alleviate a lot of problems.
Once you understand how your partner is wired sexually, it should be easier to meet in the middle and find common ground that can meet the needs of both parties. If you or your partner are experiencing mismatched libidos, here are some tips you can use to get things back on track.
Featured image by PeopleImages/Getty Images