Whether butt play is the first stop in exploring your sexuality or an evolutionary point reached after much reflection and growth, it seems inevitable to avoid its presence in pleasure. It has so much potential as an epicenter for pleasure yet it's still one of those things done behind closed doors (no pun intended). Anal sex is the new blowjob for Black girls, or so it seems. Remember when blowjobs were pronounced "things white girls do", but quietly Black girls were partaking too?
That's what anal sex has become. For a plethora of reasons I don't care to address — not here and not now. This article is for those who have moved past the shame or embarrassment or "miseducation."
This is for those who are ready to explore the other side of pleasure.
This is a guide to the wonderful world of butt plugs. One way to dive into butt play. And because we're here to guide, it seems only fair that we'd start at the basics:
What Even is a Butt Plug?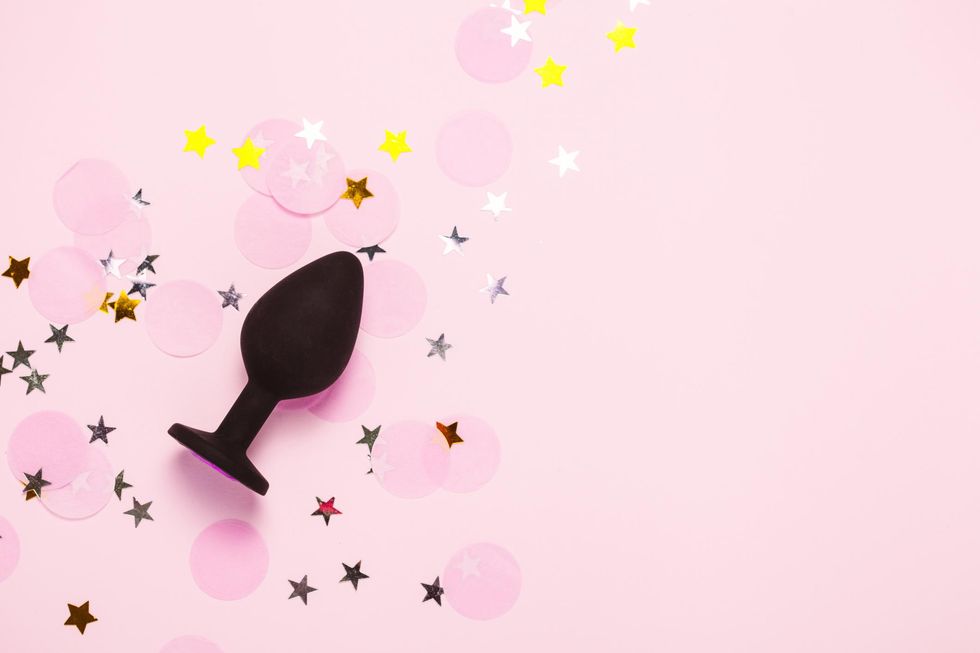 Enter the wonderful world of butt plugs.NadinPanina/Getty Images
Well, according to me, that's easy to answer because it's exactly what it sounds like, a plug for your asshole. A stopper, if you will. But its purpose is dependent upon your goals, which we'll get into shortly. They come in many shapes, sizes, and materials (metal, glass, plastic) like any other sex toy. They can even come with a vibration.

According to sex educator and host of Anal Sex Podcast: The Plug Luna Matatas, butt plugs can be more carefully defined as "sex toys that go inside of the butt, they usually have a bulbous shape, a neck and a flared base. They allow the muscles and tissue of the rectum get accustomed to penetration. Butt plugs are great for anal training."
The spectrum of ways in which you are able to use butt plugs in your anal play are endless. Butt plugs can serve as the main dish or the appetizer.
Here are a few ways to help you envision how you might want to use butt plugs, according to anal expert, Matata: 
Stretching for Anal Play
Much like any other workout, stretching can be the difference between cramping up or actually getting a full, enjoyable workout. And by workout, we mean anal.
Double the Pleasure
For added sensation during vaginal sex or even during solo sex, two is better than one. And Matata says, "You're adding in another erogenous zone to your self-pleasure, which might amplify the sensations you normally feel during masturbation."
"Butt plugs can give a sense of fullness inside the anus that feels pleasurable for some people. Others enjoy the stimulation to the many nerve endings at the entrance of the anus."
Embrace the Tease
Up the ante and give a little tease action rather easily when use your plug during ther types of partnered sexual activity, from kissing and cuddling to oral sex. See how long you all can last before you're driven to have sex or even edge it out. The benefit of this is that "while doing other things that get you aroused, your anus has a chance to relax and enjoy the sensations of the butt plug."
For the Thrill
"Engagement of our erotic imagination — you might be excited by the idea of having something in your butthole naughty or taboo," Matata concludes.
How to Use Butt Plugs for Beginners: A Guide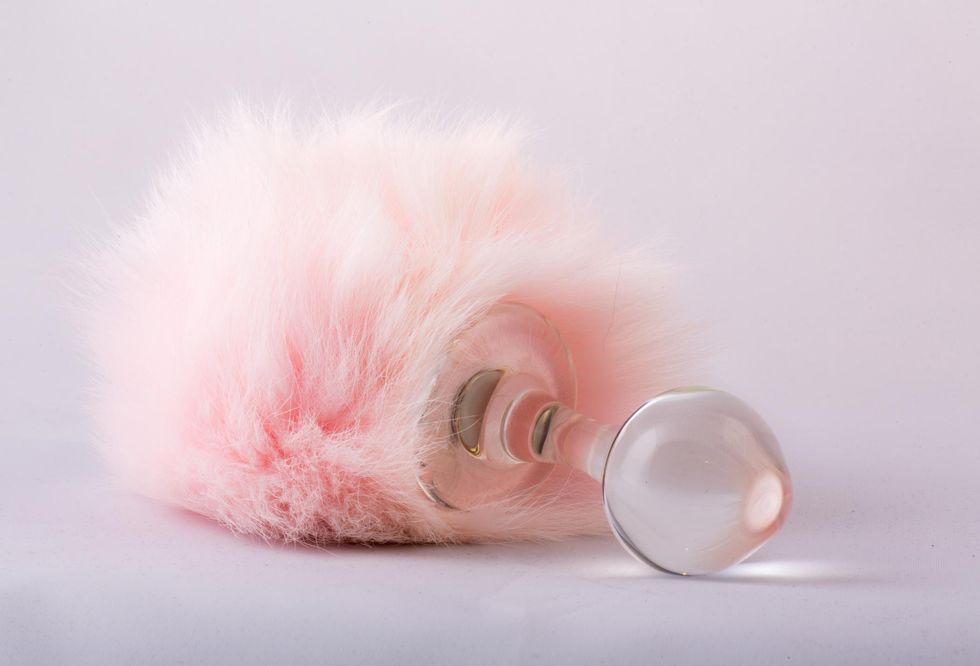 tino serraiocco/Getty Images
Size Does Matter
When looking into how to use butt plugs for beginners, curious minds might want to know what size to start with and if the purpose of your butt plug is to work you up to anal sex, does it need to be similar in size to your partner's penis or strap. To the latter, Matata explains, "You can go from a smaller plug to a penis [or strap], it depends on the experience of someone with anal penetration, what their body is in the mood for that day, how relaxed they are, etc.
"You can test out how well the person is opening up [to] the butt plug by rotating it inside someone, pulling it all the way out and then restarting the process, alternating between time with a plug and time with fingers massaging the rectum."

Anal Play: Butt Plugs or Anal Beads?
For beginners, I would recommend starting small with your plug if this is your first venture into anal play of any nature. But if you have a little experience under your belt, Matata suggests adding some weight, as a weighted butt plug for a little razzle dazzle i.e. increased sensation. You might also try a different shape as well, such a spheres or anal beads.
Keep it Safe
As far as the material, it's your world. However, as with any other toys, you do want to make sure you're using body-safe material. That's the bottom line. Matata points out, "Butt plugs can be made of rubber or jelly materials, but these are porous which makes them hard to sterilize. Try finding butt plugs made of body-safe materials like silicone, glass, or stainless steel. If you're a beginner to butt play -- you could try silicone materials first as some beginners find glass or stainless steel butt plugs too firm. [Furthermore], look for butt plugs with a rounded shape at the top and a flexible neck."
Wet it Up
Whatever you do, it can't be stressed enough the importance of lubrication. The anus, unlike the vagina, doesn't lubricate itself naturally so you'll want to use, "Lube. Lube. Lube. [Specifically] a long-lasting water-based or silicone lube is super important." And because it doesn't self-lubricate at the sign of arousal, it is especially important that we pay attention!
"Listen to the anus - sometimes it's just not in the mood for penetration, you can enjoy the outside nerve endings by putting vibrators against the butthole or massaging it," she continues. "If burning sensations or pain happen, slow things down, take a break or add more lube. Ignoring the pain or using numbing agents is increasing your chances of anal injuries like fissures."
Although all good things must come to an end, Matata left us with a few of her favorite gems to consider when looking to invest in butt plugs. Some of her favorites were created by b-Vibe, known for their "innovative and sexy looking butt toys."
The Best Butt Plug for a Beginner:
The Best Butt Plug for Intermediate: 
The Best Butt Plug for Advanced: 
Featured image by NadinPanina/Getty Images

Keep reading...
Show less
Living in a time of an unprecedented health crisis has drastically reshaped the way we go about our daily lives. With shelter-in-place restrictions and nightly curfews in place, the pandemic has significantly challenged the way we used to interact with each other – including romantically. Now that social distancing and self-isolation practices are our new normal, you may wonder, 'Can I hook up with a quarantine bae?' or 'Is sex off-limits – especially with someone I'm not living with?'
Whether you're looking for "Mr. Right" or "Mr. Right Now", COVID-19 has made connecting in person nearly impossible. The 'Rona has forced many of us to stay indoors for an unforeseeable amount of time and while you may be tempted to indulge in some quarantine-peen, you may want to think again.
While coronaviruses aren't strictly transmitted through sex, the virus can spread through direct contact with saliva or mucus – which can include kissing, licking, breathing on each other and a whole host of other freaky acts.
Couples who live together have the least amount of risk, especially since they already share a living space – but what happens if you don't have an in-house partner to ride out the quarantine with (literally and figuratively speaking)? Or what happens if you're just looking for someone to connect with during these difficult and unpredictable times?
While it may seem that your love life is on lockdown, it doesn't have to be. Chanta Blue, sex and relationship therapist and co-founder of the Blue Counseling & Wellness Center, offers pro tips on how to navigate the new dating scene while abiding by the social distancing measures.
"Like many things in our society right now, COVID-19 has changed the landscape of dating, sex, and relationships in general," Blue said. "There is also this belief that if you are in the home with your partner, you should be having a lot more sex since you have more time. This can be the case for some folks, but for others the state of social distancing is very stressful, and sex is the last thing that they want to think about."
"On the other hand, there are a lot of folks who are single and are trying to find ways to help reduce feelings of loneliness and get their emotional and sexual needs met," she explained. "Prior to COVID-19, singles were meeting at bars and clubs, hooking up with folks they met on dating apps or simply going on dates. Now that all social events and establishments are closed, and the threat of contracting a [potentially] fatal virus is real, singles are limited to virtual platforms for romantic and sexual connections."
Social distancing doesn't mean social isolation.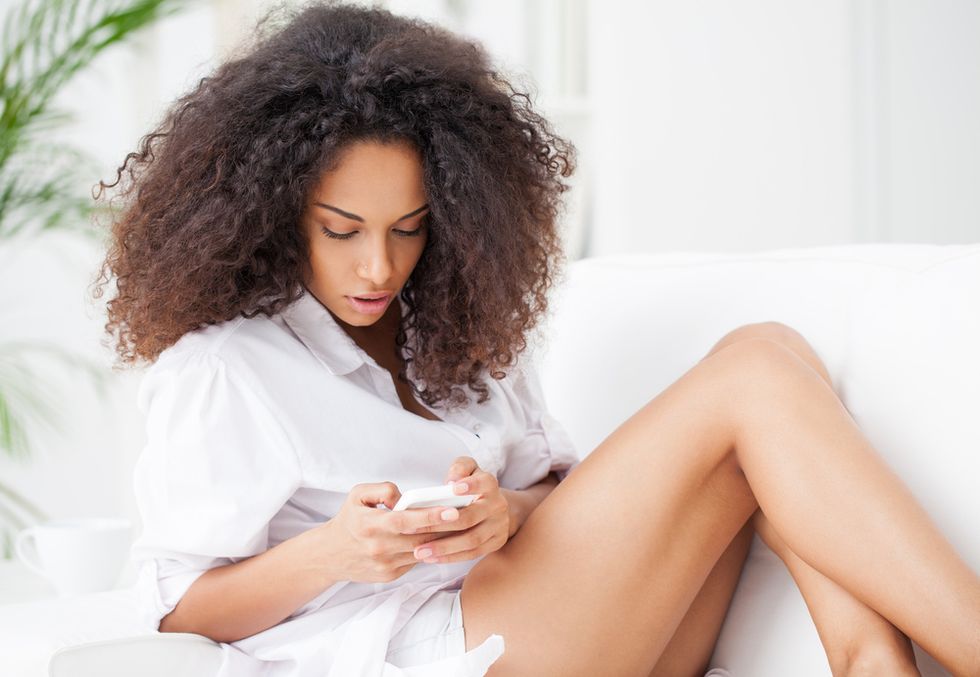 Shutterstock
Reports show that dating apps have hit an all-time high thanks to the quarantine – new matches are even taking their first dates digital! "Singles are finding that they have a lot more time to engage in online dating now that they can't go out to bars or restaurants," Blue said.
"When virtual dating, just like when dating in-person, it's still important to understand what you're looking for in a potential partner. Are you looking for fun and hookups, or are you looking for commitment and long-term connections? I encourage folks to look at their relationship needs on six different levels: intellectual, social, emotional, spiritual, physical and sexual. Then, start looking for your ideal partner."
Once you establish interest and rapport with a match, Blue suggests planning virtual dates to help get to know each other better. "If you have the space and privacy, set up a scene," she explained. "You can have picnics, watch movies together or go for long walks while video chatting."
Flood your brain with happy hormones.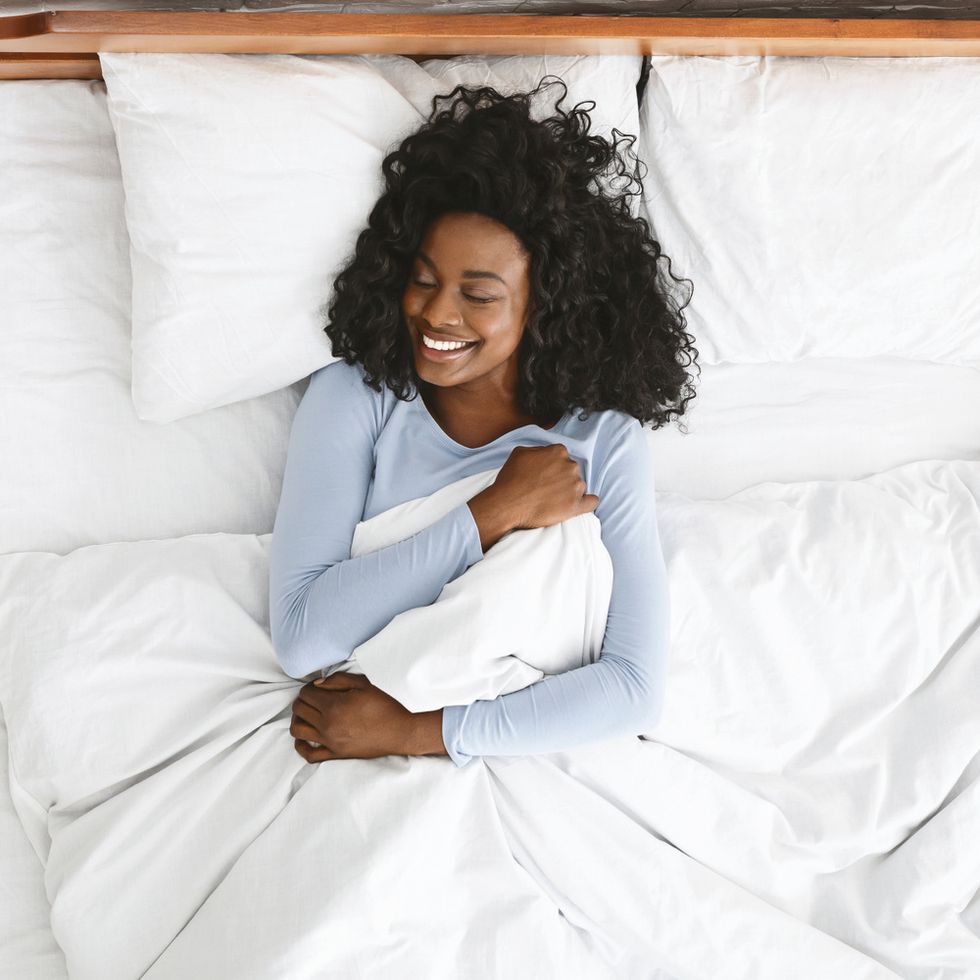 Shutterstock
In times of great anxiety and stress, you may have the desire to want to connect with someone on an emotional and physical level. "It's totally natural for people to crave physical and emotional connection with others during this time," Blue said. "We are social beings and need each other to survive."
"It's encouraged that people do not get physical with anyone who they're not quarantining or self-isolating with," she added. "With that being said, if you do find someone to weather the storm with, just try to take proper precautions to keep yourself and everyone in your home safe."
Blue explained how physical activities such as sex, hugging, kissing, and cuddling produces a hormone called oxytocin. This hormone is known as the "love hormone" or the "cuddle hormone" and helps us bond with the people we care about.
"Unfortunately, it's really difficult to replace the feelings that we get from connecting with people in-person but there are a few things folks can try to increase their levels of oxytocin," she said. Blue recommended the following tips for heightened levels of this happy hormone:
Self-massages (if physically able)
Warming yourself with a weighted or heated blanket
Laughing
Listening and/or dancing to music
Looking for lovin'? Cyber sex is the way to go.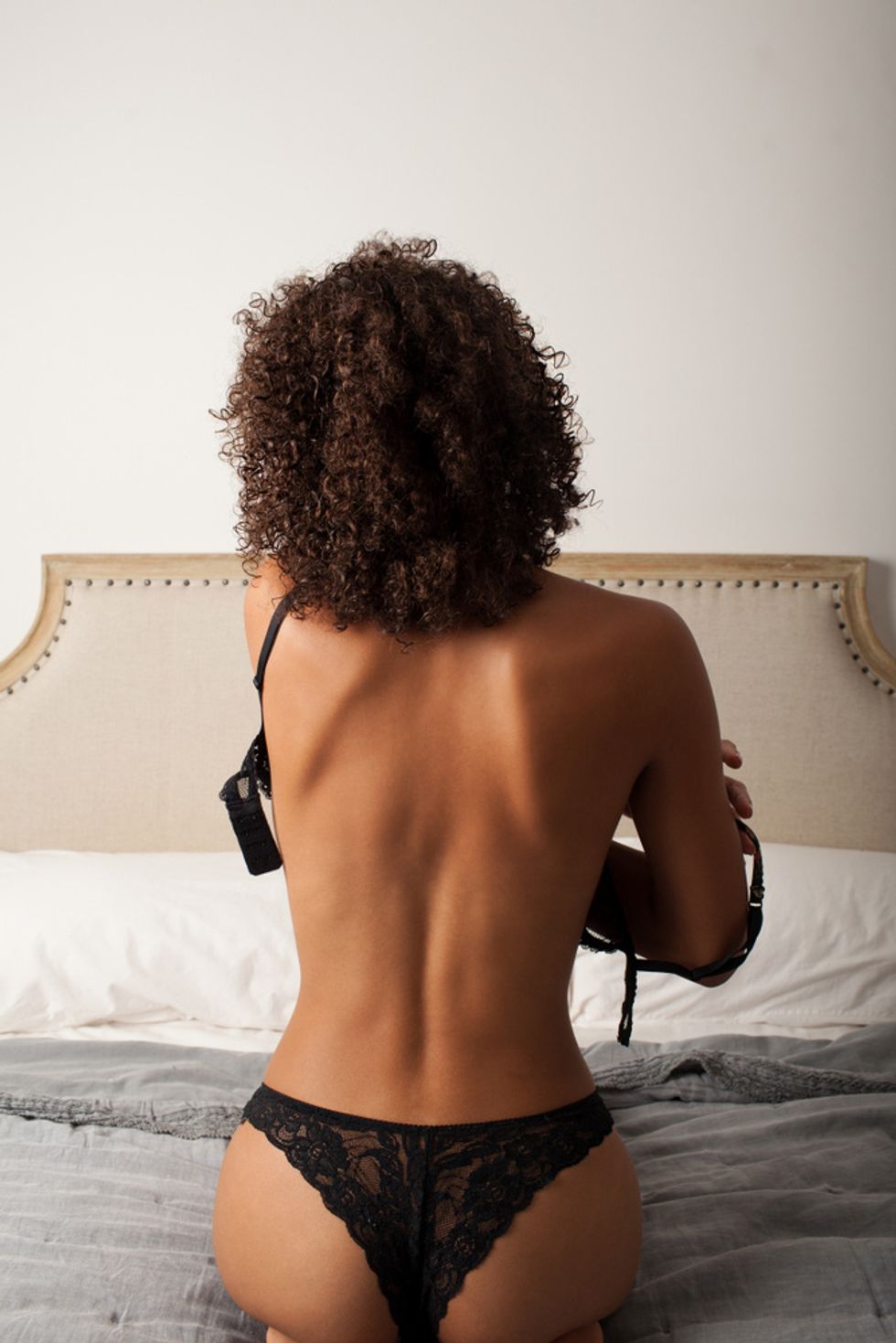 Shutterstock
"There are so many great ways to satisfy sexual feelings with a partner during this time, even if you are not in the same home. Think of it as a long-distance relationship and get creative," Blue suggested.
According to the clinical sexologist, sexting is a great way to start off if you're nervous or just want to build some anticipation. Sexting can range anywhere from sharing your sexual fantasies to sending flirty thirst traps or full-on nudes!
"Scheduling phone or video chat sex sessions with each other is also a great way to sexually connect. With these methods, you get to express your wants and desires with your partner and get a sexual release at the same time. As you're sharing what positions you want to put them in or how wet you're getting, you can be mutually masturbating," Blue suggested. "Mutual masturbation, which is masturbating in front of or next to your partner while they are also masturbating, can be super arousing."
If you are feeling adventurous, Blue suggests investing in a remote or app-controlled vibrator to further enhance the experience (from a distance, of course). Watching porn together during these sessions can also be a great stimulator.
"One thing to remember though -- you want to first make sure that all parties consent to sending and receiving sexual content," Blue advises. "Also, it's important to talk about boundaries and expectations whenever you're trying something new. If you are concerned about your images or video sessions being leaked, I always say 'no face, no case'. Try keeping your face out of explicit pictures, video shots or during video sex sessions."
Prioritize self-pleasure.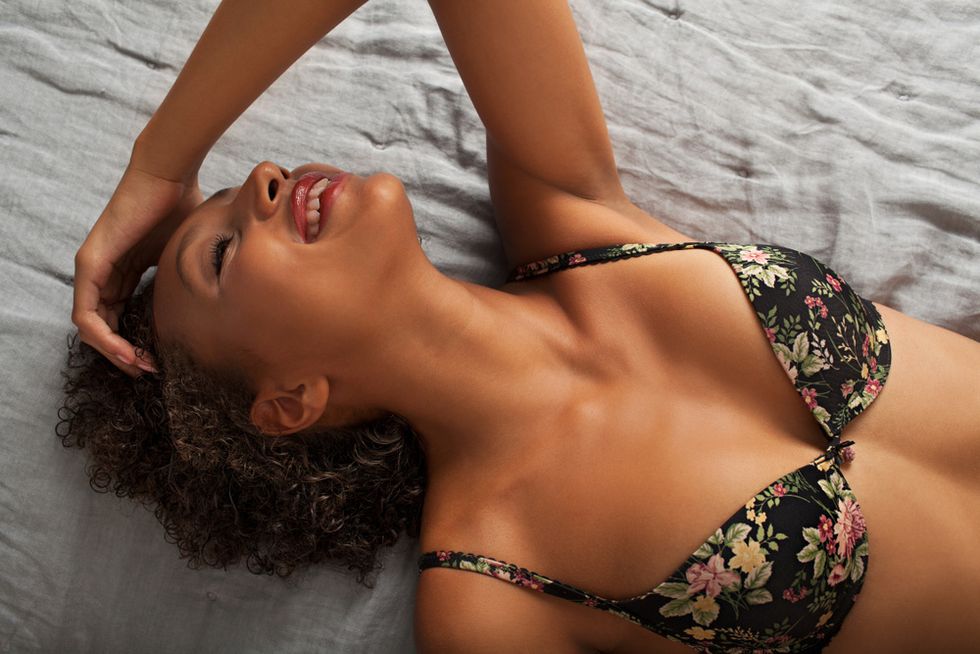 Shutterstock
While there's so much we have yet to learn about the virus, the New York City Department of Health offers a key piece of advice: The safest person to have sex with is yourself. Additionally, with all the extra time we have on our hands, now's the perfect moment to put them to use.
"Masturbation is the best way to learn your body and establish the basics of your sexual likes and dislikes. Exploring your own body through masturbation can bring so much pleasure and has many other health benefits," said Blue. "Masturbation has been found to reduce headaches and menstrual cramps, release tension and stress, improve sleep and boost your self-esteem! Also, having an orgasm is another way to release oxytocin."
"There are many different ways to masturbate that can keep you from getting bored. You can change up your position -- if you always masturbate on your back, try standing up against a wall or turning over on your stomach," Blue suggested. "You can also try adding a toy such as a vibrator or a butt plug. I know Amazon is cracking down on 'non-essential' items but this might be a great time to support small businesses by finding an online sex toy boutique or reaching out to a sex toy consultant."
Want more stories like this? Sign up for our newsletter here to receive our latest articles and news straight to your inbox.
Featured image by Shutterstock
Keep reading...
Show less
Historically, vibrators have come a long way in their use and design. They went from creepy looking contraptions used to treat women of hysteria (imagine being so "sick" you're ordered to a day of orgasms) to cute little devices that camouflage with your office decor and yet, still they pack the almighty gift of orgasm.
Ironically, the advances in technology have moved us away from bulky, outlet operated toys, and because history loves to repeat itself, taken us right back in the direction with more potential than ever as we hear about human-like sex robots on the rise and the innovation of modern sex machines such as the Cowgirl — a $2,000 product.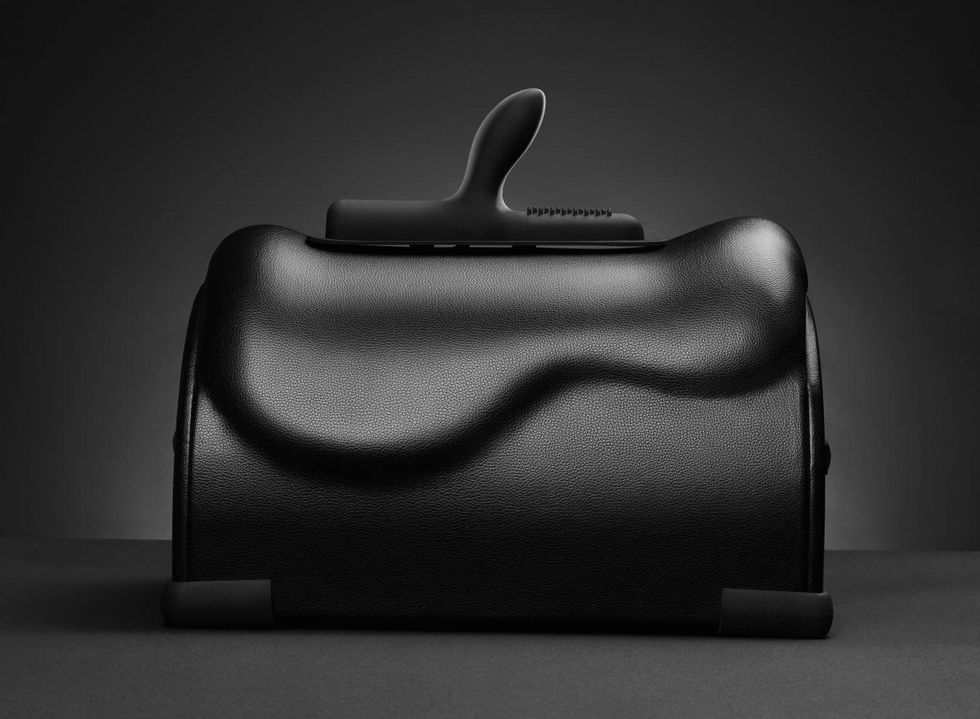 The Cowgirl Sex Toyridethecowgirl.com
I'm careful not to call it a sex toy, as I'd hate to give the wrong idea with a price tag like that. I operate on a "you break it, you buy it" motto and I wouldn't want anyone to pay the steep price for breaking this bad boy. Although, I'm not entirely positive you could ...even if you tried. But, I digress. The sex machine was brought to my attention as I shopped for new products for my own company.
It immediately caught my eye because how could it not with all the makings of a deconstructed mechanical bull made from vegan leather?
Curious as ever, I knew as much as I loved my little handheld bullet, I'd live to regret it if I let this moment get away from me, so I requested a ride on the Cowgirl.
Although I don't typically enjoy the cowgirl position because of the confidence it takes to man the man and the burnout it causes in my thighs, I gladly accepted the challenge with no one in my presence.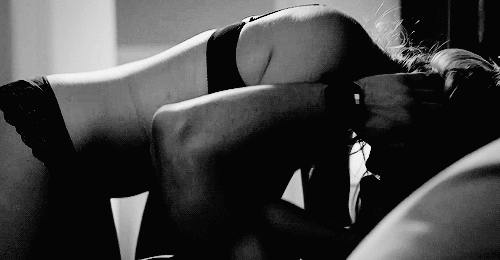 When I met the package on my porch, I was enthusiastic to get it inside, and admittedly it looked a lot scarier to put together than it actually was. All I saw was cords, springs, and directions before nearly melting down in discouragement. After a nap and a second glance, I realized there wasn't a damn thing to put together, just a plug to plug and those were in fact extra pieces.
Realizing I had the temper of an impatient toddler, I gave the Cowgirl a quick ride and decided to come back to it another day as I wasn't feeling it. And, as always being in the mood sure does help! A couple days later, when I saddled up on the Cowgirl, I looked for pointers from those who came before me (pun fully intended) and decided to throw the mule of a toy on my bed instead of on the floor, where I initially tried it. Because I have a memory foam mattress, my first thought was that it would sink, but there was none of that. Not to mention, it muffled the lite bulldozer-like sounds coming out of my bedroom while it sat on something softer.
After five minutes and an extra drop of lube on the Wildwest silicone attachment, which is a four-inch phallic shaped piece, I confirmed that this piece wasn't for me and tossed it aside. It was really unpleasurable, even when I tried adding the spring for additional movement. There was something so awkward and uncomfortable about this piece that it made me think reverse cowgirl was the solution -- clearly not. However, poorly my experience went, I was optimistic and ready for the Rawhide silicone attachment to show and prove.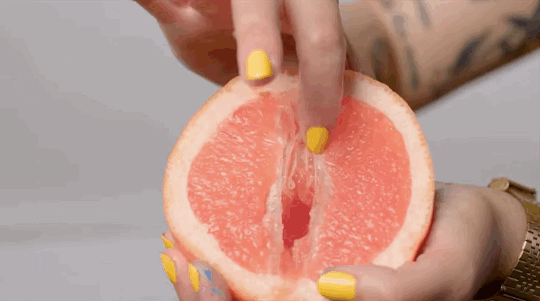 The Rawhide attachment is a little nub of a piece that provides clitoral stimulation, my personal fave and long story short: it did not disappoint. Unlike the phallic piece, there is not an rotary option.
Now, due to the impatience that I previously mentioned, my everyday vibrator tends to stay on the highest speed; obviously with a toy like this all that's not necessarily necessary, so again, I started low and worked my way up. And although each vibration was intense, they should certainly throw a disclaimer on everything from five to ten (yes ten!) where I literally rained puddles all over my damn bed.
On a serious note, I will say that in the same way that you have to find your style when sitting cowgirl on your man -- you have to do so with this toy. For me, I felt more intensity in the earlier vibration paces when I sat upright, but as the intensity increased, I leaned into my straddle on my forearms. The only problem with this was that I would continuously lean on the cord attached to the remote and accidentally, but abruptly, cause the machine to cut off.

At this point, I quickly sanc my phone to the sex machine to ensure nothing else got in the way of the orgasmic warpath I was on and perhaps it was a placebo of sorts but when the machine came back on, my orgasms came in faster and stronger than before. The more likely reason is that I was left to orgasm without the disruption of the remote getting unplugged again, right? Whatever the reason is, the cordless option is the way to go if you're working with it and it can also be connected to a site called Feel Me that allows distant lovers to control the action.
For what it's worth, the product requires a little TLC, as in you have to play around with it to see what's comfortable for you, and it's probably safe to say that finding that sweet spot is a process with any new toy. Nonetheless, for however good it is once you do find that sweet spot, it's also the down payment on a small car that you can real life ride so I'm not sure I'd be willing to come out of pocket like that to get off. But for those of you who aren't starving grad students and your pockets run deep, read just one last thing:
I've often said that sex with myself has proven to be better than my infrequent experiences with men because my pleasure is a priority and that alone makes me a superior f*ck.
In hindsight and after much evaluation, after taking the ride of my life, the only thing I regret about this sentiment is that I didn't have anyone to make me a sandwich afterwards.
You. Won't. Regret. It.
xoNecole is always looking for new voices and empowering stories to add to our platform. If you have an interesting story or personal essay that you'd love to share, we'd love to hear from you. Contact us at submissions@xonecole.com.
Featured image via Giphy
Keep reading...
Show less
'Tis the season of sensuality, pleasure, and self-indulgence with hella planets in Taurus right now, placing an emphasis on our physical, earthly experience. This energy encourages us to get embodied by enjoying the sensory experience of life like basking in mother nature, enjoying your favorite comfort foods and having a whole lot of sex (cues Megan Thee Stallion's Fever).
When most people think of sex, they likely imagine a passionate exchange between two people; however, we can't overlook the importance of practicing acts of self-pleasure, which can be equally beneficial as a shared experience with a partner.
As taboo as masturbation is, for whatever reason, there are many benefits to being more intentional about including this practice in your self-care routine. According to Planned Parenthood, "Masturbation can release sexual tension, reduce stress, help you sleep better, improve your self-esteem and body image, help treat sexual problems, relieve menstrual cramps, etc…" Not only is masturbation good for your physical health but it can also help you strengthen your relationship with self by giving you the chance to explore yourself, what you like, and don't like.
Developing greater body awareness can make it easier for you to communicate your needs with your sexual partner.
Now there are many ways to do the do—some like the old-fashioned finger or two, others are more into the bells and whistles that come with a five-speed vibrator, and then there's the exceptionally innovative cucumber crew. My personal preference is the traditional method but every now and then I may opt for my toy. After working with Yoni eggs for a couple of years and completing a coaching program last summer, I was gifted my first crystal wand—a girthy, 7-inch, spiraled Rose Quartz wand that I've infrequently referred to as "Mandingo".
Vanessa Cuccia, the mastermind behind the renowned Chakrubs, created her own line of crystal sex toys in hopes of dismantling the stigma around sexual expression. After spending time working in a Los Angeles sex toy shop, Cuccia knew that she had something else to offer the self-pleasure industry. In a 2018 interview with Refinery29, she said:

"I came up with the concept of Chakrubs in 2011 when I was working in an adult shop and living with a spiritual teacher who deepened my understanding of crystal healing. I wanted to create a mindful practice that sensitises you to subtle energetic vibrations, creating a more emotional connection. This is what I needed when I created the concept – a great orgasm, plus a way to connect to myself on a deeper level."
Read on to learn more about how to access the healing power of crystal dildos in your self-love, self-healing, and self-pleasure practices.
Types of Crystal Wands: Rose Quartz, Obsidian, and Amethyst—Oh My!
When it comes to investing in your first crystal, there are a few things to consider—the first being the energy you'd like to cultivate (or release).
Each crystal has its own special components that can offer a variety of experiences unique to the individual using it. As it pertains to crystal wands, the most popular go-to's include Rose Quartz, Black Obsidian, and Amethyst. If you're focused on amplifying self-love and soothing emotional distress, Rose Quartz is your best bet. Black Obsidian is more of a heavy hitter with its potential to unlock repressed sexual trauma and shame surrounding your sexuality. For those of you trying to get your third eye popping, Amethyst is your friend and this crystal is also good for alleviating anxiety.
There are a few other crystals to consider that may better suit your intentions so make sure to do your research prior to making your purchase. You may even wish to simply follow your intuition, as your spirit will be drawn to the energy that you can benefit from the most.
Crystal Wands: Length or Width? 
Now it's time to get choosy. Crystal wands come in different sizes and shapes for those of you ladies that prefer the curve ;) A standard wand is about 7 inches long and 1 and a half inches wide. The slim wand is the same length but only a little over an inch wide. The curved wand featuring a bulbous end is perfect for stimulating your G-spot measuring about 6.75 inches long and 1.25 inches wide. Some wands feature enhancements such as the gentle ridges featured on the spiral wands.
It's also imperative that you purchase your crystal sex toy from an ethical source to keep your coochie safe and sound. A reputable provider will often have their crystals go through a gemstone report analysis by the GIA (Gemological Institute of America) and you're more than welcome to request this information prior to making your purchase. A very reputable brand to look into for crystal dildos and sex toys is called Chakrubs, a company founded by Vanessa Cuccia.
How to Clean Your Crystal Wand
So you finally made the leap and purchased your crystal wand. What next?
The first thing you want to do is energetically cleanse your wand just as you would for any any of your personal crystals. There are a few ways to go about this. My go-to method is burning a stick of Sage around my crystal wand while affirming that it be cleansed of any energies that came into contact with it prior to me receiving it. If you're not into Sage, you can burn your favorite incense or some Palo Santo.
Using the power of a Full Moon is also a great way to dispel unwanted energies from your crystal sex toy. On the night of the Full Moon, or during the waning phase, place your crystal wand in a glass container with fresh water and a little bit of salt. Avoid tap water unless you've boiled it and wait until the water cools down before you put your crystal in it. If you can, set your container out on the night of the Full Moon, as this energy is perfect for cleansing rituals. Keep in mind that your intention is powerful and even a simple prayer can do the job.
Now that you've energetically cleansed your crystal wand, it's time for a physical cleanse as well. I typically opt for a solution of warm water and Apple Cider Vinegar. You can also replace the ACV with Lemon instead. Mild soap or your favorite feminine wash can also be used. Check out the piece I wrote about Yoni eggs for a more detailed synopsis of the cleansing method.
Using Crystal Wands: The Initiation
After I energetically and physically cleanse my crystal wand, I like to partake in a self-care ritual to initiate it. I've been big on spiritual baths for the past few years as they're perfect for energetic clearing and enhancing sensuality. Have fun and use your intuition when it comes to what you include in your bath. Before preparing your bath, make sure you have an intention in mind. This will be different for each person and may include something along the lines of "getting over an ex", "enhancing self-esteem", "healing sexual shame/trauma", "attracting new love", etc.
After you've spent some time reflecting on this, it's time to brew your spiritual bath. Sea salt is an absolute must for me in every single bath that I take due to my work as a spiritual practitioner (but you don't have to be a Tarot reader to benefit from a salt bath). We come into contact with so many energies throughout our day making the aura muddled and discordant. Not only does the salt help remove toxins from your body but it also dispels foreign energies that may latch onto you throughout your day. Relax, sis. You're not hosting dark forces but you may be carrying around your bestie's break up blues or your boss's irritability.
Soaking in a salt bath can actually neutralize your aura back to its home state by clearing out the energy that is not yours.
As you prepare your bath, you may like to play some music that gets you in the mood or some self-love affirmations. The element of water has the ability to take on the energy of anything around it and the effects of sound can actually alter the frequency of the water you'll be bathing in. If you've got a Singing Bowl or Bells, you can use those as well. So we've got the water and earth elements taken care of for the spiritual bath and now all we're missing is air and fire. Burning pink, red, or white candles can add to the ambiance while also helping you focus on the intention you set for your spiritual bath.
Now that your bath is intricately and lovingly prepared, it's time to actually enjoy it. Give yourself a minimum of 30 minutes to one hour maximum to soak in the water. It's during this time that I initiate my crystal wand. During my first go-around with this, I was hella apprehensive given the size of my crystal wand. If you're a bit scary like myself, that's totally okay. There's no need to rush right into insertion (which I mistakenly assumed was the right way to go about it). Instead of going all the way, I found myself seductively gliding my crystal wand across my body as I soaked in my bath. Before I knew it, my wand had found a hot spot that it wanted to give extra attention to, which resulted in me gliding the crystal in a circular motion around my womb area for about 10-15 minutes.
The primary focus of both my Yoni egg and crystal wand practices has been about healing childhood sexual trauma, which is often stored in the womb so I was pleased to witness how my spirit was guiding this whole process, knowing exactly what I needed. As I continued with the foreplay process, I slowly began feeling ready to go all the way by starting off with just the tip for a few minutes. At this point, all inhibition went out the door, I drained my bath water, and went to my bedroom to finish the deed (you can definitely do this in the bathtub, if that's your preference).
Afterwards, I felt a rush of euphoria and an expansiveness in my heart that wasn't quite there before. Whenever I use Rose Quartz, I feel a sense of innocence restored, which is necessary for the inner child work that I've been doing the past few years. And to think, this was just my first time using my crystal wand and it was already proving to be another integral, cathartic tool for my healing journey.
10/10, would definitely recommend.
Featured image by Giphy
Want more stories like this? Sign up for our newsletter here to receive our latest articles and news straight to your inbox.
Keep reading...
Show less
I have a tendency to ignore my gut, but as I learn this, I'm working on listening a little closer when it's telling me, "This just ain't workin'. Throw in the towel."
I also know that I need validation and I'm working that out too. Give me a little bit of credit here, ladies. Although, I'm sure you're thinking we're talking about my interpersonal communication skills among other beings, I'm actually talking about the latest toy I reviewed, the Tickling Truman, where I was forced to go read other reviews to tell me what I already knew. THIS. AIN'T. IT.
Sure, the name gives it all away but what can I say? My mother taught me not to judge a book by its cover...or its name.

So, I adamantly sought out this toy after finding out it had an electro-stem feature. Electroplay is a kink of mine that I recently discovered, and it's exactly how it sounds, unless it sounds like I take lightning bolts to the clit, then no I have not worked my way up to that yet (since I'm sure it's a possibility). But I do like the beginner electro-play, typically carried out by toys such as the Neon Wand or the Violet Wand that can feel as light as a static shock and work its way up the intensity scale.
Well, this toy is supposed to have a similar but slightly weaker impact from my understanding. Now, did it actually turn out that way? You'll have to read on to find out the 4 things I learned while trying to shock my kitty-cat out of its coma:
The Tickling Truman Sex Toy Review
No Shocker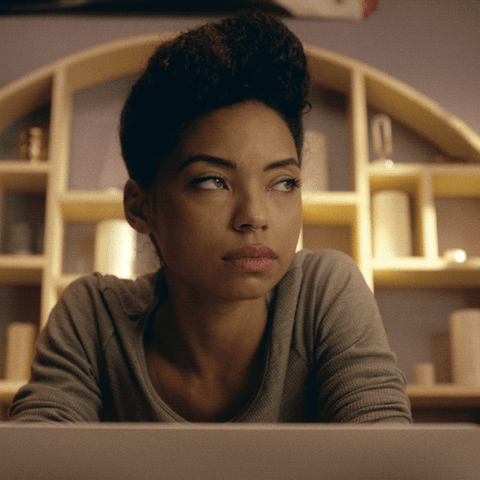 There was a lot of hype surrounding this toy among my friends in the kink community because of its electro feature. I went into it wanting to see what it might feel like to have the inside of my vagina receive a static shock, while in reality, it felt more like an intensified vibration. A tingle, I guess. However, let Truman roam and ZAP! You could feel the shock on super sensitive areas like your anus or that weird middle ground between your anus and your vagina.
Level Up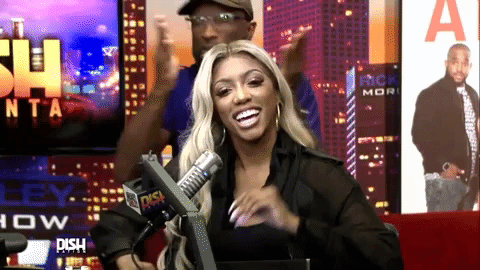 This toy has a total of 6 vibrators and although the symbols provide clarity, I found myself struggling to turn on the toy and clearly see when I was increasing the intensity. The only way that I could truly tell that the e-stem feature was at work was when it shocked my booty hole *Tiffany Haddish voice*.
While there were allegedly five different e-stem modes with up to ten levels of intensity for each, I could barely figure out how to turn the damn thing on. So much so, that I settled for one mode and if I happened to stumble upon another, fine. The buttons are not as intuitive as I would like them to be when I'm trying to get off, as it requires you to tinker with it quite a bit and this probably has a lot to do with there being so many of them. I honestly think that having six buttons is record-breaking for a vibrator, but maybe that's just me.
Big Dick Energy...Not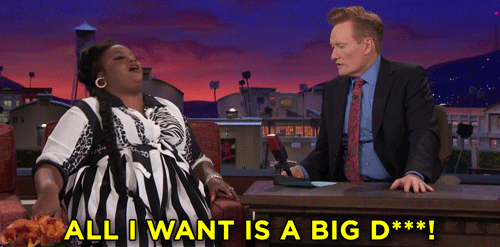 Truman was like the big dick that couldn't. Standing at 10 inches with a silicone girth (or diameter) of 5 inches, Truman was flexible and eager to please and I was eager to take Truman in but to little avail.
Truman delivered the kind of sex where you stare up at the ceiling waiting for a miracle and much like the other reviewers, I searched high and low for a clitorally focused toy to pair with this hoping to deliver me an orgasm. Since I couldn't find my itty bitty vibrator, this looked like me f*cking myself with a 10-inch vibrator while holding my Hitachi on my clit.
Bow Out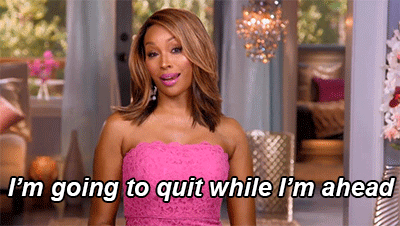 This toy was supposed to have a kegel feature but I'm not sure that I ever found it and I'm almost positive that unless you're just into the toy as a whole, you're better off buying a separate but far superior kegel toy. I was very disappointed with my couple of nights with Truman. However, as always, I have to acknowledge that I'm a clit girl. When my clitoris is being stimulated I'm at my best and most orgasmic – so I suppose it's no surprise that Truman was a miss and not a hit.
Featured image by Getty Images
Keep reading...
Show less
To this day, I cannot for the life of me spot the lie when Biggie said "if the head right" he's there err night. I mean I don't personally know his truth, but I know my own and I know that head is the ultimate fornication foreplay. And if your head game is not in fact on point, then what business do we have?
Conversely, we have nothing to talk about if my eyes roll at the thought of delivering even the lowest quality of oral sex. To clarify, there are men I have a desire to simply f*ck but I don't have an equitable desire to go down on them. At this point, if my panties don't drip at the thought of allllllll the new ways I can show you what this mouth can do – I don't want it and that's just where I'm at with it.
When you get you a man who you love to get off, providing a blow by blow won't feel like a chore but it'll feel like you've reached a duality point in your pleasure. Still, that doesn't mean you can't up the ante and gain direct pleasure in the moment – switch it up, add a toy or two that will focus on you. You'll see, of the 6 positions there are a good amount "come up and f*ck me" positions that won't just do it for him.
So the next time you're going about to give him head, add one of these to your repertoire and make it nasty for everyone.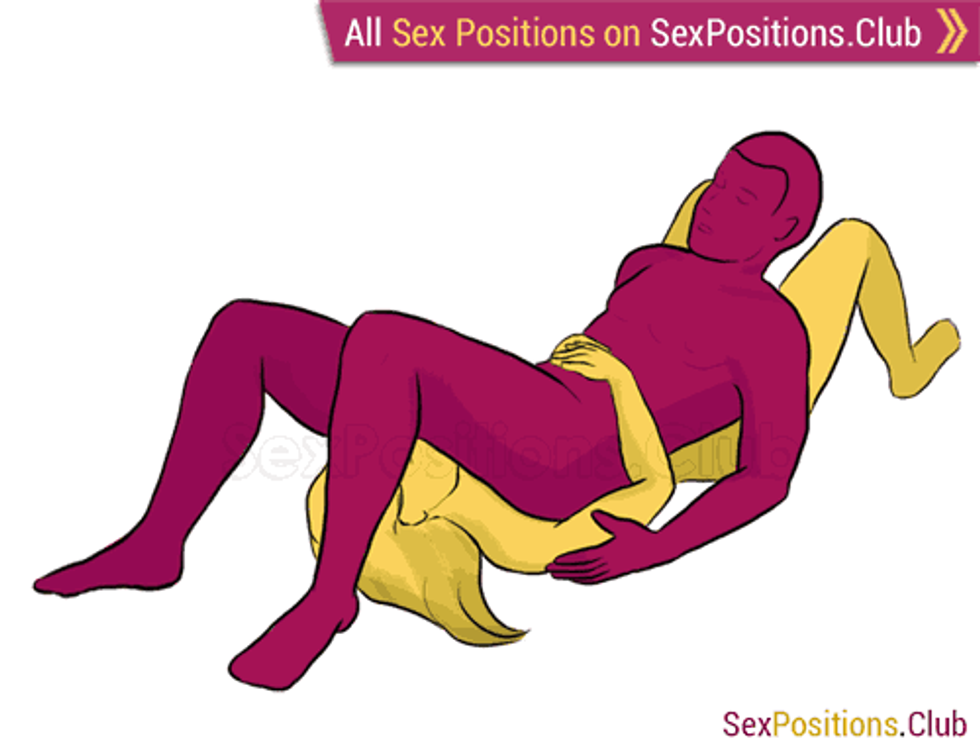 Lie on your back and place your feet flat onto the floor. Your partner will sit on your stomach and lie back on your legs, their legs should extend across your face like a bridge while their feet will be planted onto the surface. You can wrap your arms around their waist and show them the time of their lives. Here you can eat everything the grocery store has to offer -- booty, balls, everything -- if you choose.
If you like to suck on the balls, this move will be your bestie -- giving you angles for days. Here's how it needs to go down: Have your partner lie on their side, for comfort they may want to rest their head on their arm. Keeping their bottom leg placed on the bed, they'll slightly bend and raise the other leg, giving you a window to pop your head into. This position provides another way to suck his d*ck from the back as an old friend often and eloquently describes (although I suppose we're past eloquent) but it also gives you the option of showing his g-spot some love.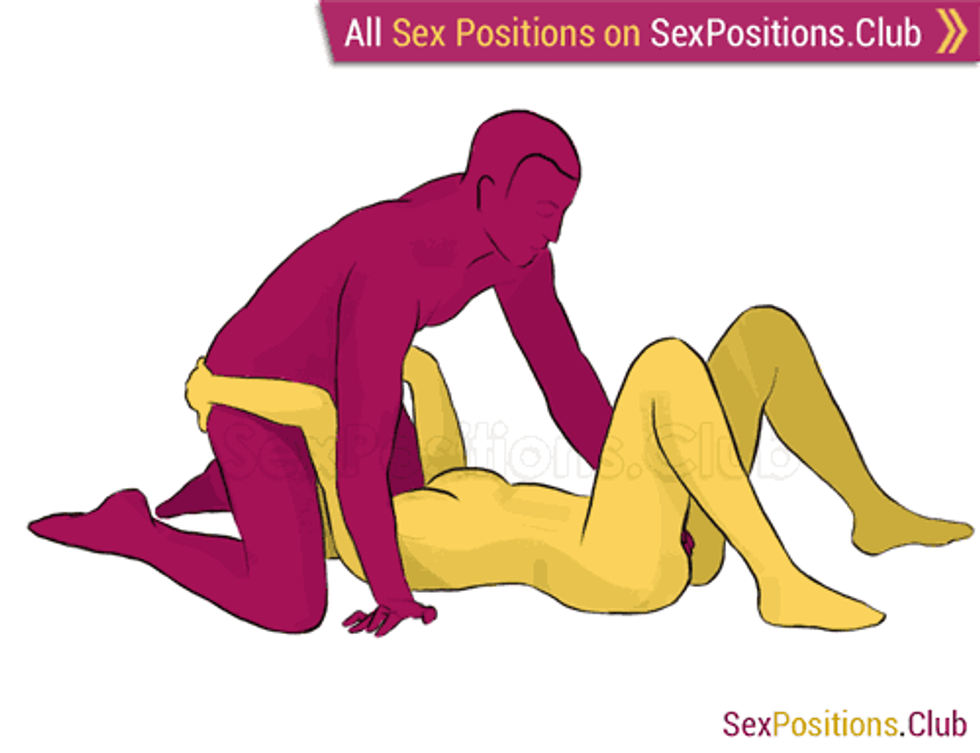 For this position, lay on your back and place your feet flat on a surface of your choice. On their knees, your partner will straddle your mouth and you will be able to pull them in closer to you as you please. But, this position also provides your partner with easy access to your clitoris and if they've got the length, maybe even g-spot. Give him your favorite vibrator and be prepared to go off!
Sit on your floor and pull your feet into your butt, place your hands behind you to steady yourself, arch your back and tilt your head back. Your partner will stand behind directly over and behind you, straddling his legs for stability. Here you can begin to squat up and down once you've got a grip on your partner's penis. Lift off and be great.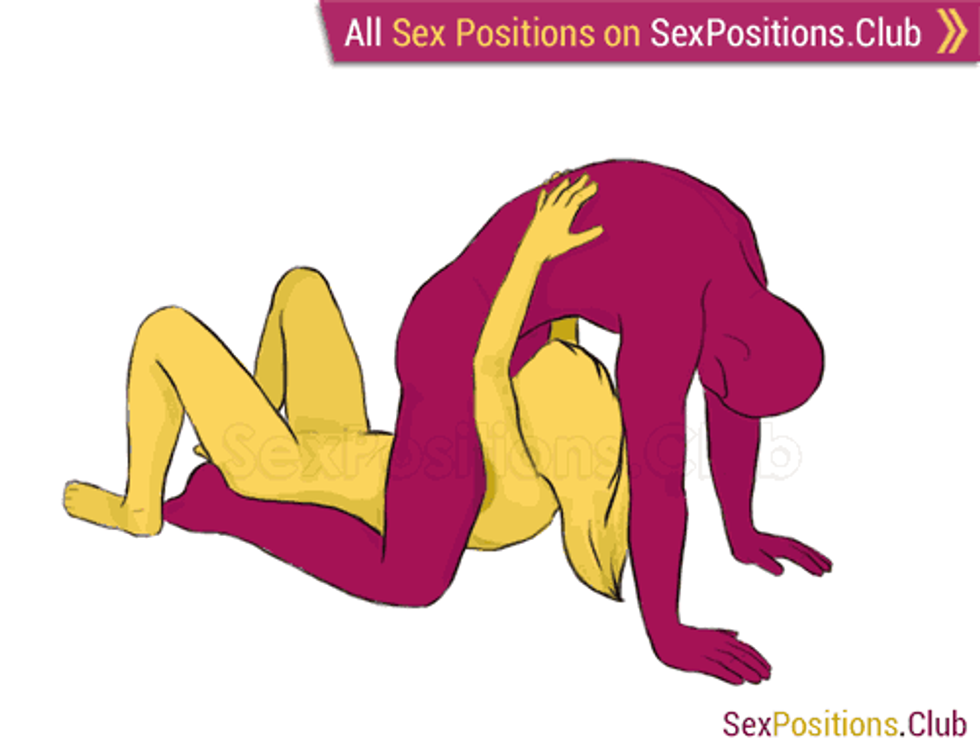 There's some general confusion with the naming of this position. I'm thinking it's more-so related to the anatomical positioning of a real-life bat and not Batman himself, as I'm certain from what I have seen in The Dark Knight Trilogy that Batman would never actually pose so awkwardly but I digress, because after reading this, who knows what Batman might do.
To fly high with this move, lie on your back and place your feet flat on the bed. Face-to-face, your partner will straddle your legs placing each knee at the perimeter of your body and hit a cat pose (you know cats, cobras, yoga?). Once the foundation is there, you will lean in and grab your partner's hips. This provides your partner with the ability to dose out more or less d*ck.
This one is simple and delivers double trouble in the best way possible. Have your partner sit on the couch with his legs spread apart. Sitting in front of him on the floor and face-to-face, you can take your vibrator (the Hitachi seems ideal here) and position it to erect between the base of the couch and your vulva, thrusting your pelvis as your thrust your mouth onto your partner.
Related Stories:
These 5 Steamy Positions Will Reinvigorate Your Sex Life - Read More
4 Hit It From the Back Positions That Are Bound to Get You To Orgasm - Read More
These 69 Positions Are Guaranteed to Get You Off - Read More
Featured image by Gifer
Keep reading...
Show less