If you're someone who loves to cook, while I welcome you to skim this article, it's not exactly written with you in mind. This is more for those who try and avoid the kitchen at all costs yet, this year, they want to either make a dish or host an entire meal for the holidays and they're not quite sure what to use beyond the salt and pepper shakers that are sitting on their kitchen table.
As someone who personally really enjoys cooking, I can tell you that this is the kind of topic that could go on for days and days; however, you don't have the time and I don't have the writing space to cover all of the spices and seasonings that you should have in your arsenal. For now, take a look at these 10 as an introductory course, so that as you're in the process of grocery shopping, you can get an idea of which ones you should add in order to get a few "ooos" and "ahhs" from your folks once they get a taste of what you have prepared.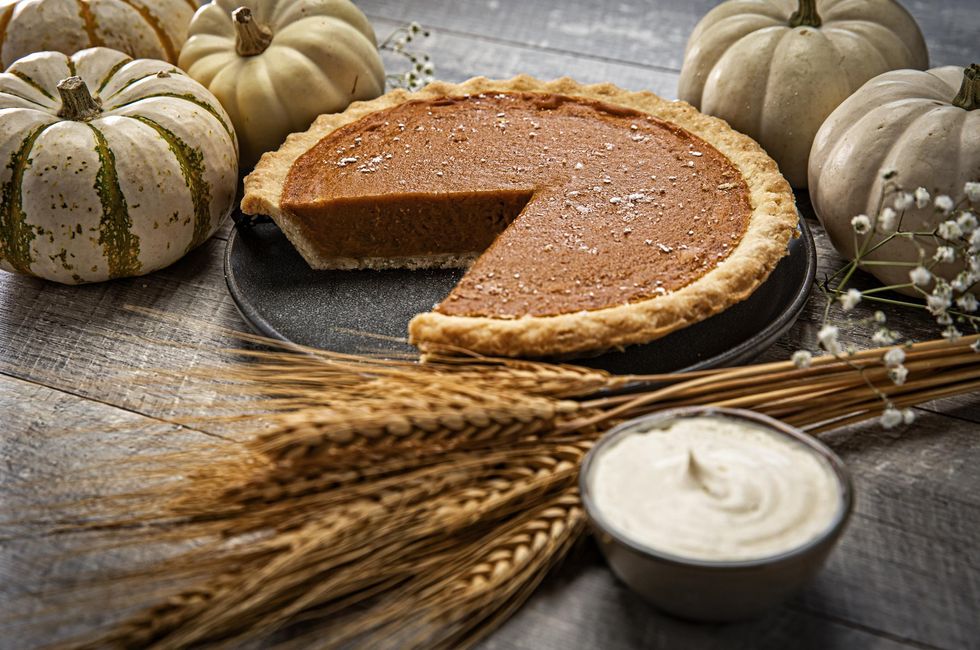 1. Allspice
If you're someone who thought that allspice is comprised of several different spices, you certainly wouldn't be alone. Here's the thing, though — it's actually just one spice that's made up of dried berries that derive from an allspice tree in Jamaica. When it comes to what will provide the most intense kind of flavor, whole allspice is best although ground allspice tends to be more popular. What I personally like about it is it tastes like a blend of cinnamon, cloves, nutmeg, and a hint of pepper.
As far as health benefits go, allspice is good for you because it's packed with antioxidants, can help treat nausea, and is even good at bringing relief to menopause-related symptoms.
What Dishes to Put Allspice In: lamb and beef, Jamaican jerk seasoning, pumpkin desserts, sausages, pickled veggies, and curries
2. Basil
Basil is an herb that hails from central Africa and Southeast Asia. As far as the taste of it goes, it's reminiscent of a blend of pepper and mint. Basil is good for you because it's also high in antioxidants, can help to reduce oxidative stress and its antibacterial properties can help to fight against infections which is always a good thing during cold and flu season.
What Dishes to Put Basil In: If you opt to go the fresh basil route, there are all kinds of ways to use it — pesto, pasta, on top of appetizers (like deviled eggs), in homemade soups, on top of homemade pizzas and even as a garnish for cocktails
3. Cinnamon
A spice that definitely tops my cooking list is cinnamon. It comes from the inner bark of the genus Cinnamomum tree and it tastes like sweet meets wood meets spice. The health benefits of cinnamon are vast. Some of them include the fact that it contains antioxidants and anti-inflammatory properties. Not only that but cinnamon can lower your risk of heart disease, protect against cancer and fight bacterial and fungal infections too.
What Dishes to Put Cinnamon In: Geez. What can't cinnamon go into? What immediately comes to mind is it's great for breakfast foods like French toast, any dessert that is apple-related, cookies, sweet potatoes, candied bacon, and zucchini bread
4. Ginger
Ginger is a flowering plant that is pretty spicy (kind of peppery and sweet at the same time). It's really good for you because it has strong medicinal properties — ones that help to ease nausea and morning sickness. It also can help to ease indigestion and menstrual cramps. And it's effective when it comes to lowering cholesterol levels and fighting gum disease too.
What Dishes to Put Ginger In: lamb, sauces, noodles, desserts, drinks, eggplant, pasta, and oatmeal
5. Orange Peels
I mean, of course, you know what orange peels are and where they come from, so let's get into some of the reasons why they are so good for you. They are high in fiber, vitamins B and C as well as calcium, along with polyphenols which help to protect your system from various diseases. Orange peels are also known for being able to strengthen your heart, fight off allergy-related symptoms, help you to digest food better and if you chew on a couple of 'em, they can even make your breath smell better. So yeah, orange peels, as a seasoning, definitely had to go on this list.
What Dishes to Put Orange Peels In: tea, salad dressing, glazes, fish, pork, slaw, and (as a hack) to keep brown sugar from getting hard
6. Peppercorns
Here's something you may not know — black pepper comes from peppercorns (well, kinda; read more about that here) and peppercorns are actually classified as being a fruit! The vine that it comes from is called a Piperaceae and the health benefits of peppercorns consist of potent antioxidant and anti-inflammatory properties, being a brain booster, regulating your blood sugar levels, providing pain relief, and promoting good gut health. Anyway, because peppercorns are prepared differently than black pepper is, they tend to have a fruitier taste to them.
What Dishes to Put Peppercorns In: salad dressings, fish and chicken dishes, soups and omelets
7. Rosemary
Rosemary is a Mediterranean herb whose actual name is Salvia Rosmarinus. As far as taste goes, it's basically woodsy meets citrus meets mint meets pepper meets pine. It's good for you because rosemary has lots of antioxidants and anti-inflammatory compounds which are attributed to strong immunity, increased blood circulation, alertness, focus, reduced pain, and less stress.
What Dishes to Put Rosemary In: casseroles, stews, salads, meat, potatoes, and bread
8. Sage
Sage is a plant that thrives in the Mediterranean region as well. It comes from the Latin word Salvere which means "to save". When it comes to how it tastes, it's got hints of lemon, mint, and pepper to it. When it comes to why it's good for you, sage is bomb because it's a pretty good source of Vitamin K and antioxidants, it can help to lower your blood sugar levels, can improve your memory, and even combats aging.
What Dishes to Put Sage In: poultry dishes, infused butter, sandwiches, fish, roasted squash, pasta, and stuffing
9. Vanilla Beans
If you've ever wondered where vanilla, as we know it, comes from, it's removed from pods of certain orchids, commonly the Vanilla planifolia. Something that makes it so beneficial, health-wise, is vanilla contains a plant compound called vanillin that is high in antioxidants and has anti-inflammatory properties too. Since this compound also helps to boost brain power, curb your appetite for sugar (check out "Ever Wonder If You've Got A Low-Key Sugar Addiction?") and lower your cholesterol levels, you shouldn't feel the least bit guilty about consuming it.
What Dishes to Put Vanilla Beans In: desserts, jam, syrup, fresh fruit, and marinades
10. White Pepper
Let me tell it, one of the most unsung spices of our time is white pepper. It comes from the pepper plant (which again is a fruit) and is fun to cook with because it has a milder taste to it than black pepper does. What makes white pepper different from black pepper, preparation-wise is for black pepper to be made, unripe pepper berries are picked and dried so that its skin turns dark while white pepper is made from ripe berries that are left to ferment.
Anyway, white pepper has potent anti-inflammatory properties, can help to boost your immunity, promotes strong blood circulation, can help to soothe the effects of a headache, and, believe it or not, can help to keep your breath fresh too. So, as you're putting your holiday menu together, try and add at least one recipe that calls for white pepper. You definitely won't regret it!
What Dishes to Put White Pepper In: creamy sauces, potatoes, seafood, fried rice, and pasta
Featured image by Getty Images
The stuff you find on the internet, boy. While I'm sure that it comes as no surprise to a lot of you, so this probably goes without saying, a lot of people are not exactly besties with their in-laws. In fact, a survey that was featured in Real Simple's article, "This Is How Often Parents-in-Law Should Visit, According to Married Couples" cited that (catch this) 47 percent of in-laws considered themselves to get along extremely well with their child's spouse while only 27 percent of couples agreed (see, there's already a breakdown in communication right there). What's even bigger than that is a whopping 70 percent of couples said that the in-law dynamic has played a major role when it comes to the stress and strain that they've experienced within their marriage (chile…CHILE).
Because this is something that I hear quite a bit whenever I'm listening to married folks share the points of frustration that they have with their own partner's family members and because I also know that the holiday season is typically the time when having up close and personal dealings with in-laws is almost unavoidable, I thought it might help to ask five husbands and five wives in my world (middle names only) to share with me some of the things about their in-laws that get under their skin, along with what their workaround is, so that their can truly be peace on earth and goodwill towards men — until the holidays are over.
Lenae. 36. Married 7 Years.
In-Law Pet Peeve/Trigger: An Overbearing Mother-in-Law
"I know how cliché it sounds to have a controlling mother-in-law. Mine comes with a twist, though. We get along really well. Problem is, we're both big on special occasions and want things to go the way we envision them, and rarely do we have the same vision. Since Thanksgiving is a bigger deal to me and Christmas is a bigger deal to her, we try and get her to come for the first holiday."
"My husband spoke with her about four years ago about how she needs to act like a guest and not a host when she comes to visit, so I will discuss with her ahead of time about what she'd like to do and give her the floor on what we agree on. Whenever we're at her house for Christmas, she tries — emphasis on tries — to return the favor, so it generally works out for the good."
-----
Milos. 40. Married 10 Years.
In-Law Pet Peeve/Trigger: Traditional In-Laws When I'm Non-Traditional
"If you're single and reading this, hear me when I say that it's the little things that can destroy a marriage. I love my wife, but I really did underestimate how much traditions matter to her until after we got married. While I couldn't care less about any holiday, she's like on crack about them. All of them. So are her parents. They want to watch the Macy's Day Parade. They want to string popcorn on the tree. They want to watch holiday films for hours on end. I used to get irritated about it being on-10 in my house. Now, I just accept that it's only once a year, so long as they don't try and force me to do things that I don't want to do in my own house…what's a couple of Hallmark movies and a big ass tree gonna hurt?"
Jasmine. 29. Married 3 Years.
In-Law Pet Peeve/Trigger: "Disrespectful" Grandparent In-Laws
"When you're the grandchild, having grandparents who spoil you is cute. When you're the parent who has to deprogram the mess that your in-laws made after being with you for a week, it's pretty frustrating. Take gifts, for instance. My husband and I don't like our kids having a ton of stuff. Meanwhile, our parents couldn't care less. His mom is super dismissive in this way, so what I've learned to do is just graciously accept what she sends but not give my kids everything at once. Sometimes, they don't receive some of her presents until after Valentine's Day — and I'm totally fine with that."
-----
Osborne. 25. Married 1 Year.
In-Law Pet Peeve/Trigger: In-Laws Who Refuse to Leave Their Home
"I'm so glad you're going with middle names because when I tell you that no one represents what it means to wear out your welcome like my mother-in-law does? F — k. Because my wife lived at home until we got married and her mother is newly retired, she tries to see us, damn, it feels like every other month — and not for a long weekend either. This will actually be our second holiday [season] as a married couple and what I've requested of my wife is to let her mother know, ahead of time, that she is welcome to come for Christmas and stay through New Year's Eve but New Year's is our time."
"According to her, her mom is fine with it. I've kind've learned that when you set the boundaries on the front end, you don't get blindsided as much on the back. And what if she dismisses my request? Well, we'll have to talk about visits being shorter, moving forward. My wife agrees with this strategy. As long as you and your spouse are on the same page, everyone else will just have to…adjust."
Mercedes. 42. Married 8 Years.
In-Law Pet Peeve/Trigger: Super Horny In-Laws
"Laugh if you want to, but that scene in Boomerang with the horny parents? I feel his pain. I should've known that when my mother-in-law got me a rainbow set of crotchless panties at my bridal shower that she was gonna be a problem but the only thing worse than you thinking that your parents can hear you having sex with your boo is you hearing your man's parents doing it. And no matter how many hints or sighs that I drop, they just think it's funny. It's not like two people who've been together for over 50 years still wanting each other is a bad thing, so my husband and I just invested in a firmer mattress and got them a 'Do Not Disturb' sign. Oh, and confined them to the guest bedroom only because I'll be damned if I walk into the bathroom…like I did a few years ago!"
-----
Shino. 47. Married 12 Years.
In-Law Pet Peeve/Trigger: Nosy Mother-in-Law
"I don't know if there is a nosier woman than my mother-in-law. She feels totally justified too. I think a part of it is because she controlled so much of her children's lives, even well past college, so she thinks that I am just another relative to run. One year, I actually left my phone out and open in the kitchen before turning in. I changed my wife's name in my contacts and we had phone sex for like an hour. The next morning, my mother-in-law was in the kitchen, telling my wife that I was cheating on her. You should've seen her face when we told her that it was us! She still butts her head in more than I would like her too but that definitely reeled her in."
Imala. 24. Married 2 Years.
In-Law Pet Peeve/Trigger: Super Religious In-Laws
"Watch those Bible-thumping folks who think that they can pick and choose a Scripture to manipulate you. My in-laws are ministers and whenever I do something that they don't like, they come with that 'Honor your father and mother' stuff. Umm, I have parents. Anyway, what I've learned to do is remind them of the Scripture that talks about wearing out your welcome. It's Proverbs 25:17, if you're curious. I also talk to them about how the Bible also says that love is not rude [I Corinthians 13:5], so to try and be super preachy or to make people uncomfortable in their own home, that doesn't sound very 'Christ-like' to me. My father-in-law? I think he respects that I know how to apply the Word. My mother-in-law can't stand it, but she complies because the Bible also says to submit to your husband, and he agrees with the importance of choosing their battles when they are in our home. Checkmate."
-----
Christian. 28. Married 4 Years.
In-Law Pet Peeve/Trigger: Passive Aggressive Father-in-Law
"I don't think my father-in-law has ever known how to be direct. Everything comes in the form of a hint. 'I mean if you're going to get a ham instead of a turkey when that isn't traditional, go right ahead.' I'm more aggressive in my communication — you know, straight to the point. I don't feed into the nonsense. I used to try and pull stuff outta him, but I've learned that only enables the same behavior. These days, if he doesn't come direct, I act like he didn't say anything at all. I don't know how it affects him, he's passive-aggressive, remember? It definitely takes my stress levels down, though."
Krista. 32. Married 5 Years.
In-Law Pet Peeve/Trigger: In-Laws Who Wear Out Their Welcome
"I wish I could say something different, but my hubby's family is loud and combative — not either or…both. And they like to come to our house because it's out of town for them and a lot of them don't like to travel much. How I survive it is they get a firm in and out date, a lot like a hotel. During the time when they are with us, they get treated like royalty but that is only for three days firm. If they want to stay longer than that, we will pay for an Airbnb for two days and beyond that, it's totally on them. No one can act like a victim when the boundaries are stated upfront."
-----
Elenio. 33. Married 3 Years.
In-Law Pet Peeve/Trigger: Turn-Up Father-in-Law
"My father-in-law is buck wild. I mean, BUCK WILD. You can't contain him, so why even try? The first and last night of his stay, he's usually with us. The rest of the time, he's in a hotel (he pays) and we cover the cost of a rental car. We also give him a list of things to do, clubs and bars included. The reason it's best is because we've got kids and he sometimes comes in drunk — a fun drunk but still drunk — or with company and we don't need all of that…traffic. You would think he would take it personally, but he actually loves the freedom to be able to spend time with us and hang out in another city on his own terms. The in-law thing is about meeting in the middle. Do that and you're all good.'"
For more love and relationships, features, dating tips and tricks, and marriage advice check out xoNecole's Sex & Love section here.
Featured image by Getty Images
Upon reading the title of this article, you might've immediately thought that it was a shout-out to all singles this holiday season. Eh. Not quite. For one thing, that got covered last year (check out "A Single Girl's Guide To Getting Through The Holiday Season"). Second, we all know that 2020 wasn't your typical year—not by a long shot—and so, I wanted to approach feeling lonely from a bit of a different angle this time; especially after recently reading a New York Times piece entitled, "Combating an Epidemic of Loneliness". One of the things that it mentioned was while human beings cannot go more than three minutes without air, three days without water and three weeks without food, interestingly enough, we also cannot go more than three weeks without some form of companionship. And y'all, we've been officially quarantining since March. And as you well know, it is now…December.
Something that I've found myself saying, pretty much on repeat, ever since the summer is, while 2020 was a trip-and-a-half, 2021 is also sure to have its own customized bullshishery between the evictions, financial struggles and mental health side effects that will come from having to endure so much from these past several months (and this current administration) alone. Knowing this can bring on a different kind of loneliness—whether you share your living space with someone or not.
So, as we're literally just days away from Christmas Eve, Christmas Day, New Year's Eve and New Year's Day, if something just doesn't feel quite right within, first, know that you aren't alone (again, not by a long shot) and second, here are some suggestions that can hopefully make this holiday season just a little bit easier to endure.
What Are Some Telling Signs That You're Battling Loneliness?
Something that I get for the "little friends" in my life is a feelings chart. Unfortunately, a lot of us didn't grow up with parents who weren't emotionally intelligent enough to even know what they were feeling, so they couldn't really teach us emotion-related words beyond happy, sad, and angry (didn't know how to model any others appropriately either). So, as adults, some of us really struggle with discerning which emotion we're experiencing at any given time. That's why I think it's important to share what some signs of loneliness actually are. Not to patronize you; just for clarity's sake.
People who are lonely tend to struggle with sleeping soundly at night. Constantly being online rather than interacting with people you have a "real" relationship with can trigger loneliness. If you make mountains out of molehills, that can be a sign of overthinking which can result from feeling isolated and lonely. A weakened immune system can be a sign of loneliness. Constantly binge-watching television is a sign of loneliness. Did you know that being around negative individuals can also make you feel lonely (which is how married folks can feel lonely)? Interestingly enough, shying away from intimacy—physical or emotional—is also a sign of loneliness (many people see it as a way of protecting themselves from further relational disappointment).
Another reason why it's so important to know these kinds of things is so you don't assume that feeling depressed is the only indication of loneliness. It absolutely is not. If you notice that you're going through any of the things that I just shared, and you can't connect these instances to any specific instance, it very well could be that you are dealing with loneliness—the feeling that comes over you when you feel like you are lacking in some level of sympathy, support or companionship.
Figure Out If It's About the Holidays or Something Deeper
Now that we've touched on some not-so-surface signs of loneliness, it's important to spend some time figuring out what's causing it for you specifically. Again, if you said it's simply PTSD from dealing with 2020, I would totally get that. Plus, there is something that is literally known as "holiday depression". Whether it's the changes in the seasons and time (which can trigger seasonal depression); watching all of the Christmas Hallmark movies where everyone seems boo'ed up and full of Christmas cheer; reflecting on past memories—good or bad—with loved ones; having a hard time keeping up with your coins; thinking back on what you wanted to accomplish over the past year and quite possibly didn't—again, it makes perfect sense why this may be the time of year when you feel lower than the rest of it.
Another spin is having a few days off around Christmas and New Year's Day may cause you to slow down enough to actually feel what you've been ignoring for the past several months. This is why it's important to make some time to really process what the source of your loneliness actually is. What I mean by that is, even if you feel isolated, detached or like no one really "sees you" or "gets you" right now, what initially got you to feeling that way? Journaling is something that can help you in this area. There is something else that you can do as well. This brings me to my next point.
Let Someone Know What's Going On
The times in my life when I've felt lonely, it's weird. While I was feeling like no one had my back, I also didn't want to reach out to people who I knew, deep down, actually did. That's the thing about loneliness—from an emotional standpoint, it tends to encourage you to remain in the state that you are in which ultimately only makes matters worse in the long run.
Sometimes, when you feel like you're out here, all alone, loneliness will tell you that reaching out to someone else—especially during the holiday season—is selfish and inconsiderate. Don't let it lie to you like that. People who truly care about you don't take days off, and while they may be more preoccupied than usual, that doesn't mean that you don't matter to them or that they don't want to help you if you need it.
So, whether it's an emotionally safe family member, friend, or reputable life coach, counselor, or therapist, if you just can't seem to "shake" what you're going through, don't hesitate to let someone know that. Sometimes, just having someone sympathize or even empathize with your situation can help to get you on the path to getting out of the rut that you are in.
Whatever Makes You Feel Better? DO THAT.
While it's kind of another article for another time, there is a fine line between doing things that will mask your loneliness (like going on shopping sprees you can't afford, drinking or smoking a lot of weed or engaging in reckless sex or even sex that serves as nothing more than a temporary distraction) vs. doing things that will help you to feel less lonely. Still, when it comes to Column B, there are beneficial ways to make holiday season depression a lot easier to bear. Today, I'll list 10 of 'em.
Pamper yourself. It reminds you that you are important and deserve self-care.
Get off social media and actually connect with a human. OK, there is still a pandemic going on; however, meeting up with someone to go on a winter walk or setting up an appointment to watch a favorite throwback movie with a friend over Zoom (so that you can share the same screen) can get you past being on IG or Twitter all day long. It can make it easier to have personal conversations too.
Take some real time off from work (at least 3-4 days). You would think that getting off of the grid and being quiet would only make you feel lonelier but actually, overworking yourself can cause you to feel overwhelmed which can put more pressure on you and can actually make you feel worse. So yeah, time off is also a helpful tip for overcoming feelings of loneliness.
Do some minor house upgrades. Purchase some items for your home that are in your favorite color. Get some soy-scented candles that can help to lighten your mood (citrus, jasmine, peppermint, vanilla, cinnamon, lavender, and cedarwood are all beneficial). Invest in some new bedding (so that you can sleep better). Get a couple of plants (they are proven to improve your mood and increase productivity and creativity). Buy things that will encourage you to be more active like new cooking utensils or some arts and crafts.
Pray and meditate. Sometimes, remembering that there is a power higher than you, can take the pressure off of feeling like you have to do everything—including figuring out how to feel better—alone.
Switch up your diet a bit. It's pretty common that when we're in a bad mood, our diet pretty much sucks. Sugary drinks like sodas and even a lot of fruit juice can cause our energy levels to skyrocket and then instantly crash. Anything from a white grain (like bagels, doughnuts, or even white bread or white pasta) are carbs that turn into sugar (and ultimately do what I already said about sugary drinks). Baked goods are made from refined sugars and saturated oils which can result in emotional roller coaster rides. Margarine contains processed saturated fats which can cause your blood sugar levels (and your moods) to be all over the place. Fast food can ultimately make you feel sluggish and lethargic. So, what in the world can you eat that will give you a bit of a pick me up instead? Good question. Articles on our platform like "In A Bad Mood? These Foods Will Lift Your Spirits!" and "Eating Well: 10 Foods That Can Improve Your Mental Health" can help to get you back on track.
Get a pet. Sometimes, being responsible for something else can help to make you feel more necessary and valuable. Pets are great at offering unconditional love too.
Treat yourself this holiday. Something else that can trigger feelings of loneliness around this time of year is feeling like you have to think so much about everyone around you that your own needs end up taking the back burner. Release this toxic mindset because it's totally untrue. There is absolutely nothing wrong with getting a few Christmas gifts for yourself in order to put a bit of a smile on your face. In fact, I encourage it.
Have sex. Not "needy sex". What I'm saying is that if you're in an exclusive relationship, sex can also lift your spirits, and de-stress you, and, ladies, giving head (until completion) is like taking the ultimate multivitamin. It really can't be said enough.
Create a sleep routine. Loneliness that results in sleepless nights that only lead to you feeling worse the next day can be a bit of a vicious cycle. That's why it's not a good idea to wait until you "feel like going to bed" before turning in at night. It's important to actually cultivate a sleep routine. Soak in the tube. Get offline. Sip some herbal tea. Read a book. Go to bed at the same time. Get naked (so that you don't overheat). RELAX. A good 6-8 hours of rest is a miracle resolution for loneliness that isn't praised nearly enough.
Remember That This Too Shall Pass
While I'd be lying to you if I came up with a timeframe for how long bouts of loneliness tend to last, what I will say is getting a ballpark idea depends on what's triggering it in the first place. If it's a break-up, it kind of depends on how long the relationship was (and if you're dealing with it or denying it); however, a couple of months does tend to turn the "wound" into a "scab". If it's due to seasonal depression, you should feel more like yourself come spring. If it's because you're hormonally all over the place, altering your diet and making an appointment to see your doctor can definitely help. If it's because of the holidays, well, those will be over in just a few days. If you are disappointed in yourself—using this time to think about what you love about you and writing down some goals for what you'd like to achieve next year can be helpful.
You know the main thing that you need to do, though? Remember that this feeling won't last forever. Like I once heard Dylan McKay's mom say on an episode of Beverly Hills, 90210, "Even despair exhausts itself." It might not feel like it right now but be gentle with yourself, be forgiving of yourself, be compassionate towards yourself. Feeling lonely is nothing to feel ashamed about or be scared of. You feel like you're not getting support so again, reach out for some. And yes, remember sis, that like all seasons of life, this too shall pass.
Now get yourself a cup of hot cocoa, snuggle under a cable knit blanket and call a friend. I'm pretty sure they would be happy to hear from you. Especially since it's the holiday season.
Featured image by Shutterstock
The Christmas season is in full effect, and one great thing about that—beyond the festive decor, sales, feasts, and much-needed break—is the music. I don't know about you, but Black Christmas songs are a major part of family celebrations and are connected to great memories. We all have a soundtrack of the times, whether it was Christmas at Grandma's house, that wild trip abroad to "do something different" or your first Christmas with bae in your new home.
Check out 38 classics and new hits—from R&B and hip-hop to dancehall and reggae—to get you into the holiday spirit and keep the good vibes going this Christmas:

"I Saw Mommy Kissing Santa Claus" — The Jackson Five
"Silent Night" — The Temptations
"All I Want For Christmas Is You" — Mariah Carey
"8 Days of Christmas" — Destiny's Child
"Christmas in Hollis" — Run-DMC
"My Favorite Things" — The Supremes
"Everyday is Christmas" —Vybz Kartel
"Someday at Christmas" — Stevie Wonder
"Sleigh Ride" — TLC
"Let It Snow" — Boyz II Men and Brian McKnight
"Christmas In Harlem" — Kanye West
"St. Brick (Intro)" — Gucci Mane
"No Gift" — Tamar Braxton
"Santa Looking for a Wife" — Bindley Benjamin
"Christmas in the City" — Mary J. Blige
"This Christmas" — Chris Brown
"Give Love on Christmas Day" — Ledisi
"Oh Santa" — Mariah Carey, Ariana Grande, and Jennifer Hudson
"Oh Come Emmanuel" — The Clark Sisters
"We Wish You an Irie Christmas" — Jacob Miller and Ray-I
"A Christmas Wish" — Beverley Knight
"Holiday" — Lil Nas X
"I Want to Come Home For Christmas" — Marvin Gaye
"Christmas Without You" — Xscape
"What Christmas Means to Me" — Fantasia
"Snow" — Leslie Odom Jr.
"Joy to the World" — Whitney Houston
"It's Christmas All Over the World" — New Edition
"Merry Christmas Baby" — Faith Evans
"Give Love on Christmas Day" — Johnny Gill
"Have Yourself a Merry Little Christmas" — Keyshia Cole
"Christmas Trees Remix" — Lil' Duval
"Be My Holiday" — TGT (Tyrese, Ginuwine and Tank)
"I'm Your Santa" — Chance the Rapper and Jeremih
"Make It Jingle" — Big Freedia
"Doggy Dogg Christmas" — Snoop Dogg
"Thank God It's Christmas" — Wayne Marshall and Sean Paul
Featured image by Shutterstock

This article is in partnership with Hallmark Channel's Countdown to Christmas.
As we move into the year of 2021, it's beginning to feel a lot like Christmas… and a time for some self-reflection. We think about our professional accomplishments, how we have personally grown over time, and even the evolution of our love stories. Whether it was the one that got away, the unexpected soulmate, or even the successful self-love story that took root from heartache. We have all experienced these kinds of moments and it is inevitable to think of "what if" and how our lives would be different. If you have been feeling more reflective lately, what you are about to read next will definitely spark your interest. As a part of Hallmark Channel's Countdown to Christmas, the forthcoming film, Christmas Comes Twice, is all about a time for reflection and learning about the possibilities of how a love story could be.
Christmas Comes Twicepremieres this Sunday, December 13 at 8pm/7c. The film stars Tamera Mowry-Housley playing the lead role as Cheryl Jenkins and Michael Xavier playing her love interest, George. Cheryl (Mowry-Housley) is an astrophysicist who has achieved her career dreams but finds herself wishing she made different choices. When the Christmas carnival comes to town, a ride around the carousel takes her magically back in time to the carnival five years earlier, giving her a second chance at a life she didn't know she needed before she must return to Christmas present. Though she didnt' expect to fall for her then-"frenemy" George (Xavier), she finds herself falling for him and finding an unexpected love in the process. We are all the culmination of our choices. This film gives you the chance to travel back in time and answers that "what if" question I mentioned earlier.
I am sure that the "what if" question has popped up for this couple during this holiday season. xoNecole's Social Media Manager, Ashleigh Hardin-Jones, and her partner Adrian Goodman have been staying strong and supportive of one another throughout their 13-year relationship. These high school sweethearts didn't start off with the typical boy meets girl meet-cute, but you could only imagine if things did not happen the way they did, how things would be different for them.
In this installment of xoNecole's How We Met, we were able to talk with our social media manger and her accounting specialist partner on how their love story started and how they have grown more in love with each other over time.
How They Met
Adrian: The courtship happened by accidental purpose. A situation with Ashleigh and another guy, who we both had a class with, went sour. I was asked by the guy to figure out why since me and Ashleigh had classes together. At this time, I had known for a couple years that I liked Ashleigh but she was not interested in me. Even though I felt how I felt, I put my feelings aside to do what was asked of me. We would talk about the situation during school as I played messenger back and forth. Until one day, she gave me her number and told me to call her after school. I called that same day and during our first conversation, it switched from the task at hand to friends talking, then rapidly progressed from every conversation after that point. I think we both mutually initiated and agreed on how our relationship would progress.
Ashleigh: Like Adrian said, it was an accident that I never saw happening. I thank the guy who pissed me off though because there's no way we would be at this point without that situation going wrong. Sometimes a closed door leads to a beautiful beginning.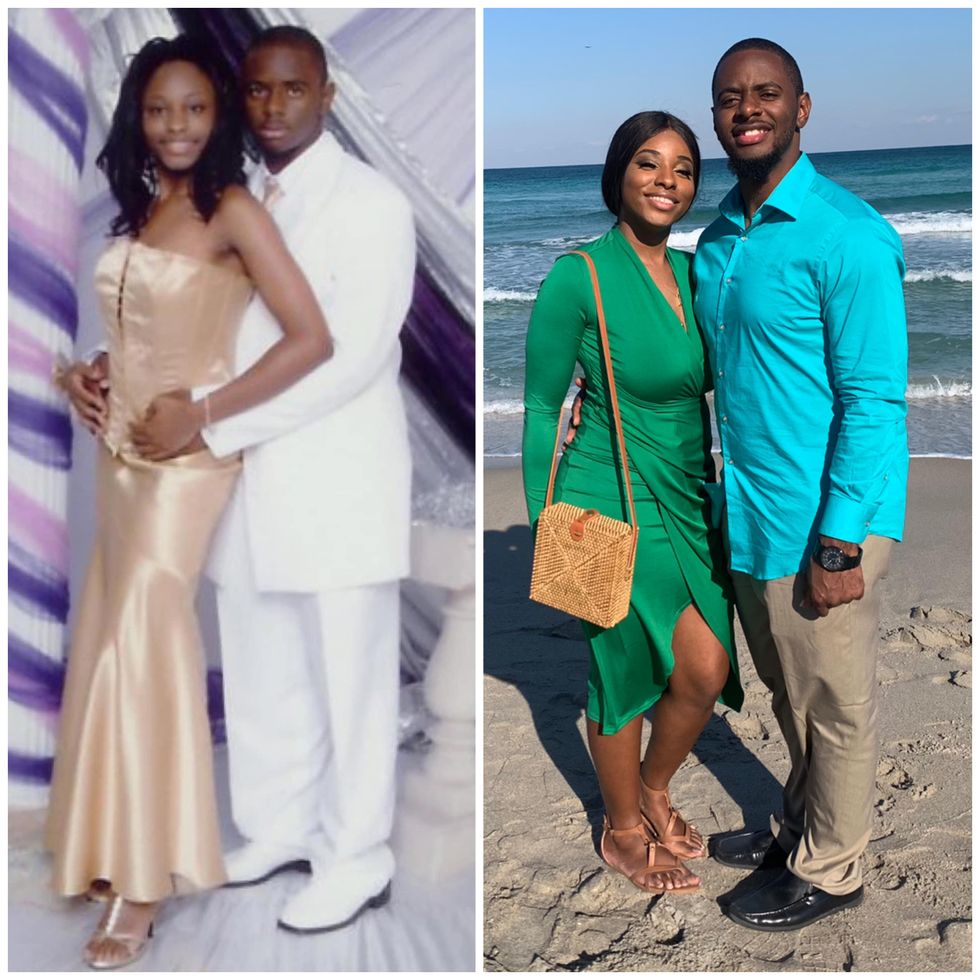 Courtesy of Ashleigh & Adrian
Making It Official
Ashleigh: My attraction to Adrian developed over the course of a month. So I actually wasn't sure right away. I knew I liked him and I knew we had so much in common. But I was still undecided. But there was an incident where my ex called him cursing him out and telling him things about me that were untrue and I just remember being so scared that he would never talk to me again. I was in tears. That was the moment I knew I really wanted to be with him.
Adrian: After getting to know her better, it was a no-brainer for me to commit to a relationship. We have a lot in common and it made the decision easier. This happened during our 12th grade year in high school.
The "L" Word
Ashleigh: We got into an argument our freshman year of college that caused him to storm out of my dorm room. He was pissed! He's such a nice quiet guy that it's rare to see him really angry like that (I've only seen it two other times in the 13 years I've known him). I sat on my bed contemplating whether or not I cared and out of nowhere I started having what I now know is a panic attack and I burst into tears. I hopped up and ran down five flights of stairs, and out of my dorm building down the street to a bus stop where he was waiting on the bus. I was out of breath and was telling him I was so sorry. After we hugged it out and he apologized too, we realized I had no shoes on. That was love because running outside with no shoes is a no for me.
Adrian: It was this unexplainable feeling that I had never felt before. I was always thinking about her and considering how everything I did may impact her.
"It was this unexplainable feeling that I had never felt before. I was always thinking about her and considering how everything I did may impact her."
Love Lessons
Ashleigh: I've learned how to be self-less. This journey with him has taught me that love does not come with conditions. You have to be willing to compromise, not only for the sake of the other person but for the success of the relationship as a whole. I have also learned that while receiving compliments from your partner is extremely important, the greatest compliment comes from yourself. I spent so much time growing up looking for other people, specifically men, to fill my cup but loving him has taught me that if I don't fill my own cup first — it will always be half-empty.
Adrian: I learned that the way you love is not a one size fits all but more of a unique tailored experience. I had to learn to let go of things that may have worked for my parents that may not work for us and also sometimes to do more than my parents may or may not have done. It's OK to treat yourself and not feel guilty about it. I used to think once we became one that we had to do everything together. It's OK for each of us to have time to ourselves or our own hobbies.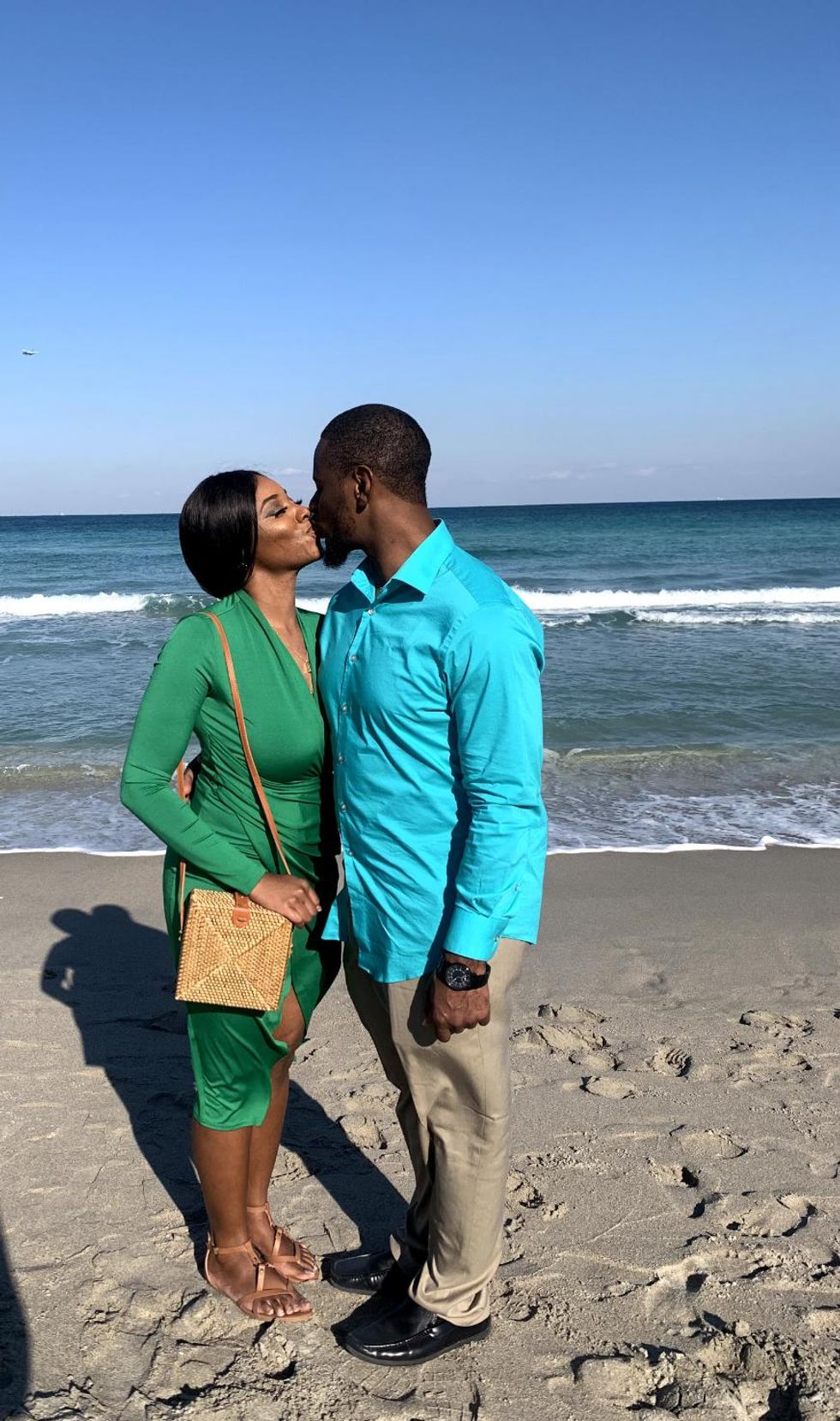 "This journey with him has taught me that love does not come with conditions. You have to be willing to compromise, not only for the sake of the other person but for the success of the relationship as a whole. I spent so much time growing up looking for other people, specifically men, to fill my cup but loving him has taught me that if I don't fill my own cup first — it will always be half-empty."
Love Challenges
Ashleigh: Together, I believe our biggest challenge is overcoming my infidelity. It happened years ago but it still lingers because I broke the trust he had in me. Trying to win back trust is one of the hardest things because it's not an easy fix, there's no guidebook or tips on how to make someone feel secure — so you have to have patience and hope that they will trust you to not break their heart again.
Adrian: My biggest challenge independently is being more emotionally present and available. It has been the hardest thing since I have been programmed for years to not show any emotions. The biggest challenge together has been both having a child a little over a year into our relationship and infidelity not on my part. Having a child that early was not in our plan but we both managed to graduate from college. The infidelity piece is still hard for me because I do not feel that the problems we were having in our relationship at that time warranted this response. I wouldn't have taken this route. I do understand it's not for me to decide how someone will react in certain situations and that is why it has been challenging. We are in a better place and working towards a common goal.
Baggage Claim
Ashleigh: I had a lot of baggage from my past. In the beginning, I spent a lot of time blaming him because of my trauma. I realized that he wasn't my ex and I was being unfair by assuming that all men are the same. My weakness coming into this relationship was bad financial habits. My parents talked about finances but not the bad side of it when it came to bills and debt so I wasn't as knowledgeable as he was. He's truly helped me become less of a spender and more of a saver. As young parents, we struggled financially which helped me realize the difference between wants and needs.
Adrian: I didn't really have any baggage so I had to understand sometimes I triggered things from her past unintentionally. We would have conversations and talk through any baggage issues. One thing I had to unlearn is enough is enough. There is never enough and I can always do more.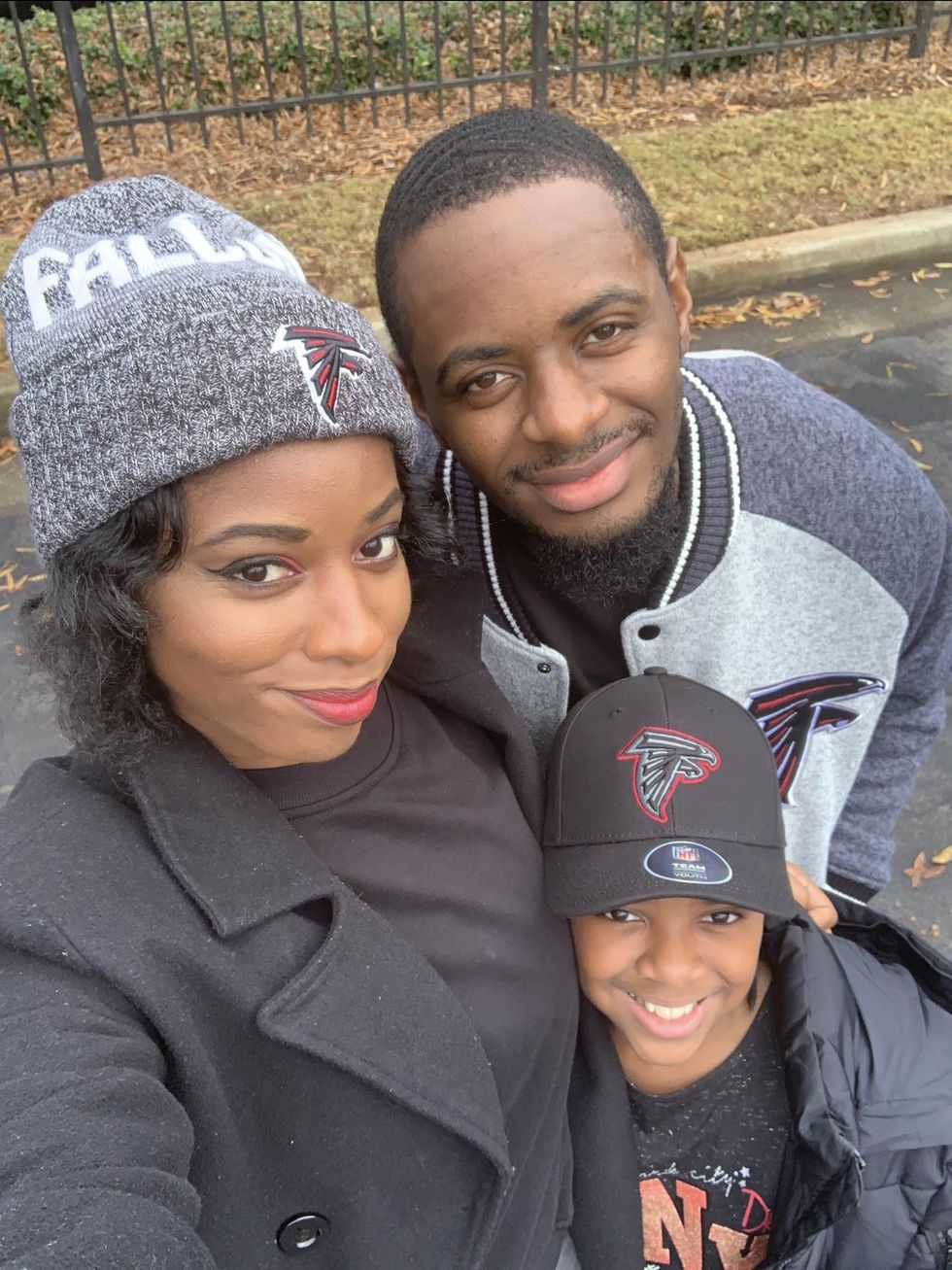 Courtesy of Ashleigh & Adrian
"One thing I had to unlearn is enough is enough. There is never enough and I can always do more."
The Sweetest Thing
Ashleigh: I believe our views on family and tradition are in sync. We both have the same ideas when it comes to what those are and what we want them to be. I also love how honest and loyal he is. It's extremely difficult to find a man who will always tell you the truth and stay committed to just you. Adrian's my needle in a haystack.
Adrian: We both value and respect each other's opinions and supporting each other professionally. I love how considerate she is.
Christmas Cheer
Ashleigh: I love decorating Christmas trees and a few years ago we started going to Christmas tree farms to cut our own. I always look forward to it.
Adrian: I really enjoy our new tradition of selecting and cutting down our Christmas tree.
'Tis The Season
Ashleigh: Favorite gift I've received so far from him has been this Caroline Herrera perfume I wanted. I collect perfumes and I'd been eyeing it for a while so I was super excited to receive it. My greatest gift I've given is buying him tickets to the Atlanta Falcons game. He's a ride or die fan so I surprised him a couple of years ago with tickets and a jacket. He was shocked.
Adrian: My favorite gift that I have given has to be a Viktor Rolf Flowerbomb gift set and some Victoria Secret items (I drove all the way to Orlando, FL to get to Savannah, GA from Tallahassee, FL). My favorite gift that I have received was a surprise trip to an Atlanta Falcons game in Atlanta and luckily the Falcons won that day so it made it that much more special.
Don't forget to watch the premiere of Christmas Comes Twice on Hallmark Channel this Sunday 12/13 at 8pm/7c!
Featured image courtesy of Ashleigh and Adrian
Celebrating the holidays is going to look a lot different this year. The holidays can be stressful for many. Now, with a pandemic and an economic crisis, it is filled with uncertainty. All of us are trying to navigate through something. These are trying times, as some of us have lost jobs or loved ones to COVID-19. We all want the comfort of our families, young and old. But we also want to protect the health of our loved ones too.
But no matter the circumstance, when you sit down to eat Thanksgiving or Christmas dinner, there is always that one aunty that has to be in your business. It's like they have this impulsive need to ask you a million questions. Why are you single? When are you getting married? Are you planning to have a baby? Their mouth just cannot hold water and rumors spread like wildfire. And from my experience, family rumors are the worst. This same aunty must comment on your body image too. Like it is their God-given right to tell you how much weight you've gained, or you need to eat some food.
The A-U-D-A-C-I-T-Y.
And then there are the estranged family members. It's like being the elephant in the room; noticeable, questionable, and silent. It's something that no one wants to bring up or mention. You can feel the tension in the room. It's thick and heavy, just waiting to be cut with a knife. The drama is real and sometimes is never-ending. And this is what we call a generational curse. One wrong comment can trigger World War III.
For others, holidays are NOT the most wonderful time of year. Maybe you can't be home with your family because of work, school, military deployment, or the current state of the world. Maybe you have lost a family member and you're still grieving. You prefer to be alone and sit with your feelings. And that's OK. Take the time you need. Maybe you have a toxic family member, and you need to protect your peace. That's OK too. Just thinking about my own toxic family gives me anxiety but that's a different story. And maybe you don't have any family at all. `
Family can be loving and warm, but they also can be overwhelming and bothersome. And yet no one wants to be alone for the holidays. For whatever reason, Thanksgiving, Christmas Eve, Christmas, Hanukkah, Kwanzaa, New Year's Eve, and New Year's Day are just hard.
So, how do you navigate family dynamics during the holidays, you ask? I can tell you how.
Boundaries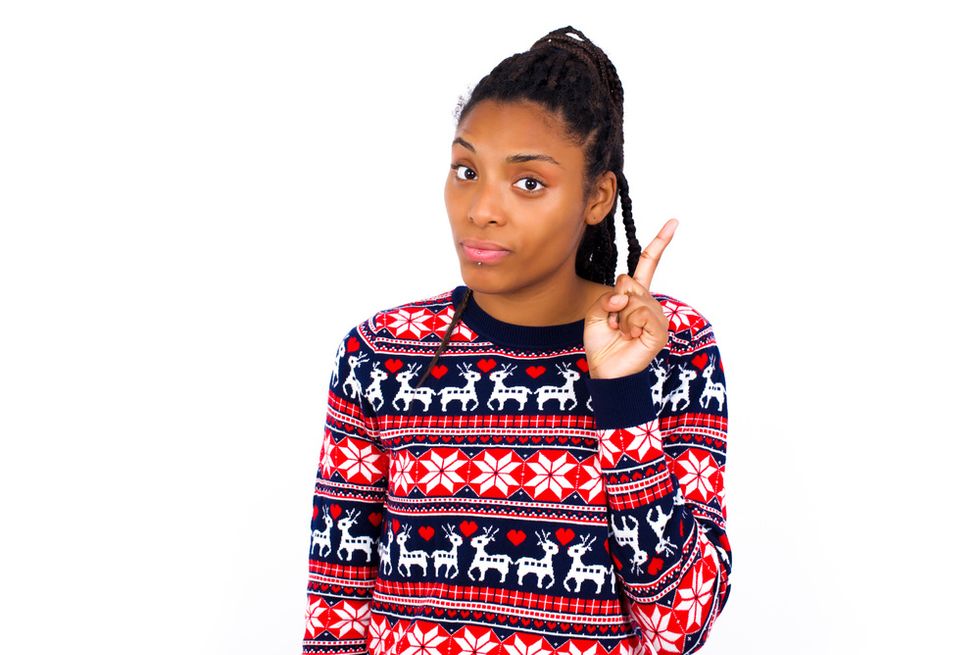 Shutterstock
Boundaries are what keep you sane, especially around the holidays. If you're not creating and practicing boundaries, I insist you do. Boundaries keep you from any stress or hurt you might feel from family interactions. Establishing boundaries with family seems hard, but I promise it's easy. A boundary can look like showing up, being present for a few hours, and sneaking out. It can also be a quick stop by, with an excuse to leave "due to other plans". A boundary can also look like choosing not to engage in certain conversations. This means using your voice to express where you stand on certain dinner table topics. Either way, there is a level of security in keeping your boundaries intact.
Limit Your Time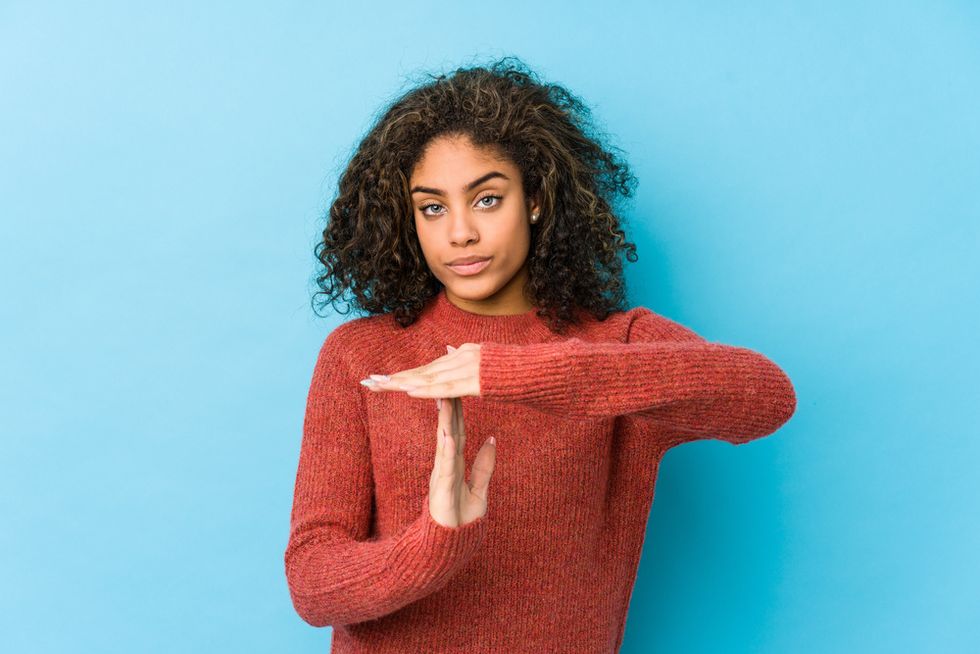 Shutterstock
Don't feel obligated to spend your entire Thanksgiving or Christmas with your family just because it's the norm or expectation. Have a conversation with yourself and ask yourself these questions. How much time do you want to spend with your family? What part of my day do I want to set aside for family? How does my family make me feel during the holidays? Is it necessary to be with family on this day? You can even pick and choose which holidays you choose to give to your family. Because who said you have to be present for every single Thanksgiving, Christmas, and New Year's Eve anyway. Feel free to put your family on an annual holiday rotation. Trust me, you will thank me later.
Use Technology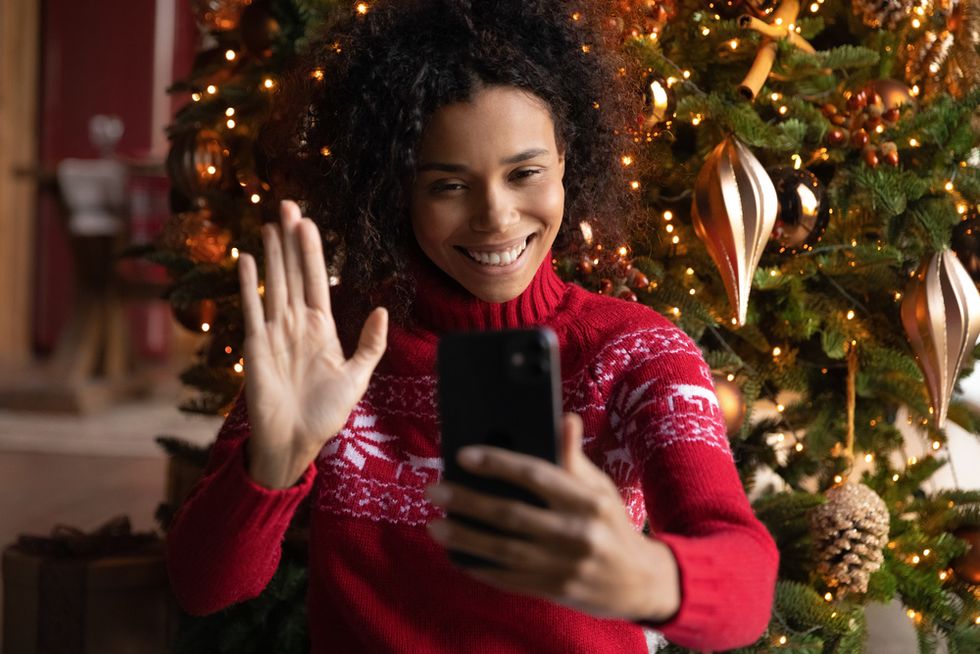 Shutterstock
If you can't go home for the holidays or spending time with family is not an option for you, get you some good ole' FaceTime in with your loved ones in a video chat. There are so many options to connect with family through technology. Set a time and date and enjoy a virtual holiday meal with your family. I mean, it's 2020. We have Zoom, Houseparty, WhatsApp, Facebook Messenger, Instagram, Snapchat, and Telegram. We have no excuse. This way, you're able to see family, feel the holiday feels, be safe, and still be able to protect your peace.
Gather With Friends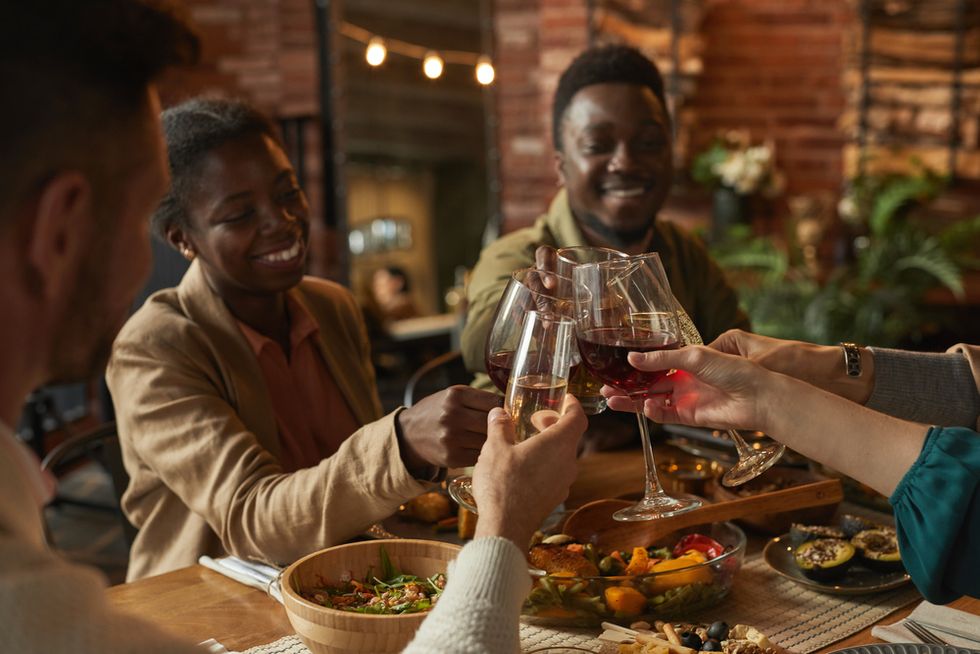 Shutterstock
Nowadays, Friendsgiving has become more relevant than an actual Family Thanksgiving. The presence of nonjudgmental friends having dinner, drinks, and talking. No questions asked. But if questions are asked, it's in a safe space. Friends know the meaning of boundaries, unlike family, which makes gathering with friends much more pleasant than being with actual family.
Do Your Own Thing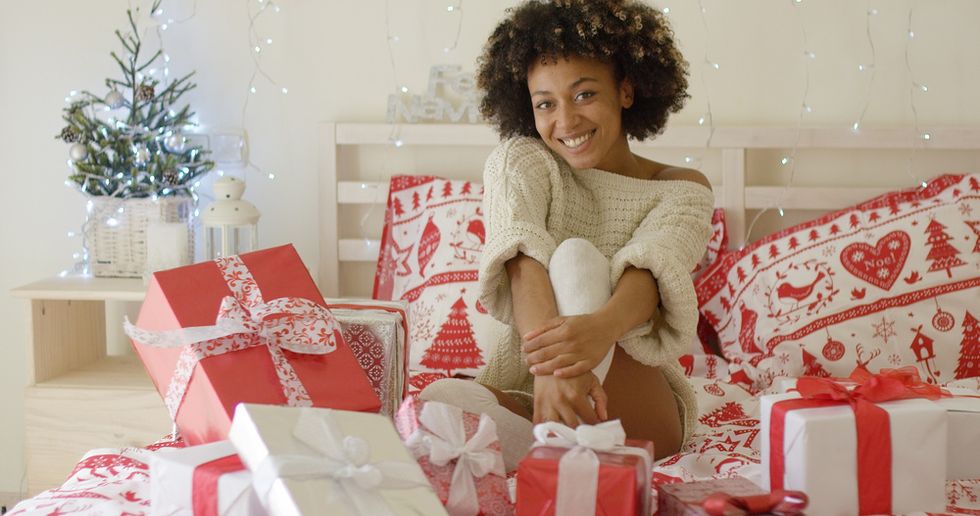 Shutterstock
When all else fails, including boundaries, do your own thing. You can enjoy your own company during the holiday season. Yes, you read that right. There is nothing wrong with it and don't let anyone tell you differently. It is perfectly OK to get into the holiday spirit alone. Decorate your home, cook a holiday meal for one, and buy yourself some Christmas gifts too. Enjoy a staycation, order take out, bake Christmas cookies, sip on some hot chocolate or a holiday cocktail, and binge-watch your favorite holiday movies. Take that solo holiday vacation to the tropics because the Caribbean is always nice. We are moving towards less traditional holiday celebrations anyway.
I have learned to do all of these things because of my own family dynamics. I set boundaries with my parents and my brother. When I do see my family, I limit my time with them to a few hours or less. And no, I do not feel guilty. I have FaceTime dates with my dad every now and then. And since I live 2,000 plus miles away in a different state, my friends have become "framily". I typically spend holidays with them. Oh, and this year, I am taking that holiday vacation to the Caribbean.
Every holiday season, navigating family dynamics sends my anxiety through the roof followed by feelings of loneliness. It's inevitable. I long for my family. We all do. Our first memories of any holiday are with our families. The key is to continue to make yourself happy regardless of your family dynamics. It's important to keep pouring into yourself because some family or circumstances may never change. But you can still show your family love and appreciation during the holidays, it's just going to look a little different this year.
And at all costs, please protect your peace.
Are you a member of our insiders squad? Join us in the xoTribe Members Community today!
Featured image by Shutterstock