Every day it seems like there is a Black woman coming out to share their struggle with uterine fibroids. Many of them have similar stories about not knowing they had fibroids until they started on their journey to get pregnant and having to get a myomectomy to get the fibroids removed. Fibroids are tumors that grow in the wall of the uterus and they are almost always benign.
However, so many women suffer from them. According to Mayoclinic.org, approximately 80% of Black women will develop fibroids in their lifetime. Some of the symptoms include heavy menstrual bleeding, frequent urination, pelvic pressure or pain, and more. Unfortunately, there are no known causes for fibroids.
Eve is the latest celebrity to open up about her struggles with fibroids. While gushing over her pregnancy, the rapper spoke with Tamron Hall about her struggle with infertility and first learning about having fibroids. Eve and her husband Maximillion Cooper were trying to get pregnant but were having a difficult time conceiving.
"Something said to me, something's not right in my body," Eve said. "And I wound up going to a specialist. She's like, 'Don't care, you can do 20 rounds [of IVF]. You can have all the sex you want. You're never going to get pregnant because you have so many fibroids and your uterus already thinks that it's already taken over, it's already pregnant.'"
She continued, "My periods were horrible, which was another thing, and the specialist I went to, she was like 'you know your periods aren't supposed to be painful?'"
"All my life, since I was a kid, I just thought we're women, we're girls, you go through painful periods. That's what we're told. And we did a myomectomy, a procedure where they go in and take out these fibroids. My first period after that I actually cried because that was the first time in my life I didn't have pain," she said.
Eve also said that once she revealed to girlfriends about her fibroids, they also shared that they dealt with the same thing proving that we should have more conversations about this health issue.
Here are other women who have been vocal about their fibroids.
Tamron Hall
During her conversation with Eve, the talk show host revealed that she too dealt with fibroids when she began her IVF journey.
"Even I had IVF and when we were implanting my son's egg, there was a point where we had to stop because I had fibroids," she said.
FKA Twigs
FKA Twigs detailed a scary story about her fibroids in 2018. The singer shared an Instagram post in December of that year where she revealed she had laparoscopic surgery to remove six large fibroids that she described were the size of "two apples," "two kiwis," and "a few strawberries."
"A fruit bowl of pain everyday. the nurse said that the weight and size was like being 6 months pregnant," she wrote.
Porsha Williams
When Porsha Williams was pregnant with her daughter Pilar, she was hospitalized due to complications from fibroids.
Talking with People in September 2018, the former Real Housewives of Atlanta star opened up about her journey with fibroids. "I've had a miscarriage before in my past, which I've also been open about because I suffer with fibroids and had to have a myomectomy," she said.
"So just the fear of, 'Is the baby going to be okay? Will I make it full term?' All those questions that you ask if you've had a miscarriage before."
Featured image by Rich Fury/Getty Images for The Recording Academy
Keep reading...
Show less
While uterine fibroids — which are abnormal growths that can develop in a woman's uterus — aren't something that I've personally had to deal with, because I am a doula, I've had several clients who've struggled with them when it comes to trying to conceive and/or when it comes to safely carrying their baby to term; that's why, I've done quite a bit of research on them over the years. Interestingly enough, reportedly 80 percent of women will develop them over some point in their lifetime and a quarter of us, between the ages of 18-30 will get them in comparison to six percent of white women.
As far as what causes these particular kinds of fibroids, they've been linked to the roller coaster ride of hormones, pregnancy (due to pretty much the same thing), obesity and DNA. As far as Black women go, it needs to also go on record that more and more studies are linking uterine fibroids to the use of hair relaxers as well. So, if when it comes to your period, you are experiencing heavy cramping (or increased cramping), a lot of clots or that your period is lasting longer than it typically does or, beyond that, you're having pain during intercourse, swelling in your abdominal area or that you've been having to pee more usual, make an appointment to see your doctor, just so they can be sure that fibroids aren't the cause.
No matter what the outcome of your visit, please be intentional about your diet because, believe it or not, there are foods that can help to prevent and heal fibroids and there are foods that can trigger the growth of them at every turn. Let's look at five of each.
Five Foods to Eat to Help Heal Fibroids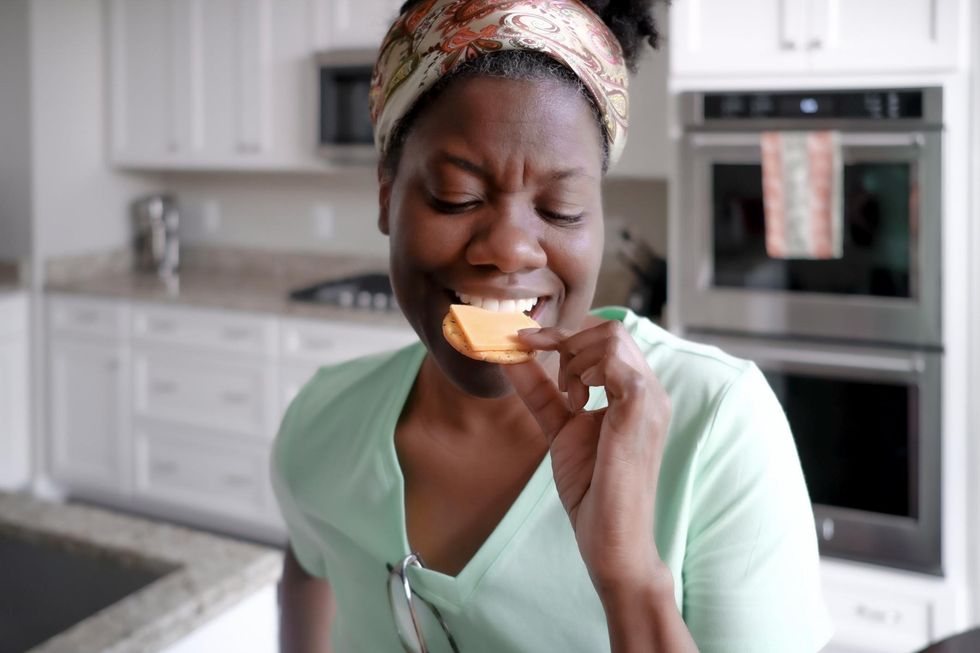 1. Legumes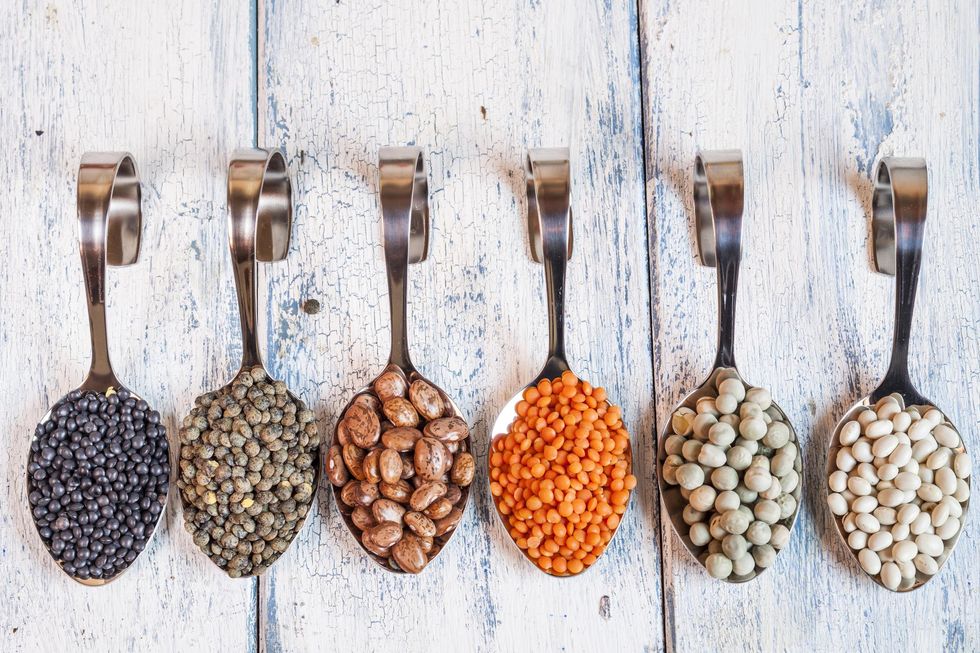 If you've ever said to yourself, "What the heck are legumes?", beans, peas, lentils, soybeans and peanuts are all considered to be a part of the legume family. If the next question is "What makes them different from beans?", the technical answer is they are the leaves, stems and pods of a plant while beans are just the seeds. With that out of the way, legumes are good for you because they are loaded with antioxidants; the kind that help to fight off cell damage and reduce signs of aging (inside and out).
Legumes also have a reputation for reducing the risk of heart disease and cholesterol. When it comes to helping to prevent or heal fibroids, what makes them really effective is legumes are high in fiber which makes it easier for your system to get rid of the kinds of toxins that could either help to create a uterine fibroid or "feed it" so that it gets bigger or lasts longer.
2. Garlic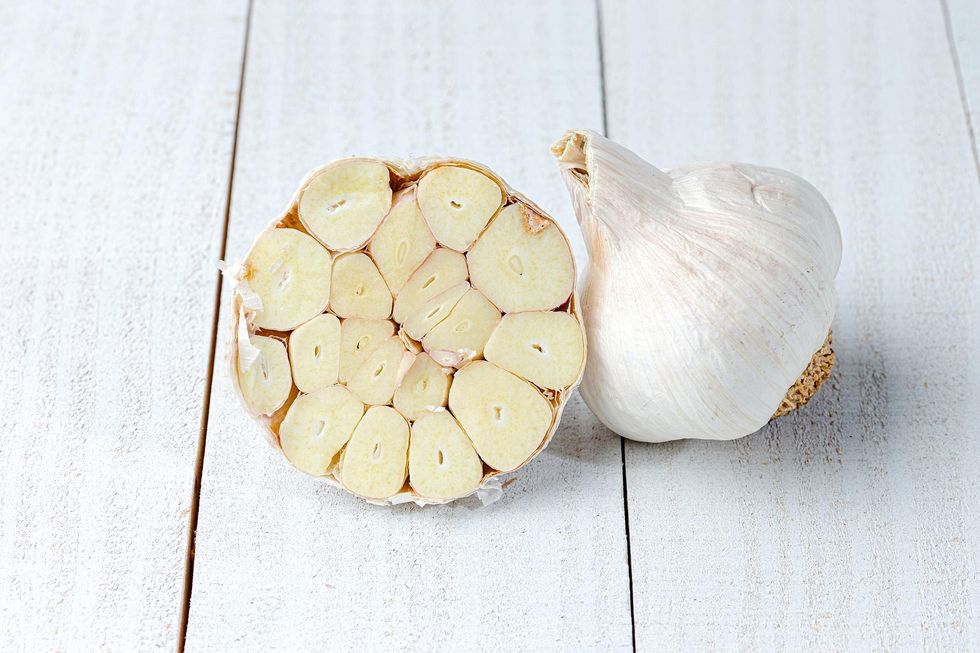 If you like to cook with fresh garlic, good for you, sis. Garlic has potent medicinal properties in it. Garlic can help to reduce your blood pressure. Garlic has a reputation for increasing athletic performance. Garlic even adds to longevity.
Fibroids hate garlic because the antioxidants and sulfur in it fights off the kinds of free radicals that can lead to the development of uterine fibroids over time. Not only that but sulfur is a powerful healer and has been known to help heal scars caused by fibroids too.
3. Flaxseeds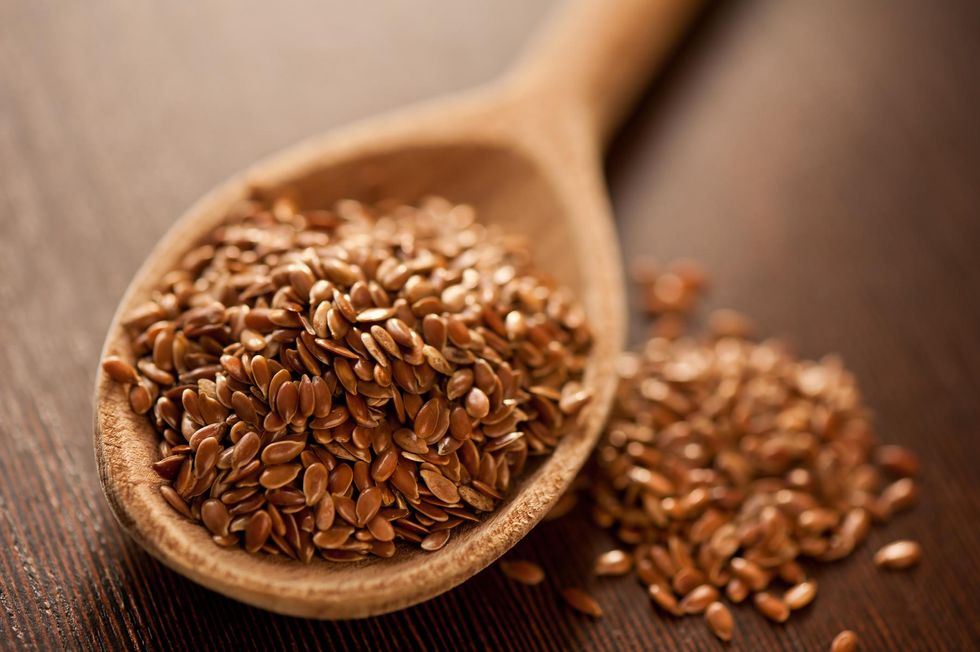 Something that I sometimes take in supplement form are flaxseeds. Flaxseeds are good for you because they're a good source of fiber, protein and omega-3 fatty acids. Not only that, flaxseeds can help to lower your cholesterol and blood sugar levels, plus they're great at helping you to feel fuller which can curb your appetite, so that you end up losing weight.
What makes them great for uterine fibroid health? I read a study that said some of the properties in them caused hens with uterine fibroids to end up with 40 percent less of them over time, just by adding 10 percent of flaxseeds to their diet. To me, that's a good enough reason to at least give flaxseeds a shot.
4. Non-Gluten Grains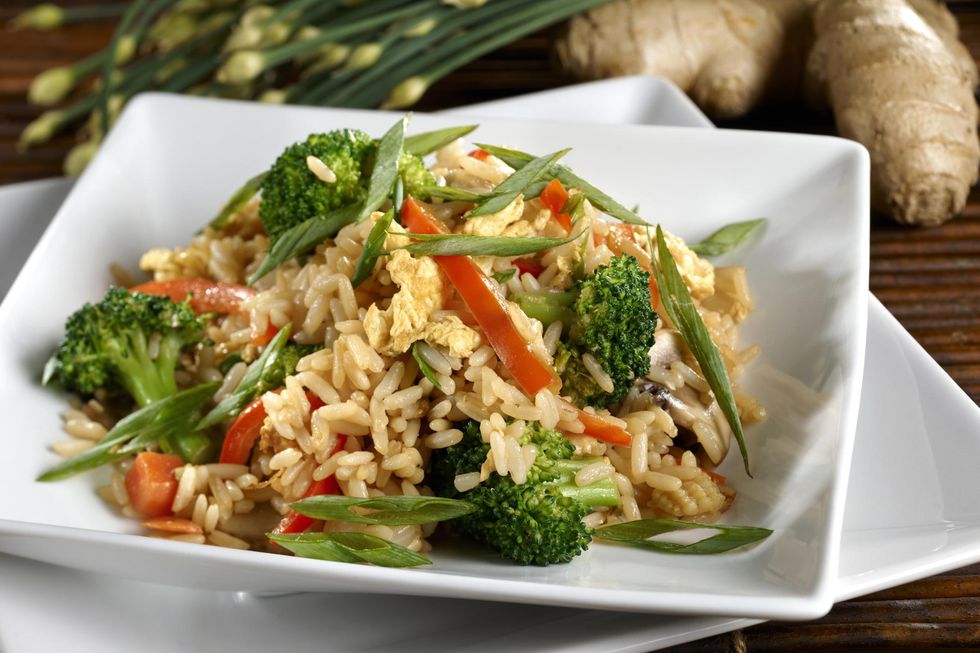 When you get a chance, feel free to check out the article, "8 Reasons Whole Grains Are Good For You. 4 Reasons To Eat Them In Moderation." that I wrote for the site not too long ago. Since it covers a good amount of ground about why whole grains are good for you, what I'll just say, specifically, as it relates to uterine fibroid prevention and healing, is whole grains that don't have any gluten in them (which is a protein in wheat that doesn't really have much nutritional value although it's not all bad either; mindbodygreen did a good article on its benefits that you can check out here).
Some of those foods include brown rice, buckwheat and millet. All of these are beneficial because the antioxidants, protein and fiber in them can help to protect against uterine fibroid growth while improving the health of your uterus overall.
5. Organic Produce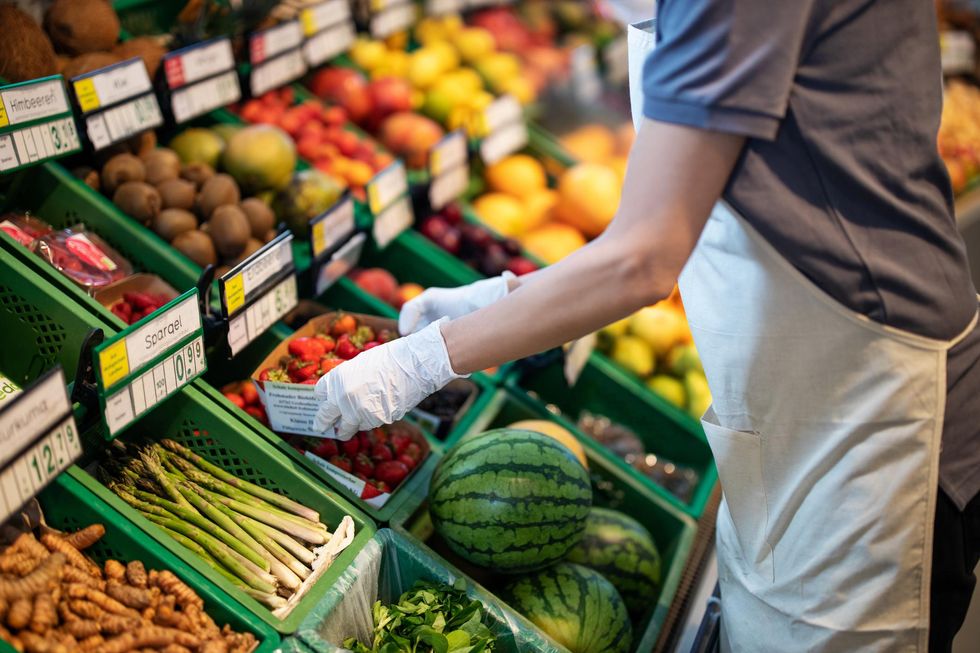 Since fresh fruits and veggies are loaded with nutrients, including fiber which helps to keep us regular, it makes complete and total sense why they would be the kind of food that helps to prevent and also heal uterine fibroids. The key is to make sure that you go with the kind that are organic. Why? Well, that means they don't have any of the fertilizers and pesticides that are oftentimes used in order to make produce last longer.
I already know — organic produce at local grocery stores is like paying rent. This is just one more reason to support your local farmers market. Stuff is cheaper and typically so much fresher. Plus, you're supporting your local farmers when you decide to go that route.
Five Foods to Avoid in Order to Prevent Fibroid Growth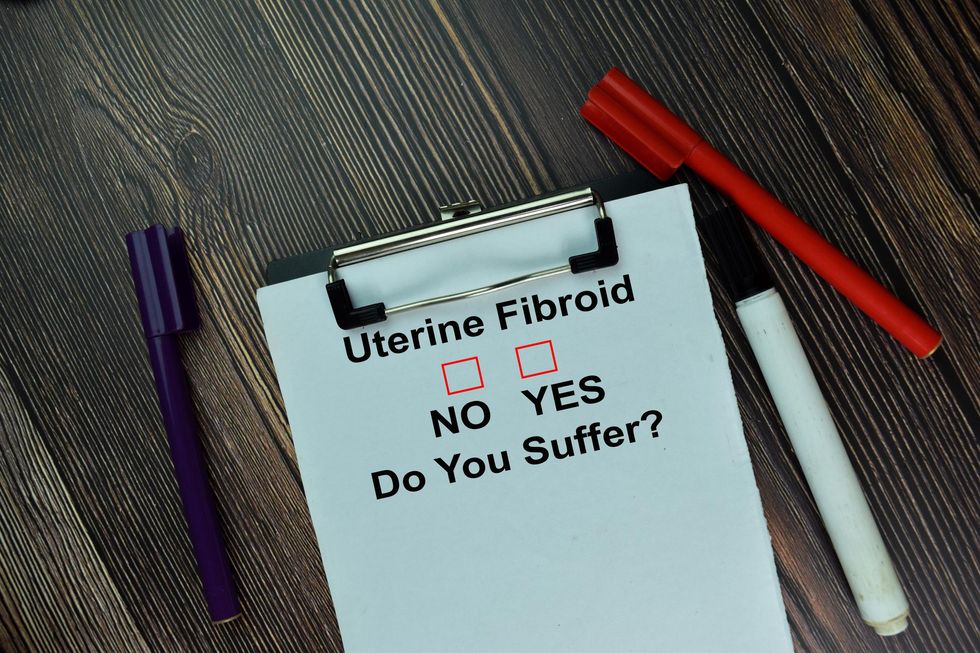 1. Refined Sugar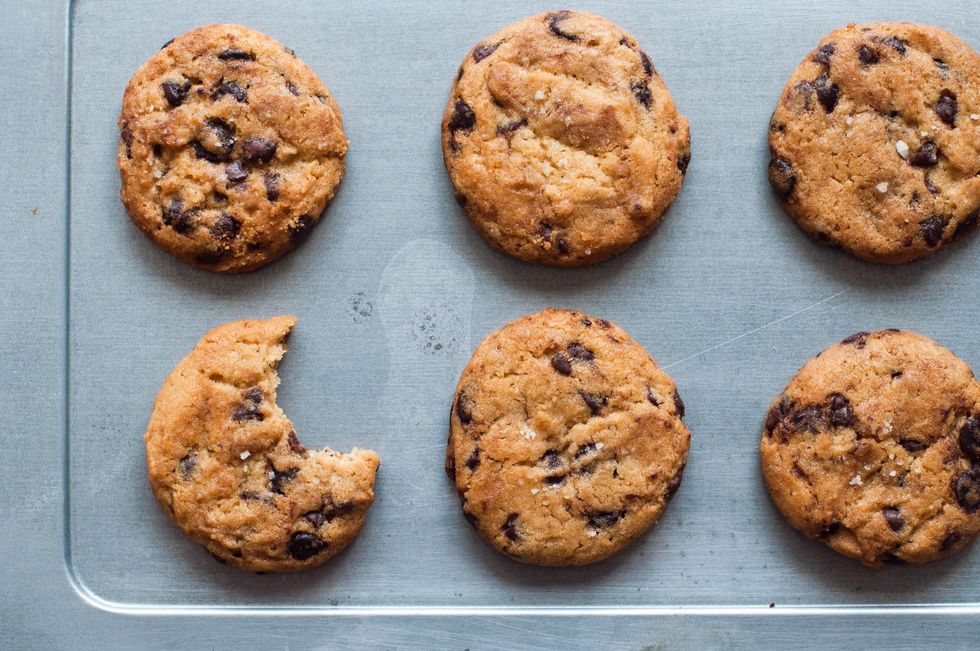 Remember how I said in the intro that obesity is connected to uterine fibroid growth? It's no secret that perhaps the leading cause of so many people being overweight in this country is refined sugar, so that's enough of a reason to cut back a bit. However, another reason why refined sugar isn't really a good look is because it can throw your hormone levels off. Imbalanced hormones can lead to inflammation and fibroid growth. When it comes to (refined) sugar, less is certainly best (check out "Ever Wonder If You've Got A Low-Key Sugar Addiction?").
2. Soy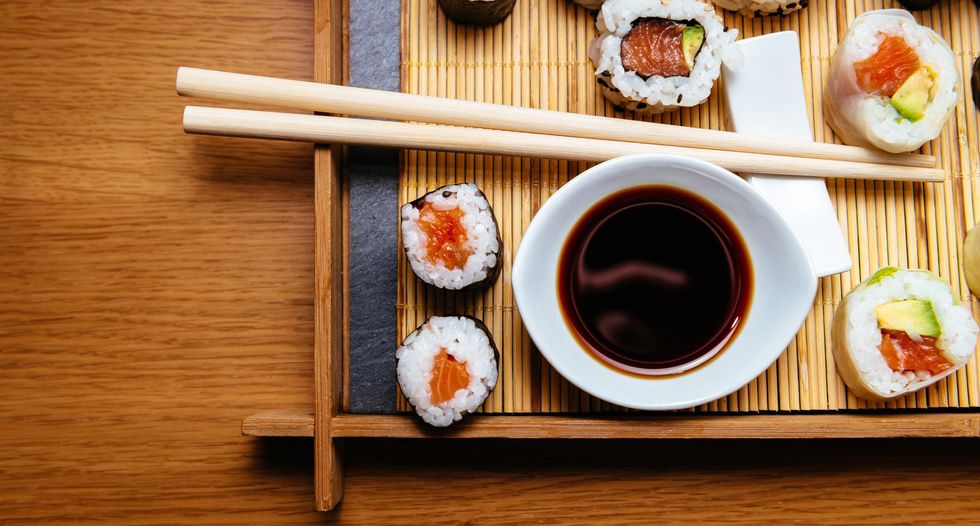 The two hormones that can trigger the growth of uterine fibroids are estrogen and progesterone. That said, the reason why the consumption of soy can be a real problem when it comes to uterine fibroids is because it contains phytoestrogens which is a compound that mimics estrogen. So, if soy is totally your thing but you want to do all that you can to keep uterine fibroids at bay, you might want to consider eating a lot less of it.
3. Caffeine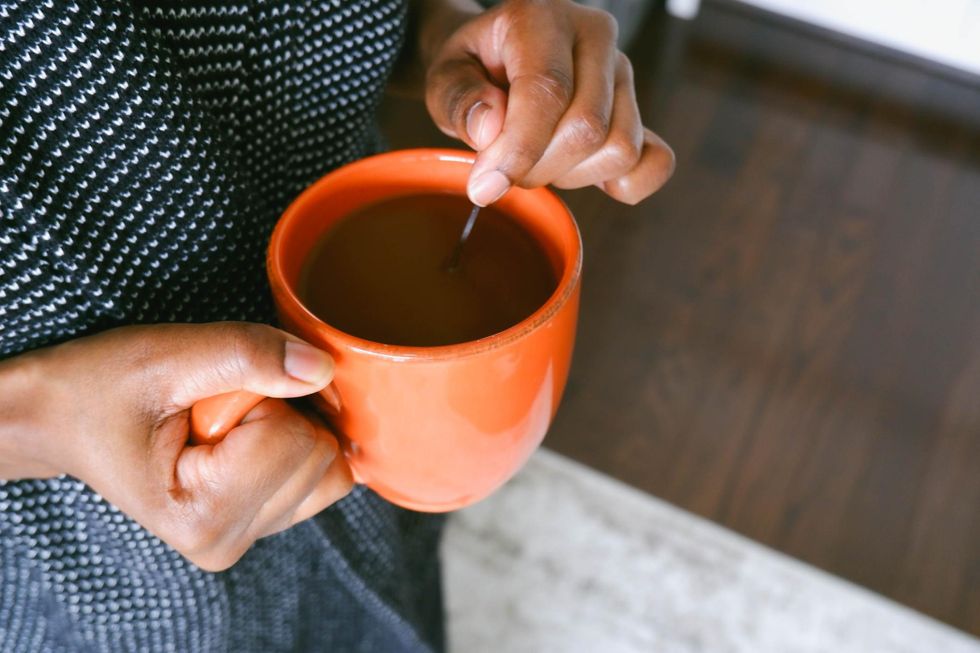 Something that can put a lot of stress onto your liver is caffeine and when your liver isn't working at its best, that can play a role in your hormones not being as balanced as they would need to be in order to keep you from experiencing uterine fibroids. No one is saying you have to ditch your java altogether, but if you're drinking more than 2-3 cups a day, definitely cut back. (Speaking of your liver, do some research on milk thistle when you get a chance. It's an herb that helps to detoxify your liver. Whenever I take it, I can actually see a real difference.)
4. Fatty Processed Meat
Red meat is high in iron and Vitamin B12; since these are two nutrients that we, as Black women, are oftentimes low in, that's a good reason to not feel bad about having an occasional steak or burger. At the same time, it's always a good idea to remember that moderation is key when it comes to meat consumption and, if you want to avoid getting fibroids, you should definitely tiptoe around processed meats (meats that were made via the process of curing, salting, smoking, drying or canning).
Some examples of processed meats include cured bacon, hotdogs, ham, sausage and salami. The reason why these are problematic for uterine fibroids is because they have a lot of additives that can also throw your hormones off. Some even have more estrogen put into them and you definitely want to avoid that as much as you can.
5. "White Stuff"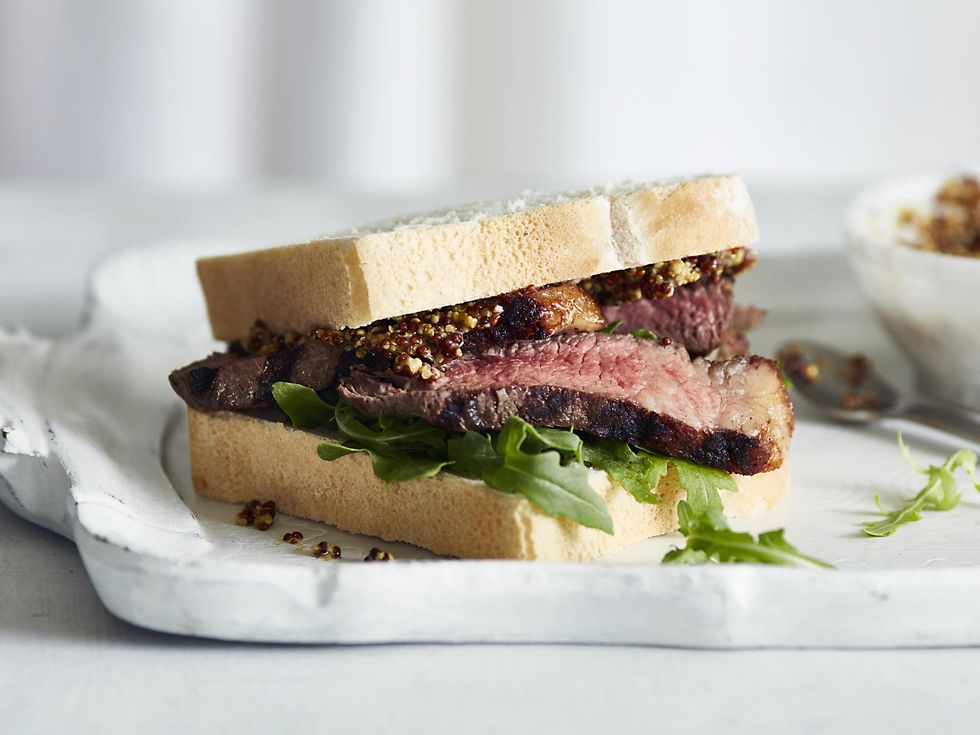 White bread. White pasta. White rice. You get it. Something that all of these things have in common is they are refined carbs which means they've got very little nutritional value to them. This is a not-so-good thing overall but what makes them suck when it comes to uterine fibroids is they can throw your estrogen levels off and cause your fibroids to grow in size. In short, in this instance, "white ain't right", so definitely avoid it as much as possible. Your body, including your uterus, will be oh so grateful. Indeed.
Join our xoTribe, an exclusive community dedicated to YOU and your stories and all things xoNecole. Be a part of a growing community of women from all over the world who come together to uplift, inspire, and inform each other on all things related to the glow up.
Featured image by Getty Images
Keep reading...
Show less
As black women, sometimes the subject of one's period can be a contentious one. Even if we're OK with it, many of us simply don't talk freely about it or anything to do with our reproductive parts.
I think we need to be a bit more transparent and real with one another about our vaginas and everything connected to them beyond sex, especially since we are disproportionately affected by conditions and illnesses including fibroids, endometriosis, and cancers. Sometimes the silence can literally be deadly and stifling.
So, I'm about to get really real with y'all.
I've never been a fan of my period, and as a teenage tomboy I dreaded the first day it introduced itself to me. I didn't even know I'd gotten it until after I'd come home from a day of bike-riding and tussling with my cousins and found blood in my panties. I felt embarrassed and dirty.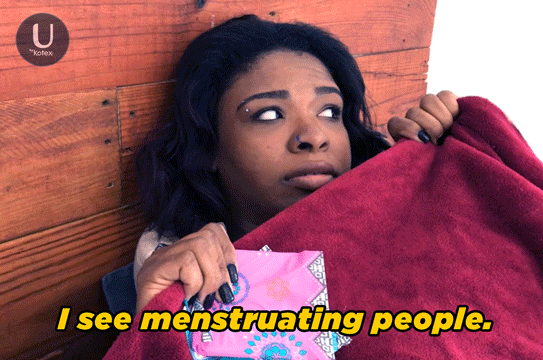 Image by Giphy
Periods just weren't something you'd dwell on or talk extensively about in my family. You slapped on a pad, took pills for the pain, and kept it moving. As a teen, my period would be heavy in the beginning, with bad cramps that weren't evil enough for me to miss school like some other girls. By the fifth day, there was barely any spotting or pain, and I'd be good to go.

Once my late 20s hit, things changed. The periods got heavier and my mood swings became intense. I almost considered taking meds for that, but again, the pharmaceutical skeptic in me rebelled. I'd pray, go out with friends, have a few cocktails, curse a few people out, and ride the wave.
When my 30s hit, I became more empowered about my period. I would break rules by wearing white during my cycle if I wanted to. I'd even let guys run the red light. (Yep, sis. Read that again.)
Then I found out I had fibroids that were causing increasingly heavy bleeding, crazy mood swings, and cycle irregularity. (You can read about the ways I was able to heal here.) I was forced to spend hundreds of dollars each month on overnight pads, super tampons, painkillers, and therapy. I found out that the silence about periods during my teen years contributed to my ignorance about fibroids, its history in my family, and the affect it can have on quality of life and mental well-being.
One day while I was searching the Web, I came across a woman in a video who was talking about free-bleeding. She had basically said to hell with tampons and pads for a week and just allowed herself to be free, letting the blood just flow.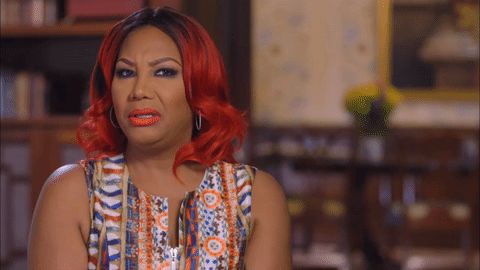 Image by Giphy
At first I was super grossed-out. I thought, "That's disgusting. She probably stinks. She's ruined sheets and towels. That's dirty. That's nasty."
Then I did a bit more thinking. After all the drama with the fibroids, I was exhausted.

When I finally got a handle on the bleeding after having blood transfusions, being put on birth control, and consulting with my doctor about more long-term solutions to get rid of the tumors, I decided to try free-bleeding to give myself a mental break. It was one of the best weeks of my life.
I'm a freelancer and can work from home, so it really wasn't a gruesome transition or thing to consider trying.
For five days, I'd lay on my side if doing work from my laptop on the couch or the floor. I'd always put down a few strategically placed towels, especially at bedtime. Sometimes I would twist up a towel and put it between my legs during stationary moments of my day. When I needed to move around and do things, I did, wearing dark loose-fitted pants or joggers.
The first three days were moderately heavy. (This was pre-surgery, post-birth control by the way. The bleeding wasn't as extreme as it had been when I first found out I had fibroids.)
I did mess up sheets but they weren't your luxury high-thread-count kind anyway. Same for towels. And I've always kept a mattress protector on my bed from living in cities where I've never felt things were truly "clean" even when bought brand-new. I'd simply wash the dirty sheets, loungewear, and towels on my usual laundry schedule, but would change to clean ones daily.
The last two days were pretty light, and I had no visible accidents that could show up on my bed, my clothes, or anywhere in my home. There might have been a few blood spots on panties that I could've cared less about. I avoided going out to run errands if they weren't super-necessary. Food and grocery delivery services were my best friends.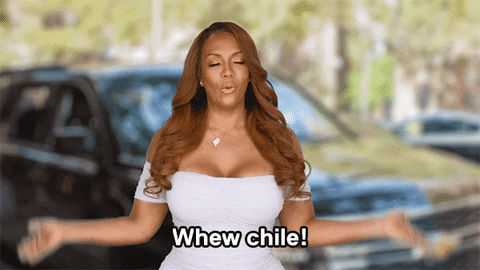 Image by Giphy
I felt so liberated because the experience took away the anxiety I felt every time I'd have to remember to change a tampon or double up on a pad. I just let it all hang out.

I wouldn't recommend doing this on the regular, but for me, it helped loosen the shame and anxiety I felt during a period of dealing with my fibroids. It also helped jump-start my confidence, and it renewed my spirit.
I think more black women should try something like this and be part of conversations about the woes and wonders of our periods. Free-bleeding helped erase the stigma of, well, seeing blood and releasing it monthly. That was something I was taught to view negatively since my cycle first introduced itself to me. When more of us embrace at least getting real with one another and ourselves, we can contribute to finding better solutions and advancements to finally get rid of the ailments and illnesses that plague our community.
Originally published on March 8, 2020
Featured image by Shutterstock
Keep reading...
Show less
The truth about motherhood is that the journey can be frustrating AF! For some women, it's hard enough to even come to the decision to want to bring another life into this world, and after acting on the desire to become a mother, experiencing roadblocks can be a devastating blow.
Mogul Eve is taking her struggles in stride all while giving us a closer look into the obstacles that she is facing on her journey to motherhood. During a recent episode of The Talk, she was accompanied by women who openly discussed age and other factors that affect women's fertility. The encouraging words and testimonies from other women paired with her own determination allow Eve to adopt a 'pitbull in a skirt' stance on overcoming her own fertility issues. This new adjustment in her perspective came after the initial feelings of failure and shame when realizing she would require medical assistance in order to conceive. Eve struggled:
"I felt like I was broken. I felt like, 'Oh well maybe I'm not good enough.'"
The fertility conversation started as a response to actress Emma Roberts opening up about her current pregnancy and finding out that her struggle with endometriosis would have an effect on her fertility. The 29-year-old actress revealed that she made the decision to start freezing her eggs in her late 20's, and the news prompted all hosts to address the relationship between age and fertility. Sharon Osbourne was able to offer some optimistic wisdom and encouragement by sharing that she knows a woman that is well into her 50's who was able to have a healthy baby. Though viewers were able to walk away from this segment heart-warmed and hopeful, Eve shares that the reality of walking out of a doctor's office can leave women with opposite emotions. She shared her first-hand experience:
"I think as women we're always told when you reach a certain age, 'You're too old. You should have done this then.'"
However, Eve is not going to let what is perceived by many as a late start deter her from her time to shine in the sector of motherhood. Though she is already a proud stepmom of four, the rapper-turned-host is ready to have a biological child by exhausting all options. To increase her chances of conception, Eve has opted for surgery. She explained:
"For me, I'm 42 now. My husband and I, we've been trying and trying and trying and trying...We've been doing certain things and for me, I understand where Emma was coming from with the endometriosis because, at the beginning of the year, you ladies know…I had a procedure called a myomectomy that gets rid of fibroids."
She also added:
"I used to have these horrible periods. And I'm only saying this to say, there's a lot of women out there that think [that], we were told that periods are supposed to be painful. They're not. Go to your doctor, and if they don't believe you, go to another doctor."
While being on her pursuit to biological motherhood is teaching Eve how important it is to prioritize her health and peace, she credits her stepchildren for changing her perception of what it means to be a nurturer. Eve shared during our exclusive interview:
"Being married and having stepchildren has completely changed me because when I first met him, I didn't even know how to talk to kids. I was like, 'Do you want to color? What do you want?!' I was so weird with the kids, and it takes a minute to settle, but I definitely softened as a person. I don't come from a family of huggy, 'I love you' type of affectionate people. If we kind of know you, you'll get the head nod and, with the kids, you have to be open to hugs and that changed me, and it's a really nice thing."
We wish you all the best Eve!
Featured image by Instagram/therealeve
Keep reading...
Show less
After reading Eureka Calhoun's xoNecole article "How I Healed My Uterine Fibroids the Holistic Way", I began to think more about my vaginal health. Like many women of color, some of us suffer from the harsh realities of having fibroids. I am one of those women. As someone who doesn't have kids, I became paranoid and afraid of the possibility of ever carrying a baby full-term. Every doctor I have visited has given me the same solutions to a never-ending problem.
At the time, I felt like having a fibroid was a death sentence. I was preparing my mind to endure the emotional roller coaster of having infertility issues.
One of the running themes many OB-GYNs will say is, "Let's just see what happens." After paying a copay, the last thing I want is for my medical provider to twiddle her thumbs looking at the clock. That isn't reassuring enough for me. After talking to different women and reading a slew of articles, I found simple ways to take my power back.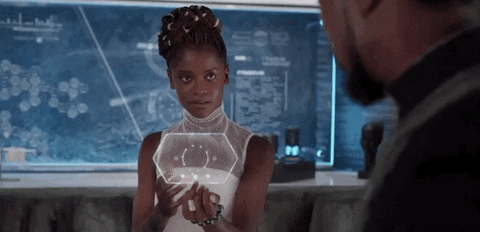 Product Overhaul
In 2016, an OB-GYN suggested I get an IUD to help maintain my fibroid size. At the time, it was "5 centimeters". (I put that in quotes because that seems to be the initial size they give all women when it's discovered that they have a fibroid.) We are all different from all walks of life, and we all have the same size fibroid? That was a red flag for me. As I've gotten older, I've given up belief in solutions like synthetic hormones, which are what birth control produces. I'm not here to preach to you about my morals and values. I'm here to present different alternatives so your vagina can be happy and healthy.
No matter what you cut out of your diet, how many crunches you do, and how many thoughts you have about going vegan, many women don't consider how many of our feminine products are harmful to us. We, as women, have introduced our bodies to so many toxins that they're almost hard to count. We have to be cognizant of what we are putting on and in our bodies.
A straightforward product can throw a wrench in your pH balance. My challenge to you is to read the ingredients in all of your products and Google what you find. For example, I've been using a particular brand of panty liners for years, and one day, I decided to pull out the packaging and look for the ingredients. I found it strange that they weren't listed on the package. I called the customer service number on the box and asked the representative about the ingredients. One of them was one that is found in antifreeze.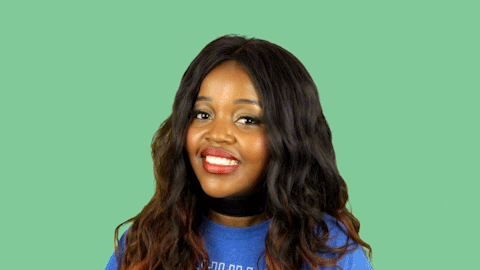 Image via Giphy
This product had become part of my hygiene regimen for years, and unbeknownst to me, it was something that I should've stopped using a long time ago. As a woman who puts all of her trust in these companies that promote vaginal health, I found it deceiving to mislead the masses.
I didn't go on a rampage and throw everything away because I'm not wasting my hard-earned money. What I did instead was limit my use of these products. I began changing them more than usual and avoided wearing them if it wasn't necessary. After spending days and weeks reading articles and conducting my own research, I have found alternatives that will help promote a healthier vagina.
100% Cotton Alternatives
After I used my last "toxic" liner, I wanted to research the alternatives, and there are thousands of them. I knew there had to be something that catered to feminine care and hygiene. A co-worker of mine mentioned to me that 100% cotton panty liners and pads do exist, and they can be found at your local drug store. After doing a quick Google search, I verified that she was correct.
I wrote all of these products down to make sure I wouldn't forget them later. After spending 30 minutes in the feminine care aisle reading and re-reading ingredients, I came across a product that was better than what popular corporations offer but not significant enough to tell my family and friends about. What stood out most was it stated that it was chlorine-free and fragrance-free. After becoming restless, I grabbed the box and went to check out.
In total, the product has five ingredients, but what turned me off was that two of them started with "poly," which in Latin means "many." So that meant that multiple chemicals created that one ingredient or that one ingredient can be broken down and used several different ways. Again, it had less additives than others on the shelves but not as significant to gloat about. I decided to use this panty liner the same way I would use the other one: in moderation.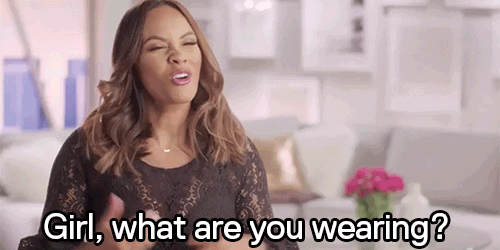 Image via Giphy
Leak-Proof Underwear
To skip over the pad, panty liners, and tampons, another option is leak-proof underwear. With proper care, these can be handwashed to be worn over and over again.

Brands offer lingerie that caters to heavy days, light days, and regular days, so one pair of underwear might not fit all during certain days. The sizes provided depend on where you are in your cycle. Also, for some of us, they can be on the expensive side, with one pair retailing at $36.00. It's recommended that you don't use any fabric softener, but you must read respective care instructions by the brand.
Vegan-Friendly Feminine Wash
Like many of you, I visited my local Target and Wal-Mart to purchase the Honey Pot's feminine wash, and after using it for two days, it has changed my life. The packaging, the scents, and even the instructions indicate the love and the passion behind the products. The company makes women feel like they are the priority, and the product feels like it's doing the job. It lathers well and doesn't leave any residue.

I know we love the smells of an ocean breeze, citrus, and rose, but popular washes with those scents only disrupt the pH. Most of the ingredients in the Honey Pot's products are commonly familiar, such as lavender and aloe vera.
Using these as directed can help with pH issues and provide a freshness that we would never have to feel insecure about. I would encourage you all to go on the website and take the quiz. You will then get recommendations on what products to use based on your needs.
And remember, feminine washes should never be inserted directly in the vagina. Science says that the vagina can clean itself. If you must use anything, rinse all products thoroughly.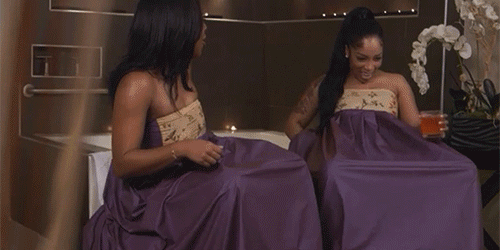 Image via Giphy
Vaginal Steaming
No matter how many times you refresh the explore page about vaginal health on Instagram, there is always a post on vaginal steaming. Some of the benefits of steaming can include reduced bloating during menstruation, regulation of irregular periods, increase in fertility, and detoxification. Based on your current pH balance, steaming can lead to a yeast infection, and it is not recommended if you currently have an IUD or are pregnant.
This technique is an ancient practice that has roots in Africa, Asia, and Central America. Testimonials across the web highly recommend that all women practice steaming. Not only does it detoxify your vagina, but it detoxifies your spirit, and many women use this time to meditate and practice spiritual affirmations. Before trying vaginal steaming, consult with your doctor and read the instructions.
Since having my IUD removed more than a month ago, I'm allowing my body to heal or go back to normal on its own. I've made it a routine to consume the proper supplements that will contribute to a healthier vagina, hormone regulation, and regular menstrual cycles in hopes of increasing my chances of bearing children one day. In hindsight, when we nurture and care for the most sacred part of our body, the rest of it seems to fall in place. Doing so creates a healthy balance that will only enhance our womanhood.
Did you know that xoNecole has a podcast? Subscribe on Apple Podcasts or Spotify to join us for weekly convos over cocktails (without the early morning hangover.)
Featured image via Shutterstock
Keep reading...
Show less
Love Yours' co-founder Mia Banks is what happens when purpose and pain blossom into passion. The southern girl was born in Dallas, TX and raised in a small town near Little Rock, AR and much like many of us, Mia had planned out her whole life. With dreams of taking over the soundwaves, she studied Speech Communication at Missouri Western State University and further at Howard University, leading to her first paid position in radio as a board operator for WPGC 95.5.
One thing she never planned was being diagnosed with uterine fibroids.
According to the National Institute of Health, between 80 and 90 percent of African-American women will develop fibroids by age 50. The medical community describes uterine fibroids as noncancerous growths of the uterus. They can range in number and size from a single growth to multiple growths, and from very small to large. For Mia, she didn't realize anything was wrong with her periods intially despite feeling like they were a "whole production." She'd be so fatigued during the day that she'd have to spend her 30-minute lunch break taking a nap. She wore super-sized pads during the day and large overnight pads at night, with the extra protection of sleeping with a towel underneath her out of fear she'd ruin her sheets while she slept.
One day, at the start of her daily 50-minute work commute, she bled so badly it soaked through her pad, underwear, and dress pants. That's when she knew something wasn't right.

During an annual women's wellness visit, her OB/GYN felt a mass – leaving her to think she was pregnant because her uterus had expanded to the size of a 25-week pregnancy. After countless appointments, specialized ultrasounds, self-research and communicating with other women who suffered from the same diagnosis, she decided to have surgery in 2015 to have eight fibroids removed. Having experienced a diagnosis that affected her self-esteem, Mia knew she needed to create something that would uplift women when they are at their most vulnerable. Through her experience, Love Yours was born.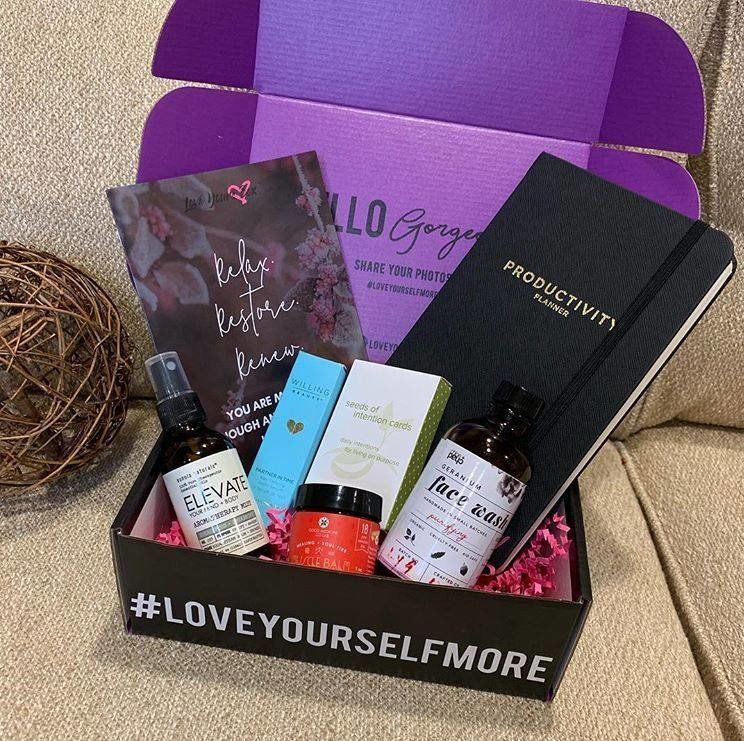 Love Yours Subscription Box - Winter 2019 EditionLove Yours
Co-created with her business partner Lydia Page, Love Yours is a subscription box that creates a quarterly experience reminding women everywhere to love themselves wholly, inclusive of their body, journey, mind and spirit. Each box contains a self-care ritual, packed with all things wellness, beauty, and skincare products specifically curated to help women love themselves more.

We had a chance to talk with Mia about living an authentic life, diligently pursuing her passions, and being persistent in fulfilling her purpose all while looking good and having fun.
What inspired you to create Love Yours?
I was inspired to create Love Yours with my business bestie Lydia Page because we both were at a crux of life. I was ready to dig deeper to pursue my dream of starting my own business that catered to women interested in beauty, "bossin' up" and blossoming at this thing called life. After a couple of meetings, Lydia came up with the name "Love Yours" to remind women everywhere to love all that they are no matter where there are in life.
How has having fibroids affected your life in both your personal life and in business?
Having fibroids has affected my life in a variety of ways but thank God it doesn't affect me as negatively as it once did being four years post-op from my myomectomy. Within my personal life, full disclosure: it hindered my sex life. I did not enjoy sex whatsoever. I literally used to question myself and ask what was wrong with me? I even asked my boyfriend. Like, it was a real self-esteem blow. I couldn't lie on my stomach to sleep and when I lied on my back, I felt a tugging sensation. And I could never get a flat stomach, even though I was working out 3-4 times a week then.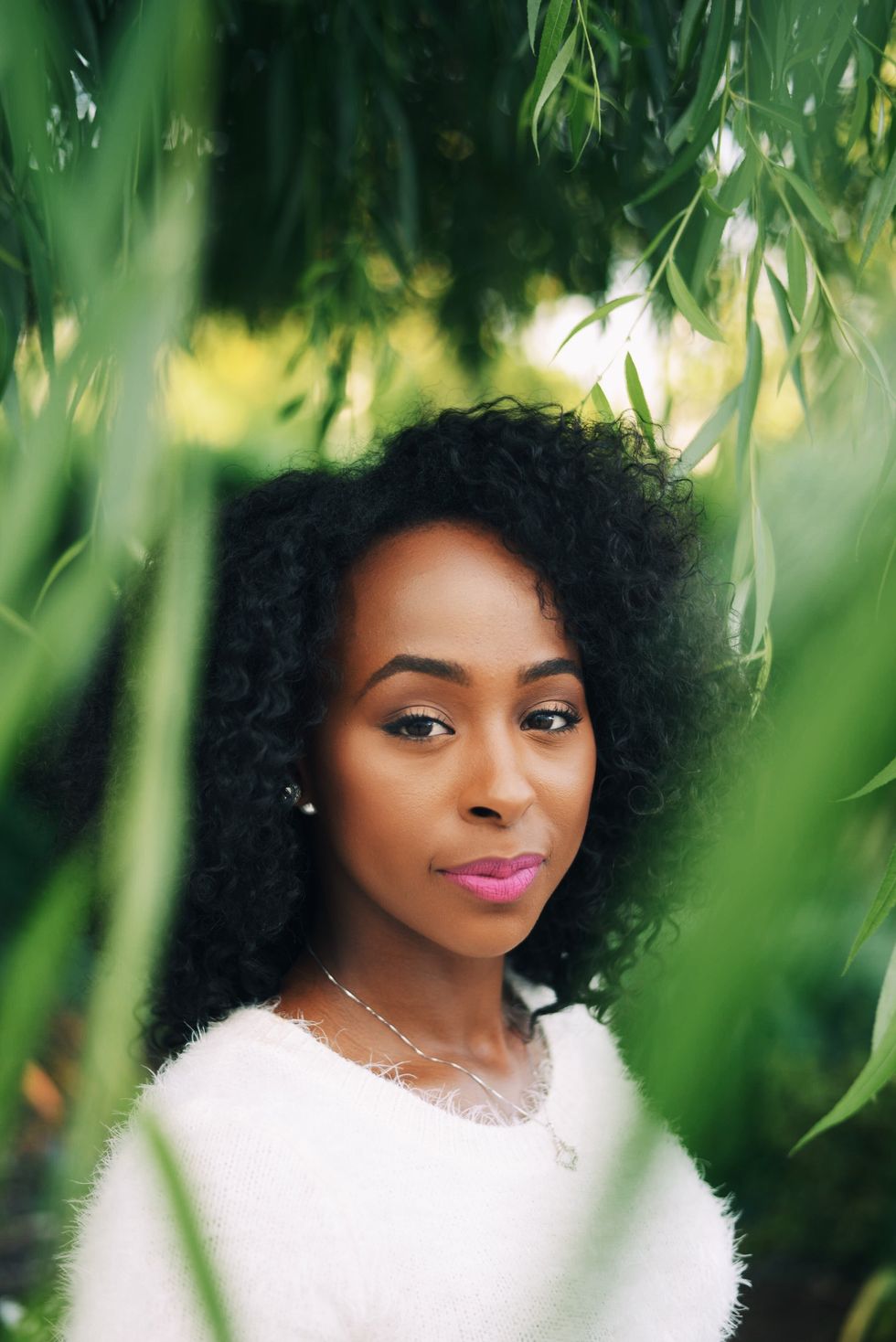 Image courtesy of Mia Banks
"I did not enjoy sex whatsoever. I literally used to question myself and ask what was wrong with me? I even asked my boyfriend."
What advice do you have for women suffering from fibroids?
Do your own research and make the best decision for you! Get a second and even third opinion if you feel the need. Also, do not allow any doctor to make you believe that a hysterectomy is the only solution, especially if you desire to have children. Google is your friend. I researched and researched. I discovered that women have so many more options today. I even joined an online support group. I researched and tried holistic options as well. Ultimately, I did what was best for me and my well-being, and that is what I'd encourage women who are suffering today.

Also, talk to your moms, grandmothers, sisters, [and] friends because your support group is usually a lot closer than we think, as most Black women suffer in silence. I learned a lot about other women in my immediate family who experienced issues with fibroids as well. Know that no procedure is a 100% cure because sadly, in most cases, the fibroids may return. Unfortunately, a few fibroids have returned for me, but they are significantly smaller in size and number. Hence, I'm now focusing on eating better and really focusing on more natural, holistic options this time around because I at least want to take home a baby or two the next time I'm cut open.
What does Love Yours mean to you? And what do you hope for women to gain from the box?
Love Yours means loving all of you – unapologetically. Love your past, present and future because all of those experiences make up who you are and what you contribute to the world. Love Yours is about girls and women being confident to be their authentic selves, courageous to pursue their dreams and clear about who they are as a female. Love Yours also embodies collaboration and support amongst women; we need each other to survive and thrive. I hope that women everywhere no longer feel guilty for putting themselves first. Self-care is self-love, and we can't adequately take care of our families and other responsibilities, if we don't first take care of ourselves.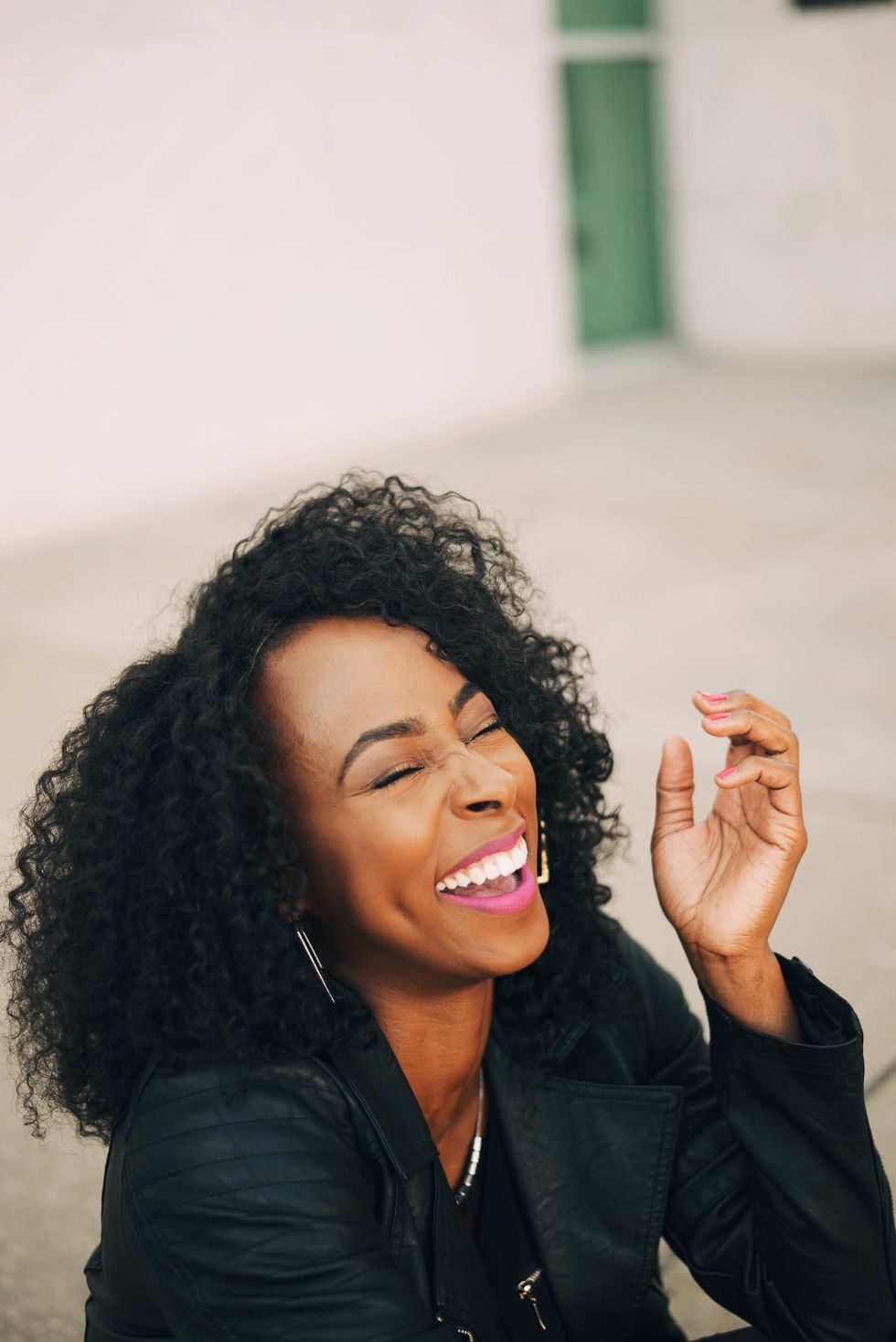 Image courtesy of Mia Banks
"Love Yours means loving all of you – unapologetically. Love your past, present and future because all of those experiences make up who you are and what you contribute to the world."
How do you balance your career and self-care?
This is an evolving process. I've learned to #lovemyselfmore by giving myself grace. Sometimes it's as simple as indulging in a sweet treat and reminding myself that it's okay to "eat the cake." Other times it has to be very intentional, like scheduling a full-body massage two times a month or setting time aside on my calendar for meditation and prayer. Honestly, that is what works best for me with my demanding work schedule, I must put it on my calendar and treat self-care like any other task. It is my responsibility to take care of me.
Can you share a time you felt lost and how you made it through?
There was a time while living in Washington, DC that I was unemployed and felt completely lost and didn't know up from down. Full transparency, I was slightly depressed as a small town Southern girl living in the big city, no longer in graduate school, no longer calling home for a loan and really having to figure things out on my own. That period really forced me to level up and show up for myself. Thank God for my genuine relationships and my commitment to maintaining those relationships mutually.
Eventually, as with almost every "down moment" of life, I made it back into the light. One day, I simply spoke up and asked a friend of mine if he knew of anyone who was hiring for part-time work, and he connected me with a private school on Capitol Hill that was looking for after-school care coordinators. I applied and received that job, and it turned out to be just the boost I needed to get myself back going. Not to mention I had a great confidant and roommate who was both supportive and reminded me of my talents. I connected with a church family that was literally a Godsend and reminded me that it will all work out for my good. Life will always give us exactly what we need when we need it, we just have to pay attention and go with the flow when circumstances are out of our control.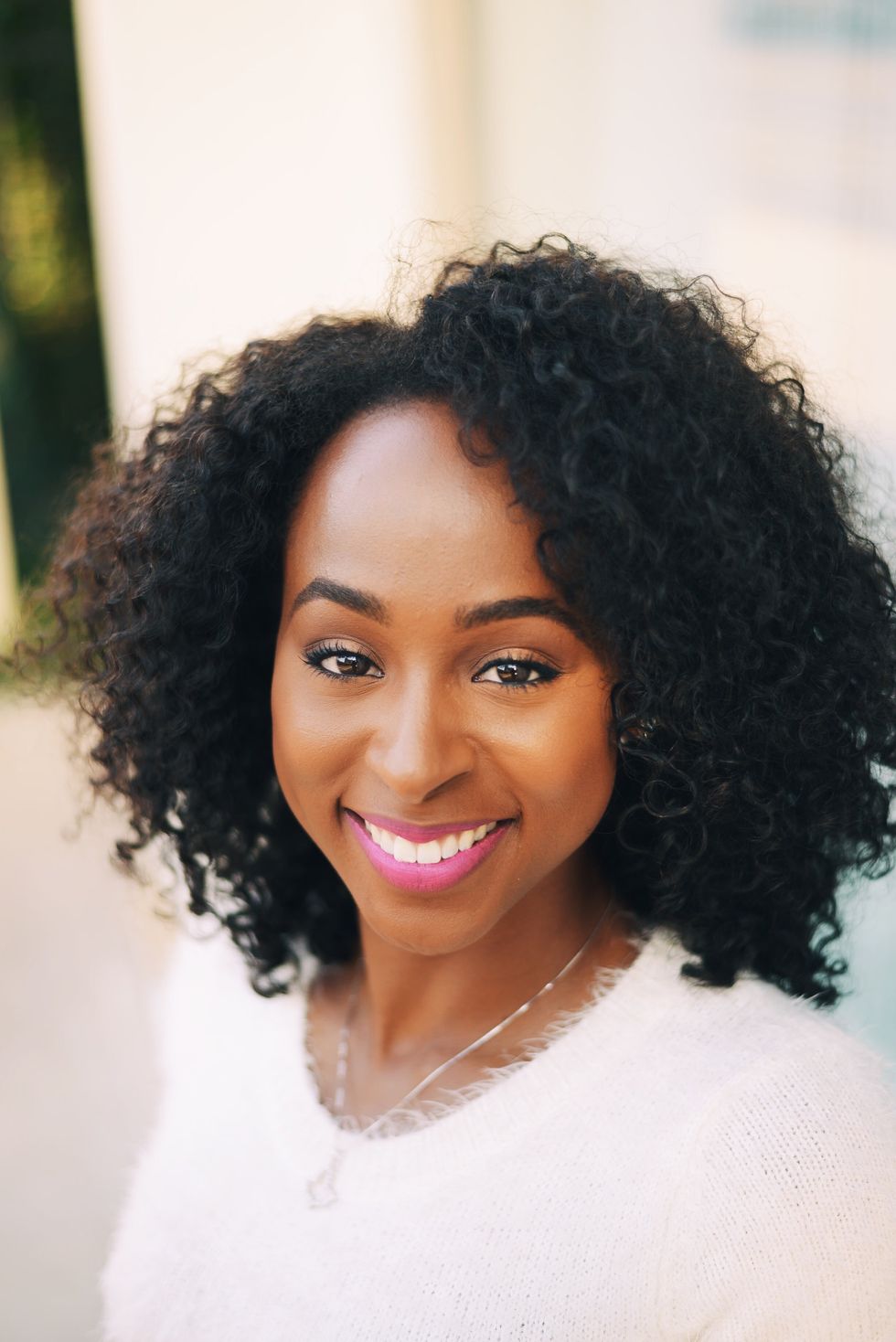 Image courtesy of Mia Banks
"Life will always give us exactly what we need when we need it, we just have to pay attention and go with the flow when circumstances are out of our control."
If you had to choose three words to describe your life, what would they be and why?
Covered – I truly cannot answer this question without giving all glory, thanks and honor to God. I have numerous times from childhood to now when I can remember when I was down to my last – I even had a car accident where I could've lost my life -- but God saved me. I'm covered by God's grace, and that means I must share that grace with others through my daily actions, personal and professional brand. That's why I'm so sincere about Love Yours uplifting women.
Hustlher – I've always had to work hard for everything. I've never been given anything. Since I was 18, I've worked two jobs. I currently work three jobs – radio personality, HR professional and freelance makeup artist. I learned the importance of hard work and never making excuses from my mother.
Ambitious – I've always been taught to dream big and do everything I can to make my dreams a reality. I'm very ambitious. From grade school to now. I have high goals that I will achieve as long as I remain committed, true to me and secure in my abilities. That last part is an ongoing fight. I will win.
Keep up with Mia's journey on social media and check out the beauty of the Love Yours box as well!
Keep reading...
Show less