If you or someone you know is allowing self-doubt to stifle their success, Michelle Obama is here to remind you that issa lie. I don't know who needs to hear this, but all of the ugly, non-productive, invalidating self-talk that happens internally is false as f*ck and in actuality, you are the only one who is stopping you from walking in your greatness. OK, I lied. I know exactly who needs to hear this––it's me.
As a self-proclaimed goal junkie, I constantly struggle with proving my worth without realizing that I'm a whole prize in these streets and in 2020, I've decided that enough is enough. If you, too, battle with chronic imposter syndrome and are looking to level up your mentality, our good sis and Forever First Lady had a word that will help you leave self-doubt where it met you and kick your hustle into overdrive. As a speaker on the Obama Foundation Leaders: Asia-Pacific panel in Kuala Lumpur last month, Michelle, who has struggled with imposter syndrome herself, broke down how the cycle actually starts:
"Because you've been told that you're not good enough, when you're in a room, you're wondering, 'Well, how did I get here if I've been told I'm not good enough?' Women feel it oftentimes because society says you shouldn't be doing that. Right? So you feel like an imposter in your own life. You feel like, especially if you've achieved success or you're in rooms that you're not supposed to be in because society has told you that, you think maybe somebody's going to discover that I shouldn't be here."
While this feeling of inferiority and not belonging may be uncomfortable (and untrue), Michelle assured us that it is not uncommon.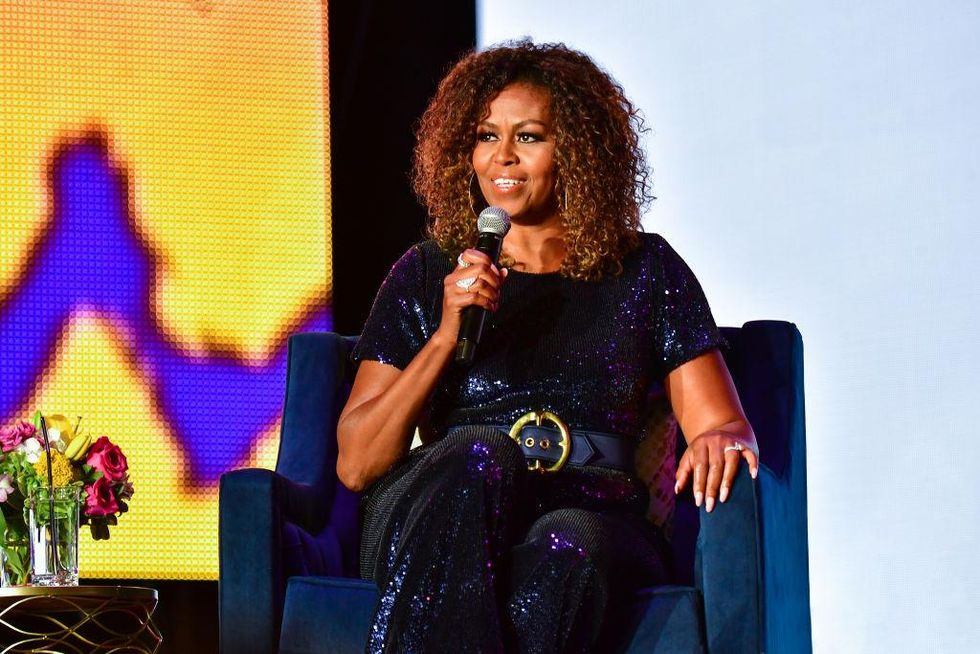 Erika Goldring/Getty Images
"Imposter syndrome is, it's a thing in your head. And you know, it's just like self-confidence is just like any internal characteristic. Much of it is what you practice telling yourself. If you've heard that you're not good enough, that's what you're practicing. I'm just here to tell you it is not true. You wouldn't be here. You wouldn't be doing what you're doing if you didn't belong here."
Somewhere between childhood and becoming adults, we forgot that we can do whatever TF we want with our lives. After years of being told that our ambitions are too ambitious, we begin to believe it ourselves, but Michelle Obama needs you to know that buying into that bullsh*t will never pay off. She explained:
"I'm 55 now and I've seen it. I've been waiting to be as bad as people told me I would be. I've been waiting to fall and mess up and fail. I've been waiting because that's what they said. I didn't belong at Princeton. Right. I applied to Princeton University. My college counselor said, you, you know, that school's too much for you. Well, I applied. Anyway, I got in. I was waiting for it to be hard and for everybody else to be so much smarter. They weren't, they weren't."
While imposter syndrome may have a grip on your mind, Michelle needs you to know that it's time to release that demon and put your foot on they neck, sis.
"You're needed at those tables. So you can't sit there wondering whether you belong because you'll waste your time in those seats and you'll hold your voice back and you won't be able to make change because you're waiting for somebody to tell you that you belong. I'm telling you, you belong. Practice a different set of messages."
Featured image by Erika Goldring/Getty Images
It's time to pull up at the bar for another episode of xoNecole's Happy Hour podcast!
This week, Sheriden and Necole are living vicariously through Amer as she travels to Egypt, but there are lots of laughs as the squad pre-game while discussing how traveling can help you step out of your comfort zone and shift your perspective on life. Plus, the hosts give suggestions on how to manage toxic family members during the upcoming Thanksgiving holiday.
Before leaving the bar, the ladies are joined by actor Kendrick Cross who plays Titus Hughes on OWN's new drama series Ambitions. Over a round of drinks, the actor reveals how he turned poetry into an acting career, why vegans taste better, and answers a round of first date questions.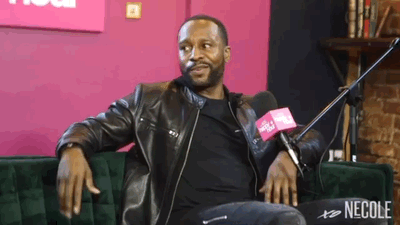 Will the hosts deem him worthy of a second date?

Show Notes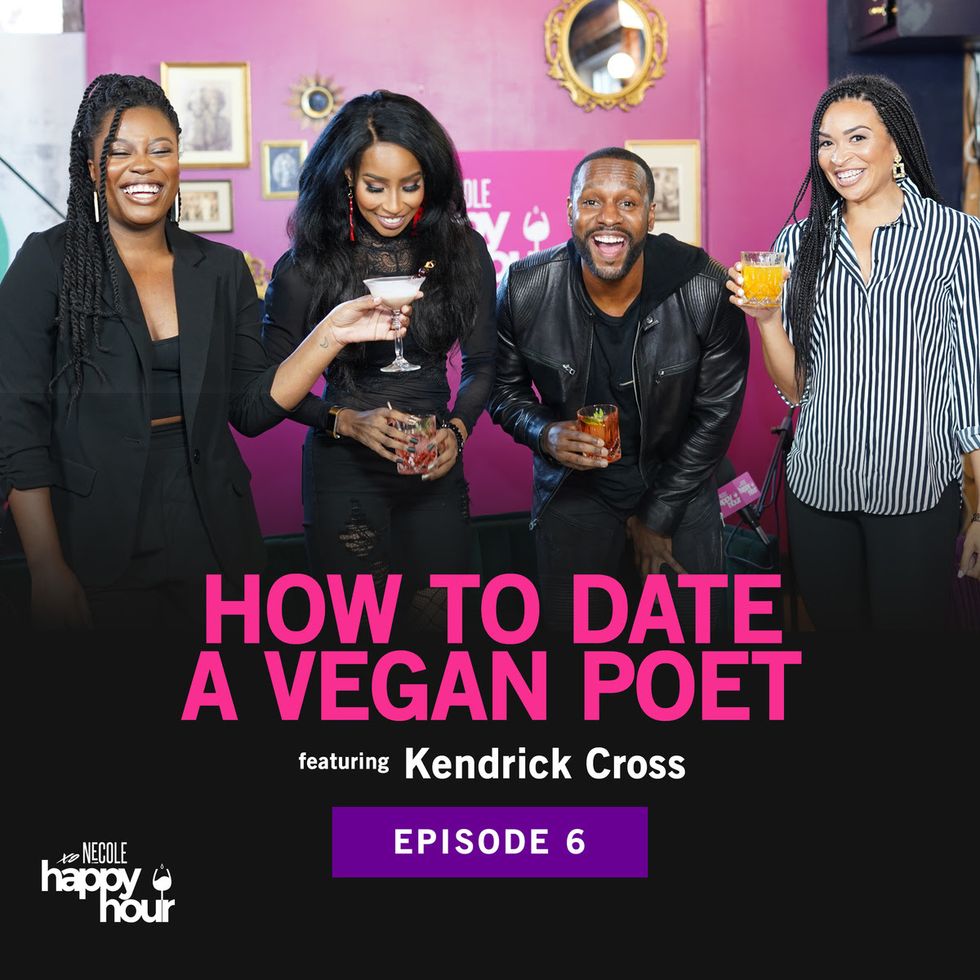 Listen and subscribe to xoNecole Happy Hour on Apple Podcasts and Spotify.
xoNecole Happy Hour/ @mrmarcaaron
Things you will learn in this episode:
How a life shift can begin with travel
Flight layaway plans that are available for travelers on a budget
How to protect your peace from toxic family members during the holidays
Who Kendrick Cross is outside of the show Ambitions
What Kendrick looks for in a potential partner
How Necole expects her first dates to end
Why Sheriden wants to get as emotionally naked as possible with her dating prospects
Travel sites mentioned during the episode:
Getaway Cabin
A unique kind of getaway that allows you to get away from the hustle and bustle of city life and into the calm and peaceful vibe of the woods. Use this link to get $25 off of your first booking.
Airfordable
With Airfordable, you can pay for your flights anywhere in the world by booking the flight at a low price and paying it off in a series of four installments. You get to choose the frequency. Use this link to get $25 off your first booking
Where to find Kendrick Cross:
A HAPPY HOUR DATE WITH A VEGAN (Feat. KENDRICK CROSS)
Tune in every Wednesday for your midweek refill! You can connect with us on Twitter, Facebook and Instagram at @xohappyhour and use the tag #xohappyhour to join the social convos.
Leave us a voice message on xohappyhour.com to share your story with us or ask a question for a chance to be featured on the show!
Featured image by @mrmarcaaron
It's time to pull up at the bar for another episode of xoNecole's Happy Hour podcast!
Ayeee it's lit! This week, we are celebrating our one-month anniversary of launching xoNecole's new podcast. We are extremely grateful for all the love you guys have shown us, the positive ratings and reviews and helping us peak at #6 on Apple Podcasts (All Time Best Sellers) Relationship charts.

To celebrate, we decided to take Happy Hour out of the office and on-location at our favorite bars around Altanta while inviting some special guests.
During episode 6, the xoSquad Necole, Amer and Sheriden kicked it at Parlor in Atlanta with actor Kendrick Cross who plays Titus Hughes on OWN's new drama series Ambitions.
Over some delicious signature cocktails and a few giggles, the actor revealed how he turned poetry into an acting career, why vegans taste better, and answers a round of first date questions.
Don't forget to listen and subscribe to xoNecole's Happy Hour on Apple Podcast. And follow us on Spotify. You can also check out show notes for this episode here.
Don't forget to subscribe to the xoNecole YouTube channel for exclusive interviews and original series here.
Goodness, y'all. We're only on the second episode and my head is already spinning! Ambitions may technically be categorized as a ''nighttime soap" but back in my The Young and the Restless watchin' days (RIP Kristoff St. John), I was able to go weeks, months even, without watching it and still be able to keep up.This? I'm darn near scared to go to the bathroom during commercial breaks; that's how fast it moves.
OK, so let's do a recap of last night, shall we?
Evan & Bella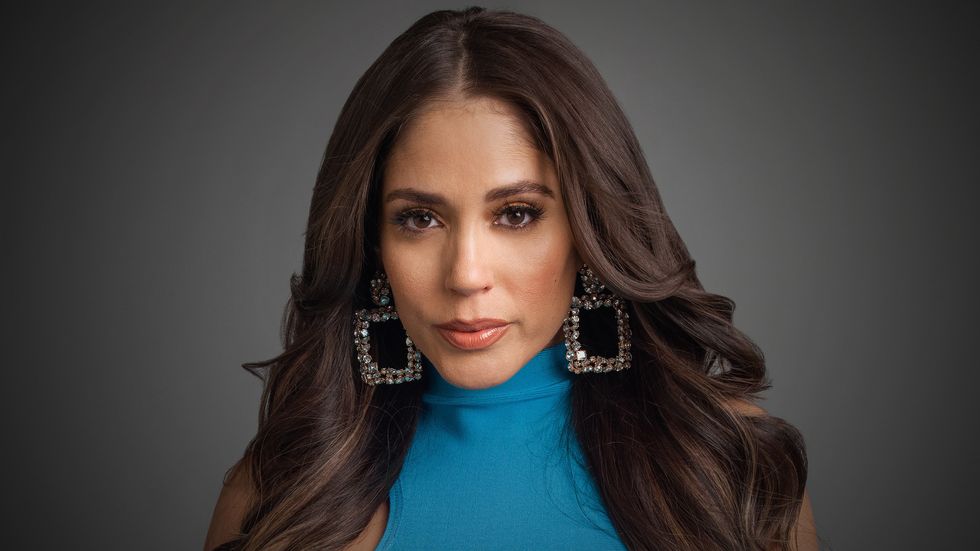 Erica Page as Bella
OWN
It picks up with Rondell, her (and Evan's) father, Senior and Bella's mom, Inez telling the police what happened when a goon broke into the restaurant with a bat and threatened Rondell by saying, "You know what time it is, bitch!" (That stood out to me because Rondell kept bringing it up.) Senior's shotgun is what ran dude off. Senior was still holding it in the police's presence. Who sent the goon? Sit on that for a sec. I'll be back.
While Senior and Rondell were semi-freaking out, Evan was in bed with Bella. Hmph. A guy I know once told me, "If you're gonna cheat, cheat with someone who has more to lose than you do." Yeah well, if that memo was on Evan's desk, he overlooked it because while he was sleeping, Bella was taking all kinds of pics of him and his, well, you know. She even used her phone to videotape them gettin' it in. Clearly, she doesn't have more to lose than Mr. Mayor does if—which really means when—he gets exposed. SMDH.
Titus & Amara
Meanwhile, over at Titus and Amara's house, Titus tried to convince his wife that he no longer has feelings for Stephanie. If you watched the first episode, you know that couldn't be further from the truth. Sidebar—Am I the only one who is trying to figure out how two married lawyers—Evan and Stephanie and Titus and Amara—can fully trust each other? They convince people to think how they want them to for a living.
Anyway, cutting back to Evan and Bella and here he goes having the nerve to be jealous about her having a relationship with Roderick. As he was letting the green-eyed monster rears its ugly head, I think what stood out to me most was, "The thought of you together makes me almost not want to touch you." Uh-huh. Almost but not quite. Less than a minute later, he's taking his clothes off again when he should be heading home…to his wife.
Stephanie & Evan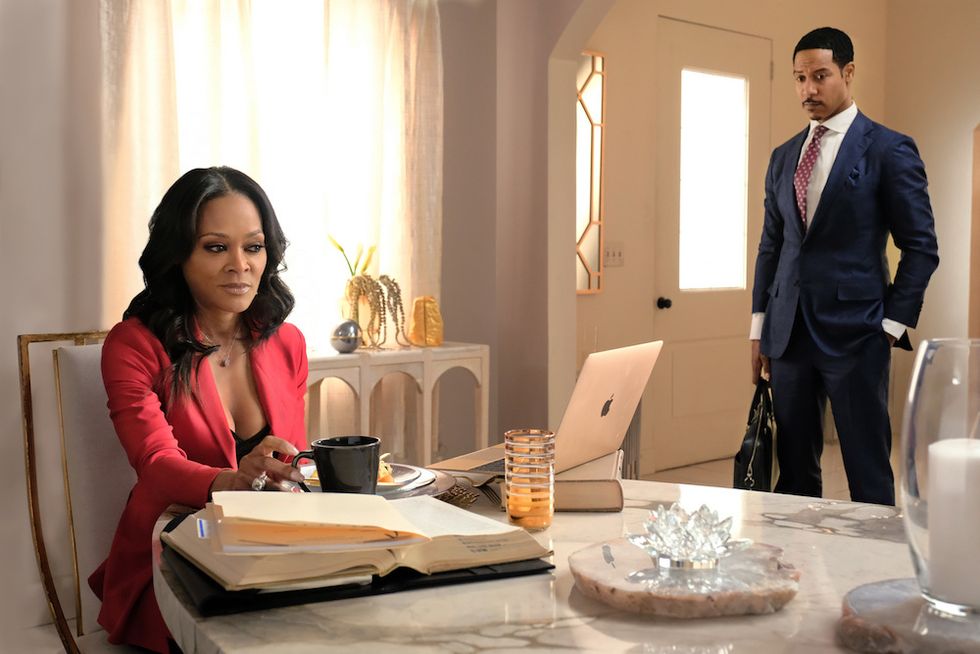 Robin Givens as Stephanie Carlisle and Brian J. White as Evan Lancaster
Ambitions/OWN
And what is Stephanie doing while all of this is going on? She runs by her mom—and dad's—house real quick to vent about not feeling appreciated by her father. Her mom basically co-signs by admitting that she wishes there had been "less Stephen and more Irene" in the marriage.
What does Stephanie get out of her mom's pearls of wisdom? Apparently to be reckless because she texts Titus. And who ends up reading it (how come no one seems to wake up when their partner uses their finger to unlock their phone?!)? You already know. Stephanie's ex-bestie and soror sister, Amara.
After what seems like a pretty long night for everyone, Evan and Stephanie begin a new day at their dining room table. It's weird because although they don't seem to be in love, they do seem to be genuine friends; at least up to a certain point. For most of the meal, things seem cordial, endearing even at times, until Evan gets up to leave and Stephanie says, "You've been putting in a lot of late nights lately. I'm not the only one who's been noticing" to which Evan replies, "You mean Saturday night? The same night you put a gun to my head?" (Checkmate.) Stephanie ignores his question and simply warns him not to disrespect her. Umm, I guess she means, anymore.
Evan, Stephanie & Amara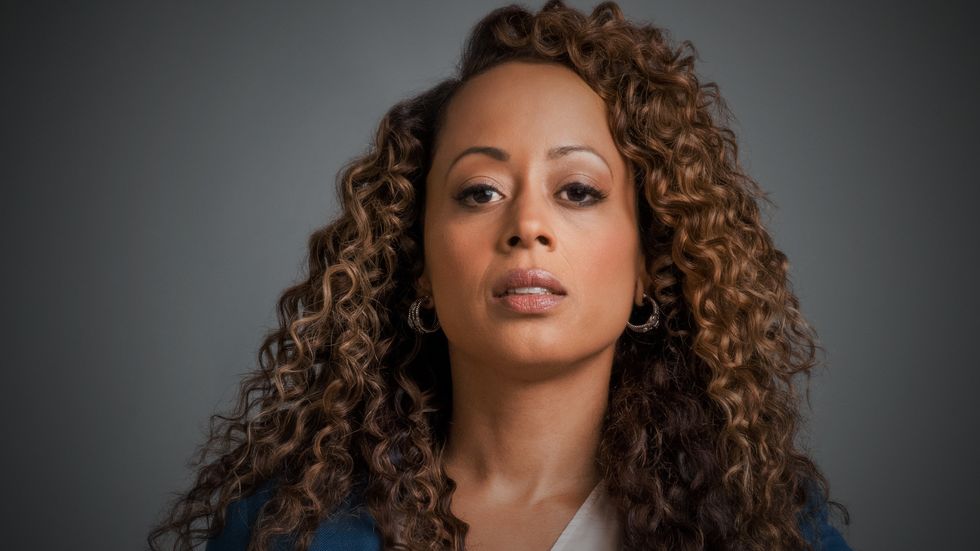 Essence Atkins as Amara
OWN
With political power comes enemies and Evan's got plenty of them. One is a man by the name of Councilman Kent Hamilton. As a prosecutor for the Department of Justice, Amara goes to meet with the councilman to see what he knows about certain shady dealings involving the mayor. He tells her that if she wants the dirt on Evan, she should—and I quote—"Talk to his mistress." Evan's mistress, that is. Messy, messy. No wonder Inez (Bella's mom) keeps trying to get her daughter to end her affair.

Back at Evan's office, he's just receiving the news about what happened at Thelma's Place. In between flirting with a blonde there (how many mistresses does he have? Hmm…) and planning his day, he finds the time to head off to see how he can help. Or further mess things up. It all depends on how you look at it, I guess. Once Evan arrives and he hears what went down, although Rondell is convinced that Greg Peters was behind the attack, Evan doesn't agree. He's right to think that. We'll come back to this in just a moment.
Lawd, lawd. Stephanie and Amara. Is it a shocker that, as Stephanie is hoping to meet up with Titus for lunch, Amara is who shows up? Oh, how I adore the subtle nuances of Black television shows. As Amara reminds Stephanie who Titus belongs to ("Who's fighting? Titus is mine.") Stephanie calmly claps back with "What is this? The old Brandy and Monica song?" (#cute) They go back and forth about who betrayed whom, then Amara lays down the law about Stephanie needing to keep her text fingers—and everything else—to herself. Good luck with that, sis.
Bella, Rondell & Evan
It's the middle of the day by now and, of course, Bella's out doing something for Bella. This time, it's a photo shoot for her fashion line Bella True. Problem is, she's in the park without a learning permit, so a cop is giving her a hard time about it. She calls Evan to handle it but—surprise, surprise—as the mayor of Atlanta and not her husband, he's tied up. She does the next best thing and uses Roderick's clout to help her out.
At the restaurant, Rondell is flirting with Councilman Hamilton who happens to just "drop by". Yep, the same guy who told Amara that Evan is cheating on Stephanie is who's winking at Evan's sister. Since he's over Rondell's mama's restaurant (district-wise), he works with her to come up with a plan to keep gentrification at bay. It doesn't seem like anyone on this show has pure intentions, though so, we'll see what he really wants. Other than to get underneath Evan's skin and a piece of Rondell's pie. (Take that how you will.)
The anger that Evan has towards Bella, he takes out on his in-laws. He believes that his father-in-law, Stephen, is the one who sent the goon to the restaurant but—gasp!—it is actually his mother-in-law, Irene. Her motive? To pressure Rondell to sell. Ugly.
I'm not sure when Stephanie actually does her job because after lunch, a man by the name of Nick comes into her office to let her know that he's got some dirt on Mr. and Mrs. Hughes. Actually, only Amara. Now Stephanie knows that Amara had an affair with her co-worker Damien Collins in the midst of getting a raise and promotion back when she was living in Birmingham. Ammo. BIG TIME.
Back to Bella. While she's thanking Roderick for helping her spoiled and entitled behind (I'm sorry. Did I say that out loud?), who shows up? Evan. Who's pissed to see her with Roderick? Evan. Who gets super-duper petty and invites Roderick to be a part of a city-wide campaign while not inviting Bella because she's not popular enough (yet)? Evan. Evan, Evan, Evan. Y'all know that Evan and Bella are not gonna end well…right?

I don't care if it's this season or five seasons from now, there's more passion than love between those two and too much passion without enough caring can get somebody humiliated or killed. Time will reveal.
After a long day's work (and dishing out vile threats), Amara comes home to Titus cooking. She lets him know that she met with Stephanie. Titus is still trying to convince the both of them that Stephanie won't be a problem. Denial is dangerous.
This episode closes out with Rondell asking the community to come together to join N.A.G—Neighbors Against Gentrification. Oh, and Evan bringing Bella's son—who calls him "Mr. Evan"—a toy. Only—dun, dun, dun, dun—the little boy is his son too. Chile, chile, chile.
Can I finally go to the bathroom now?
Catch up on all the intrigue of Ambitions every Tuesday night on OWN.
The OWN network has turned up the heat on Tuesday nights. And if you watched the premiere of the Will Packer produced series Ambitions, you know exactly what I'm talking about. Viewers were catapulted into this deliciously messy drama that follows the lives of five families who are all trying to navigate the waters of dominance, disloyalty, dishonesty, and most of all: debauchery. The cast is full of amazing actors who do more than a good job bringing their characters to life -- I'm talking Essence Atkins, Brian J. White, Kendrick Cross, Brely Evans and the lead lady of the pack: Robin Givens.
Owning the role of Stephanie Carlisle Lancaster, wife to Atlanta Mayor Evan Lancaster and successful lawyer at her family's firm, the 54-year-old proves once again why she's able to maintain relevance in an industry of come-and-goers. She's poised, she's sexy, and she's deliberate.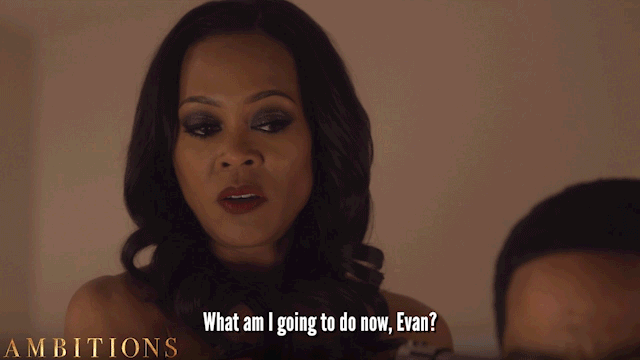 Givens knows exactly how to reel you in and let you go with just enough so that you'll keep coming back for more. But perhaps what's more impressive than what she does on-screen, is the woman she's become off-screen.

As we chat over the phone on a midweek afternoon, it becomes clear that Givens is a woman who has both lived and learned a lot. She's a woman who, at this point in life, is very clear on who she is, where she's going, and who she hopes to be. Her light and reflective disposition radiates easily as she speaks and it lets me know that, more than anything, Robin Givens is an unstoppable, unshakable, and inspiring force.
The renowned actress spoke candidly with us about Ambitions, faith, and if she'll ever get married again. Here's what she had to say.
xoNecole: We've seen you play a myriad of roles onscreen: the vixen, the sex symbol, the tough girl who takes no stuff. Are there are any parallels between you and the characters you portray?
Robin Givens: Well, I think I usually play smart women, you know they're very well-educated. In some ways I'm a little bit behind my character, but in others, I'm ahead of them. I think I'm more mature and maybe more evolved in life than Stephanie Lancaster in some ways. I feel that in some respects though, for a lot of characters that I played--they had more confidence than I had. Stephanie is shrewd; she can maneuver things which personally I'm terrible at. Some parts of her, I really admire because I wouldn't even know how to do what she does.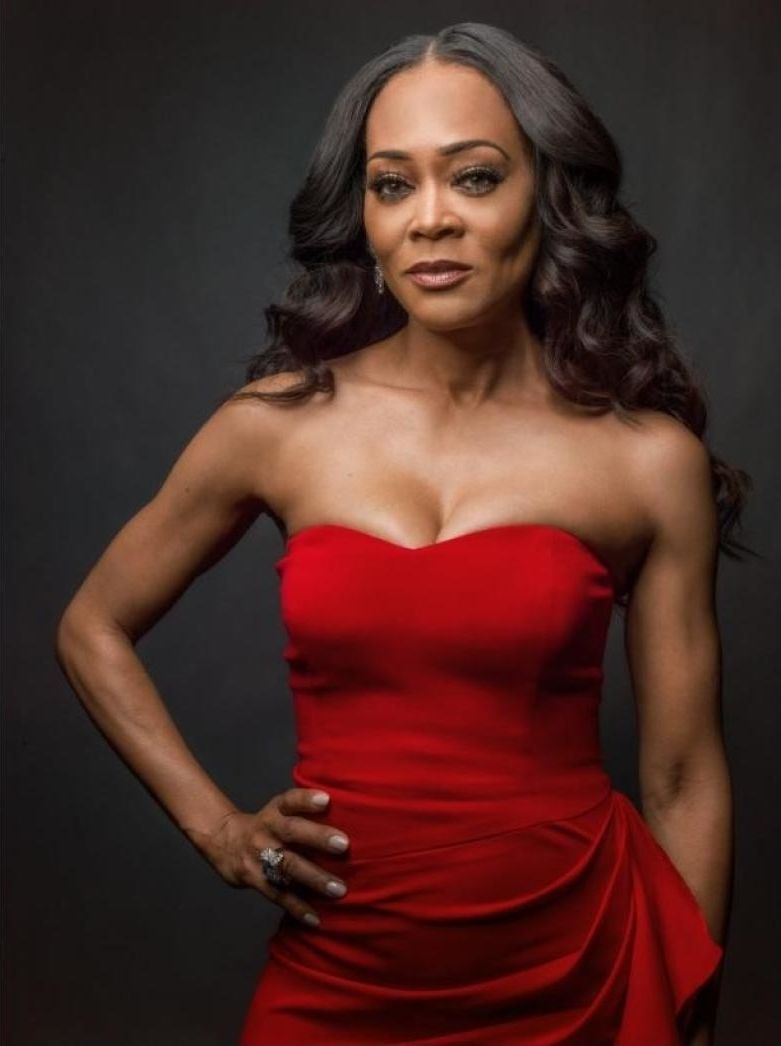 OWN/Peggy Sirota
"Stephanie is shrewd; she can maneuver things which personally I'm terrible at. Some parts of her, I really admire because I wouldn't even know how to do what she does."
In a recent interview, you talked about how Stephanie was first written in the script. You described her as an "Ice Queen." What originally drew you to play her character? 
The writing was just SO good, and I thought I could shade her in and color her a little bit differently than a lot of people would. I just knew I thought of her in a certain way and I wanted to give her a sense of humor. So I think that was a little bit different than what Jamey [Giddens, creator] had in mind initially.
While watching the first episode of 'Ambitions', viewers almost get a sense that Stephanie and her husband Evan almost hate each other. That they're only married for convenience, can you give us a little insight into their relationship? 
I think initially it was convenient, and I think she thinks she's ambitious. She sees that Evan can be the mayor of Atlanta and [might] go on to become governor of Georgia. But as time goes on, you begin to see that there is a little bit more [of] something there. They really are a power couple. Each of them sees themselves in each other and they're kind of bonded in a way. Later on, we'll get to see that there's a little more love in there.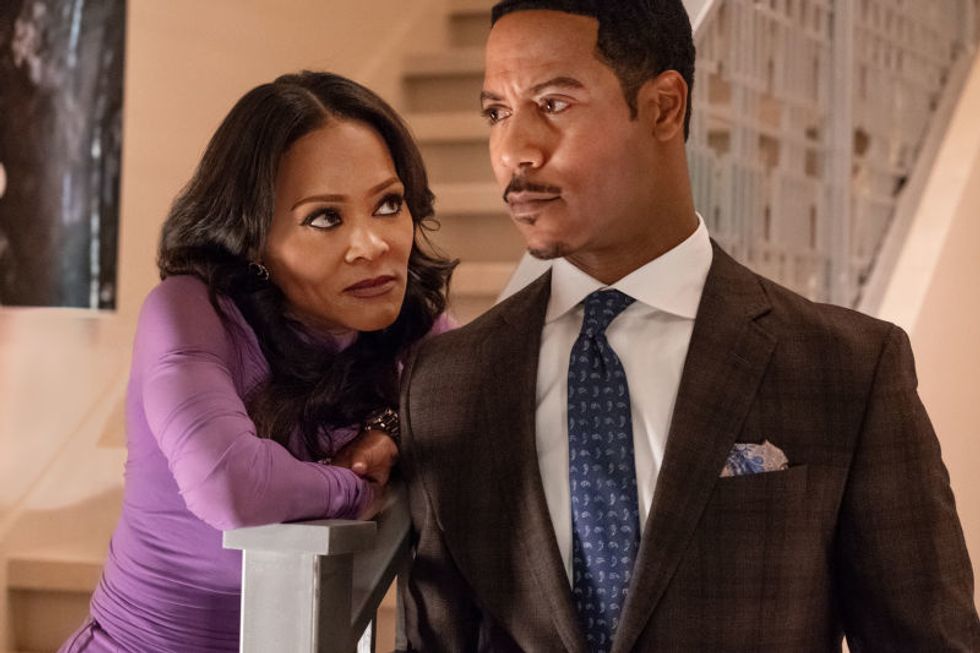 Robin Givens as Stephanie Carlisle starring alongside Brian J. White as Evan Lancaster in 'Ambitions'
OWN
"They really are a power couple. Each of them sees themselves in each other and they're kind of bonded in a way."
You mentioned power couple just now, so I'm curious. If you could compare their relationship to one in the public eye currently, whose would it be and why? We saw on the 'All-Access' show, your costar Brian J. White mentioned Bill and Hillary [Clinton or] Jay-Z and Beyoncé.
I mean, I don't know! I work with Brian so I know how he feels personally about this (laughs). He was actually a big part in our 'Stephanie and Evan', in terms of the closeness of their relationship. I think I can pull Bill and Hillary. I don't know much about their personal relationship but certainly they are very bonded. I think they have a mutual respect for one another. From the outside looking in, I think he admires her [and] respects her. And Evan feels that way about Stephanie; the respect and admiration is mutual. So, when we [hear] his character say, "I'm never going to leave my wife"-- it's true. Evan is never going to leave her. There is no woman like his wife… I think she challenges him.
Has Stephanie and Evans's relationship altered the way you view marriage in any way? 
No, no. I don't take it that seriously. I don't think I would want their marriage, I don't think anyone would want their marriage! So definitely don't try this at home. To the people watching: don't push up on your wife and don't pull a gun on your husband (laughs).
Is marriage something you're open to again?
Of course, of course yes--I would absolutely love it! I have two boys, I adopted my first child and the other one I had with a wonderful man. He remarried but we love each other dearly and I love his wife. So we are very much a blended family, but absolutely. I would love that, especially now that I'm an empty nester. I'm working again, I'm a little older. So maybe I can focus in on that as well.
Maybe you can, yes. We are all rooting for you.
Maybe I can have my agent hook me up, but hey if you know anybody let me know!
I surely will, I'll be your Wingwoman.
There you go, yes! We have to stick together, we have to (laughs).
So at this stage in your life, empty nester-slash-working woman: how would you like a man to court you?
Well, I like being treated like a lady. I really need someone who just gets me, you know? I'm so different from any of my characters. I need someone who understands me. Someone who thinks I'm cute apart from all of this, acting and getting dressed up… I'm looking for peace because I like that. Laughter, friendship in a very simple way. I like to enjoy life with simplicity, so I try to keep things that way. And someone who is patient, likes dating me, and who can make me laugh.
You mentioned your sons a little bit ago, do you find that motherhood affects the way you go about dating?
I think so. I tried to keep dating very separate from them. But now that they're older, I started talking about dating when my eldest son started dating. And it's funny because, there was this one time when we were out somewhere and he goes, "Come on Mom, it's time for you to start dating again, you have to get a guy and stop concentrating on us." And it's like, why is my child verbally reprimanding me? (laughs) I was mad but I was cracking up at the same time.
But you know, the older they get, the more freeing you get. In the sense of you don't have to be home at a certain time and things like that. So, now that I have an empty nest, I think with that comes a courage--not just for dating but for acting as well. For pursuing your dreams and concentrating on yourself and making yourself your project instead of your children--that takes courage.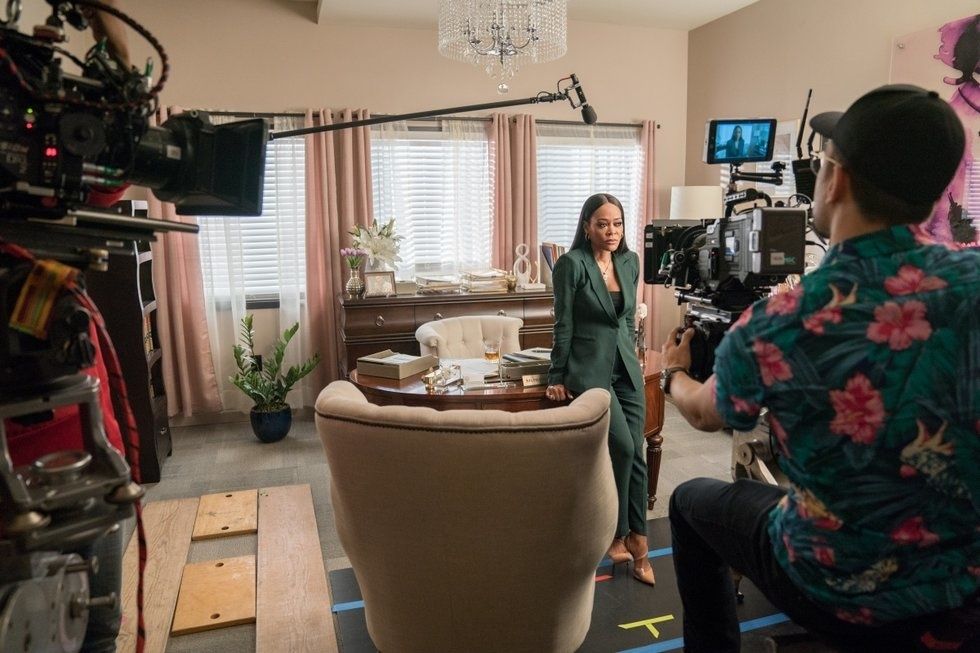 Behind the scenes of 'Ambitions' with Robin Givens as Stephanie Carlisle Lancaster
OWN
"Now that I have an empty nest, I think with that comes a courage--not just for dating but for acting as well. For pursuing your dreams and concentrating on yourself and making yourself your project instead of your children."
I want to switch gears a bit and talk about your advocacy against domestic violence. You've been a voice for the bulk of your career, having experienced it in your own life at a point. 
Yes.
And there's a scene in episode one where after Evan pushes Stephanie, she decides to turn it up several notches and pulls out a gun. Was there a sense of empowerment of "fighting back"?
As much as I am an advocate for domestic violence, I'm really just an advocate for women. I'm a woman, I'm a black woman and I really believe we all have more in common than we think. Certainly our circumstances are different but I think these are all women's issues. And I like to do my part in empowering women especially with being a single mom. I do like how Stephanie gives him no energy whatsoever and then like you said, she takes it up a notch. I don't really connect it to myself so much, I don't do that.
I allow Stephanie to live in me. I bring her to life without burdening her with my history and my circumstances. That being said, I think everything I've gone through in my life--the good, bad and the ugly--helps give me a perspective. It gives me a well to draw from. It's in me. So I can't deny that I put some things into it, but I don't want her to carry around Robin on her back. She's got enough issues to deal with on her own.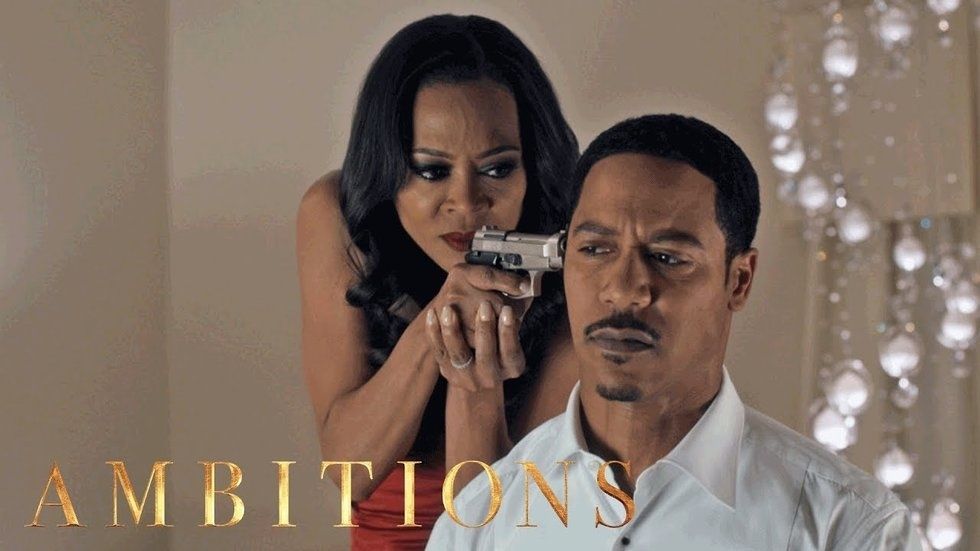 Robin Givens as Stephanie Carlisle starring alongside Brian J. White as Evan Lancaster in 'Ambitions'
OWN
"I allow Stephanie to live in me. I bring her to life without burdening her with my history and my circumstances. That being said, I think everything I've gone through in my life--the good, bad and the ugly--helps give me a perspective. It gives me a well to draw from."
You are definitely right about that. But on a personal note, what would you say is the biggest difference between the Robin at the beginning or your career and the Robin you are currently?
I'm grown up--I'm a grown up now! I started this really, really young; I think I've had my SAG-Aftra card probably 35 years now or something like that. I've grown and the world kind of watched me grow up. Now I'm a grown woman and I like being a grown up. So I think that's probably the biggest difference. I was a baby in a sense, a kid initially. But with being grown and being more mature, I have a perspective and respect for things and opportunities.
There were so many things I said "no" to that the Adult Robin would look back on and go, "Now why did you say 'no' to that? Are you crazy, you think opportunities just come as you'd like them?" (laughs) So I think having the perspective of an adult--I really like that and it makes me a better actor, you know what I mean? I feel like I can bring Stephanie to life knowing that I want her to be however strong she seems to people, but that she has vulnerabilities. And that was important for me to show. She has fears. And as an adult now, I know how to shade her in a different way.
Before you go, I want to touch on your faith. I know that's very important to you, having been vocal about how it anchored you in a sense and got you through some of your lowest moments...
Yes, absolutely.
So I want to ask you about a quote you once said. It reads: "It is by experiencing God that we get to know Him…and it is in knowing God, truly knowing God, that we get to know ourselves." When you hear that, what does this statement mean to you?
You know, my relationship with God is as I call it, is a relationship with "the only Father I've known." It's been something that's grounded me, sustained me, and saved me. It's meant everything to me. It's how I'm able to be here, be sane and be whole. And hopefully, perfectly broken in a way that can inspire others. He has given purpose to this sort of, beautiful mess. You know, I grew up Catholic and there was a certain ritual that we would go through. And I think often times, we go through these rituals and we--or I didn't really get to know God-- or what it meant to really fall onto your knees [in prayer] until I could only fall on my knees and prayer. So that relationship changed for me and went beyond being a ritual to being a real relationship and that has meant the world to me.
"My relationship with God is a relationship with 'the only Father I've known.' It's been something that's grounded me, sustained me, and saved me. It's meant everything to me."
For more of Robin, follow her on Instagram. And catch new episodes of Ambitions every Tuesday night at 10/9c, only on OWN.
*Some answers have been condensed and edited for clarity.
Featured image by Joe Seer / Shutterstock.com
This summer, OWN and Will Packer are teaming up to bring a new scandal to television with their series Ambitions. Sexy, scandalous, and over the top dramatic, Ambitions, has a storyline to quench every TV lover's thirst. With an ensemble cast including Robin Givens, Brian J. White, Essence Atkins, Brely Evans, Kendrick Cross, and Erica Page, you'll love to hate them and hate to love them. "Delicious is the only way to describe it," says Robin Givens.
On Monday night (June 17), Atlanta's socialites amassed at the Gathering Spot in Downtown Atlanta to celebrate the premiere of this summer's sexiest show. Will Packer, Robin Givens, Essence Atkins, Brian White, Kendrick Cross, Brely Evans, Mara Hall, and Erica Page graced the carpet excited for the audience to witness what felt like television's best kept secret. Joining them in attendance were Marlo Hampton, Tameka (Tiny) Harris, Cynthia Bailey, former Atlanta Mayor Kasim Reed, Green Leaf's Merle Dandridge, Real Housewives of Atlanta castmate Tanya Sam, actress Terri J. Vaughn, and If Loving You is Wrong actor Joel Rush.
Created by Jamey Giddens and produced by Will Packer, Ambitions follows the lives of sorority sisters turned frenemies Stephanie Carlisle (Robin Givens) and Amara Huges (Essence Atkins). As the old saying goes, one woman's ex is another woman's husband, and Stephanie can't abide by that code. Raised by wolves and fueled by ambition, Stephanie is on a mission to reclaim everything that rightfully belongs to her. Even if that means stepping over those closest to her. "This is a soap about politics but it's a fun, juicy; oh my God I can live vicariously through these rich people behaving badly,'' says Jamey.
Ambitions takes behaving badly to another level. Aside from politics and scandals, the sex scenes will have your eyes glued to the screen and jaw on the floor. Let Brely Evans tell it, "Everybody on Ambitions is getting some."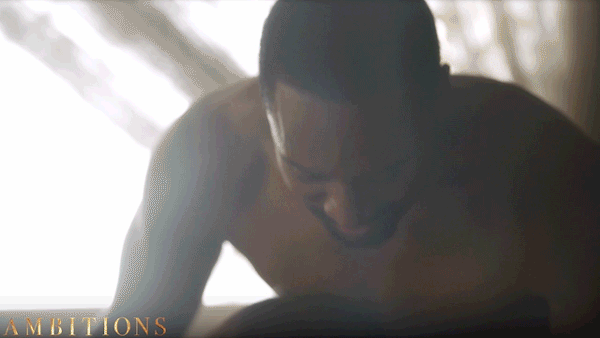 This is the type of show you can't stand to look away from. One turn of the neck and you could miss one of the steamiest, seductive sex scenes in soap opera history. "If you've read any of the reviews about Ambitions, there's a whole lot of sex going on in this show. So, just society today responds to that. So, there are a lot of good looking people having sex with one another. So, I'm going to tune in, I know that," says Joel Rush.

Unfortunately, we can't give all the juicy details away, but you might notice a very familiar face in the first episode. xoNecole's editor-in-chief Necole Kane makes her acting debut in her first-ever role. We see you boss lady!
For more behind the scenes footage from the Ambitions premiere, watch the video below. Be sure to catch Ambitions on OWN every Tuesday at 10pm.
INSIDE THE ATLANTA PREMIERE OF AMBITIONSwww.youtube.com
For more exclusive content and original series, subscribe to our YouTube channel.