Class is back in session for the grown-ish cast as the series makes its return for the second half of its senior-year saga. Freeform's hit show premieres Thursday, Jan. 27 picking things up where they left off, amid a heated quarrel between the two ends of a love triangle with Aaron (Trevor Jackson), Luca (Luka Sabbat), — and Zoey, Yara Shahidi's character, at the center of the beef. And whether you're right at the peak of your college experience, or a few years removed, complicated dating entanglements, break-ups, and make-ups are realities we can all identify with.
Although it's never fun to live out the growing pains of one's youthful evolution, in its four seasons, grown-ishhas served as a vehicle to navigate the rough water of young adulthood through its character's journey to self-discovery — from losing your virginity, friendship breakups, to dropping out — with all eyes pointing back to Zoey Johnson.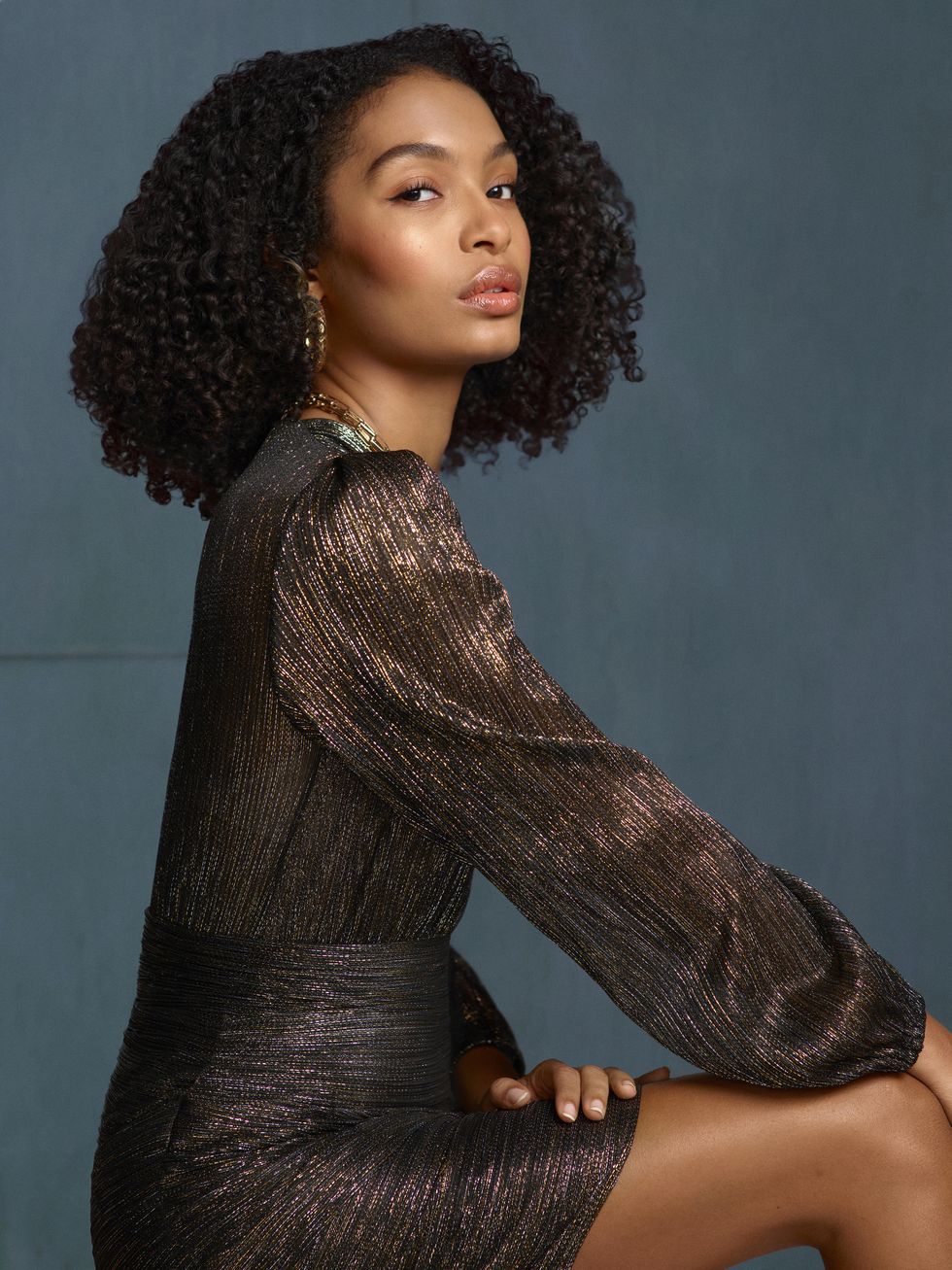 ABC/Kwaku Alston
Over the years, we've watched Zoey evolve from the always-stylish and sometimes-selfish eldest daughter of the Johnson family in Kenya Barris' ABC series black-ish, into a young woman split between her family's expectations and the needs of her friends and lovers. She has done this all while attempting to not lose sight of her own needs and vision for her life in her spin-off, grown-ish.
It's a delicate balance that young Black women often experience IRL, but are rarely given the space to explore on-screen in coming-of-age stories.
That's why, for Yara Shahidi, the 21-year-old producer, and Harvard student, it's important to not just have representation but to also have good representation that showcases women of color from an authentic and sometimes imperfect lens. "When we talk about good representation, I think the conversation has evolved so much even in the last [couple of] years. I think at first, it used to be this very static idea, of being 'the good guy' versus what's shifted now, being allowed to be fully human," Shahidi tells xoNecole.
In the second half of the fourth season premiering this week, fans will be able to explore Zoey's story from a place that leans into her own self-choosing. And although she might now always get things right the first time, there's always be a beautiful lesson that can come from a messy situation. Shahidi shares, "You can agree or disagree with her decisions, but the idea that she has the privilege of being a full brown and Black woman on screen is really what the beauty of her character is."
"You can agree or disagree with her decisions, but the idea that she has the privilege of being a full brown and Black woman on screen is really what the beauty of her character is."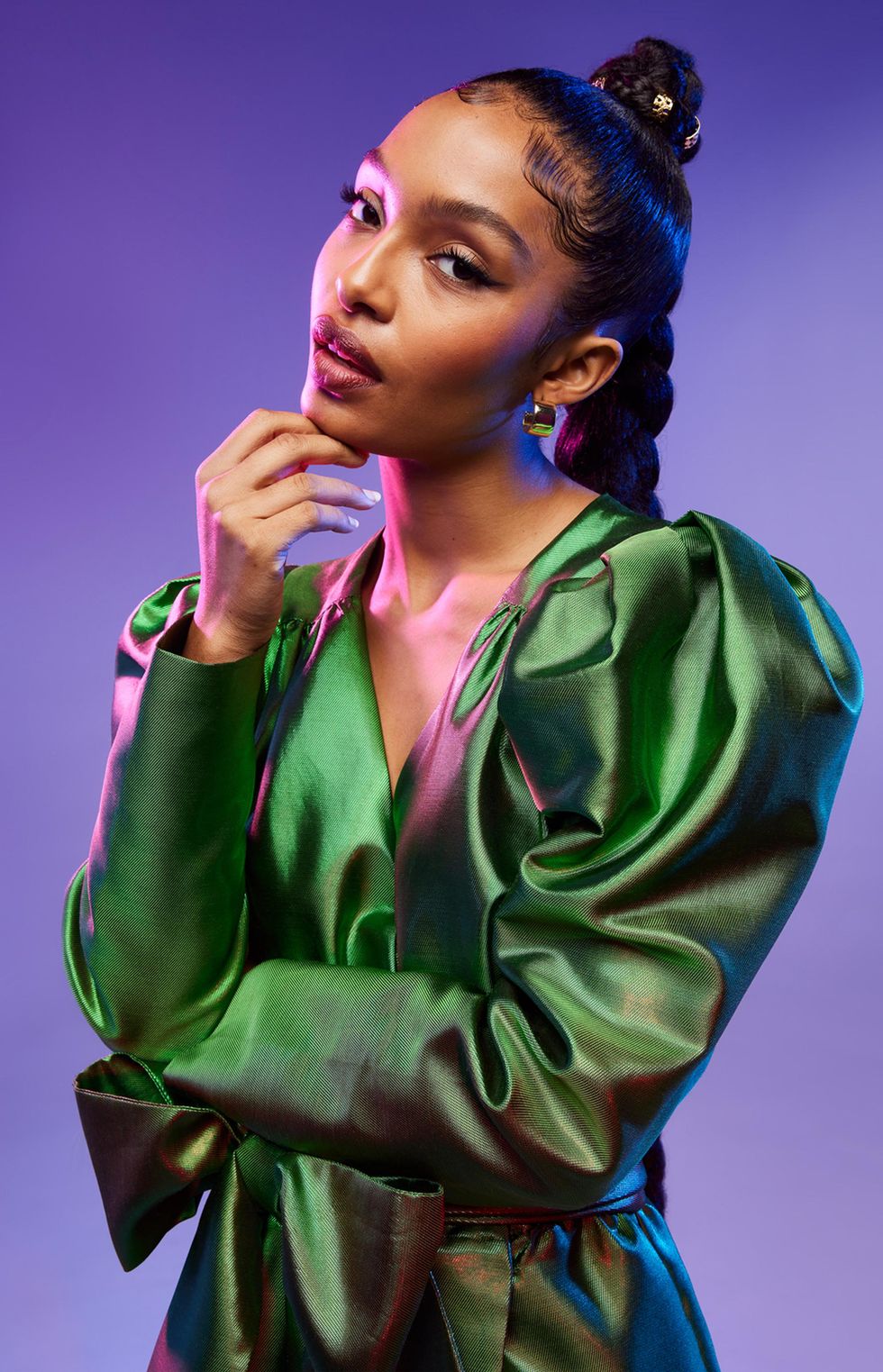 Freeform/Jabari Jacobs
Self-choosing, no matter what age or stage of life you find yourself in, can be uncomfortable and even disorienting, especially when your love life, friendships, and career are all tangled in a web that hangs on your every decision. As Yara reflects on her character's growth over the seasons, she illuminates Zoey's progress into self-awareness by putting herself first while expanding her outlook to see how her decisions can impact the people she cares about the most.
"For a second, she really did struggle with being selfish, and we see that in the pilot episode [of the show], she leaves Ana in the pool at a party. So, there's a full-circle moment that after having gone through the full exercise, this is what it means to care deeply about people and put them first. She's now returning to herself." She continues, "How can [Zoey] still put herself first, not as an act of selfishness, but as an act of self-care."
Zoey's character this season shows the full scope of what it means to come of age on screen, with all the missteps, toxic unlearning, and moments of clarity that can only come from a hiccup or two. It's to show that young Black women don't always have to be in a role that saves others nor do they always need saving. But we can challenge the norms and have the space to live out decisions and grow from into the women we choose to be.
Shahidi adds, "It's especially important that we see some of the dilemmas that are really unique to being a woman, and really unique to being a brown woman, in terms of feeling like, in order to pursue what you want, there will be sacrifice."
Watch new episodes of grown-ish on Thursdays at 10 p.m. ET on Freeform and the next day on Hulu.
Featured image by Leon Bennett/Getty Images
From her global activism to her awe-inspiring fashion to her game-changing roles, Yara Shahidi has already left an innovative mark on the world. Growing up in a multicultural home taught her eons about showing up and embracing self-confidence. Yara had to be reminded of that confidence while growing up. In an interview with Harper's Bazaar Arabia, she shared, "I think this is a universal experience for many people, regardless of your intersection of identity. Oftentimes you're not in the majority and therefore it feels like, are you really supposed to be here? It doesn't matter how qualified you are, or how many things you've done to get there. It's something that I need to be reminded of daily!"
Since her Hollywood debut, she has not let up, especially in the style department. If "can do no wrong on the red carpet" was a person, it would be Yara Sayeh Shahidi.
"Fashion is one of those places in which, when you're wearing something that feels like a representation of you, it does create, in a matter of speaking, a space for you to exist," the Minneapolis native once told Harper's Bazaar. "Even if it's just in a two-inch radius of where you are. It's a walking, personalized area in which you can live."
Let's run up some of our favorite looks featuring this powerhouse. Like wine, she is only getting better with time.
2009 Nickelodeon Kids' Choice Awards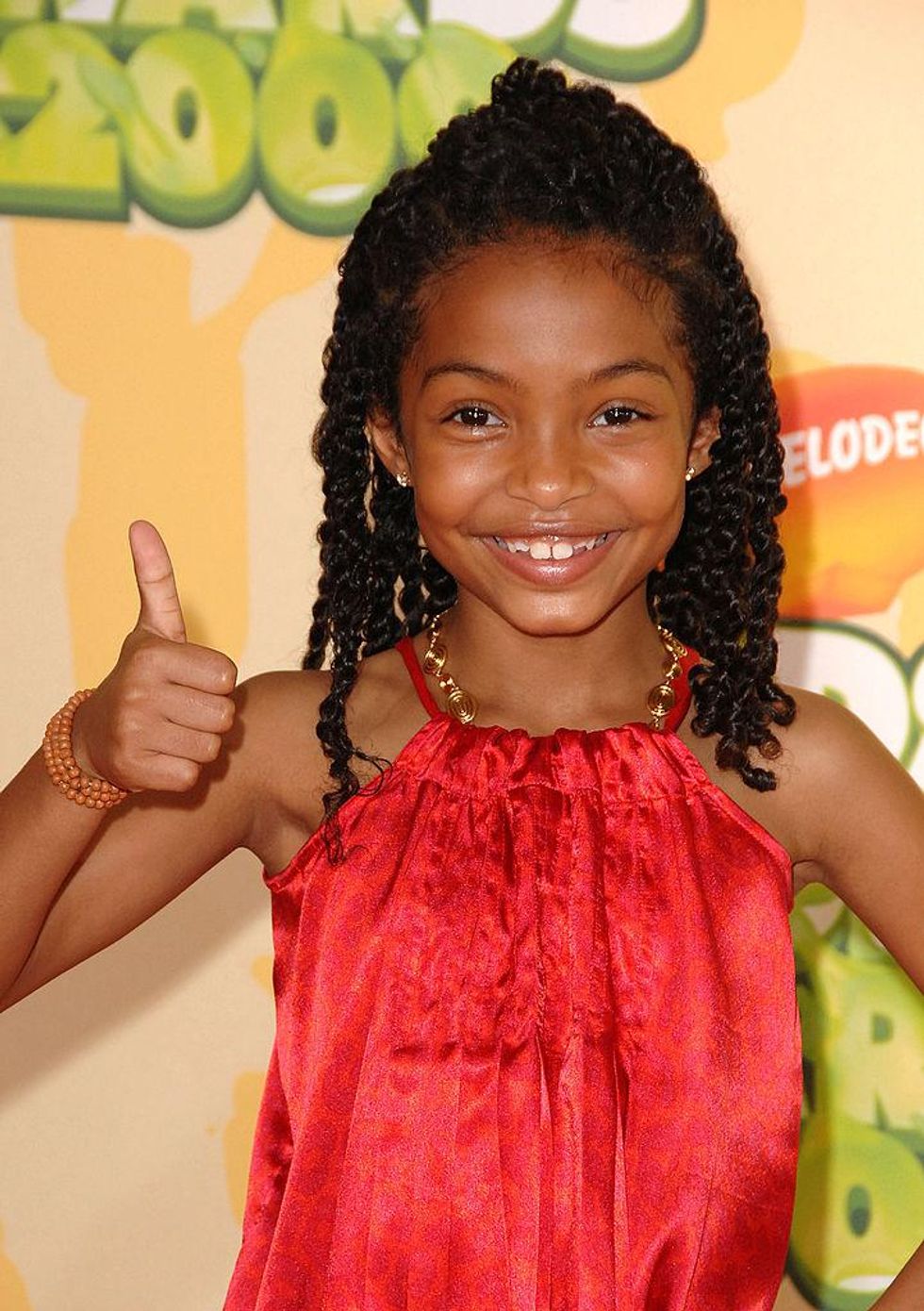 Steve Granitz/WireImage via Getty Images
Over a decade ago, the young star lit up the red carpet just before her breakout film, Imagine That, with Eddie Murphy. Name a cuter actress wearing silk at such a tender age!
2011 AFI Fest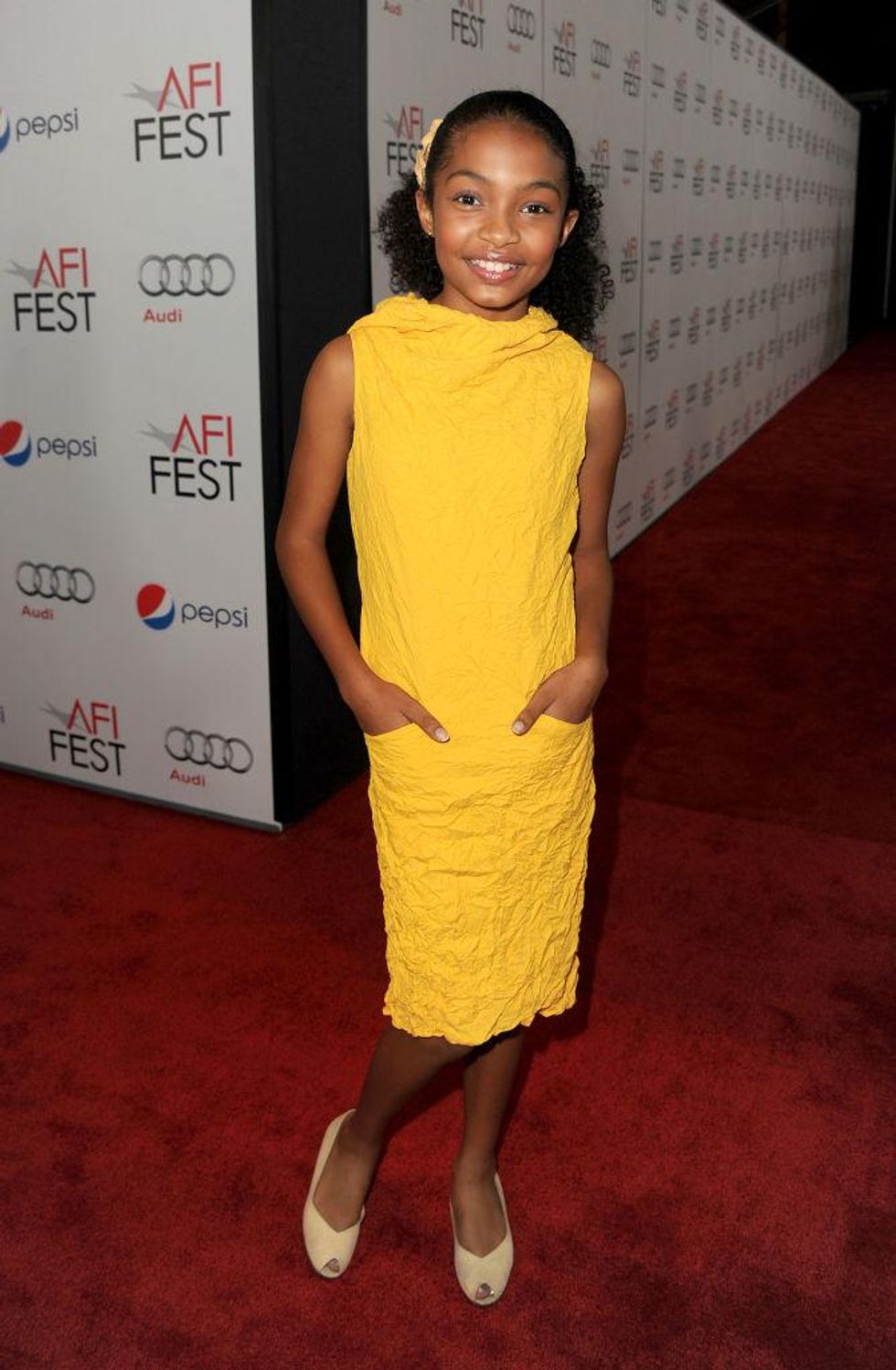 Kevin Winter/Getty Images for AFI
Even young Yara was one to watch. During the special screening of Butter at AFI Fest, she wore a bright yellow dress with an adorable hair accessory and wedge heels.
2015 BET Awards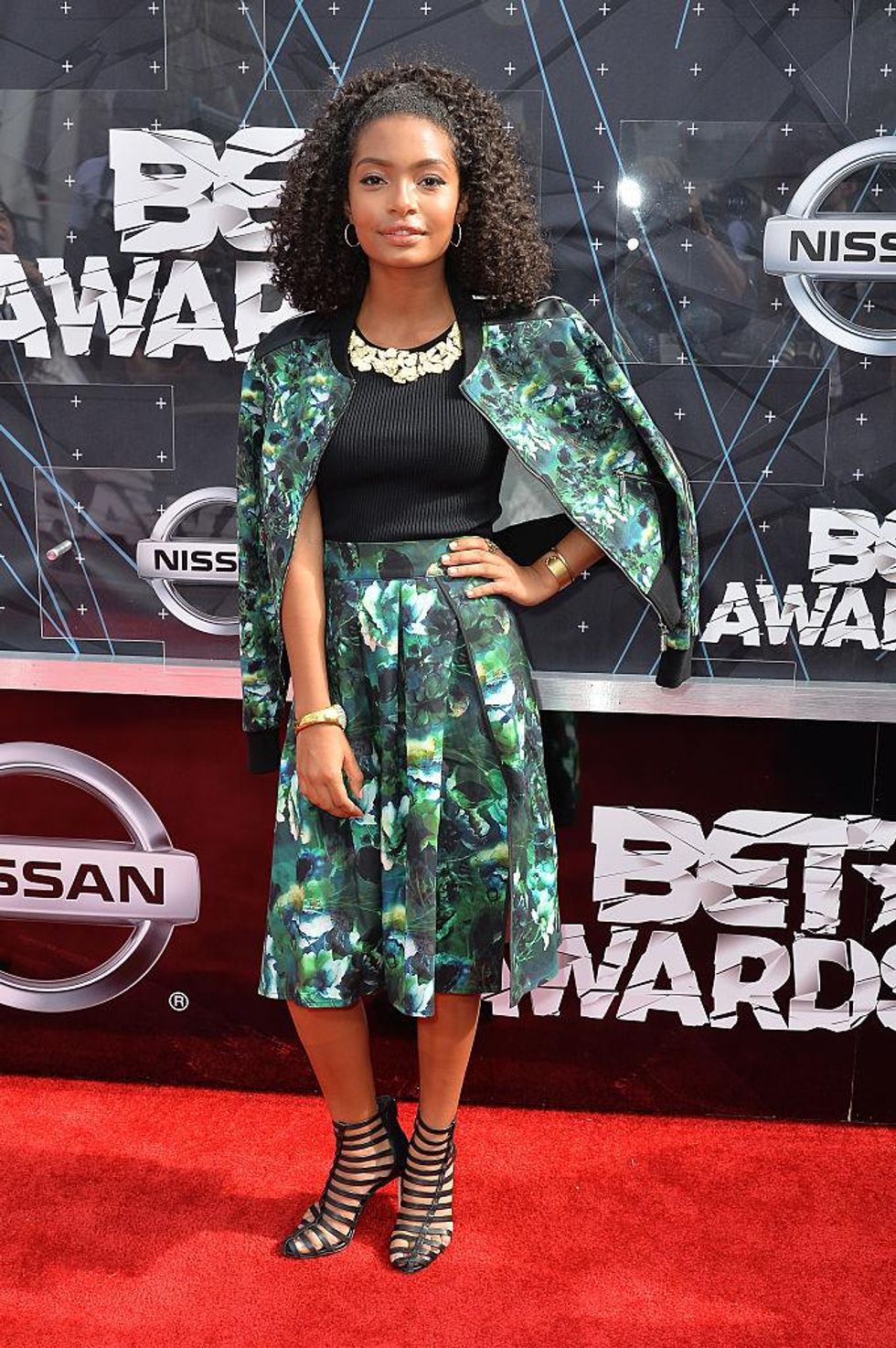 Earl Gibson/BET/Getty Images for BET
Watching Yara grow up right before our eyes has been such a joy. Take this red carpet look from the BET Awards. You see her starting to find her personal style in this preppy two-piece number.
2017 MTV Video Music Awards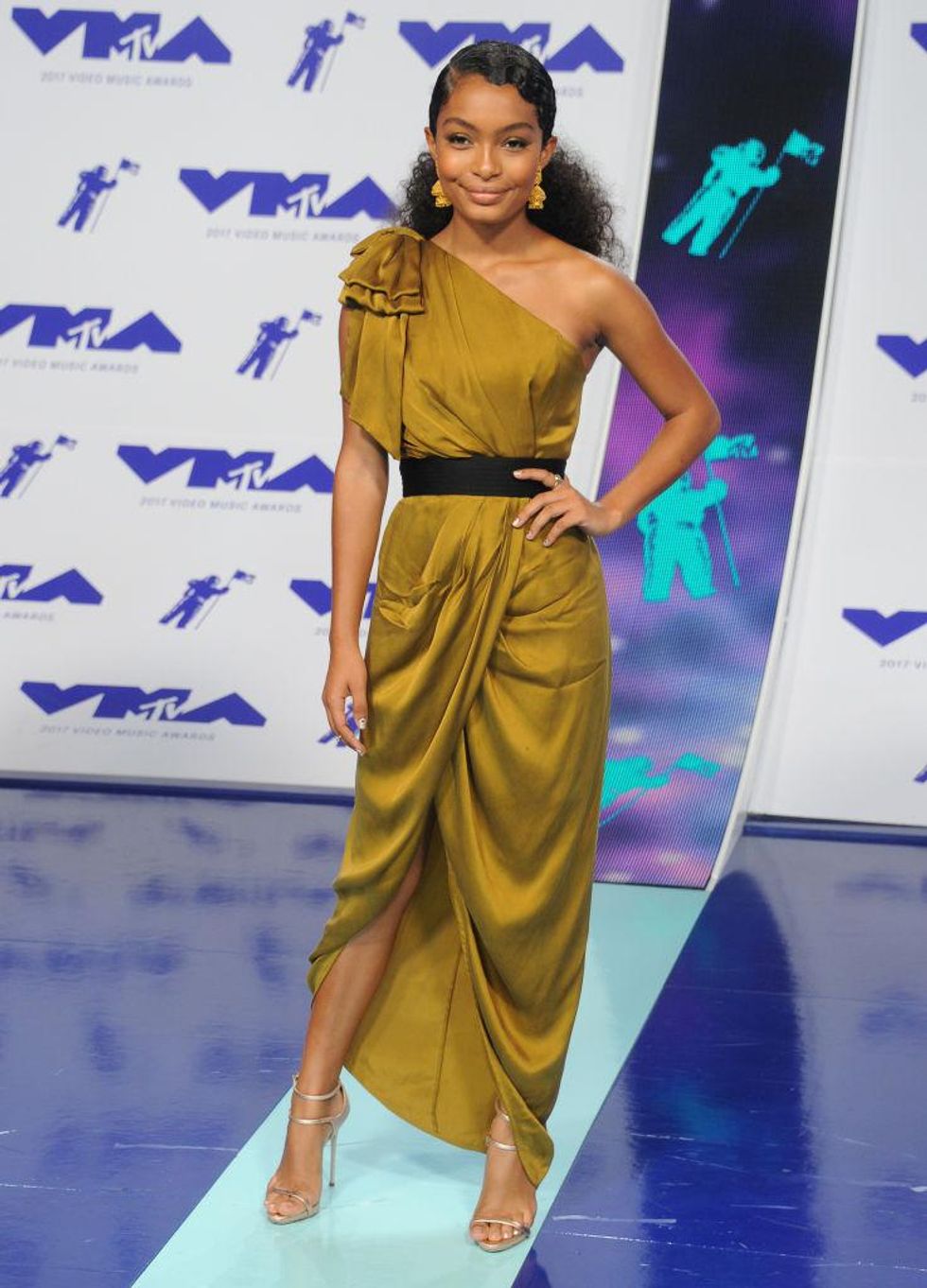 Gregg DeGuire/Getty Images
Another memorable red carpet moment was when the Grown-ish star served up a sophisticated and sexy look at the MTV VMAs. Wearing a gold Zimmerman dress, Yara shifts her style journey by exploring more risky pieces.
2018 Screen Actors Guild Awards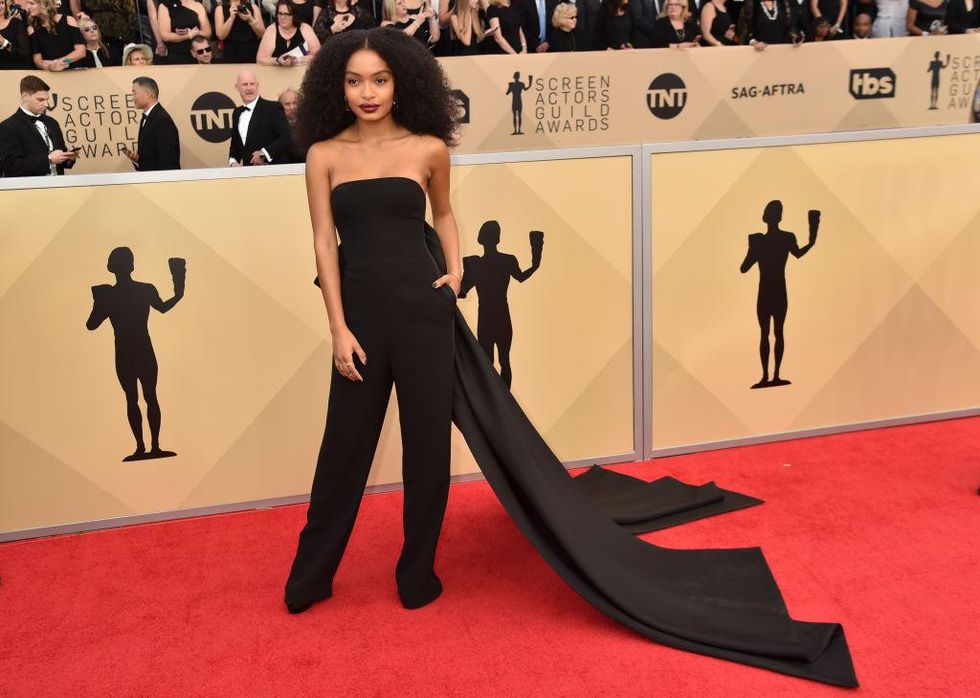 Jeff Kravitz/FilmMagic via Getty Images
This all-black getup was on the top of every best-dressed list back in 2018. I mean, look at the material. The classic yet bold jumpsuit designed by Ralph Lauren featured a larger-than-life bow and dramatic train. Now that's how you slay a carpet.
2019 LACMA Art + Film Gala Presented By Gucci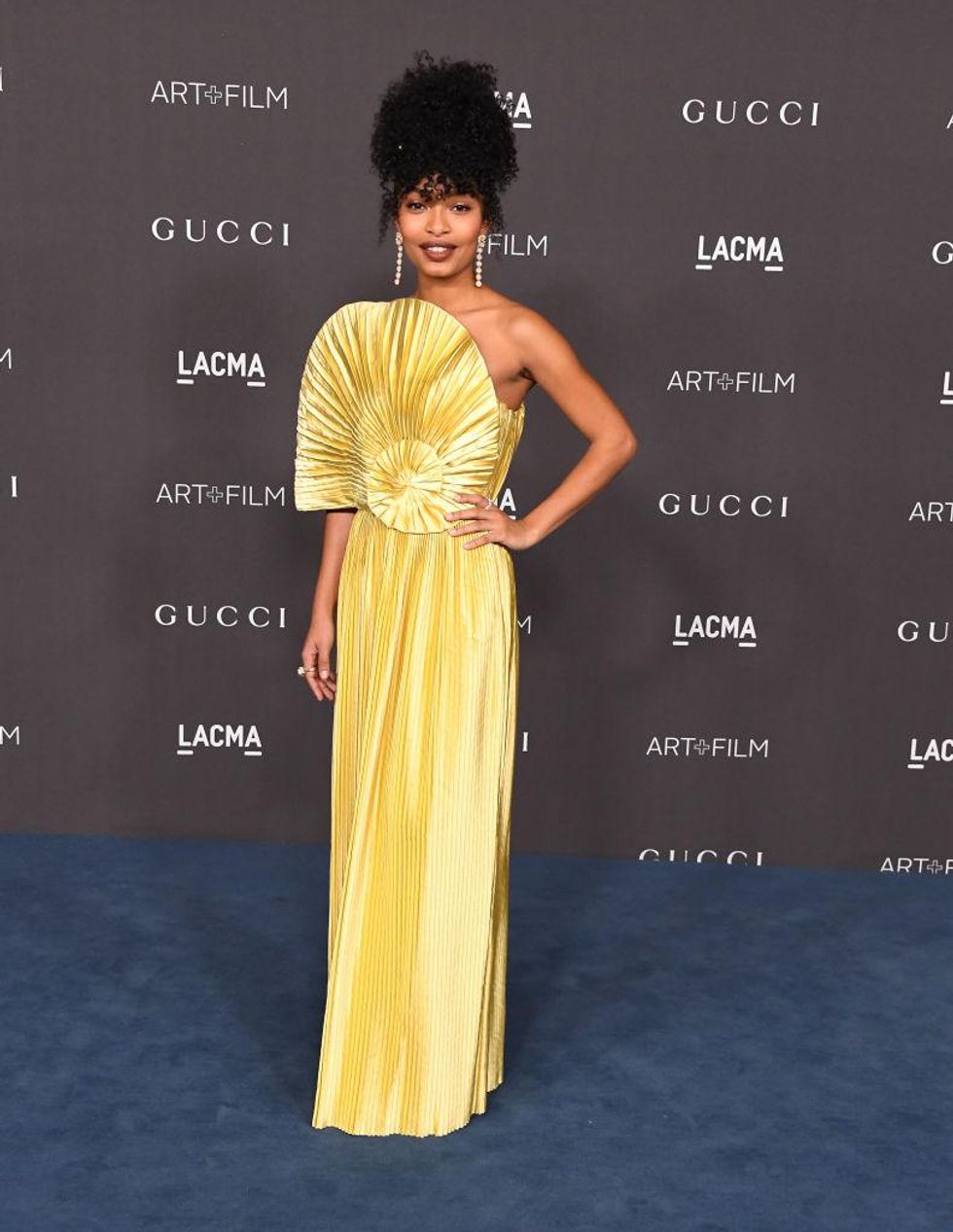 Steve Granitz/WireImage via Getty Images
How dare Yara show up to one of the biggest fashion events in Los Angeles looking like a goddess? It was only right that she rocked Gucci from head to toe, so she did just that. From the Gucci Cruise 2020 dress to the Gucci sandals to the Gucci clutch bag, earrings, and ring, the style icon solidified her title as a red carpet killer.
2020 Trumpet Awards
Leon Bennett/Getty Images
Yara received the Trailblazer Award at Bounce's Trumpet Awards in 2020, and it's clear to see that she is more than deserving. Just like this queen deserves to be celebrated, this brilliantly structured J.W. Anderson suit from the Spring 2021 runways deserves just as much love. The volume and design of it all speak to her style evolution. At this point in the game, she is owning her divine femininity and uses her wardrobe to make a statement.
2021 Met Gala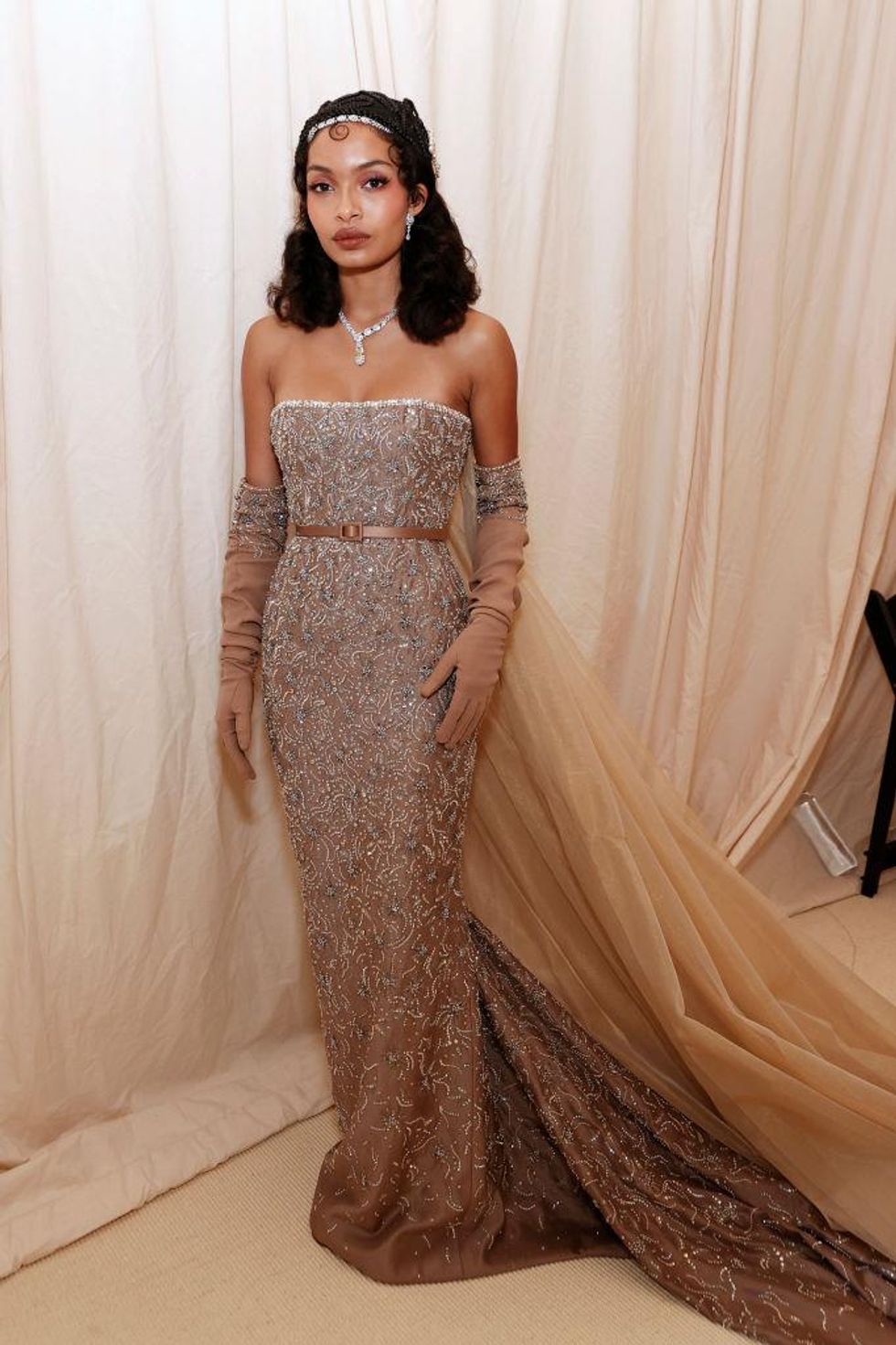 Arturo Holmes/MG21/Getty Images
Who better to execute a Josephine Baker tribute than this womanist? During this year's Met Gala, Yara wore a custom strapless Christian Dior gown for the "In America: A Lexicon of Fashion" theme. The elbow-length gloves, diamond necklace, and headpiece perfectly paired with the gown dedicated to fashion and activism, Yara's two favorite things.
To get your fashion fix and to stay up to date with the latest trends, check out the xoNecole Style section here.
Featured image by Arturo Holmes/MG21/Getty Images
Yara Shahidi is a force to be reckoned with! The Grown-ish star continues to act in the college sitcom as she attends college in real life at Havard and she is also expanding her activism in a big way.
The actress just signed on for a multi-year deal with Dell XPS to help the next generation use their voice through technology, she is working with former first lady Michelle Obama to live-stream a discussion with college students nationwide and she founded Eighteen x 18, which focused on getting first-time voters to the polls in 2018.
And while Yara has captured our attention with the use of her voice, she has also wowed us with her elegance and style. Her Instagram page is filled with many enviable style moments, but her red carpet looks are to die for. A recent example is her look for the 2021 Met Gala.
Channeling the legendary Josephine Baker, Yara blew us away with her crystal beaded gown and matching long, fitted gloves while she rocked diamonds on her neck, ears, and headpiece. But according to an interview the Black-ish star did with Glamour, that's not even the best thing she has in her closet. The 21-year-old dished on her style, her favorite snacks (which are healthy, go figure!), and the last thing she read.
On Her Personal Style Journey
"My personal style is ever-evolving in that I feel like I have very distinctive eras. There used to be a time where I did not, could not stand jeans, but I loved high-tops. So as a little kid, I was in skirts and high-top tennis shoes. In my all-girls Catholic-school phase, I took the assignment seriously. I had knee-high socks, the plaid skirts, both in and out of school. And now a lot of this phase has been about finding pieces that help further my self-expression, which means I have a much wider dress code."
"I love a good tracksuit. One year of school all I wore were different monochrome tracksuits for every day. But now, whether you've seen me on the red carpet—let's say in that beautiful green dress that my Dior family made for me—or you've seen me in my regular street style, I love just the loud colors of my clothes. It makes me feel seen, especially as a young girl traversing so many new spaces. Often have my clothes helped give me confidence before I get to that space of being confident."
On Routines & Finding Balance
"It starts with the simple things. I love my morning time routine, and not just because I love the way it makes me look. It's the first moment in the day in which I'm starting by taking time for myself... No matter how busy it's been, I'm spending time with myself winding down."
"I'm trying to figure out how I want my schedule to look, and I think this is something for so many young adults. It's more common now than ever to be juggling many things. One thing that I've been doing recently that has been really helpful is taking time to think about what dream of dreams would look like for me? And then seeing ways in which I could make it happen.
"That moment of affirming and setting time aside to not be reactionary to what's happening around me, but to be proactive, has been really helpful."
On The Last Thing She's Read
"I've been reading lots of essays. A good one is by Herbert Cole called 'I Won't Learn From You'! It's talking about the experience of an educator who has a student who's intentionally choosing not to learn from this teacher. But all in all, long story short, it's a really interesting conversation on the way in which race plays into our education and what it's like to be a part of a system that is not seeing you or recognizing you. It's really well written."
On How She Spends Her Day Off
"My favorite way to spend a day off is with family. We really do love each other and probably enjoy each other too much. We love to travel as a family, whether it be a trip where all we're doing is sitting and being next to each other, or it's a trip where we learn history and go on little mini adventures. Smaller things, when we don't get to just get on a plane and get away, would be listening to podcasts. I recommend Heavyweight—there's a new season!—Being Seen, Dead Eyes, and Everytown."

Featured image by Leon Bennett/Getty Images
Yara Shahidi is growing up and doing grown-ish things, like taking a page out of the Book of Beyoncé with an Adidas collaboration. The 21-year-old actress's emerald green and mustard yellow heavy line just released a second drop that's flying off shelves, but her athleisure venture is more than just another drop. The mixed starlet found ways to intricately weave her Black and Iranian roots into the very heart of the collection.
"My first instinct was how do we honor the past in a way that also pays homage to the future," Shahidi told BAZAAR.
"The one thing that I wanted people to take away was even though a lot of these details are specific to my own growing up and the things that impacted me, the entire campaign is about how we re-create our heritage. I'm constantly figuring out what it means to me to be Black and Iranian—it's ever-changing."
She did this with bold detailing such as embroidered Farsi script on varsity jackets, global colorways, and 1960s-inspired silhouettes. And when it came time to the overall aesthetic of the collection, Yara created dozens of mood boards featuring earthy yellows—a color that she found integral in both her cultures and the cultures of so many. "I'm a big mood boarder," she explains. "During that process, I really identified what were the colors that kind of were resonant—there was something about that particular mustard that felt globally resonant. And I found it in almost every one of my images that I pulled."
Think: Jumpsuits and track pants with matching track jackets that feature Adidas' signature three-stripes but with an old-school feel and hint of culture. She's not the only one shaking things up at Adidas either. In fact, her friend Beyoncé, who has dropped previous collections of her Ivy Park line in conjunction with the sportswear giant is releasing a swimwear collection under the umbrella brand. An eye-catching hue also takes center place here in the form of neon-orange.
"Flex Park" is the follow-up to Bey's successful Icy Park campaign in February. This time the superstar is asking fans, "How do you flex?" for summer. "FLEX, by definition: A boastful statement or display," reads the Flex Park press release. A sneak peek at some campaign images doesn't disappoint either with the models ranging in size, skin tones, and genders.
Entrepreneur and fashionista Kristen Noel Crawley, actor and creative Quincy Brown, and body-positive influencer Tabria Majors all posed for the campaign that exudes confidence.
You can look forward to statement-making separates to mix and match poolside that are made for a variety of bodies (available in sizes XS-4X). When it drops, you can also shop poolside accessories like slides, beach cover-ups, tees, a bucket hat, a tote bag, a towel, and a water bottle.
Yara Shahidi's Adidas collab is available now at Adidas.com and in select retailers. Beyoncé's Flex Park drop launches on July 22 online and in select stores globally on July 23.
Featured image via Gif

Yara Shahidi is one of the most mutli-faceted, brilliant, and stunning young women that this generation has the opportunity to experience. From top to bottom, Black-ish to Grown-ish, acting to Harvard, Shahidi has remained who she is to the core, exuding the values that her parents instilled in her from birth. She doesn't sway from who she is, she's not into the chaos of Hollywood. And she stands firm to her goals, making her one of this generation's leading vocal ambassadors.
Vogue, who Shahidi has been featured in numerous times, took a trip to her house to learn more about her, via their popular series 73 Questions With..., which has also spotlighted some of our faves like Lizzo, Zendaya, and Michael B. Jordan.
They quizzed her on some of the most pressing questions, such as:

First person you spoke to [today]?
Are you more into lyrics or music?
You've been an actress since 6 weeks old?
Do you believe in 'love at first sight'?
And they even addressed the rumor of whether or not she has a tattoo inspired by Frank Ocean (btw the answer is yes and no, she got some because of him). But what stuck out most, was the question, "How would you define beauty?" She responded with a resounding:
"I try and un-define it, which may sound super broad, but that's the point because everything is to be beautiful."
Which got us to thinking, is she right? I mean, what is beauty really? I couldn't help but to dig in the archives and see how Yara has approached "beauty" with her platform in the past. So here's a list of the ways she has publicly crushed beauty standards throughout her career:
Yara posted a makeup-free selfie where she embraced her blemishes.
Imperfection is beauty and a part of redefining beauty by undefinining it is accepting the skin you're in in all states and all ways. While Yara has been known to stunt on magazine covers and on red carpets with an epic face beat, it doesn't take away from moments where she is makeup-free and experiencing hella blemishes. It might challenge beauty standards, but it's a commitment she is trying to live by.
"I have to actively remind myself to not sweat the details (aka the blemishes) and reframe it as a reminder to make sure I'm taking care of myself."
She made a big 2020 New Year's Resolution.
For the new year, Shahidi posted a picture on her Instagram with the caption:
"We (My hair and I) are taking up more space as we enter 2020."
In the pic, she dons no make up and frizzy hair to match her large golden hoops, making the profound statement that she has arrived as she is, and she's unapologetic AF about it. Siren emojis surrounds her statement, driving the nail in.
Yara partnered with Essie to preach the importance of finding, and being, yourself
In 2018, Shahidi curated a partnership with Essie for National Nail Polish Day. And even then, at a young 18, she used her platform to express the importance of her generation being who they are. She told E! News:
"I've learned to look at beauty as a creative outlet. Use makeup to express yourself rather than to cover yourself. This is why I gravitate towards louder colors — there's that feeling of taking up creative space when you go bold."
Yara removed her mustache on the 'Gram (before the Emmys).
Yara got closer to all of us by uploading a video of her removing her all-too-real lady 'stache for the entire world to see. She hilariously continued to show the actual maintanence it takes to get ready, by following up with a glowing, no-makeup selfie, checking her teeth for food, and rocking braids and a natural look for the virtual show.
Yara posed natural and un-retouched on the cover of 'Harpers Bazaar'.
For the August 2019 cover of Harper's Bazaar, Shahidi opened up about how she's using fashion and beauty to make a difference. She told People:
"True beauty is being unique, experimenting, exploring, sometimes unsettling. True beauty is expansive, is happiness. True beauty is my unibrow! I think we have a tendency to materialize beauty, and connect it with product. You should do whatever makes you feel good, and we're addressing beauty as not something that's even attached to a product, but as something that's attached to this overall feeling of support and confidence which we all get from different things."
Spoken like a true beauty, un-defined.
Are you a member of our insiders squad? Join us in the xoTribe Members Community today!
Featured image by Yara Shahidi/Instagram
Black women aren't just securing bags, we're securing generational wealth and Yara Shahidi's first look real with ABC proves that I'm speaking big facts.
Recently, it was announced that the Grown-ish star and her mother, Keri Shahidi, launched their production company, 7th Sun Productions, a major mommy-daughter mogul move that Keri says the power duo "manifested".
In a previous interview with Glamour, Yara revealed that her mother is her biggest cheerleader and explained that it's because of her mom's relentless guidance that she's able to fly beyond her wildest imagination:
"She constantly says to me, 'You deserve to be in the room.' One thing I'm still trying to figure out is how to advocate for myself as strongly as she advocates for me. It's important that women of color and anyone from marginalized identities understands that they will try to intentionally unsettle you. They'll do this so that you'll spend so much of your time trying to convince people you belong that you don't get to dig in and do the work you were meant to do."
"I've always been curious. My mother always says, 'There's nothing more interesting than an interested human.' And I've just always been interested."
For more of our favorite famous mother/daughter duos who are simultaneously securing bags and leaving a legacy for their children's children at the same damn time, scroll below!
Thandie Newton & Nico Parker
If twinning was a person, it would be Nico Parker because that girl looks just like her mama. Booking the lead role in Dumbo and launching her career on the big screen before the age of 16 only proves that this young starlet is following in her mother's footsteps and will secure many a bags in her future.
Diana & Tracee Ellis Ross 
Diana Ross has been serving us moments for more than five decades and Tracee's recent role in The High Note proves that she's here to pick up the torch. While these two ladies have found success in different lanes of the entertainment industry, Tracee has always been outwardly appreciative for her mom's guidance in helping her build a legacy of her own.
Jada Pinkett & Willow Smith
Although Willow Smith had already broken into the entertainment industry with her 2010 hit "Whip My Hair", viewers got to see a different side of the now 19-year-old starlet when she, her mother, and grandmother launched the Red Table Talkand took the internet by storm.
Zoe Kravitz & Lisa Bonet
Although Zoe Kravitz may be the spitting image of Lisa Bonet, she's creating a lane in the entertainment industry of her own. As the lead on Hulu's High Fidelity and co-starring in HBO's mega hit Big Little Lies, it's clear that the best is yet to come for this lineage of moguls.
Featured image by Ovidiu Hrubaru / Shutterstock.com