After previously saying that she was in the process of adopting children, Tiffany Haddish is putting motherhood on "pause." The beloved comedian grew up in the foster care system and originally wanted to be a foster mom, but with advice from her lawyers, she decided that adoption would be best. However, it looks like we won't see her with a child anytime soon.
"I had to put a pause on that [adoption] process because my business has picked up, and I feel when you take a child [in], you really need to be able to focus on them," she toldUs Weekly.
While she may now have the money to take care of a child, her busy schedule says otherwise. "I want to raise it. I want to raise the child. I want to give the child my knowledge and my love," she said.
"So I want to finish up a few more things so that I can really focus. It's one thing to have a dog and a garden and take care of that. But to have another human being that needs me and that I'm responsible for. I want to be present. I want to be all the way present. I don't want somebody else doing that work."
The Last Black Unicorn author was placed in foster care at the age of 12 following a car accident her mom was involved in that affected her brain.
During her 2019 appearance on My Next Guest Needs No Introduction with David Letterman, the actress described what it was like to be a foster child.
"You're dropped in these strangers' houses, you don't know these people, these people don't know you, you don't know if they're gonna hurt you, if they're gonna be kind, you don't have a clue what's going on," she said.
Because of her rough experience in the foster care system, Tiffany wanted to help kids who were in similar predicaments. In June 2021, the Girls Trip star revealed to Entertainment Tonight that she was taking parenting classes for adoption.
"First of all, especially after this pandemic, there are so many children left without their parents. There are a lot of people that need to be loved," she said.
"I want to get somebody that's five and up. You know, already knows how to use the restroom, already knows how to talk, already knows how to communicate. All I want to do is pour knowledge in … get them ready for the big, bad world. That's what I want to do."
Although her journey to parenthood has taken a backseat, she is still looking forward to adopting.
"Sharing everything that I know and pouring it into them and watching it manifest through their actions and their abilities," she said to Us Weekly when discussing what she is looking forward to when having kids.
"Also having somebody to watch TV with and laugh with that thinks I'm cool. Even if it's only for a few years, kids are thinking for just a little while. Also, somebody to teach all my recipes to and to be able to share this life, share this journey, with. [Somebody I can] be a beacon for and a safe place," she concluded.
Featured image by Rich Fury/Getty Images
Tiffany Haddish has never shied away from sharing her truth with the world. From her upbringing as a foster child to her love life with rapper Common, the comedian always lays it all out on the table. So, when it comes to her finances, why would it be any different? The Girls Trip breakout star recently spoke with Business Insider about building wealth, budgeting and how she was able to pay down debt.

Going in and out of foster care and experiencing homelessness, Tiffany wasn't always financially secure and she eventually fell into the trap that millions of Americans have: credit card debt. In 2020, CNBC reported that almost half of Americans have credit card debt. That's 120 million people. Many people fall victim to credit card debt due to the lack of financial literacy, something that Tiffany relates to.
"Getting a credit card and not knowing how credit cards work, buying stuff I couldn't afford and not having enough money to pay it back, thinking overdraft protection was like they're looking out for me—that's bad moves," she said.
The comedian urges people not to "spend more than what you've got," stating that she learned "the hard way."
Now that she's a successful comedian and actress, The Last Black Unicorn author has been working to clean up her finances. While doing so, she received a piece of advice that helped her get on the right track.
"If you spend money, write it down. Every time you spend some money, write it down. And then you'll be like, 'Oh, wait.'
"You'll be more conservative. When I received that advice from someone older, they were like, 'Every time you spend money for the next three days or the next week, just write it down, and then you'll see how much money you spend. Then you can start re-budgeting.' It helps a lot."
With her newfound knowledge, the Night School actress has teamed up with mobile banking company Chime and media company ATTN to co-produce Hotline Cha-Ching, a video series that focuses on financial literacy for the younger generation. She hopes to teach the up and coming generation how to grow and save their money.
"I wish I would have known that you could use other people's money and both of you grow in the process, like when you make investments and stuff," she said during the Insider interview. "I wish I would have known that no matter how old you are, you can buy a house."
Tiffany isn't playing games when it comes to investing and building generational wealth. During her appearance on the SmartLess podcast, the Nobody's Fool star revealed that if she were to get engaged to boyfriend Common, she wants him to propose with "the deed to a duplex or a 36-plex" instead of a ring "because a marriage is a union of two businesses, and the whole point of coming together is to grow yourselves, but also grow a family and make sure they have something to inherit."
She continued, "So this ring, they can inherit the ring, but what's that, $2,000, $3,000? Maybe $10,000? What is that? But if you get an apartment building that will increase in value, the children will always be able to go to school, we'll always have something. If we get sick or something, we'll have something to cash out and be able to take care of ourselves."
Featured image by Stefania D'Alessandro/Getty Images
Like many, I was introduced to Tiffany Haddish when I went to see the hilarious film Girls Trip. I came into the theatre expecting to chuckle a bit and just enjoy a movie night. But little did I know, this was a film I'd be watching so many more times and that would put Tiffany on the map as a breakout star. From start to finish, I laughed hysterically and even spent the evening with one of my girlfriends, sharing and reflecting on our own college memories. Fast forward to today, Tiffany Haddish is an Emmy- and Grammy-winning household name.
Currently, she's promoting her latest film, The Card Counter, and appeared as a guest on The SmartLess Podcast. During the episode, she discussed how comedy affected her childhood, past struggles, entrepreneurial efforts, and life with her boo, artist, and actor Common.
At the start of the interview, she mentioned how she enjoys Netflix and chilling with him, traveling, and spending weekends networking. It all sounded so normal, you'd never guess she overcame some of the trials she has or lives the life she does. But from chasing her dreams while battling homelessness to the present, where she is planning to open a line of grocery stores, Tiffany Haddish really doesn't do anything "normal."
And that includes her relationship.
When asked if she and Common were going to get married, she said:
"I have no idea. I would love for him to always be my friend. If he decides he wants to marry me, cool. But, I don't want a ring. I want an apartment building. You know how they are like, present me with a ring. I want him to present me with the deed to a duplex."
She explained her reasoning further saying that if they were to get sick or some type of problem occurred, the duplex would always provide income.
"A marriage is a union of two businesses and the whole point of coming together is to grow yourselves, grow a family, and make sure they have something to inherit."
Well, while I can't help kind of still wanting a ring, it does make you think, would something else be the better choice? As times change, some people's expectations and views of marriage have shifted while others stay the same. I think ultimately it's just about knowing yourself and your partner and what will bring you both happiness.
For Tiffany Haddish, that's eventually growing her family and providing opportunities to people who need it. She shares:
"I also want to adopt. Because I wish somebody would have adopted me and taught me better. Everything I wish people would have done for me is what I'm trying to give to others."
Listen to the SmartLess podcast episode featuring Tiffany Haddish below:
Featured image by Amy Sussman/Getty Images

Tiffany Haddish has never been one to shy away from what she has, or wants, to say. She's an open book, with a long-term career of somehow managing to bring comedy and realism to the forefront. Lately for Haddish, orgasms have been the topic of her conversation, as just recently she revealed to actor Nicolas Cage that she actually had her first orgasm while watching him terrorize John Travolta in the 1997 action flick, Face/Off. She told NPR:
"It was my first big O."
The two star opposite each other in the forthcoming feature The Unbearable Weight of Massive Talent. Initially hesitant, the comedienne ultimately decided to tell Cage of her euphoria.
"It was a debate. Should I tell Nicolas Cage this? This is inappropriate. I don't want him to hit me with a sexual-harassment [claim], but I gotta tell him.'
Well now, thanks to Haddish's unfiltered honesty, it turns out that she feels orgasms are just as much of a spiritual guide, as it is sexual.
On a recent appearance on Garcelle Beauvais' podcast, Going to Bed With Garcelle, Haddish revealed we should in fact be using them to manifest what we envision for our lives. While speaking with Garcelle and other guest Sheree Zampino (Will Smith's ex-wife), she explained how the practice works:
"When you are intimate, when you re being intimate, when you're having sex, you be like, 'Oh God, Oh God, Oh God.' And God be like, 'what's up?! You called me? What's going on?! Whatchu need? Hello? You just called me to watch this, like what's up?' And that's when you're supposed to make a wish. That's how I'm am where I'm at right now in life."
​This spiritual practice, is one that sex healers and doulas have been preaching for centuries.
Physically, an orgasm causes a man to release seminal fluid and a woman's uterus and vagina to contract. In both genders, breathing ramps up, the pulse quickens as well as blood pressure. Our brains shut down and we are in a state of total surrender. At the point of climax, you are aligned with your higher consciousness, which is why no one can really describe the feeling. Sex and climax has been used for centuries as method by which one can experience enlightenment--or what we more commonly know as tantra.
This means, that during an orgasm, you can channel the released accumulated energy towards your goals for manifestation. Come through!
Haddish is a strong believer in the art of manifesting, as in the past she has said she is not one bit surprised by her success.
"People always say, 'Are you surprised?' No, I'm not surprised. I manifested this. This is part of my list of goals. I'm grateful I've accomplished this much so far, but there's so much more I want to do."
She has also shared on social media various outlets and resources for getting in tune with your higher self.
This was so helpful to me. Hidden MIND POWERS and How to Use Them! (Law Of Attraction The Secret) M... https://youtu.be/9m6z9dnCVUk\u00a0 via @YouTube

— Tiffany Haddish (@Tiffany Haddish) 1554480994
For now, Haddish is in full press mode as she is busy promoting upcoming projects. But it certainly is refreshing to see her openly speak about the power of energy. Listen to Tiffany and the Going to Bed With Garcelle podcast discuss everything from knowing your hot spots, to butt massages, here.
Are you a member of our insiders squad? Join us in the xoTribe Members Community today!

Featured image by Cindy Ord/Getty Images
You may know her as the funny girl, but during the pandemic, our good sis Tiffany Haddish has shed an impressive 40 pounds (which we didn't even know that she could lose), making her go from our resident comedian, to the fitness inspo that we didn't know we needed!
In a recent Instagram video, Haddish revealed that last year on her birthday, she topped 182 pounds. But throughout the past several months, the comedian has worked hard, and that work has paid off in an inspiring way. Haddish, who recently turned 41 (Dec. 3), said she was inspired to lose the weight by a unlikely heroine, the late Olympian Florence Griffith Joyner. She said:
"I had this thought in my mind that I want the body of Flo-Jo!"
And from there, she made her mind up and went in full throttle. Recently, she disclosed what steps she took to drop the pounds.
Here's everything Tiffany Haddish did to lose 40 pounds to drop the weight and live a healthier lifestyle:

Are you a member of our insiders squad? Join us in the xoTribe Members Community today!

Feature image via Tinseltown / Shutterstock.com
When Tiffany Haddish was 13, she was put into foster care due to her mother's inability to take care of the young actress and her siblings. After a tragic accident left Tiffany's mother handicapped and mentally ill, Tiffany was forced to fend for herself against bullies and predators.
Tiffany's hardship followed her throughout her high school career, where she was virtually illiterate and had to plagiarize and copy the work of her classmates to earn her degree. Fast forward years later and the same woman who couldn't read words longer than two or three letters is now the first black woman to gross more than one billion dollars in the box office.

Tiffany Haddish is a reminder that we can accomplish every one of our dreams in spite of where we come from. This week's episode of The Red Table Talk featured a candid conversation between Tiffany and Jada Pinkett Smith, who have similar backgrounds. Both actresses were at risk of being trapped by their surroundings and becoming products of their environment, but were faced with very different outcomes.

"I thought I was gonna be a baby mama. I thought I was gonna be a baby mama with, like, five kids, four baby daddies, like, collect a county check."
Tiffany told Jada that after her mom had been thrown through the front window of her car in a traumatic vehicular accident, she or her mother were never quite the same, and her journey would only get harder with time.

"I remember being at the hospital and the doctor saying 'Your mom she'll never be the same you're gonna have to help her a lot more now.' So, she wasn't able to do a lot of things. So basically everything she had taught me up to that point, I was teaching her. But she became very abusive and violent, and never came back to being my mom. She's somebody else."
Although she had to develop tough skin to deal with life after she was put into foster care, you need more than that to become one of the most highly publicized entertainers in the game. That takes heart, and that's something that Tiffany has a whole lot of.

Thanks to the positive reinforcement of adults in Tiffany's life, she was able to overcome the deep-seated insecurity that had been embedded in her since childhood.
"My step-dad he used to tell me 'you stupid', then my grandma would be saying I was stupid and then my aunties would tell me i'm stupid, and then my mama would say I'm stupid. At that point in time in my life, anytime somebody said something to me, I would take it literal that I was stupid. So I didn't really put forth a lot of effort to try to learn how to read. It was difficult already, and if I'm stupid then what's the point? I'ma be a baby mama anyway. I already take care of kids, what I need to know how to read for? I know what hot dogs look like, I know what rice look like and I know how to cook that. I know how to use a measure cup, I know numbers so, it was like to me, not necessary."
It wasn't until a misunderstanding with a co-worker in her late teens that she realized her gift and chose to pursue her passion with rigor despite her troubled personal life. Tiffany told her Girls Trip co-star that her road to fame had not been easy, but every tear was worth it.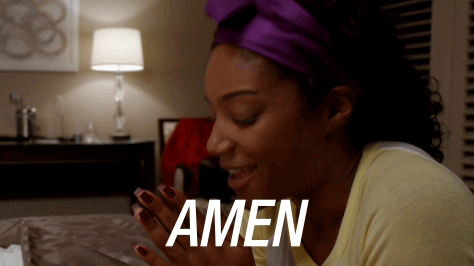 "Everything I've been through has prepared me for this journey."
When we look at celebrities, it's easy to imagine their silver spoons, but Tiffany reminds us that she's not any different from any other black woman in this world who has experienced trauma and disappointment. Her bank account doesn't care that she came from a less than perfect background because she has the hustle to back it up.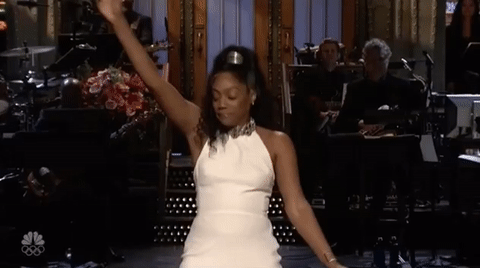 The easiest thing you can do is let your situation determine the height of your success. Although Tiffany suffered through unimaginable horrors, she survived to tell the tale and made a couple of bank rolls in the process.

In an emotional moment, Tiffany shared that her mother was recently released from her mental institution and is now being taken care of by the best doctors. The actress said that one of the best moments in her life was when her mother told her how proud she was. Tiffany knew that she wouldn't have been able to experience that moment if she had given up prematurely.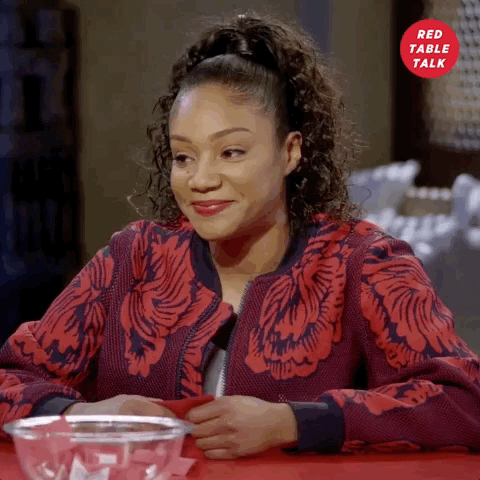 In the episode, Jada and Tiffany both mentioned that in their childhood, they were afraid of becoming statistics. Luckily, with the increased number of sisters with degrees and boss business chicks of color, the status quo has changed. Soon, we'll be able to model our statistics around women like these two actresses, who came from hardship and succeeded in spite of it.

Tiffany is a reminder that no matter what your history may be, you are given a new opportunity each day to create a future that's beyond your imagination.
Who's cutting onions in here? To watch the full episode, click here.
Featured image by Giphy