Tiffany Haddish has never been one to shy away from what she has, or wants, to say. She's an open book, with a long-term career of somehow managing to bring comedy and realism to the forefront. Lately for Haddish, orgasms have been the topic of her conversation, as just recently she revealed to actor Nicolas Cage that she actually had her first orgasm while watching him terrorize John Travolta in the 1997 action flick, Face/Off. She told NPR:
"It was my first big O."
The two star opposite each other in the forthcoming feature The Unbearable Weight of Massive Talent. Initially hesitant, the comedienne ultimately decided to tell Cage of her euphoria.
"It was a debate. Should I tell Nicolas Cage this? This is inappropriate. I don't want him to hit me with a sexual-harassment [claim], but I gotta tell him.'
Well now, thanks to Haddish's unfiltered honesty, it turns out that she feels orgasms are just as much of a spiritual guide, as it is sexual.
On a recent appearance on Garcelle Beauvais' podcast, Going to Bed With Garcelle, Haddish revealed we should in fact be using them to manifest what we envision for our lives. While speaking with Garcelle and other guest Sheree Zampino (Will Smith's ex-wife), she explained how the practice works:
"When you are intimate, when you re being intimate, when you're having sex, you be like, 'Oh God, Oh God, Oh God.' And God be like, 'what's up?! You called me? What's going on?! Whatchu need? Hello? You just called me to watch this, like what's up?' And that's when you're supposed to make a wish. That's how I'm am where I'm at right now in life."
​This spiritual practice, is one that sex healers and doulas have been preaching for centuries.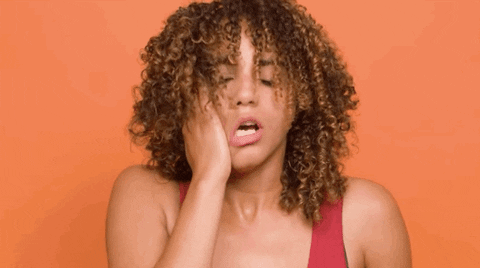 make love sexo GIF by Refinery 29 GIFs
Giphy
Physically, an orgasm causes a man to release seminal fluid and a woman's uterus and vagina to contract. In both genders, breathing ramps up, the pulse quickens as well as blood pressure. Our brains shut down and we are in a state of total surrender. At the point of climax, you are aligned with your higher consciousness, which is why no one can really describe the feeling. Sex and climax has been used for centuries as method by which one can experience enlightenment--or what we more commonly know as tantra.
This means, that during an orgasm, you can channel the released accumulated energy towards your goals for manifestation. Come through!
Haddish is a strong believer in the art of manifesting, as in the past she has said she is not one bit surprised by her success.
"People always say, 'Are you surprised?' No, I'm not surprised. I manifested this. This is part of my list of goals. I'm grateful I've accomplished this much so far, but there's so much more I want to do."
She has also shared on social media various outlets and resources for getting in tune with your higher self.
This was so helpful to me. Hidden MIND POWERS and How to Use Them! (Law Of Attraction The Secret) M... https://t.co/tXle5Bs6Ei via @YouTube

— Tiffany Haddish (@Tiffany Haddish)1554480994.0
For now, Haddish is in full press mode as she is busy promoting upcoming projects. But it certainly is refreshing to see her openly speak about the power of energy. Listen to Tiffany and the Going to Bed With Garcelle podcast discuss everything from knowing your hot spots, to butt massages, here.
Are you a member of our insiders squad? Join us in the xoTribe Members Community today!

Featured image by Cindy Ord/Getty Images
Keep reading...
Show less
You may know her as the funny girl, but during the pandemic, our good sis Tiffany Haddish has shed an impressive 40 pounds (which we didn't even know that she could lose), making her go from our resident comedian, to the fitness inspo that we didn't know we needed!
In a recent Instagram video, Haddish revealed that last year on her birthday, she topped 182 pounds. But throughout the past several months, the comedian has worked hard, and that work has paid off in an inspiring way. Haddish, who recently turned 41 (Dec. 3), said she was inspired to lose the weight by a unlikely heroine, the late Olympian Florence Griffith Joyner. She said:
"I had this thought in my mind that I want the body of Flo-Jo!"
And from there, she made her mind up and went in full throttle. Recently, she disclosed what steps she took to drop the pounds.
Here's everything Tiffany Haddish did to lose 40 pounds to drop the weight and live a healthier lifestyle:

Are you a member of our insiders squad? Join us in the xoTribe Members Community today!

Feature image via Tinseltown / Shutterstock.com
Keep reading...
Show less
When Tiffany Haddish was 13, she was put into foster care due to her mother's inability to take care of the young actress and her siblings. After a tragic accident left Tiffany's mother handicapped and mentally ill, Tiffany was forced to fend for herself against bullies and predators.
Tiffany's hardship followed her throughout her high school career, where she was virtually illiterate and had to plagiarize and copy the work of her classmates to earn her degree. Fast forward years later and the same woman who couldn't read words longer than two or three letters is now the first black woman to gross more than one billion dollars in the box office.

Tiffany Haddish is a reminder that we can accomplish every one of our dreams in spite of where we come from. This week's episode of The Red Table Talk featured a candid conversation between Tiffany and Jada Pinkett Smith, who have similar backgrounds. Both actresses were at risk of being trapped by their surroundings and becoming products of their environment, but were faced with very different outcomes.

"I thought I was gonna be a baby mama. I thought I was gonna be a baby mama with, like, five kids, four baby daddies, like, collect a county check."
Tiffany told Jada that after her mom had been thrown through the front window of her car in a traumatic vehicular accident, she or her mother were never quite the same, and her journey would only get harder with time.

"I remember being at the hospital and the doctor saying 'Your mom she'll never be the same you're gonna have to help her a lot more now.' So, she wasn't able to do a lot of things. So basically everything she had taught me up to that point, I was teaching her. But she became very abusive and violent, and never came back to being my mom. She's somebody else."
Although she had to develop tough skin to deal with life after she was put into foster care, you need more than that to become one of the most highly publicized entertainers in the game. That takes heart, and that's something that Tiffany has a whole lot of.

Thanks to the positive reinforcement of adults in Tiffany's life, she was able to overcome the deep-seated insecurity that had been embedded in her since childhood.
"My step-dad he used to tell me 'you stupid', then my grandma would be saying I was stupid and then my aunties would tell me i'm stupid, and then my mama would say I'm stupid. At that point in time in my life, anytime somebody said something to me, I would take it literal that I was stupid. So I didn't really put forth a lot of effort to try to learn how to read. It was difficult already, and if I'm stupid then what's the point? I'ma be a baby mama anyway. I already take care of kids, what I need to know how to read for? I know what hot dogs look like, I know what rice look like and I know how to cook that. I know how to use a measure cup, I know numbers so, it was like to me, not necessary."
It wasn't until a misunderstanding with a co-worker in her late teens that she realized her gift and chose to pursue her passion with rigor despite her troubled personal life. Tiffany told her Girls Trip co-star that her road to fame had not been easy, but every tear was worth it.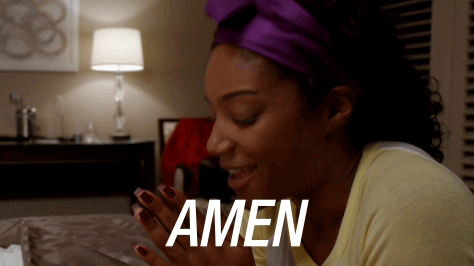 "Everything I've been through has prepared me for this journey."
When we look at celebrities, it's easy to imagine their silver spoons, but Tiffany reminds us that she's not any different from any other black woman in this world who has experienced trauma and disappointment. Her bank account doesn't care that she came from a less than perfect background because she has the hustle to back it up.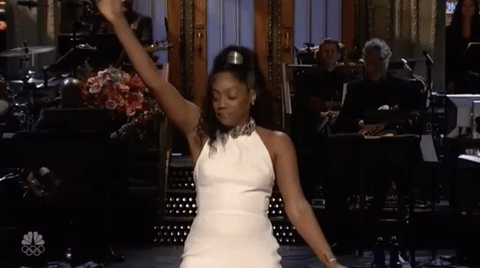 The easiest thing you can do is let your situation determine the height of your success. Although Tiffany suffered through unimaginable horrors, she survived to tell the tale and made a couple of bank rolls in the process.

In an emotional moment, Tiffany shared that her mother was recently released from her mental institution and is now being taken care of by the best doctors. The actress said that one of the best moments in her life was when her mother told her how proud she was. Tiffany knew that she wouldn't have been able to experience that moment if she had given up prematurely.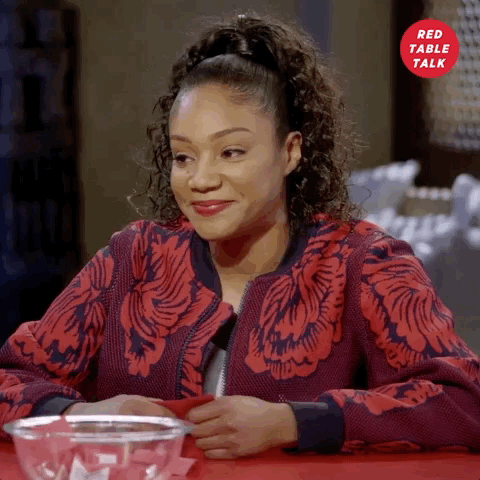 In the episode, Jada and Tiffany both mentioned that in their childhood, they were afraid of becoming statistics. Luckily, with the increased number of sisters with degrees and boss business chicks of color, the status quo has changed. Soon, we'll be able to model our statistics around women like these two actresses, who came from hardship and succeeded in spite of it.

Tiffany is a reminder that no matter what your history may be, you are given a new opportunity each day to create a future that's beyond your imagination.
Who's cutting onions in here? To watch the full episode, click here.
Featured image by Giphy
Keep reading...
Show less
Is it me or is 2018 black AF? We are truly in the age of a black girl renaissance. We now know that anything is possible and take pride in understanding that the world is at our fingertips. Women like Issa Rae proved that even the Awkward Black Girl can end up the coolest kid in school, and Tiffany Haddish reminds us that it is still the Year of the Black Unicorn.
This year's MTV Movie and TV awards was blackity black, y'all. Lena Waithe won the Trailblazer Award, The Cast of Black Panther took home almost every award there was, Chloe x Halle tore the stage down and did it for the culture, but the real winner of last night's award show was Tiffany Haddish.
The 38-year-old Girls Trip actress became the first and only black woman to host the show in the award show's 27 years of programming and reaffirmed to the world that black women aren't just a trend and that we will never go out of style. Tiffany offered what Time Magazine called "the Best Ten Minutes of Award Show history" with her Wakandan-style TLC parody of "Waterfalls" teardown with the honorable King T'Challa, and her reenactment of Cardi B in a movie-themed "Bodak Yellow" remake.
She said in her opening monologue:
"It's been a year of firsts for black people. I'm the first black woman to host the MTV Movie & TV Awards. 'Black Panther' is the first African-American movie to make a billion dollars, and 'The Quiet Place' is the first film to scare black people outta talking in movie theaters, for real."
She also mentioned in her intro that she is the first black woman to gross over $1 billion at the box office, which is remarkable, considering only years ago she only had a few dollars in her pocket and a dream. Tiffany has been transparent in the past about growing up in a life of poverty and abuse, and using comedy as a way to protect herself in foster care. Her same ability to use comedy to fend off and befriend bullies is the same gift that got her on the stage of her dreams.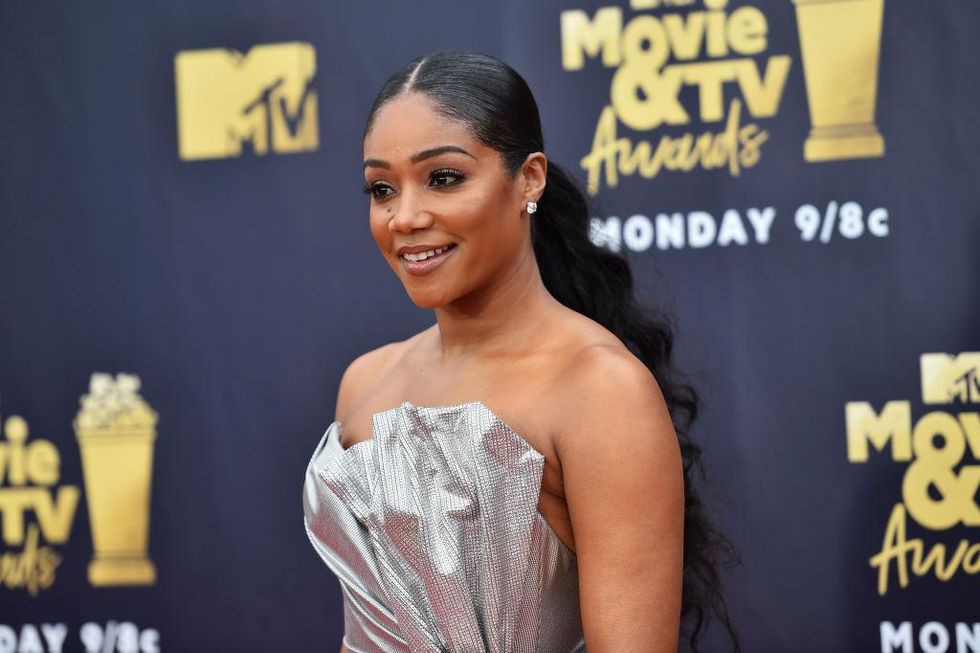 Alberto E. Rodriguez/Getty Images for MTV
During her performance as host, her hilarious one-liners left her celebrity audience in tears, and her wardrobe did not come to play. With a total of 10 wardrobe changes, Tiffany Haddish served up some classic vibes in her recreations of famous celebrity looks, including her own. We got to see her famous Alexander McQueen dress for the fourth time, along with iconic looks from J.Lo, Audrey Hepburn, and Meghan Markle.

Her performance is one that will be talked about for months, and came at the heels of a number of new TV and Movie Roles in which she has a lead role. Tiffany does the damn thing, and is a testament to the fact that pressure really does make diamonds. As bright as she shines, Tiffany says that she will never forget where she came from. She posted on Instagram:
"When I was 16 years old, my grandma gave me a piece of jewelry with a tiny diamond in it (and when I say tiny I mean put on glasses to see it tiny) and she told me every girl should have a real diamond by the time she is 16. Even when I was that young, there was nothing like that feeling of having the real thing, I thought I was a princess with my little diamond. Which makes a night like tonight—when I'm hosting the MTV Movie & TV Awards—that much more special. Because when it comes to expressing what is real — real moments, real caring, real love, and real emotion, only the real thing will do. Thank you Grandma for teaching me that being real feels really good @realisadiamond #RealisRare #ad."
We see you Tiffany, shine on baby girl.
Featured image by Alberto E. Rodriguez/Getty Images for MTV
Since her scene-stealing performance in Girls Trip, Tiffany Haddish has been running comedy and it doesn't look like she plans on stopping any time soon. She's everywhere you turn, from starring alongside Tracy Morgan in FX's The Last O.G. to having two summer blockbusters under her belt with Night School and Uncle Drew. This is far from an overnight success story, but rather the story of a girl from South Central Los Angeles with the gift of comedy now at 38 fully living out her purpose. In her cover story with The Hollywood Reporter, Tiffany shares her journey of being homeless, her multiple auditions for Girls Trip, and even more crazy celebrity stories including Leonardo DiCaprio and Roseanne Barr.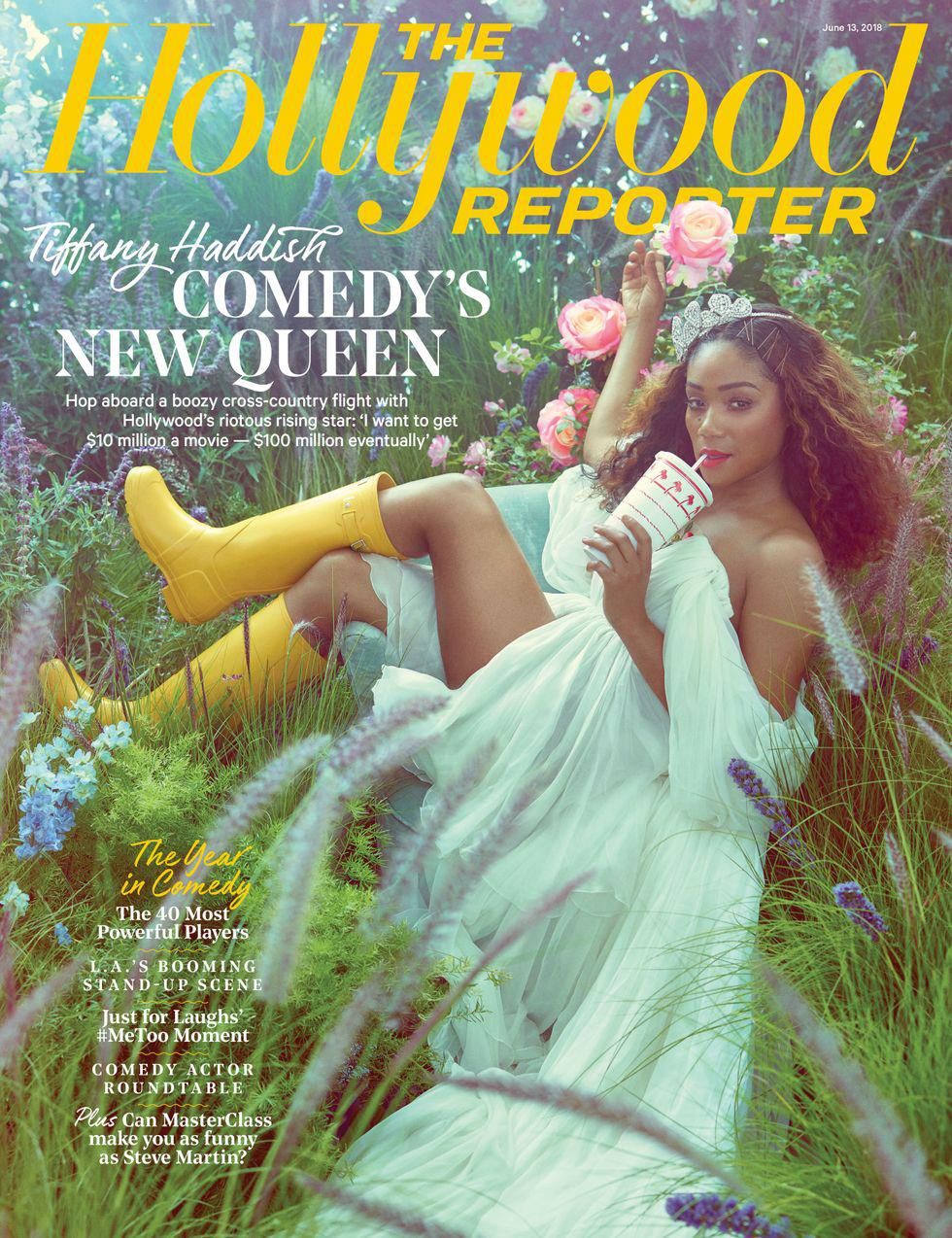 Miller Mobley/The Hollywood Reporter
Tiffany started comedy as a way to defuse her mother's anger, who had been in a car accident that resulted into a brain injury. The injury turned her mother into an abuser and cracking jokes was the only defense Tiffany had. It also served as a coping mechanism to keep her sanity in tact.

Her and her younger half-siblings found themselves going from one foster home to the other, and hustling became Tiffany's game. She worked various jobs such as being a pimp and a sex phone operator, but lack of finances had her homeless at times. Fellow comedian and now co-star Kevin Hart was one of her angels that helped her have a place to lay her head, keep her mind focused on building her career, and began the turnaround of her becoming a comedian that now everyone is fighting to work with. Tiffany became fully aware of that fact after Girls Trip opened at $31.2 million and wanted what she deserved for shows booked prior to the summer hit.

"I could've been paid $80K, probably $90K, a show, but because we booked those before 'Girls Trip' came out, I was getting paid like $20K, $15K, and it f-cking sucked. I said to my manager, 'I think we should just cancel them all, and then if they want to reinstate them, they gotta pay us this much money.' He's like, 'Tiffany, that's not a good way to do business.' He said that's like being a scoundrel, and I was like, 'No, I'm being a pirate. I want all the booty.'"
Anyone who has watched Girls Trip feels as if the character of Dina was created just for Tiffany, but the role wasn't secured after her first audition. Director Malcolm D. Lee and his team were looking for another Hollywood star to complete the main cast, but there was no getting closer to Dina than Tiffany.

Along with being a comedian, Tiffany is also a natural storyteller and the kind that leaves no details behind. She made headlines after telling GQ the shocking story that an actress bit Beyoncé's face at a party last December. The hashtag #WhoBitBeyonce stormed social media. Tiffany has put an end to the mystery actress: it's Sanaa Lathan. She further addressed to The Hollywood Reporter the aftermath of her story:
"I'm super good friends with her stepmom and her dad [Stan, a producer-director], and they were mad at me," she reveals. "They were like, 'Why would you do this to the family? You know, black actresses, you guys have to stick together, it's so hard for you guys to get work as it is, why would you try to ruin her career?' But I didn't try to ruin her career. I never said her name! I was just trying to say how Beyonce kept me from goin' to jail that night. I coulda just shut my whole career down."
There were critics that expected a downfall of Tiffany's career, but the chaos only led to even more of a spike in her popularity.
"The other day, someone was saying, like, 'Oh my God, you should keep your mouth shut 'cause now you're never gonna be invited to parties,' but I got invited to way more parties after that. It's ridiculous how many parties. 'Can you come to my party?' 'Can you come to my thing?' They want me to talk about something at their thing 'cause they think, like, 'This is gonna put me back on if Tiffany says something.'"
Tiffany has a lot lined up on her plate with filming the mob drama series The Kitchen with Melissa McCarthy and Elizabeth Moss, stand-up gigs, more promo, and hosting this year's MTV Awards. But the grind and chasing dreams never stop and just as her catchphrase goes, "She ready!"

"I want to make a cookbook. I wanna make a gardening book. I want a clothing line. I want a jewelry line. I want a perfume. And then I want to buy two streets that intersect, Tiffany and Haddish, and I'm gonna build a big youth center, a mental health center, I might do some transitional housing, too. But I'm gonna own it. And I'm gonna have music and all the other stuff they're taking out of schools. Right now, my mind's on one street, but it might be in every city, every metropolis, and it might turn into a big thing. It's gonna be amazing."
Read Tiffany's full feature story with THR here.
Featured image by Kathy Hutchins / Shutterstock.com
Keep reading...
Show less