Making healthy eating choices isn't just a trend in the Black community, issa lifestyle—one saving lives that's snatching the waists of women across the country.
While many nutritionists and wellness gurus have been on the vegan wave for decades, innovative recipes and an increased amount of time at home have encouraged women to challenge their dietary choices and leveling up their lives by experimenting with plant-based meal planning options, and we love to see it.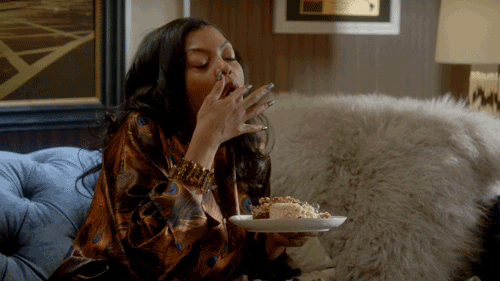 media3.giphy.com
According to the internet, eliminating foods like dairy and incorporating more fruits and vegetables in your diet can improve the condition of your skin, your gut, and your overall health so I guess the real question is, why not switch to a vegan lifestyle?
Because we like chicken nuggets. That's why.
Luckily, xoNecole has all the tips from celebs like Taraji P. Henson, who began her vegan journey only two years ago, to Erykah Badu, who has been about this vegan life for two whole decades, who will give you all the motivation you need to ditch GMOs and jumpstart your meat- and dairy-free lifestyle journey ASAP.
Scroll below for more!
Jhene Aiko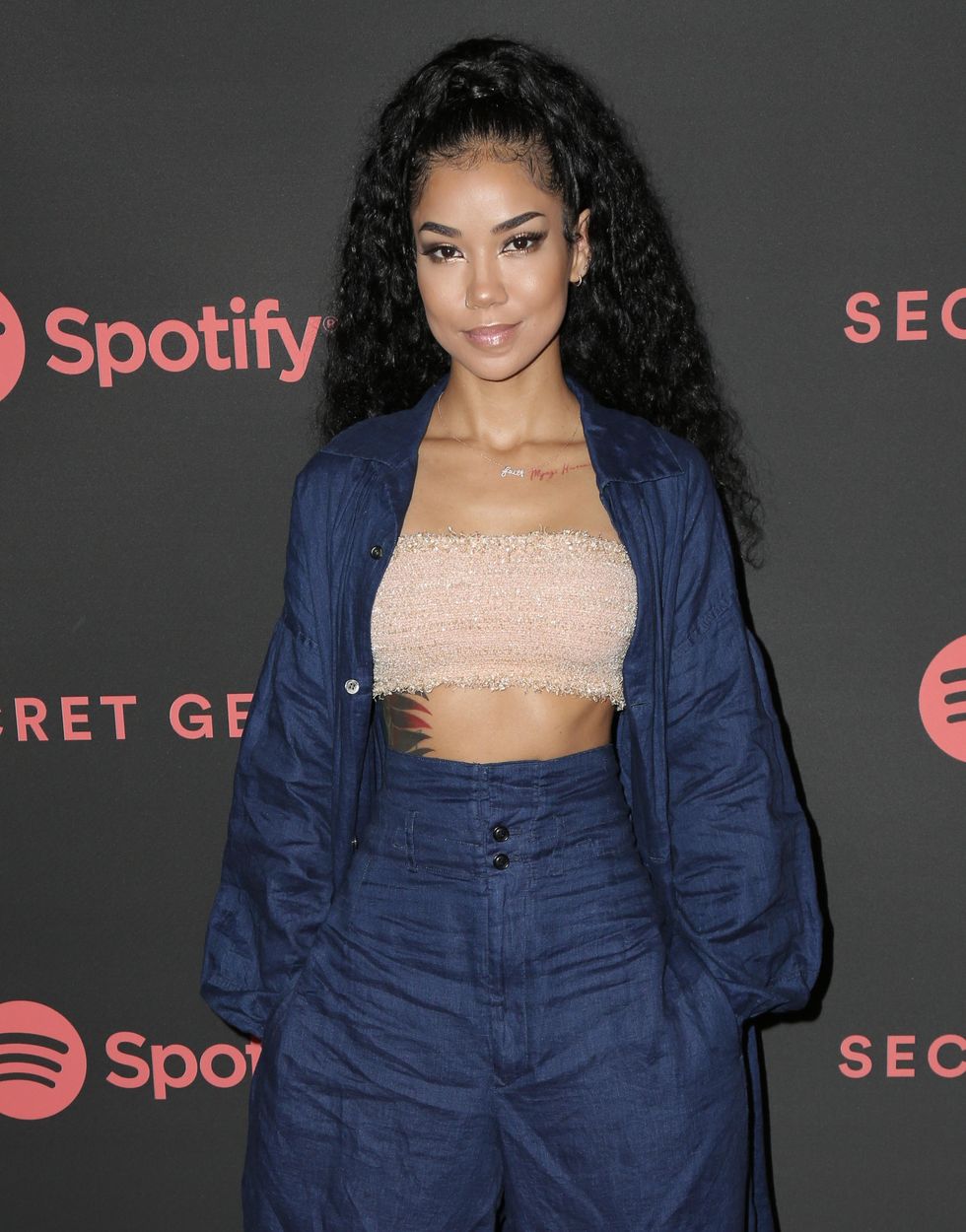 Parisa Michelle / Shutterstock.com
Ava DuVernay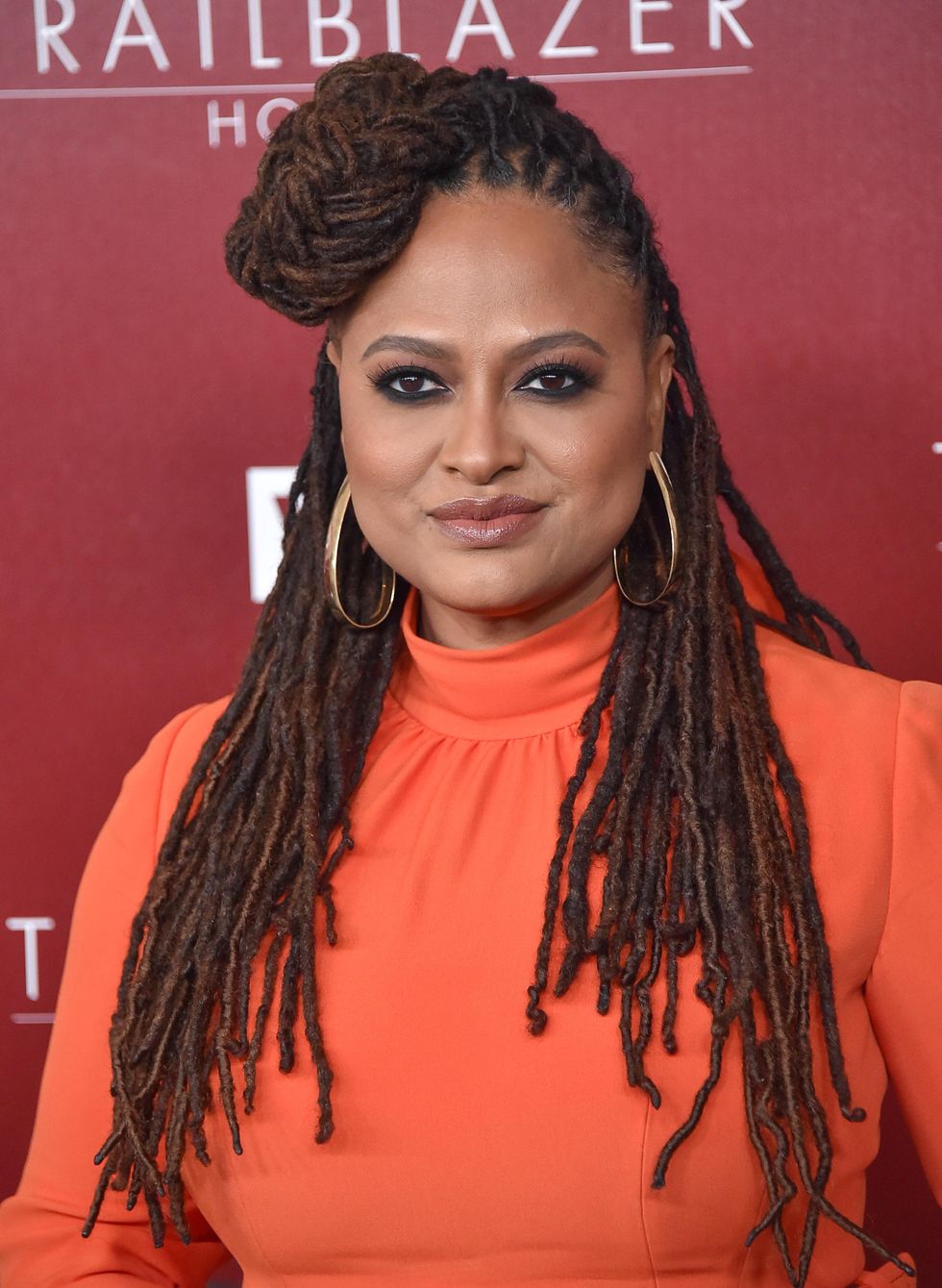 DFree / Shutterstock.com
Taraji P. Henson
In an interview with InStyle, Taraji shared:
"It took a doctor in Macon, Georgia, to say, 'If you don't change what you're doing, you're going to get stomach cancer.' ...So I switched everything up out of necessity. I want to live. Thank God, because I feel so much better."
Mya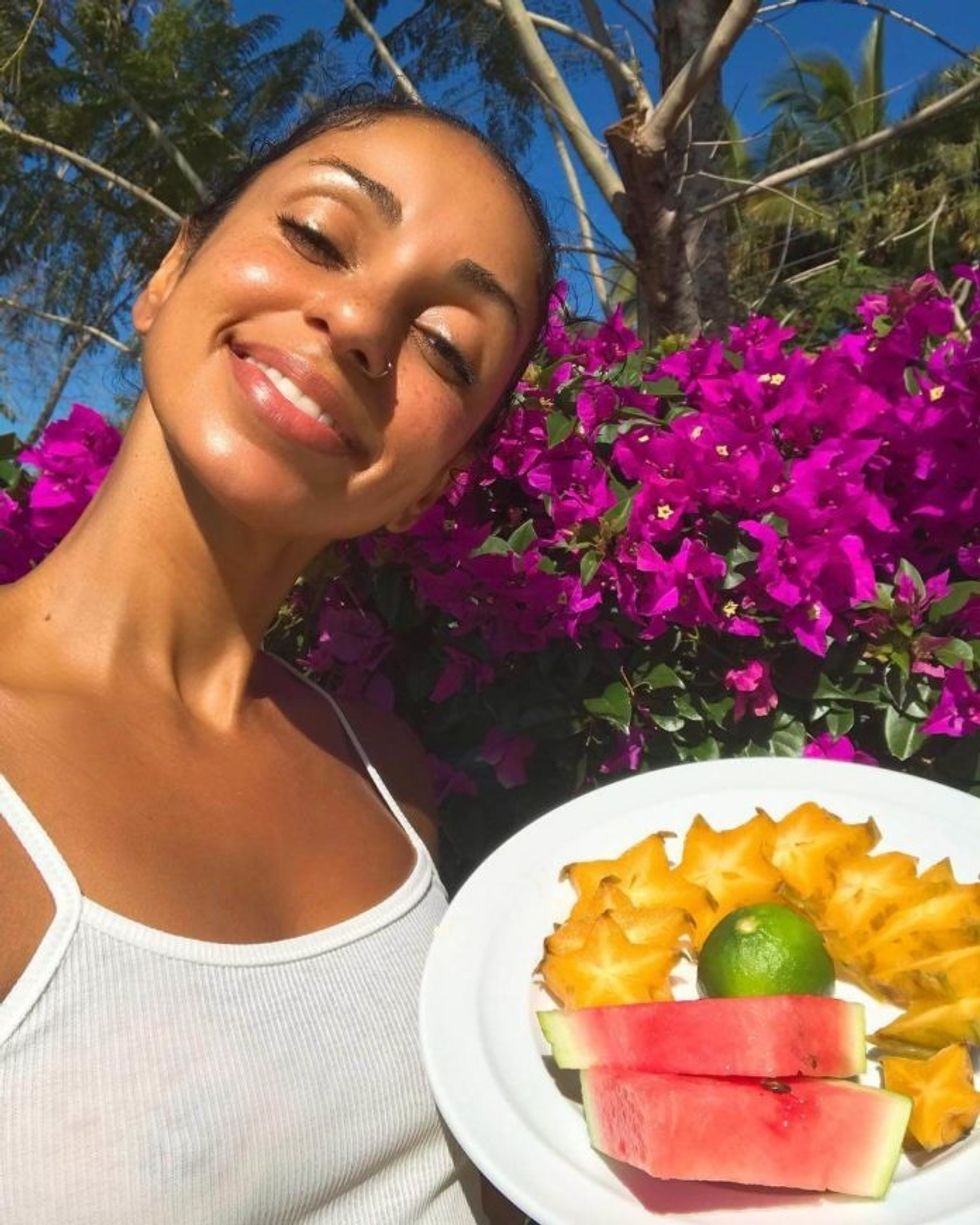 Mya/Instagram
"It is a lifestyle for me and outside of just food, I'm practicing fashion and making sure I'm not wearing leather shoes and I have not worn furs since a long time ago. I have to be very conscious when I'm making decisions and saying I'm vegan because I have to be about it all the way and now that has given me some thought into creating certain things like home décor."
Dewanda Wise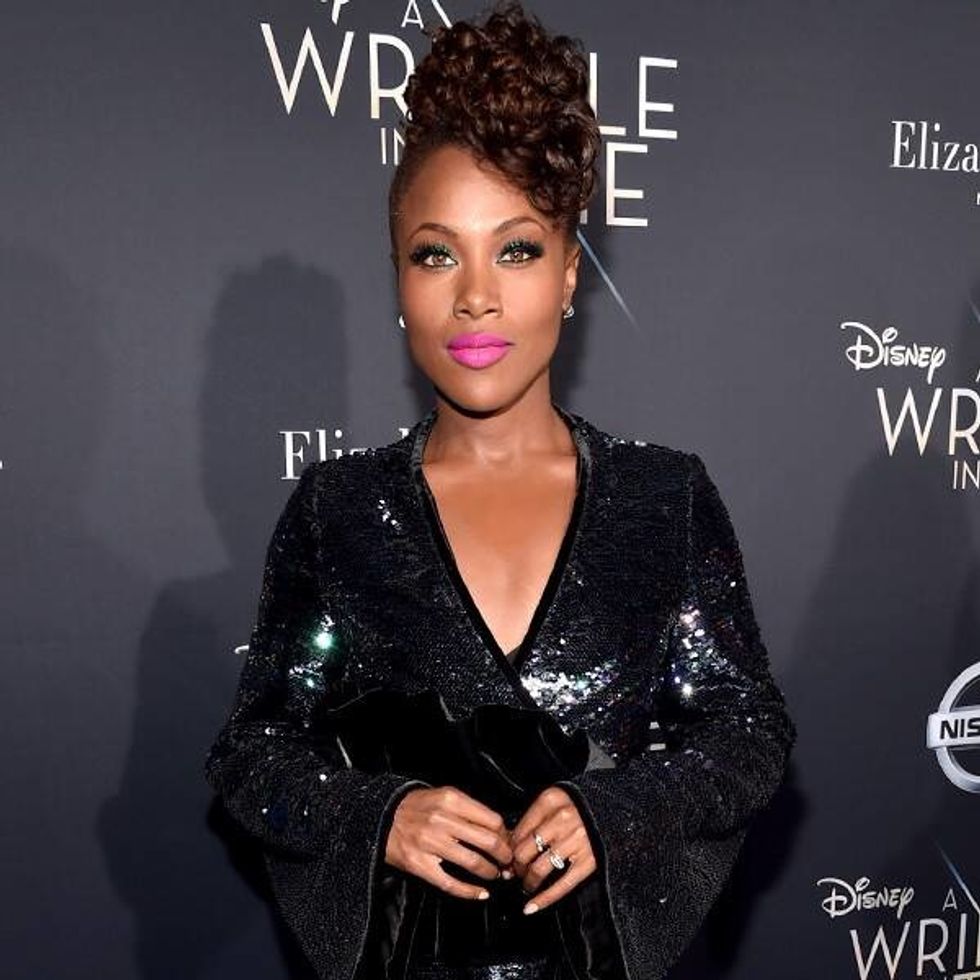 Getty
Erykah Badu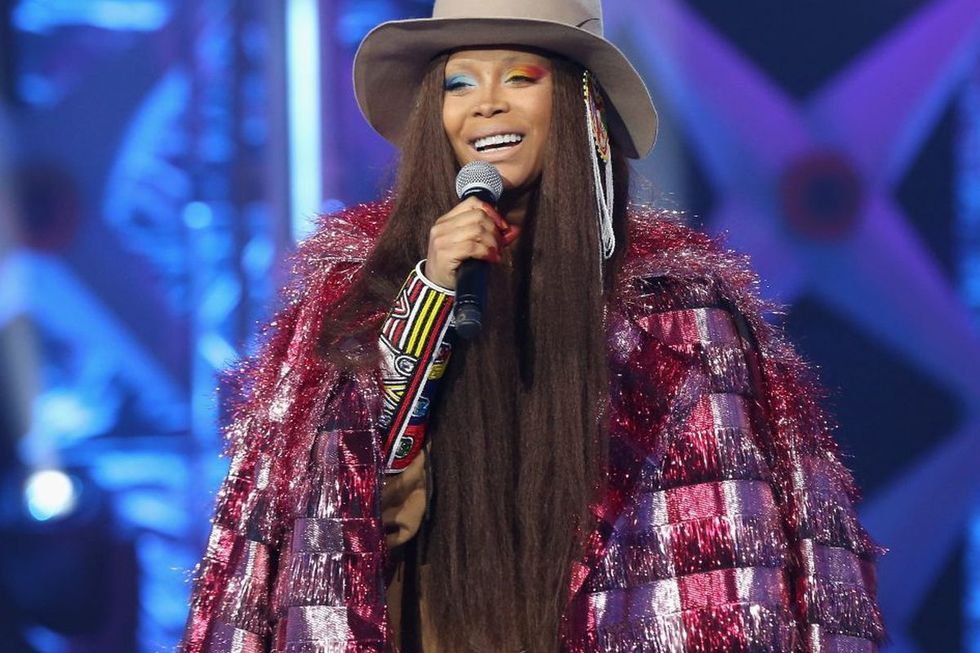 Getty
According to Erykah Badu, she's not new to the vegan life, she's true to it. In an interview with People, the 49-year-old singer revealed that she's been on a vegan diet since 1997:
"It's just what's best for my body. If I was a Lamborghini I would want to put the best gas in it."
Chloe x Halle 
Chloe explained in a 2017 interview with Complex:
"Eggs and dairy never sat well with me … so it was easy. When we moved to L.A., it really became easy. So many vegan restaurants and vegan aisles in the grocery store are like heaven for us!"

"Number one secret to keeping our voices in shape? God. Two, we're vegan, so we're not consuming dairy and it's not that extra mucus buildup all the time. We hydrate a lot more before performances. We were really on a roll of drinking gallon jugs of water, and that made us feel better mentally and physically."
Lizzo
"I used to eat a lot of hot Cheetos, but that wasn't good for my acid-reflux. These are Cheeto-alternative I love that's vegan and I dip them in hummus. Badda-boom badda-snack!"
"As a new vegan, I'm enjoying exploring flavors from plants and plant-based proteins! Every journey is personal and deserves to be celebrated."
Featured image by Parisa Michelle / Shutterstock.com

If you're interested in knowing the tea on what's going on between Big Sean and Jhené Aiko, you can keep sipping, sis, because in a recent interview with ESSENCE, the "Triggered" singer reminded us that her the status of her relationship with the rapper is none of our concern.
Jhené explained that although she is forever here for the fan love, she never really asked our opinion on her love life. She explained:
"The internet has made everyone aware of their opinion. As many people as there are in the world, that's how many opinions there are. If you let that many opinions affect your own opinion, and your own way of looking at things, you're going to be so confused."
You can't pick apples from a banana tree, and you can't always take advice from people that haven't been in your position. According to Jhené, after spending much of her life in the spotlight, she's learned that her opinion is the only one that matters, and this perspective extends to many other areas of the singer's life:

"Whether it be something with me and Sean, or me and my daughter. I just love the feeling of taking that away from people; their need to have to say something or have to give their opinion because I personally have never been that way—well maybe when I was younger, or high or drunk."

The rumored couple became romantically linked after the finalization of her divorce in 2016 from her ex-husband, producer Dot Da Genius, which she later found was a blessing in disguise:
"We never moved in together. That's why when people were like, 'Oh, you left your husband.' I'm like, honestly, Sean is more of a husband as my friend. I didn't really know him…I found out he had a girlfriend the whole time. It was crazy."
Although the couple has been on-and-off for the last year, things are looking pretty on these days. After a recent trip to Disneyland, fans aren't quite sure where they stand, and for Jhené, that's OK. The 31-year-old mother of one said that while songs like "Triggered" and "None Of Your Concern" may tell a small part of her and Sean's story, we should be advised that her songs are in no way a reflection of how she feels about the rapper overall:
"I share about one percent of my whole being with the internet. Even in my songs, that's literally one moment that I'm talking about or when I felt that way. There's so much more to my relationship with my [late] brother [Miyagi], or with my daughter, or with Sean. People hear a song like 'Triggered' and they're like, 'Oh, do we hate him now?' In the grand scheme of things that was like a moment."

In the interview, Jhené also opened up about why she and Sean will always be friends, first, and even revealed the rapper's reaction after hearing her latest project:
"[Sean] was just like, 'Wow, I'm not your friend.' I was like, 'Well, I was feeling that in the moment. This is just a song. This is not 100% about you. Those are the things that I may feel, and I know that they are irrational and coming from just an angry emotional place, but that's what's so beautiful about art is that you can just throw paint on a blank canvas, and do something crazy and that's your release. You didn't hurt anyone, you know? I feel like, especially because we have a personal relationship, and a true friendship, that's why I could play it for him, and be like, 'Yeah, sorry. I kind of went really hard, but don't think that this is a personal letter to you.'"
To read Jhene's full interview, click here!
Featured image via Tumblr
Jhene Aiko is the kind of girl that gives you quintessential L.A. vibes — undemanding, carefree, and yet still super put together.
And even though her vocals are really what makes us all swoon, Aiko proves that a smooth and "effortless" look still takes, well, effort.
She spilled her beauty secrets with Vogue, while nonetheless donning a beautiful black kimono and some box braids (with her edges on fleek, y'all). So here's a few things we learned about recreating Jhené's makeup:
First of all, eyebrows are key.
Aiko revealed that it can take her up to 30 minutes to do her eyebrows, which she understands are sisters and not twins. "For me, it's the most important part," she told Vogue as she swiped up throughout the brow with an eyebrow pencil.

Get ya hustle on with the eyeshadows.
Next, she grabbed for her Urban Decay Naked palette, adding some depth to her eyes with a transitional shade just a step or two deeper than her natural skin complexion. Then, she blended "Toasted" and "Hustle" together — both nudes — and swept the shades across her entire crease, as well as underneath the eye.
She took the same pencil for her brows and lined her eyes for some dimension, yasss! Don't be afraid to use the same products in your beauty arsenal to achieve that look you're going for. If you want to play up your eyes, just line them however you feel best. For Jhené, she did a tight line in the inner corner, and then smudged it out on the ends.

Conceal the problems away.
Now, if you thought that celebrities only splurge on expensive beauty products, think again! Jhené reached for that good ole' LA Girl Pro Concealer (which y'all remember was only $3 and a black girl fave) and cleaned up under her eyes. Personal tip, warm up the product on the back of your hand and take a small concealer brush to lightly apply the product.
Oh, and Jhené goes for the beauty blender to blend out her concealer for that au-naturale look.
Go natural with the contour.
She grabs the NARS Sheer Glow (which is a great foundation for building up), and then she dots it on her face and around her eyebrows to clean everything up. So yes, y'all can wear foundation and have it still look completely natural! She then goes in with a bit of contour, and does a pretty chill sculpt. "I like to just follow my natural curves of my face," she said.
Subtle highlights work, too.
Then she took a small, fluffy brush and finished off with her nose, and took her finger and added some highlight definition to the bridge of her nose and under the eyebrow. She went in and set it all with a bit of translucent powder to pull it all together.
She added a collagen-boosting lipgloss, and took a bit of highlight and dabbed it on her cupid's bow (if y'all are trying to get that Rihanna-esque lip, this is a step in the right direction). Finish it off with a little mascara on the edges, and of course, your best pose out the bathroom.

Slay, Jhené! Check out the full step-by-step tutorial below: