A wise human once said, "A vacation away keeps the doctor at bay." Vacationing hasn't been the same since the pandemic but I think it's still essential to get away every now and then. Airbnb has been a game-changer for me since 2012. The homestay platform provides a sense of culture and community that you just can't get from staying at a hotel. The groundbreaking company is one of the largest lodging companies in the world with no actual properties.
A gem amongst the thousands of options: The Modern Balinese Style Villa. Designed by decor duo, Angelique and Alexander, the pair channeled their love for traveling and adventure into one of the most beautiful spaces on this planet.
"Our specialty is modern living with world influences: from Bali to Mexico, Norway to India. We will design your space from concept to completion. Oh, and we build our own properties that you can come and stay in: our first being a luxury Balinese style retreat in Encino, CA."
The opportunity presented itself to visit this stunning, perfectly nestled abode and all I could think was, "Black girls deserve luxury." So this Black girl and her best friend got to spend the unofficial end of summer, Labor Day, relishing in the most grandeur place I have ever laid my head. Not only is every crevice of the house social media-worthy but it oozes relaxation.
Featured Image by Joce Blake

Keep reading...
Show less
The season I look forward to the most every year is Resort. Even if you haven't had an opportunity to enjoy a proper getaway this season, now is the time to get your last-minute plans in order as the final moments of summer quickly come to an end. While you can always find a sunny destination to travel any time of the year, this is the perfect time to take advantage of the final warm weather looks before fall inventory completely takes over.
Whether you're far from home or planning the perfect staycation, a getaway is an escape from your everyday life no matter how many miles from home. Not only is it important to take a break from our daily routines as a practice of self-care but perfecting your vacation style is just as important as the trip itself. Packing can be stressful so we're here to give you a head start on the hottest trends to wrap up your summer slaycations.
Sunscreen
First thing first, sunscreen is the main essential for a hot girl summer. When the sun's out, protect your skin with a layer of sunscreen to assist a healthy glow. I love Black Girl Sunscreen due to the cruelty-free ingredients that prevent that annoying white cast and boost radiant skin. Find this item at your local Target or Ulta.com!
Sun Hat/Visor
A major accent adding style to any vacation look is a straw hat. The perfect design can instantly elevate your poolside ensemble, adding a pop of chic to any warm weather look. Pair with a full ensemble or a bikini with a chunky necklace to give this key accessory even more life.
Slides
I love a good pair of slides. Finding a sleek contrasting platform slide to add to a beach side look is not only a comfortable choice but also a super chic and modern. Dress them up or down, for a chill vacation look.
Dad Shirt 
A dad shirt can go a long way on or off the beach. Layered over your favorite swimwear, a button-down is a popular alternative to a classic cover-up. Mix it up with different color combinations for a contrasting bright and fashion forward look.
The Statement Maxi Dress
Every now and then we gotta go in the back of that closet and pull out that freakum dress, even on vacation. No matter the occasion, there's always a good chance that you'll need a sexy maxi for a cute celebratory dinner. A backless maxi adds sass while keeping it classy with a pop of skin. For an even trendier look, try a bold print with this classic style.
Shell Jewelry 
The latest summer jewelry trend taking over the runways down to our social media feed is shell jewelry. This dainty design is perfect for a tropical vacation layered with your favorite gold chains. The perfect stackable accessory is a fun addition to your favorite bikinis. Where it as a necklace or belly chain to maximize your beaded options.
Crochet Set 
No longer your grandmother's favorite hobby, crotchet is making a huge comeback. This two piece set is a sleek ensemble perfect for a casual beach stroll or a night out on the town. Pair with a flat open toe sandal for a comfortable yet eye-catching look.
The Jumpsuit
You can never go wrong with a one piece jumpsuit. An easy look to throw on and catch up with the group festivities, add a belt for a snatched waist line along with your go-to accessories. Pair with a sandal or sneaker for a cute and casual look, or a high heel for a grown and sexy moment.
Featured image by Getty Images

Keep reading...
Show less
OK, so guess how much an average vacation costs. Dun-dun-dun-dun. It's a whopping $4,700! And while things like traveling internationally, staying in a nice hotel and planning to eat out for every meal (not to mention how long you plan on staying gone) definitely contribute to whether this could be your price tag reality, I'm pretty sure that I'm not jumping the gun when I say that money is gonna be a little tight for a lot of us this year when it comes to taking a traditional summer vacation.
Still, when you factor in all of the definitions of vacation that are up at the top of this article, just because you may not have a ton of coins (or maybe even a lot of time), that doesn't mean that you can't create your own vacation of sorts — one that doesn't require you spending a ton of cash or even going very far.
If you definitely would like a little bit of rest and relaxation in the upcoming weeks but your budget says you need to get creative, here are some ways to take a bit of a summer vacation — even if you can't really take one.
1. Shop Like You're About to Go on a Trip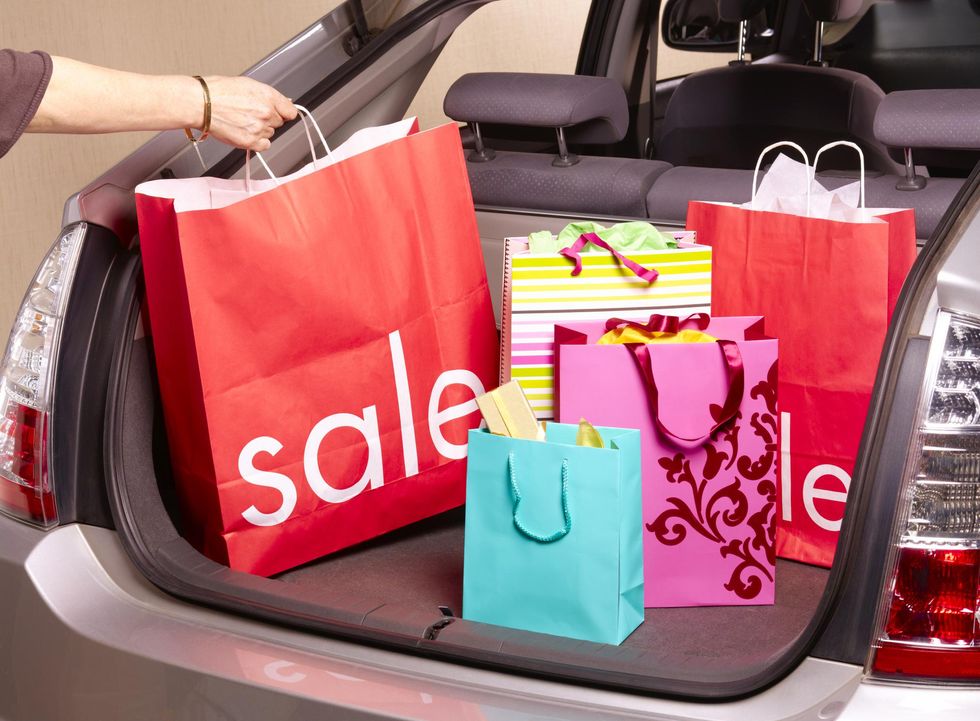 Aight, y'all. Let's not act like one of the best things about going on vacation is purchasing some new things to take on our trip. Since you're not actually going anywhere (or anywhere far), you can actually buy a few things without guilt or debt because you won't have to spend as much (if you're on a budget, that is).
So, why not use your non-vacation vacation as an opportunity to pick up a new dress, pair of pumps or whatever else you've been eyeing for a while? Something new, whether you wear it immediately or not, is always an easy way to put a smile on your face and take some of the stress off (again, if you budget).
2. Turn Your Bedroom into a (Temporary) Tropical Paradise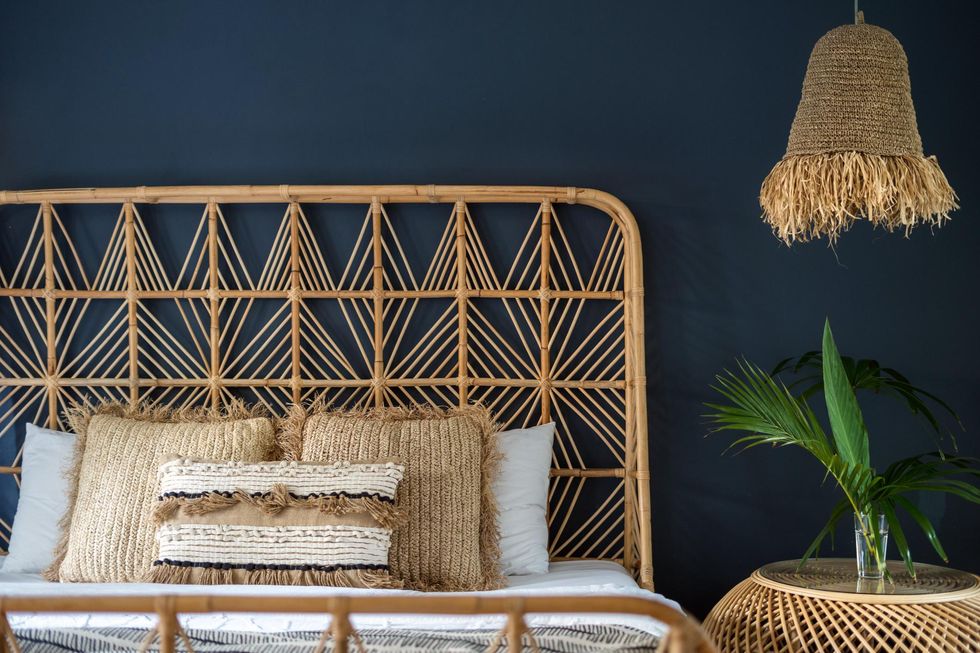 I know someone who had an actual tree (sans the leaves) in their living room. It was kinda dope because, every holiday (and also with the change of the seasons), they would put different decorations on it. Why not do something similar to this when it comes to your bedroom? Because here's the thing — the change of bedding, some new window treatments and maybe a big plant or a faux tree can make all of the difference in the world if you're ready for something new in your bedroom but you don't have the big bucks to go all out. If you would've liked nothing more than to go somewhere that requires a passport and has plenty of water and sand upon your arrival, Decoist is a site that offers 30 tips for how to turn your bedroom into a tropical oasis (check it out here). If you add a pineapple-scented soy candle, a fan and some ASMR of ocean waves, you really could feel like you're in a beach house — or very close to it.
3. Eat Different Exotic Foods Every Day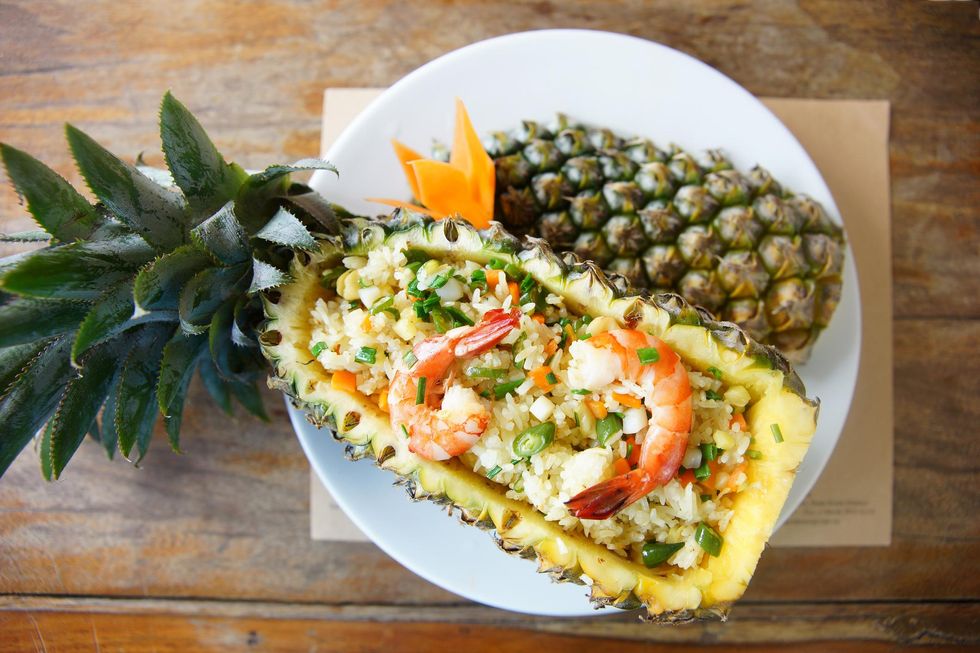 Something else that's fun about going on vacation is it's pretty common to either try a restaurant or a kind of food that you've never had before. That doesn't have to change, just because you're going to be at home. If you go to your favorite search engine and put "exotic recipes" into the search field, you might be surprised by the kind of dishes that you can make. Or, if the last thing that you want to do is be in your kitchen, try putting "unique dining experiences near me" in the search field instead for a list of restaurants that you can either go to or will deliver food to your front door.
4. Play Some World Music Sometimes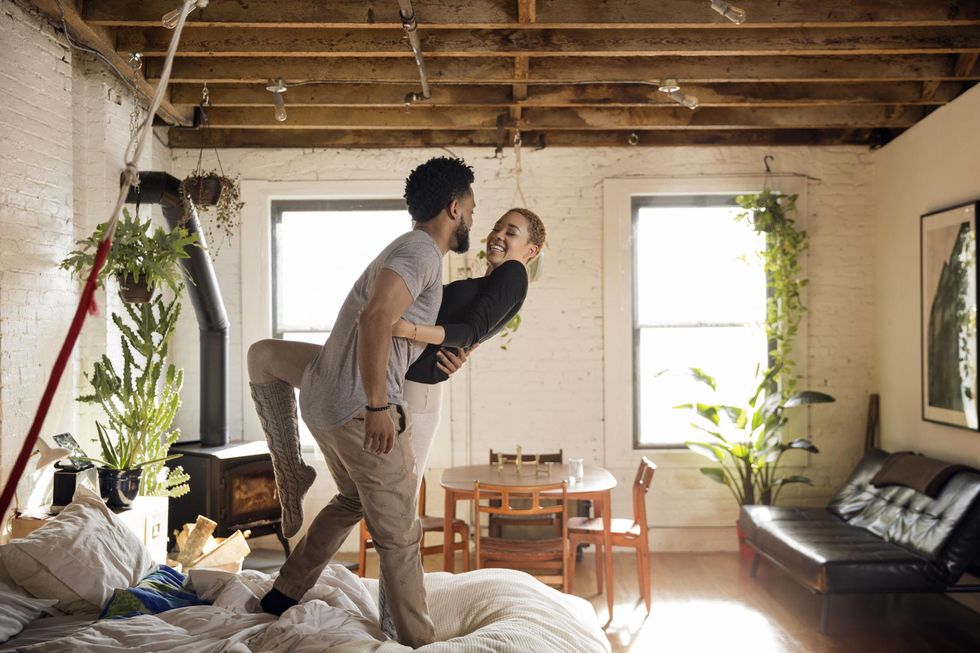 There are literally dozens of scientifically backed reasons for why listening to music is good for us. It reduces stress and anxiety. It puts us in a better mood (well, depending on what we choose to listen to). It can decrease pain and discomfort. It improves your memory, strengthens your heart and can even help you to sleep better.
That said, this time, rather than playing what you usually do (shout-out to 90s R&B fans), how about a little bit of world music? It can introduce you to new artists, expose you to another culture and can put your home's atmosphere into a totally different kind of vibe.
For instance, I happened upon a Nigerian artist named Banky W. and the song he wrote for his wife a few years back. It's called "Heaven (Susu's Song)". It definitely put me on the path to check out other artists in his country. Absolutely no regrets either.
5. Have Fun with Google Street View/Google Earth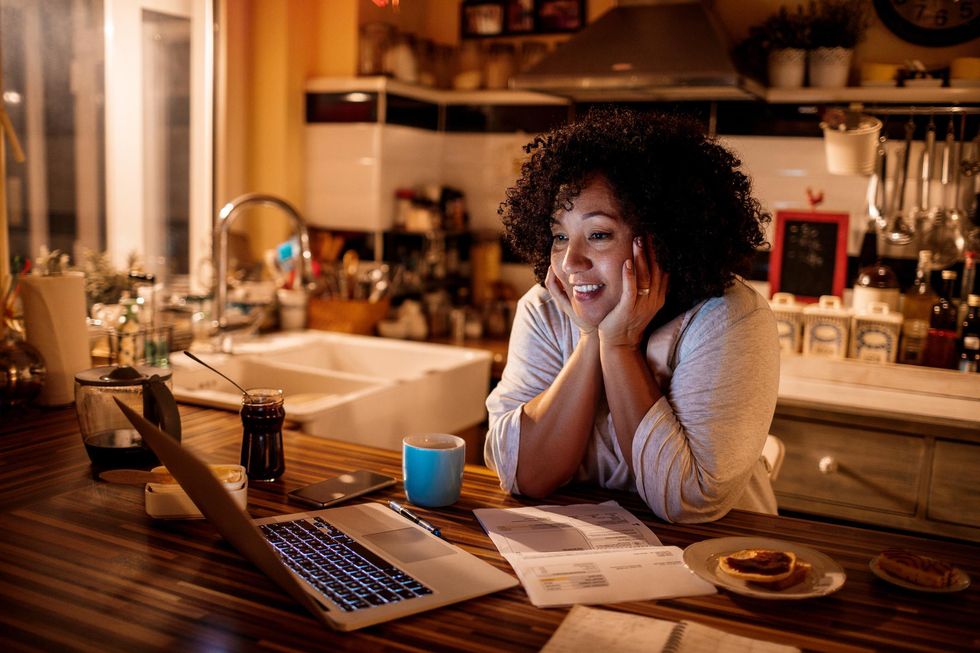 Who said that just because you're not physically traveling anywhere that you can't still do some major sightseeing from the comfort and convenience of your own home? Thanks to Google Street View and Google Earth, you can look at various countries, museums, national parks — just about anything that you can possibly think of, all while sitting on the couch or lying on your bed.
6. Be a Tourist in Your Own City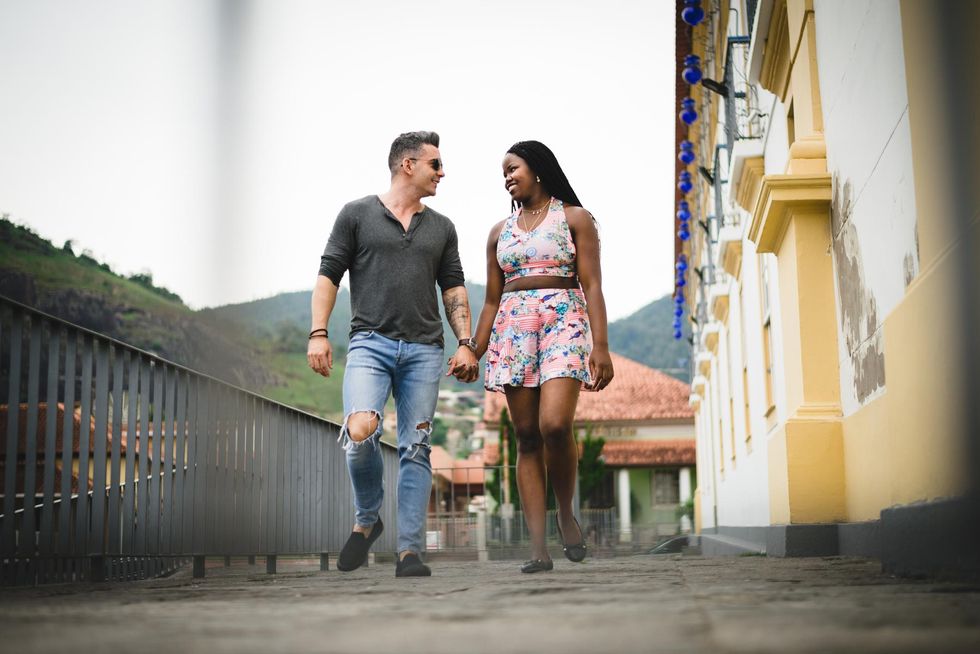 A few weeks ago, a friend of mine and I went to the Assembly Food Hall, downtown in Music City, for the first time and y'all — I've lived in Nashville since I was three and have written for the major newspaper here which means I spent a lot of time in that area…and when I tell you I barely recognized my own city? Nashville is on steroids right now! My point? I could easily spend a day down there and explore like I was a tourist. Chances are, you could probably do the same thing where you live since there's a really good chance that you've never really looked at where you live through the eyes of a tourist. Hey, it might seem like a corny thing to do on the surface, but you might be surprised what hanging out for a few hours in your own downtown will reveal to you.
7. Book a Hotel Room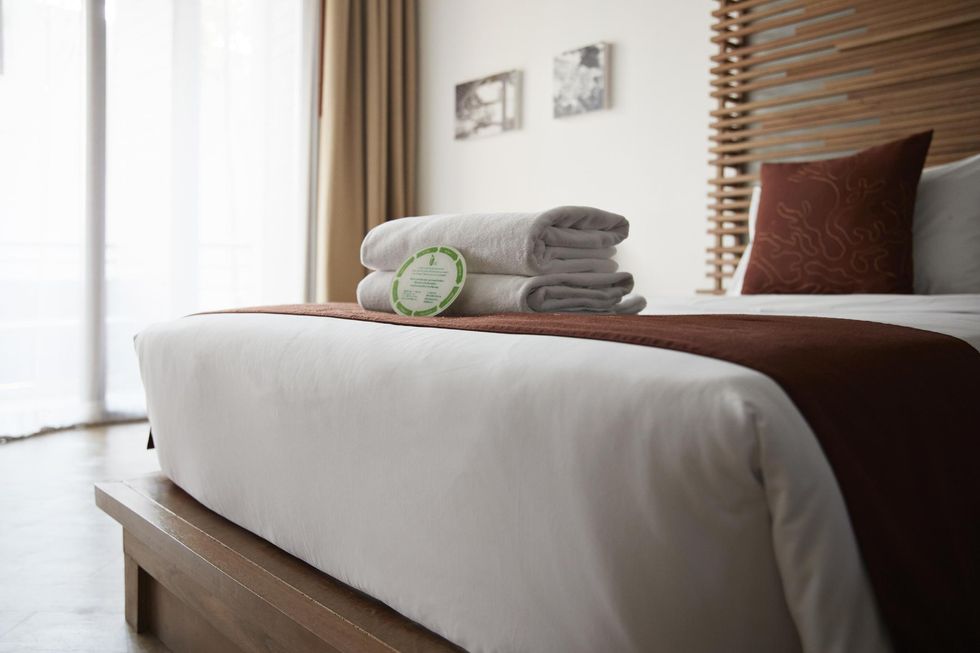 It doesn't matter if you're single, in a relationship or wanting to hang out with your friends, you absolutely must take out at least one day to spend the night in a local hotel. Not some two-star one up the street either. Pick a place that you've always been curious about, go to a discount site like Hotels and book a reservation at a discounted rate. While the world is still trying to open up, you should be able to get a pretty good deal since many businesses are not as busy as they were prior to the pandemic (yet).
8. Do Something "Risky"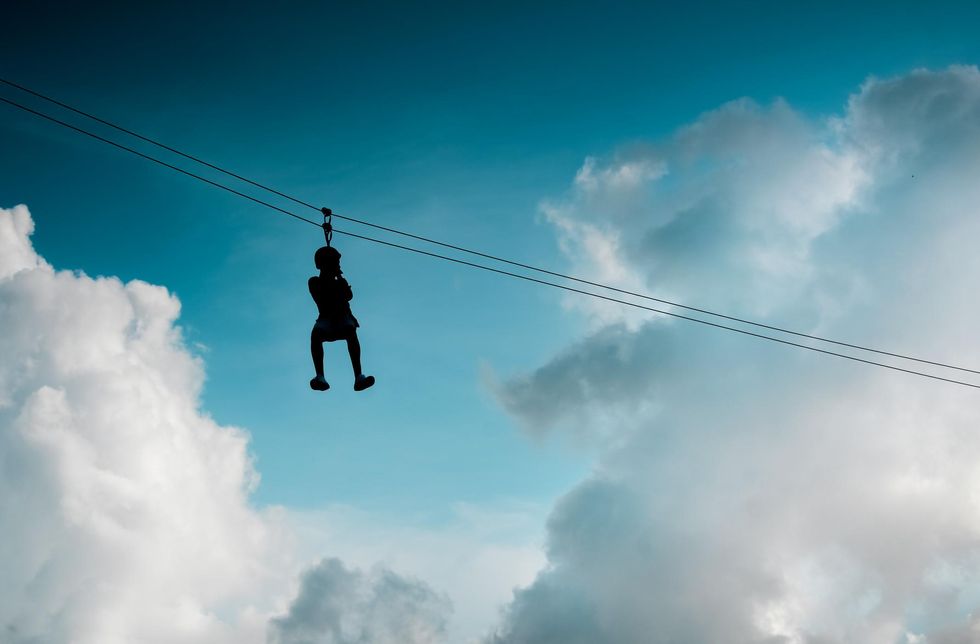 I don't know what it is about traveling to other places that makes us want to try things that we probably would never attempt at home. Why wait to go out of town to take a risk or two, though? Whether it's ziplining, skydiving, rock climbing — whatever, book an appointment to do it while you've got the time off. It's a great way to check something off of your bucket list and create a pretty awesome memory in the process.
9. Designate a "Good Vices" Day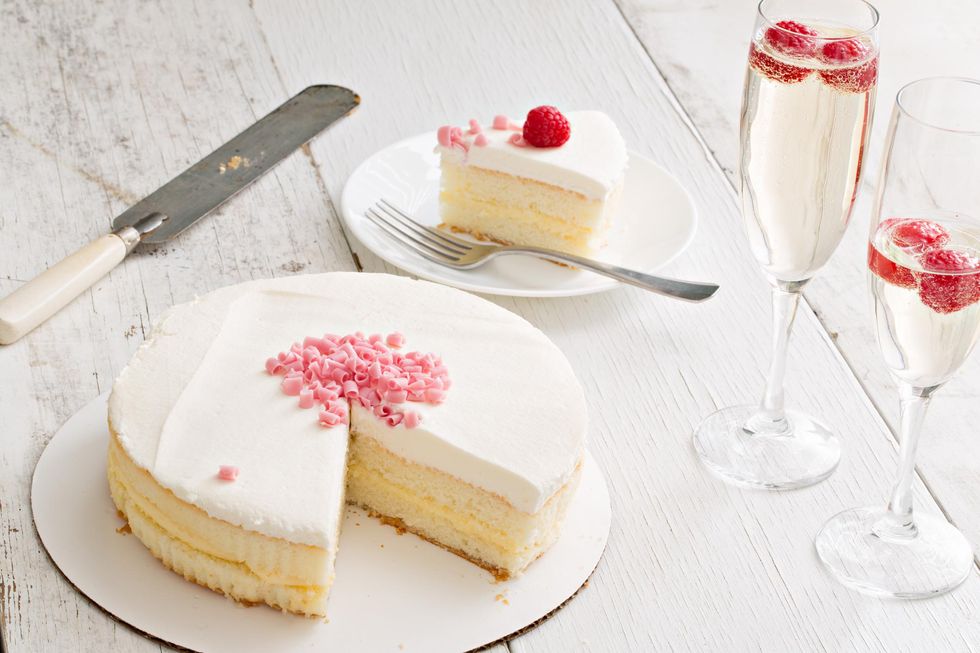 One of my favorite quotes of all time is, "The excess of a virtue is a vice." Aristotle is who said it. What it basically means is, anything done in excess has the great potential to be problematic — even if it's good for you. So, if you've been eating super clean in order to shed some pounds, you can't remember the last time you've enjoyed your favorite cocktail or you've been craving ice cream for a couple of weeks now and, for whatever the reason, you've been denying yourself — why not use this time off to have what I call a "good vices" day. Nobody is saying to be reckless or anything. Just designate a day when you can order a pizza, roll up a couple of blunts and/or eat a couple of Krispy Kremes to your total heart's content. You're on vacation. Why the hell not?
10. Get Completely Off of the Grid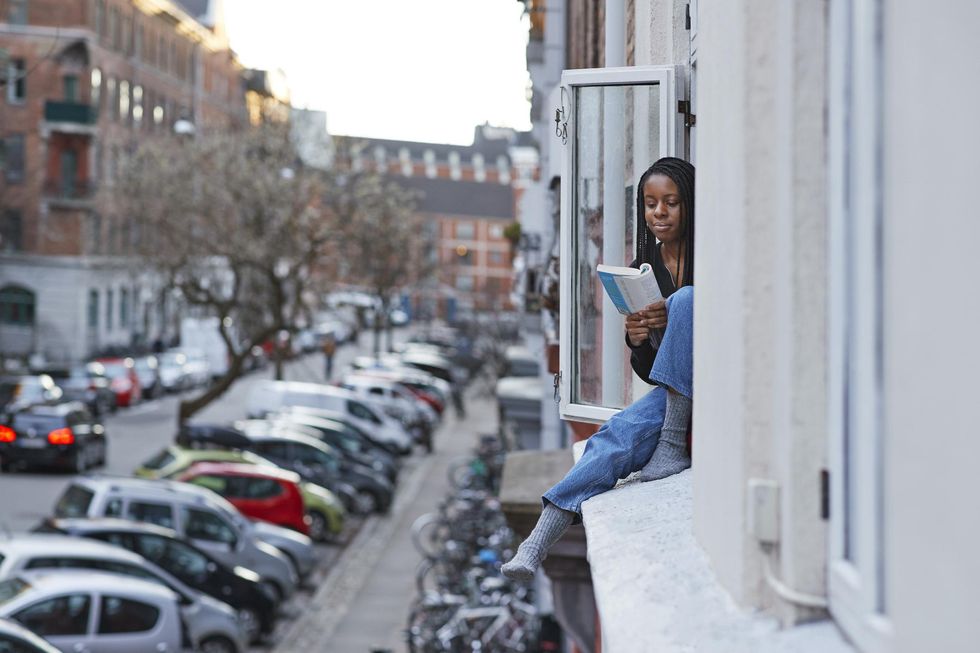 There are a few people I know who are definitely workaholics. What's my clue? Even when they go on vacation, they are still "plugged in". If it's not their laptop, it's their phone. A part of why you go on a vacation is so you can take a break away from your regular routine. So, unless you're a parent who is going to take a few days off from your kids, there really is no reason to be around your usual electronics during your down time. Folks can leave a voicemail, shoot an email or write a text. And I promise you, 85 percent of whatever it is that they say — it can wait until you return to your regularly scheduled life.
11. Leave Certain Topics Totally Off of the Table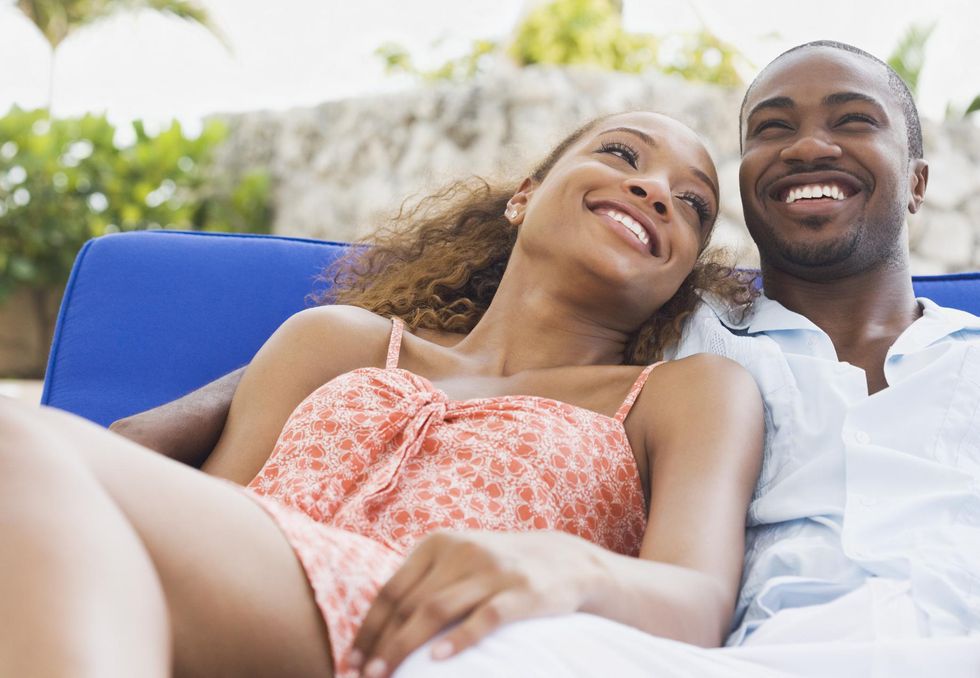 Along the same lines of the point I just made, there is also absolutely no point in going on a vacation if all you're going to be doing is worrying about the same stuff that you do when you're not taking time off. So again, whether you're single, in a relationship or planning to do some of this with family members and/or friends, ask everyone to agree that certain topics are off of the table — bills, work, drama…stuff that prevents you from chilling out and completely relaxing.
When I'm working with married couples and I recommend that they take a sexcation, it is amazing how many of them return stressed because they decided to bring their problems along for the ride. A vacation should be about a shift in mindset more than anything else. Always remember that.
12. Don't Forget About Your Sex Jar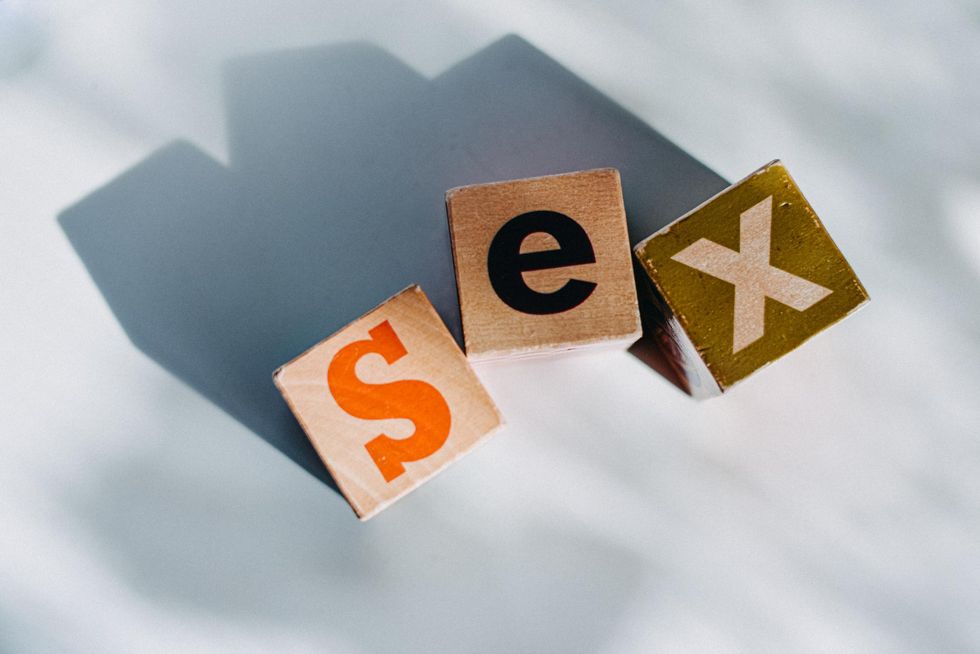 One of the first articles that I wrote when I first came to this platform was "5 Reasons Why Every Married Couple Needs A Sex Jar". The gist is, if you're in a long-term exclusive relationship, every time you and your partner have sex, put some money into a jar. At the end of six months or a year, count up your coins and do something together that will benefit the relationship — whether that ends up being a trip to Baskin Robbins or a cruise is totally up to y'all and y'all's sex life. Anyway, if you happen to fall into this relational dynamic, there's no time like your vacation to start stacking up some paper. Sex jars are one of the best things ever invented. Using your vacation as an opportunity to take advantage of 'em.
13. Take Lots of Pictures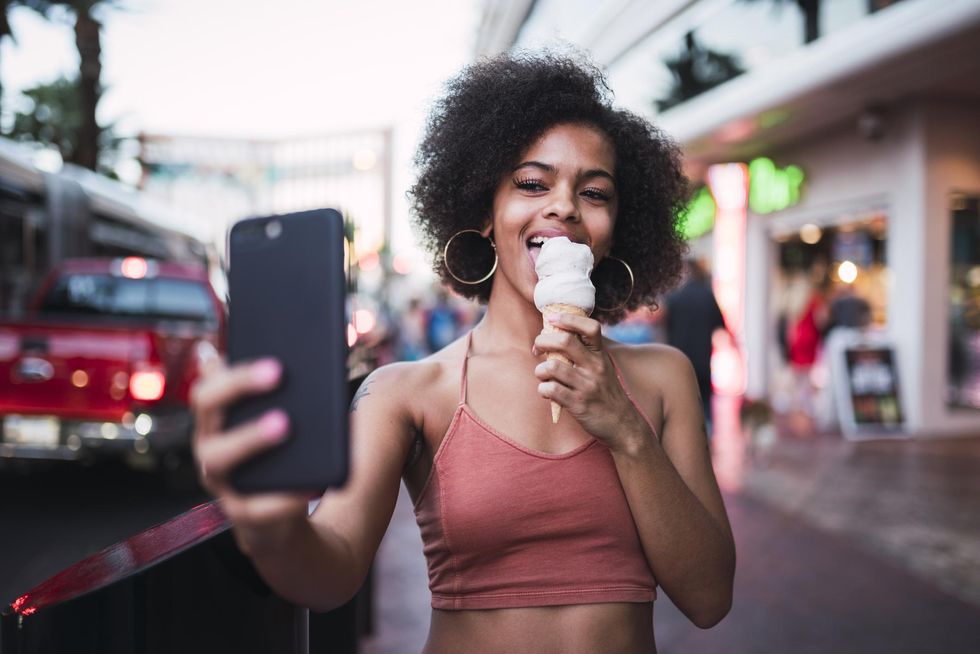 Maybe it's just me, but it's kinda crazy how folks will take selfies all day, every day (some literally) and yet, ask them to show you a picture of their family or some event, and oftentimes they find themselves drawing a blank. Where I'm going with this is, just because you may not end up doing anything super extravagant, that doesn't mean that memories won't be made, so be intentional about taking pictures. There's a list of apps for photographers here and an article on almost 40 cool editing apps for pictures here.
14. Rent a Vacation House in the Next County/Town/City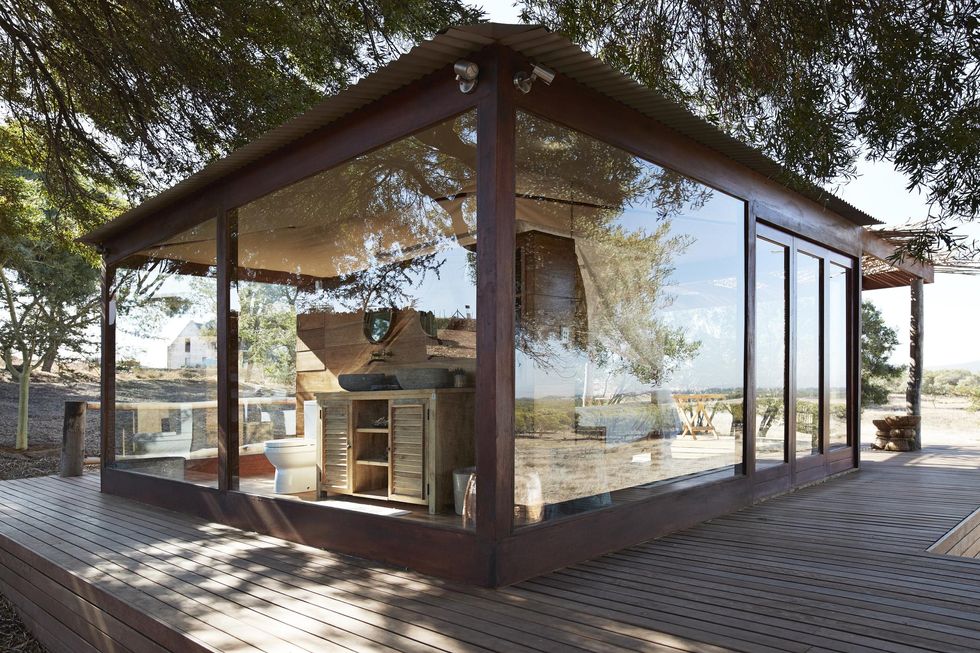 What if you actually do want a change of scenery for more than a night but your funds (or the amount of time off) are keeping you from going all out? Something worth considering is renting a vacation house, even if it's just for a couple of days. One site that you might want to try is VRBO. While it features listings from all over the United States, what I like about it is, there's a really good chance that you could find a dope house or even a mansion that isn't very far from you; one that you wouldn't have ever known about, had you not specifically gone looking for vacation homes. You can live like the rich for a little while without going into debt in the process.
15. Plan Your Next "Away Vacation"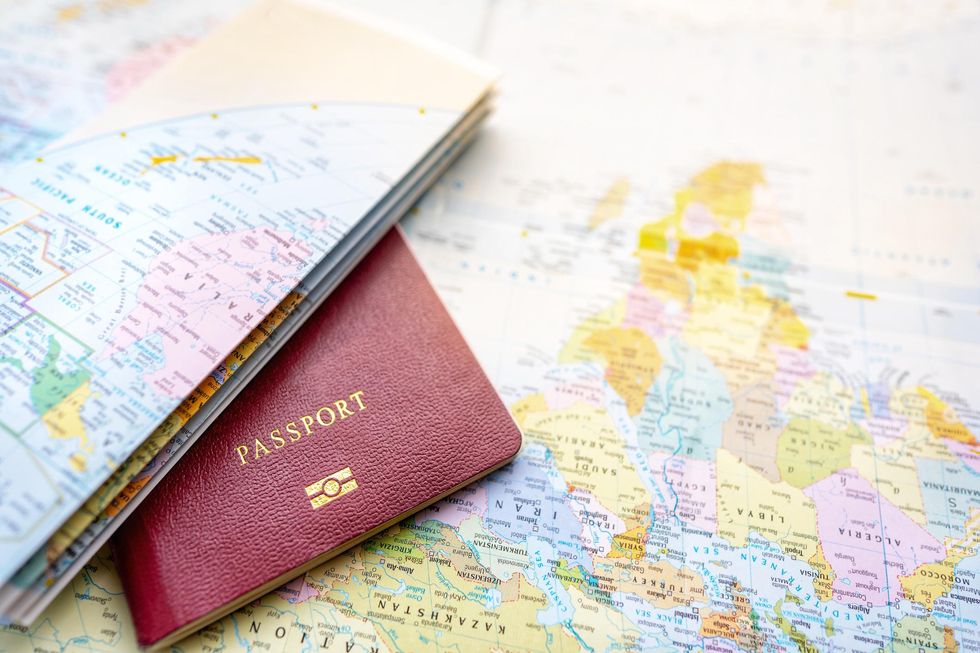 Now that you're about to have some downtime, use it as an opportunity to also plan your next vacation that's away from your house/city. When you're sitting on the floor with some pizza, wine and your favorite tunes playing in the background, it can be fun to use some vacation-planning apps to figure out where you're gonna go, when and how much it will cost. And you know what? If you, even 50 percent of what's on this list, you might realize next year that you'll want to take a traditional vacation — and another one just like this too!
Join our xoTribe, an exclusive community dedicated to YOU and your stories and all things xoNecole. Be a part of a growing community of women from all over the world who come together to uplift, inspire, and inform each other on all things related to the glow up.
Featured image by Getty Images
Keep reading...
Show less
As we know, if anyone is the queen of solo travel, it's Tracee Ellis Ross. Year after year, she takes her banging body poolside, or to somebody's island, in an effort to show us how this shit is really done.

She has perfected the 'solo selfie', and is a master at teaching the art of self-love, and working hard, but absolutely playing much frickin' harder.
And this vacay was no different as our good sis packed up her bags and headed where the beaming sun resides.
She didn't say much, just enjoyed, and captured glimpses of her getaway. She laughed. She danced. She rested. She slayed. She was boundless in her "me time", a lesson we all needed as we gear up for a panorama-less summer, or at least a new normal. But most of all, she was unapologetic in why she was there, with simple captions, mainly one that kicked off the trip:
"Consider this my out of office reply!"
And listen, it's no secret that Ross is happily single and not waiting for anyone--a man OR friends--to catch these flights. She's living openly, on her own terms, and living her best life doing so. She tells Brit + Co:
"I think that was a big growth opportunity for me as I was coming of age and learning how to be on my own. I'm very comfortable traveling alone and being my own best friend."
Which she wants you to learn to be as well. And if you aren't sure how to do so, she has a bit of advice: baby steps.
"I would experiment going to a restaurant at 8pm on your own on a Saturday night to see how it feels. You start to get a sense of what it is that you're comfortable with."
What better way to jumpstart the summer than to revist some of our favorite Tracee vacays?
Keep scrolling for your reminder that this year is THE year to take that solo trip, boo!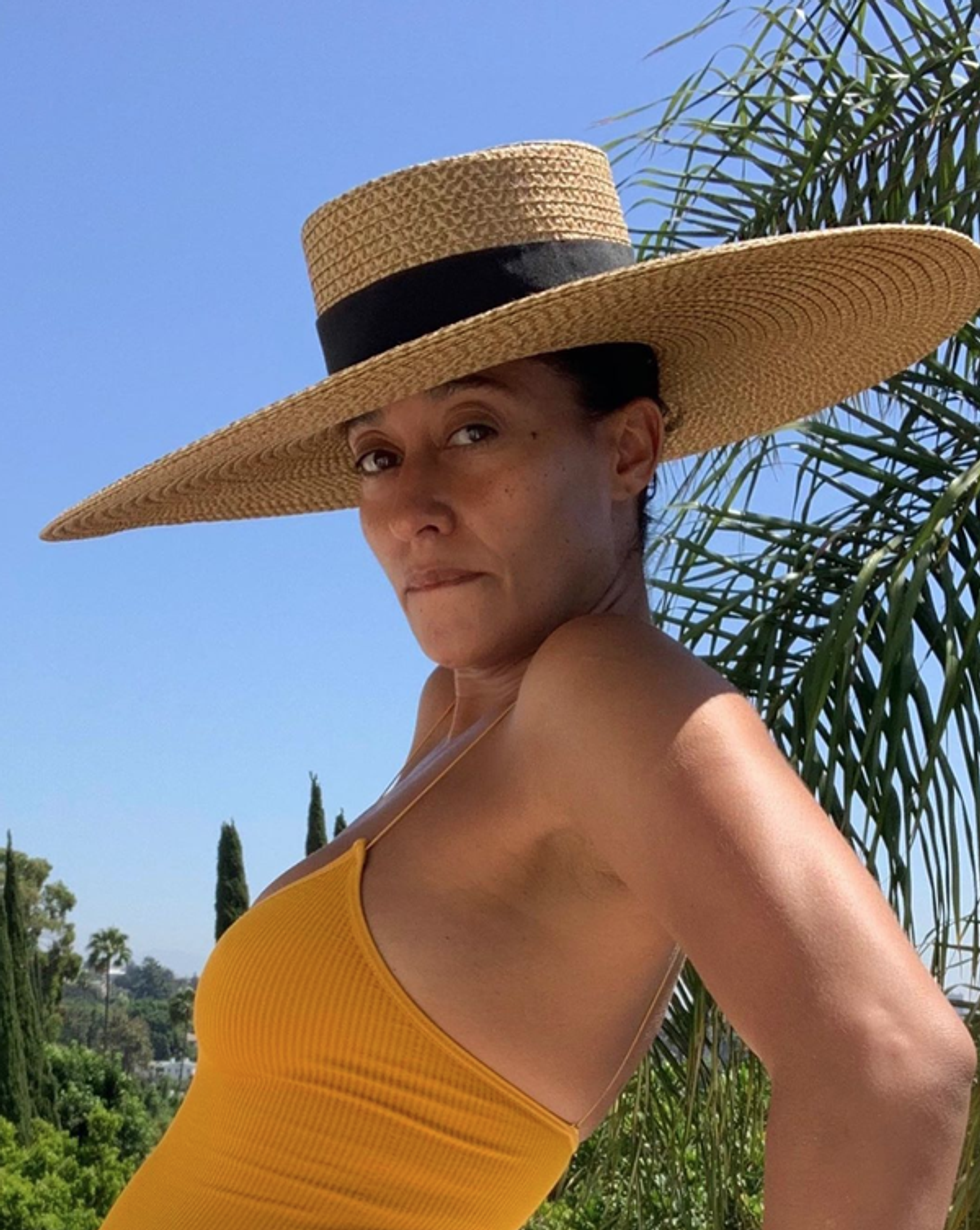 Tracee Ellis Ross/Instagram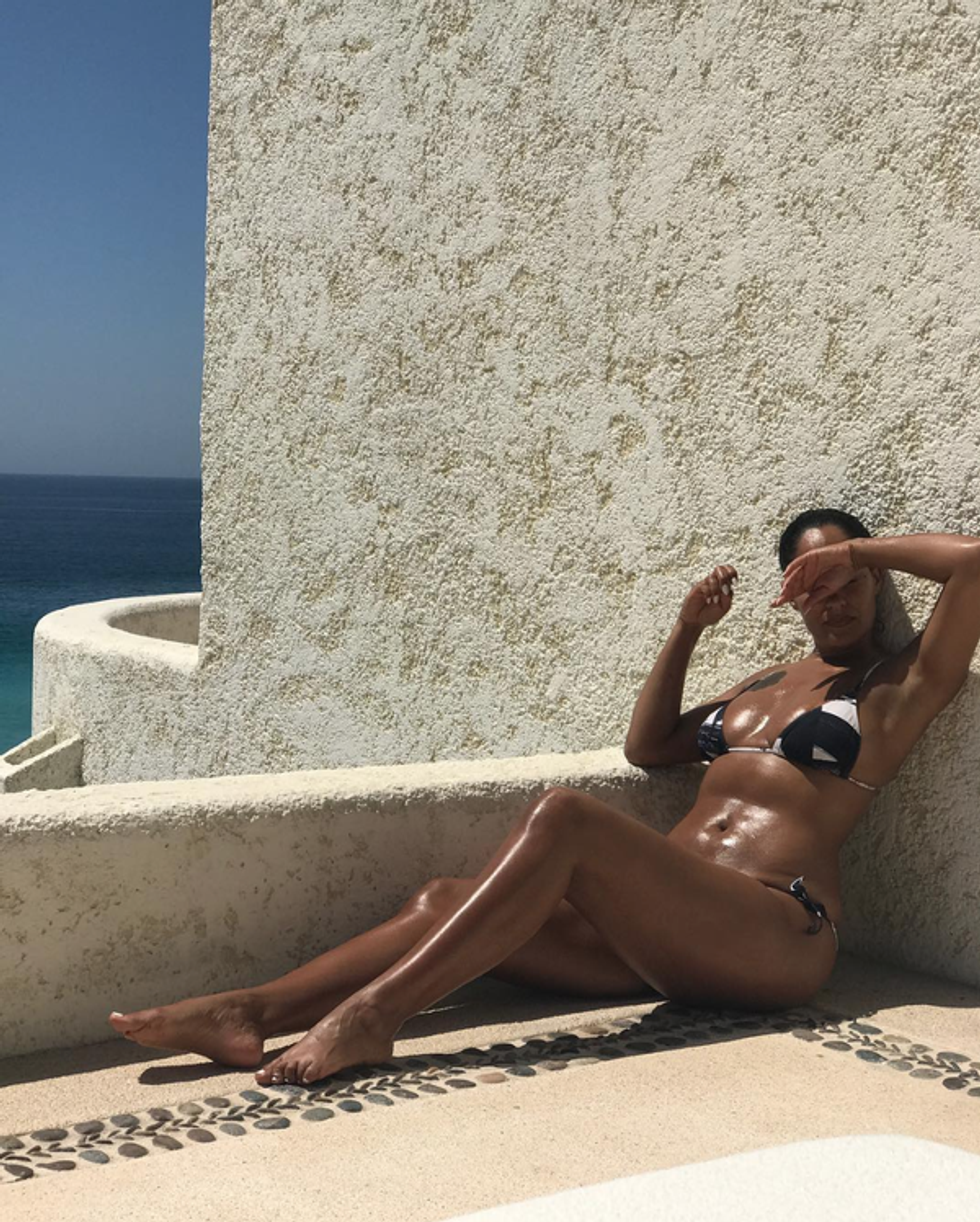 Tracee Ellis Ross/Instagram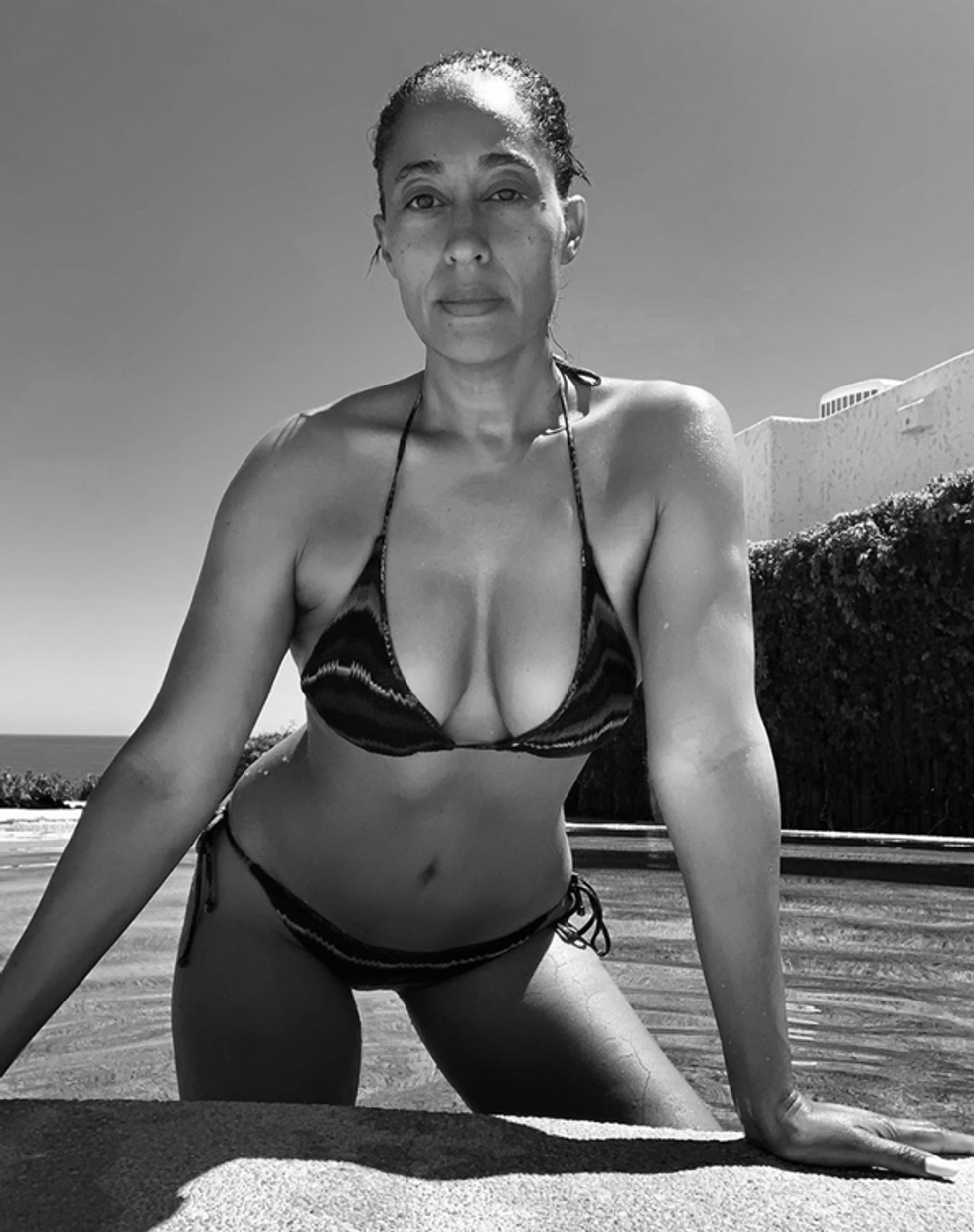 Tracee Ellis Ross/Instagram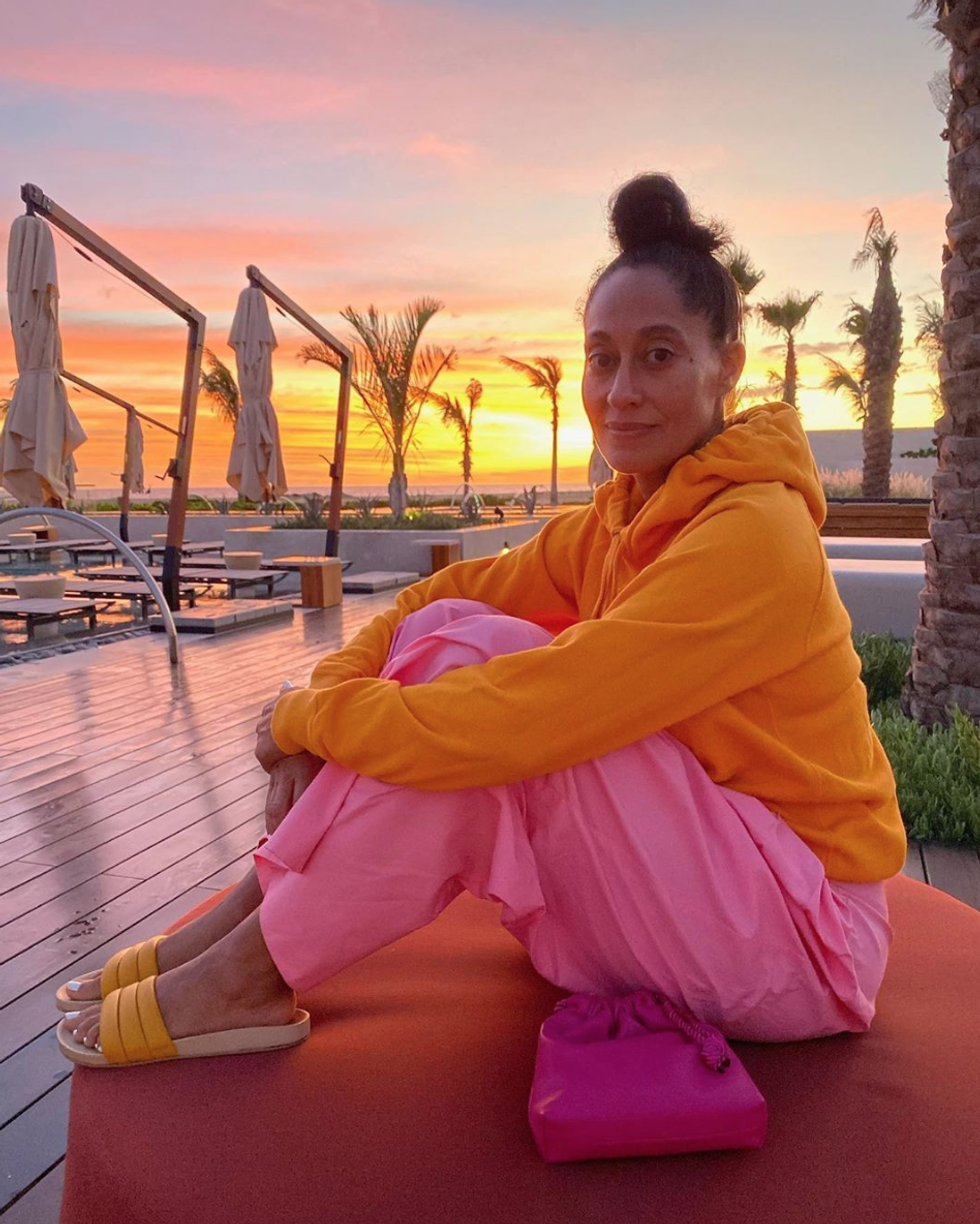 Tracee Ellis Ross/Instagram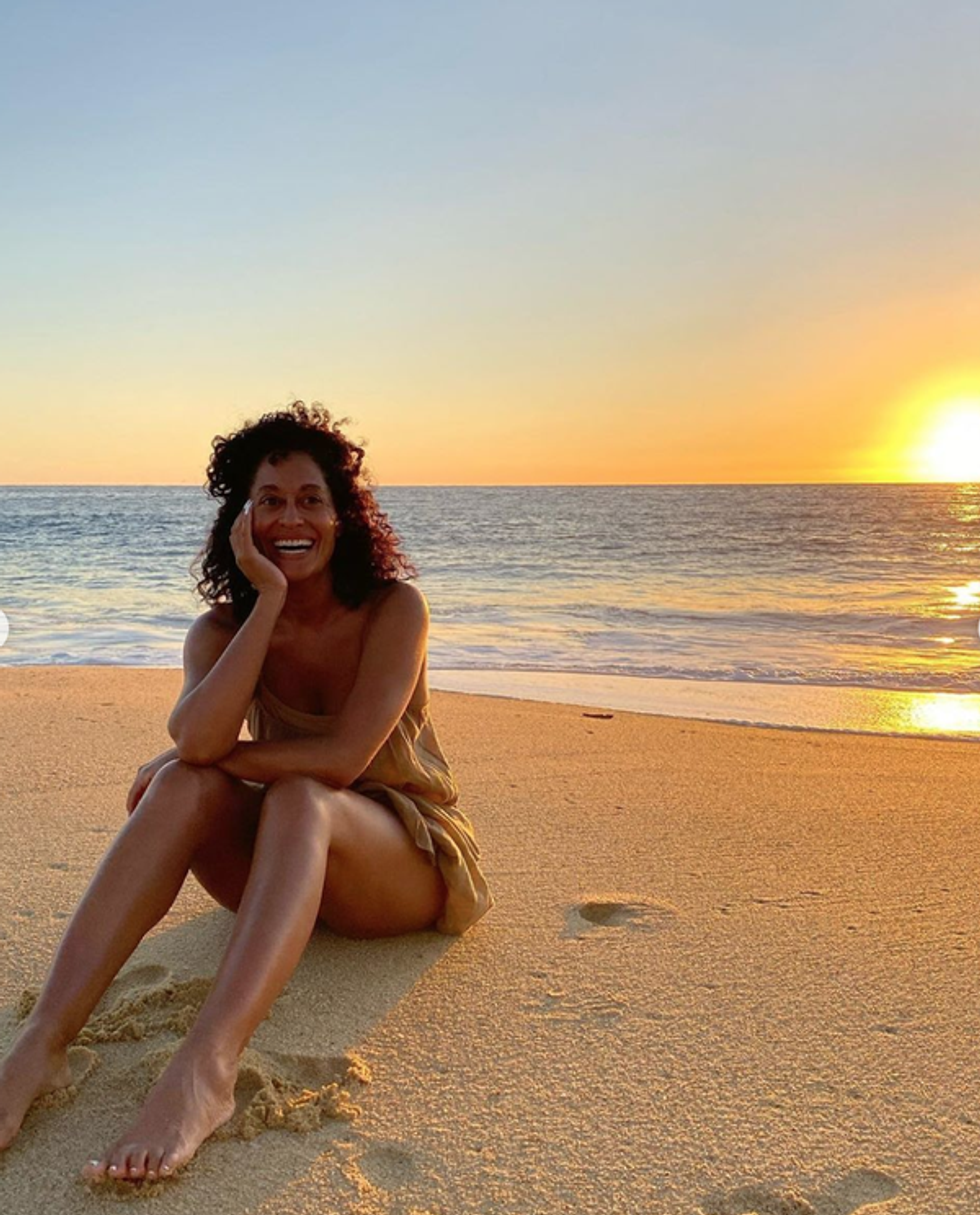 Tracee Ellis Ross/Instagram
And bonus! Here's a clip of Tracee discussing her vacations below:
Oh, Tracee. How we love you so. How we don't deserve you authenticity, but we welcome it. We're not worthy but we thank you!
Are you a member of our insiders squad? Join us in the xoTribe Members Community today!

Featured image by Jamie McCarthy/Getty Images for Marc Jacobs
Keep reading...
Show less
A vacation is what you take when you can no longer take what you've been taking and we can't take much more of this quarantine. Even though governors are opting to open some states, we are staying at home for a little longer because outside doesn't seem quite clear yet. In the meantime, we are sitting in the comfort of our homes dreaming up our next getaway. My dream includes me sipping a spicy margarita with somebody's son in a private cabana as the waves hitting the shore.

Since we have been fantasizing over a few of our favorite frequent flyers and travel storytellers photos on the 'gram, we wanted to know how this pandemic is effecting them and what their travel plan looks like post-quarantine. Ahead, find a little relief for your burning wanderlust, as well as a dose of inspiration.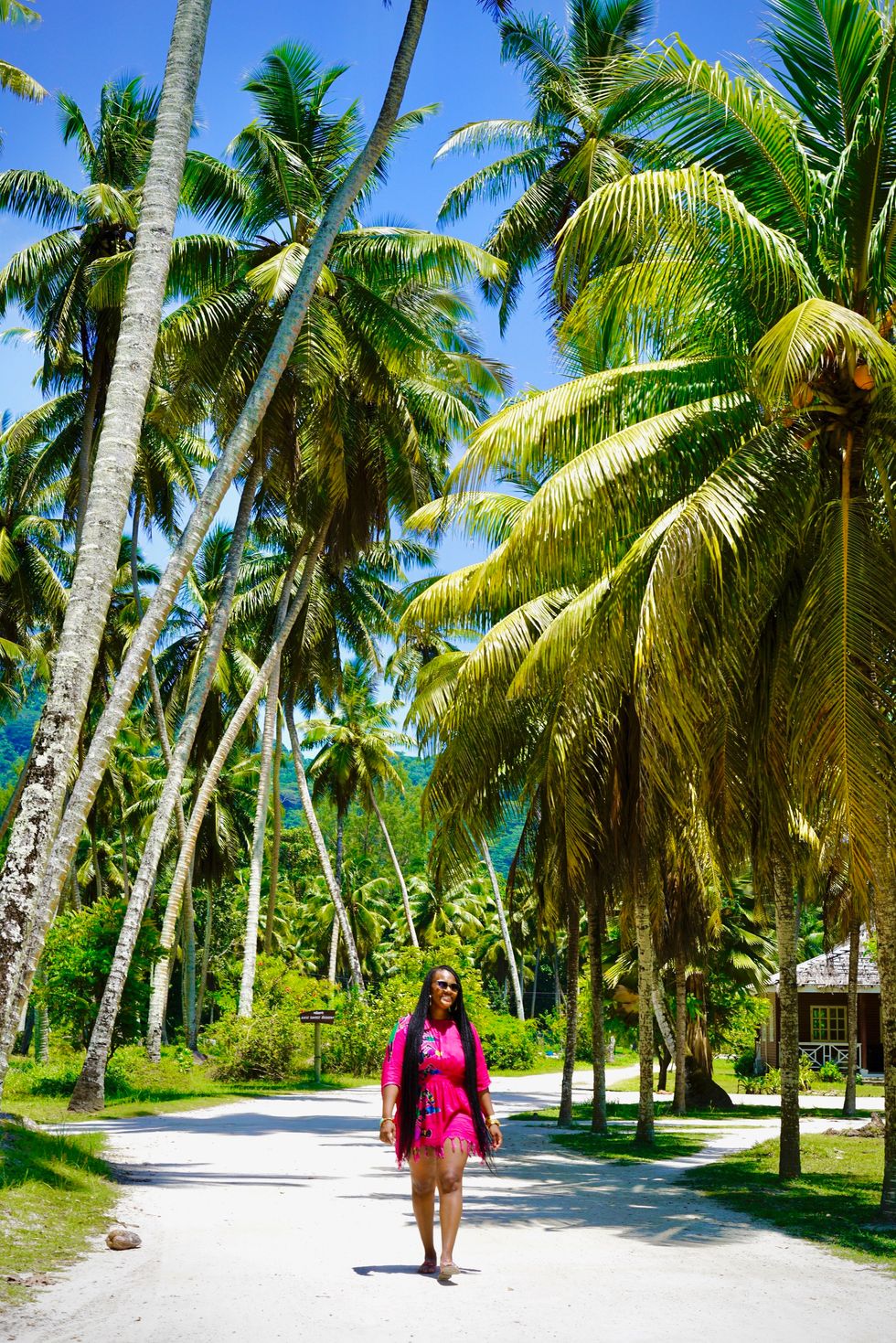 Photo Courtesy of Devorah Walker
"My dream trip after self-isolation would be exploring Indonesia. I had plans to visit Bali for three weeks as the pandemic was declared. I can't wait to see the views of the rice fields, hike up the mountains, beach-hop and of course go on one of Bali's famous high swings. I would then make my way East Java which doesn't have as many tourists as Bali. East Java has some of the most beautiful waterfalls in Asia, starting with Tumpak Sewu, which is breathtaking in photos. From here I would head to Komodo Island to visit the pink sand beach and of course to see a real life Komodo dragon. Indonesia was on my list for quite some time so I cannot wait to make this happen.
"I had a one month Asia trip planned to leave March 22nd. (The pandemic was declared by WHO on March 11th). I was planning to visit Singapore, Australia and Indonesia. This month-long trip was supposed to be the first step of planning an international relocation.
"The biggest lesson I've learned from this time is to enjoy being still. Previously, I barely made time for myself in terms of mentally unplugging. I was always focused on writing, editing, planning the next adventure and managing my every day life. There was never any time for a 'pause'. The pandemic brought my and everyone else's life to halt and made me realize how important it is to just be still as well as appreciate what I already have as opposed to obsessing over what's next."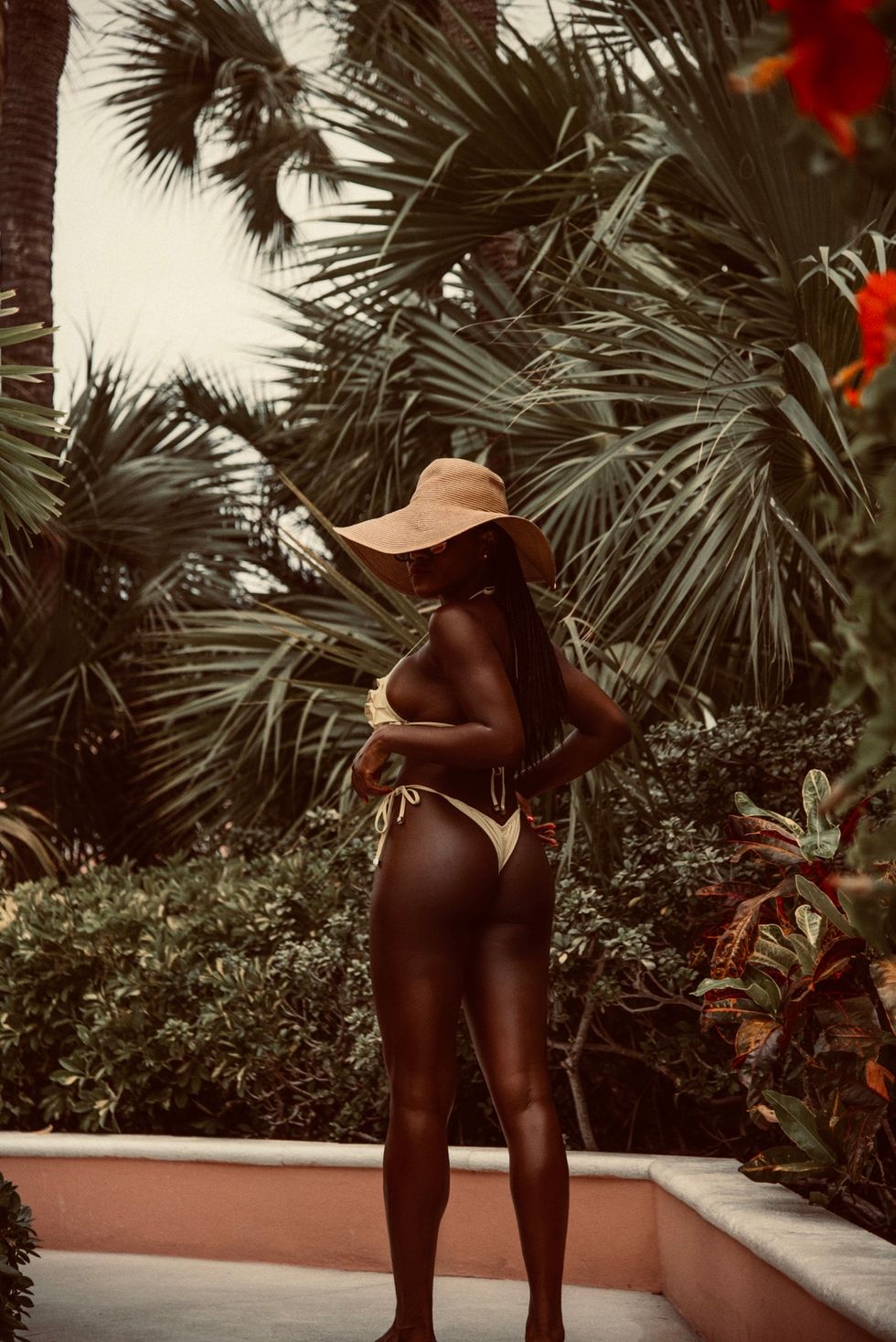 Photo Courtesy of Global Carnivalist
"My dream getaway will be euro-beach-chic, where I can tan in the sun and never have to think about putting on a sweater in the evening. I will have spa amenities available to me and while the town I decide to stay in will be posh, I will feel like I am a local. I want to submerge myself in the culture and local customs of where I am, but also enjoy the luxury of being there. I've narrowed it down to two places that would fit my ideal trip so far: Sorrento, Italy or Nice, France. I want everything that I was unable to consume while I was at home during COVID-19. Endless sunbathing, beaches, sailing, boutique shops and more importantly, true relaxation.

"COVID-19 has tremendously impacted my travel schedule. I had scheduled trips for Italy, Jamaica, Bahamas, Portugal, Toronto, Bermuda, St. Lucia and Antigua and I have had to cancel or reschedule each of them. I was able to shift some of them to later in the year. Hopefully things will be better by then, but it truly looks like I'll be spending the bulk of 2020 at home.
"The one thing this pandemic has taught me is how important it is to be at peace with yourself. I have had to self-entertain and find creative ways to just be and truly enjoy my own company and I am loving it. I've also realized how much human connection is vital to people, I have had so many friends and family reaching out for support or just someone to talk to, it truly reminds you of what is important."
"The one thing this pandemic has taught me is how important it is to be at peace with yourself. I have had to self-entertain and find creative ways to just be and truly enjoy my own company and I am loving it."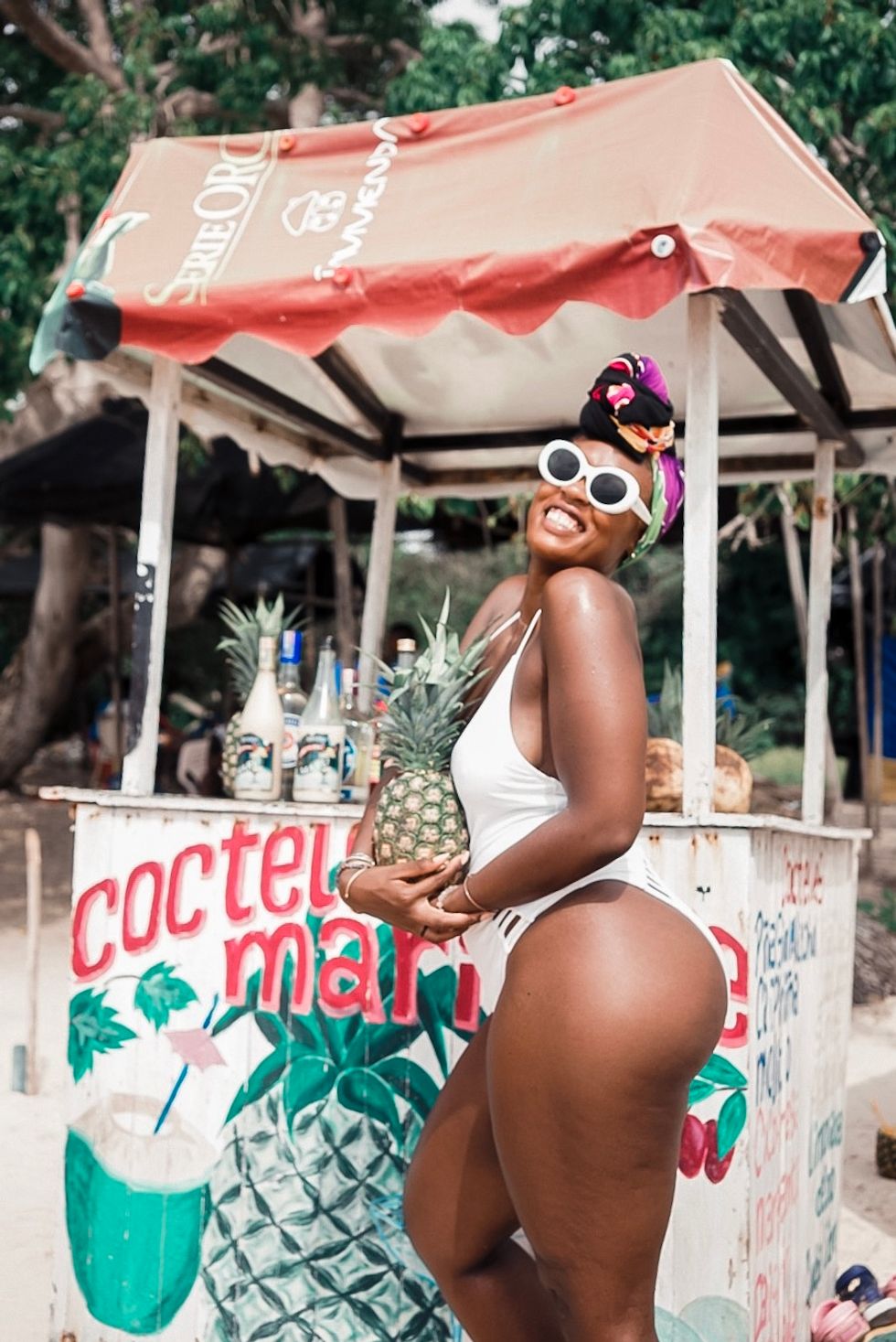 Photo Courtesy of Samantha Everette
"My dream getaway would be an all out Kiki in December in Johannesburg, South Africa. If you've ever been to the continent in December... then you know why. The energy and the vibes are unmatched! I can envision the afternoon braai's (South African word for BBQ's), popping bottles of champagne and dancing to Afrobeats until the sun comes up. After South Africa, I would take a three-month reset in Bali. Yes, I said three months. This would be a necessary respite for my body and my liver! Of course I would want all of my close friends and my IG travel community there with me. I envision a revolving door of friends and family dropping by my villa. There will be lots of days on the beach, mounds of freshly grilled fish and curry everything!
"I was planning on attending two ladies retreats this spring. I planned to spend the month of April in Egypt soaking up the vibes and kemetic energy by the Red Sea with @sarahwes and @returntokemet. We were going to tap into our divine feminine power and live our best lives traveling all throughout the country. I also had to cancel my trip with @theinncrowd.co to Cancun, Mexico. I always have such a wonderful time with the ladies on the Inn Crowd trips, so I'm devastated that I won't be enjoying their company.

"This pandemic has taught me just how much I value my friends and family. I've spent the better part of my adult life halfway across the world. I'm accustomed to a lot of alone time while abroad, but I always knew that I would see everyone once the journey was over. Now those trips, along with the homecomings, have been taken away. We don't know when we will be able to see all of our favorite people again. Physical distance really does make the heart grow fonder but metaphorical distance is even crazier. Everyone is so close but yet so far away and I miss them terribly."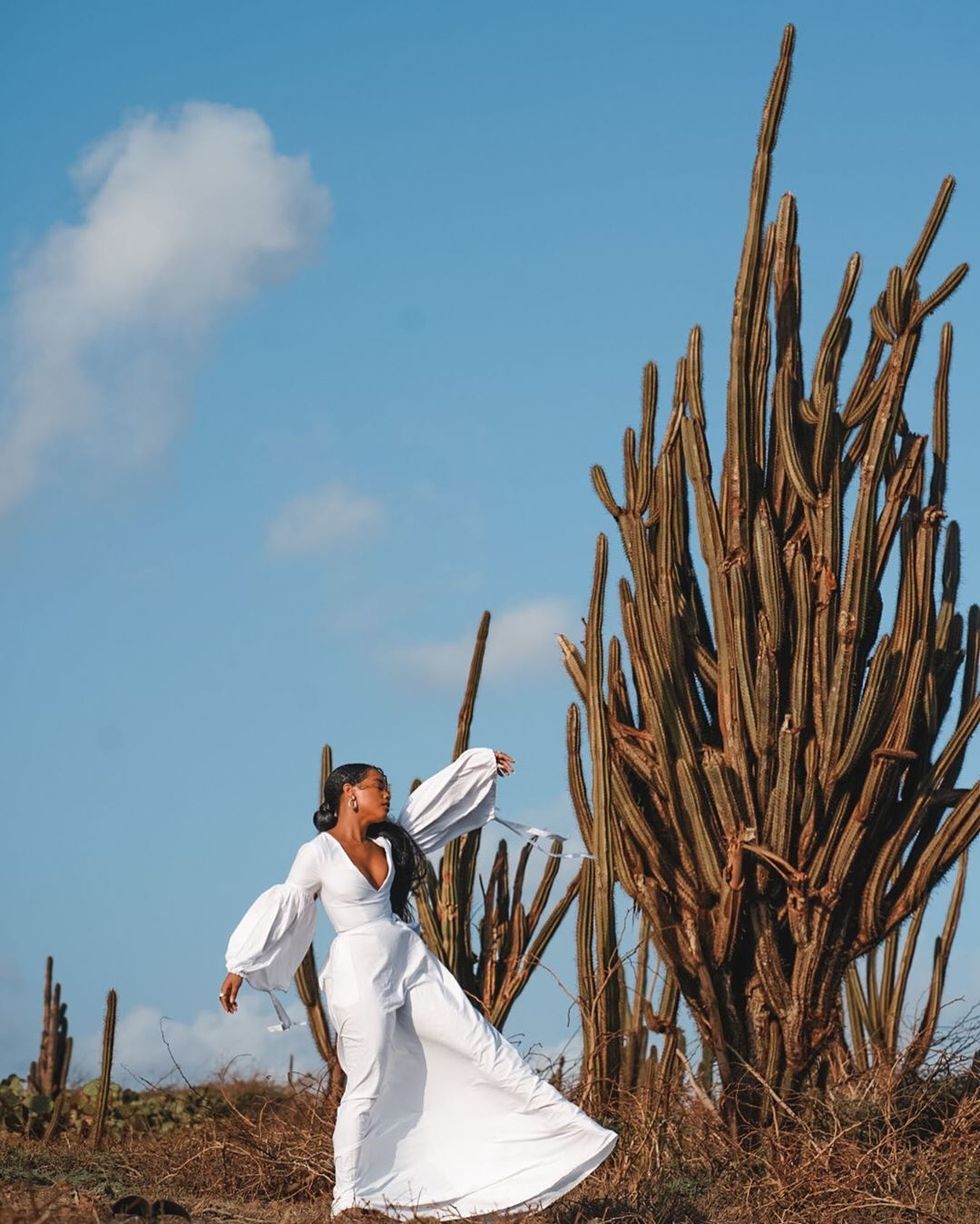 Photo Courtesy of Skylar Marshai
"Times like these have made me wish I lived on the beach, where I could self-isolate on the sand, in the sun! Living in New York is rough because there's so many people and so little nature. By the end of this, I'll have had enough with cityscapes and being inside, so ideally I'd be on the first flight to somewhere warm with lots of lush plant life, overwhelming amounts of decadent food, and enough sun to last me a lifetime. I've been missing Barbados, Tulum, and Costa Rica so if I closed my eyes and picked one, I'd be happy with whichever I ended up in. I'm talking fresh coconuts, waking up before the sun, actually seeing the stars, and fresh air. It's always nice to visit new places but after being in quarantine, I'd like to go somewhere that I know is a sure thing. Pure bliss. Pura Vida. The goal, though, would be to GTF, ASAP. My partner and I have been itching to create new content and I'm just tired of wearing sweatpants. I miss wandering, there's only so much of it that can be done at home.

"So many of our travel plans were changed (I can't say cancelled, gotta keep it positive!). We'd planned a trip just about every month this year so we had to rebook Bali (April), Barbados (May), St. Lucia (June), and France (end of June/July). We're now having to push all of our other travel plans further into 2021 because of it. It's been amazing that some airlines are allowing free flight changes, otherwise we'd have lost hundreds of dollars. The only other downside (other than the obvious) has been reworking collaborations with the companies we planned to work with, abroad. The brighter side is that we've been able to do more research on the places we planned to travel to that we haven't been before. So once we get to travel again, we'll hit the ground running (or rather, sprinting because whew I can't wait to be booked and busy again!)
"I recently learned this and shared it on Instagram, but the idea is that you don't have to escape to soul search. That your soul is wherever you are. I planned 7 trips last year, and another 8 this year–my head was always in the clouds, literally. Since being home, I realized I'd been so busy with wandering physically that mentally I hadn't checked in. To allow yourself to be still and present is just as important as allowing yourself space to escape. It's about balance. I saw this post on Instagram that posed the question, 'Who are you, really?' And I felt attacked! I realized I had a lot of work to do, a lot of myself left to unravel, and that this stillness would serve as the perfect opportunity to do so. You find yourself where you meet yourself, and that can be anywhere."
"To allow yourself to be still and present is just as important as allowing yourself space to escape. It's about balance... You find yourself where you meet yourself, and that can be anywhere."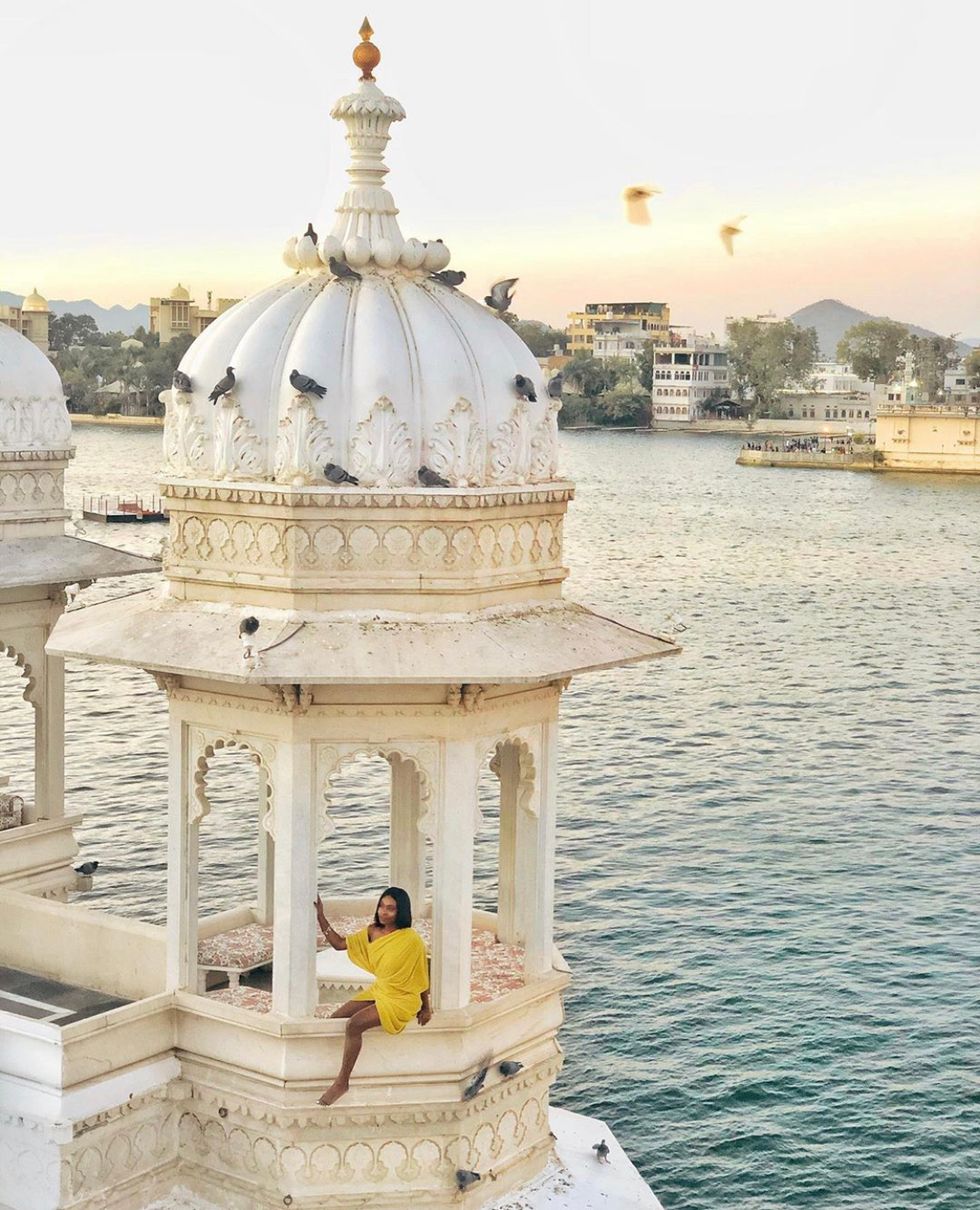 Photo Courtesy of Jessica Ufoama
"I'd love to go to Belize after self-isolation. I desperately want a classic Caribbean getaway - nothing beats one especially after such unprecedented times. Caribbean holidays are predictable - you know you're going to get some sun, sand and great cocktails and after such a period of uncertainty, I want to know what I'm getting into. I've always wanted to go to Belize - Caye Caulker specifically. Get some much-needed outdoor time, snorkel along the barrier reef, and feel alive again.
"I usually have a calendar full of travel plans every year but I've had to cancel them because we have to beat this virus. My trip to Afronation Puerto Rico had to be cancelled, as well as a trip to Tulum, Mexico in April. My trip to Italy in May looks very unlikely. Summer trips are looking somewhat bleak. I'm just taking life one [day] at a time now.

"The pandemic has taught me to keep being grateful for life and enjoy it to the fullest. It's taught me never to take even the seemingly mundane things for granted and every single day we get to spend on earth is a blessing. I'm looking forward to more opportunities to live life, impact my communities positively, and enjoy the gift of travel."
Want more stories like this? Sign up for our weekly newsletter here to receive our latest articles and news straight to your inbox.
Featured image courtesy of Skylar Marshai

Keep reading...
Show less
You did it, sis. You made it to Q4 of the year, securing your bag without sacrificing your sanity, and if nobody told you today, I'm proud of you, damn it. As we gear up to prepare for the new year—setting our intentions, charting out our goals and sh*t—one date you can't forget to put on your calendar is the baecation of your dreams, and Simone Biles says you better Belize it.
Last month, the professional gymnast broke yet another world record by winning her 21st world championship medal but recently, sis chose to press pause on the hustle in lieu of a little R&R. After one helluva year, Simone is trading in her leotard for some quality time with bae in Belize and now we want to go, too.
Serving up some scrumdiddlyumptious Instagram images of her and bae, Stacey Ervin Jr., living their best lives, Simone proved that her holiday getaway was the baecation on the beach we didn't know we needed.

In the past, Simone noted that the Central American country is one of her favorite travel destinations, so it's not surprising that Simone and the fam chose to spend Thanksgiving there this year. In a previous interview, she explained:
"Belize, for me, is all about the beach. My family and I spend most of our days hanging out by the water, but I don't like to lie out and relax. I go swimming, which I love because the water is so beautiful and so clear that you can see all the fish underneath."
Whether it be with the fam, your girls, or bae, Belize is the travel destination you need to book a flight to ASAP. From a jungle safari to scuba diving in a sink hole, here's everything you have to do while you're there:
Get Your Self-Care On At The Secret Beach 
Many travel sites suggest skipping Belize City and heading straight on over to Caye Caulkner or Ambergris Caye, where'll you'll find the Secret Beach to get massages, drinks, or smoke hookah near the water.
Go Scuba Diving In The Great Blue Hole
Totaling at about 318 miles wide and 124 miles deep, the Great Blue Hole is nothing to play with. It was once ranked as number one on Discovery Channel's list of "10 Most Amazing Places On Earth", making this a perfect attraction for travelistas and thrill-seekers alike. The famous scuba diving attraction is actually a sink hole formed thousands of years ago by a limestone cave.
Unleash Your Wild Side At The Cockscomb Basin Wildlife Sanctuary
Established to help local wildlife like endangered jaguars, Cockscomb Basin Wildlife Sanctuary gives travelers an opportunity to take a day hike in the jungle and have waterfall and wildlife encounters that will make your trip unforgettable.
 Explore The Actun Tunichil Muknal Cave
The Actun Tunichil Muknal Cave can be found near the Mayan Mountains and was once believed to be a sacred place that was once known as the "place of fear", but don't let that scare you away from this dope attraction.
Gasp At The Beauty Of The Xunantunich Maya Ruins
​Also one of Belize's most popular tourist sites, the Xunantunich Mayan Ruins are about 70 miles from Belize City and require taking a ride on a hand-cranked ferry to have a chance to marvel at their beauty.
Featured image by Instagram/@SimoneBiles.
Did you know that xoNecole has a podcast? Subscribe on Apple Podcasts or Spotify to join us for weekly convos over cocktails (without the early morning hangover.)
Keep reading...
Show less