I've got quite a few male friends. Also, because of what I do for a living, I have many male clients too. While there are a billion-and-one reasons why I'm actually grateful to be able to say this, probably my top favorite one is that I get to hear a lot of men's innermost thoughts — things that sometimes they are hesitant to say because they're not sure how we'll take it and/or things they've never really felt comfortable being very open about and/or — and yes, this happens — things they never get asked their thoughts on and so, they never bring those things up.
Interestingly enough, this is something that falls into the "Door #3" category. Do men talk about sex? Y'all already know the answer to that. Yet when I asked 15 of them (middle names were used; usually are) about what they actually adore about what transpires during the actual act, I found the answers to be "Oh, really?" enough to share with y'all. With their permission, of course. #wink
Chavez. 25. Single.
"This is my kinda topic right here. Damn, I can only mention one thing? Hmm. I think what I like the most about sex is right when I enter into a woman. The sound she makes, the way our breathing shifts and how our bodies flow — damn, that's my s — t right there."
Kiran. 33. In a Relationship.
"This question needs to have a qualifier — if you're in a relationship or not. When I wasn't only having sex with one woman, I liked the newness of learning about someone's body that I had never been with before. That's seductive as hell. Now, I love to find a 'new spot' on my partner. It's like pushing a button that you didn't know led you to someplace you didn't realize you wanted to go."
Glenn. 27. Single.
"Assertive women are what I like. Someone who is like, 'We're gonna do it this way and you're gonna like it'. Women who just kinda lay there are boring. But a woman who likes to switch up positions, doesn't mind doing some tying up and tells me when it's time to go another round…that's the kind of sex that I'm all about."
DeShawn. 39. Married.
"I like it when a woman knows the difference between when I ejaculate and when I cum. My wife is really good at that. When she is able to give me an orgasm, my favorite part is trying to 'one up her' by trying to give her at least three more right after. Going down on her is my favorite way to do that."
Harold. 42. Divorced.
"It might sound wild but the thing I miss most about my ex is our sex life. Let's not get into all of that, though."
"Let me just say that what I liked was her dirty talk — barely above a whisper, nasty as f — k and super confident. People always talk about how visual men are. Yeah, we like to hear s — t too."
Armon. 35. In a Relationship.
"There is nothing like opening your eyes and seeing a beautiful woman on top of you. She's looking you dead in the eyes with a smirk on her face and riding you like she's about to eat you alive. Damn."
Gideon. 28. Single.
"Two things that a woman can't fake are her vagina contracting and her body getting wetter. That's why I don't understand how men can't pick up on ladies that fake it. Anyway, those are my favorite things. When you are in a zone and you can feel that you're turning your lady on, that s — t is absolutely amazin'."
Merlin. 29. Married.
"You ever spoon until you both cum and then fall asleep spooning in the same position afterwards? When you are so connected that you can have an orgasm at the same time and then you don't want it to end, so you let your man stay inside of you and you fall asleep like that? Get someone you can do that with all of the time. Nothin' better."
Michael. 44. Married.
"I like how my wife smells. I don't mean when she has an essential oil on. I mean, just her regular scent. It's crazy because when we're having sex, it's like I want to get as deep into her skin as possible — just take her all in."
Patrick. 23. Single.
"I like the time before intercourse happens. You both know that's where it's headed but you try and build up the anticipation for as long as possible."
"I know I probably seem young, but I've been having sex for a while and learning not to underestimate foreplay is the ultimate sex hack. When two people make each other want each other, that's when the sex is really great."
Orrin. 32. Divorced.
"I like getting my head pulled in. You know you're doing a great job going down on a woman when all she can do is breathe really fast and pull your head in. Hell yeah."
Hayes. 48. Single.
"There is nothing, and I mean absolutely nothing, like the taste of a woman. Her mouth tastes one way. Her skin tastes another way. And her walls — there's nothing like it. I can just lick and kiss for hours and be perfectly content. What's crazy is while women might think it's for them, it's actually for me. Tasting a woman is what I love the most."
Kristopher. 32. Single.

"'Round three is what I love about sex. The first one is all about getting the stress out. The second is about building some stamina. Three? That's when it's all about just enjoying your partner. There's no rush. There's no pressure. You're just 'in it'. I like being in it."
Danyel. 40. In a Relationship.
"You know what I really like? Undressing a woman. I like lingerie but I honestly don't care what she has on. It doesn't matter how long I've been with her either. The build-up of seeing different parts of her body as I go at my own pace…it's like unwrapping a Christmas gift, damn near every time."
Everson. 36. Single.
"Whenever a woman trusts you enough to let you literally enter into her being, there is no higher privilege. Might sound like a line to some but it's the truth. Being one with someone whose energy and spirit you vibe with already gives you a climax before one ever happens."
"Will never know how to get enough of that."
Join our xoTribe, an exclusive community dedicated to YOU and your stories and all things xoNecole. Be a part of a growing community of women from all over the world who come together to uplift, inspire, and inform each other on all things related to the glow up.
Featured image by Giphy
I don't know about y'all, but I always enjoy a good hack. With all that I've got going on, anything that can help me get something accomplished faster or easier, that is something I want to know about—quick, fast and in a hurry. And since y'all also (probably) know that I like to write about sex, I thought it would be a good idea to share some sex hacks—you know, certain things that you can do to bring more pleasure into your sexual experience without having to expend a lot of unnecessary time, effort and energy.
If that's something you've secretly been Googling while you're at work but haven't been able to find a cheat sheet that totally "scratches the itch", hopefully this is the answer to your prayers. I've got 15 sex hacks that can make foreplay, climaxing and all things in between better than they've probably been in a while. Perhaps, even better than they've ever been before. #wink
1. Do Some Stretches Together
It's kind of crazy that, while most of us know it's a good idea to do some stretches before working out, we don't give stretching out much thought before having sex. If you want to be able to easily get into some of the positions that are able to maximize your sexual pleasure, doing simple things like touching your toes, putting your arms behind your back and bringing your knees up to your chest while laying on your back are all ways to warm your body up, so that you and your partner can easily switch from a favorite sex position to something new without a lot of discomfort—whether during the act or the hours that follow.
2. Eat Some Papaya
If you really look at a papaya (when it's sliced in half), it actually makes sense why it's a good idea for a man to umm, eat it (and I'll leave that right there). Anyway, when guys add papaya to their diet, the enzyme arginine that's in it will help to increase the blood flow to his penile region.
As far as we're concerned, because papaya is a fruit that is also considered to be an estrogenic (which basically means that it triggers the production of estrogen in the body), it can also help to strengthen our libido whenever we snack on some of it too.
4. Tell Each Other What You Love Most About Sex with Each Other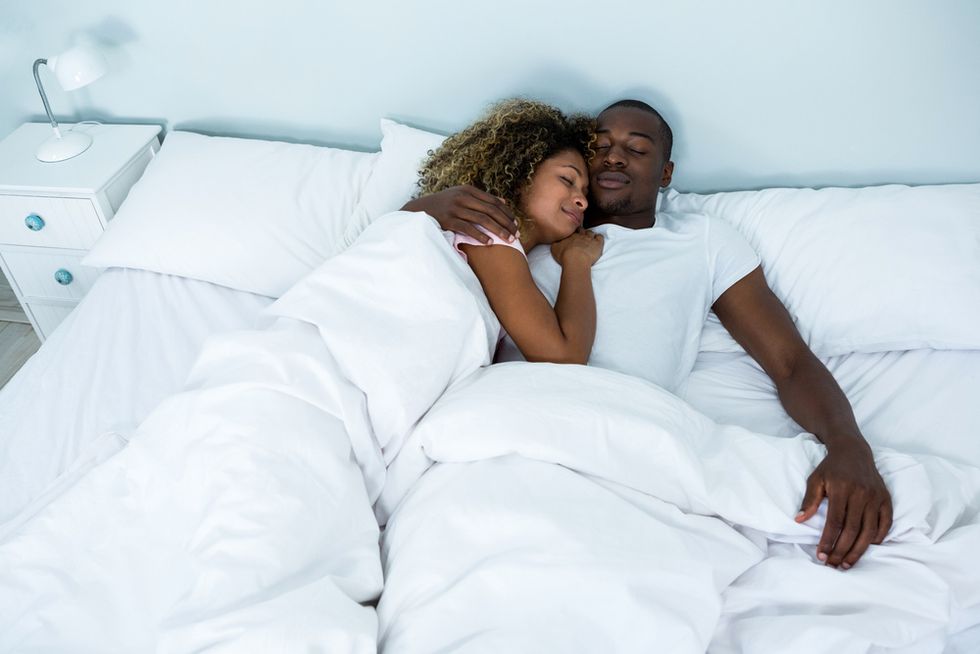 If you've been in a long-term relationship since you can remember, it can be easy to take your partner for granted. When I'm working with a couple who seems to be in a bit of a ho-hum state in their relationship (hey, it happens), something that I will oftentimes recommend that they do is write down all of the reasons why they fell for their partner in the first place. After they do, I then suggest that they post it up somewhere so that they and their partner can look at it, whenever they'd like to.
Along these same lines, sex ruts are fairly common too (check out "7 Signs You're In A 'Sex Rut' & How To Get Out Of It"). One way to pull out of those is to take a similar approach. Take out a moment to think about all of the things that you enjoy about your partner sexually. But rather than (just) writing those things down, tell them. Taking a stroll down your own sexual memory's lane can pull you back into why your partner is your sex partner of choice as well. Plus, them hearing you share the reasons why you are so into them can do wonders for their sexual self-esteem (you too when they make a point to return the favor). By the way, make sure to be as graphic as possible. It's a kind of "dirty talk affirming" that definitely doesn't get the level of credit that it very much so deserves.
5. Keep Some Baby Wipes Nearby
Spontaneity in sex is always a good thing. That said, if you happen to be a bit of a germaphobe but making the time to take a shower feels like it would ruin the mood, keep some baby wipes nearby. They're convenient and able to "clean up" whatever needs it in a pinch. A brand that is good for your vagina and the environment, actually isn't baby wipes but disposable ones. They're called GoodWipes Flushable Down There Rosewater Cleansing Wipes. You can get a box for under five bucks.
6. Cop a Waterproof Blanket
If you're someone who loves sex but hates the clean up of it all, something that you might want to consider investing in is a waterproof blanket. If you put one of those underneath you and your partner, you'll be able to enjoy the comfort of a regular blanket while being able to simply wipe off any of the fluids that get onto it once you're, well, done. (You can find some of these by going to your favorite search engine and putting "waterproof blanket" in the search field.)
7. Bring a Chair into the Mix
I'm in my 40s, so it's actually kind of funny to hear the people, who I knew when we were both in our 20s, talk about how, while the drive for sex is still well and good, their back isn't as "youthful" as it used to be. If that is something you are able to nod your head in agreement about, when's the last time you had sex in a chair? Not only is it a great way for your partner to get some of the spine support that he needs but you can oftentimes get deeper penetration this way too. At first, I was going to try and explain in words how to try a few new positions that involve a chair, but sharing pics is more effective. Plus, I was tickled that there's actually a site out in cyberspace called Christian Friendly Sex Positions (hilarious) that features some. Anyway, you can see over 40 different ways to have sex in a chair there, here.
8. Add Some Coconut Oil and Honey
If you or your partner are someone who struggles with chafing during sex, something that you might want to do is bring some coconut oil into the mix. If you both apply it to your genitalia and inner thighs, it can significantly decrease the amount of uncomfortable friction that you might usually experience.
To make this an even more delightful hack, add a teaspoon of honey to every three tablespoons of coconut oil. Zap the mixture in the microwave for 15 minutes and then apply. Things will not only be wetter, but tastier too (if you know what I mean).
9. Spray Your Sheets with Casimiroa Edulis
Putting pretty much any essential oil (that doesn't have menthol in it like peppermint or eucalyptus do) on your sheets is going to make for a pretty sexy evening. But Casimiroa Edulis (also known as white sapote) is dope because it's able to increase your partner's sex drive, improve the quality of his semen and hinder premature ejaculation. If you're wondering what it smells like, a lot of people compare the fruit itself to a combination of a peach and banana. As far as where you can get some, I'll admit that it takes a little bit of doing. But Now Foods features a love blend that has Casimiroa Edulis as one of its main ingredients. You can cop a bottle of it here. Oh, and sites like Top Tropical and even Etsy sell the fruit.
10. Maintain Eye Contact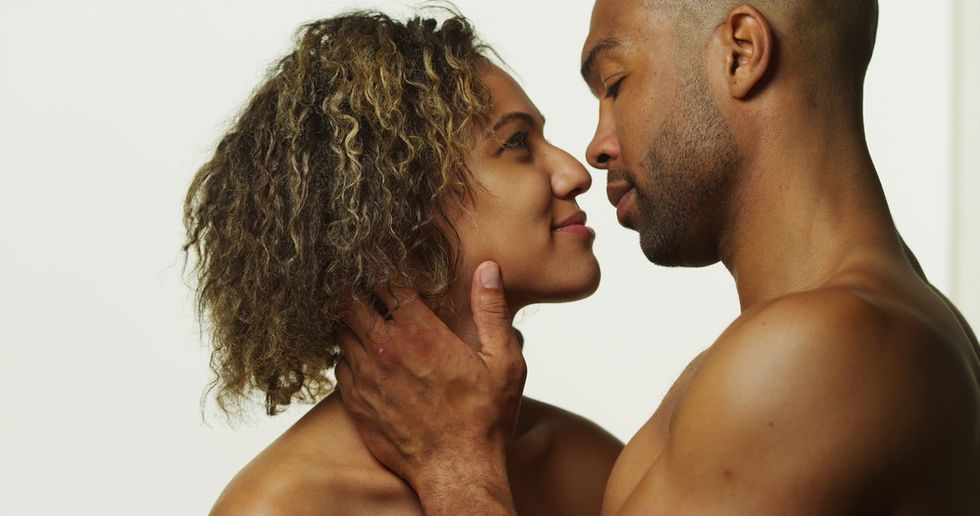 If you're someone who really does prefer to have sex in the dark, here's a reason to at least consider putting a blue or red light bulb into one of your lamps. If you want to feel emotionally closer and more connected to your partner during sex, eye contact is a surefire way to do that. I've actually had several of my male friends and clients tell me that when a man never wants a woman in a sexual position to where he has to look at her for a long period of time, it's usually because he wants to have sex "at" her rather than with her (meaning, it's more about getting off than being intimate with her). Besides, eye contact during sex helps for both people's walls to come way down. And when you feel naked, on all levels, with your partner, that helps to cultivate a level of trust and security that makes you far more open to exploring all ways to bring forth mutual sexual pleasure.
11. Give Your Partner a Pre-Prostate Exam (Kinda)
Probably, until the end of time, there will be debates on whether or not the G-spot (on a man or woman) is a "real" thing. What I will say is when I found out where mine was supposedly located and I gave it a test run, some doors of pleasure opened up for me that I hadn't ever experienced before. Several of the fellas in my life say the same thing about when their prostate is ever so gently massaged. Basically, a prostate is a walnut-sized gland that is right between a man's bladder and rectum. When you touch it, it can create an extra level of pressure and pleasure that is hard for them to describe. If you're down to do a little experimenting, you can click here for tips on where exactly to find your partner's prostate and how to massage it in a way that will make him not forget you. Ever.
12. Get into Some Femoral Action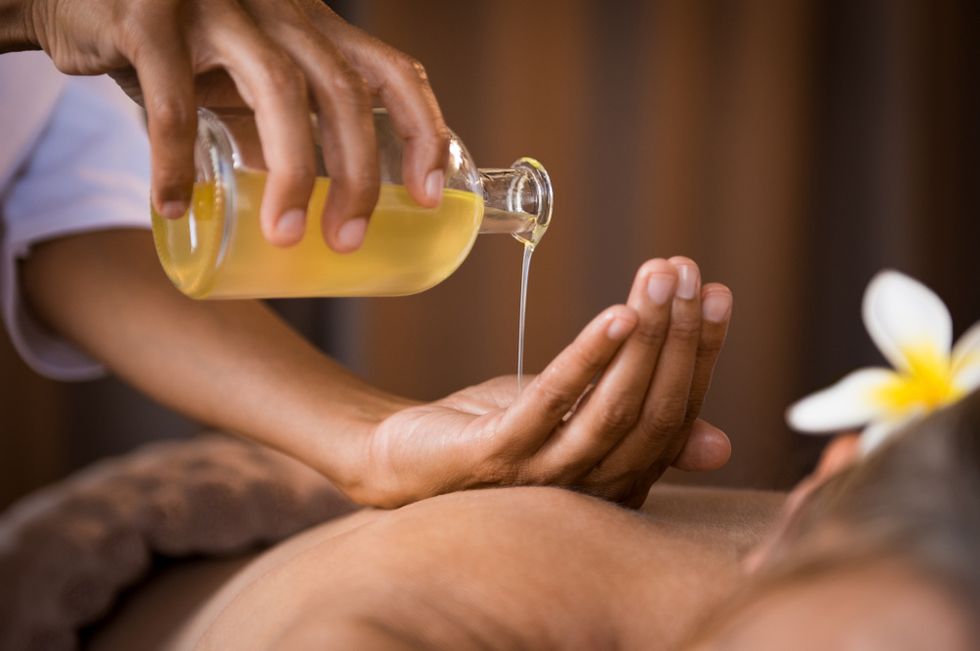 Remember when I shouted out the coconut oil and honey a couple of points up? Another way that the blend can come in handy is if you and your partner are down for a little femoral action. If you're not familiar with what that is, it's when a man uses his penis to caress your inner thighs without actually penetrating you. Why the heck would you wanna do that? It's actually a great way to build up excitement and for him to increase his stamina, so that by the time intercourse actually takes place, you both are so revved up that a simultaneous orgasm is almost a given!
13. Have Your Partner Make "Cunnilingus Circles"
Clitoral hoods are important. So important, in fact, that I actually wrote an entire article devoted to that little part of our anatomy (check out "7 Reasons You Should TOTALLY Be In Love With Your Clitoral Hood"). And since our clitoris and clitoral hood have leading roles in how often we orgasm and how intensely we are able to climax whenever we do, I'm always down for finding "clit hacks" to increase sexual pleasure.
Well, Men's Health featured a study of over 1,000 women with 3 out of 4 ladies saying that, whenever a man uses his tongue or even his fingers to draw tiny circles around their clitoral area, that is a guaranteed way to get them off. If you've never tried it that way before, 75 percent of women say that you should. It definitely couldn't hurt. Quite the opposite, in fact.
14. Try a New Position. Often.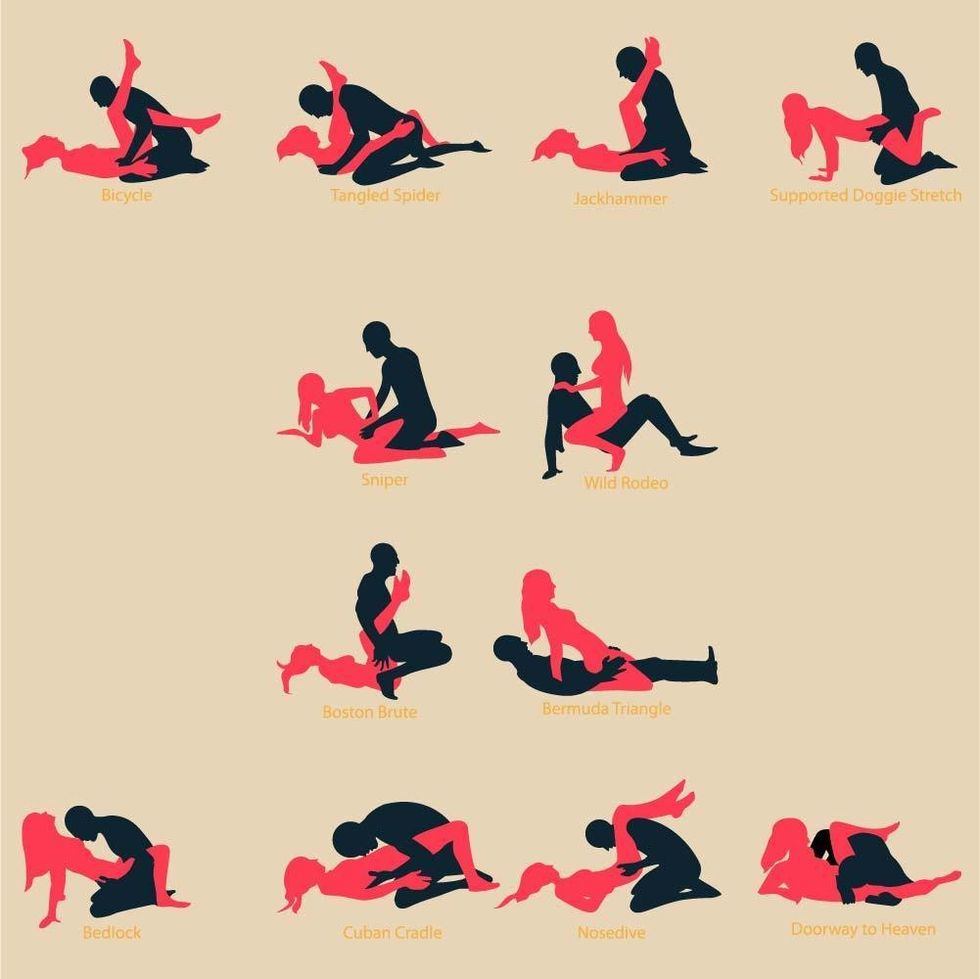 Here's something that's a trip. According to some sex experts, there are only six actual sex positions. The missionary, the cowgirl, the reverse cowgirl, doggy style, spooning and standing. Anything else is basically a variation of those. While that may be true, I look it this little discovery like ice cream flavors. Vanilla, chocolate and strawberry might be the classics, but vanilla bean, rocky road and strawberry cheesecake can make those flavors good AF. Same thing with sex positions. If you want to bring more variety into your sex life, get out of the traditional sex and try a new variation, at least every third time you and yours come (and cum) together. If you need some inspiration, Kinkly is a site that actually features dozens of different sex positions ranked by type, mobility and what part of your body it will excite the most. How cool is that? Check it out here.
15. Kiss As You Cum
Some people hate to kiss. Personally, I'm not one of those individuals, but I do think that sharing your mouth with someone else is pretty damn intimate and something that we shouldn't be out here just randomly doing (check out "Before You Lean In For Another Kiss, Read This."). But when you do find that person who you want to slob down (LOL), try and be intentional about doing it, right as you're about to have an orgasm. Kissing is intense. The oxytocin that is shared with your partner can make you feel closer to them. And there's something about tongues touching during a climax that is—whew! NEXT LEVEL, chile! Kissing while coming is truly one of the best sex hacks that there is. Enjoy every single moment, sis.
Join our xoTribe, an exclusive community dedicated to YOU and your stories and all things xoNecole. Be a part of a growing community of women from all over the world who come together to uplift, inspire, and inform each other on all things related to the glow up.
Featured image by Giphy
Like anything in life, sex drives have their ups and downs. And even someone with the most active sex life can encounter a slump where, let's be real, you just don't feel like it. Even me.
I don't know if it's how hectic my life has felt, how much busier my mind has felt, or if it's just the natural rhythm of me getting older – but I have not really been as lustful or as randy as I've been in the past several years. I'm not biting my lip from a solicited dick pic, and I'm damn sure not eager to bust it open for a real one.
I'm at a place where I'm perfectly content with a quickie with my vibrator and leaving the energy session of a half-hour romp to the left on "Read". Or, at least, I was at that place. Admittedly, along with my slump and lower sex drive, I had become a lot more complacent in how I showed up in the bedroom. Little did I know that that had a lot to do with my newfound feelings about my sex life. As with anything in life, in order to strengthen it and ensure its health, I have to work at it. Recently, I've experimented with some moves that helped remind me how much better sex is when you're present, open, and spice things up a bit. Tried and true is beautiful, but so is new and improved.
Click through the gallery below for 5 hot like fire sex positions that will reiginite your sex life:
The Amazon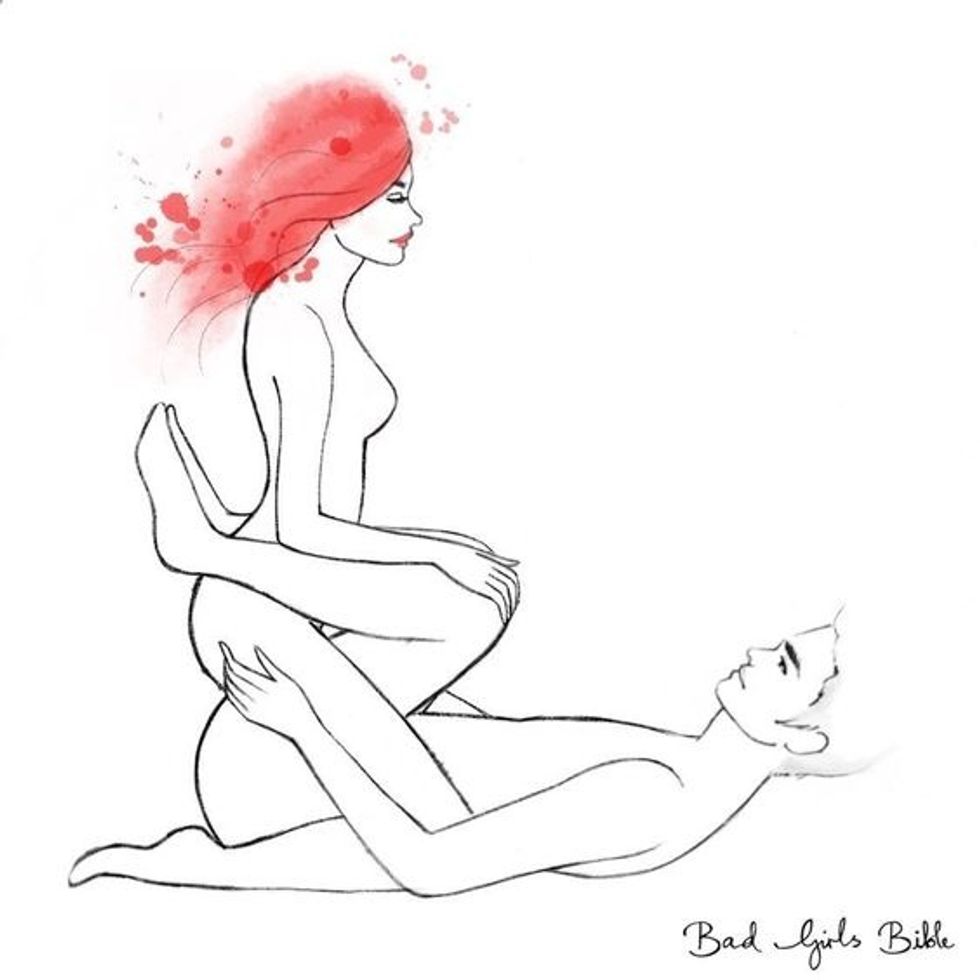 Credit: Bad Girls Bible
The Amazon gives the woman all the power. The standard version features the man on his back with his legs raised in the air, knees bent back towards his chest. The woman then mounts him, crouching over him from above in a kneeling or squatting position (Planted Amazon). It takes a bit of flexibility, but the intensity felt in this position is worth the effort. And the power you feel in this one of a kind Woman On Top position is undeniably exhilarating.
The Lotus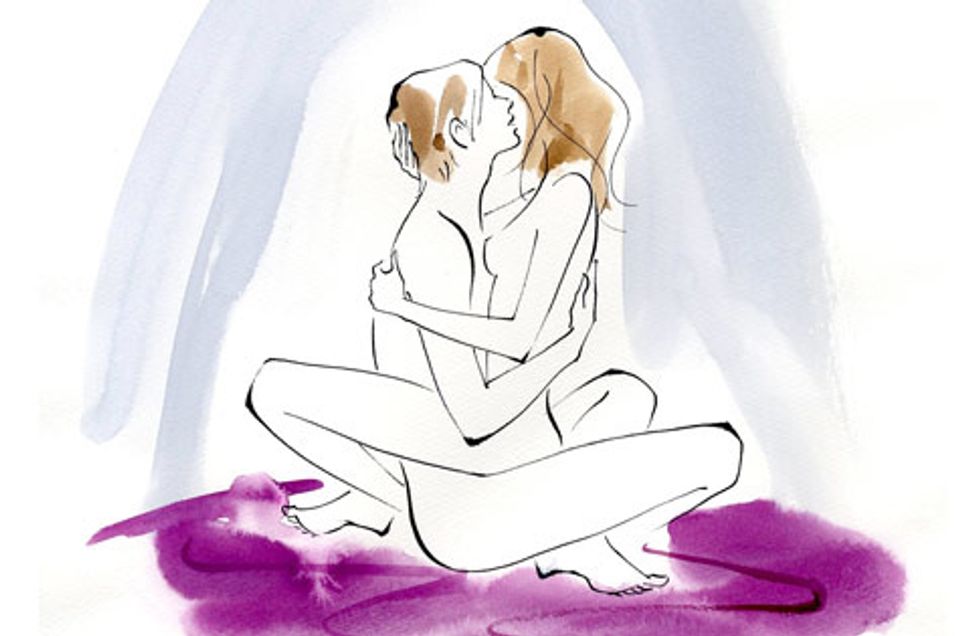 The Lotus is quite possibly one of the most intimate and sensual sex positions a couple can partake in. To achieve the position, the man sits down and crosses his legs, while the woman sits on top of his crossed legs, crossing her own legs tightly behind his back. Wrap your arms around his neck and allow your mate to help you as you find pleasure in this position. The depth of closeness that happens between the couple. Deep kisses are easy, as well as touching and eye contact. The experience itself is tantric.
The Standing Doggy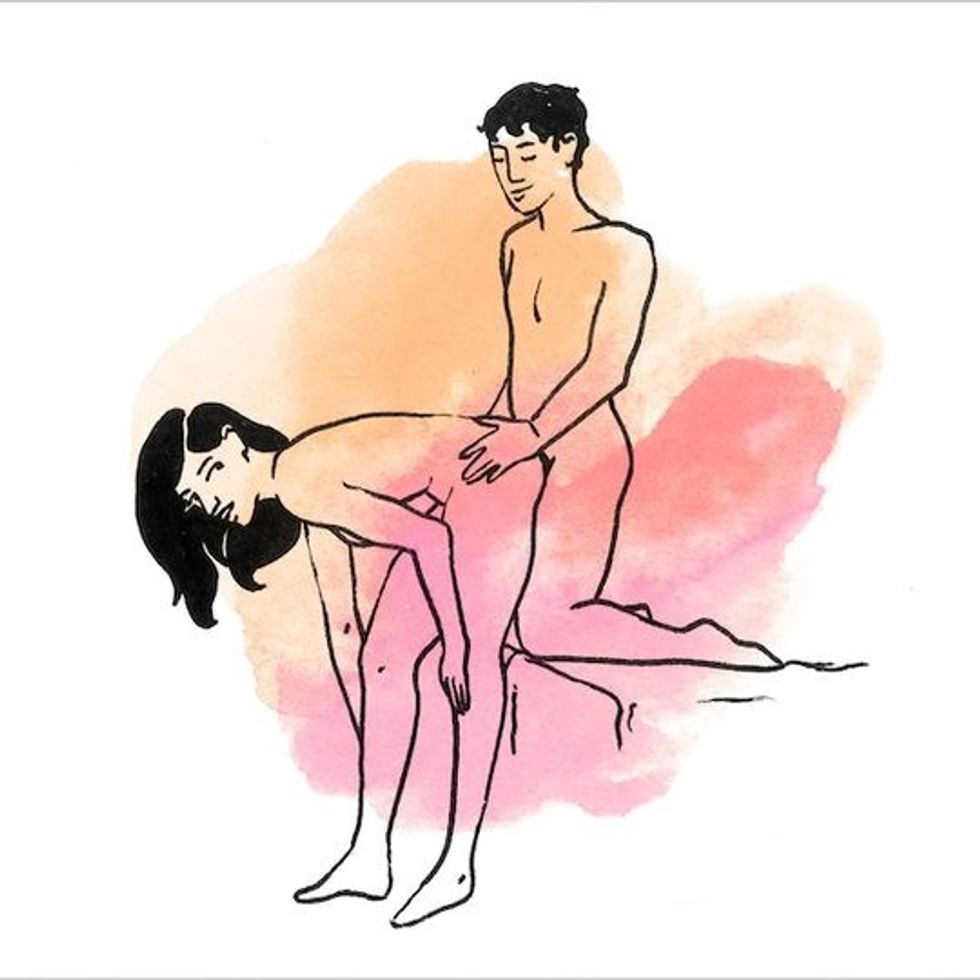 Credit: Carlee Ranger/Ask Men
Doggy anything can be the G-spot-stimulating ride of any woman's dreams, but there's something urgent about standing doggy that makes the move even hotter. And as you know the hotter the move, the easier it is for you to cum. Standing doggy means you can do it anywhere. It can be in the bedroom, the kitchen, or the restroom at your mutual friend's BBQ. Just bend over, anchoring yourself on either a wall, or using your calves, or even the floor. Your partner will enter you from behind. You'll back it up to meet his thrusts. And you can increase the intensity of the pleasure felt by spreading your feet wider apart, or bending your knees slightly to adjust his angle and depth.
The Spider Web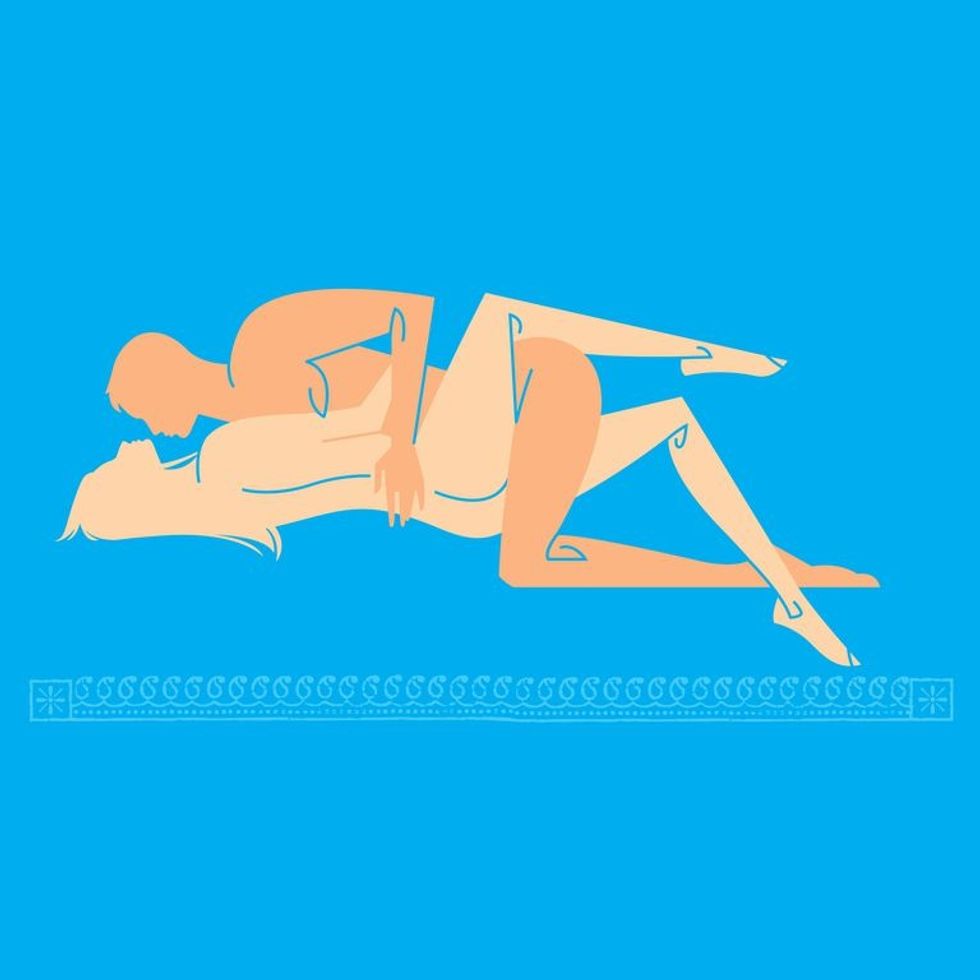 Credit: Cosmopolitan
The Spider Web feels like a heightened version of the missionary position. The two of you lie on your sides, face to face. Your legs will go through his, bringing him deeper inside of you upon penetration. The intimacy and the sensuality is still present, but this position offers greater depth and easier access to different body parts during the act. While he gyrates his hips in a slow grind, you can reach down to rub your clit, and he can intensify things even further by playing with your tits.
The Bridge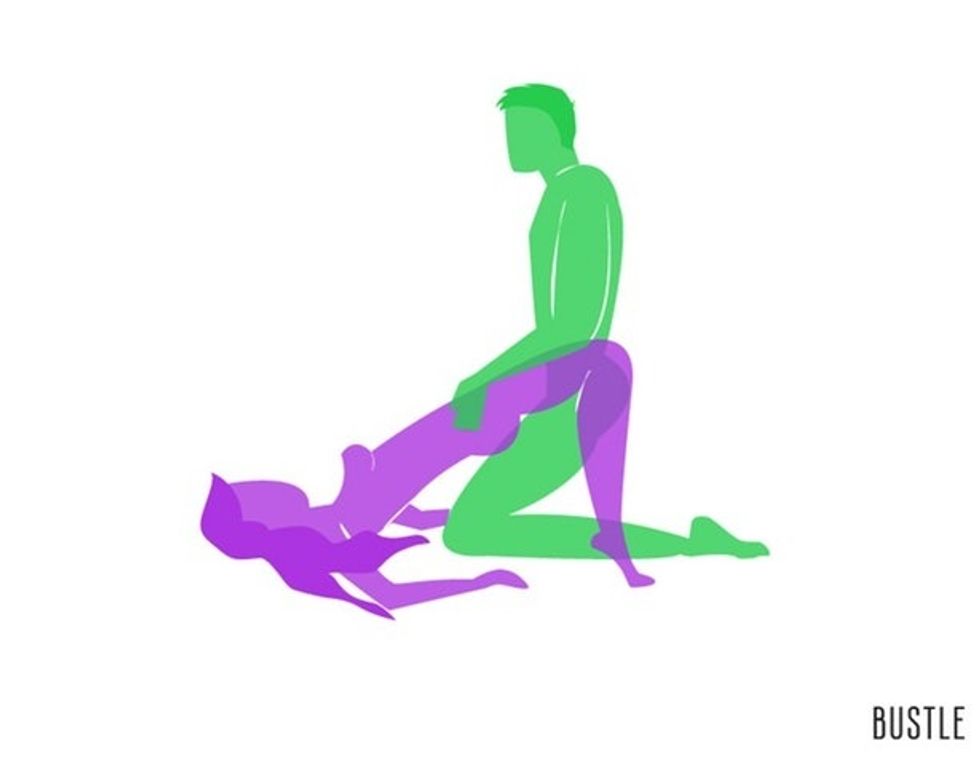 Credit: Bustle
This is another entry to the list that grants optimal G-spot stimulation. For women who have problems with achieving orgasm, this one's for you. Start by getting into the missionary position, then have your partner kneel in between your legs. Arch your back slightly and have him pull your hips towards his pelvis. There, the both of your pelvises should be leveled. Have him spread his knees wide enough that you can rest your ass on his thighs with ease as he takes you. Get ready for to be in the throes of pleasure as he thrusts inside you, hitting all the right spots.
Did you know that xoNecole has a new podcast? Join founder Necole Kane, and co-hosts Sheriden Chanel and Amer Woods, for conversations over cocktails each and every week by subscribing to xoNecole Happy Hour podcast on Itunes and Spotify.
Want more stories like this? Sign up for our newsletter here to receive our latest articles and news straight to your inbox.
Originally published June 22, 2018
Featured image by Giphy
You would think that with all of the researching that I do on the topic, I would've known years ago that June 9 is a very (VERY) special day. But, for whatever the reason, I just discovered a few months ago that it's National Sex Day (not to be confused with National Orgasm Day which is July 31)!
I must admit that when I first found that out, I smiled…for two reasons. Well, actually three. The first reason is I find it to be both fitting and an honor that this kind of day would go down during the month of Gemini, the month that I was born. Second, how cute (I'm not sure if that's exactly the right word but let's roll with it) that the ninth day of the sixth month of the year would create a 69—and we all know what sexual position that is. Then—and if this is TMI, let me just say that I apologize in advance—I thought about how, I'm not sure if it's a coincidence or not, but some of the best sex I've ever had in my entire life came from a man who was born on (what?!) June 9! So yeah, if anyone is especially fond and supportive of this day, it would be me.
But you don't need to be a Gemini—or sexually active with one—to get hype about it. Let me tell it, any occasion when sex can be the focal point is something worth celebrating. So, in honor of 6/9, find your partner, then use some of the following ways to let them know just how much you love sex—and having sex with them!
1

.

Go Totally Off the Grid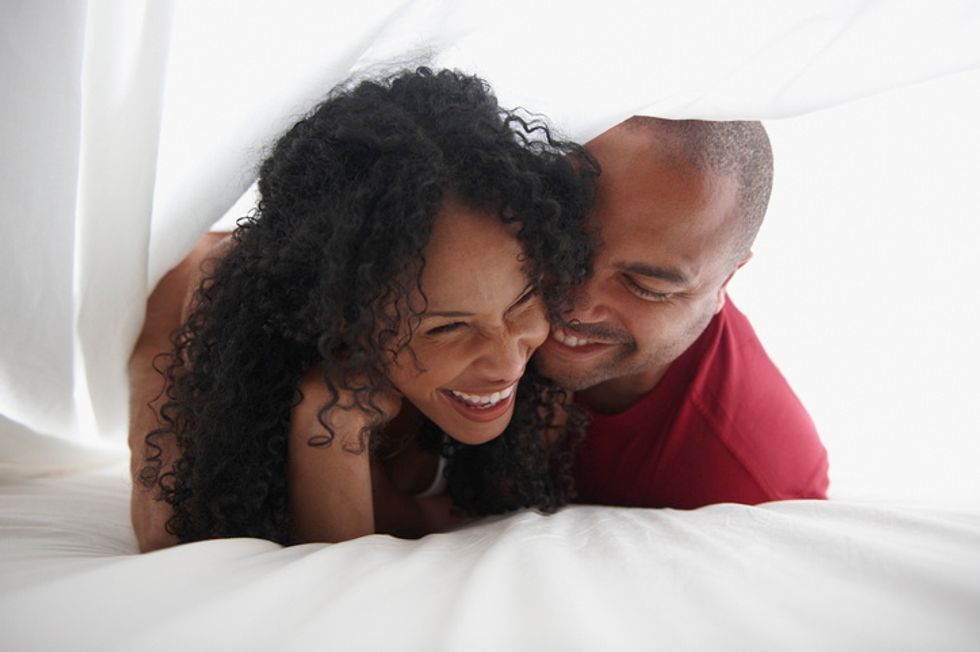 Getty Images
Whenever I ask the couples I work with to share with me the main reason why their sex life isn't as good as it used to be (or they want it to be), it never fails; the thing that I hear the most is a lack of quality time due to schedules and children.
Luckily, this year, National Sex Day is on a Sunday which makes it easier to book a hotel room, go on a staycation or hire a babysitter. Whatever it is that you decide to do, be intentional about "disconnecting" from the rest of the world for as many hours as you can. This means no phone, no computers, no company—nothing that will take your mind of you, yours and getting as up close and personal as possible.
2

.

Download Some Sex-Specific Apps
Technology is something else, boy. Just when I think it can't top itself, it does. Take if you're in a long-distance relationship and you want to observe National Sex Day but neither of you can catch a last-minute flight? In walks OhMiBod; it's an app that connects vibrators to Bluetooth or Wi-Fi so that you can get each other all hot 'n bothered on screen, even if you can't be together in person. The Pleasure Machine is an app that boils down to being a sexy slot machine game that you and yours can play; different wheels provide different levels of stimulation. Honi is a dope app because it's a cool way for you and your partner to explore sexual fantasies, dares and Kama Sutra positions from the privacy of your smartphones. All of these are ways to get excited before physically being in one another's space.
3

.

Listen to a Sex-Themed Podcast
Some of us are "audible lovers". We're the ones who get off by sexy sounds and dirty talk. If you fit this bill, something that might help you to get into the mood is to listen to a few podcasts that are all about sex.
Ones that feature "our own" voices includeThe Savage Life (which is definitely not PG-13 rated);You Did What?! (which is pretty self-explanatory);Millennial Lov3: Sex, Love & I'm Selfish AF! (featuring two girls and one guy from the South);Bonnets & Durags: A Pillow Talk Podcast (how can you not love the name?!);Broken P—y Podcast (cue in the first episode of the first season of Insecure, plus I always dig Black folks with British accents);Just the Tip (I mean…) andThe VagEsteem, a podcast that focuses on cultivating the kind of sex that is both good and healthy (not either or).
4

.

Make a Fantasy Jar, Hotel Jar and Sex Jar
Three jars that I think every married couple should have posted up somewhere in their house is a fantasy jar, a hotel jar and a sex jar.
A fantasy jar is a jar that has both you and your partner's fantasies in it. For the sake of spontaneity, you shouldn't know what your partner wrote and they shouldn't know what you wrote. However, so that no one is caught completely off guard, put the things that you already know your partner would be down to try on a green (green for "go") sheet of paper and what you think they might be open to negotiating on a yellow (yellow for "caution" or "pause") sheet of paper. Then, on special occasions (like this one) or even just the times when you want to be a little adventurous, each of you draw something from the jar and strive to make a fantasy come true.
The hotel jar. I don't know what it is, but there is something that is so damn hot about hotel sex! Make National Sex day extra sexy (and kinky) by booking a hotel room, a bed and breakfast, a vacation house or even an Airbnb. The catch is to choose a place that you and yours have already researched and put into your hotel jar. That takes all of the research and guesswork out of figuring out where to go. The less time you're looking up online, the more time you'll have to go and well, you know.
The sex jar, I've actually written about before. I found the idea a few years ago on Pinterest. Basically, you put some money into the jar every time you do-the-do. Then, after six months to a year, you take the money out and splurge on something couples-related. Just as a heads up, whether that ends up being a kid's meal at your local fast food drive-thru or a cruise to an island all depends on how much sex you and your partner are willing to invest in.
5

.

DIY Some Edible Lube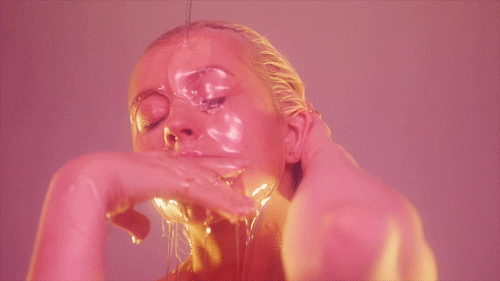 accelerate GIF by Christina Aguilera
Giphy
The wetter, the better. If that lil' phrase was invented in the context of sex, they ain't ever lied! Anyway, maybe National Sex Day falls right before or right after your cycle and you're not as wet as you usually are. Maybe you're perimenopausal or even in menopause and your hormones have your vaginal fluids running on low. Or maybe, you're simply more in the mood for some of "that funk, that sweet, that nasty, that gushy stuff" (quick—who rapped about that?).
One way to achieve this is with longer rounds of foreplay (hopefully with some oral sex included). Another is to make your own lubrication; preferably the kind that tastes as good as it feels. If you want to take a stab at making a batch of your own, click here to learn how.
6

.

Add Some Sexy Touches to Your Bedroom
If you want to do something real quick, you're not gonna be able to pull off totally renovating your bedroom. What you can do is add a few touches in a few spots. If you prefer to have sex at night, but you don't want to wait that long, hang up some blackout curtains. Or, if your man wishes you'd have sex with the lights on more often, but you need to ease into the idea of it, hang some white Christmas lights from your headboard. Also, stop by Walmart or Target and pick up some red or purple sheets (they're considered to be really sexy bedding colors). Light some soy-scented candles in vanilla, jasmine, sandalwood, rose or a blend of pumpkin and lavender (they're all scents that will boost your libido). And, while you're at it, hang up a mirror across from your bed or get a new throw rug for your bedroom floor. Mirrors can give you a better view (wink) and a fluffy rug will significantly decrease your chances of ending up with any carpet burns (wink, wink).
7

.

Invest in a Sex Pillow
Why not use National Sex Day as a time to try out a different sex position for the first time? If you think that you already know them all, test that theory out by checking out these sex positions that are in our sex section right here? If some of them seem a little more anatomically-challenging than others, something that can probably make achieving them easier is a sex pillow. The ones you already have on your bed are cool too, but a pillow that's specifically-designed for sex is…well, a pillow that's specifically designed for sex. Amazon has a slew of them, by the way.
8

.

Do a Sexy Photo Shoot (at Home)
I have a male friend who, not one week goes by when some girl in his life isn't sending him a nude or half-nude photo. I don't know what trips me out more—that they are unsolicited or that folks are bold enough to send their coochie through the phone. Not to say that I don't have some naked pics out in the world somewhere, but I took mine back in 1995. These days, there are clouds and hackers…so yeah, no thanks.
What I would be down to do in present time (if I had a hubby) is use an old-fashioned camera to take some risqué shots. I actually read that putting up this form of erotica in your bedroom is one way to significantly improve your sex life. So, why not take a moment or two to go into your own bedroom, close the door and take a few sexy pics with your partner? Oh, and if you must use your phone, click here for privacy tips on an Android and here for privacy tips on an iPhone.
9

.

Create a Sex Gift Basket
Gift baskets are the best, ain't they? Surprise your partner with one that is loaded with nothing but sex-related items. You can stop by a lingerie store and get something in his favorite color (or you can make a pair of lace undies; it's easier than you think). Then stop by a liquor store for a bottle of wine (it'll make you hornier than most other forms of alcohol, especially if it's got a cherry or earthy scent) and maybe a lil' bit of Guinness beer too; word on the street is it helps men to last longer in bed. You can never go wrong with some chocolate-covered strawberries. I've also been hearing a lot about something called the Oh! Cherry Orgasm Balm (that stimulates your nipples and clitoris). Oh, and if you want to give some extra TLC by making some additional items with your own two hands, some of my faves are DIY chocolate body paint, DIY edible body butter, DIY massage candles, some DIY shaving cream (to give him a sensual shave) or (get this!) a pair of panties made entirely out of Starburst and Twizzlers candy!
10

.

 Celebrate "69" Annually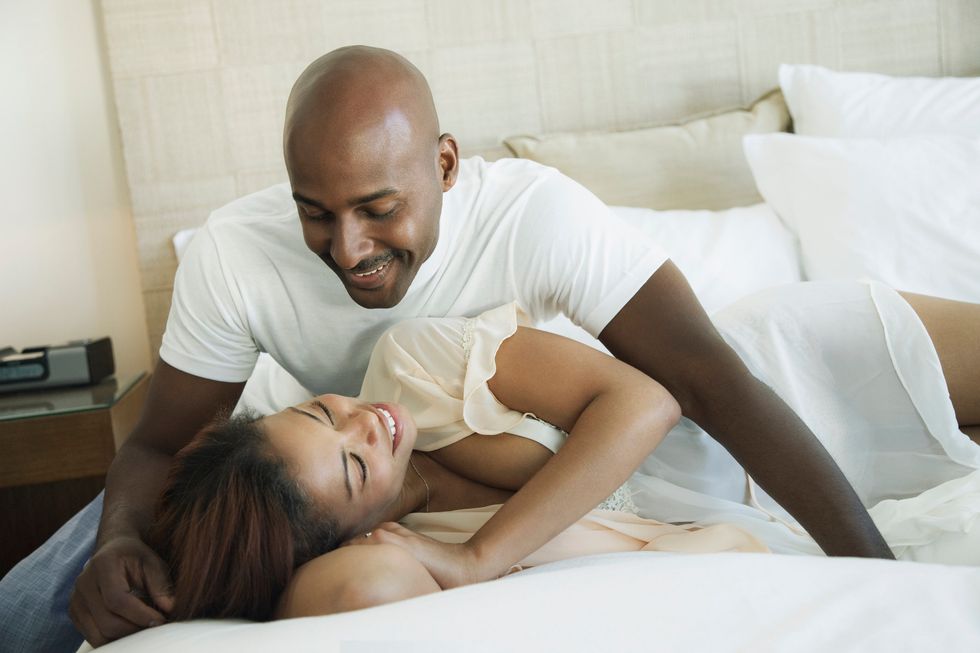 Getty Images
It's been over 12 years since I've gotten some, but I'll tell you what—if I was in the position to be able to observe National Sex Day, I'd treat every year like it was my birthday or something! I ain't playin' either. I'd get decorations for the house, I'd bring my man a present home…shoot, I might even bake a sex cake (there is such a thing; it's called a "better than sex" cake and it's actually pretty good)!
If you're not in my position and you are able to actually get it in, but you just found out about today, do what you can tonight but plan on going big next year and then topping yourself every year after that. Life is too short and sex is too good to be overlooking moments like National Sex Day. Please, if for no other reason than I can live vicariously through you, make it a day worth celebrating—over and over…and over again. Have fun!
Featured image by Getty Images
Want more stories like this? Sign up for our newsletter here to receive our latest articles and news straight to your inbox.
Optimal positioning is … well… optimal for solo sex. It seems like lying on your back is enough but we deserve so much more than the bare minimum. After all, if we don't make our own pleasure priority, then how will we demand that others? Just like with actual sex, there are some positions that can reach a little bit further than others, and you'd be foolish to rollover without getting the most out of your masturbation time.
Every time I switch it up, I'm amazed at how much more thrilling the intensity and sensation is, and I almost never regret it. The best part about switching it up is that I, personally anyway, feel that I'm able to simulate an intimate type of pleasure derived from partner sex. I can hug breasts while I ride the grooves of my toys. I can speed it up and I can slow it down. I can pretend I'm riding an actual dick, should I be in the mood for the real thing.
There are so many small wins in switching up your positions while you sex yourself and we could talk about those all day. In honor of May being National Masturbation Month, I thought it'd be more interesting if I gave you the 4 positions likely to wear you out as I master the flick of the wrist.
I stan all standing positions for masturbating, but this one is a real one because it promotes titty play. My breasts are my hotspot, always have been. The only thing that saddens me is that I'm not able to do more for them, but I do what I can making sure that I caress and arouse them as much as a man would (a man without a tongue, of course). Additionally, standing for masturbation is a jackpot position bound to make you light up.
If you really love girl on top, this one has your name written all over it. You'll feel the burn as you would if you were dropping down and getting your Eagle on and rock while playing with yourself.
One of my personal favorites. I often use this one to imagine I'm having the most unimaginable, mind-blowing sex with the man I don't have. Sometimes I straddle my knees further apart to expose my uber innie clitoris. I also prefer to use this position when I'm using my rabbit, which allows me to ride, but make no mistake I'll ride the hell out of my bullet too. This or anything semi-doggystyle are some of my most preferred methods of getting off.
When I peeped that was an actual position, some part of me got really hype. I suppose I should know by now that it's all been done before but in the moment that I'm doing it, it feels so odd and creative. Still, it's one of my favorite positions when I lift my legs up in this way.
Related Stories:
A Beginner's Guide to Anal Sex - Read More
4 Hit It From the Back Moves That Are Bound to Get You to Orgasm - Read More
These 5 Steamy Positions Will Reinvigorate Your Sex Life - Read More
Music has hyped the cowgirl sex position forever and it's with good reason. In fact, had "Look Back At It" been released neoooow, Trina would've had people everywhere recording themselves for the 'gram trying to spin around and keep the d*ck inside. See the vision? #DaBaddestChallenge.
Call it overrated, but girl, riding is the one sex position that will no doubt have you come out on top or victorious, if you will. This is your moment to shine, leaving him with a temporary stammer brought on by the ill nana. It's your show, your rodeo, your time to shine. So you'll no doubt be center stage calling all the shots, which is far too infrequent when it comes to women in sex, us taking the reins that is.
Unlike many other positions, this one gives you more control, from the speed and angle to the depth which is necessary considering the way my cervix is setup (she's a lowrider). In other words, you're in control of everyone's pleasure. Including the quick access you have to your clitoris making it easier for you to play with. Once you get in a rhythm, you might not even mind that sweet, slow burn but either way, there is something for everybody. That said, we scooped up the best "cowgirl" positions that the internet has to offer to give you a good amount of options. After all, there are levels to this position.
Saddle up, ladies, you're in for the ride of your life, and with these 7 positions, you'll be doing all the driving:
This Amazon sex position allows you to slow stroke and grind your way to a climax as it stimulates the g-spot. To get in formation for this position, your partner will lie on his or her back while drawing their knees into the chest, feet straddled apart. While you will stand on your knees between his legs, slightly straddling your legs with your feet touching in a prayer-like pose. Once you're settled into position, your partner can rest his or her ankles on your butt while pulling you in deeper with their hands.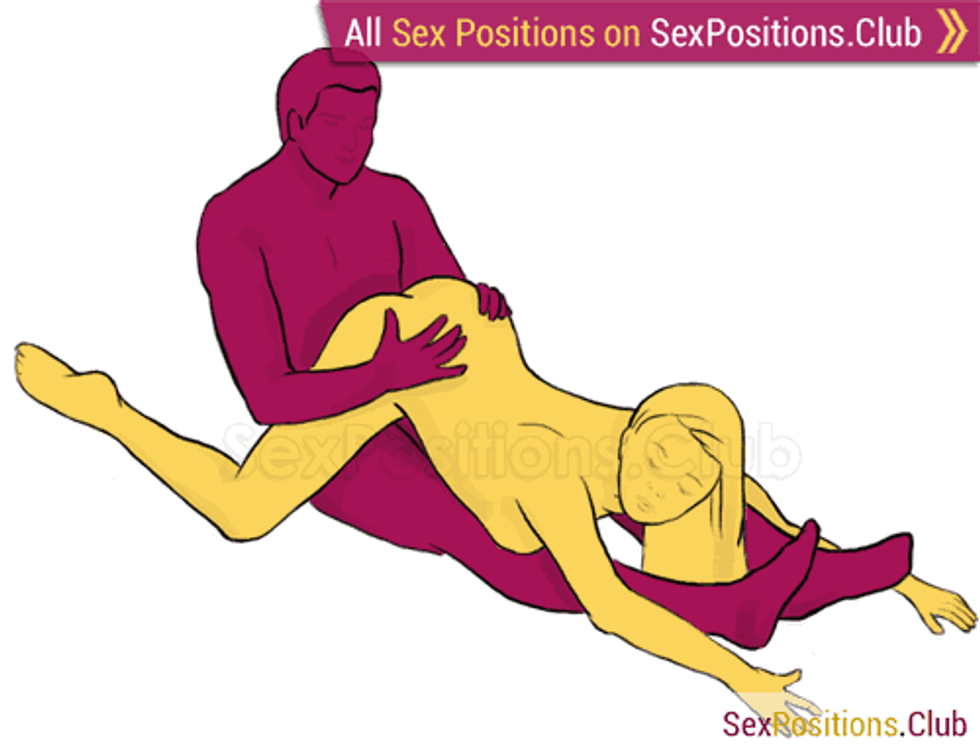 Sledge combines doggy style with girl on top in that it gives bae a full moon view of everything your mama gave you. Making it great for booty rubbing and grabbing. Here's how it works! Have your partner sit on a flat surface with their leg straight in front of them. You will sit on top of him, straddling your legs around him and lean low on your elbows or put your hands straight out in front of you. Once your comfortable, you know what to do.
The Lusty Lunge is for the indecisive, or maybe you just value depth and clitoral stimulation. This variation of girl on top is simple. Your partner will lie on his back with his legs at an A-line and you will mirror that position while on top of them. You'll position yourself so that you're lying on your forearms, palms pressed flat to the bed and lift one leg 90 degrees. Once you've done all of the above, rest your foot on their thigh.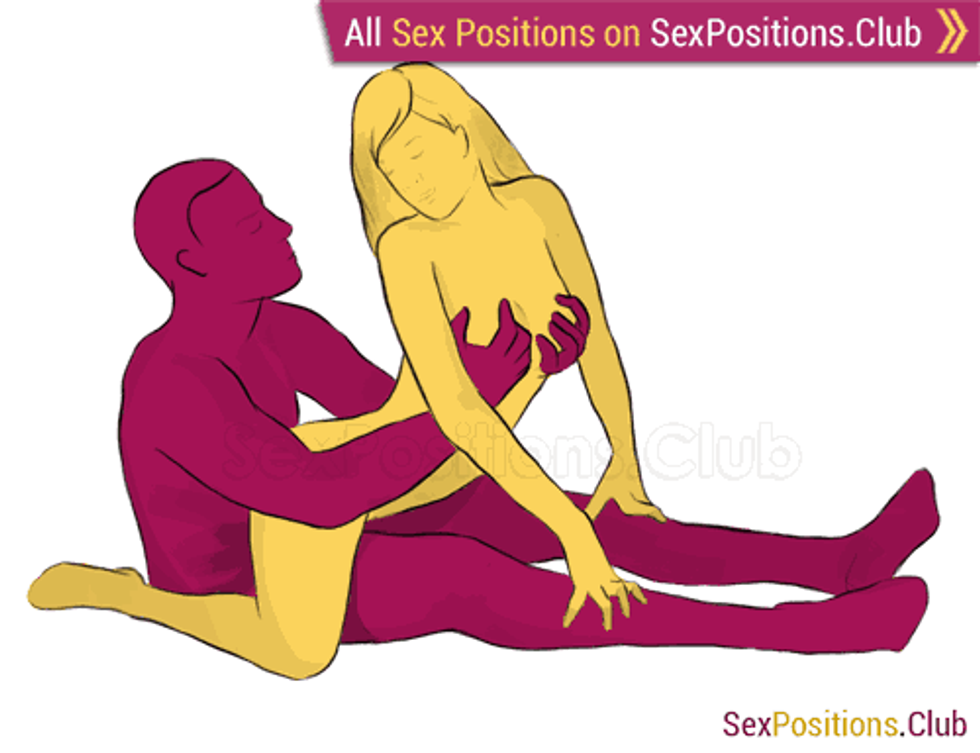 Backwards Cowgirl gives your partner a handful of you by providing easy access to your breasts. While your partner is in a seated position with their legs straight, you will straddle your legs around them and sit up on your knees, balance things out by placing your hands on his knees.
The Pinocchio goes deep or deeper if you throw a pillow in the mix. But for starters, all you need to do is hop in a squat over your partner while they're lying down. Your squat should be you getting your eagle on, but plant your hands on their chest. Now get it, girl.
6

.

Aries Sex Position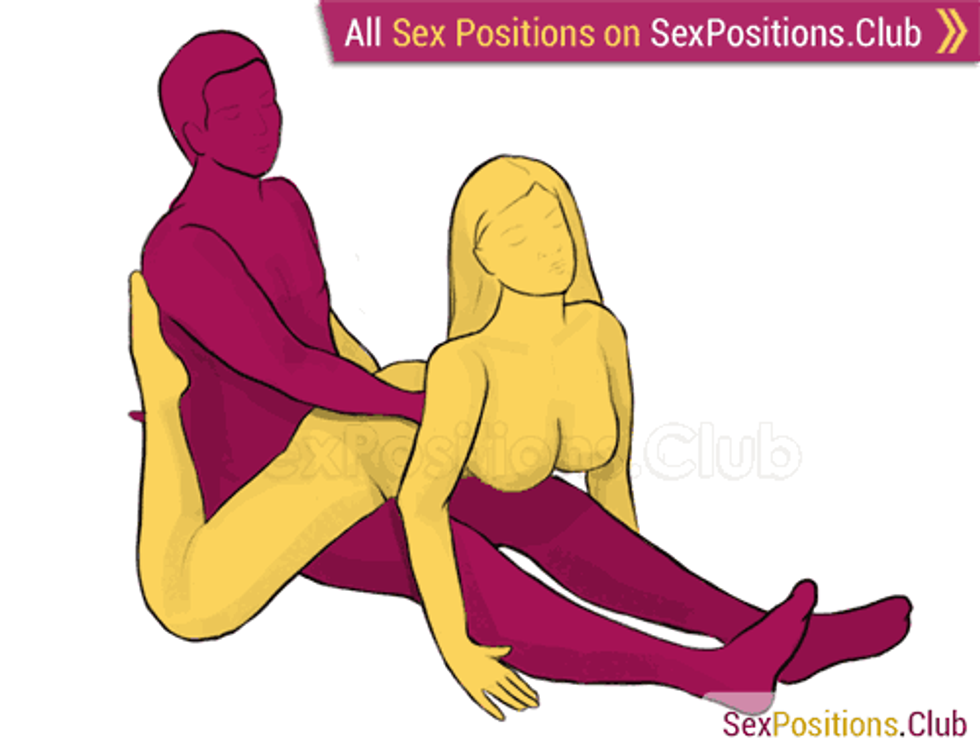 With Aries, you will do almost exactly what you did in Sledge (see slide #2), with a few exceptions. Your partner's legs will be slightly raised and while you're straddled across them facing forward, you will balance by placing your hands shoulder length apart from your knees. Clinch his body with your feet and go at your own leisure.
Side Saddle is the move those old, classic movies always talk about. They would say "ladies" ride side saddle, but you know the rule of thumb, a lady in the street, freak in the sheets, so rest assured there's nothing ladylike about this position. Your partner will lie on a flat surface with his feet planted firmly on the ground while you sit on his groin area in a squat with your knees together. Place your hand on his lap for stability and bounce up and down on the d*ck. You can also execute side saddle while your partner sits in a chair or on the edge of the bed. You will face sideways so that your partner is facing your cheek. Pressing your legs together, you will ride off in the sunset stroking your favorite horse.
Featured image by Getty Images.
Related Articles:
I Had A Billion-Dollar Orgasm With This $2000 Sex Toy - Read More
How I'm Staying Rodeo-Ready For Riding Cowgirl - Read More
8 Wild Ways To Do Doggy Style In Style - Read More