Love is in the air! In honor of celebrating black love stories, we talked to six women who shared their stories of how their boos popped the question. And y'all, these fellas got creative when asking the love of their life to marry them.
Whether these ladies got engaged recently or are already married to their forever, these stories will make you swoon, laugh and cry. Check out some of the most romantic proposal stories ever, starting off with my proposal story with my now-husband. Read on for more.
Char & Mark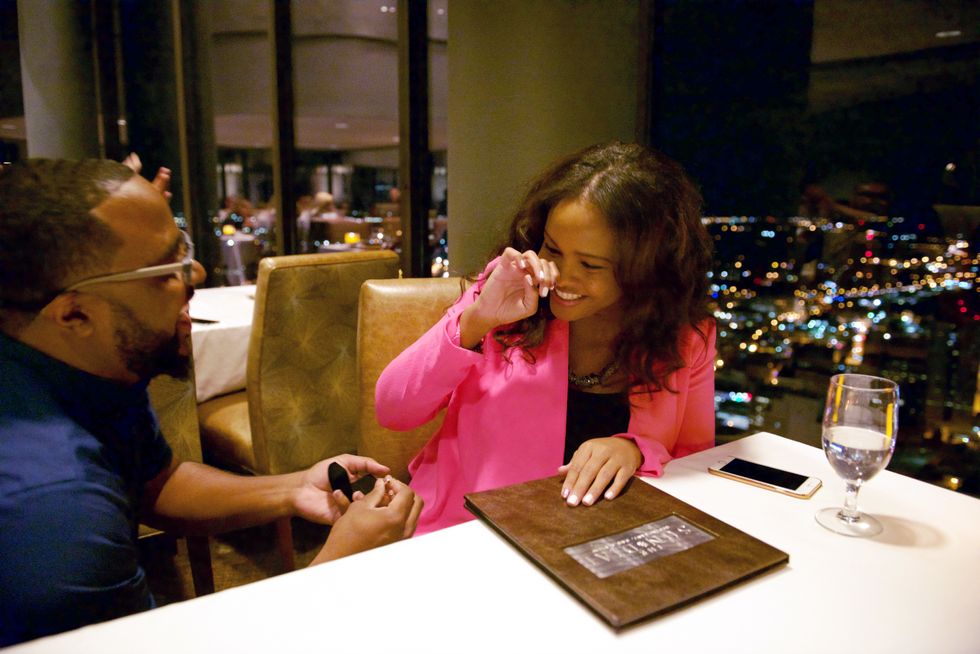 Courtesy of Writer Char & Mark
"Mark and I were together for almost two years when he proposed. It was one of those relationships where we always knew we would end up together, it just had to be the right time. In all honesty, I knew a proposal was coming, but I definitely didn't expect it when it actually happened. We were planning a trip to Atlanta for his sister's birthday party, and he told me to bring something nice because he wanted to take me to dinner. I literally joked with my friend, 'And he BETTER propose!' but legit didn't think he would. From my hair, to my outfit, to being sick, it seemed like everything went wrong the night we went to dinner. But everyone went out of their way to make sure everything was perfect. I still had no idea why.
"We get to dinner at a beautiful restaurant, and he kept looking behind me and going to the bathroom. I thought it was really weird but I just took that time to eat some of the food off his plate. The waiter came and asked if we wanted dessert and Mark said yes. He brought the dessert menu and walked away. I looked at the menu and I told Mark, 'Oh they have apple pie!' I had been craving it. He was like, 'Well look and see what else they have.'
"I look at the full menu and on the other side was the story of how we met. When I got done reading (I'm still not sure what the end said because my eyes were blurry with tears), he had walked over and got down on one knee. I said yes and we became those people in the restaurant getting engaged as all of the other diners started clapping and cheering. We went down the elevator to the lobby and when we got off, my parents, brother, sister-in-law, his parents and a bunch of our friends were waiting for us. It really was one of the best moments ever!"
Janaya & Drae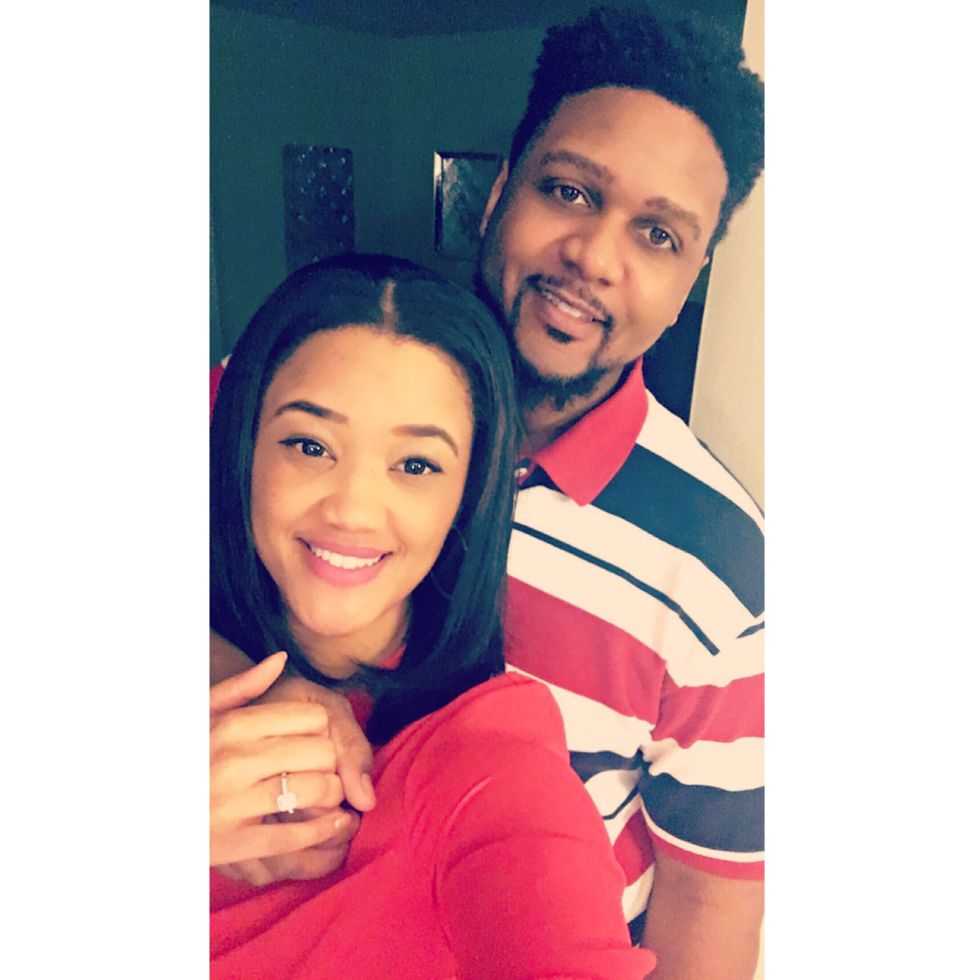 Courtesy of Drae & Janaya
"Drae and I bonded instantly. After our first date (that lasted approximately 10 hours), I knew I had met someone special. We were so comfortable with each other and I could not wait to see him again. After about 18 months of dating, in addition to being in love, we realized that we had also become great friends. We talked about everything and encouraged each other through challenging times. Sticking together through those times and coming out better is what assured me that Drae was the one.
"On a Friday afternoon, he went and had a conversation with my father where he asked for his blessing of my hand in marriage. Later that evening, I came home to the words 'JANAYA WILL U MARRY ME?' spelled out in red rose petals on the dining room floor. Red roses are my favorite, and it was all so beautiful! He dropped down to one knee, presented the ring, and told me that life would be best together. Then he asked if I would do him the honor of being his wife. And I said YES!"
Sarah & Chris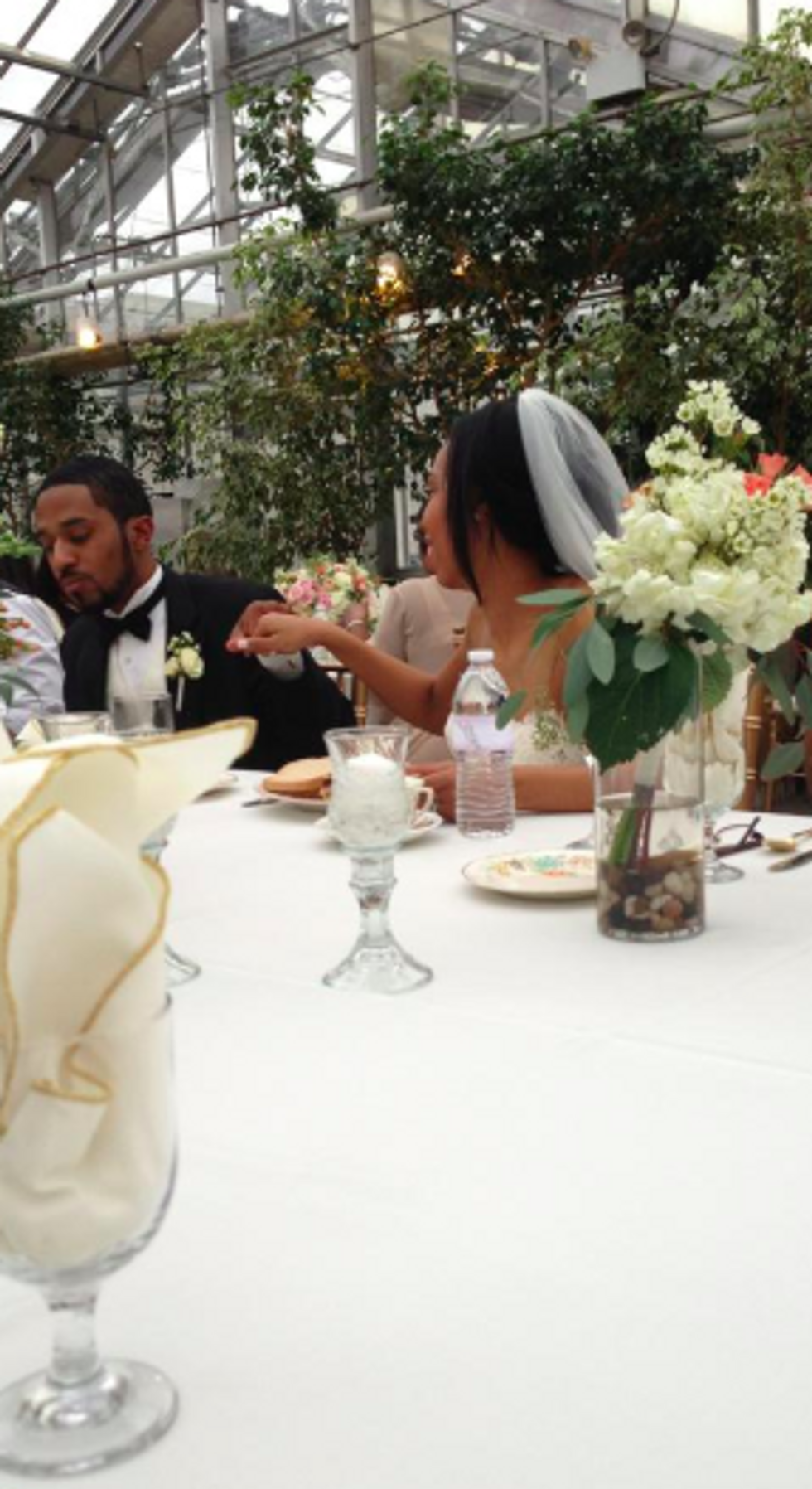 Courtesy of Chris & Sarah
"Looking back on the day my husband proposed, it was an unassuming day to say the least. We had been together for a while and I hoped he would pop the question, but I had no idea he was going to do it when he did. Chris' dad is a head manager on a boat in Detroit called the Detroit Princess. The whole time we're dating, his dad would always invite us to have dinner on the boat, but Chris would always say no. Well on this 'unassuming' day, his dad invited us on the boat yet again, and Chris finally said yes. I still had no clue what was being planned. We arranged to drop off our daughter Jaedah to his aunt's house for the day and got dressed for our evening.
"We get on the boat and sure enough, the same group was performing all the Motown jams, but we enjoyed ourselves thoroughly. This time was obviously different because about halfway into their performance, they started to perform "Never Let Her Go" and one of the lead singers came directly to our table and started singing to me. I thought it was strange, but I caught on to what was happening. Chris's starry face gave it away… he's never starry-eyed by the way. He's so stern and serious most of the time.
"He sat me down in a chair facing the band with my back to the crowd. That's when he did his spiel, asking me to spend the rest of my life with him and I said yes. We get up to start slow dancing, and wiping each other's tears and I said to him, 'Man, does my mom and dad know about this?' And sure enough, he turned me around while we were dancing and my whole family was there! Including our daughter Jaedah! He knows how much my family means to me, and to be able to share that moment with them broke me all the way down in the best way possible. We're celebrating six years of marriage this month, and now have three kids."
Bri & Joe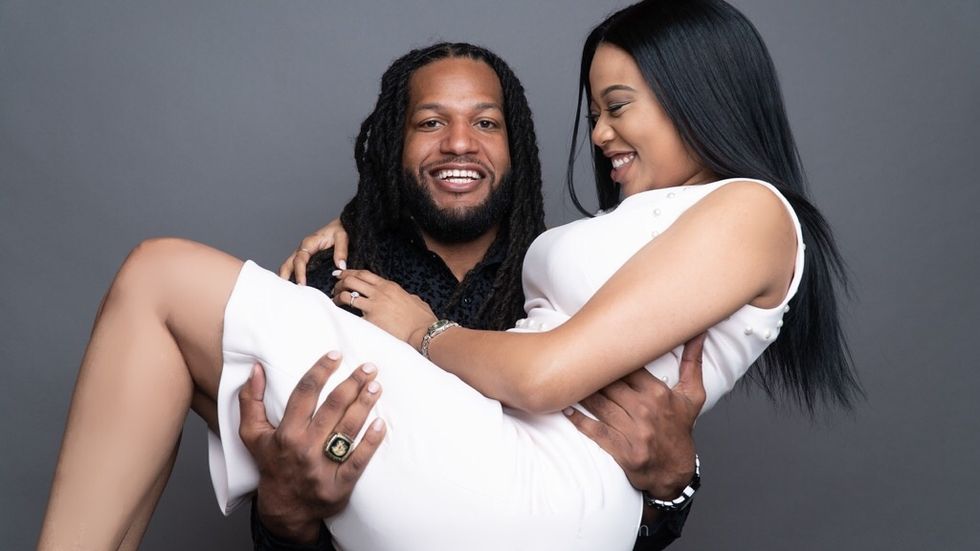 Courtesy of Bri & Joe
"My now-fiancé, Joe, and I haven't lived in the same state since high school and had been on and off for 11 years. I'm a realtor and radio personality in Chicago, and Joe is a football coach in Miami. But somehow through it all, we made it work. For the proposal, my nonprofit organization BF Cares hosts an event every month to give items to those in need. I moved up the date for this month so he could be there. Just a day before the event, he told me he wasn't going to make it but his family would. You can imagine how disappointed and sad I was. But I had to mask my feelings for this event.
"So while the group continued to make packages, my daddy pulls me to the side and tells me to follow him to the car. He gives me this card from Joe that said, 'Sorry I couldn't make it baby. I'll make it up to you.' I'm reading it like, 'Yeah yeah, okay!' I get back inside and while I'm hanging up my coat, all of my family and friends and his family are there with their phones out laughing at me and there's this BIG box. I opened it and Joe was inside on his knee! Before he could get the words out to even ask me, I damn near tackled him and said yes! I was just so excited to see him. Then he officially asked me and of course I said YES! IT was the perfect place to do it because both of our families were there and we ended the event Chicago stepping, dancing and giving back to our community."
Rae & DC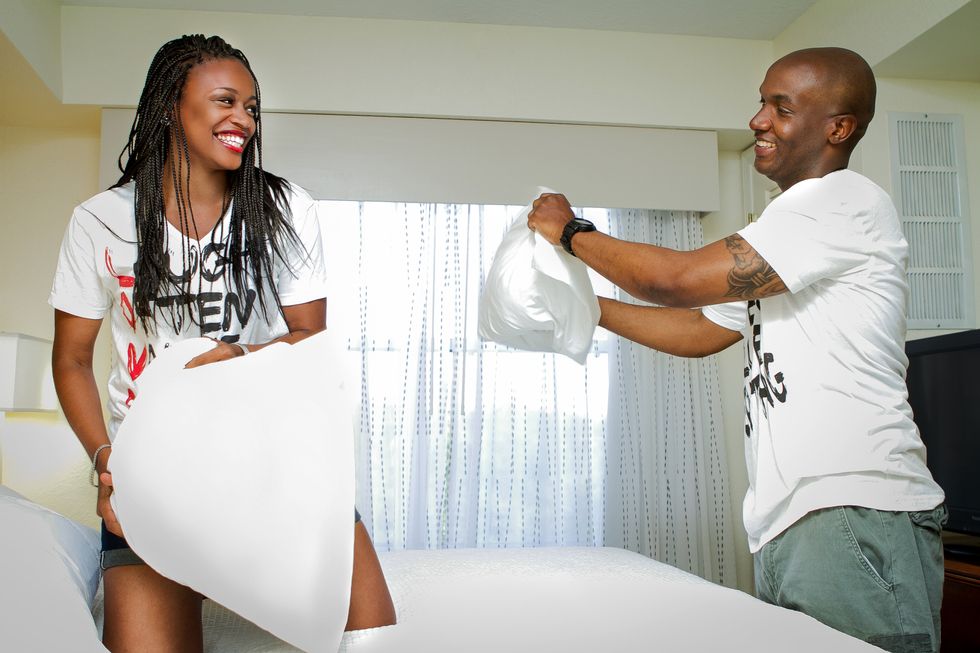 Courtesy of Rae & DC
"My boyfriend came home on his lunch one day (I've always worked from home), but of course I had no idea he was intending to propose. I was on a call and he insisted that I get off the phone. I immediately got an attitude because I'm like, sir, I'm working. Do I bust up in your office talking about 'Baby can you get off the phone and spend some time with me?' So I get off the phone and he asks me to warm up leftovers so we can eat lunch together. I warm up the food and then we sit on the couch and he turns on Maury. Yes, Maury. He's addicted to that show.
"So he's all into the show and who the daddy is and I was talking to him about something (who knows, probably complaining about work) but he was ignoring me because he really wanted to see who the father was. So at this point, I'm livid and like, 'You interrupted my work, make me warm up stupid leftovers, and now you're ignoring me to watch Maury?' I told him I wished he would just throw up the leftovers all over himself. Then he looked at me in this weird way and took a small box out of his pocket and threw it at me. I opened it and threw it back and was like, 'Uh no way… this is not happening.' I didn't even think the ring was real. And he says, 'No, really. I want to marry you.' He got down on one knee and proposed! Now, we've been married for almost four years. Ain't God good?"
Camryn & Jae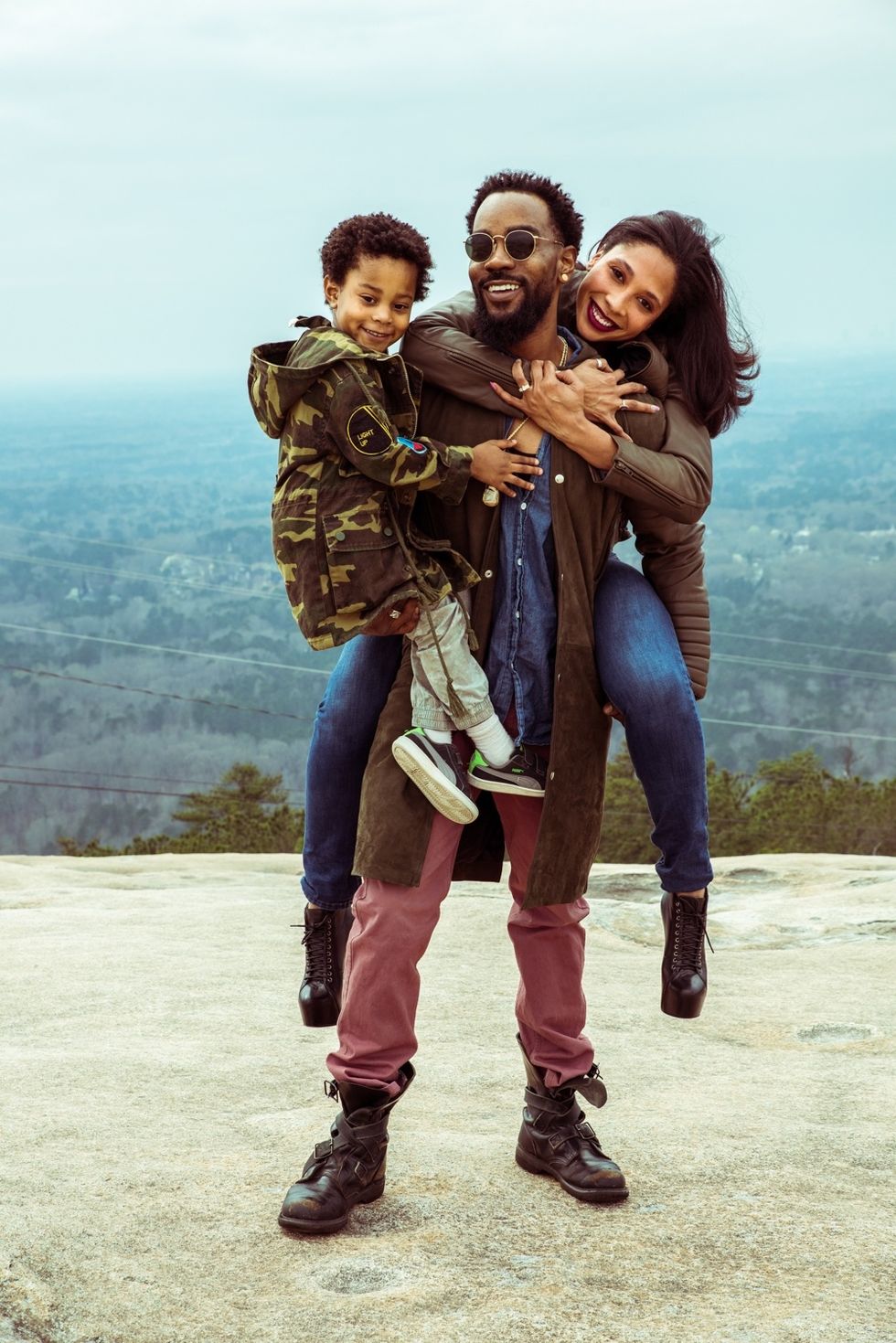 Courtesy of Camryn & Jae
"We'd been dating for five years, living together for four. Had a house, a child, even a dog, for me, the only thing missing was a ring. About a year into the relationship, we discussed marriage. He made it clear that his intention was to marry me, he just hadn't found the right ring in time for my birthday. Instead, he booked us an epic staycation in Atlanta during OutKast's last performance downtown.
"Fast-forward to four years later. I was getting incredibly tired of waiting and engagement season was officially here. I had been patiently waiting, and it was Christmas Day. We went to his family's house for dinner with my grandmother. After dinner, my fiancé's dad starts playing Christmas music on his saxophone. (He used to play professionally for the Clark Sisters) I'm sitting next to my grandmother, and my fiancé and his dad are both serenading her. I thought, 'OMG it's about to happen!' But it didn't.
"On the way home from my grandmother's, we started arguing because he wanted to go to the studio to record with a well-known international artist. Any other day I would have been cool, but the fact that it was Christmas Day, I was not about to be left at home alone. Luckily, he came to his senses quickly and he agreed that we would find a movie and cuddle. I got in bed still slightly annoyed, and he knew it. But he also knew what he needed to do to apologize.
"He started kissing on my neck, and of course one thing led to another. Taking full advantage of our son being away, we were being extra verbal in bed that evening. As I am about to climax, he asks me if I want to be with him forever. I say, 'Yes.' He asked me again, 'Are you sure you want me forever?' At this point I'm really almost there, and I scream, 'YES, FOREVER!' It was at that exact moment I felt him slide something onto my ring finger. I tried to look at my hand, but it was too dark, so I pulled him closer and we finished together. Next thing I know, I am being carried to our bathroom (still naked). As soon as he put me down and turned the light on, he was kneeling in front of me, holding my left hand and formally asked me to marry him."
Want more stories like this? Sign up for our newsletter here to receive our latest articles and news straight to your inbox.
Did you know that xoNecole has a podcast? Subscribe on Apple Podcasts or Spotify to join us for weekly convos over cocktails (without the early morning hangover.)
Originally published on March 20, 2019
For my 28th birthday, my boyfriend surprised me with a trip to Catalina Island.
We went parasailing, rock climbing, had a couple's massage, and drinks before heading back to our hotel, a cozy B&B-styled inn - very different from any hotel we had ever visited. It was absolutely perfect. I had been secretly hoping he would propose to me and my birthday felt like the perfect occasion for him to do so. After years of dating, and more recently my engagement questioning being following with a mere "soon" from him, I was anxious for him to pop the question.
I was more than ready to finally start planning happily ever after with the man of my dreams.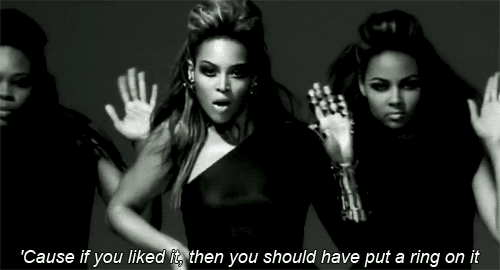 We talked about marriage often but until a ring was on my finger I felt as though it was merely that, just talk. I was becoming frustrated with simply being a "girlfriend" and couldn't understand why he hadn't yet asked me to marry him. Sure, finances weren't exactly perfect, but if we could make things work living together, we could also find a way to do so as a married couple.
By the time dinner came around, I simply could not sit still. Seated at a table with a gorgeous view of the outside, I imagined a band coming up and singing as he got down on one knee, or possibly the other diners applauding and taking pictures as he proposed. The possibilities of our dinner being "the moment", had me jittery with anticipation for what he would surely ask me. But, when dessert came and no proposal had happened, I desperately tried to disguise the look of utter disappointment on my face. "You ready to go?" he asked after we had both had a few bites of the ice cream and chocolate dessert the restaurant gifted me.
"Sure," was the only response I could muster.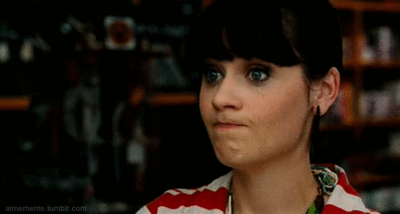 When we got back to the hotel, I threw on sweats and a sweatshirt he had purchased for my birthday and laid across the bed. Scrolling aimlessly through my phone, I did anything to avoid facing him. I was hurt. In all fairness, the day had gone perfectly. He purchased me a few gifts that I loved on top of all of the fun things we did together, but I didn't get the one thing I truly wanted: an engagement ring.
Admittedly, I'm the type of person that always wants to be in control of things. Hell, if I go out, I always try to be the one who drives so I have control of when I leave - and that's one example of my need for control. I like things done a certain way so I always end up doing everything myself. When it comes to my relationship though, I felt powerless in not being able to decide when I got engaged. The lack of control was driving me insane.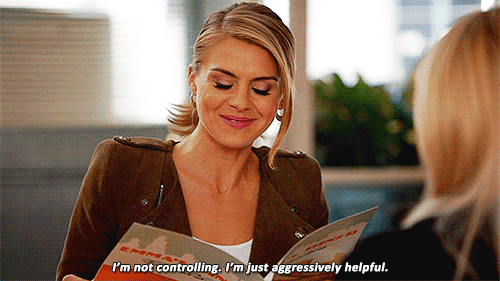 When I finally realized nothing else was going to happen and I wouldn't receive the proposal of my dreams, I got underneath the covers and started dozing off to prevent my frustration from causing me to say something to him that I didn't mean. "Are you going to sleep?" he asked.
"I started dozing off," I admitted.
"Well, you can't go to sleep this early on your birthday, it isn't even 10 o'clock. Lets go for a walk or something, I'm not tired."
"Fine we can do that," I slipped on some sandals and sneaked a peak at him. Realizing he hadn't grabbed for anything out of his bag or changed out of his suit from dinner, I started to come to terms that it simply was not going to happen.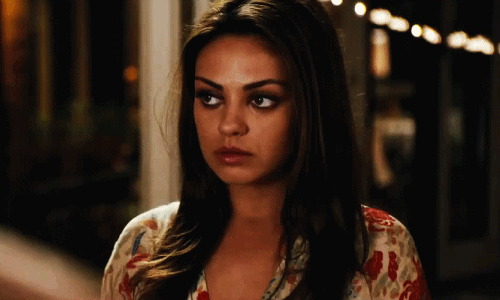 We walked aimlessly around the island talking and taking in the views. I mostly listened until we reached a spot by the rocks where the moon perfectly shone down on the water as the waves crashed against the rocks. "I probably could have bought you that bag you wanted, you know if we didn't do all this," he said.
I could hear the negative self-talk in the back of my head:Well, then you could have also bought a ring. I stopped myself from saying it aloud. "When we get back I really want to work on being a better boyfriend." Boyfriend? Not fiancé? Not husband? I stopped myself again. It took everything in my power not to blurt out, "Okay, so why didn't you propose?"I knew that he had worked hard on planning my birthday and that he had sacrificed a lot financially to ensure I had an amazing day so I bit my tongue with my disappointments.
"So you ready to head back?" he asked.
"Yea," was my only response.
"Oh yea I forgot I have one more gift for you."
The moonlight revealed a cunning smile on his face. It was in that moment that I knew he was about to propose. "I want to give you my heart, and my last name, and make you my wife."
He slowly got on one knee and revealed the ring that had been in his pocket the entire time. A meticulously placed light shone directly on the most gorgeous ring I had ever seen. "Ashley, will you marry me?" he asked.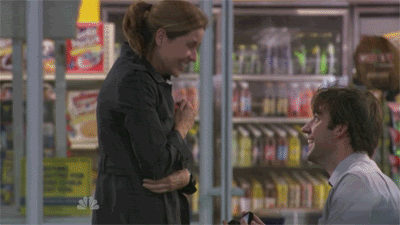 "You tricked me! Yes, Yes, I love you," I cried as I became swept up into the hug he gave me.
The walk back was full of laughter as he revealed to me the joy he had watching me squirm knowing what he planned, the conversation he had on the phone with my parents the day before when he asked my dad for my hand in marriage, and how he wanted us to tell his mother about the engagement together in person.
After his proposal, I realized a few things.
If he proposed to me at the restaurant, it wouldn't have been the same. I would have been expecting it and who honestly wants to be able to pinpoint the exact time of their engagement?
I also realized the importance of allowing things to happen in their own timing. While I do like being in control as often as possible, some things are simply more beautiful when you allow them to just happen organically. Over the years I had imagined his proposal going a million different ways, but nothing was more beautiful to me than exactly how it happened: me wearing sweats, him dressed to the nines, and us overlooking the waves crashing down on the rocks.
I look forward to spending the rest of my life with my soon to be husband and take his proposal as a valuable lesson to learn to allow life to take its course. When you stop trying to dictate how everything in your life should go, some truly amazing things will happen along the way.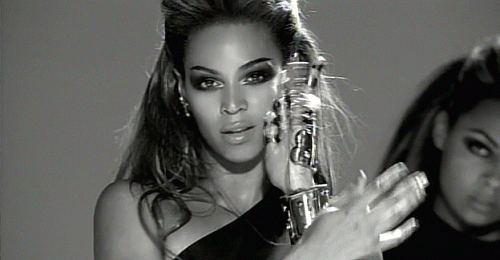 What was your proposal like? If you're still a single lady, what's your dream proposal like? Let us know in the comments below!
xoNecole is always looking for new voices and empowering stories to add to our platform. If you have an interesting story or personal essay that you'd love to share, we'd love to hear from you. Contact us at submissons@xonecole.com
Featured image by Getty Images
Sometimes when you know, you know!
After only a year of dating, Destiny's Child's own Michelle Williams, 37, is engaged to boyfriend Chad Johnson, 40. Revealing exclusively to People, this will be the first marriage for both of them.
So, how did they meet?
A lot of the times, the way to Mr. Right is straight through a Mr. Wrong. The two met on a spiritual retreat run by Johnson himself—he has served as a pro sports chaplain working with teams like the Arizona Cardinals, the Pittsburgh Steelers, and the L.A. Dodgers while also running a nonprofit serving urban youth and their families with spiritual retreats called Elevate International.

After breaking up with a cheating boyfriend, Williams decided that she should practice some self-care. Instead of sulking and drowning in negativity to cope with the breakup, she attended the Elevate International retreat to reconnect with herself and with God.
"I was in a horrible, dark place. I just needed to go somewhere where I could get a message of hope and restoration, rejuvenation — get connected to God."
Connecting with God led her right to Johnson, who was also having a rough time dating and had almost given up on the dating scene altogether. While on retreat, the two certainly seemed to hit it off, but Williams was determined to stay focused on her personal healing process. Plus, she was not trying to flirt with her pastor! Instead, they exchanged contact information and stayed in touch with one another.
A friend of Johnson's convinced him to pursue Williams, and he tried his best right until he thought he got curved! Johnson recalls:

"I tried to roll in with some mac daddy game — and I tried to flirt a little bit and said something like, 'How about you and I connect sometime?' And right away, she texted right back with one word and six question marks behind it: 'Connect??????' I thought she had dissed me. So I was embarrassed, and I didn't reach back out to her because I thought I'd ruined the friendship."
Johnson has got to be thankful that Williams pulled one of the most stealth, confident-in-myself, dating moves by sliding right into his Instagram DMs a week later. Interestingly enough, she replied to one of his Instastories in which he was on vacation with the 15- and 16-year-old nephews he has been helping to raise. And according to Johnson, "The rest is history!"
These two are leading by example by showing that making a solid connection as friends first is not only crucially important, but it's also a highly successful and great way to feel out another person before making any type of strong commitment, emotionally or physically.
Soon enough, social media convos led to late night FaceTime chats, and Johnson added:
"We spent almost three months without even seeing each other, just building a strong foundation on the phone and through FaceTime; it was really built on friendship and communication."
In true pop star fashion, their first date wasn't regular degular. Last July, the pair went of their first real date to a wedding in the Dominican Republic! That is when Johnson decided to really shoot his shot and revved it up to the next level. "I told her, 'I've been looking. I don't want to look anymore. I'm done. My search is over,'" Johnson recalled. There, they shared their first kiss and officially became a couple. Can anyone say first date goals?!
But Williams knew she wanted to continue to do things differently this time around, especially after all the bad luck and bad decisions she previously made in her dating life. Williams opened up by saying:

"I didn't even tell any people I was talking to Chad. I wanted to treat this relationship differently because obviously all my past relationships have failed. I didn't want to talk about another relationship that possibly wasn't gonna go anywhere."
Ladies, I am taking notes! Are you?
And one of the best parts about this pairing is that despite Williams' super-stardom, Johnson makes her feel comfortable enough to just be herself, even if it's a little ratchet.
"What kept drawing me and drawing me at first was I felt like I could be myself. My first name is Tenitra; my middle name is Michelle. I felt like I could be Tenitra: just ratchet, I didn't have to have on any makeup, if I had to have on my hair bonnet — he just made me feel very safe in being myself."
If I can't wear my satin bonnet and watch a little Atlanta Housewives around you, what are we even doing?
But what some of us want to know about this undercover relationship is did he get the seal of approval from Beyoncé herself? Well, not only have they met, Johnson has also met Kelly Rowland, JAY-Z and even Momma Knowles. Ms Tina has said—in only the way she can say it—via an IG caption posted back in September, "This is my newest favorite couple. They are evenly Yoked. A fine young man. A gorgeous young lady inside and out." Consider Johnson part of the Carter family now, honey.
If you're not crying yet, the story of how he proposed will have you grabbing for the tissues! Like only someone of this generation might concoct, Johnson mixed a little of the old with the new and flew to Rockford, Illinois, Williams' hometown to formally ask for her hand in marriage. He involved her entire family and filmed the entire thing, too! On March 21, a year to the day after they officially began dating, Johnson coyly reminded Williams how she dissed him. The playful banter at a Pebble Beach, California hotel led to the ultimate proposal.

On Johnson's cue, the waiter brought over an iPad to the table, playing the video of Johnson asking her family for permission to propose. Of the moment, Williams ecstatically recalled:
"I started weeping and wailing when I see all these special people! Towards the end of the video, something in my head said, 'Pull yourself together! He's about to propose! Stop all this crying!'"
Just like something out of a fairytale, Johnson got down on one knee and proposed with a 5-carat stunner from L.A. jeweler Denis Mahgerefteh. According to People, the ring was special not only for its beauty and its symbolism, but because of what Johnson went through to give it to his bride-to-be.
For 11 years, the pro sports chaplain saved up for the engagement ring. After his 30th birthday, he made a commitment to establish a ring account, and for every month throughout those 11 years, he put $150 away, determined to save for the moment that he made things official with the woman who'd be the love of his life:
"Every month I'd put money into that account; I would just say, 'My wife's coming; this is for my wife.' I did that for 11 years."
Talk about speaking things into existence!
And for those of us still looking for our permanent plus one, the couple reminds us that patience and self-love are the ultimate keys that will manifest that one true love to making their way to us. Williams sums it up by saying, "Don't lose hope in love."

"I do think you should not focus so much that if you're not in love that you get depressed about it. I was in a place where I was like, 'I'm just going to focus on my career and my family and just keep it moving.' I started taking myself out; I started traveling by myself, to the point where I loved being by myself. Just don't lose hope. But definitely be doing what you can do to make yourself a better person for the person that possibly is on the way for the way for you."
Did we just get the secret code to finding our true love? Self-love enhanced by self-care and spirituality, check. Friendship first during the initial stages of dating/getting to know someone, doable. Keeping your relationship on the low AND off of social media while making sure that person is actually going to stick around, got it. Once fully vetted, then bring them around those special people in your life for the final approval, bam!
Congratulations, Michelle and Chad! May your union be blessed with love and laughter!
For the full exclusive with People magazine, click here.
Featured image via Kathy Hutchins / Shutterstock.com
When it comes to taking a leap of faith in love, the sky's the limit. Quinton Morris Jr., 30, and Ashley "AG" Grace, 30, proved that recently when the couple's creative indoor skydiving proposal made its rounds on social media. Thanks to iFly and an untapped bucket list goal, Quinton devised the ultimate master plan to propose to the woman of his dreams and take their love to new heights while doing it.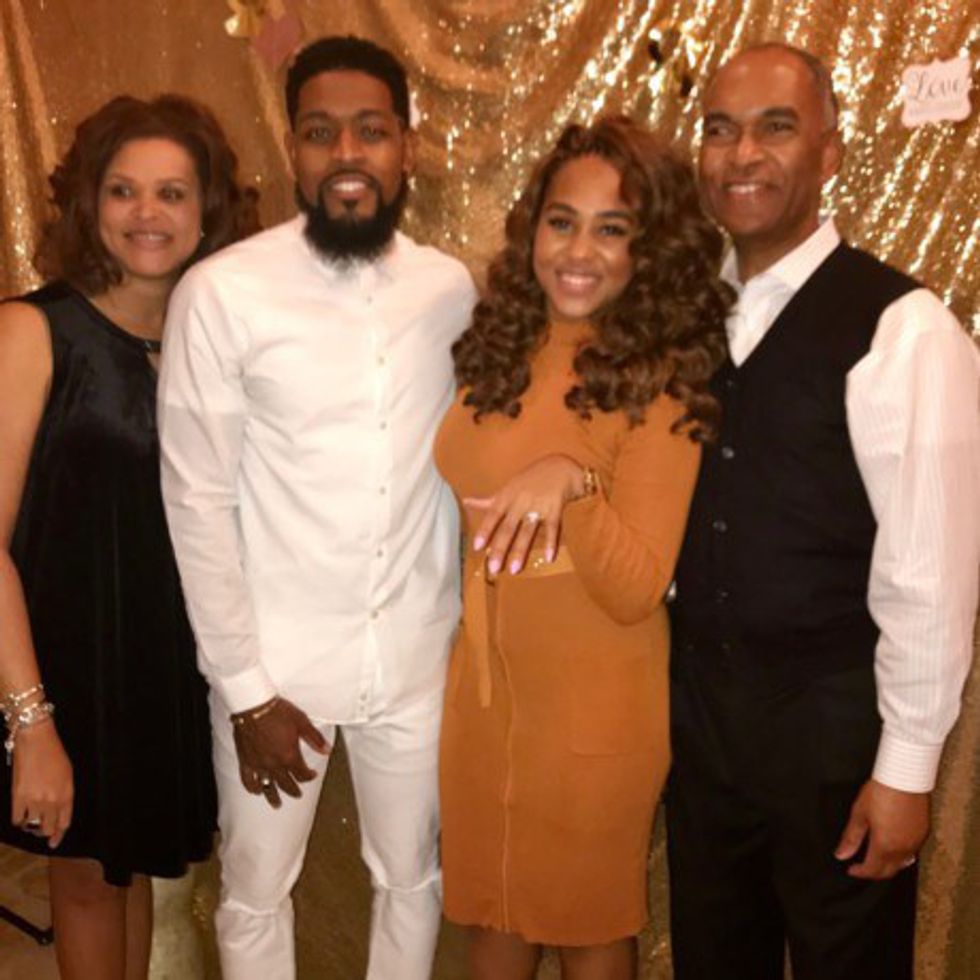 The two's love story began years ago when they attended the same college at Sam Houston State University. But it didn't take flight until this year, when they reconnected via Instagram after playing a game of "a like for a like" on each other's pictures. AG went after what was hers in their game of cat and mouse and slid in his DMs after her girlfriends encouraged her to do so.
From there it was love at first sight, but according to the bride-to-be, love wasn't too far behind for either her or Quinton. And after 10 months together, AG had a slight feeling that a proposal was coming, she just didn't know the how or when.
On the morning of November 18, the couple had breakfast at her favorite brunch restaurant, went to the mall to buy a new outfit for him, and by 3:30, they arrived for their standing appointment to go to iFly. IFly holds sentimental value to AG because it was included on her list of 30 things to do before she turned 30. She missed the opportunity to do it twice before, so Quinton making up for it spoke volumes.
Little did she know, what he would choose to do next would make November 18 one of the most memorable days of her life.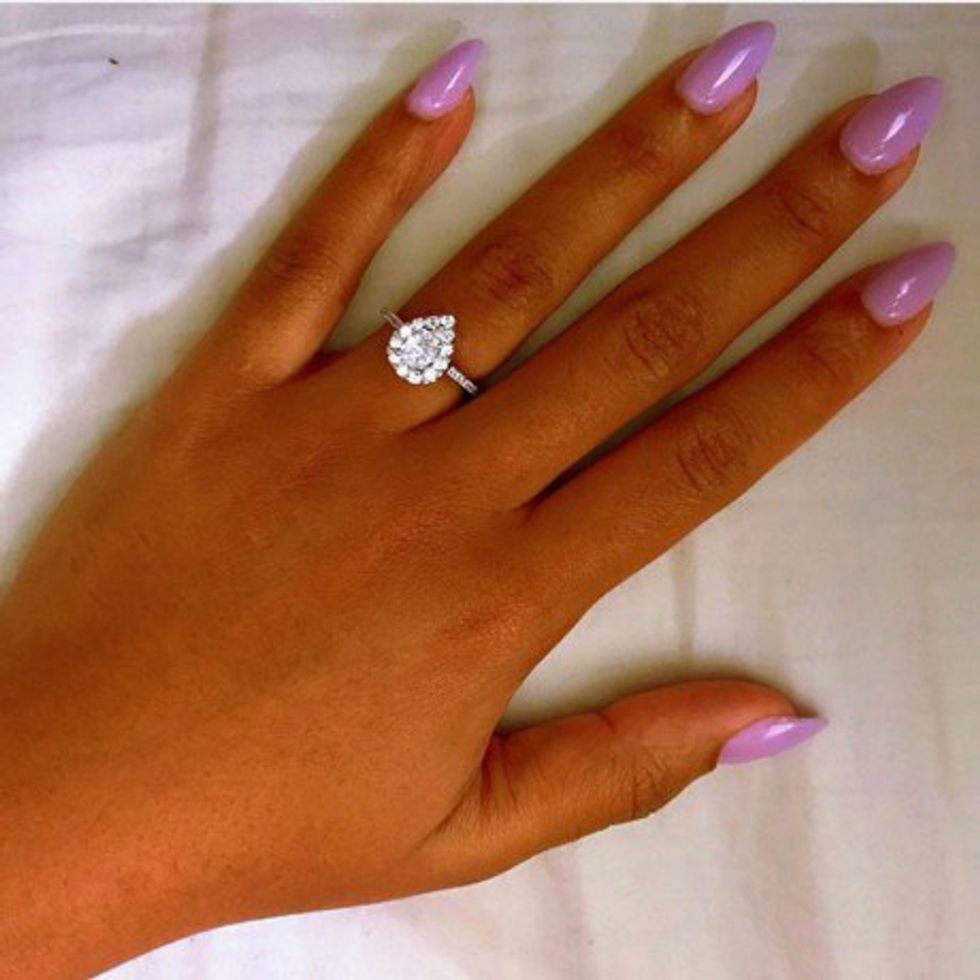 "We began the process of the indoor skydiving experience. We geared up to head into the chamber and the instructor oddly separated us. He had Q go first and me go last. I did think it was strange, but I still followed instructions," she said. "We each took a turn for the first round of the skydiving experience and everything went smoothly. The second round started and again, Q went first. After his turn, he left the chamber. I thought he left to grab his cell phone to record me when it was my turn to skydive."
But Quinton had other plans up his sleeves. While AG was waiting her turn again to skydive, Quinton was setting up her proposal surprise outside of the chamber with her friends, including her best friend who traveled from out of town to be there. As the instructor took her up in the chamber and then back down, she saw all of her friends entering in single file line holding signs that read, "AG Will You Marry Me?"
"I was so overjoyed, I started to kick and mess up my form because I was ready to get down. When my minute was over, I left the chamber and walked to him in awe as everyone watched. I don't remember what he said word for word, it all happened so fast," AG recalled. "I just saw him get down on his knee and open that Helzberg Diamonds ring box that held my dream engagement ring and yelled, 'Yessssss.' It was just awesome."
Afterwards, Quinton took AG to dinner reservations he made for the two of them to celebrate their engagement. They went home to change their clothes and he suggested that they drop by her parents' house to share the videos and photos that were captured during the proposal with her parents and her son. "As we turned on my parents' street, I see tons of cars. Q had also thrown me a surprise engagement party with all of our family and friends. The best day ever! I've never had someone so loving and thoughtful as him."
What's next for the newly engaged couple?
"Wedding! We are in the early stages of planning a wedding, setting a date, choosing a venue, and choosing family and friends to be a part of our big day."
Congrats AG and Q!
This is Samuel and Thaina's love story, as told to Sheriden Chanel
Love and magic are intrinsically connected. We stand more boldly within that the more we find it and the more we see others find it. It's why we gravitate towards love stories, it gives us hope, and something to believe in. We see others get it right and hope that maybe one day we'll get it right too.
Samuel Blot, 29, and Thaina Madere, 28, felt nothing short of magic upon meeting each other. In fact, their union was quite serendipitous. The planets and the sun and stars were lining up to make sure everything in the world was right when they met each other time and time again: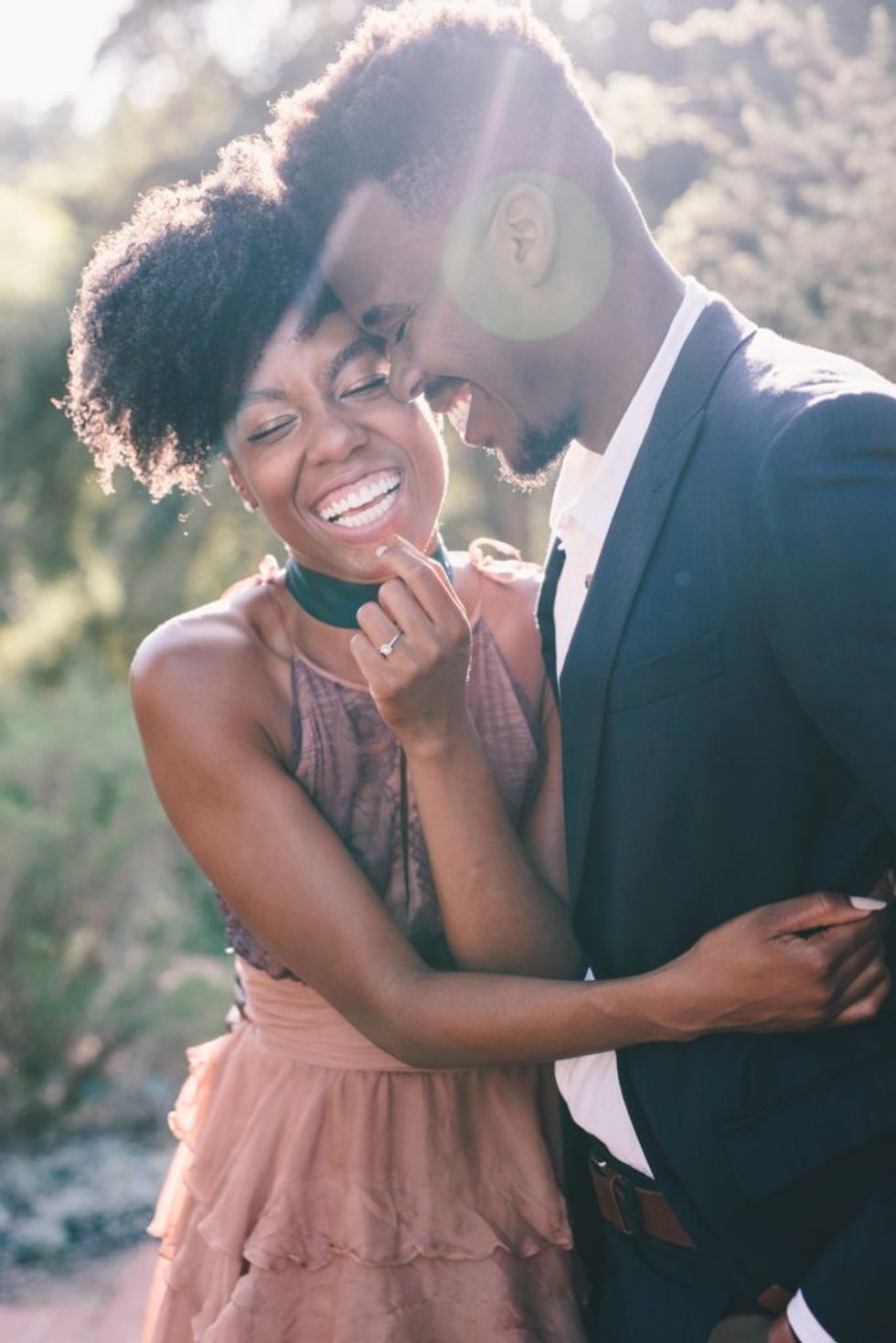 "We worked together, went to rival high schools, ended up at the same university and even had class together but I never knew her until it was the right time," Samuel recalls of his betrothed, "It wasn't until I saw her writing during a creative writing class that I started crushing on her. I started 'showing up' in the places where she would study and over time like… grew into love."
For Thaina, she insists that it was not at all love at first sight and she admits to never really noticing him until they were both creative writing majors at La Sierra University. They were strangers up until they became friends when she realized they kept running into each other, and Samuel began his crush. Over time, the two fell in love, rose in love, and grew in love together.
But, after a brief intermission for the couple that led to their untimely breakup, Samuel had time to think and realize the true value of the woman he loved.
"I knew that forever was what I wanted to be for her, and I knew I couldn't settle for anything less. It wasn't instant, but I won her back – and I've felt like I won the lottery every day since."
He was determined to get that old thing back by evolving into the kind of man he knew she needed and deserved. He come correct in courting Thaina for a second time. And, he loved it so much, he had to put a ring on it!
Read on for more about his personal journey to their proposal, which also included rewriting bad memories and forging new ones for his bride-to-be. #blacklovematters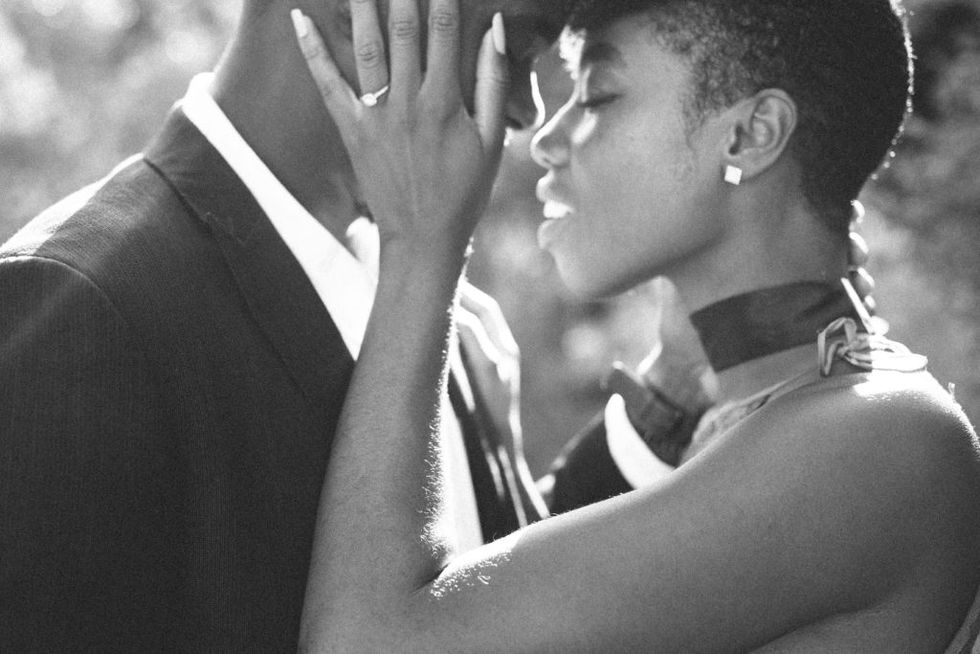 Reunited & It Feels So Good
Nine months after our breakup, I pursued her again. I had become best friends with someone who I could no longer call mine. It was tough and I kept telling myself that Thai deserved better than who I was. Then it happened, God told me it was true! She did deserve better than who I was; but God also told me that I didn't have to settle for who I was either. I could be better. I could be better for her. I knew I wouldn't and couldn't force her to be with me so I bided my time, fasted, prayed, worked on improving and discovering myself, came up with a plan (I'm a planner), and came to her correct.
When I thought of our life together I knew that I had the feelings of love, but I didn't have that level of commitment to cement the "love" I knew. When deciding that she was "the one" I looked at what love was and felt discouraged that I didn't have everything. Then I realized it was a decision to intentionally "be" everything that love is. Patient. Kind. Long suffering. Wise. Strong in prayer. The moment I asked myself if this woman was the one I was willing to be a complete picture of love for, I knew I had to risk everything to be one with her.
I knew that forever was what I wanted to be for her, and I knew I couldn't settle for anything less. It wasn't instant, but I won her back – and I've felt like I won the lottery every day since.

The Proposal
I knew I wanted to marry Thaina but the "how" evaded me. All I knew was that I didn't want to half have her anymore so on September 17, 2016, I'd ask her to be my Queen forever. The day came and I had all the details planned out. I contacted a photographer friend to do a photoshoot with her in a "garden setting". What she didn't know is that I would be hiding around the bend with her family and friends waiting to surprise her. I ducked away from the shoot and went to change into my suit. I sent her friends out a few at a time and after her friends all came out, her family followed along with a violinist playing the song "Thinking Out Loud" by Ed Sheeran.
I chose this song because we had broken up around the time the song originally came out. She loved the song when it first played but it was attached to bad memories so from then, even though we had been together for months at this point, she still didn't like the song. I knew that I didn't just want to create new memories, I wanted to re-forge old ones if I could. After her family came out, it was time. I had a long speech prepared, but when I saw her standing there in all her beauty I only had one thing to say:
"Will you marry me?"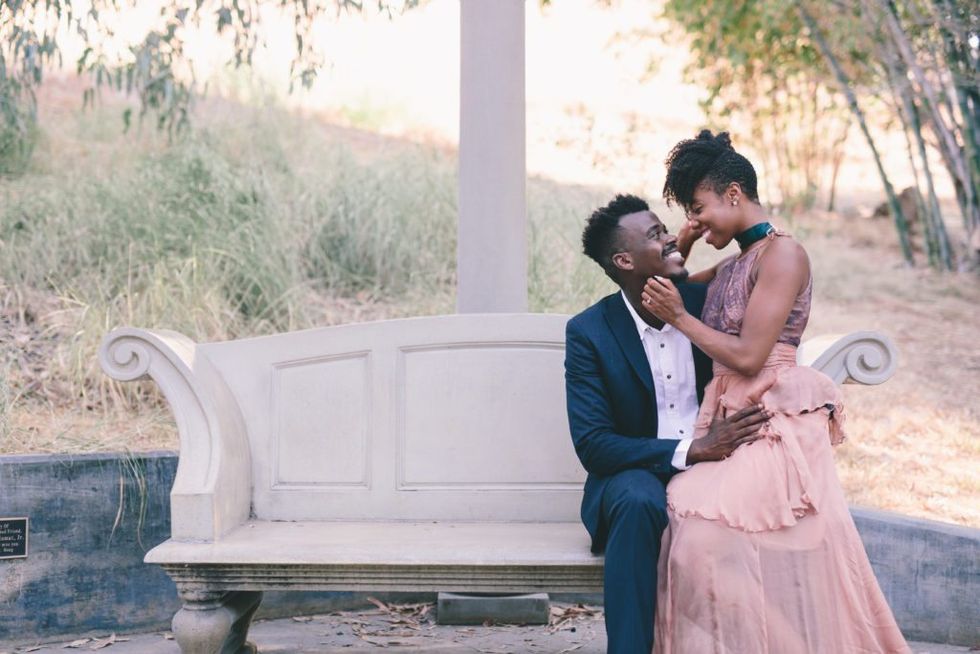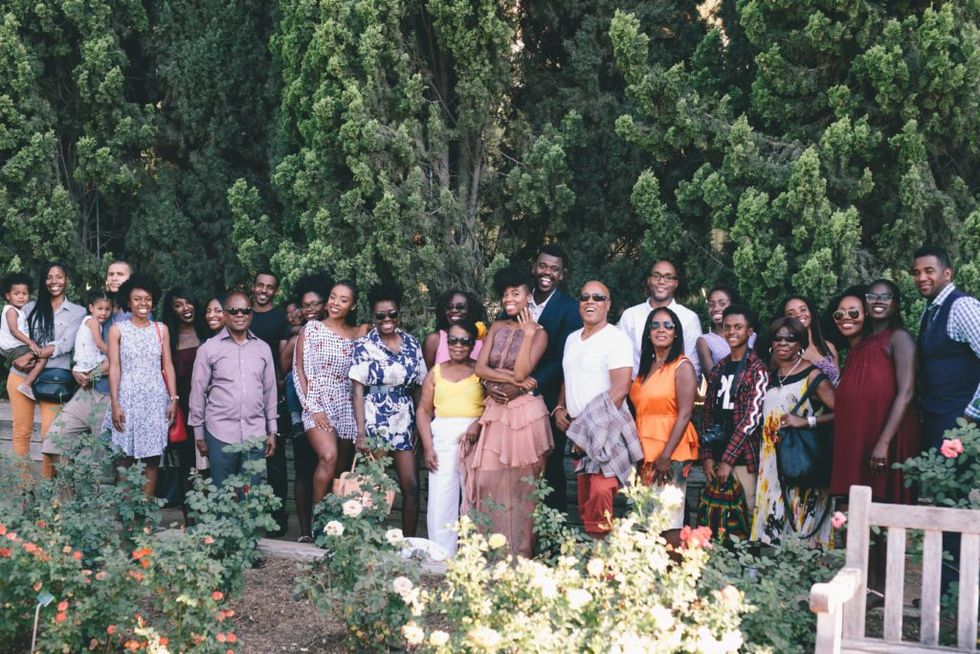 Follow the newly-engaged couple via @thainamadere and @samuelblot on Instagram. Find the original engagement post here.

All images provided by Samuel Blot and Thaina Madere
How do you celebrate your anniversaries? While something small and intimate may be the way to go for some of us, some xoCouples plan extravagant getaways overseas and others --they celebrate their relationships by taking things a step further. It was a lowkey weekend for Brianna and Lamar, a couple celebrating their two-year anniversary in Ocean City, New Jersey. The pair headed to the beach to try parasailing for the first time with three other couples and two friends. Amid the excitement of trying something new, Brianna was in for a bigger surprise when her then-boyfriend decided it was best to propose to her hundreds of feet in the air.
Imagine the adrenaline rush that overcomes you when your partner proposes, but then drops your engagement ring into the ocean seconds later. Welp! "On the weekend of our two-year anniversary, he planned for us to go parasailing. That Saturday, July 25, we headed towards the beach and all seemed normal. We checked in and boarded the boat with excitement. There were three other couples, two friends and us aboard. We watched as three couples went and then it was our turn. It was an adrenaline rush, but once we were settled in the air things were calm and relaxing," Brianna recalls. "My now-fiancé starts fidgeting around and so cautiously I tell him to keep his hands on the strap. He didn't listen. He asks me to extend my hand and then proposes to me.
"I'm totally in shock, and excited. I said, 'yes'! As he tries to place the ring on my finger, he misses and it drops from his hand into the ocean. My heart dropped. I'm panicking and he's in disbelief. The other couples saw and were totally embarrassed for us."
In a state of shock, Brianna tells the story of keeping it cute while internalizing her shame upon arriving back on the boat with the couples who witnessed the embarrassing moment. "When we got back to the boat, I made no eye contact and headed for my seat. Before I could turn around I hear him say, 'Now here is the real proposal.' He pulls out the REAL ring, gets down on one knee and asks for my hand in marriage. Even with all he put me through, ecstatically I said, 'yes'! He's always had a natural flare for the dramatic!"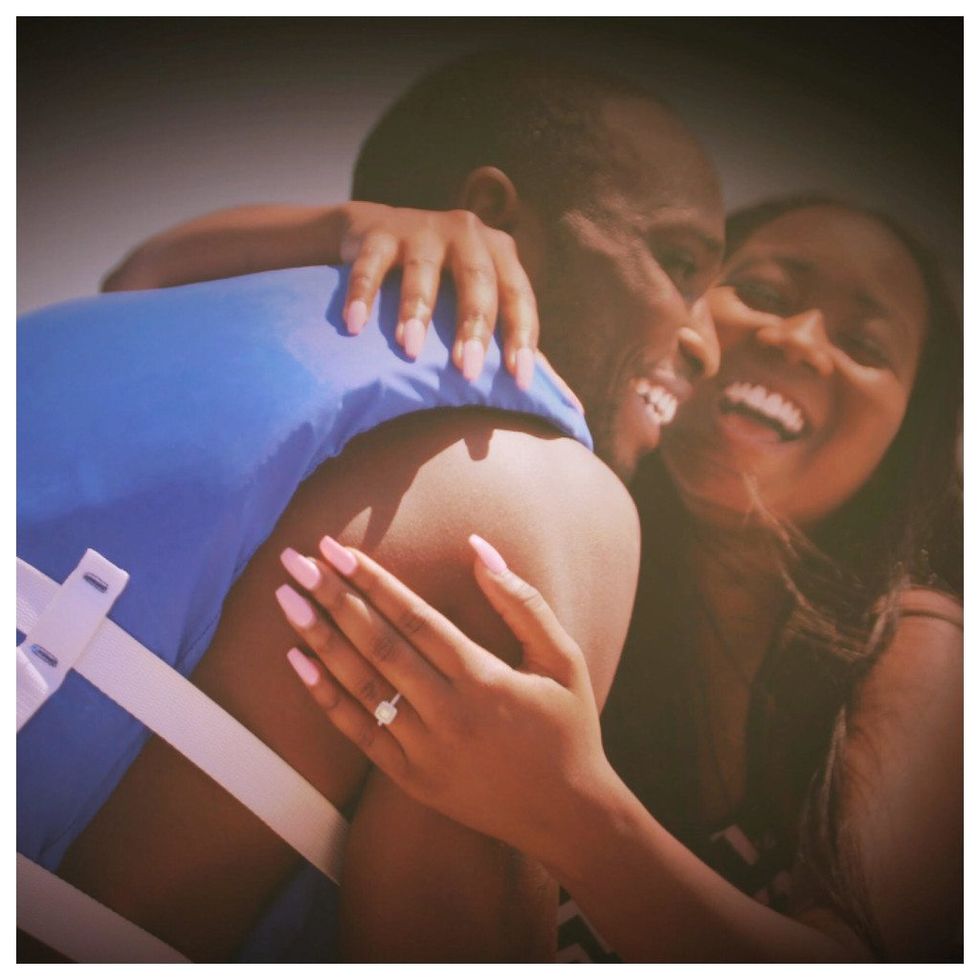 Two years, two yes's, and an anticipated wedding date on October, 15, 2016, this is the story of Brianna and Lamar's engagement and why she said yes!
Give us a glimpse of your relationship with Lamar after two years of dating.
Brianna: We see ourselves as privileged and blessed to have crossed paths. We've made such an impact in each other's lives just within these two years. We relate so well with one another, despite our two totally different personality types. I am analytical and observative, while he is more spontaneous and charismatic. Although we are different in that aspect, we both had humbling beginnings which is in part, the reason why we are so genuinely humbled and appreciative of the love we have for one another. We are literally the best of friends. We try to spend as much time with each other as possible because we thoroughly enjoy one another's company.
What were your thoughts for the weekend of your anniversary? Did you have any particular expectations?
Brianna: I had honestly given up on expectations shortly after I made a complete fool of myself when I thought he would have proposed to me on my birthday just a few months earlier. I am not big on celebrating my birthday and he knows this, but he planned a beautiful dinner, bought us tickets to see The Lion King on Broadway, and he bought and laid out an expensive outfit to wear on this "special" night. It all seemed like the perfect set and timing for him to pop the big question. I was positively sure that he was going to do it right then and there, but he didn't. After my internal pity party, I realized that I had selfishly created my own idea for his proposal and had unnecessarily disappointed myself. How did I even know if he was ready? I didn't. I was just trying to live out a movie screen fantasy and it backfired. After I let myself down, I let go of all expectations on being engaged in the near future.
When did you know Brianna was the woman you wanted to spend the rest of your life with?
Lamar: When she came into my life I was in a place that many people may relate to at one point and time in their life. Relationships seemed to be so redundant and disappointing. She taught me never to give up on love and showed me the true power and meaning behind it. She shined the light where there was darkness.
A lot of relationships begin with infatuation. Whether it's about physical appearances or just the thrill of unveiling someone else's mystery. I admit that I had been infatuated with her in the beginning, but throughout our relationship, she continues to captivate me. Her mystery can not be solved. She is perplex, yet intriguing, and suspenseful. You will never know or understand her on the surface if you do not follow and pursue her to a deeper level. Every day feels like a new chapter in her mystery.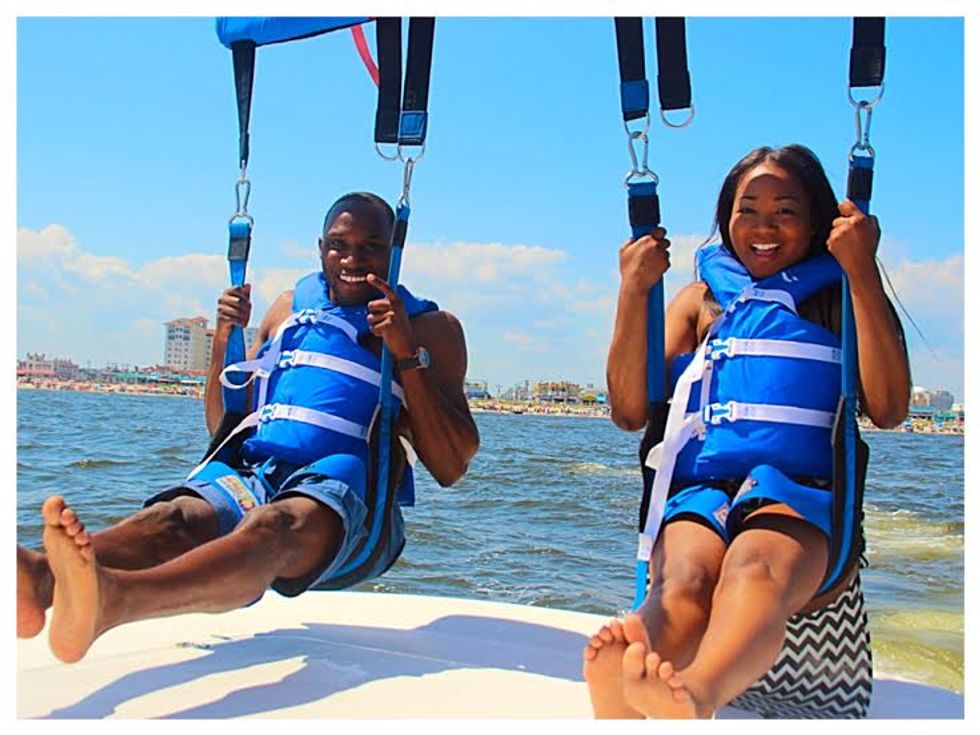 Have you two discussed marriage prior to the engagement?
Brianna: Marriage was always in the plan. I was raised as a Christian, and even though my beliefs have shifted over the years, marriage has always been the goal for me in a relationship. He actually approached me with this discussion one day. You can't make a man want to marry you/spend the rest of their life with you. This can't be forced, so I was very thrilled and delighted once he decided to initiate the conversation.
Lamar: I firmly believe in marriage also. Happy wife, happy life. I want her to be happy and feel secure in our relationship, and it makes me happy to know I'll be spending the rest of my life with the woman I love. In my perspective, marriage is beautiful. She's the only woman I see/want to see myself growing old with.
The two-in-one proposal was genius. Where did you come up with the idea of a failed proposal and switching it up to the real thing the second time around?
Lamar: I initially browsed the internet for ideas to propose, but every concept seemed similar in nature and approach. I have never been the type of person that likes to do what's typically expected. I am one for a good prank, but I also looked for substance as well. I wanted my proposal to be a representation of our infinite union, whether we have good days or bad ones. The importance lies in us remaining beside each other.
What were your thoughts after the fake proposal, but before the real deal?
Brianna: TERROR and embarrassment, were my emotions. "Oh sh*t" was the running thought in my head. I also found myself very frustrated with him, because I couldn't figure out why he would try to put a ring on my finger while we were dangling 1,000 feet over the ocean. Although, outwardly I displayed a great deal of concern for him. I was sure he had to feel slightly worse than I did. In a caring tone, I assured him that everything was ok, that we can wait for another ring, and that regardless of this small loss, we were still engaged to be married!
Even the boat's captain chimed in saying "Hey, all that matters is the answer, right?", which eased little, but not all of the tension.
Lamar: I wanted to make this moment memorable for her, while incorporating a little bit of my character as well. I thought it was funny. I was going to keep the momentum going, but once we were back to the boat, it was painfully silent and there was just this look of pity in everyone's faces. I thought to myself, I really must have done an excellent job with my presentation. I would have dragged it out, but I know my fiancé would have went from her concerned, yet calm and cool nature, to flipping out as soon as we got back to the car after she's had the chance to think about it.
You mentioned your fiancé has a natural flare for dramatics. What are some things that interested you about him?
Brianna: The first time Lamar invited me out, my friends and I met up with his friends at a local club/lounge. Him and I worked at the same company, so pretty much what I had observed from his business demeanor at the workplace was that he was a businessman, a leader, and a little on the serious side. I didn't quite take him as the adventurous type at first. When I stepped foot into the club, I noticed him–in the middle of the dance floor, with two beers in hand, tipsy and wild'n out of control. His two-sidedness intrigued me.
Lamar is gravitating. He's playful and animated, but strikingly, very well-rounded. He's as interesting as the Dos Equis man and as smooth as the Trivago guy. My fiancé knows how to move in a room, whether among friends or business acquaintances. He has plenty of friends who love and support him, as he does the same. He is also a very social and extroverted person who makes for fun times and adventure with practically anyone. I'd say, he's the perfect mixture of a good guy and a total asshole. This keeps things very exciting between us.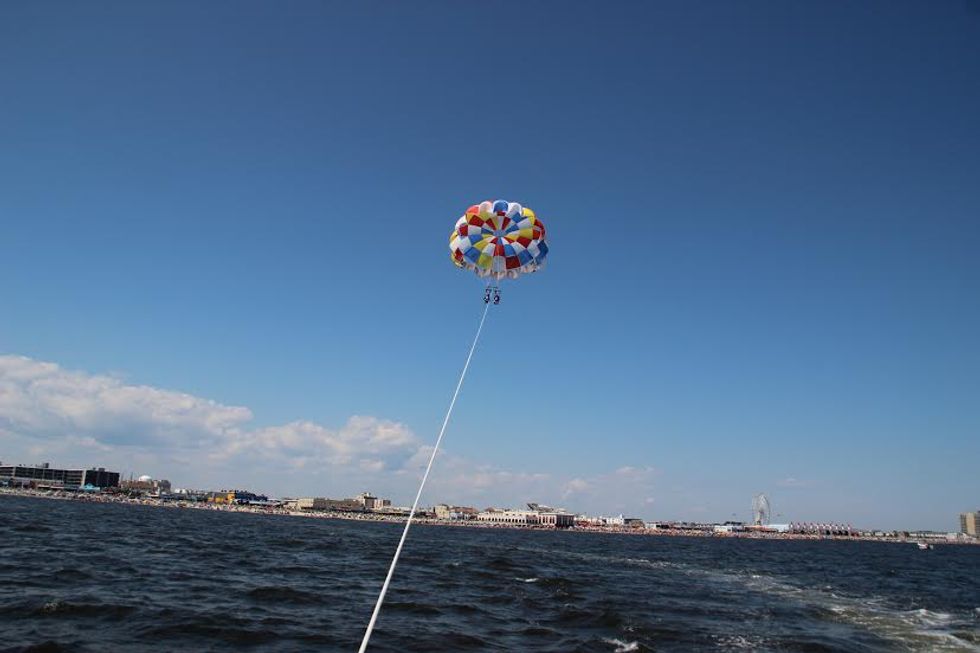 What are you two looking forward to in your marriage?
Longevity, appreciation, support, loyalty, adventure, passion, building a future together, continuing to grow, making memories, and having a real bond that lasts over time.
Do you have an amazing proposal story that you would like to share? Contact us at editor@xonecole.com, Subject 'Proposal Story.' Include photos and video (if possible)!
Read more amazing proposal stories in our She Said Yes! section!