In a move that makes us so happy, the ever-so-stunning Ryan Destiny has been making her rounds lately, showing off her subtle but enamoring vibe in recent appearances with Vogue, HelloBeautiful, and even Doja Cat's new "Need to Know" music video. The former Star actress and singer also took a moment to join Harper Baazar for their 'Go to Bed With Me' segment, a video series where various celebs show off their nighttime skincare routines.
This appearance was our absolute fave because to see her demonstrating how to maintain her beautifully radiant skin is something we all want to know, right?! Right. So, sis...we gotchu just in time for summer!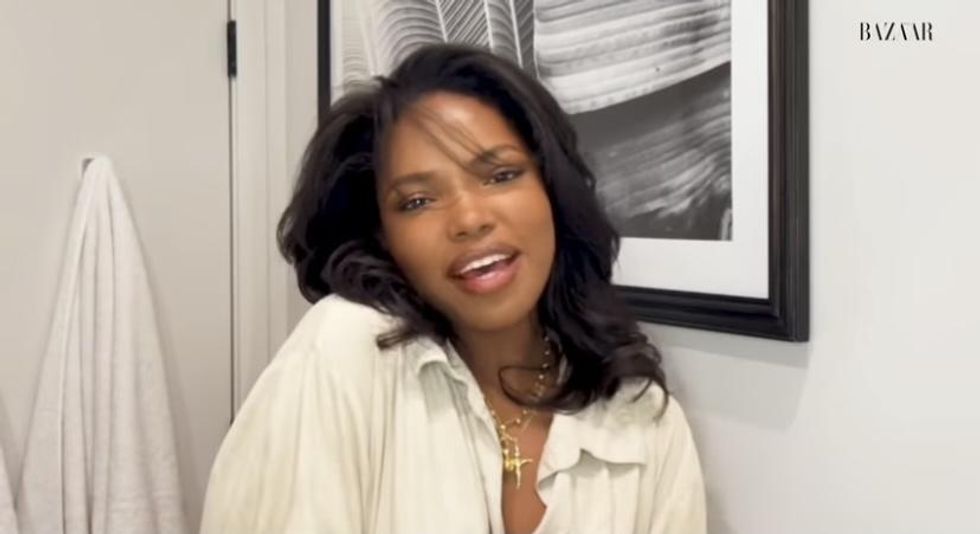 ​Harper's Bazaar/YouTube
Rocking a blow-out for the gawds, after a cute intro, Ryan opens with this one simple, but loud, tip:
"Wash your hands. Wash your hands before you start anything."
She then proceeds to use the La Mer Cleansing oil and thoroughly massages the product all over her face and neck. Get in there good ladies, this step is important!
"Rub it all over my face, get down on my neck. And once I feel that it's all broken down, I am going to rinse."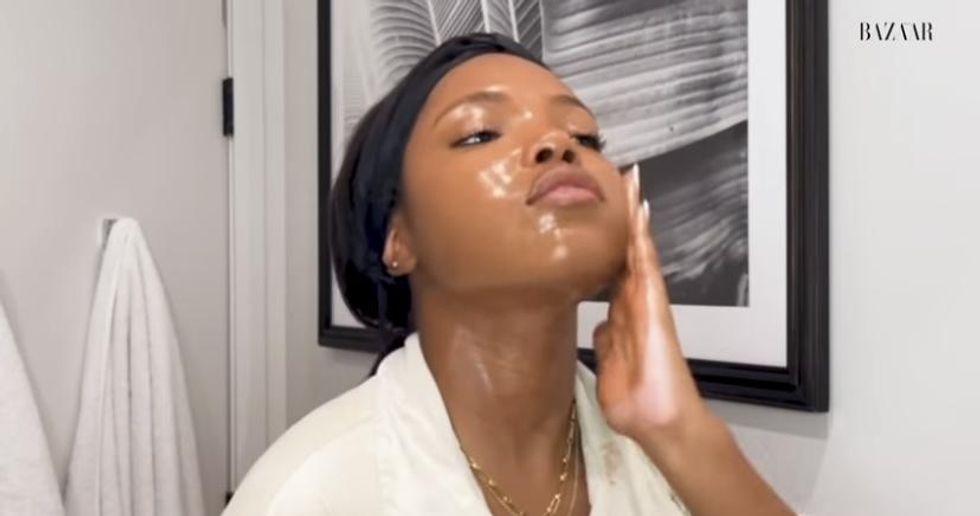 Harper's Bazaar/YouTube
Next up, Ryan focuses on a problem area that many of us have: hyperpigmentation. To combat this, she uses the Black Opal Blemish Control Bar, a brand she has used since she was 16 years old. She is also the face of the brand, which is Black woman-owned.
"What's really really great for the hyperpigmentation that I sort of have a lot of right now, is the . It's like extra, extra important to me to take of all of the makeup before you go to bed. It just makes such a difference. It's the worst when you go to sleep with your makeup still on, and you just know it just sets you back like a whole week."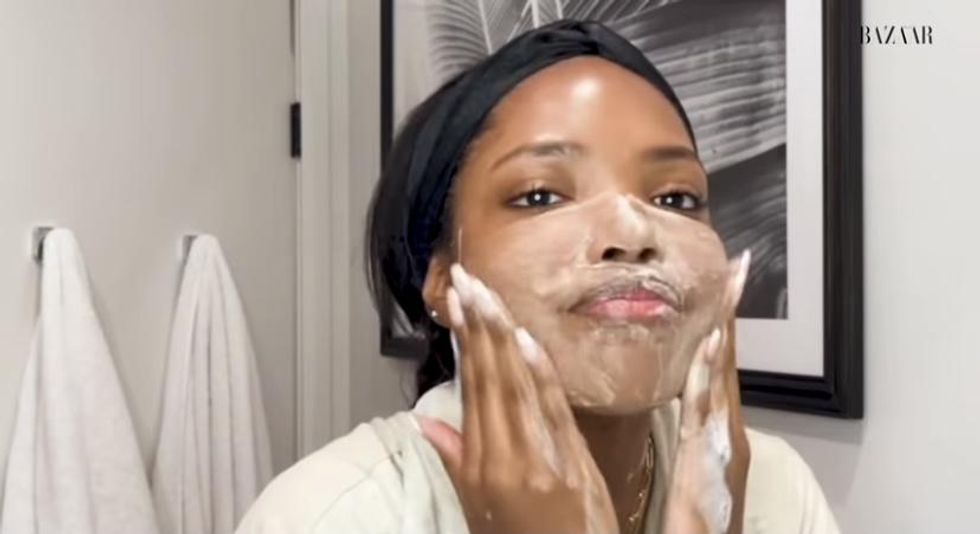 Harper's Bazaar/YouTube
Destiny then moves on to hydrating her lips with the Black Opal Lip Oil.
"I kinda sorta sorta kinda kinda have chapped lips. But not anymore becuase I did a lot of trial and error, and I found something that works for me. It works with my makeup as well. It nourishes and hydrates my lips, it's not there to just look pretty, you know."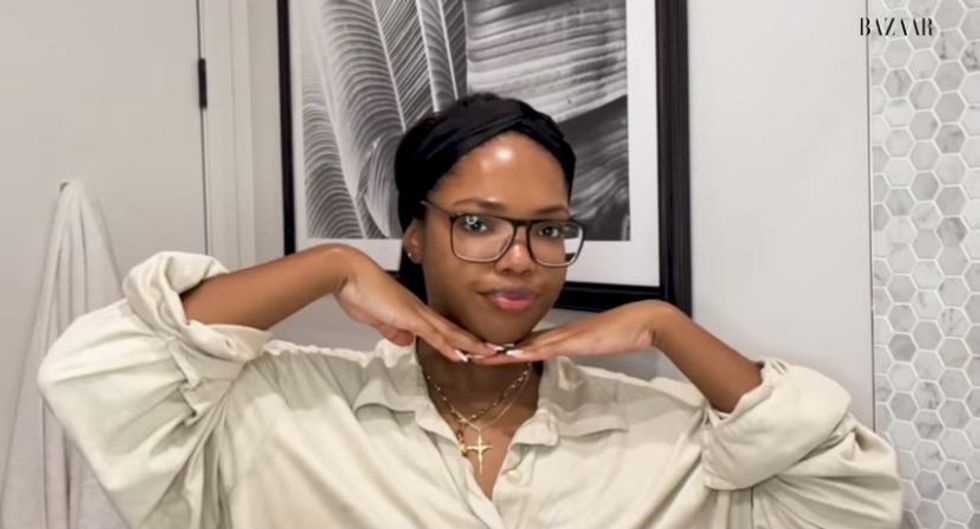 Harper's Bazaar/YouTube
As a final step, she moves on to her serums for pigmented skin and dark spots. Here she uses the CosMedix Clarity Serum and Black Opal Brightening and Plumping Serum.
"This is also really great for prepping your makeup. I use this serum right before I start doing my makeup. It like, glides right on and helps my makeup look better and apply on my skin better."
We stan a simple but effective routine, sis!
Watch the full video below:
Are you a member of our insiders squad? Join us in the xoTribe Members Community today!

Featured image by Bennett Raglin/Getty Images for BET
Marriage is a subject in our society that has followed women everywhere since the beginning of time. We can't even be out here living our best lives because someone, somewhere, is going to ask about it. And for single, accomplished women everywhere, the subject of marriage usually never goes away.
I think back to a tweet from Necole Kane that had me snapping with the stank face all night:
Are you a member of our insiders squad? Join us in the xoTribe Members Community today!

Featured image by WireImage via Getty Images
How We Met is a series where xoNecole talks about love and relationships with real-life couples. We learn how they met, how like turned into love, and how they make their love work.
When the pandemic hit, it really changed the way we connected with one another. While yes, social media has always been around, it has never been relied on as much as it is now. Especially within the last year. Social media became instrumental in building relationships as it continues to be a main source in making new friends, business partners, and, of course love interests. I mean, when it comes to love interests we are all familiar with the swipe left, swipe right, and the DM slide. But it is much more special when social media is actually the motivator for you to fly out and meet the woman of your dreams, who lives almost 1,000 miles away.
A simple scroll and a nice charming smile is what caught Andrea Fernandes' eye to really see what Jibre Hordges was all about. The 25- and 27-year-old were able to connect and after a couple of weeks of text messages and phone calls, the now-couple decided that distance or a pandemic was not going to hold them back. Andrea mentions, "I felt like time flew by when we were together. When we met in-person, we were able to talk for hours and hours."
The couple made it official in June 2020. Since their initial meeting online, Andrea and Jibre have been positive influences in each other's lives. They have been complementing each other's strengths and challenging each other's areas of improvement. They support each other through their own individual journeys of growth and never losing sight of faith. While Andrea and Jibre are still in a long-distance relationship, they are dedicated to spending that quality time together. For these two, they are only one call and a flight away.
In this installment of xoNecole's How We Met, the publicist and actor shares how their love continues to grow by honest communication, speaking each other's love languages, and keeping God as a shared value.
How We Met
Andrea: I was scrolling through Instagram one day and I came across Jibre's page. I saw that one of my friends followed him too. So I sent his photo to my friend and asked, "Who is this man?" (laughs) I will say that if it wasn't for my friend also following him, I probably wouldn't have tried to connect with him. After some time, I decided to reply to one of his IG stories. This is something I have never done to a guy, I honestly don't know. But I liked his teeth, so I decided to give it a shot (laughs).
Jibre: After our mutual friend told Andrea who I was, we started following each other. We followed each other for about two weeks before we even said anything to each other. I lowkey had my eye on her, but it's all about timing. Since she reached out to me when I was already planning to reach out to her, I thought, Say less, let's do it (laughs). When we started following each other, I already noticed that she stayed in New York. But I work for an airline. So I was willing to fly out to see her, no problem. We talked for a couple weeks before we decided to finally meet in-person. We worked with each other's schedules and I flew out to see her.
"When we started following each other, I already noticed that she stayed in New York. But I work for an airline. So I was willing to fly out to see her, no problem. We talked for a couple weeks before we decided to finally meet in-person. We worked with each other's schedules and I flew out to see her."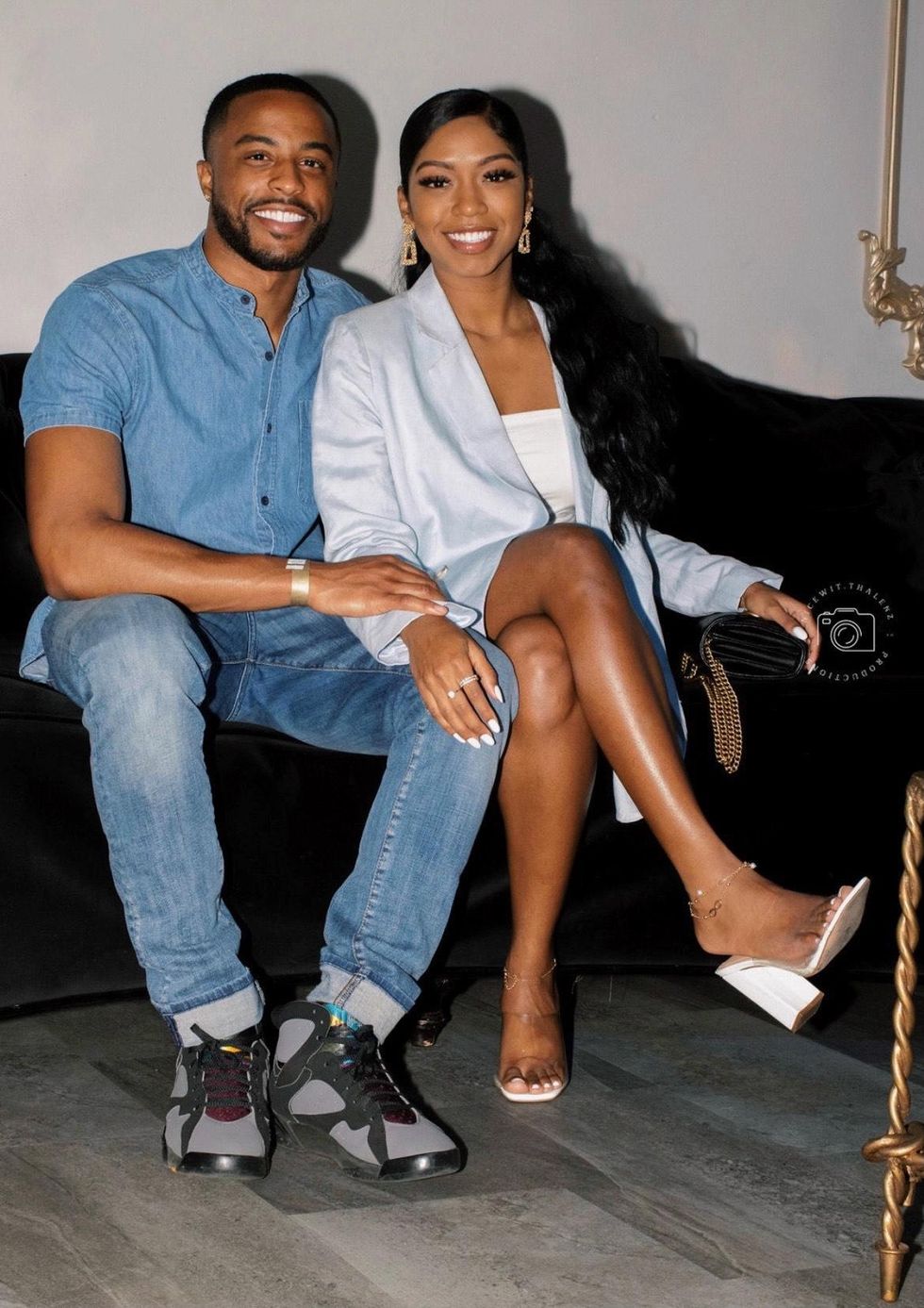 Courtesy of Andrea Fernandes
First Impressions
Jibre: From talking those few weeks, I already knew that I liked her. But when I met her in-person, I immediately thought she was beautiful. We talked to each other for hours and just picked each other's brain. Her brain is definitely a reflection of her beauty.
Andrea: I thought he was very nice. Overall, he exceeded my expectations. I felt like time just flew by when we were together. We actually had dinner reservations that night, but ended up skipping it because we continued to just talk and get to know each other more. The chemistry between us was there from the start.
Courtship
Jibre: So after we met, I flew out a couple of more times to hang out with her. But after the second time we hung out, Andrea was honestly a little skeptical about moving forward with us. Initially, I was down for it. I was thinking about her all the time. I was calling her, texting her, and telling my friends about her. But she was trying to ghost me the whole time (laughs).
Andrea: I know I am in the hot seat now (laughs). But yes, I was definitely second-guessing myself. I felt that I was moving kind of fast with him and it honestly scared me. I was coming into the year where I was focusing on myself and self-love. So even though I did like him, I thought maybe I like him a little too much (laughs). So I tried to distance myself from him. My thinking behind it was, I would rather save myself now before I fall too deep and there's no turning back. But it wasn't until one day I was with my mom and she saw me ignoring his calls. She was the one who told me to answer and I listened (laughs).
Jibre: I didn't know that was how she felt. It really caught me by surprise because I thought things were going well. But thankfully, I was persistent.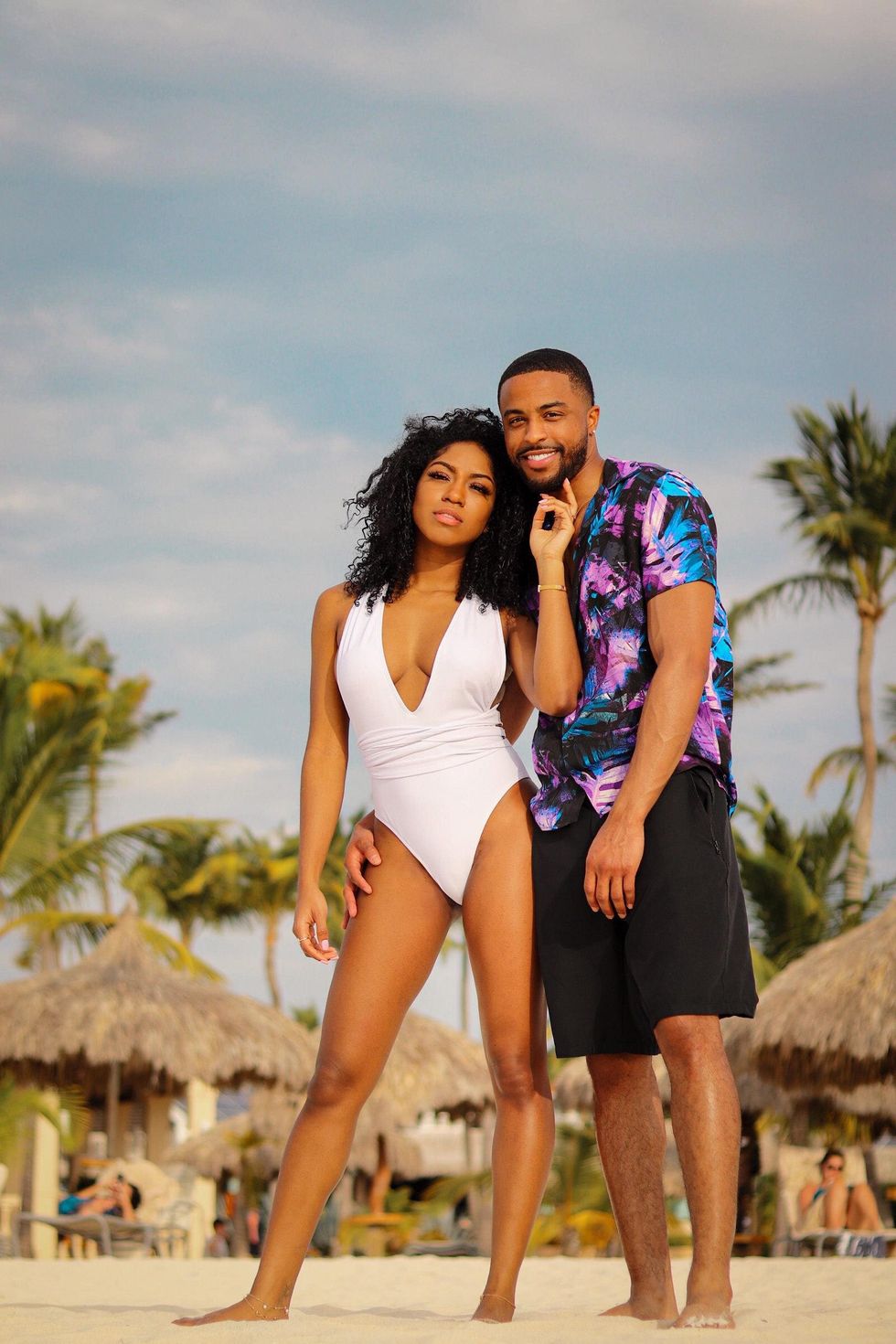 Courtesy of Andrea Fernandes
Making Things Official
Andrea: So a month later, I invited him on a group trip with my friends. That was when I could picture myself being with him. The way he put in the effort to actually make it to the trip meant a lot. It was a little challenging, but he was dedicated to making it happen. My friends also loved him, so that was a plus (smiles).
Jibre: It was around the same time for me too. When we met, she mentioned that she mainly focuses on herself and self-love. So when I started seeing changes where she was including me in her life, it made me feel like she was choosing me to stick around. At first, I was thinking about making things official on Valentine's Day. But even though it didn't happen right then, the weekend with her friends was a huge weekend for the both of us.
The "L" Word
Jibre: We were having a lot of difficulties starting out. For one thing, I am a Gemini and she is a Taurus. And if you know about astrology, Tauruses can be some tough cookies. I was getting that stubborn side of her and we clashed a lot. Some people would agree that when you keep clashing, it's easier to walk away. But as time went on, any time I felt I wanted to walk away, I just couldn't. My heart would keep telling me to stay and make it work. It had been years since I had been in love. So I knew this had to be real love because I didn't want to be with anyone else.
Andrea: We did conflict quite a bit in the beginning. I always told him that we would clash over our differences and our similarities. It was tough. I am usually the person that can walk away from things easily, but I couldn't with him. So I knew it was different. My heart was truly in this and he was honestly everything I ever wanted. There's this song that says, "I would rather have bad times with you than good times with someone else." It's so true with him and I just love him.
"I am usually the person that can walk away from things easily, but I couldn't with him. So I knew it was different. My heart was truly in this and he was honestly everything I ever wanted. There's this song that says, 'I would rather have bad times with you than good times with someone else.' It's so true with him and I just love him."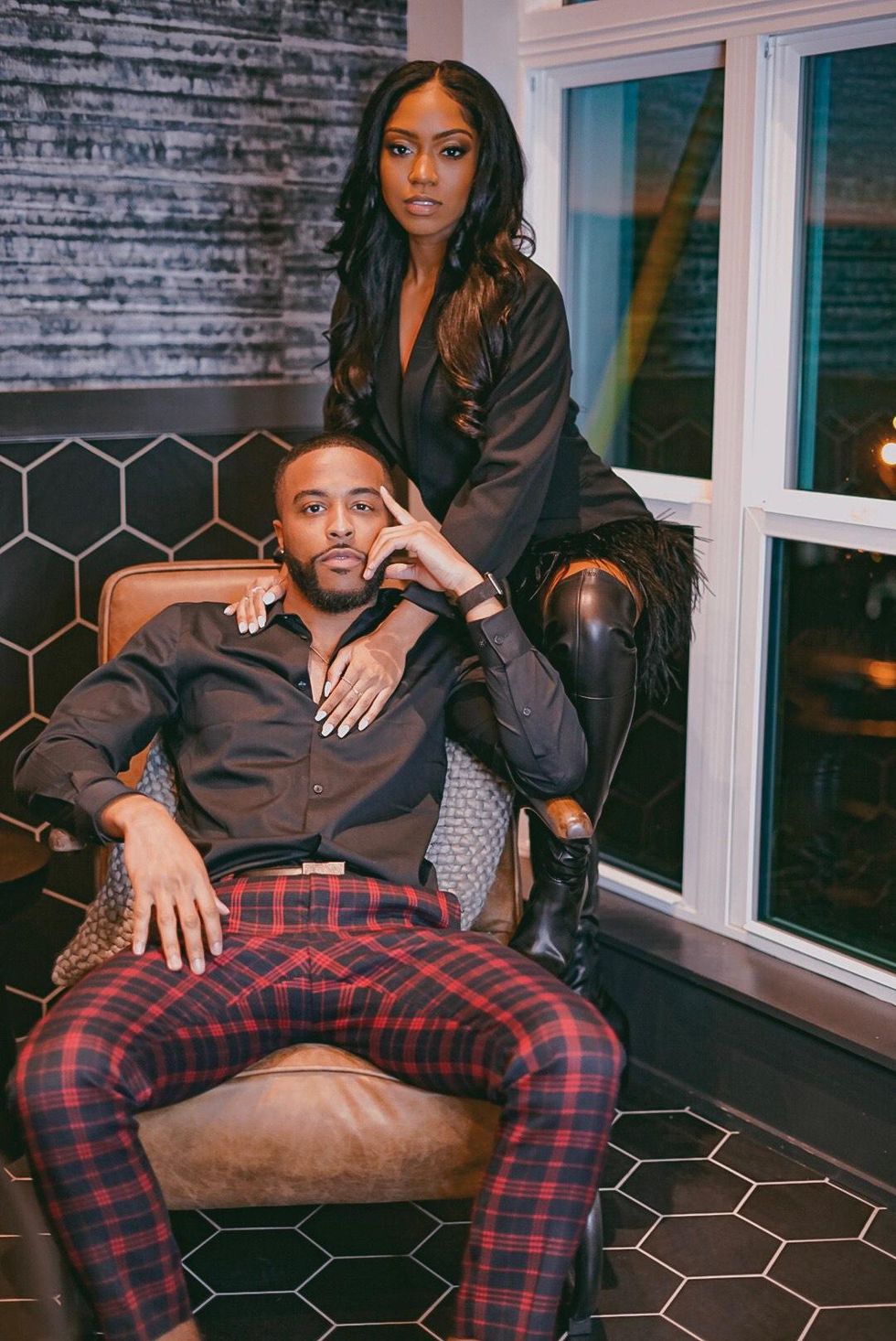 Courtesy of Andrea Fernandes
Favorite Things
Andrea: My favorite thing about him is also the main thing I complain about the most (laughs). Jibre is kind of a neat freak. I jokingly make fun of him all the time for it. But his organization actually pushes me to be more organized in my life. So I don't think he knows how much of a positive influence that has been for me.
Jibre: My favorite thing about Andrea is that she genuinely wants me to be a better person. She is willing to tell me the things that other people won't tell me. Like the things that I don't want to hear, but I need to hear. I can really appreciate that because it just means she wants me to be the best version of myself.
Early Challenges
Andrea: I grew up an only child. So I was always focused on myself, even if I was in a relationship. When Jibre and I got together, I struggled a little with providing what he needed from me. I am a huge advocate for self-love. But I am learning now that I can balance loving myself and prioritizing him as well in my life. Jibre and I worked together on what I could do more of to show that I am still considering him, while I still work towards my personal goals.
Jibre: In conflict, I have noticed that when I get angry or emotional, I tend to just react and not think things through. I have learned that sometimes in a relationship, you have to look at yourself and give yourself grace. You have to know yourself enough to be honest and hold yourself accountable when you may be wrong. We have strengths and weaknesses. So learning what your weaknesses are and then working on them, is a good way that has helped us be better together as a couple.
"We have strengths and weaknesses. So learning what your weaknesses are and then working on them, is a good way that has helped us be better together as a couple."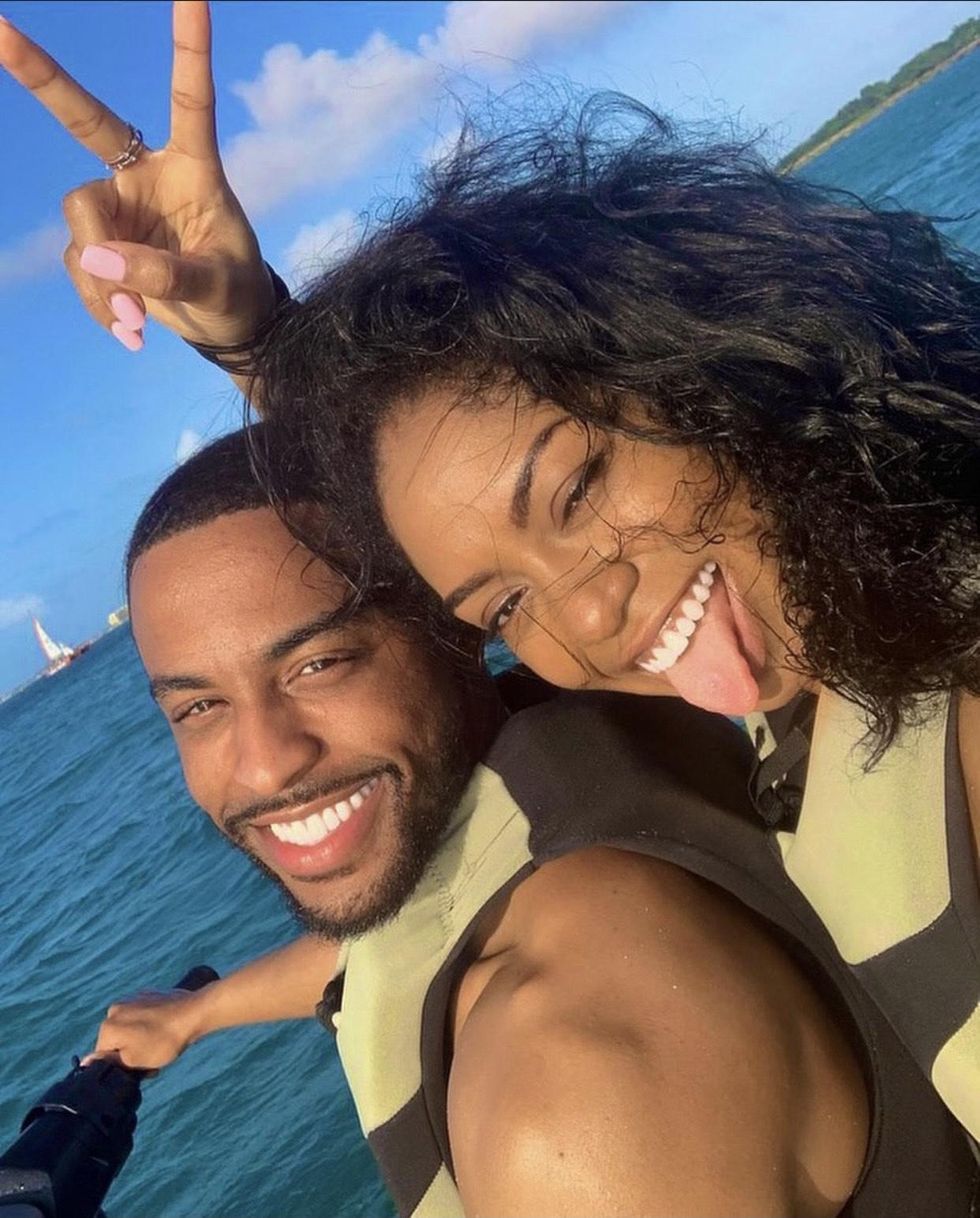 Courtesy of Andrea Fernandes
Love Languages
Andrea: I still tell Jibre that I think he changed my love language. At first, when I took the test, all the areas were even (laughs). So I figured, I guess I need all of them (laughs). But when you truly love someone, you want to be loved in a different way by that person. So when I took the test again, it showed I value physical touch and words of affirmation more than the other areas.
Jibre: My number one is physical touch. Growing up, my mom was very affectionate with me. So that stuck with me as I got older and now I am a very affectionate person. My number two was quality time, but while being with Andrea, it has grown into acts of service. At the end of the day, we make sure we give each other the entire spectrum.
Love Lessons
Jibre: Man, love is so complex. But true love wins every time. Being in a relationship has definitely taught me that you have to be patient with your partner. It's important that we are still learning from each other and with that you have to have patience through each other's growth. God is also the center in everything we do. So keeping him as a foundation in our relationship is very important to us.
Andrea: Keeping our faith is definitely something we share. I think another thing that has been an important lesson is a sense of understanding who your partner is. To really get out of your head sometimes and put yourself in your partner's shoes. Like how something I do may make him feel and vice versa. People can be really set in their own ways. But if you make it a point to understand your partner's point of view on things, it is really essential.
For more of Andrea and Jibre, follow them on Instagram @drea.lisanna, @jibrehordges, and @jibreandrea.
Featured image courtesy of Andrea Fernandes
When thinking of basics, I tend to think of a plain white, neutral or black staple that can be worn with just about anything in my wardrobe. From white tees to denim jeans, these are the type of classics most of us already own which means it's time to think outside the box when refreshing our mix of summer basics. After a tumultuous 15 months, I'm seeing a new trend emerge in the world of everyday fashion that I can only attribute to the excitement of getting dressed with somewhere to go. One of my favorites this season, the asymmetrical knit has been on my radar for the past few months and I'm loving how this simple yet chic detail can quickly elevate a look especially when paired with other cool basics.
This season is an era of sexy "basics" reminiscent of the early 2000's fashion evolution, full of risky decisions yet quirky perspectives on styles, brands today are redefining what it means to wear basics. Gone are the days of blending in, these are the knit basics that will effortlessly stand out.
Now Trending: White on White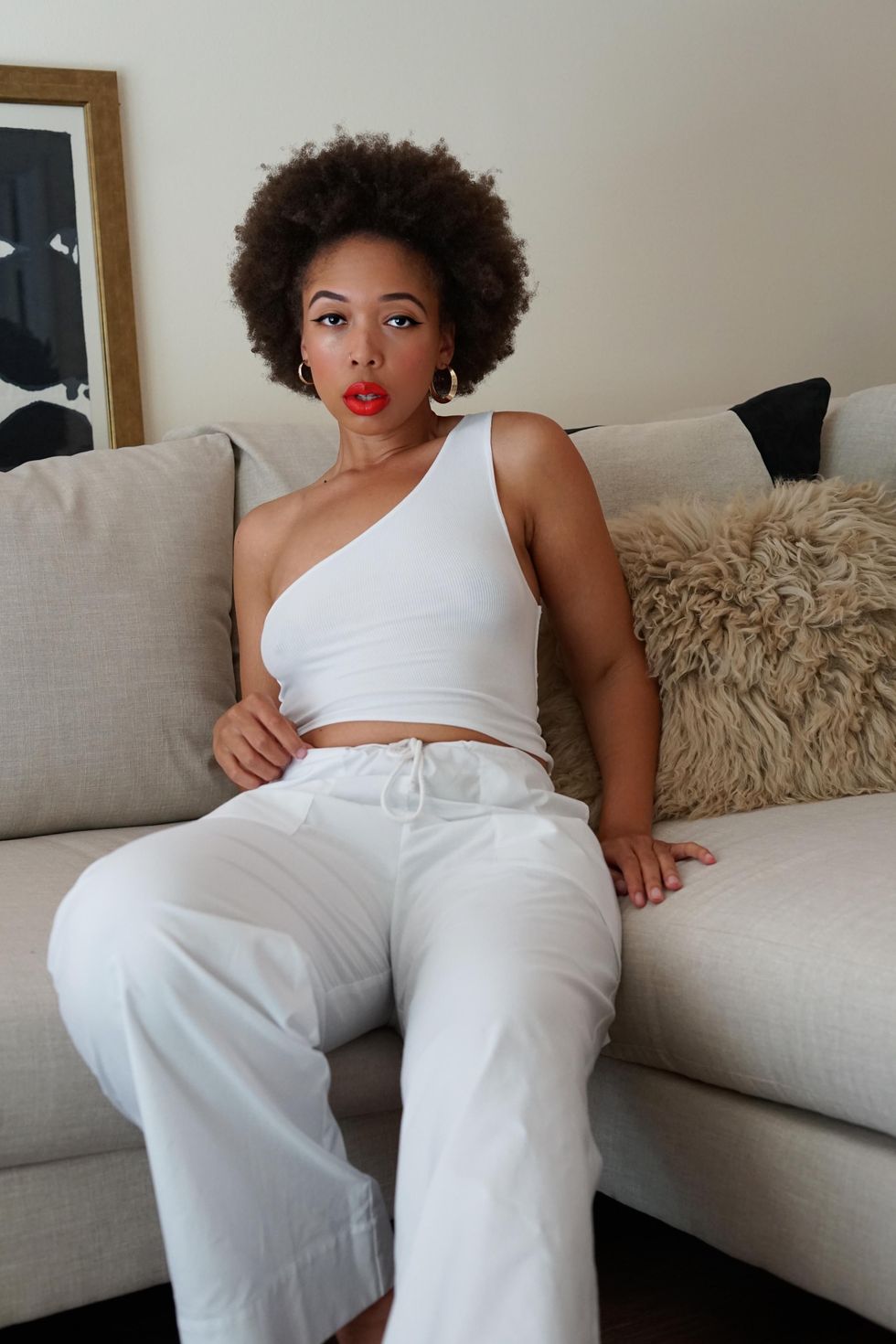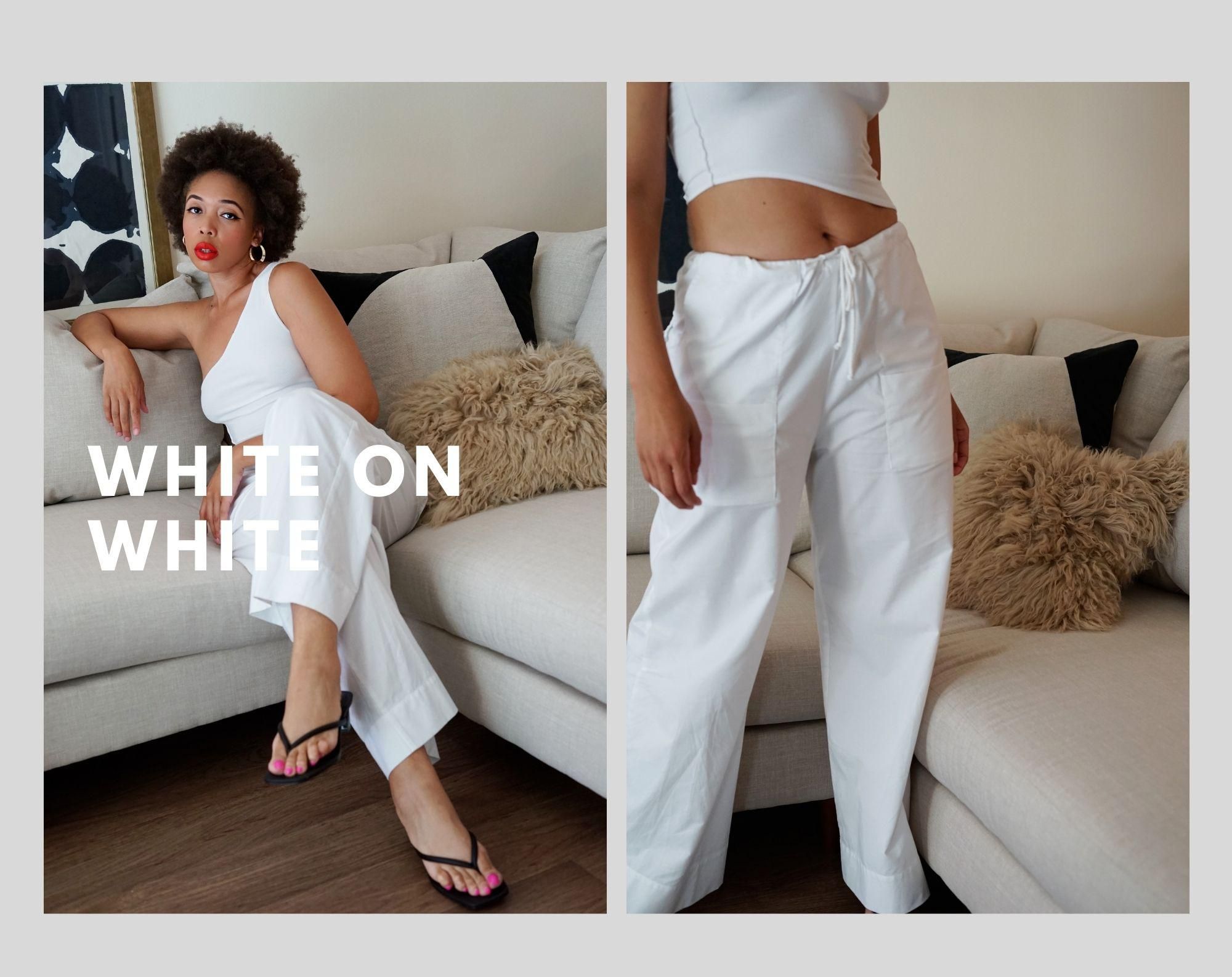 One of my favorite looks this season, this white on white combination is an effortlessly sleek look with a one shoulder knit tank paired with super lightweight utility pants. Both top and bottom from Black-owned lifestyle brand, Local European, are a reimagining of classic staples. I love the combination of an asymmetrical design and knit tank top.
The lightweight wide leg bottoms are a trend on the rise as we transition from oversized knit sweatpants for a cooler summer option. Paired with another summer must-have, a black thong sandal is the last and final touch.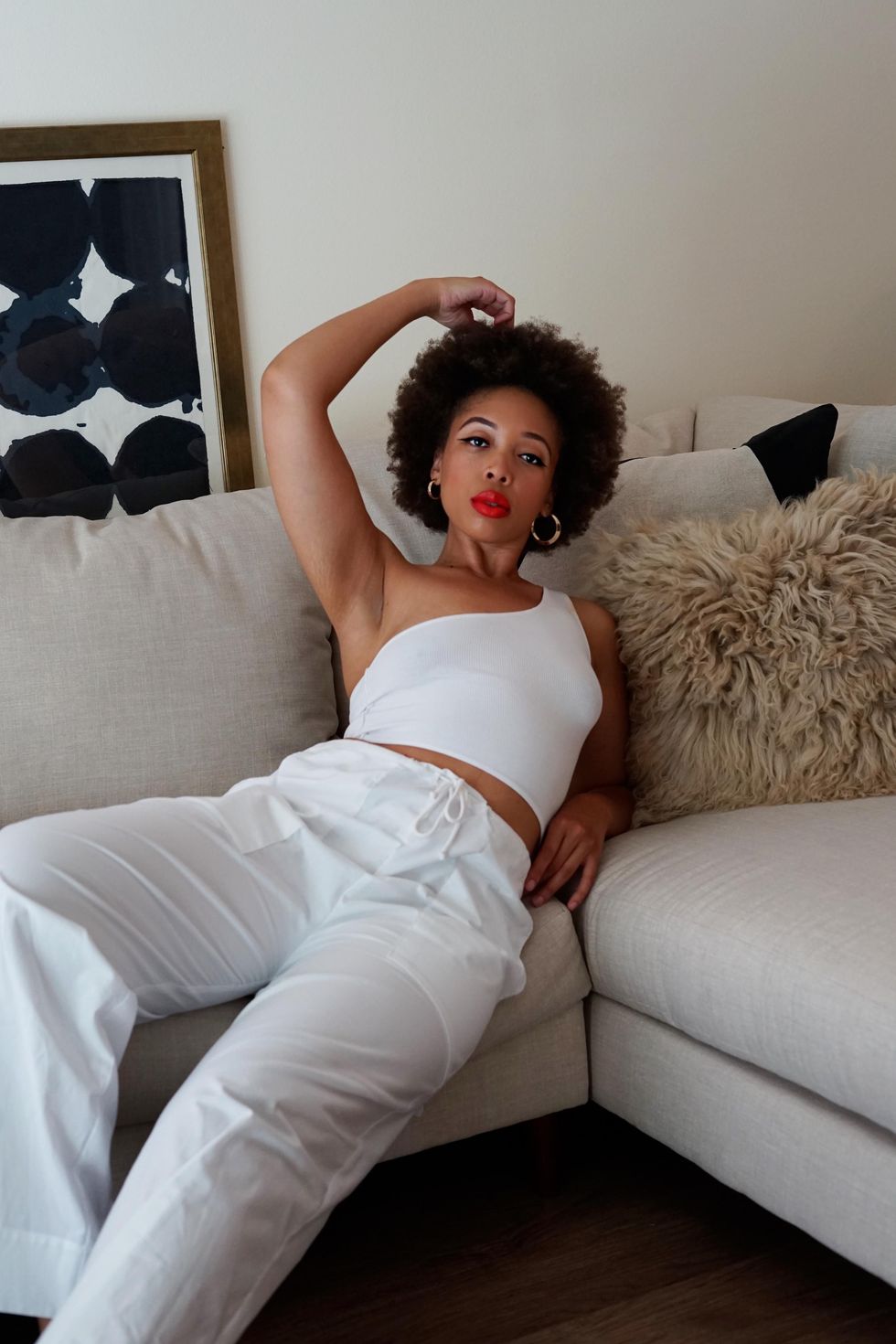 Shahirah Ahmed/xoNecole
Now Trending: Wide Leg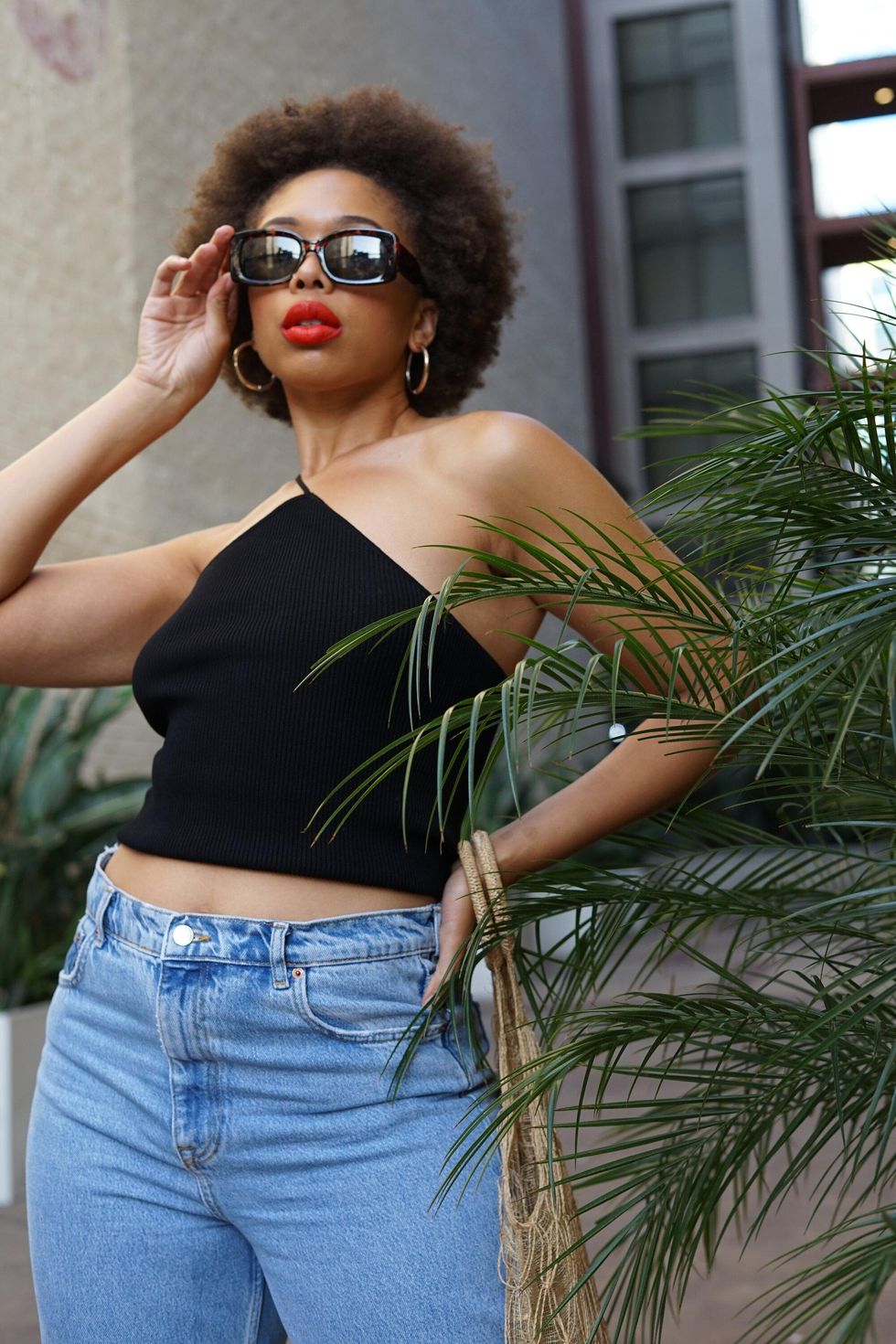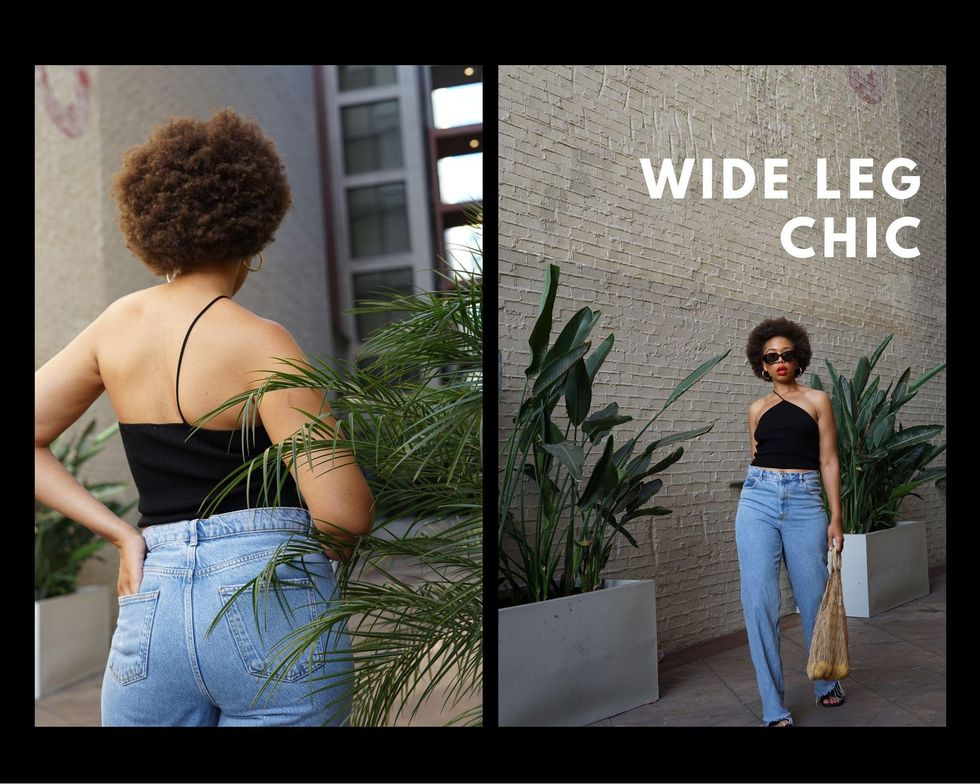 Shahirah Ahmed/xoNecole
Another chic and easy way to pair an asymmetrical top this summer is with a wide leg denim jean. The perfect casual look when out and about town or heading to a local farmers market, I decided to wear a fun one-toe flat slide for an even more stylish approach. With a pop of color and my go-to square sunnies, this is one of the most comfortable chic looks.
Now Trending: Maximalism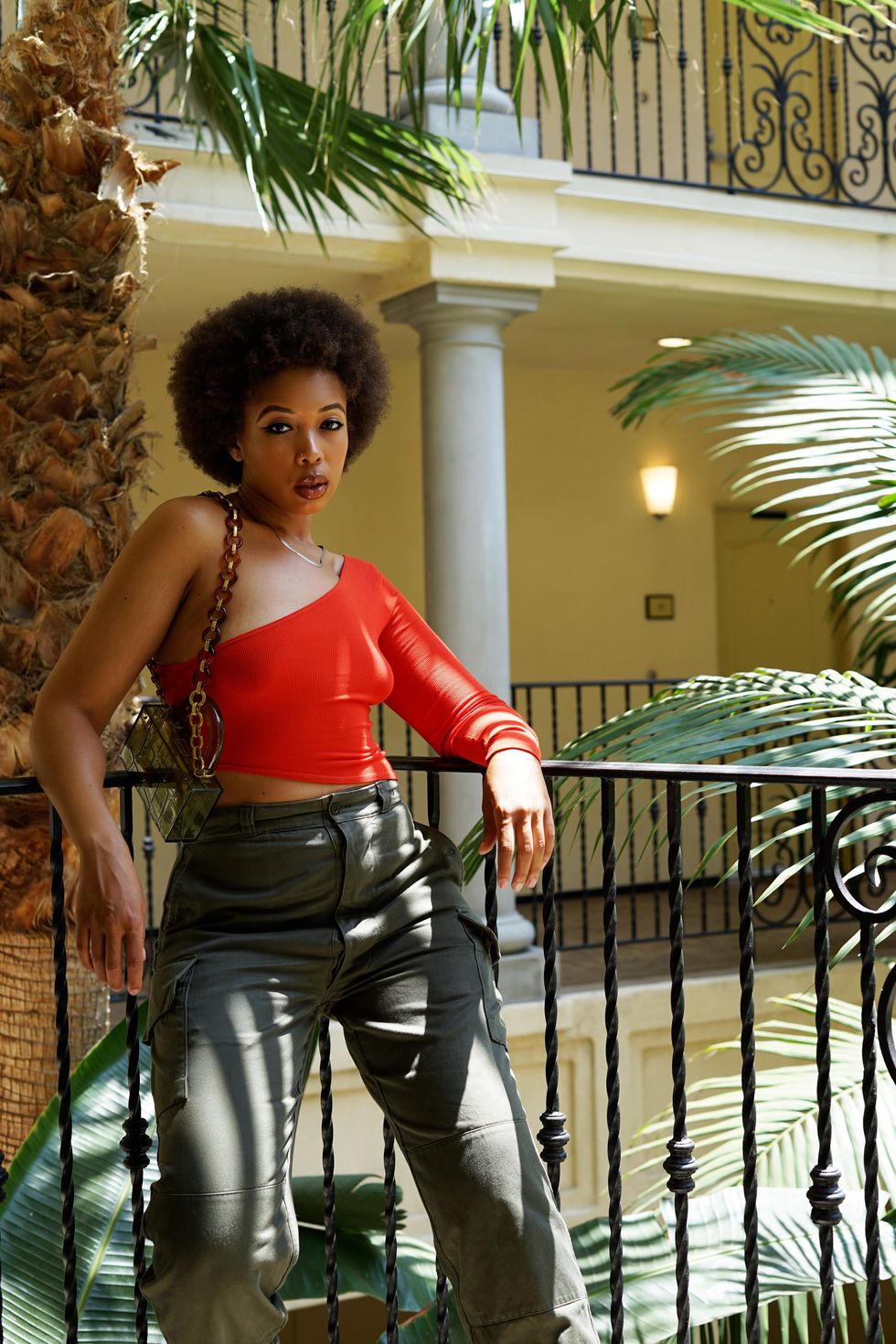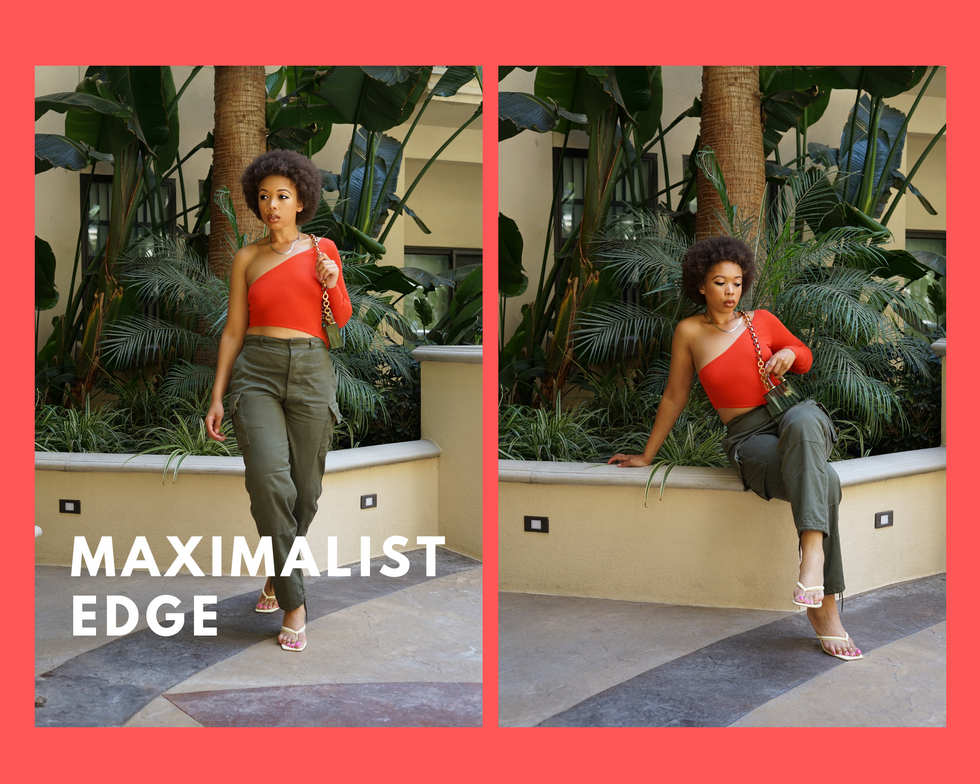 All basics may not be created equal but there are options for everyone, including maximalists. For those that need color in their everyday lives, this vibrantly orange one shoulder knit is a fierce choice for an edgier take on a casual look. Pairing this new age asymmetrical knit top with a classic cargo is a balanced approach to this season's one shoulder trend. Having fun, I added a yellow thong sandal to complete this color-blocked look.
Read all about fashion and style here.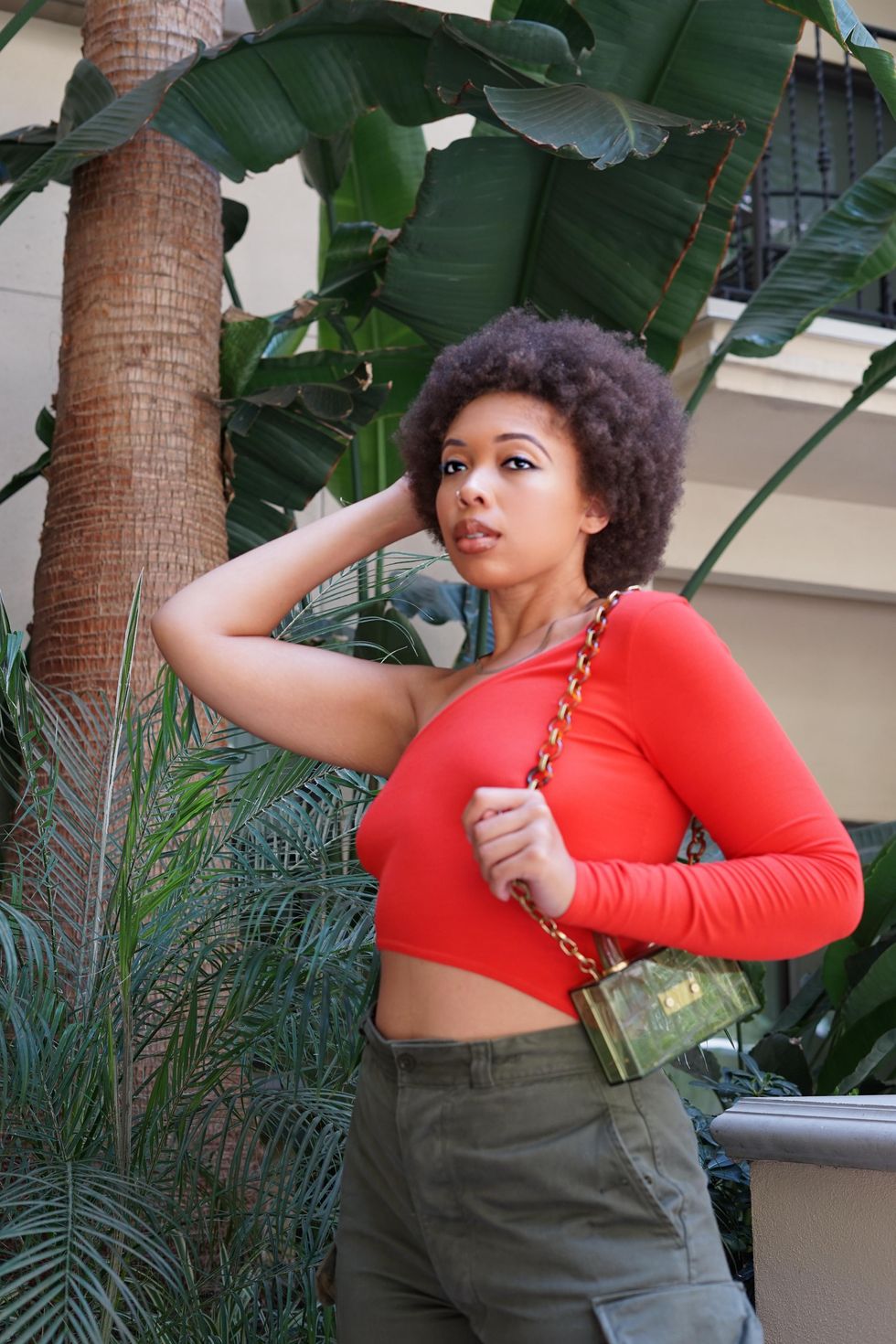 Shahirah Ahmed/xoNecole
Images by Shahirah Ahmed/xoNecole
As the final Fire sign of the zodiac, Sagittarius embodies all of the wisdom accumulated through Aries and Leo. Often depicted as a wise sage of sorts, this philosophical mutable sign is well-versed in an array of topics. Unlike its opposite sign, Gemini, who is the jack-of-all trades but a master at none, Sagittarius proves otherwise, often priding themselves on how thorough they are about anything that interests them.
Born between November 22nd and December 21st, these spontaneous individuals thrive in a space of curiosity and exploration which is often why many of them love to travel. Exploring different cultures is one of the ways that Sagittarius makes sense of the world. Their open-mindedness typically makes them popular amongst others—especially those that feel like outcasts or rejected. There's something about their friendly demeanor that can make anyone feel accepted.

Ruled by Jupiter, planet of expansion, Sagittarius knows no bounds given their intrinsic nature to go beyond the familiar in pursuit of something different. These free-spirited individuals strive to experience the most that life has to offer which is why they appreciated variety. As a mutable sign, they have a tendency to flutter from one interest to the next—whether it be a job, hobby, relationship, or environment. As ADHD as Sagittarius can be, they'll often challenge your idea of the truth while simultaneously convincing you to reassess your personal beliefs particularly regarding religion, politics, and morals.
Being one of the chattiest signs of the zodiac, they will never shy away from a debate especially if it's about a topic that is close to home. If you dare to be their opponent, prepare yourself for a long-winded battle that ends with you both agreeing to disagree.
The Sagittarius Zodiac Sign: An Overview
Physiologically, Sagittarius is associated with the hips and thighs. Typically, they have very attractive, toned legs that don't take much effort to upkeep. Often depicted as half man and half horse, you can spot them in the crowd by their chiseled calf-muscles, big smile, and a booming voice. Sorry, Meg, but these are the OG Stallions. It's rare that you'll come across a quiet Sagittarius as they tend to be the life of the party. Their shrill laughter can cut through any tension, helping to ease the vibes amongst the crowd. That class clown in your English Literature class probably had some major Saggie placements in their chart.
As entertaining as these light-hearted optimists are, they can be equally as frustrating when they don't seem to take things seriously. Their discomfort usually comes from a space of fearing criticism which they can be quite sensitive to. On the contrary, they don't have a problem dishing out the truth about others. If they're not tactful in their approach, they can easily rub someone the wrong way—even coming off as patronizing.
As they mature over time, Saggie learns to choose their battles wisely and to just allow people to think what they want. Once they realize that multiple truths can exist simultaneously, they'll be free of their sometimes impetuous desire to impart wisdom onto others.
Sagittarius Best & Worst Personality Traits
Best Sagittarius Personality Traits:
Spontaneous
Friendly
Optimistic
Adaptable
Worst Sagittarius Personality Traits:
Restless
Blunt
Inconsistent
Sagittarius in Career
As the sign of the "higher mind," Sagittarius' thirst for knowledge makes them life-long scholars who may eventually try their hand at teaching as well. Given their clearly-defined ethical code, they also bode well in legal professions especially those related to human and civil rights. With their tendency to root for the underdog and the disenfranchised, these motivating forces have the power to create change within the political arena that will ultimately benefit all of mankind.
Their impeccable communication skills position them to be best-selling authors, editors, literary agents and publishers. Due to their association with all things foreign, the Sagittarius may find their niche working away from their home country. A natural born hustler—these individuals fare well in entrepreneurial efforts that allow them to be as free, creative, and ambitious as they want to be.
Sagittarius in Love
With freedom being their top priority, Sagittarius usually takes the longest to explore their options prior to "settling down." In their younger years, it's typically best to allow them free reign. Committing at a young age can be disastrous for them and anyone they're involved with due to their wandering eye. Over time, they'll eventually get tired of the fleeting, whirlwind romances that don't seem to amount to much but a sexy situationship. Given their impulsivity, they can be promiscuous when single.
Once they actually decide they want to be in a relationship, it's important to keep things fresh to keep them interested. Not one for vanilla sex, Sagittarius wants a partner who is open to exploring some unconventional methods. Out of all of the zodiac signs, they'd likely consider an open relationship. As much space as they need to do their own thing, a long-distance relationship could be perfect for them.
In addition to keeping the sex exciting, they also desire intellectual stimulation. Staying updated on world affairs are good talking points to keep them engaged. More than anything, they want to create beautiful memories with someone who enjoys traveling just as much as they do. As one of the more friendly signs of the zodiac, it's important for a Saggie's partner to be secure within themselves and their relationship. Notorious for having tons of friends (especially of the opposite sex), any jealous type won't be able to last for long.
The Sagittarius zodiac sign isn't a sign that bodes well with the idea of being possessed by another which is why they prefer more independent lovers. Generally, other Fire signs (Aries, Leo, and Sagittarius) and Libra and Aquarius are good matches for this passionate free-spirit.
Famous Sagittarius Celebs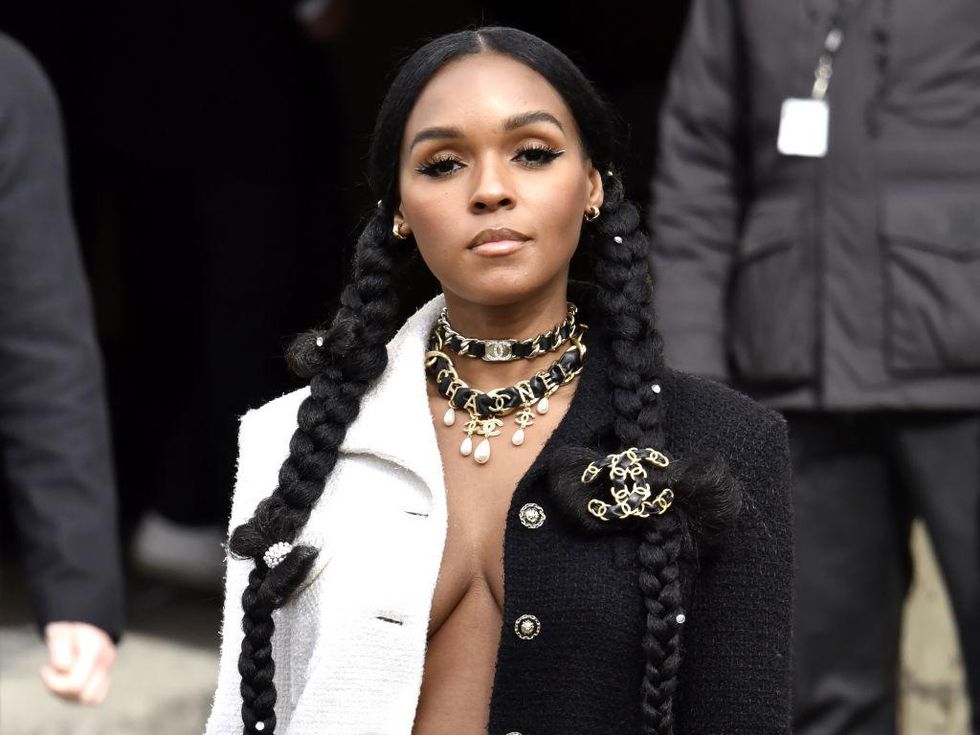 Foc Kan/WireImage
Teyana Taylor
Jay-Z
Tiffany Haddish
Nicki Minaj
Russell Wilson
Jamie Foxx
Janelle Monae
Lauren London
Featured image by Foc Kan/WireImage
Keep reading...
Show less
To hear in 2021, a time where existence has been going on for millions of years, that someone is the first Black anything, is almost mind-blowing, but it definitely is still something that happens. And frequently, actually. Thankfully, this label has re-emerged with one of our dear faves, a woman way beyond her time who is everything we love to see in a modern woman, Ms. Teyana TF Taylor.
Are you a member of our insiders squad? Join us in the xoTribe Members Community today!

Featured image via Rich Fury/Getty Images for Def Jam Recordings