Over the last few years, Method Man has been deemed a "zaddy" by many women due to his handsome, grown-man-like features. But while he may be admired for his good looks, he didn't always feel good about himself. The "Bring the Pain" artist was recently featured on Math Hoffa's My Expert Opinion podcast where he revealed that he often battled with low self-esteem early on in his career which led him to have an awkward encounter with Destiny's Child.
During that time, he was going through a transition with his record label and he felt like he was no longer a priority which lowered his self-esteem. "I didn't like myself, so I didn't like anybody f–king else," he said. "So that meant that anything that would have come in my circumference at that point and time was gonna get it."
He also explained that he took his issues out with people close to him in his personal life and career. "My family went through a lot with my ass in the era and I can admit that I took a lot of my f–king misery out on them and they did not deserve it," he continued. "And I took some of my misery out on people at Def Jam that did not f–king deserve it."
He then shared an example of how his misery affected his relationship with his peers by recalling his run-in with Destiny's Child.
He first met the group when they were a quartet, Beyoncé, Kelly Rowland, LeToya Luckett, and LaTavia Roberson, at the MOBO awards in the UK in 1999. He met them later in 2001 at Janet Jackson's MTV Icon special when LeToya and LaTavia exited the group and Michelle Williams joined them he explained.
"We were at Janet Jackson's Icon, and I remember I had just come off stage, and where we were sitting, there were nothing but VIPs," he said. When he saw the "Say My Name" singers, he decided to go speak.
"Now, this is still me in my low self-esteem era. But I'm thinking like, okay comfort zone here; I'm gonna say what's up to the girls. I love them, I'm just gonna say hi. I go over to say hi to them, and when I said hi, they didn't even turn around and acknowledge me," the rapper-turned-actor said.
He said his low-esteem caused him to feel like they "sh–ted" on him only to later realize that they probably didn't hear him because it was loud in the building. However, it was too late. When the Power Book II: Ghost actor saw them again, he wouldn't even shake their hand. "They put their hands out to shake, and I kept my hand here and was like, 'Go 'head with that Hollywood sh-t.'"
He shared that that moment hurt him to this day. "Neither Kelly, Beyoncé or Michelle did any f–king thing to me." He then issued a public apology to the trio, saying, "But me being so miserable and in that f--king moment, I felt like they wasn't treating me the way I should have been treated," he said.
"Who am I to think that about these girls? They're here to promote themselves and break records and things of that nature. And it was not about me; it was about Janet f--king Jackson. And to this day, man, I don't think I've ever apologized for that."
METHODMAN ISSUES PUBLIC APOLOGY TO BEYONCE, KELLY & MICHELLE ON MY EXPERT OPINION OVER PAST INCIDENTwww.youtube.com
Featured image by Alberto E. Rodriguez/Getty Images for STARZ
I, like so many other people, have often struggled with the idea of dating people who aren't my type. It's not that I'm not open to dating someone I'm not attracted to, it's really just a matter of how? How do you reject everything you know and give something new a chance? Especially when it seems that we're not authentically attracted to "something new" because it is oftentimes so different from who we'd usually pursue. Admittedly, attraction can be superficial upon meeting anyone considering all you see are looks. However, shouldn't you be able to enjoy your person physically in addition to all of the other stuff?
Though regular Kiarra would likely say yes – the expert in me can see how dependence on superficial details provides superficial results. Sometimes a pattern that shows up in your dating history could be traced back to sticking to a "type" and venturing outside of who you typically gravitate towards could lead to growth you wouldn't have otherwise gotten. You limit yourself in the name of love which is why going against your usual type is something experts have increasingly recommended over the years.
But, dating outside of your "type" or comfort zone is one of those things that everyone suggests without acknowledging that it requires a conscious effort, and thus they rarely give you the low on how. The question then becomes: how do you date someone you're not attracted to?
Clearly, this is not my forte, so I connected with Damona Hoffman, dating coach with OkCupid and The Dates & Mates Podcast. Hoffman provided some insights on where to start when it comes to dating outside of the box we've created for ourselves.
What Does Having a Type Mean?
So first things first, why do people have a type? As Hoffman explains having a type has everything to do with the Familiarity Principle. "In social psychology, there is a philosophy called the 'familiarity principle,' which shows that humans develop a preference for something to which we are regularly exposed. Studies have shown that we are attracted to what is familiar to us. When we operate based on physical attraction alone, we are usually falling victim to our social conditioning." Hoffman adds that what we find attractive is programmed based on what is familiar to us.
The key to opening yourself up to dating someone who is not your type is to unpack the programming you have about attraction. In order to start saying no to the familiar and open yourself up to the unfamiliar, Hoffman provides the following solution: "The 5 Whys" technique.
"The method is surprisingly simple. When you have a problem or question to solve, you start by asking, 'Why?' Each answer is followed up with another query: why? Once you answer 'why' five times, you get to the root cause of a belief. If we can get down to how a belief about attraction was formed, we can recognize when we are falling into old programming and take steps to unravel it."
Hoffman continues, "The 'why' is to help us develop clarity in our choices. Many times we end up with preferences by default when we don't take the time to unpack why we believe what we believe or want what we want. Sometimes the final 'why' leads us to clarity that there is a preference there that serves our larger relationship goals. Sometimes we find that we are operating based on our conditioning and we can open up new possibilities for ourselves if we open up to saying 'yes' to different options."
Dating Someone Who Isn't Your Type
There truly is no growth in any given situation without going into yourself – everything, every journey begins with self. If we can become more aware of the choices around attraction that we make on a conscious level, then we have the ability to say no to them and yes to things that may serve us far more down the line. "Based on the familiarity principle, simply choosing to date and spend time with people who are different from your typical type could lead to developing a preference for a new aesthetic or valuing other qualities," says Hoffman.
With that in mind, I would argue that if you say 'yes' to enough opportunities that are outside of your checklist, then your type will start to shift and hopefully shift to a more open-minded space. This allows you to date someone you might not ordinarily be attracted to, which will perhaps serve as a catalyst for the relationships you seek.
If you're considering dating outside of your type, Hoffman says that research shows you're not alone. "Overall, daters are becoming more flexible about attraction though. On OkCupid, 96% of Gen Z and millennial daters are open to dating someone that isn't their usual type. Daters are prioritizing beliefs and values over physical attraction."
Let's make things inbox official! Sign up for the xoNecole newsletter for daily love, wellness, career, and exclusive content delivered straight to your inbox.
Featured image by Getty Images
As you may know by now, the summer produces some of the best and most nostalgic soundtracks of our lives. The mood is set by fun and light sounds of the past and present, giving you the playlist that you need for the summer you want. Summer, no matter how hot, is a magical season where anything can happen, especially in the romance department. Long nights and short days act as a backdrop to new beginnings, summer flings, and the possibility for more (depending on what you're looking for). But it doesn't mean the romance has to be dull, regardless of the timeline you're hoping to create. Like I said before, summer is what you make it so the options are limitless.
Should this be more of a romantic rendezvous with your boo thang (because romance occurs within friendships too), sex may or may not be off the table during the sticky days of the lasting summer heat. If so, there's nothing like a cute, cinema-esque date with your person to add a little razzle-dazzle to this already magical time of year. Upping your chances of making this a whole evening of loving. Yes, if you're lucky…you might just get lucky (er, luckier) with a little bit of intentional planning.
With that said, for a fun summer date night idea, check out one of these 10 ideas to upgrade you and your date nights throughout the season.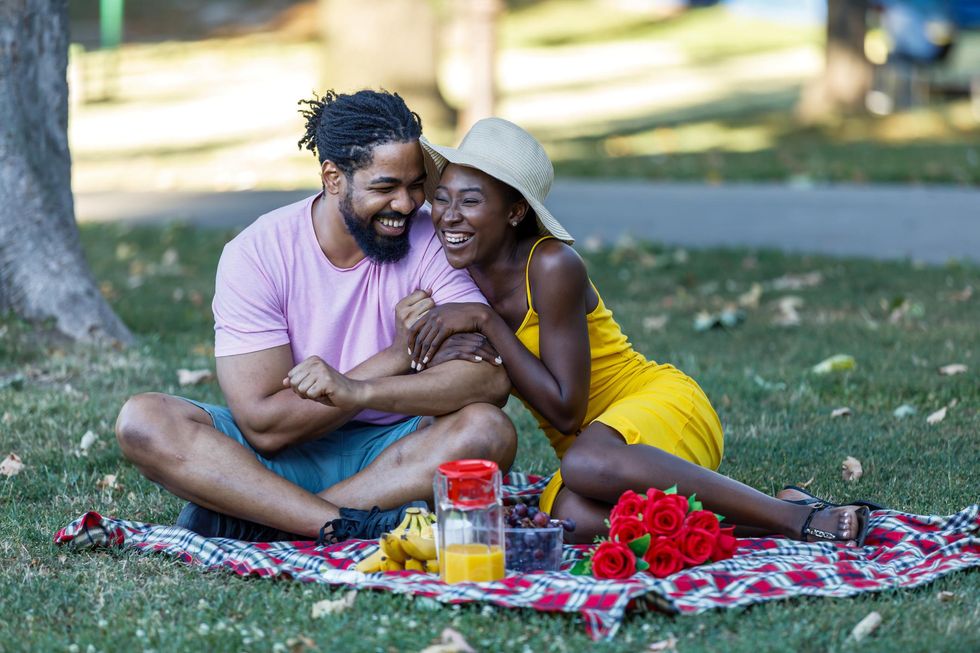 Getty Images
1. Luxe Picnic
Luxury picnics have trended up over the past couple of years and thankfully so. For all my bougie girls, it's a real Hilary Banks spin on an old-school concept. You can plan this concept out yourself, however, they have become mainstream. Meaning you can also hire someone to put this fabulous date night (or girls' day) together for you – allowing you to simply show up and enjoy the ambiance.
2. Drive-In Movie/Movie in the Park
A date at the drive-in is a summer classic! And honestly, I'm not sure if they're romantic or the perfect place to hook up – something in me says those old-school movies set in the 40s that showed a couple at a drive-in movie date were hinting at a little more than romance. Still, the bomb thing about this date idea is that it has to occur in the evening which means less sun but packs all the heat (winks) and hopefully a cool breeze.
Another romantic way to capitalize on this vibe is to do a movie date in the park. Many cities offer opportunities for Screen on the Green or cinema in the park during the summertime (Los Angeles has an outdoor cinema year-round called Cinespia that shows classic movies). Though it's not quite as intimate as a drive-in, the experience is a summer date idea worth mentioning.
3. Strawberry Picking
For this summer date idea, you can go strawberry picking or really any type of fruit picking that is local to you. Once you all finish picking the fruit, have a chilled bottle of wine with you to have with your fresh picks. If alcohol is not allowed in the facility, take this opportunity to do a rooftop car picnic or find a nearby lake, field, etc. to set up shop in. (Picture that scene from Jason's Lyric).
4. Hot Air Balloon Ride
If you're not afraid of heights, a hot air balloon ride is a mile-high club that seems well worth the experience. Depending on where you live, you may want to go out somewhere scenic to get a really picturesque view down of the city or the rural area below. Allow yourself to be captivated by the flush of golden light from the sunset on the horizon as you experience an adrenaline rush that takes an average date night to new heights. I think this is the perfect intimate outing where there's less demand for dialogue.
5. Grape Stomping
Because grape stomping, or grape treading, isn't necessary to make wine these days, consider this a novelty experience. You can sip on some wine while you and your partner stump all on grapes, which weirdly enough seems sticky but refreshing. Once you finish, you and your partner can wipe one another's feet down and add in a little massage. Look to Airbnb Experiences for grape stomping opportunities that might be near you or someplace you hope to visit with your partner soon. Food & Wine Trails also has a list of the top five regions to visit for grape stomping that you can find here.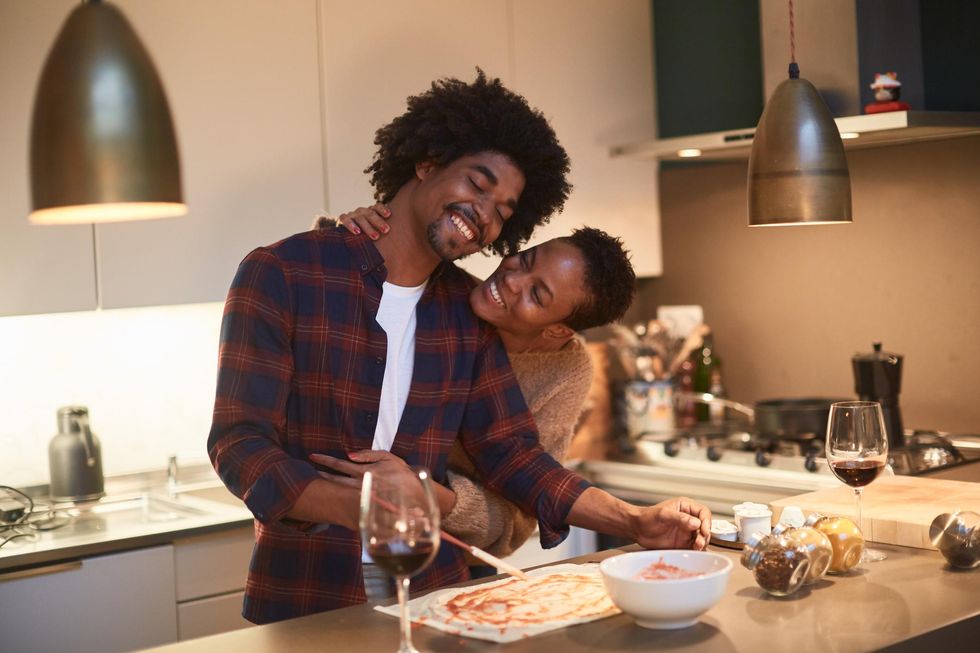 Getty Images
6. Couples Cooking Classes
Beat the heat while making something yummy to eat. Cooking is such an intimate act and when you take the extra step of preparing something you've never cooked before in a class setting, you open up the floor to add some novelty to your date night as well. This also allows you to try something new for the first time together which is a great way to add to your connection. Couples cooking classes are pretty common so you might even be able to find a Groupon or Airbnb Experience for this. However, if you know a chef who you enjoy and can reach out to perfectly that would be even better!
7. Water Balloon Fight
For the goofy couple, who adores embracing their inner child, grab the Super Soakers and water balloons! Not only is this a fun and out-of-the-box way of bonding with your person or people, but it's also the perfect way to keep cool on a hot summer day. A couple that plays together stays together.
8. Fair/Carnival/Amusement Park
Another activity inspired by throwback TV! Now that the world has opened back up, the go-to fair, carnival, or amusement park date during the summer is having a resurgence. I don't think it gets more intimate than riding rides and allowing another to hear you scream horrifically at every drop and turn. But furthermore, it allows you all to talk to one another as you keep your feet on the ground and win one another huge teddy bears.
9. Tandem Bike Ride
It doesn't get more Nicholas Sparks than this! Argue with someone else! Also known as courting bikes, the tandem bicycle is a great way to put a fun and romantic spin on bike riding. You can experience the trails and scenic views with your person slowly and closely, adding a layer of intimacy to bike riding you might not have initially thought of. Find your tandem bike, bring along some wine or champagne, and make a day of it while riding through your city. It's the perfect cycling date.
10. Bonfire
Kisses under the firelight? I can get behind it. Bonfires are also a great activity to do with others if you don't want to ditch the crew. This is probably perfect for a cooler summer night or even on a beach by the water. Be sure to bring along the smores kit so you can truly make this the top-tier experience you intend it to be.
Let's make things inbox official! Sign up for the xoNecole newsletter for daily love, wellness, career, and exclusive content delivered straight to your inbox.
Featured image by Getty Images
July is the month to focus on allowing yourself to receive. There are beautiful opportunities for blessings this month when you can get out of your own way, and release self-doubt. With Cancer Season here, emotions are flowing, love is showing up, and home is wherever your happiness is. The power of attraction is strong this month as Pallas enters Gemini on July 4 as well, and deep insights are prevailing. July is the time to gain the clarity and answers you have been looking for, and decide where to move forward from there.

On July 5, Mars moves into Taurus until August 20, and there is strong importance on values, comfort, family, satisfaction, and safety right now. While Mars is in Taurus we are motivated to accumulate and indulge a little. Taurus makes us balance our checkbooks, but this sign also loves their pleasure, and with Jupiter moving retrograde this month, we have been reminded of the importance of non-overindulgence. Mars is overall here to give you a clear view of what happiness feels and looks like to you and to allow more of this heart-centered energy into your life, with balance.
Mercury transits both Cancer and Leo this month, and while Mercury is in Cancer until July 19, communications are colored with a more emotional display. Sensitivities are heightened, and overall the gifts are in speaking from the heart right now and gaining emotional understanding. Once Mercury moves into Leo towards the end of the month, the focus turns to self-expression, personal passion, and defining your personal truths. The Full Moon of July is occurring in Capricorn on July 13 and is the Full Buck Moon of the year. This Full Moon is a time to get grounded, release old stories that restrict your beliefs today, write a list of gratitude, and remember what holds value for you.
Chiron and Jupiter both go retrograde in Aries this month at the end of July, and there is healing and divine contemplation that wants to take place now. Over the next few months, revelations will be taking place, and your worldview expands as Jupiter retrograde brings things front and center to be addressed before moving forward again. Jupiter retrograde is about preparing for blessings, redefining your intentions for them, and gaining some spiritual insight through it all. The New Moon in Leo on July 28 is making sure the month ends with a dramatic flair, and fireworks are appearing. The more you keep the faith and believe you deserve all good things this month, the more you are aligned with what is.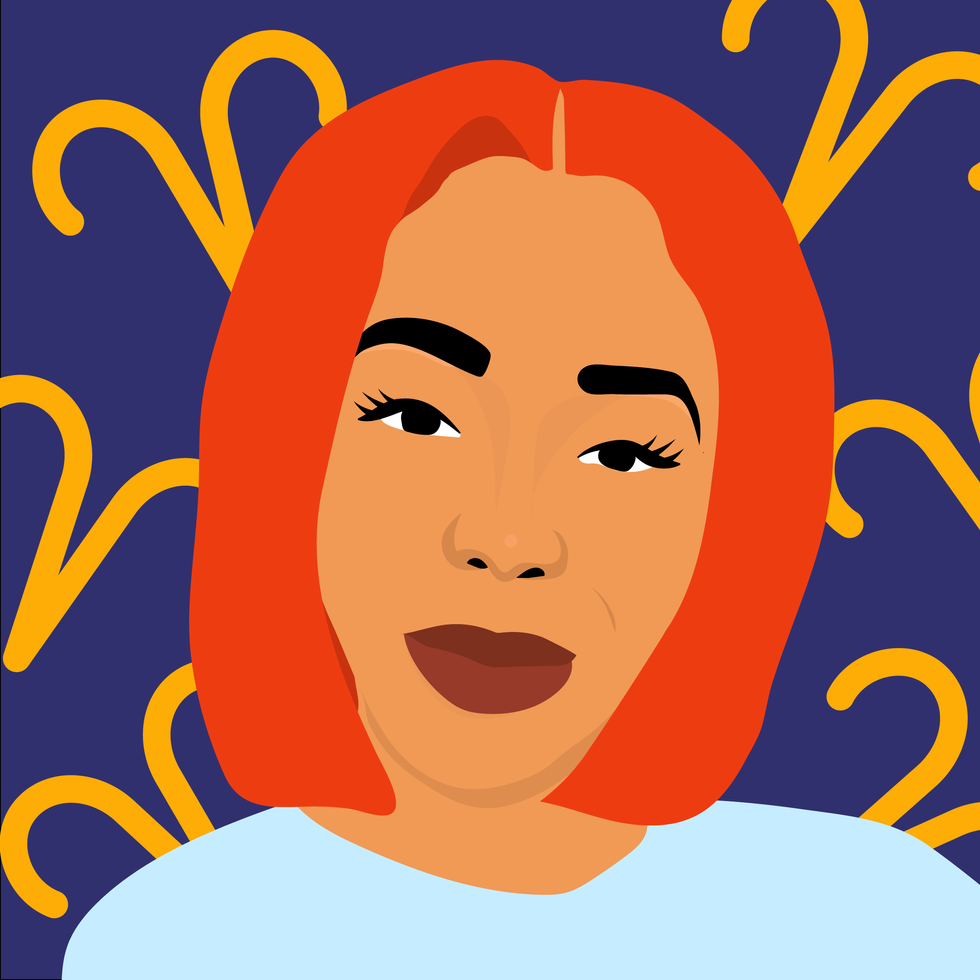 AriesKyra Jay for xoNecole
Aries July 2022 Horoscope
Life is moving forward, and you are journeying through new experiences this month, Aries. July is a time of awakening for you, and a space where you are moving through an energetic shift in your life. Things are changing, but it's nothing your free spirit can't fully take advantage of. This is the month to expand your worldview and to see where new perspectives will take you. Everything comes together when you can trust yourself and the doors that are opening for you now.

Chiron and Jupiter are currently transiting through your sign, and they both go retrograde this month. On July 19, Chiron, the wounded healer, will enter retrograde in Aries until December 23, and Jupiter in Aries will go retrograde on July 28 until November 23. You are in the process of completing one cycle and manifesting another. You are in a major cleanse this month and are making space for happiness to continue to grow.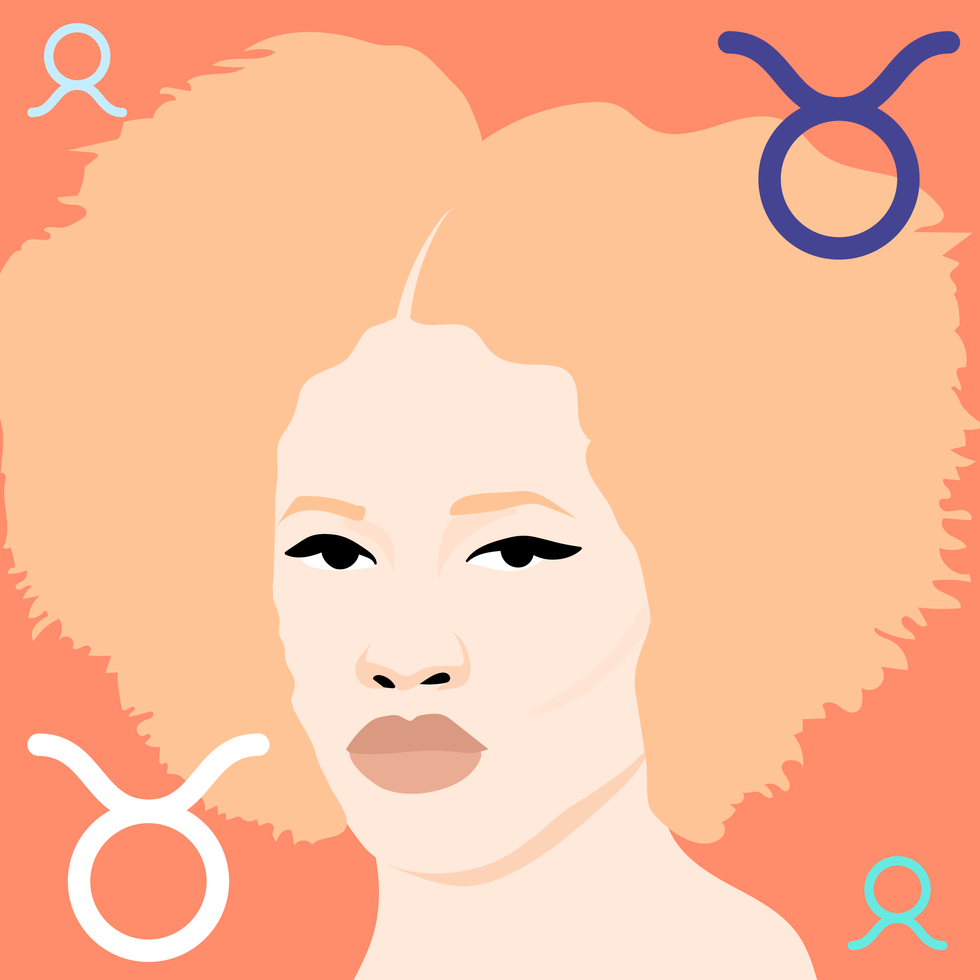 TaurusKyra Jay for xoNecole
Taurus July 2022 Horoscope
July is a month of release, and recovery for you, Taurus. You are seeing some goals and achievements come to fruition right now, and you are also moving through a space of healing from the past and what it's taken to get you here. Your guidance for the month is to give yourself kindness and safety as you move through this growth process in your life and to believe in the intentions you are seeding right now.

With Mars entering Taurus at the start of the month from July 5 until August 20, you have passion and stamina on your side right now. The energy is with you to see some important goals through, and with Mars in your sign over the next month, you have the inspiration and motivation to do so. July is your month of releasing yourself from the past, gaining a new vision, and reclaiming your power, and success.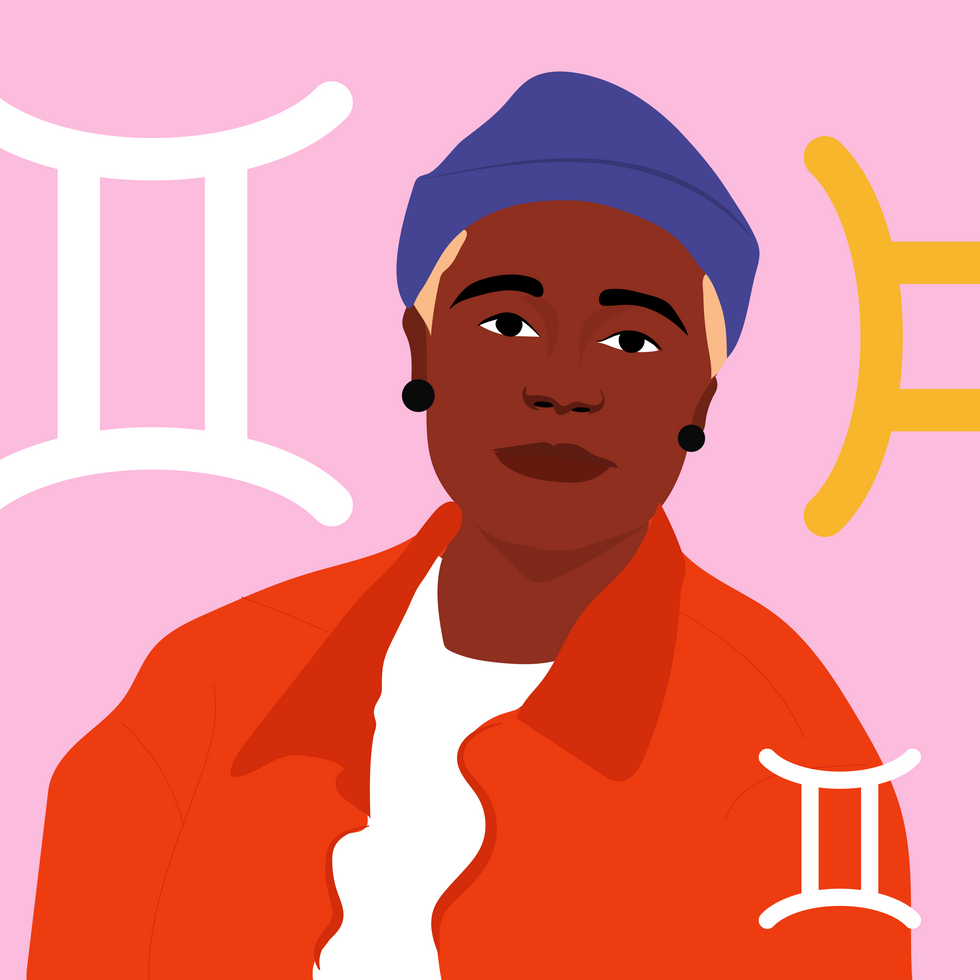 GeminiKyra Jay for xoNecole
Gemini July 2022 Horoscope
July is all about gaining insight and getting the answers you have been looking for, Gemini. There is incredible wisdom and insight to grab ahold of this month, and the clarity is flowing in your life. You are being guided to speak up for what you believe in, and to show up for your unique ideas and perspectives. Pallas enters Gemini from July 4 until September 6, further enhancing the coming together and inner clarity you are experiencing this month.

Your ruling planet Mercury will be moving through your 2nd house of finances until July 19, and your mind is flowing where the money is going. This is a good month to get organized, go over your finances, and plan for the future. The New Moon in Leo on the 28th before the month ends is your time of receiving important messages and following the signs. The clarity that is coming into your life in July is game-changing, Gemini.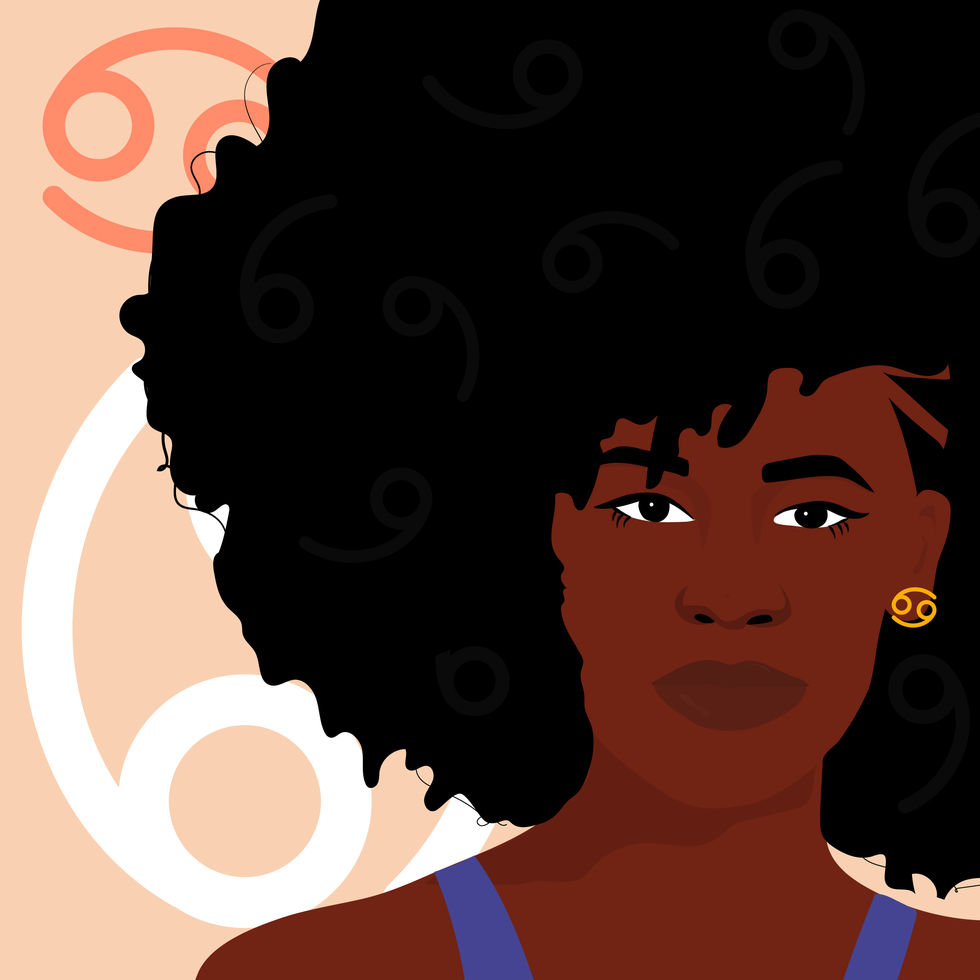 CancerKyra Jay for xoNecole
Cancer July 2022 Horoscope
This month is all about allowing. Cancer, July is your season, and this Cancer Season is all about opening up to receive the beautiful blessings that are flowing towards you this month. You are an intuitive Moonchild, and this month you are connecting to this sensitive strength of yours. Remember the gift of your existence, and allow others to recognize and appreciate you this month, Cancer.

Mercury enters your sign on July 5 until July 19, and Venus enters Cancer on July 17 until August 11, making July a time where you are gaining mental clarity, having important conversations, moving around, and also a month where you are feeling the love. With the Full Moon happening mid-month also occurring in your 7th house of love and relationships, the universe has one mission for you this month Cancer: for you to know how loved you are and to feel that within.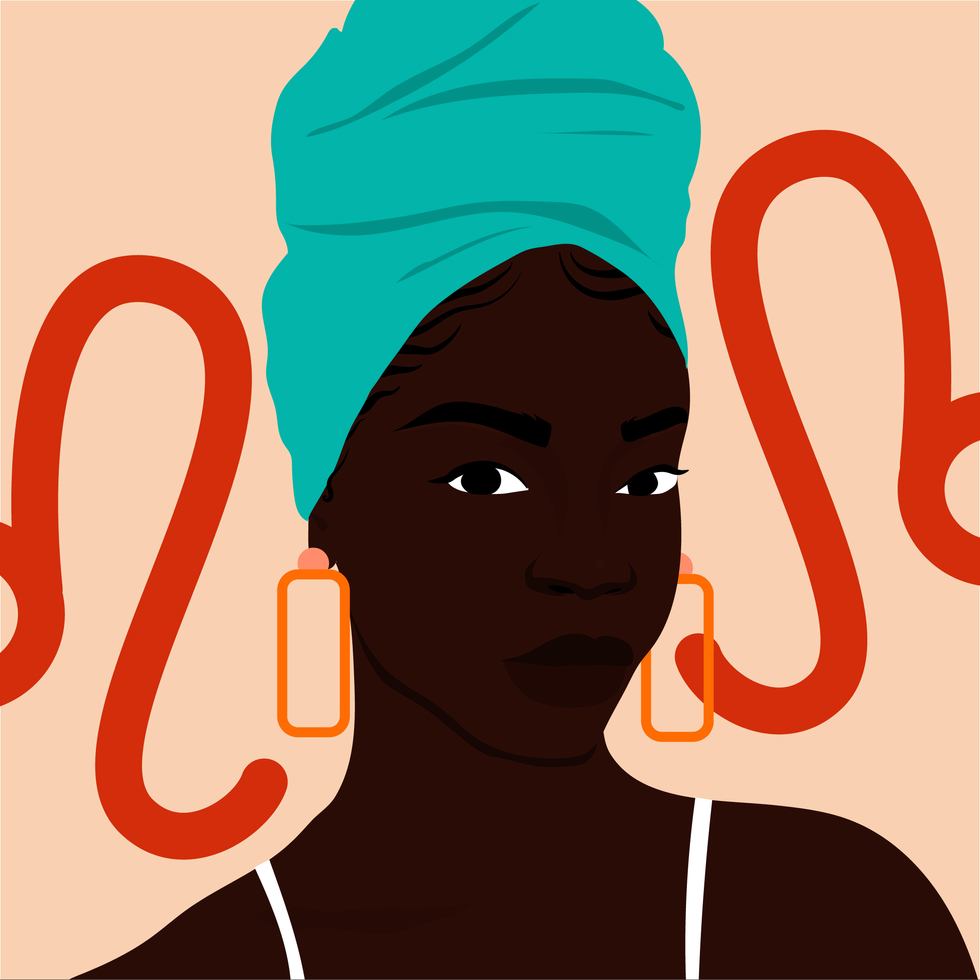 LeoKyra Jay for xoNecole
Leo July 2022 Horoscope
July is all about opening the heart, Leo. You are rising above previous doubts and concerns, and claiming your power in all situations. This is the month to believe in your dreams and to believe in the gifts of love. There have been challenges you have had to move through this year, a lot of them unexpected, but that doesn't mean you will have to continue to live on a rollercoaster when there is solid ground for you to walk on right now.
July is a powerful month for you overall, with Leo Season beginning this month. This year Mercury will be entering Leo from July 19 until August 4, Leo Season begins on July 22, and there is New Moon in Leo on July 28. July is a month of recognizing the opportunities and peace that comes from letting go of restrictions and allowing yourself to be loved and blessed by the divine, Leo.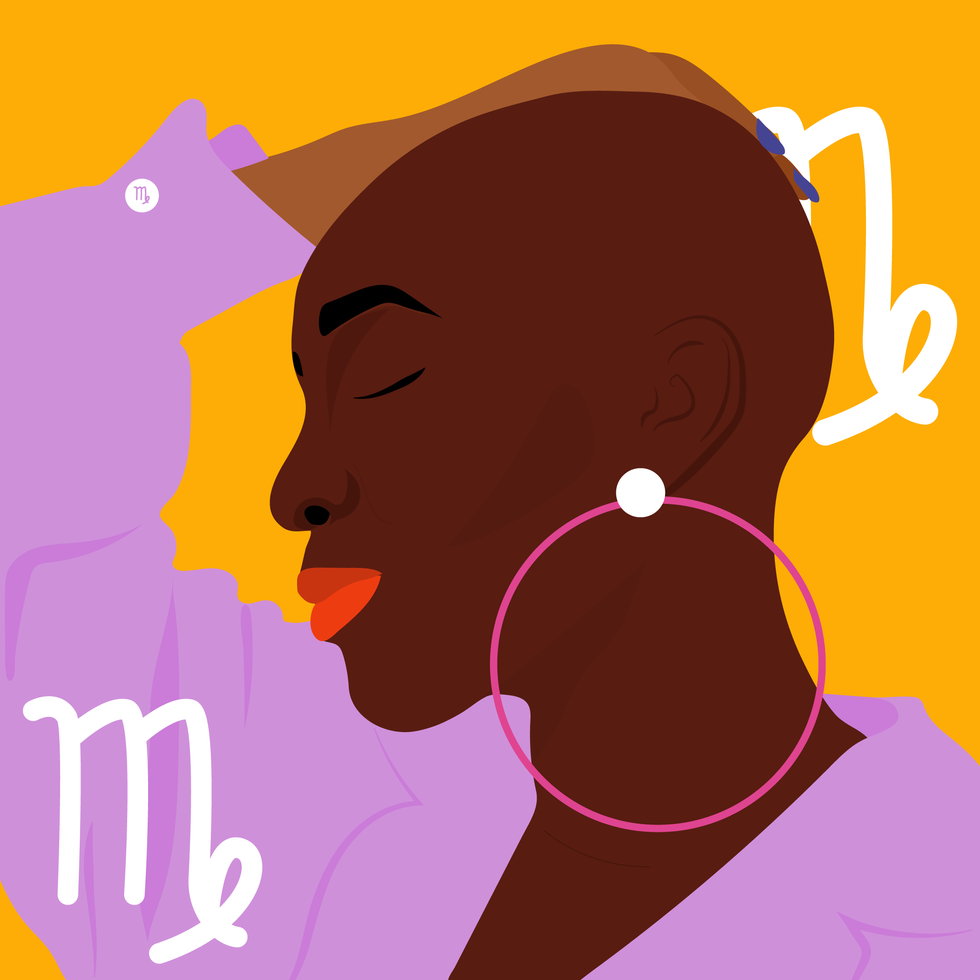 VirgoKyra Jay for xoNecole
Virgo July 2022 Horoscope
This is a month of rejuvenation and bringing things into divine order, Virgo. Positive resolutions and outcomes are happening for you in July, and this is the month to believe in a miracle. Don't dismiss the possibilities of something really good happening this month, and keep your eyes open for a helping hand. You deserve more time and space to just be. This month is about learning the truth and beauty of doing less and gaining more.
Friendships, community, your network, and where you see yourself going from here are all key themes for you in July. This is a month of forming new connections and strengthening ones that have remained unmoved through the transitions of this year. You are recharging your spirit this month and with a Full Moon in a fellow earth sign, Capricorn, happening in your 5th house of romance this month, July is sure to be full of pleasant surprises.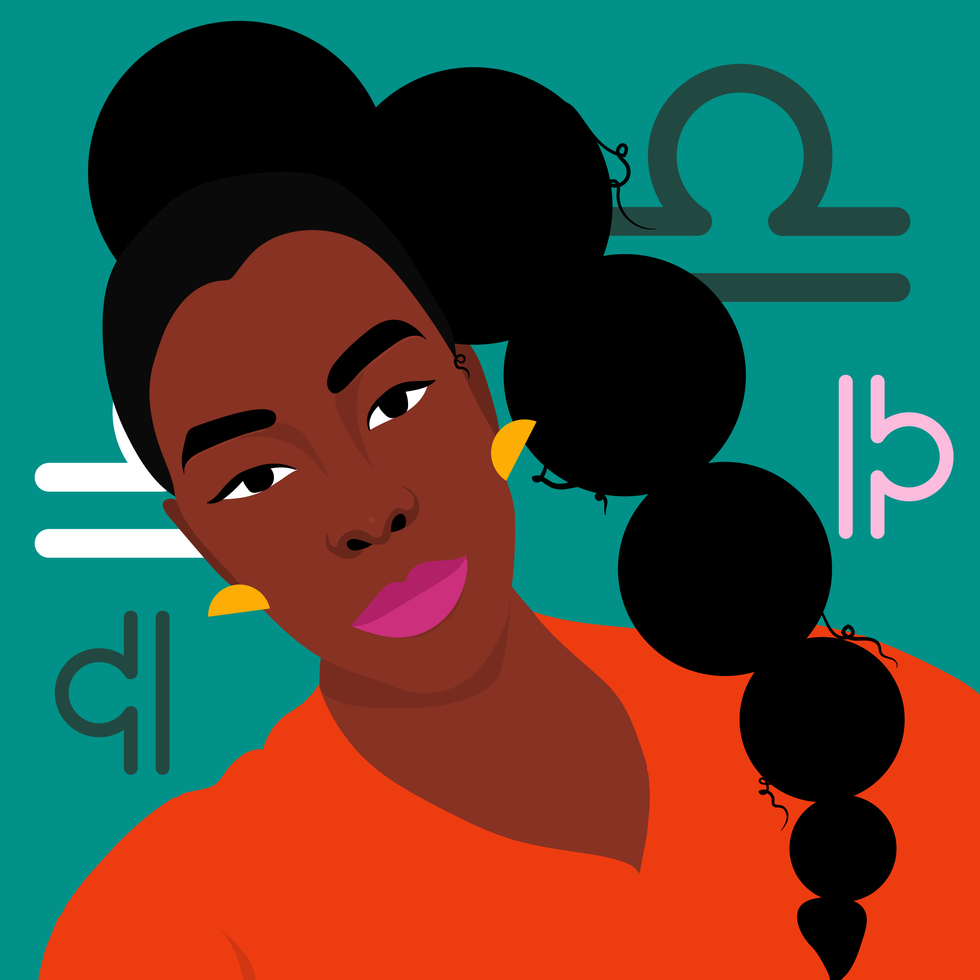 LibraKyra Jay for xoNecole
Libra July 2022 Horoscope
Trust the process, Libra. July is all about remaining in your peace and finding your balance through what is becoming. You are thinking a lot about your career goals, achievements, and responsibilities in the home space. Finding the balance between all the things you want to do and be can be difficult at times, and this month is about giving yourself the time to figure out what works for you and your divine flow right now.

The Full Moon this month is occurring in your 4th house of home and family, and this is a good time of the month to declutter, cleanse the home, rest, and regain your center. A few days later, your ruling planet Venus moves into your 10th house of career, and you are evolving into some new spheres of success this month. Before July ends, there is a New Moon in your house of friendships, and you are feeling a new sense of support in life moving into August.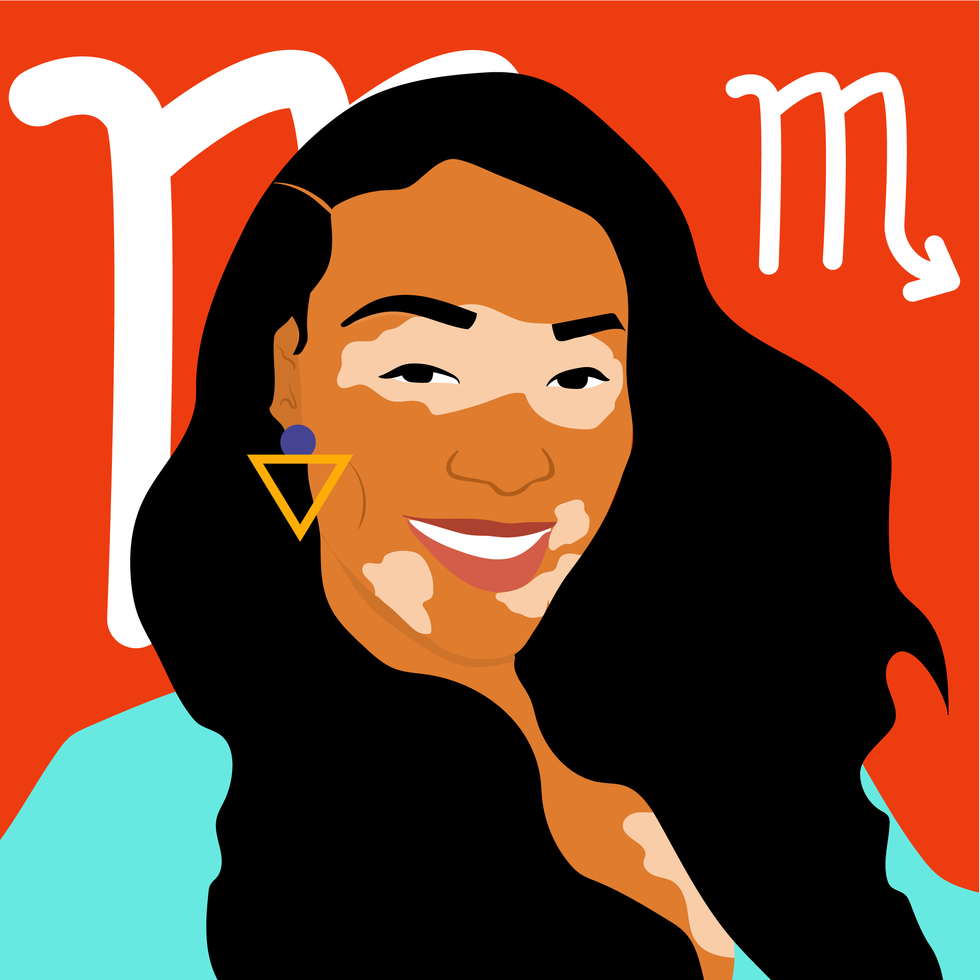 ScorpioKyra Jay for xoNecole
Scorpio July 2022 Horoscope
July is about recalling your power, Scorpio. You have the divine insight to move through previous challenges and obstacles, and paths are clearing for you this month. There is a deep understanding that is coming into your world in July, and what is coming full circle for you now is everything needed to feel protected and grounded moving forward. This month is about allowing yourself to live by your standards and your truths, and doing so confidently.
The Full Moon on the 13th of this month is moving through your house of the mind, and with this being a Full Moon, you are seeing with clear eyes. The clarity is there, and Venus moving into your 9th house of spirituality and adventure a few days later, is birthing new ideas and opportunities into your life. Before July ends Jupiter goes retrograde in your 6th house, and you are focused on your personal healing and empowerment as the month ends.
SagittariusKyra Jay for xoNecole
Sagittarius July 2022 Horoscope
July is a month of a river of blessings flowing into your life, Sagittarius. You have set yourself up for success and this is the month of experiencing more of those treasured moments. Powerful blessings and manifestations are appearing for you now, and the universe is giving you a big YES to proceed forward. You have listened to your intuition and lived by your personal truths, and have moved into some fortunate circumstances.
The Leo New Moon on the 28th is a passionate affair that you can get on board with, and this New Moon is fueling your sense of adventure and excitement. By the end of the month, you are setting your intentions for the future, and dreaming up the most divine vacations your soul can think of. Your ruling planet Jupiter goes retrograde on the same day until November, and you are being reminded as well, of the importance of following your bliss balanced with logic.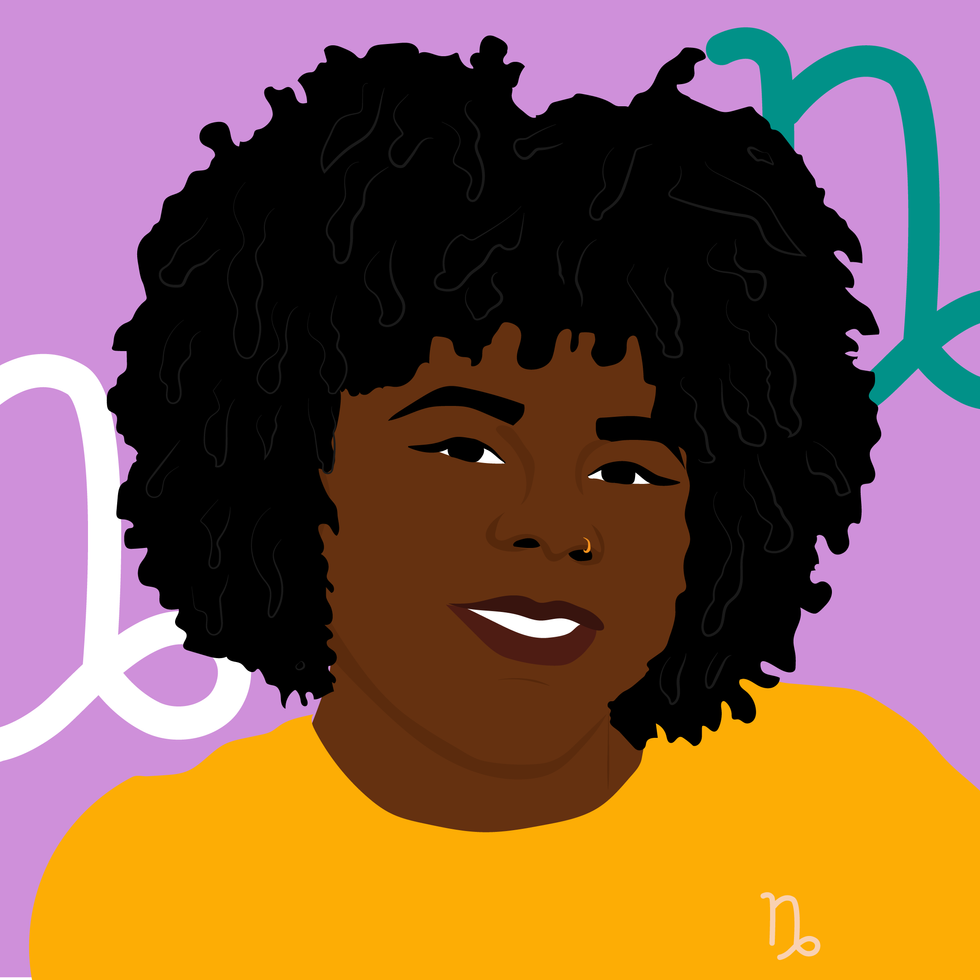 CapricornKyra Jay for xoNecole
Capricorn July 2022 Horoscope
July is a month of rising above and coming together in love, Capricorn. Soulmate connections are moving into your life this month, and you are connecting with the gifts of clarity of the heart. You have found an inner peace that is both strengthening and also vulnerable, and it's attracting new experiences for you in love. This is the month to let go of what was, and live in the beauty of what is here today.

Mid-July there is a Full Moon in your sign on July 13. This Full Moon is a time of personal revelation for you, and also a time where you are closing a major chapter in your life. Take as much time as you need with your healing and growth, and trust that where you are going from here is so much better than where you have been. Venus enters your house of love a few days later, and it's about showing up for divine partnerships right now.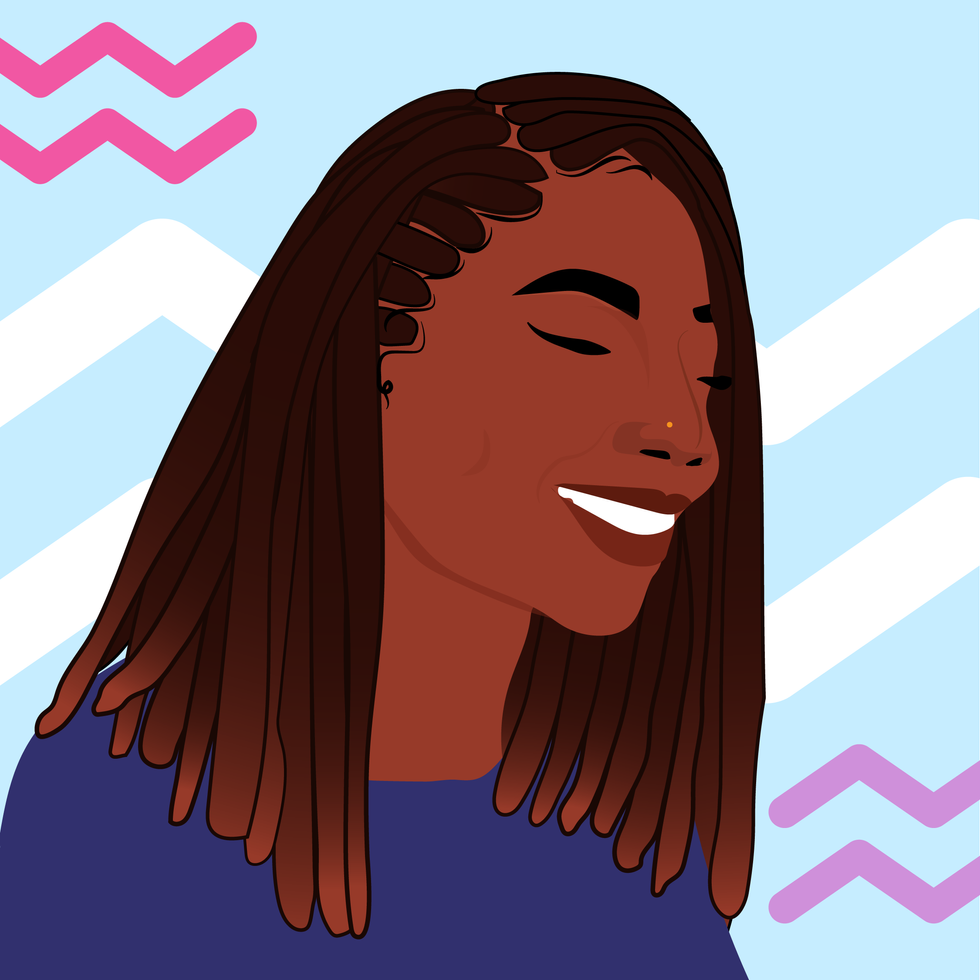 AquariusKyra Jay for xoNecole
Aquarius July 2022 Horoscope
July is a dynamic month for you, Aquarius. Some deep transformations are taking place this month, and you are living in your wisdom, empowerment, and passion. You are being reminded this month that you are divinely protected with every step you take in life and that you can create some major breakthroughs in your life with the power of belief. July is about being fearless in your pursuits, and about allowing your truth and wisdom to shine.

The Full Moon happening mid-month is occurring in your 12th house of endings, dreams, and the subconscious, and you are ready to let go of what hasn't served right now. You are releasing old patterns and limitations, and allowing your blessings to unfold. By the end of the month, there is a New Moon in your opposite sign of Leo, and this New Moon is a time of new developments in love. July is all about taking your time and going at your own pace while light unfolds.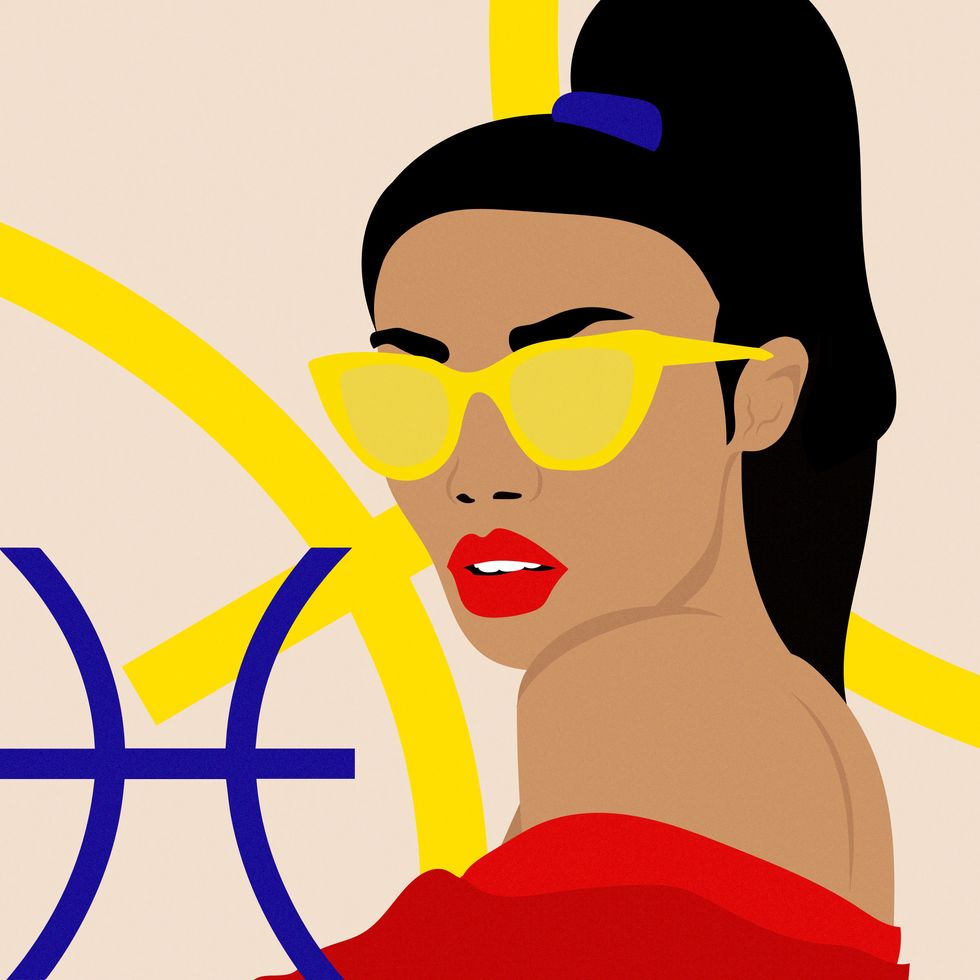 PiscesLaci Jordan for xoNecole
Pisces July 2022 Horoscope
July is all about the universe fueling your world with divine support, love, and compassion. This month is a time of nurturing yourself and what you are bringing to fruition right now, Pisces. There is support with you as you take some time to sort through what is and figure out where your heart stands now. July is all about releasing yourself from any attachments to outcomes and allowing the path of least resistance.
With one of your ruling planets, Jupiter, going retrograde on the same day as the Leo New Moon this month on July 28, you are finding the balance between what you need to allow some more time to unfold, and what you are moving forward with now. It's about giving yourself the grace to move through this time and about speaking up for yourself and what you need as well. Remember how supported you are, Pisces.
Let's make things inbox official! Sign up for the xoNecole newsletter for daily love, wellness, career, and exclusive content delivered straight to your inbox.
Featured image by Kyra Jay for xoNecole
The law of attraction is tricky. A few years ago, I felt something was deeply wrong with me because I kept attracting people who hurt me. No matter how hard I tried to fix myself, and alter my energy, the same type of people kept coming my way. I'd talk to my friends about it and ask them, "Why do I keep attracting this type of person? Why do I keep having the same experiences?"
It took me a while to realize that the biggest thing I was doing "wrong" was not recognizing the power I had in choosing the people I let into my life. Blaming myself for the people I was "attracting" was pointless because I had no power or control over who was attracted to me. None of us do.
Instead of asking ourselves, "Why do I keep attracting this type of person?" we should try asking, "Why do I continue to give energy to people who show signs of not being a good fit for me?"
To have healthier and more fulfilling relationships, we must be intentional about who we entertain and make space for in our lives. We have to own our decision to continue patterns with people because they provide us with a familiar discomfort we've become accustomed to settling for. While we aren't responsible for the way people treat us, we are responsible for understanding why we decide to stay.
So, how do we lay the foundation for choosing the right people?
1. Show up as yourself. 
When we first meet someone, it's tempting to show up as our representative or be the person we think someone is looking for. To find people we're compatible with, we must be brave enough to be ourselves, even if that means not being liked or accepted. As long as we find the courage to radically love, value, and accept ourselves, we put ourselves in the position to meet people with whom we can sustain healthy and meaningful relationships.
2. Build a relationship with yourself.
Being disconnected from ourselves can make it hard to be connected with other people. Learning to love, honor, and respect ourselves helps us create a strong foundation for building healthy relationships with other people. When we feel safe with ourselves, we'll feel more confident when putting ourselves out there to get to know others. When we begin having conflicts, which is guaranteed to happen whenever people get to know each other, we'll be able to communicate our needs and boundaries to increase intimacy in the relationship. If the relationship doesn't work out, we're less likely to blame ourselves and more likely to trust that we can make more fulfilling connections in the future.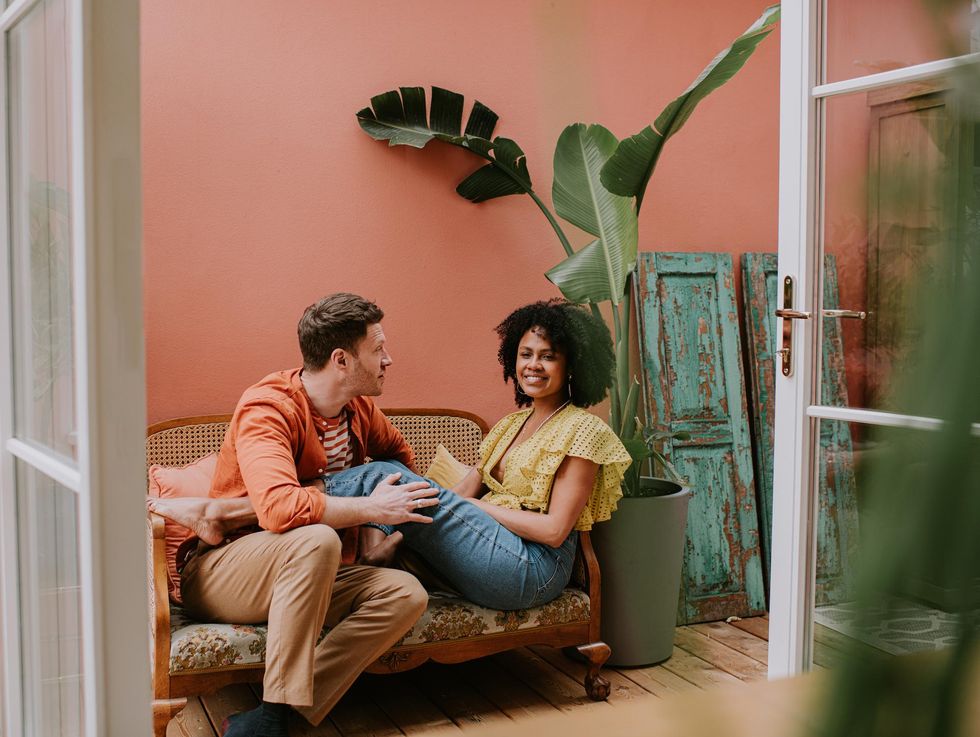 Getty Images
3. Don't be afraid to look "needy."
Sometimes we're afraid to ask for what we need to feel safe or comfortable in a relationship because we fear looking "needy." When we present as "needless," we end up in a community with people that like being around us because we don't ask for anything. As a result, the relationships become one-sided as they grow more comfortable and content with not doing anything for us. As the relationship progresses, we attempt to let our needs be known and grow resentful as our requests go unnoticed. Being open about our needs helps us discover people we're compatible with in friendship and romance. Having needs is one of the things that makes us human, and some of these needs can only be filled when we're in relationships with other people. Remember, sometimes you're not asking for too much; you're simply asking the wrong person.
4. Let people unfold. 
Sometimes we commit to people too quickly. We become captivated with the idea of someone, and when the truth of that person is revealed, we are disappointed, or worse, we're in denial. Natalie Lou, the author of the Baggage Reclaim Series, always reminds readers that "people unfold." Over the course of getting to know someone, we may discover signs that unveil incompatibility. If we're not careful, we'll overlook those signs and keep moving forward because we don't want to be wrong about someone.
We don't want to be alone again. We don't want to stop being friends with someone. But, in the end, we hurt our own feelings by choosing to deny the reality of our situation. We also draw out the ending of what would likely be an unfulfilling relationship. The more time we spend engaging with people we aren't compatible with, the less time we spend connecting with people we fit well with.
5. Choose people that choose you. 
Stop chasing after people who are running away from you. Some of us learned that we were difficult to love, and we internalized that our relationships would be challenging and filled with uneasiness. When we receive mixed signals, crumbs of attention, or poor treatment, we're prepared to fight and perform to sustain the relationship and prove ourselves. Our nervous system gets triggered, and we mistake those feelings of uncertainty for attraction and love. But that's not love, and we are worthy and deserving of so much more.
We deserve mutuality. We deserve to be around people who want to be with us as much as we want to be with them. We shouldn't be in a state of constantly questioning if someone is as invested as we are, nor should we be performing for love. Choose people that choose you—no forcing, no begging.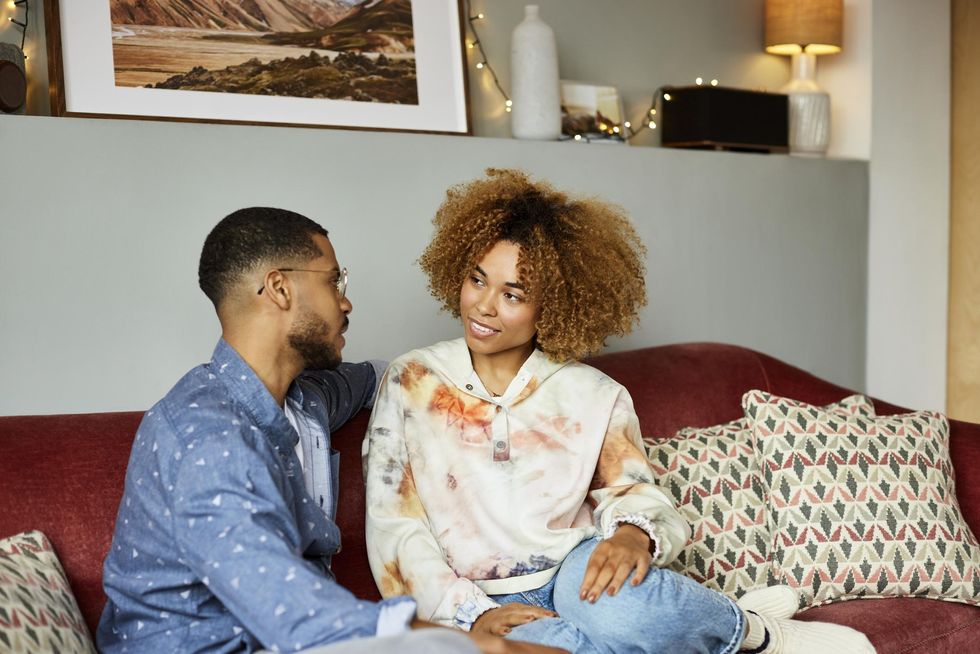 Getty Images
6. Become comfortable with impermanence. 
Everyone you meet and build a relationship with won't stay in your life forever, and that's okay. Everyone isn't meant to stay. Sometimes we try to prevent people from leaving or refuse to walk away because we're uncomfortable with endings. More importantly, we're uncomfortable with what endings say about us. By trying to control whether or not people stay, we're attempting to control the uncontrollable. It's a losing game, and we end up hurting ourselves and others in the process. Longevity in a relationship is not an indicator of health or fulfillment, nor does it serve as a reflection of our worthiness.
7. Stop making excuses for people. 
When we feel unlovable, we can have a strong desire to stop other people from feeling the same way. We'll try to accommodate, justify and tolerate unacceptable behavior in other people because we don't want to be mean or reject people. We aren't responsible for protecting other people from rejection or disappointment. If we're being honest, sometimes we struggle with the idea of rejecting someone because we don't want to deal with the pain of being rejected and assume others can't handle it either. When people hurt us, we lean into being too understanding instead of assessing the relationship and establishing boundaries. Don't fall into the trap of blaming yourself for someone else's behavior in hopes that if you take responsibility, you can evoke change. Part of being in healthy relationships and establishing respect is showing others you have the strength and courage to protect yourself.
Taking responsibility for our lives is scary, but it's where healing begins. While we can't be in control of everything, we can exercise our power to choose. Letting people into our lives isn't a passive activity. The relationships we choose to pour energy into play a significant role in our happiness and well-being. Give yourself the love, compassion, and foundation you need to choose wisely.
Let's make things inbox official! Sign up for the xoNecole newsletter for daily love, wellness, career, and exclusive content delivered straight to your inbox.
Featured image by Getty Images
There's nothing like finding a good TV series or movie to watch on your favorite streaming services. The summer is the perfect time to explore what's new and exciting or revisit an oldie but goodie. Both Netflix and HBO Max have some exciting and new releases for July. From HBO Max's Rap Sh*t, which is presented by Issa Rae to the season three premiere of Ludacris' Netflix animated series Karma's World, there are plenty of options to choose from. So get your streaming on below.
Here is the full schedule of what's coming to Netflix and HBO in July.
What's New On Netflix: July 2022
July 1
Stranger Things Season 4 Volume 2 – Netflix original movie
A Call to Spy
Big Daddy
Blue Jasmine
Boogie Nights
Catch Me If You Can
Deliverance
Falls Around Her
Final Score
GoodFellas
I Am Legend
Insidious
LOL
Mean Girls
Miss Congeniality 2: Armed and Fabulous
Natural Born Killers
Old School
Police Academy
Semi-Pro
Seven
Snatch
The Dark Knight Rises
The Dirty Dozen
The Pursuit of Happyness
The Talented Mr. Ripley
The Terminal
Vampires
Wyatt Earp
Zero Dark Thirty
July 3
Blair Witch (2016)
Oh My Baby Season 1
The Art of Incarnation
July 5
Attack on Pearl Harbor: Minute By Minute Season 1
The Secret of Skinwalker Ranch Season 1
July 6
Control Z Season 3 – Netflix original series
Girl in the Picture – Netflix original documentary
Hello, Goodbye, and Everything in Between – Netflix original movie
King of Stonks
Uncle from Another World
Fast & Feel Love
July 7
The Flash Season 8
Karma's World Season 3 – Netflix original series
VINLAND SAGA Season 1
July 8
Boo, Bitch – Netflix original series
Capitani Season 2 – Netflix original series
Dangerous Liaisons – Netflix original movie
How To Build a Sex Room – Netflix original documentary series
Incantation – Netflix original movie
Ride on Time Season 4
Jewel – Netflix original movie
The Longest Night – Netflix original series
Ranveer vs Wild with Bear Grylls – Netflix original interactive special
The Sea Beast – Netflix original animated movie
July 11
For Jojo – Netflix original movie
Team Zenko Go Season 2 – Netflix original animated series
Valley of the Dead – Netflix original movie
July 12
Bill Burr: Live at Red Rocks – Netflix original special
How to Change Your Mind – Netflix original documentary series
My Daughter's Killer – Netflix original documentary
July 13
Big Timber Season 2
CHiPS (2017)
D.B. Cooper: Where Are You?! – Netflix original documentary series
Hurts Like Hell – Netflix original series
Never Stop Dreaming: The Life and Legacy of Shimon Peres – Netflix original documentary
Sintonia Season 3 – Netflix original series
Under the Amalfi Sun – Netflix original movie
July 14
Kung Fu Panda: The Dragon Knight – Netflix original animated series
Resident Evil – Netflix original series
July 15
Alba – Netflix original series
Country Queen – Netflix original series
Farzar – Netflix original animated series
Love Goals (Jaadugar) – Netflix original movie
Mom, Don't Do That! – Netflix original series
Pan
Persuasion – Netflix original movie
Remarriage & Desires – Netflix original series
Uncharted
July 18
Live is Life – Netflix original movie
My Little Pony: A New Generation: Sing-Along – Netflix original movie
StoryBots: Laugh, Learn, Sing Collection 2: Learn to Read – Netflix original animated series
Too Old for Fairy Tales – Netflix original movie
July 19
David A. Arnold: It Ain't For the Weak – Netflix original special
July 20
Bad Exorcist Seasons 1-2 – Netflix original series
Virgin River Season 4 – Netflix original series
July 21
Jurassic World Camp Cretaceous Season 5 – Netflix original animated series
July 22
Blown Away Season 3 – Netflix original series
My Village People
One Piece (New Seasons)
The Gray Man – Netflix original movie
July 25
Gabby's Dollhouse Season 5 – Netflix original animated series
July 26
August: Osage County
DI4RIES – Netflix original series
Shania Twain: Not Just a Girl
Street Food: USA – Netflix original documentary series
July 27
Car Masters: Rust to Riches Season 4 – Netflix original documentary series
Dream Home Makeover Season 3 – Netflix original documentary series
The Most Hated Man on the Internet – Netflix original documentary
Pipa – Netflix original movie
Rebelde Season 2 – Netflix original series
July 28
A Cut Above – Netflix original movie
Another Self – Netflix original series
Keep Breathing – Netflix original series
Oggy and the Cockroaches: Next Generation – Netflix original animated series
July 29
The Beauty Queen of Jerusalem Season 2 – Netflix original series
Case Closed: Zero's Tea Time / Detective Conan: Zero's Tea Time – Netflix original animated series
The Entitled – Netflix original movie
Fanático – Netflix original series
Purple Hearts – Netflix original movie
Rebel Cheer Squad: A Get Even Series – Netflix original series
Uncoupled – Netflix original series
What's New On HBO Max: July 2022
July 1
A Kind of Murder
A Simple Plan
Act of Valor
Angels in the Outfield
Arbitrage
Backstabbing for Beginners
Baggage Claim
Blanes Esquina Muller (AKA Blanes St and Muller)
Bringing Out the Dead
Catch a Fire
Code of Silence
Confidence
David Copperfield
Doctor Who: Eve of Daleks
Sin City (Unrated Version)
Godzilla (1998)
Goodbye, Mr. Chips
Hollow Man (Director's Cut)
How to Screw It All Up (AKA Cómo mandarlo todo a la mierda) – Max Original Season 1 Premiere
I Spy
Indecent Proposal
Julia
La Ciudad De Las Fieras (AKA City of Wild Beasts)
Last Night in Soho
Lisztomania
Lone Survivor
Lord of War
Losing Isaiah
Mrs. Brown, You've Got a Lovely Daughter
Mrs. Winterbourne
One for the Money
Overboard
Pawn Sacrifice
Postcards From the Edge
Rio 2
Running Scared
Safe (2012)
She's Having a Baby
Sleepers
Sleepless in Seattle
Snow Day
Spy Kids
Spy Kids 2: Island of Lost Dreams
Spy Kids 3-D: Game Over
Suite Francaise
That Awkward Moment
The Bachelor and the Bobby-Soxer
The Con is On
The Counselor (Extended Version)
The Great American Pastime
The Heat (Extended Version)
The Impossible
The Legends of Zorro
The Other Woman
The Plot Thickens Season 3 Premiere
The Raid
The Satanic Rites of Dracula
The World's End
This is Elvis
Thoroughbreds
Universal Soldier: Day of Reckoning
Warrior
What's Eating Gilbert Grape
July 2
Before Midnight
Sidewalk Stories
July 7
Miss S – Max original Season 1 premiere
The Visitors – Max original Season 1 premiere
July 9 
Mad Max: Fury Road
July 10
The Anarchists – HBO limited documentary series premiere
July 11
Tuca & Bertie Season 3 premiere
July 12
Craig of the Creek Season 4C premiere
Edge of the Earth – HBO sports documentary series premiere
The Bob's Burgers Movie
July 14
FBoy Island – Max original Season 2 premiere
Vote for Juan (Vota Juan/Venga Juan), Season 1 and 2
Vote for Juan (Venga Juan) Season 3 – Max original premiere
July 15
Kung Fu Season 2 premiere
The Rehearsal – HBO comedy series premiere
July 17
Rat in the Kitchen Season 1 premiere
July 19
We Baby Bears Season 1D premiere
July 21
Almost Fly – Max original Season 1 premiere
Pacto Brutal - O Assassinato de Daniella Perex – Max Original Documentary Series
Rap Sh!t – Max original Season 1 premiere
The Last Movie Stars – Max original 6-part documentary premiere
July 23
Walker Season 2 premiere
July 26
Bugs Bunny Builders Season 1A premiere
July 27
We Met in Virtual Reality – HBO original documentary premiere
July 28
Citizen Ashe – Max original premiere
Love Monster – Max original Season 3 premiere
Pretty Little Liars: Original Sin – Max Original Season 1 premiere
Wellington Paranormal – Season 4 premiere
July 29
Superman & Lois Season 2 premiere
The Milestone Generation
Let's make things inbox official! Sign up for the xoNecole newsletter for daily love, wellness, career, and exclusive content delivered straight to your inbox.
Featured image by Getty Images