In I Know Why a Caged Bird Sings, poet and author Maya Angelou details the five-year period of her childhood when she was mute – unable to speak – after the man who had raped her was murdered shortly after being released from jail. "My voice killed that man," Angelou recounts in an interview with Oprah Winfrey on how her seven-year-old logic led to her years-long bout of self-imposed silence. It was only through her voracious love of the written word that she would eventually reclaim her voice.
I was reminded of that story while looking at the image of Angelou newly engraved onto the back of the quarter dollar. An image of the late poet is posed with her arms wide open, juxtaposed alongside a bird with its wings spread open as if they're both about to take flight. But if her writing was the song that Angelou sang, then arresting her image as the newest face of American currency is just another cage.
Maya Angelou's image is on the back of a coin that still features a slaveowner on the front. Huh.

— Renée Graham 🏳️‍🌈 (@reneeygraham) January 11, 2022
In a press release, Secretary of Treasury Janet L. Yellen said that the decision to put Angelou on the quarter signals "what we value, and how we've progressed as a society." But when you realize that enslaver George Washington still sits on the front of the quarter that Angelou – whose great-grandmother was born a slave – it begins to set in just how sinister it is that in a country that was founded on the use of Black people as capital, use a Black woman who grew up in poverty and experiencing the worst of this country's evil as an emblem to reinforce the existence of the state.
In the midst of a global pandemic that has raged into its third year, Black women have experienced the brunt of the continued political failure in America. According to a recent Harvard study, Black women have died of COVID-19 at "more than three times the rate of white men and Asian men." And though Angelou died in 2014, Black women like her – the elderly, those dealing with "comorbidities" like chronic obstructive pulmonary disease (like Angelou did) – are at severe risk from COVID today.
So when Yellen speaks of how much America "values" Black women, we must contrast such statements against the millions who have died or been left disabled by COVID-19 due to this country's deeply embedded medical racism as well as the government's lack of preventative action in favor of preserving capitalism.
We have a Maya Angelou coin. An Ida B Wells barbie doll yet poor Black women are experiencing the brunt of this pandemic and overall societal collapse. Representation feels like nothing but a bandaid placed over a bullet hole

— Daniel Kaluuya If You Are Reading This I Swallow (@WrittenByHanna) January 12, 2022
​Had this country actually valued Black women, especially in the midst of a pandemic, we would have free healthcare, free childcare, and universal basic income along with a thriving wage. Instead, we are given symbols. Empty gestures. Like a placebo or a band-aid over a bullet hole. Mere objects meant to placate us out of demanding what we need.
Representation has become America's cynical move, deployed with an alarming frequency in the past decade against marginalized people's calls for material change.
Shortly before Angelou's coin was released, the Mattel Brand Barbie announced that they would be making a doll in honor of journalist Ida B. Wells who is recognized for her work documenting the terror that was lynching. This isn't the first time that Barbie has invited a historical figure into her Dreamhouse, but it's a curious choice, nonetheless, for a brand known for making white supremacist beauty standards a fixture in homes across the world, to have chosen for their latest doll a Black woman who spent her career pushing back against whiteness.
I'm really exhausted by folks jumping up and down over every little thing.

Maya Angelou on a coin doesn't buy us a remedy against racial oppression. It buys THEM more time…

— C. (@womanistwriter) January 11, 2022
That's not to mention Kamala Harris, the mixed-race Black woman whose image as the first woman sworn into the vice presidency was intended to conjure in our minds the Obama-era feelings of racial progress and pride in America. But what does a Black woman in the second-highest office of the land mean, when her administration continues to let so many Black women suffer economically and physically for the benefit of empire? There's violence in turning a Black woman's legacy into a thing to be played with. And in suggesting that a Black woman being second in command of this country could possibly make this place any less evil.
Angelou was many things. She was a poet, an author, an actress, a director, and a sex worker. She was a woman who lived many lives. But most importantly she was a little girl whose voice returned to her through her poetry after years of silence and trauma. She lives in her words, not through symbols that render her inanimate, dull, and voiceless.
To settle for representation is to settle for the cage that Angelou wrote about. Looking to see ourselves advance inside of white power structures only ensnares us into white supremacy's trap. Black women deserve more. Wells deserves more. Angelou deserves more.
Featured image by Michael Ochs Archives/Getty Images, Illustration by Kyra Jay
Keep reading...
Show less
For many, the new year signifies a time for growth, new beginnings, and fresh starts. It's a time to set the tone for the year ahead by making resolutions, setting intentions, and creating lists of goals. All for the sole purpose of improvement and to manifest the life of one's dreams. Over the years, like millions of people worldwide, I have made numerous commitments towards having a healthier lifestyle.
As a yo-yo dieting, backsliding vegan, I have gained and lost weight many times. At my healthiest, I was a strict pescatarian who worked out six days a week and ran four miles a day. I logged every meal, so as not to exceed my 1400-a-day calorie allotment. On my cheat days, I did extra workouts to make up for whatever I ate. And I weighed myself twice a day, once in the morning and at night, to make sure the number on the scale did not move.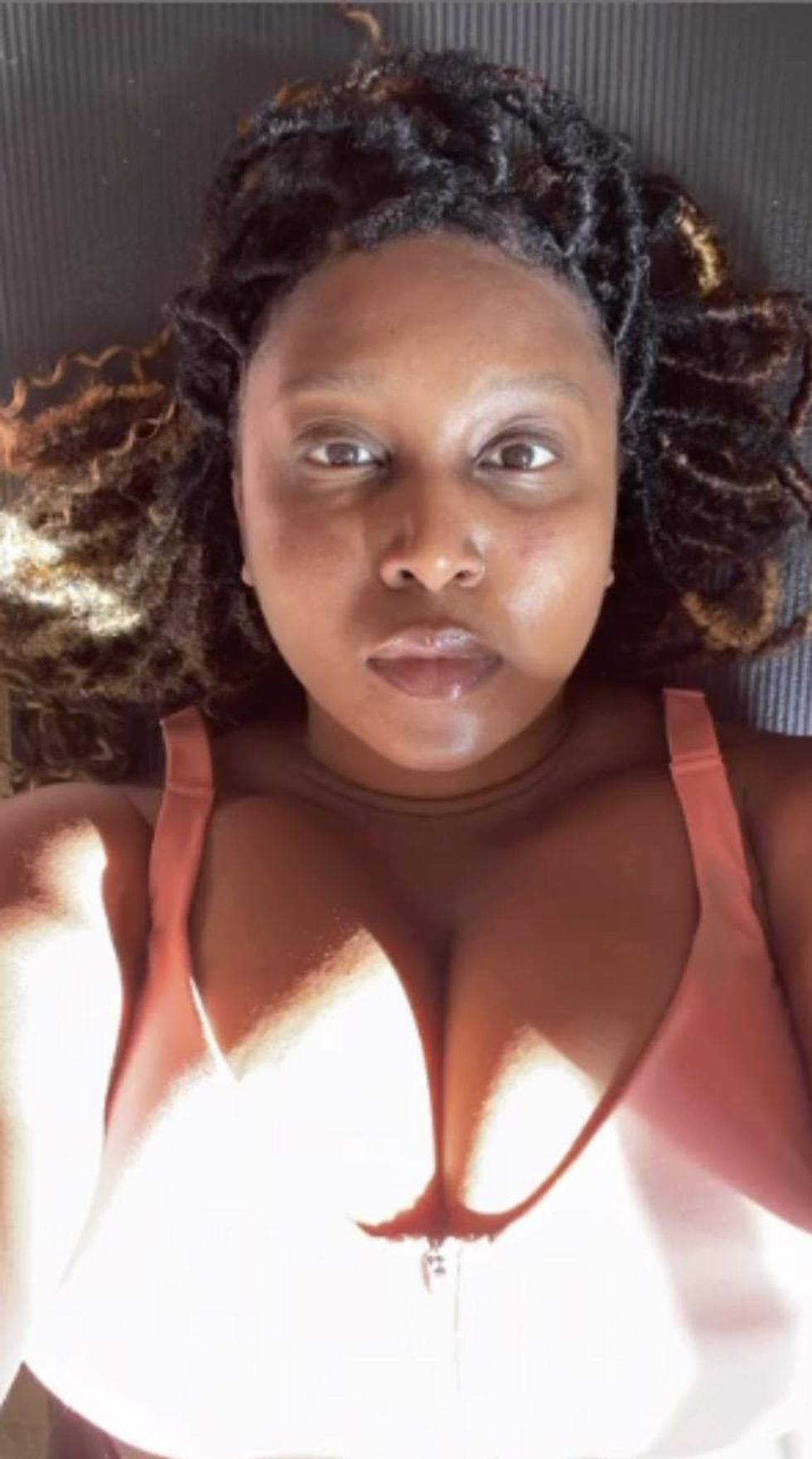 Racquel Coral
Over time, though, I became burnt out with that lifestyle and began to shy away from it. I found that it wasn't sustainable because of the restrictions that I had placed on myself. That and, it was no longer fun. So I traded in my workout time for unlimited hours on the couch watching TV and relying on meal delivery apps instead of cooking. Which did a number on my waistline, causing me to balloon to my heaviest weight of 260 pounds and a size 18/20.
All of that changed last year when I decided to be more intentional about my health. This time around, I opted for small actionable goals, rather than harsh food restrictions and hours in the gym. I ditched the scale, relying solely on my clothes and waist beads as indicators of my weight loss. And I vowed to not take any before and after photos. This weight loss journey was personal.
In the beginning, I committed to exercising 4-5 days a week for 20-30 minutes. Doing this helped me find enjoyable workouts that I could quickly do first thing in the morning before work. As far as food, I gave myself permission to eat whatever I wanted.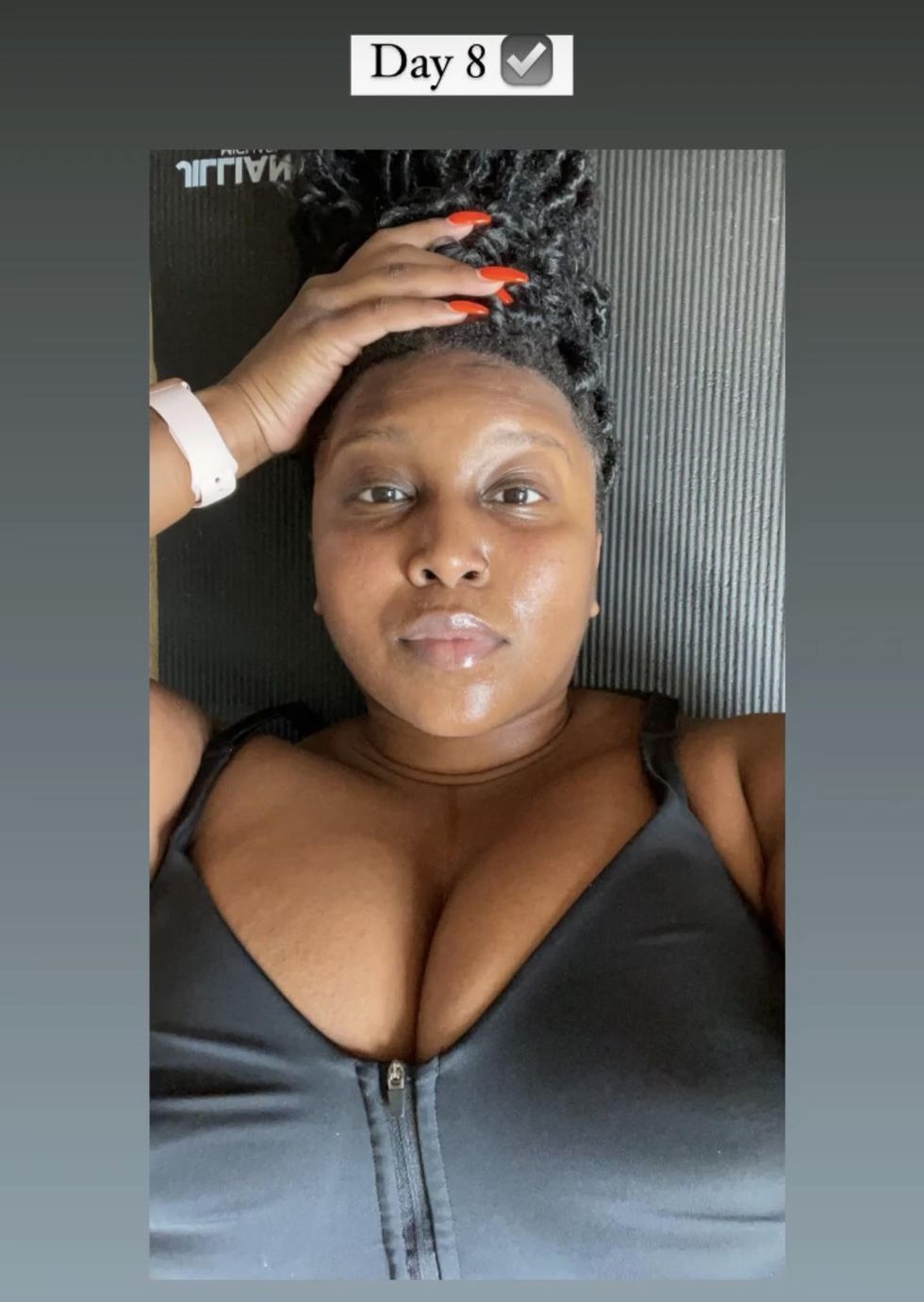 Racquel Coral
This was key because I wasn't as hyper-focused on how much I could or could not eat. It allowed me to enjoy my food without shame or guilt or waiting until my cheat day for a treat. It also helped me in making healthier food choices. So while I knew that I could eat whatever I wanted when I wanted to, I didn't. And on those days when I wanted to eat junk, I allowed myself to.
Those small changes caused me to view working out and weight loss differently. Finding the fun in it and making it a true lifestyle change. I finally discovered my groove and started enjoying the changes in my body along the way.
A few weeks into my newfound healthy living journey, I began to crave working out. It became as much of a routine for me as brushing my teeth. So I decided to work out every day until my body told me not to. As fate would have it, for Lent, a former classmate made a post on Instagram saying that she would work out every day until Easter and invited others to join her. Since at the time I was already around 30 days of nonstop exercise, I made the decision to keep going. This time adding yoga to my nighttime routine a few days out of the week, as I found that it helped with releasing everything from the day and aided in my sleep patterns.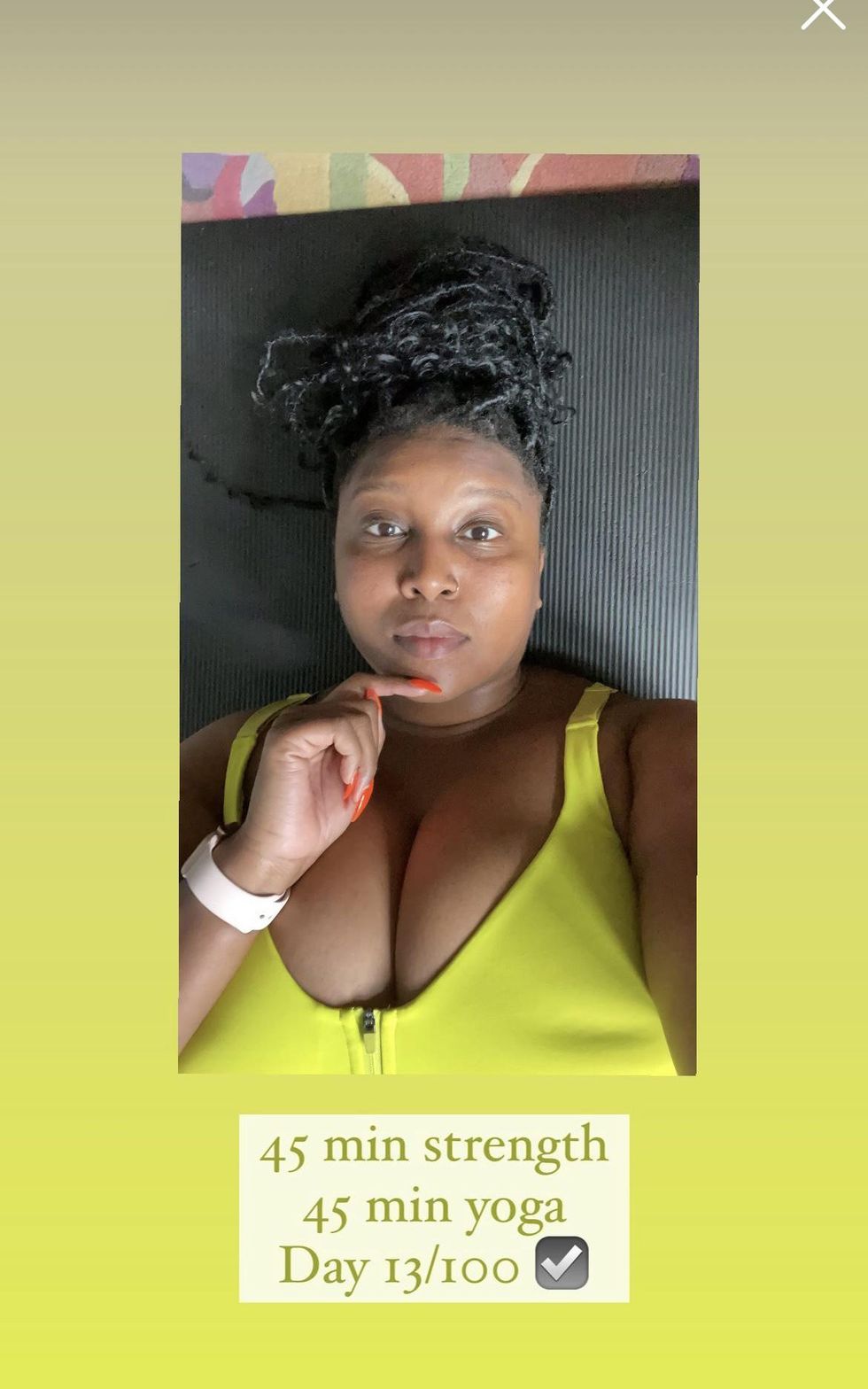 Racquel Coral
I reached my 100th day on May 4th. Now, I could have kept going, but I decided to stop so that I could revel in what I had just done. Over the course of three and a half months, I had gone from four years of no physical activity to successfully completing 100 days of exercise.
I transformed my entire approach to working out to not something that I have to do, but rather, something that I get to do. Not to mention, I went from a size 18/20 to a 14/16. One of my biggest takeaways from that experience was to honor my body by showing it gratitude. For every pushup, plank, down dog, or mile walked, it was a form of gratitude. Gratitude for not breaking down on me. Gratitude for going that extra step. Gratitude for every function that performed the way that it was supposed to.
Another takeaway was that working out is a form of self-care. A tool to help with issues surrounding our mental health. A way to boost our self-confidence. A reminder to find our happiness.
As Black women, we live some of the most sedentary lifestyles, so regular physical activity is paramount. In addition to what we eat, consistent exercise is a form of preventative medicine. So you can't fully practice self-care if you're neglecting to move these beautiful vessels that house and carry us each day.
In the beginning, I said that my weight loss journey was personal. It was more than losing a few pounds and going down a couple of sizes. It was the opportunity to get reacquainted with my body by giving it the grace to move as it saw fit. And to show love to it for never failing me, even at times when I have failed it.
Featured image by Getty Images
Keep reading...
Show less
By now we have all heard the sad news that Lisa Bonet and Jason Momoa have decided to split. The couple were married for five years, but together for 16 years and share two kids, Lola, 14, and Nakoa-Wolf, 13. The couple made the shocking announcement via Jason's Instagram as Lisa doesn't have social media.
"We have all felt the squeeze and changes of these transformational times… A revolution is unfolding ~and our family is of no exception… feeling and growing from the seismic shifts occurring," read the caption. "And so~ We share our Family news~ That we are parting ways in marriage. We share this not because we think it's newsworthy ~ But so that~ as we go about our lives we may do so with dignity and honesty."
The caption continued, "The love between us carries on, evolving in ways it wishes to be known and lived. We free each other ~to be who we are learning to become…Our devotion unwavering to this sacred life & our Children"
"Teaching our Children What's possible ~ Living the Prayer May Love Prevail ✨ J & L."
While it seems that the couple noted that the pandemic affected their relationship as it has with countless others we've seen.
We want to reflect on happier times. Both Lisa, 54, and Jason 42, were often gushed over for being a sexy-looking couple, but they also have shared cute moments together and even said cuter things about one another. See below:
Jason Revealed That Lisa was His Childhood Crush
During his 2017 appearance on The Late Late Show with James Corden, the Aquaman actor opened up about his longtime love for The Cosby Show actress.
"Ever since I was like, 8 years old and I saw her on the TV, I was like, 'Mommy, I want that one,'" he said. "I'm like, 'I'm going to stalk you for the rest of my life and I'm going to get you.'"
"I'm a full-fledged stalker," he added jokingly. "I didn't tell her that until we had two babies, otherwise, I'd be creepy and weird. But yeah, [I'd] just always wanted to meet her. She was a queen, always."
They Had Their First "Date" on the Same Night They Met
​Jason went on to discuss how he and Lisa met at a jazz club while talking to James Corden.
"We just happened to be in the right place at the right time," he said. "I actually had dreaded my hair for her. I had dreadlocks, she had dreadlocks. I literally turned around and I see her and she goes, 'I'm Lisa.' I turned around to my friend and I [pretended to scream]. I had f—ing fireworks going off inside, man. I convinced her to take me home because I was living in a hotel."
They ended up going out for a bite to eat and he said, "the rest was history."
Teamwork Makes the Dream Work
​In 2014, the former couple starred in the film Road to Paloma, which was written and directed by Jason, and the Sundance TV series The Red Road.
When the actor was asked about working with Lisa, he said, "It's an honor. In this business, we have to travel so far away from our families. We have two children, so if we can work together, that's awesome."
A Beautiful Surprise
In August 2020, Jason surprised Lisa by restoring her 1965 Ford Mustang, which was the first car she ever bought.
The Game of Thrones actor shared the process of the car being restored and the actress' reaction on his YouTube page. "To be in this passenger's seat with my wife here and surprise her and our babies in the back, riding in her first car from when she was 17? I'm excited to see her face."
While carrying her on his back, Jason walked Lisa outside for the big reveal. "That's beautiful! Holy cow," she said. She continued to make remarks here and thereafter the surprise, "That is gorgeous... Not too flashy, but just enough."
Featured image by Stefanie Keenan/Getty Images for TOM FORD: AUTUMN/WINTER 2020 RUNWAY SHOW
Keep reading...
Show less
Janet Jackson is not only a talented force to be reckoned with, but she is also viewed as a sex symbol. From her infamous 1993 Janet album cover, whose full photo was later used on the cover of Rolling Stone where she posed topless to her sensual songs and dance moves, Janet has long been revered as one of the sexiest women on the planet.
But while fans view her in that way, the "Control" singer hasn't always seen herself in that light. At 55 years old, Janet is reflecting on her career and how she came to love her body in an interview with Allure. When the Why Did I Get Married? actress hit music stardom, she was usually fully clothed and wore baggy suits and her self-titled album was a way for her to tap into that body confidence.
"It took a lot of work, a lot of work," Janet said. "It was something very tough, very difficult. But I'm glad I walked through it. I'm really glad I got in. It was a way of accepting and loving, accepting yourself and your body."
She described that time in her life as "embracing me and trying to learn to love me for me, my body, all of that. Trying to feel comfortable in embracing that. Throwing myself in the lion's den. Just going for it, wanting to do something different."
Her talent and confidence live on in other artists such as Ciara and Teyana Taylor to name a few who have been influenced by the "Pleasure Principle" singer.
While it may be shocking to think that someone like Janet lacked body confidence, she isn't alone. Here are some other women who also opened up about body confidence and loving the bodies they are in.
Serena Williams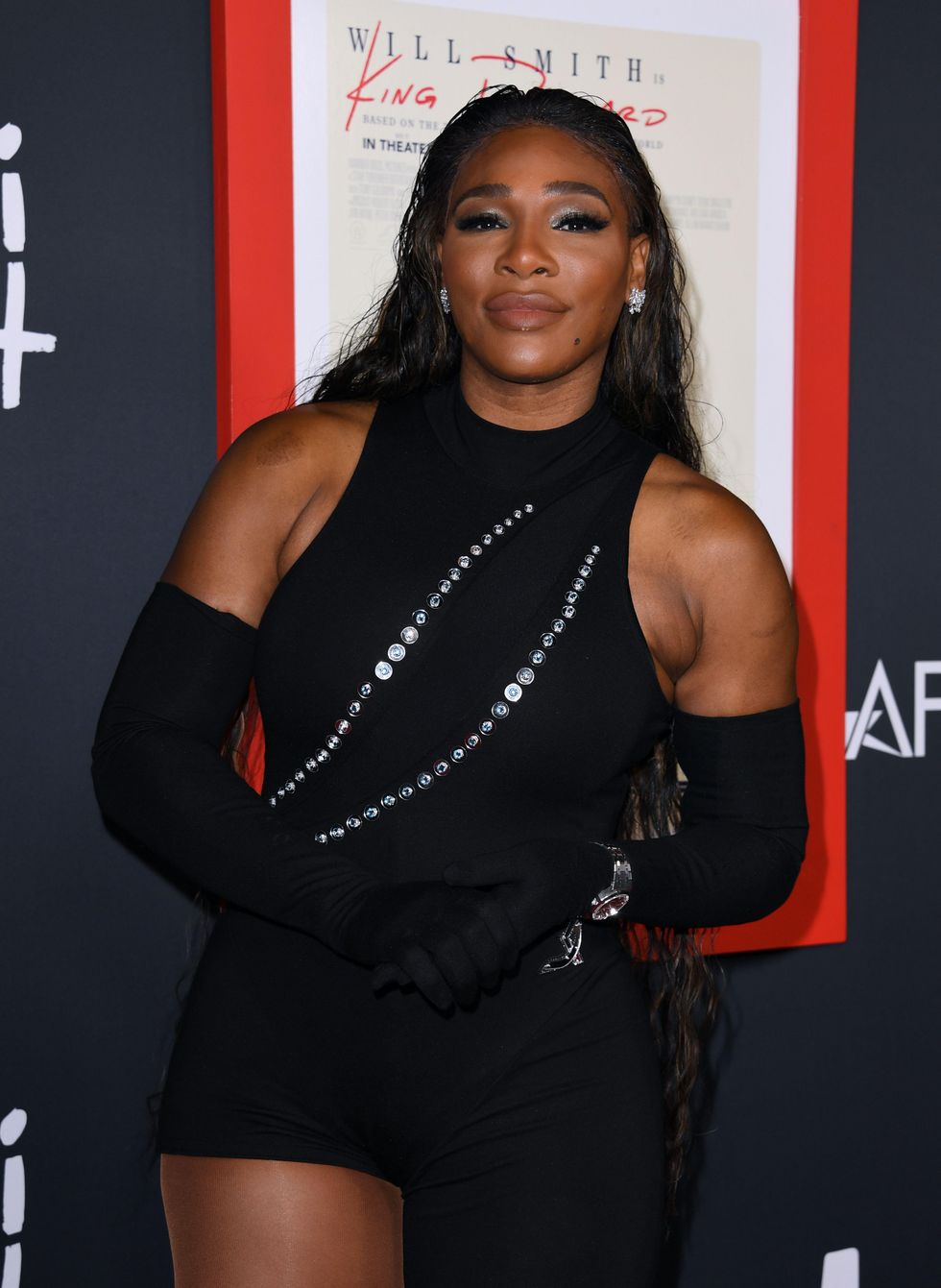 Jon Kopaloff/Getty Images
Despite being arguably one of the greatest athletes of all time, something that used to be a hyper-focus when talking about Serena Williams was her body. Strength and having a muscular body overall were seen as innately masculine. Serena would receive criticism for her body of being "too strong," especially for a woman.
In the past, she shared with The Undefeated, "There was a time when I didn't feel incredibly comfortable about my body because I felt like I was too strong. I had to take a second and think, 'Who says I'm too strong? This body has enabled me to be the greatest player that I can be.'"
"For every negative comment, there are 300,000 positive ones. My fans are incredibly supportive. I look like a normal athlete, a normal woman walking down the street, a thicker one. I'm OK with that. I love that," Serena told The Miami Herald about how she learned to love her body.
"You have to be OK with yourself no matter if you're size 0 or a little bigger, like me. A lot of other people say I inspire them to be comfortable with themselves. My mom was really strong on that, on learning to love yourself."
Coi Leray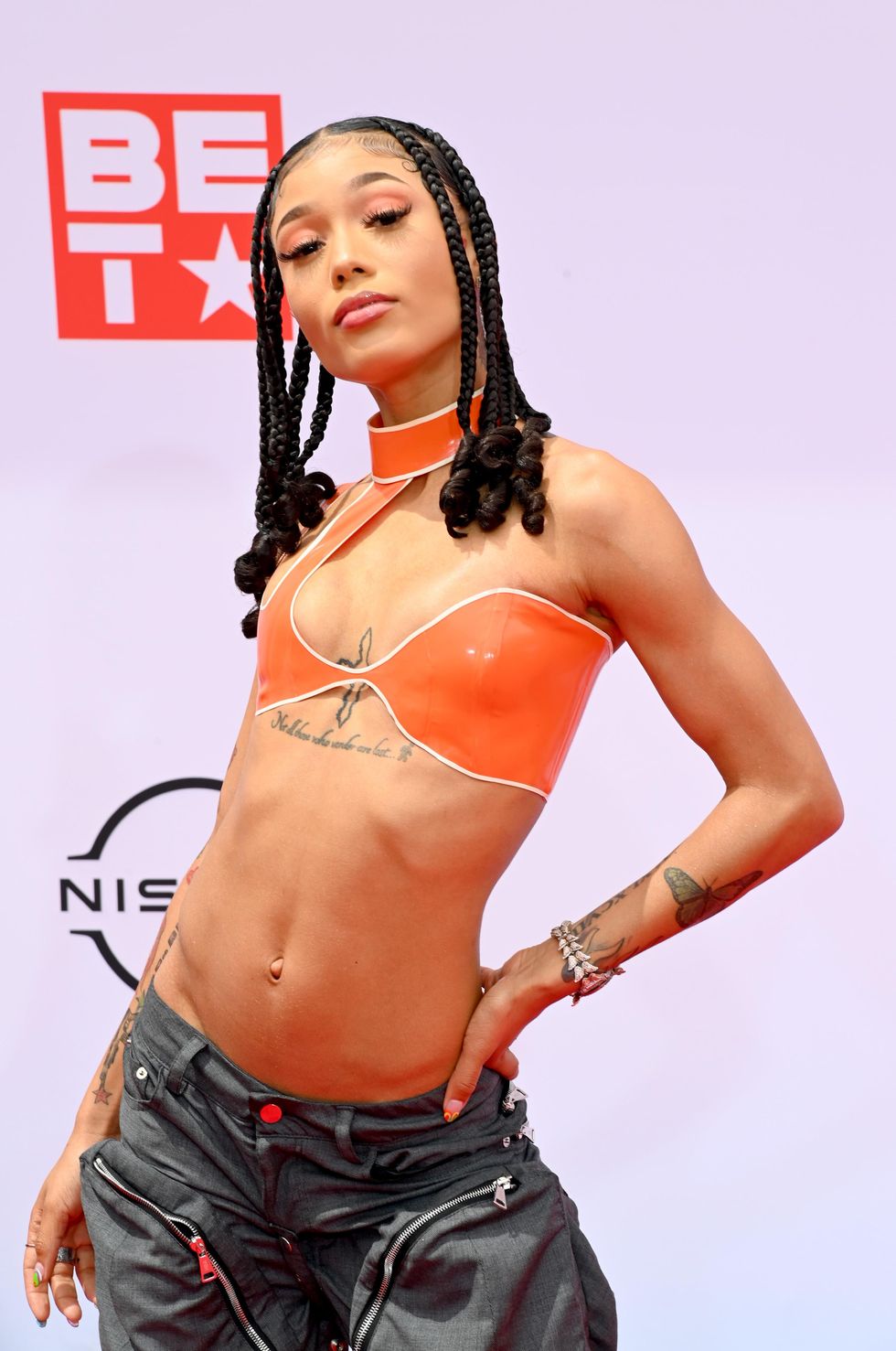 Paras Griffin/Getty Images for BET
Coi Leray has been at the center of a lot of "body shaming" conversations. Since the "Twinnem" rapper rose to popularity, more eyeballs have been placed on her small frame, and with it more unsolicited critiques. Earlier last year, she defended herself in a series of tweets.
"Lot of y'all do this bullying shit to every celebrity," she prefaced in her tweets. "I get it, y'all human. But a lot of people don't understand how much it could kill someone. If you tryna kill me, just know I ain't afraid to die. I'm ready for whatever."
In them, Coi made it clear that even if some felt she was "too skinny," she was confident with her body and in her own skin. "Get used to my body because I'm never changing anything on it. Get used to this lil ass cause I ain't never gonna stop shaking it.
Lizzo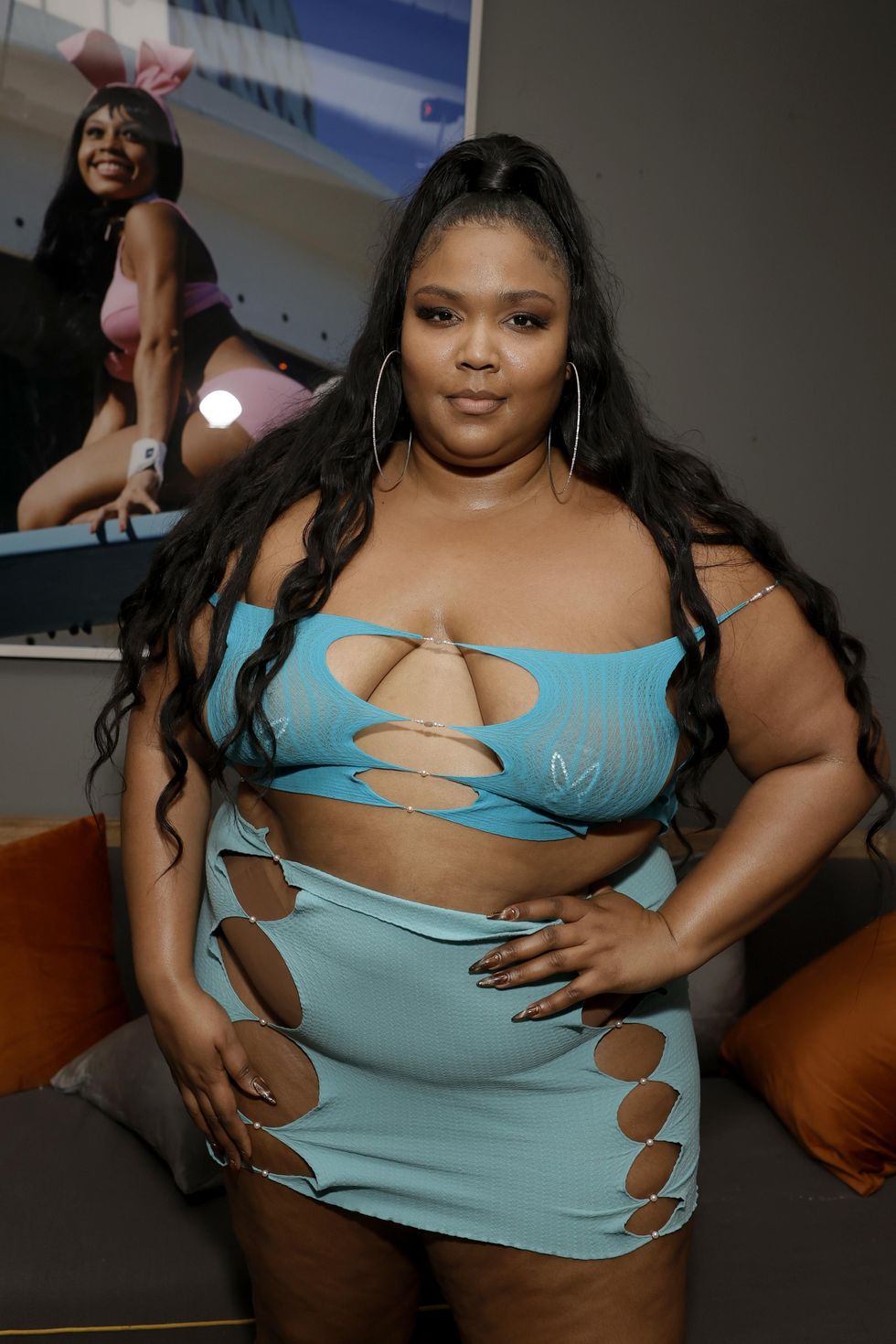 Frazer Harrison/Getty Images for Playboy Enterprises International, Inc.
Over the years, Lizzo has become synonymous with self-love and self-acceptance. From the hits like "Truth Hurts" that put her on the map, to transparent truths on her platforms, Lizzo has become somewhat of a relatable icon. The reason is, so many of us can see ourselves in her. Some days we feel "Good As Hell" in our bodies and the skin that we're in, others we feel the exact opposite.
Lizzo owns that and has shared her feelings with the world on numerous occasions. In an Instagram post shared last year, the singer revealed, "I started talking to my belly this year. Blowing her kisses and showering her with praises. I used to want to cut my stomach off I hated it so much. But it's literally ME. I am learning to radically love every part of myself. Even if it means talking to myself every morning. This is your sign to love on yourself today!"
Rihanna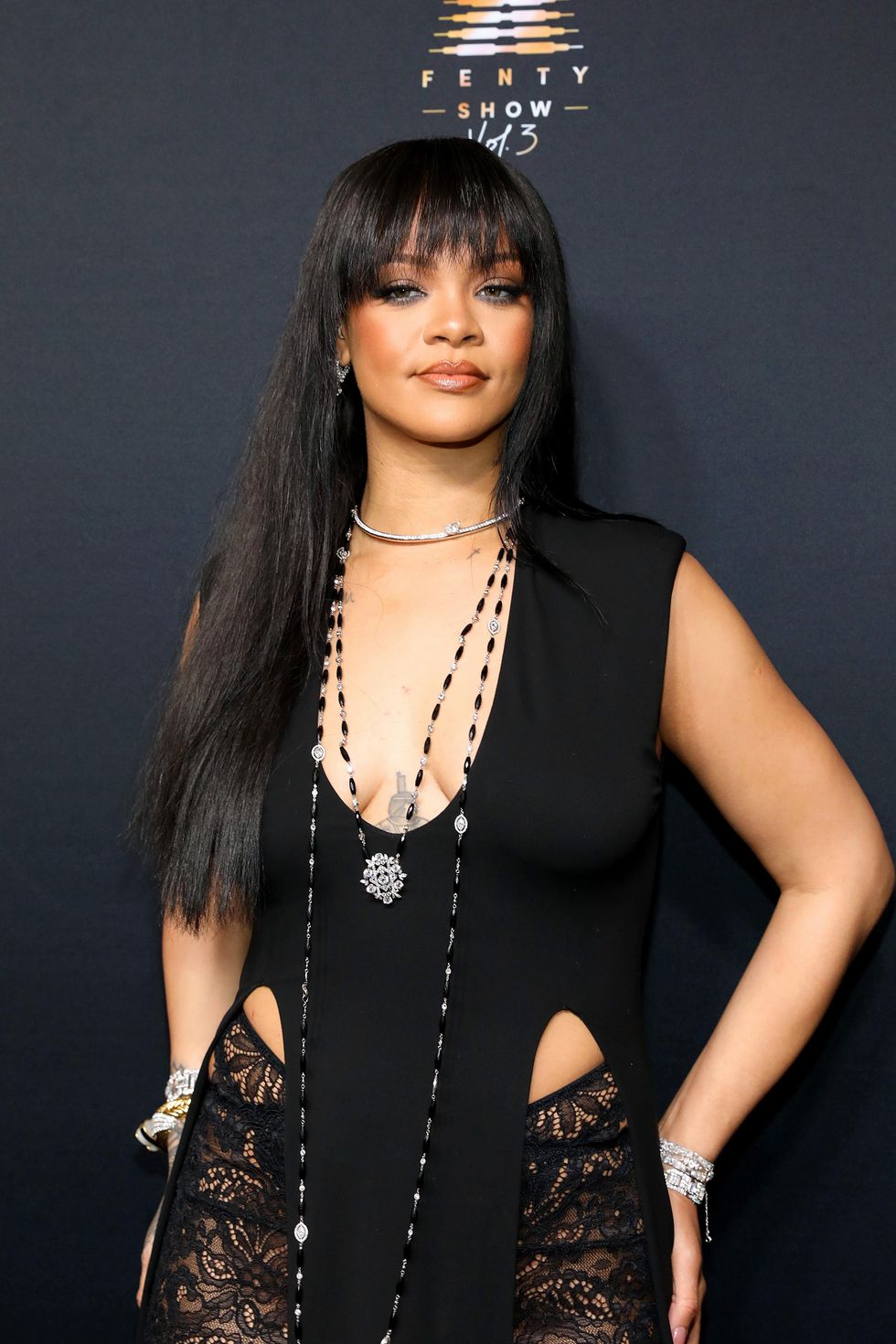 Monica Schipper/Getty Images for Savage X Fenty
While Rihanna is held as one of the most beautiful women in the world, like many women, she also struggles with body confidence. However, the "Kiss it Better" singer has learned to work with her body when it comes to clothing.
"Well, I actually have had the pleasure of a fluctuating body type, where one day I can literally fit into something that is bodycon, and then the next day — the next week — I need something oversized; I need a little crop here and a high-waist there to hide that part, you know?" she told The Cut.
"I really pay attention every day when I go into the closet about what's working for my body that morning. I feel like that's how everyone should go after fashion because it's an individual thing."
*Takes notes*
Featured image by David Becker/Getty Images for Park MGM
Keep reading...
Show less
With the hectic lives we've lived in a pandemic these past two years, it's easy to feel as though 2022 will be a repeat of what preceded it. While I can't predict what the future holds, I can guarantee that there will be plenty of exciting moments filled with unforgettable looks ahead. As we press reset, one way to head into a new year is by making space in preparation for more to come in our lives, especially in our closets. When it comes to accessories, handbags are my weakness.
I'm always keeping an eye out for new styles to add to my overflowing collection. As someone who believes a woman can never have too many bags, I'm not shy about my love for a simple yet chic affordable one. Whether micro, mini, midi, or oversized. While maintaining a low-key obsession, there are a number of styles I can't go without in 2022. Whether you love vintage, designer or somewhere in between, there's been a number of trends that left such an impression they'll be right alongside us throughout the new year.
From everyday shoulder bags to oversized totes, there's a style, color and silhouette that suits everyone.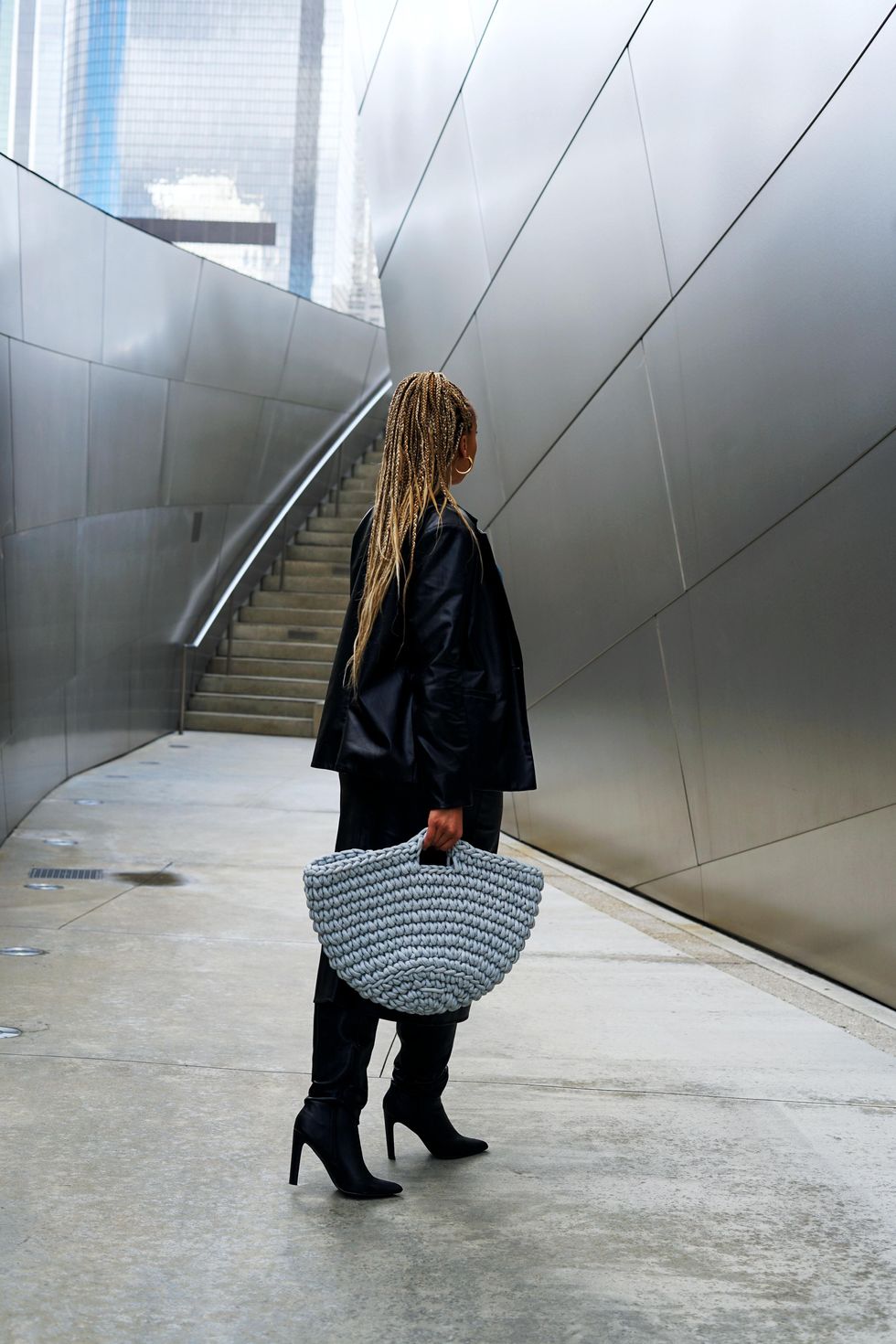 Shahirah Ahmed/xoNecole
The Oversized Tote Bag Trend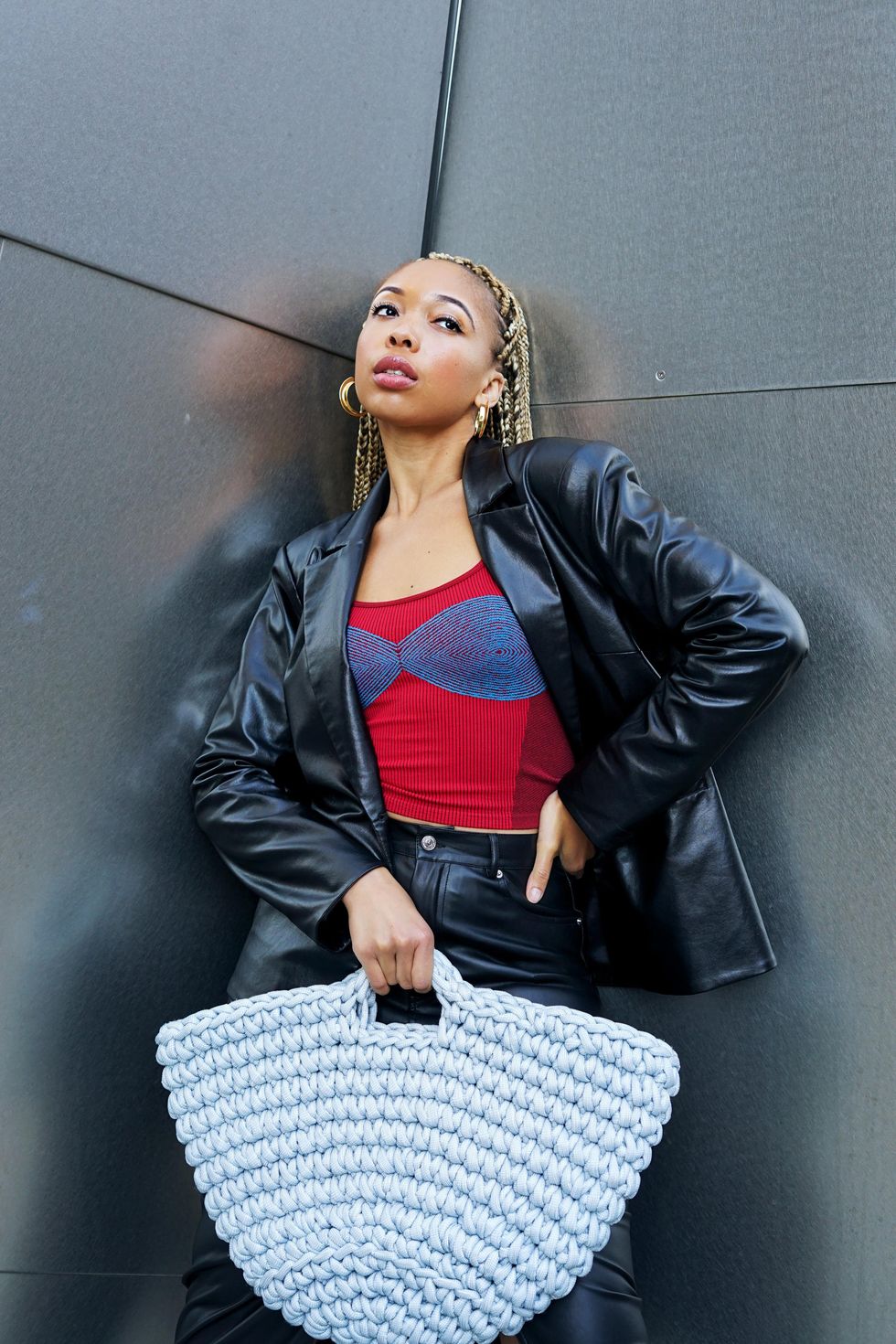 Shahirah Ahmed/xoNecole
This oversized shopping tote is the new statement bag perfect for a range of looks and occasions. What makes this carry-all stand out is its intricately weaved yet structured design that elevates this bag for more than just running errands around town. Paired with a sleek leather skirt and matching blazer jacket, this is the only drama I'm bringing into 2022.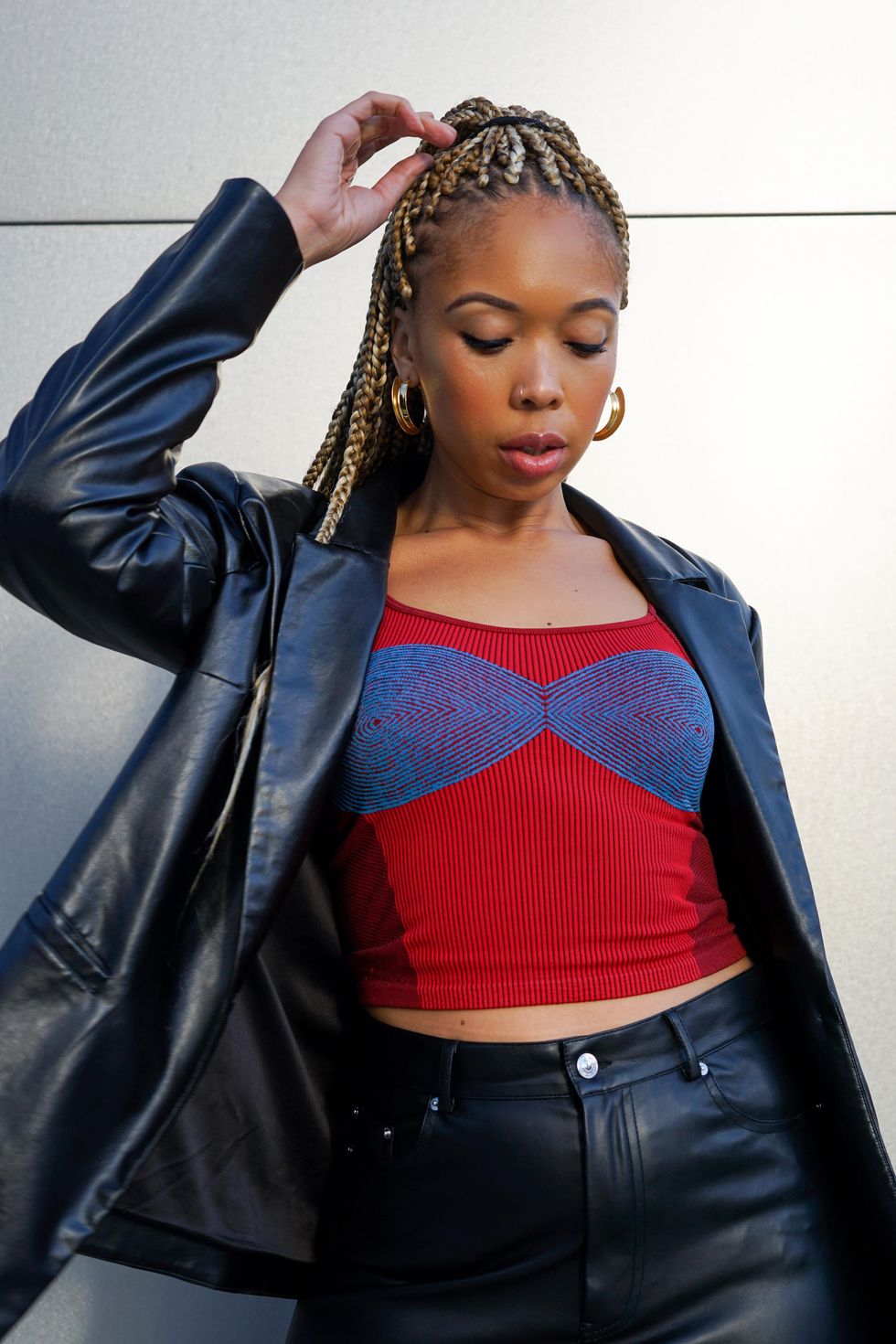 Shahirah Ahmed/xoNecole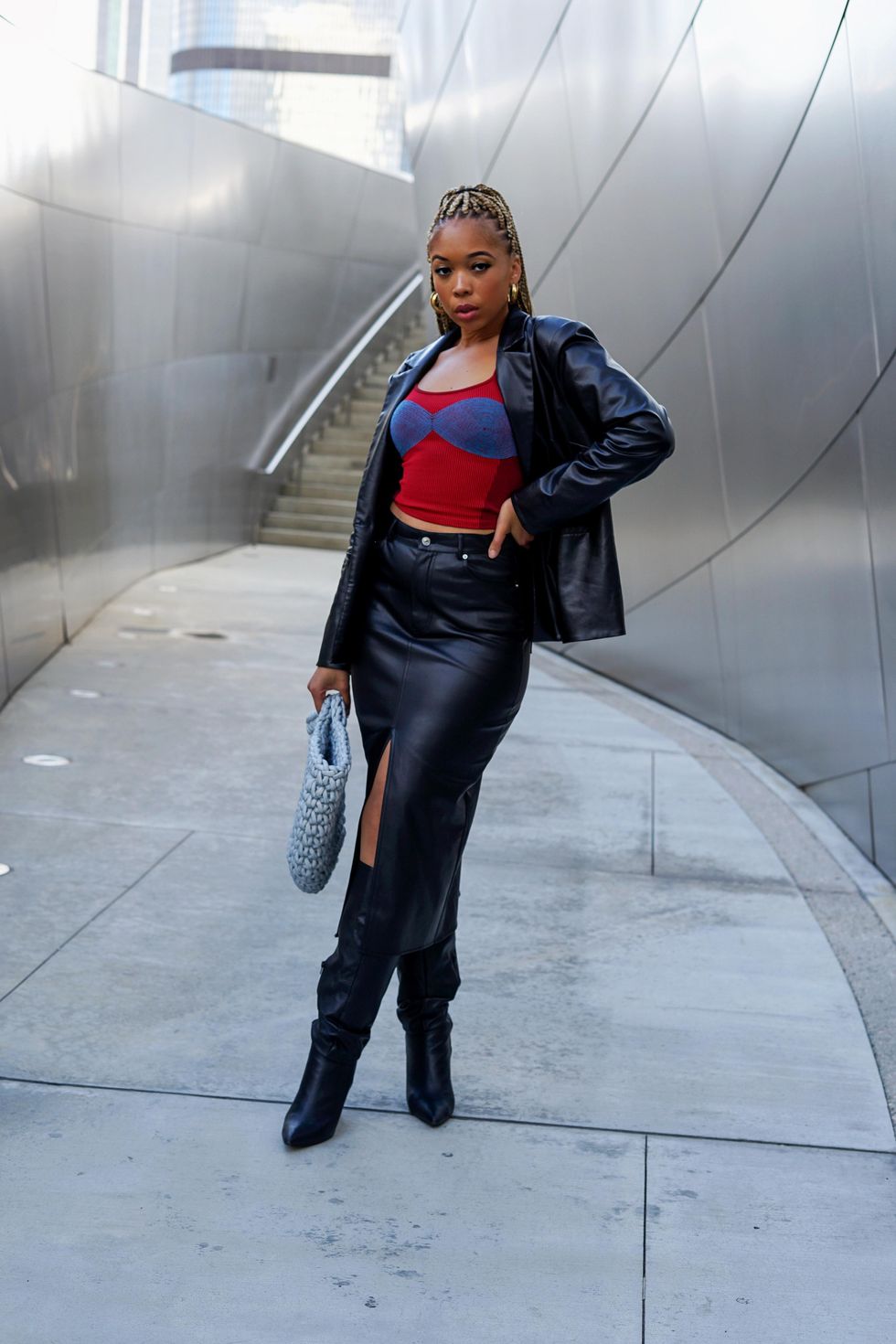 Shahirah Ahmed/xoNecole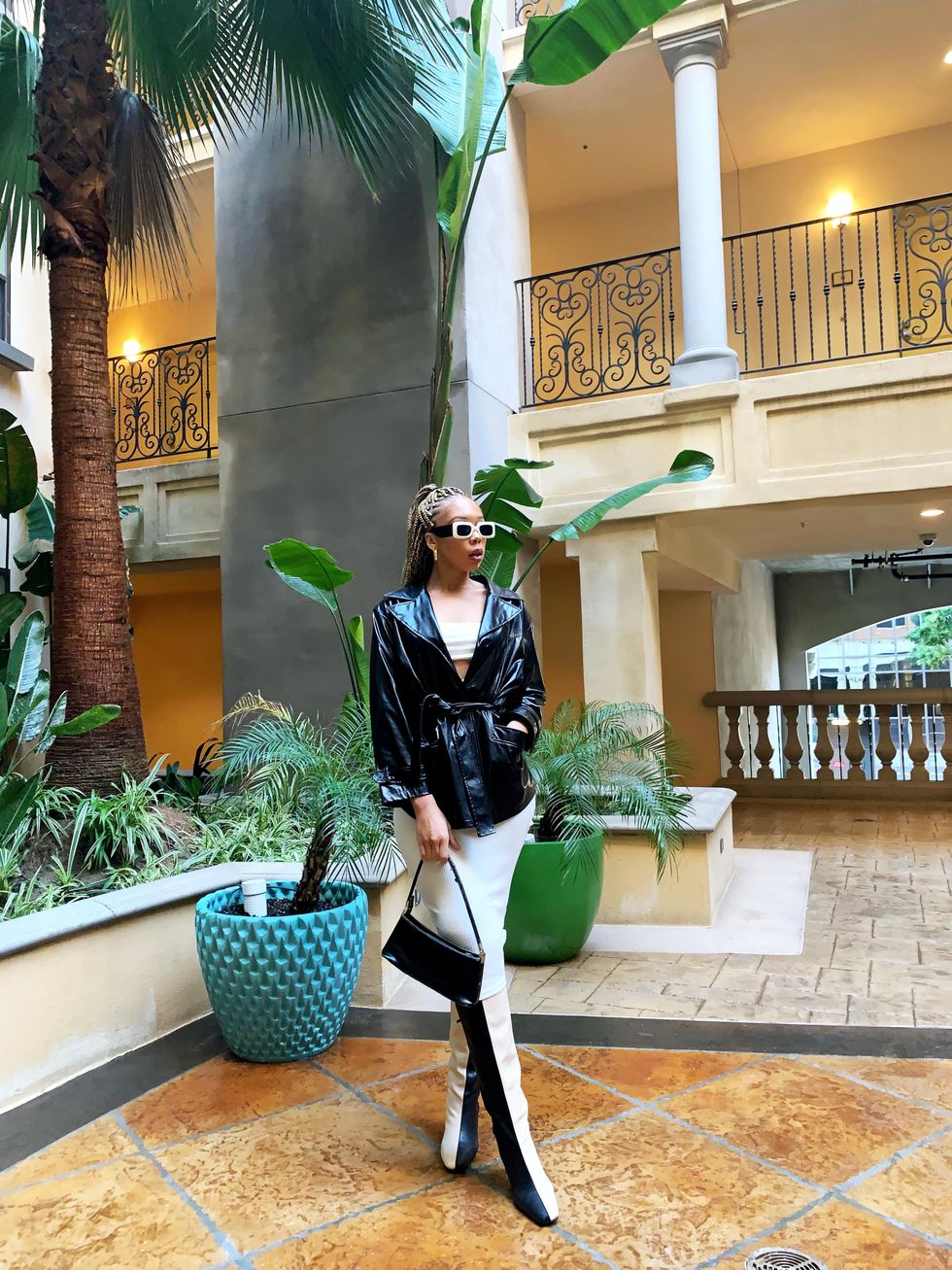 Shahirah Ahmed/xoNecole
The Pencil Bag Trend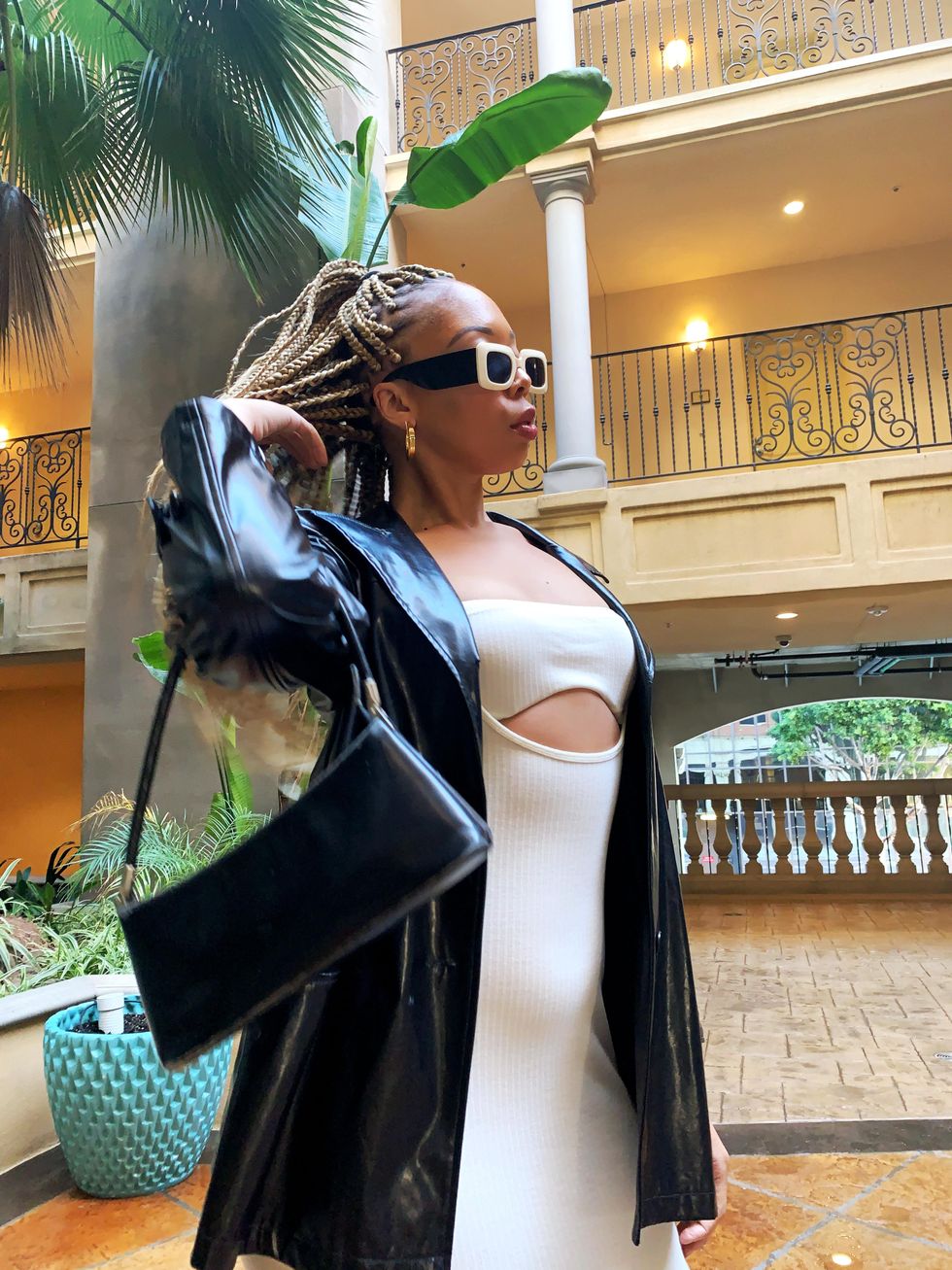 Shahirah Ahmed/xoNecole
Simple yet sophisticated, the pencil bag is a modern design that can be worn with anything. Big enough to fit our essential items yet small enough for a compact yet chic addition, this is one of my favorite purchases. For a mute classic, go for a neutral-colored structured shoulder bag that you'll love wearing both day and night.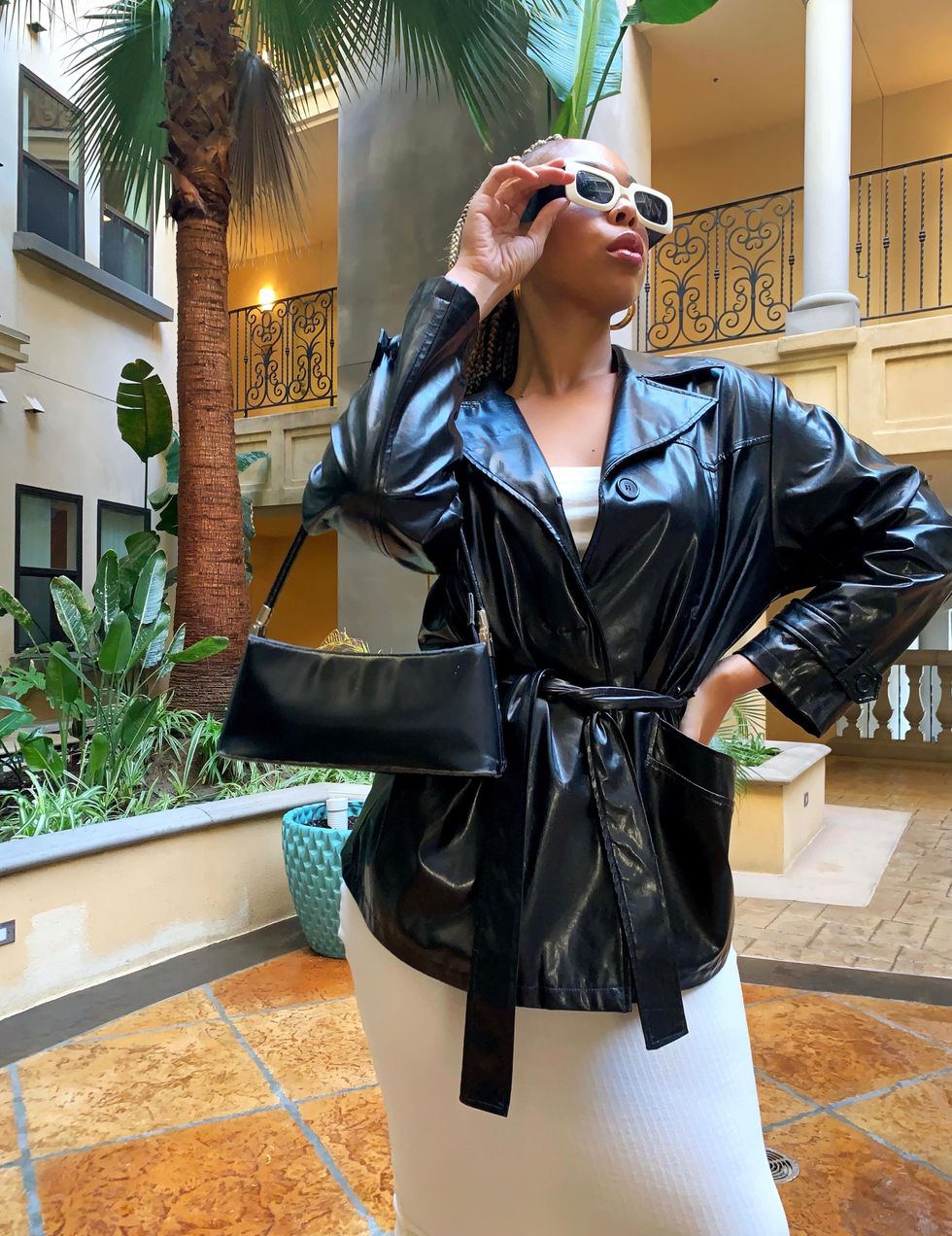 Shahirah Ahmed/xoNecole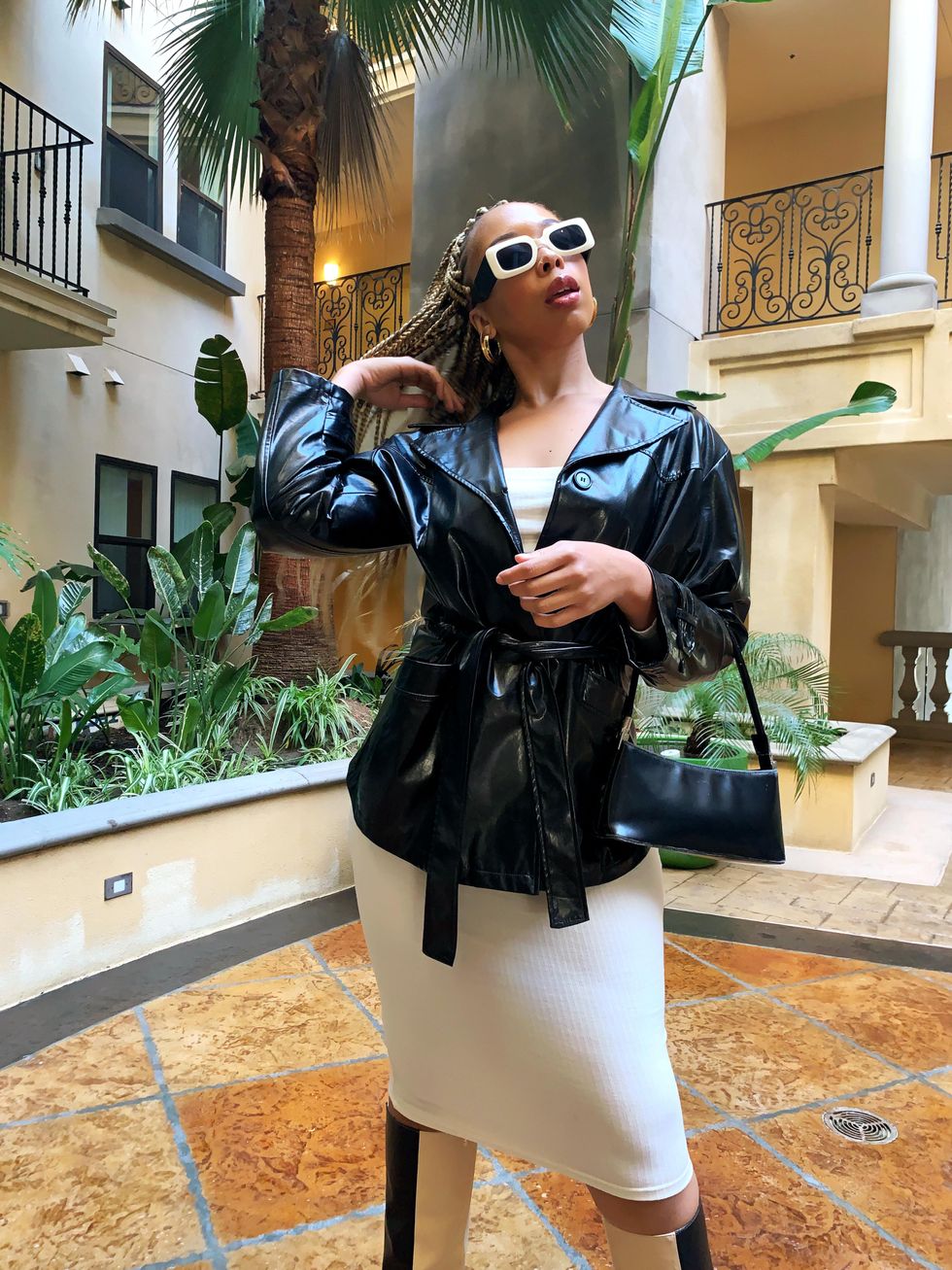 Shahirah Ahmed/xoNecole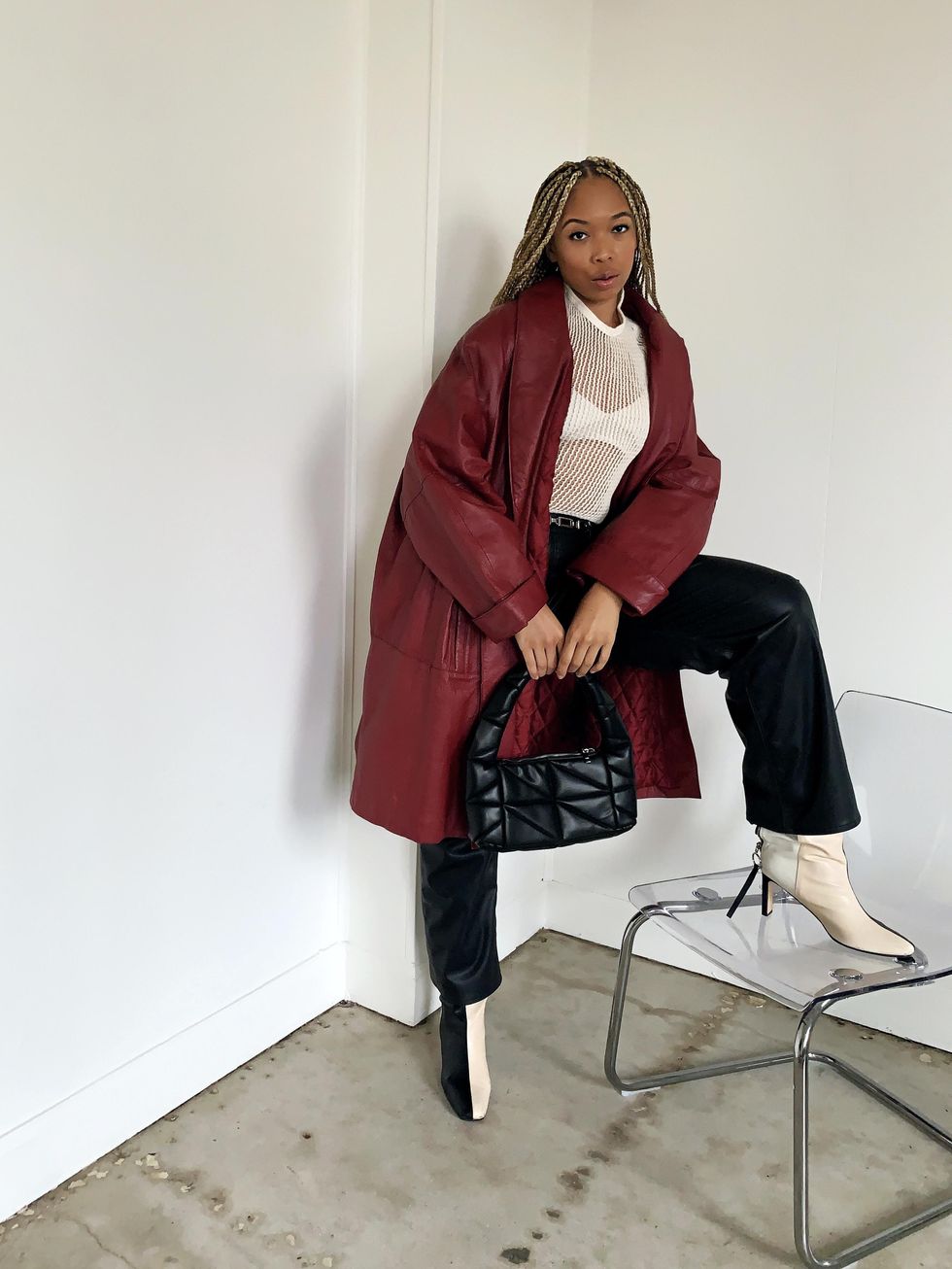 Shahirah Ahmed/xoNecole
The Handle Bag Trend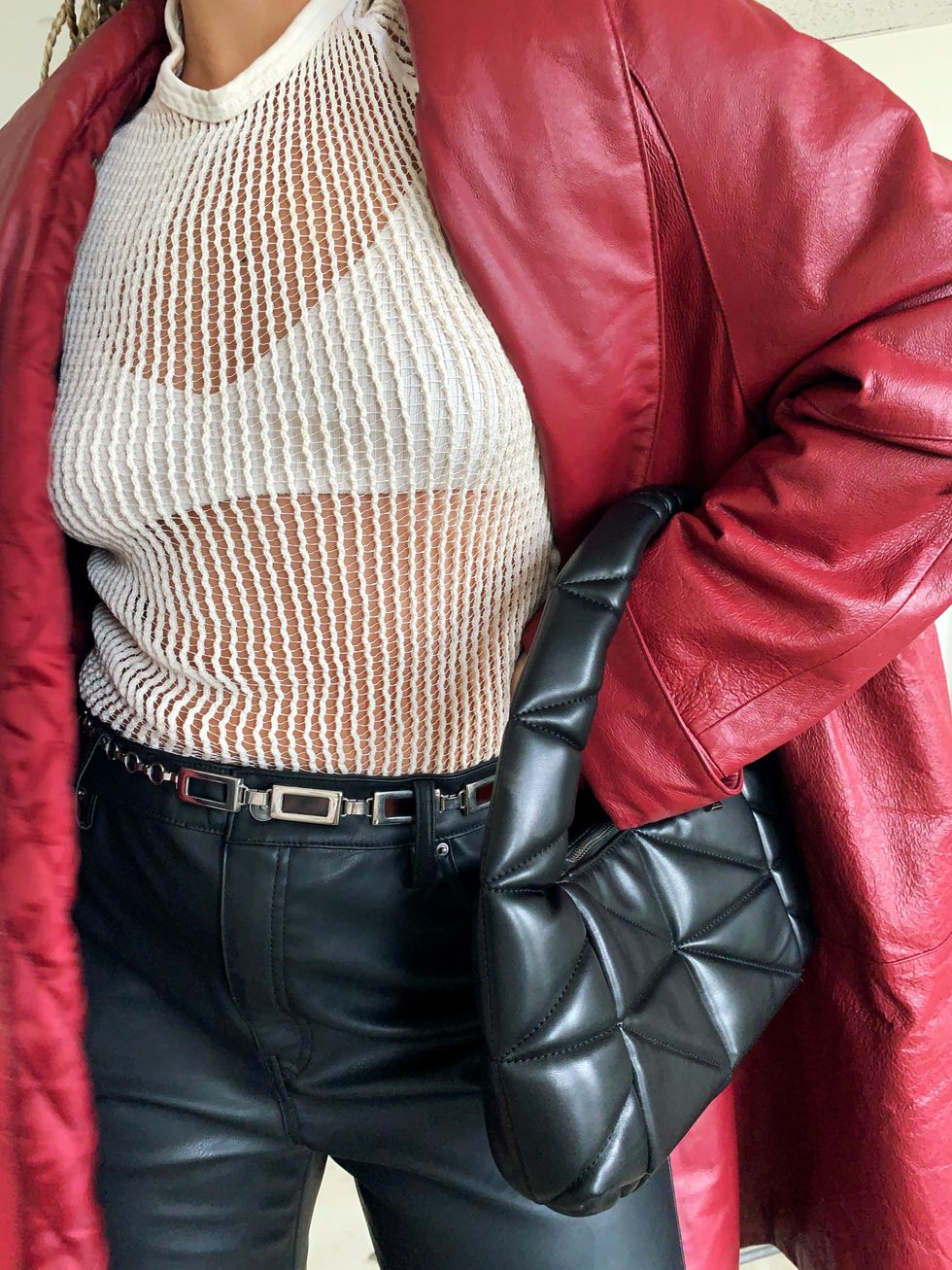 Shahirah Ahmed/xoNecole
The handle bag made its mark in 2021 so it's only right that we carry it with us into the new year. I'm loving this combined style with the quilted trend, making it great for dressing up or down in your winter's finest. Whether worn with leather on leather or a sporty but chic look, this is the perfect bag fit for almost any fashion-forward occasion.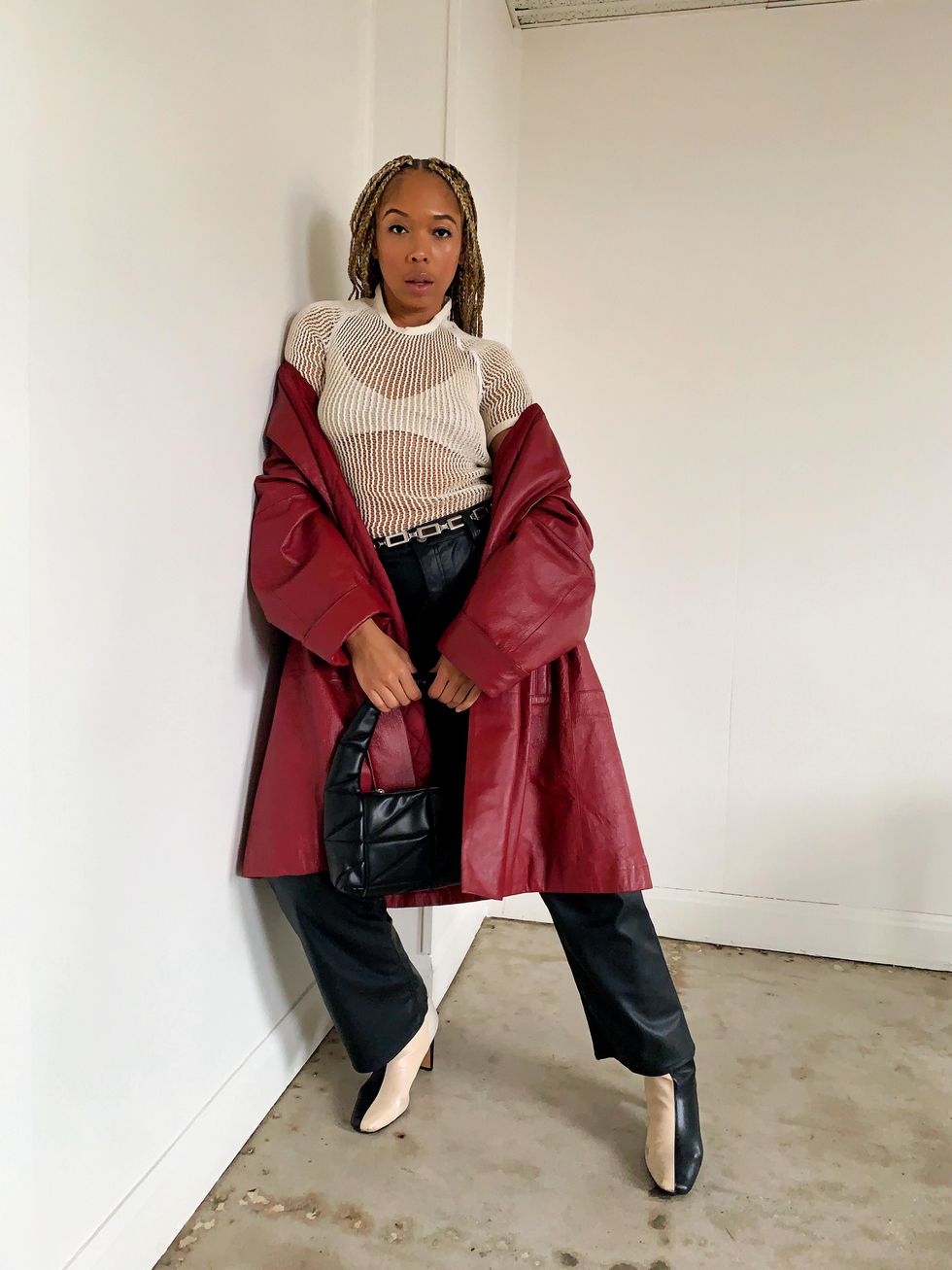 Shahirah Ahmed/xoNecole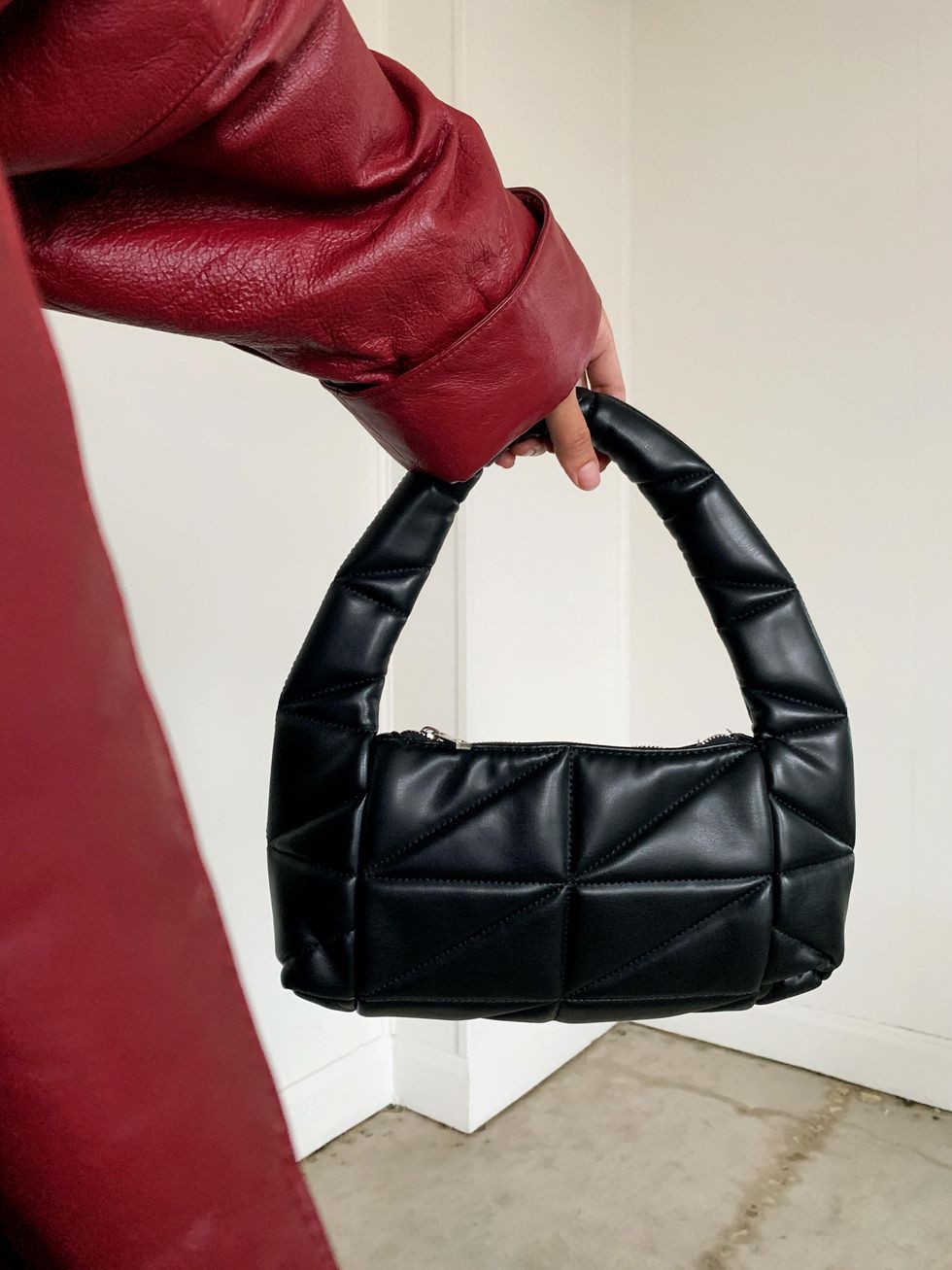 Shahirah Ahmed/xoNecole
Featured image by Shahirah Ahmed/xoNecole
Keep reading...
Show less
Will Smith finally dropped the trailer for the much-talked-about series Bel-Air, which is a reimagining of the family sitcom The Fresh Prince of Bel-Air. Talks of the '90s hit show receiving a reimagining began in 2019 after up-and-coming film director Morgan Cooper created a fan trailer with a dramatic take on the beloved sitcom.
After the trailer went viral, Will took notice and acquired the show as part of his Westbrook Productions and is co-executive producing it with some of the show's original producers such as Quincy Jones and Benny Medina.
Morgan serves as the creator and an executive producer as well. As fans gear up for the premiere in February on Peacock, here's what we know.
The New Will Has a Similar Story to Will Smith
Bel-Air's Will, played by newcomer Jabari Banks, is also a West Philly native like Smith.
Another fun fact is that while Jabari was in high school, he and his friends dressed up like Smith and The Fresh Prince of Bel-Air cast.
Rounding out the Bel-Air cast is Adrian Holmes who plays Philip "Uncle Phil" Banks, Cassandra Freeman who plays Vivian Banks, Olly Sholotan who plays Carlton Banks, former Disney star Coco Jones who plays Hilary Banks, Captain Marvel's Akira Akbar who plays Ashley Banks and Jordan L. Jones who plays Jazz.
The Storyline is the Same, but Not Really
​Like The Fresh Prince of Bel-Air's theme song notes, Will ends up leaving his hometown of Philadelphia to live with his aunt and uncle in Bel-Air after he gets into trouble with some local gangsters.
The same goes for Will in Bel-Air, however, it's a little deeper. After getting into a squabble on the basketball court in Philly, Will pulls out a gun and shoots it in the air when the police arrive which gets him into trouble with the law.
Will has tension with both Carlton and Uncle Phil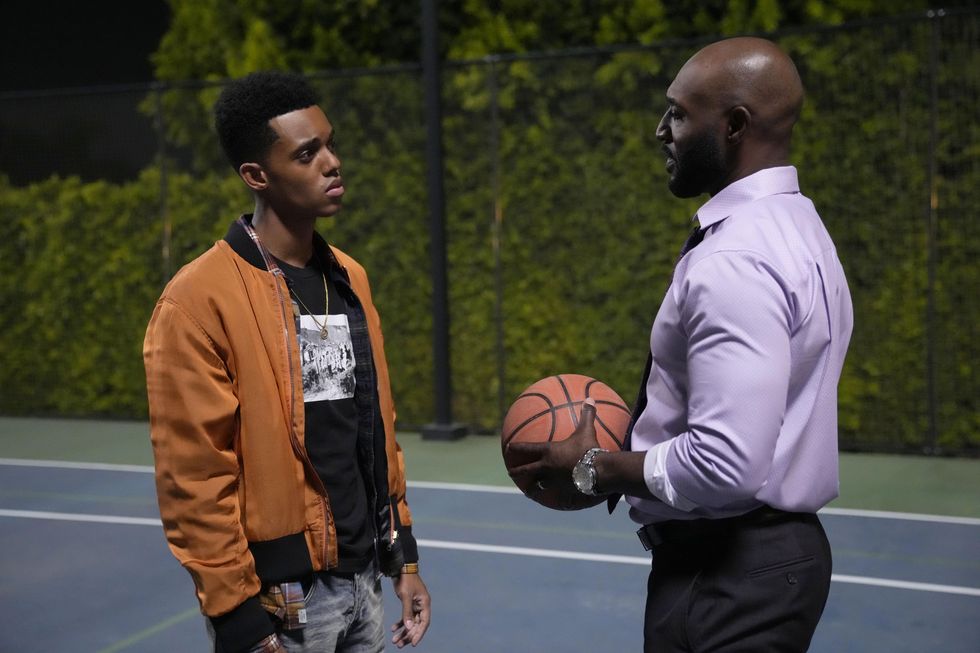 Peacock
Also in the trailer, we see the tension between Will and Carlton as they both vie for power at their high school.
Carlton, who appears to be the king of the school, seemingly tries to take Will under his wing, but the Fresh Prince does the opposite of what Carlton says, which makes him an outcast.
However, he appears to find his footing and wins over his classmates, which threatens Carlton's position at the school. While Uncle Phil agreed to take Will in, he doesn't seem too thrilled to have his nephew around. In the trailer, Uncle Phil advises Will to keep his head down after he pulled strings to get him out of trouble.
Peacock ordered two seasons of the show after a bidding war with HBO and Netflix. Bel-Air will premiere on February 13 right after the Super Bowl.
The first three episodes will be available to stream during the premiere. After that, new episodes will be available for streaming weekly.
Featured image courtesy of Peacock
Keep reading...
Show less