It's official, guys. Derek Chauvin, the ex-officer who was at the center of the murder of George Floyd, has now been convicted of the crime. To say this is an interesting turn of events is an understatement, but I'm guessing that watching a video of him kneeling on his neck for almost ten minutes, was hard to deny. In fact, Chauvin was found guilty on all counts, a verdict that could send the disgraced former Minneapolis police officer to prison for the rest of his life.
Welp.
The 12 jurors didn't want to hear the defense's claim that there might have been other medical reasons that Floyd died, saying Chauvin killed him, even if unintentionally. And although you and I know that this shouldn't even be a question, it's pretty understood that that damn justice system rarely works in our favor. The fact that the word "nervous" was trending on Twitter prior to the verdict announcement, basically tells you everything you need to know.
But then it happened. It actually happened.
Guilty. Guilty. Guilty. "The selected jury finds you guilty, Derek Chauvin."  
The inner child in me wept for the years of blatant disregard for Black life, while the outer gangster in me was relieved that I could, for once, not feel the sting of inequity.
"Today, we are able to breathe again," Floyd's brother Philonise Floyd said afterward. Minnesota Attorney General Keith Ellison, whose office oversaw Chauvin's prosecution, chimed in as well, saying:
"I would not call today's verdict justice, however, because justice implies true restoration. But it is accountability, which is the first step toward justice."
But now what? What's next?
Stay on the gas.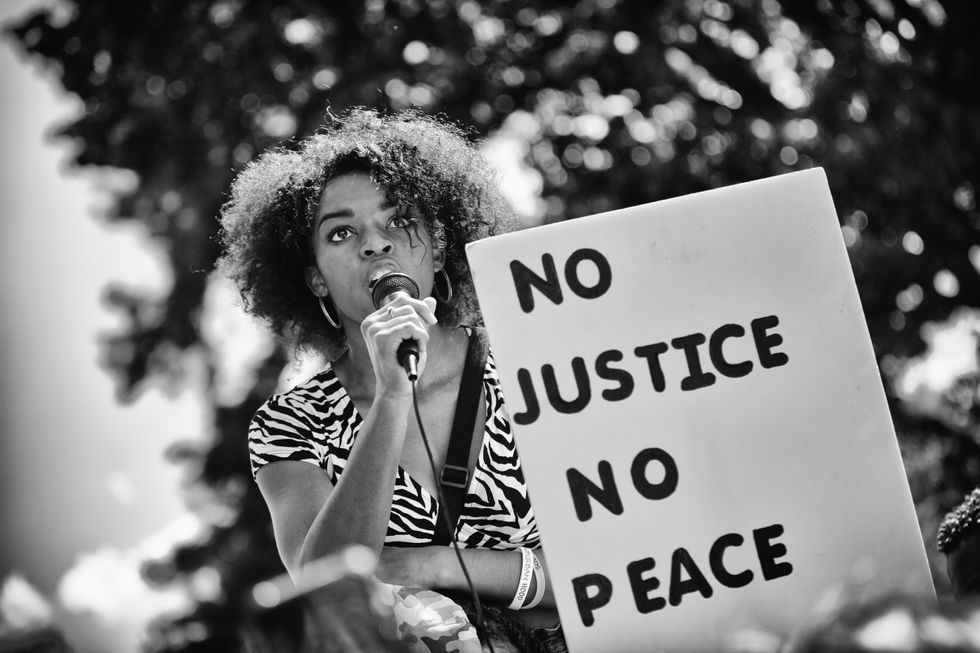 Shutterstock
A major component to the outcome of this trial was the teamwork of millennials, partnered with the fearlessness of Gen-Z in Minnesota. If anything, these two generations in Minnesota is who this victory is owed to. They proved to the entire country that that quiet cousin that never says much, has those hands, and they aren't afraid to swing during the casualties of war to have their voice heard. Minnesota was like, "Peaceful protesting? Tuh. Burn dis bih down." And it was done on a scale that many of us had never experienced, or seen, before. And let's be real, had it not happened, Derek Chauvin would just be another cop who walked free, just as the previous 15K+ officers involved in a police killing have.
They hit the pavement, they demanded justice and let it be very known that anything less, would have consequences. A tone was set. It was beautiful.
But this can't be done each time. Now, it's time to work smarter.
So, identify the 'Stacey Abrams' in your city. 
The 2020 election didn't go the way that many racists wanted it to, and we owe that all to a Black woman (of course). Stacey Abrams is a master in chess, outplaying her opponents at their own game. She, like Minnesota, had a few hands herself, as she defeated America with their rules. She empowered Black people to use their voice so powerfully, that these white folk are out here labeling legal and accurate votes as fraud. She has won multiple awards, has been hailed a hero, and praised for her work.
But guess what? There's a Stacey Abrams in every city. And so many go unnoticed. Identify yours. Let it be heard who they are. Listen to them. Support them. Or if you don't know where to start, get involved with Fair Fight Action.
Stay on the gas.
Pass The 'George Floyd Justice In Policing' Act
The U.S. House of Representatives passed the George Floyd Justice in Policing Act in a 220-212 vote. It was introduced by the badass, Karen Bass (a woman that you need to know) and former chairwoman of the Congressional Black Caucus.
The reintroduced bill would: prohibit profiling based on race and religion and mandate training on profiling; ban chokeholds, carotid holds and no-knock warrants; require the use of federal funds to ensure use of body cameras; establish a National Police Misconduct Registry; amend the prosecution standard for police from "willfulness" to "recklessness" and reform qualified immunity; and require stronger data reporting on police use of force.
Officers who do not comply to these measures, will be held accountable. Which is imperative to reform.
Call 202-499-6085 and tell them you're in favor of the bill.
Invest in YOUR community.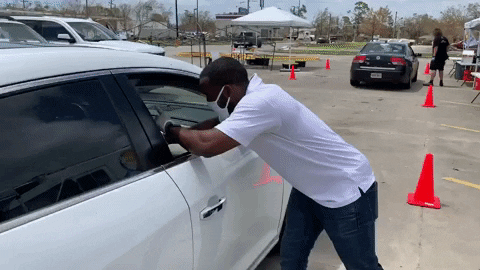 Giphy
Supporting your community looks different to many people. To some it could be supporting a Black business online and spending your dollars there. But the way to have true change, is to start in your community. Know your elected officials in your neighborhood. Get to know patrolling officers, know who you're dealing with. Pick up trash you may see in your area. Find out what events take place near you and support them. Visit local small businesses in your neighborhood. Spend money in your community. Don't see enough trash cans or think that a traffic light could go at that intersection? Demand these things.
It starts at home. Focus there, first and everything else will fall into place.
Last but not least, practice self-care. 
Guys, we have to decompress. We have to take a step back, sometimes. We won this battle, but in order to truly win, we have to take care of self. We're are setting our sights on Daunte Wright's death, who needs our support, and moments after the Derek Chauvin verdict was announced, 16-year old Ma'khia Bryant was murdered by an officer.
Too much information is readily available at our fingertips, which takes a toll. PTSD is real, and we all suffer just because we exist in the times.
Take the time to shut the phone off. Find a new hobby. Master that thing you've been practicing, or unwind with friends. You cannot take care of anything if you don't take care of you.
And we need you.
Are you a member of our insiders squad? Join us in the xoTribe Members Community today!

Featured image by Giphy
Keep reading...
Show less
Y'all, come get into this 'go awfffff, sis' news for today! So, our girl Abby Phillip, the youngest CNN anchor and journalistic titan, is queen. She is born and raised in the DMV, proudly flies the flag, and is willing to ask the right questions to the right people for the culture (sidebar: she could lowkey be Necole's mini dopplegänger).
Abby began her career at Politico, which led to a reporting gig with The Washington Post. She moved to the Post as a general assignment reporter, but quickly went to the national politics desk, covering Hillary Clinton's campaign and then the Trump administration.
In 2017, although reluctant to leave print journalism, Phillip joined CNN as a reporter. She now hosts CNN's Inside Politics Sunday and was promoted to be the network's senior political correspondent.
So, sis makes some moves, m'kay?!
Additionally, this week The Cut released an interview with her on the cover where she discussed all things about being the media's voice of sanity and clarity. The interview, conducted by fellow-queen, Gayle King, was produced by The Cut's newest Editor-in-Chief, former youngest EIC of Teen Vogue, Lindsay Peoples Wagner. Three black women in high positions, making decisive, boastful moves. Love to see it.
And after four long, long, long, long years of chaos, when the subject of Donald Trump came up, Abby calmly collected his taped-down wig in the most humble way possible. Gayle asked:
"I remember in late 2018, Trump was on his way to going somewhere, and you were part of a gaggle of reporters asking questions. And you asked yours, and he says in response to you that you 'ask a lot of stupid questions.' I was so angry. I heard the word 'stupid' and Abby in the same sentence, and I was so offended by that. And I'm wondering, what do you remember about that moment?"
The moment is below:
Abby explained:
"So this was just after Trump had fired Jeff Sessions, the attorney general, and replaced him with Matt Whitaker — who a lot of people believed was sort of a lackey. My question was, 'Do you want Matt Whitaker to rein in the Mueller investigation?' The thing about questioning Trump is that sometimes he just might answer you truthfully. But I remember being surprised, because he had not reacted to me like that before."
"You struck a nerve," Gayle quipped, and Abby continued:
"He must have thought so. But after that aired, I got calls and texts from girlfriends and colleagues, especially my Black female friends. They were furious about it because of the implication of him telling a Black woman that she's stupid.
"I know that what he said is not true, and I don't take things like that personally, particularly from this president who has such a long history of insulting people. I don't get my self-esteem from Donald Trump or any other politician, frankly."
Chiiiiile, a read! ​And just the clapback 45 needs in his unemployed life.
The two go on to discuss other subjects such as being a lone black reporter in a male world, her upcoming book on Jesse Jackson's 1988 presidential campaign, and her and hubby having a new baby girl on the way!
The interview ends with Gayle asking what scares her, to which she says, "Expectations."
"All of a sudden, there are people who are saying, 'Oh, I really look up to you. I want to be a journalist because of you.' That's a lot of pressure — which I'm sure you feel, because I bet people say that to you all the time. I look up to you."
But Gayle doesn't leave her hanging. She simply says, "I know, but when they say that — 'I want to be just like you' — I go, 'Nope. What you want is to pave your own path.' So be excellent, Abby."
Spoken like two (three) iconic Black women who may have had parallel careers in journalism, but equally understand the weight and responsibility of this moment. Read the full interview here.
Are you a member of our insiders squad? Join us in the xoTribe Members Community today!

Featured image by Abby Phillip/Instagram
Keep reading...
Show less
Kamala Harris is making history as the first woman, and first woman of color, to serve as Vice President of the United States. Of course, like any boss would, she is adjusting well to the role, calling shots and making her presence known as the Madame. And her husbae, Doug Emhoff, is right by her side, in a shift we stan: playing the supportive role of the very first second gentleman in history.
Featured image via Giphy
Keep reading...
Show less
Vice President Kamala Harris has made history as the first woman of color to hold the office, taking a powerful seat in the White House. We're all more than here for it. We're ecstatic and super proud! Not only is she of Indian and Jamaican descent, she's also a proud graduate of a historically black university (Howard) and member of Alpha Kappa Alpha Sorority, Inc. (skee-wee, sis, skee-wee).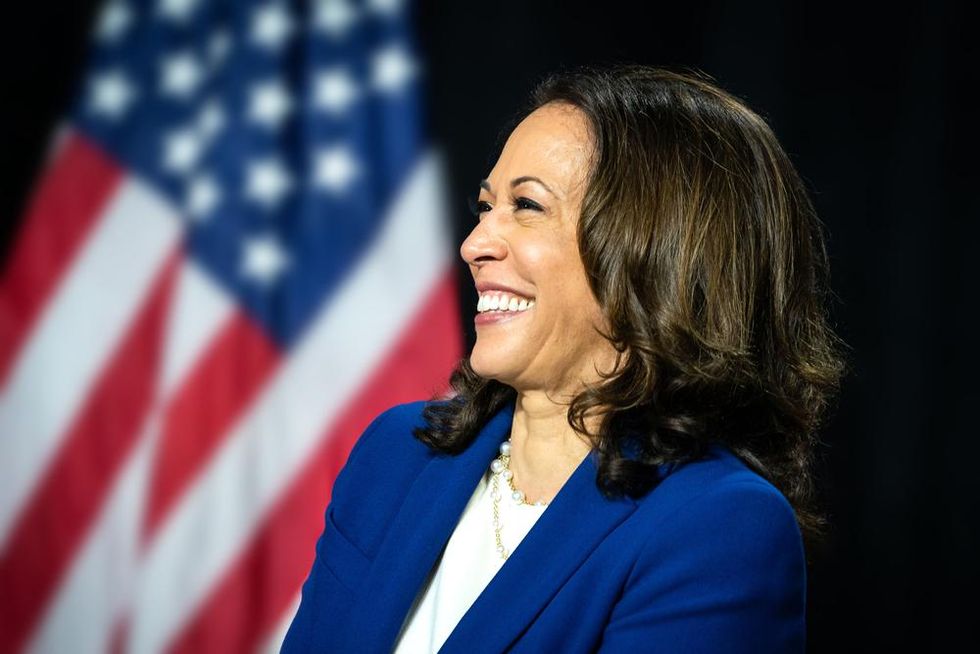 NumenaStudios / Shutterstock.com
As a new administration begins their first acts of change, let's take a look at other black women in the White House set to make major moves during President Joe Biden's term:

1

.

Symone D. Sanders, Senior Adviser and Chief Spokeswoman
At 25, Symone Sanders became the youngest presidential press secretary on record when she worked on U.S. Senator Bernie Sanders' presidential campaign. She has also served as a senior adviser for former Vice President Joe Biden's 2020 presidential campaign. She's also a business phenom who provides strategic communications consulting as principal of the 360 Group L.L.C. In her current role, she will be a key figure in communicating the policies and updates from the White House, working closely with Vice President Harris.
2

.

Ashley Etienne, Communications Director
Ashley Etienne has more than 15 years of experience working in brand development, crisis communications and social activation, and she's served as an adviser to former President Barack Obama and Speaker Nancy Pelosi. She's also consulted Fortune 500 executives, and helmed successful campaigns that featured top entertainers, athletes and public service icons. She has a pivotal role in cultivating and implementing the Biden's administration's communications and outreach strategies.
3

.

Karine Jean-Pierre, Deputy Press Secretary
Karine Jean-Pierre has served as the chief public affairs officer for MoveOn.org, and she's a longstanding force in political analysis, having been featured on NBC and MSNBC. Her experience spans more than a decade, ranging from activism to strategy for presidential campaigns including President Obama's 2012 re-election. While he was in office, she was the regional political director for the White House Office of Political Affairs. She's also enjoyed a successful career as a Columbia University professor. In her current role, she will be one of the key professionals at the forefront of White House communications on issues.
4

.

Cecilia Rouse, Chair, Council of Economic Advisers
An esteemed economist, Cecilia Rouse will be the first Black chair of the Council of Economic Advisers if confirmed. Rouse has served as dean of Princeton's School of Public and International Affairs and as the Lawrence and Shirley Katzman and Lewis and Anna Ernst Professor in the Economics of Education. She's done landmark research on labor markets, education, and discrimination and will be tackling the current issues of unemployment and financial strategy for the administration.
5

.

Marcia Fudge, Secretary of Housing and Urban Development
Marcia Fudge has more than 20 years of public service under her belt and has most recently served as the U.S. Representative for Ohio's 11th congressional district since 2008. If confirmed for the White House post, she will be the first woman to lead HUD in more than 40 years, and the second Black woman in history to hold the position. She has recently pushed for resources like rental assistance and more affordable housing, especially as many continue to face the challenges caused by COVID.
6

.

Ashley Williams, Special Assistant and Deputy Director of Oval Office Operations
Ashley Williams has been the trip director during the Biden-Harris transition, and she became the first Black woman to hold the role for a successful presidential candidate. Previously she's worked as an adviser in the State Department, focusing on global women's issues. She's also been First Lady Jill Biden's senior assistant during the Obama administration. Now, she will be leading the management of scheduling, private engagement and day-to-day activities.
7

.

Joelle Gamble, Special Assistant, Economic Policy
Joelle Gamble has worked in public policy, serving as a principle at Omidyar Network, a social change firm, and she's been senior adviser to the president and CEO and a national director at the Roosevelt Institute. In Biden's administration, she will be part of the National Economic Council, which works to coordinate the economic policy-making process and assist in creating and implementing Biden's economic vision.
8

.

Brenda Mallory, Chair, White House Council on Environmental Quality
Brenda Mallory is an environmental lawyer who worked in the Obama administration and has served as general counsel for the Council on Environmental Quality (CEQ). A public service veteran, she's also served as director of regulatory policy at the Southern Environmental Law Center, a litigation and advocacy group. If confirmed for Biden's cabinet, she will be the first Black professional to lead the CEQ and will play a vital role in creating federal environmental policy.
Are you a member of our insiders squad? Join us in the xoTribe Members Community today!
Featured image by Crush Rush / Shutterstock.com
Keep reading...
Show less
There's only a handful of Black women in the political commentator game and one that you should definitely get to know is Abby Phillip. At 31, the Virginia native is among the youngest White House correspondents but she isn't new to this, she's true to this. And she's had previous reporting positions at Politico, ABC News, The Washington Post and now CNN to prove it. However, two very visible moments of her journalistic career happened only within the past year.

Many began to take notice of Abby last fall. During a presidential briefing, she asked Donald Trump a question and he responded that her question was "stupid," which the Harvard grad is far. And the night before Joe Biden and Kamala Harris filled the 46th slot for President and Vice President of the United States, the nation was watching Abby when she boldly proclaimed live on TV:
"Not only would Black women put Joe Biden in the White House but they would also put a Black woman in the White House, as well. And while Donald Trump's political career began with the racist birther lie, it may very well end with a Black woman in the White House. Black women did that."
Abby's comment landed in publications like The New York Times and her social media following quadrupled. Minister Bernice King, the youngest daughter of Rev. Dr. Martin Luther King, Jr. and Coretta Scott King, shared her appreciation with a tweet of Abby's headshot. If a full circle moment had a face, this is what it would look like.

Last month, Abby sat for an interview with The Bakari Sellers Podcast where she talked about everything from her college experience to her future writing goals. And get this, she didn't even plan for an on-air position; in fact, she tried TV with ABC News, didn't like it and accepted a position with The Washington Post. But as life has it, it brings you right back to where you're supposed to be.
Here are five interesting facts to know about Abby:
Abby's initial career goal was in medicine or law.
"I was going to be a doctor. And if that didn't work out, I was probably going to be a lawyer."
It turned out chemistry wasn't her ministry. She told herself that if she couldn't do math, then she had to learn how to write. She ended up not pursuing law, either. Abby decided to write for The Harvard Crimson, the student newspaper. She also became active in community service, ultimately getting her degree in government. What got her hooked on journalism was a school-sponsored public service trip to Oxford, Jackson and Sunflower County, Mississippi tracing the civil rights movement. She grew fascinated with it and wanted to be one of the journalists who brought the Deep South to the rest of the country.
Abby's peers describe her as being more "reserved" than the typical reporter.
Abby describes herself as being a quiet child. After returning to the U.S. from Trinidad and Tobago at age nine, she was self-conscious about her accent so she didn't say much in class. Abby's teacher would send notes home to her parents saying that she needed to speak up. But that didn't deter her from excelling in a field dominated by more vocal peers who don't share our gender and/or look like us.
Today she still stands out from the crowd for her "poise" and "self-possession." John Harris, co-founder of Politico told The New York Times that Abby has always been "very quiet and ambitious, but she doesn't present in a flamboyant way like some ambitious people do."
However, that makes her observant and means she can be very analytical in her approach to her questions and she can offer profound but relatable commentary. CNN's political director David Chalian said:
"Abby has an intellect that is unmatched and she has a pretty unique ability to synthesize information quickly both in her reporting and her analysis, and deliver it in a way that meets the viewers where they are."

Abby never wanted to be on television.
As much as she loves Oprah, Abby doesn't have Oprah goals, meaning there's no talk show in her future. Abby didn't ever want her job to be about her appearance; she simply wanted to write the stories.
"Being a Black woman as a print reporter was not always front and center. Before Twitter, people wouldn't have really known I was a Black woman. The thing about being on TV is that, that becomes a part of who you are."
She's writing a book on Rev. Jesse Jackson.
Abby wants to remind us that Black political power is still growing and that it didn't peak during the Obama years. In her book, she talks about the origin of Black political power beginning with Jackson's presidential candidacy and his place as a civil rights and political figure. She'll also produce some old receipts such as the one where he was once an international hostage negotiator. How many of us forgot all about that?!
"Political history is rarely told by Black people. His story deserves a retelling."
Abby's book is scheduled to be released spring/summer 2022 in time for midterm elections.
Abby may indirectly credit 45's administration for making her an even better journalist.
Abby covered our forever POTUS' time in the White House but what she finds with this administration is that she spends so much time – sometimes days! – trying to get to the facts and she does want to be fair. She also wants to be accurate and on-point with her questions because she also notices that questioning from Black women seems to set 45 off quicker than questioning from other reporters. He'll go back-and-forth with reporters of other genders, who again don't look like us, but when it comes to Abby, Yamiche Alcindor or April Ryan, things go left immediately.
Of course, we know that 45 will gladly take credit for Abby's journalistic prowess and say the rest is just fake news. Let him tell it, he answers all questions politely and thoroughly. But what we do know to be true is that come January, Abby Phillip will still be covering the White House. And 45? Well, he'll be ushered out of it.
For more of Abby, follow her on Instagram at @abbydphillip.
Join our xoTribe, an exclusive community dedicated to YOU and your stories and all things xoNecole. Be a part of a growing community of women from all over the world who come together to uplift, inspire, and inform each other on all things related to the glow up.
Featured image via CNN/MakeaGif.com
Keep reading...
Show less
Take a look at Kamala Harris' husband Doug Emhoff's Twitter bio and you'll notice that it reads "dad and @kamalaharris hubby", before "lawyer" and "advocate". I was tickled when I read that because most of us lead with our jobs and accolades, not our familial titles, especially when we have high-profile positions like Emhoff does. Y'all would've gotten these "former entertainment attorney" and "current partner" credentials first and foremost. But perhaps this was all a hint to what was to come or maybe he was trying to make an important point.
Girl, get you a husband who acts like THIS when you win. Vice President Elect Kamala being embraced by her husband Doug. From experience, I can tell you good husbands make a difference. pic.twitter.com/PEVDbZqUod
— Tera Carissa (@teracarissa) November 7, 2020
This fall, Emhoff took a leave of absence from his law firm to support our new Madame Vice President-Elect Kamala Harris on the campaign trail with President-Elect Joe Biden. Now that the appointment is official (regardless of what 45 and his cronies say!), Emhoff will be formally stepping down from his role at the firm by Inauguration Day to support his wife's new career move.

And I'm here for it.
While I'm not married, I think of marriage as a partnership that functions off of compromises that benefit the household, not decisions based solely on stereotypical gender roles.
Years ago, my former coworker's husband resigned from his job to stay at home with their two young children. It seemed that some of our colleagues who knew the couple personally suddenly respected him a little less than before. It was weird because my coworker had better growth potential at her job and made significantly more money than her husband. Plus childcare for two toddlers – one with special needs – pretty much wiped out her husband's paycheck, anyway. So really, what was the logical point of him going to work every day? But societal norms dictated that my coworker stay at home while her husband worked even if they had to struggle as a result of that decision.
The optics of "head of household" and "man of the house" trumped (no pun intended) their financial stability and health. It's one of the reasons why Emhoff's resignation is significant.
Granted as a partner in a law firm, Emhoff has the potential to multiply Madame Vice President's approximate $235,100 per year on his own but the exchange of his career for hers goes deeper and wider than who makes more money. Not only are women almost always sacrificing our dreams, goals and careers for our husbands and families, often making it difficult to re-enter the workforce and blemishing our resumes with employment gaps, but we're also already trailing behind men in position and average pay.
There's that thing that hovers over our heads as women that generally keeps us on the ground level of the one room we manage to enter. We can collaborate and network on that floor but we can't climb the stairs to open the doors to the upper rooms. We have a hard time moving into executive roles because that glass ceiling just won't let us.
Also, we can't forget that Black women were only paid $0.63 of what non-Hispanic white men were paid in 2019. It takes a full 12-18 months to earn the same amount and, at that rate, we never catch up. But in 2020, a Black woman just snagged the second highest leadership role in the nation, earning no less than her predecessor because the salary is set, and her husband has shown her that he has her whole back as well as the backs of other women.
In an interview with NowThis News, Emhoff said:
"I want more women in office and I want more partners, whoever their partner is, to support them and to provide an opportunity and an environment for success."
I think that can happen.
Outside of the wonderful return of ethics and norms, can we please acknowledge what it feels like to read about a man sacrificing his career to focus on supporting the career of his wife? Normalize this, so I don't almost cry reading it. https://t.co/GmLcIiBSat

— jet-sy (@jessielwilliams) November 12, 2020
Doug Emhoff isn't the first man to proudly walk in his wife's shadow. But the fact that his act is so public hits differently and I hope his message is clear. His career doesn't have to come first in his list of accomplishments or in his household. It doesn't change what he's done, who he is or what he can do because he'll always have opportunity.
Doug Emhoff is smashing traditionally accepted gender roles so that his wife, Madame Vice President, can flourish professionally, too, and for that he's a VP in his own right. In this case, an MVP.
Are you a member of our insiders squad? Join us in the xoTribe Members Community today!
Featured image by VP Brothers / Shutterstock.com

Keep reading...
Show less