Over the last few days, we have witnessed Supreme Court nominee Judge Ketanji Brown Jackson face intense questioning that many deem as an attack from Republican senators on the Senate Judiciary Committee.
But when it was Democratic Sen. Cory Booker's turn, he made sure to praise the woman who is making history as the first Black woman to be nominated to the Supreme Court and will be the first Black woman on the bench if confirmed. Sen. Booker, who is the only Black senator on the committee, moved the Honorable Brown Jackson to tears as he listed out her accomplishments and highlighted the significance of her being there.
​"You did not get there because of some left-wing agenda," he said. "You didn't get here because of some dark money groups. You get here how every Black woman in America who's gotten anywhere has done. By being, like Ginger Rogers said, 'I did everything Fred Astaire did, but backward in heels."
Although Ketanji will be making history as a Black woman, Cory told her that she is more than just her race and that this moment is bigger than just her.
"I want to tell you when I look at you, this is why I get emotional," he said. "I'm sorry — you're a person that is so much more than your race and gender. You're a Christian, you're a mom, you're an intellect, you love books." He continued, "It's hard for me not to look at you and not see my mom. Not to see my cousins, one of them who had to come here and sit behind you. She had to have your back. I see my ancestors and yours."
He also pointed out the unfair questioning she received from his colleagues. "You faced insults here that were shocking to me — well, actually not shocking," he said. "But you are here because of that kind of love, and nobody is taking this away from me."
Before closing out his speech, he compared the judge to Harriet Tubman as she was a symbol of hope to so many Black Americans and how Ketanji is following in those very footsteps. "I thought about her. And how she looked up, she kept looking up," he said. "No matter what they did to her, she never stopped looking up. And that star was a harbinger of hope.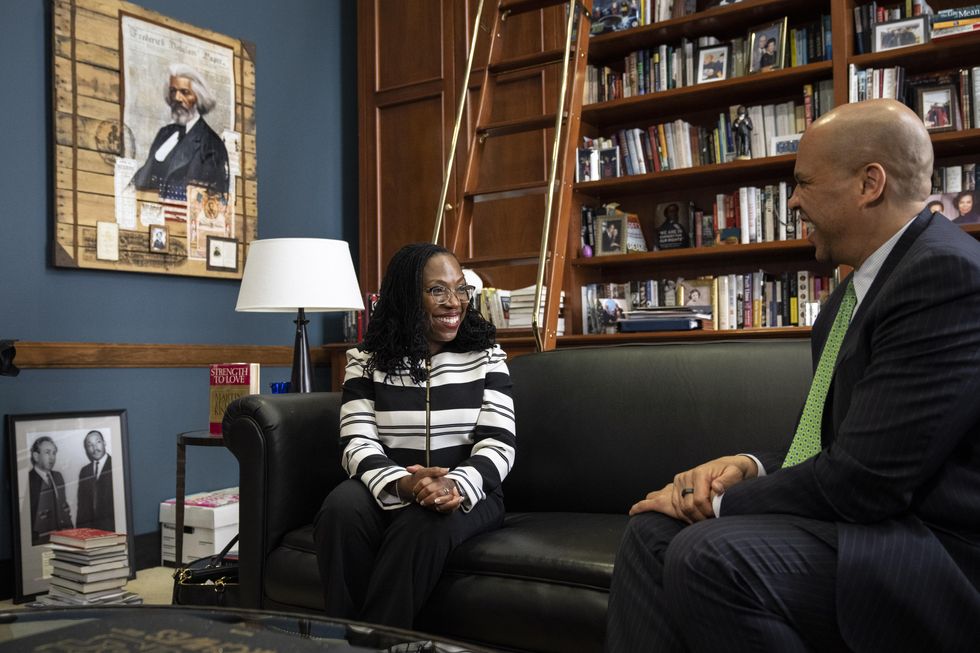 Drew Angerer/Getty Images
"Today, you're my star. You are my harbinger of hope. This country is getting better and better and better. And when that final vote happens, and you ascend to the highest court in the land, I'm going to rejoice. And I'm going to tell you right now, the greatest country in the world, the United States of America, will be better because of you."
Cory's powerful and uplifting words to Ketanji made their rounds on social media and touched so many people.
I am so moved by and impressed with Senator Cory Booker. And Judge Ketanji Brown Jackson is SUPREMELY qualified to serve on our nation's highest court. I'm so inspired by them both. They represent public service at its best.

— Glenn Kirschner (@glennkirschner2) March 22, 2022
Cory Booker using his time to pour into Judge Ketanji is not a performance.

When overqualified black women are constantly belittled, attacked, interrogated, disrespected, & demeaned the LEAST any sound & moral person can do is reroute their own agenda to reassure & reassert her.

— Ayanna. (@untouchableYann) March 23, 2022
Ancestors bless Senator Cory Booker for standing up for his Black sister Judge Ketanji Brown Jackson in the most joyful, passionate terms.

Back home we have praise singers. That's Cory.

"Nobody is going to steal our joy. You deserve to be here."

Ketanji and I are both crying pic.twitter.com/IdugDJYb48

— Unofficial Judge Ketanji Defense Account: Qondi (@QondiNtini) March 23, 2022
Watch the full video of Cory Booker and Ketanji Brown Jackson here:
Let's make things inbox official! Sign up for the xoNecole newsletter for daily love, wellness, career, and exclusive content delivered straight to your inbox.
Featured image by Drew Angerer/Getty Images
During the presidential election of 2020, Black women across the country sashayed to the polls to deliver the presidency to Joseph R. Biden. With a Black woman running mate by his side, and the promise of robust change after four years of what felt like an unending catastrophe on a national and global scale, Black women were ready to move the country forward with the help of our elected leaders.
This might not be a surprise to many of us, but in the little over a year since Biden has taken office, Black women have seen minimal return in our investment from the leaders who campaigned for our votes. A pandemic and a war going on? We're tired!
In his first State of the Union address as president this past Tuesday, Biden addressed these pressing issues: the Russian invasion of Ukraine, the sanctions he's placed on Russia, continued efforts to mitigate the spread of COVID-19, healthcare, the Black female nominee for the Supreme Court, and more.
Here are my key takeaways of the night and how they impact the lives of Black women:
Featured image by Getty Images
After declaring during his campaign that he would nominate a Black woman to the Supreme Court, President Biden has made it official! Judge Ketanji Brown Jackson is President Biden's pick as the first Black woman to sit on the Supreme Court. The president gave details about the historic nomination today. Let's honor this Black queen and see why she has the resume to prove that she is the one for the job.
I'm proud to announce that I am nominating Judge Ketanji Brown Jackson to serve on the Supreme Court. Currently serving on the U.S. Court of Appeals for the D.C. Circuit, she is one of our nation's brightest legal minds and will be an exceptional Justice.https://t.co/iePvhz1YaApic.twitter.com/Nzqv2AtN8h

— President Biden (@POTUS) February 25, 2022
Judge Brown Jackson, 51, is a two-time graduate of Harvard University. She graduated undergrad as a magna cum laude in 1992 and Harvard's Law School as a cum laude in 1996 while also serving as the editor for the prestigious Harvard Law Review. She clerked for the now-retired Supreme Court Justice Stephen Breyer and served as a federal judge for the United States Court of Appeals for the District of Columbia Circuit since 2013, which is viewed as the second most powerful court in the U.S.
What also makes her nomination historic is that she is now the second-youngest justice on the court and the only one with experience working with low-income criminal defendants as a public defender.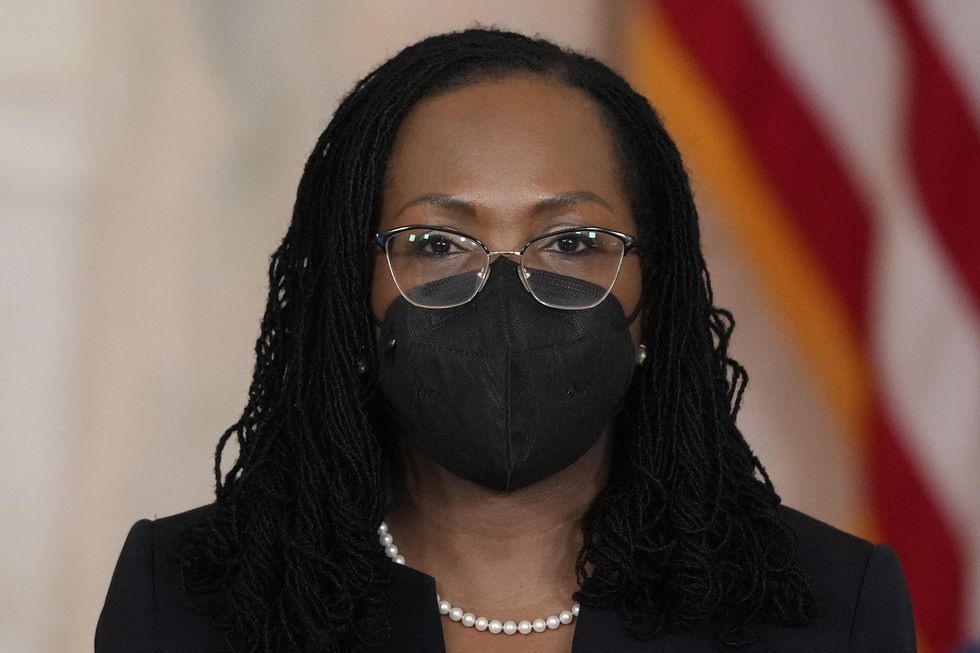 Drew Angerer/Getty Images
She's even gone head to head with former President Trump in theCommittee on the Judiciary v. McGahn case. In this case, she rejected the Trump administration's attempt to be exempt from a congressional investigation. "Presidents are not kings," she wrote in the ruling in response to the former administration. "They do not have subjects, bound by loyalty or blood, whose destiny they are entitled to control."
In 2009, she also served as the Vice Chair of the U.S. Sentencing Commission after President Obama nominated her.
Judge Brown Jackson was on a short-list of Black women who were reportedly being considered for the high position. Those women included California Supreme Court Justice Leondra Kruger and Judge J. Michelle Childs.
The judge was born in Washington D.C. but grew up in Miami, FL. She is also a wife and a mother to twin daughters.
Watch her give her moving and historic acceptance speech at the 8:42 mark in the video below:
BREAKING: NBC News Special Report:

President Biden nominates Ketanji Brown Jackson to Supreme Court. https://t.co/E3rYfctwpM
— NBC News (@NBCNews) February 25, 2022
Featured image by Kevin Lamarque-Pool/Getty Images
It looks like President Joe Biden is keeping his promise to nominate a Black woman to the U.S. Supreme Court. During his 2020 campaign, Biden vowed to name a Black woman to serve in the U.S. Supreme Court and now the opportunity has come. Supreme Court Justice Stephen Breyer officially announced his retirement on Thursday leaving the president to fill the seat.
While a decision has not been made yet, there is a supposed shortlist featuring Black women that are being considered to succeed Justice Breyer.
Federal Judge Ketanji Brown Jackson, California Supreme Court Justice Leondra Kruger, and Judge J. Michelle Childs are said to be the frontrunners for the seat on the nation's highest court.
Featured image by Kevin Lamarque-Pool/Getty Images
It's official, guys. Derek Chauvin, the ex-officer who was at the center of the murder of George Floyd, has now been convicted of the crime. To say this is an interesting turn of events is an understatement, but I'm guessing that watching a video of him kneeling on his neck for almost ten minutes, was hard to deny. In fact, Chauvin was found guilty on all counts, a verdict that could send the disgraced former Minneapolis police officer to prison for the rest of his life.
Welp.
The 12 jurors didn't want to hear the defense's claim that there might have been other medical reasons that Floyd died, saying Chauvin killed him, even if unintentionally. And although you and I know that this shouldn't even be a question, it's pretty understood that that damn justice system rarely works in our favor. The fact that the word "nervous" was trending on Twitter prior to the verdict announcement, basically tells you everything you need to know.
But then it happened. It actually happened.
Guilty. Guilty. Guilty. "The selected jury finds you guilty, Derek Chauvin."  
The inner child in me wept for the years of blatant disregard for Black life, while the outer gangster in me was relieved that I could, for once, not feel the sting of inequity.
"Today, we are able to breathe again," Floyd's brother Philonise Floyd said afterward. Minnesota Attorney General Keith Ellison, whose office oversaw Chauvin's prosecution, chimed in as well, saying:
"I would not call today's verdict justice, however, because justice implies true restoration. But it is accountability, which is the first step toward justice."
But now what? What's next?
Stay on the gas.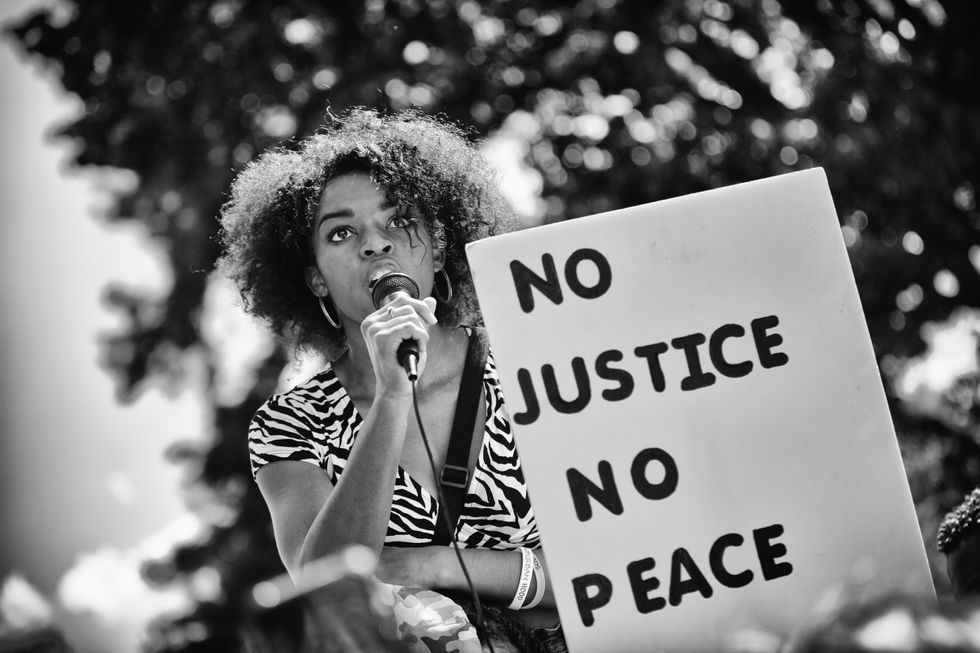 Shutterstock
A major component to the outcome of this trial was the teamwork of millennials, partnered with the fearlessness of Gen-Z in Minnesota. If anything, these two generations in Minnesota is who this victory is owed to. They proved to the entire country that that quiet cousin that never says much, has those hands, and they aren't afraid to swing during the casualties of war to have their voice heard. Minnesota was like, "Peaceful protesting? Tuh. Burn dis bih down." And it was done on a scale that many of us had never experienced, or seen, before. And let's be real, had it not happened, Derek Chauvin would just be another cop who walked free, just as the previous 15K+ officers involved in a police killing have.
They hit the pavement, they demanded justice and let it be very known that anything less, would have consequences. A tone was set. It was beautiful.
But this can't be done each time. Now, it's time to work smarter.
So, identify the 'Stacey Abrams' in your city. 
The 2020 election didn't go the way that many racists wanted it to, and we owe that all to a Black woman (of course). Stacey Abrams is a master in chess, outplaying her opponents at their own game. She, like Minnesota, had a few hands herself, as she defeated America with their rules. She empowered Black people to use their voice so powerfully, that these white folk are out here labeling legal and accurate votes as fraud. She has won multiple awards, has been hailed a hero, and praised for her work.
But guess what? There's a Stacey Abrams in every city. And so many go unnoticed. Identify yours. Let it be heard who they are. Listen to them. Support them. Or if you don't know where to start, get involved with Fair Fight Action.
Stay on the gas.
Pass The 'George Floyd Justice In Policing' Act
The U.S. House of Representatives passed the George Floyd Justice in Policing Act in a 220-212 vote. It was introduced by the badass, Karen Bass (a woman that you need to know) and former chairwoman of the Congressional Black Caucus.
The reintroduced bill would: prohibit profiling based on race and religion and mandate training on profiling; ban chokeholds, carotid holds and no-knock warrants; require the use of federal funds to ensure use of body cameras; establish a National Police Misconduct Registry; amend the prosecution standard for police from "willfulness" to "recklessness" and reform qualified immunity; and require stronger data reporting on police use of force.
Officers who do not comply to these measures, will be held accountable. Which is imperative to reform.
Call 202-499-6085 and tell them you're in favor of the bill.
Invest in YOUR community.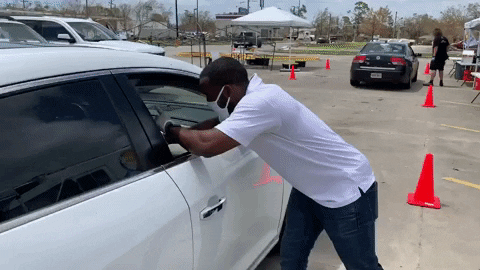 Giphy
Supporting your community looks different to many people. To some it could be supporting a Black business online and spending your dollars there. But the way to have true change, is to start in your community. Know your elected officials in your neighborhood. Get to know patrolling officers, know who you're dealing with. Pick up trash you may see in your area. Find out what events take place near you and support them. Visit local small businesses in your neighborhood. Spend money in your community. Don't see enough trash cans or think that a traffic light could go at that intersection? Demand these things.
It starts at home. Focus there, first and everything else will fall into place.
Last but not least, practice self-care. 
Guys, we have to decompress. We have to take a step back, sometimes. We won this battle, but in order to truly win, we have to take care of self. We're are setting our sights on Daunte Wright's death, who needs our support, and moments after the Derek Chauvin verdict was announced, 16-year old Ma'khia Bryant was murdered by an officer.
Too much information is readily available at our fingertips, which takes a toll. PTSD is real, and we all suffer just because we exist in the times.
Take the time to shut the phone off. Find a new hobby. Master that thing you've been practicing, or unwind with friends. You cannot take care of anything if you don't take care of you.
And we need you.
Are you a member of our insiders squad? Join us in the xoTribe Members Community today!

Featured image by Giphy
Y'all, come get into this 'go awfffff, sis' news for today! So, our girl Abby Phillip, the youngest CNN anchor and journalistic titan, is queen. She is born and raised in the DMV, proudly flies the flag, and is willing to ask the right questions to the right people for the culture (sidebar: she could lowkey be Necole's mini dopplegänger).
Abby began her career at Politico, which led to a reporting gig with The Washington Post. She moved to the Post as a general assignment reporter, but quickly went to the national politics desk, covering Hillary Clinton's campaign and then the Trump administration.
In 2017, although reluctant to leave print journalism, Phillip joined CNN as a reporter. She now hosts CNN's Inside Politics Sunday and was promoted to be the network's senior political correspondent.
So, sis makes some moves, m'kay?!
Additionally, this week The Cut released an interview with her on the cover where she discussed all things about being the media's voice of sanity and clarity. The interview, conducted by fellow-queen, Gayle King, was produced by The Cut's newest Editor-in-Chief, former youngest EIC of Teen Vogue, Lindsay Peoples Wagner. Three black women in high positions, making decisive, boastful moves. Love to see it.
And after four long, long, long, long years of chaos, when the subject of Donald Trump came up, Abby calmly collected his taped-down wig in the most humble way possible. Gayle asked:
"I remember in late 2018, Trump was on his way to going somewhere, and you were part of a gaggle of reporters asking questions. And you asked yours, and he says in response to you that you 'ask a lot of stupid questions.' I was so angry. I heard the word 'stupid' and Abby in the same sentence, and I was so offended by that. And I'm wondering, what do you remember about that moment?"
The moment is below:
Abby explained:
"So this was just after Trump had fired Jeff Sessions, the attorney general, and replaced him with Matt Whitaker — who a lot of people believed was sort of a lackey. My question was, 'Do you want Matt Whitaker to rein in the Mueller investigation?' The thing about questioning Trump is that sometimes he just might answer you truthfully. But I remember being surprised, because he had not reacted to me like that before."
"You struck a nerve," Gayle quipped, and Abby continued:
"He must have thought so. But after that aired, I got calls and texts from girlfriends and colleagues, especially my Black female friends. They were furious about it because of the implication of him telling a Black woman that she's stupid.
"I know that what he said is not true, and I don't take things like that personally, particularly from this president who has such a long history of insulting people. I don't get my self-esteem from Donald Trump or any other politician, frankly."
Chiiiiile, a read! ​And just the clapback 45 needs in his unemployed life.
The two go on to discuss other subjects such as being a lone black reporter in a male world, her upcoming book on Jesse Jackson's 1988 presidential campaign, and her and hubby having a new baby girl on the way!
The interview ends with Gayle asking what scares her, to which she says, "Expectations."
"All of a sudden, there are people who are saying, 'Oh, I really look up to you. I want to be a journalist because of you.' That's a lot of pressure — which I'm sure you feel, because I bet people say that to you all the time. I look up to you."
But Gayle doesn't leave her hanging. She simply says, "I know, but when they say that — 'I want to be just like you' — I go, 'Nope. What you want is to pave your own path.' So be excellent, Abby."
Spoken like two (three) iconic Black women who may have had parallel careers in journalism, but equally understand the weight and responsibility of this moment. Read the full interview here.
Are you a member of our insiders squad? Join us in the xoTribe Members Community today!

Featured image by Abby Phillip/Instagram