Midterm elections are coming up on November 8, 2022, and a lot is on the line for voters. An election that people across the country are particularly focused on is the gubernatorial race in Georgia that has once again found the current governor, republican Brian Kemp, and the democratic candidate and former Georgia state representative Stacey Abrams competing for the coveted governor role. After the 2018 state election that was marred with voter suppression that favored the Georgia republicans, Abrams has committed herself to making sure that Georgians' votes matter.
xoNecole recently caught up with the gubernatorial hopeful about her campaign, what's at stake for voters, and what voters can expect from her if she's elected.
xoNecole: The last time you ran for governor in 2018, that election ended in voter fraud that favored your opponent. What informed your decision to run again knowing the corruption that exists and can succeed in electoral politics? 
Stacey Abrams: I wanna make sure we use the right language: it was voter suppression. Voter fraud is when someone manipulates the outcome, and that's what Donald Trump attempted to do. And what's so important about understanding voter suppression is it's not about the outcome – it is the outcome – but it's mostly by manipulating who has access. And that is what is so concerning about what happened in '18 and why I'm running. Because every Georgian who is eligible to vote deserves to have access to the right to vote. And unfortunately, this governor, both as Secretary of State and now as governor, has instituted multiple barriers to access, which leads to voter suppression. But the reason we have democracy is so that communities can have what they need.
We vote for leaders who will see us and serve us. And unfortunately, over the last four years, Brian Kemp has proven he doesn't see us. He has refused to tackle the core issues affecting our communities. He won't expand Medicaid, which means that thousands of people are denied access to healthcare for cancer treatment, for diabetes treatment.
We know that he has refused to invest in our schools. Too many of our young Black kids who are trying to go to college can't get financial aid and he won't tackle that issue. And we know that affordable housing is a crisis across the state of Georgia. In fact, he's sitting on 400 million for rental eviction assistance and won't spend the money. And then we know that in the state of Georgia there is a 100-year gap between Black and brown economic revenue and white revenue. He said that he'll study the issue. I actually have a plan to solve the issue in 15 years. And I say all that to say this: I'm running because I believe Georgia is at a moment of opportunity but we need a governor who sees us and is willing to serve all of us, not just as friends, not just people who he thinks are like him. And by pushing back against voter suppression, we have done the work of letting voters know that they have the right to be heard. And I believe in this election, they're going to show up and decide that they want more for their lives and for theirs.
xoNecole: You were praised after the 2020 election for your organizing efforts in getting Black people registered in Georgia in record numbers. Still, in the two years since then, many Black voters have expressed frustrations with democrats for seemingly once again using them for votes only to abandon them once in office. How do you convince someone who has felt let down by the democrats over and over again to once again cast a ballot for the party?
Abrams: First I begin by saying that Democrats have actually delivered in the last few years and it's going to feel as if it's not as much as we need, but it's more than we had. I point to the Inflation Reduction Act, which has poured money into our communities. The Infrastructure Act, which is going to employ so many of our communities. The CARES Act and the ARPA Act, which allowed so many millions of Americans, including Georgians, to have access to healthcare and some small relief.
But we need more. And part of that is that we need governors who actually work with the federal government to get the money to the people. What so many in Georgia don't understand is that yes there's money coming from the federal government –6 billion extra dollars in the state of Georgia – but the governor won't spend it on our people.
And so my reason for running and what I want people to understand is, I need you to trust one more time. We've tackled the federal level. We understand mayors, but until we control governorships, until we have people who actually are the intercessors between the federal and the local to actually do the work, we aren't going to get what we need. We aren't going to get the support that we deserve. And so, I am proud of the work that Democrats have done to send resources here, but now it's time to have a governor to get the resources into the pockets of our people, to get more money into our communities and more opportunity into our neighborhoods.
And when we have that governor, when I am that governor, we can deliver and we can finally push back on the reason people don't trust. They don't trust because they don't see change. And with a new governor in the state of Georgia, they will see change.
xoNecole: What do you believe is at stake for Black people in this election?
Abrams: Everything. We know that Brian Kemp doesn't care. He won't help. And he has attacked our freedoms. I say he doesn't care because he has refused to expand Medicaid. That means that half a million Georgians are being denied health insurance, 40% of whom are Black people. 40% of the people being told "no" are Black people who need that access to healthcare so they can take care of themselves and their families, and it's physical healthcare and mental healthcare.
And by refusing to draw down those dollars, he is saying no. We also know that under Brian Kemp, we have seen a skyrocket in gun violence rate, including guns being the number one killer of our children, and most of the children dying are Black. If we don't have a governor who believes in common sense gun laws, our children and our communities will continue to be the victims of gun violence and those guns are gonna get easier and easier to secure. But we also know that because he's let so many of our hospitals shut down. When they get shot, when they get hurt, there's nowhere to go for help.
Number two, we need access to housing. Affordable housing is a crisis and for Black communities, it is also the major pathway to wealth if we don't have access to housing.
We lose not only the daily opportunities for stability but long term opportunities for growth. And I intend to invest in affordable housing in the state of Georgia, especially to make certain that black communities have the chance to build generational wealth.
Number three, we know that the issue is can you make a living in Georgia? And unfortunately, this governor has been very comfortable with 1.5% of all contracts in the state of Georgia going to Black and brown people. Now that means that 98.5% go to white people in a state where Black people are 33% of the population. I want to be the Maynard Jackson of Georgia. I wanna make certain that we are growing wealth in our small businesses immediately, and you don't need legislation. You just need a good leader.
But I also know that Black women are in danger in Georgia because of Brian Kemp's draconian abortion ban. After six weeks, Black women already have a three times higher likelihood of dying from pregnancy-related illness than anyone else, and Georgia is number one in maternal mortality with his refusal to expand Medicaid. One in five women does not have access to healthcare. Then he puts on top of it, forced pregnancy and no opportunity for help. On the other side, I want to be the governor who repeals that abortion ban. And this is crucial, not only for Georgia but for Black people across the country because 56% of Black people live in the south. And that means unless I become the governor of Georgia, for Black people from Texas to North Carolina, from Tennessee to Florida, they will be denied access to reproductive care unless Georgia becomes an oasis for freedom and so on gun violence, on having the right to choose, on the right to vote, on the right to make your life better.
I am the only person who is looking at Black communities, talking to Black communities, and has plans for the success of the Black communities.
xoNeocle: Speaking to your pledge about investing in affordable housing, childcare, and minority-owned businesses: there has been criticism of your platform on policing which is to pour even more money into police departments, saying "higher pay [for police] leads to fewer negative interactions." During a time when many Black people are still being unjustly killed by police and many people are organizing around defunding police departments and putting those resources directly into communities instead, how do you justify giving even more money to the police?
Abrams: So what I've called for is expanding pay raises for law enforcement because we have law enforcement officers in Georgia who make less than a living wage, and we cannot say that we believe in a living wage and not say that that includes the people who protect us. We know that when someone commits a crime, it's often that they commit a crime against someone in their community. And I've got a brother who's been one of those people who has victimized members of our community. And I want people to be able to call for help. I want them to be able to call the police and say, please come and protect me. But I also know that my brother doesn't lose his humanity simply because he makes a mistake. And that's one of the reasons I'm calling for increased pay for correctional officers because our correctional facilities are in crisis and those who are in our prisons are being victimized and abused because we don't have adequate protection for them inside.
And so one of the pieces I'm pushing for is making sure we increase pay for correctional officers so those our prisons aren't being run by gangs who are victimizing and doing dangerous things to our communities. I also wanna pay for the salaries for our community supervision officers. When my brother finally stabilized, when he finally got out of prison, he for the first time had a good parole officer who kept him off of the road to recidivism.
And now my brother has been readmitted to Morehouse College. He is stable, he is clean, and I want that for every Georgian. And so my push is to make certain that we, the public, those who do law enforcement, who do it right, that they make a living wage, but that we also have adequate support to protect our communities.
But I also have a brother who's been pulled over for driving while Black. Many times. He's a social worker who was helping keep people out of jail, and he risked his life every time someone pulled him over. I believe in accountability. I believe that anyone in law enforcement who exhibits disregard and disrespect for our community should be held accountable.
And I am the only candidate calling for that accountability because I know that we have to have both public safety and accountability. That we have to have criminal justice and we have to have law enforcement. It is dangerous to pretend that we can pick one over the other. And because of my two brothers, I know we need to have both.
xoNecole: During the 2020 primaries, you defended Biden for president, even going as far as defending him against allegations of sexual misconduct, even as people like Vice President Harris said she believed the women [accusers]. Even to some of your supporters, this defense [of Biden] was unexpected. When it comes to issues of sexual misconduct and justice for victims, what policies can voters expect you to uphold and defend as governor?  
Abrams: I believe that women deserve to be heard. I believe women deserve protection from sexual violence, and they deserve to have a platform and access to opportunities. And I will stand on my record any day of the week. I believe that it is important for us to create spaces, not only for hearing our victims, but making sure they get access to the help and the support they need and that's one of the reasons I want to expand access to Medicaid and expand access for those who have needs to get the mental healthcare treatment and have the law enforcement responsibility to take care of them as well.
The other piece of this is that in a state like Georgia where we have no access to abortion, we know that victims of sexual violence are going to be forced to carry their attackers' progeny and that is wrong. We need a governor who's actually going to protect the right of a woman to choose to control her body and to control her future. And I am proud of my record defending women and defending our right to choose.
Let's make things inbox official! Sign up for the xoNecole newsletter for daily love, wellness, career, and exclusive content delivered straight to your inbox.
My mind often returns back to the day of Nipsey Hussle's funeral when his partner Lauren London took to the stage at his televised service and spoke about their relationship. In one of the many profound moments of her eulogy, it's when she said "grief is the final act of love," that stayed with me the most.
I thought about those words a lot in the past week after the death of Queen Elizabeth II at the age of 96 garnered controversy after two Black female professors made international news after calling attention to the monarchy and by extension the Queen's history of colonial violence.
"I heard the chief monarch of a thieving raping genocidal empire is finally dying," Carnegie Mellon professor Uju Anya tweeted in a now removed-by-Twitter tweet. "May her pain be excruciating."
RISD professor Zoe Samudzi also tweeted:
"As the first generation of my family not born in a British colony, I would dance on the graves of every member of the royal family if given the opportunity, especially [Queen Elizabeth II]," RISD
They were far from the only ones calling out the Queen's legacy; a stadium full of Irish soccer fans gleefully chanted "Lizzie's in a box," when they heard the news. And yet the richest man in the world and owner of The Washington Post Jeff Bezos, used his power to single Anya out for her tweet, leading her institution Carnegie Mellon to condemn her in their own Twitter statement.
British tabloid The Daily Mail singled out t both Professors Anya and Samudzi for condemnation in an article, spawning thousands of trolls to harass them, justifying their ire with the notion that death absolves someone of the harm and abuse they committed while they were alive — or at the very least should prompt people to refrain from talking about it.
Death brings an end to someone's life, but it doesn't bring an end to the way someone made people feel or their reverberating impact on the world.
Let them tell it, Elizabeth was either a frail old woman with no power or agency as the figurehead of colonial rule for her 72-year-reign, or she was so powerful that she had a hand in decolonizing the countries that were seized by her Empire (and, of course, rebelled and won their independence from her rule without her help).
Aside from the obvious point that death doesn't erase the things people did while they were alive, mourning is just one of the many ways we continue to express the love that we already feel towards someone. Death brings an end to someone's life, but it doesn't bring an end to the way someone made people feel or their reverberating impact on the world.
The racist and misogynist backlash that these Black women have been singled out by the media to receive exposes who monopolizes our empathy and grace in life and in death. In the wake of Elizabeth II's death, hospital appointments, surgeries, funerals, and more have been canceled to "show respect" for her funeral, which matters more than the continuing lives of the people in the UK. Not to mention, the deaths of millions of Black and brown people who lived in British colonies, whose lives were sacrificed for the maintenance of British rule, don't elicit mass sympathy. There aren't weeks of televised mourning in their honor. They simply become nebulous collateral, mere casualties in the project to maintain white British hegemony.
A way to ensure that people don't celebrate your death is to live a life that doesn't bring people endless pain.
In an interview with The Guardian explaining her tweet, professor Anya spoke about the family she lost in the Nigerian civil war, a direct result of British colonizers creating the boundaries of Nigeria and founding it as a colony of Britain. Though the war took place seven years after Nigeria won its independence, the UK government sent money and arms to the Nigerian government for the war against the Igbo people in the south, to maintain its control of the country – the extent of which was only recently revealed in 2020. "'We lost half of our relatives," Anya shared. "That's the legacy of this war. It was a genocide, a slaughter, a holocaust."
Sometimes love and mourning towards our departed loved ones manifests as anger toward the institutions and figureheads that are responsible for their deaths. A way to ensure that people don't celebrate your death is to live a life that doesn't bring people endless pain.
Queen Elizabeth II is survived by a legacy of colonialism, imperialism, and white supremacy. She leaves behind decades of bloodshed, violence, and carnage in the name of royalty. Her death ends her life but it doesn't end the memory of the destruction to come under her reign. Silencing her critics only serves to whitewash the UK's violent imperialism and colonialism. As Zora Neale Hurston said, "If you are silent about your pain, they'll kill you and say you enjoyed it." May peace and power be with the ones whose blood was spilled to build the United Kingdom.
Let's make things inbox official! Sign up for the xoNecole newsletter for daily love, wellness, career, and exclusive content delivered straight to your inbox.
Cisters, we need to talk. (By "cis" I mean cisgender women–people who were assigned female at birth and also identify as women).
We're living in scary times, battling multiple pandemics, and in the wake of the Supreme Court gutting abortion rights, the assault on autonomy over our bodies continues. With lives at stake, many trans and gender non-conforming people have come out to say to cis people, "Hey, please don't forget about us in the fight for abortion rights," as many trans men and gender non-conforming people have uteruses, are also able to give birth, and are already facing disproportionate harm when it comes to receiving healthcare. The backlash has been swift.

Many famous cis white women like Bette Midler and Pamela Paul in the New York Times have gone so far as to say that using inclusive language like "birthing people" or "people with uteruses" instead of just saying "women" when talking about abortion rights, is "erasure," and just as violent as politicians and judges making anti–abortion laws. Unfortunately, Black cisgender women have also been attacking trans people. The latest Trans Exclusionary Radical Feminist (TERF) to join the fray is singer Macy Gray who went out of her way to be a guest on noted racist and misogynoirist Piers Morgan's show to say, "Just because you go change your parts, doesn't make you a woman, sorry."
This is straight up transphobia and just not true. Trans women are women. And "womanhood" is a social construction–which means its rules are made up by what a society decides at a point in time. It is not biological. (Even in biology, there are more than two sexes.) And looking to "parts" to make up the definition of a woman is dangerous.
Last week, a pregnant 10-year-old child, a rape victim, had to flee Ohio to get a legal abortion last week. This child has the "parts" to give birth, but is in no way a woman at 10 years old. There are women who have no reproductive organs. There are women who are unable or uninterested in giving birth. There are women who don't want to ever be mothers. There are innumerable ways to be a woman. But when you reduce women to their "birthing parts," you should not be surprised when your society dictates what you are and aren't allowed to do with those parts. Motherhood is a choice and for all of our protection, it must be separate from womanhood.
Transphobia is violent and harms all Black women (that means cis and trans). To understand this, we must understand who constructed our ideas of womanhood and why.
The oppressive systems that all Black women are living under are interconnected and multi-faceted, targeting us for race, gender, sexuality, ability, class and so much more. This white supremacist, capitalist, ableist, cishetero patriarchy (to paraphrase bell hooks) has constructed our identities and assigned value on our lives based on how white we look, and how well we perform our assigned gender, heterosexuality, able-bodiedness and wealth. As a result, of course, white, straight, cis, able-bodied, wealthy men are at the top of this oppressive system and do everything in their power to oppress us so they can remain there.
When wealthy, land-owning, white men wrote in the Declaration of Independence that "all men are created equal," they were only talking about other wealthy, land-owning, able-bodied white males, to the exclusion of everyone else.
Similarly, all the "women" (who did not even exist in any of America's founding documents) were white, able-bodied, and married to men. Under white supremacist patriarchy, these white women could not hold elected positions or vote. Their property ownership was limited without fathers, husbands or brothers controlling their fates. Their pedestaling of white women as the ideal of womanhood, with a delicateness that needed to be protected and cared for by men has always been oppressive and infantilizing. But white women took comfort in having power over people with less wealth and people who weren't white. And many of these footsoldiers of the patriarchy hold onto their white power in the face of their own gender oppression to this day.
When you understand the creation of womanhood and manhood as white supremacist constructs meant to specifically exclude the Black people they enslaved, you understand that womanhood and manhood are identities based on the whims of our oppressors, that can be taken away from us whenever they feel like it.
Ask Caster Semanya. The two-time Olympian and queer Black woman from South Africa is dark-skinned, muscular, married to another woman, and naturally produces testosterone in her body, which white people have decided gives her an unfair advantage to compete in women's sports. The international governing body of sports decided she had to take medication to chemically alter her biology in order to be "female enough" to compete as the woman she is, or she would be banned from competing. Silver medalist Francine Niyonsaba from Burundi and bronze medalist Margaret Wambui from Kenya and many more were also banned for the same reason. That's what happens when you win too much as a Black woman: they change the rules.
Ask Megan Thee Stallion. After all the hate she got for just literally being a victim of a shooting "allegedly" committed by Tory Lanez, she knew that her race, her complexion and the build of her body all played a role in why she was not allowed to be the dainty woman who deserves protection, care and human decency.
"And I don't know if people don't take it seriously because I seem strong," Megan told Rolling Stone. "I wonder if it's because of the way I look. Is it because I'm not light enough? Is it that I'm not white enough? Am I not the shape? The height? Because I'm not petite? Do I not seem like I'm worth being treated like a woman?"
Black cisgender women like Megan face transmisogynoir too, because the root of the violence against all Black women specifically is to reinforce our devaluation as people in comparison to white women and white men. Despite the ways individual Black women can gain proximity to whiteness (through colorism/featurism; through class; through performance of gender), we will never as a group be treated equally to white people under white supremacy. The police that murder Black people with impunity, regardless of our class and gender performance, will remind us of that. But cis people don't have to play the role of police against trans people for them. We don't have to hold as sacrosanct a white supremacist construction of gender and gender expression that was never meant to include Black people in the first place!
When cis people reject transphobia, we are actively rejecting white supremacy and all of its spawn: classism, ableism, colorism/featurism, capitalism, and cishetero patriarchy. We are actively rejecting the idea that we can quantify people's value and grant and restrict their rights as a result. We are boldly claiming bodily autonomy and personhood as a human right and becoming one step closer to our own liberation. And we need it urgently.
Trans people are under attack. More than 300 anti-trans rights' bills have been introduced across the country in 2022 alone. Black trans women are being murdered with impunity in record numbers. Like Black cis women, Black trans men and gender non-conforming people are at extreme risk due to these abortion bans. Our siblings are in danger. They are not "replacing" or "erasing" us; they are us. And when white supremacists start to blur these so-called fixed lines about who these bans apply to – the same way they've done in sports to so many Black women; the same way they've done to a 10-year-old rape victim; the same way they've done to the chronically ill whose life-saving medication may be banned under the new abortion rules - we'll all find out the hard way.
Cis people, we have a choice to make. The scapegoating of trans women, trans people and other gender non-conforming people will not save us. Trans people are not our enemies. They are not the ones who have built the systems that oppress us. They are our sisters and siblings and our liberation is tied up together. Our collective struggle is against white supremacist, capitalist, ableist, cishetero patriarchy. We can either be the overseers for white supremacy and eventually get crushed under its boots, or we can all be free.
Which will you choose?
Let's make things inbox official! Sign up for the xoNecole newsletter for daily love, wellness, career, and exclusive content delivered straight to your inbox.
Featured image by Getty Images
Today is Malcolm X's birthday. As an icon of Black liberation movements, his words are often rallying cries and guideposts in struggle. In 2020, after the officers who executed Breonna Taylor were not charged with her murder, my timeline was flooded with people reposting Malcolm's famous quote: "The most disrespected person in America is the Black woman. The most unprotected person in America is the Black woman. The most neglected person in America is the Black woman."
It was certainly an apt quote to use for the tragic situation surrounding the life and death of Taylor. Quickly, however, a cynicism began to take hold of me as I saw people with questionable politics around Black women repost Malcolm's words.
Malcolm delivered those words to a congregation of Black people in Los Angeles, California just days after his birthday on May 22, 1965. Using his signature authoritative oratorical skills, he declared the harm that this world has caused Black women. In this same speech, he would go on to say: "Who taught you to hate the color of your skin? Who taught you to hate the texture of your hair? Who taught you to hate the shape of your nose and the shape of your lips? Who taught you to hate yourself from the top of your head to the soles of your feet?" Hating and harming Black women is akin to hating and harming yourself.
For Malcolm, to protect Black women, to respect and love Black women was not a hypothetical position to take. Just a few years prior to giving that speech, Malcolm severed ties with his mentor Elijah Muhammad after allegations against the Nation of Islam leader of having affairs with underaged girls were revealed, an allegation that Malcolm didn't initially want to believe until speaking directly with one of the accusers himself.
He showed us that to show up for Black women means holding the abusers within your community accountable — even the ones you admire. It means listening to Black women but also taking principled action in response to what you've heard–even at the risk of your relationships and even your life.
The name and legacy of Malcolm X conjure strong feelings in many people. To some people, Malcolm was a militant hellbent on stirring racial unrest. To others, he was a messianic figure, who sacrificed himself for the good of the people. But this is how I choose to remember him: as someone whose love for Black women anchored his life. To honor Malcolm means to honor Black women, today, tomorrow, and always.
Featured image by Getty Images
Over the last few days, we have witnessed Supreme Court nominee Judge Ketanji Brown Jackson face intense questioning that many deem as an attack from Republican senators on the Senate Judiciary Committee.
But when it was Democratic Sen. Cory Booker's turn, he made sure to praise the woman who is making history as the first Black woman to be nominated to the Supreme Court and will be the first Black woman on the bench if confirmed. Sen. Booker, who is the only Black senator on the committee, moved the Honorable Brown Jackson to tears as he listed out her accomplishments and highlighted the significance of her being there.
​"You did not get there because of some left-wing agenda," he said. "You didn't get here because of some dark money groups. You get here how every Black woman in America who's gotten anywhere has done. By being, like Ginger Rogers said, 'I did everything Fred Astaire did, but backward in heels."
Although Ketanji will be making history as a Black woman, Cory told her that she is more than just her race and that this moment is bigger than just her.
"I want to tell you when I look at you, this is why I get emotional," he said. "I'm sorry — you're a person that is so much more than your race and gender. You're a Christian, you're a mom, you're an intellect, you love books." He continued, "It's hard for me not to look at you and not see my mom. Not to see my cousins, one of them who had to come here and sit behind you. She had to have your back. I see my ancestors and yours."
He also pointed out the unfair questioning she received from his colleagues. "You faced insults here that were shocking to me — well, actually not shocking," he said. "But you are here because of that kind of love, and nobody is taking this away from me."
Before closing out his speech, he compared the judge to Harriet Tubman as she was a symbol of hope to so many Black Americans and how Ketanji is following in those very footsteps. "I thought about her. And how she looked up, she kept looking up," he said. "No matter what they did to her, she never stopped looking up. And that star was a harbinger of hope.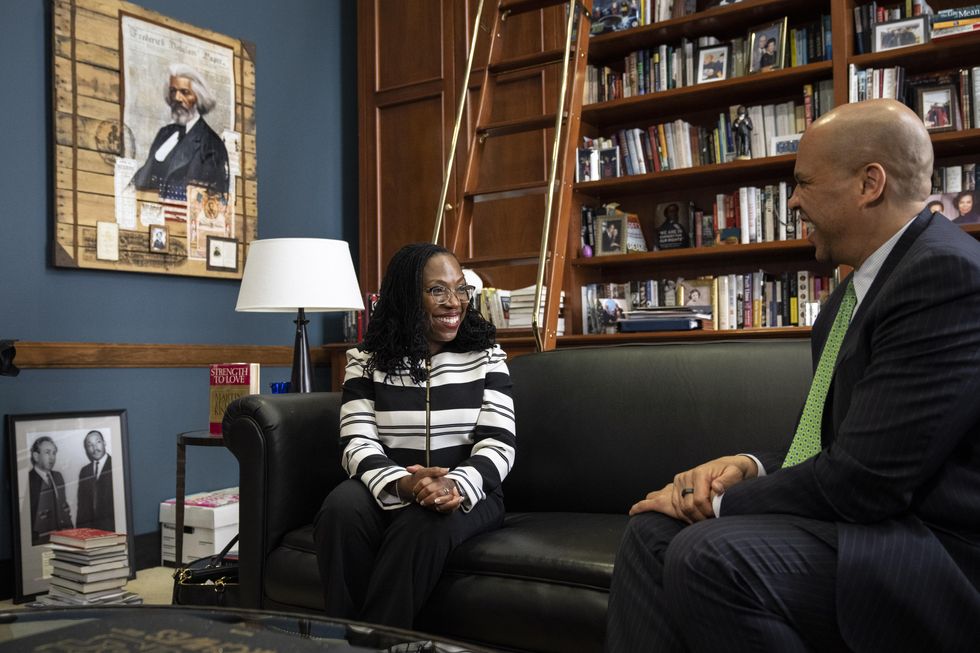 Drew Angerer/Getty Images
"Today, you're my star. You are my harbinger of hope. This country is getting better and better and better. And when that final vote happens, and you ascend to the highest court in the land, I'm going to rejoice. And I'm going to tell you right now, the greatest country in the world, the United States of America, will be better because of you."
Cory's powerful and uplifting words to Ketanji made their rounds on social media and touched so many people.
I am so moved by and impressed with Senator Cory Booker. And Judge Ketanji Brown Jackson is SUPREMELY qualified to serve on our nation's highest court. I'm so inspired by them both. They represent public service at its best.

— Glenn Kirschner (@glennkirschner2) March 22, 2022
Cory Booker using his time to pour into Judge Ketanji is not a performance.

When overqualified black women are constantly belittled, attacked, interrogated, disrespected, & demeaned the LEAST any sound & moral person can do is reroute their own agenda to reassure & reassert her.

— Ayanna. (@untouchableYann) March 23, 2022
Ancestors bless Senator Cory Booker for standing up for his Black sister Judge Ketanji Brown Jackson in the most joyful, passionate terms.

Back home we have praise singers. That's Cory.

"Nobody is going to steal our joy. You deserve to be here."

Ketanji and I are both crying pic.twitter.com/IdugDJYb48

— Unofficial Judge Ketanji Defense Account: Qondi (@QondiNtini) March 23, 2022
Watch the full video of Cory Booker and Ketanji Brown Jackson here:
Let's make things inbox official! Sign up for the xoNecole newsletter for daily love, wellness, career, and exclusive content delivered straight to your inbox.
Featured image by Drew Angerer/Getty Images
During the presidential election of 2020, Black women across the country sashayed to the polls to deliver the presidency to Joseph R. Biden. With a Black woman running mate by his side, and the promise of robust change after four years of what felt like an unending catastrophe on a national and global scale, Black women were ready to move the country forward with the help of our elected leaders.
This might not be a surprise to many of us, but in the little over a year since Biden has taken office, Black women have seen minimal return in our investment from the leaders who campaigned for our votes. A pandemic and a war going on? We're tired!
In his first State of the Union address as president this past Tuesday, Biden addressed these pressing issues: the Russian invasion of Ukraine, the sanctions he's placed on Russia, continued efforts to mitigate the spread of COVID-19, healthcare, the Black female nominee for the Supreme Court, and more.
Here are my key takeaways of the night and how they impact the lives of Black women:
Featured image by Getty Images