A$AP Rocky has a lot to celebrate. He just became a new father after Rihanna gave birth to their child in May and he is getting ready to release his new album. He released his first song titled "D.M.B" which featured the "Love on the Brain'' singer as his leading lady. While not much else is known about the upcoming project, we can only hope that he will rap about the positive life changes that have happened such as starting a family with one of the baddest women in the world and learning more about his identity on his trips to Barbados.
The Harlem rapper is Bajan on his father's side and since he began dating Rihanna, he has been spending more time on the Caribbean island. In the new issue of Dazed, Rocky opens up about his new music, how he plans to navigate fatherhood and his relationship with RiRi. The interview took place before the Fenty Beauty owner gave birth.
Here are some of the highlights:
A$AP Rocky on Spending Time In Barbados with Rihanna
"It was honestly so unbelievable. I had family there that only came up [to New York] once every five years, family I only spoke to over the phone my whole life. You remember those one-dollar, five-dollar phone cards? I was raised to know about my heritage, but I was missing the actual experience. I didn't get to experience it until I was an adult. It was one of the most surreal experiences I've encountered in my lifetime."
A$AP Rocky on His 2013 "Fashion Killa" Video That Predicted His Future with Rihanna
"I was just on tour with my lady, you know? We wanted it to feel like a love story, a fairytale with a street twist. I expected my core following to be receptive, but with Virgil in the mix, its success was a no-brainer. I was living in New York at the time, too."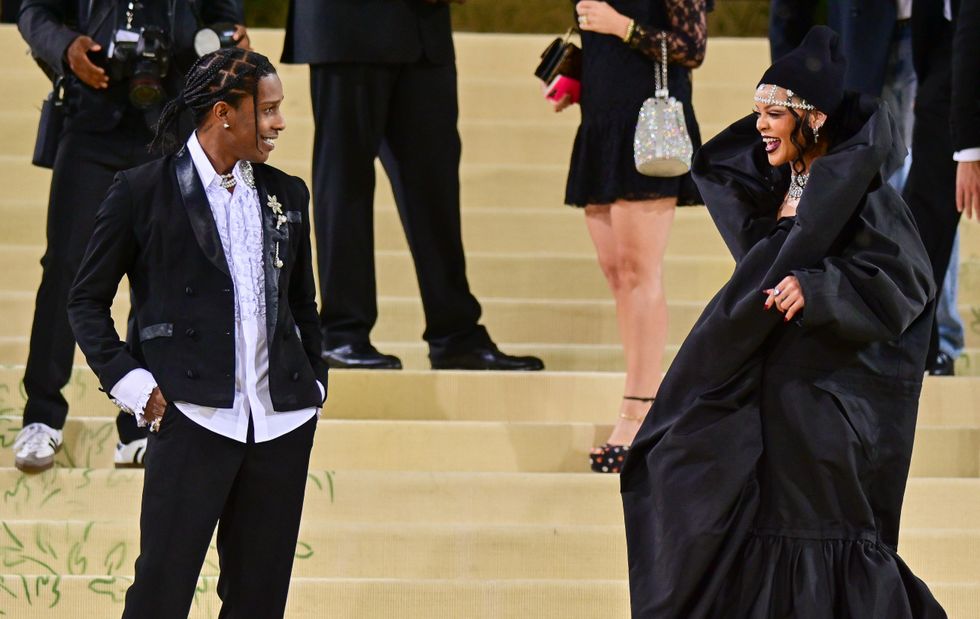 James Devaney/GC Images
A$AP Rocky on His and Rihanna's 2021 MET Gala Looks
"I didn't know what she was wearing, she didn't know what I was wearing. I went to Eli's spot – Eli Russell Linnetz, he owns the label ERL – and when I walked in there was this quilt just sitting on the couch. I was like, 'Can I have that quilt?' And he was like, 'Well, I actually just thrifted it.' He had picked out a few looks for me, but I was on his ass about that quilt. And so he stitched it together and made it a custom piece. That's how I decided to wear a quilt to the Met Gala."
A$AP Rocky on He and Rihanna Matching Each Other's Fly
"I think it's just natural. We happen to look good together naturally. You know, it would take a lot of work to have us forcefully match before we leave the house. Sometimes we match to a T, or we just wear the same clothes. If I buy a shirt that she likes, I expect to get it stolen... but then I gotta steal it back."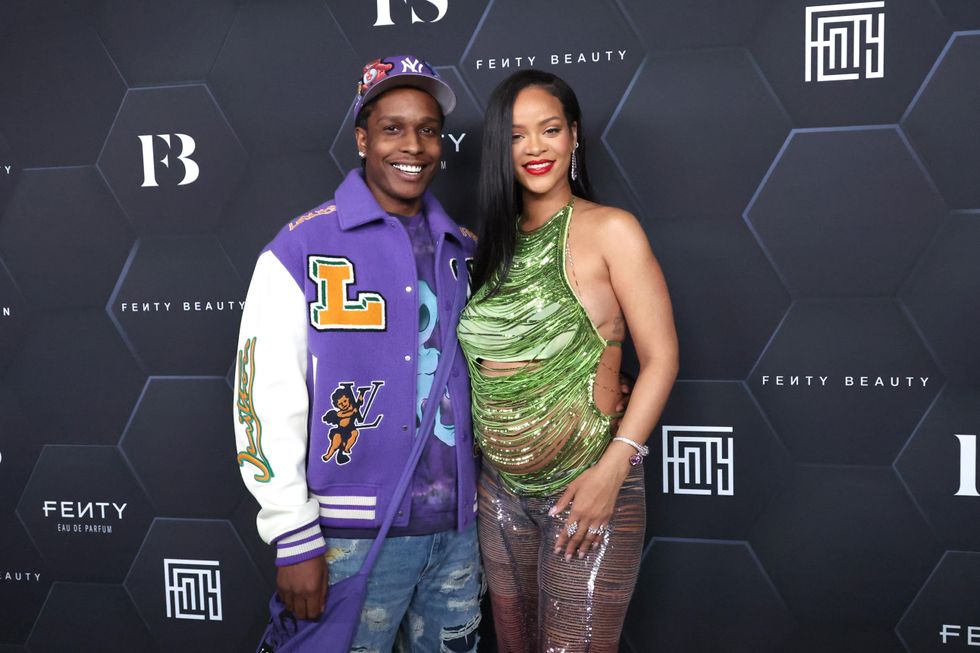 Mike Coppola/Getty Images
A$AP Rocky on What Type of Father He Wants to Be
"I will always remind my children to never lose their imagination, even as adults, no matter what. I actually love to watch cartoons – I've watched like Teletubbies, Blue's Clues, Yo Gabba Gabba, Peppa Pig, and Baby Shark. I hope to raise open-minded children. Not people who discriminate. And I'm not trying to describe a saint, but realistically, I just want a cool child with cool parents."
Let's make things inbox official! Sign up for the xoNecole newsletter for daily love, wellness, career, and exclusive content delivered straight to your inbox.
Featured image by Mike Coppola/Getty Images
Rihanna is finally opening up about her relationship with A$AP Rocky. The couple has been friends for years, but reportedly sparked a romance in 2020 and now they are having their first child together. The Harlem rapper gushed about their relationship in a past interview with GQ where he called the "Needed Me" singer "the one." "So much better when you got the One," he said. "She amounts to probably, like, a million of the other ones. I think when you know, you know. She's the One."
RiRi has remained relatively silent about their love until now. The singer covered the May 2022 issue of Vogue where she dished on becoming a mother and what made her fall for Rocky.
"People don't get out of the friend zone very easily with me," she said. "And I certainly took a while to get over how much I know him and how much he knows me because we also know how much trouble we can land each other in." As mentioned before, the couple has been friends for many years. They collaborated on the "Cockiness (Love It)" remix in 2012 and she was his muse in his 2013 "Fashion Killa" music video.
Rihanna recalled the moment they performed the "Cockiness (Love It)" remix at the 2012 VMAs, in which her manager noticed there may have been some chemistry then. "He grabbed my ass on stage. That was not part of the rehearsal!" she said. "I was like, Whatare you doing!? My manager was like, Oh, God, she must like this guy a little bit. She never lets this shit slide."
Fast-forward to summer 2020, when the couple took a road trip from Los Angeles to New York together. They were cooped up in a tour bus and stayed out of the public eye. The Barbadian beauty would cook on a "little janky grill I bought from Walmart" and Rocky would tie-dye T-shirts he bought from the major retailer. "I love the simple things but also the grand adventures," she said. "There's no pretentious my-brand-your-brand bullshit, it's just us living. I just feel like I can do any part of life by his side."
Then the holiday season came and fans saw paparazzi photos of the couple spending time in Rihanna's home country of Barbados. However, it wasn't exactly what we thought. The mom-to-be shared that Rocky also has a connection to her home country. The "Peso" rapper's father is also from Barbados. She said it was "heartwarming" to watch her beau envision his dad as a boy and walk the same streets that his father walked.
During their time on the beautiful island, Rocky was also able to win over Rihanna's mother. "My mother has a really good read on people. She observes first and then she'll move slowly," she said. "I guess I'm like that too. There are some guys that I've dated that she won't even look at to this day. But she was charmed by him from the jump."
And while she would love to raise their child in Barbados, she knows that it's not realistic with being who they are and so they are still figuring out where to live.
Featured image by Taylor Hill/WireImage/Getty Images
Since the day her pregnancy announcement photos dropped, Rihanna has been taking on maternity style her way. From exposing her growing bump in crop tops and belly chains to sexy sheer lingerie, the Barbadian singer keeps hitting us with one jaw-dropping look after another. If you look at her style trajectory, it's not surprising that Riri would express herself as a mom-to-be in this way as she has always rebelled against what society says.
The billionaire boss opened up about her rebellious maternity style to Bustle. "It's been me personally saying, I'm not going to buy maternity clothes. I'm not gonna buy maternity pants, jeans, dresses, or [do] whatever society told me to do before," she said. The 34-year-old mom-to-be is having fun redefining what maternity style is and what pregnant women can wear.
But according to Riri, if we think her current looks are causing a stir, we haven't seen nothing yet.
"I think [in terms of] having fun and being creative, I've had a little extra boost of that. And now I don't want it to end," she said. "There's going to be the other side of pregnancy, which is like your 'snap back' body, and that's going to be a challenge in and of itself. So I'm looking forward to being creative in that [stage] as well."
We can only imagine what else she has cooked up for her legion of fans. And while we are eating up her fashions, fans are equally excited about her becoming a first-time mother with her beau A$AP Rocky. The singer also shared with Bustle that she was excited to meet her baby.
If you take a look back at Rihanna's past comments about motherhood, then you will know that she manifested being a mom. See what she said throughout her career below:
On Where She Sees Herself in the Future
"That's a cool question. In 10 years I want to have already started my family and have some businesses of my own. A fashion line, a makeup line. And I still want to be doing what I'm doing at a much bigger capacity-by the grace of God!" viaInStyle 2008
On Giving Birth to Black Children
"I'm a Black woman. I came from a Black woman, who came from a Black woman, who came from a Black woman and I'm going to give birth to a Black woman. It's a no-brainer. That's who I am. It's the core of who I am in spirit and DNA."
"My mother is an incredible example of how to fight through obstacles in life. I'm sure her mom taught her that and that's how I'm going to be. We are impeccable, we're special and the world is going to have to deal with that." viaEssence 2019
On Wanting Kids with or without a Man
"I'll have kids — three or four of 'em. ...I feel like society makes me want to feel like, 'Oh, you got it wrong…' They diminish you as a mother if there's not a dad in your kids' lives. But the only thing that matters is happiness, that's the only healthy relationship between a parent and a child. That's the only thing that can raise a child truly, is love." viaVogue UK 2020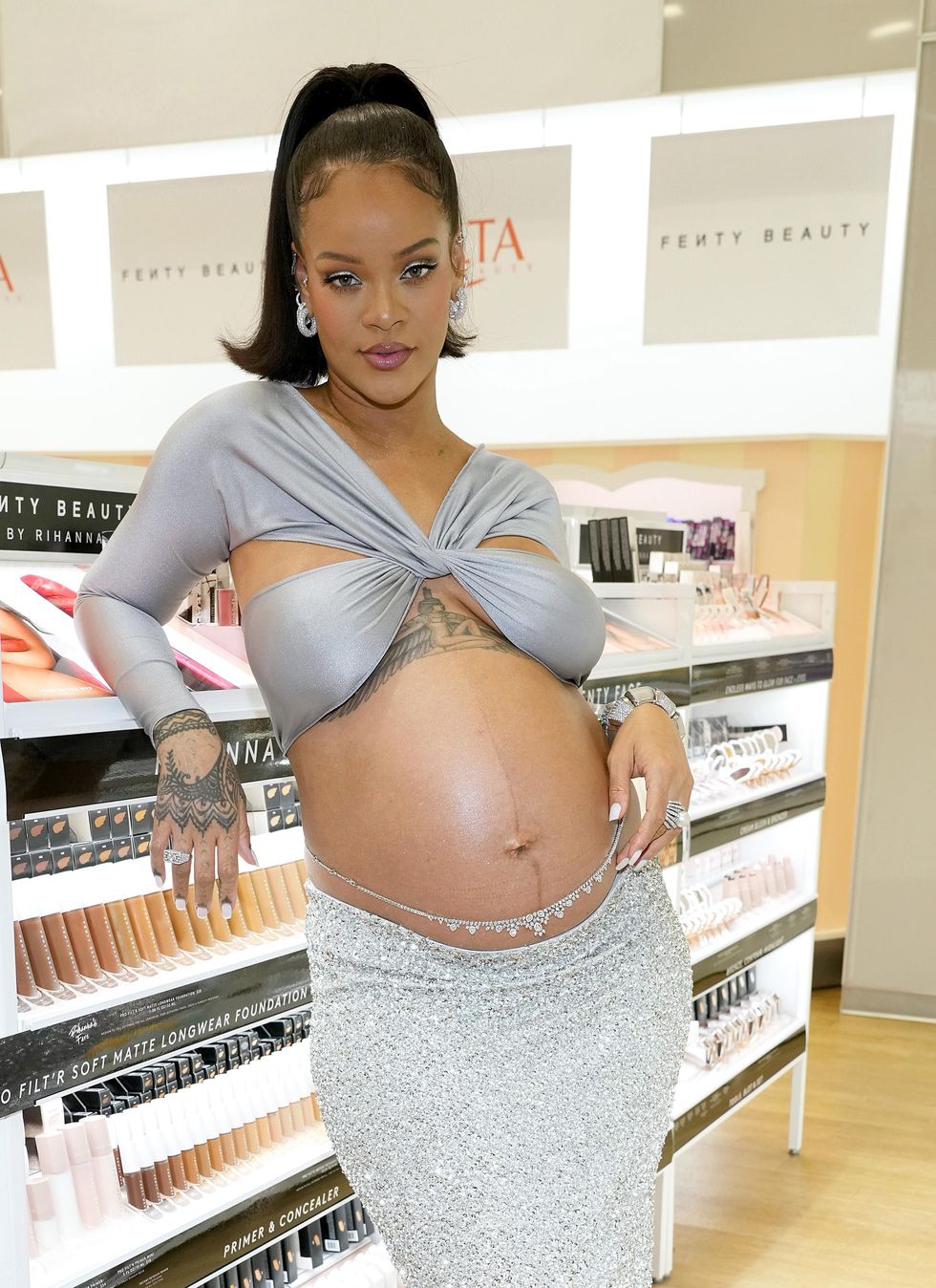 Kevin Mazur/Getty Images for Fenty Beauty by Rihanna
On Being Pregnant and Preparing for Motherhood
"I'm trying not to overthink it. I'm trying to embrace the journey as it comes, because there's so much unknown. And if I hype myself up about it right now, I'll just get too anxious and get overwhelmed. And, today is already enough for me to deal with, right? Getting up off the couch, figuring out what I'm going to wear, wearing heels, getting dressed."
"Everything that seems simple is such a task right now, so I'm just going to go step-by-step. And it's not like I could run from any of what's to come. When I'm faced with it, I'm going to handle it like I know best. The one thing I've learned the most during pregnancy is no one can truly prepare you. No matter how many stories you hear, your journey is so unique to you and you could never be prepared enough. You just have to embrace the journey." via Bustle 2022
Let's make things inbox official! Sign up for the xoNecole newsletter for daily love, wellness, career, and exclusive content delivered straight to your inbox.
Featured image by Kevin Mazur/Getty Images for Fenty Beauty by Rihanna
Since revealing her baby bump in the most stylish way a few weeks ago, Rihanna has continued to give us fashion moments that have taken the internet by storm and this past weekend was no different. Ri Ri attended two different red carpet events, the first being the celebration of her Fenty Beauty and Fenty Skin line and the second being the Savage X Fenty store opening in Los Angeles.
The 33-year-old singer had her baby bump semi-exposed during the Fenty Beauty and Fenty Skin party while wearing a sexy green shredded halter top and silver and purple shredded pants that exposed her backside.
However, when she popped out at the Savage X Fenty event, she was fully covered wearing an all-red custom Alaia dress. Her beau A$AP Rocky was by her side at both outings looking fly as well. At her Fenty Beauty and Fenty Skin party, Rihanna spoke with Entertainment Tonight about her maternity fashions.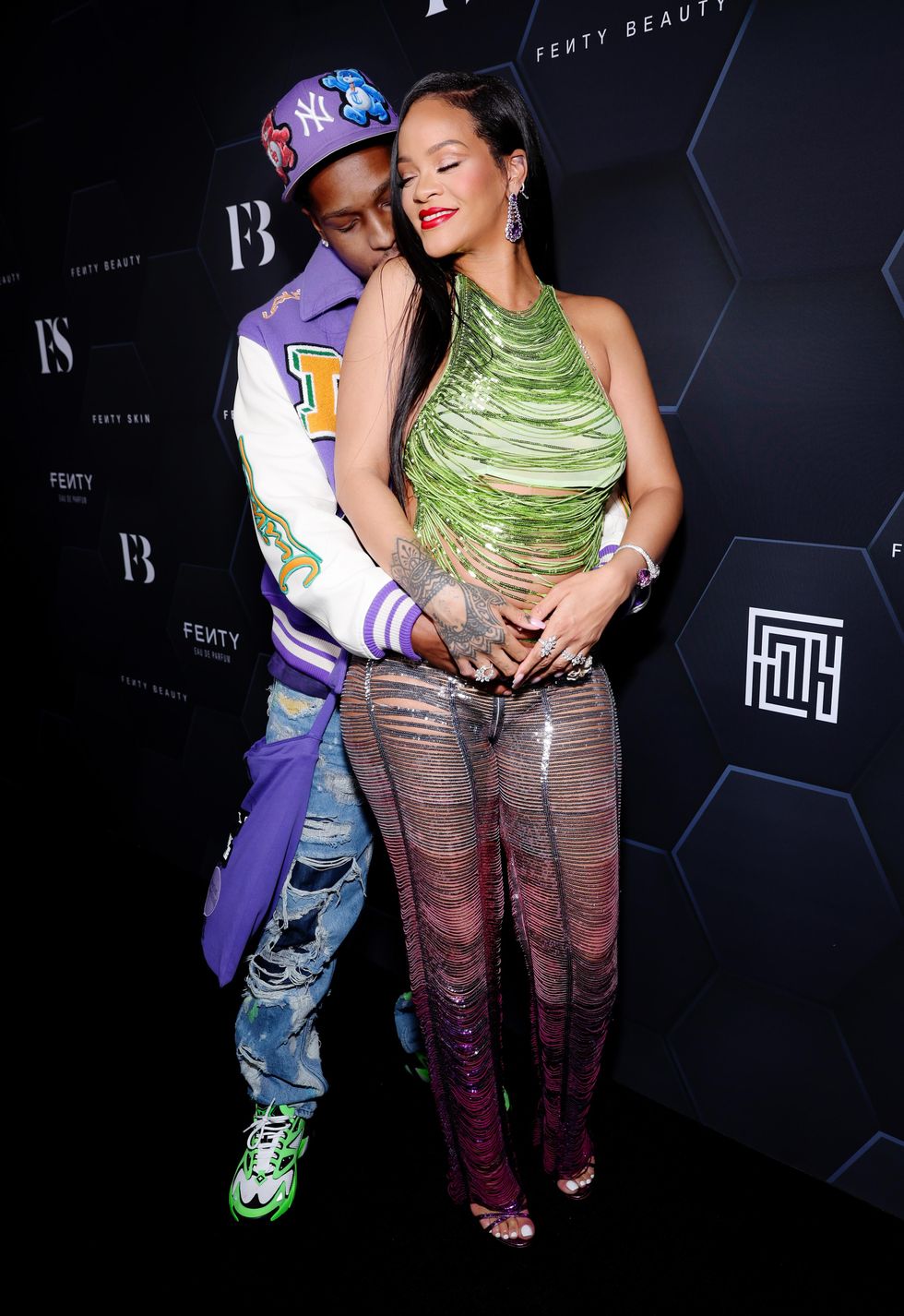 Rich Fury/Getty Images for Fenty Beauty & Fenty Skin
"I'm trying to enjoy it [pregnancy] as much as I could and fashion is one of my favorite things so redefining what it means to even be pregnant and maternal," she said. "It can get uncomfortable at times, so you can dress the part and pretend."
Speaking to Access, she called fitting clothes with her pregnant belly a "challenge," but something she enjoys. She also touched on the inspiration behind her pregnancy reveal photos.
"I just wanted to wear something like I wasn't pregnant. What I would wear and enjoy wearing. It was fun to be able to wear it in this way, kinda, all flasharoo," she said. "It was good. It was cold as hell that day, but we got it done."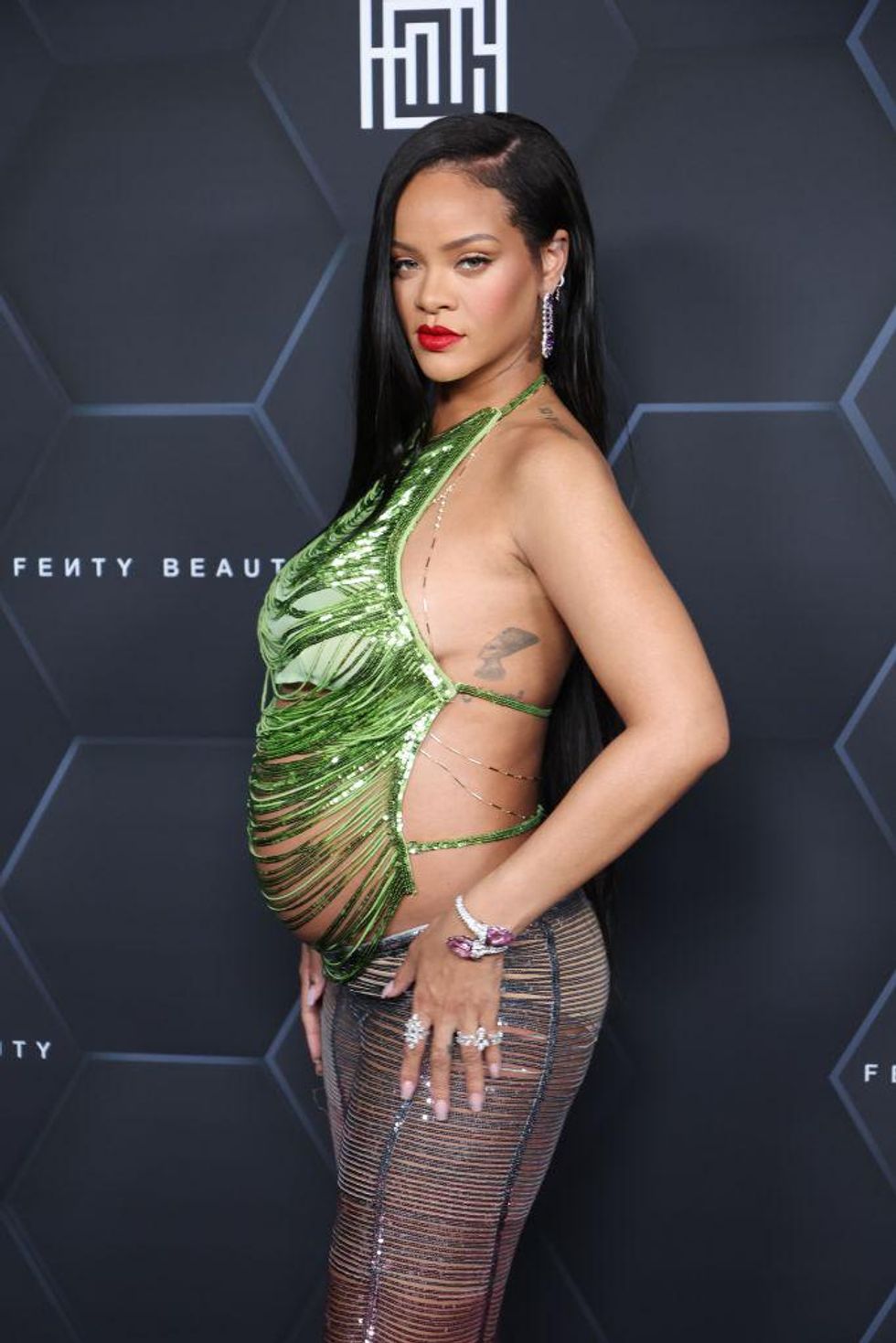 Mike Coppola/Getty Images
On Jan. 31, Rihanna and A$AP Rocky broke the internet when photos surfaced of the couple walking around New York with the singer's baby bump exposed. Rihanna wore a vintage Chanel by Karl Lagerfeld pink long puffer coat that buttoned right to her belly and extra-long ripped blue jeans and heels. She accessorized the look with layered necklaces and a chain belt.
As of yet, the singer hasn't revealed how far along she is in the pregnancy or the sex of the child. However, she did open up about the moment she found out she was pregnant.
"When I first found out, it's not real, you know? I was like, 'This is not for real, right?'" she toldE! News. "And then, it was and it's almost like you don't want to get too excited too soon because it's great news, but you...want to see that it's going to see its way through. And I'm so glad that we're this far along and now I can celebrate with everyone."
Featured image by Mike Coppola/Getty Images
rihanna and rocky so beautiful, so i know that baby bout to be gorgeous af.

— ky 🦋 (@kyjanaee) January 31, 2022
So happy for Rihanna now is her time

— chloexhalle (@LGoldenprofits) January 31, 2022
The "Diamonds" singer sparked pregnancy rumors last year when fans pointed out her consistently wearing baggy clothing. However, she denied the claims. Rihanna and A$AP Rocky have been friends for years before ultimately dating in 2020.
They have both even talked about having kids. In a 2020 interview with British Vogue, Rihanna revealed that she planned to have three to four kids in the next 10 years, with or without a man in her life. "I feel like society makes me want to feel like, 'Oh, you got it wrong …' They diminish you as a mother if there's not a dad in your kids' lives. But the only thing that matters is happiness; that's the only healthy relationship between a parent and a child. That's the only thing that can raise a child truly, is love."
And in the June/July 2021 issue of GQ, the Harlem rapper gushed about the singer calling her "the One" and spoke on fatherhood. "I think I'd be an incredible, remarkably overall amazing dad. I would have a very fly child. Very," he said. We agree!
Here's a timeline of how their love began.
2012
Rihanna and A$AP Rocky collaborated on the remix of the singer's song "Cockiness (Love It)" and they performed together at the VMA's that same year.
2013
The singer starred as the leading lady in A$AP Rocky's music video for "Fashion Killa."
2018
They were both spotted sitting front row at the Louis Vuttion show during Paris Fashion Week in June.
2019
Jeff Spicer/BFC/Getty Images
Rihanna and A$AP Rocky walked the red carpet together at the British Fashion Awards (as friends.) They both were wearing Rih Rih's Fenty brand.
Jan. 2020
Rumors began that Rihanna and A$AP Rocky were dating after she reportedly broke up with Hassan Jameel and was seen hanging out with the rapper.
Aug. 2020
The two teamed up to promote Rih's Fenty Skin brand. They appeared in a video for GQ where the "Praise The Lord" rapper had to answer 18 questions from the "What's My Name?" singer.
Dec. 2020
After reports confirmed that they were dating the "jiggy" rapper was spotted spending Christmas in Rihanna's home country of Barbados.
Jan. 2021
Rihanna posted photos wearing the Amina Muaddi x AWGE LSD Gladi Thigh Heel, which Rocky designed in collaboration with the footwear designer.
May 2021
The "Wild for the Night" rapper opened up about his love for Rihanna in GQ. "So much better when you got the One," he said. "She amounts to probably, like, a million of the other ones. I think when you know, you know. She's the One."
Sept. 2021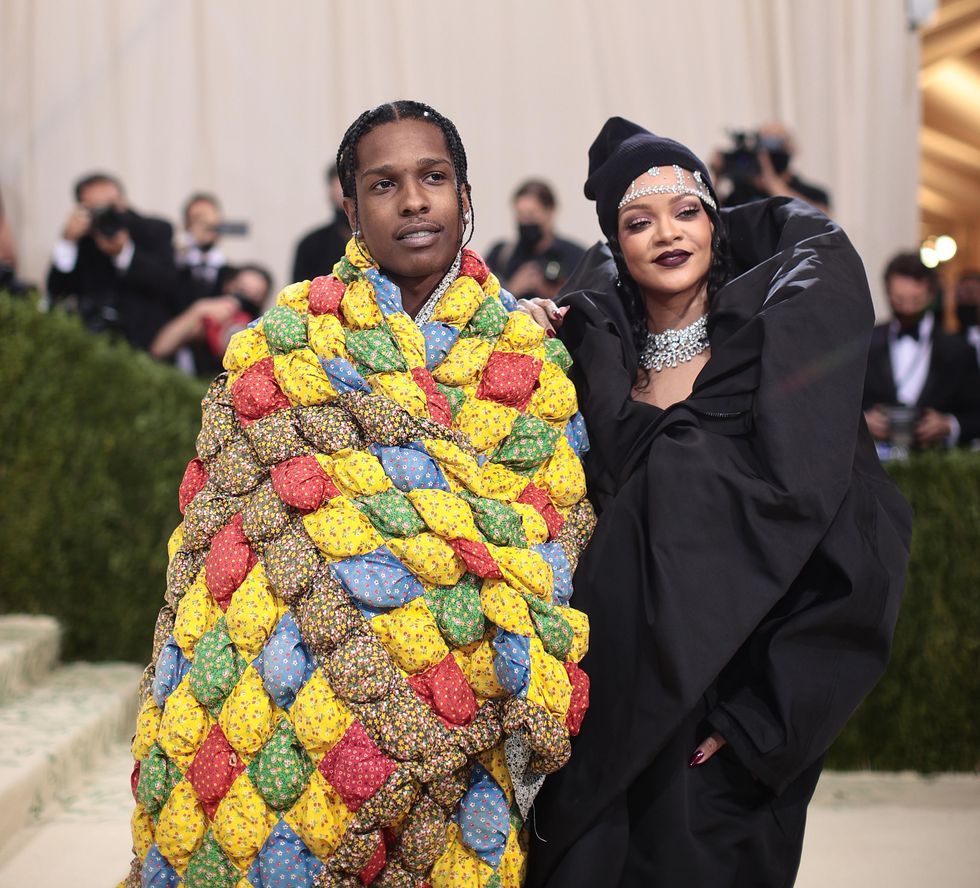 Dimitrios Kambouris/Getty Images for The Met Museum/Vogue
Rihanna and A$AP Rocky made their red carpet debut as a couple at The Met Gala.
Jan. 2022
The couple "announced" that they are expecting their first child together. Click here to see more of the photos from her paparazzi baby bump stroll.
Congratulations to the parents-to-be!
Featured image by Taylor Hill/WireImage/Getty Images
Savage X Fenty is coming to a city near you. After two short, but successful years, Rihanna's Savage X Fenty is finally going physical! Meaning the online lingerie shop will now have physical stores. Co-president and chief merchandising and design officer of Savage X Fenty, Christiane Pendarvis, shared the exciting news during an interview with Bloomberg:
"You're actually going to see stores. I can't tell you when. I'd be spoiling the surprise and the build up, but yeah retail we think is an important component for us."
The news comes on the heels of the 2021 Savage X Fenty show Vol. 3, which premiered on Amazon Prime on September 24, and Rihanna officially becoming a billionaire. Her lingerie brand has a little to do with her billionaire status after it increased in revenue by 200%, according to Forbes.
But how was the singer able to be successful in the lingerie market? 
While she's a global pop star, it has been proven many times that celebrity status doesn't always equate to success in other ventures. The "Love on the Brain" singer is also an example of that.
While her Fenty Beauty and Savage X Fenty lines are flourishing, her Fenty fashion house failed to make the same impression as her other brands and closed down earlier this year.
Launched in 2019, Savage X Fenty erupted the intimate apparel scene by prioritizing inclusivity rather than the same troupe of skinny women modeling the lingerie other brands have long followed.
Not only does Savage X Fenty include sizes from XS to 4XL, they also highlight models wearing the different sizes unapologetically, showing that sexy comes in more than one size.
The Bajan beauty spoke with WWD when her first collection premiered at New York Fashion Week in 2018.
"The concept really is just about exploring and celebrating women and all different shapes and bodies and designing things that met that."
The brand's social media and marketing is also top tier as they've been able to speak to their audience using their customers' voices as well as partner with celebs and influencers such as Megan Thee Stallion, Lizzo and Reginae Carter to model the brand on their social media pages.
Now that the brand is expanding into brick-and-mortar, it is highly likely that they will continue to grow as they will potentially reach new customers.
"We know that in intimate apparel specifically, because fit and comfort are so important, there's just customers who don't feel comfortable purchasing online and they want to be able to go physically try the product on. Touch, feel, make sure they found the right size and the right fit for them," Christiane said.
Christiane didn't give any specifics on the locations, just that they will be in the U.S. and possibly Europe.
Featured image by Kevin Mazur/Getty Images for Rihanna's Savage X Fenty Show Vol. 3 Presented by Amazon Prime Video