Whether it's street style and high fashion moments, the lucrative lane she's carved through her multiple businesses, or the question of "where's the album sis?", multi-hyphenate Rihanna's every move is a new headline. The latest subject on all of our radars is our favorite bad gyal's love life. Though currently wrapped up in a whirlwind romance with long-time friend A$AP Rocky, who the singer has dated has always been of public interest and public opinion (if you know, you know).
Though she has been in her fair share of high-profile romances throughout the year, Rihanna has always maintained a sort of elusive quality to her. Even more so in recent years as she has navigated single life and a previous relationship with a particular billionaire. Something that has us thinking the good sis can be tamed is rapper boyfriend A$AP who took to GQ recently to reveal our girl Riri is "the One" and the love of his life. His words.
However, Rihanna was recently spotted commenting the sentence "If I was a paragraph" underneath a photo explaining that if you aren't happy single, you aren't going to be happy taken. While it could mean trouble in lovers and friends paradise, a little birdie mentioning she covered her matching tattoo with former beau Drake amid her new romance with A$AP could signify she might be feeling something similar (i.e. Mr. Rocky could be "the one").
Either way, we thought there's no time like the present to explore the past. Let's review Rihanna's relationship history by taking a walk down memory lane: Exes Edition.
Chris Brown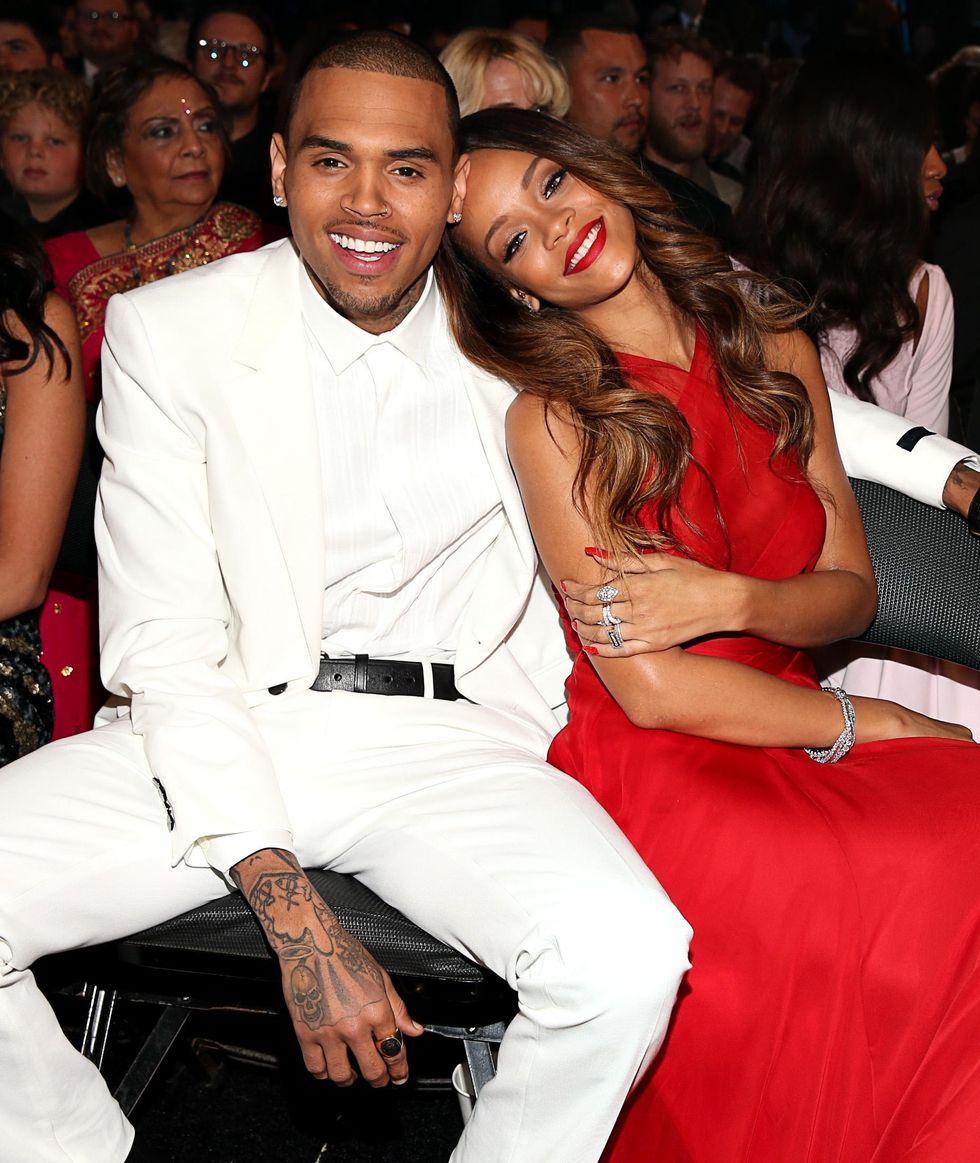 Chris Brown and Rihanna attend the 55th Annual GRAMMY Awards at STAPLES Center on February 10, 2013 in Los Angeles, California.
Christopher Polk/Getty Images for NARAS
From 2007 to 2009, Rihanna dated singer Chris Brown. The relationship ended in turmoil in 2009 due to a devastating domestic violence incident resulting in Brown being charged with making criminal threats and assault. The two would eventually rekindle their relationship briefly between 2012 and 2013, even briefly collaborating on songs again together, the raunchy "Birthday Cake" and the middle finger to the court of public opinion "Nobody's Business".
In 2015, Rihanna would reveal to Vanity Fair about her seemingly toxic bond with her ex and what ultimately led her to leave.
"I was very protective of him. I felt that people didn't understand him. But you know, you realize after a while that in that situation you're the enemy. You want the best for them, but if you remind them of their failures, or if you remind them of bad moments in their life, or even if you say, 'I'm willing to put up with something,' they think less of you — because they know you don't deserve what they're going to give."
Drake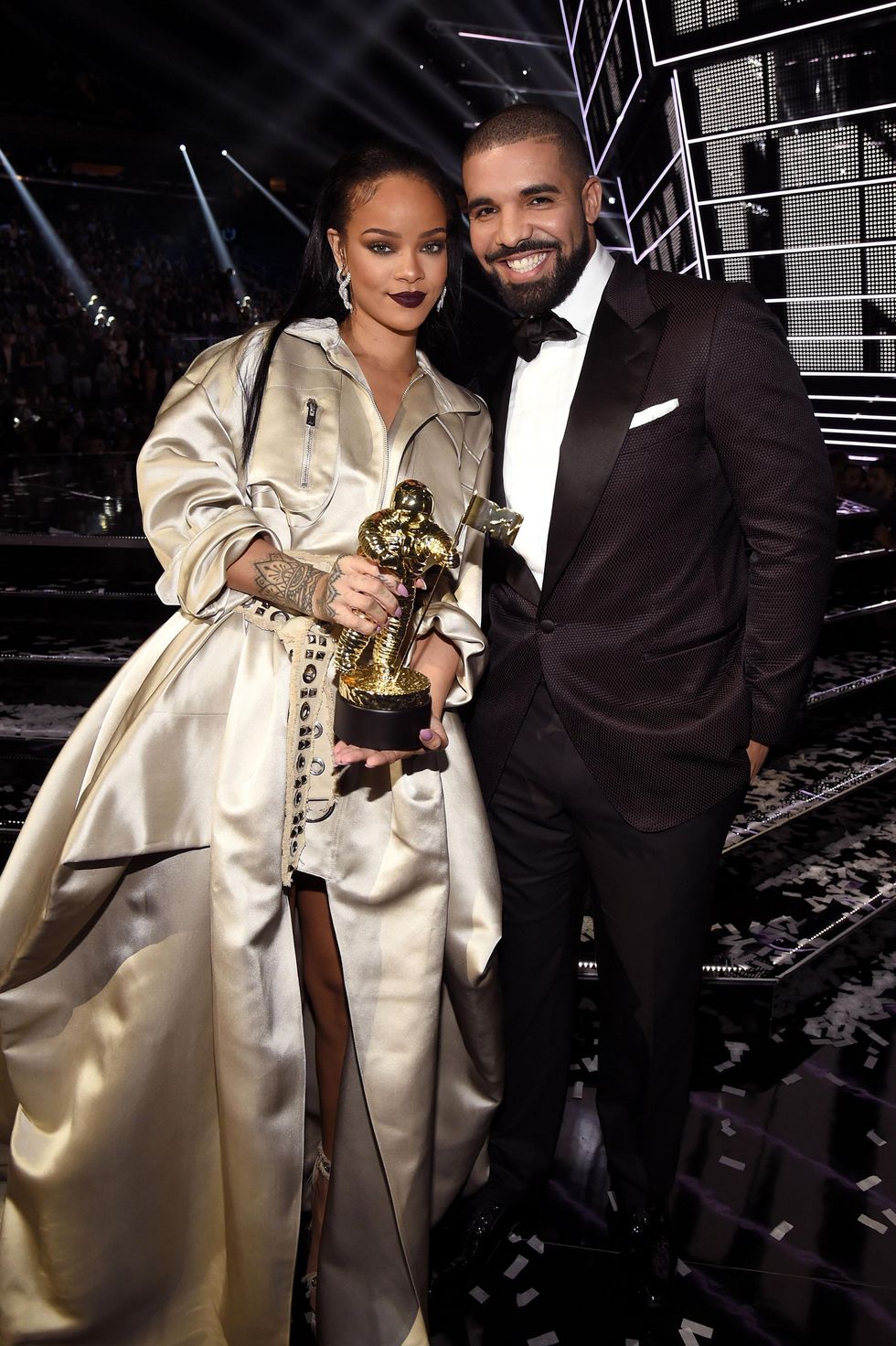 Rihanna (L) and Drake pose onstage during the 2016 MTV Video Music Awards at Madison Square Garden on August 28, 2016 in New York City.
Kevin Mazur/WireImage
Another on-again off-again relationship in Riri's life, Drake and her reportedly began their first of a couple of flings in May 2009, after meeting in 2005. In an April 2012 to Max Choice FM, the Toronto rapper shared about their romance:
"I think that we have a connection that's established for life and that is that I love her and support her unconditionally, and I like to think that she feels the same way. Do I fancy her? Of course, I mean who wouldn't? Look at her, she's stunning. Of course I do. Yeah, no, she's incredible. But you know, it's one of those things that it's a maybe one day, maybe not."
As the pair dwindled and rekindled throughout the years, the Grammy winners have gifted fans with plenty of dope tracks, including "What's My Name?", "Too Good", "Take Care", and "Work". In reference to those glorious collabs, Drake told Zane Lowe:
"We do well together as a team. I think we do great music together. It's tough to do guy-girl collabs. I think [the chemistry] is what makes the records better, though. It's something genuine there. We're not forcing some story on people. A lot of the music that we make and the energy that we bring is genuine. We have a lot of genuine energy between us."
In 2016, sparks ignited again between the two before parting ways months later. In 2018, Drake unfollowed Rihanna after she revealed to Vogue:
"We don't have a friendship now, but we're not enemies either. It is what it is."
Matt Kemp
Rihanna dated professional baseball player Matt Kemp from January to December 2010. Allegedly, Kemp initiated the split because of the songstress' hectic schedule. Back when the two were an item, Rihanna giddily opened up to ELLE, calling their relationship her "peace":
"I have a boyfriend. I'm so happy. I feel really comfortable, and it's so easy. I have such a chaotic life, but at the end of the day, that is just my peace. It keeps me sane, really, talking to him and talking to my family."
Travis Scott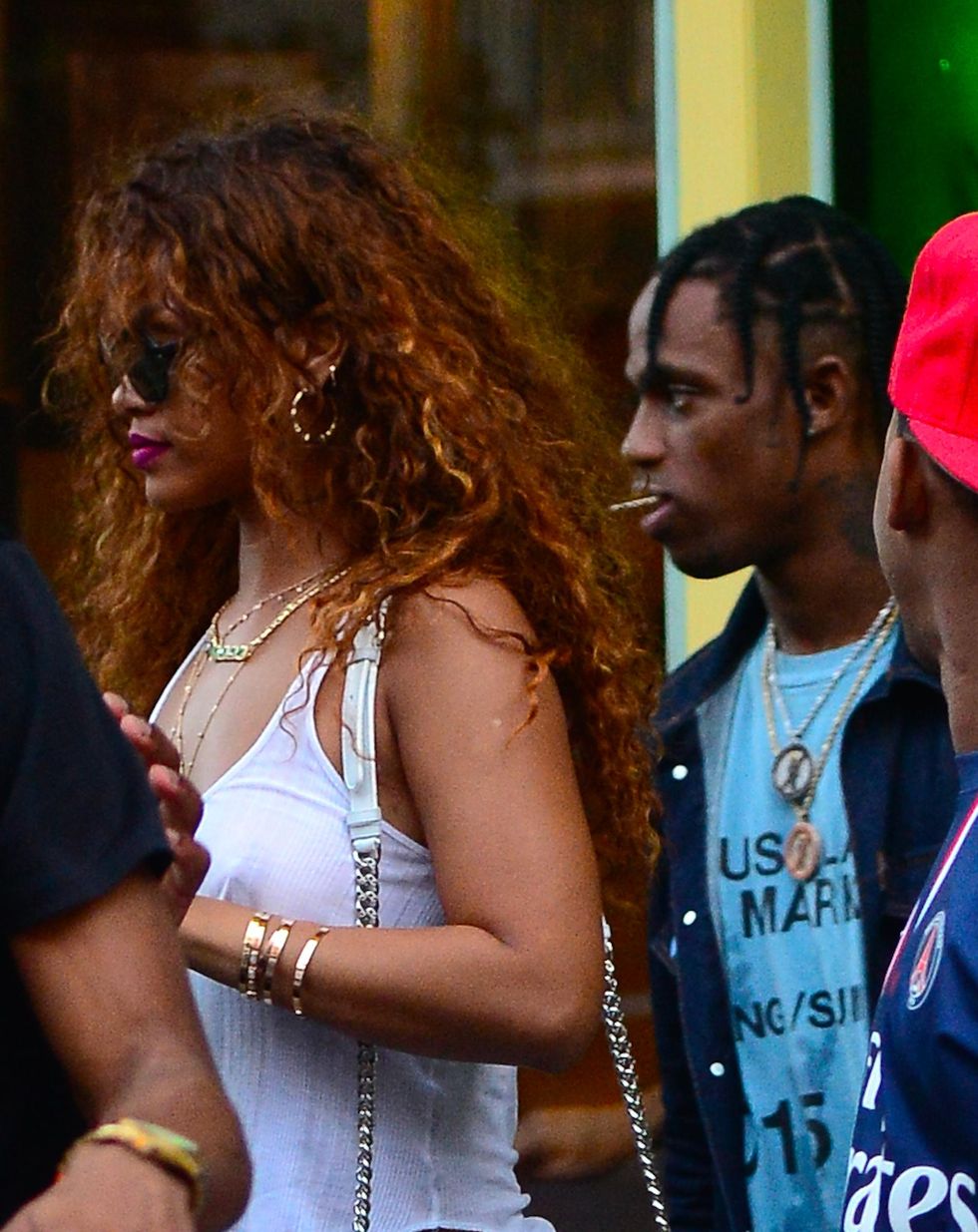 Singer Rihanna and Travis Scott are seen coming out of Coppelia restaurant in Soho on August 12, 2015 in New York City.
Raymond Hall/GC Images
Like her alleged flings with actors Leonardo Dicaprio and Ryan Phillippe, this short-lived romance with rapper Travis Scott has only been confirmed by sources close to the two. However, those of us who spotted the subtle hints towards each other between Riri and Trav during their time together, we know the things! We peeped!
Hassan Jameel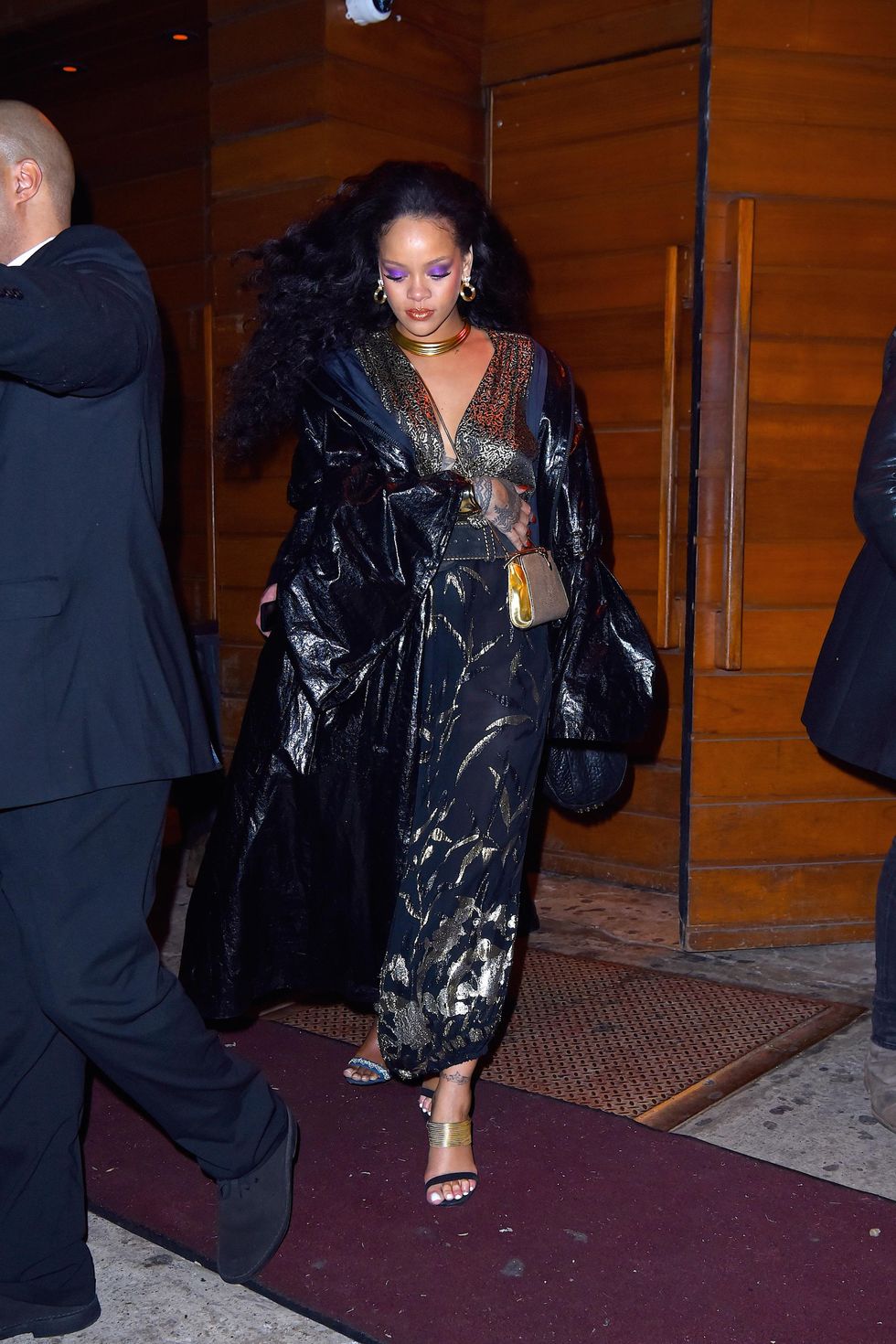 Rihanna seen at 1-Oak nightclub after partying with rumor boyfriend Hassan Jameel after attending the 2018 Grammy Awards after party on January 28, 2018 in New York City.
Robert Kamau/GC Images
Perhaps her most private relationship was the one she started in 2017 with billionaire beau Hassan Jameel. In fact, though revealing in a cover story with Interview magazine that she was "of course" in love with him, she was pretty quiet publicly about their time together.
"I'm actually in an exclusive relationship for quite some time, and it's going really well, so I'm happy."
The couple reportedly split in January 2020.
A$AP Rocky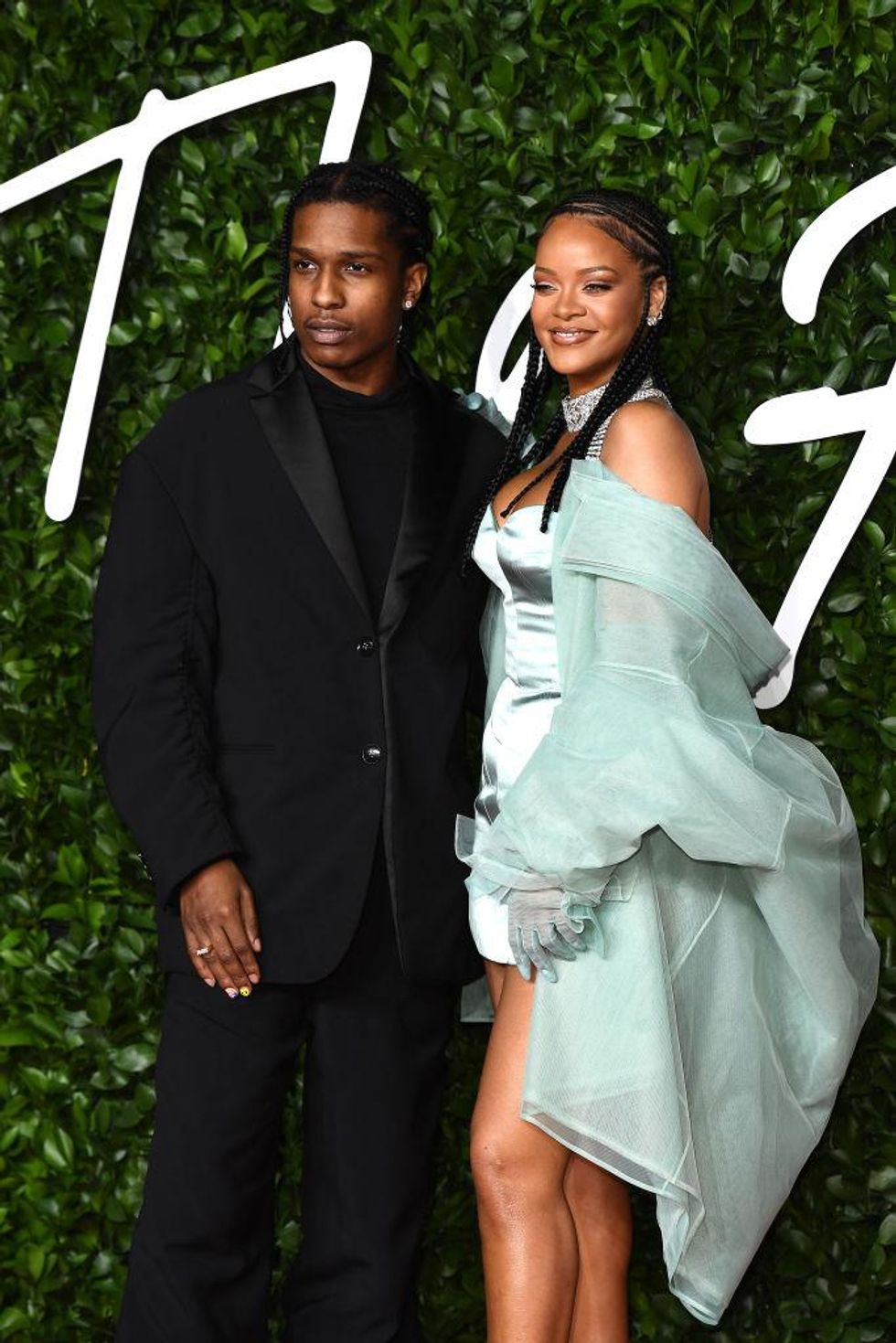 Rihanna and ASAP Rocky arrive at The Fashion Awards 2019 held at Royal Albert Hall on December 02, 2019 in London, England.
Jeff Spicer/BFC/Getty Images

We'll call this chapter "Lovers & Friends" as A$AP Rocky and Rihanna have friendship as a foundation. Before taking their relationship to the next level by becoming an item, the two artists were friends. Riri starred in A$AP's "Fashion Killa" music video in 2013 and the rest is history. Seeing them paint the town red on date nights galore has been an energy we live for!
While it's been speculated the pair have dabbled into "more than friends" territory throughout the years, nothing has served as confirmation as much as the photos of them together in the last year. And in 2021, A$AP took things a step further publicly by confirming their relationship to GQ.
"She amounts to probably, like, a million of the other ones... I think when you know, you know. She's The One."
Featured image by Kevin Mazur/Getty Images for Savage X Fenty Show Vol. 2 Presented by Amazon Prime Video
Keep reading...
Show less
Let's be real, at one time or another, all of us have struggled with how we view our bodies and positive self-image. Even the most confident and self-assured of us can find ourselves nitpicking and critiquing the stretch marks we see here or the extra bloat that we might see there. Despite the fact that we might be quick to offer the next person a compliment when they say something self-deprecating about their bodies, sometimes we forget to give ourselves that same grace.
And with it being summertime, and the streets calling us outside to partake in hot girl summer activities, it's easy to feel that self-doubt and insecurity stopping us from loving the bodies we have while we focus on the bodies we hope to attain. Don't get us wrong, having fitness inspo and "beach-body" goals to aspire to are cool, but so are the bodies we get to call our homes.
What's beautiful about this season in particular is how much self-love in the form of body acceptance has been emphasized. Adding their voices to that movement are celebs like Tracee Ellis Ross and Ashley Graham who are using their platforms to echo sentiments about showing your body gratitude instead of criticism.
Keep scrolling for some celebrities daring to bare the skin they're in and their bodies as they are now, fully and unapologetically.
Ashley Graham says "it's hot out there and so are you."
Recently, model and host Ashley Graham shared a slideshow of powerful images showing the range of very real shapes and sizes. In her caption, she wrote, "I hope these photos I've been tagged in of so many beautiful bodies motivates you to love the skin you're in. believe me when I say your body is beautiful, and i know it's easy to tell yourself the lie that you're not good enough, thin enough, sexy enough, 'flawless' enough to wear a tank top or a swimsuit, but it's hot out there and so are you."
In an interview with Porter earlier this year, Ashley revealed why it was that she is intentional about sharing photos of herself on Instagram showing her body. Hint: it ain't about the likes.
"I don't post myself half-naked to get the likes. I post myself half-naked so that someone who's 10 years younger than me knows that that side butt, that hip dip — that's not abnormal to have."
"I wish that, when I was younger, there had been someone as outspoken as I was, who was as fearless with their cellulite and back fat, so I could know that this was normal; this was what a body looks like."
Rihanna knows she is beautiful regardless of her weight.
Rihanna is a purveyor of slay at any size and she has worn confidence as a second skin for her entire career, both onstage as a performer and off as the Queen of Savage. For our favorite bad gal, self-acceptance is key. Sis told VOGUE she is a firm believer in embracing her body at any phase:
"You've just got to laugh at yourself, honestly. I mean, I know when I'm having a fat day and when I've lost weight. I accept all of the bodies. I'm not built like a Victoria's Secret girl, and I still feel very beautiful and confident in my lingerie."
Tracee Ellis Ross wants you to show your body compassion.
Earlier this year, Tracee Ellis Ross shared an affirming message via her IGTV in April with the title "Checking In 4/8". In it, she addressed the fact that our bodies need compassion not judgment. For her, gratitude is the attitude and it's a gift she'd like to pay forward.
"I really encourage and invite all of us to just receive the wisdom of our bodies right now and allow the softness, the weight--whatever that looks like and be grateful. Like, I feel like I've made it through this year. And in some ways I've gotten deeper. In some ways I've gotten bigger in some ways. I am forever changed in some ways... I don't think that my physical body is the most important thing to come out of this very difficult time... I think it is--this is a time for us to offer compassion everywhere to our bodies and to each other."

Danielle Brooks says your body is your ride or die.
Similarly to Tracee, actress Danielle Brooks took to Instagram to emphasize the important role our bodies play in our lives. She proceeded to thank her temple accordingly:
"Why I am grateful for MY BODY: The body is your ride or die, literally. So I'm thankful for Good Health!! I'm thankful that my body functions at [100] regardless of the imperfections the world might see. It holds me up. It sustains me through long work weeks. It takes me on trips around the world, and carries me through my most stressful days and my most exciting. My body has my back, because it knows that I am learning to listen to what it needs to have it function at its best. I don't take my body for granted, so thank you body for taking me on an incredible ride this year!"
Alicia Keys thinks your body is a miracle.
Alicia Keys spoke to ELLE to share her beauty and wellness tips with the publication. When the subject of her body came up, the songstress recalled being insecure about the change affiliated with having children. She said:
"When I had kids, I felt like, 'Oh, my gosh, I'll never look the same ever again.' And that creates insecurity. It fluctuates and flows, but I feel like today, right now, I feel really good about my body. Every day, what your body does is a miracle. We're like the walking embodiments of miracles, and I like to remember that."
SZA believes the standard should come from within.
In a 2018 panel discussion with Girl Collective, SZA explained her journey to achieving positive self-image and learning to accept your self for yourself:
"It's all about where it starts in your mind. I think there are a lot of standards that people told me about that I didn't see. I started, I was 190 pounds, I only wore my dad's big t-shirts and socks on stage, no shoes, and didn't even notice; never complained or tripped about my makeup."

"It was just a matter of where I was in my mind, but I did also come out of that space where I was like, I feel like I want to change. I want to be different. I want to grow. I want to learn. I think it's one thing to be comfortable, but then it's one thing to not see your full potential and your full picture. The standard should really come [from] within."

Lizzo wants you to radically love on yourself today and every day.
A list about celebs embracing positive body self-image would not be complete without including "Juice" artist Lizzo. Though Lizzo is transparent that some days, loving herself and her body isn't always easy, self-love and self-acceptance is something she puts work into daily. Just like the rest of us:
"I started talking to my belly this year. Blowing her kisses and showering her with praises. I used to want to cut my stomach off I hated it so much. But it's literally ME. I am learning to radically love every part of myself. Even if it means talking to myself every morning. This is your sign to love on yourself today!"
Featured image by Tracee Ellis Ross/Instagram

Keep reading...
Show less
Rihanna and A$AP Rocky have been friends for well over a decade, crossing each other's path in the industry from time to time. But as we all know, the two have decided to take a chance on love, entering a relationship where Rocky pretty much declared his admiration for in a new interview with GQ Magazine.
The 32-year-old A$AP Rocky confessed his love for Rihanna in an exclusive when asked about the Fenty Beauty mogul.
"She amounts to probably, like, a million of the other ones. I think when you know, you know. She's the One."
Additionally, he refers to Rih as his "lady," and the love of his life.
But the foundation of their relationship and friendship began in 2012, when he hopped on a remix to her song, "Cockiness (Love It)."
This is one of the first times we see the pair together, at MTV's Video Music Awards on Sept. 6, 2012. She attended the awards show with former flame Chris Brown, after a controversial rekindling of their relationship.
Rocky then went on to join Rihanna as the opening act on the North American leg of her Diamonds World Tour. Rihanna would also later star in the music video for Rocky's song "Fashion Killa" in 2013.
In May/June of 2017, Rih began dating billionaire, Hassan Jameel and the two lost connection, although in 2018, they were spotted together.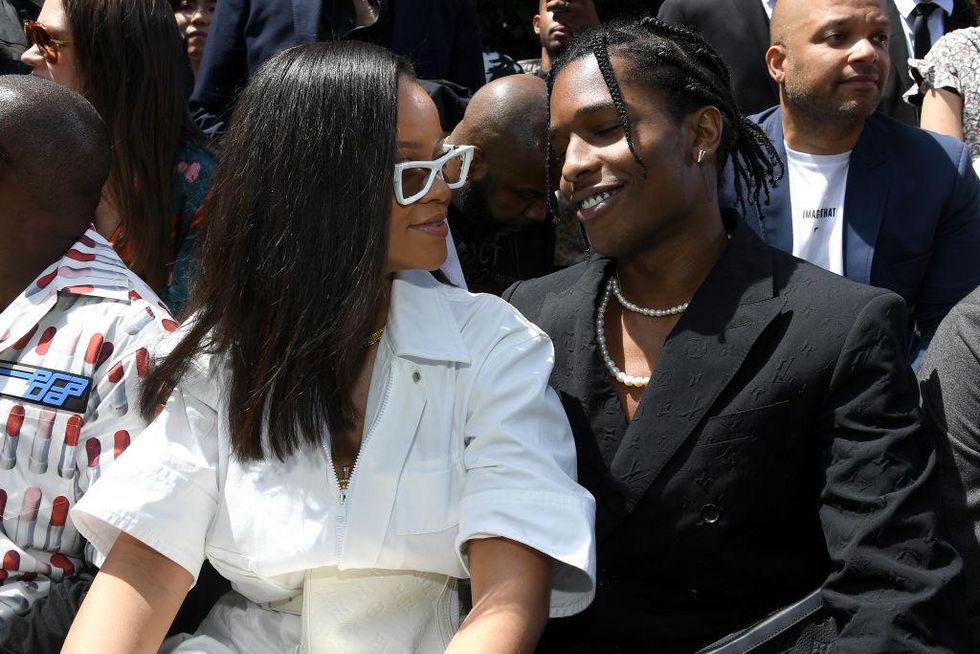 Pascal Le Segretain/Getty Images
Rih and Rocky sat front row at Louis Vuitton's Spring/Summer 2019 fashion show at Paris Fashion Week. The two were laughing and taking in fashion, something they each are notoriously famous for.
That same year, Rihanna invited Rocky to her 4th Annual Diamond Ball, her fashion charity event she created to support her Clara Lionel Foundation, which she founded to support global educational programs. It was his first time attending the event. He went on to attend the following year as well.
The couple then linked up to model her newly-created fashion brand, Fenty.
They each attended the Fashion Awards in London and even posed for photos on the red carpet together.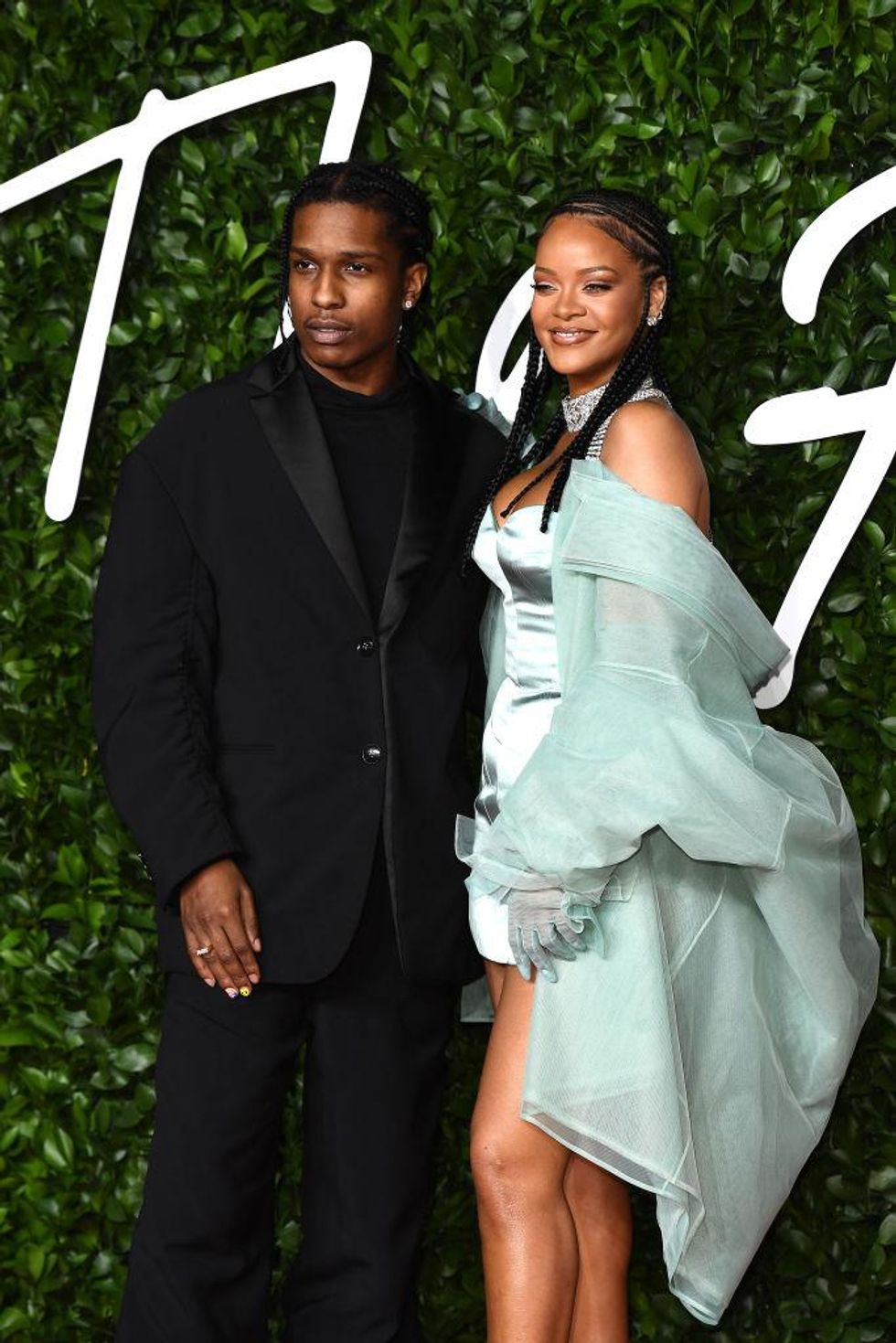 Jeff Spicer/BFC/Getty Images
Rocky labeled this look his favorite one, all because he "saw it in person."
The 'first Black Dior model' even told GQ, while rating his best and worst looks:
"That's a fly photo because she looked fire right there. She looks sexy as f*ck, I love her braids. She might have wore better stuff before, but I was there in person to see it on her. She designed my tuxedo, that's a Fenty tuxedo with the Rick Owens shoes on. I was in all Fenty that day."
Soon after, Rih and billionaire bae Hassan called it quits after three years and then Rocky and Rih posed for Fenty Skin in an ad campaign.
Romance rumors surrounding Rih and Rocky began to hit the internet after they promoted the launch by doing an exclusive video interview with GQ, where Rocky got candid about his own skincare journey.
"I had to discover face cleansing and skincare all at the same time when I was a young buck in the shower. You can't wash your body with the same rag you wash your face with. I was lucky enough to be the type of guy that wants to wash my face."
Their chemistry was off the charts in the video, forcing everyone to take a second look, likeeee, 'what's really going on, sis?!'
And listen, they fought off relationship rumors as long as they could, labeling everything as "friends" every chance they got. But then, the couple went on a cruise to Rih's homeland of Barbados, where Rocky *allegedly* met her family and spent time with them on Christmas.
Shortly after, they were seen together quite often, whether for an evening stroll, or dinner at the Beatrice Inn in New York City. Rih even publicly supported Rocky's collaboration with footwear designer Amina Muaddi as she wore a bomb pair of the Amina Muaddi x AWGE LSD Gladi Thigh Heels on her insanely popular Instagram.
Which brings us to their present day 'friendship-to-relationship' pivot that we all stan. 
Rocky reveals that last summer he rented a tour bus with Rih and embarked on a country-wide trip with stops in Texas, Tennessee, and some national parks, which he admitted strengthened their bond.
"I met myself. Being able to drive and do a tour without feeling like it was an occupation or an obligated job agreement, I feel like that experience is like none other. I never experienced nothing like it."
He. Met. Himself. Whew, Rih what's the secret sis!?
Listen, we are so here for this relationship. Soooo here for it. Primarily because women and men so often claim that they want to be friends with their significant other, but then turn around and file the two separately. These lovebirds took the time to build a foundation and truly understand their working relationship, partnership, and now, romantic relationship.
And although Rih likely is annoyed by the recent influx of attention on the pair, the fact that Rocky absolutely could not help himself when she came up in conversation, is what we love to see. Let's learn a quick lesson from this one, ladies.
Can't wait to see where their relationship goes from here!
Are you a member of our insiders squad? Join us in the xoTribe Members Community today!

Featured image by Jeff Spicer/BFC/Getty Images
Keep reading...
Show less
Shami Oshun is a fashion designer based in California, who is taking the internet by storm. It all started back in September, when she created an 11-nude shade line of face masks to match the variety of shades of Black women. The masks became so popular that her customers asked her to match them to their Fenty foundations, where they made a chart as a guide.
The masks took off from there, all the way to the point of being invited to collaborate with the brand itself to, in the flex of the century, design a limited edition, early-access mask for the brand.
How it started. How it's going https://t.co/0b2D5rIq0E

— Shami Oshun (@Shami Oshun)1616000819.0
As a quick background, Oshun built her brand in 2015 "to provide unique and timeless designs to the world." Since then, her work has received recognition from a variety of media outlets, including Essence, British Vogue, Huffington Post, and Buzzfeed. According to her website, she is most known for integrating 3-D printing with fashion to push the boundaries of wearable art, and the 3-D printed Bev Bag, which is designed to carry your beverage (boba, coffee, wine glass, etc).
And since, well...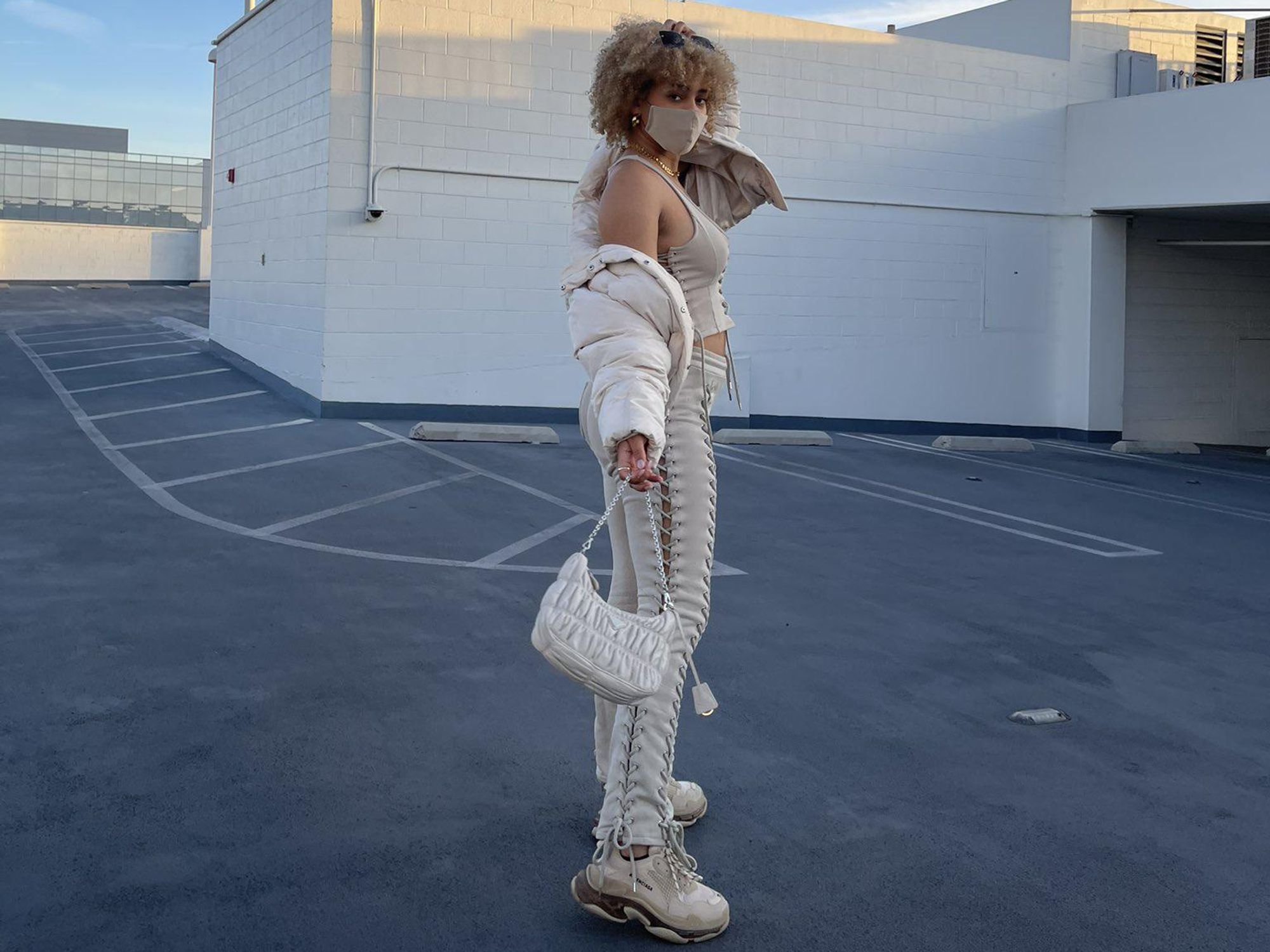 Shami Oshun/Twitter
Since, Oshun has released a line of nude masks, which were eventually partnered with various Fenty's Pro Filt'r longwear foundations, and that sold out immediately. This caused the Rihanna-backed empire to take notice and invite her along, which they announced in a tweet:
"We saw @ShamiOshun break the internet with #PROFILTR inspired masks & asked her to create one just for our EARLY ACCESS Beauties! Sign up for SMS & EMAIL alerts at fentybeauty.com/signup to get your limited edition SHAMI x FENTY BEAUTY masks while supplies last!"
Needless to say, her page went up (cause it's stuck) with all beauty lovers alike, running to her page to celebrate her for the classic shit that Black women continue to do.
Some celebrate the Blackness of the moment:

Twitter​
Some explained their 'why':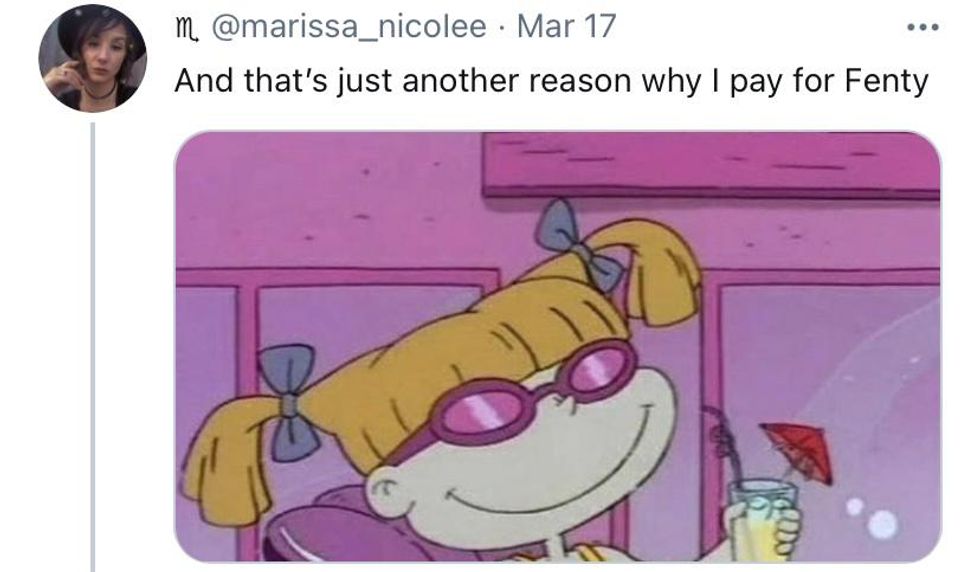 Twitter
Most took notice on the all-too-familiar: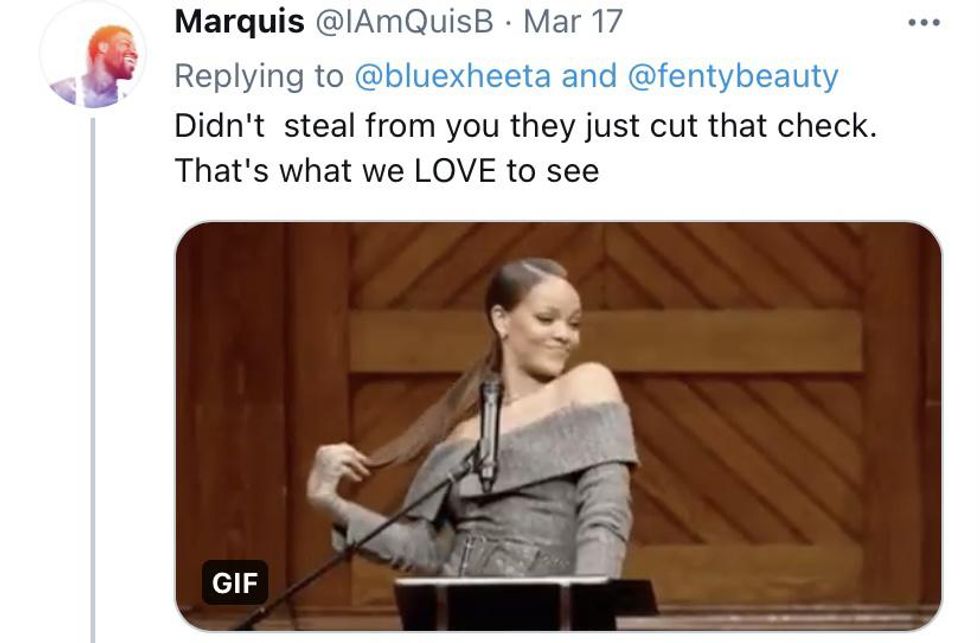 ​Twitter
Like, literally most of everyone: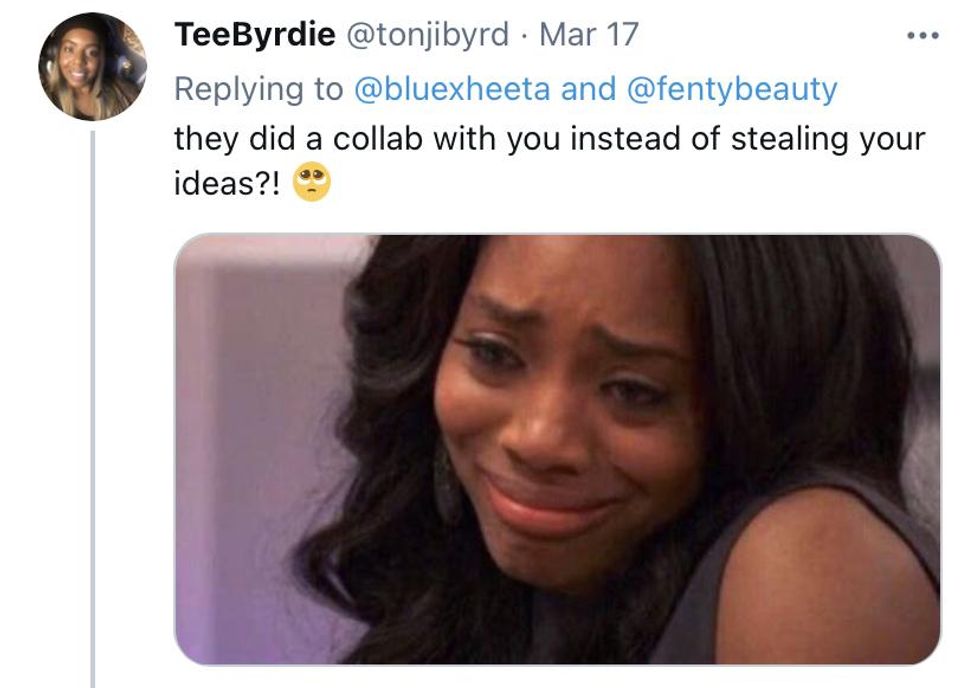 Twitter​
But ultimately, everyone was like:

Twitter​
Oshun has been overwhelmed with the love shown to her since the announcement and is busy at work getting the people their new masks. She may have a newfound wave to ride, but she still took the time to thank everyone in a simple tweet: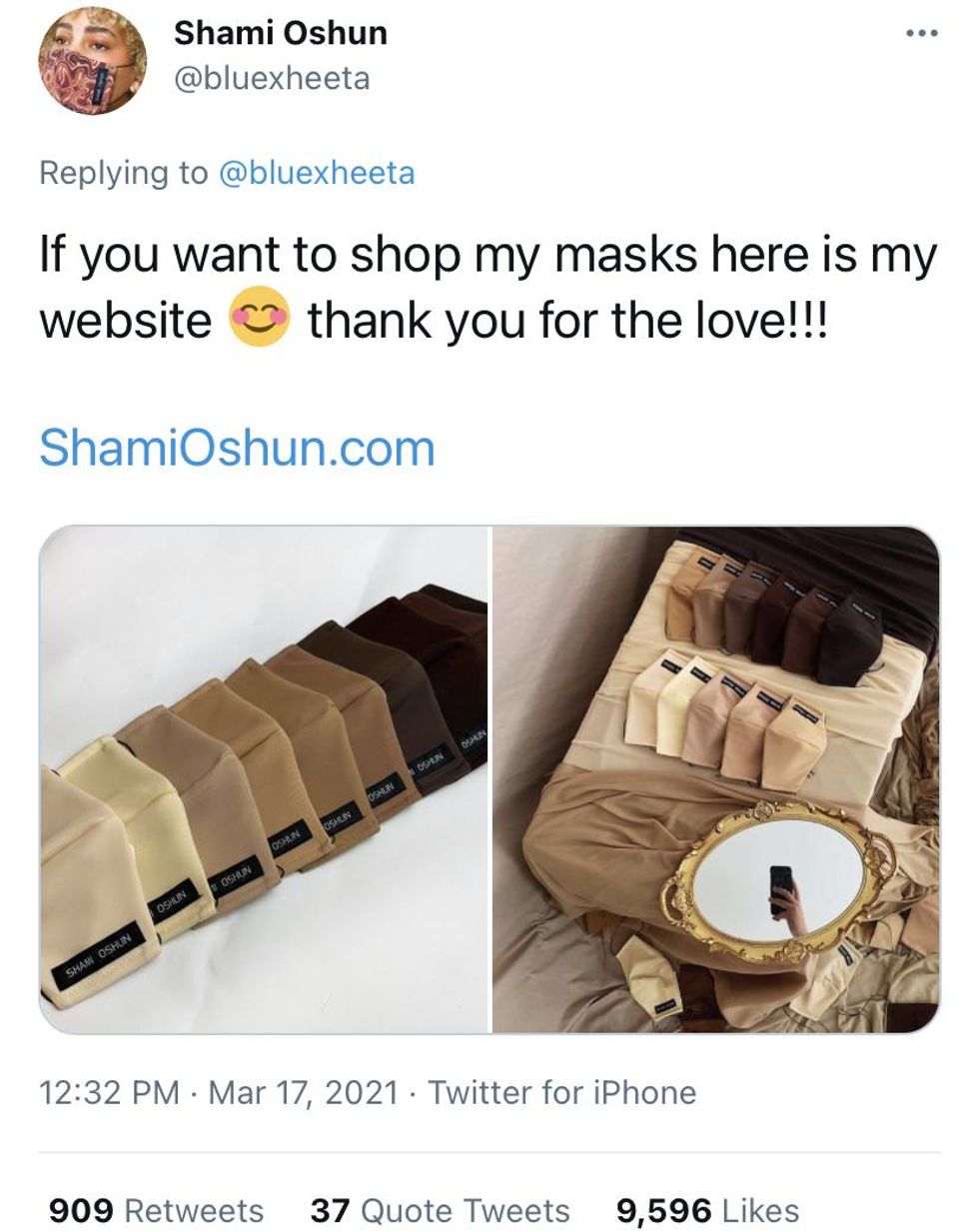 Twitter​
Now, that's how you clear a brand! Congratulations, on your success Shami!
Are you a member of our insiders squad? Join us in the xoTribe Members Community today!

Featured image by Shami Oshun/Twitter
Keep reading...
Show less
Twitter co-founder Jack Dorsey, is scheduled to buy Jay Z's streaming platform, Tidal. In a $297M deal, Dorsey, who is also the CEO of Square, has acquired a majority stake in the service in a bid to expand his mobile payment company's tools to emerging and established artists, and Tidal will now operate independently within Square.
This means, that with the 3 percent equity awarded to all 16 artist owners for bringing exclusive material to the platform, each cash in on an $8.91M bag. 
An $8.91M bag. *Randy Watson stomps*
This bunch includes Beyonce, Rihanna, Alicia Keys, and Nicki Minaj--the only black women who are artist owners in the deal.
Additional components of the deal are, in very Jay Z-esque fashion, Jigga joining Square's board of directors, which will coincide with the recent fund he and Dorsey launched in February to "make bitcoin the internet's currency."
And in a rare move, Carter took to, of course, Twitter, to publicly address the deal:
I said from the beginning that TIDAL was about more than just streaming music, and six years later, it has remained… https://t.co/EBDI2cu7nM

— Mr. Carter (@Mr. Carter)1614863201.0
This partnership will be a game-changer for many. I look forward to all this new chapter has to offer!

— Mr. Carter (@Mr. Carter)1614863201.0
And true to society, people hopped on the world wide web to react:
Some broke it down for the public: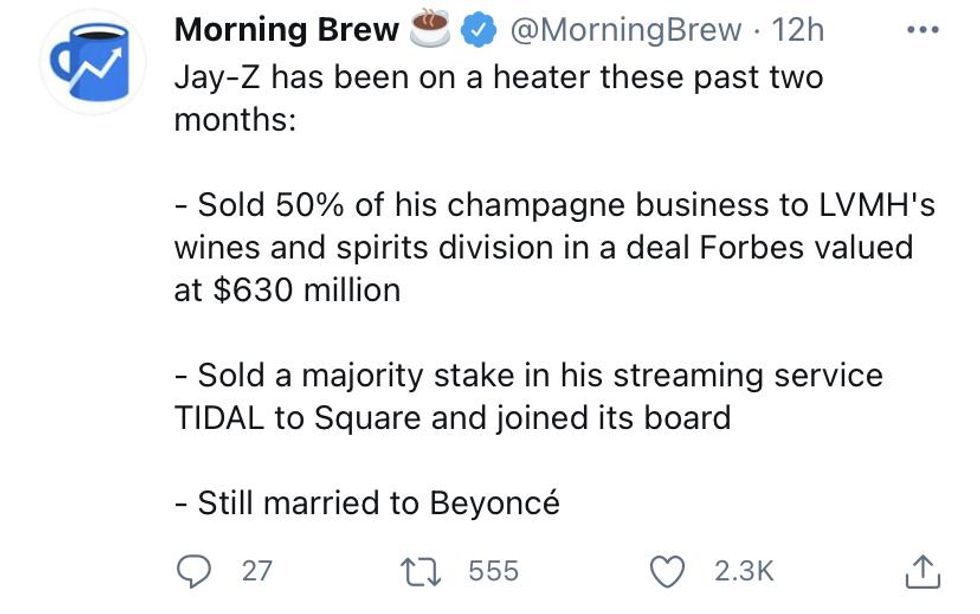 Twitter
Others were excited Jay was tweeting: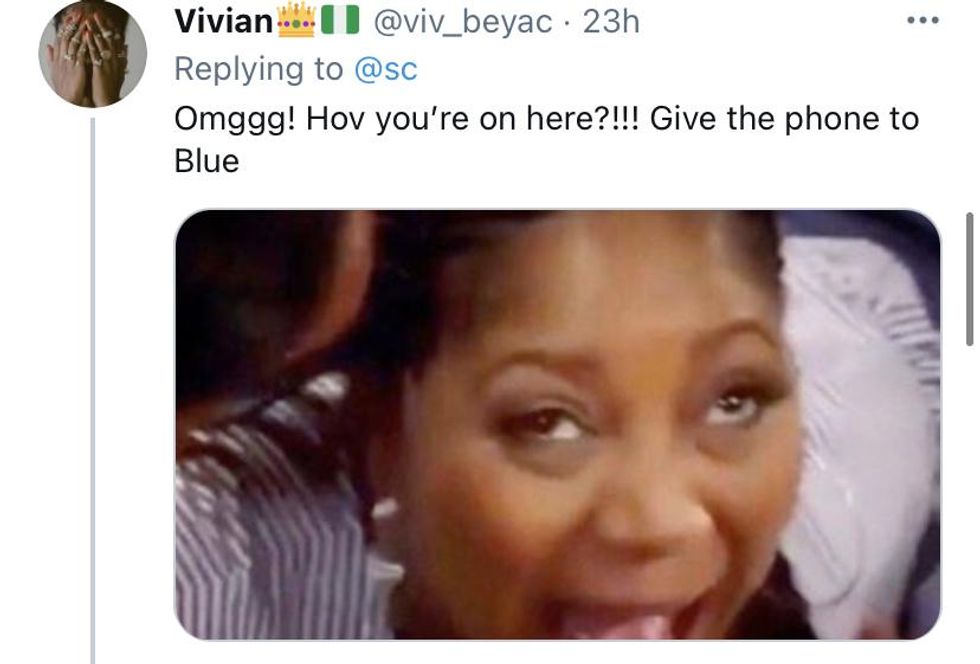 Twitter
But mostly, we all thought, "he's a business...man!"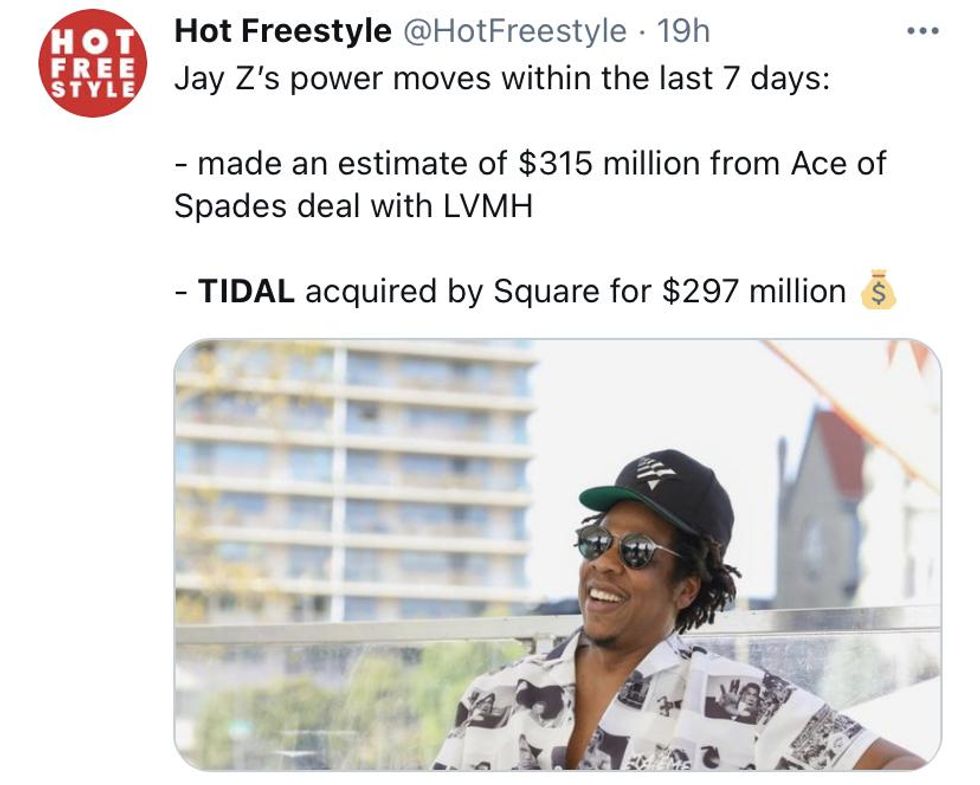 Twitter
--

Neither of our girls have publicly addressed the sale, but we're sure they have something up their sleeve to celebrate this investment. Rihanna is coming off of a March 1 Savage launch, Nicki is dealing with personal issues while balancing being a new mom, and Beyonce has us all waiting by the mailbox for our Ivy Park boxes.
But personally, of the streaming wars, I've always rocked with Tidal (because it belong(ed) to the black guy), so I'm excited to see the direction it goes from here!
Are you a member of our insiders squad? Join us in the xoTribe Members Community today!

Feature image by Giphy
Keep reading...
Show less
You know, when it comes to Rihanna, I'm not sure there are many words left to characterize the majestic being that she is. In fact, I once read the most accurate praises on her behalf from THE Manolo Blanik, praises that are probably the only way to describe her.
He said:
"She is like a regal Nefertiti. It's in the movement of the neck. She turns and looks at you and you are just done. She's got it. This girl has power. She has something different. I saw her move. You either have that kind of grace, or you don't."
And listen, of all the celebs in all the land and all the world, Robyn is a master at reveling in her own graceful lane, where it's understood that she is the undisputed heavyweight champion of reemerging with a new look. She can make any 'fit fashion, and any hair trendy. So, when she posted a video for Savage x Fenty's Valentine's Day promotion, we couldn't help but [insert Bajan expletive screams here].
There was that one time she went fire-engine red: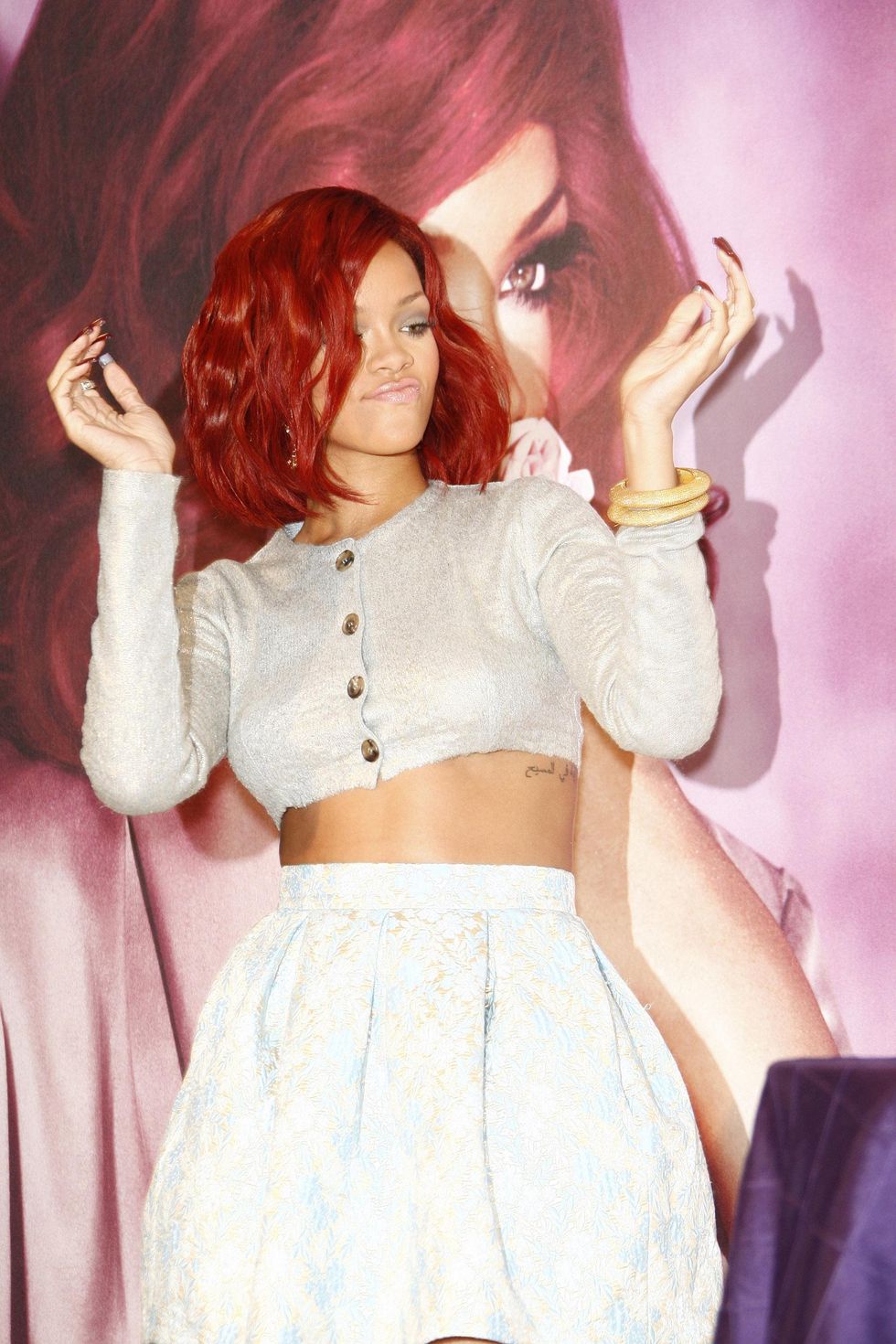 Shutterstock
During the Loud era, Rihanna donned red locks, that had us running to our local beauty supply store.
She eventually went with a deeper tone: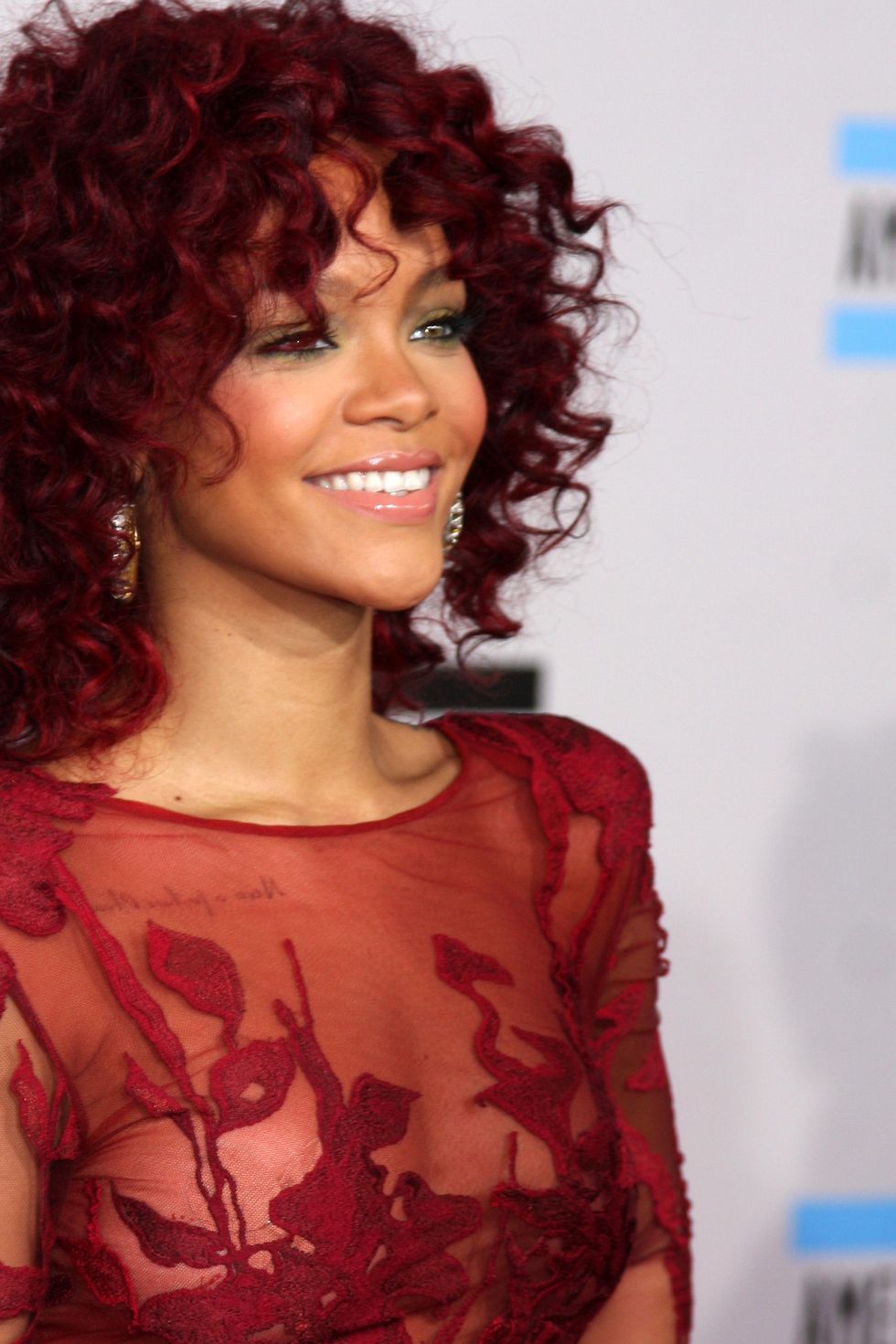 Shutterstock
When she brought the Doobie Wrap to mainstream America: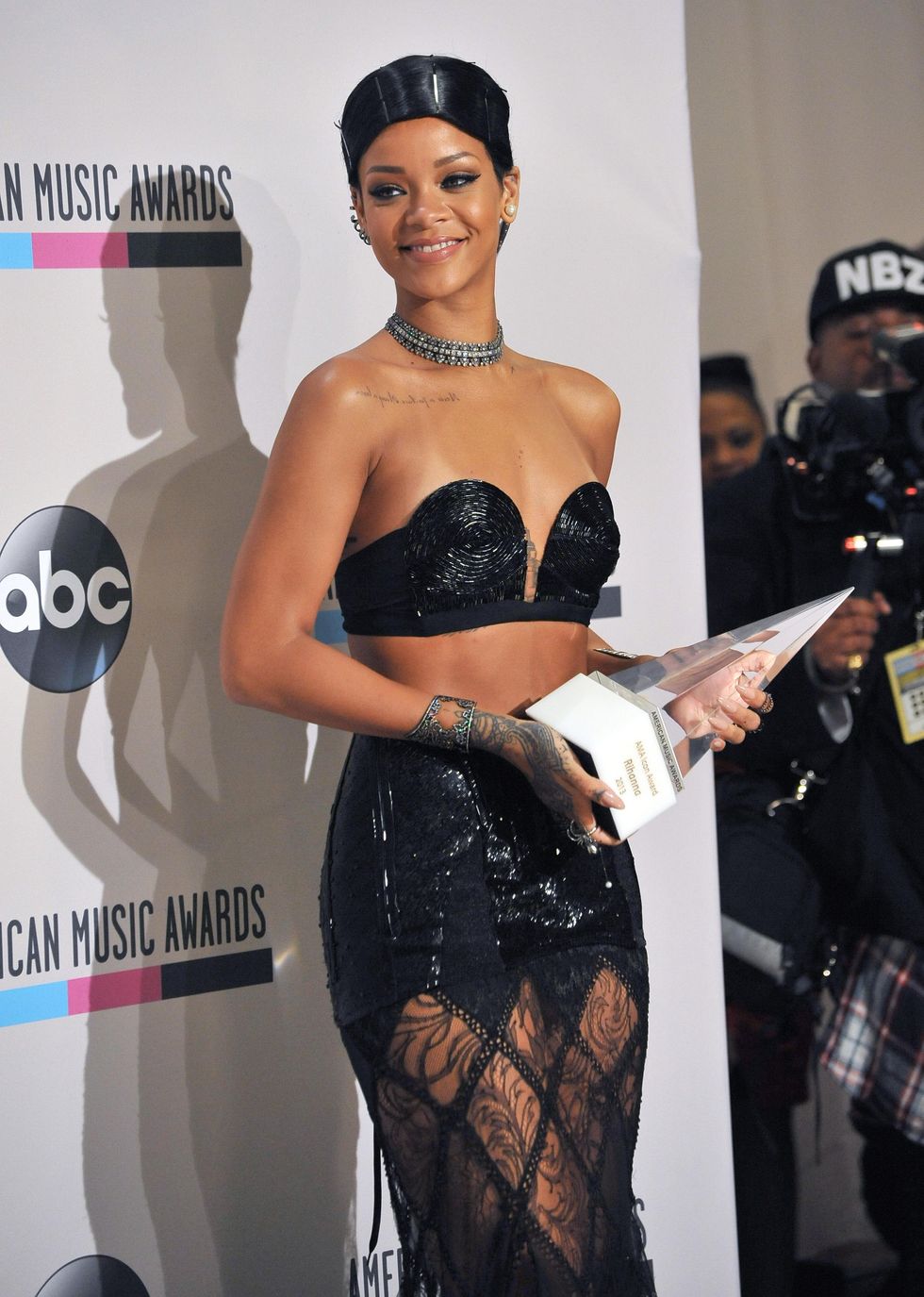 Shutterstock
...and millions of little black girls and women got all their lives.
When she went pixie and exhausted us because we knew we had to do the same: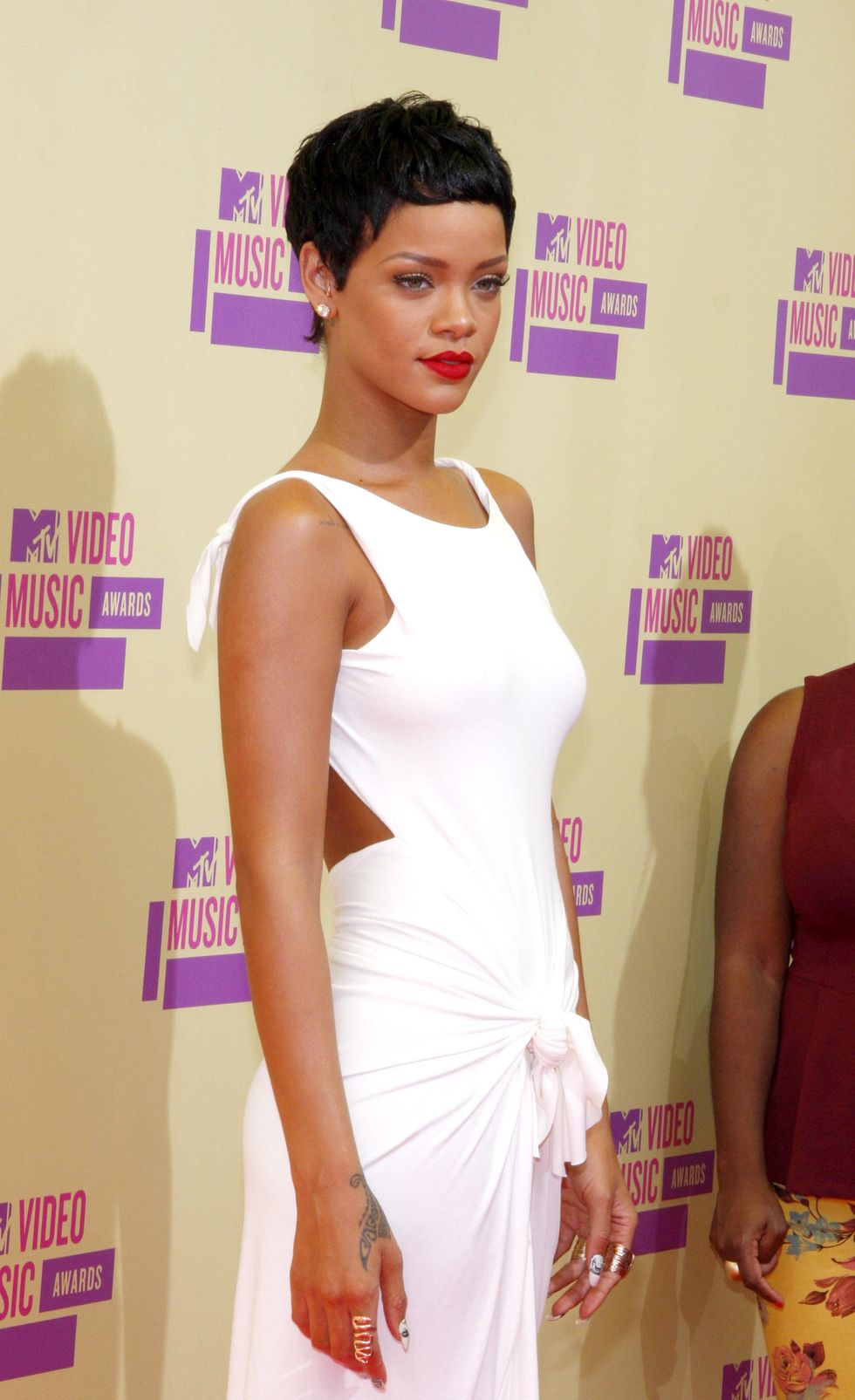 Shutterstock
But we just dyed it, sis!
Or the red carpet with Fulani braids: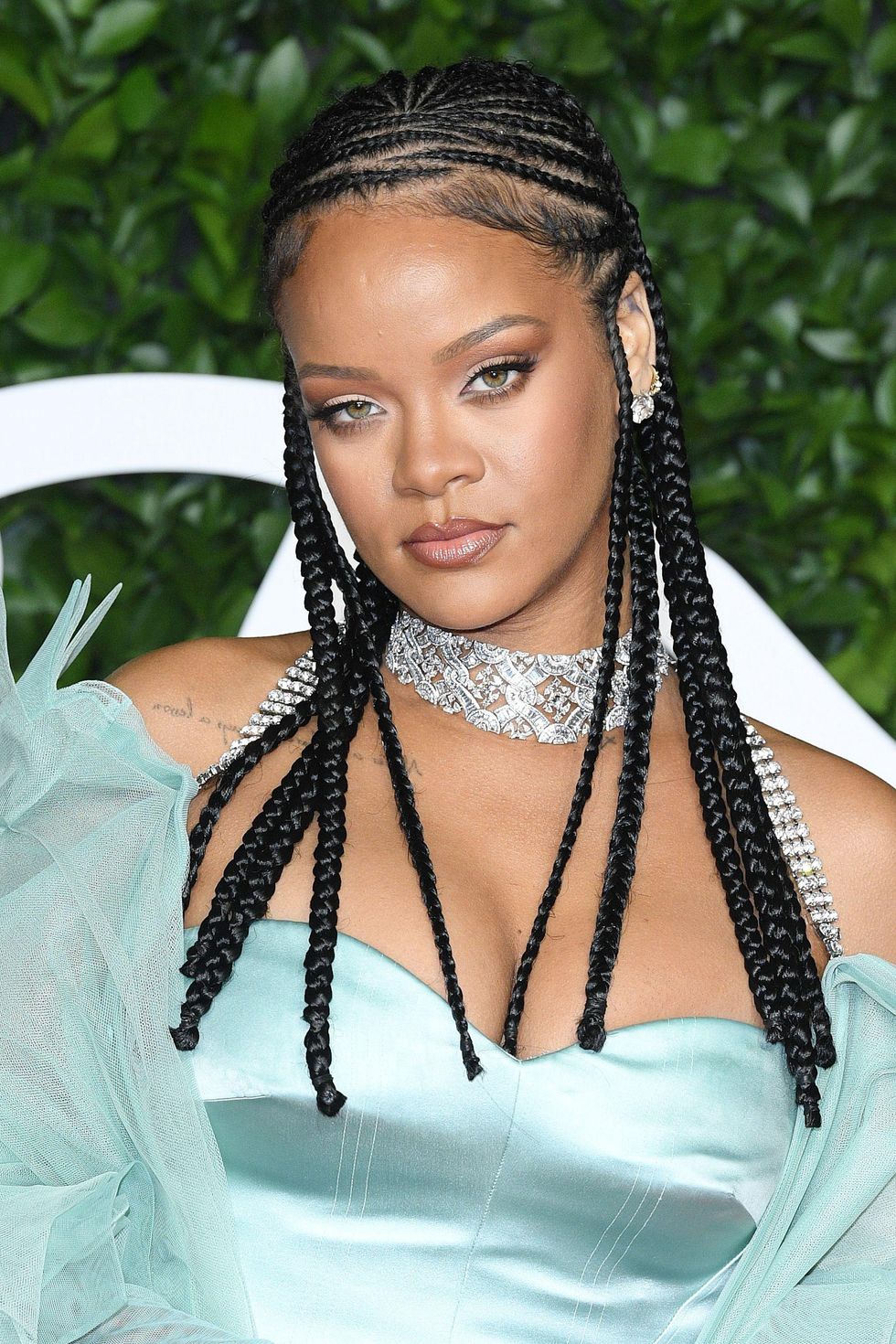 Shutterstock
And when Rih shaved off the sides and opted all-in for "Diamonds" era: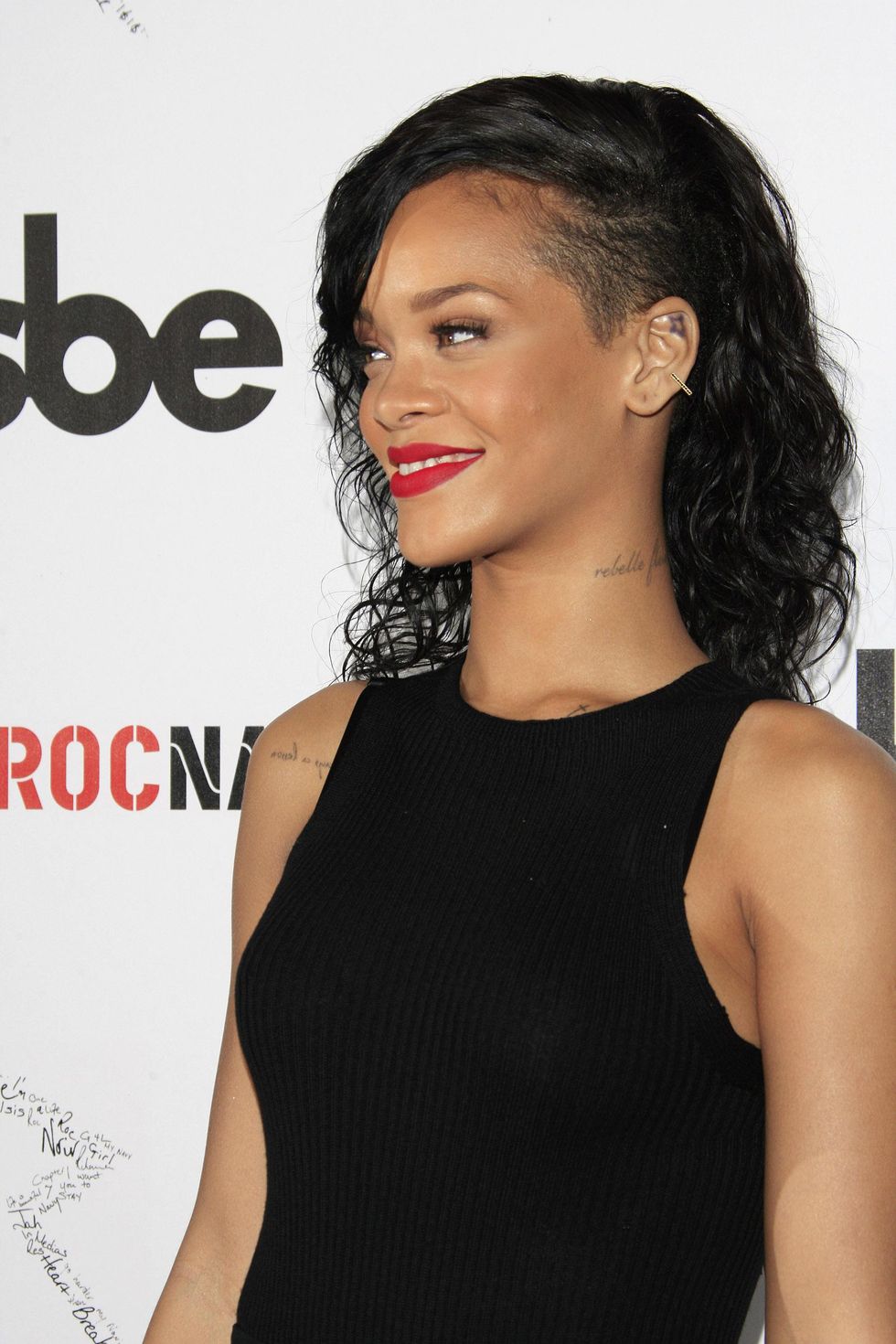 Shutterstock
And who could forget when she debuted the "Umbrella" 'do, changing the scope of bobs forever: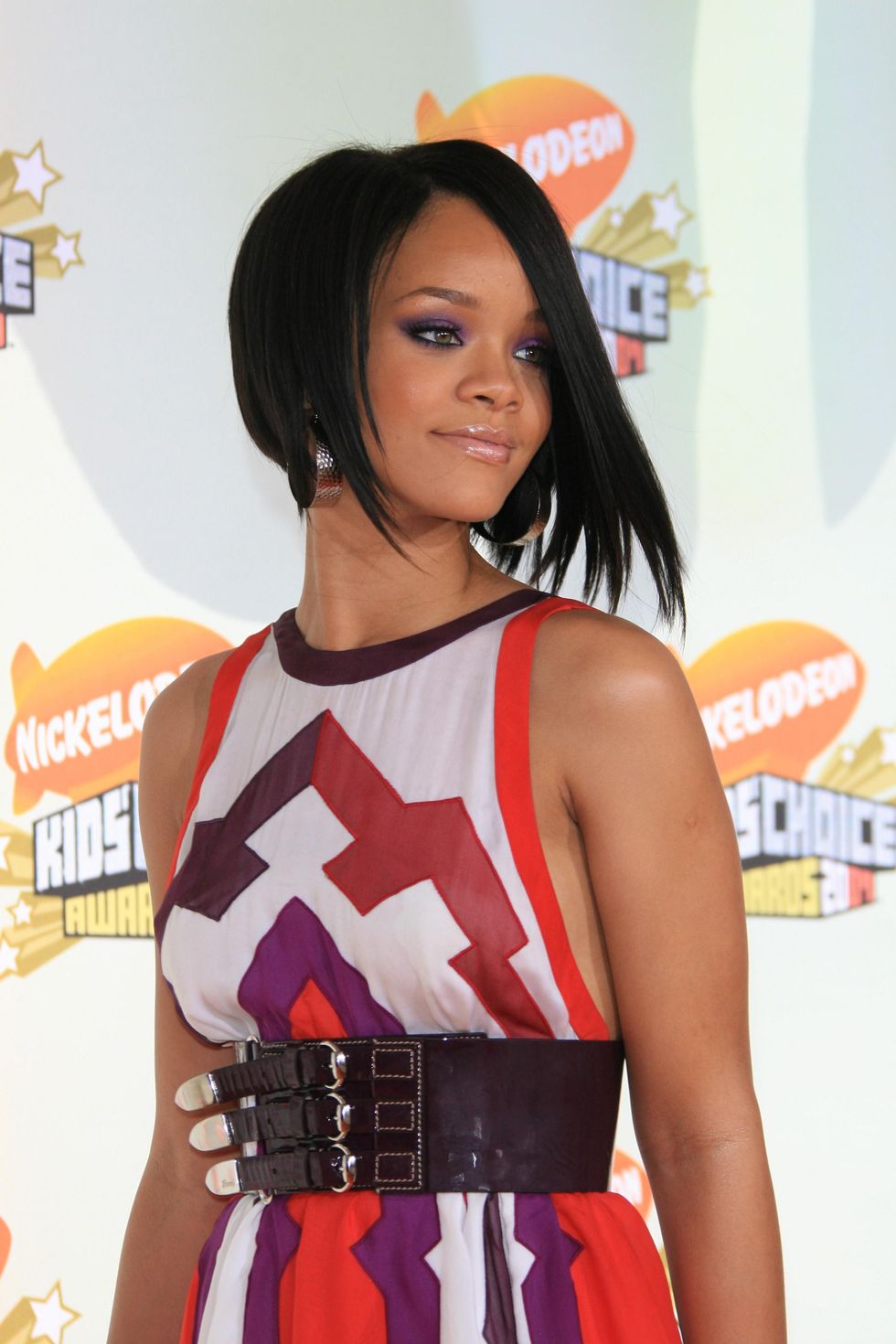 Shutterstock
--
Rih Rih is currently living her best life and not allowing us to stress her by asking her that infamous question. But in the meantime, since we can never figure out her next move, I guess, it's time to get some mullets, ladies!
Are you a member of our insiders squad? Join us in the xoTribe Members Community today!

Featured image by Debby Wong / Shutterstock.com
Keep reading...
Show less