Rihanna has always marched to the beat of her own drum and has achieved staggering success from it. From deciding to change her sound with her pivotal 2007 album Good Girl Gone Bad to how she wears her hair and clothes, the singer has carved a path of her own that many people marvel over. As she reaches more milestones in her life, she continues to gag us with her moves in business, fashion, and motherhood. More recently, Rihanna surprised everyone during her Super Bowl LVII Halftime Show performance when she revealed her baby bump after giving birth to a baby boy last year.
And in her British Vogue March 2023 cover story, she shared her excitement about being a new mom. "Oh, my God, it's legendary," she says. "It's everything. You really don't remember life before, that's the craziest thing ever," she continues. "You literally try to remember it – and there are photos of my life before – but the feeling, the desires, the things that you enjoy, everything, you just don't identify with it because you don't even allow yourself mentally to get that far, because…. Because it doesn't matter." Here are three ways the singer revolutionized what motherhood looks like in her life.
Feature image by Kevin Mazur/Getty Images for Roc Nation
As we anticipate Rihanna's sure-to-be epic Super Bowl 2023 halftime performance, fans wonder what to expect. Like most major performances, details have been almost nonexistent but looking back at her past shows, we know muva is going to bring it. It's been five years since Rihanna's last televised performance when she hit the stage with DJ Khaled for their song "Wild Thoughts" at the 2018 Grammy awards. When it comes to music, her last album, Anti, was released in 2016, and while she released two new songs for the Black Panther: Wakanda Forever soundtrack, fans are still wanting her to release a Rihanna album.
Performing at the Super Bowl is just another milestone the mogul can add to her esteemed list of achievements. Since launching Fenty Beauty, the 34-year-old made history as the wealthiest female musician after becoming a billionaire, she also owns the highly successful Savage X Fenty lingerie and Fenty Skin. And in 2022, she became a first-time mom after welcoming a son with rapper A$AP Rocky. With so many major changes in the "Love on the Brain" artist's life, fans are hungry to see their queen remind everyone why Rihanna is still that girl.

Here are the top things that we are expecting from the iconic singer at the Super Bowl.
Fashion
If it's one thing Rihanna has become known for outside of music, it's fashion. Whether she's on the red carpet or on the go, the mother of one always serves a look and she approaches her performances the same way. Who can forget when she won the 2016 MTV Video Vanguard award at the VMAs and performed several times throughout the show? She slayed every look with each performance and we can't wait to see what she wears during the Super Bowl.
New Music
As I mentioned earlier, the Rihanna Navy is demanding new music from the Bajan beauty and we are hoping that she finally gives in and premieres a new song or announces a concrete date for her upcoming album. On another note, we also can't wait to see what her set list will be. Rihanna has so many bops from "Needed Me" to "What's My Name?" and of course the song that made her a household name "Umbrella." Whichever songs she chooses, I'm sure she will have us singing at the top of our lungs.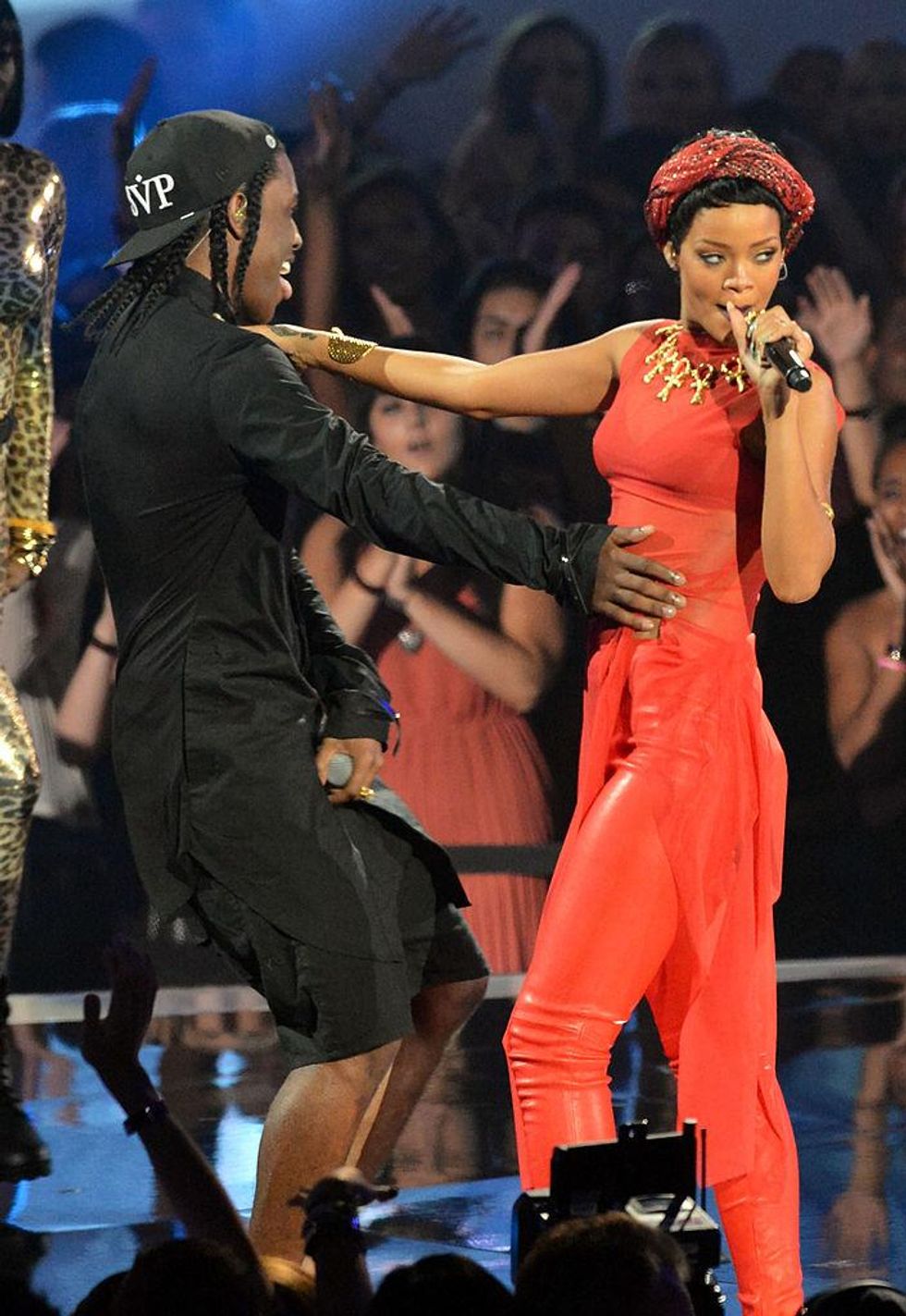 (L) A$AP Rock and (R) Rihanna.
Photo by Lester Cohen/WireImage
Surprise Guests
Speaking of her songs, there's also the question of whether she will have surprise guests hit the stage with her. Not that she needs anyone to perform with her, but it would be cool to see her perform with some of the people she has collaborated with over the years like her beau A$AP Rocky or N.E.R.D. (If you're like me then you are also thinking Drake, but we know that's out of the question.) And while we continue this fantasy, wouldn't it be such a cute moment if she also brought her son on stage?
Tour Announcement
It has been rumored that RiRi will be going on tour following her Super Bowl performance. While nothing has been confirmed yet, it wouldn't be out of the ordinary. Many artists have announced tour dates after performing at the legendary halftime show, so why not Rihanna? But what we do know after watching the "Diamonds" singer over these years is that no matter what, she marches to the beat of her own drum.
Feature image by Amy Sussman/WireImage
If you're a fan like me, you've been down with Rihanna since she was wearing a traditional sew-in (when lacefronts could never), rockin' cropped hoodies with boyfriend jeans, and asking Mr. DJ to "turn the music up." Much of her music is part of the soundtrack of my life, from "Umbrella" and "Live Your Life" (both representing the moment that sparked my 5-days-a-week-in-the-club years), to "Take A Bow" (the breakup song I had on repeat for two years straight after my first real grown-ass-woman breakup), to "Man Down" (my F-you song for the abusive boyfriend I stayed with one minute too long that year).
Rihanna has a catalog going back almost two decades, has won multiple Grammys, Billboard Music Awards, and BET award honors, and has experienced the glow-up of three lifetimes in expanding her reach beyond music into fashion and beauty, to the tune of $1.4 billion.
In anticipation of her Super Bowl LVII performance—and as we all reminisce on why Rihanna is the queen of reinvention and authenticity—let's take a look at a brief snapshot of her career's most bossed-up and bankable moments:
Feature image by Karwai Tang/Getty Images
Word on the street is that billionaire beauty boss Rihanna is setting her eyes on another major market, hair. The internet went into a frenzy after images of Fenty Hair trademark documents began circulating online.
According to the trademark filed, the hair line will include hair bands, barrettes, picks, bows, clips, pins, ribbons, scrunchies, nets, hair extensions, wigs, hair curlers, and much more" The self-proclaimed bad gal's company Roraj Trade LLC filed the trademark on July 15.
If the "What's My Name?" singer's previous business ventures are any indicator of how well Fenty Hair will do, then there is a great chance that it will be lucrative. Rihanna created Fenty Beauty, Fenty Skin, and Savage X Fenty and with her successful career as an artist, she has become the youngest self-made billionaire in America, according to Forbes. The 34-year-old's net worth is $1.4 billion and Forbes also named her the wealthiest female musician on the annual billionaire list in April.
Back in September, she did an interview with The New York Times and she talked about her conflicting feelings about becoming a billionaire.
"It's tricky because it's hard to even accept that's where you're at because I know where I've come from," she said. "At the same time, it feels good to be able to inspire young women and boys, who like me, come from humble beginnings, who come from parents who are immigrants or who are immigrants themselves, to be able to do this."
The Fenty hair news is just one more thing that the Grammy award-winner has fans anticipating. Her rumored R9 album is still on the brain of her beloved Rihanna Navy as well as photos of her newborn. Riri reportedly gave birth to a baby boy on May 10 in Los Angeles, CA. While neither she nor her boyfriend A$AP Rocky has revealed anything about their son, they have slowly been getting back outside.
Rihanna and Rocky were spotted in London a couple of weeks ago during the Wireless Festival.
Let's make things inbox official! Sign up for the xoNecole newsletter for daily love, wellness, career, and exclusive content delivered straight to your inbox.
A$AP Rocky has a lot to celebrate. He just became a new father after Rihanna gave birth to their child in May and he is getting ready to release his new album. He released his first song titled "D.M.B" which featured the "Love on the Brain'' singer as his leading lady. While not much else is known about the upcoming project, we can only hope that he will rap about the positive life changes that have happened such as starting a family with one of the baddest women in the world and learning more about his identity on his trips to Barbados.
The Harlem rapper is Bajan on his father's side and since he began dating Rihanna, he has been spending more time on the Caribbean island. In the new issue of Dazed, Rocky opens up about his new music, how he plans to navigate fatherhood and his relationship with RiRi. The interview took place before the Fenty Beauty owner gave birth.
Here are some of the highlights:
A$AP Rocky on Spending Time In Barbados with Rihanna
"It was honestly so unbelievable. I had family there that only came up [to New York] once every five years, family I only spoke to over the phone my whole life. You remember those one-dollar, five-dollar phone cards? I was raised to know about my heritage, but I was missing the actual experience. I didn't get to experience it until I was an adult. It was one of the most surreal experiences I've encountered in my lifetime."
A$AP Rocky on His 2013 "Fashion Killa" Video That Predicted His Future with Rihanna
"I was just on tour with my lady, you know? We wanted it to feel like a love story, a fairytale with a street twist. I expected my core following to be receptive, but with Virgil in the mix, its success was a no-brainer. I was living in New York at the time, too."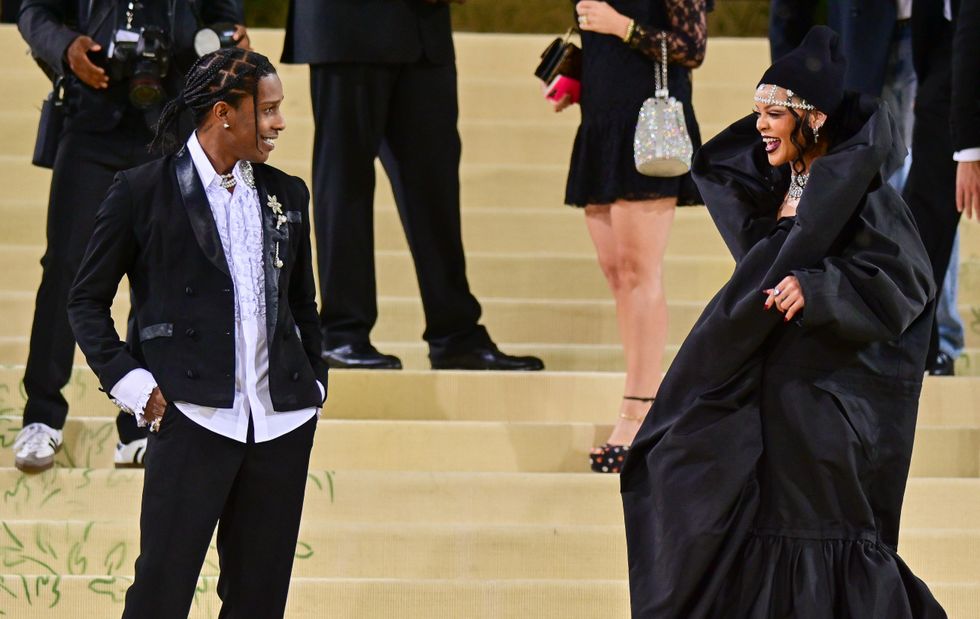 James Devaney/GC Images
A$AP Rocky on His and Rihanna's 2021 MET Gala Looks
"I didn't know what she was wearing, she didn't know what I was wearing. I went to Eli's spot – Eli Russell Linnetz, he owns the label ERL – and when I walked in there was this quilt just sitting on the couch. I was like, 'Can I have that quilt?' And he was like, 'Well, I actually just thrifted it.' He had picked out a few looks for me, but I was on his ass about that quilt. And so he stitched it together and made it a custom piece. That's how I decided to wear a quilt to the Met Gala."
A$AP Rocky on He and Rihanna Matching Each Other's Fly
"I think it's just natural. We happen to look good together naturally. You know, it would take a lot of work to have us forcefully match before we leave the house. Sometimes we match to a T, or we just wear the same clothes. If I buy a shirt that she likes, I expect to get it stolen... but then I gotta steal it back."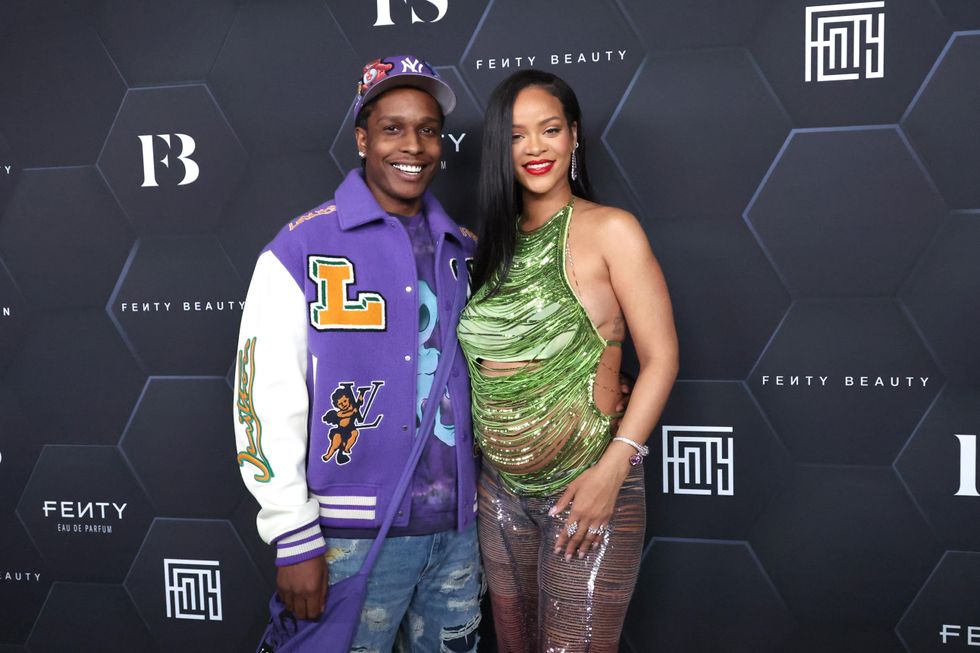 Mike Coppola/Getty Images
A$AP Rocky on What Type of Father He Wants to Be
"I will always remind my children to never lose their imagination, even as adults, no matter what. I actually love to watch cartoons – I've watched like Teletubbies, Blue's Clues, Yo Gabba Gabba, Peppa Pig, and Baby Shark. I hope to raise open-minded children. Not people who discriminate. And I'm not trying to describe a saint, but realistically, I just want a cool child with cool parents."
Let's make things inbox official! Sign up for the xoNecole newsletter for daily love, wellness, career, and exclusive content delivered straight to your inbox.
Featured image by Mike Coppola/Getty Images
Rihanna is finally opening up about her relationship with A$AP Rocky. The couple has been friends for years, but reportedly sparked a romance in 2020 and now they are having their first child together. The Harlem rapper gushed about their relationship in a past interview with GQ where he called the "Needed Me" singer "the one." "So much better when you got the One," he said. "She amounts to probably, like, a million of the other ones. I think when you know, you know. She's the One."
RiRi has remained relatively silent about their love until now. The singer covered the May 2022 issue of Vogue where she dished on becoming a mother and what made her fall for Rocky.
"People don't get out of the friend zone very easily with me," she said. "And I certainly took a while to get over how much I know him and how much he knows me because we also know how much trouble we can land each other in." As mentioned before, the couple has been friends for many years. They collaborated on the "Cockiness (Love It)" remix in 2012 and she was his muse in his 2013 "Fashion Killa" music video.
Rihanna recalled the moment they performed the "Cockiness (Love It)" remix at the 2012 VMAs, in which her manager noticed there may have been some chemistry then. "He grabbed my ass on stage. That was not part of the rehearsal!" she said. "I was like, Whatare you doing!? My manager was like, Oh, God, she must like this guy a little bit. She never lets this shit slide."
Fast-forward to summer 2020, when the couple took a road trip from Los Angeles to New York together. They were cooped up in a tour bus and stayed out of the public eye. The Barbadian beauty would cook on a "little janky grill I bought from Walmart" and Rocky would tie-dye T-shirts he bought from the major retailer. "I love the simple things but also the grand adventures," she said. "There's no pretentious my-brand-your-brand bullshit, it's just us living. I just feel like I can do any part of life by his side."
Then the holiday season came and fans saw paparazzi photos of the couple spending time in Rihanna's home country of Barbados. However, it wasn't exactly what we thought. The mom-to-be shared that Rocky also has a connection to her home country. The "Peso" rapper's father is also from Barbados. She said it was "heartwarming" to watch her beau envision his dad as a boy and walk the same streets that his father walked.
During their time on the beautiful island, Rocky was also able to win over Rihanna's mother. "My mother has a really good read on people. She observes first and then she'll move slowly," she said. "I guess I'm like that too. There are some guys that I've dated that she won't even look at to this day. But she was charmed by him from the jump."
And while she would love to raise their child in Barbados, she knows that it's not realistic with being who they are and so they are still figuring out where to live.
Featured image by Taylor Hill/WireImage/Getty Images