Being in love hit different when you know who you are, and Tyra Banks learned this at the hands of an emotionally abusive ex-boyfriend. Sometimes words can hurt just as bad (or worse) than sticks and stones, and the supermodel says she didn't come to this realization until she experienced the trauma of being with a verbally abusive partner firsthand. In a recent episode of TV One's Uncensored, the 45-year-old supermodel opened up about how a toxic relationship in her 20s turned her into a person that she no longer recognized. She explained:
"I remember being kind of judgmental for women that were in bad relationships. And I'm just like, 'Get out. Come on, like what are you doing, leave him, I don't get it.' Until I experienced it myself. I was in a relationship for many years, and we probably broke up fourteen/fifteen times."
I once read that the amount of abuse you tolerate from others is indicative of the abuse you tolerate from yourself and I see no lies. Tyra says that while her ex caused a great deal of trauma in her life, she realized that her emotional wound was much deeper than her current relationship, it was a reflection of her self-esteem:
"There were things that he said and made me feel like, I couldn't leave, or if I left I had to go back. He told me that that is what he does. That he knows how to break a woman down. And it took so many different friends and family for me to finally say goodbye to him."
From the outside, looking in, even the most turbulent storms in a relationship can go unnoticed. But anyone who has ever endured verbal abuse by a loved one knows that emotional wounds don't have physical scars. In 2009, when Tyra opened up to Oprah about the relationship, she said that this was especially true:
"He never hit me, but I would say there were blows to my spirit, blows to my emotional well-being every day."
"He was a master at being able to be happy and nice to everybody else but whispering these negative things to me. I'd start complaining to my friends, and they're like: 'Well, he's fine, girl. He's fine with us. Everything's fine.'"
It wasn't until one day when Tyra had a moment alone that she realized that she deserved way more than she was requiring and made the brave decision to walk away.
"I walked to the mirror in his bathroom. He wasn't there. Out loud, I looked in that mirror and I said: 'Tyra, who are you? What the hell are you doing? Get out of here.'"
With the help of close friends and of course, her mama, Tyra was able to walk away from a relationship that didn't make her happy and became a woman who does.
Check out the full clip below!
Tyra on abusive relationships (EXCLUSIVE)youtu.be
Featured image by DFree / Shutterstock.com
You're too grown to be beefing with another grown-ass woman. I said what I said, don't @ me. Not everyone is going to be your cup of tea, but it's also true that not everyone will be willing to take a sip of yours either, and that's OK. But let's be clear, life isn't a reality show and we should all be too busy securing a bag too even think about competing with another woman. Staying in your own lane is a superpower, and Tyra Banks recently told The Wallstreet Journal that she had to learn this lesson the hard way.
In an intimate interview, Tyra opened up about a modeling feud between her and world-renowned supermodel Naomi Cambell that started in the early '90s. In 2005, Tyra and Naomi confronted their feud in a one-on-one conversation that aired on The Tyra Banks Show, and although they have since reconciled, the America's Next Top Model host said that her experience taught her a lifelong lesson about the power of sisterhood.
When asked about the rivalry between Tyra and her presumed adversary, the 45-year-old had this to say:
"It wasn't a rivalry. And I'm very sensitive to that word because a rivalry is with two equals to me, whereas, one was very dominant. She was a supermodel and I was just some new girl that got on a plane from Paris and was studying fashion in magazines at a fashion library."
Tyra Banks started her modeling career at only 15 years old and walked her first catwalk at 18. Due to the social climate at the time, it was only acceptable to have one Black supermodel in the spotlight at a time, and eventually, the media began to pit the two against each other. The now mother-of-one explained that sadly, for more than 10 years, it worked.
"When I came on the scene, 'Naomi look out, there's another Black girl that's going to take your spot. [Because] there's only one spot available.'"
Our adult relationships with the women in our lives can be some of the most heartbreaking, and according to Tyra, she felt that in her spirit. On the outside, it may have seemed like she had the world at her fingertips, but because of her ongoing (very public) confrontation with Naomi, she eventually spiraled into a depression and considered ending her modeling career to return home and go to college:

"I had very painful early days in Paris. As much as I was booking every single fashion show, people didn't know I was going home at night crying my eyes out because a woman I was looking up to seemed like she just didn't want me to be there. And was doing everything in her power to make me go away."
We're all guilty of being Petty Pattys every now and then, but there's a rule of thumb that I live by that says that if it doesn't make me a check, it can't make me mad. Tyra said that although this was a lesson that took her more than a decade to learn, now, she's at peace with the heartbreak she had to go through and can see Naomi's perspective in a new light:
"I didn't understand that as a young girl, like why is she doing this? This is so evil. This is so awful. The adult me understands that she was reacting to an industry that was all about a token."

Being a grown-ass woman isn't just about going to work and paying the bills. It's about being woman enough to squash beef when you see it. We keep our relationships plant-based and healthy around here.
Watch Tyra's full interview below!
Tyra Banks Discusses Naomi Campbell, 'Modelland', and TV | WSJwww.youtube.com
Featured image by Jamie McCarthy/WireImage for Full Picture

First debuted in 1964, the swimsuit issue of Sports Illustrated quickly became a highly coveted honor in the modeling industry, but it wasn't until more than 30 years later that its cover featured a woman of color. No one anticipated that this 23-year-old woman from Inglewood, California would one day grow up to become a world-renowned supermodel, actress, and entrepreneur, who would retire from the modeling world at 32 out of fear of aging out of the industry; but now, in an unexpected plot twist, she's back from retirement with a new name, ready to shake up the industry once again.
Tyra Banks changed the modeling game when she became the first Black woman to be featured on the cover of Sports IllustratedSwimsuit Issue in 1997, and recently the 45-year-old mother of one returned to the throne to reclaim her crown as the oldest woman to ever be featured on the magazine's cover.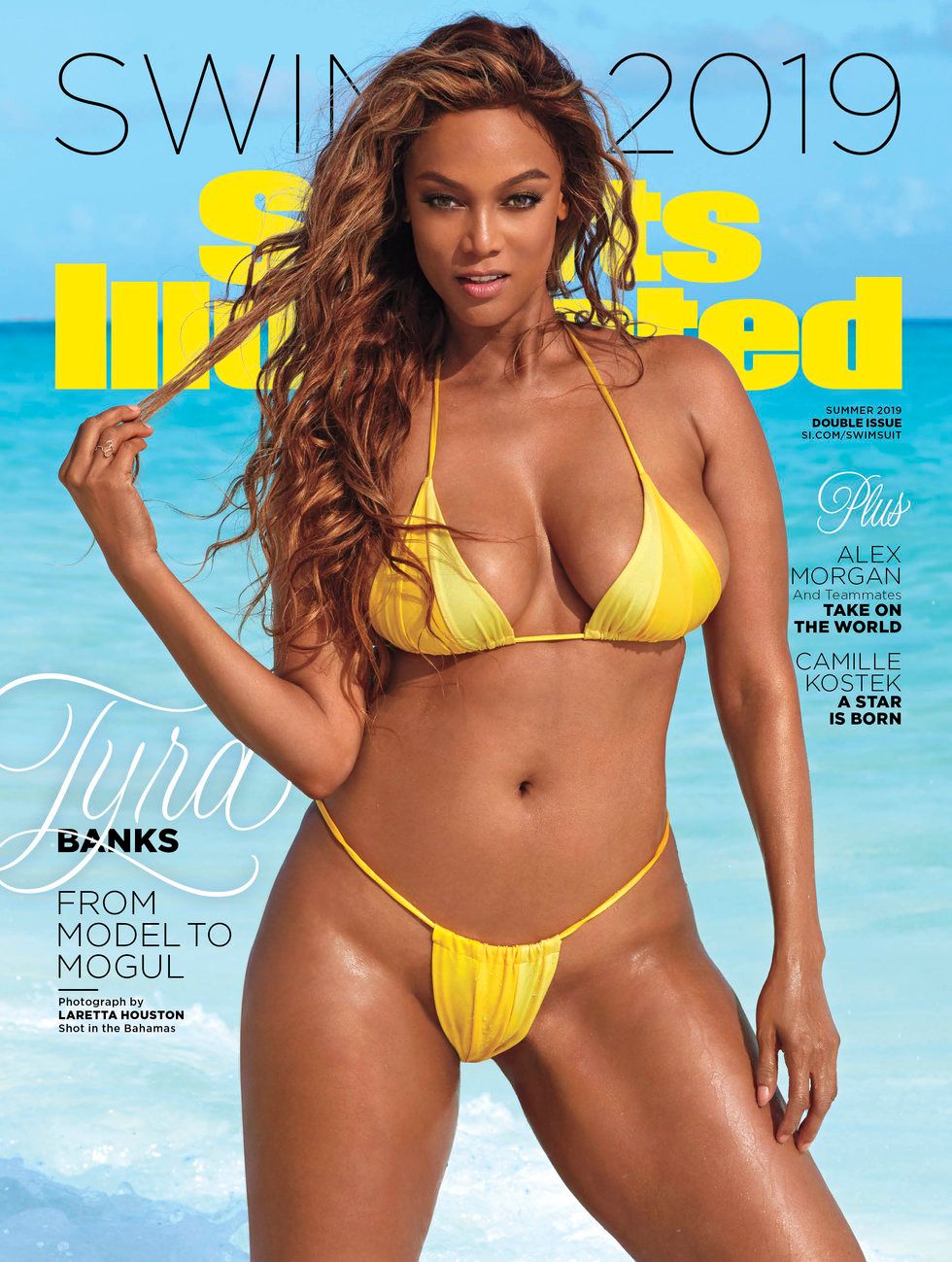 Laretta Houston/Sports Illustrated
The snack-worthy photos that have the internet in shambles were captured in the Bahamas by Black female photographer, Laretta Houston, who was chosen specifically by Tyra. In her interview with ET Online, she opened up about how posing for the publication for the first time nearly 22 years ago completely changed the trajectory of her career:
"I was a very known model, high fashion model, but I got on the cover of SI and it made me a household name, almost like in 24 hours, back when the whole world was looking at the same thing all at once."
After jumping headfirst into the modeling industry at only 15, Tyra spent much of her career in the public eye; and if you know the public, you know that they love to scrutinize and police a woman's body. For years, Tyra doubted that she would ever even become successful in the modeling industry and constantly struggled with maintaining a positive self-image.
After becoming a mother to a one-year-old via surrogacy and taking the time to put her life into perspective, she's learned to find the beauty in her happy weight. Although the supermodel had full intentions on pulling a Beyonce and losing 20 pounds before her sexy shoot in the Bahamas, she ultimately said f*k it:
"I started it and I was so focused, and then I went to my mom's house and there were some Cheetos, and I just had the Cheetos, and that was like the gateway in, and I was like, 'After Cheetos, you have to have an ice cream party! My mom, my son and I went to the grocery store," she continues. We had strawberry, coffee ice cream, we had green tea ice cream, chocolate, vanilla -- a spread! Three spoons and just kinda played musical ice cream, and that was even deeper. From there, I just lost my mind."
The mogul shared that although she does know how to manage the weight she's gained, she's old enough to know better and too happy to care. I know I'm not the only one who remembers when she told critics to kiss her fat ass and became an American hero, and Tyra explained that it's important that she keep that same energy. She continued:

"I'm constantly telling people [there is] beauty in all sizes, beauty at all ages. But here I am trying to look like my old self? So, I think subconsciously it was kinda like, 'Nah. Let's show 'em what's up now.'"
I'm going to keep it real with you cause I love you, sis. You will never (ever) look the same way you did when you were 18, but you can damn sure be fine as hell at whatever age you are right now. When we were little, birthdays were exciting and fun milestones we can't wait to celebrate, but as adults, it just feels like we're edging closer and closer to the nursing home, but this bad ass supermodel proves that just isn't true. Tyra, Ms. Banks if you're nasty, had this to say about her new identity and finding the beauty in growing older:
"This is a new me, this is an older me, this is a thicker me, this is a wiser me, this is a thankful me. It's all shades, it's all ages, it's all sizes, it's all sexual orientations, it is everything — and I'm putting that on my back with that X."
Tyra said although she knows she'll face some backlash after her recent transition back into the modeling industry, still, no f*cks are given.

"The internet -- particularly social media -- is the most beautiful thing in the world, and the meanest thing in the world. So, I know there's gonna be people puttin' pictures next to each other going, 'Oh, she's thicker now, she's this, she's that, sit your old a** down...' I know that's gonna happen, but I didn't do this for them -- actually, I did do it for them. I did do it for them."
She pointed out that many times, the negativity of others is only a reflection of how they feel about themselves.
"Because the people who are saying that have negativity associated with themselves, with body, with age. The person that is telling somebody to 'sit your old a** down' is terrified of aging. So, actually, I did it for them!"
Keep your foot on their necks, sis! To read Tyra's full interview, click here. And check out her full SI spread here.
Featured image by Frazer Harrison / Staff for Getty Images.
"Damn. That was it?"
A familiar phrase and a stark reminder of why I only have one rule in the bedroom: I come first.
I've grown weary of the reminder that I have good p*ssy, because this is something that I know. Guys normally lean in right before their big "O" to inform me of how tight and wet I am, which is usually their excuse as to why they couldn't offer me more than five minutes of action.
My first sexual experiences were totally male-focused and I began to believe that was how it was supposed to be. I hadn't been told or seen any different. Even most porn is male-centric, the focus is rarely on the woman's climax. My sexual inhibitions were always stifled by my partner's urgency to orgasm, leaving me to feel repressed and unsatisfied.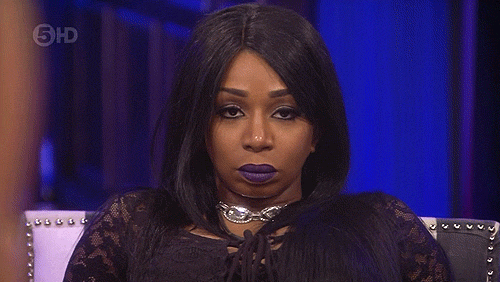 It wasn't until I was 24 that I first confronted a man for not having the desire to make me orgasm. He came over, humped me for a total of three minutes, and fell alongside of me. In my bed. In my apartment. In which he did not pay bills. And then, he went to sleep like a baby. The first time that he failed to make me climax, I showed mercy. I assumed that he had a long day, and felt as though I shouldn't be so demanding. But after the fifth time of the cycle of a few strokes, finish, pass out, and repeat - I had enough.

"What about me?" I asked him softly, calmly.
To which he replied, "If you want me to be honest, I don't really feel like it."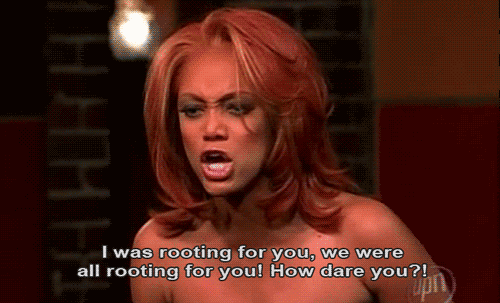 All I could see was red. I screamed at him to get the f*ck out of my apartment. He stuttered, glared at me, amazed by my exclamation. I yelled louder for him to leave as I pulled the pillow from beneath his head and ripped the covers from his scrawny naked body. He stumbled out of my bed, scrambling to put his clothes on.
I can admit, my response was disproportionate to the situation. Maybe it was pent up aggression and frustration after years of sexual oppression from being relentlessly humped by men that could give a damn about my own liberation. Or maybe I was just really, really horny. Needless to say, we didn't speak after that night and I didn't care. Not only had I learned a valuable lesson about relenting my energy so freely, but I had also developed a new perspective about sex.

I deserve to orgasm, every damn time.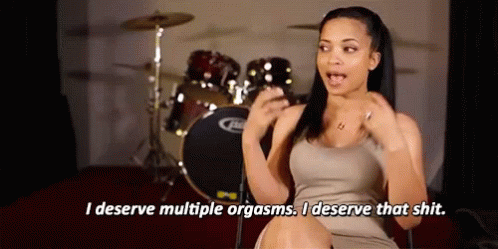 In college, I admittedly was promiscuous. I would have sex with one guy after another, hoping to find out what all the hype was about. I didn't like sex until I was 21 and met a man who changed that. He was 18, fresh outta highschool, and a terrible choice for a suitor but he f*cked me in ways grown men had never been able to, and he always made sure I came first.
Sex before and after him had been mediocre.

Guys didn't care if I climaxed. It was a "don't ask, don't tell" dynamic that, as I got older, sickened me to my core. I've developed the standard that if I decide to share my sacred spaces with you, the least you can do is get me off. I also understand that your desire to get me off, as a man, is predicated on your own sexual fulfillment.
I decided that it was time to put an end to the male-centric sex in my life and got myself off that night, thus I developing the golden bedroom rule that I now live, honor, and abide by. No longer will men be permitted to waltz in my bedroom with their only goal being to fulfill themselves, and then rush me to reach my level of optimum pleasure.
I. Come. First.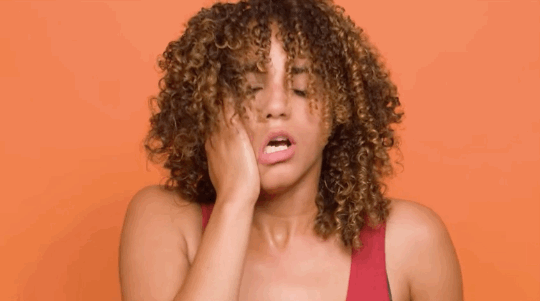 I can admit, my rule hasn't always been effective and there have been times I've allowed men in my bedroom to get ahead of themselves. But I find solace in knowing that my climax is the center of attention during a sexual encounter, therefore the tables are turned and his orgasm is predicated on mine.
Give my method a try, and I promise that it will switch up your sex life.
What are some methods you use to regain your feminine power in the bedroom? Drop some suggestions in the comments!
For black women, hair is an extremely sensitive subject for us. It has so many meanings, especially how we hold it with high regard in appeal to our beauty and femininity. When our ideal of what our beauty is is taken away from us, we are forced to redirect our energy and learn to deal with the loss. But we always come back out on top. Lauren "LuLu" Williams is an example of this.
The 16-year-old high school student experienced traumatic bullying recently when students at her school ripped her wig off and recorded the incident for SnapChat. And to make matters worse, it was all because of a $5 bet.

This week, LuLu's mother, Myckelle Williams, took to Facebook to talk about her daughter's experience with bullying:

"Yesterday I received a call from my youngest daughter screaming and crying on the phone, for me to come and get her from school. Apparently, some boys had taken a $5 BET about pulling her wig off in front of everyone. Lulu has a scalp condition that causes severe dryness and hair breakage and loss, and had been so ashamed of her appearance that she had taken to wearing wigs in an effort to still feel beautiful. We all know how easy it is to feel insecure at age 16. These kids not only tore her wig off in the middle of school, but video taped it. They followed her to the bathroom as she screamed and cried and proceeded to tape her OVER the stall as she cried and begged for her wig."
In addition to the trauma they left her with, the bullies that took LuLu's wig left her with whiplash and bald patches throughout her head. Devastated but determined to take her power and her own narrative of beauty into her own hands, LuLu shaved off all her hair. Myckelle finished off the powerful post with a message to all mothers who may deal with a situation similar to her daughter's:
"Lulu later decided to shave her hair off and not let these bullies win. She was not wanting to feel controlled by her hair any longer, and take back her control. I am only posting this with her permission but yesterday our entire family was angered and in tears about the way she was treated. The teen suicide rate has now DOUBLED and bullying has played a HUGE role," Myckelle wrote. "If you have a teen in this situation, continue to uplift them and let them know that they are strong and beautiful and can own their insecurities and take control rather than being controlled. I admire the strength and beauty of my little Lulu and know that she will inspire many others even through this difficult time in her life."
The post went viral and caught the attention of many, including supermodel, business mogul, and self love advocate Tyra Banks who took to Instagram to write her a letter of encouraging words.
"...I want to let you know how unbelievably fierce you are…" she wrote in her caption. "... Someone momentarily lacking judgement and kindness pulled off your wig and another person felt the need to chase you down and capture it all on camera. But what they fail to realize is those moments changed you forever...for the better!!! Like you said when you shaved your head - you took BACK the power! LuLu, you are strong and you are FIERCE and I want you to continue to be courageously LOUD! Girls around the world need warrior queens like you."
Like Tyra, Ciara also took to Instagram to step up for #Love2LuLu and reminded the young girl of her beauty. "Your Confidence is inspiring to us all," the songstress said in the post. "Can't Nobody Stop That Shine
Tyra and Ciara's words were not only supportive, but empowering. Black women stepping up to support one another in our fight against beauty ideals placed upon us is the greatest exhibit of black girl magic.

Last year, Chewing Gum star Michaela Coel showed a similar display of solidarity when she came forward and pulled her wig off in an Instagram post to support Blessing Okagbare who made headlines after her wig fell off during an IAAF long jump competition.
Taking our power back can happen when we least expect it, during the times our back is on the wall. LuLu was able to take her situation and use it to empower herself and as a result, she now feels a sense of freedom. She told her local news station Fox 19:
Your beauty isn't defined by the number of strands on your head. Ever since I [shaved] it, I feel free. I'm not held down by my hair. I'm not defined by it — I'm defining myself."
When it comes to our hair, our crown, the symbol of beauty for us, it can be hard to cope when someone tries to come in and tear down the walls we built in our home of ideals, but LuLu made the decision to recognize that she is beautiful no matter what. She's a huge reminder that it's important that we continue to uplift one another and call attention to the beauty of our spirits and not the external factors that we give so much weight to.