Megan Thee Stallion is sharing her truth about what happened the night Tory Lanez allegedly shot her. The Grammy award-winning artist sat down with Gayle King for CBS Mornings and opened up about the events that occurred on July 12, 2020, that unfortunately spilled over to social media, which ensued in a public back and forth between the rappers and their fans.
When Megan, whose real name is Megan Pete, first revealed that she was shot, she didn't name the alleged shooter. However, after much speculation, the "Savage" ended up naming the Canadian rapper as her alleged assailant. Reports said that she was shot in her feet following a party at Kylie Jenner's house in Hollywood Hills. Tory was charged with assaulting a woman months later in October but pleaded not guilty. Megan explained what led to the altercation.
"It was an argument because I was ready to go and everybody else wasn't ready to go," the rapper told Gayle. "But that's like normal friends stuff," she stated. "Like yeah … we fuss about silly stuff all the time."
"I never put my hands on anybody. I never raised my voice too loud. Like this was one of them times where it was like … it shouldn't have got this crazy," she said.
Once she left the party, it was her, Tory, whose real name is Daystar Peterson, Tory's driver, and Megan's former best friend Kelsey Harris. Megan said the argument started between Tory and Kelsey and she tried getting out of the car before it escalated.
"So, I get out of the car and it's like everything happens so fast," she said as her voice began to crack. "And all I hear is this man screaming. And he said, 'Dance, b-tch.' And he started shooting. And I'm just like, 'Oh, my God.' Like, he shot a couple of times."
She described Tory standing over the window shooting and her being so scared to move because she was afraid of being killed. "I was really scared 'cause I had never been shot at before," she said emotionally.
After the alleged shooting, she said she looked down at her feet and noticed that she was bleeding. She then claimed that Tory approached her and begged her not to tell anyone what happened and even offered her money. A neighbor called the cops after hearing the shooting, which Megan said made her even more scared because it was following the George Floyd shooting.
So, to protect everyone, she lied to the cops and said that she stepped on glass. Once she got to the hospital, however, the medical report showed that she had bullet fragments in her feet.
She also addressed the rumors about the nature of her relationship which the "Say It" rapper alluded to in a series of tweets. "We were not dating. We were friends. We were hanging out like every day and his mom passed too, so I feel like we were bonding over that (Megan's mom passed in 2019)," she said. "I think that he is trying to deflect from the fact that he committed a crime."
In April 2022, Tory was arrested in court after a judge ruled that he violated a court order of protection against the megastar. He was later released on bond.
Megan revealed that the altercation caused her anxiety to get worse and she now has a hard time trusting people. "Half the time I just want to pick up the phone and call my momma and be like, 'what do I do?' It's too much. I feel crazy, I'm sad and I feel like I have to hold it in because I have to be strong for so many people."
The trial is set to begin in September.
Megan Thee Stallion on 2020 shooting: "I'm the victim"
Let's make things inbox official! Sign up for the xoNecole newsletter for daily love, wellness, career, and exclusive content delivered straight to your inbox.
Featured image by Theo Wargo/Getty Images
Keep reading...
Show less
When Megan Thee Stallion first stepped onto the scene, people quickly became enamored. Not just by her good looks, statuesque body and hypnotic twerking, but also her confidence in herself. That same confidence rings throughout her music and even on stage. But she wasn't always this fearless. The H-town hottie had to discover who she was in order to stop being what everyone else wanted her to be. Like many women, finding her voice was a journey, and in the 26-year-old's case, she used that voice to achieve an accomplished career.
Megan Thee Stallion, born Megan Peete, already has three Grammy awards as well as several BET awards and she launched a line with Fashion Nova and has her own Hottie sauce with Popeyes. Now, she is gearing up to graduate college soon.
While it may appear that her career happened overnight, it actually has been a long road for the "Savage" rapper and she recently spoke with Glamour magazine about it after they named her one of the "Women of the Year," a deserving title I might add.
The raptress recalls wanting to satisfy everyone when she was growing up. Something that a lot of people can relate to.
"I used to be a people-pleaser because I did want everyone happy," said Megan. "If you come around me, I always try to make sure everybody good. Before I was grown, I'm doing whatever my parents say. I'm doing things that make my parents happy. At school, I'm trying to figure out what's going to make these kids stop bullying me. But when I started getting older, I started figuring out, everything that y'all asking me to do not make me happy."
She added, "It seems like I can never satisfy everybody. So then I started being like, 'What do I like?' I'm an only child, so I had a lot of time to spend by myself to think about it. I'm here by myself all day; what we gon' do, Megan? That's how I figured out I really do enjoy writing music. I love writing stories. I started living for me."
By the time Megan reached college, she was ready to show everyone the real her and that meant you had to respect it.
"How I come off, that's how everybody treated me. If I commanded my respect, I demanded my respect; if I'm showing you how confident I am, then you have no choice but to treat me that way."
Now a rap superstar, Megan has become an example for people, particularly Black women, that our voice matters and that our feelings matter.
In October 2020, the "Girls in the Hood" rapper wrote an op-ed essay for The New York Times where she addressed violence against women following the alleged shooting by Tory Lanez, women in hip-hop being pitted against each other, and more.
She wrote that she believes violence against women "happens because too many men treat all women as objects, which helps them to justify inflicting abuse against us when we choose to exercise our own free will."
Keep up the good work, sis!
Featured image by Theo Wargo/Getty Images
Keep reading...
Show less
Black women emcees have been an essential part of sculpting hip-hop music since the late '70s. The genre has grown from the streets of New York City to become one of the most influential musical genres in the world. Though hip-hop is still a very male-dominated industry, women have made their way of snatching the sound and owning their place in the industry.
When female rappers entered the scene, they showed up with bars as prolific or better than their male counterparts — dressed from head to toe in a sexy tomboy flair that was beyond captivating on stage. Black women emcees have created their own lane, starting from battle rapping about systemic challenges in the Bronx, N.Y., to going all the way "Up" with Cardi B celebrating sexual liberation.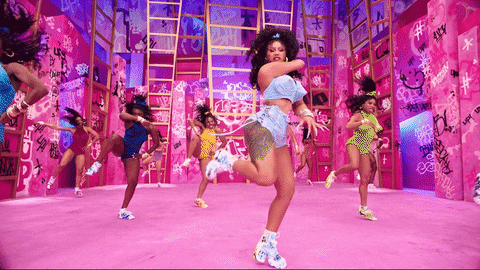 Bardi Gang GIF by Cardi B Giphy
However, some of the biggest challenges in hip-hop music lie in the lack of radical feminism in the genre that shows a vast display of Black women artists of every shade, size, and sexuality—without being hypersexualized. They all need to be seen and celebrated as a mass-market artist.
Over the last few generations, the evolution of hip-hop's purpose and sound has changed dramatically—mainly for mass production and consumption. That's expected because change is inevitable in every form of music, but hip-hop is unique. It was used to amplify the voice of the unheard and highlight systemic oppression related to race and class issues. However, its hypermasculine aspect has always made combating sexism one of the most complex areas to address and has posed a challenge to forging progressive, long-term opportunities for Black women rappers.
Featured Image via Giphy
Keep reading...
Show less
Megan Thee Stallion is gushing over her boyfriend fellow rapper Pardison "Pardi" Fontaine. Meg confirmed her relationship with Pardi in February on Instagram Live after much speculation and since then they have been sharing cute moments with each other on social media, including how they spent their Valentine's Day.
They even made their red carpet debut at the iHeartRadio Music Awards in May where they matched each other's fly.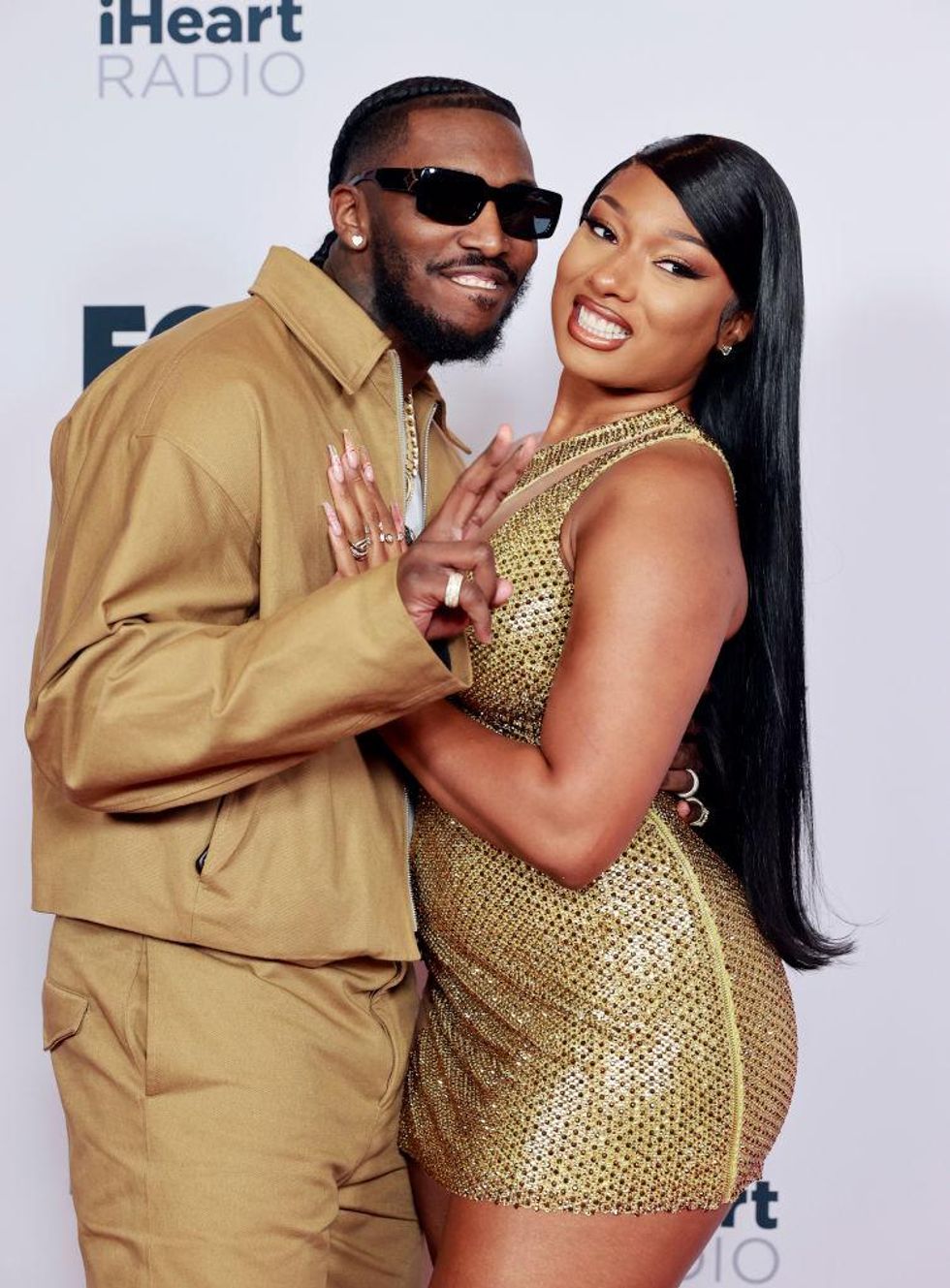 Emma McIntyre/Getty Images for iHeartMedia
On the season premiere of Taraji P. Henson's Facebook Watch show Peace of Mind with Taraji, the "H-Town hottie" opened up about what it feels like to be with the New Yorker.
"My boyfriend does make me very happy. He definitely does take care of me emotionally. He makes my brain feel good. He makes my heart feel good. That's definitely a big thing for me because I used to be so into the physical, right like… but he moves me, he inspires me, and we just feel like a real team."
This is the first time the 26-year-old has talked about Pardi publicly outside of social media. The first time she spoke on their relationship was during Instagram Live when she came to the defense of the rapper following a video that appeared to be him making concerning noises in the background.
"People don't know what the hell they talking about, they just be saying anything. I didn't like what they was trying to say about Pardi 'cause he is so calm and so sweet."
She later said, "Yeah he my boyfriend. I never said hot girls can't have boyfriends."
While the "Hot Girl" is no stranger to being an open book online, Pardi appears to be the opposite.
The 31-year-old's claim to fame is his 2018 hit song "Backin' It Up" with Cardi B, but he also has other credits that many people may not know.
He's a Grammy award-winning writer who has ghost written for many artists including Cardi B, Kanye West, Lil Nas X and more. He even co-wrote his girlfriend's hit song "Savage Remix," which he won the Grammy for and additionally co-wrote "WAP."
Featured image by Shareif Ziyadat/Getty Images for 40/40 Club
Keep reading...
Show less
Can we talk about how Megan Thee Stallion is lowkey an inspirational speaker? I mean seriously, have you ever been feeling down on yourself and then "Girls in the Hood" starts playing? It's like, OK girl, get it together, you're a Queen. From beats and bars to catchy lyrics, she's gonna deliver. But musical talent isn't the only thing that deserves acknowledgment. Sis is also about her bag. The "Savage" rapper has collaborations with multiple brands like Cash App, Revel, and recently announced, Nike.
Through this particular partnership, the Hot Girl Coach is promoting the Nike Training Club App. Exercise sessions, workout and wellness tips, and athletic wear are all available through the platform. In a fun video released to her Instagram, she shared the strenuous work behind being a performer, and highlighted how she is criticized for not truly being an "athlete," to which she responds:
"Oh really? Let's see you run through twelve-hour dance rehearsals, train five days a week, then perform in front of 50,000 people, squatting 50% of the time! Real hot girls know, no one can define us but us."
App-users are expected to see a more intimate side of what Meg's fitness journey entails and get the motivation and help needed to reach their own health goals.
This marketing move is not a new strategy for Nike. In fact, in the past, they've had successful collaborations with other major artists including Drake, Travis Scott, and Kendrick Lamar. Brand collaboration and influencer marketing continue to be a major way that companies are forming a better relationship with their customers while successfully selling their products.
And the more I see them, the more I realize, Black women are the secret sauce. I mean, just look at the material.
Naomi Osaka
Naomi Osaka had a tradition of buying her mom a Louis Vuitton bag every year since she was sixteen. She's now their global ambassador, and even co-designed the recent dress she wore at the Met Gala.
Chloe x Halle
Of course, Chloe x Halle are gonna be a part of why our skin looks amazing. I mean look at theirs, which they give Neutrogena some credit for.
Saweetie
Whew, now one thing we know about Saweetie is she keeps a collab. From McDonalds to MAC, she moves the needle. Also, congrats are in order for her latest partnership with Crocs, proving her love for food and creativity is alive and well.
Featured image by Mike Coppola/Getty Images
Keep reading...
Show less
Megan Thee Stallion is such a breath of fresh air. To me, she represents women that are unapologetic about doing what's best for themselves. In a world where women, *cough* Black women *cough* are so policed--from hair, to behavior, to reactions--she shows up as a superhero, inspiring and representing a young generation of women who are authentically themselves. And not only that, they're women who don't stray from getting what they deserve.
Additionally, the "Savage" rapper, is multi-dimensional, encouraging a lifestyle that balances fitness, education, and doing hot girl shit.
Oh, and being the first rapper on the cover of 'Sports Illustrated SI'.
But guess what, sis got it all from her mama!
Her mom Holly Thomas, who was a rapper back in the day and who went by the name "Holly-Wood," died in March 2019 after being diagnosed with a brain tumor. But while young, Meg learned early on that she wanted to be a rapper too. She would attend her mother's recording studio sessions, which ultimately solidified that she wanted to be a star while hoping her mom never found out until she was 18. In her latest interview conducted by Tyra Banks for
Sports Illustrated
, she said:
"I wanted to be perfect to her. I was practicing since I was, like, 7. And then when I got in high school, I was like, 'No, I'm not gonna tell her yet.' But she would have these CDs laying around the house -- like, instrumentals -- and I would take 'em in my room, and I would take the beats and write to 'em in my room. And she would say, 'Megan, have you seen my CDs?' And I was like, 'No. What are you talking about?'"
But when she got to college, she began to pursue music seriously, which she knew she had to come clean about to her mom.
"So I finally came to her. I might have been 20, and I was like, 'I can rap.' And she was like, 'No, you can't.' And I was like, 'Yes, I can.' And she was like, 'Let me hear it. And I was like, 'OK Mama, don't whoop me, but I'm 'bout to curse, OK?' So I started going off and I'm cursing and she's like [gasps], 'Where did you learn all those words?!' .... And she said, 'You're not coming out until you're 21.'"
As soon as 21 hit, Meg released her debut single "Like a Stallion" and went on to release a numerous of SoundCloud mixtapes. In 2018, she signed to the Houston-based label 1501 Entertainment, released her Tina Snow EP, and broke out as a true powerhouse.
And three Grammy wins later, the rest is hot girl shit, history
Meg has spoken about her mother numerous times in the past, once telling Marie Claire that she credits her mother for introducing her to hip-hop. In fact, Meg would witness her mother, who was a bill collector, work on her career around her 9-5 schedule.
"I would see her fit in writing after work and before work. I'm used to seeing that work ethic."
Holly was a part of the Screwed Up Click, a big collective in Houston, and she released music from 2001-2007. One of her biggest hits was a single dedicated to DJ Screw, the leader of the Screwed Up Click, and if you know the history of Houston music, that's huge! Unfortunately, two weeks after the passing of Meg's grandmother in 2019, her mom passed as well, which Meg never publicly took the time to mourn about. She was back on tour a day after the funeral.
She told FADER:
"No matter what I'm going through, I still want to keep going. Just to show people you can still be strong and you can still face your everyday life. Even when everything coming down on you. I didn't cancel none of my shows 'cause I just knew — I know — how my momma is, and I know she wouldn't want me to stop."
She get it from her mama.
Watch the hot tub interview with Tyra below:
Featured image by Rich Fury/Getty Images for Visible
Keep reading...
Show less