Despite 2020, and the beginning of 2021, being the endless dumpster fire that it was, we have to admit one thing: it did a hell of a thing for one's creativity. With all the time in the world to be stuck at home, musicians put paper to pen, voices to mics, and now we can reap the benefits of its creative wonders. Kicking the summer off right, artists have released new music to fit all of your sunny adventures.
Whether you're looking for a song to bring in the morning ("Formwela 4"), revive your day ("Tonight Tonight"), or one to close out the night ("Thot Shit"), this week's new releases are sure to keep you moving:
1. H.E.R - "We Made It"
If anyone is said to be having fantastic 2021, it has to be her—excuse me, H.E.R. Between the Grammys and the Academy awards, H.E.R. has been coming out with one bop after the next. "We Made It" naturally has H.E.R. spend some time basking in that glory. While it is possibly a love song that H.E.R smoothly sings to lover, I like to think of it as something that she sings to close friend, or family member. She has spent sleepless nights working and slaving for this career she has created. Along the way, the people who loved her have been her confidants and support. Now that she has made it, she wants them to know that she couldn't have done it without them.
2. Megan Thee Stallion - "Thot Shit"
Straight out of the rejuvenation pod, and almost college, is Meg on her "Thot Shit." Similar to her lively singles before, "Thot Shit" requires open space, good knees, and the ability to move your hips. With a fast triplet flow, Megan Thee Stallion raps about embracing and feeling herself, while telling those who don't "f" off with all disrespect. With over 8 million views on YouTube, "Thot Shit" came out just in time for the hot girls to return to the summer's dance floor.
3. Amindi - "Haircut"
Come on, I have that moment. You have that moment. Oh, you know the moment when you just got hair done and your feeling yourself. Whether it's braids, locs, wigs, perms, or just a simple "Haircut," you start to look at yourself with a new glow and whimsy. Amindi is no different. Just getting a haircut with a "fade down to the sides," Amindi sings laxly with a lullaby-like ease. Feeling self-confident, Amindi openly loves herself. So much so, that she takes herself on a date and offers the treatment she hopes others would offer her. Nevertheless, instead of doing so mournfully, she seems just happy enjoying her own company.
4. Celeste - "Tonight Tonight"
Celeste. Celeste. Celeste. You've done it, again and then some. If you don't know who this artist is, it's about time you do. After the sultry ballad "Strange" received recognition on Apple's Ted Lasso, Celeste is back with a new single from the album Not Your Muse. Unlike "Strange," "Tonight Tonight" is a wonderful sultry track that feels like a delightful groove from the past. Although, that does not negate the new age spin that Celeste has added to her repertoire. Tell Alexa to play "Tonight Tonight" and sway those hips.
5. Jon Batiste - "Freedom"
This song makes me want to slide throughout my living room in a shimmy, funk fashion. It makes me want to shake, wobble, and hop around erratically despite those watching. Maybe it's because Jon Batiste is sporadically and happily dancing around the city. Maybe it's because it is nice to see a Black man enjoying himself while singing about feeling of being carefree with oneself. Maybe it's because the song feels like freedom. Whatever it is, it's simply delightful and a must to add to the beginning, middle, and end of your summer playlist.
6. Ivy Sole - "Dangerous"
Aside from Tierra Whack and Chika, there hasn't been anyone more slept on than Ivy Sole. Here with her single "Dangerous," Sole raps and sings with the flow and realizations of a 90's poet. With melancholy lyrics, "Don't have to love me back/You know that I'm dangerous/Lord knows, I'd do me bad," Ivy Sole discusses the process of "embracing the shadows" while internalizing "a deep acceptance of [her] wholeness as modeled through the radical love and care [she] received from [her] community of Black revolutionaries, Black queer people, and Black healers." The song features R&B/Soul artist Kingsley Ibeneche.
7. Esperanza Spalding - "Formwela 4"
Created in her Songwrights Apothecary Lab, an experimental space that seeks exploration of music and musicianship as means of healing, Esperanza Spalding and Corey King release their newest single, "Formwela 4." When asked about her inspiration for the song, Esperanza says that the song is meant "to remind listeners that loving and self-giving are not individual undertakings; that even in the most intimate circumstances, ancestors and earth's support forces are in attendance, for the honoring of their beauty via the truth of how you really are, and what you really need." The song is nearly five minutes of pure musical healing. With the gentle picking of King's guitar, rustling of the wind and leaves, and Spalding and Kings soulful voices, close your eyes as you enjoy the warm summer sun against your skin.
8. Diana Ross - "Thank You"
Just a couple of days ago, Diana Ross announced that she would be releasing her first single in 15 years, titled "Thank You." With just an eight-second sample, "Thank You" seems like another summer bop to add to the playlist. With the hopeful lyrics, playful piano, and air-like vocals, Diana's Ross's single "Thank You" is a great song to play on your road trip with the ones you love.
9. Polo G & Nicki Minaj - "For the Love of New York"
It is highly unlikely that Polo G and Nicki Minaj's "For the Love of New York" will be the song of the summer or overplayed in the clubs. Though, this is not a knack on what the song is, but of what it is not. Despite being used to the club anthems by the two, this song flows on top of a Caribbean island-like beat that allows for relaxation and appreciation that a club song would not. Nevertheless, the song is not as calming as one would think, well into the song, it is quickly noticed that Polo G is like just any other guy out there. Aware that he is messing with someone's emotions, he seems incapable of stopping himself from making "heartless" mistakes. Which only forces Minaj to experience the consequences of those decisions when she is left broken and alone.
10. Amber Mark - "Competition"
The video: art.
The artist: under-appreciated.
Amber Marks has arrived with her newest single "Competition." "Competition" talks about Mark's desire to put the people that she cares about on the map. Instead of seeing them as competition, she sees them as allies, people who she is willing to help, if only they are willing to accept it. Whether she is singing that it is not a competition because she believes that they can succeed together, or that she is in a league of her own, "Competition" is a song that requires every bit of your attention. It's catchy. It's a vibe and its visual is just so damn nice to look at. This might not be a competition, but if it had been, Marks definitely has her eyes on the grand prize.
Featured image via Giphy

Keep reading...
Show less
Megan Thee Stallion has been on a clear cut mission to reign supreme since she arrived on the scene. With her debut studio album, Good News, dropping last year, she has been going nonstop with maintaining a public persona, releasing new music, features on songs, award ceremonies, heartbreaks and love, and all the in between.
But now, sis says no more, as she is taking the time to recharge and regroup.
Posting to her social media to make the announcement, the Grammy-winning rapper shared an animated video accompanied by a computerized message which read:
"Megan Thee Stallion is recharging! Due to the demands of the Hot Girl lifestyle <Meg> has now entered a period of regeneration to prepare for what's next. ....In her absence; mgmt will manage all social posting on behalf of Thee Hot Girl Coach. [[Thee Hotties]] lead a brave //RESISTANCE in anticipation for the return of their Fearless Captain!"
This "period of regeneration" is to prepare for music festival season, where she's scheduled to perform at Rolling Loud Miami and Afro Nation Portugal in July, as well as Bonnaroo and Parklike in September.
Meg assured her fans that the moment was a regrouping period only, also adding the following:
I'll be back when it's time 🔥

— TINA SNOW (@theestallion) April 22, 2021
Call me selfish, but I'm a little hurt by this. I love how she has interrupted music, by normalizing a woman's need to put herself first. But it looks like she is taking her own advice, which I'm all the way here for too. After all, the Savage rapper has had a tumultuous year, from her mom's untimely passing, to literally being shot by mini-men which she befriended. She's gained endorsement deals and respect and friendship from most of her peers. She has done more in a year than most artists do in there entire career and sis is tired, m'kay?!

And since we are all about self-care around here, I say hit that island and enjoy allllll of your hard work.
As someone who has personally dealt with a mother passing, I can relate to the need to take a step back. As Black women, we carry the burden of the constant need to be more than--to be better, happier, stronger. We don't often receive opportunity to be vulnerable. Even after she was shot, the music industry was forced to check themselves on why it was that the men didn't support her, or defend her. So now that she has found peace, I can't think of a better time to focus on herself.
So Meg, enjoy the breeze, the break, and the bae. We'll be right here when you get back!
Are you a member of our insiders squad? Join us in the xoTribe Members Community today!

Featured image by Lev Radin/Shutterstock.com
Keep reading...
Show less
By now you've probably heard that self-proclaimed hot girl Megan Thee Stallion has been dating rapper and songwriter Pardison Fontaine after first confirming the rumors during an Instagram Live back in February. In the past, Meg has been tight-lipped about her personal interactions, so as expected fans went into a tizzy upon finding out her new relationship status. Meg and Pardison are continuing to make headlines with their cute antics on social media. Most recently, the "Body" rapper posted a video sharing smooches with her boyfriend aboard a boat that sent the internet into another frenzy.
Here are the Facts
First things first, Pardison Fontaine's real name is Jorden Kyle Lanier Thorpe. He stands tall at 6'5'' and originally hails from Newburgh, New York. He's 29 years old and a Capricorn. For all you astrology lovers out there, Capricorn's strengths include being responsible, disciplined, good managers, and practicing self-control. Good job, Meg!
The Cardi B Co-Sign
If it wasn't for Pardison's connection to Cardi B, he might not have ever had his big break. He's best known for his 2018 single "Backin' It Up" featuring Cardi. However, he goes way back with the star to her days as a dancer at Sue's Rendezvous, a Mount Vernon gentleman's club. Pardi would sometimes perform at Sue's before Cardi found her way to VH1's Love & Hip Hop. The two were introduced by a mutual friend and the rest is history! "Backin' It Up" went on to peak at number 40 on the US Billboard Hot 100. His own debut album UNDER8ED followed on November 15, 2019.
A Celebrated Ghost Writer
Actually, Pardison was crucial to the success of Cardi's debut album Invasion of Privacy.
Pardi's name appears in the credits for twelve of the thirteen tracks on IOP. Cardi B spoke publicly about Fontaine's assistance giving him props, something that historically ghostwriters rarely get. He took his ghostwriting skills one step further on the Kanye West track "Violent Crimes", written from Ye's perspective as a girl dad. The opportunity came about when Kanye assembled a team of writers for his 2018 album, Ye, and specifically requested him based on his work with Cardi B. Fontaine was flown out to Wyoming, where the album was recorded. And here's a random fun fact: Pardison is credited on Ed Sheeran's hit "South of the Border".
How Pardison Fontaine Got His Name
Pardi has a special place in his heart for the cult classic Back to the Future and wanted to play off of the lead character's name Marty McFly. He came up with "Pardi", which ultimately led to Pardi McFly. "Then, I thought to myself, 'JAY-Z is not going to do a song with somebody named Pardi McFly,'" Pardi tells People. "So, I just dropped the McFly and I kept the Pardi."
His last name originated while working retail at Saks Fifth Avenue. Pardi explains:
"I used to walk past this Anne Fontaine store all the time, and I didn't know exactly what it meant or what it sold, but I just knew Fontaine sounded hella important."
The meaning became deeper for him once he looked it up. It turns out Jean de la Fontaine is a famed French poet and fabulist from the 17th century. The connection just made sense and he launched his MySpace under the alias.
Featured image by Megan Thee Stallion/Instagram
Keep reading...
Show less
OK ladies, let's getttttt in formation, y'all! Our "Black Parade" Queen has spoken! And she has spoken in such a monumental, celebratory way.
As we all know, March has been designated as Women's History Month. And all month long, businesses, social media, blogs, and all the in between, have highlighted women's contribution to society in beautiful ways.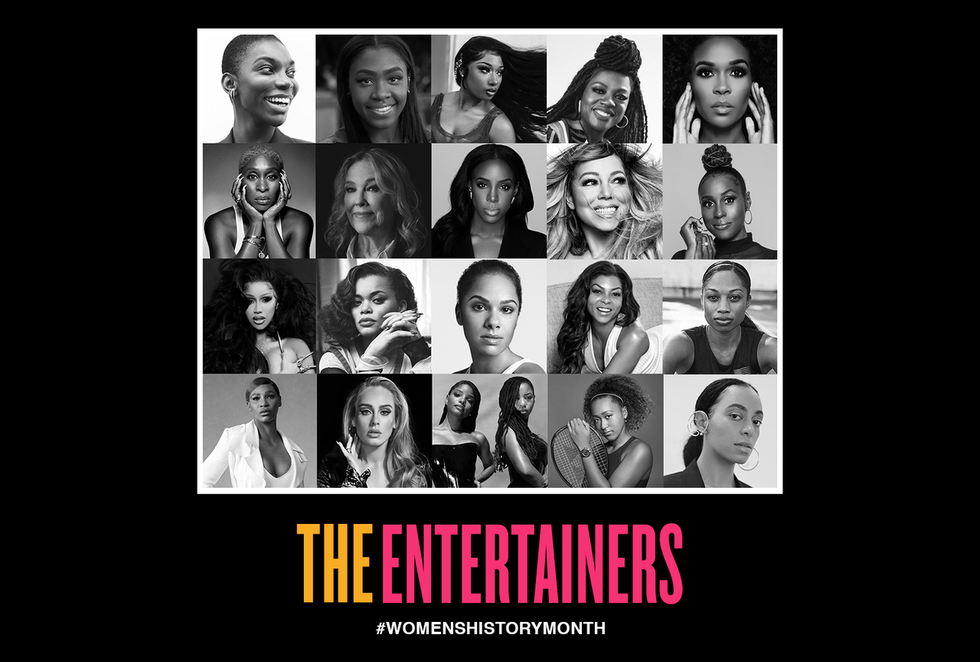 Beyonce.com
For example, Hershey rolled out the hashtag #CelebrateSHE and changed their name is HerSHEy to raise awareness. Secret Deodorant released a docuseries titled, Secret Superhero Moms, and pledged $1 million to support more than 100,000 women and their families with childcare, workforce development and barrier reduction. And although we celebrate women every day, we've also highlighted ground-breaking women who have risen to the occasion of excellence.
But now that the month is winding down, the final infinity stone has been collected, signifying the completion of the celebration as one of the most powerfully decorated women in history decided to highlight a few women of her own.
And that woman issss—let's say it all together now—Beyonce.
Giphy
Up first, Thanos, herself, took to her website to recognize a handful of entertainers, rule-breakers and truth-sayers, across various industries. Of the entertainers, she says:
"Their passion and brilliance shone on courts, Zoom stages, streaming services, television, books, dance and song. They gave us joy and provided escapism in the midst of an overwhelming year. For Women's History Month, we honor the women entertainers (and sports greats) who rose to the occasion in delivering stand out feats that made us all shine."
These women include: Adele, Andra Day, Allyson Felix, Cardi B, Catherine O'Hara, Chloe x Halle, Cynthia Erivo, Hallie Mossett, Issa Rae, Kelly Rowland, Megan Thee Stallion, Michelle Williams, Mariah Carey, Michaela Coel, Misty Copeland, Naomi Osaka, Serena Williams, Solange Knowles, Taraji P. Henson, and Viola Davis.
Next, were women who are "creating their own way to tell their stories, finding other avenues to get to the destinations, and breaking every rule in the process." 
On this list was: Janet Mock, Laverne Cox, Jane Fonda, Bozoma Saint John, Thasunda Brown Duckett, Meghan Markle, Amina J. Mohammed, Maxine Waters, Rosalind "Roz" Brewer, Stacey Abrams, Alexandria Ocasio-Cortez, and Elsa Majimbo
And in her last group of women, Bey spotlighted several truth-sayers, wishing that "grace continue to lie at their feet," and that "every girl walk in their footsteps."
These women were none other than: Amanda Gorman, Tamron Hall, Tamika Mallory, Brittany Packnett Cunningham, Michelle Obama, Cleo Wade, Oprah Winfrey, Tarana Burke, Lena Waithe, Gayle King, Luvvie Ajayi Jones and Angela Rye.
Queens.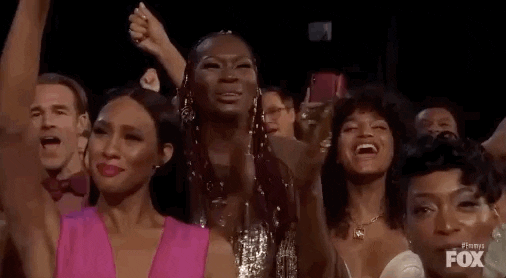 Giphy
OK, can I just say, I am here for this? Likeeeeee, front-of-the-class-mark-me-present-attending-every-event-I-need-to-attend, here. Not only is Beyonce highlighting women on her platform who have put it all on the line, she comprehensively did so in a way where she took a step back from her power, and relinquished it to others.

Taraji has been openly vulnerable for the benefit of the culture for all of 2020, in a lane where so many of us are unfamiliar or struggling (mental health). Luvvie has pioneered a lane of highly clever, highly intelligible women who aren't afraid of speaking with impact. Serena is the greatest athlete of all time and for some reason, has to continue to have to explain *why* when the trophies. speak. for. themselves. And Stacey Abrams. Well, she has single-handedly redefined what it means to outsmart, and play, the very game put in place by everyone that ultimately tried to stop you.
These. Are. A. Flex.
So, thank you to these Black women. We are lit. Society doesn't want you to remember that. But...we do.
Are you a member of our insiders squad? Join us in the xoTribe Members Community today!

Featured image by Beyonce.com
Keep reading...
Show less
The other night one of my girlfriends and I decided to catch up over wine and snacks. We were chatting about work and the new normal and eventually, the conversation shifted to dating and a desire for intimate connection. We discussed the relationships and situationships in our past and reflected on the highs and the lows. But the majority of our conversation was more about us personally, and our time.
Some of those past experiences fostered a lot of energy and emotion just for them to simply be topics of conversation today. So, does that mean we wasted our time? Did we put too much of a focus on our goals and not enough on the development of our personal relationships? Don't get me wrong, I don't subscribe to a societal life timeline. However, it's only natural for those feelings to creep in from time to time, especially during the unique period we're in. And it made me wonder, do men have these thoughts too, or are we alone in these feelings?
That's one of the reasons I was super excited to speak with Houston rapper Slim Thug. Recently, he released a song called "Black Queen", a track where he unapologetically explains his dream girl, which he proudly states is a black woman. Now, when I think of Slim Thug, I think of his features on iconic southern anthems like "Still Tippin" and "Like a Boss". A love song is the last thing I expected to hear from him. But then it dawned on me, just as my feelings and desire for love have changed over time, so could his, and sometimes the best way to release these emotions is through art and healthy dialogue. This is why Thursday evening, after a bit of Zoom drama and a save-the-day conference call line, we had a very transparent discussion.
In our chat, we talked about his new single "Black Queen", thoughts on dating and relationships, and why it's important to make your intentions clear. And I quickly learned, women are not alone in these feelings.
xoNecole: First, can you tell me about your song "Black Queen". What inspired you to create it? 
Slim Thug: I was on Instagram Live playing the beat and I was trying to figure out what I wanted the subject of the song to be. A woman responded, and told me I should talk about my black queens. So, I got right offline and made it, it took me about an hour to create it. I just described my dream woman. "Black Queen" is basically a bio for my dating profile, it's what I'm looking for (laughs).
I like the song a lot, but I love that you referred to her as a Queen. Why do you think it's important to uplift Black women during this time? 
If she's gonna be with a King, she's gotta be a Queen. And it's important to big salute our black women because they need love with all the hate that comes with being a Black Queen in America.
Speaking of time, a lot of women feel pressure to settle down and build a family by a certain age. What are your thoughts on this and do you ever feel that pressure as well? 
I think when some women start thinking of having kids, they start to feel that pressure. Me as a man, I've been single most of my life. Now I'm 40, and I have been thinking, 'Am I gonna be single forever, or am I gonna have a family and have some type of legacy to leave behind for kids and grandkids?' That's where I am in life. I wouldn't run from love if I found it but at the same time, I'm happy where I am, being single. But if I found the right person I would give it a shot.
Interesting, why do you think you've been single for most of your life? 
Because I'm so engulfed in what I do and my work. It's hard for me to even hold down a real relationship. And when you're a rapper and your job is not planned like a 9 to 5, it's hard to connect with other people because life can be so random. Then a lot of women may not believe you actually have to work when you set your schedule.
Also, being single isn't too bad in Houston (laughs), there's a lot of beautiful women out here. But after that, what? It's cool for a little bit but then you start feeling like you're wasting your years. I don't wanna keep wasting two years here or three years there either. I want to find a woman that when we go on trips, we can talk about it when we're 60. I think everybody wants that.
"There's a lot of beautiful women out here. But after that, what? It's cool for a little bit but then you start feeling like you're wasting your years. I don't wanna keep wasting two years here or three years there either. I want to find a woman that when we go on trips, we can talk about it when we're 60. I think everybody wants that."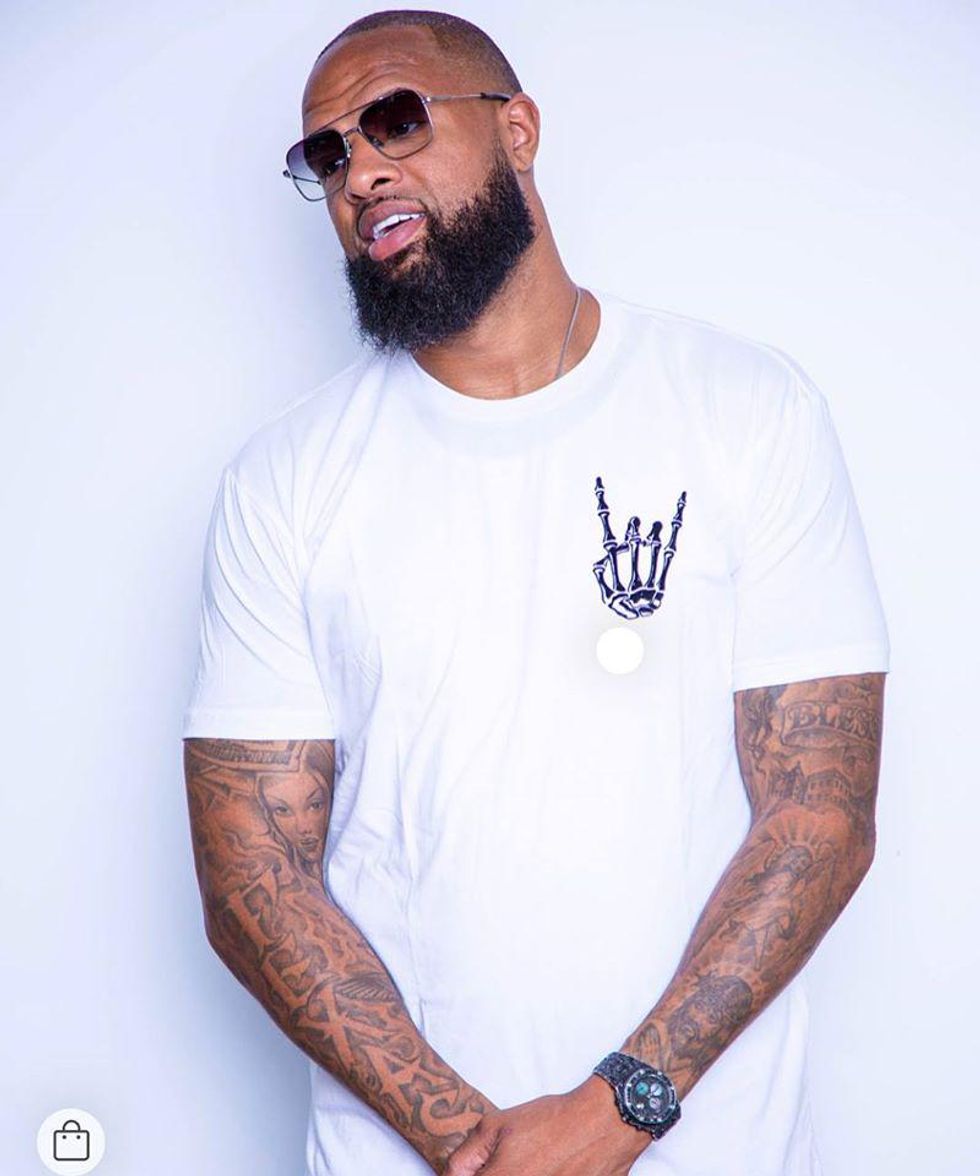 Courtesy of Slim Thug
We're talking a lot about relationships. But what about simply dating and getting to know someone. From a man's perspective, if you could give a piece of advice to women looking for love, what would it be?
I don't think women give enough opportunity. A lot of them are on guard from people who approach them on the regular. Don't shut people down so fast. A lot of time women don't give men outside their type a chance. Just thinking outside of the box and not being so quick to shut people down can help. If there's one thing you don't like, you may be able to figure it out. You aren't gonna get 100 percent, but if you can get enough out of one person, you can work it out with them.
Now I've gotta tell you when listening to past interviews, I've heard you tell some crazy dating stories. I think I even heard a story about you dating a mom and daughter once. How have your views on dating and relationships changed over time?
That's part of why I'm single, because of how my lifestyle was and the things I've seen and done with girlfriends and married women. It scares you, you think it's cool or player at the time, but it makes you have trust issues in the long run. That's what had me for a lot of my life and that's what probably still bothers me today, it's hard for me to trust people. It takes me a long time. I'm not the guy that's gonna jump into a relationship. We have to get to know each other and I know that takes time.
Is that another problem? Do you feel like a lot of women have pushed too quickly for ownership and monogamy? 
Not really, I've dealt with women who have been patient with me honestly and we've had great times. It's been a small issue, but I don't think that's the biggest problem in my dating life. If you want to be that woman, I'm gonna expect a lot from you. A lot of my time and years went to temporary stuff. It was a relationship and it was cool but it never went further than that.
I'm sure a lot of women aren't comfortable with you being a rapper because of the lifestyle that can come with it. We hear about side chicks, multiple women, etc. What inner work did you have to do to unlearn some of these unhealthy traits you might have had in the past when approaching love and relationships? 
In the beginning, a lot of that stuff is part of being a rapper, that lifestyle and world. But as you get older, you become more real and realize what you want and what you don't want. At 40, I like different things. At the end of the day, I still had a great time regardless of the expectation. And I can stay single and do whatever I want, but I do want to find that dream black queen, a woman who brings something to the table, my missing pieces, someone who will help me be a better man.
"As you get older, you become more real and realize what you want and what you don't want. At 40, I like different things. And I can stay single and do whatever I want, but I do want to find that dream black queen, a woman who brings something to the table, my missing pieces, someone who will help me be a better man."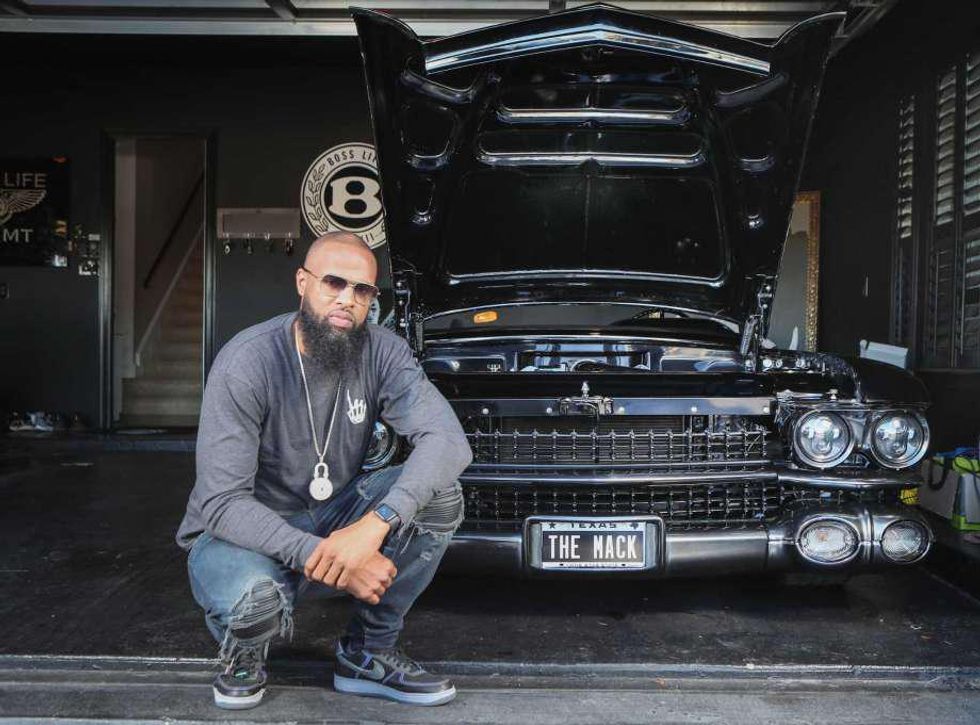 Courtesy of Slim Thug
So, we have to find her for you! Do you prefer to meet people online or in-person, why or why not?
Online is still new to me. I have been catfished and I have slid in a few DMs. I tried the internet wave and it ain't all bad but social media doesn't paint the whole picture of a person. It doesn't matter to me how we meet, as long as it's real.
Well, I know you don't mind shooting your shot because we've all seen you playfully slide in Megan Thee Stallion's comments a few times. But what are your views on women DM sliding, and what made you comment on Megan's post? 
I don't see anything wrong with it, let people know what you're thinking. I rather say what's on my mind and you know than never know. It's worked for me a lot of times in my life. And with Megan Thee Stallion, I was just trolling. Well, not trolling, because she's super fine and from Houston, so I definitely watch her (laughs). But when I first heard of her and was getting on to who she was, the word on the street was that she had a boyfriend so I was always kinda joking. But now I see she's in a relationship with Pardi, I think I should have shot my shot for real. I'm playing but I'm serious (laughs).
Well, having known more than you did in the past, and with all your unique experiences, what do you think are the keys to a healthy, loving relationship?
Trust, loyalty, and being a best friend. I want to enjoy spending time with this woman. I want to want to take her places with me. It can't feel like community service. A lot of people settle for different reasons, like children by the person or finances. Whatever I do it has to be real, she has to be my best friend and that's what it is.
So, you don't see yourself settling at all?
I'm not gonna say I wouldn't sacrifice. In a relationship, you're never gonna get everything you want so in that sense I can't say I won't settle, but I do truly want a Black Queen.
Featured image courtesy of Slim Thug

Keep reading...
Show less
You say you want the knees...well, come get these knees, sis! Megan Thee Stallion is on a mission right now, and she wants you to join her. We know with the quarantine and the cold dark days, we may have grabbed a few (or 20) pounds, but let's work this sh*t off.
The "Body" rapper is now on week three of her bootcamp, and she's completely crushing tf out of it. In fact, her most recent update comes in the form of before and after pics of her body-ody-ody-ody from week one to week three of her self-proclaimed 'Hottie Bootcamp.'
Captioning the photo:
"1 thing that has helped me a lot Is drinking a gallon of water a day ! Tag me in your gallon pictures if you're doing #HOTTIEBOOTCAMP with me"
If you've been following Megan's health journey, you know she's been regularly sharing the details on her workouts and eating routine, as well as sharing weekly updates on her overall progress. And she has seen progress after just one week.
The "WAP" rapper kicked it off with an IGTV video in mid-January, writing:
"So Hottie Bootcamp in my house is officially starting! It's not necessarily a weight loss journey but a health journey. Y'all will be experiencing this with me every step of the way, real healthy girl sh*t ..."
Come thru, encouragement!
Megan also details her full Hottie Bootcamp journey on her YouTube channel:
But Meg isn't the only one on a fitness journey. Other celebs have taken on their own challenges and invited us as well (we've got weight to lose, ladies!)
Keep scrolling to check out other notable celebs providing plenty of fitspo for your Instagram feeds below!
Joie Chavis
Joie Chavis has been pulling up to the gym hard too. And although the mom of two is known for incorporating her fitness goals into her daily routine, she has created goals to hit for the winter months, and has also invited us along to join on her YouTube channel.
Halle Berry
Halle Berry's 'Fitness Fridays' is geared toward encouraging women to get up and get active. Captioning a photo on her Instagram:
"Happy #FitnessFriday! It can be so easy to feel burnt-out and stir-crazy these days. I've been thinking about how my fitness practice can re-invigorate my mind as well as my body, and honestly? Traditional outdoor cardio has been a godsend. It can be anything - a hike, a long run, even a walk around the block. Putting a little time into it everyday can be so effective in helping me reset and reconnect with what's important. It's harder than ever to stay grounded, and every little bit helps."
Lizzo
Lizzo has made her fitness journey very clear: she is focusing on her health, versus any weight loss. And sis is actually extremely healthy. She has made headlines with her frequent diets, workouts, and more, and she proudly, and openly says she does it all for her big ladies.
--
Ladies...let's get to work!
Featured image via Megan the Stallion/Instagram
Keep reading...
Show less