Black Woman Owned is a limited series highlighting black woman business owners who are change-makers and risk-takers in their respective realms. As founders, these women dare to be bold, have courage in being the change they wish to see in the world, and are unapologetic when it comes to their vision. These black women aren't waiting for a seat, they are owning the table.
With hyperpigmentation being one of the most talked-about concerns for melanin-rich skin, it almost comes as a surprise that something as revolutionary as Hyper Skin took the beauty industry by storm only two years ago. The star product of the brand, Hyper Clear Brightening Clearing Vitamin C Serum, is a zealous vitamin C serum designed to brighten skin and tackle dark marks and hyperpigmentation. What sets this buzzworthy serum apart from the sea of products on the market, is that at its core, Hyper Skin was created to be more than a band-aid for hyperpigmentation, it was formulated to be a solution. And we can thank its founder, Desiree Verdejo, for that.
Beauty and skincare have always been personal to Desiree. As a boutique owner of the Harlem-based, Vivrant Beauty, from 2015 to 2018, Desiree found herself within a beauty boom of Black-owned business sprouting within the market and wanted to curate a space for these brands to thrive and reach their core community. Although she was surrounded by a limitless selection of brands that could serve as a remedy to her hyperpigmentation, she knew she needed more than what the market was offering. "For so many years, we've been told, 'You can make this work.' But that isn't sufficient at this stage," Desiree shares.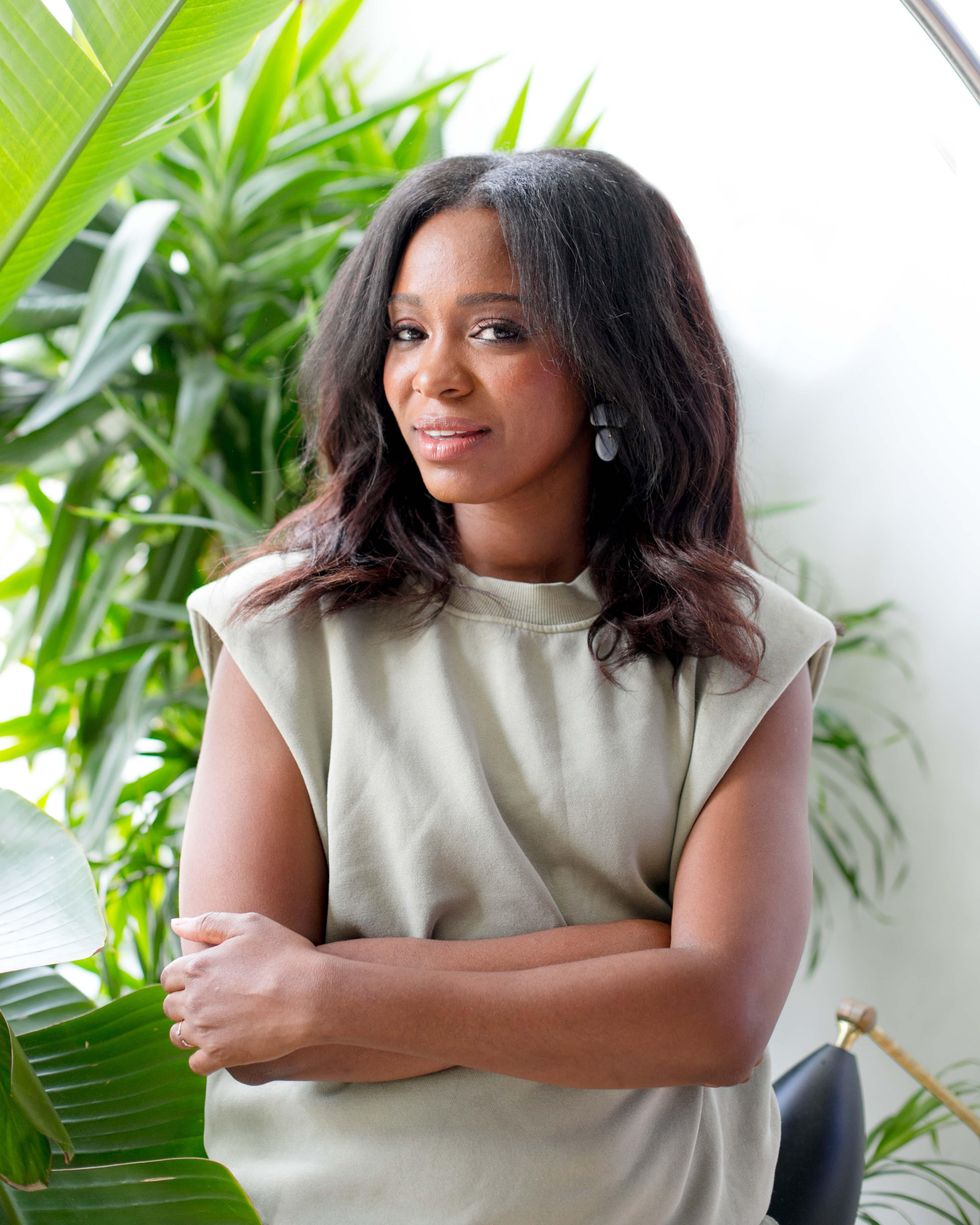 Courtesy of Desiree Verdejo
Guided by the principle of "we deserve," Desiree decided that it was time to create a product that not only spoke her most difficult customer to please, herself, but also connect with Black and brown customers to finally have their needs spoken to directly. She expressed, "I want to see myself, I want to see a product that speaks to my specific concerns, I shouldn't have to search for that and make it work in a space where there are so many options."
Hyper Skin offers something different. It fills a gap within the skincare space for women who have gone long overlooked, allowing their skin needs to be brought to light in an intimate way. "The community that we're building is an enthusiastic one. They feel like space is being created for them and so that energy is pliable, it's exciting, the industry is paying attention to that." In doing so, Hyper Skin is bringing realness back to real skin.
And yes, you can, in fact, believe the Hype.
xoNecole: How did you know it was time to launch Hyper Skin? What space did you hope to fill with the brand? 
Desiree Verdejo: Being in my store [Vivrant Beauty] and being with so many different women of different skin tones highlighted how we have certain skincare concerns as brown-skin folks and there's such a disconnect between what we're experiencing and what brands are on the market. Talking to my customers and hearing what was bothering them and driving them to our store, made me realize that what the skincare industry was creating — we're saying dark spots, they're saying, "Here's some anti-aging stuff," — there's just a disconnect between our skincare needs."
I had a light bulb moment where I decided that we need skincare created that speaks to the clinical needs of brown-skin people. At the time when I started down the path of creating Hyper, I was still in my boutique [Vivrant Beauty] but I had just had a baby and my own skin was going crazy because I was dealing with all this hormonal acne and this dramatic hyperpigmentation from that. It was a personal moment that emphasized that this was something that was missing and my customers just affirmed that. So I went down the path of creating formulas and ultimately got really excited about the void that would be filled by Hyper, and just decided that I would pivot from my beauty boutique to Hyper Skin because I knew that story needed to be told clearly.
"I was dealing with all this hormonal acne and this dramatic hyperpigmentation from that. It was a personal moment that emphasized that this was something that was missing and my customers just affirmed that. So I went down the path of creating formulas and ultimately got really excited about the void that would be filled by Hyper, and just decided that I would pivot from my beauty boutique to Hyper Skin because I knew that story needed to be told clearly."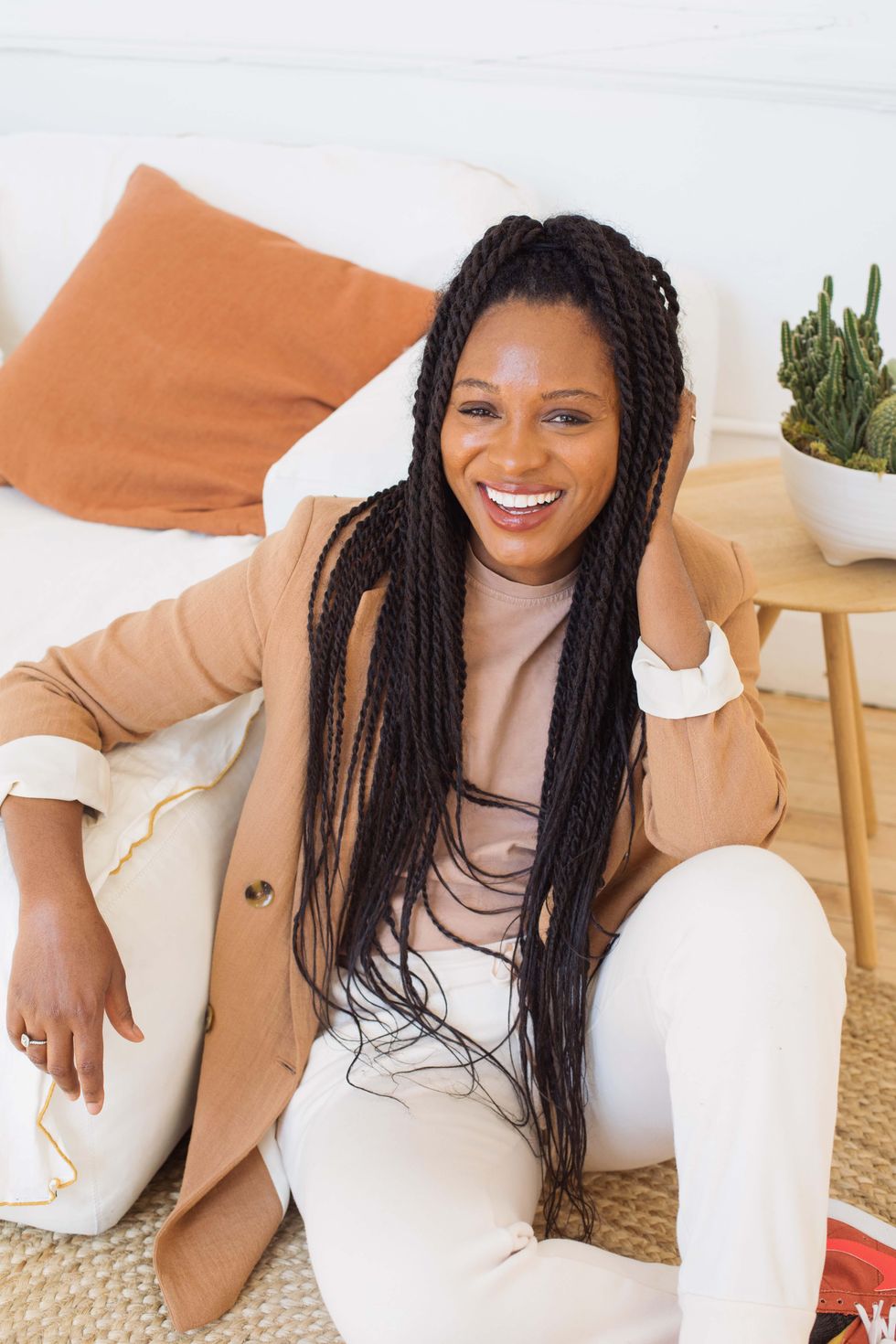 Courtesy of Desiree Verdejo
Before you took the plunge into entrepreneurship, it took you two years to actually leave your career as a lawyer. What was that "in-between" season like for you? 
Yeah! I feel like on the internet and social media people are like, "Yeah, just do it [start the business], but the truth is it's not easy to leave a comfortable career. In New York as a lawyer, there's a great salary, there are great benefits — definitely a comfortable scenario, so it did take me a while to save and be mentally ready to make that transition. At the time, I was doing little things like meeting people, networking in the beauty space that I was trying to enter, exploring brands, and looking into real estate in New York.
And the same is true for when I made the transition to launching Hyper. There's always this middle space and even if you're in another career, there's always stuff that you could be doing personally and financially in terms of the business to move the needle closer to turning making that business into a reality.
Having struggled with skin acne and hyperpigmentation since you were a teenager which is such a pain point for melanated women, how has your relationship with your skin evolved over the years in acceptance? Where do you think you are when it comes to your skin and just embodying your imperfections?
One of the things that I've accepted is that skin is cyclical. It may be at a clearer point, then mid-month you might have a breakout, so for me, it's all about education and accepting the realness of skin. For so long, we've just seen airbrushed skin and models who have won the genetic lottery and the truth of the matter is hyperpigmentation and dark marks are not flaws, these are all normal features of skin. I think I have come to accept that with my own personal skin and that's something that I've tried to breathe into the brand.
You've mentioned that Hyper, as a brand, is personal. Not feeling seen by brands or finding products that served your particular needs seemed to serve as a compass for you. How has creating a product that spoke to your needs first been a benefit as a business owner? 
What I'm noticing is that in this [beauty] space, there are — and will continue to be — brands that try to speak to Black customers, brown customers, etc. But for me as someone who's always dealt with acne and hyperpigmentation, it's been important to not just show brown faces but to show and celebrate real skin and to show real results. As someone who has been on the other side of the aisle, I know that feeling. [We] have our messaging be really clear so you don't have to be a skin expert to understand how our products work and what our expectations are.
So many skincare lines are created by dermatologists, estheticians, models, and celebrities with perfect skin, but ours being created by someone who is my most difficult customer to please, myself, I think that's influenced all areas and that's what our customers are drawn to. It's something they haven't seen in the market for their own skin. So many brands will create a dark mark corrector but not show dark marks in their ads, or create a hyperpigmentation product that's the number one concern for Black people, and not show brown skin. I think it resonates with our customers that this is created for them for that reason.
As I look over your career, it's very clear that you are a gap-filler. You're able to see what's missing in the market and you fill it. What are your guiding principles in trusting your gut to fill and create new spaces? 
I think my guiding principle is: "we deserve." As a Black woman that's a lover of beauty, for so many years, in so many categories, we've been told, "you can make this work." But the "you can make this work" isn't sufficient at this stage. Because I was in the beauty space, I also realized that skincare is a crowded market, but because it is crowded, people expect to be spoken to directly. I want to see myself, I want to see a product that speaks to my specific concerns, I shouldn't have to search for that and make it work in a space where there are so many options. My principle is we deserve and we deserve to be spoken to directly and be catered to and for our issues to be solved. When that wasn't the case, I felt motivated to create those solutions and options.
"I want to see myself, I want to see a product that speaks to my specific concerns, I shouldn't have to search for that and make it work in a space where there are so many options. My principle is we deserve. We deserve to be spoken to directly and be catered to and for our issues to be solved. When that wasn't the case, I felt motivated to create those solutions and options."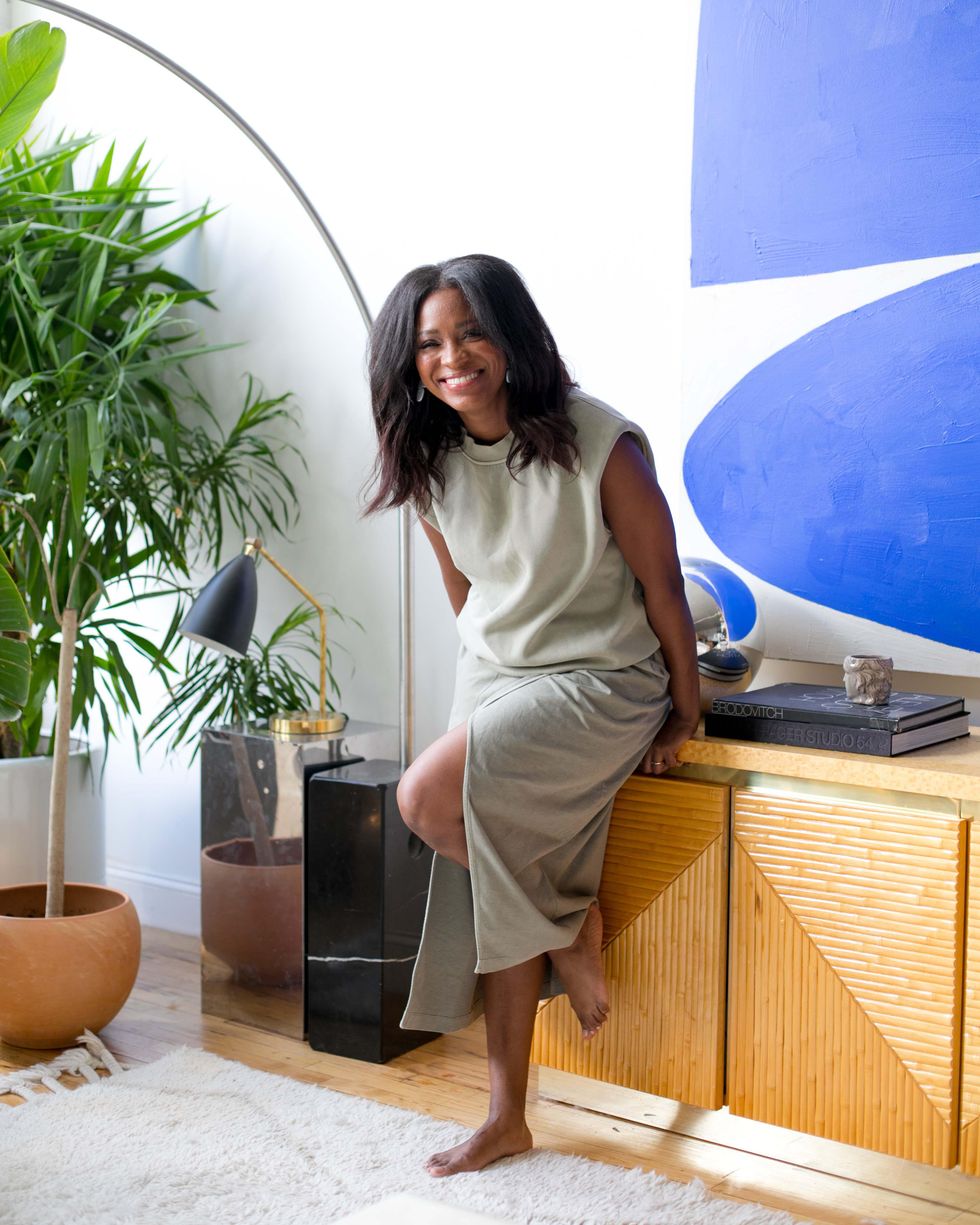 Courtesy of Desiree Verdejo
What are your current go-to skincare products? How does your skincare routine look these days? 
It's a hard one because we are in development and I am using a few things that we are developing. Outside of that, I do use SPF, it's a go-to! I am a Supergoop Unseen Sunscreen stan like so many other people. I am loving exploring so many of the Black-owned cosmetics brands that are on the market, Range Beauty, I love! I just ordered by Ami Cole which is like a no-makeup, makeup brand. That's what I'm loving right now, those are the highlights of my routine. Shout out to those Black brands!
"The community that we're building is an enthusiastic one, they're like, we love your serum, what's next? And it's because they feel like space is being created for them. That energy is pliable, it's exciting, and the industry is paying attention to that."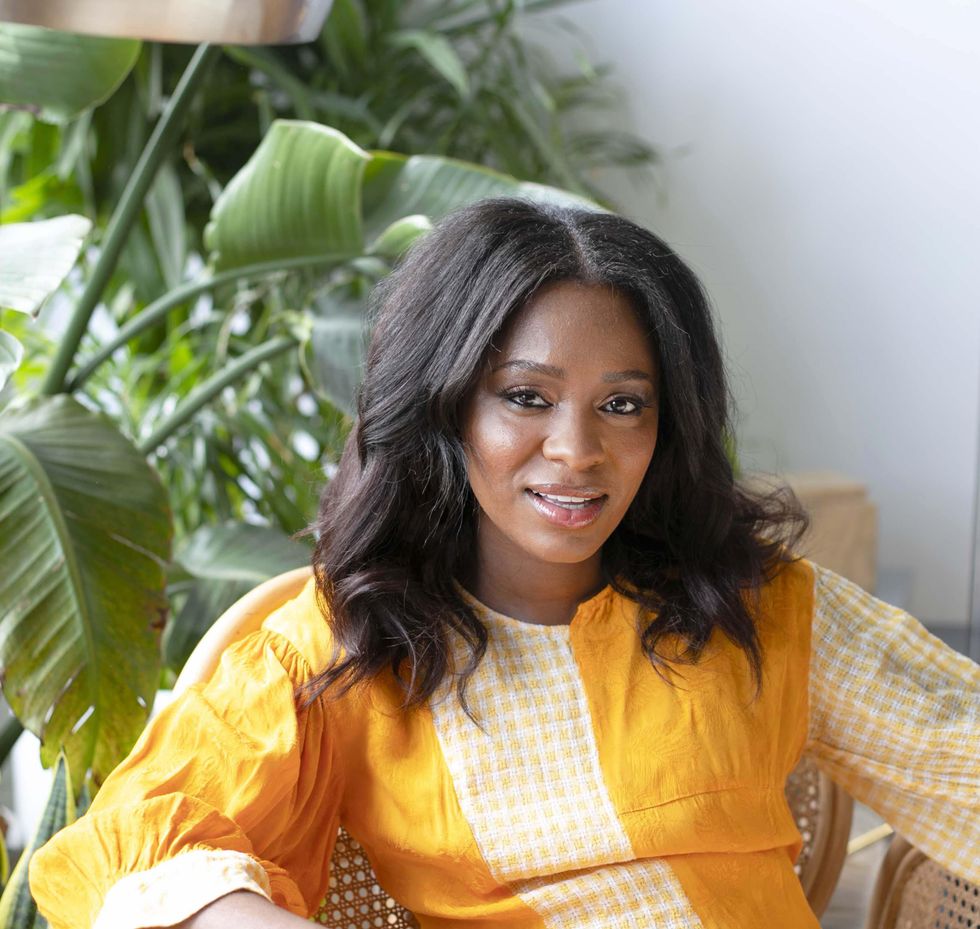 Courtesy of Desiree Verdejo
You've experienced a number of career pivots on your path. What advice would you impart to a young woman who's looking to take the leap into entrepreneurship or needs guidance about their next career chapter?
There's nothing that has helped me more in pivoting careers, problem-solving as a founder, or scaling my business than being surrounded by dynamic people from a broad range of backgrounds. I'm a community-minded person, I give a lot and people have poured so much information and support into me. I would advise young women at any point in their careers to surround themselves with people in their areas of interest. Social media platforms like Instagram, Clubhouse, and LinkedIn; and in-person and digital events really allow you to get in front of and to keep up with people so use that access to your advantage.
Grab your very own Hyper Clear Vitamin C Serum here! And to keep with all things Hyper Skin, click here!
Featured image courtesy of Desiree Verdejo
Keep reading...
Show less
Supermodel Jasmine Tookes stays booked and busy and has graced the pages of some of our favorite magazines like Vogue and Harper's Bazaar and walked the runway for Burberry, DKNY, and Tom Ford just to name a few. She can now add ambassador to her resume as she just landed a job as Hourglass Cosmetics' skincare ambassador. One look at her Instagram feed and there is no question that Jasmine was the right woman for the job. Her skin is flawless.
Jasmine recently told Glamour in their Drop The Routine series:
"I think it's kind of nice if you splurge on yourself and your skin. It's the first thing people see, and you always want your makeup to look good. And if your skin looks good, your makeup looks good."
Jasmine also shared that because she has dark skin, she is susceptible to dark spots:

"Even if it's the smallest little bump on my face, it will immediately turn into a dark spot that takes quite some time to get rid of. I'm always looking for products that can help diminish those spots and prevent them from getting darker."
To stay on top of hyperpigmentation, Jasmine sees L.A. dermatologist Dr. Pearl Grimes and swears by her spot treatment.

So, let's get into Jasmine's skincare routine, shall we?
*Some links are affiliate links. If you make a purchase, xoNecole may earn a small commission.
Her Cleanser
Her Essence
Her Serum/Oils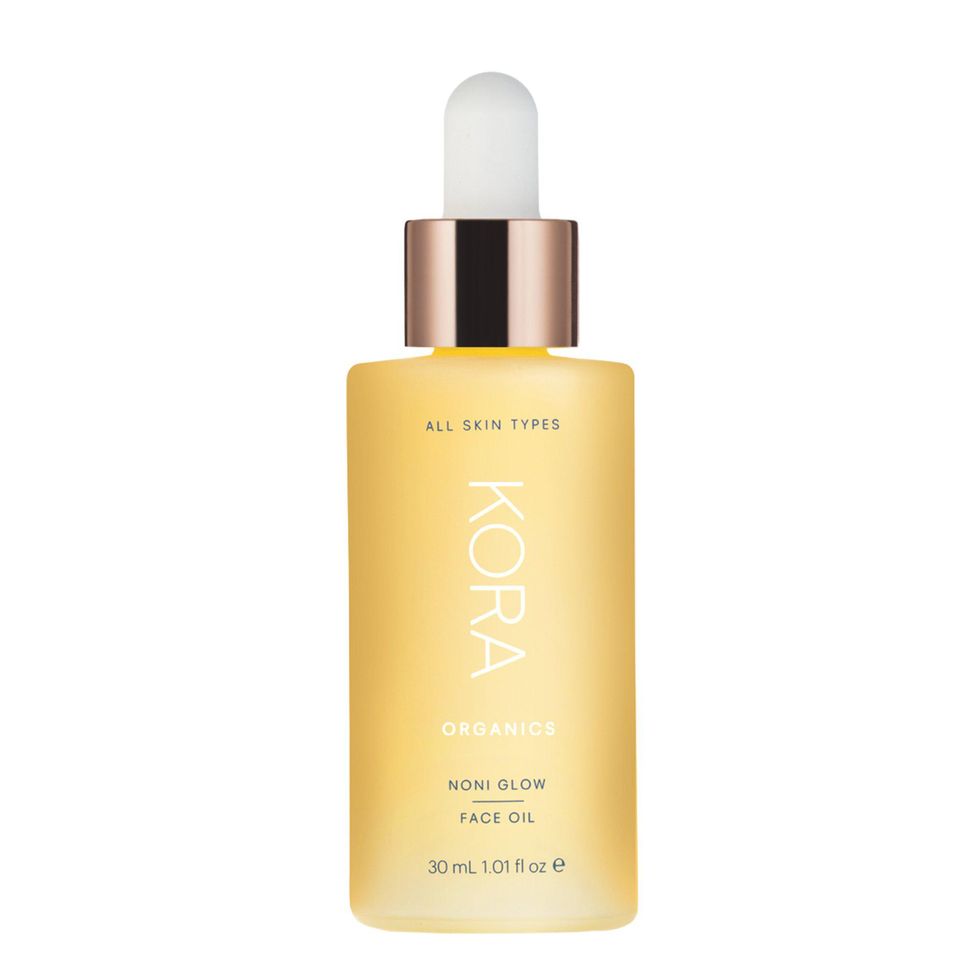 KORA Organics
Her Moisturizer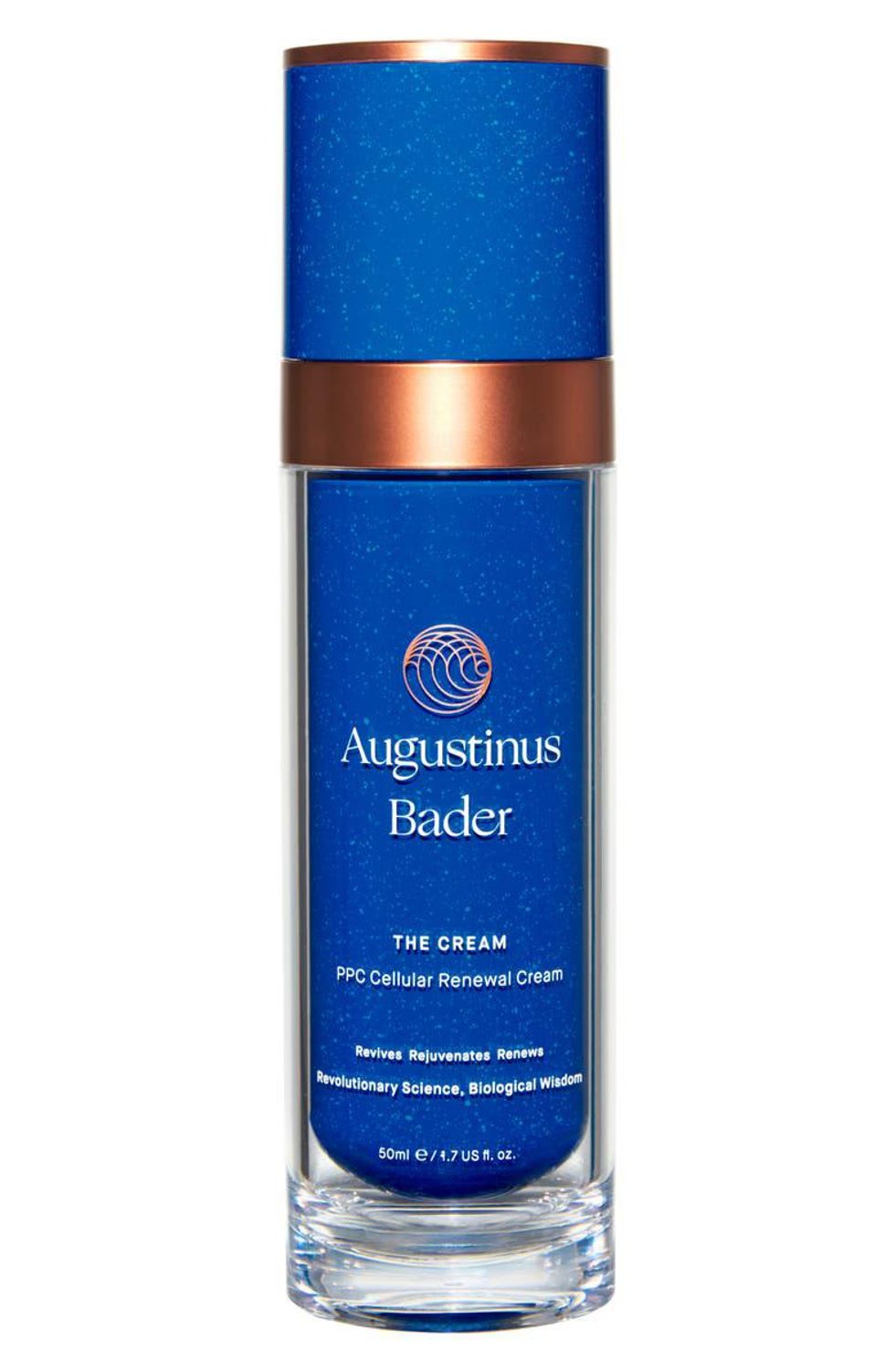 Augustinus Bader
Her Eye Cream
Her Face Masks/Exfoliator
Her SPF
Featured image by Andrea Raffin / Shutterstock.com

Keep reading...
Show less
In About Face, xoNecole gets the 411 on IGers who give us #skincaregoals on the daily. Here they break down their beauty routines on the inside and out, as well as the highly coveted products that grace their shelves and their skin.

If you're in your 20s or early 30s, you might not be checking the beauty shelves for any anti-aging products quite yet. In fact, you're probably reading labels for products that target excess oils and breakouts. But Emmy-nominated host, style influencer and now-author Kéla Walker will tell you, it's never too late to combat the effects of aging. The glow-getter with flawless skin creates content for emerging influencers, media outlets and major brands online as well as outside on-air, so her skin is often exposed to the elements. Protecting it so that it remains glowing and dewy are her main concerns. Her biggest skincare tip? "Hydration is key," Kéla told xoNecole.
Another tip Kéla shared may be one you've heard throughout the years but might not take much heed to in the present (and if you're not, you absolutely should). It revolves around an area of the body you shouldn't neglect when it comes to your complete skincare regimen. "Make sure you rub up on your neck, not down," the Brooklyn-based producer advised, "because you want to work against gravity and wrinkles." Don't skip or skimp.

In this installment of xoNecole's About Face series, Kéla talked to us about her beauty and self-care routines and gave us a peek into the skincare regimen that keeps her skin tight, glistening and smooth.
*Some links are affiliate links. If you make a purchase through the links provided, xoNecole may earn a small commission.

My earliest beauty memory…
"My earliest beauty memory is probably from when I was a little girl and you used to have these flavored lip glosses and wanted to collect all the flavors and all the colors."
For my skincare routine in the AM…
"Right now, for the last couple of years, I've been obsessed with Dr. Barbara Sturm's Darker Skin Tones Foaming Cleanser. It's really helped my skin come a long way. Afterwards, I always pat, not wipe, my face dry with a cold wet cloth. I make sure I do all the steps back-to-back to optimize the moisture of the products and everything in my skin. Because I'm in a dry climate right now, I've been using a toner from Decorte to help rebalance the pH of my skin.
"After toning, [I use] hyaluronic serum, also by Dr. Barbara Sturm, for hydration. After I hydrate, I lock in the moisture [with] Dr. Barbara Sturm's Darker Skin Tones Face Cream. But I like to add a little glow to it so I like to add Lumi Liquid Glow Illuminator.
"What you can never, ever forget is your sunscreen. I've been using Unseen Sunscreen by Supergoop. [And another product] I use, because hydration is key, is the Renewed Hope Water in a Jar, which also has hyaluronic serum in it. I pat it into my skin so that it absorbs a little bit better."

My go-to makeup look consists of…
"I'm a girly girl so I definitely wear makeup. I do my brows, lashes, contour – because who doesn't want to look snatched – a great lip and a highlighter. But I find in the past couple of years, I've been minimizing the amount of product that I wear. I don't wear foundation because I really want my skin to shine through but I will spot-treat any dark spots I have."
How the seasons change my skin and routine…
"It's pretty consistent throughout the year. I make sure there's a cleanser, hydration and moisturizer. I will add or subtract some things because of the climate but it really all depends on what's happening with my skin."
What self-care looks like to me…
"Self-care is about daily practice and it comes in different forms whether it's talking to my girls on the phone, having a drink or just tapping into social and mindlessly scrolling. It's doing whatever I need to do in the moment to take care of me."
"Self-care is about daily practice. It's doing whatever I need to do in the moment to take care of me."
My approach to beauty from the inside-out…
"Sometimes it's just as simple as talking to yourself to make sure that your inside looks as good as the outside. Just pouring into yourself."
How I do skincare when I travel…
"When I travel, I still try and maintain my beauty regimen because it's all about consistency. I don't want to upset the routine. A lot of my products are travel-friendly and you'll also find that a lot of beauty items are under the 3.4 oz that are allowed in carry-on luggage. But I will add the Fresh Vitamin Nectar Glow Water [mist]."
To keep up with Kéla, follow her on Instagram @kelawalker! And if you're an influencer looking to "revolutionize your social media game," you can purchase a copy of Kela's book here.
Featured image courtesy of Kéla Walker.
Keep reading...
Show less
Even though I don't do social media, most platforms are "open enough" to where I can tiptoe in to see what folks are talking about. Not too long ago, Yara Shahidi posted a video that I thought would be perfect for this post.
I am very open about the fact that I'm pretty close to being a fully recovered control freak (praise the Lord!). But if there's one area of my life, where I know that I still have a little bit of fine tweaking to do, it's when it comes to popping zits. Ugh. Nothing irks me more than to have a tiny mound staring at me (especially if it's already come to a head). Every time I notice one, 8 times out of 10, I tell myself that I'd rather deal with the scab and scar than a hill of sebum and puss. That is until the scar arrives, and it takes longer to fade than I estimated.
So yeah, let me start this off with, if you want to significantly decrease your chances of getting an acne scar in the first place, it's important that you avoid picking at your zits as much as possible. But, if like me, you have moments when you absolutely cannot resist the urge (I need someone to start a support group for us), here are some all-natural ways to fade out your acne scars so that you can have clear, smooth and flawless skin…(hopefully) again.
What Causes Pimples in the First Place?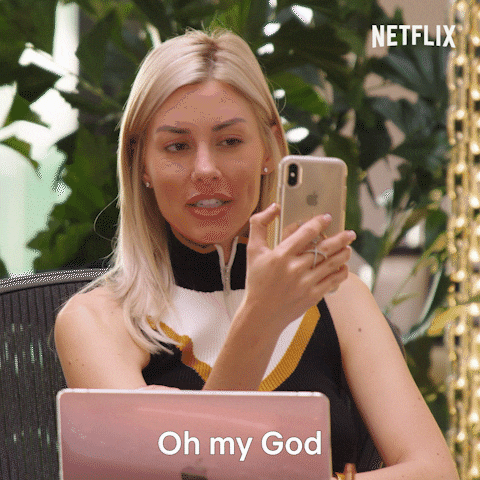 Season 3 Omg GIF by NETFLIX
Giphy
OK, so before we get into how to heal acne scars, how about we discuss what causes unsightly pimples in the first place. Basically, we all have around five million pores, with 20,000 alone being on our face (some of us have larger pores than others, by the way).
Each pore consists of a hair follicle and sebum (natural oil that keeps our skin moisturized). When dirt, dead skin cells and/or bacteria fills up our pores and/or we produce more sebum than a particular pore can actually handle, that pore becomes inflamed and clogged, which makes it impossible for sebum to release from the pore on its own. This creates a build-up of sebum and, if the pore is infected, pus too.
Certain things that can trigger breakouts include excessive sweating, not properly cleansing or exfoliating the body, hormonal shifts, various medications and even genetics.
When You Pick Them, This Is Why They Scab Over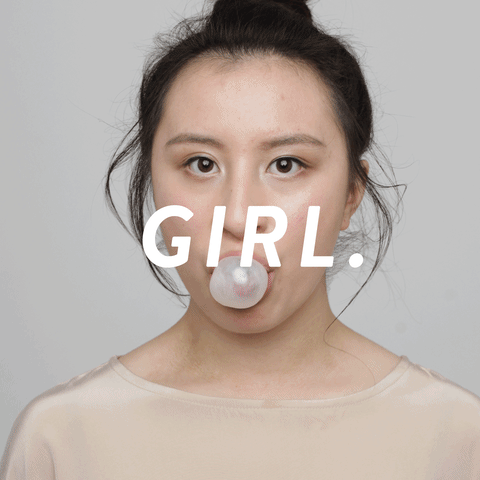 I am 46 and I still get pimples from time to time (sigh). Again, I wish I could say that I don't try to pop them whenever they arise, but sometimes they are simply too irritating to ignore. The reason why zits really should be left alone is because oftentimes pimples will go down within 5-7 days (it takes significantly longer if they are infected or cysts). And when they heal on their own, that can reduce the risk of us popping them. That's a good thing because popping pimples tends to damage the skin that's around the zit itself. Plus, popping them can also result in other pimples forming, thanks-but-no-thanks to the bacteria from the first pimple spilling into other pores. One more thing—popping zits usually creates a bit of a wound and wounds typically scab over. Hence, the phrase "pimple scabs".
How a Scab Leads to a Scar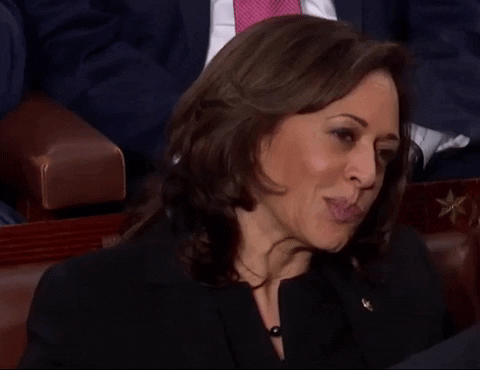 If you're like me and there are moments when you absolutely can't fight the urge to not pop a pimple, it's important that you wait until it comes to a complete head, that your hands are clean and that you don't apply so much pressure that you A) bruise the skin around the zit or B) you end up bringing blood to the surface. When that happens, it's a telling sign that you've gone too far and that can most certainly lead to a pimple scab. What's that?
A pimple scab is simply what happens when a zit is trying to heal itself after the damage we caused by picking at it in the first place. Problem is, sometimes we end up picking the scab as much as the pimple—and that is what, 9 times outta 10, will lead to a scar.
That's the bad news. The good news is that our skin is far more resilient than we typically give it credit for. So, with the help of time and some of the all-natural remedies that I've got for you below, there's a good chance that, with some patience and consistency, the scar will become a thing of the past.
7 All-Natural Ways to Heal an Acne-Related Scar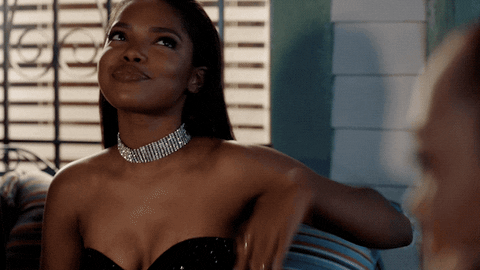 Shea Butter. Let me tell it, shea butter is one of the best things that Mother Nature has to offer! There really is no time or space to get into all of the reasons why you should get yourself a tub of it. For now, I'll just say that, thanks to its anti-inflammatory and collagen-promoting properties, if you gently rub it onto your acne marks every night, you will notice that they are smoother and lighter within, I'd say about three weeks or so. (A tip is to make sure to get some unrefined shea butter. It's got the most nutrients in it.)
Raw Honey. It always trips me out that something that tastes as sweet as honey has so many health benefits. When it comes to your skin specifically, its antibacterial and antiseptic properties make it able to thoroughly clean your pores as it moisturizes too. Honey can also help to fade acne marks if you apply it directly on your acne marks, 2-3 times a week for 20 minutes at a time. If you want to see results faster, go with manuka honey; it's got a potent amount of anti-inflammatory and antimicrobial properties that will help to speed up the healing process.
Aloe Vera Gel. Aloe Vera is awesome. If you use it on your skin, it's a great moisturizer; it contains antimicrobial and antiseptic that helps to heal any minor wounds your skin may have (like popped pimples); it's got polysaccharides and gibberellins that encourage the growth of new skin cells, and it also contains vitamin C and E which promotes the growth of collagen and softens the appearance of acne scars. Just make sure to apply 100 percent pure Aloe, every night, in order to get best results. (It takes 2-4 weeks for noticeable fading to occur.)
Baking Soda. There are two really good reasons to use baking soda on any acne scars that you might have. First, the tiny granules in baking soda makes it an unmatched exfoliant. Second, the properties in baking soda are able to help to keep the pH level of your skin balanced. These two things, working together, makes it one of the cheapest-yet-still-totally-effective ways to make your acne marks go away. Just rub about a teaspoon of baking soda on your damp skin and gently massage. In a couple of weeks, you should notice a real difference.
Sulfur Soap. In the article "All-Natural Ways To Get Your Skin Ready For Spring", something that I made sure to shout-out was sulfur soap. When I tell you that this one thing alone TOTALLY changed the game when it comes to the quality of my skin? My only regret is that I didn't discover it sooner than I actually did. On the acne fighting tip, sulfur dries up excess sebum while also exfoliating dead skin cells that can lead to clogged pores. And, since it's also an exfoliant, it can gently remove the layers of skin that are scar tissue, so that new skin can be revealed (usually in a couple of weeks).
Lavender and Coconut Oil Blend. Coconut oil is packed with fatty acids; acids that work along with antimicrobial properties to help to clear up skin infections, reduce inflammation, moisturize dry skin, heal wounds and increase moisture which can soften the appearance of your acne scars. If you add to coconut oil some lavender essential oil, the properties in lavender can help to kill acne-causing bacteria and also lighten the areas of your skin that may be darker due to acne scars. Add a drop of the lavender oil to a teaspoon of virgin coconut oil and then apply the oil directly onto your acne marks every night. Two weeks of this should lead to semi-impressive results.
Apple Cider Vinegar. Apple cider vinegar is a potent astringent that, thanks to its astringent and antibiotic properties, it can help to balance and even your skin tone. It also has acetic acid in it; that's an acid that helps to inhibit the growth of bacteria, including the kind that causes breakouts in the first place. A combination of two parts distilled water with one-part apple cider vinegar will create a toner that will cleanse your pores and yes, start to fade your acne spots.
Trust me, I get that acne scars are a real culprit when it comes to letting your natural beauty show. But if you're down to give one of these remedies a shot, I can almost guarantee that your skin will start looking and feeling amazing again—at least until that next pimple creeps up (ugh!).
Join our xoTribe, an exclusive community dedicated to YOU and your stories and all things xoNecole. Be a part of a growing community of women from all over the world who come together to uplift, inspire, and inform each other on all things related to the glow up.
Featured image by Unsplash
Keep reading...
Show less
There's a lot more that goes into skincare than just a pretty face. If you're a Black woman, the overall care and maintenance of your skin embodies a journey to heal scars and feel fully empowered to reclaim agency over the complexities of your complexion.
For most Black women, our skincare journeys trace back to toothpaste spot treatments for active breakouts and Vaseline rub downs first thing in the morning before heading off to school. Traditionally, access to proper skincare products has been a space exclusive to the white, wealthy, and those with the disposable income to spend on high-end, department store creams and serums. As times evolve, folks with melanated skin have reclaimed their overall wellness and are advocating for skincare that caters to our needs and represents us in every hue.
That's how Simedar Jackson, a New York-based licensed esthetician, discovered her work in the space. Back when she was a beauty writer, it became clear that many of the products she would review were still missing the mark when it came to Black consumers explaining, "There were no options for me. I was side-eyeing the skincare industry like, 'How am I supposed to know what's good for me or not?'" When she realized that the ashy sunscreens and anti-afro dry shampoos were "very much so geared towards white women," she knew it was time for a change.
These discrepancies pushed her to create her own space to correct this problem called, Skinfolks, a community skincare platform that seeks to create a space for Black and POC in the skincare industry. As she shares, "Skincare is very personal; there's a link to wellness that makeup doesn't necessarily have. Skincare is more related to your overall wellness because your skin is an organ; it's the largest organ in your body."
As the mantra for her platform, Skinfolks, describes: "Skincare is more than beauty. It's healthcare that we all deserve access to and something that everyone can do for themself. Black people and POC should feel like they have a stake in the industry." Our skincare needs and overall wellness is deeply personal and sacred. And having the proper tools and education to reshape this space to our needs is a revolutionary act in itself.
That's why in this article, Simedar Jackson will guide us how to curate a skincare routine tailored to our needs and how Black folks can reimagine the cultural significance of our beauty experience.
*Some links are affiliate links. If you make a purchase, xoNecole may earn a small commission.
When it comes to building your curated skincare routine, here are some important tips to keep in mind: 
For starters, decide on what your skincare concerns are and what your needs actually are. Simedar says, "If you're dealing with hyperpigmentation as your main concern, you want to have your bases covered. Everyone needs a cleanser, a moisturizer, and an SPF that they can use everyday; day and night - and have your SPF separate. The price goes up when you start to introduce products with more active ingredients like treatment products. In this case, you want to look for products with a blend of ingredients because it allows you to have a more comprehensive approach."
Heritage Store Rosewater Spray
Next on your list, you want to find an exfoliant that's suited to your unique skin type. For melanated skin, exfoliants with mandelic acid, salicylic acid, and lactic acid are gold. Avoid over-exfoliating the skin because it could lead to further irritation. Simedar's rule of thumb is: "irritation + inflammation = hyperpigmentation." So only exfoliate a couple of times a week.
KLUR Immersion Serum Concentration
ROSEN Skincare Bright Citrus Serum
Then you're going to need a brightening serum. Simedar suggests that you look for these key ingredients: "Vitamin C, Arbutin, Kojic acid, Mulberry, Licorice. These ingredients won't bleach or damage the melanin-producing cells, but they're going to help control the overproduction of melanin where there's been damage."
Base Butter Radiate Face Jelly
Essentials by Temi Soothing Elixir Oil
For serums, this is where it's OK to splurge a bit! On the low end, most quality serums tend to fall in the $40-$65 price range, but that's because your serums are supposed to do most of the heavy lifting. "Go for brands that have authority in the science space. If you're working on hyperpigmentation or acne, a clay mask isn't going to change your life. You need a well-formulated serum with AHA, Vitamin C, or Koji acid." Don't be alarmed by the price tags because the more formulation that goes into the serum, the more expensive it'll be. That's good for your skin because products with high concentrations of these active ingredients get the job done.
Murad Rapid Age Spot and Pigment Lightening Serum
Sunday Riley Good Genes All-in-One Lactic Acid Treatment
Biossance Squalane + 10% Lactic Acid Resurfacing Night Serum
As we heal and take ownership of our skin health, we're reshaping our collective experience in the beauty and skincare space, here's why: 
Overall, it's important that Black folks feel empowered to seek out the guidance of an esthetician who they can trust. Although they don't have to be a person of color, they do have to have the best interest of your overall skin health in mind so that you address your needs and put you in the right direction. Historically, Black folks have had to overcome internalized trauma from the medical industry, so an inherent distrust when seeking out professional help and even overcoming a lack of access is a plight that should be acknowledged and tended to.
Thankfully, we are in a time where this space is looking more like us and as Simedar explains, "We have more Black people [on the production side] who are creating skincare brands and services so you can go to a Black esthetician and buy your products from a Black skincare brand. We have variety among these Black-owned brands to choose."
For online skincare consultations and to connect with Simedar Jackson's work, follow her at personal page and Skinfolks platform.
All recommendations listed in this article vary based on skin type, needs, and budget.
Featured image courtesy of Simedar Jackson
Keep reading...
Show less
DARK SPOTS.
They show up on your skin from time to time. You find them on your face, your arms, legs, or anywhere you've touched your skin or maybe not touched your skin. By touch, I mean to pick, squeeze, or scratch an area of skin that is inflamed or healing.
Well, what is it? Is it just a scar? What causes this ugly darkening of the skin?
As told to me by my dermatologist, this skin condition is called Post-Inflammatory Hyperpigmentation (PIH). PIH is an injury or disorder of the skin. Essentially, it is the darkening of the skin after an injury from a cut, a burn, an insect bite, or more commonly acne. As the skin heals, an overproduction of melanin is produced. The extra melanin darkens and discolors the skin; the skin remains discolored after the wound has healed.
This is also how my skin heals and how everyone else with PIH heals. In the words of TLC, these dark spots on my face made me feel so damn unpretty. I felt like I never had good skin, even though people admired my complexion. I developed skin problems younger than most adolescent girls. I was so young, and I didn't have a good understanding of skincare. Especially, being a woman of color growing up in the late 1990s and early 2000s. Options were limited, and certain ingredients found in over-the-counter skincare products can further irritate PIH.
Post-Inflammatory Hyperpigmentation is a skin condition that affects men and women equally. This includes all skin types and more so people with skin of color. The majority of African-American women are susceptible to this disorder; roughly forty-five to eighty-three percent. The discoloration can take anywhere from three to twenty-four months to fade. Say what? While I am completely in love with my dark sun-kissed skin; the darker skin, the darker the spot, and the longer the healing process. Trust me. I have lived with post-inflammatory hyperpigmentation for a whole thirty-five years of life as I am sure many other women do too.
There is hope my melanin poppin' queens.
Treatment for PIH is readily available and there are more skincare options for women of color today than there were a decade ago. My skincare skills have increasingly been on point as I slide into my thirties. Here are some tips and products I have used to treat my post-inflammatory hyperpigmentation.
A Good Dermatologist 
I cannot stress enough how important it is to find a good dermatologist, let alone a good esthetician. You want someone who takes the time to examine your skin, listen to your concerns, recommend a skincare routine, and prescribe medications (retinol, azelaic acid, glycolic acid, salicylic acid scrub, and a sulfur wash) that work for you. You don't want someone who is out to provide or sell services just to make a profit. I probably have gone through five different dermatologists over the last ten years. Recently, I found myself returning to my childhood dermatologist. To me, a good dermatologist (a good anything) is like dating, you're going to go through a few until there is that one that meets your needs.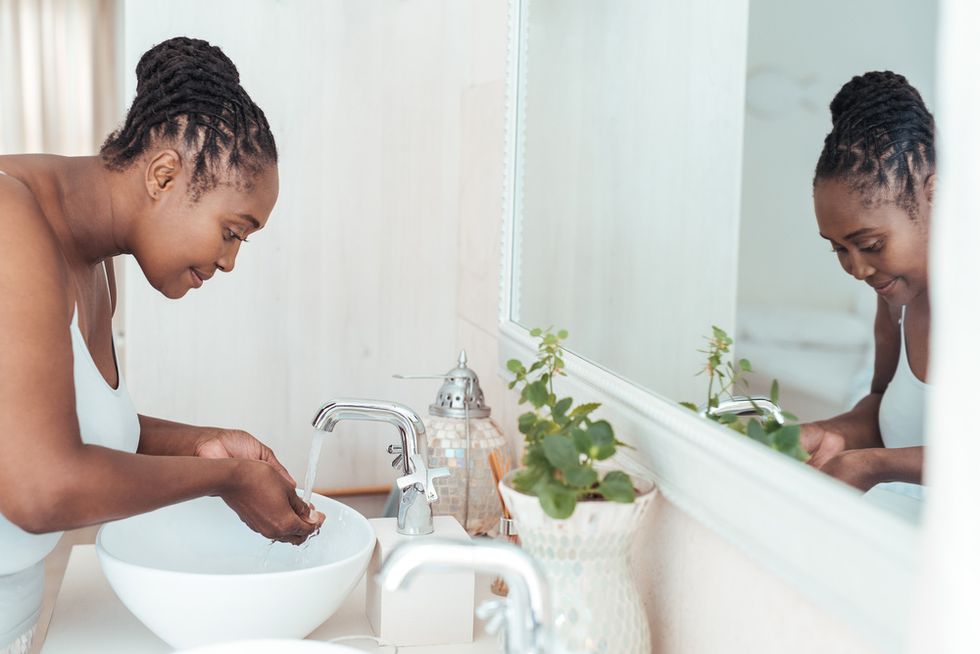 Shutterstock
Stop Touching Your Skin 
Don't you dare pop that pimple, pick that scab, cyst, ingrown hair, or scratch that mosquito bite. I promise you; you will be sorry later. We're all guilty of this though. Thanks, Dr. Pimple Popper for showcasing your skills. There is some kind of innate relief associated with popping pimples; disgusting yet satisfying. I know because my esthetician low key revealed this to me. Seriously, picking at your skin only makes hyperpigmentation worse and does not allow the discoloration to heal and fade. If you need to have blackheads or cysts removed, see a professional.
Chemical Peels
I scheduled a series of chemical peels at my local dermatologist's office. I tried a twenty to thirty percent salicylic acid peel for a period of three months (a chemical peel is recommended every four to six weeks). Chemical peels remove dead skin, promote skin growth, and even your skin tone. Everyone's result will be different, and your skin is guaranteed to peel as if you were sunburned. Sunblock and moisturizers are so necessary when undergoing this treatment. I was pleased with my results, but I probably needed a second round of treatment to achieve my desired results.
Facials 
I had my first facial in January 2018 and the results were amazing. I couldn't believe the difference in my skin. I found an esthetician that I can trust with my skin. Let me just say, this is not easy to do. Unfortunately, sometimes we as women overpay for services based on an advertisement or because it sounds good. The majority of the time these services are not needed and are not conducive to individual skincare needs. So be careful. A good esthetician will always tell you the truth and set you straight. Estheticians and dermatologists generally recommend a facial at least once a month.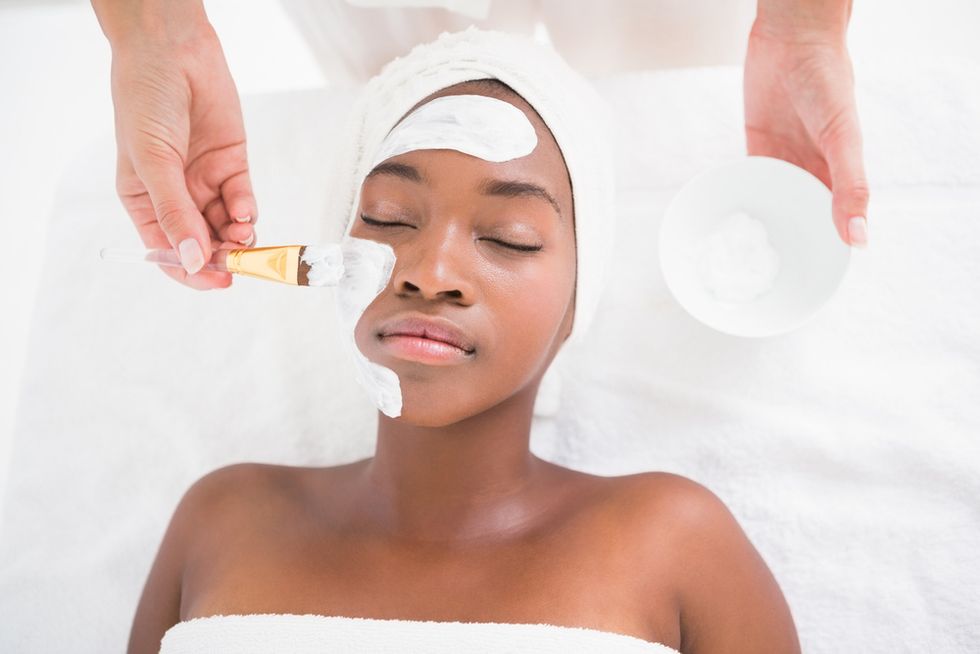 Shutterstock
Dermaplaning
Game-changer. Dermaplaning is the removal of dead skin cells and hair ("peach fuzz") from the face by using a surgical scalpel. The first time I received a dermaplaning treatment, I could not believe all the hair and old skin that was removed from my face. My skin was so soft, even, and brand new. I was legit glowing. Most estheticians or dermatologists offer this service and it's recommended every 3-4 weeks. Did you know every time you undergo dermaplaning, you are removing two to three weeks of dead skin?
These are my go-to-solutions to live with not having flawless skin due to post-inflammatory hyperpigmentation. Try whatever works for you and your skin.
Originally published on Medium
Have a beauty, wellness or self-care find you've tried recently and want to share your experience? Join the xoTribe members community to connect with other beauty lovers and share your wins with the Tribe.

Featured image by Shutterstock
Keep reading...
Show less