On Friday, July 6, My Black Is Beautiful held a dinner to remember in the center of the black mecca that is ESSENCE Fest.
The My Black Is Beautiful dinner comprised of a three-course meal, an abundance of powerful women, and inspiration for days. And let's just say, it isn't hard to be seduced when you're surrounded by beautiful things and positive energy. For me personally, the My Black Is Beautiful dinner was a reminder of how good it feels to be acknowledged by peers that look like you and reflect your brilliance, your splendor, and your wonder. It was also a reminder of how amazing it is to be black and successful.
Hosted by motivational speaker extraordinaire Lisa Nichols, My Black Is Beautiful treated guests to a night to a remember and featured apperances from celebrity guests like Lil Rel, Jess Hilarious, Naturi Laughton, and Loni Love. And it wouldn't have been a night reflecting royalty without a word from the OG queen, Queen Latifah who graced the audience with a word. We also swooned as we were treated to the musical stylings of special performer Gallant.
Although ESSENCE Fest brings out women by the pound, I think as black women we are united in our shared unconditional love for our men. While motivational speaker extraordinaire breathed life into us with her affirmation speech and the subsequent exercise of telling someone next to you words that they might not have known they needed to hear, guests were also treated to a video presentation that honored the black men that protect and love us.

And that's exactly what the My Black Is Beautiful dinner was, acknowledgement, confirmation, validation, and beauty. It was about shining your light in all its splendor and glory, unafraid of who might be blinded by it because we are worthy of being seen and marveled. Most of all, it was love.
Check out some of our favorite moments by clicking through the gallery below: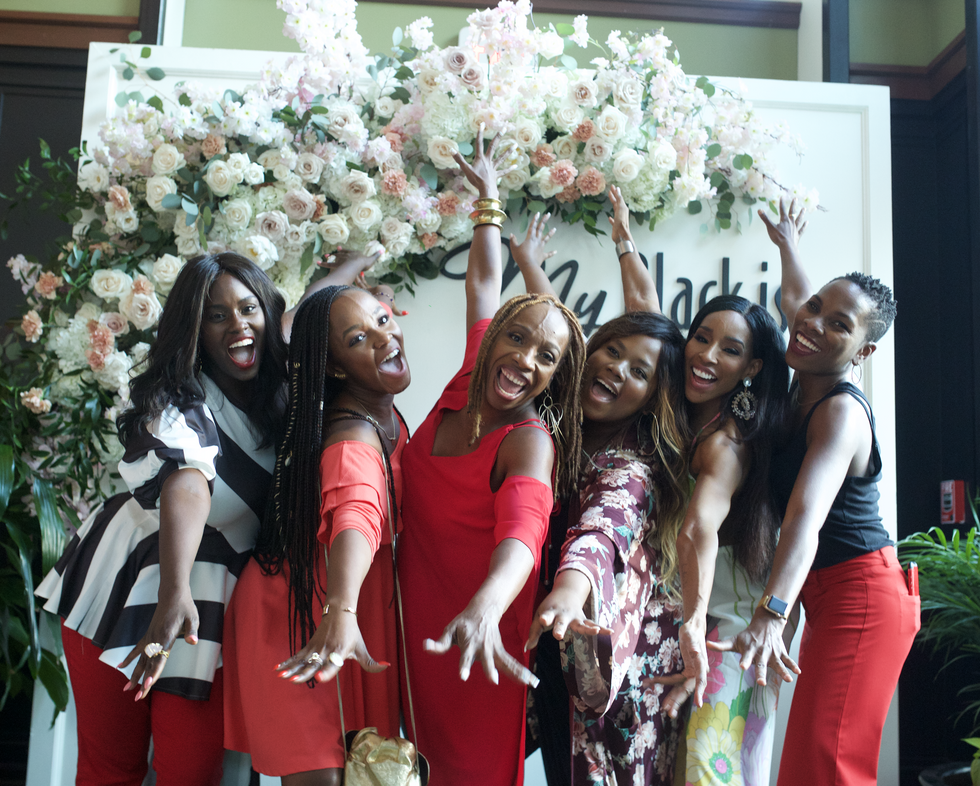 Charreah Jackson, Gia Peppers, Lisa Nichols, Sylvia Obell, Necole Kane and Luvvie Ajayi
Patrick Neree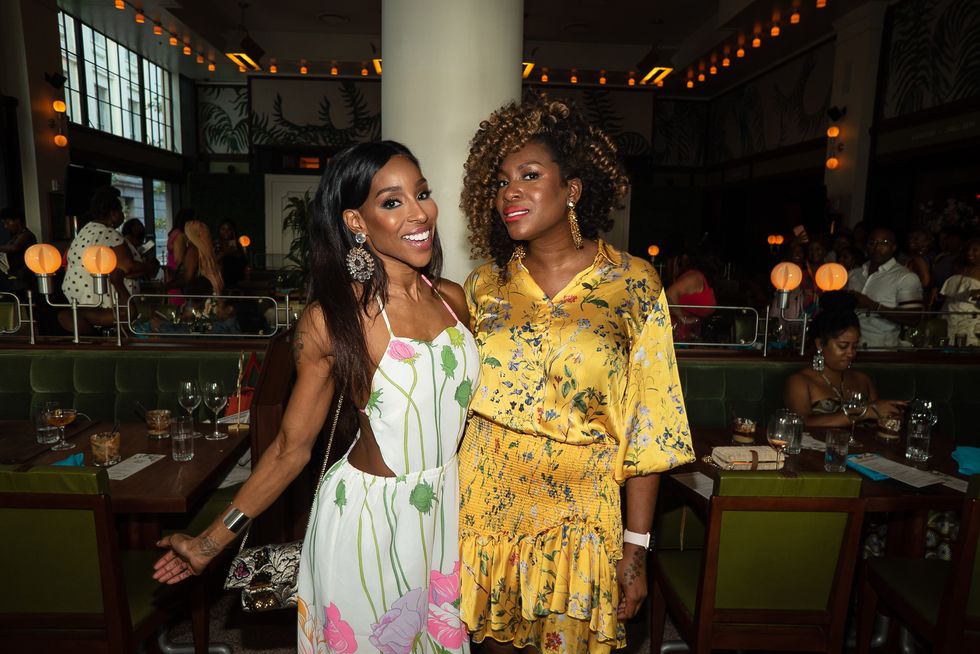 Patrick Neree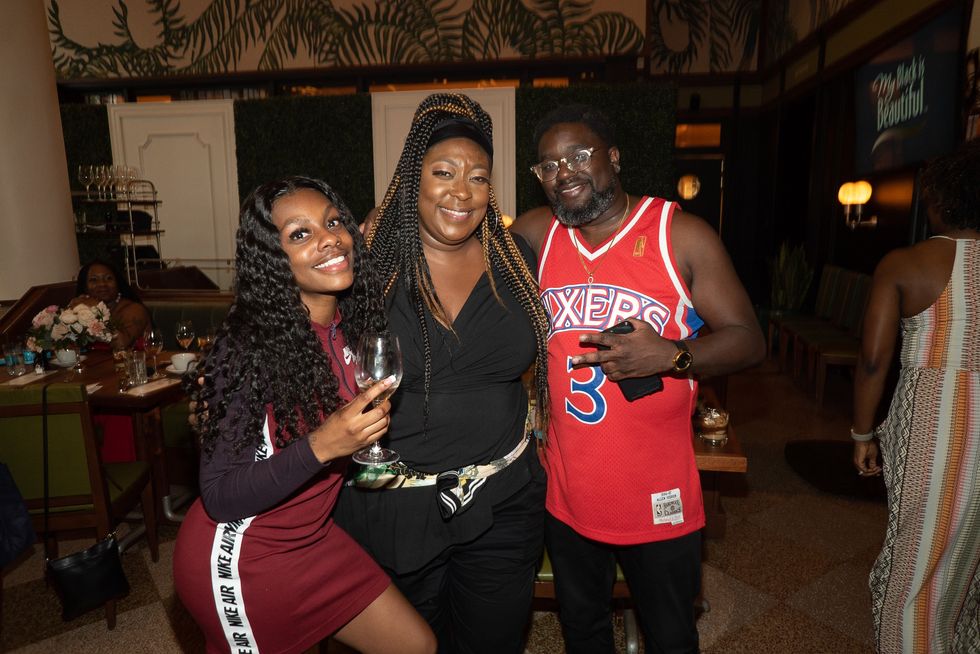 Jess Hilarious, Loni Love and Lil Rel
Patrick Neree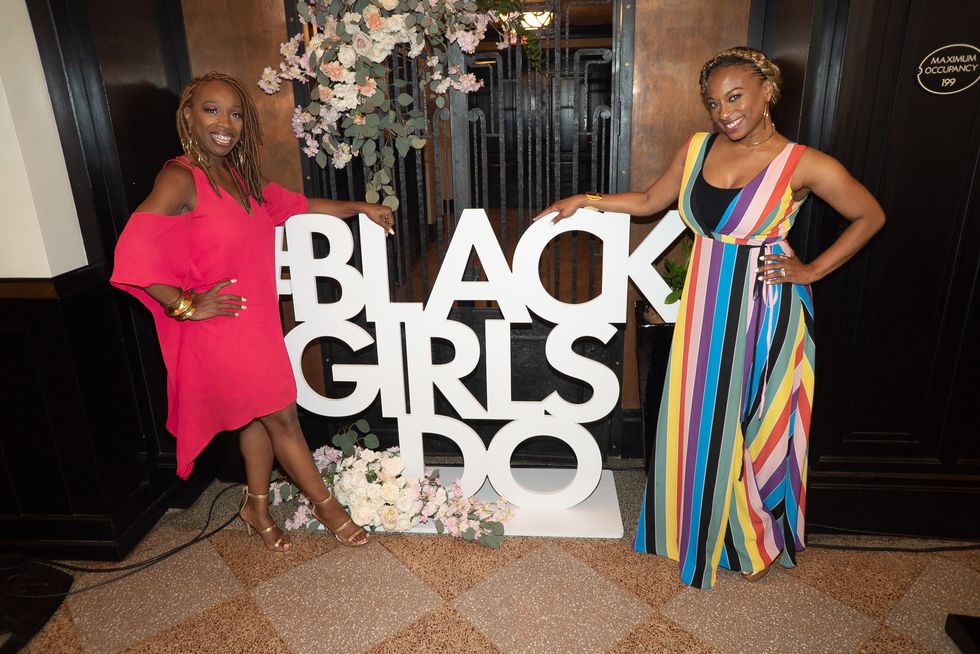 Patrick Neree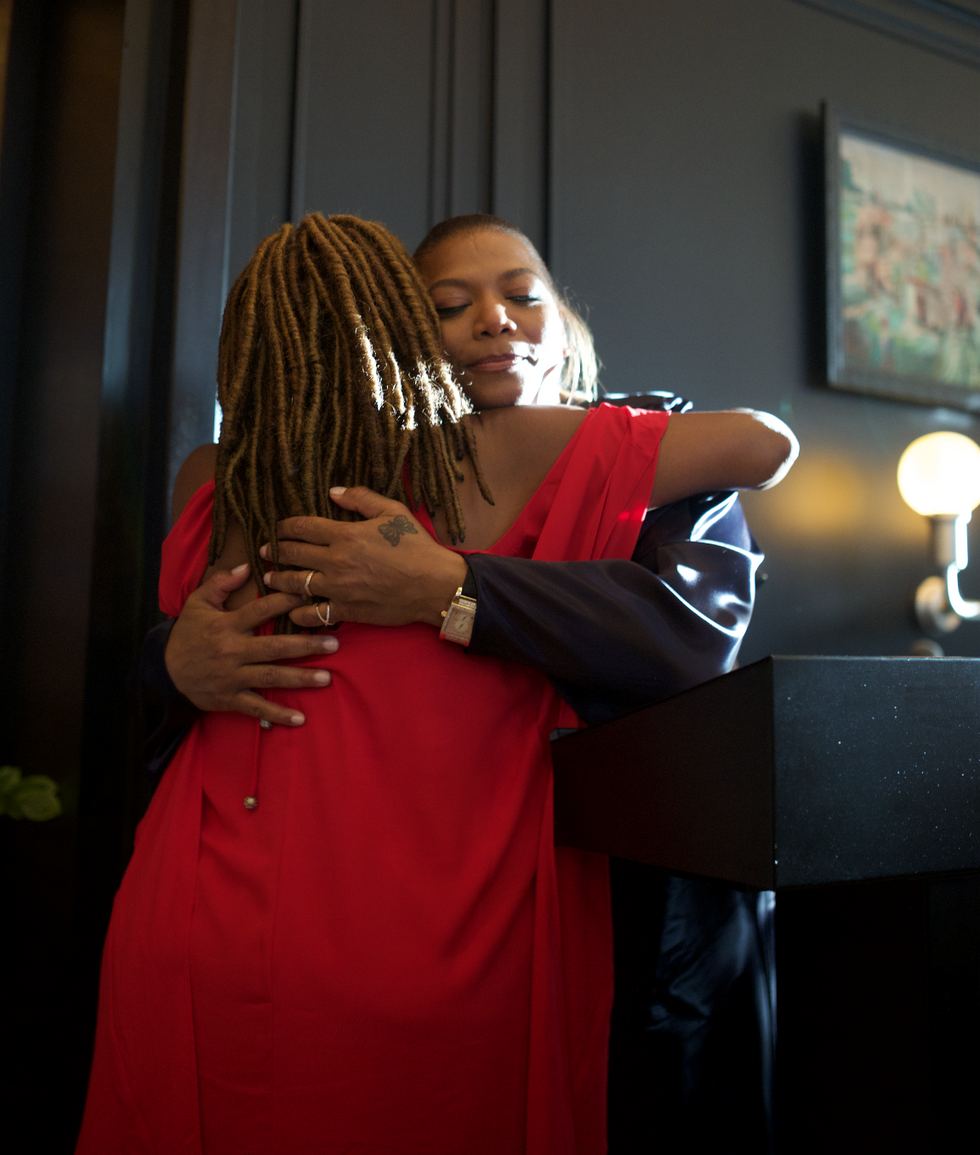 Lisa Nichols and Queen Latifah share a hug
Patrick Neree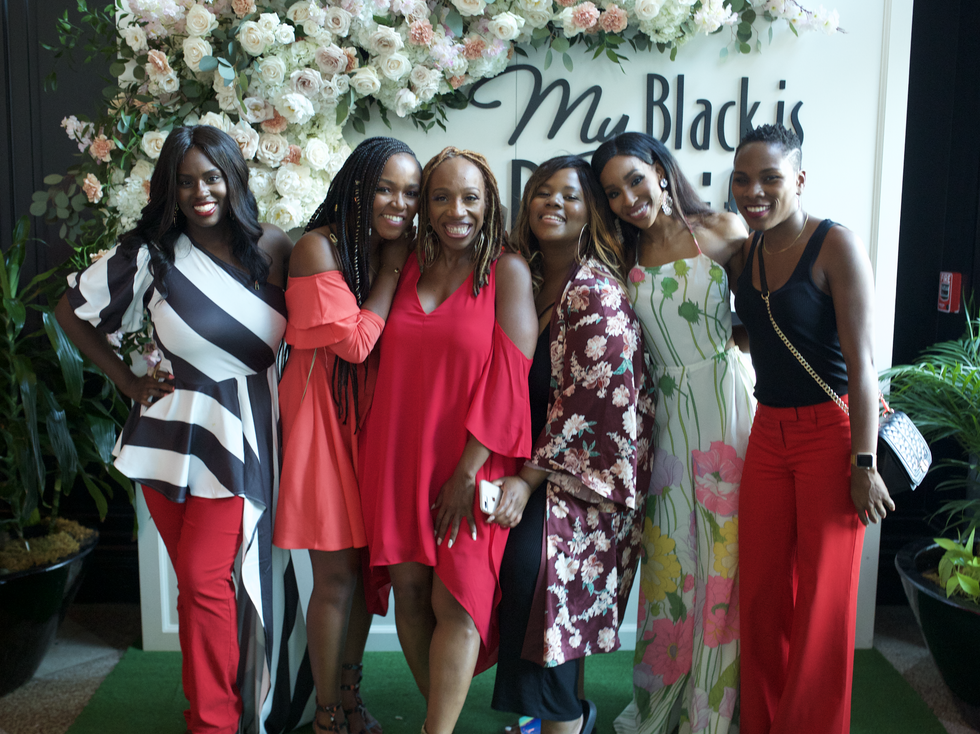 Patrick Neree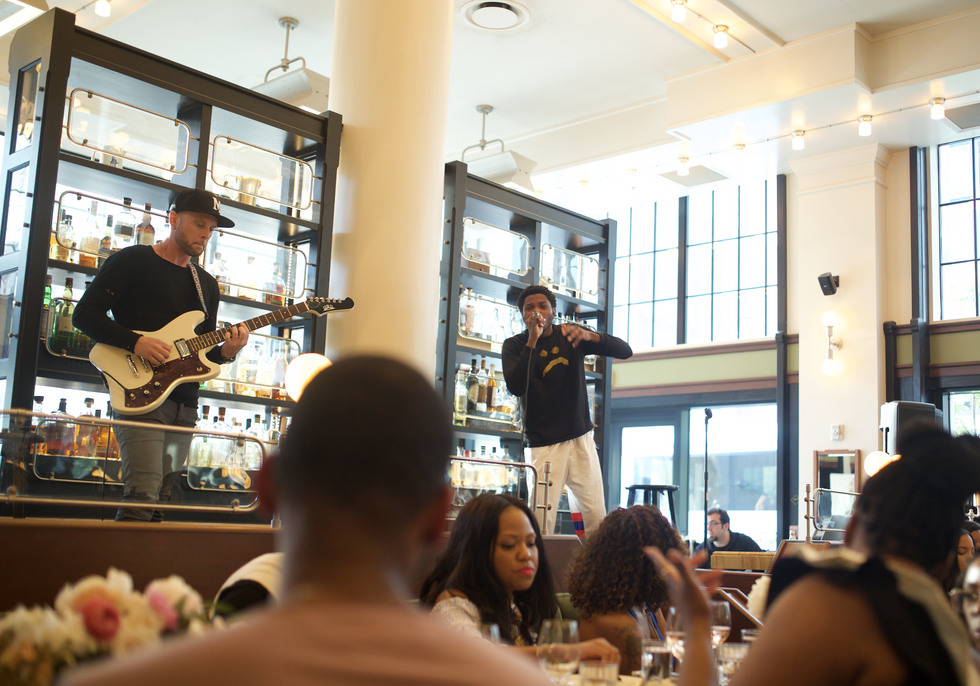 There was a special performance by Grammy-nominated artist Gallant
Patrick Neree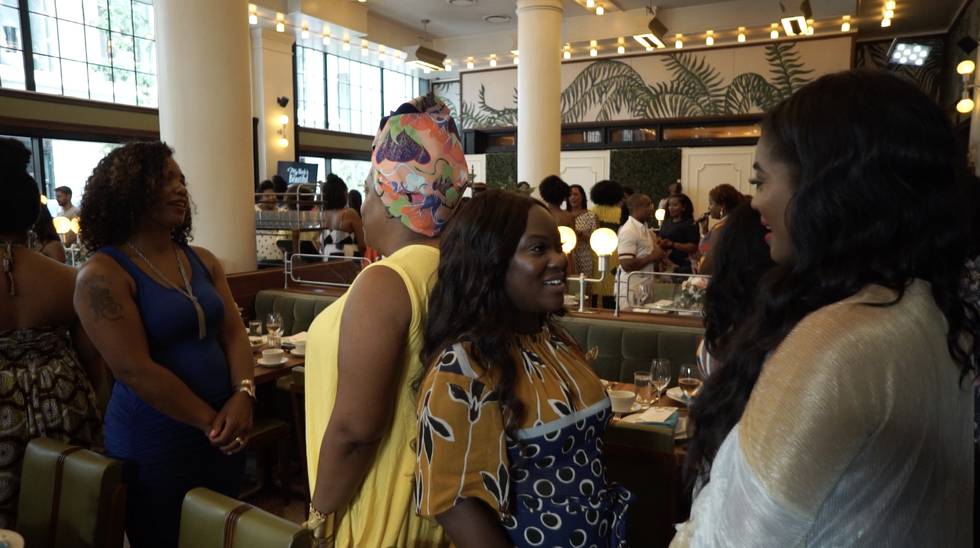 An affirming moment between all the women at the #blackgirlsdo dinner.
Patrick Neree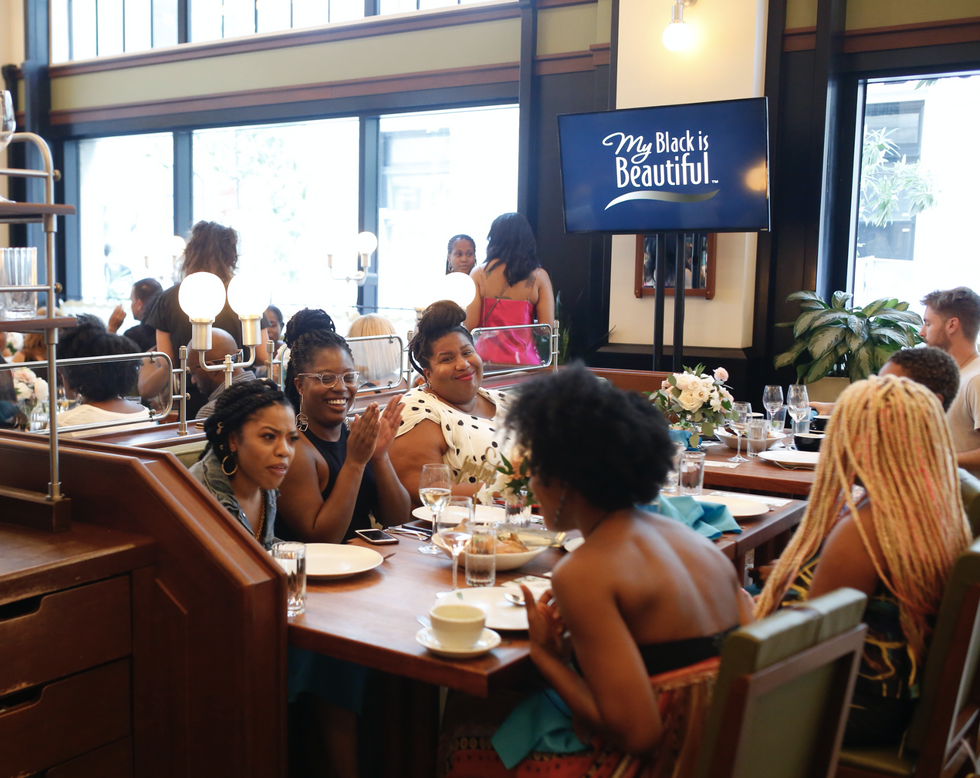 Patrick Neree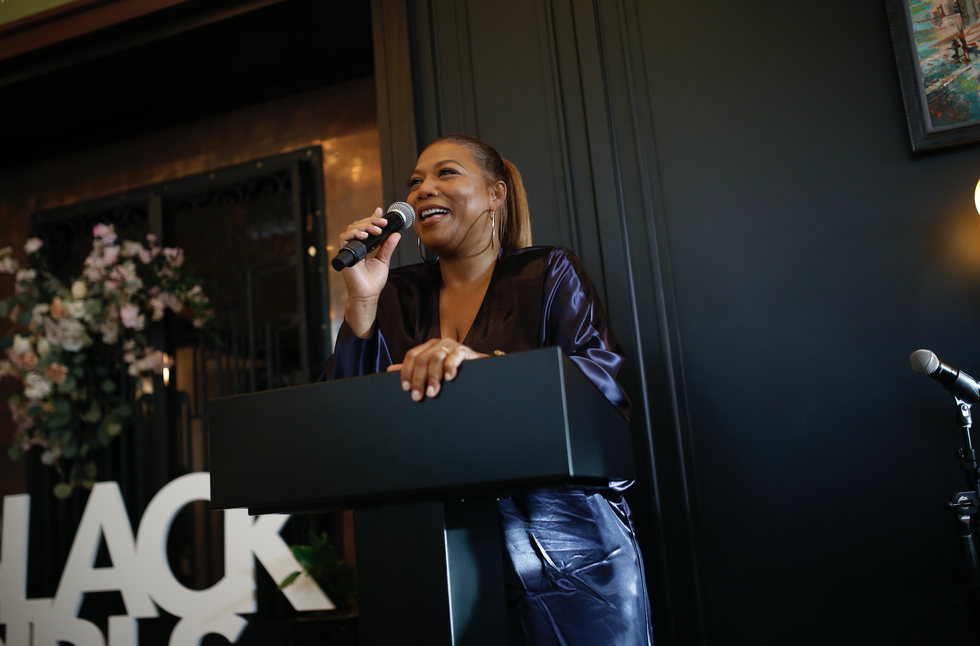 Patrick Neree
Last weekend, Hollywood's favorite celebrities joined their fans at ESSENCE Festival in New Orleans, LA. Among them was actress Naturi Naughton of Power who teamed up with xoNecole founder, Necole Kane and My Black is Beautiful for an intimate discussion during their Beauty & Style Expo.
Created by a group of Black women at P&G, My Black is Beautiful is part of the company's commitment to touch and celebrate the lives of Black women. At the My Black is Beautiful booth, ladies were able to take a break and grab beauty products, learn hair tips from professional stylists and celebrate themselves at the #BlackGirlsDo wall.
#BlackGirlsDo is a tribute to Black Girl Magic that provides us with a platform to celebrate our wins and accomplishments. Achievements that we've been able to fulfill, despite our circumstances and society's negative stereotypes.
Held at the Convention Center, Naturi and Necole joined host Kela Walker to discuss work-life balance and more for the #BlackGirlsDo panel. Both Naturi and Necole have an impressive track record, having navigated and sustained long careers in the industry. Throughout their discussion, one major theme was the ultimate secret to their black girl magic: self-care.

There is pressure and power that comes with being given a platform, especially in a world that makes celebrities look like they have it all together. Necole and Naturi affirmed the importance of staying grounded, especially when you're being pulled in a million different directions in regards to work and your personal life.

Finding balance amidst these factors isn't easy, but somehow both ladies find the strength and the confidence to slay every damn day, and are proof that you can do it too with the help of a consistent self-care regimen.
Naturi told host Kela Walker that her self-care routine was rooted in faith, and Necole told the audience that hers starts the moment she wakes up.

"I tell everybody I have a morning routine and I do about 12 things before I plug into the outside world. And when I mean 'outside world,' I mean social media. Sometimes, when I used to have my old site, NecoleBitchie.com, I would wake up, and I'd just plug into the internet. What's going on? What did I miss? And that will just shift your whole day. You're inviting negative energy in your life before you even have the time to get your mindset right. So, I wake up every morning, I cook breakfast, I take a run, I listen to my motivational books or like, podcasts. And I get my mind in a winning mindframe before I even check an email or check social media or check anything."
We can only control the content we consume via social media to a certain extent. No matter how many positive pages we follow and affirmation quotes that we see on our feed, logging into Instagram or Facebook the moment you open your eyes can potentially forfeit any chance of peace you may have had that day. Necole reminded us that we cannot help others until we help ourselves, a concept that is foreign to many women of color.
Kela said:
"So many times we talk about self-care and people think it's about fitness and they gotta be in the gym. Self-care is different things to different people. What's also important is to be intentional in what we're doing and recognizing our health and our mental state."
As the matriarch in our family lives, we have been tasked with the responsibility of taking care of everyone around us, even if that means neglecting ourselves. Self-care is a concept that would have been foreign to our grandmothers and the women who came before them, simply because nobody had time for that. This self neglect has been fatal among women of color, who consequently end up killing themselves to ensure that their loved ones are empowered live their best lives.
But who is there to empower you, sis? We put on these masks to seem like superheroes in our own right, and forget that even Clark Kent needed time to recharge.

We often look at self-care as some intangible concept that we never have time for, but even as an award winning lead actress and mother of a newborn daughter, Naturi says that checking in with herself is imperative. As a society, we emphasize physical check-ups and keep up to date on dental visits, but how often do we schedule an appointment to check in with ourselves?
Naturi said:
"Our job is to smile in front of the camera for you all. And we do have to push through but there are moments when we all feel like, I need a moment, I need a break. I don't wanna have a break down up in here. But you do have to take time for yourself, and one of the things that helps to just center me is do normal things."
"Just making sure that you stay connected to what's real. Because everything that we see on TV or even my character, it's not real. I am Naturi, not Tasha, so I make sure to stay grounded in what's real."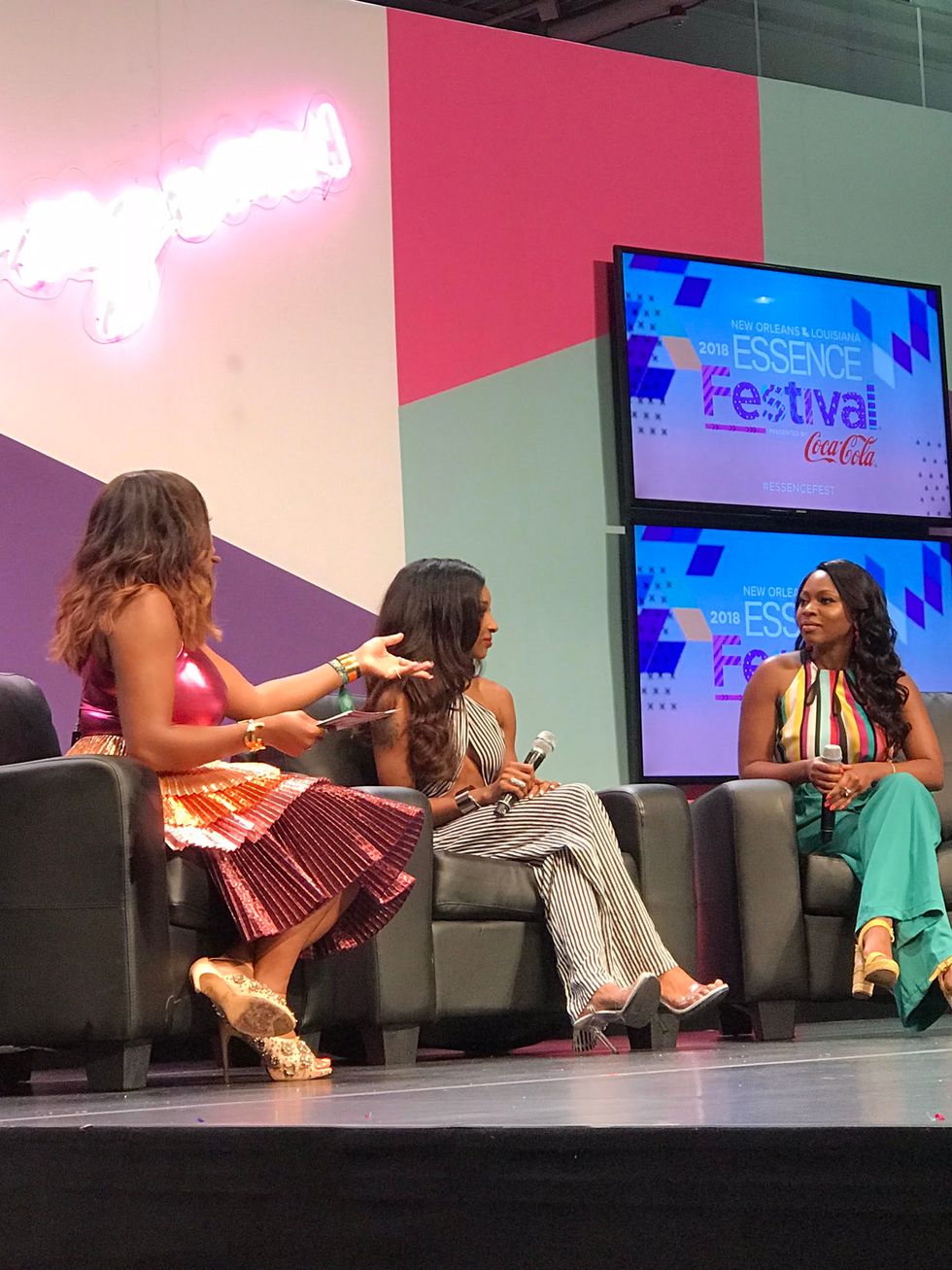 Both Necole and Naturi have been vocal about their personal battles in hopes of inspiring other women to get serious about their mental health. Although self-care may not have been a practice afforded to our mothers and grandmothers, it is a necessity in the lives of black women today.
#BlackGirlsDo so damn much for everyone else in the world, that we deserve some personal time, and more than every once in a while.
Every year, ESSENCE Festival brings together hundreds of thousands of beautiful Black women in New Orleans, LA for a three-day celebration. Ford Motor Company joined these boss women last weekend, in celebration of ten years of sisterhood with their #MyFordFam campaign.
Held at the Convention Center, Ford created a virtual home for Black women that featured various rooms to accompany the many aspects of being a boss. xoNecole was able to capture all of these moments, serving as the official host of the booth.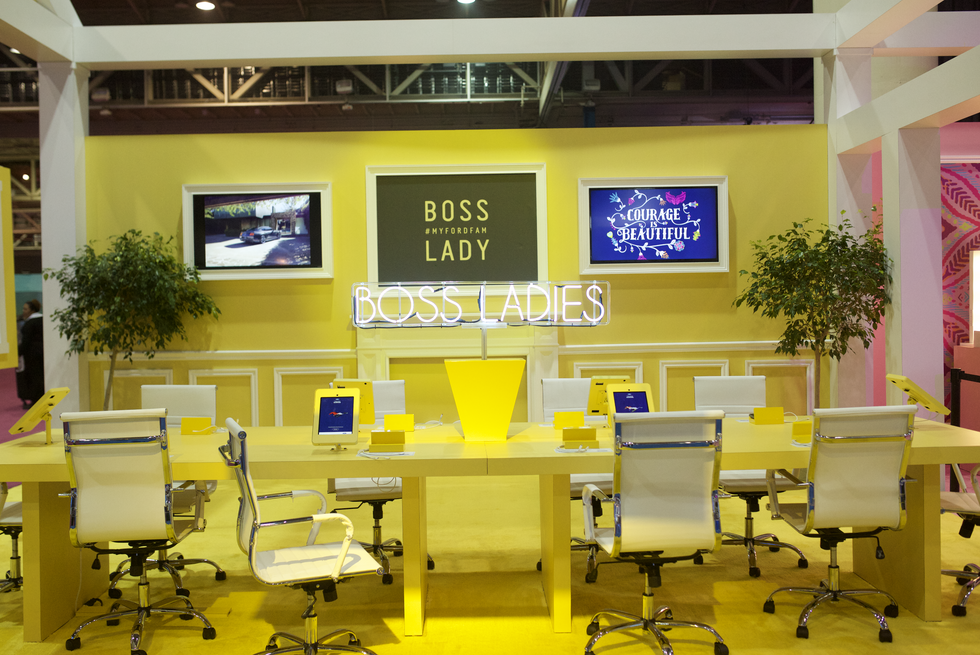 Each station had an accompanying theme. At "My Power," women could charge their phones to ensure they weren't missing important notifications.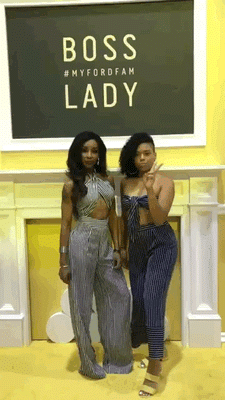 At "My Style," guests could create custom t-shirts. At "My Beauty," women could get a quick touchup by a professional makeup artist, and at "My Whip," guests could create a 360-activation video in a Ford Mustang.
Our founder, Necole Kane and I (acting as host) had a great time testing out this feature.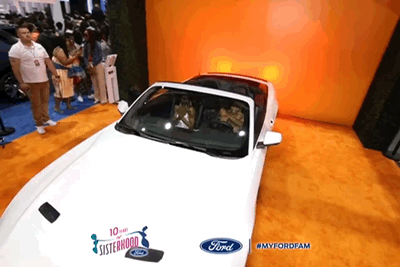 While waiting to enjoy a station, guests could also enjoy live celebrity interviews with Sirius Heart & Soul. Some of the many celebrities to grace the stage, included Mary J. Blige, Regina King and the Cast of Beale Street, Ne-Yo, and R&B group, June's Diary.
In addition to the ongoing celebration, Ford took a moment to highlight breast cancer survivors with its Warriors in Pink/Tracey Nicole Fashion Show. Through the fashion show, Ford celebrated strong women who find ways to uplift each other in their everyday lives.

But that's no surprise, because ESSENCE Festival has a way of bringing together the strongest women to celebrate each other. Among these women are dedicated entrepreneurs who work day in and out to manage successful businesses. Ford held a pitch contest that provided these entrepreneurs with an opportunity to pitch their businesses to finance expert, Tiffany the Budgenista.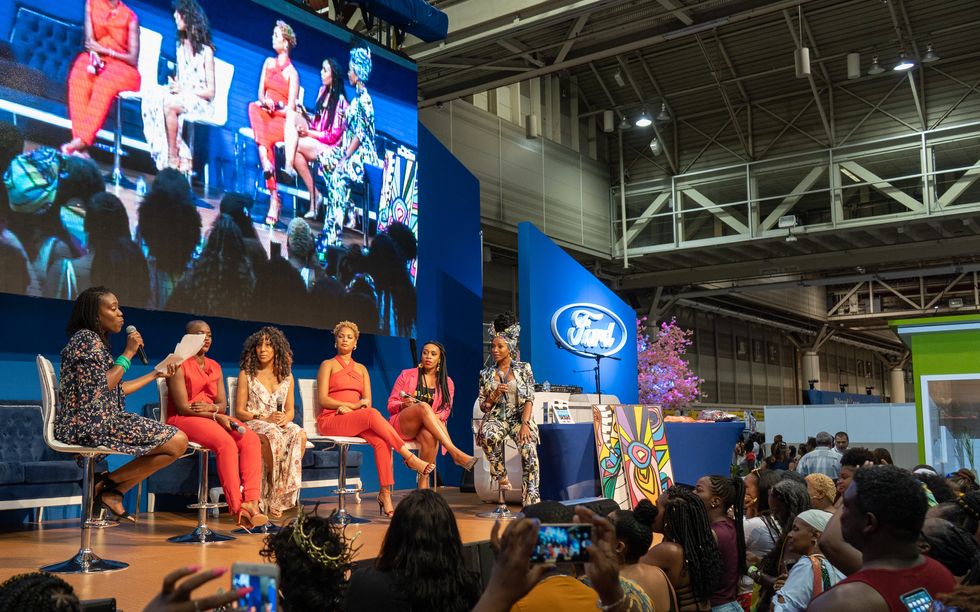 Melissa Mitchell of Abielle Creations walked away a finalist and now has a chance to win a brand new Ford vehicle. She told me prior to stepping on stage to pitch her business, "In December 2017, I said I'm going to be far more intentional about what I say, what I do and what I write," Mitchell said while explaining her journey to ESSENCE Fest. "I said I will be going to Essence Festival paid in full. I will be a guest of Ford and a guest of ESSENCE Magazine, and within six months, God allowed all of that to be manifested. I prepared for ESSENCE Festival before I even got the call."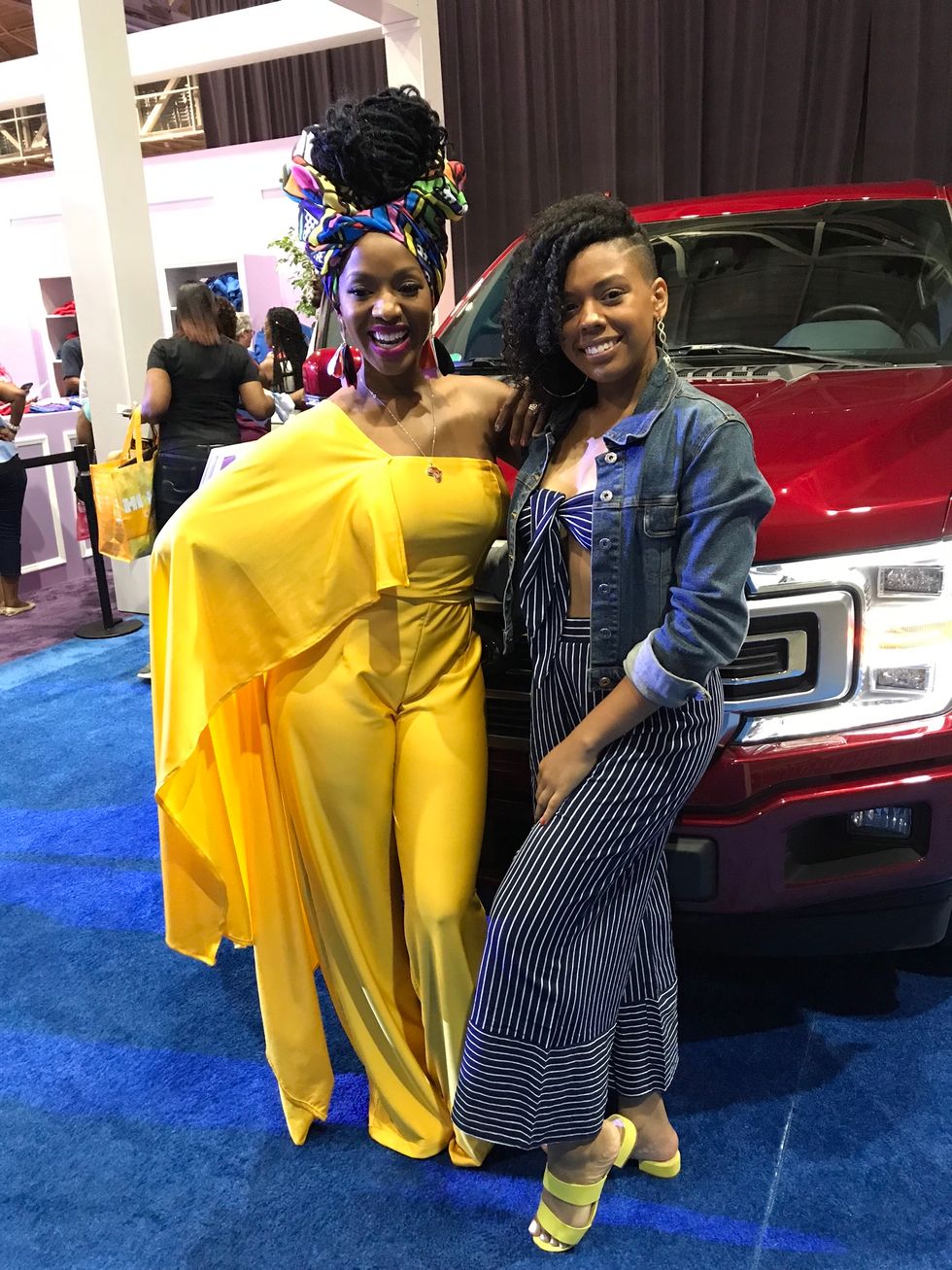 Jaleesa Lashay and Winner of the Ford Pitch Contest Melissa Mitchell
She also shared, "My brand is very unique. I turn all of my favorite paintings into artwork. I've turned about 40 or 50 of my favorite paintings into head wraps, socks, bowties..anything you can name."
And…because you know we love feeling special, Ford also offered VIP experiences for vehicle-owners. Ford owners were able to chill in the VIP-garden, and enjoy other perks that included giveaways and more.
xoNecole had the chance to experience our own VIP treatment when we test-drove the platinum edition Ford Explorer.
The @Ford Motor Company Test Drive Ride & Share experience was so fun this weekend!! I love that the new vehicles a… https://t.co/ApTEbsX9Kz

— xoNecole (@xoNecole) 1531136625.0
ESSENCE Festival truly is a one of a kind experience. It's not every day that we get to be surrounded by women who see us, love us and know our struggle. Thank you to Ford for inviting xoNecole to be a part of that celebration with #MyFordFam.
To follow along with all of our coverage for ESSENCE with #MyFordFam, click here.
This weekend, xoNecole had the pleasure of hosting the Ford Motor Company booth at ESSENCE Festival. Held in New Orleans, LA, ESSENCE Fest provides a safe space for Black women to gather and celebrate. The festival is the true embodiment of #BlackGirlMagic.
Throughout the weekend, attendees were able to take a break from the summer heat and test-drive Ford vehicles, as part of the company's Ride and Drive experience. I was pleased to have had enough time to drive an exclusive 2018 Platinum Edition Ford Expedition.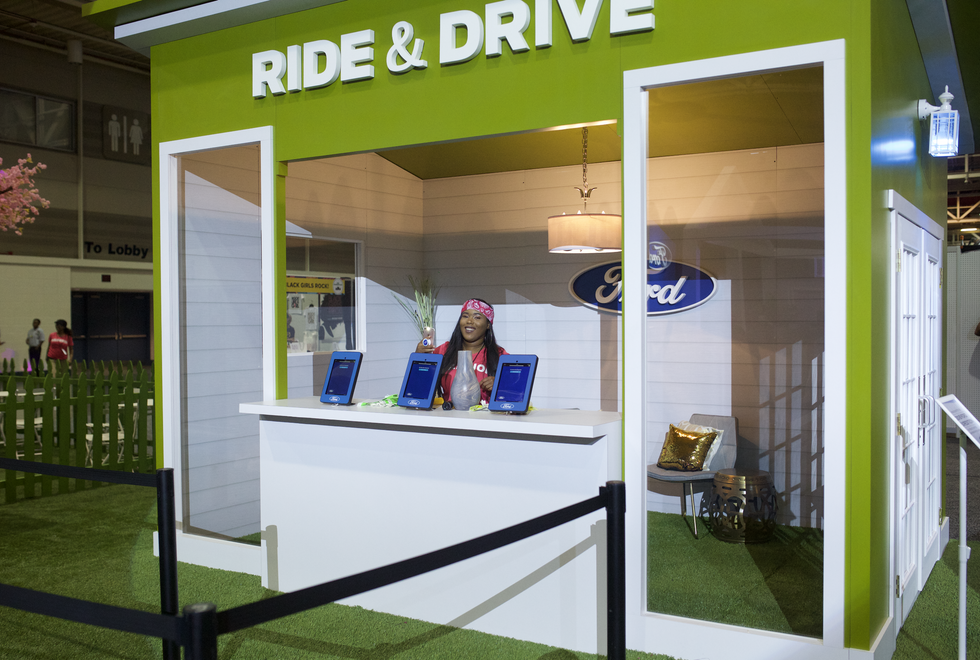 Accompanied by a product specialist, I was able to drive and receive a tour of the Ford Expedition, which I referred to as a "big boy." It's an eight-passenger vehicle. That's no small vehicle!

During our tour, the product specialist provided me with a breakdown of the vehicles features. Immediately, I noticed the rotary gear shift dial that made shifting gears effortless. It's the first time I've seen anything like it, and it felt very futuristic. I also loved how big the vehicle felt. The middle console is large enough to fit my purse.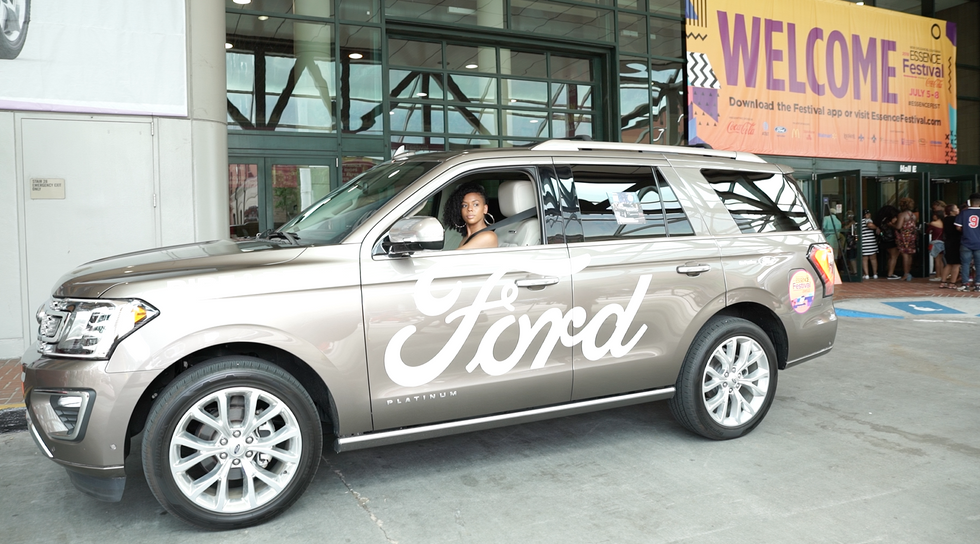 The vehicle also has a keyless start with a full entertainment system. However, the most impressive feature was the 360-camera view that made it really easy to park in the midst of the big ESSENCE crowd. The vehicle also has additional features that include a Waze navigation system and Alexa partnership that allows owners to turn on their car using the Amazon Alexa system.
True luxury.

Apparently, the luxury Ford driving experience is consistent with their customer service. There were several Ford-owners in line to test-drive another vehicle. One of the owners test-drove a Ford Mustang, because she really enjoys being a Ford customer, and is interested in purchasing a second vehicle with the company.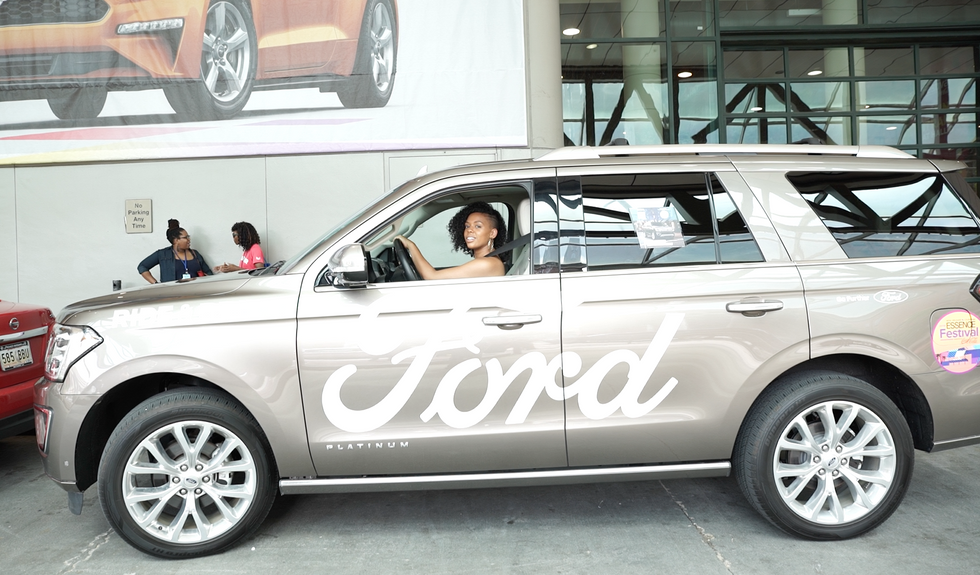 I have to admit; the Ford Expedition really spoke to me. It was definitely difficult for me to turn in the keys for the big boy. The power that I felt behind the wheel matched the energy that I felt the entire weekend.
Guess who test drove the exclusive platinum edition of the 2018 @Ford Expedition during #EssenceFest? It's so class… https://t.co/SV0ejwcTSu

— xoNecole (@xoNecole) 1531494248.0