Egg freezing, also known as mature oocyte cryopreservation, is a method used to save women's ability to get pregnant in the future. Eggs harvested from your ovaries are frozen unfertilized and stored for later use. A frozen egg can be thawed, combined with sperm in a lab and implanted in your uterus via IVF, or in vitro fertilization.
Think of it as an insurance policy that's there to catch you in the event that when life calms down, you decide to move forward with having a family. Freezing eggs has become more and more popular over the years, as science has normalized the process thus making it less taboo.
Meagan Good was in her late 30's when she decided to take the plunge and freeze her eggs.
And now, with turning 40 years old this year, she is taking the time to determine if kids are in her immediate future. She tells Romper:
"When you say you're not sure you want to be a mom, people look at you like you're a bad person. As if something's wrong with you. But I was never really that girl who said, 'I can't wait to get married,' 'I can't wait to be a mother.' I was very much a tomboy, and I started my career so young that I'd always been very business-oriented."
In fact, Good says, it wasn't until she got married to husband DeVon Franklin, who she wed in 2012, that Meagan even gave having children a second thought.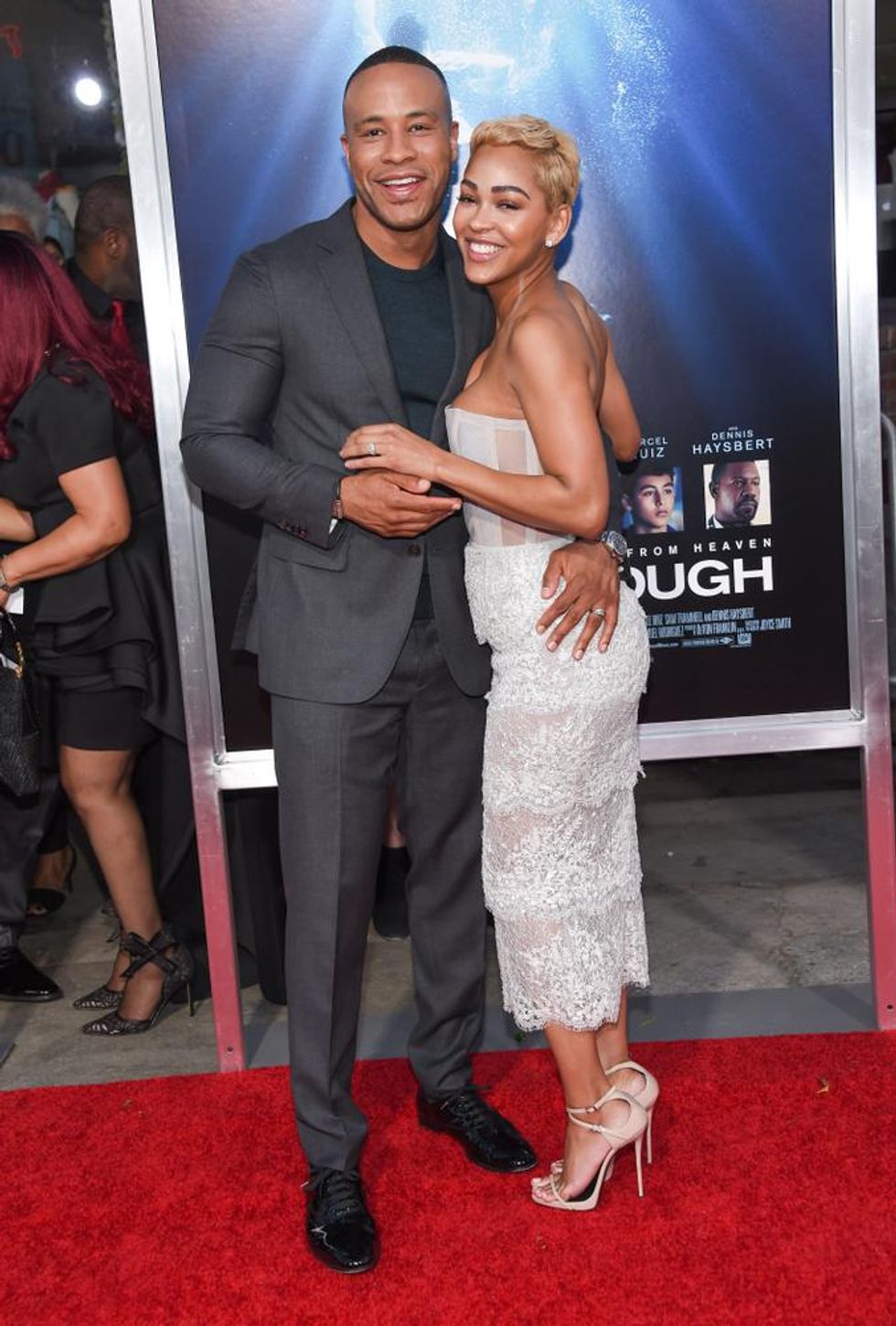 DFree / Shutterstock.com
"It wasn't until I got married that I even considered having a family. My husband and I talked in the beginning, like, 'Do you want kids down the road?' And I said, 'I think I do.' But it was never 'right now' or 'soon.' I think we both knew that we wanted to wait a few years and really grow as a couple first, solidify the marriage. He started getting the itch way before me, definitely, but it was a very open conversation, which I loved and appreciated. Even though he was ready, he didn't pressure me or make me feel bad because I wasn't there yet."
And with the times and expectations of women in motherhood evolving, data shows that Good isn't the only one who has moved forward with the process. In fact, more women have frozen their eggs during the pandemic than have ever in the past, a number expected to grow 25 percent annually for the next few years.
As far as how the process was for her, Good says, "it wasn't a nightmare at all."
"I froze my eggs three years ago. I think everyone's different, but for me, it wasn't a nightmare at all. The process gave me peace of mind, 100%. I have my faith, and freezing my eggs, to be proactive instead of reactive, is me putting in work with my faith. You'll never regret doing it, but you might really regret not doing it."
Ultimately, our girl is on track to becoming a mommy.
"I want to be a mom and I want a family and I'm just now to a place where I think it's about that time. We were looking to start this year, but then the pandemic happened. But I'm excited! Because I can't wait to get to it now. That's a very new thing for me. It's a really cool feeling."
We're sending all the love as you embark on your journey to motherhood, Meagan!
Are you a member of our insiders squad? Join us in the xoTribe Members Community today!
Featured image by DFree / Shutterstock.com

Keep reading...
Show less
When Tai Beauchamp injected the 1-1/2" hormone-filled needle into her side, the last thing that she felt was empowered.
Crazy? Maybe a little. For one, she's a woman of faith. And faith taught her to never doubt in the power of God and His ability to make miracles happen even in the midst of a ticking biological clock.
And to be frank, shelling out nearly $15,000 for a procedure that may work when she could use those funds for something more tangible had her questioning why, for the last few months, she had put herself through the beginning stages of freezing her eggs.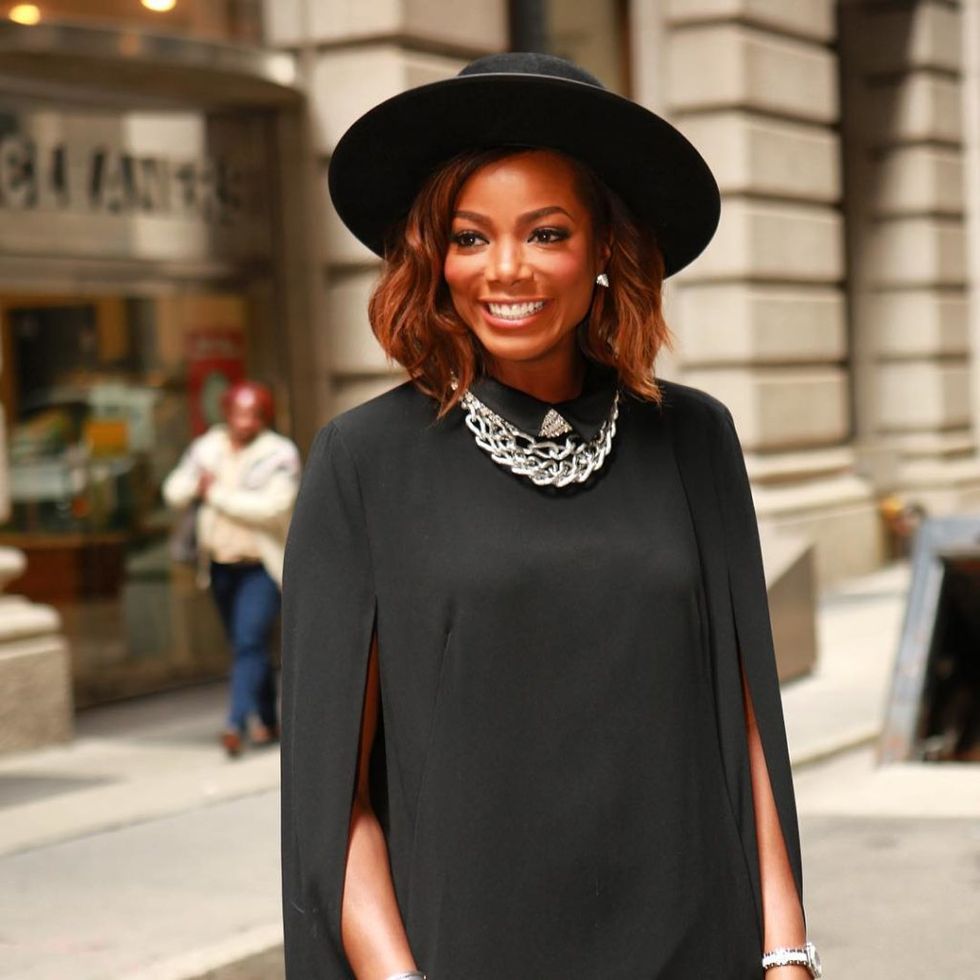 Credit: Instagram
But she quieted her doubts and stood firm in her decision, one made not out of fear, but out of power gained by having options. And when she left the fertility clinic two weeks later, she tossed back her hypothetical cape and strutted with her head held high.
"I kid you not I felt like super woman," shares Beauchamp. "It wasn't just about my physical body, I just felt like I did that. It supported all that I believe I want to become as a person because how often are we told to take charge of a situation or you can do it?"
Like many women, Beauchamp wants to have it all—marriage, children, and a bomb career to match. The latter she's already excelled at. By age 25 she was the Beauty Director at Seventeen magazine with a coveted corner office and six-figure salary, and by 28 she ran her own company helping corporations infuse strategy with social responsibility.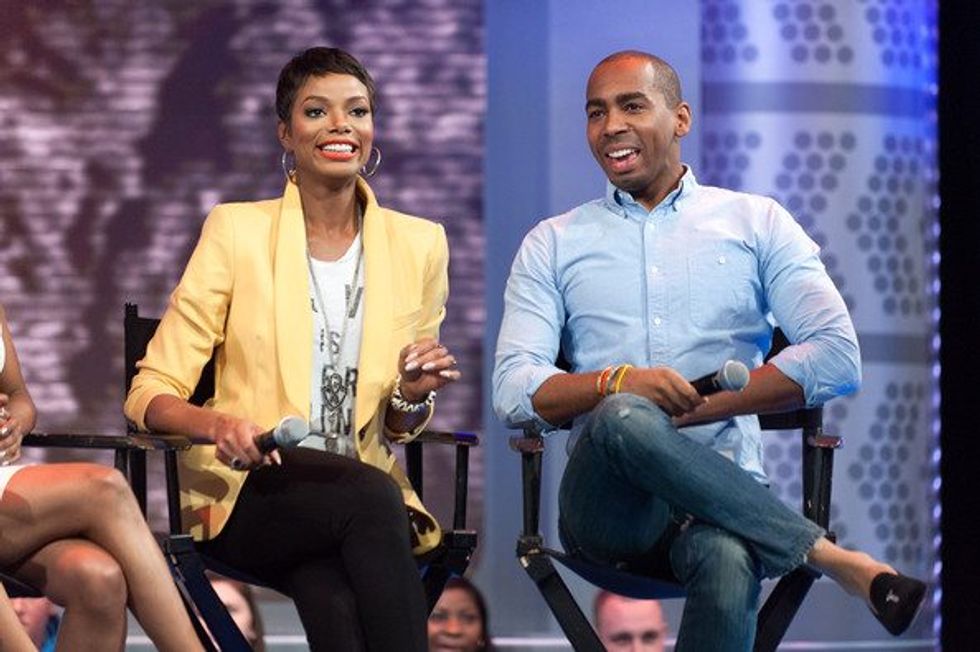 As an on-air personality and style expert she's been a host on The View's "Must Have Monday" and TLC's Dare to Wear, and in the midst of television appearances and beauty ambassador gigs she's managed to find time to share gems as a motivational speaker and launch a lifestyle site, The Tai Life. But love and marriage? That's something she put on the back burner, even after a five-year relationship-turned-engagement went sour. "I was doing well, but I was just going through the motions of a relationship and not really thinking about the importance of not wasting time," Beauchamp says.
Growing up in New Jersey as an only child to a single mom, Beauchamp remembers always wanting to be a mother, but says she was taught the importance of getting her education and getting money over dating with intention. "They're not telling you that if you want partnership you have to invest in it. So I had partnership, but I was also really focused on my career. It paid off professionally, but nobody was telling me when I needed to flip the script or that I also needed to invest in my personal."
"They're not telling you that if you want partnership you have to invest in it."
It wasn't until she was twenty-eight that two of her female mentors approached her about freezing her eggs while she continued dominating in her career. Beauchamp dismissed the notion that her ovaries were depreciating by the year, insisting that time was on her side. "I think young people, you're just thinking oh time is on my side, but time ain't really on your side. It really isn't."
By 35, after being diagnosed with fibroids, which can lead to fertility issues, and having them surgically removed, she was singing a different tune and began researching how she could pro-long her childbearing years.
Despite the more recent accounts of egg freezing, or oocyte cryopreservation, the practice itself has been around for over three decades, with the first successful birth from a frozen egg occurring in 1986. Baby girls are born with about two million eggs, but by the time they hit pubescent years, they're down to three-to-four hundred thousand, and lose another thousand each month. According to fertility specialist Dr. Sherman J. Silber, 16 percent of women in their late twenties will be infertile, and by mid to late thirties, 25 percent will battle with infertility. Fear of running out of supply before it's too late sends many women into overdrive as they seek to beat the biological clock that looms before them.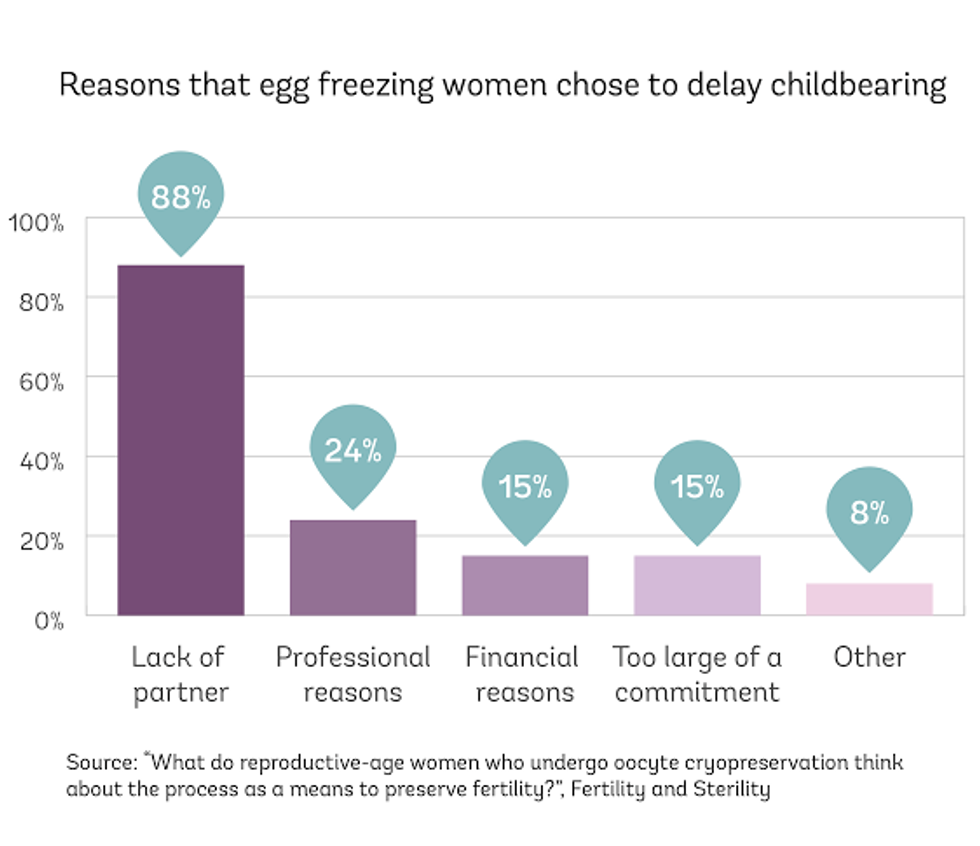 Source: Extended Fertility
Beauchamp, now 38, believes that freezing her eggs allowed her to breathe a sigh of relief and took the pressure off finding a mate. "If I met a partner and I wanted to have a child next week and we decided to get pregnant, I don't think we'd have a problem getting pregnant. But I just did it because I want the insurance. It was just about options for me," she says.
The Process
Beauchamp admits that the process of egg freezing was no easy feat. Her first consultation with Dr. Jamie L. Morris of Reproductive Medicine Associates of New Jersey happened in February, just a month after her thirty-fifth birthday. "You should go and talk to them, find out and ask questions about their specifics and how much success they've had, not only with how many women have come back to have those unfrozen eggs implanted and the success rates of those births, and whether or not those reinsertation take," advises Beauchamp.
Soon after her consultation she kicked out $3,000 to get her blood work done just to ensure that her eggs were healthy enough to undergo the process. Once she received the green light, it would be another few months before she could book her appointment since the procedure required that she be stationary for at least two weeks.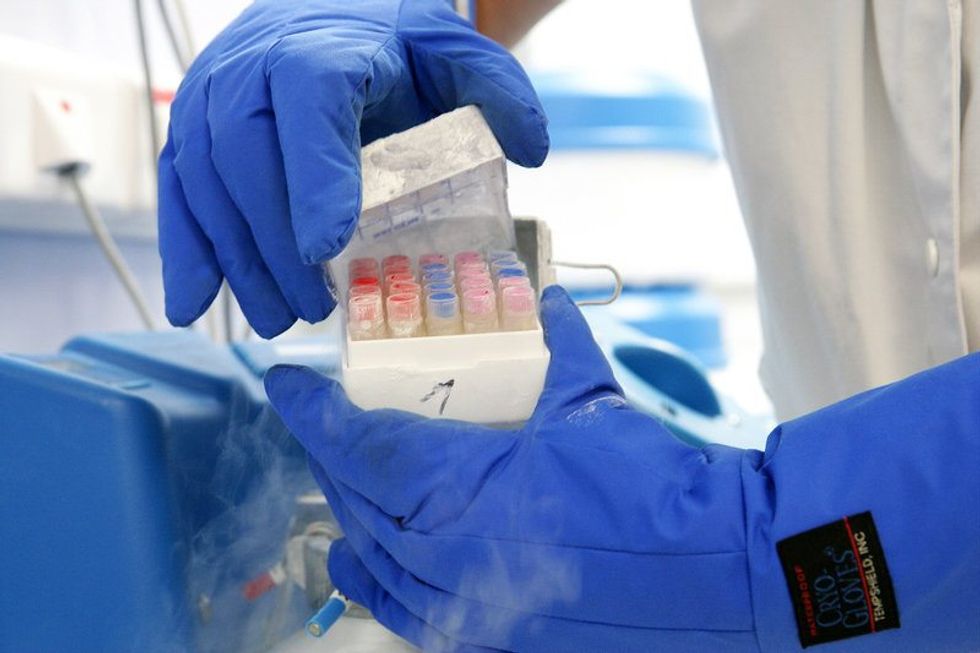 Beauchamp's insurance only covered the initial consultation, so it was up to her to fund the remaining $15,000 worth of medical visits, procedure costs and prescriptions. Since the average person doesn't have that amount just sitting around in the bank, Beauchamp suggests looking to organizations, such as Baby Quest Foundation, which offers financial assistance to those in need, or using "layaway" plans such as EggBanxx to break up the costs. She also predicts that in the future this will be more of the norm, and thus, more insurance companies will jump on the baby bandwagon. "Truth be told, I think in about five years time insurance companies are going to start paying for this more, or at least a piece of the service."
Beyond the exorbitant costs, there's also the discomfort that comes along with increasing hormone levels. Similar to In Vitro Fertilization (IVF), Beauchamp had to give inject herself with a needle three times a day for thirteen days for ovarian stimulation, which Beauchamp describes as PMS times 100.
"I'm one of those random New Yorkers who loves the subway, and I literally couldn't walk up and down the stairs, so there is a lot of pain associated with it."
She also had to go into the fertility clinic at six in the morning for daily monitoring of the oocyte (egg) growth and growth of the follicles. On average there were sixty people in the waiting room, and she was one of two black women. "That was depressing and sad in many different ways. That really made the socioeconomic piece real to me, because I was in that waiting room and you saw maybe four minorities, maybe one other black person and two Latina, which would also speak to how it all connected socioeconomically."
By the thirteenth day she was ready to inject her trigger shot, which catapulted the eggs into maturation. But due to the critical timing of the shot, was forced to escape to the bathroom while on a date to administer the shot. The easiest part of the process was the actual extraction procedure, which took only 20 minutes. On average they hope to extract anywhere between 8 to 15 oocytes, and Beauchamp produced ten.
Because the hormones can stay in your body for some time after the procedure, Beauchamp says it took three months for her feel back to normal, but she doesn't regret the decision to extend her fertility. If anything, it's given her the platform to discuss a topic that's often swept under the rug in the African-American community. "There have been comments made about how fertile black women are, but simultaneously we're not having open conversations about fibroids, we're not having open conversations about endometriosis, we're just beginning to speak more now with more than 50% of the people being in college or graduating college being African-American women, that our partner and dating pool is changing. But if we start to think about investing in relationships in a different way earlier and sooner, the dynamics would shift too."
"If we start to think about investing in relationships in a different way earlier and sooner, the dynamics would shift."
To the many women who feel that they're losing the battle against time or feel a pressure to produce in fear that they won't be able to perform later in life, technology puts the reins of destiny—or at the very least lineage—back in their hands.
"If I can share my story so that someone else can be enlightened and know the power of their decision and their options, why wouldn't I do it? It's really about shifting the way that we look at what we value and what is important."
If you are interested in freezing your eggs but concerned about the costs, click here for a list of resources and fertility financing plans.
This article was originally published in 2016
Keep reading...
Show less
As your Facebook news feed fills with baby announcements and pictures, it's easy to assume that getting pregnant naturally is simple. But achieving pregnancy with ART (Assisted Reproductive Technology) is more common than we think. According to a 2015 report by the U.S. Society of Assisted Reproductive Technology, 1 million babies born in the U.S. between 1987 and 2015 were born through the use of IVF, an egg donor, or a sperm donor. A common misconception is that only women over a certain age use IVF, but women of all ages struggle with fertility challenges. Conditions such as PCOS, endometriosis, or fibroids can cause some women to be unable to get pregnant naturally or be unable to carry to term.
Egg freezing, while relatively new, has opened up avenues for women to explore prolonging their fertility, however, there is still limited knowledge about the process. A recent study conducted with a cross section of reproductive age women reported that "overall, 87.2% reported awareness of egg freezing, yet only 29.8% knew what it really entails." In addition, for many women, egg freezing can be a cost-prohibitive process, making it inaccessible to certain demographics. A recent report found that only 4% of respondents who froze their eggs were African American, 4% Hispanic and 1% Middle Eastern.
Our Biological Clock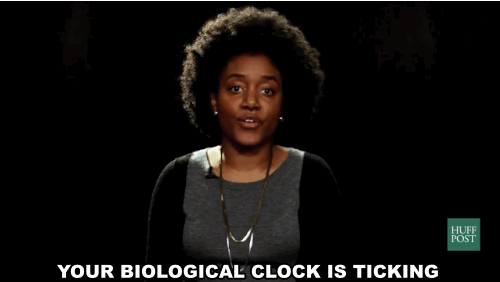 A girl is born with all the eggs she will ever have, approximately two million of them. By the time she begins menstruating, she will have about 400,000 remaining, and from then, about 1,000 die each month. On average, she will have approximately 12% of her reserve at age 30 and only 3% at age 40. This decline continues until she reaches menopause at an average age of 51. Technically, a woman can naturally conceive until she reaches menopause, but it becomes harder with time.
From ages 30–34, a healthy woman trying to get pregnant naturally has about an 86% chance of conceiving in a year and those odds decrease slightly to 78% from ages 35–39. By the time she is well into her 40s, 90% of her eggs will be chromosomally abnormal, making it harder to conceive and increasing her risk of a miscarriage, a Down syndrome pregnancy, or an abnormal pregnancy.
What egg freezing attempts to do is freeze time — that is, keep a woman's eggs at a certain point in time, when they were of higher quality. For example, if a 45-year-old woman were trying to conceive, typically, she is better benefited using the higher quality eggs she froze while at age 35.
My Journey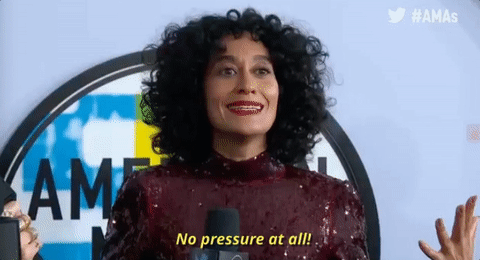 From a young age, having children has been one of my greatest life goals. While many girls dream of their wedding day, I'd fast forward to becoming a mother. I've even had the names of my future kids picked out since I was in high school. However, my dreams of motherhood juxtaposed traditional yet progressive ideals and that meant my dream would have to wait until I was in a great place in my career, had secured financial independence, and had a suitable partner to raise children with; a scenario familiar to many ambitious, family-oriented women.
At 28, it seemed I had it all. I had just graduated from a top MBA program, started my post-MBA career at a top management consulting firm, and was newly engaged to who I thought was the love of my life. Life was perfect, until it wasn't. Everything came crashing down when my relationship ended. Before that happened, the plan was to have my first kid at 30 shortly after we were married, the second at 32, and the third at 34. Instead, I was so devastated that I swore off relationships for the next three years to protect myself from another heartbreak. I spent the time focused on my career and traveling.
When I came out of my three-year dating hiatus, I had a moment of panic.
The societal pressures of getting married had started to get to me, and I could no longer ward off the not so gentle nudges from my family that I was getting older. Though I was thriving in other aspects, I felt like I was failing in life because I was nowhere close to being married and having children. During this time, I began to put a lot of pressure on myself to make it work with whomever I was seeing because "time was ticking". It became a roller coaster of finally liking someone, emotionally investing in them, then realizing we were not a great match and having to go back to the drawing board. I no longer enjoyed dating — it felt more like a draining task with a rabid sense of urgency. I'd wonder if every guy sitting across the table from me on a date could potentially become my husband/the father of my children.
But as strongly as I want to be a mother, I am also a hopeful romantic who believes in love and finding "the one" and I was not going to compromise on that.
I knew I had to reset and get back to my normal self. I wanted to date (and have fun doing so), take the time to properly get to know someone, let the relationship blossom, then proceed without the pressure of stressing about the future. Yet, knowing that my fertility doesn't depend on the pace I want to take things in my relationships, when my OB-GYN reminded me during my last annual that I needed to stop procrastinating on freezing my eggs. I recall her scolding me in her own endearing way, "If you're not going to get knocked up, you need to freeze your eggs," and I knew she was right so in July, I started the process.
What You Should Know About Egg Freezing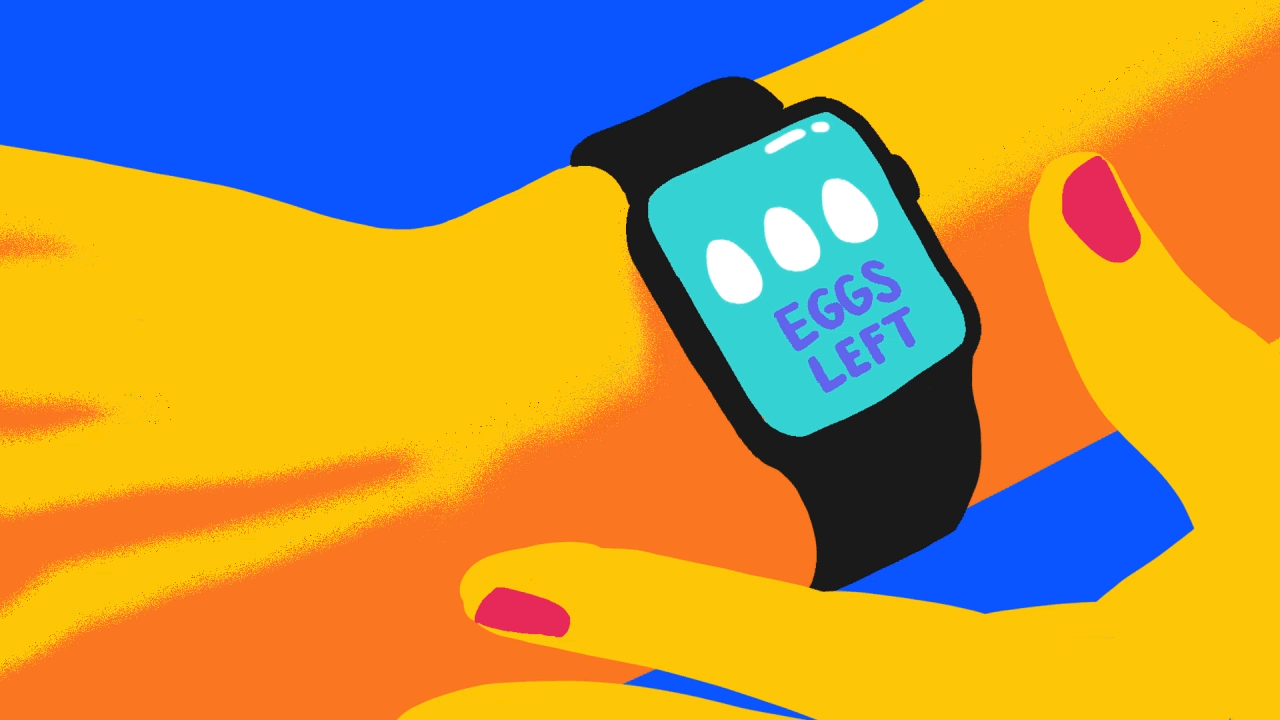 More than likely, you've heard of one freezing their eggs freezing being mentioned casually, but many do not know what it really entails. Having just completed my retrieval stage, here are some things I learned about the process:
Freezing your eggs does not guarantee a baby.
While the success rate has been improving, outcomes will vary depending on age, genetics, reproductive history, and other lifestyle factors.
Your initial tests help your doctor assess if you may be a good candidate for egg freezing. After the initial consultation, you will go through robust testing of your fertility factors, reproductive health, STI status and genetics (if selected). You will learn numbers such as your AMH, FSH, and thyroid levels, etc. The results of these tests will help the doctor assess if you should continue with the process, and if so, which medications you will need. I opted for the full panel of tests, including genetic testing and in doing so, I learned more about my body than I ever thought possible. I was tested for every disease and genetic condition imaginable, most I had never heard of.
Freezing your eggs does not deplete your egg supply.
Your normal reproductive cycle won't be affected because only the eggs that will be "lost" anyway through the natural process will be captured. You will continue to have your cycle as normal.
Start the process when you feel most comfortable, but 'the earlier the better'.
On average, 25-year-old eggs are better than 30-year-old eggs and 30-year-old eggs are better than 35-year-old eggs, etc. If you're wondering when is the best time to freeze your eggs, the general rule is now.
Egg retrieval is the first stage of IVF.
In a full IVF cycle, after the oocytes are retrieved, sperm is used to create an embryo in vitro, and then the embryo is implanted. If you successfully freeze your eggs, and when you are ready to use them, you will conclude the second half of the IVF process.
It is not a quick process.
Durations vary, but it took about three months from the time I had my initial tests to the time I had surgery for the retrieval stage. While the injections themselves last 10–12 days, some tests leading up to it can only be done at certain times of the month.
Injections, injections, injections.
I almost changed my mind when I realized how many needles were involved because I am terrified of them. Brace yourself, there's a lot. There are frequent to daily blood draws to test hormone levels and then every night, I injected myself three times in my abdomen between 8–10 PM for 11 days.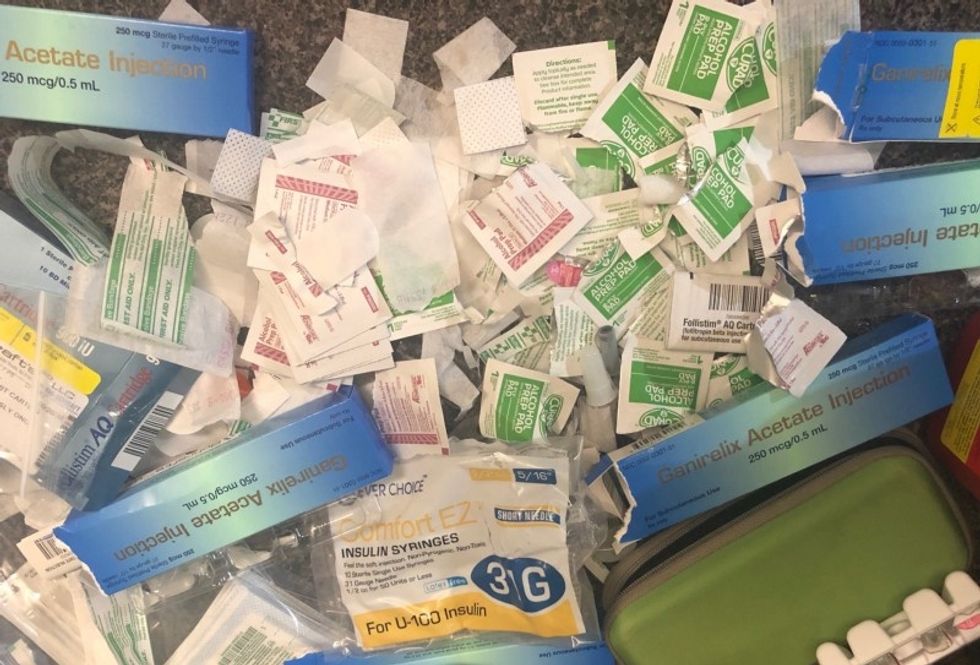 My counter was filled with syringes, swabs and more.
You cannot travel for a period of time.
Throughout the three months, I was only able to squeeze in a week of work travel. As someone who loves to travel, my inability to do so felt suffocating. You have to visit the clinic frequently for blood tests and ultrasounds, hence the travel restriction.
Not everyone in your life will understand your decision.
If you are looking for unanimous support from friends and family, you might not get it. Some people may question your decision or even advise you to just "focus on finding a man instead". Expending your energy on trying to convince someone it is a good idea to freeze your eggs might be the wrong thing. As long as you (and your doctor) know why you're doing it, that's good enough.
That said, you will need support.
If you're a single, independent woman, you might be inclined to think you can do this entirely on your own, but it helps to have a support system, no matter how small. I was blessed to have the support of a couple loved ones and having them to talk to was invaluable. A great example was my best friend FaceTiming with me as I administered the injections the first day. I had called her in tears seriously doubting if I could do it, but she calmly cheered me on.
Even with support, the process will often feel long, lonely and emotional.
There is loneliness in the mere act of pricking yourself with needles every night and clinic visits every morning before the rooster crows. But also, due to the hormone injections, my estrogen level was incredibly high and I was very emotional. I felt proud about freezing my eggs but I also felt some sadness about having to do it at all. I'd cry when I'd see a baby, and even stayed off social media to avoid it. My normal routine was also completely thrown off track; one particularly tough morning, I got up at 4:30 AM to get to the clinic by 6 AM, but it was so packed that I was not seen till 7:30 AM, and I had an important 8 AM meeting with a 1+ hour commute.
I was so overwhelmed that as soon as I stepped into my car, I burst into tears. My weight was also out of control and I lost all the definition in my abs as my ovaries expanded. I had no desire to be social — I wanted to just stay home all day. But don't worry: This part only lasts for a few mentally and physically exhausting weeks.
The egg retrieval is a surgical procedure.
On your retrieval day, you will arrive at the clinic, be hooked onto an IV, then proceed to the operating room. A propofol-based anesthesia will be used to knock you out. Then the surgeon uses an ultrasound probe through your vagina to retrieve the eggs. You don't feel a thing. The surgery takes less than 30 minutes, but plan to be there for three hours. You must have someone accompany you as you will not be able to drive yourself home.
Give yourself time to recover.
Bravo, you made it! But your body just went through a lot. Take time off work if you need to and rest. It takes about a month for you to feel fully back to normal again. After my surgery, I still felt very bloated and had days of painful cramping. I was also nine pounds heavier, due to both the IV fluids and not being able to work out for weeks. You are advised to refrain from working out (or sex) for another 1–2 weeks.
You may need multiple cycles. Doctors advise freezing 6–10 eggs per live birth desired because when you are ready to use your eggs, some eggs may not survive thawing and some will not successfully fertilize into an embryo. Multiply this range by the number of kids you may want to have to get your suggested amount (e.g. 12–20 eggs for two). You will likely be unable to know if you will need more than one cycle until your first cycle is complete.
As women continue to strive towards full equity in every regard, and as the average marrying age increases, the rate of women choosing to freeze their eggs also continues to increase. In the past, egg freezing was thought to be a thing that women did so they can focus on their careers, but that is changing. A recent study found that 85% of women surveyed who had frozen their eggs said they did it because they had not yet found a person with whom to raise a family.
When I'm ready to start a family, I hope to conceive naturally but having my frozen eggs just in case makes me feel relieved, empowered, and less pressured in my dating.
If you're also considering freezing your eggs, I commend you on making this important decision. What you are about to embark on won't be easy, but if all works well, it will be worth it. Though you might feel overwhelmed, you are not alone. You are strong and amazing — you can do it!
Article originally published on Medium.
Featured image by Shutterstock

Want more stories like this? Sign up for our newsletter here to receive our latest articles and news straight to your inbox.
Keep reading...
Show less
Meagan Good and her husband DeVon Franklin married after only six months of dating and have been living blissfully in melanin matrimony since 2012. While many have asked the couple when they'll make their twosome a party of three, Meagan and DeVon recently told the audience at The Dr. Oz Show that they'll start family planning when they're good and damn ready.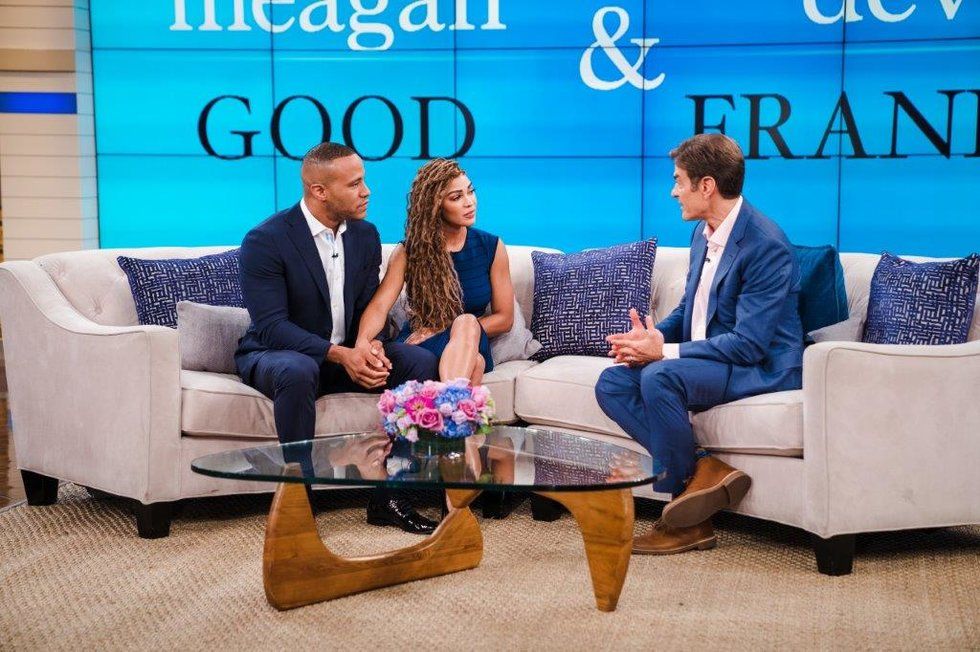 Sony Pictures Television / The Dr. Oz Show
Although the couple says that they are eager to expand their family, timing has been an important factor in their decision-making process. DeVon explained that although there were times throughout their 7-year marriage when he expressed he was ready for children, he later discovered that Meagan was not.

"Before we got married, we spent a long time waiting and that waiting actually laid a foundation because in marriage — we've been married for seven years. So we've had this dialogue about having kids. And I've wanted kids and she wasn't ready and then there were times we were talking about it."
While in the past, women weren't afforded the luxury of time when it came to conceiving children, technology has put its game down, flipped it and reversed the medical industry so that our biological clocks no longer have to feel like ticking time bombs. Egg freezing is a method that women like Halsey, Angela Rye, and now, Meagan Good and her husband say has changed their perspective on childbirth. According to DeVon, the couple decided to move forward with the process after a suggestion made by Dr. Oz:
"As I've come on the show and we've been friends for years, you always encouraged us to freeze eggs. And so we did that. At the beginning of the year, we froze eggs and we probably wouldn't have done it without your urging. So thank you."
DeVon went on to say that the time they've had to spend together alone in their marriage has made them even more prepared to become parents:

"Because we had the foundation of waiting in patience and preparing, it actually gave us the tools we needed to be successful in marriage. I think a lot of times we're rushing. We're in an Instagram society. We all want it now, but there's a lot of value in just taking time, committing to the process, and letting the process take us where it wants us to be."
Meagan, who recently launched a 30-day fitness challenge, says that she always knew it was in the cards for her to become a mother later in life and thinks now may be the perfect time to start:
"That's a part of why I did the 30-day challenge as well, because I wanted to really set an affirmation into the world and say, 'Okay. I'm preparing myself for things that I want career-wise, but I'm also preparing myself for having children. And again, for me, it was really about how do I say to myself, like this is every part of me getting ready for that? So yeah, we're in a place now where we're looking to do it."
Featured image by Sony Pictures Television / The Dr. Oz Show.
Keep reading...
Show less
Imagine waking up, preparing to delightfully jump out of bed to pursue the black girl sorcery that the day has set forth for you, but you are paralyzed because there are 100 knives stabbing you in your uterus and blood from your sacred space seems to leave you in quarts.
This traumatic reality is one that women with endometriosis struggle with for 7-9 days each and every month.
According to BlackDoctor.Org, about 10% of women in the U.S. are affected by endometriosis, so that means that about 5 million women consider physically cutting their own uteruses out of their bodies at least once a month. Endometriosis is a painful reproductive condition where the tissue that normally grows on the inside of the uterus abnormally grows on the outside, which results in painful scarring and inflammation that can yield permanent side-effects.
It's estimated that 30-40 percent of women that are diagnosed with endometriosis may become infertile, one reason why many women are taking advantage of procedures like egg-freezing. This list of women includes pop singer, Halsey, who recently opened up on The Doctors about her personal experience with the painful condition. She mentioned that it is one that her mother, and her mother's mother also endured.
"My whole life, my mother had always told me, 'Women in our family just have really bad periods.' It was just something she thought she was cursed to deal with and I was cursed to deal with, and that was just a part of my life."
Halsey said that the added stress from her chaotic professional life only intensified her symptoms. She was misdiagnosed a number of times before she discovered that the root of her problems were endometriosis. The singer went on to describe the time when her condition escalated and she wound up bleeding and passed out in the middle of the road, which led to her being hospitalized.
"The thing with endometriosis is a lot of it comes down to... I think doctors can tend to minimize the female experience when it comes to dealing with it."

"My tour manager had to take me to a hospital. And the whole time I was there, no one knew what to tell me. Dehydration, stress, anxiety. And I'm saying, what about my pain?"
While there are some holistic treatment options, there are no preventive measures or cures for the condition, which leaves many women playing catch-up for a week every month due to the diabolical and debilitating disease that is endometriosis.

When I was 16, I went to the doctor about my extremely painful periods and overwhelming blood flow, and he prescribed a birth control that led me to develop gallbladder stones and I had to have an organ removed before I was 18. Here I am, 25 years old and doctors still have the same solution, and I ain't going for it. Halsey said that she was finally diagnosed and had surgery in 2017 and I can only imagine her relief.
"It was the relief of knowing that I wasn't making it up, and I wasn't being sensitive, and it wasn't all in my head, but it also kind of sucked to know that I was going to be living with this forever."
The "Bad At Love" singer said that she made the decision to put her foot down and become more aggressive about her treatment after a traumatic experience on stage.

"I was on tour, and I found out I was pregnant. Before I could really figure out what that meant to me and what that meant for my future... the next thing I knew, I was on stage miscarrying in the middle of my concert. The sensation of looking a couple hundred teenagers in the face while you're bleeding through your clothes and still having to do the show, and realizing in that moment... I never want to make that choice ever again of doing what I love or not being able to because of this disease."
"The sensation of looking a couple hundred teenagers in the face while you're bleeding through your clothes and still having to do the show, and realizing in that moment... I never want to make that choice ever again."

Halsey is among the women that are becoming more proactive about her condition, by considering options like egg freezing and laparoscopic surgery. She reminds us that although endometriosis can be a real bitch, we're the ones in charge of both our bodies and our quality of life.
"I'm 23 years old, and I'm going to freeze my eggs. And when I tell people that, they're like, 'You're 23, why do you need to do that? Why do you need to freeze your eggs?' Doing an ovarian reserve is important to me because I'm fortunate enough to have that as an option, but I need to be aggressive about protecting my fertility, about protecting myself."
To watch the full interview, watch below:
Featured image by Denise Truscello/Getty Images for LARAS
Keep reading...
Show less
The recent decade has been a progressive era for black girl magicians. Not only are we casting spells as we dazzle the world in the essence that is our magic from a physical standpoint, but we are also demystifying road blocks and glass ceilings at every turn.
On a daily basis, we witness female professionals of color slay their patriarchal nemesis with ease. But it seems our only kryptonite is our biological clocks. No matter how much we accomplish, we must succumb to the time limits and chronological deadlines set by our bodies. Especially for those of us who hope to be mothers.
But to that, more and more millennial women of color of today have begun to say, "Naw." Women are taking back control of their lives professionally, financially, and of course, that authority is lending itself to their reproductive lives as well. Recently, 38-year-old political analyst Angela Rye opened up about her decision to undergo the process of oocyte cryopreservation, most commonly called: egg freezing.
Our bodies seem to impose just as much pressure as society does when it comes to when and how we conceive. Rye told Refinery29 that she made the decision to freeze her eggs in January in attempt to protect her energy and her womb from the stress of an intense professional life:
"I froze my eggs in January, and because I have such a stressful life, I wanted to try to create a nurturing environment for eggs to grow."
We feel pressured by our loved ones and our bodies to have children within a timeline, despite the commitment we've made to our dreams and careers. By age 30, our egg count is reduced to less than half of the number that we have as teenagers making infertility more likely the older we get; women diagnosed with fibroids or endometriosis are burdened with an even shorter timeline.
Angela Rye is among the league of women sparking debate among black women about having options. She said that she decided to freeze her eggs after she learned that her egg count was low.
"I've never been governed by a biological clock. I still feel like whatever I decide to do with my body is between me and my maker. But I first looked into it when I was turning 35 because they say your egg count goes down around that age, so I looked into it as a just in case. And after they ran some tests, I learned my egg reserve number was low. That scared me! But it also wasn't an instant decision, because to be honest, the process is expensive. So I came back a few years later and this time, I went through the process and did some acupuncture and they were able to retrieve seven fully developed eggs — which isn't the 20-something they typically hope for. But I'm good with seven, because that's my favorite number, so it felt like it meant something. Now, I don't feel any pressure as far as work timelines or relationships...I can just focus on my purpose and know that I have that option there if I want it."
As women, we have options in our careers, lipstick colors, what we eat, and what clothes we choose to wear: but not when we choose to have a baby.
curlBOX founder and all-around boss woman Myleik Teele has always had a silver lining about becoming mother, despite the emphasis she placed on building a fruitful career. Now, the entrepreneur is a proud mother to a son named Noah. But when she was 35, she got her wakeup call that if she wanted to become a mother one day, she'd have to start looking into options to secure the future pregnancy she one day hoped to carry. Enter egg freezing:
"When I turned 35, I went to the doctor and she basically told me, 'Your eggs are dying, you'll never have a baby!' and I start freaking out. I went to the fertility doctor and I'm like I should freeze my eggs and they're like your AMH level is too low. I spent $12,000 dollars buying all of these shots and stuff, giving myself 5 shots a day, and the doctor's like, 'Basically, your fertility is low so you have a year to get pregnant.' I went through a really dark period because I just went and did all of this stuff, and only to find out that I may not have the opportunity."
Motivational speaker and entrepreneur Tai Beauchamp told xoNecole that her decision to freeze her eggs came during the height of her professional career after realizing she wanted insurance so that when she was ready to be pregnant, she could be, no matter her age:
"If I met a partner and I wanted to have a child next week and we decided to get pregnant, I don't think we'd have a problem getting pregnant. But I just did it because I want the insurance. It was just about options for me."
After a tumultuous hormone injection process, Beauchamp had successfully completed the egg freezing procedure. Beauchamp conquered her kryptonite and it is a decision that she doesn't regret. Nowadays, she does her best to spread the wealth she's gained by sharing her experience in a community where fertility isn't often a topic of discussion:
"There have been comments made about how fertile black women are, but simultaneously we're not having open conversations about fibroids, we're not having open conversations about endometriosis, we're just beginning to speak more now with more than 50% of the people being in college or graduating college being African-American women, that our partner and dating pool is changing. But if we start to think about investing in relationships in a different way earlier and sooner, the dynamics would shift too."
Beauchamp and Rye's stories are rarities, often unattainable by many women of color. In the past, egg freezing wasn't an option for black women due to the price point: a single phase can cost $5,000 or more. The increased success and shift of black female professionals on the economic landscape has made the procedure more accessible, but not accessible enough.
Rye and Beauchamp agree that it's important to normalize the egg freezing process and hope that opening up about their experiences will spark conversation and incite more health insurance companies to cover the procedure. Rye said that she hopes that openly discussing her own procedure will inspire other black women to explore their options:
"Well, the thing is, it's so expensive, so from an economic standpoint, it can be cost-prohibitive. So it's a conversation we're afraid to even have. But I feel like we have to if we ever want this process to feel more normal and more attainable. My manager actually encouraged me to document my whole process in case one day I want to share it with the world and show other Black women what it's really like."
Innovations in medicine and technology like egg freezing have allowed professional black women to unapologetically gain control of their personal, professional, reproductive goals. Rye is proof that being a millenial woman is lit, we really can have it all.
Read her full feature with Refinery29 by clicking here.
Featured image by Scott Dudelson/Getty Images
Keep reading...
Show less