As the holiday craze saunters in and the countdown to the end of the year begins, life's level of chaotic can feel like it's in overdrive. This can result in mental health becoming less of a priority and burnout taking on new meaning, which can leave many of us feeling stressed AF and insanely depleted. Not only is seasonal affective disorder a real thing, but the past two years have been trying. To say it lightly, life has been life'n. This also means that we have to extend ourselves more grace because we are all having our own human experience.
We wanted to round up some ways you can balance your mood for those days when you need a little extra help. Ahead, find some tips and tricks approved by experts.
Try journaling.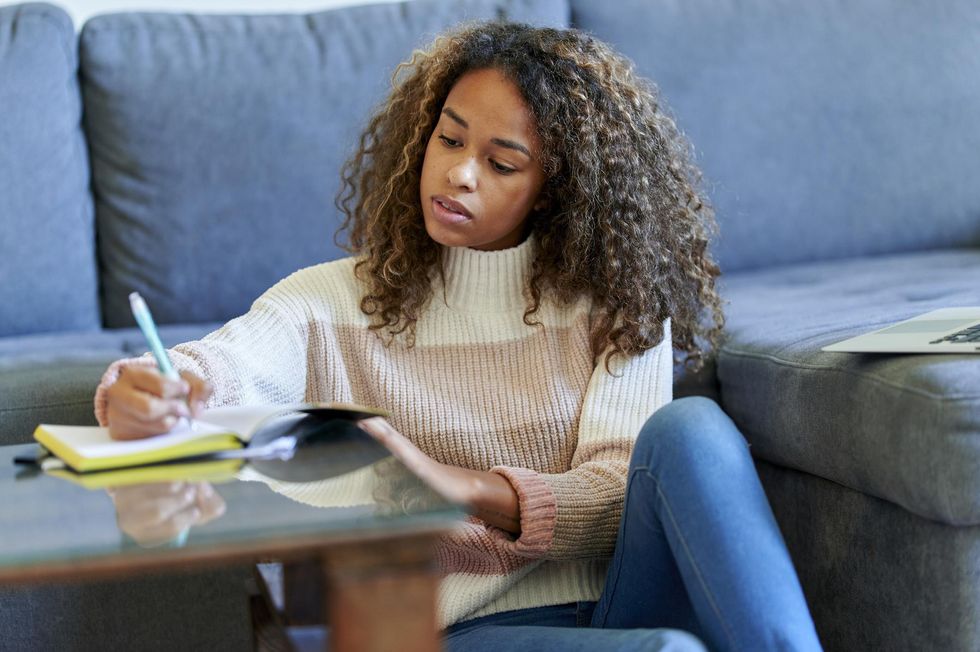 Getty Images
Journaling is a surefire way to add some sunshine to your life. According to Mental Health Therapist, Breigh Jones-Coplin, journaling is honestly a game-changer for our mental health. "It is a way of release— externalization. Our brains take in so much information each day and the process of journaling can provide an "emptying" effect where we clear up cognitive and mental space. This can help us feel less foggy, less anxious, and ultimately more relaxed. Journaling also provides perspective."
According to Breigh, when we put our worries, fears, feelings, and thoughts on paper, they become a journal entry— something less real and something separate from us. "This allows us space to take a step back and see things for what they are and find clarity, which is definitely a mood booster within itself. My personal favorite benefit of journaling is that it slows us down and gives us space to reflect. Reflection is where learning and healing take place. Any time we can gift ourselves the gift of release, clarity, and reflection, it's a win."
Switch up your diet.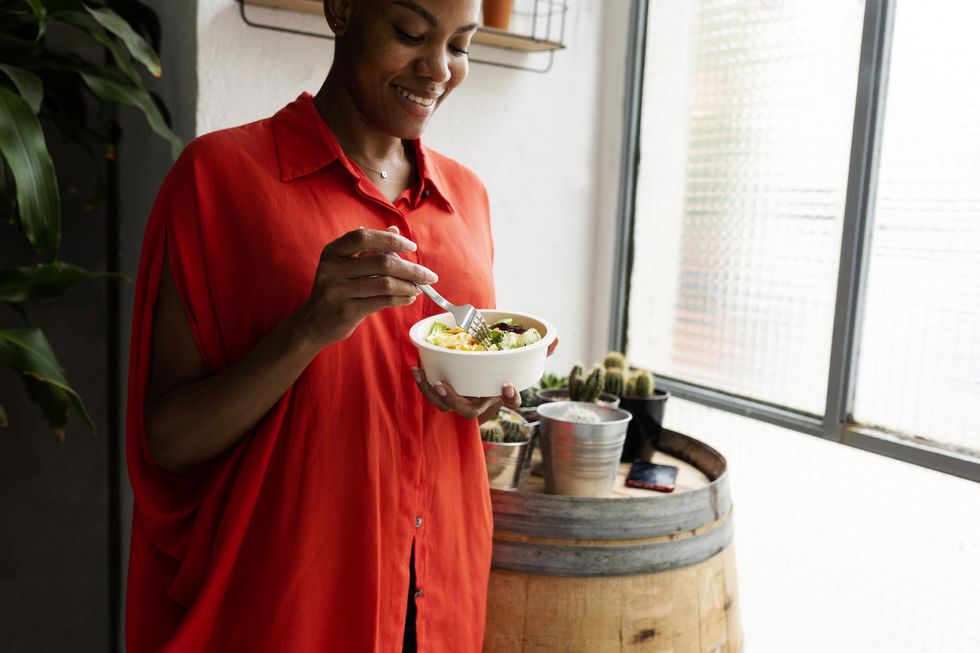 Getty Images
Turning to food when you're feeling stressed AF is normal for many folks. We just have to be mindful of how we manage that relationship with food and consume foods that level up our mood. Some of those foods include:
Salmon
Dark chocolate
Spinach & leafy greens
Berries
Yogurt & other probiotics
Bananas
Oats & nuts
Did you know that 90% of your body's serotonin is produced in your gut? That proves that a healthy gut equals a good mood.
Meditate.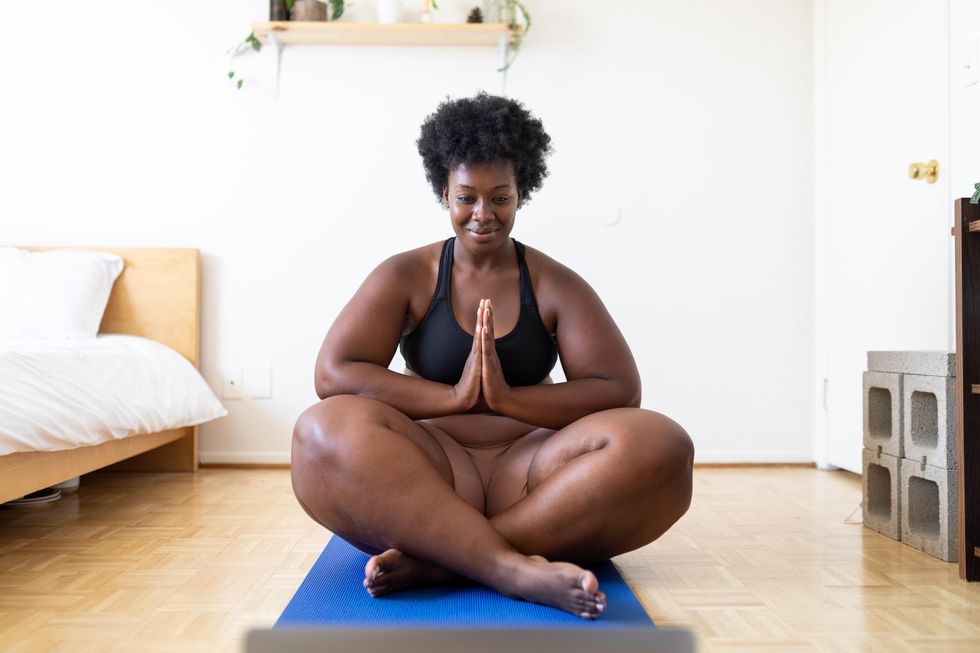 Getty Images
Ten minutes of meditation was found to decrease future-oriented worrying and boost focus ability in the present. While it can be hard to mute your thoughts, it is the fastest way to reduce stress. For thousands of years, meditation has been used to free your mind and yes, the rest will follow. Benefits range from gaining a new perspective on stressful situations to increasing self-awareness to reducing negative emotions.
We have found that guided meditation helps with focus and relaxation. Apps like Shine and Headspace serve as a support system and self-care ritual full of daily meditations.
Take a digital detox.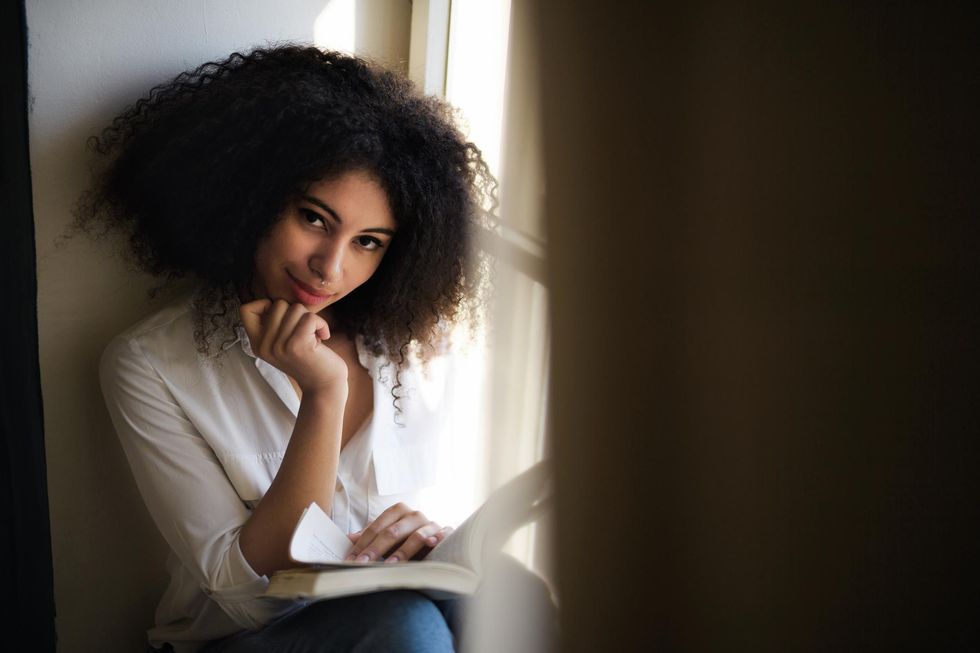 Getty Images
We all need a digital detox every now and then. Constant connectivity is proven to affect work-life balance. Kendra Cherry, MS, via Verywell Mind writes, "That feeling of always being connected can make it difficult to create boundaries between your home life and work life. Even when you are at home or on vacation, it can be hard to resist the temptation to check your email, respond to a text from a colleague, or check in on your social media accounts."
Social media alone can make you compare your journey to others and that is the ultimate thief of joy. You can start your digital detox by muting notifications, spending more time in nature, or not going online when you wake up.
Move your body.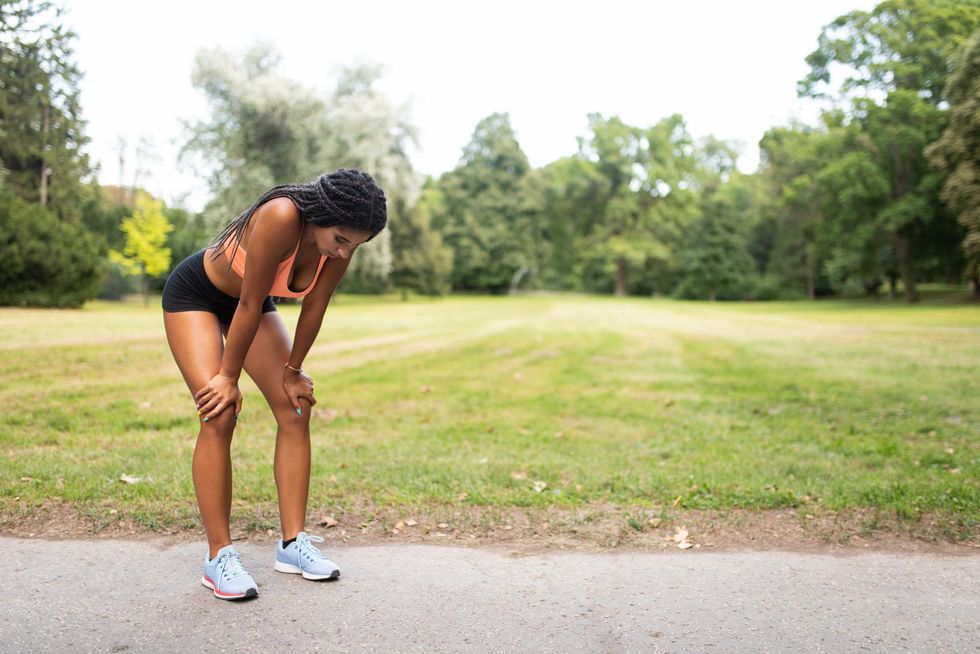 Getty Images
Between better heart health and increased endorphin levels, moving your body is essential. Dr. Gotlin of Mt. Sinai Hospital told Everyday Health, "Endorphins are our body's natural hormones that get released when we are doing something that requires a burst of energy — they are the things that make us perform, make us move."
According to the Journal of Science and Medicine in Sport, aerobic exercise is top tier when it comes to helping ease symptoms of depression.
For more inspiration, self-care, and healing tips, check out xoNecole's Wellness section here.
Featured image by Getty Images

I don't know one woman who doesn't want to have flawless skin and gorgeous hair. Both goals are a huge part of the reason why the beauty industry is a billion-plus dollar business. Unfortunately, what a lot of companies won't tell you (again, because they're a business) is it really doesn't matter how much stuff you put on your body or in your hair, if your internal system is all out of wack. That said, there are certain foods that can almost assure you that they can help to make that happen.
Before getting into what 10 of them are, it's important to say that I'm not stating that you should never have any of these ever again. I'm just saying that if you're getting more pimples on your face than you can handle or your hair isn't flourishing as much as you thought your latest shampoo and conditioner would get it to, it could be because you need to switch up your diet a bit. Because there are certain things in some of our favorite and/or commonly consumed foods that science has proven can literally jack our skin and hair all the way up.
1. Dairy
At some point, I really should write an article that's entirely devoted to why dairy isn't the best thing for our health, along with the alternatives that make switching well worth your while. For now, I'll just suggest that you read about why it's not good for your vagina here and then also file it as something that your skin and hair aren't super fond of either. For one thing, the chemicals, hormones and antibiotics that are in a lot of dairy products can throw your own hormones off balance and trigger unwanted breakouts. Know what else is a trip? The acidic levels in dairy can damage your hair follicles over time. If your follicles ain't right, your hair can't grow.
2. Fast Food
Fast food might taste good and seem convenient (because you don't have to prepare it and it's relatively cheap). Still, it's not the best thing for your overall health and well-being (check out "Why You Should Consider Leaving Fast Food Alone"). It also sucks at providing good results for your skin and hair. Honestly, I'm thinking that this might be a no-brainer due to all of the sugar and high fats that most fast food contains. Both of those things can lead to acne issues. Also, since fast food oftentimes contains chemicals that can put your hormones on quite a roller coaster ride, that along with how much it lacks in the daily nutrition that your body needs, means that it can affect your hair's growth cycle too. Not in a good way either.
3. Non-Organic Fruits and Veggies
Fresh fruits and veggies are your skin and hair's best friends. No doubt about it. The reason why you should go with the organic ones is because a lot of what you see in the produce section of your favorite grocery store contain pesticides. Pesticides aren't good on a lot of levels yet as it relates to your skin, it can irritate it and also increase signs of aging. The way that pesticides can affect your hair is, because they can weaken your immune system over time, that can ultimately result in hair loss. If you're curious about what fruits and vegetables happen to contain the most pesticides, the Environmental Working Group can help you out if you click here.
4. Swordfish
Swordfish is high in mercury. I'll get why that is problematic in a minute. However, did you know that high fructose corn syrup contains a fair amount of mercury too? Geeze. There are a ton of things that contain it (soda, fruit juice, candy, salad dressing, breakfast cereal, granola bars and energy drinks, for starters), so definitely don't just Kanye shrug this point off.
As if the fact that too much mercury can lead to neurological and behavioral issues (such as anxiety, mood swings, muscle weakness, vision impairment and depression) isn't disturbing enough, it can also stunt your hair's growing phases and it can lighten your skin.
In fact, Allure did an entire article on it entitled, "Dangerous Levels of Mercury Found in Some Skin-Care Products Bought on Amazon and eBay". Check it out when you get a chance.
5. Alcohol
Alcohol has its benefits (check out "Liquors That Are Gluten-Free (& Beneficial In Other Ways)"). Still, everything needs to be done in moderation, right? The reasons why alcohol made this list, though, are multi-faceted. For one thing, it can also trigger inflammation within your system. Also, when it comes to your skin, it can dilate your pores which can not only lead to blackheads and whiteheads but inflamed papules and cystic acne too (whew). And your hair? Well, since it's really no secret that alcohol dehydrates us (and most of us are dehydrated anyway), too much alcohol can leave your hair looking dry and feeling brittle. Who wants that?
6. High-Glycemic Foods
You're probably not gonna be the most thrilled about this one. Sorry for that. Basically, a high-glycemic food is one that quickly raises your blood sugar levels which I'm sure you can guess isn't a good thing. When you eat foods that fall into the low-glycemic category (like fruits, veggies and low-processed foods), it lowers your risk of diabetes and heart disease. It also decreases the risk of your skin getting its collagen levels messed up (due to high-glycemic foods' sugar levels). By "messed up", I mean that high-glycemic foods can lead to a lack of elasticity and youthfulness. As far as your hair goes, it doesn't need high-glycemic foods either because it can increase inflammation, damage your hair follicles and possibly lead to hair loss. And just what foods are considered to be high-glycemic? Basically, the fun stuff—white bread, white pasta, white rice, cake and cookies. By the way, here's what else makes the high-glycemic list that you may not have seen coming. Ready? Watermelon, pineapple and dried fruit. Chile. CHILE.
7. Too Much Vitamin A
When it comes to this particular point, let me first say that Vitamin A is good for your skin and hair on a few levels. Skin-wise, it moisturizes it, boosts your skin's immunity, helps to prevent breakouts and can even speed up the healing process if you've got acne or a cut or wound on your skin. As far as your hair goes, because Vitamin A helps cells to grow. Since, next to bone marrow, hair is the fastest growing tissue in your entire body, I'm pretty sure you can connect the dots there.
Here's the challenge, though. While you've got to basically try and overdo it when it comes to Vitamin A consumption, it is indeed possible. Health-wise, too much of it can lead to headaches, nausea and even comas and death. And when it comes to your skin and hair specifically, too much of Vitamin A can do the opposite of what I just said.
So, how much Vitamin A do you need? Many medical professionals say somewhere around 700 micrograms for us and 900 for men. For us, that breaks down to about 2.5 ounces. This means that if eggs, oranges and dark leafy greens are your thing, enjoy. Just remember that there is such a thing as too much of a good thing.
8. Processed Meat
If you've ever wondered what processed meat actually is, it's meat that has been preserved by the process of curing, salting, smoking, drying or canning. Off top, you know this means that it's got quite a bit of preservatives in it, right? Anyway, meats that would fall into this category include hot dogs, bacon, sausage, salami and smoked meats. Since processed meats contain a lot of sodium, that can lead to puffiness, swelling of the skin and premature aging. Too much sodium can dry your hair out too.
9. Vegetable Oil
I'm someone who likes to cook a lot. Sometimes what I'm preparing requires oil. What I've stayed away from, for years at this point, is vegetable oil. Long story short, the unsaturated fats in vegetable oil, when they are warmed up, they oxidize (lose freshness). As a direct result, the fats not only make your body tissues more vulnerable to harm, the fats can also trigger inflammation which can definitely lead to things like premature aging, wrinkles, sagging and breakouts. By the way, the same thing applies to soybean oil.
Something else to keep in mind about vegetable (and soybean) oil is, because it's an omega-6 kind of oil, that's one more reason why it's not the best thing for you. While on one hand, omega-6 fatty acids can help to relieve symptoms that are related to eczema, psoriasis and even dandruff, too much of it triggers inflammation to your skin and hair follicles too.
So, what kind of oils are better for you? How about trying avocado (it contains monounsaturated and polyunsaturated fatty acids); walnut (it has a good ratio of omega-6 to omega-3 fatty acids); extra virgin olive oil (it's an unrefined oil that's high in antioxidants); peanut (if it's refined, it's high in Vitamin E), and/or flaxseed (it's packed with omega-3s which can actually fight bodily inflammation) oil.
10. Fruit Juice. Kinda.
This says "kinda" because when fruit juice is 100 percent pure and consumed in moderation, it's not a bad thing. The reality, though, is a lot of us don't drink pure juice; we consume that kind that has a ton of sugar in it. How much? A cup, on average, contains a whopping 23 grams. And how much sugar does your body need a day? 24 grams. Exactly.
We've already touched on the fact that too much sugar in your system can wreak total havoc on your skin and hair. It's really easy to drink triple and quadruple the amount of sugar that you need on a daily basis under the guise of "it's just apple or orange juice". Yeah, be careful with that. Too much sugar is never good. Sometimes, the current state of our skin and hair is living proof of this very fact. That's why you should have no more than a glass or two and drink water the rest of the day. Every part of your body, inside and out, will be glad that you did. Your hair and skin included.
Join our xoTribe, an exclusive community dedicated to YOU and your stories and all things xoNecole. Be a part of a growing community of women from all over the world who come together to uplift, inspire, and inform each other on all things related to the glow up.
Featured image by Shutterstock
I don't know what it is, yet the older I get, the more interested I am in being intentional about taking care of my vagina. I think a big part of it is because, back when I was "out here", I didn't give much thought to how much that part of my body did for me. Oh, but with age, prayerfully comes wisdom. These days? Oh, trust me, I am super conscious about doing all that I can to keep my va-jay-jay happy because y'all, truer words have not been spoken when I say that when "she's" happy…I'm happy.
Several moons back, I actually wrote about the kinds of foods we all should eat if we want to keep our vaginas nice and healthy (check out "The Foods Your Vagina's Been Craving"). Today, let's explore the opposite—the foods that can actually cause all kinds of drama down below, if we're not careful. For the record, the intent is not to get you to no longer enjoy some of your favorite foods, so much as I'm hoping that you will reconsider before having an extra piece or drink that's made up of these ingredients—so that you and your vagina can be in optimum health, both inside of the bedroom and out.
1. Sugar
It really does suck that something that is so much fun to eat isn't the best thing for us, but that's how life goes sometimes. The reasons why sugar is problematic as hell is because it can do everything from cause us to gain weight and trigger heart disease and type 2 diabetes to put pimples on our face and even increase the chances of us becoming depressed or being diagnosed with cancer. The reason why your vagina frowns on too much sugar is because we've got good and bad bacteria in that area of our body. Well, something that bad bacteria enjoys consuming even more than we do is sugar and when it gets too much of it—BAM! A yeast infection is sure to be on its way.
2. Dairy
Ever since I heard someone say that humans are the only mammals to drink another mammal's milk and then have the nerve to do it past being a baby's age, that has given me a totally different perspective on the stuff. While cheese and ice cream are still two huge guilty pleasures of mine, I must admit that when I go without them, I feel much better. Anyway, if dairy is your thing, it's important to keep in mind that it can actually pull calcium out of your system, up your cholesterol levels, put more sodium into your body, increase the risk of prostate cancer in the men you love and cause you to become lactose intolerant as well. And why does your vagina roll its eyes at dairy? It's because foods like cheese can actually disrupt the gentle bacterial balance inside of your vagina; when that happens, it's another way to end up with an infection.
3. White Stuff
If it's white, it ain't right. Food-wise, that is. The main problem with things like white bread, pasta and rice (except for like jasmine rice) is it's been so heavily processed that there are barely any nutrients in it (although it still contains a ton of carbs that ultimately turn into sugar). Eat too much of this stuff and you could gain a ton of weight with nothing beneficial to show for it. Not only that but white foods have a tendency to spike your blood sugar levels. When that happens, your vagina becomes more vulnerable and definitely more susceptible to bacterial vaginosis and yeast infections.
4. Onions
Common sense isn't that common. A wise person once said that, right? A married woman once said to me that while her hubby used to always be interested in having sex, when she decided to eat raw onions—a favorite food of hers, by the way—he had been going down on her less. She thought it was a random coincidence when, actually, probably not. Onions are good for you in the sense that they are packed with nutrients (including vitamins B and C, potassium, and the compound sulfur) and they're able to put cancer-fighting compounds into your system, as well as control your blood sugar and improve your bone density.
Still, when it comes to your va-jay-jay, a good rule of thumb to keep in mind is if something affects the way your breath smells, it's most definitely gonna affect the way your vagina smells and even tastes to a slight degree. And onions, specifically? They have a reputation for being particularly pungent. Before sex? Hard pass.
5. Junk Food
A couple of years back, I actually wrote an article for this platform about why junk food is not good for us (check out "Why You Should Consider Leaving Fast Food Alone"). A main reason why it's problematic, from head to vagina to toe, is it suppresses your immune system. When that happens, your body cannot fight off free radicals, viruses and infections. In fact, if you eat a lot of junk and you notice that your vagina has been itching a lot all of a sudden, go cold turkey on that kind of food and see if that helps. Oftentimes, the culprit is your diet. Real talk.
6. Asparagus
I don't know about you but, to me, there is nothing like some roasted asparagus tips that have been drizzled in butter, olive oil and parmesan cheese. Chile. The cool thing about this particular veggie is it's actually pretty good for you. Not only is it loaded with Vitamin K and folate, it's also got a fair amount of vitamins A and C, along with other antioxidants and dietary fiber. This means that asparagus can help to keep you regular, lower your blood pressure and improve your digestive health overall. So, why should you consider laying off of it, I'd say a day or two before having sex? There's something in it that makes urine wreak and sometimes cause our vaginal secretions to not be very pleasant smelling either. Not only that but it throws our vagina's pH balance off which can—you already know—trigger an infection.
7. Coffee
There are few foods that are more complex than coffee. While, on one hand, it is able to do things like burn fat, make you more alert (at least temporarily), increase your physical performance, reduce your risk of certain cancers and even having a stroke, coffee also can trigger insomnia, make you anxious, irritate your stomach, make your colon lazy and become addictive. And when it comes to your vaginal health, like onions, it can also give your vagina an unpleasant odor. Plus, the caffeine in coffee has an odd way of hindering your body from fighting candida as strongly as it should. An overgrowth of candida is what causes a yeast infection. So yeah…push the java back, just a bit.
8. Red Meat
Much like coffee, there are some good and then not-so-good things about red meat too. Let's go with the good part first. Because it is high in iron, Vitamin B12 (something that a lot of Black women are low in) and other minerals, consuming it in moderation can be smart; especially if you are anemic or borderline anemic. The flip side to this is you've got to make sure that you eat leaner cuts because red meat can also be high in saturated fat which can cause a sorts of health issues (including heart disease) up the road. The main reason why your vagina would probably wish that you'd go without a few more hamburgers is because saturated fat can trigger bodily inflammation; that can definitely lower your system's immunity and also make your vagina susceptible to an infection.
9. Fried Foods
I have an air fryer and it really has changed my life. That said, I must admit that I'm someone who has a bit of a weakness for fried foods. I live in the South, so some good fried chicken or even some seasoned fries are like catnip to me. Still, I know that anything that is heavily fried in oil can clog my arteries, increase my diabetes risk, and might even put the toxic substance acrylamide (which happens as the result of high-temperature cooking) into my system.
Besides, it's not like my vagina is all that thrilled whenever I have a hush puppy, some mozzarella sticks, or a plate of fried green tomatoes (I told y'all that I was southern). For one thing, the fat in fried foods can throw off my vagina's pH balance. Secondly, fried foods are actually directly linked to bacterial vaginosis—both for me and for you. Something to ponder, the next time you decide to fry something up real quick.
10. Stuff with Preservatives in It
The long short of what preservatives is, is they are chemicals that are put into foods and drinks in order to make them last longer. The reality is a lot of the food that you see on the aisles at grocery stores are loaded with preservatives and some of them are pretty bad for your health. For instance, nitrates which are used to preserve meats can lead to colon cancer if consumed too often and sodium benzoate which are in a lot of sodas and packaged foods can increase ADHD, oxidative stress, allergies and inflammation. We already discussed that inflammation is definitely not the friend of any vagina, so try and stick to fresh and organic foods, as much as you possibly can. Your vagina will certainly thank you for doing so.
Join our xoTribe, an exclusive community dedicated to YOU and your stories and all things xoNecole. Be a part of a growing community of women from all over the world who come together to uplift, inspire, and inform each other on all things related to the glow up.
Featured image by Shutterstock
You know something that I find to be interesting as we're all trying to get through this pandemic? I don't hear or see nearly enough articles on how important it is to keep our immune system healthy and strong. Yet rather than complain about it, I figured I would do something about it instead. While there are features on our site like "Ready To Try 10 Quick & Easy Immune-Boosting Hacks?" and "Naomi Campbell Dropped Her Immunity-Boosting Vitamin & Supplement Routine", did you know that most of your immune system is actually located in your gut? Yep, a whopping 80 percent of it consists of your mouth, esophagus, stomach, pancreas, liver, gallbladder, small intestine, colon and also rectum.
Today, that is what we're gonna focus on—proactive things that you can do to take care of the parts of your body that work the hardest at preventing you from getting sick, so that you will be in peak condition to fight this pandemic until…it passes.
1. Eat Fermented Foods
If you were to ever Google ways to take care of your gut, something that you're definitely going to see are articles on why you should add more fermented foods to your diet. As far as what fermented foods actually are, the quick breakdown is they're carbohydrates that are processed into alcohol or organic acids with the help of yeast or bacteria. Some examples of fermented foods include pickles, kimchi, kombucha, miso, sourdough bread, yogurt, cheese and sauerkraut. Because fermented foods have so much good bacteria in them, that's a huge part of the reason why they help to protect and strengthen your gut. As bonuses, fermented foods are also really good at helping your body to better absorb vitamins and they can assist in replenishing your system if you've recently had a round of antibiotics.
2. Load Up on Polyphenols
Something else that's really good for you is polyphenols. These are organic compounds (like tannic acid and flavonoids) that your body needs because they do things like lower your blood sugar levels; help to fight your risk of heart disease; increase healthy brain function; reduce blood clots, and yes, promote healthy digestion. On the digestive tip, polyphenols are essential because they are great at promoting the growth of healthy bacteria in your gut. Some foods that fall into this category are blackberries, grapes, peaches, potatoes, broccoli, spinach, black and white beans, almonds, oats and cumin.
3. Take a Probiotic
At the end of the day, probiotics are nothing more than live microorganisms. You can get them via eating fermented foods. You can also get them into your body by taking a supplement. I have made sure to take a probiotic for the past several years and I've noticed that it's helped to clear up my skin and make me more regular. Some other cool things about taking a probiotic is, because it helps to detoxify the body, taking one on a daily basis can improve your moods, make eczema and allergy-related symptoms less severe and, it can most definitely help to make your immune system stronger over time. If you need a little help in figuring out which probiotic is best for you, Verywell Fit published an article on the topic that you can check out right here.
4. Consume Prebotics Too
While we're on this topic, something else that you should eat are prebiotics. If you're wondering what the difference is between prebiotics and probiotics, that's a really good question. Probiotics are live strains of bacteria. Prebiotics are a type of plant-based fiber that helps to feed the strains so that they can continue to grow.
The more prebiotics you consume, the more good bacteria your body will have and the stronger your immune system will ultimately be. And just what kind of foods fall into the prebiotic category? Garlic, onions, asparagus, bananas, oats, apples and cocoa (yes, cocoa!) are some that top the list. Enjoy!
5. Go Lean
Foods that are high in fat are foods that can ultimately lead to constipation. When you're constipated, your system is unable to release toxins as quickly as it should and that can definitely make you more susceptible to illnesses. That's why it's best to eat meats that are as lean as possible and when you do have something that is fatty (like fried foods, cheese, muffins, pizza or even egg yolks), you pair it with foods that are high in fiber (like avocados, carrots, broccoli, quinoa or even a fruit like a pear for dessert); that will help to balance everything out so that your system remains regular.
6. Chew Slowly
Back when I would visit a certain relative, something that was an absolute no-no was drinking while eating. The logic behind it is it confuses the digestive system, making it more difficult for foods to digest (Prevention published an article on this very point that you can check out by clicking here). Whether you abide by that rule or not, something that you definitely should do for the sake of your gut is to chew your foods slowly. That makes it easier for your body to absorb the nutrients that are in your meal. It helps to satisfy your hunger. And it allows the digestive enzymes in your mouth to make it easier for food to process once it does reach your gut. As you already know—the better your body can take in what you've eaten, the healthier it will be. If you're eating the right foods, that is. And just how often should you chew? According to health professionals, no less than 15 times and no more than 30. Yep, a lot of us are not even close to eating right. There's no time like the present to change that.
7. Up Your Water Intake
We're made up of 60-65 percent water so, yep, we need to consume it on a daily basis in order to hydrate and replenish our system. Some of the direct benefits that come from drinking water include it lubricates your joints; moisturizes your hair and skin; regulates your body temperature; flushes out toxins; maintains your blood pressure; helps to prevent kidney damage and increases your workout performance—and that is just the tip of the iceberg! The reason why water is so good for your gut is because it also helps to keep you from having an overly acidic tummy which can ultimately lead to heartburn, ulcers and other digestive complications. So, make sure to get no less than 6-8 glasses a day. Your gut will love you for it and your immune system will be all the better for it too.
8. Schedule Your Meals
Do you ever notice that you seem to feel bloated even when it's not that time of the month? A part of the problem could very well-being that you don't have your body on a schedule when it comes to eating your meals. As a direct result, your stomach ends up working overtime which can weaken it, well, over time. By being intentional about having your three major meals—breakfast, lunch and dinner—around the same time every day, it will help your body to properly digest what you eat. And the better shape your stomach's in, the less bloating and indigestion you will feel which will also help to keep your gut in top form.
9. Exercise
There's honestly not going to be too many articles in the world that tackle how to be healthier that aren't going to mention exercise at some point. As far as your gut health goes, exercise is important because it plays a direct role in helping your body to digest your food faster. Plus, it's a great way to keep the pounds off if you're looking to shed a few. It doesn't have to be anything too crazy. 45 minutes of cardio and strength-building, three times a week, should be just what you need for your overall health and well-being.
10. Reduce Your Stress Levels
It really is a trip how being overly stressed does us absolutely no good and yet it's something that so many of us still continue to struggle with. Your immune system will only suffer when you're stressed out, in part, because stress causes your digestive system to go into overdrive which can make your system vulnerable to all sorts of health challenges. Rest. Meditate. Learn to let ish go. Your health is about the most valuable thing you've got. You have to protect it at all costs. Your gut will thank you, by being really good to you, if you do.
Join our xoTribe, an exclusive community dedicated to YOU and your stories and all things xoNecole. Be a part of a growing community of women from all over the world who come together to uplift, inspire, and inform each other on all things related to the glow up.
Featured image by Shutterstock
Lizzo is a woman of many hats; hats she's worn over the span of her career. And lately, her usual hat, has been one allowing her to work on elevating her life. Sis has been working out more, dieting, and she's becoming the best version of herself, right before our eyes. So, when the high-energy crooner decided to sing during one of her workouts, we couldn't look away (as if dancing while playing the flute wasn't impressive enough).
She shared a video on Instagram of her new stamina-building routine, explaining that she decided to try it after she saw Miley Cyrus sing "Rebel Girl" by the band Bikini Kill on the treadmill. In the video, she says:
"So I saw Miley running and singing her song, for stamina, so I'm going to run and sing my song for stamina. I'm doing this for all the big girls out there. They said we couldn't do it!"
She then proceeds to get to work.
Lizzo then starts up the treadmill and goes right into her song "Cuz I Love You." Halfway through the song, which includes long, soaring vocals as well as rap lyrics, she asked herself, "Why'd I pick this song, this is so hard!"
She ends up dropping the rap and sticking to the singing portions, but she pushes through.
And interestingly enough, singing while running on a treadmill is a practice that many have done since the end of time, across multiple industries. Kevin Garnett once said he improved his conditioning by adding the workout to his routine, thanks to Beyonce.
One day, Garnett asked his teammate, J.J. Redick, how he believed she was in such great shape. And the rest is history.
"One time I saw [Beyonce] working out. She was doing her dances, and she was singing while she was dancing. So then I'm thinking to myself, 'Maybe I should run and sing at the same time?' So in the offseasons, I would go to Malibu — I would go down to the beach — and I'd run on the beach and I'd be like, 'La la la, la la la, la la la,' while I'm running. So then, when I get on the court — I'm getting back on defense; I'm talking on defense — I don't get tired."
Though combining singing and running is new for Lizzo, she is quite the regular in the gym. She shared her typical workout routine back in June (which includes cycling, jumping rope and squats) and then proceeded to call out the trolls who are ignorantly surprised that she exercises.
"Hey, so I've been working out consistently for the last five years and it may come as a surprise to some of y'all that I'm not working out to have your ideal body type. I'm working out to have my ideal body type. And you know what type that is? None of your f------ business because I am beautiful, I am strong, I do my job and I stay on my job."
In other words: I just took a DNA test, turns out...

Watch the full video here.
Featured GIF via Lizzo/Instagram
Superfoods. What exactly are they? I'm gonna be real with you—the term itself is one that is used in marketing. Basically, it's a word to let you know when a particular food is so high in nutrients that it's basically off the charts. Well today, I'm gonna take out a moment to share with you 10 foods that make the superfood list. All of them are rich in vitamins and minerals. All of them come with loads of health benefits. And all of them are pretty damn good, both to and for you, from the very moment you put them into your mouth.
If something that you really want to focus more on right through here is being more proactive when it comes to your overall health and well-being, here are some of the foods that will totally have your back. (Oh, and the specific food dishes that I recommend in this? Click on the hyperlinks because they are connected to actual recipes. You can thank me later, chile.)
1. Mushrooms
Here's something that I'll share from personal experience. While my health is actually pretty good, something that I've had for years is a fungal infection. It's resulted in me having more yeast infections back in the day than I would like and even a couple of bouts of tinea versicolor (by the way, I read that a Black woman has recently invented a cream that combats this particular fungal infection; you can get more info on that here). Anyway, what does all of this have to do with this list? Well, while mushrooms are considered to be a superfood, they are also a fungus. Sooooo…if you're also sensitive to fungi, you might wanna pass on (or at least eat less of) 'em.
For everyone else, mushrooms contain all sorts of health benefits. They are packed with antioxidants including selenium. Selenium is dope because it decreases your chances of developing certain cancer cells, helps to prevent heart disease, reduces mental decline, promotes thyroid health and helps to boost your immune system. Some other awesome things about mushrooms is they contain a good amount of vitamins B and D, copper and potassium and the soluble fiber beta glucan which helps to reduce the risk of type 2 diabetes. If you've got inflammatory issues, mushrooms also have the antioxidant ergothioneine which helps to lower inflammation and, as a bonus, ergothioneine can also slow down aging signs from the inside out. All of these are solid reasons to make yourself some homemade stuffed mushrooms tonight, don't cha think?
2. Sweet Potatoes
Sweet potatoes are considered to be a "perfect food" because, so much of what our bodies need, on a daily basis, is found in one. For starters, sweet potatoes contain an incredible amount of vitamins A, B, C and E, along with iron, calcium, selenium, choline, magnesium and antioxidants. Every time you eat a sweet potato, you are taking proactive measures to manage your blood sugar, reduce your stress levels, fight bodily inflammation, prevent ulcers and, thanks to the antimicrobial properties that are also in sweet potatoes, they can help to protect your body from the bacteria that can ultimately lead to pneumonia. Not to mention the fact that the Vitamin C in this vegetable can help to produce collagen to give your skin a healthy glow while its Vitamin E can help to keep your skin and hair moisturized. All of this is a good enough reason to make yourself a baked sweet potato or some sweet potato fries ASAP.
3. Pomegranates
Pomegranates are the kind of fruit that you have to get on in the fall if you want to gain all of the nutrients that it has to offer. That's because pomegranates are at their peak between September thru November (although sometimes you can catch a good batch well into January). Personally, one of my favorite things about them is, in Jewish culture, one of the things that they represent is love and fertility.
However, as far as health benefits go, pomegranates are high in Vitamin C, fatty acids, and antioxidants (three times the amount of red wine, in fact). They also contain vitamins E and K, fiber, folate, and potassium. Eating pomegranates will help to reduce chronic inflammation, properties that help to prevent breast (and prostate) cancer, arthritis, and blood pressure. There are even studies to support that pomegranates can help to improve your memory and reduce oxidative stress so that it's easier to conceive. All that from a fruit that contains approximately 613 tiny little seeds in them. A great way to get pomegranate power into your system is to drink pomegranate juice (not drink; pure organic juice) which you can usually find in your local grocery store.
4. Bone Broth
As a doula, if there's one thing that I recommend the moms that I work with consume, it's bone broth. Basically, it's the stock that comes from the meaty bones and connective tissue that are left over after doing things like boiling ribs (before baking or grilling) or preparing some homemade chicken soup. The health benefits of bone broth are numerous. The amino acids in bone broth will boost your immune system and help to increase muscle mass. The L-glutamine in it will reduce gut inflammation. The calcium, Vitamin D, zinc and iron will help to keep your bones nice and strong. Also, on the nutrient tip, bone broth contains vitamins A, B, C, K and copper and boron. If you're dehydrated, bone broth's got plenty of electrolytes. Other properties in it can help to improve your quality of sleep, build stronger nails, provide arthritic and joint pain relief and, help to lighten heavy menstrual cycles too.
If you're not a vegetarian or vegan, you can get an easy-to-make recipe for bone broth here. If you happen to not eat meat, there are meat-free alternatives. Click here to make vegetarian bone broth and here to make vegan bone broth.
5. Cauliflower
Often considered to be the "white half-sibling" of broccoli (LOL), cauliflower contains all kinds of great goodness! It's rich in vitamins B, C and K, magnesium, manganese, potassium, fiber and phosphorus. Some valid perks that come with consuming cauliflower is it's the kind of veggie that is low in carbs and gluten-free (which is why so many people enjoy cauliflower rice). Also, it's got antioxidants in it to help fight off free radicals, promote healthy gut bacteria (remember that 80 percent of your immunity is within your gut) and, along with the flavonoids and carotenoids in this veggie, it can also help to keep cancer cells at bay. Cauliflower also contains choline to boost brain health while the iron in it can help your body to better absorb iron if you happen to be anemic or borderline anemic. Plus, the Vitamin K in cauliflower supports long-term bone health. So, how about making a pizza with some cauliflower crust soon?
6. Arugula
Arugula is a green that comes from the Mediterranean region. If you've never tasted it before, it has an acquired light peppery taste. Arugula is loaded with calcium, potassium, folate, zinc, iron, phosphorus and vitamins A, C and K. And, while all greens are really good for you, arugula makes the superfood list because it helps to strengthen your heart; keeps free radicals from attacking sensitive areas like your eyes; controls your blood pressure; aids in digestion; speeds up the healing process of skin ailments such as eczema and acne; enhances your athletic performance and, it's an excellent detoxifier. Honestly, that's just the tip of the iceberg (no pun intended) of this green vegetable. Yet if you're someone who enjoys fresh salads, add some arugula to them. You'll literally be eating a multi-vitamin, every time you do it.
7. Ginger
Ginger is a spice that, I'd actually be pretty shocked if you didn't know that it's wonderful at treating nausea (or morning sickness, if you're pregnant). Oh, but it does a whole lot more than that. The gingerol that's in it contains powerful medicinal properties. Because of this, ginger can reduce muscular pain and discomfort, lower blood sugar levels, soothe the discomfort that's associated with chronic indigestion and help to relieve menstrual cramps too. As if that's not awesome enough, ginger also helps to hinder the growth of abnormal cells (that could lead to cancer), helps to improve cognitive health and, it can even inhibit the growth of certain bacteria. So, why not treat your body by making yourself a cup of ginger tea? With some honey and lemon, while it's pretty spicy, it's also pretty damn good too.
8. Pears
Pears are another one of those fruits that are best bought and eaten in the fall; that's because they are in season from August thru October. They top the list of being one of the healthiest foods in the world because they are high in fiber, plus they've got a good amount of Vitamin C and copper in them as well.
Thanks to the fiber, they help to promote good gut health. Pears also have plant compounds in them; ones that will help to keep your skin glowing and your vision clear. Since they're also rich in the flavonoid antioxidant, pears can reduce bodily inflammation and help to fight the development of cancer cells. Also, the procyanidin antioxidants in this fruit can improve heart health while the nutrients zeaxanthin and lutein will keep your hair and skin looking and feeling healthy. A pear right out of your fruit bowl is good all on its own, but something that tastes absolutely amazing is fresh pear preserves.
9. Buckwheat
While growing up, something that my mother used to make, fairly often, was buckwheat pancakes. I actually liked them a lot. If you're familiar with buckwheat but you're not exactly sure what it is, it's considered to be a superfood because it's on the whole grain list. It has a good amount of protein and fiber in it, along with a high amount of potassium, phosphorus and magnesium. Some other nutrients that are found in this particular grain include calcium, iron, various kinds of Vitamin B and some Vitamin K too. Because whole grains are linked to good heart health, that's one reason to add buckwheat to your diet. Also, the fiber in it helps to aid in digestion and support weight loss. If you've got diabetes and you want to help to keep it in check, this is a grain that is also a complex carb; complex carbs help to manage glucose levels. And, since buckwheat is gluten-free, you can enjoy it, stress-free, if you happen to be allergic to wheat or barley. All good reasons to give this awesome whole grain a try.
10. Dark Chocolate
There really is no tellin' how many times I've written a health-related article and dark chocolate has gotten a shout-out in it. That's because it's the kind of food that is just that bomb! It's really high in fiber, manganese, copper, iron and magnesium. Believe it or not, dark chocolate has some fatty acids and antioxidants in it too. All of these things work together to lower your cholesterol and blood sugar levels, boost your immunity, reduce your heart disease risk, protect your skin from damaging UV rays and improve your cognitive function. Not only that but the theobromine compound (which is found in the cacao plant) along with the chemical phenethylamine that's also in dark chocolate can help to prevent depression.
Also, here's something that's a trip—theobromine has the ability to calm down your vagus nerve. Why does that matter? Your vagus nerve is what causes you to cough whenever your throat is irritated, so basically, dark chocolate serves as a cough suppressant too!
Just make sure that you get the kind of dark chocolate that contains at least 60 percent cocoa because, in order to gain all of these benefits, you need to eat pure dark chocolate, not a Snickers candy bar. Oh, but if you do, you will be partaking in the kind of superfood that will be looking out for you and your overall health and well-being for years to come. So, get to a store and cop you some ASAP. That and the rest of what's on this superfood list, sis!
Join our xoTribe, an exclusive community dedicated to YOU and your stories and all things xoNecole. Be a part of a growing community of women from all over the world who come together to uplift, inspire, and inform each other on all things related to the glow up.

Featured image by Shutterstock