Having a hoe phase and being friends with benefits are concepts most commonly utilized by generations that came after the 1960s sexual revolution. This is not to say these concepts were nonexistent before that time, but more so that they were not socially embraced...sans the colorful language, of course. However, the millennial generation was once baptized in what eventually came to be known as "hookup culture." One can only speculate that the social acceptance of hooking up is where things look extremely different from previous generations, as it has been largely accepted at this point.
In fact, it's become so normalized that I have found myself feeling bad that I can't get down with the get down. Not really. I'm that girl and have come to live with the fact that I always will be – casual sex isn't for me, not penetrative anyways. In other words, I will get some head and head out. But casual penetrative sex always proves to be far too intimate for me to do without some type of romantic connection.
Featured image by Getty Images
Recently, I was talking to a friend of mine about someone who once told me that they had an annual week-long summer rendezvous that lasted for over 15 years with someone else. Yep — this individual would meet up with another person who lived in a different state, solely to have sex for a week straight, and then return to their city as if nothing ever happened. According to them, the only reason why this ritual romp eventually came to an end is because the other person decided to get serious about someone else; however, it wasn't until it ended that the person who told me the story realized how attached they actually had become to their sex partner (a cautionary tale). After I completed my lil' tale, my friend simply said, "Oh, I do that s — t every cuffing season. There are some people who I only talk to around this time of year, we f — k around and then that's that until the season comes around again."
Interesting. I mean, it's not like we don't all know what cuffing season is about at this point. By definition, it consists of linking up with someone (or a few individuals), for short-term partnerships (if you want to call them "partnerships"), in order to get through the bitter cold that is well on its way. Still, I can't help but to think that cuffing season has become such a big part of our culture these days, that when someone comes back into our life, solely and only for that purpose, that we may not be thinking things all the way through — that we may not be actually pondering if it truly is a good thing or if it's potentially a total waste of time or…even the beckoning of a potential unforeseen heartbreak. Or, if it could be blocking what really has the potential to be something more.
That's why I wanted to write about this. If, like clockwork, there are one or a few folks who like to pop up in the name of dear ole' cuffing season and you're just not sure if that's something that you want to put your precious energy into this year, I've got a few points for you to reflect on. Ones that will hopefully help you to make the decision that is ultimately best — for you.
Featured image by Getty Images
Summer is about to be reckless AF. I foresee people acting as if they have never been outside before. With that said, I'm ducking and dodging because I'm not a messy bish. And I don't like messy situations. I am never one to create some mess or be in some mess either. But these dudes will surely have you in some shit you never wanted to be in if you let them. I wish men would understand the more transparent they are about how they're moving in these streets, they're less inclined to get caught up. And they would be more inclined to get the box without the drama.
Let's be real, they would be less likely to waste a woman's time by stating what it is and what the fuck it's not. But instead, these dudes want to roll the dice and end up hurting multiple women in the process. And I'm the type that doesn't need to feel like I'm being courted or wined and dined if I am just keeping it casual with someone.
A few months ago, I was caught up in some type of entanglement and I didn't even know it. I had met this guy who I thought was dope AF. Those words don't come out of my mouth too often. It takes a lot for me to say someone is dope, let alone for someone to keep my attention. I'm a Sagittarius – I'm attracted to highly unique people because "average" just doesn't do it for me. I feel deeply, and there is so much depth to my waters. And if I allow my softness to be seen, it says a lot about how I hold you. I had a good time with the guy I had met.
I looked forward to seeing him again too. But if I had known what his situation was, I would have moved so differently. I wasn't given the option to choose what I wanted to do because dudes stay fumbling their words when asked the question, "Are you seeing anyone"? or "Are you dating anyone right now?" In the end, I was disappointed, and he went about his business leaving me to question the connection I thought we had with no explanation. But I have come to understand the universe puts people in your life for a reason and removes them with reason too.
After I took the time to process my feelings about what had happened, he fumbled, not me. How things played out was disheartening, but it probably saved me from a situationship I was not meant to be a part of. I have to thank the universe for that and the lessons that came with it.
As this pandemic slowly comes to an end, we're outside, and we're ready to play. Here are nine rules to casual dating every woman should know this summer.
1

.

Be Honest About Your Dating Status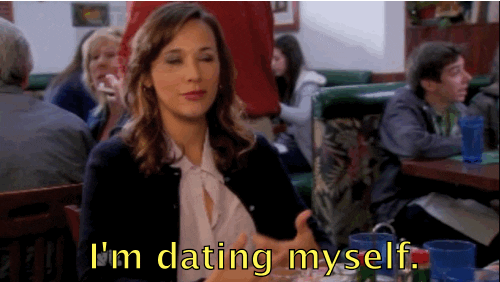 Animated GIF
Giphy
What men (and some women) don't realize is that by not being straight up from the get-go about their dating status, they fuck up the whole damn play. By the time they say what it is, it's too late. Someone already catches feelings, or someone gets hurt. Save yourself the drama and be transparent about your dating status. Let homeboy know you're dating openly or seeing different people. And if he tells you he's dating other people, you need to be OK with it.
If you can't be OK with it, casual dating isn't for you. And if he doesn't state what his dating status is, always assume he's dating other women.
In my dating experience, I have had only two guys respect me enough to be direct about what they wanted with me. And I have always appreciated them for letting me decide if I wanted to be involved with them or not. I am still really good friends with one of the two guys today. That's the homie for life.
2

.

Ask The Right Questions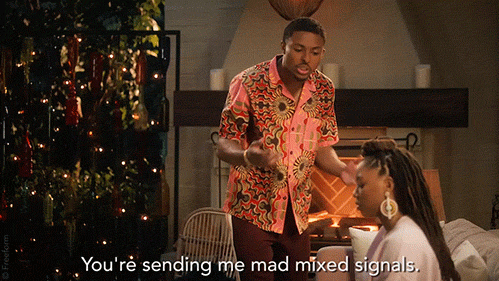 Some men don't like when women ask "too many questions," but one thing about me is I'm going to ask your business. Especially, if you fail to be transparent with me. Because it's my feelings and my vagina on the line. And I hate finding out things later. It's my number one pet peeve. The issue is women aren't asking men the right questions when it comes to casual dating or casual sex at all. I used to be this way, but after recent events, not no more. Don't just ask if homeboy is dating someone. Nah, bruh.
Ask questions like, "Is there anyone that would be hurt, if they saw us together?", "Is there anyone that perceives they are in a relationship with you? Watch his body language. Listen to see if he gives you a vague answer. If he fumbles his words or avoids the question, take that as your answer. If he can't give you a simple yes, no, or explain his situation, there it is. We're grown, there is no need for mixed messages. Until a man makes it clear he wants to be exclusive with you, please unapologetically do you. There are to be no fucks given. And you don't owe anyone an explanation for how you move in these streets.
3

.

Know What You Want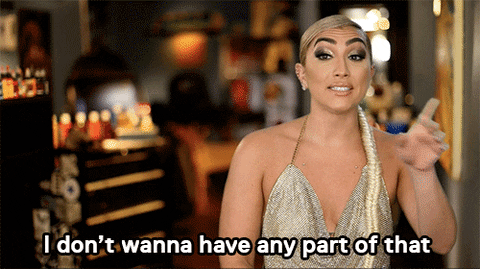 Sis, you can't be out in these streets if you don't know what you want. This is where it can get messy too. You can end up hurting yourself by looking for something in someone who isn't going to give it to you. You have to move consciously by knowing what you want. Are you out here just trying to meet new people? Are you just wanting to have fun? Are you just wanting good sex? Are you dating with intention? Are you looking for a partner? Are you dating to marry?
Figure out what it is you want in the season that you are in and unapologetically go after it. In my situation, he and I were cool. We knew we were energetically connected. After being so closed off for so long, I was open to seeing what kind of connection we had. In the words of Kehlani, "It was good until it wasn't good." But I guess I was meant to experience him in the way that I did. I have no regrets. My heart is full of gold and my love is pure magic.
4

.

Don't Forget About Boundaries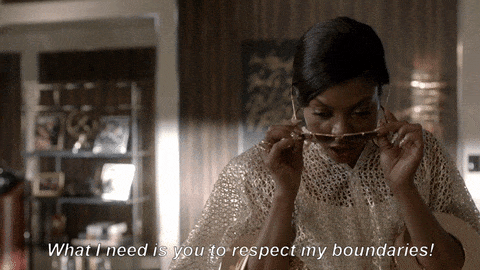 After you figure out what you want, don't forget about setting boundaries. Don't be afraid to do this. There is a fine line between just being cool with homeboy and getting too personal with him. Create boundaries for yourself, so you don't catch feelings or get attached.
You're not his sounding board, confidant, or therapist. And don't think you're special because he chooses to tell you all his personal issues. Sis, you are not fixing anyone this summer. You are out here to experience and live.
Boundaries in casual dating or casual sex can look like limiting how often you speak to each other or how often you see each other. It could also look like engaging in only surface-level conversations and not asking each other too many personal questions too. So, if the question doesn't concern what y'all have established, don't ask. Save yourself the headache and the heartache.
5

.

Clear Out Your Baggage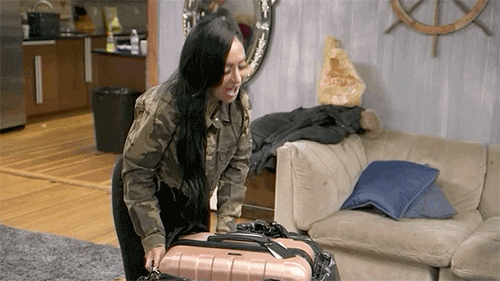 If you're still emotionally attached to an old relationship or haven't healed from a past lover, you don't need to be outside. I'm sorry sis. But I am speaking from my own experience. What you need to do is get all the way uncomfortable with yourself and process your feelings. This is the only way you will be able to heal and be able to move forward with your life. I'm not saying you can't be in these streets, just don't go adding a man to the mix.
Do all the things that make you happy this summer. Explore all the things you are in the season you are in. But don't think moving on to the next guy who catches your attention will heal you. It won't. This is called avoidance. Your unhealed relationship trauma will still be there after he leaves. And will continue to linger and carry over to your next relationship until you choose yourself.
6

.

Self-Awareness and Emotional Development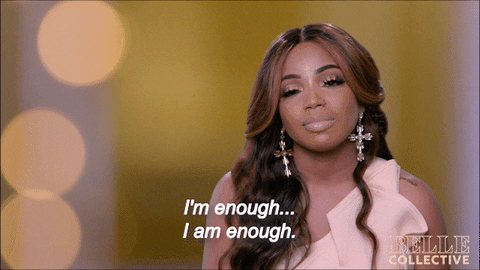 I Am Enough Self Awareness GIF by OWN: Oprah Winfrey Network
Giphy
Consciousness is key. If you're still struggling with self-awareness and achieving emotional stability, then the streets are not for you. One thing you need to understand in casual dating is that how a man behaves is a reflection of him, not you. You cannot take everything he does personally. But you can learn to control your reaction to his behavior. For example, ghosting and inconsistency. When this happens, don't give him a pass, just keep it moving.
Women also need to pay attention to their own patterns and behaviors. We need to be able to emotionally check ourselves by understanding our own reactions in our dating life.
For example, some of us constantly get in our feelings when a date cancels or things don't go as planned. I mean, why waste good energy by being upset? If this happens to you quite often in your dating life, where you have no control over your emotions, shift to focusing on more self-work and less dating.
7

.

Have An Exit Strategy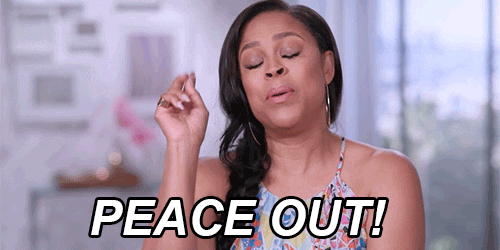 basketball wives goodbye GIF by VH1
Giphy
Stay away from toxic situations at all costs. I know the dick might be amazing, and he might come across as amazing, but no dick is worth toxic energy in your life. You have to remember sex is an energy exchange. Any human interaction is an energy exchange and can create internal chaos in the body and manifest as disorder in your life. Trust me, you don't want that. Don't be afraid to cut him off at the first sign of toxic behavior.
When I say toxic, I mean the first sign of disrespect, narcissism, and abuse of any form. Feel free to block homeboy too if he is acting out of pocket. I almost fell victim to a situation like this too. Homeboy was fine AF, and there were a few red flags. But I thought to myself he would be fun to chill with. Thankfully, my homegirl snatched me up real quick. She saved me from a situation that I didn't need to be in. She knew that's not what I wanted or deserved.
8

.

Understand That STDs Are Real
Safe sex is great sex. I don't know which hip-hop artist wrote this lyric, but I'm here for it. Don't trust every man's penis to be a clean one. Most men don't care about their health, let alone their sexual health until they have a reason too. These men are brave out in these streets. And since most men aren't upfront about their dating situation, don't think you're the only one he's having sex with or spending time with either.
Nowadays, no one is truly single anymore. We got all kinds of situations going on. Protect yourself by practicing safe sex.
If this means that you and he both get tested before you engage in any sexual acts, do it. If that means you have to create some kind of agreement or understanding between each other, do that too. We value well-protected vaginas over here. But also, be upfront if you're having sex with multiple partners too. And you have the right to ask him about his sexual partners too because again, it's your vagina. As awkward or uncomfortable as these conversations are, they still need to be had.
I say all these things so you can protect your heart out in these streets. Watch for the red flags and the yellow flags too. Energy doesn't lie, you'll know if something is off. Don't let these men play you. Don't let yourself be caught up in some mess you're not supposed to be in. Don't let these dudes dictate how you move in these streets either. And at any rate, always choose yourself first.

As for me, I'm going to keep glowing and keep moving. Summer is mine. I've taken the time to heal, and it's time for me to live my best life. All I want to do is create endless memories. I want to pour into life the way life has poured into me. I'm going to stay outside and do my thing. But I mean it when I tell these men don't bother me if they're with the shit. Because if he fumbles me, there is no me coming back.
You see the material. It's my energy, aura, and my spirit.
Sis, I'm living this summer. Are you?
Featured image by Dean Mitchell/Getty Images

I know. You probably think that since I used the word "haunting" that I'm referring to something eerie like a ghost or spirit. Nope. If your sexual past has you seeing things, I gotta be honest and own that I'm not qualified to help you out with that. Naw, when I'm talking about your past sexual experiences being able to haunt you, I'm coming from the perspective that, no matter how much you try to shake some of them off, they keep coming into your mind and heart, almost like they are taunting you and keeping you from getting on with your life. It could be a particular man, it could be the sexual experiences that you had with a few men or, it could be the act of sex itself.
The reason why I do feel like I can speak on this kind of haunting is because, for many years, I was haunted by different forms of my sexual past. It seemed like no matter what I did or how hard I tried, certain partners and experiences, I just couldn't seem to shake. Because of that, it was very hard for me to emotionally heal and move forward. And trust me, staying stagnant is a surefire way to set yourself up for some pretty unhealthy—or at least totally counterproductive—approaches to life and relationships with other people.
Time is precious; far too precious for sex to be haunting you instead of blessing you. So, if you're reading this and there's something tugging you to not click off of this page, I'd say that's the first sign that something in your past may be taking up way too much of your present. Just to be sure, here are seven spot-on signs that you may be sexually haunted.
You're Always Making Comparisons
Knock virginity if you want to but waiting until marriage does have its benefits. For instance, there's someone I know who's been married over 15 years now, who used to say all of the time, "I don't know if my husband is great in bed or not. I know he's great to me because I don't know any different."
Those of us single gals who won't have her same testimony on our wedding night might find it to be a little sad that she didn't get to "kick it" before saying "I do". But you know what? I've dealt with my fair share of couples who have some pretty sucky sex lives and, a big part of it is because, their spouse isn't as good as someone from their past. Sure, they love their husband or wife but if they had to pick someone to join them in the bedroom, some other names would come before them.
You can't control the past that you had or even the memories that come from them. But if you're currently sexually involved with someone and you can't enjoy them because you're always comparing them with someone else, this is one sign that your sexual past is definitely haunting you. Not just haunting you but having way too much power over you too.
You Keep Going Back (to the Sex not "Him")
There is someone from my past who I had sex with, off and on, for years. For a myriad of reasons that are about a book-length long, we knew that being together, long-term, wasn't gonna work out. But that sex was sooooo good (WHEW!) that we kept coming back for more. Then one day, out of the blue, he told me that I was like crack to him and he chose to no longer be addicted. I never heard from him again.
A few years ago, I looked him up to see what he was up to. I discovered that he was doing very well. I left a message on his work phone saying, "This is crack" and I asked him to give me a call if he got a chance. He called that night and we spoke for about eight hours straight. Y'all, he still looks and sounds just as fine as I remembered him. Anyway, when I asked him what made him blindside me with that phone call almost 20 years ago, he said that he was so caught up in what we had going on that it was sidetracking him—"Shellie, I was literally considering leaving college and moving to Nashville, just so we could have sex all of the time. It was getting out of control." He tells no lies there.
The moral to this story—sex is a part of a relationship but anything that is all-consuming isn't healthy. If there is someone you keep going back to and the only reason you've got is because the sex is good, while I hate to say it, that reason isn't good enough. Believe it or not, there are men in this world that can offer you the complete package. Don't remain in a dead-end situation just because the orgasms are good.
You Carry Past Sexual Guilt
I've always been really candid about my sex life. I'm not sure why; I think it's because I'm a pretty open person overall. That doesn't mean that I haven't done some things that I regret (regret means remorse so, it's a good thing to have regrets sometimes). An example is I was once the wedding planner for a couple and I was sleeping with the groom at the time.
How can I share something so low-down? Because, while I am repentant, I don't carry any guilt (or shame) about the situation. It was years and years ago. I apologized to both parties. I've forgiven myself. I've moved past it.
If you have a sexual past, chances are, you've done some things that you're not exactly proud of either. While a certain amount of initial guilt can be good so that you'll learn your lesson and not repeat it, remaining in a state of guilt is bad for your mental health and emotional well-being (check out "10 Things You Didn't Know About Guilt").
If you're having a hard time being in a relationship or having a satisfying sex life and you know it's tied to some sex-related guilt that you're holding onto, I'll share with you one of my favorite definitions of forgiveness that I once heard Oprah share—"Forgiveness is accepting that the past cannot change."
Guilt keeps us looking backwards. Release it so that you can move forwards.
Or You Hold onto Past Sexual Fear
When I speak of fear, I don't mean the kind of fear that may be connected to sexual trauma. If your sexual past is haunting you due to something like that, you are warranted and I encourage you to see a professional and reputable therapist. Counseling or even trauma healing can be life changing; they really can.
Actually, where I'm coming from is the acronym for fear—False Evidence Appearing Real. Another indication that your sexual past may be haunting you is a past partner may have made you feel self-conscious about your body or sexual performance or, a sexual experience that you built up in your mind ended up not being all that you fantasized and that has hindered you from fully enjoying sex now. You don't want to show your body, you prefer to have sex in the dark and/or you build up a wall so that you won't be disappointed…again.
Your current partner is not your past one. Unless he gives you reason to think that things will be like before, make a conscious decision to give him the benefit of the doubt. When fear knows that we don't believe what it's telling us, oftentimes, it tends to fade away.
You Constantly Use Sex as a Way to Move On
I've shared before that a saying that is truly like fingernails on the chalkboard to me is, "The best way to get over someone is to get underneath someone else." It files right up there with "If you like it, I love it." (Because we usually say that when someone is doing something stupid or self-destructive. So no, I don't love it.) Anyway, if you're someone who believes that rebound sex is the best way to move on from someone who turned you out and/or broke your heart, do your future a favor and check out "We Should Really Rethink the Term 'Casual Sex'". The oxytocin that surges throughout your body during sex has no idea if you're doin' it and doin' it well (shout out to LL Cool J) with someone you're in love with or someone you just met.
And since oxytocin is designed to bond you to your sex partners regardless, well…if your way of getting over someone is to be with someone else, I hate to break it to you, but all you're actually doing is adding more men to the list that you'll have to get over—one way or another. You're setting yourself up to remain sexually haunted for a long, long time.
Sex Is Your (Main) Self-Esteem Booster
Who doesn't want to be told that they are good in bed?! Anyone who says they don't care is LY-ING. However, I'll raise my hand in this class and admit that when it comes to about half of the 14 sex partners that I've had (I break all of them down in "Each of My 14 Sex Partners Taught Me Something New"), a part of the reason why they were able to "get in" at all is because I had seasons in my life where I thought that the only thing that would draw—and hopefully keep—a man was my sexual performance. The problem with that is 1) all of us have more than one thing that makes us special and relationship-worthy and 2) that is a lot of power—too much power—to relinquish to one particular aspect of your life.
Take it from me, if you are in the habit of using sex—or your sexual performance—as a way to feel good about yourself, there are a ton of men who are just waiting to manipulate that breakdown in your psyche. Not only that but, during your sexual dry seasons, you could find yourself in mild bouts of self-hatred or depression because you aren't able to rely on your "fix". And since you've convinced yourself for so long that sex is the only way to remedy the issue…do you see the vicious cycle that you've created?
Sex Is Your Coping Mechanism
Speaking of sex being a "fix", if you run to sex, because you don't know how else to deal with a bad situation or difficult emotions, that's a sign that you're misusing sex more than you're actually embracing it. Sex is proven to reduce stress and make us happier, but if you don't know any other way to handle what's transpiring in your life, not only are you setting yourself up to have "haunting feelings" about sex itself but you could send yourself on the path to becoming a diagnosed sex addict.
So, what should you do when life seems to be a little painful or out of control? Get still and don't be afraid to feel what you're feeling. Do something like take a bath, listen to some relaxing music or even take a nap in order to give yourself a bit of a break. Then try and come up with a plan of what to do next. Then actually follow through with said plan.
I know this isn't the kind of topic that gets explored a lot. But it should be. Sex is too awesome for it to be out here haunting you. Exorcise the past so that you can openly and freely get on with your sexual future!
Featured image via GIFS
Want more stories like this? Sign up for our newsletter here and check out the related reads below:
After the Breakup: How To Avoid Giving In To The 'Hoe' Phase
Tiffany Haddish Gets Real About Soul Ties & So Should We
I've Been Abstinent For 12 Years, Here's How
I must admit, even when I was sexually active, I never liked the term "casual sex".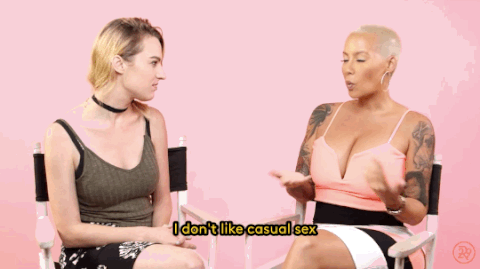 I think a big part of it was because I had a sexual pattern that made it difficult for me to see that what I was doing was being casual. I've never had a one night stand. All of the guys I've had sex with, I've known for at least a year. And because (aside from my first love), I was friends with the fellas and wasn't quick to jump into bed, or wherever we decided to do it, with them, I always dismissed the idea that what we were doing was…casual.
Let me tell you something that hindsight has definitely taught me. Someone can be literally inside of you and have a totally different perspective of what's going on — from how the sex makes them feel to how they feel about you, period.

While I was thinking that, at the very least, I was having sex with men who deeply cared about me as a friend, a lot of them were thinking that since we were "close", they could A) talk me out of wearing a condom and/or B) convince me that I shouldn't expect more than some sex and laughs, and/or C) we could be part-time homie-lover-friends while they focused on finding real potentials for something lasting…elsewhere.
I defined friendship as a sacred trust. They defined it as secretive convenience.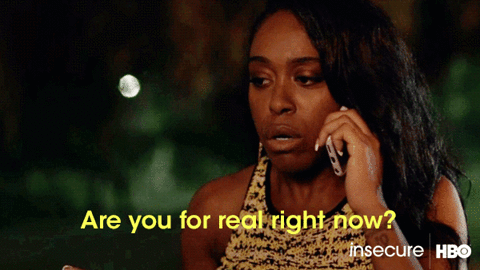 media.giphy.com
You know what that means, right? Although I might not have been having casual sex with them, they were certainly having it with me. How do I know that for sure? From the very meaning of the word "casual":

Casual: happening by chance; fortuitous; without definite or serious intention; careless or offhand; passing; seeming or tending to be indifferent to what is happening; apathetic; unconcerned
I don't know if it's my age (44) or the amount of time I've been abstinent, but what in the world would make anyone feel good about admitting that they participate in the kind of sex that is careless, apathetic and has no real intention? Even if the only intention is that we're all treated with the care and respect that we so very much deserve?
Just to make sure I wasn't the only one who felt this way, I recently went out into cyberspace to see what others thought about casual sex; otherwise also known as "the hook-up culture". Articles like "Why the Hook Up Culture Is Hurting Girls", "Hookup Culture Is Ruining Everything" (which is written by a guy, by the way), and "How Hook-Up Culture Is Ruining Dating" confirms that I am not the only one who feels the way that I do about casual sex.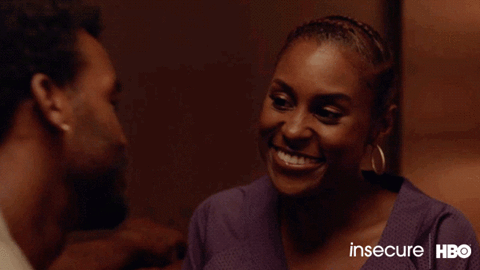 media.giphy.com
But actually, what I want to pose to you is not that we shouldn't settle for casual sex because being seen as casual should be way beneath our standards, values, and even hormonal needs, I want to talk about how casual sex is something that's actually impossible to do. Because our bodies won't let us do it.

There's a scripture in the Bible that says "There's more to sex than mere skin on skin. Sex is as much spiritual mystery as physical fact." (I Corinthians 6:16 — message!) Sex is spiritual as well as physical. OK, now watch how this all plays out.
One day, while doing some research on the hormone oxytocin, I read that science has discovered that whenever we have sex, there is a literal spiritual experience that takes place; that once we climax, we oftentimes feel connected to a higher power of some sort (maybe that's why so many of us say "Oh God!" during sex…something to think about). It's also scientifically-proven that oxytocin causes us to naturally and automatically bond with our sex partners; this is why oxytocin has the nickname "the love hormone".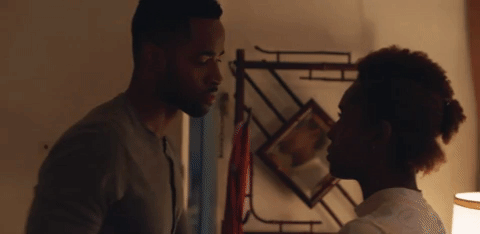 media.giphy.com
Hmm…so sex makes you tap into a higher power and bond with your partner. Not emotionally, mind you. I'm talking about what happens to us physically. Our bodies don't know if it's our husband whom we've been with for 10 years or some random we met at a party last night.
Physically, oxytocin is gonna make us connect with the people we're sleeping with regardless.

OK, let's keep going. A few years back, I watched a YouTube video that truly blew my mind! It was about all of the physical/biological things that happen to a woman during sex.
One thing that was shared is when you conceive a child with a man (whether you keep, miscarry or get an abortion), their DNA remains a part of you — brace yourself — for the rest of your entire life.
Another pearl of wisdom is the fact that our bodies are created to only have one set of sperm inside of us at a time. So, if we have a really wild weekend and have sex with more than one person within a 72-hour period (not-so-fun-fact, I've been there — I once had sex with three different guys in the same week), it's not uncommon for us to catch a cold. Why? Because our bodies are created to only have one sperm in us at a time. When our body notices there is more than one kind of sperm inside of us, it will literally abandon our immune system to try and get that "foreign sperm" out. Just wow.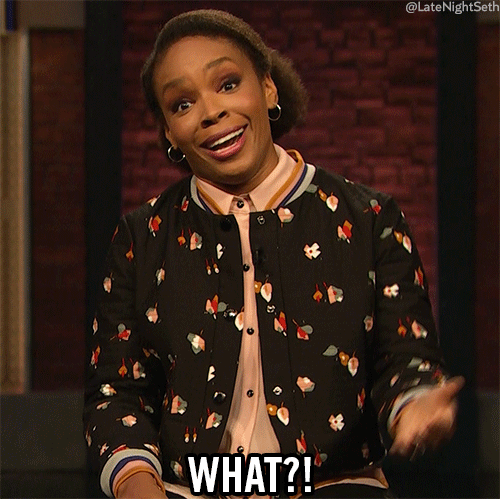 media.giphy.com
So again, our bodies take sex so seriously that when we make a baby with someone, they are a part of our DNA forever and if we have more than one sperm in us, that can literally make us sick.

My personal takeaway? Even if we've mentally and/or emotionally trained ourselves to treat sex casually, our bodies don't. Our bodies don't respond to sex in a careless way; they see intention every time we participate in the act. That alone should make us, at the very least, rethink using the term "casual sex".
So yeah, whether you decide to wait until marriage or long-term commitment, or you're all good with not being in something so serious before doing-the-do, all I'm asking you to do is not consider the sexual activity you will participate or are participating in as "casual".
For one thing, you are far too precious for that. Secondly, your body doesn't see it that way at all. And since you can't have sex without your body being involved…well.
Feature image by Getty Images.
Related Articles:
Here Are The Dating Trends That You Need To Avoid At All Costs – Read More
No, Your Standards Aren't Too High As Settling For Crumbs Will Leave You Starved – Read More
Michelle Obama Says If You Are Looking For A Barack, You Should Try Not Looking So Damn Hard – Read More
Recently, I've decided that I'm releasing all opinions people have of me and how I should be living my life.
I'm completely in control of how people experience me and what role they play — especially men. The reason being? I'm in a space where relationships are just a complete distraction to me and I want to be selfish with my time. Since last year, I've only been interested in devoting love, energy, and commitment into myself. And while I'm not saying it's impossible to balance loving yourself and someone else, I'm saying — right now it's not an option for me and that's okay.
However, while committed relationships aren't on my radar, I'm not opposed to casual ones. I'm open to having relationships that doesn't automatically assume unwanted expectations upon me and ones that don't require me to do more than what I'm willing to do. I like the idea of just having sex with no strings attached. Where whenever I'm in the mood, I can have a good time, then go back to regularly scheduled programming.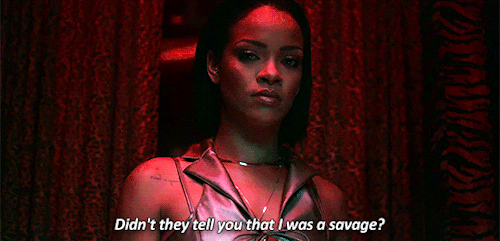 My friends call that being a savage, but I'm really just protecting my energy.
Part of protecting my energy means being intentional, setting boundaries, and being aware of what I want and can handle. Protecting my energy also means being very transparent and expressing myself freely and honestly. I don't want to be a part of something because that's the "right thing to do" or commit when I'm not ready. I realized that people come into your life in different ways for different reasons. Every man I'm attracted to doesn't need to be my boyfriend and my boyfriend may not be my husband. Again, that's okay.
Last year, I met a man with whom I had a great vibe. We met at a little get-together and slowly formed a friendship. I was new to the city and he took me to a few cool spots in Atlanta. After a couple of months as friends, we had a great connection and genuinely had a good time, which made it easier to add more benefits to this relationship. To be honest, we were both open to the idea and already had a dope connection, but before adding any physical acts to our friendship, I had to be clear about my intentions and set some boundaries. I simply and straight up said I'm not looking for anything serious now or in the near future and that exclusively dating is not an option for me and if he cannot enter this sexual relationship without any feelings or expectations of more, then we can't do it. Further than that, I encouraged him to continue talking to other women, agreed on no PDA, no meeting of parents, no nicknames (baby, bae, etc.), no kissing, and we agreed that if our schedules permit, we would schedule as many rendezvous as we can.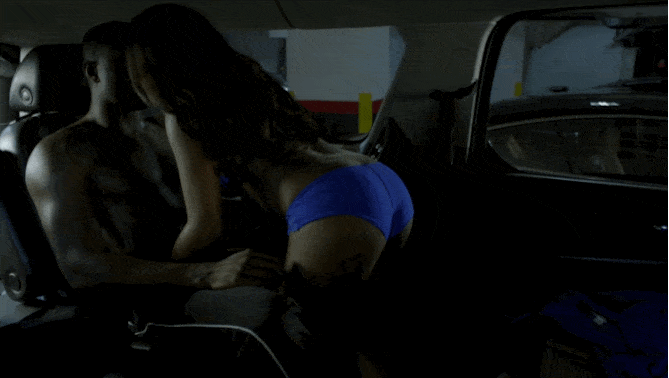 We were simply friends who fucked. Period.

A verbal agreement and a few months later, I found myself making weekly dick appointments. By this time, our situation has lasted for almost a year and it was going well. When we chilled, it was a good time and I came and went as I pleased (no pun intended). I would do check-ins and make sure we were still on the same page and for a while, our understanding was clear. My check-in would just be a quick, "Hey, are we still good on the agreement," or "If this is becoming too much for you, just let me know." He would always respond by saying we're good, so the sex continued.
After a while, he would start to seek more of my time and wanted to become a priority. There was even a period where all dick appointments were on hold and when that happened, things just went downhill. The conversations of wanting more, I miss you, and when am I going to see you again started to happen way more often than what I was comfortable with. I had to fall back. I reminded him about the intentions we set and that there were no expectations for anything else. It's very important to me that whoever I have a casual relationship with knows my intentions and respects my boundaries from the beginning — not as we go along. I never want to play with anyone's emotions and I definitely want to avoid as many of these awkward conversations as I can. Unfortunately, though, it had to happen.
I wasn't open to deviating from my plan and my friend with benefits relationship ended there. Once feelings got involved, I felt like I was in a relationship and I had to be careful not to lead him on. We spoke less and definitely stopped all forms of sex. Even when our situation started to digress, he made it about how I made him feel as opposed to what we agreed on. I'm sorry, but if I'm not ready, you can't force me to be ready. Men, and people in general, will convince you to do the very thing you didn't want to do and it's important to stand your ground. If the situation goes left, you know that you've done all you can to prevent it from happening, but compromising your peace is not a solution.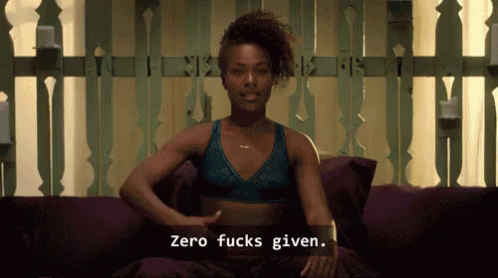 Being a savage means being focused, carefree, living without expectations, and sticking to what you need, regardless of what happens. My main goal was to focus on building and focusing on me and occasionally having sex. Ultimately, being a savage is about protecting your peace. It lets people know that your peace is non-negotiable. As a savage, your boundaries and time are serious, you intentions are clear, and you stick to what you want regardless.

I don't always want the white horse and a carriage. I just want to do me.
xoNecole is always looking for new voices and empowering stories to add to our platform. If you have an interesting story or personal essay that you'd love to share, we'd love to hear from you. Contact us at submissions@xonecole.com.
Featured image by Getty Images