Congratulations are in order for Jhené Aiko and Big Sean! The couple confirmed the news that they are expecting their first child together after photos surfaced of them walking around with the singer's belly protruding. The "Detroit" rapper took to Instagram to share his excitement about being a dad. "Can't wait to be a Dad," he wrote in one of his Instagram Stories. In another post, he shared, "Whole new motivation forreal. Very grateful God continues to bless us, thank you."
Jhené, however, posted a childhood photo of herself holding her belly. For the caption, she simply wrote, "🤗."
This will be Big Sean's first child. The "While We're Young" artist shares a 13-year-old daughter named Namiko Love with singer O'Ryan.
Here is a timeline of Jhené Aiko and Big Sean's journey to love:
2012
In an interview with BBC 1xtra, Jhené revealed that she and Big Sean became friends in 2012 which is also the same year her brother passed away from cancer. The "Bounce Back" rapper asked her out on a date to a Lakers game and even though the singer had a boyfriend at the time, she went.
In Flaunt Magazine, the "Sativa" singer dived deeper into that moment. Rumors began to swirl about them dating following their courtside outing and Jhené recalled tweeting that she wasn't dating Sean, which actually upset him.
"And then Sean got mad at me like, 'You gonna play me like that?' I'm like, 'But we're friends!'" she explained.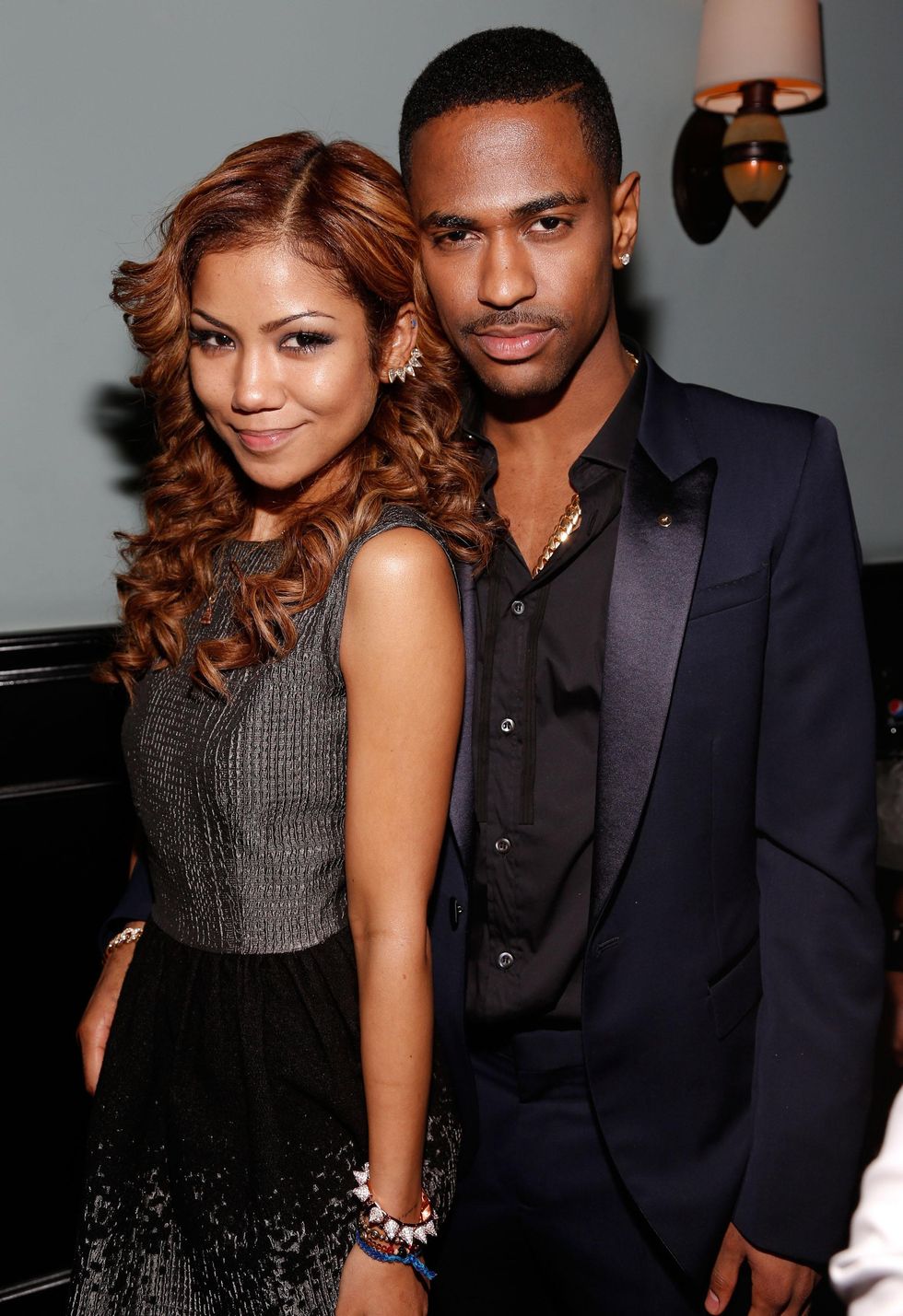 Imeh Akpanudosen/WireImage
2013
The singer eventually broke up with her boyfriend but Sean already began dating late actress Naya Rivera and they got engaged shortly after.
2014
Sean and Naya broke up and he began dating Ariana Grande. Jhené also moved on and married producer Dot Da Genius.
2016
In March 2016, the artists collaborated on a joint project as a group called Twenty88 and in a reported Billboard interview, the 34-year-old declared his love for the L.A. native. "Jhené is more than just a friend," he said. "I don't know how else to describe it — me and her are just cool like that. I love her and I know she loves me."
However, they still didn't make it official, especially with the "Pretty Bird" singer still being married. But all that changed in August 2016 when Jhené filed for divorce from the producer.
2017
The mom-to-be gets a portrait of Sean tattooed on her arm after her divorce from Dot Da Genius becomes finalized.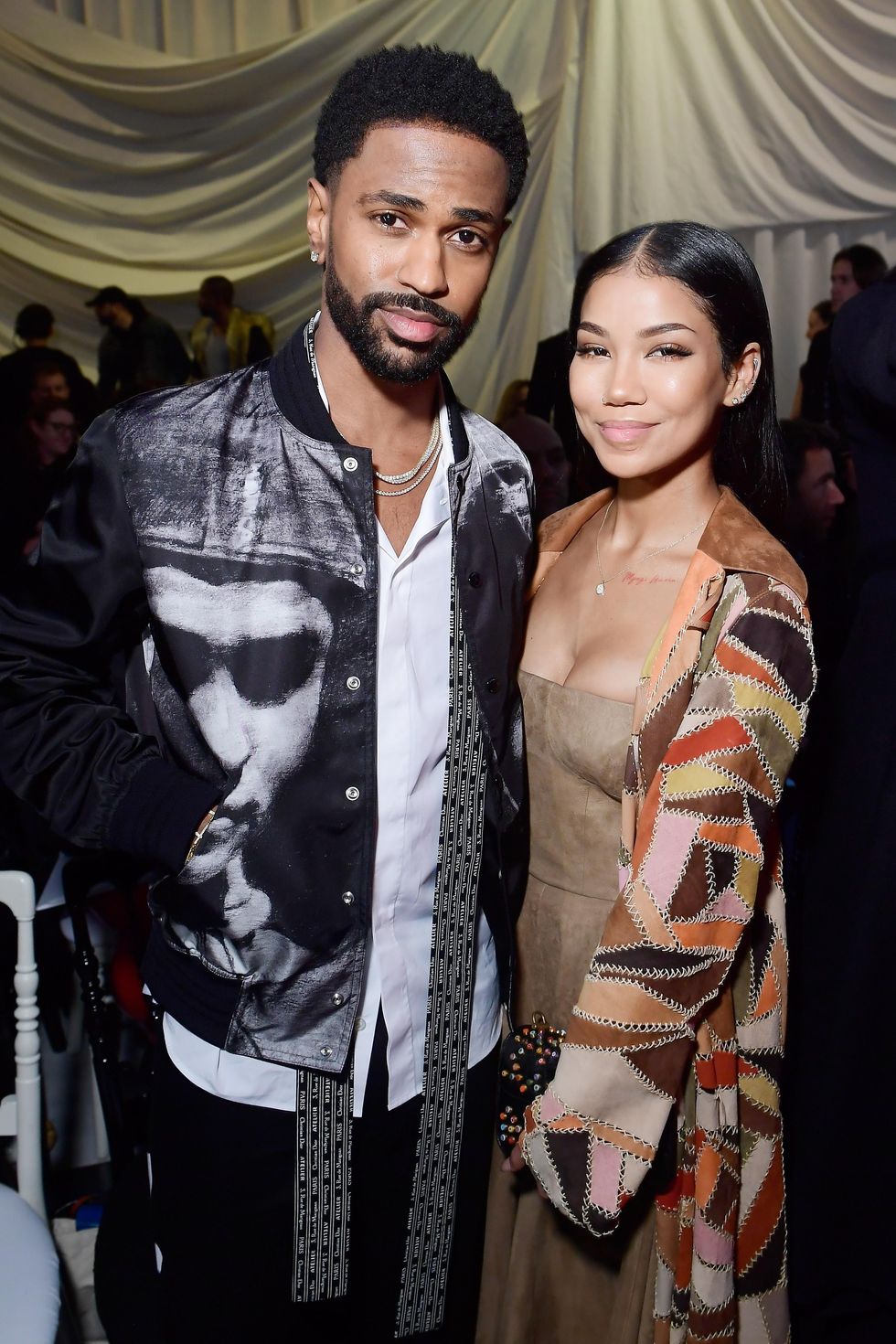 Victor Boyko/Getty Images for Christian Dior
2018
In 2018, however, the singer covered up the tattoo and when fans asked about it, she claimed that it didn't go with her aesthetic. "It didn't match with the dragon sis," said. She continued to address it in another post: "Don't let this distract you from the fact that i also covered my buddha and Bible verse... but still love and respect Buddha AND Jesus lol. have a good day, kids."
2019
The couple reportedly broke up in March 2019 and in May of the same year, the singer dropped "Triggered" which had a lot of fans questioning if the song was about Sean.
"He was just like, 'Wow, I'm not your friend,'" she said in an interview with Essence about the rapper's response to the song. "I was like, 'Well, I was feeling that in the moment. This is just a song.' ... Those are the things that I may feel, and I know that they are irrational and coming from just an angry emotional place, but that's what's so beautiful about art is that you can just throw paint on a blank canvas, and do something crazy and that's your release."
"You didn't hurt anyone, you know? I feel like, especially because we have a personal relationship, and a true friendship, that's why I could play it for him, and be like, 'Yeah, sorry. I kind of went really hard, but don't think that this is a personal letter to you.'"
In November, they collaborated on "None of Your Concern" which reignited relationship rumors. While they did not address it, they continued to spend time together throughout the year.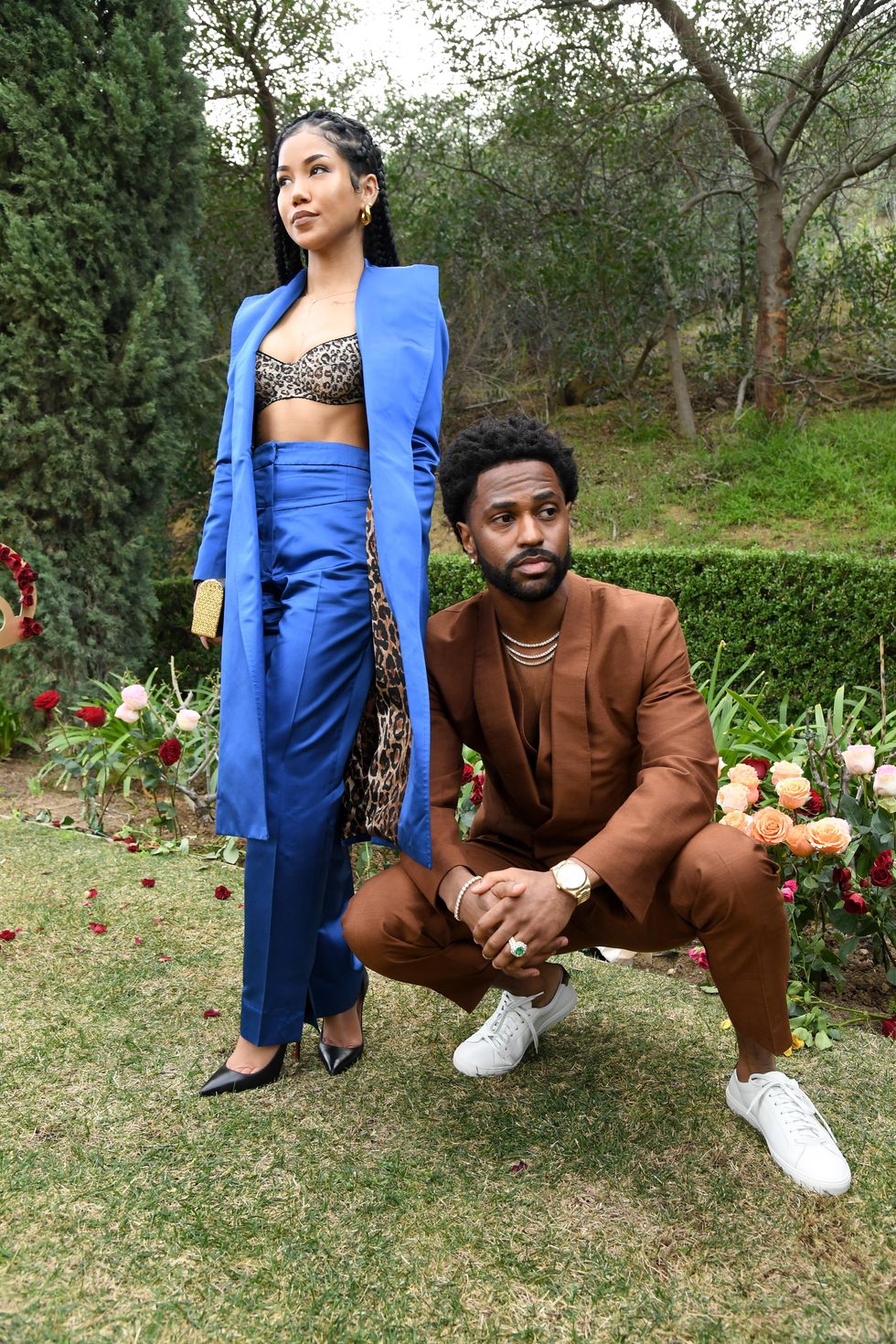 Kevin Mazur/Getty Images for Roc Nation
2020
In February, the two spent Valentine's Day at Disneyland, and in March, Sean wrote a loving birthday post to the singer.
"Happy 3.16 Queen @jheneaiko! Always proud but never surprised cause I know how great you are at everything you do," he wrote. "Even tho we gotta be inside n quarantine, you even make that sound good. I Love you from da past life to the next . 32 the Magic year, I'm a lucky ass n*gga 👑💙🌎🐉🌋"
2021
In an interview with DJ Khaled, Jhené opened up about her bond with Sean. "Our friendship is really strong, so that has made our relationship what it is, just that foundation of real friends who really know each other on that level," she said.
Sean also accompanied the singer during her Super Bowl performance and shortly they also attended the Grammys together.
Let's make things inbox official! Sign up for the xoNecole newsletter for daily love, wellness, career, and exclusive content delivered straight to your inbox.
Featured image by Kevin Mazur/Getty Images for The Recording Academy
Saturday, June 11 is Global Wellness Day which is a day that celebrates "living well," according to the website. The Global Wellness Day organization shared that this year's theme is #ThinkMagenta which is said to be a reminder about positivity in a world that can sometimes be negative, especially lately. For Global Wellness Day, the organization will host a three-hour Livestream featuring keynote speakers in wellness, holistic wellness, yoga, and more.
While wellness isn't new, a lot of people have become more conscious about taking care of their mental, physical and emotional health. From getting eight hours of sleep, going to therapy, or simply introducing one healthy food item a day, prioritizing wellness is easier than we think. There have even been a number of celebrities who have spoken about the importance of their wellness and how it has had a favorable impact on their career and life.
In honor of the holiday, we've highlighted a few of our favorite celebrities who have shared their best wellness tips over the years.
Featured image by Leon Bennett/Getty Images
You've successfully made it through Week 37 of 2020 and if nobody else told you today, sis, I'm proud of you. Between death, depression, and social injustice, it's been hard to catch a break in the new decade but if there's one thing we can count on to keep our spirits lifted, it's the sound of music.
In the spirit of Stacktember, it's important to note that the upcoming work week is upon us, my good sister, so use this weekend as an opportunity to spark up and wind down with a bomb ass playlist before you get back on your grind.
With fresh new music from our favorites like Jazmine Sullivan, Jhene Aiko, and SZA, here's a list of 10 songs you'll want to keep on repeat all damn weekend.
Mulatto - "On God" 
Earning a spot in the 2020 XXL Freshman Class, Mulatto has come a long way from the young artist we met on Jermaine Dupri's The Rap Game in 2016. With a new video for her single "On God", the rapper proves that she is a more-than-worthy contender in the male-dominated hip-hop industry.
Jhené Aiko - "Speak"
If there's one thing about Jhene Aiko, sis is going to raise your vibrational energy, whether you like it or not, and her latest ode to self-love, "Speak", is no exception.
Teyana Taylor - "Still"
I'ma let y'all finish, but Teyana Taylor had the coldest maternity photos of 2020. I said what I said, don't @ me, and she brought that same energy to her Black Panther-inspired video, "Still".
SZA - "Hit Different" ft. Ty Dolla $ign
SZA and Ty Dolla Sign recently linked up to release a visual for "Hit Different", the R&B bop that says what we're all thinking.
Disclosure, Kehlani, Syd - "Birthday"
I'm not sure what it is about birthdays and holidays that make you want to send that "Wyd" text to your exes, but the struggle is real and it's one that Kehlani and The Internet's Syd know well. These two R&B queens recently linked up with UK group, Disclosure to give us the weekend vibes we didn't know we needed.
Joyner Lucas feat. Ashanti - "Fall Slowly (Evolution)"
When I grow up, I want to age like Ashanti and that's on period. In her latest visual collaboration with Joyner Lucas, our good sister serves us all the looks and participates in a steamy make-out scene that would make a preacher sweat.
Jazmine Sullivan - "Lost One"
Now that fall has arrived, it's time to retire your knees until next summer and pull out the slow jams. Luckily, Jazmine Sullivan just dropped a single that is guaranteed to get you all the way in your feelings.
Chloe x Halle - "Do It" ft. Doja Cat, City Girls & Mulatto
Female empowerment in the industry is at an all-time high and we love to see it. Our good sisters Chloe x Halle tapped The City Girls, Doja Cat, and Mullatto for a remix to their hit song, "Do It" and there were bars for days.
Big Sean ft. Ty Dolla $ign, Jhené Aiko - "Body Language (Detroit 2 Preview)"
While Jhene and Big Sean let us know that their relationship was "None Of Our Concern" long ago, we can't help but love to see these two link up and give us a glimpse into their love story.
TOBE NWIGWE - "EAT"
This is now a Tobe & Fat Nwigwe stan post and this husband and wife duo's latest single is sure to make you a fan, too.
Featured image via Giphy

We stan an emotionally aware king and in a recent interview on Joe Budden's web show Pull Up, Big Sean proved that taking a one-year hiatus from work to focus on his mental health has made him exactly that.
In their chat, the rapper revealed that although he has battled depression since high school, it wasn't until after his 30th birthday when he started to question if his problems required professional help:

"When I turned 30 that was when it all like hit the wall. That's when everything just like… I woke up every day and I just was like, over life."
Although he had recently bought his dream home and felt accomplished in his career, Big Sean says that he soon noticed that his failing emotional health eventually extended over to his creative process:

"It just felt like I was blocked from everything creatively, physically, mentally, emotionally. I was just done. I was just ready to be done and it was scary cause I had just got a gun too. So it's the worst combination to be feeling like this."
Along with bearing the burden of creative and emotional blockages, the symptoms of his depression also took a toll on his personal life.
"My relationship at the time with my family was completely disconnected. Like a lot of people see me with my mom. I be taking my family a lot of places, but at that time in my life, for those couple of years, I remember vividly telling her like, 'I don't want you to be a part of my life. I don't want you to come around.' And when I was saying stuff like that. It didn't sound like me, so I knew something was just off. I got off my path."
The rapper, who will turn 32 later this month, explained that it was at this point when he realized that it was time to seek therapy outside of his inner circle. Big Sean explained that although venting to your friends is a normal part of life, there are some issues you have to take to a professional.
"Even though I feel like I can talk to my circle, the people around me, it's kinda like I wanted to talk to somebody where I can just like leave it there with them. I'm a firm believer of communication too and talking to the ones around you, but sometimes you want to talk about stuff and have that relationship just with that person and leave it there. Because once you leave it there, you bring a whole new energy back to you and your circle. You know what I mean? And once I started that, I just realized that I was just off. But I feel like the first step to overcoming that is just really recognizing."
Mental health isn't a topic that was foreign to the rapper before his 30th birthday, but it's one that he says he hasn't taken seriously until now. Big Sean explained that while he felt he had to live up to the pressures of being the successful one in the family, he later found that most of that pressure was self-inflicted:
"People were like, your mental health, you have to take care of your mental health. And that's something I didn't even ever consider. That was like the last thing I used to think about. I used to think about, I gotta take care of my mom, I gotta take care of everybody. Well really if I just talk to them, they probably could have been like, 'Oh, it's cool. I can pay for this.' One of the things I always wanted to do, I was going to take care of my family. I always wanted to do that. But on one side, once I just opened up, everybody was just so accepting around me, you know?"
To watch the full clip, click below.
Featured image by Getty Images
Many talk about living their dreams, but what happens when you finally say no to fear and yes to your true calling? You get to live a life of purpose and fulfillment.
xoNecole's Living My Dream series takes you behind the scenes of the movers, shakers and risk takers who decided that good wasn't good enough and chose to bet on themselves, both in life and in their careers. The stories of the fearless women featured in this series will both inspire and empower those who are striving to live their best lives, and give the encouragement that they need to create their own destiny.
Ade Samuel Is Living Her Dream As A Celebrity Stylist
In Episode 1, we are introduced to stylist Ade Samuel as she slays behind the scenes to bring the biggest star's style identities to life. After starting out as an intern at Teen Vogue, Ade eventually made the big leap to L.A., where she worked on Rihanna's Styled To Rock, Essence's "Black Girl Magic" cover shoot and Beyonce's infamous "Formation" video. Samuel now has her own shoe line and spends her days putting the finishing touches on everyone from Yara Shahidi to Kelly Rowland, Big Sean and Jhene Aiko!
If you're interested in knowing the tea on what's going on between Big Sean and Jhené Aiko, you can keep sipping, sis, because in a recent interview with ESSENCE, the "Triggered" singer reminded us that her the status of her relationship with the rapper is none of our concern.
Jhené explained that although she is forever here for the fan love, she never really asked our opinion on her love life. She explained:
"The internet has made everyone aware of their opinion. As many people as there are in the world, that's how many opinions there are. If you let that many opinions affect your own opinion, and your own way of looking at things, you're going to be so confused."
You can't pick apples from a banana tree, and you can't always take advice from people that haven't been in your position. According to Jhené, after spending much of her life in the spotlight, she's learned that her opinion is the only one that matters, and this perspective extends to many other areas of the singer's life:

"Whether it be something with me and Sean, or me and my daughter. I just love the feeling of taking that away from people; their need to have to say something or have to give their opinion because I personally have never been that way—well maybe when I was younger, or high or drunk."

The rumored couple became romantically linked after the finalization of her divorce in 2016 from her ex-husband, producer Dot Da Genius, which she later found was a blessing in disguise:
"We never moved in together. That's why when people were like, 'Oh, you left your husband.' I'm like, honestly, Sean is more of a husband as my friend. I didn't really know him…I found out he had a girlfriend the whole time. It was crazy."
Although the couple has been on-and-off for the last year, things are looking pretty on these days. After a recent trip to Disneyland, fans aren't quite sure where they stand, and for Jhené, that's OK. The 31-year-old mother of one said that while songs like "Triggered" and "None Of Your Concern" may tell a small part of her and Sean's story, we should be advised that her songs are in no way a reflection of how she feels about the rapper overall:
"I share about one percent of my whole being with the internet. Even in my songs, that's literally one moment that I'm talking about or when I felt that way. There's so much more to my relationship with my [late] brother [Miyagi], or with my daughter, or with Sean. People hear a song like 'Triggered' and they're like, 'Oh, do we hate him now?' In the grand scheme of things that was like a moment."

In the interview, Jhené also opened up about why she and Sean will always be friends, first, and even revealed the rapper's reaction after hearing her latest project:
"[Sean] was just like, 'Wow, I'm not your friend.' I was like, 'Well, I was feeling that in the moment. This is just a song. This is not 100% about you. Those are the things that I may feel, and I know that they are irrational and coming from just an angry emotional place, but that's what's so beautiful about art is that you can just throw paint on a blank canvas, and do something crazy and that's your release. You didn't hurt anyone, you know? I feel like, especially because we have a personal relationship, and a true friendship, that's why I could play it for him, and be like, 'Yeah, sorry. I kind of went really hard, but don't think that this is a personal letter to you.'"
To read Jhene's full interview, click here!
Featured image via Tumblr