When we think of R&B, we think of soul. Soul, by definition, is emotional or intellectual energy or intensity, especially as revealed in a work of art or an artistic performance. Black people are soul. Everything about us. Our hair. Our energy. Our skin. And, without a doubt, the creativity that courses through every inch of who we are. So, when it comes to our music, spiritual experiences are often what we call them. Makes sense, for there are no other people who remain unbroken the way we do. And every so often, an artist comes along who seems to be the physical manifestation of all that we are.
One such artist is R&B singer Lucky Daye.
Daye embodies the very essence of who we are. With his warm silky vocals, intricate lyricism and ability to wring beauty from a love drought, Lucky Daye has become one of the most sought after and revered vocalists in the industry. With R&B being such a cherished part of our culture's influence on the musical landscape, new artists, at times, have a hard time breaking away from comparisons to legends of the past.
However for Daye, this is a welcomed challenge.
"I find that my music is a reflection of the classic R&B that I grew upwith and have come to love," he said. "Paying homage to Black artists who have come before me comes naturally. Those artists are an an example to me but it's something that flows naturally when I create music."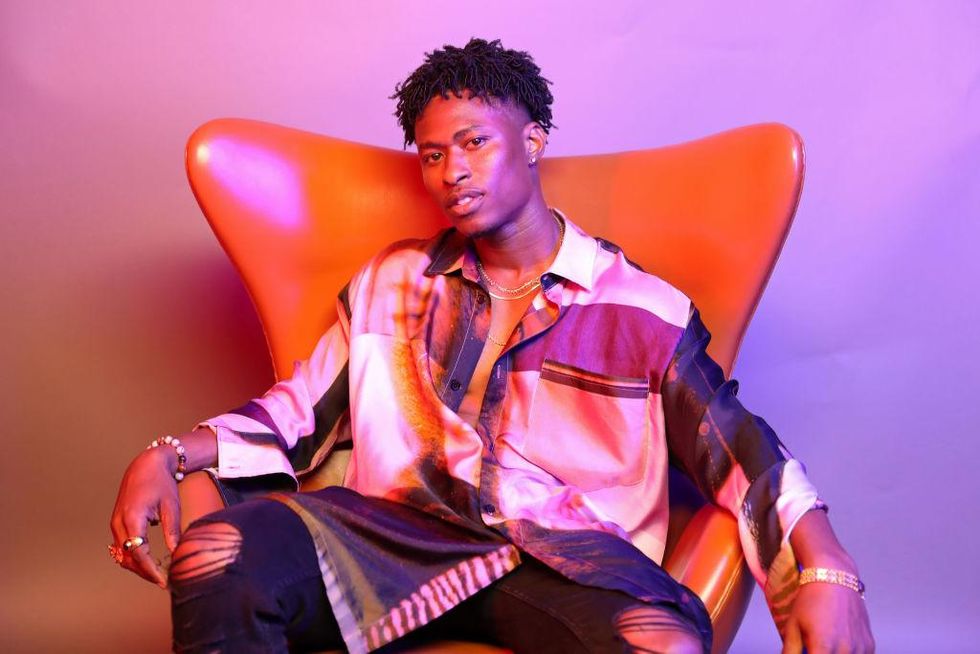 Bennett Raglin/Getty Images for BET
"Paying homage to Black artists who have come before me comes naturally. Those artists are an an example to me but it's something that flows naturally when I create music."
After years spent penning hits for other artists, in 2018 Daye stepped from behind the boards and burst onto the scene with his hit "Roll Some Mo". Equal parts sultry and masterful, Daye's debut project Painted left us wanting more.
And he delivered.
Offering his talents to the motion picture soundtrack for The Photograph, his hit "Fade Away" became a must-have on made-for-love playlists all over as our country went into lockdown last year. 2021 kicked off with new music from Lucky as well with the release of his EP, Table for Two, a seven-song project that saw him collaborating with artists like Ari Lennox and Queen Naija. Duets, which for so long have been foundational to R&B music, have all but died out except for the rare occurrences that two artists just decide they want to work together.
So, we had to know who was on Lucky's list to collaborate with next. "Beyonce," he confessed, "...Jazmine Sullivan and Grace Jones." Swoon.
Perhaps what we love more about Lucky Daye than his immense talent, is his obvious love for our culture. The Grammy-award winning singer teamed up with Crown Royal to shine a light on Black artists in all disciplines and proclaim, boldly, that our soul is what moves the world forward for Juneteenth this year.
Daye performed alongside legends Earth, Wind and Fire and India.Arie in a virtual festival that paid homage to our roots and our future. "I'd encourage other artists like myself to continue to use their talents for good and give back to the culture that is keeping the world alive," he said about his decision to join the initiative and to work alongside the luxury cognac brand on similar efforts.
It's clear that whether Lucky is keeping R&B music alive or using his influence to promote the art of Black artists across mediums, he is always showing up as his truest self.
In his music and where he dedicates his time (did I mention he's a part-time chess master?!), there is a thorough line: do it from the soul or do not do it at all.
For more of Lucky, follow him on Instagram @iamluckydaye.
Featured image by Bennett Raglin/Getty Images for BET
Keep reading...
Show less
Traditionally, women with textured hair are taught to exalt their mane with deep reverence: a crown of curly tresses to be intentionally maintained and handled with care. Still, there comes a point in every woman's journey where our body begins to go through changes that can affect the very attributes that we attributed to our confidence and self-image. Such was the case with actress, singer, and mother of three, Christina Milian, with postpartum hair loss.
Postpartum hair loss is more common than one might believe. In fact, up to 50 percent of women in the U.S. are impacted by it, Christina included.
Around 3-6 months after giving birth to her second child, Christina started to notice thinning around her temples and losing small amounts of hair while in the shower. The shocking discovery left her self-assurance in a rocky state, "It's so overwhelming, on top of having a newborn at home, which is stressful, and all of the hormones that come with postpartum, dealing with the emotional impact of thinning hair. It really takes a toll on your confidence." She continues, "It's completely out of your control. You're literally in your head like, is this even real? Are people noticing this? How embarrassing is this?"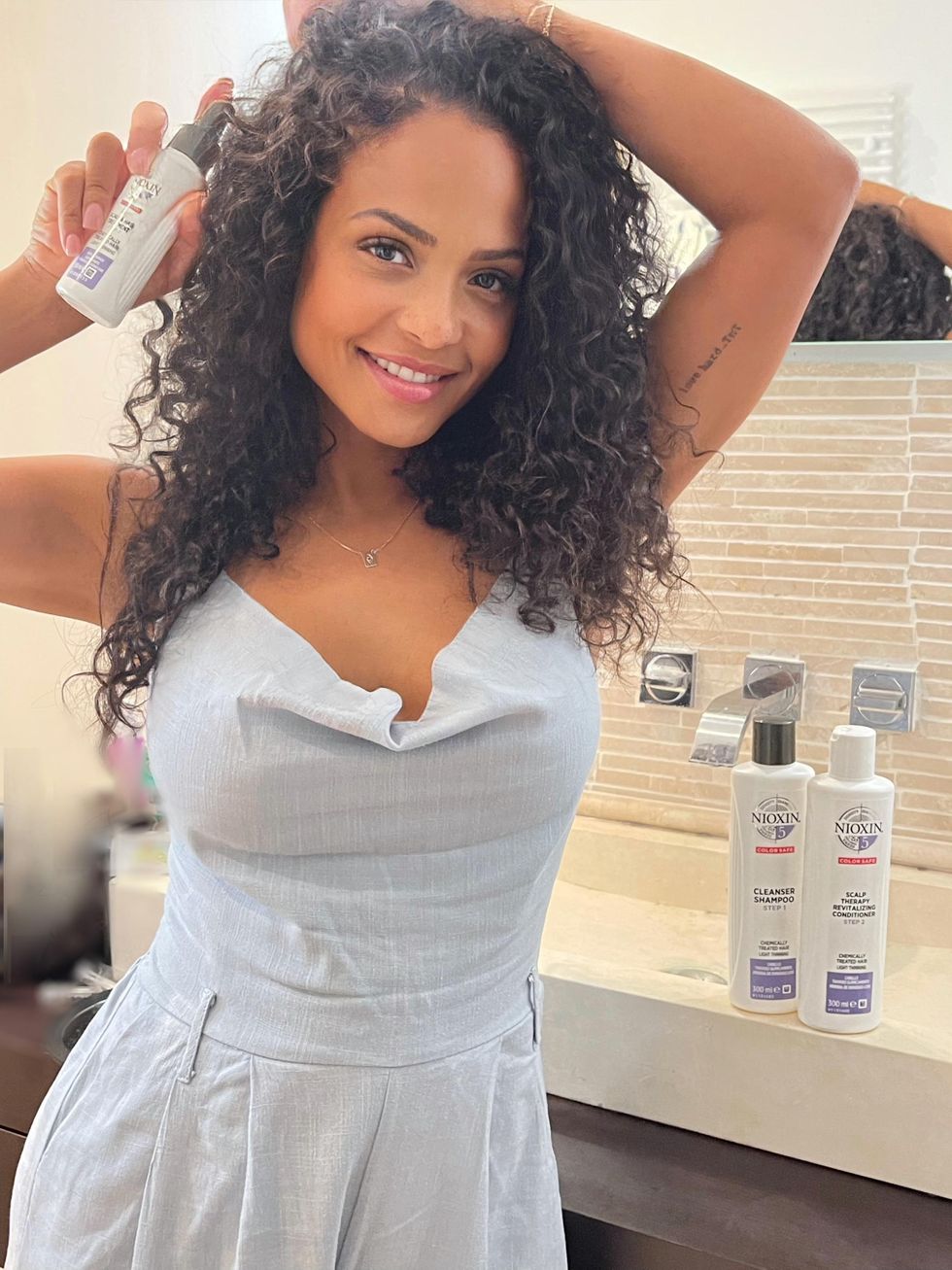 Courtesy of Christina Milian
Although she hasn't experienced the shedding after welcoming her new son, Kenna, with her husband Matt Pokora, Christina has decided to take a more proactive approach by incorporating a few products into her beauty arsenal.
Christina has teamed up with Nioxin 5, an expert-hair loss brand, as a step towards prevention. Her current routine includes the Nioxin System Kit 5, which comes equipped with a Cleanser Shampoo, Scalp Therapy Conditioner, and Scalp & Hair Treatment with niacinamide and peppermint oil as key ingredients.
If you experience postpartum hair loss, it's important to know that you are not alone. While on a recent panel, dermatologist Dr. Mona Gohara shared that the shedding process is as natural as the birth that led to it. "Postpartum hair loss is our bodies response to the physiological and emotional stress of giving birth. Our hair typically goes through a growth and shedding cycle, but after you have a baby, the hair shedding phase out-paces the growing phase, so we experience excessive hair shedding."
Thankfully, Christina's vulnerability in sharing her experience is a step towards normalizing a commonly taboo conversation. "I want to share my story because I know there are many other women going through this that may not realize how common this is and that there are ways to treat it effectively," she reflects.
Christina Milian sat down with xoNecole to discuss the unexpected blessing of motherhood, regaining her confidence postpartum, the balancing act of entrepreneurship, and more!

xoNecole: You recently mentioned that in your 20s, you didn't really see yourself becoming a mother. And now you have a beautiful family of your own. What advice would you give to young women who aspire to have a career and family, but don't think they can "have it all?" 
Christina Milian: Yes. I can't believe I had three kids. If you ever told me that 10 years ago, or even five years ago, I would have laughed at you. But I think my best advice to them is don't doubt yourself. Sometimes we don't necessarily get [everything] all at once, but there's a reason and it's giving you the space to be able to handle what's happening in your life at this very moment. I think if you continue to have that passion, don't let it go. Sometimes we just feel like we're not able to achieve [our goals] just yet, or wonder, is it ever going to happen? But life is much longer and things happen in our lives at the right time. And I think when it comes down to opportunity; they present themselves when it's the right time for you.
Look at me: having more babies, multi-tasking, and doing the many jobs that I'm doing. When I was in my twenties, I had lost my record deal. I thought my career was over. I thought, 'Oh, I'm too old to come back. I'm not going to be able to do this.' But I put my faith in God and I was open to what was meant to happen. And it all rolled out and its own time.
Your time will come, so don't get discouraged.

"When I was in my twenties, I had lost my record deal. I thought my career was over. I thought my career was over. I thought, 'Oh, I'm too old to come back. I'm not going to be able to do this.' But I put my faith in God and I was open to what was meant to happen. And it all rolled out and its own time.Your time will come, so don't get discouraged."
You have a really popular food truck, Beignet Box, along with balancing your acting career. What are some core values that help you stay grounded as you balance entrepreneurship and motherhood? 

I think it's important to stay grounded, be humble, and understand people. It's one thing to know yourself, but you know yourself better when you can be optimistic and understanding of other people's stories, their backgrounds, and why they are the way they are. It makes you a better human and a better business person, especially as an entrepreneur because you're understanding your audience. Being that way opens you up for opportunity and for learning.

A common theme of your movies is love. From 'Love Don't Cost a Thing', 'Falling Inn Love', and recently, 'Resort to Love'. We don't always get to see Afro-Latina women as romantic leads, so when it comes to representation, why is it important to you to go after these roles and be that positive image?
First, I love love. I'm so happy that with Resort to Love, Netflix took a really good mainstream approach to push the movie. The reason why I do love movies and comedy is to make people feel good and laugh. I think people seek love and to feel that kind of joy. I love the fact that we get to see our people really strive and do films like this. I mean, look at Resort to Love, we were in the top 10, number one movie on Netflix. And that was globally.
It makes me happy because it opens the doors for other people. It's bringing to light that love comes in all forms and stories. And I know that there's somebody out there who's dreaming like I did when I was watching Rosario Dawson and Jennifer Lopez. I feel like there's some girl who's watching and saying the same thing.
So I hope to open doors for them, for them to feel that one day.

For more of Christina Milian, follow her on Instagram. And Netflix and chill with her new movie, Resort to Love, now streaming.
Featured image courtesy of Christina Milian
Keep reading...
Show less
We've all heard the common phrase "Jane of All Trades" thrown around, but it's always a bonus to be able to put a face with the concept that we, as Black women, can both aspire to and relate with. Angela Yee is one such person.
Many of us know her as the lone female voice (of smart-witted reason) who has held it down proper for all of us as a host on The Breakfast Club, offering a dose of powerful femininity and intelligence that keeps her co-hosts, out-of-pocket callers, and famous guests in line when need-be. She's done this while juggling duties as the co-founder of Juices for Life, a juice bar launched in Brooklyn, N.Y., managing director of Drink Fresh Juice, a juice and wellness drink brand, founder of Private Label Detroit, a boutique line of hair extensions and wigs, and her latest venture Coffee Uplifts People (CUP), a coffee brand that puts inclusivity at the forefront.
Oh, and let's not forget the podcast, Lip Service, which she hosts with two other unapologetically boss and bold women, Stephanie Santiago and Gigi Maguire, where they talk sex and relationships with hip-hop and pop culture elite.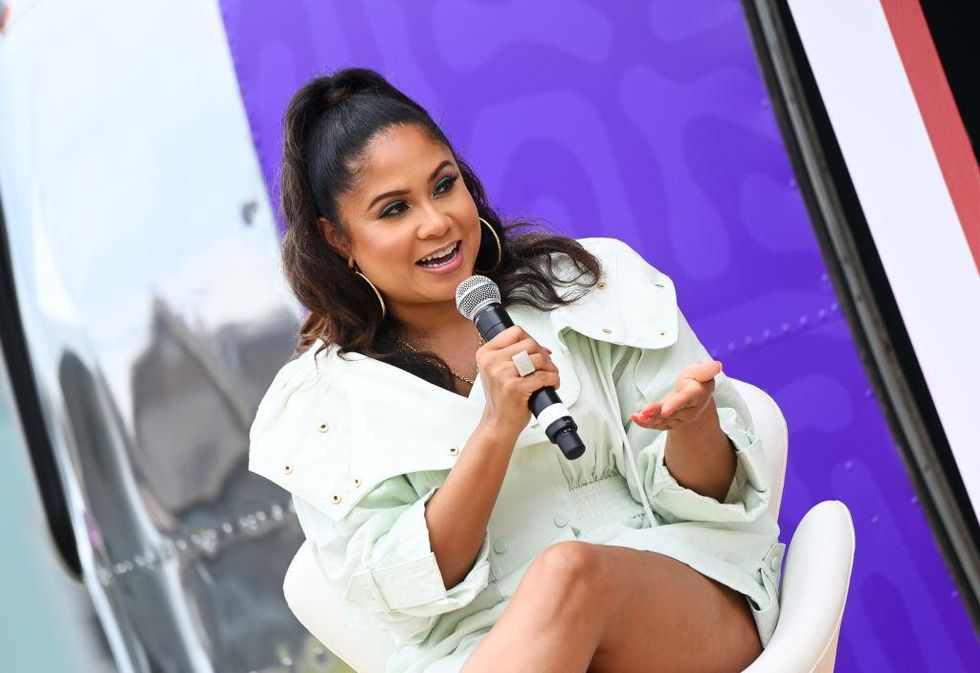 Paras Griffin/Getty Images
So you might have read all that and said, "Well, sis, that ain't all trades." Let's go back a bit: Yee got her start in entertainment interning for MTV and, later, for the legendary powerhouse that is the WuTang Clan. She transitioned into a management role with the group, handling payroll, attending label meetings, and organizing events. Before that, she was a teacher of 6th- and 7th-graders, and she'd eventually go on to work in satellite radio, hosting and co-hosting popular shows before becoming part of the award-winning trio at The Breakfast Club.
And she does it all with the kind of coy smile and effortless style that brings to mind Bey's "I Woke Up Like This" mantra.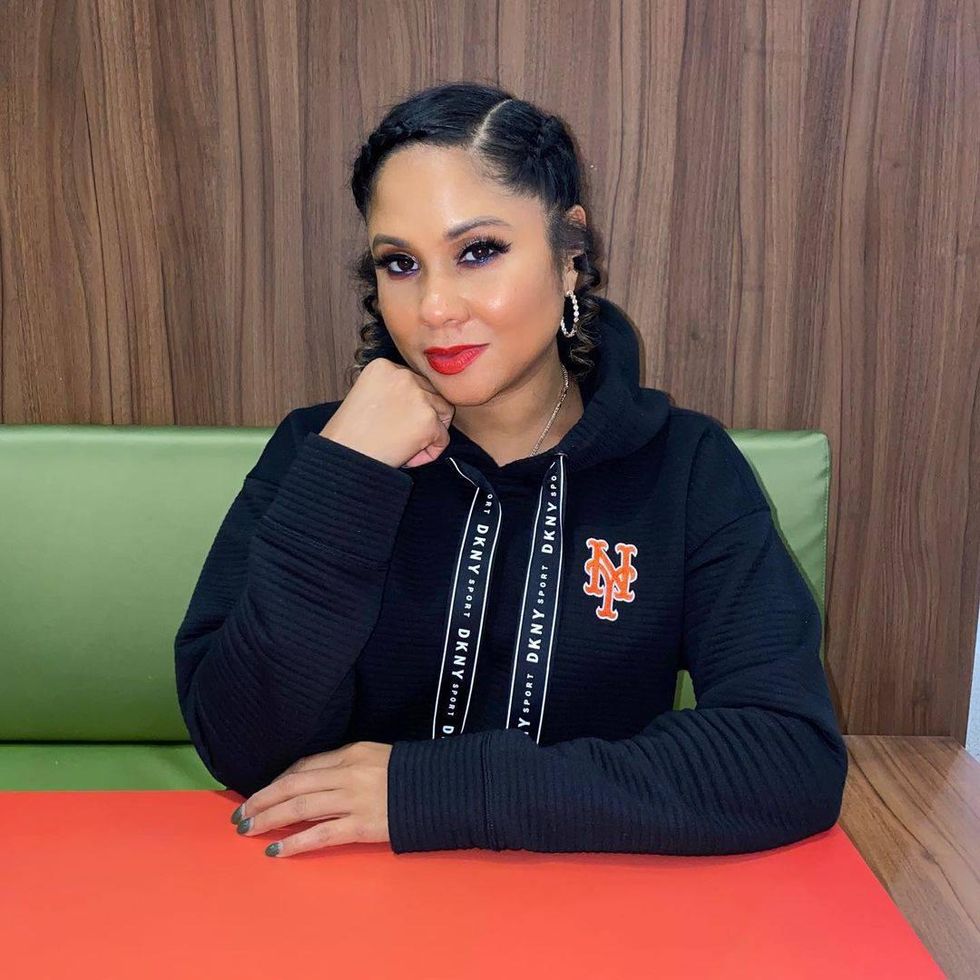 Image via TeamYee/Facebook
We caught up with Yee for this exclusive xoNecole interview, right before her appearance at this year's Célébrez en Rosé, a two-day VIP experience taking place in Washington, D.C. on Labor Day weekend.
The event, which centers on culture, Rosé and entertainment, is set to feature headliners including Lupe Fiasco and Estelle. "I am really just deliberate about supporting other Black entrepreneurs," Yee said. "We've had such a rough past year-a-half, and it's not even over yet. The fact that they're doing it in two days this year so that it can be a socially distanced event is something that shows that we need some time and space to be together, but we need to do that as cautiously as possible. We need it."
Yee talked further about why women need to stick together and rely on their tribes, what's really behind her more than 15 years in entertainment, and why she chooses to keep pushing boundaries in business.
xoNecole: You've been in the media business for many years and have remained relevant, fresh, and successful. What do you think has helped in your longevity?
Angela Yee: Networking has been one of the main things, especially early on, but to continue doing that is one of the most important. Also, it's about being able to work really hard and having the ability and skill to accomplish the things you want to. Another thing [that's key is] supporting people and treating people well, along with that networking. Whether it is the receptionist or the president of the company, you should treat everybody with respect.
"Once I start feeling comfortable in a position, I know it's time for me to figure out what my next move is. I never want to become complacent or feel like, 'OK I got this down pat' because I feel like I'm not challenging myself. So it's always important to challenge myself."
Along with that is to always learn. I'm always taking classes on different things or even just looking online to find out ways I can improve myself. With starting a business and being an entrepreneur, I still take classes with the Small Business Administration in New York. I'm getting my real estate license as well, so I believe that you should always be challenged to advance and learn even more.
And last, it's really hard work. Nothing beats hard work, and you can't just coast by. I still go the extra mile. If you listen to the show, I'm the one who most likely has done the research. I'm the one looking up the story and making sure I get to work before everyone else. Hard work is just a fundamental thing. Nobody wants to work with somebody who doesn't pull their own weight, and I go above and beyond.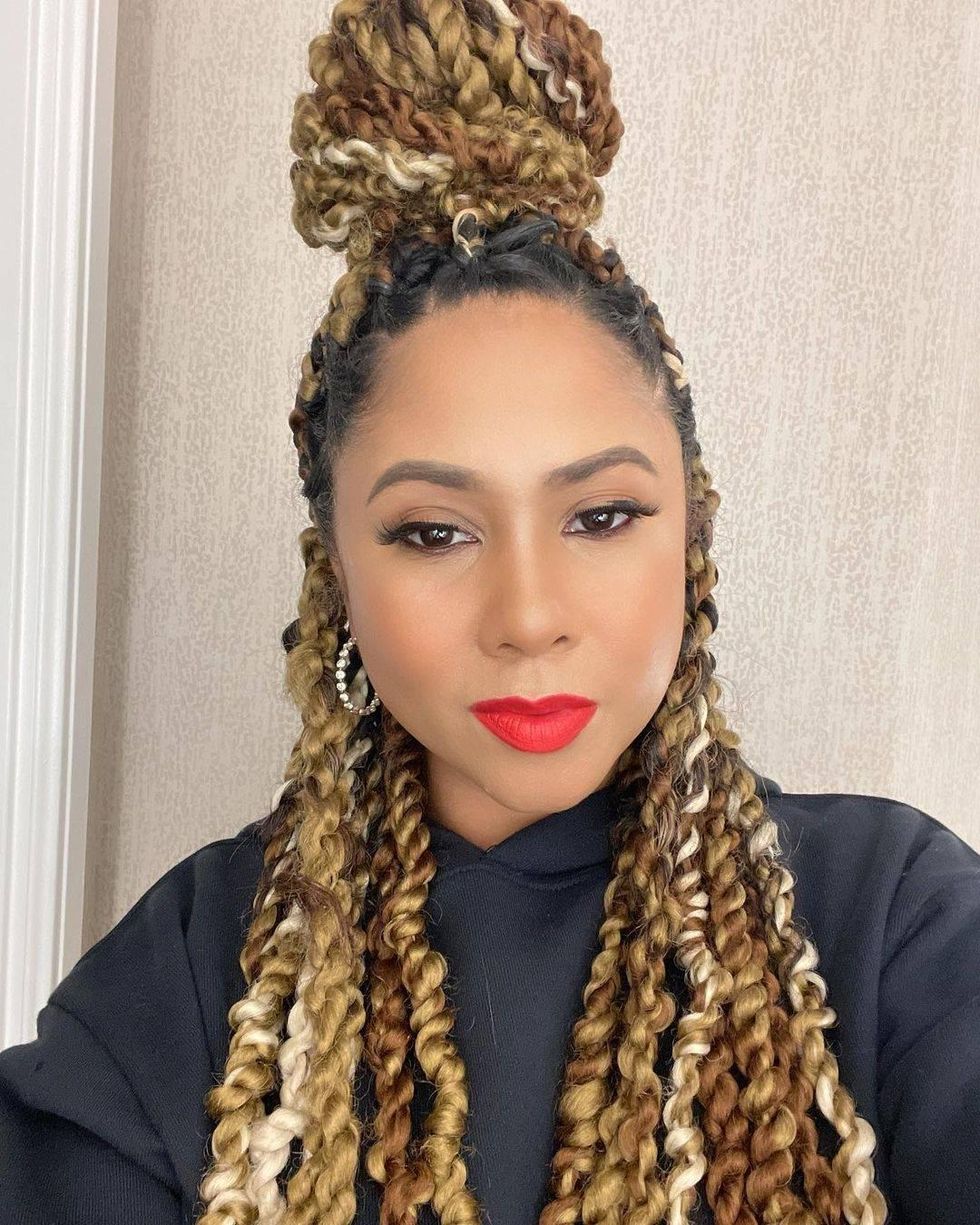 Image via TeamYee/Facebook
And that's even clear in the multiple businesses you've launched, from your juice bar to your line of juices and wellness drinks, to the extensions line, and now with CUP. Why get into coffee?
We were looking for a space during the pandemic to store the juices. So we met with the owner of Brooklyn Roasting Co. [Jim Munson] about their place at the Brooklyn Navy Yard because they had this huge refrigerator we could use. Our guy LaRon [Batchelor], who's one of my partners for the company, had worked with him already, doing sales and distribution. So after our meeting, we all just had a synergy, and he told us, "You guys should think about starting a coffee company." We were already like, "Hmmm, maybe we could actually do that."
Partnering up with a company like Brooklyn Roasting that already knows the ins and outs of the business, we knew they'd be able to support us if they were on board. They own 25 percent of CUP and they're helping us a lot, even with opening the space, with the equipment, and with training. They are also able to roast our beans. It was just kind of a no-brainer at the time.
"There are several reasons that coffee might not be healthy [such as] when you add a lot of cream and sugar, but the coffee beans themselves are really good for you. I know it's helped me so much as far as my mind being sharp and the caffeine helping me stay awake for the day. It also has great benefits for your digestive system. I only add almond milk. That is my trick to make sure I get those benefits."
I also love the fact that the history of coffee [began] in Ethiopia. Most of the population there drinks coffee and so it really is something we should be involved in from start to finish in all different aspects. I want to make sure we're always educating ourselves and encouraging people to be on board with that. Sometimes, I think when we think of coffee, we think middle-aged white man. We have to change that thinking.
In wearing many hats, sometimes you've also been the only woman in the room holding your position. What's your advice for other women to take up space?
We always must show and prove. And get your tribe together. Make sure you have other supportive women around you, and support other women as well, because we have so many things in common when it comes to being in these spaces not always feeling welcome, comfortable or valued.
"We should be intentional about learning from other women so that we can have people we can lean on. That's helped me a lot. It's great when you have a rough day at work or something happens and you have someone you can speak to—who you can vent to and come up with a plan of action."
Also, don't let people make you feel defeated. You have to go hard. That really drives me because I know what my skills and abilities are and I'm not going to give anybody the pleasure of ever seeing me fail.
For more on Angela Yee and her ventures, follow her on Instagram @AngelaYee. And to check out more information on headliners and tickets for the Célébrez en Rosé festival, visit their website.
Featured image via Angela Yee
Keep reading...
Show less
Here at xoNecole our "summer body" goals consist of two things: confidence and strength. The physical perks that come along with those are just added bonuses, but still, it feels good to look in the mirror and have those reflected. If you feel like you need to get on track to finding your inner and outer hot girl as Megan Thee Stallion would say, we've got the workout for you. We promise you'll be rapping, "Handle me? Who gon' handle me?" in the mirror before you know it.
Tone & Sculpt trainer Danyele Wilson is a HIIT master and specializes in creating quick, effective workouts that are more about gaining confidence than losing pounds or inches.
She designed a powerful HIIT circuit exclusively for xoNecole readers that will have you feeling like the stallion that you are before any end of the summer soirées. Follow her instructions below for a mid-summer burn and then check out the rest of her workouts on the Tone & Sculpt app.
Perform each move below for the number of given reps. Repeat the circuit 3-4 times for a quick HIIT workout that will get your heart racing!
Dumbbell back lunge to knee drive: 10 reps each leg
Start with your feet shoulder-width apart, holding a dumbbell in each hand. Keeping your upper body straight and gaze forward, step one leg backward, lowering your hips until knees are bent at about a 90-degree angle.
Keep your weight in your front heel and drive your back leg forward, bringing that knee into your chest. Return to the starting position and repeat with the other leg.
High knee run and stick: 30 seconds
Stand with your feet hip-width apart and lift your left knee to your chest. Quickly alternate and lift your right knee to your chest, then your left knee, and finally stick with your right knee to your chest. Hold for a few seconds before alternating legs to repeat the same movement.
Romanian DeadLift to Dumbbell clean: 10 reps
Hold onto dumbbells and stand up straight with your feet shoulder-width apart. With a slight bend to the knees and keeping them stationary, start lowering the dumbbells by bending at the waist and keeping the back straight.
In one swift motion, explosively extend through your hips and bring the dumbbells up to your shoulders, keeping the dumbbells as close to your body as possible the entire time. Lower the dumbbells to move into the Romanian deadlift starting position and repeat.
Broad jump to back-pedal: 30 seconds
Stand straight with your hands by your side and your feet hip-width apart. Extend your arms back while explosively jumping forward, landing 4-6 ft. in front of your starting position. Shuffle back to the starting position and repeat.
Side plank thread the needle: 10 reps each side
Start in a side plank position with your hand raised. Lower your arm in and twist it under your torso, keeping the core engaged. Control your arm back up into the starting side plank position and repeat.
Editor's note: Remember, it's always best to consult your physician before making any extreme changes to your fitness routine.
To work out with Danyele, visit www.toneandsculpt.app to download Tone & Sculpt's free 14-day trial.
Featured image by Mike Tittel courtesy of Danyele Wilson

Keep reading...
Show less
Haitian-born writer Mike Gauyo, also known as "Black Boy Writes," is breaking barriers in the television arena. His love of writing began as a hobby at a young age. It wasn't until he went to college to become a doctor that he knew the medical field wasn't for him. Taking time to perfect his craft in writing, opportunities arrived, giving the trailblazer a chance to work as a production assistant on the film The Equalizer and reality TV's American Idol.
Moving to Los Angeles, California was an exciting jump in Mike's career. After taking on a part-time job working at a local gym, within 6 months, he crossed paths with filmmaker Issa Rae.
Rae put together a creative mixer back in 2015 for creatives to attend. The requirements for entry was for candidates to submit a sample of their writing. Gauyo's work was chosen and from there, his fairy tale dream would come true. "I met Issa for all of two minutes, but I made her laugh within those two minutes. I said, 'She's going to remember me,'" the tickled writer mentioned.
The two were able to stay in contact as they continued to cross paths. Issa gave Gauyo his first writing opportunity on a scripted podcast she created, called Fruit, where he wrote for two seasons. This allowed him to build a network with other writers.
"Meeting Issa Rae was a story of perseverance, following up, being persistent and all of the characteristics and attributes you need to be a successful writer."
Without knowing what was in store down the road, Issa reached back out to Mike offering him a position as staff writer on HBO's Insecure for Season 4. Unfortunately, he was unable to accept the position due to timing. As devastating as it may sound, Gauyo was offered another position. He landed his first staff writer job for Season 1 of Netflix's hottest television drama, Ginny and Georgia. Gauyo expressed, "The show resonated with the demographic of teens to senior citizens. It was at an equal level. Talking about the biracial Black experience and the biracial Asian experience, and even speaking about single parents and raising their children."

Mike took a lot of pride in making it known that many of the writers and executives of the show were first-timers. "A lot of times the industry doesn't take a chance on you because you're new and because they don't want to take the risk. I think that Ginny and Georgia is proof that more networks, more executives need to take the risk because it was a room full of people doing this for the first time," he happily mentioned.
Continuing to pave the way for people of color in the industry, Gauyo launched a partnership with Culture Creative where he birthed his mentorship program that focuses on providing support and resources to preWGA Black writers. The program is aptly titled the Black Boy Writes/Black Girl Writes Mentorship Initiative. "I felt as though there were a lot of preWGA writers who weren't being seen, who had the talent but didn't have the access. I've spent years building a roll of industry contacts and people I've built genuine relationships with who I can pick up and call."
"If I can do that for another writer who possesses the talent and just doesn't have the access to the contacts they need, I will help them."
Currently, Gauyo is in the writers' room of Netflix's Ginny and Georgia, as the show was renewed for another season after the first season was watched by 52 million subscribers. Additionally, his opportunity with Issa came back full circle as Rae offered him a position as staff writer for the fifth and final season of Insecure. Mike happily accepted.
The writer urges anyone who has a dream to push for it and never give up. Timing is everything.
Featured image via Mike Gauyo/Instagram
Keep reading...
Show less
I don't know about y'all, but I love having girl talk. Me and my girls can kiki about life, sip our wine, and hype each other up about what's coming up next in our lives. However, something that I love a tiny bit more than girl talk, is having guy talk. Don't kill me y'all but I just think it is so refreshing and important to get a guy's perspective on love/relationships. It also keeps me in check sometimes when I am overthinking a situation. In fact, I was talking to one of my guy friends a few weeks ago about the topic of black love.
We talked about the dynamic of black men and women and what may be the best way to show up for black women and vice versa. His thoughts were that it is challenging for him to show up for black women, if there are high expectations on how a black man should be. He also explained that while black men know how to be in relationships, the idea of how a relationship should be has been warped into so many different things. While I can understand my friend's point of view on this, I couldn't help but think about how I prioritize love in my daily life and if asked the question, "How would I want my future partner to show up for me?"
Recently, I had a great "guy talk" with actor Tristen J. Winger. Tristen is someone who knows exactly how he likes to show up for black women. Tristen J. Winger, 35, plays the character Vince on the BET+'s Bigger series.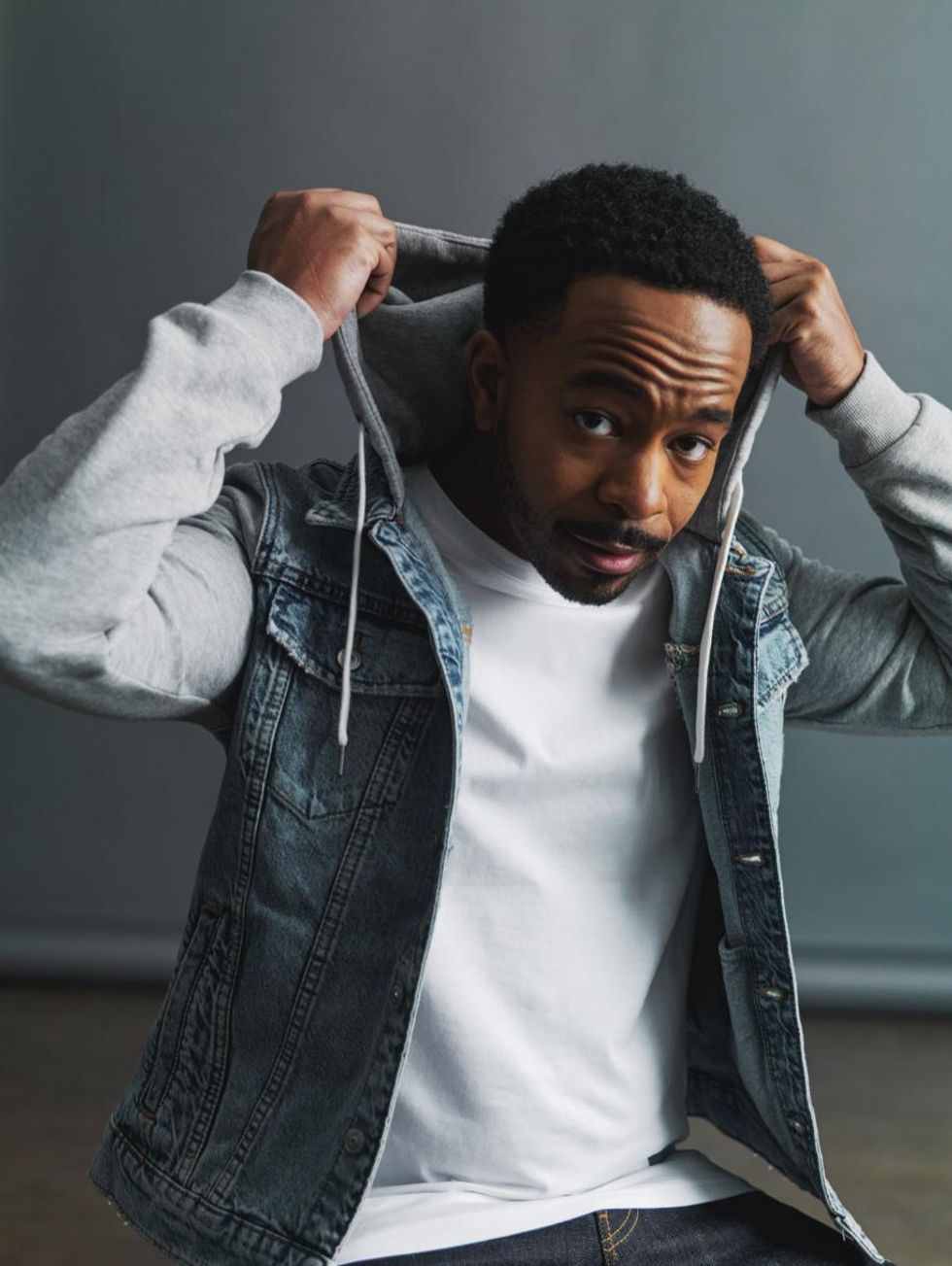 Courtesy of Carlos Nunez
Executive produced by Will Packer, Bigger is a comedy series that takes a deeper look at the stagnant lives of Layne Roberts and her circle of friends as they strive for something bigger and better in all aspects of life. While chatting with Tristen, who plays he was able to give me the truth about his thoughts on black love.
He is a true advocate for uplifting and supporting black women in all spaces and is a believer in keeping the idea of black love in a positive light. Here's what the star had to say.
xoNecole: Do you feel that your character Vince on the series 'Bigger' relates to who you are in real life?
Tristen J. Winger: I believe he does in many ways. Especially, when we find out more about Vince in the second season. Being pushed to pursue one career, but having a passion to be a creative resonates with me. I graduated from high school early and I went to college for Mechanical Engineering. I really love science. My mom would put me in science camps when I was younger and I really enjoyed it.
However, the creative side of me overpowered that. Throughout high school, I was in Performance Arts and I played music. So, when I got to college I was introduced to this music software by a good friend of mine. I was excited that I was able to make music and not do math all day in my other courses (laughs). I knew my mom wanted me to go down this one path, but I chose to follow my passion in being a creative.
xoNecole: Because you relate to Vince's journey in following his passion in music, what advice do you have for other people who want to follow their passion instead of what is expected of them?
Tristen: Always go with your gut. Every time. At the end of the day, we are living this life for us. That's not to say to forget about everyone else. But ultimately, we are the ones who have to live with our decisions. So make decisions that make you happy in the end. Instead of living with regret or having the "what if" in the back of your mind.
xoNecole: What has your professional acting career taught you about dating/romantic relationships?
Tristen: I will say that since acting is about listening and reading between the lines, you have to do the same thing in romantic relationships. You can't just listen to the other person to respond. You have to listen to understand where the other person is coming from and learn from them. We can live this life on our own if we choose to, but if we choose to live a life with a partner, there must be understanding and togetherness.
"We can live this life on our own if we choose to, but if we choose to live a life with a partner, there must be understanding and togetherness."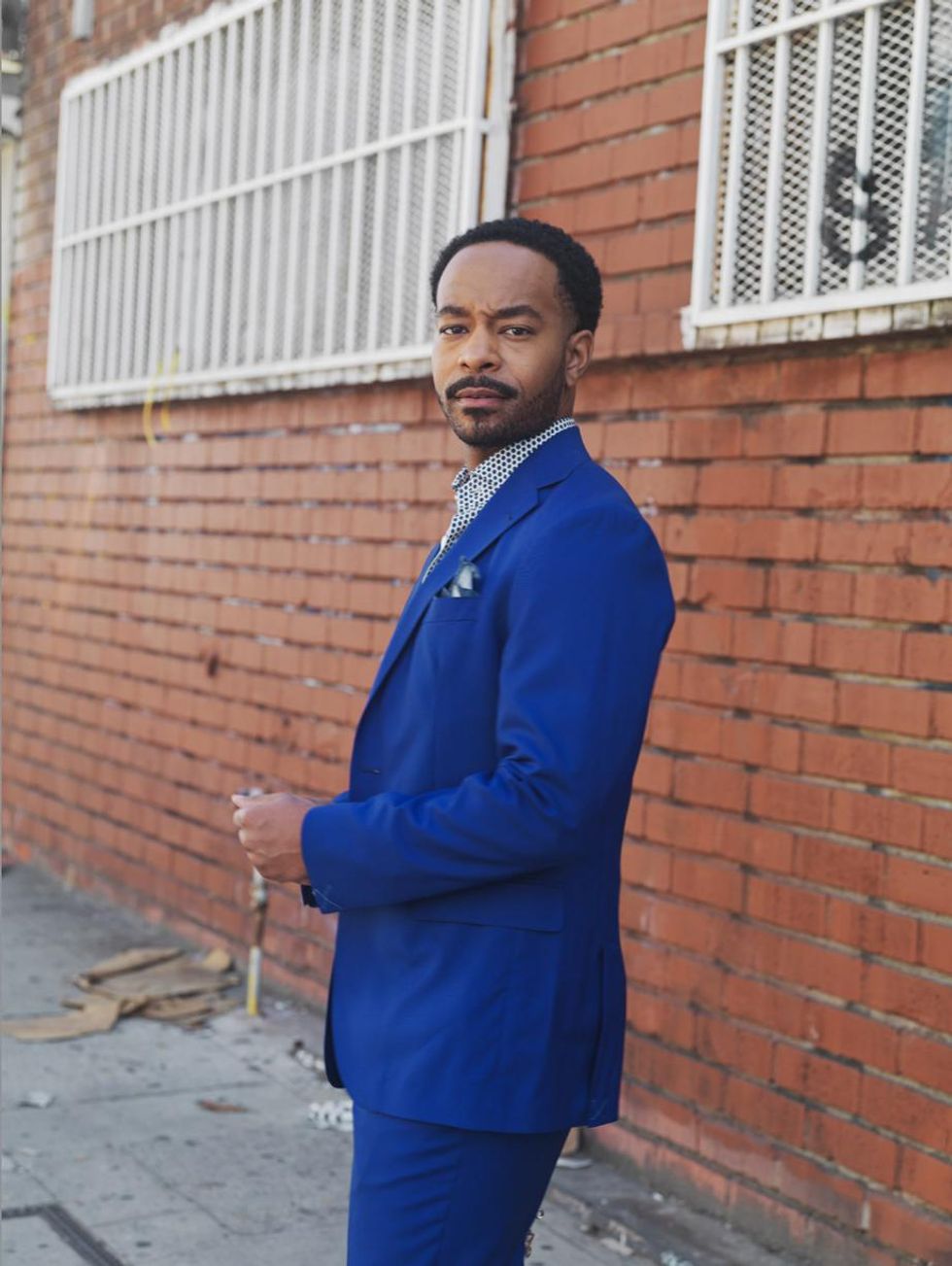 Courtesy of Carlos Nunez
xoNecole: In today's society, do you feel that there is a misconception between black men and black women when it comes to the #relationshipgoals?
Tristen: Looking at social media really confuses me sometimes (laughs). Like why are y'all complaining about $100 dinner dates? (Laughs) That should not be the basis of a relationship. It does seem like nowadays black men and black women are at odds when it comes to relationships. But every day I still see examples of beautiful relationships. I know what black love looks like and while social media may make it seem like it is difficult to achieve true black love, I am not going to believe it.
xoNecole: What do you think are the two key things for a successful relationship?
Tristen: I think empathy but more so, being able to support one another. If you and your partner are a team, the goal should be to win together. In order to win, we have to challenge each other too. You can have a lot of moments that are comfortable and full of ease. But the question is, how are we going to take each other to the next level? So being supportive is key.
"If you and your partner are a team, the goal should be to win together. In order to win, we have to challenge each other too."
xoNecole: You show that you are a huge advocate for black women on social media, how do you like to show up and support black women in romantic relationships?
Tristen: It honestly looks different for different women. Showing up could literally mean showing up and supporting her. Showing up can look like giving gifts or writing poetry. Showing up could even look like listening to her as she vents. You have to find out what her love language is. All of the languages mean something, but each one has a different weight to them.
xoNecole: I am so glad you touched on love languages, because you are absolutely right! So, inquiring minds would like to know.. What is your love language?
Tristen: My top love language is words of affirmation. I think that comes from my childhood. Recognition feels good to me. I remember when I was in elementary school, I would always get perfect attendance awards. Or when I would get A's on my spelling test, it was the recognition from the teacher's that I sought out for. There are times even now, where I wonder if I am doing a good job. So in dating, those words of affirmation are important to me.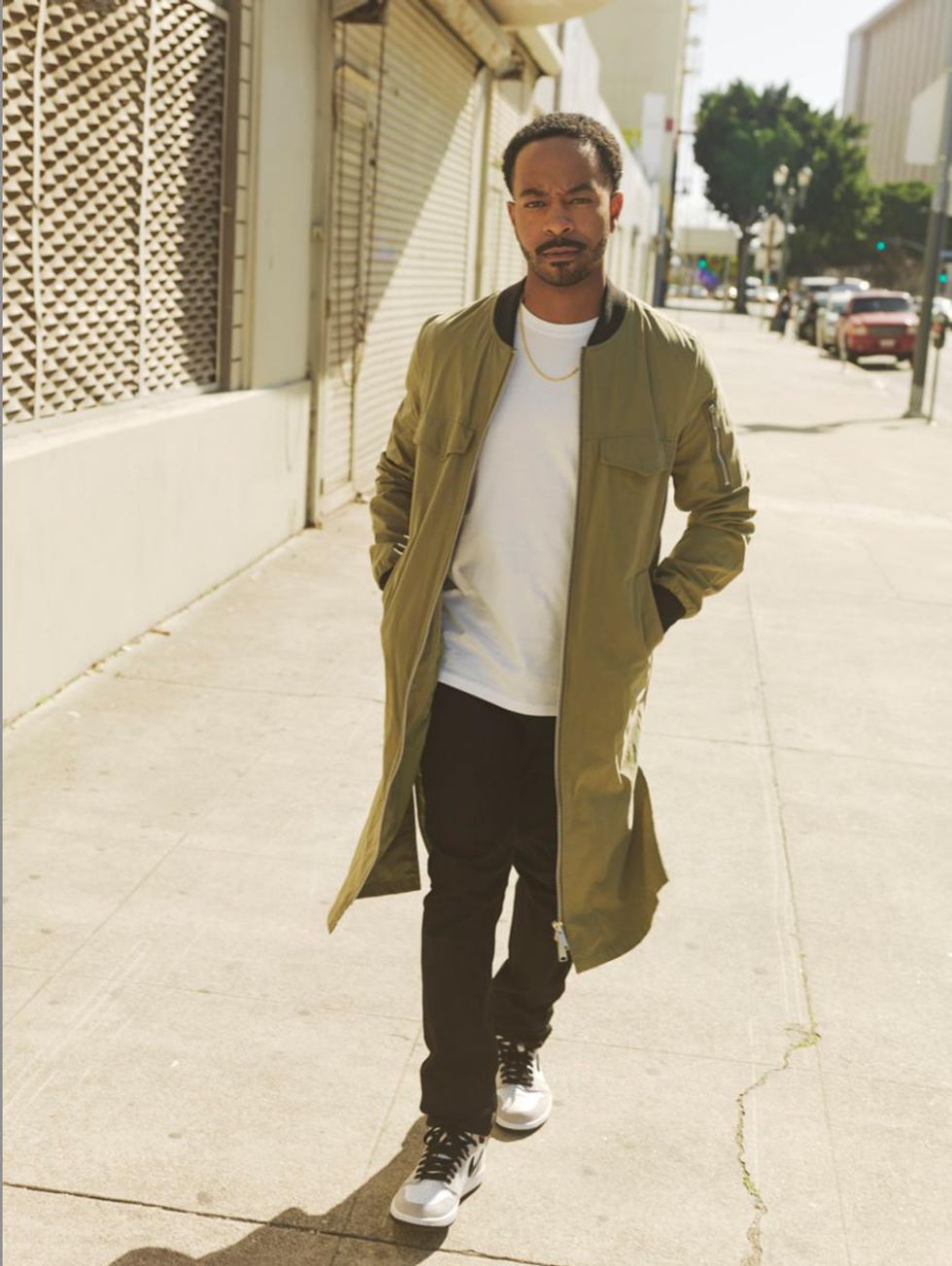 Courtesy of Carlos Nunez
xoNecole: Do you think self-care is important in a relationship? If so, how do you practice self-care for yourself?
Tristen: There are times where I just want to be alone. I don't have to be doing anything specific. I just need that time to myself. I won't and shouldn't feel bad for wanting to spend time with myself (laughs). I am willing to do whatever it takes to recenter myself and ground myself, whether I am in a relationship or not. We give so much to the world, so we have to remember to give back to ourselves.
xoNecole: What is an important lesson you have learned from previous relationships that you will apply in your next relationship?
Tristen: An important lesson for me is how to show up for myself while I am in a relationship. Being raised by a single mom, I used to pour everything I had into my relationships. With doing that, I ended up forgetting what Tristen wanted. So now, I will always speak up for myself in how I like my partner to show up for me.
xoNecole: What are some relationship green flags that you look for when it comes to dating?
Tristen: The first thing that comes to mind is a sense of humor. I love to laugh. If a woman can quote Back to the Future or The Nutty Professor line by line, I'm sold (laughs). I also like a woman who is adventurous and likes music too. Someone who isn't judgemental and is a free-spirit [and] open-minded. These are all great qualities I look for.
xoNecole: If you could curate a love playlist for your future partner, what would be the top 3 songs and why?
Tristen: The first song would be "Can We Talk" by Tevin Campbell. The next song would be "Take It From Here" by Justin Timberlake, produced by The Neptunes. The third song would be "At Your Best" by The Isley Brothers. For "At Your Best," it sounds like he is talking to someone specifically. So when you are creating a playlist for someone, you need that specificity. So I chose all these songs because when I hear the words and I listen to the music, I feel all of it.
I remember in Justin's "Take It From Here" he says, "I wanna be your lake or your bay. And any problems that you have, I want to wash them away." I just want to wash away your problems girl! (Laughs) I just want to wash them away (smiles).
For more of Tristen, follow him on Instagram.
Featured image by Carlos Nunez
Keep reading...
Show less