"I'm your girl, you're my girl, we your girls - don't you know that we love you…"
"Girl" (one of my personal favorites) was released by Destiny's Child in 2004, and the song speaks to being there for a friend who's in a toxic relationship. Today, the importance of having your tribe and being there for each other is still a powerful and significant message considering the fact that: 17 years have passed, which means responsibilities and priorities have likely changed for many of us, AND we survived a whole global pandemic. Hence, "checking in with God, yourself, and others," is so important for such a time as this.
Throughout the pandemic, we've heard a lot about Zoom fatigue. However, when the beautiful, talented, multi-platinum, award-winning artist, and member of one of the best-selling girl groups of all-time, Michelle Williams, shows up on your computer screen, all of that so-called Zoom fatigue goes out the window.
Recently, I had the wonderful honor and pleasure of "checking in" with Michelle Williams. When Michelle first appeared on my screen, there was an effervescent glow about her. It wasn't just the fact she was rocking a glamorous, natural look, or the vibrant pink lighting that added a delicate, yet fierce, femininity to the room. Instead, it was her kind, warm, down-to-earth spirit, and her humble and genuine personality. As someone who has experienced and invested in my own mental health journey, not only could I relate on so many levels, but I was all the more appreciative for her candidness.
During our "check-in," we discussed how Michelle courageously decided to share intimate details and experiences in her new book, Checking In: How Getting Real about Depression Saved My Life and Can Save Yours. She also shared the importance of checking in, how she's overcome public shame, embarrassment, and humiliation, as well as how she navigates mental health in her relationships. And let me tell you...she definitely kept it real.
Getting Real with Yourself
xoNecole: Because you are such a private person, how difficult was it for you to openly share and pen your mental health journey and experiences? 
Michelle Williams: So many people told me about the healing effects of writing. So, a girlfriend and I went to a cabin one weekend, and I began to write and voice everything. It was like a therapy session. As a singer, I'm used to putting everything in a voice recorder. So, writing the book wasn't different. It was very healing and very restorative.
In your book, you shared a story about how when you originally joined Destiny's Child and were asked about your name: "Who do you think little girls want to be like? Tenitra or Michelle?" Although you chose Michelle, there was a part of you that also thought about: "...how much my feelings of unworthiness may have sprung from comments just like that one. I wonder how much influence I lost by exchanging that label." Reflecting on that, how have you peeled away those layers and labels to truly embrace your authentic self? 
Michelle: Just so people know, Destiny's Child did not make me depressed. The music industry did not make me depressed. This is something that I've been dealing with since the 7th grade but I was finally able to put a name to it by my thirties. At first I was scared to include that part because this is not a tell-all book, but based on the way it was written and the heart of the book, by now, people know Tenitra Michelle. They know I'm not out here trying to ruin my 20-year friendships with Beyonce and Kelly.
Besides, Michelle in the beginning of Destiny's Child didn't know what she was doing. So, a part of me felt like I could keep Tenitra to myself. I am Michelle, but at times, "Michelle" served as a cover-up or a mask, but it was Tenitra who was wounded and hurt. Tenitra needed the miracle and emotional healing. Now, the only label I've got that matters is God's: God's creation. God's work. God's child.
"I am Michelle, but at times, 'Michelle' served as a cover-up or a mask, but it was Tenitra who was wounded and hurt. Tenitra needed the miracle and emotional healing. Now, the only label I've got that matters is God's: God's creation. God's work. God's child."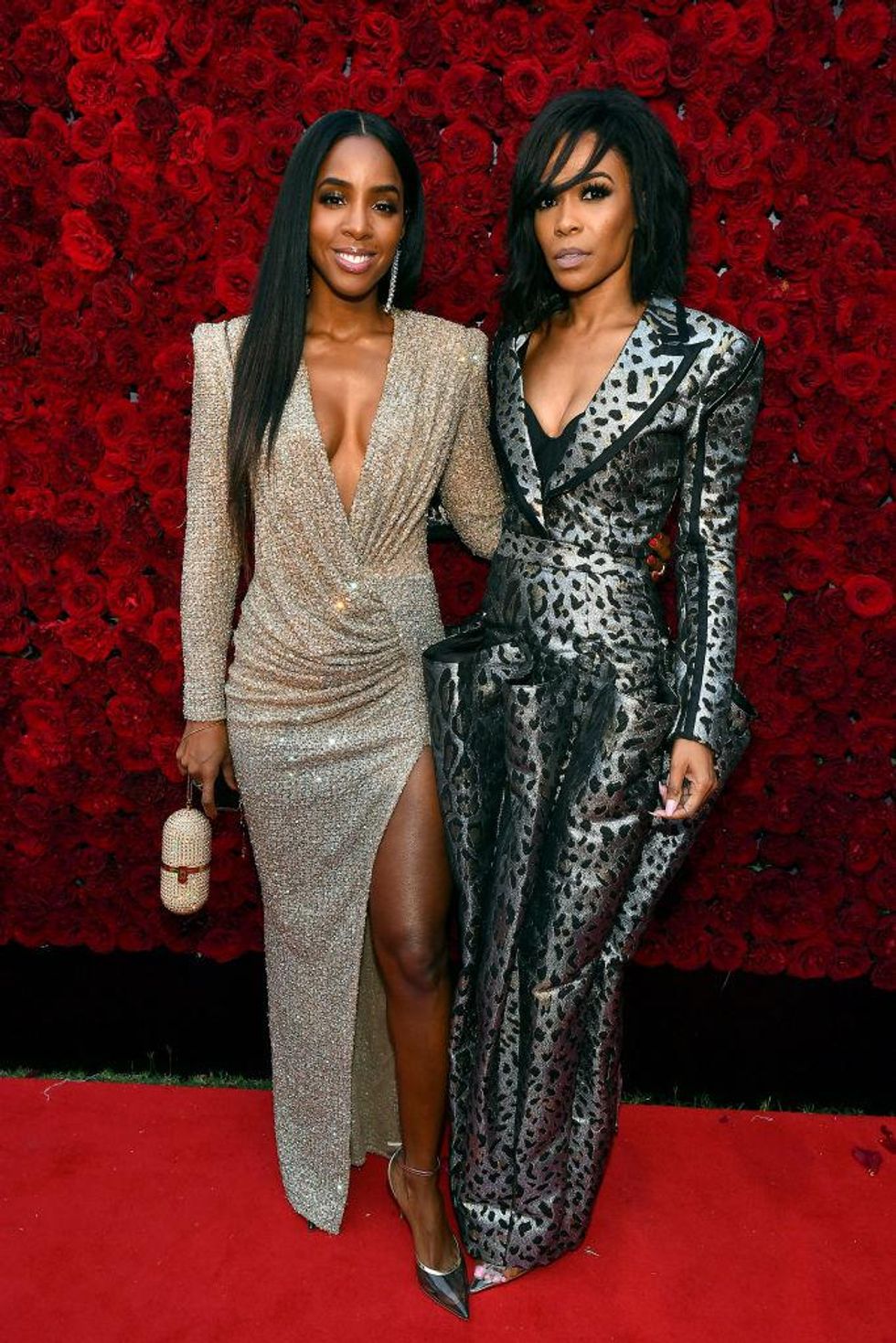 Paras Griffin/Getty Images for Tyler Perry Studios
We know how close you, Beyonce, and Kelly are, but how difficult was it for you to be open and honest with them about your mental health journey initially? 
Michelle: Many times, we talk ourselves out of having conversations that we know we can have with our girlfriends. When I joined Destiny's Child, I know that Beyonce was really struggling with depression. Her two childhood friends were no longer in the group even though they had dreams and plans. So, I couldn't come in and be like, "You know, I'm depressed too." I wanted things to go smoothly, so I did what needed to be done. Fast forward to some years later, Bey and Kelly were getting married and having children. So, I talked myself out of talking to them. I didn't want to be a "Debbie downer." I didn't want to bring the wrong energy.
Then, in 2018, we were rehearsing for Coachella and I was newly engaged, but I felt like I couldn't go to anybody with this. I didn't want to ruin anything. That's also a trick of the enemy - he wants you to feel like you can't speak about it. His job is to "kill, steal, and destroy." So, he isolates you and makes you believe that you can't talk about it. He tries to mute your mouth because your mouth is powerful...it can open doors, build up and tear down. It can get you the help that you need. So, when I finally did tell them, their response was: "Michelle! You could've and should've come to us!" To this day and even recently, Mrs. Tina, told me, "I wish you would've told us."
For those who may not fully understand the weight of mental illness or they're on the outside looking in and all they see is the glitz and the glam, what do you say to those who may think, "If your life is that good, then what's there to feel depressed about?"  
Michelle: You might be successful, functioning well, but there may be things that you need to process - trauma, transitions (e.g. job, move, relationship, getting married, getting divorced), and even triumphs. Everything doesn't have to come tumbling down before you go seek help. The main purpose of money is that it enables me to pay my bills on time, and now, thankfully, it enables me to get help.
Getting Real about Relationships
Sometimes, when we struggle with mental health issues and depression, we may feel like it makes us unloveable. How do you navigate and approach those tough talks with partners when you're experiencing depression and you're not OK? 
Michelle: I've gone out with a few people a few times and you just slide the topic in there….definitely not on the first date though. It could be as simple as asking, "What do you think about this person or that person," or "What are your thoughts about therapy?" You can talk about me if you have to by saying something like, "Hey, what do you think about Michelle and her story?" Then, observe how they respond to the conversation.
Reflecting on your past relationships, what have you learned in terms of how well or difficult it was to manage your mental health in your relationships? 
Michelle: I wish I had taken off my superwoman cape and shared more about my mental health sooner than later. I wish I had done that with the man that I was engaged to. I can do it now, but back then, I couldn't. I was afraid because I knew this man had been waiting for a wife this whole time and here I was about to tell him, "Uhhh, I think I'm depressed." So, once he did find out, he was crushed that I didn't say anything because he wanted to be there since he's a natural "fixer" anyway. Now, I just go ahead and talk about it because I want to see the other person's response. If their response is not a supportive one, then we don't have anything else to discuss.
"I wish I had taken off my superwoman cape and shared more about my mental health sooner than later. I wish I had done that with the man that I was engaged to. I can do it now, but back then, I couldn't."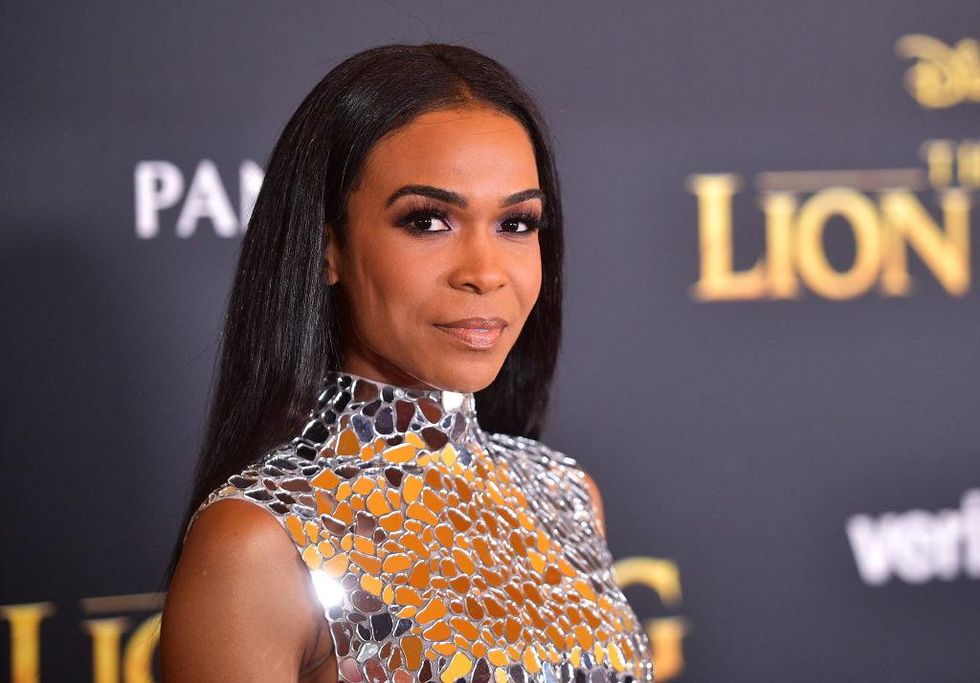 Matt Winkelmeyer/Getty Images
On the flip side, if you're with someone who is experiencing mental health issues, how can one be supportive? 
Michelle: Check on them, and also educate yourself. My ex-fiance was supportive, but he wasn't aware or knowledgeable about certain things. I know he was crucified by a lot of people on the internet because of a past episode of our show when he asked me if I had taken my medicine. Nonetheless, we were trying to get the world to also see what this looks like (relationships and mental health), and how unfortunately, sometimes we say things that are offensive to the people we love.
Asking for Help

In your book, you talk about the moment when you finally admitted and said, "I don't feel safe...I need help." Was there a specific situation that led you to that pivotal moment, or do you think it was a culmination of everything you had been feeling? 
Michelle: It was a culmination of everything that had transpired. It's like the game Jenga. You're stacking blocks on top of blocks, but the removal or placement of a single block can cause everything to crumble. For me, I felt the symptoms of depression, so by the time I went to the hospital in 2018, I had been feeling the symptoms for awhile, things were building, and I was in a dark place. I remember being in the bed talking on the phone with a pastor and his wife and they said, "In the morning, if you don't feel better, do what you gotta do." So, I did.
So many people struggle with asking for and getting help even privately. How difficult was it for you to experience something so private yet on a public platform for all the world to see? 
Michelle: By the time I walked into a mental health facility, the shame had already left. My lip wasn't even waxed and I didn't take any clothes with me. One of the nurses went to Target and bought clothes for the duration of my stay including clothes, panties...whatever I needed. Shortly thereafter, my manager called me and said that a [certain media outlet] needed confirmation about my whereabouts since it was about to go public. So, I released a statement merely because I didn't want them to tell MY story. I wanted to control my own narrative. That's when the shame, embarrassment and humiliation came.
For someone who may be struggling right now or feeling shame about wanting to seek help, what would you say to her? 
Michelle: There are a lot of reasons why people don't go to therapy, but I pray that your desperation and your wellness outweighs all of that. Let God do what he's going to do with everyone else because it's going to work out for you. Your life and your well-being has to outweigh your pride, the fear, and shame. Part of the reason why the shame left when I arrived at the mental health facility was because I was so desperate for help. Shame can't be in the same spot as desperation. As Shanti Das and her organization says, "Silence the shame." In other words, silence the fear, and let courage and bravery be amplified.
"There are a lot of reasons why people don't go to therapy, but I pray that your desperation and your wellness outweighs all of that. Let God do what he's going to do with everyone else because it's going to work out for you. Your life and your well-being has to outweigh your pride, the fear, and shame. Shame can't be in the same spot as desperation."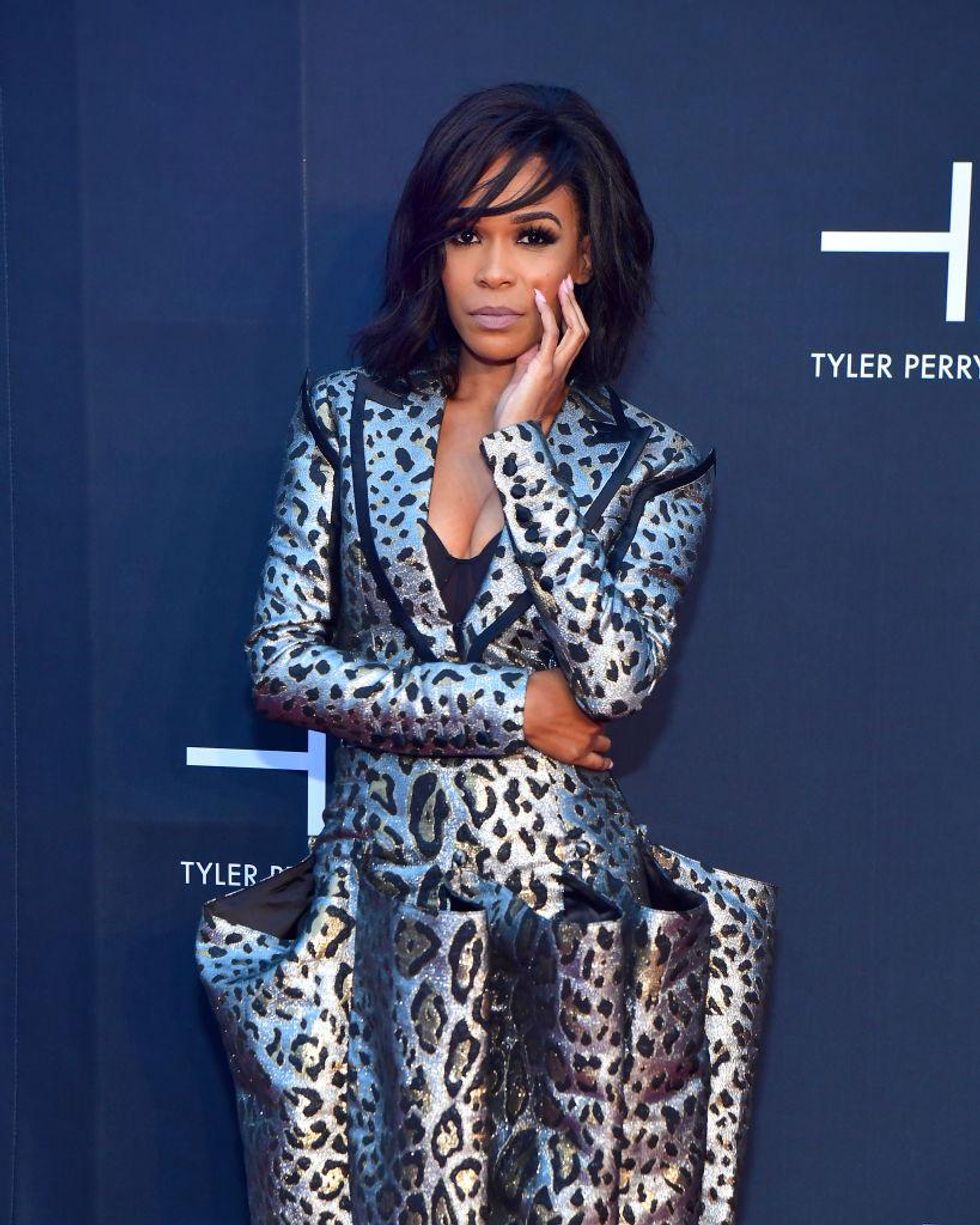 Prince Williams/Wireimage
Social media can be a double-edged sword. How do you manage your social media intake? Do you ever take social media breaks as a way to help protect your peace?
Michelle: Yes, I'm very intentional about the follow button. I curate and follow people based on how I want my vision board to look. When someone tells you "your music changed my life," I gotta respond. I love to engage with people but there are times when I do take a break. It's healthy when you're not scrolling all day. Now, have I responded a time or two to those who aren't kind? Absolutely, but I don't do that all the time because I don't want to be known as the "clapback queen."
Checking in and Doing the Work

Besides therapy, have you explored or tried other forms of therapy or treatment? 
Michelle: I've [had] a few sessions of something called Eye Movement Desensitization and Reprocessing (EMDR); which is a form of therapy that helps with trauma in terms of desensitizing and disarming. There's also guided stretching, diet-related factors, and boundaries. Boundaries are so important. Being able to say things like, "No, I'm not talking about this," or "No, I'm not doing this," or "No, I don't have the emotional capacity."
I also respect others and their boundaries as well; so much so that if I know I'm about to initiate a heavy conversation, I'll ask, "Do you have the emotional capacity to listen to what I'm about to tell you?"
My condolences to you as I know your dad passed away a short while ago. Would you say that your faith and the mental health work that you've done have helped with managing your grief? 
Michelle: Definitely. My therapist was on stand-by when I needed her. Just talking to somebody helped me deal with the sadness of the loss of him; the sadness of when I call my mother, I won't hear him in the background. I'm not over it of course, but what's helping me over is the way in which he passed. At the time, my mother was singing hymns to him, but little did she know, she was ushering him into Heaven. I told my Mama (laughs), "I think God and daddy had a Zoom meeting and they orchestrated the way he tiptoed out of here like a G."
I even had hopes of him walking me down the aisle one day, but I guess he was like, "I tried. I waited, but it just didn't work out. I'm ready to go." So, I have tremendous peace about where he is and how he left.
In your book, you stated: "When we fail to check in with ourselves - aware of our own thoughts, feelings, and spirituality - we fail to live as God wants us to live. Because we fail to see ourselves as God sees us." What does checking in look like for you now? 
Michelle: I started the process of "checking in" back in 2019. In 2019, I was still going through the thick of everything that happened in 2018. So it was a healing journey of everything that I went through in 2018. Checking in with myself means being aware of how I'm feeling before going to bed. Saying things out loud. Listening to music. Checking in with God centers around praying and talking to God.
Checking in with others means calling up someone as soon as I think about them, and if they don't answer, then I'll send a text. It's about being more intentional. It's also about having the courage to tell my friends, "Hey, I'm feeling overwhelmed," but also being mindful about not putting too much pressure on my friends. That's why processing things with your therapist is important.
Because you've revealed so much of yourself to the world, what is your greatest hope for your book and everything that you're doing? 
Michelle: I can't bare my heart and soul anymore than I already have...that's how much I want to help inspire and impact the world. My hope is that Checking In will help people get real about their mental health issues and give them the courage to seek help. Do it for you and your future. You deserve it and your future is coming. There are certain insurance companies that will cover some or all of your therapy sessions, as well as certain schools that offer assistance with getting therapy.
However, if you're out there and you can't necessarily afford therapy or don't have immediate access to resources: at least start by asking yourself, "How am I feeling?" As my cousin, Brittany - who happens to be a therapist - likes to say, "Feel your feelings." Be aware of your feelings - whether sadness, anger, grief, or whatever - because those are natural, legitimate responses to whatever's going on around you. Everyone doesn't have to be the poster child for mental health, but I want to be the poster child for seeking help.
For more of Michelle, follow her on Instagram. Checking In: How Getting Real about Depression Saved My Life and Can Save Yours is out now.
Some responses have been edited for length and clarity.
Featured image by Matt Winkelmeyer/Getty Images
Keep reading...
Show less
Whether you like it or not, Joseline Hernandez is here to stay. For nearly a decade, the self-proclaimed Puerto Rican Princess has claimed her throne as reality TV royalty, captivating viewers with her on-screen antics and infectious off-screen persona. Since parting ways from her veteran-run on VH1's acclaimed show, Love & Hip Hop: Atlanta, Joseline has since transitioned into running a show of her own, launching season 2 of her highly anticipated production, Joseline's Cabaret on Zeus Network.
Since its premiere, the controversial, high-action series has garnered a groundswell of online attention from its instant-viral moments. Following the shocking "Double Homicide" comment, along with Joseline's recent appearance on the Wendy Williams Show where she self-advocated for more respect on her name, the show displays all the qualities of must-watch TV.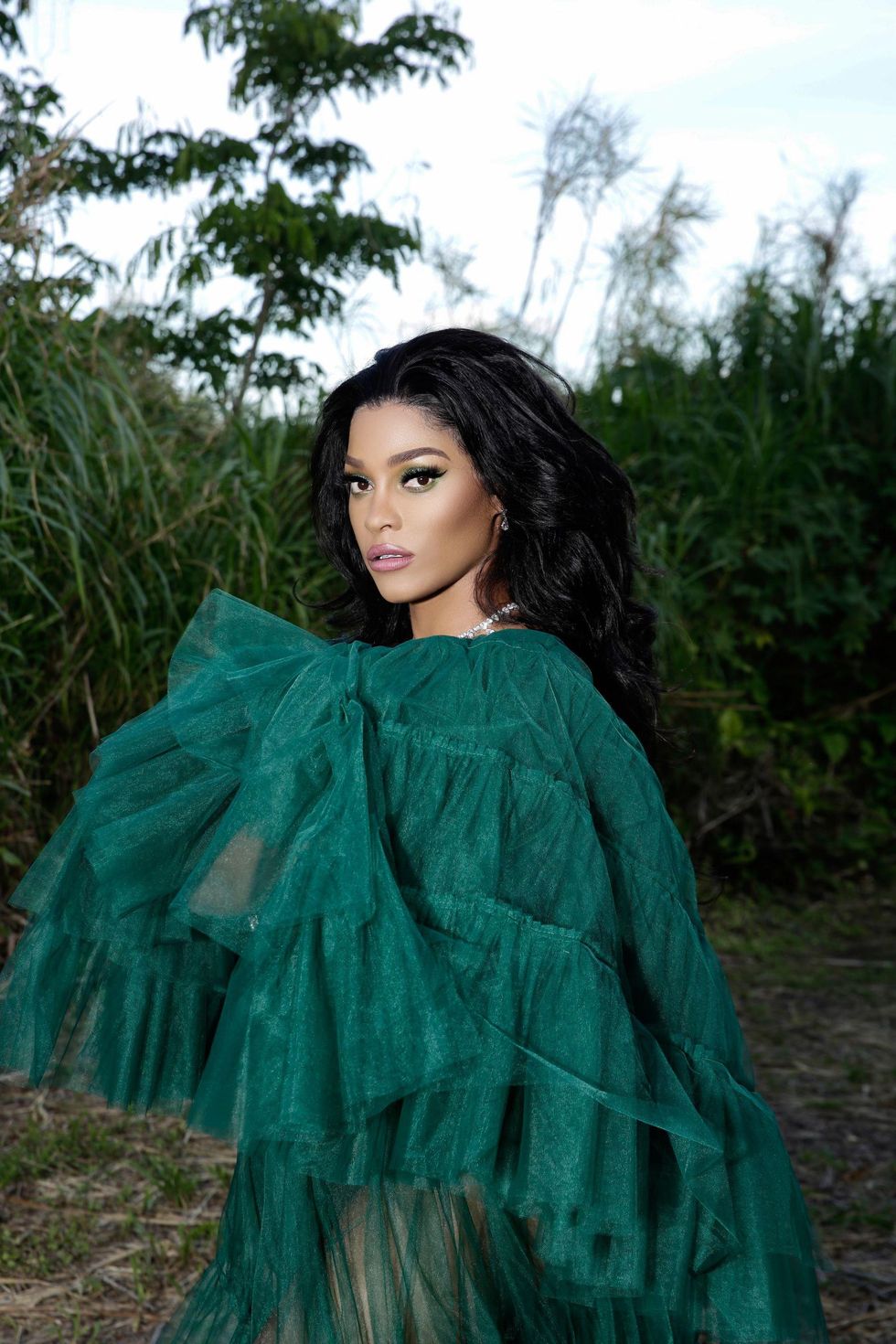 Courtesy of Joseline Hernandez
Joseline's latest endeavors mark a pivot in her long-standing career, highlighting her ability to turn her past hurdles as a teen-runaway turned stripper — to now mother, fiance, and showrunner — as a feat worth celebrating. Although her path has been unconventional, it's one that's been carved out by resilience and a whole lot of hustle; and she doesn't plan on stopping anytime soon.
For xoNecole, Joseline spoke candidly about what to expect from the new season of her hit show, Joseline's Cabaret, why she's making space for women in the sex work industry, and how she's taking her career back into her own hands.
​xoNecole: You've been open about your childhood and being a runaway at just 14 years old. Looking back, how did being independent at such a young age help you become the woman you are today?
Joseline Hernandez: How I started out life was so dramatic, it made me want to figure out a way to cut that tail. You're like, "I don't want to be here, I have to figure out what I want to do with my life." When I was 21-22, I figured out that I wanted to do something like Joseline's Cabaret. I used to be a stripper, I always wanted to entertain. When I was 21, I realized, "I can entertain, I'm about to do this." I didn't have it easy like Beyoncé or Rihanna or any of the other girls who had help from their parents. I did it all by myself.
When you're 21, you're still a teenager. People think you're grown but you're not. Me not having help and having to struggle, I said to myself, "One day, you're gonna be somebody, you're gonna make it. Those dreams that you had as a child, you didn't forget them, and since you didn't forget them, you must fight to get them." And that's what I did.
That's why I think I was able to break the spell for me and my daughter. Moving forward in life and carrying that torch, I was able to do it for my last name and for my family's blood, Hernandez, and I was able to change the future. It came with a lot of pain and suffering, but I made it happen.

"I said to myself, 'One day, you're gonna be somebody, you're gonna make it. Those dreams that you had as a child, you didn't forget them, and since you didn't forget them, you must fight to get them.' And that's what I did."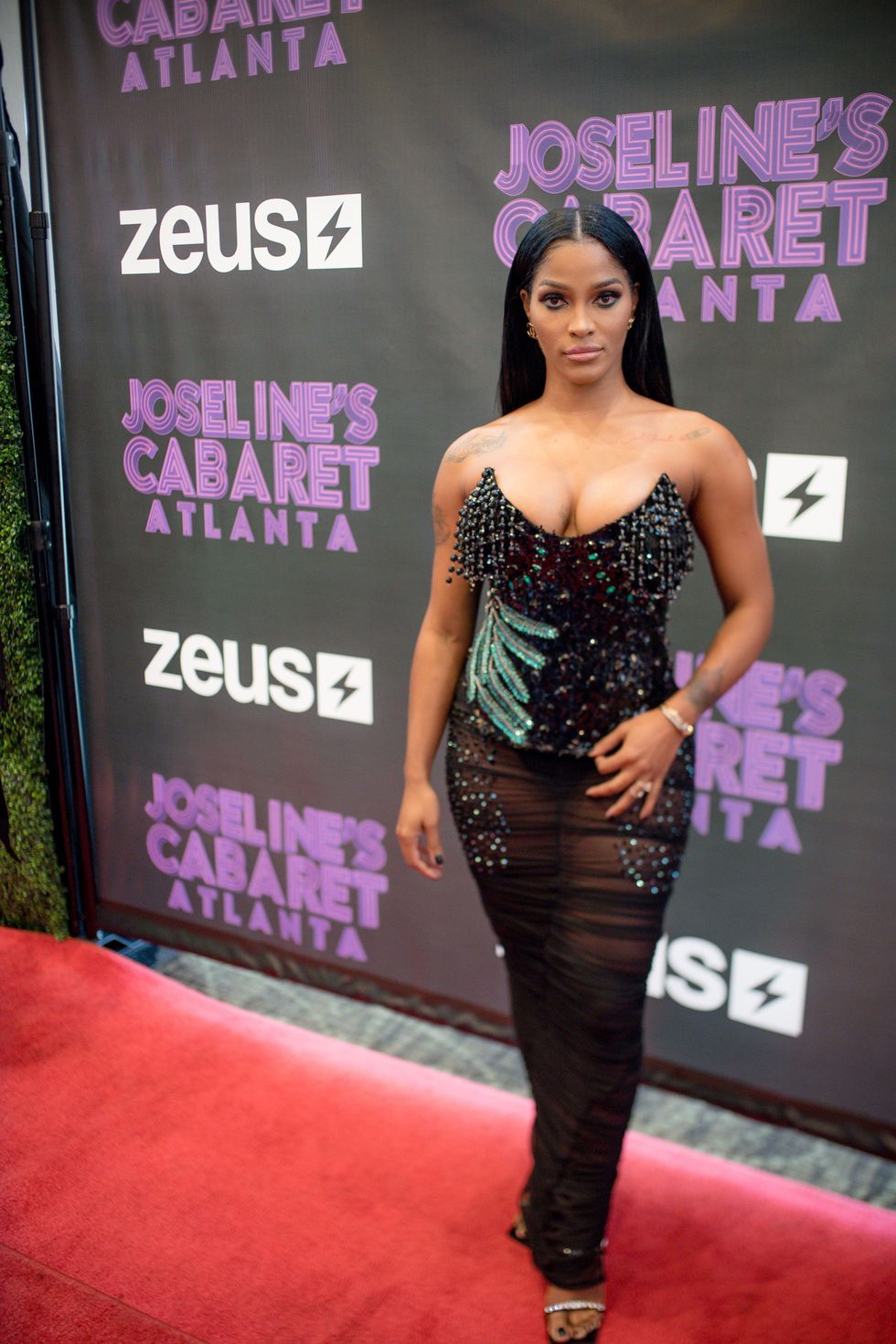 Courtesy of Joseline Hernandez
Instead of being a victim of your circumstance you've been victorious in shifting your story. What was the shift in your mindset that you hope to pass down to the women in your Cabaret?
JH: It's always a decision that's going to make you a better person. I always make a decision to stop doing something that's not good for me, and I never go back. For the ladies at the Cabaret, they really have to make sure that what they do moving forward, is the best decision. And that's how you're going to become great: it's always that one decision that's going to take you to the next level.
Could you take us through the moment when you decided you wanted to make the pivot from 'Love & Hip Hop: Atlanta' to create and executive produce a show of your own?

JH: When you're working for another person for a few years, you realize that everything you were giving to that person, you can give it to yourself. I stayed with LAHHA for six years, but there came a point where I was like, "I'm a mother, it's time for me to do something for myself. What can do that's going to change everything in my life and my daughter's future?" And that was to finally create my passion which was Joseline's Cabaret. To finally put that together was all I ever wanted. I felt like I didn't need to keep doing LAHHA because I needed to do something for me.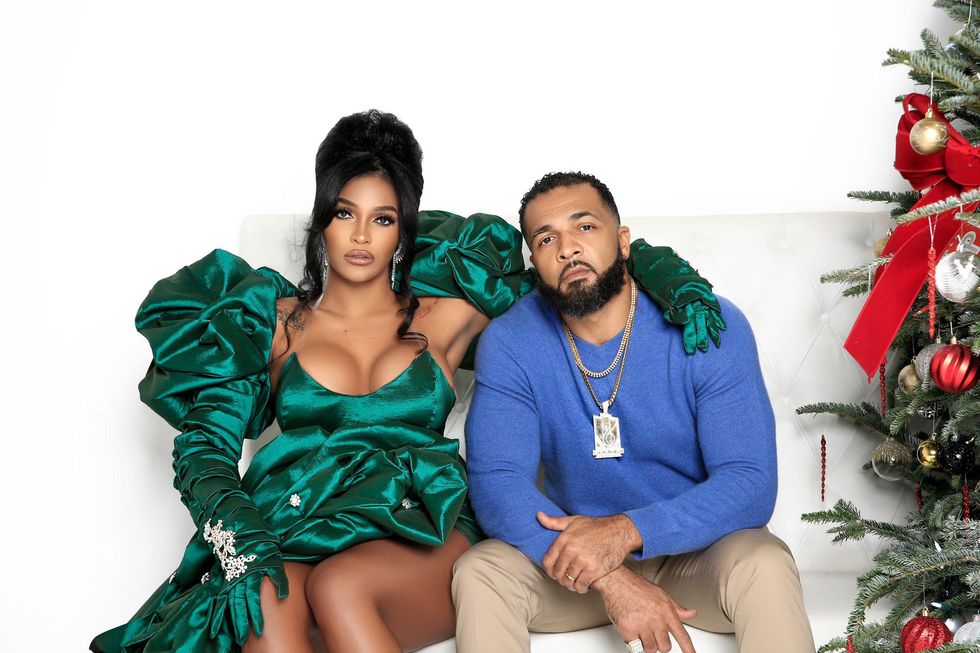 ​Courtesy of Joseline Hernandez
You've gone from being the star talent on 'LAHHA' to being the producer of your own show. Is there anything that you gleaned during your time working with Mona Scott Young that you aim to do differently in your own productions?
JH: What makes me different is that the ladies know who I am and I know who they are. I don't have to do fake and phony stuff because I know what's real. I really didn't have to produce any of the ladies this season, because they know what they came to do. It's a competition, four ladies get to perform at the Cabaret and get $10,000, so there's no production there. Everyone has their own energy and their own attitude. And I think that's what makes me different, I don't have to lie to kick it.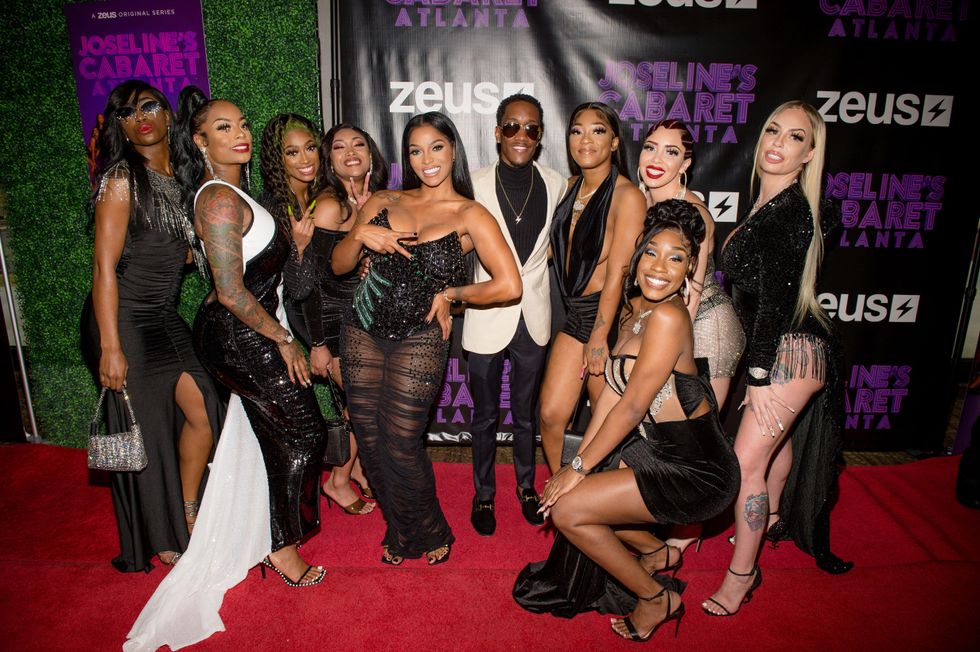 Courtesy of Joseline Hernandez
There is a lot of discussion around positive representation for Black women and WOC on reality TV, what do you say to folks who may not fully see the vision behind 'Joseline's Cabaret' in helping these ladies make a positive change in their lives?
JH: By the end of the season, they'll understand the whole purpose. I'm just putting the show together, I can't tell the ladies how to act. You can't produce 20 fights in one night, nobody's that lucky. This is real life, it's organic. I can be kumbaya all day, but they're gonna do what they're gonna do and I gotta let them rock. The first whole week, the ladies were going crazy, but I got them together. So it gets better.
You say that if you didn't have your daughter, Bonnie Bella, that you wouldn't be the woman you are today if it wasn't for her. In what ways has motherhood changed you?
JH: When you have a baby, you want them to be strong, smart, and healthy. When you put your focus into that, it makes you a better person. Becoming a mother allowed me to become the best version of myself. When you bring somebody into the world you want to be the best version of yourself so you can teach them everything you didn't learn.
For new episodes of Joseline's Cabaret, tune in every Sunday on Zeus Network. Follow Joseline Hernandez @joseline.
Featured image courtesy of Joseline Hernandez
Keep reading...
Show less
Thomas "Nephew Tommy" Miles is an actor, comedian, and media personality who has become a comforting face in our community. That's why I was super excited when I learned he had become the host of OWN's Ready to Love, a dating show for mature singles looking for authentic and long-term relationships. Since its start in 2018, Ready to Love has given viewers a personal and authentic look into the lives of everyday people on their journey to find a genuine connection.
This season, Ready to Love is leaving its home in Atlanta to travel to Nephew Tommy's hometown of Houston. And he is excited for viewers to become more familiar with the city he loves, "Houston, it's the fourth largest city [in America]. Though to people here, it's more like a big town. Everybody kind of knows everybody. But regardless of where you are, dating is a challenge. If you've been preoccupied, it's the same thing. You still haven't taken time to focus, and say I'm gonna find what I want."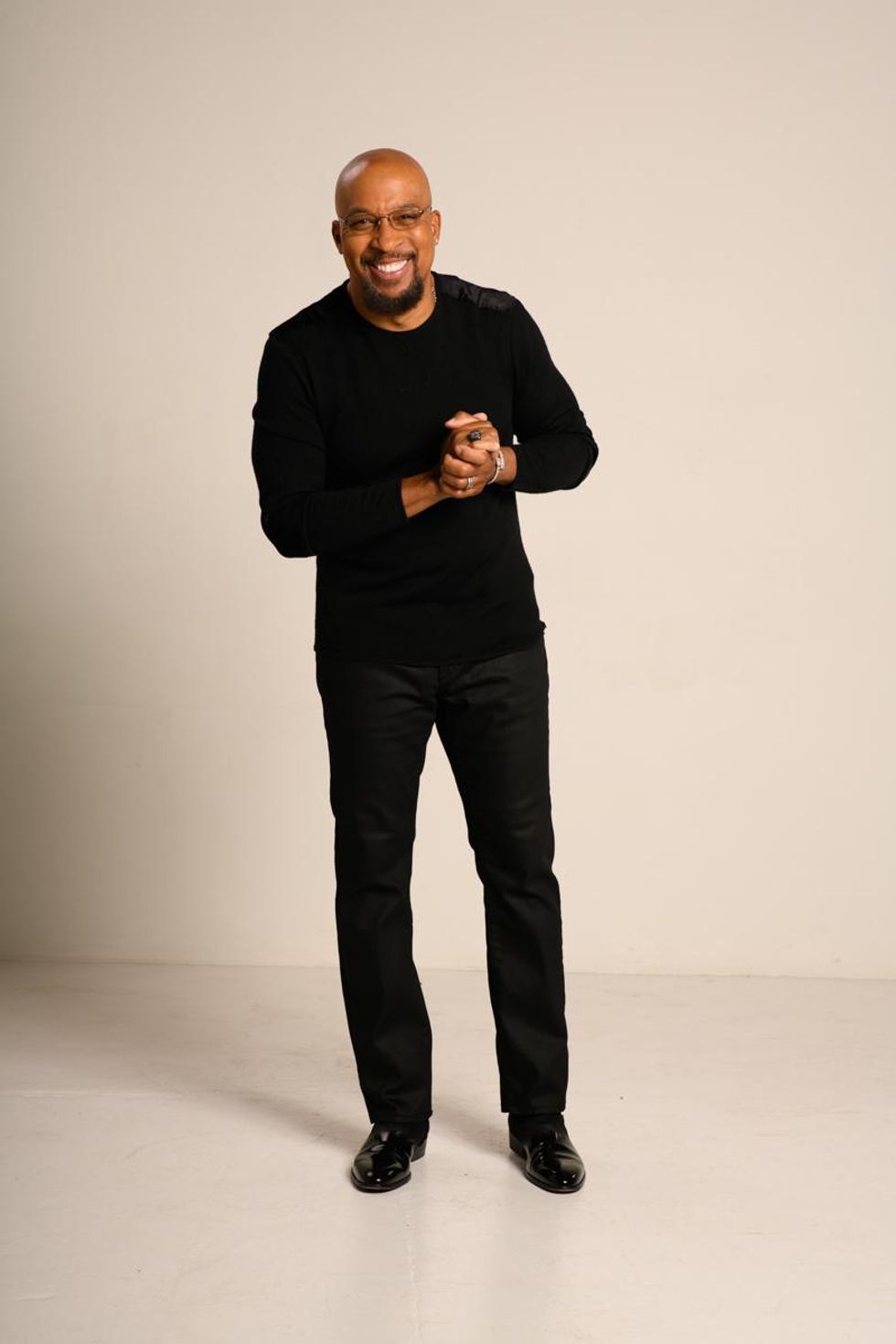 Courtesy of Nephew Tommy
In our conversation, we chatted about what that looks like this season, love and relationships, and marriage. And just as expected, the chat was full of laughs, truth, and a bit of tea. Check it out below.

xoNecole: For those who aren't familiar with the show, tell me more about Ready to Love?
Nephew Tommy: Ready to Love is a dating show, but it's not a typical dating show. These people are in their 30's, 40's, and even 50's, and they're looking for love. These are people that have been in marriages, gotten divorced, and are career-driven, and haven't taken time to find a relationship. We start with 20 singles, 10 women, and 10 men, and it's a process of elimination. Each week, the power shifts back and forth: women eliminate men and men eliminate women until we get down to six people, three couples that hopefully find love. There's no $1,000 reward and there's no trip around the world. The prize is love and you can't put a price on that.
You know, one of the things I like about the show is that the singles are 30 and older; it adds a unique element. How do you think that differs from other television shows?
I think it's different because people are in a different space in their lives. We know what the twenties are like, we all had a lot of fun. But once a person has gotten grown and has responsibilities, and that's the one element they're looking for that they don't have, they want it. And I think the difference in 30-plus in comparison to someone younger, is that the nonsense is out the window and people that want it are chasing it. There are some women on this show that are no-nonsense, and they let the guys know.
Interesting, and how do you think this season varies from other ones. What new and exciting things can we expect?
This one is a bit different to me because it's some boss ladies on there. I mean when I say boss ladies, these ladies are making money. They are lawyers, entrepreneurs and they own their businesses. This takes the stakes up a lot higher, and it makes it where these men have to step up to the plate. And you know, they can't come in insecure because the woman is making more money. It's like, bring your A-game and she might just help you step your game up so you can be a boss man.
Are there any special or funny behind-the-scenes moments from past seasons that you can share with us?
It's been some crazy stuff behind-the-scenes and in front of the scenes. I think the one that's the most bananas is from last season [at] the resort. It was about a week or two before the reunion, and I found out one of my contestants was pregnant the whole time the show was going on. I'm like, 'Are you serious?' And then when I got to the reunion, I found out two of the guys also had babies on the way. The woman could have had the baby during the reunion, she was expecting right then! So yeah, there's a lot behind-the-scenes that sometimes I don't even know.
Well, a lot of times in general people think they are ready to love but have not let go of past situations or are not ready for commitment. From your perspective, when do you think someone truly knows they're in love.
I think you just know, it's a feeling, it's a vibe. There are a few people on our show that I saw and knew exactly when it hit them, and when they connected. But you know when it's there. You don't have to go on one million dates (laughs). You know when you're ready. You get that feeling!
Speaking of feelings, when did you know your wife was the one?
College, I said, "OK, that's the one." But even then, I was in my twenties when we met so I had to go around the world and act a fool before I straightened out and got it together.
Now you know we love a good "How We Met" story at xoNecole, so you gotta take me back, how did you two connect?
It was at Texas A&M in 1986 (smiles). Probably the first couple weeks of school in the common areas. It's where people are shooting pool and there are TVs and lounges, and that's where we talked, connected, and it all happened.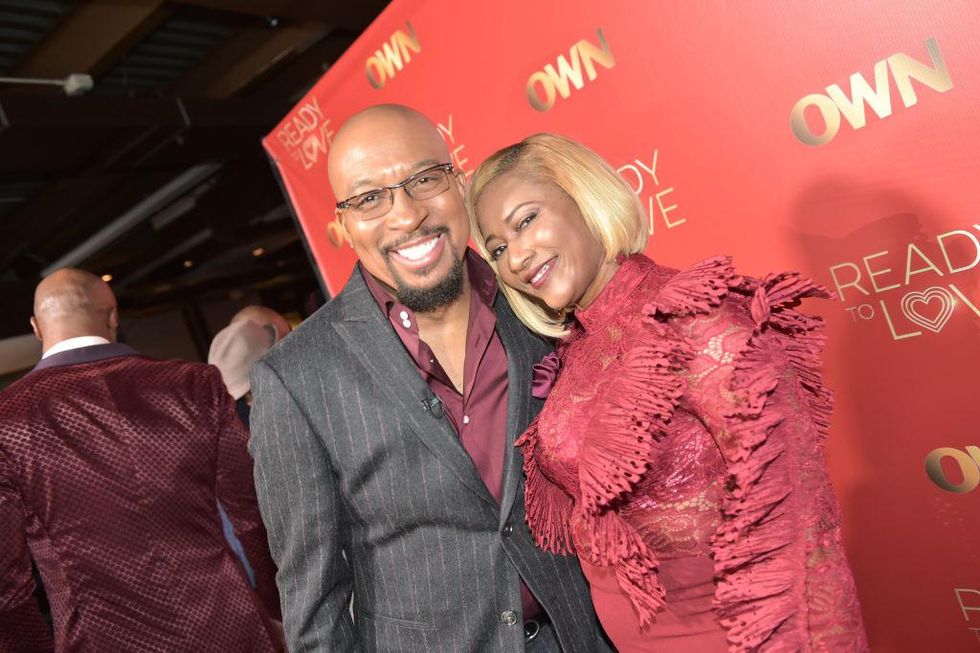 Nephew Tommy pictured with his wife Jacqueline Mills.Moses Robinson/Getty Images
I noticed your wife was in the casting episode of Ready to Love and it was obvious that you guys have a fun relationship. What would you say are the most important traits that fuel your marriage?

Just chemistry and longevity. Over a course of time, it just connects. There are some good and bad days but through it all, you just tough it out and ride it out. It's all about riding it out.
And how important is the idea of partnership to you, is it prevalent in your marriage?
I think it is really important, especially when it comes to what you're good at. I like being the go-getter, the breadwinner, and making it happen for everybody. And trust me, there's a lot of people under that umbrella. But as far as paying this and that bill, I don't want to do that, I'm not good at it. I wanna be this creative guy and go work, and it's nice when you have someone good at different things, and it just all comes together.
Well, I have to ask about the other side as well. What struggles have you guys encountered and how did you combat them?
There are always struggles. In the beginning, I didn't have any money. I mean, I didn't have two nickels to rub together (laughs). But for her to see that I had a dream and just try to follow me with it and stand behind me, was a lot for me. She rode it out and now the tables turned and I'm the breadwinner and everybody gets to chill out at home and doesn't have to work and do anything, everyone's happy.
You guys clearly have a rich history. Still, has hosting Ready to Love taught you anything new about love and relationships?
Communication is the key. I tell the people on the show all the time, there's a difference between hearing and listening. A lot of people hear you but there's very few listening. I can sit on the couch and hear all day long, but am I truly listening? That's the key in a lot of relationships. A lot of people want to be heard and spit back what they think but sometimes it doesn't work because they're not listening.
Finally, for old and new viewers, why should we tune in this season?
People should tune in because this is black love at its best. It's real, it is who we are. I think we wear and carry it well. You can watch it with your girlfriends, brothers can tune in, and a lot of couples watch it together too. You can sit back and put your bets together, and start guessing who is gonna connect and make it to the end. It just becomes a fun thing to do and it's the best thing on Friday nights, and I'm not just saying that because I'm on it. No, I am saying that because I'm on it (laughs).
Catch the new season of Ready to Love, Friday nights at 9/8c on the OWN Network.
Featured image courtesy of Nephew Tommy
Keep reading...
Show less
In xoNecole's Finding Balance, we profile boss women making boss moves in the world and in their respective industries. We talk to them about their business, and most of all, what they do to find balance in their busy lives.
Are you familiar with the show Snowfall? If not, you should definitely grab a nice bottle of wine, a snack, and get ready for a good binge, because you are missing out, sis! Snowfall is an FX show, co-created by the late John Singleton, that highlights the first crack epidemic in Los Angeles and how it impacts the community, especially the black community. The show stars Damson Idris, who plays Franklin Saint, a 20-year old drug dealer who gets in over his head in the drug game. But there are always two sides to a story. While we see how drugs have brought extra cash in people's pockets, Snowfall also shows how drugs have changed the lives of black people forever. Recently, we sat down with actress Gail Bean, who plays Wanda Bell, a strong young woman who unfortunately becomes an addict to the crack product. While I am not going to give you any spoilers to this amazing show, the character Wanda shows the realness of the evolution of addiction and by Gail's words, that "the day before your life changes, it's just a normal day."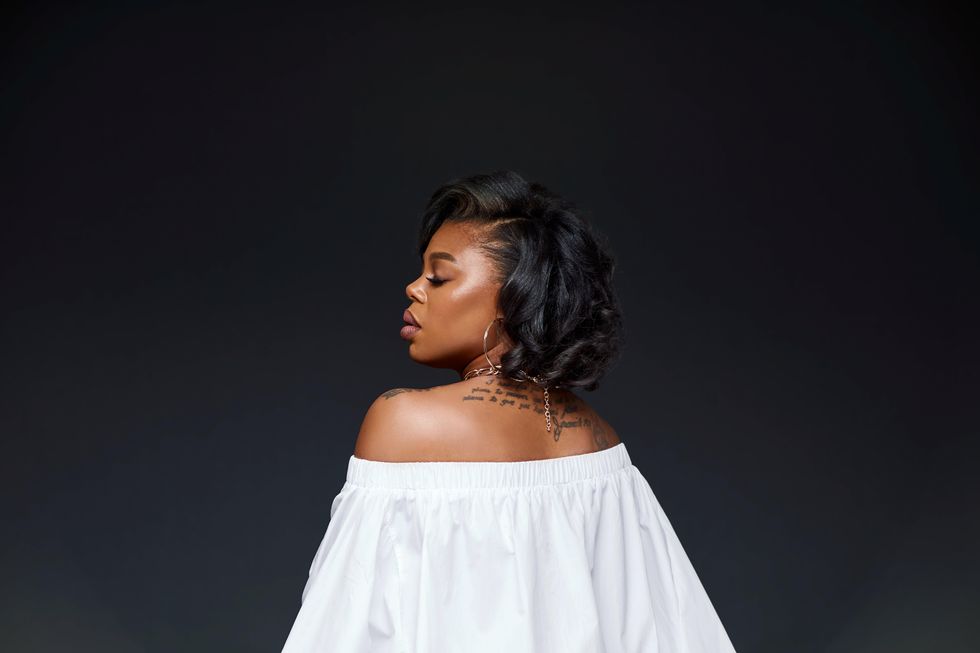 Shot by: @stephonx_ Stephon WilliamsCourtesy of Gail Bean
Growing up, Gail Bean has always had a passion for the arts. Snowfall is not her first big role on the screen either. The Atlanta native starred in the Kris Swanberg's Sundance film festival hit Unexpected in 2015. In this film, Gail played Jasmine, a promising high school student who unexpectedly gets pregnant and builds an unlikely friendship with her teacher; who happens to be pregnant at the same time. While Gail Bean continues to follow her passion in acting, Gail Bean's main priority is to break down barriers for the black community. Gail wants to show others after her, the possibilities of making a name for yourself in this world and making a positive impact.

In this installment of Finding Balance, we talk to Gail Bean about resilience, setting boundaries, and tapping into your passion to ultimately find balance.
xoNecole: Tell me about your process for getting into the character of Wanda [in 'Snowfall']. 
Gail Bean: I use my personal experiences with other people and I have done extensive research. With my research, I watched documentaries to really understand the progression of people when they first become crack addicts and see what happens over time. I learned so much about people's stories where they were prom queens or athletes before drugs took over. I also would do volunteer work at My Friend's House when I lived in LA. With My Friend's House, I was able to pass out food, clothes, and toiletries for people who live on Skid Row. I was also able to get up close and personal with people who were addicts.
What made you want to become an actress? Did you always see yourself working in television and film growing up?
I have always loved performing. I was a senior in high school when I decided I wanted to pursue drama. I actually really loved law growing up. I thought I was going to be the female Johnnie Cochran (laughs). But I believed acting would challenge me more. No shade to the lawyers out there (laughs)! After I graduated college, I moved to LA, where I started acting full-time and took it seriously.
What is your "why"?
This sounds so professional, but this is really the truth (laughs). I want to break down barriers for the black community. I really want to make the road to success, whatever that may look like, easier. My goal is to inspire others to broaden their perspective on what a career could look like for them. There are so many paths we can take in order to reach a lifestyle that we want to live. There are already obstacles out there to make sure we do not make it to the top. So I want to help change the mentality that we can't make it out here. No matter what other people may say, delay does not mean denied.
"There are so many paths we can take in order to reach a lifestyle that we want to live. No matter what other people may say, delay does not mean denied."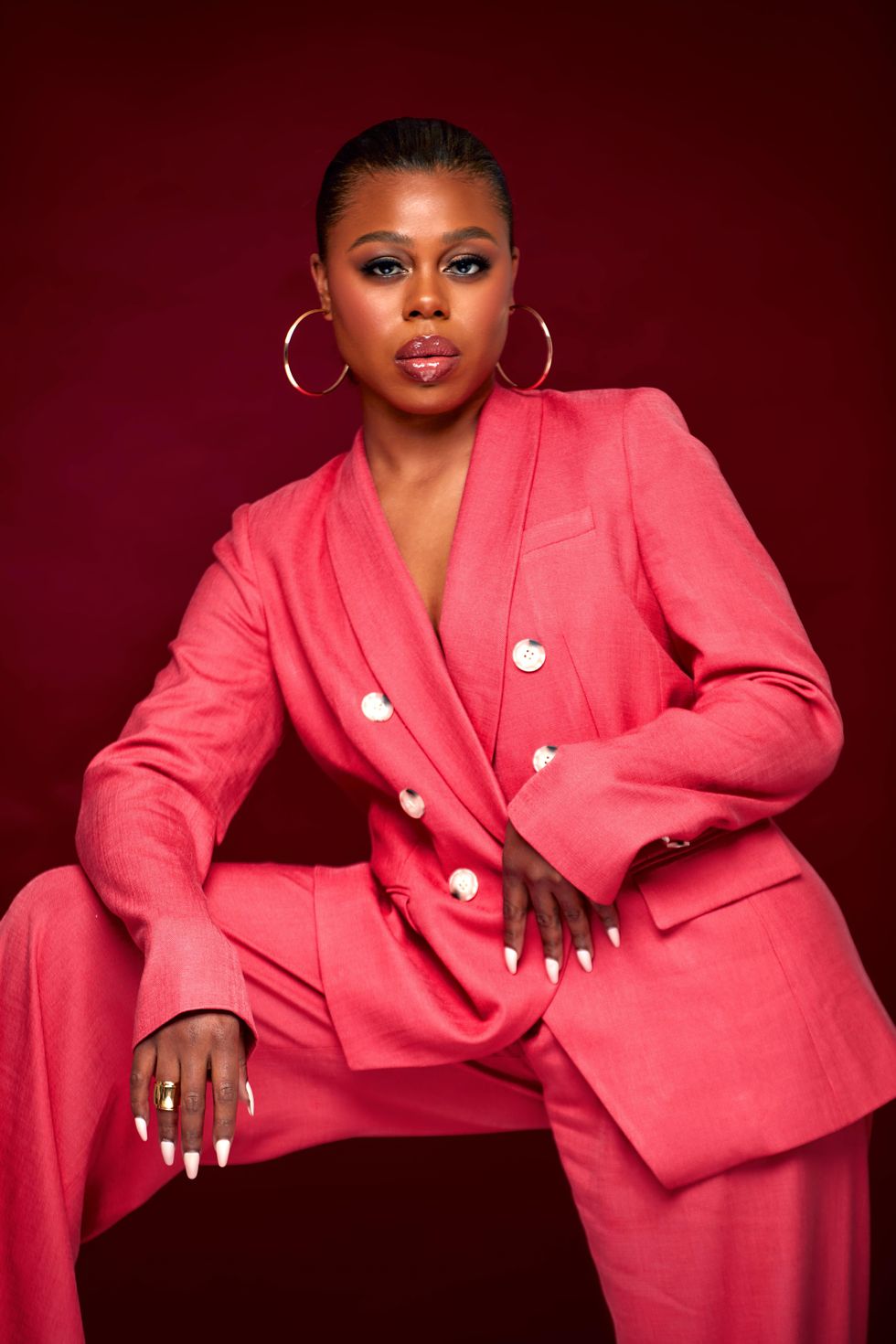 Shot by: @stephonx_ Stephon Williams
Courtesy of Gail Bean
At what point in your life did you understand the importance of pressing pause and finding balance in both your personal and professional life? 
At what point? Now (laughs). I have always been the person to be there for everybody and be everywhere whenever someone would call. But right now a lot of things--a lot of good things--are all happening at once. In order for me to really find balance, [I have] to work, but also make time for my family. My family is truly the one thing that keeps me grounded. I have been intentional in making uninterrupted family time into my schedule.
How would you describe the perfect self-care day for yourself?
OK, so BOOM (laughs). A perfect self-care day for me would start off with a nice mimosa in the morning and a bubble bath. Then I would go on a bike ride. After my bike ride, I would have a dance party in my house followed by a funny movie. Then I would go get a massage, the 90-minute session and not the 60-minute one, so they can stretch me all the way out (laughs). Lastly, I would like to come home to a personal chef cooking dinner.
How do you practice self-love?
How I like to show myself self-love is through gifts. This is also my love language. So normally, I would buy myself something or buy someone else something. Just receiving or giving a small token of appreciation makes me feel really good inside.
What advice do you have for busy women who feel like they don't have time for self-care?
Get your rest. Rest has to be mandatory for self-care. As women, we are always working and we think to ourselves, 'Oh, I just have to do this last thing.' Then that one thing turns into another thing. Pretty soon, you missed out on taking a break. Get that nap in, sis. Because what you do in 12 hours, with a nap, baby you can get it done in five hours. Also don't be afraid to tell people "no". It's OK to put your phone on Do Not Disturb during the day, so you can have that uninterrupted time. I know that can be hard because you may feel like you might miss something. But any opportunity that is meant for you, will not miss you. You can't be afraid to put yourself first.
"Rest has to be mandatory for self-care. I know that can be hard because you may feel like you might miss something. But any opportunity that is meant for you, will not miss you. You can't be afraid to put yourself first."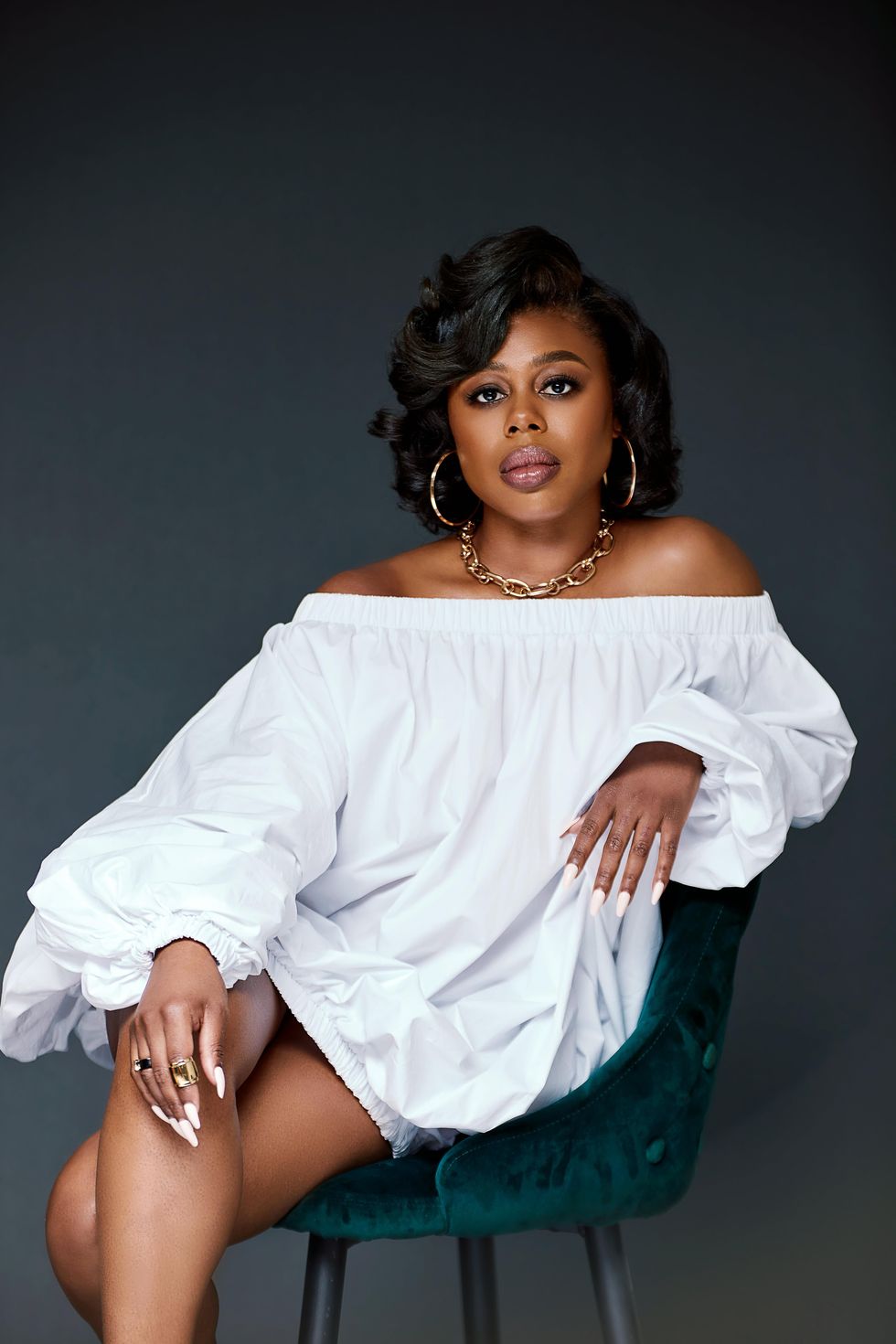 Shot by: @stephonx_ Stephon Williams
Courtesy of Gail Bean
How do you find balance with:
Friends?
My friends definitely understand my schedule. But I would say the best thing that has helped my friendships is communication. So many relationships are ruined because of bad communication. My friends and I make sure we check-in on one another since there are times we can't hang out because we are busy. But my friends and I are able to pick up where we left off regardless.

Love/Relationships?
Girl, let me tell you. My boyfriend is so supportive and patient with me, that having balance with him is literally the easiest thing. I am the person who is always in a rush and he is the complete opposite (laughs). I am so used to being in a rush because of what I do and he helps me slow down sometimes. Honestly, he is my balance.
Exercise?
On a weekly basis, I like to go skating and I love boxing. I actually started boxing for an audition I had. I wanted to make sure I prepped for the role, but I fell in love with it and I haven't put it down since. I can be a little aggressive (laughs).
When you are going through a bout of uncertainty, or feeling stuck, how do you handle it?
First, I acknowledge my feelings and then I allow myself to go through it. I tell myself to sit with any negative feelings for 24 hours. After those 24 hours, I say positive affirmations, listen to worship podcasts, or even put on a sad movie. People try to tell you not to watch a sad movie when you're sad, don't listen to that. If there is someone in that movie that can cry with me, then we can cry together (laughs)!
"I acknowledge my feelings and then I allow myself to go through it. I tell myself to sit with any negative feelings for 24 hours."
And honestly, what does success and happiness mean to you? 
There is this YFN Lucci song where he says, "Fame is when people know you. Notoriety is when people know your work." Success to me would be seeing my passion flourish with uplifting the black community, but it is also about notoriety. I don't care about being a celebrity, to be honest. More importantly, I want my work to mean something for people. I want the work I put in with my characters to last through generations.
For happiness, happiness is being at ease. Knowing that my family is taken care of is happiness for me. Knowing that I am loved and I can give love to other people any way that I can is happiness. Paying it forward where you are happy with yourself, you are able to spread happiness.
For more of Gail, follow her on Instagram.
Featured image courtesy of Gail Bean

Keep reading...
Show less
Have you ever been so enthralled with a series because it reflects multiple aspects of your life? That's what it's like to watch BET+'s Bigger. The binge just hits different when the stories are authentic and "there's no respectability involved." Executive produced by Will Packer and Will Packer Media, the original comedy revolves around a group of wild, hilarious, Black 30-somethings searching for their respective "bigger" in love, career ambition, and friendships. ESSENCE coined the series, "A love letter to the friendships Black women count on."
Creator, executive producer, and showrunner, Felischa Marye, depicts our chronicles in a way that keeps you engaged as you see pieces of yourself in every character. After the first season aired in 2019, the show received acclaim, and the biggest compliment of all was about the relatability of the show. Felischa told xoNecole exclusively, "The show often follows my own journey to bigger, my own journey towards my dreams. And what I've noticed along the way is the closer you get to your dreams doesn't mean you can sit back like, 'Ooh, I have arrived.' It's not a destination. It's like constantly climbing and you think it'll be easy if only I got this, then I'll be fine. If I got here, I'll be straight. I can kick back and enjoy my success."
The screenwriter went on to say that every piece of success makes your world bigger, makes your dreams go even beyond that point. That is what she's most excited about for season 2 of Bigger — the next level that requires you to reassess your dreams once you get closer to them. This chapter of the hit show takes us on that journey through amazing Black storytelling.
"What I've noticed along the way is the closer you get to your dreams doesn't mean you can sit back like, 'Ooh, I have arrived.' It's not a destination. It's like constantly climbing and you think it'll be easy if only I got this, then I'll be fine. If I got here, I'll be straight. I can kick back and enjoy my success."
We had the pleasure of virtually kicking it with the cast and trust me when I say, they are the squad that we all want to be surrounded by. When they say, "Look at your friends and you'll see your future," they were definitely referring to the Bigger gang. Since we are still experiencing the extended version of 2020 and can't be with our friends like we used to, we decided to introduce you to your new friends as a serendipitous mirroring of our new normal.
Meet the cast and characters of BET+'s Bigger.
Layne Roberts - The Quirky Friend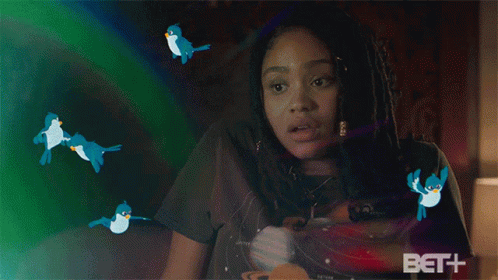 Layne Roberts represents the quirky Black women of the world. Her upbeat and positive energy made her the center of season 1 as she battled with constantly second-guessing herself. Actress, Tanisha Long, who plays this simple beauty told xoNecole, "Our show is telling a story about a group of Black friends that feels very authentic. There's no respectability involved. It's just a group of Black friends. This is their lives. This is what they say and do it's free. This is how me and my friends talk. It's the most flattering thing ever to read that people relate to the show we made, especially as a Black woman, to see Black women my age say, 'You made the show for me.' Because we really did."
In season 2, you can expect Layne to take more risks and who knows where that will lead her? "Layne has definitely evolved, but I feel like she's still a little tentative. I don't want to spoil anything but she definitely is a little more confident and a little more grounded in what she needs and wants, but I think she's still very scared of that and scared of what she has to do to get there still."
As for Tanisha, she is achieving bigger in her real-life by welcoming all the joy in various forms because 2020 taught her to bask in the jubilation of the smallest things.
Deon Lewis - The Corporate-ish Friend
At first glance, Deon Lewis, a fine, college-educated, corporate-working man is the consummate gentleman. Think: instant right swipe on Tinder. But, like many Black men, the successful businessman is stuck between a rock and a hard place: the conundrum of moving up in the corporate world all while playing faux husband to his single mom. When getting the tea from the cast, actor Chase Anthony revealed, "I relate to Deon's corporate confusion. I've had that moment of saying, 'Well, how Black are you going to be at work today?' I was an accountant that had an SS Impala with turquoise 24s on it. Those two, kind of, don't go hand in hand. But when I stopped bringing my car into work and left it in the parking lot, you could see my Blackness is here based on the speakers that I didn't turn down pulling into the garage."
The Atlanta native believes that as Black folk, our likes or dislikes don't mean that we are less capable of doing the job. "I'm actually the best one here, but we didn't talk about that." When watching the new season, you'll find that Deon is less fearful and instead uses his fear to grow in ways that he didn't in the premiere season.
Veronica Yates - The Boss Friend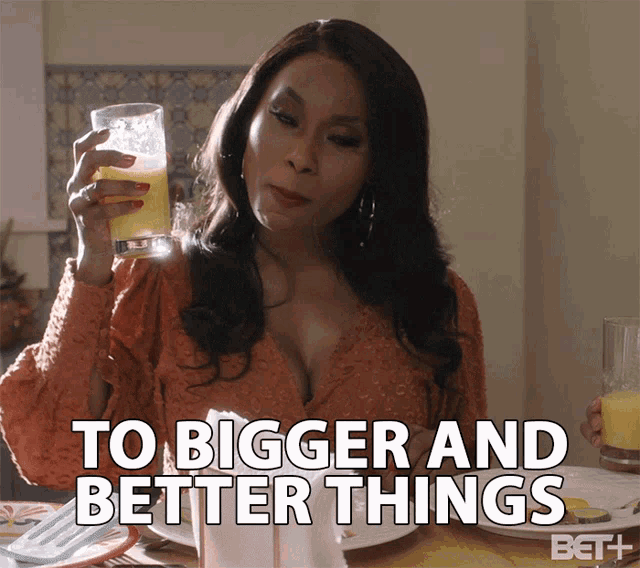 We love anything that involves Angell Conwell. From Baby Boy to Real Husbands of Hollywood, her ability to showcase the many facets of Black women makes her an xoFave. We asked her what advice she would give her character, Veronica Evans, and she blessed us with a whole word.
"It's OK for your comfort zone to no longer be your comfort zone and it's OK for your priorities to change. It's OK to accept that sometimes your comfort zone is no longer your comfort zone. Acceptance is real. That's the first step to change."
It isn't lost on us what Veronica or Angell gives the best advice, considering her status. Veronica's real estate business is flourishing and she's basically at the top of her game. We are personally excited to see what's next for Veronica in the love department in season 2.
Vince Carpenter - The Glow Up Friend
Vince Carpenter (Tristen J. Winger) is all of us. He loves a good 90s throwback moment for more reasons than one. The fashions, the music — the ease of life was just far more simple yet captivating. While Vince has dreams of being the next DJ D-Nice, he is frustrated with how the TikTok generation has taken over a game that he knows he can dominate. Despite his grappling, Vince still gets in his zone and shows the world what he's made of.
"When he's in that space that he loves to be in, whether it's playing music or partying or just being just free, I think we all can relate to someone or, or that part of ourselves that wants to be free," Tristen said about his Bigger character Vince. He goes on to say, "And when we get that little taste of freedom, it's like, this is where I am supposed to be. I'm supposed to be in this place. This is why I'm here. I want to stay in this moment my whole life. If I can continue to find joy and freedom and peace in every moment of my life, I'll be very happy."
From the looks of the trailer, Vince is living his best life in season 2 with his new chain, sunglasses, and more.
Tracey Davis - The Loud Influencer Friend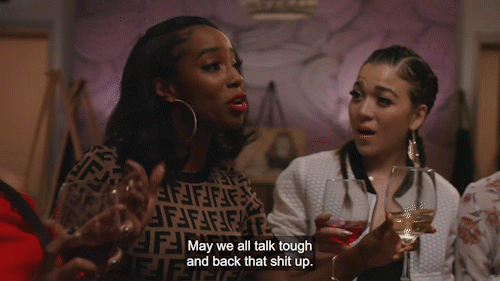 "It's the glow up for me," Rasheda Crockett noted, the breakout star who shines as Tracey Davis. After meeting Rasheda, I understand why she was casted as Tracey, because her energy is extremely empowering and liberating. Even through Zoom, I could clearly see how she easily connects to the fun-loving soul who is always down for a good time. Fun fact: Chase Anthony told us that his favorite character is Tracey because she shows up as the freest version of herself. They are all our favorites but totally understand Chase's choice.
Tracey can go from Coretta Scott King to Cardi B in milliseconds but that doesn't mean she's shatterproof. This go-round we get to see Tracey's vulnerabilities. Rasheda told xoNecole, "Tracy just wants to be loved. She doesn't want to be hurt. She doesn't want to be betrayed. And she just gets really vulnerable this season. I get that. She's sensitive. I think because she's loud, people don't understand how fragile and how sensitive she is."
Trailer + Hot Tea!
Season 2 is packed with guest stars like Tori Spelling and Christopher "Play" Martin along with Jasmine Guy, Eva Marcille, Devale Ellis, Toccara, Karlie Redd, and Debbie Morgan, just to name a few. Tori shared that she's excited to be a part of the show as she is a fan of the series and all of the people that make it the sensation it is. Chris gave us a sneak peek into his debut role on the show and let's just say he has a deep appreciation for "something called the statute of limitations."
If you haven't already, start watching this show created just for us by US. Felicia told us that it was made for you to waste your whole damn day watching because you'll want to know what happens next at the end of every 30-minute episode. "It's just like being with your friends for a couple of hours."
Especially when it's been extremely hard to be with your friends in the middle of this panini.
Check out Season 2 of Bigger on BET+, premiering Thursday, April 22. Be sure to join the conversation with @BET and @BETPlus across all social platforms with #BiggerOnBET.
Featured image via BET+/Bigger
Keep reading...
Show less
In 2014, Jeremy Meeks' mugshot went viral because, well, because he was sexy. Today, he has a thriving modeling career and is snagging acting roles left and right. And after famously dating an heiress to a fashion empire, he is happily single. The father of two's (yes, he's a Daddy and a Zaddy) gorgeous green eyes and eight-pack have popped up on-screen in a new project, Dutch. The star-studded release features a load of big names and has all the makings of a winner—a dirty drug ring plotline, a juicy urban fiction read for a script, and Lance Gross. "I read the book this film was based on when I was incarcerated. The Dutch trilogy was written by Teri Woods, back in 2003. It's just crazy how it's all come full circle now," he tells xoNecole.
It's safe to say a lot has changed since his humble beginnings as #PrisonBae (or Hot Felon, as some may call him), and to say he is blessed is an understatement. He knows it too. While we were all baking bread in quarantine, Jeremy was counting his blessings while heating up Instagram one thirst trap at time. xoNecole recently got the chance to chat with Jeremy about what's new with his career and his love life. Here's what he had to say:
xoNecole: You got to work alongside Lance Gross who played the lead character, Dutch, which the film is named after. We're BIG fans of Lance here at xoNecole—how was it being on set together?
Jeremy Meeks: Lance Gross killed it. He is the perfect Dutch. I learned so much from him. You know he taught me a lot of things when it comes to acting and facial expressions. There was an entire incredible cast to learn from on set like Tyrin Turner. I actually wasn't able to be on set with Macy Gray. She's a legend too. That would have been dope. But there's James Hyde, O.T. Genesis, Michael Blackson...there are so many people in this.
Modeling or acting? What direction do you plan to take your career?
Modeling in some sense was just a stepping stone. It was a foot in the door. And then [I thought] how long can I model for? I was looking for longevity in the industry, and I didn't know what that was going to be. When I started acting, I knew instantly. I found a passion, and it feels really good. And so now I'm trying to sponge up every aspect of film that I can. I'm trying to learn how to write, direct and produce.
"Modeling in some sense was just a stepping stone. It was a foot in the door. When I started acting, I knew instantly. I found a passion, and it feels really good."
Was a career in entertainment something you thought you'd ever have?
Not really, I've heard it, numerous times growing up that I could, but in the lifestyle that I was living, that just didn't seem real. I used to see people on TV and think I could do that or hear rappers and think I could rap. I could do anything that anyone can do just as well if not possibly better. I just believe in myself, but I just never thought all of this was possible. Then when the mugshot went viral, I realized all this time I was supposed to be influential in some way. God waited until I was in the right spot mentally to take on this blessing.
It's been years since your mugshot went viral, but how do you navigate the "Prison Bae" thing? Do you respond when folks call you that? 
I am so much more than that. but at the same time, I don't take it to heart. It's been a blessing, it's what got me here. So yeah, I respond, I embrace it. But I'm working hard to shed that nickname and just be Jeremy Meeks, a household name. I'm excited about the future. I know soon I'm gonna get that rom-com. [I feel like] that's my lane.
"God waited until I was in the right spot mentally to take on this blessing."
If you had your pick of Hollywood's leading ladies, who would you want starring alongside you in a rom-com?
It would have to be someone like Meagan Good or Lauren London.
You had a very high-profile relationship spread all over the media in the past—anything you would do differently next time around? What's your relationship like now with both mothers of your sons?
I would never change anything in my past because everything happens for a reason. My relationship is incredible with both of the mothers of my kids.
The last thing I read about you was that you were single, so how's singleness treating you?
Incredible. I'm just at a point in my life where I'm very focused. I'm a relationship kind of guy, you know? I've always been. But at this point in my life, I don't want to get pulled in different directions. I just want to focus on my work, my kids, and their future to change that generational wealth gap. I want to create businesses and leave them. I just have a plan and [am] in a different headspace right now.
So you're not dating, at all?
[I have] friends—very good friends. (Smirks) I'm kind of talking to someone, but we're just friends. We just appreciate each other's energies and each other's conversation.
"I'm just at a point in my life where I'm very focused. I'm a relationship kind of guy, you know? I've always been. But at this point in my life, I don't want to get pulled in different directions."
Best love lesson learned?
To communicate. Communication is everything. If you communicate, no one can get hurt because everything's out in the open. I think that's the key to every relationship. I had trouble communicating in the past and now I just really try to work on things that I know I need to work on because everyone can always improve in some way. So I've been trying to work on my communication.
Best career lesson learned?
To really just take your time and not jump the gun. Do your homework on people and see what they've done and who they've worked with and in this business. Everyone will tell you what you want to hear. It's on you to do due diligence and make sure that all your T's are crossed and your I's are dotted.
At the end of the day, it's business and so you have to make sure everything's professional on your end.
Dutch is out now in select theaters nationwide. And to keep up with Jeremy, make sure to follow him on Instagram.
Featured image by Cheryl Fox, courtesy of Jeremy Meeks
Keep reading...
Show less