While Jay Ellis' claim to fame is starring in Insecure as Lawrence, the 40-year-old actor racked up many acting credits prior to and after the iconic series. He starred in The Game and currently, he's promoting his new film Top Gun: Maverick where he plays the character Payback. The role could be considered a full-circle moment for the actor since he was a military brat.
Jay's father was in the Air Force and they moved around a lot. In an interview with SSENSE, he revealed that he attended 12 schools in 13 years. Due to his successful career, he has been able to give back to his parents who had him when they were teenagers. Jay was a keynote speaker at CultureCon in Atlanta earlier this month and he spoke with xoNecole about the sweet gift he bought his parents for their wedding anniversary.
"I remember the first time I bought my parents cars this year for their 40th wedding anniversary and that to me felt like a full-circle moment," he said. "I don't know if I ever really thought about it before then but that to me was just this moment of like, 'Oh I can do this for my family. I'm excited to do this and proud to do this for them.' And that was huge."
The former model is also a huge proponent of self-care. While there is a community on social media that believes "sleep is for the weak," Jay has no qualms about prioritizing eight hours of sleep a night.
"I get eight hours of sleep no matter what. Always. If I gotta go to bed at 8 o'clock at night that's what I gotta do I don't care," he said. But he also enjoys his quiet time and explains how that has helped him over time. "Whether that's meditation, whether it's prayer, whether it's a walk. I go on a walk pretty much every single morning for like 45 minutes," he said.
"I wake up early before I gotta go to work before I gotta get ready for work to go on a walk just to have some quiet time and to me that's been super helpful. I think it's helped with my energy and endurance but I think even also decision making and all the things coming at you so fast. I feel like it's really helpful to be able to have a moment to step away from all of that and get back to get grounded."
It may be surprising to know that the NAACP Image award-winning actor manages to get eight hours of sleep and finds quiet time now that he's a father. Jay welcomed a baby girl in 2020 and in an interview with Essence that same year, he noted the exhaustion with balancing work and becoming a new father.
"Then I was directing and then becoming a father. I was back and forth to New Orleans every week, and I was just so exhausted that God was like, You need to sit down, and this is the week to do it."
Let's make things inbox official! Sign up for the xoNecole newsletter for daily love, wellness, career, and exclusive content delivered straight to your inbox.
Featured image by Derek White/Getty Images for Paramount Pictures
We all can remember where and how we were at the height of the pandemic. Quarantined, maybe with cabin fever, and if we were lucky, cozied up indoors spending rare and uninterrupted time with our loved ones. Such was the case for singer and actress Kelly Rowland, who was pregnant with her second son Noah throughout most of 2020. It was a precious time for the singer, who tells xoNecole how refreshing it was to spend so much quality time with her adorable family. However, when it was time to go back to work, she found it much harder to return to the grind.
Rowland, like many moms, has struggled with "mom guilt," but is seeking joy in finding the balance. That's what inspired her new children's book Always with You, Always with Me, which she co-wrote with author and educator Jessica McKay. The book tells the story of a mother and son who find themselves missing each other throughout the day when they're apart. The mom creates a simple and sweet rhyme for the two of them to recite whenever they think of each other: "Always with you / always with me / mommy and child / together we'll be."
Rowland told xoNecole at her exclusive book launch in New York City that she considers every mom to be a working mom. "Whether you're at home with your children all day or not, you are working," she says. "You're focused on their schedules, feedings, and their playdates. Being a mom is a job, but you love it. Moms are making things happen in their children's everyday lives." The former Destiny's Child member admits that her favorite at-home vibe is when the house is full of kids. And when she's called to travel away for a gig or appearance, she makes it a point to show her eight-year-old son Titan why her sacrifices matter.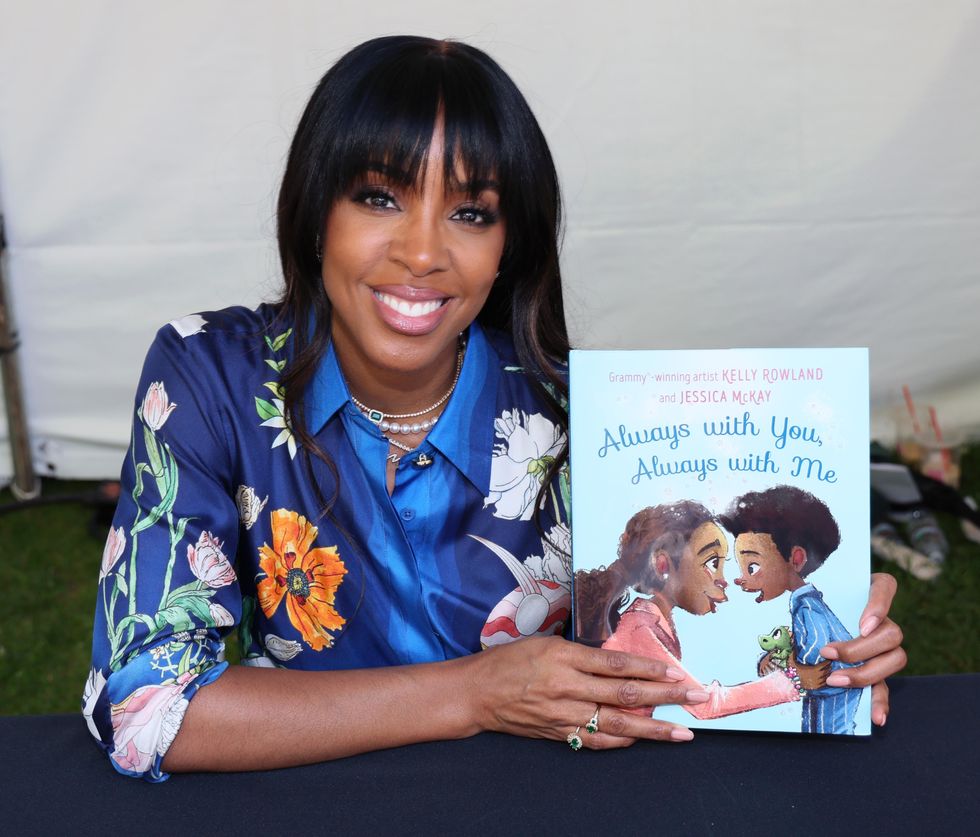 David Livingston/Getty Images
One day, before she was scheduled to head out of town, Titan said he wished she could stay home instead. She gave him the assignment of going around the house to count his blessings, prompting him to open the fridge and notice all the food, turn on their running water, and appreciate the vast wardrobe in his closet. "I told him that mommy and daddy work hard for those simple things for you," she explains. "I know there are times when I won't be here and it sucks. And when he's missing me, I feel the same way. That's why the mom in the book is crying [when she has to leave home for work.] That's literally me every time I leave the house."
Rowland took pride in the making of Always with You, Always with Me, not only because of the topic but because of the memories with her late mother Doris that are reflected in the book's message. "Now having had my mom and losing her, [I always feel her presence] during Christmas and Valentine's Day. Sometimes, she just comes around and I can feel her spirit. So her traces of magic are always there for me. It's what seals the bond." Rowland also said that spending time in the Houston hair salon owned by Tina Knowles-Lawson, aka "Mama T" introduced her to so many boss moms that inspired her. "There were artists, lawyers, doctors...just busy women who were really just figuring it out while having a family. This book is dedicated not just to my kids, but to them too. I see them, I feel them, and I get it."
When we asked Rowland what she'd tell moms who are experiencing a bout of mom guilt or just going through a stretch where the balancing act just isn't working out, her advice was simple: "Give yourself grace," she says. "Just know that every day won't be an easy day, but we got to sometimes fake it until we make it. Just say, 'I'm here, I'm earning for my child and their betterment.' That in itself is a lot."
Always with You, Always with Me is now available wherever books are sold.
OWN's dating reality series Put A Ring On It is back! The third season of the hit show features a new batch of couples who are at a crossroads in their relationships, deciding whether or not they should get married or end their relationship. In a particularly spicy move, the show has the couples date outside of their relationship to see what areas need strengthening to make their relationship better. xoNecole caught up with the show's relationship coach Dr. Nicole LaBeach who says that fans can expect more of the same messy drama and "more couples trying to figure it out."
Here's Dr. Nicole's best advice on how couples can improve their relationships.
xoNecole: What is it about dating outside of the relationship that brings clarity to couples about their own relationship?
Dr. Nicole LaBeach: [It's] not just dating outside of the relationship, it really is [about] having a coach to help the couple figure out the answers to the questions that they've really been seeking to help them make a different move in their relationship. A lot of times our couples have thoughts in their mind, "Is the grass greener on the other side?" "If I would've done this differently, maybe this would've been a different result."
What the dating of other couples gives them the opportunity to do is push those limits. To see are you really interested in watering your grass over here and making this grow and flourish, or is your intentionality to do something different? And if that's the case, then maybe this is not the opportunity for you to build forward in the future.
xoNecole: What are the biggest problems you have noticed couples face when trying to commit to marriage with one another?
DN: Communication. That's the big one. How they communicate, how they resolve conflict, what's their recovery time is in resolving those conflicts. And can they really build together and give each other enough room? Because it's really about both people being able to be a part of what is the winning relationship. So, can they make enough room for each other and can they communicate effectively with some of life's greatest challenges and the simple ones and still be together in the process?
xoNecole: What is your advice for couples who want to communicate better?
DN: A lot of times our communication patterns have been learned from different relationships, often [from] our family of origin and different places that sometimes serve us very well and sometimes don't. It's our job to recognize that listening is very important and listening to hear and understand, not just listening to respond. So often when our mate is trying to communicate something to us, we've got an instant choice to make: do we really wanna hear what they have to say, or do we wanna hear to defend our position?
In our show what we get to do is help couples recognize that self-criticism will cause harm [and] criticism to their partner and criticism to themselves in communication will cause harm. Defensiveness will cause harm in the communication of the relationship [as well as] stonewalling [which is] where you just shut down. There are couples that shut down and for a couple of days, they are not on the same team. They're not talking to each other. They're not relating to each other. That will cause harm or even contempt. Research has shown that [these] things in communication can really be the make or break a couple being able to move forward in [the] long term.
"It's our job to recognize that listening is very important and listening to hear and understand, not just listening to respond. So often when our mate is trying to communicate something to us, we've got an instant choice to make: do we really wanna hear what they have to say, or do we wanna hear to defend our position?"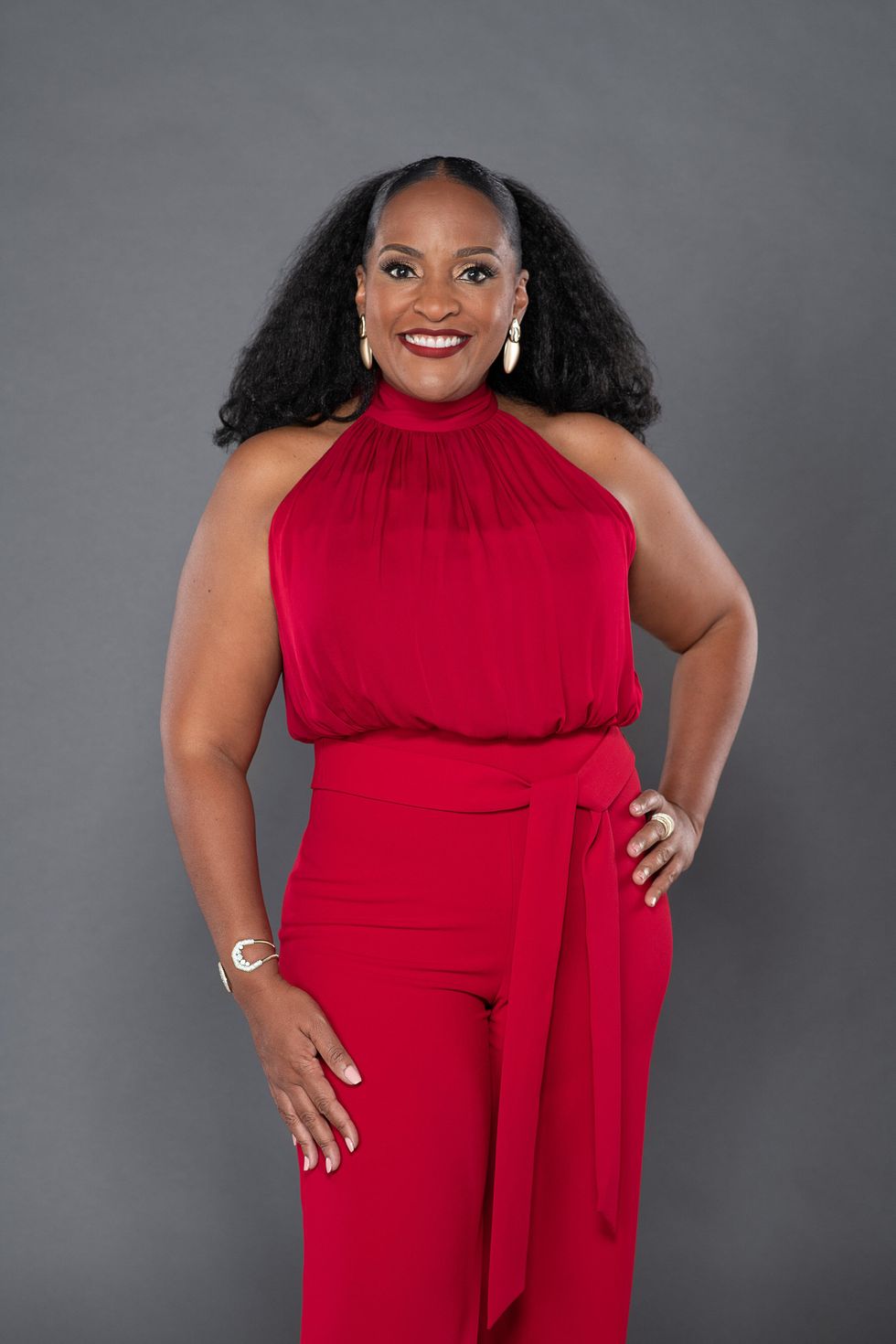 Courtesy of OWN
xoNecole: You've been a relationship coach for some time now, what made you want to branch your expertise out with this show?
​DN: One of the things I love about the show is that the couples realize when they go through the process that this is really about the choice that they need to make to decide if they wanna build where they are and see it flourish. Are they really deciding that this is not the opportunity for them and they need to do something different? And I love that part. I love giving couples the opportunity to be nurtured, to have the hard conversations, and to champion them in the process so that they can make a winning decision for their relationship.
xoNecole: What is your advice to couples who are watching this show who are still undecided about whether they should take the next step in their relationship?
​DN: Watch the show and talk during the commercial breaks. One of the things that we've heard a lot from our audience is that yes, in one space you are looking at it, you're peeking into the relationship of other couples, but the things that we talk about on the show are conversations that every couple has the opportunity to talk about in reference to their circumstance. So make the commercial breaks count with some popcorn and snacks and then return from the commercial break. So you have something else to talk about in the next break.
The new season of Put A Ring On It premieres tonight on OWN at 9 p.m. EST / 8 p.m. CST.
Featured image courtesy of OWN
Over the weekend, xoNecole teamed up with Toyota USA for our Made For Me: ATL event. The two-day event took place on March 19th and 20th in honor of Women's History Month. Attendees participated in workshops and wellness experiences that focused on the mind, body, and spirit. Special guests included astrologist Dani Simone, Christian psychologist Dr. Alduan Tartt, financial consultant, and yoga teacher Dr. Nicole Garner Scott, entertainment host Gia Peppers, and Meagan Good, who was the keynote speaker.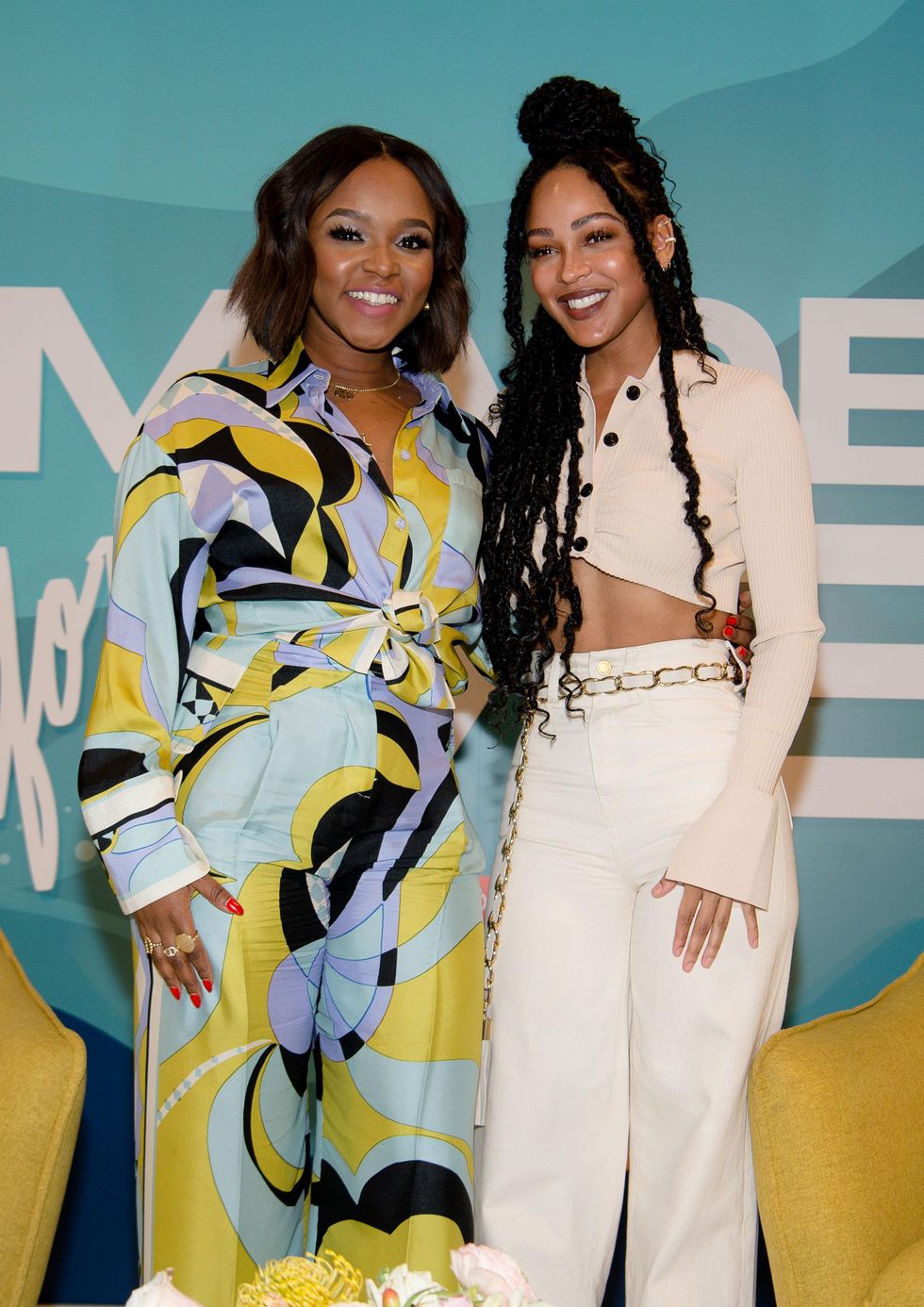 Marcus Ingram/Getty Images
Meagan is a veteran actress who is often admired for her beauty, style, and down-to-earth personality. But what stands out about the Harlem star is her spirituality and her connection with God. The 40-year-old actress took to the stage alongside Gia and opened up to the xoNecole audience exclusively about her faith, how she deals with rejection and how she really feels about the recent social media attention she's been receiving since announcing her divorce from DeVon Franklin.
Meagan Good On How She Deals with Rejection:
"It was very concise, specifics like, it's just not you and I had to learn very young that it had nothing to do with me. I had to learn very young that nine times out of ten I'm going to get a no, but that one yes is the one that was divinely meant for me and have peace of mind about that and to learn along the way what I uniquely bring, nobody else brings and what someone else uniquely brings, no one else brings.
"So, having that peace of mind there will be alignment and the right things will come to me at the right season and then celebrating my sisters when things come to them even if it's something that I wanted. Just celebrating them because it was theirs. It wasn't mine. And I think rejection is God's protection. Every time that I didn't get something that I wanted I got something that was better suited for me. And I ended up in a space where I was like, 'oh this is why I was meant to be here. Got it.'"
On Rejecting Something That No Longer Serves You:
"That was probably a harder thing for me to learn because I'm so sensitive and I hate to hurt people's feelings. I hate to disappoint people. I hate to be the one that told them no. I'm like 'well, what's going to happen to them?' And, 'are they going to be okay?' A lot of that honestly is like a savior mentality. You don't realize it because you think you just [have] a good heart but sometimes if you have too much of a bleeding heart, you're not serving that person. You're actually hurting that person. You're not helping that person and you're always putting yourself out of alignment if that's not what God called you to do and so I had to learn."
On How She Finds Comfort In the Discomfort of Rejection:
"You just have to trust God. I think throughout my life and my personal experience being a woman, being a Black woman, being an actress, being in ministry, all of those things I've experienced tremendous amounts of rejection. Feeling misunderstood, feeling judged, feeling attacked all those things and the thing that sustained me is just trusting God. Even if someone else doesn't get me or doesn't love me or doesn't like me. I know that God gets me. I know that He knows my heart. I know that He knows exactly who I am. I know that He doesn't reject me and if He doesn't reject me, well then, what are we talking about? What other people have to say, and not to say that those things don't still hurt your feelings or that you're not still affected, but you have to have the baseline and the bottom line which is the only person you're sent here to approve you is God. And if God approves you and He's for you, then it doesn't matter what anyone else has to say."
"You just have to trust God. I think throughout my life and my personal experience being a woman, being a Black woman, being an actress, being in ministry, all of those things I've experienced tremendous amounts of rejection. Feeling misunderstood, feeling judged, feeling attacked all those things and the thing that sustained me is just trusting God. Even if someone else doesn't get me or doesn't love me or doesn't like me. I know that God gets me."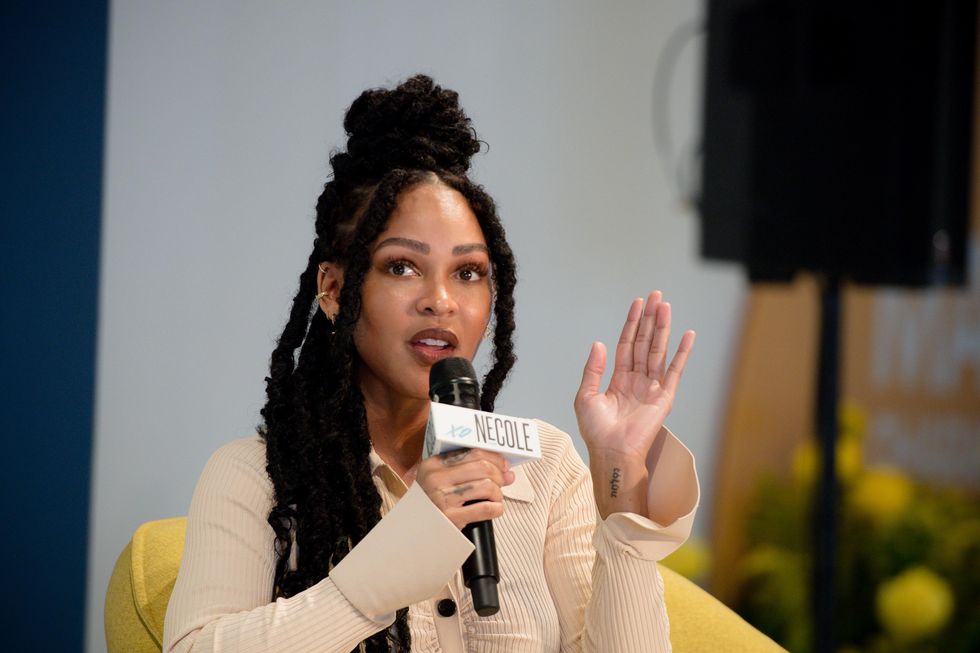 Marcus Ingram/Getty Images
Meagan Good On the Social Media Attention She's Received Since Announcing Her Divorce:
"In this particular season, it warms my heart a bit because I try not to look too much to either side because–I forget what the statistic is but you see something negative it affects you twenty times more than something positive. And so, I'm careful to not let the positive or the negative determine anything about how I feel. But I will say that it has been very heartwarming to see so many people rooting for me and wishing the best for me and wanting to see me live my best life and loving on me and pouring into me. That, I appreciate."
On How She Deals with Public Opinion:
"Well, y'all know I'm 40 so I'm in a different space. I don't care as much as I used to. I used to care so much and– it's nice because it's freeing. I wrote this poem and it's on my Instagram page and it was just like what I was feeling. But it was like, I, for years, felt like I was at the edge of a cliff, and people were poking and prodding me and all I was trying to do was just not fall. And then one day, I jumped. When I jumped, I started flying. So, I'm in a season now where it's like, yes, I'm sensitive to certain things, but at the end of the day, at the core of me and anybody who knows anything about me knows no matter what, I'm going to do what I'm going to do. It doesn't matter if I'm going out to the firing squad or not. I'm always going to be myself and I'm always going to be authentic, but I used to be a lot more sensitive about it and I think now at this junction, especially in this past year, I just don't care.
"When I create something as a director, as a producer, something that I participate in, I'm hoping that it influences somebody in a positive way. I'm hoping that it inspires somebody. I hope that it says to someone, you are enough as you are and you are beautiful and you are perfectly imperfect and I hope that those messages are coming through especially for something that I'm creating like as a producer, as a director. But there will always be times when people don't receive it or don't like it or don't think it was great or whatever it is and I think everything else along the way has prepared me for those things. Whatever it is, all those things have prepared me for this moment and I'm thankful. I'm thankful to now hit 40 and be like 'girl you free.'"
On How She Practices Self-Confidence:
"Everybody that is here, there is nobody in the world like you. There's nobody in the world that is like you and the world needs what you can give that nobody else can give the way that you can give it. And I think stepping into our identity, stepping into our power, choosing our self-love–and I'm not saying it's always easy. I have days where I feel insecure, feel not good enough, especially in the season where I'm like 'oh, man I'm struggling.' But I know how loved I am by God and that's the base that I build everything on. And that helps me grow to love myself and then I remind myself there is nobody in the world like you. Somebody else might be better, well-spoken than you are, somebody else might be a better actress, more talented or more beautiful or people look up to or whatever it is, but nobody is me and I am enough and I choose to see that about myself.
"I have days where I feel insecure, feel not good enough, especially in the season where I'm like 'oh, man I'm struggling.' But I know how loved I am by God and that's the base that I build everything on. And that helps me grow to love myself and then I remind myself there is nobody in the world like you. Nobody is me and I am enough and I choose to see that about myself."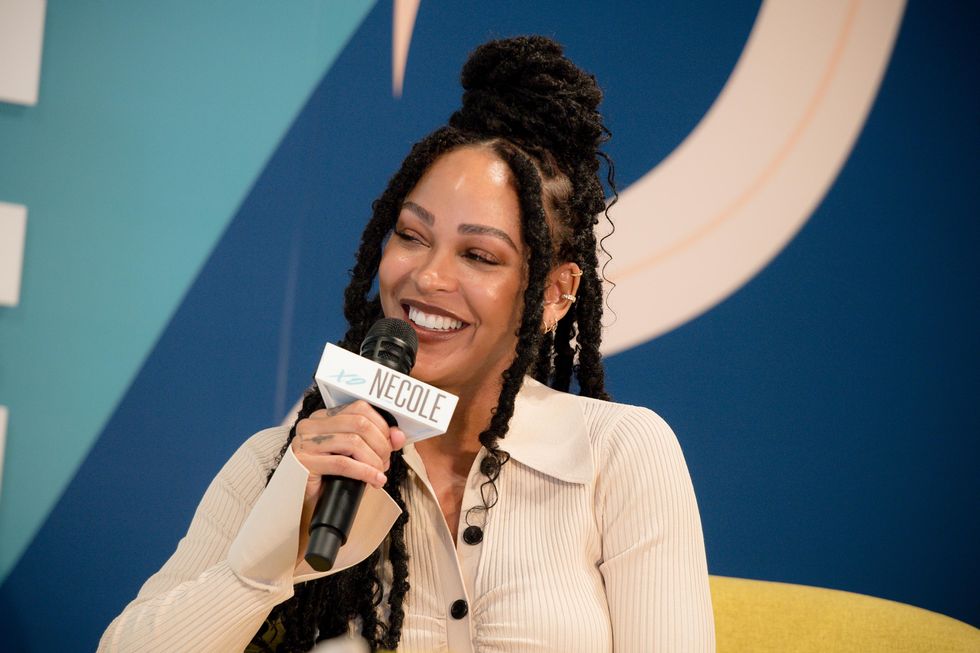 Marcus Ingram/Getty Images
"I choose to work towards the reality of that identity that already is every single day and I'm not saying it's easy but I'm saying the things that for me that I do is [having a] relationship with God, whatever that means for you. Meditation, just getting in tune. I used to hate meditating because I'm like, 'but I'm about to fall asleep right now,' but the more that I have [meditated] over the years and just getting in tune--just even waking up and just breathing and meditating to get oxygen to my brain has made a difference in my endorphins and my peace of mind when I start the day. Then for me, [it] is reading my word, reminding myself who God says I am, not who I think I am because I feel unworthy in the moment or because of whatever I may feel whatever is going on in life but who God says I am, period.
"That's the only thing that matters and then living my day with just loving on myself and choosing myself at times and then choosing others when I feel spirit-led. At the end of the day, we are worthy and we are perfectly imperfect, and we are God's children, and He did put us here for a specific reason and we have a potential to live up to in this life. We're not here for a long time, but we're here for a moment and in that moment, we all have purpose in our lives and we all have a specific reason why God created us and gave us the parents He gave us, grew up in the town that we lived in, had the desires that we have in our heart which I believe are always connected to our purpose.
"We gotta accomplish that in this life and so I let those things be the guiding light and just my center and my core and my base."
Let's make things inbox official! Sign up for the xoNecole newsletter for daily love, wellness, career, and exclusive content delivered straight to your inbox.
Featured image by Marcus Ingram/Getty Images
One of the questions I'm asked the most is, "What is it like being a Black asexual model in the modeling industry?"
It's probably because that combination sounds like something inherently contentious and I can no longer deny the truth in that. Yes, modeling is associated with sexuality - sometimes justifiably, sometimes not.
It's also associated with a rather specific beauty standard which hasn't always been appreciative of Black phenotypes. Asexuality has never been associated with Blackness; in a world where Black people are either hypersexualized or desexualized by the white gaze, being Black and asexual is often treated as paradoxical. So, all in all, existing as all of those things must be a little weird, right?
Yes, but not for the reasons most usually assume.
I entered the modeling industry not because I thought I was strikingly beautiful - quite the opposite. With my big alien-shaped head, cartoon-looking features, Bratz doll proportions, and gothic style, I thought I could be one of those 'weird' models. You know the kind. I was specifically drawn to a more alternative style of modeling in particular because it seemed like a space for outcasts like myself. Only, even in that space, it was ironically white. With my work, I was trying to increase the representation out there for alternative Black girls in a time when it was quite rare to see us. I wanted to be the change I wanted to see and needed growing up. It turned out that I'd carry that same ethos into my activism in the future.
Some picture the modeling industry as being a space full of sexist objectification, with pervy photographers, seedy studio activities, and an unhealthy culture. That can sometimes be the case, but that hasn't really been part of my experience. The complexity for me has little to do with my experiences actually navigating the industry itself. After all, that's influenced more by your physical appearance than your life story. Despite what people think often happens in the studio, the focus is on angles, lighting, and making sure the clothes look alright, rather than the lack of sexual attraction that I experience.
Of course, there were moments when it got a little awkward. When the male photographer asks me to look at the camera like it's my boyfriend, being asexual and aromantic meant that nothing immediately came to mind. I doubt I nailed it.
When I've been asked to participate in shoots that seem like they're more about them molding and selling my personal 'sexual allure' rather than creative expression or advertising products, I've had to turn them down. And I've always been acutely aware of the fact that being associated so heavily with an obscured, often stereotyped sexual orientation isn't going to win me many mainstream campaigns outside of Pride Month.
But that's not the contentious part. That part happens when the images taken in the studio make it to the outside world. That's when those intersections play a role.
Capturing an image means representing something. If that image contains someone who is part of a social group, it becomes representation for an entire demographic, whether you like it or not. Before I publicly came out as asexual, there was nothing particularly controversial about my image as a Black woman in 'racy' clothing. It's not exactly an uncommon way that Black women are depicted in the media, so despite modeling in various styles, I became most known for 'sexualized' images and the reception I got was pretty positive.
But when I publicly came out as someone who doesn't experience sexual attraction, I became an example of asexual representation, and that's when the problems started. After all, I wasn't the 'right kind' of asexual representation.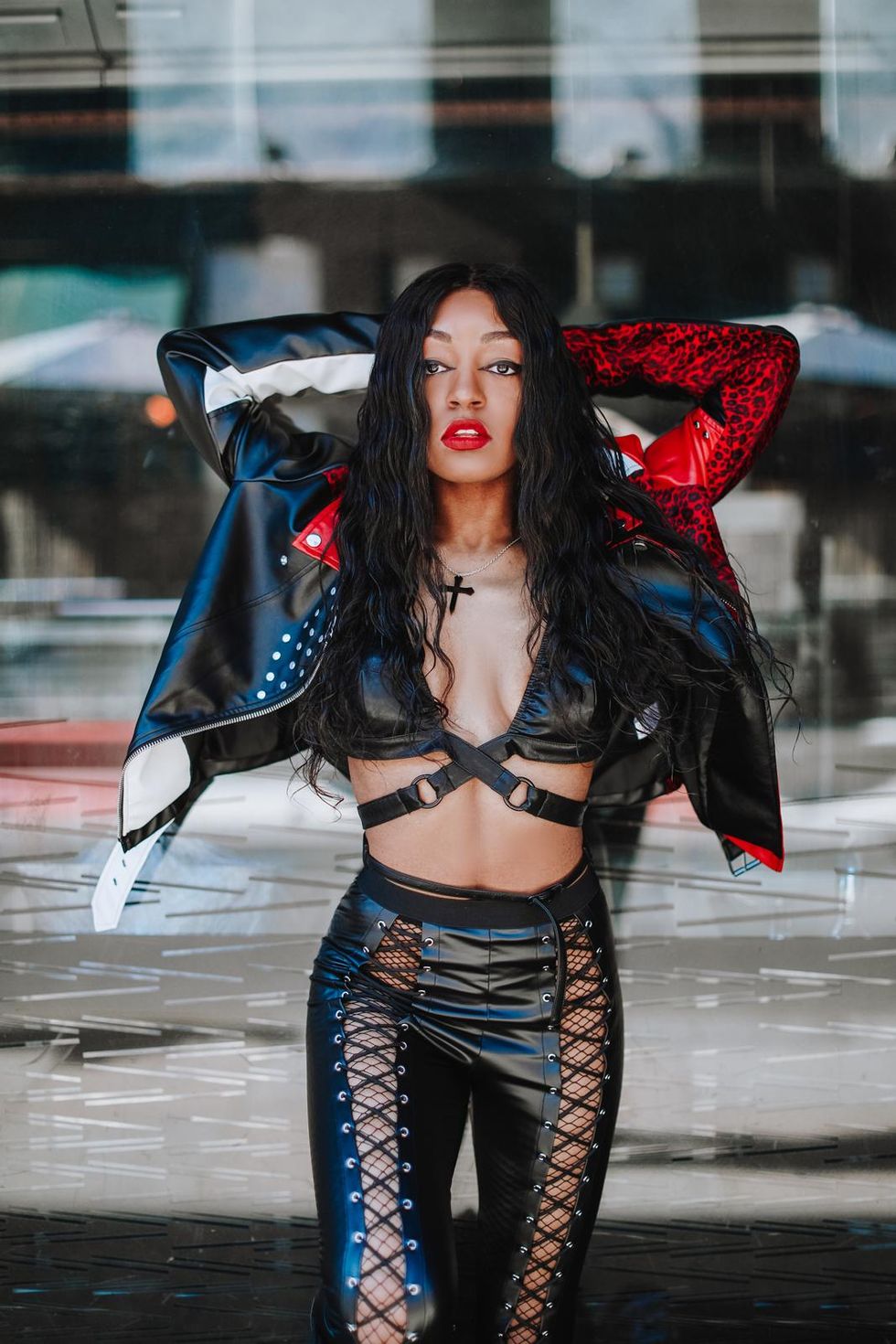 Yasmin Benoit
Rachel Sherlock
There is a certain 'look' associated with asexuality. Something between The Big Bang Theory's Sheldon Cooper and someone more...homely and frumpy. If you're not sexually attracted to anyone, you're expected to make yourself sexually unattractive. You shouldn't allow yourself to be interesting to look at. Ideally, you should be white, and come across with an aura of childlike awkwardness that must come innately with being 'out of touch' with the expected forms of sexuality. A Black woman unapologetically dressed like a gothic half-naked Dead or Alive video game girl, talking a lot and throwing up devil horns wasn't what the average person expects when they hear the word 'asexual.'
Those inside and outside of the asexual community collectively raised their eyebrows and part of me thinks that shared morbid curiosity contributed to me being recognized as an asexual activist quickly. I found myself in documentaries, being used in clickbait headlines about the 'asexual lingerie model who doesn't want sex,' being invited to speak at universities, across online platforms, appearing in Pride campaigns for brands like Uber and even collaborating with Budweiser to open an asexual pop-up bar. Fortunately, I've always had more to bring to the table than shock value, but that hasn't always been acknowledged. The attention was partially on my perspective but mainly on my 'controversial' outfits.
The more people became aware of me and my modeling, the more I started receiving abuse from people on social media because of my job and appearance. I was being called a slut, a whore, a cock-tease, as well as a virgin loser simultaneously–on a strangely regular basis. I was a living, breathing sex toy and an anti-sex agenda all at the same time. If I had a penny every time someone described me as an attention-seeking narcissist, I'd have made more money than I ever earned at a photoshoot. And I know that me working in a shallow industry has as much to do with me being called an attention-seeking narcissist as the stereotypes often associated with asexual people does.
I've encountered people who assume that I must be the kind of asexual who thinks I'm too good for anybody; that no one meets my standards enough to be sexually attractive to me. It's a natural conclusion to jump to, considering that my asexuality hasn't rendered me a nervous wreck who hides myself away out of shame for not meeting societal expectations (though I would've been more acceptable if I had). It must be my life's mission to tempt and agitate men, while contributing to the sexual objectification of women, with my troublesome asexual tits...or something like that.
If these assumptions people make about me sound a little extreme, it's because they are. It is the consequence of being caught between two contradicting narratives - the one where Black women are inherently hypersexual and must be sexually available, and the one where asexual people need to be sexless and unappealing with an aversion to anything associated with sexuality. As my asexuality makes me sexually unavailable to others, to them, my body and what I do with it is just a provocative lie. But I embrace the perplexity. I'm okay with being an oxymoron, as I know there are people out there who find my work empowering.
Maybe if I wasn't so perplexing, I wouldn't have found myself in a position where I'm able to show what being asexual actually is. It's a sexual orientation, not a lifestyle choice, not a personality flaw, not a limitation. You can be asexual and express yourself however you want to, be whoever you want to, wear whatever you want to, and fall into any demographic. Being a Black asexual model might make me less palatable, more scandalous, and more likely to attract racist, sexist, and acephobic abuse. But as long as I get to keep being myself, I'm past caring.
Featured image courtesy of Yasmin Benoit
While TikTok has faced massive backlash from Black creators who claim they aren't getting credit for their content, are getting deleted for talking about racism and social injustice issues, and not getting paid their worth in comparison to white TikTok-ers, Instagram has swooped in to give them a voice. Last Monday, Instagram announced a new special tag feature that will allow content creators to get the proper credit for their posts and videos.
The new feature was created by Alexis Michelle Adjei, Cameryn Boyd, and Alexandra Zaoui who wanted to do something about the disparities between Black creators who are often creating trends but rarely seeing as much profit, virality, or credit for their contributions in the social media landscape. The trio, who works for Facebook's rebranded company Meta, spoke with xoNecole exclusively about the groundbreaking work they are doing.
"Alexis, Cameryn, and I came up with the idea and kick-started this project after witnessing how Black creators were overlooked and under-compensated despite originating the trends (dances, songs, etc.) that were being virally distributed across social media," said data analyst Alexandra Zaoui.
"We wanted to ensure that creators get the credit they deserve, especially in a time when that kind of visibility directly leads to brand deals and other monetary opportunities. Rather than just calling out the problem, we wanted to build a tangible, product-driven solution to encourage a culture of crediting which honors the etiquette that we saw already happening on Instagram with people tags."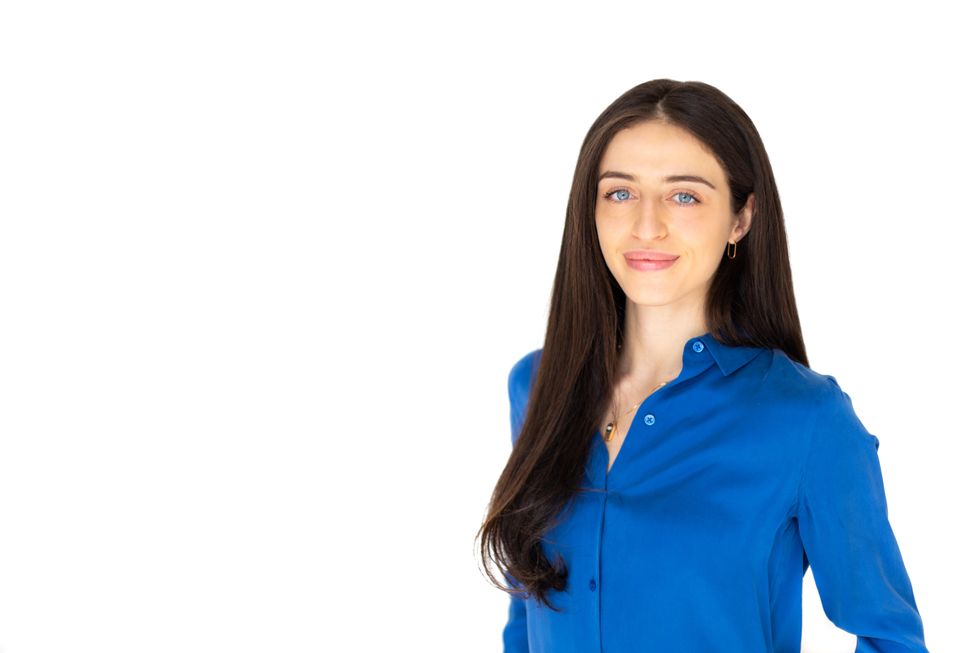 Courtesy of Alexandra Zaoui
Erin White
The enhanced tag is only available for business and creator accounts and Instagram's website provided instructions on how to add the tag to a post. The website also described enhanced tags as a way to "allow a creator's self-designated profile category on their professional accounts to be displayed in their People Tag so that people can share and view a creator's specific contribution to a photo or video post."
Alexis, who is also a data analyst, shared with xoNecole how their thoughts turned into reality. "Creators consistently do their job of innovating, uplifting, and driving culture through their various artistry forms," she said.
"Through social media, this has blossomed into life-changing, economic-advancing opportunities that notably exclude underserved creators, namely Black and brown trendsetters and originators. That's when it becomes our jobs, those working across social media, to listen intently to the needs in the community and think critically and creatively about how to solve these equality gaps– and that's exactly what Alexandra, Cameryn, and I aspired to do when we developed enhanced tags."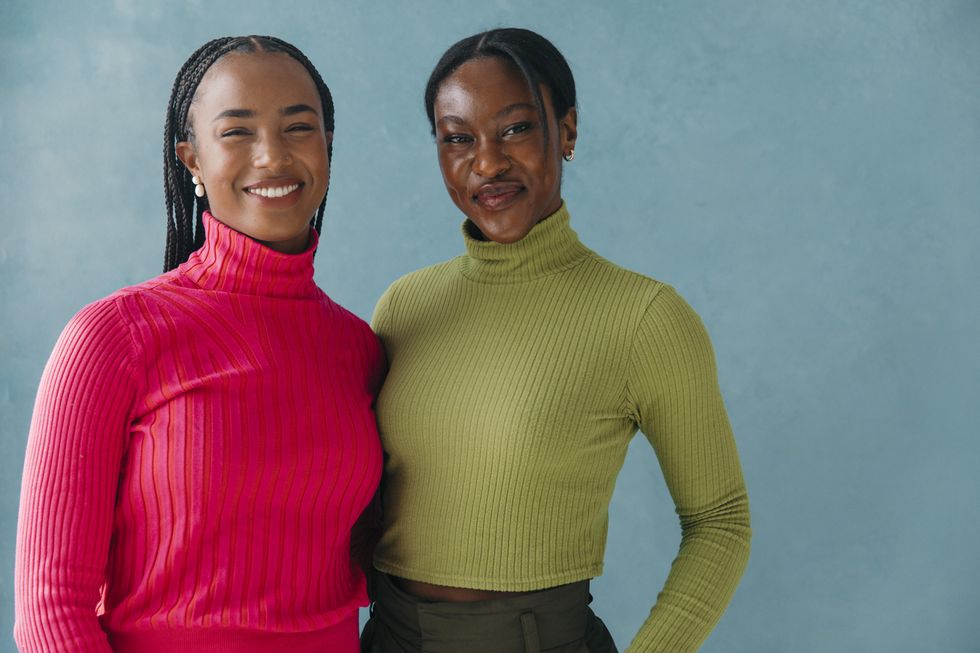 Courtesy of Cameron Boyd and Alexis Michelle Adjei
Noemie Tshinanga
"We know that this is only a first step, but we're passionate about accepting the responsibility on the product side to build tools that ensure a healthy, equitable creator ecosystem for all."

The new Instagram feature comes on the heels of the more recent criticism TikTok received after Forbes named the top-earners on the social site, which were all non-Black creators. The list included Addison Rae, who was called out last year for performing Black creator Jalaiah Harmon's viral "Renegade" dance during her appearance on The Tonight Show Starring Jimmy Fallon. Addison has since apologized and the late-night talk show host brought Jalaiah on the show along with other Black creators.
But that's just one example of the attempted erasure of Black creativity.
Software engineer Cameryn hopes that the enhanced tag will be a part of the change that needs to happen in order for Black creators to have as much visibility as their white counterparts. "We hope that all social media platforms will start to take crediting more seriously," she said.
"As creators are increasingly becoming more of the focus, it's imperative that these platforms put more of the onus on themselves to ensure that content is properly attributed and fairly compensated. We don't want underrepresented creators to be left behind. We hope enhanced tags will create this social pressure to hold each other more accountable for giving credit since it's now integrated within the product and easy to do."
Let's make things inbox official! Sign up for the xoNecole newsletter for daily love, wellness, career, and exclusive content delivered straight to your inbox.
Featured image by Noemie Tshinanga