Ciara is gushing over her friendship with tennis great Serena Williams. The 23-time Grand Slam champion was recently on the cover of Insider's first digital issue and in the interview, the superstar singer was asked about her bond with Serena. The two have been friends for many years and have supported each other through the milestones in their lives.
Cici has been there for Serena's tennis matches, wedding, and baby shower. In fact, they were both pregnant at the same time with Serena expecting her first child Alexis and Ciara expecting her second child Sienna. Their daughters also had their first playdate while they were both in Cannes in June 2019.
​"The moments I cherish ❤️. @serenawilliams and I with our girls in Cannes. #SweetMemories #MomLife," the "Goodies" singer wrote in the caption.
The tennis champion also attended Ciara's big Las Vegas girls' getaway back in 2016. In the Insider story, Ciara shared the key to their long-lasting friendship in an email.
"I think the key to our friendship is the fact that when we get together it's not about what we do in our professional lives — it's about being free to experience our authentic selves with each other," she wrote. "The world gets to see her passion for tennis when she's on the court, but behind the scenes, she carries that same passion and enthusiasm."
Serena also shares that same passion and enthusiasm for business. The 40-year-old multi-hyphenate created an investment firm called Serena Ventures where she focuses on providing funding for women and Black people. With all of her career moves, the mother of one admitted that she loves to take on challenges and prove to others that you can do anything you set your mind to.
"Whether it's venture people saying that I shouldn't be doing it, or it's tennis when people said I'll never be good at it, I do think there's a part of me that always will enjoy proving people wrong," she said. "And sometimes you just need something to feed the fire, right?"
"I'm like, 'Oh that's what I needed to hear. You're going to regret what you just said.' But that's me, and growing up behind Venus, I had to have that personality."
Featured image by Allen Berezovsky/Getty Images
Ciara one-two-stepped her way into our lives over two decades ago and she's been giving ever since. I remember wanting to be just like her as I entered high school. She was beautiful, talented and an all-around five-star chick. From her style to the way she just seems so effortless, she was all that I wanted to be. To this day, she is still goals. Ciara once said about style, "I believe a person's style is an expression of who you are - way more than dancing."
In December of 2020, she created The House of LR&C, a fashion house that intersects fashion and philanthropy and that's when my love for the ATLien grew stronger. Ciara stated in a press release:
"Fashion has always been my avenue for creative self-expression, and throughout my journey, I've always been looking for a brand that's a one-stop-shop, from investment pieces to budget-friendly items."
The fact that she is using her platform to create a line that can be a woman's best friend in fashion speaks to why she deserves multiple bouquets of flowers. So we are going to do just that. Ahead, find an assortment of Ciara's most memorable looks which makes up one hell of a style evolution.
2005: 10th Annual Soul Train Lady of Soul Awards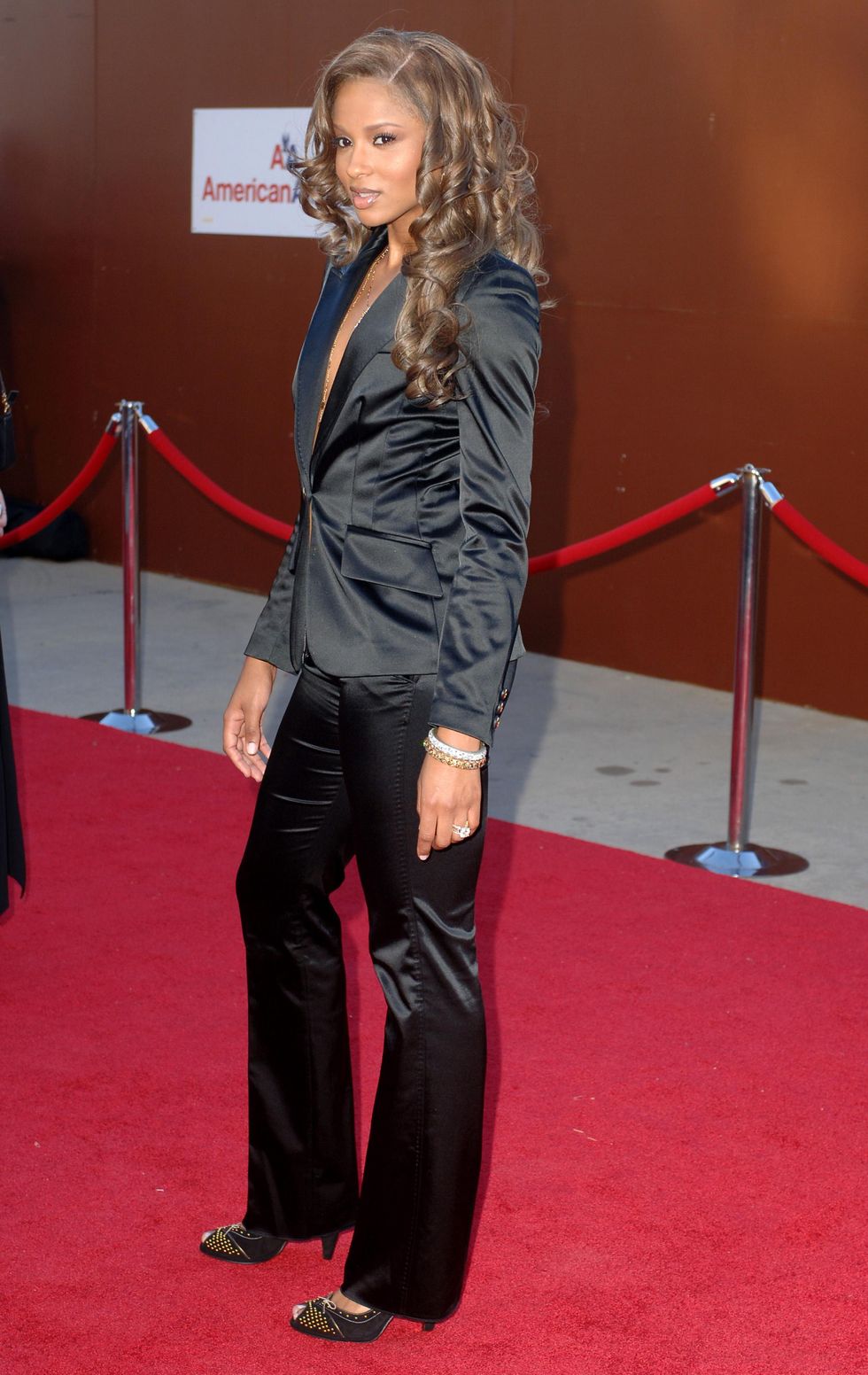 At the Soul Train Lady of Soul Awards, Ciara opted for a black satin suit with black open-toed heels. At this point in the game, the singer was still figuring out how to make her mark on the carpet but it was still very fitting for the year 2005.
2006: 48th Annual Grammy Awards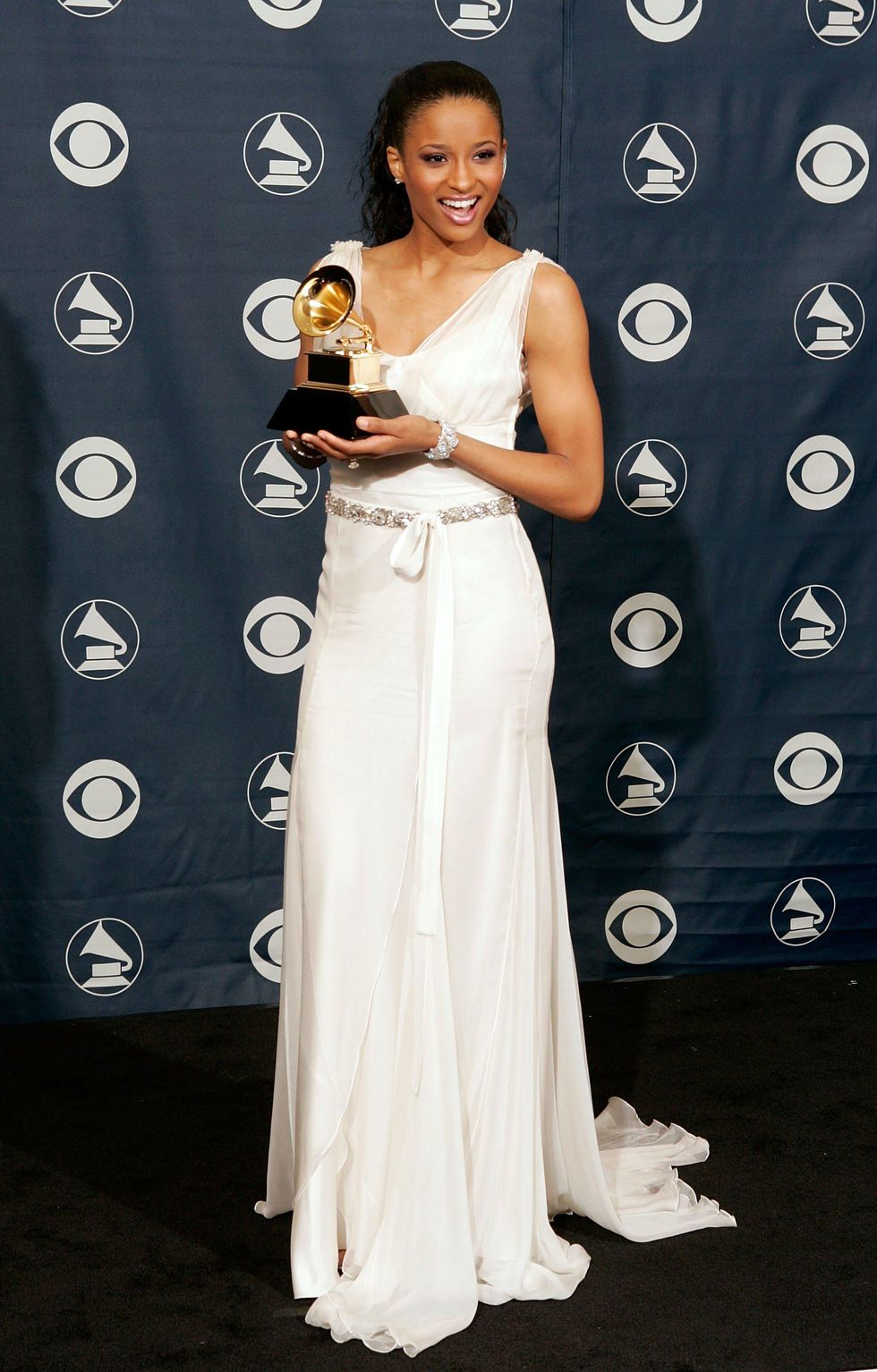 Kevin Winter/Getty Images
Fast forward to 2009, you see Princess Ciara draped in a beautiful and delicate white gown. This was also a monumental night as she won her first Grammy for Best Short-Form Music Video for "Lose Control," featuring Missy Elliott & Fat Man Scoop.
2011: 53rd Annual Grammy Awards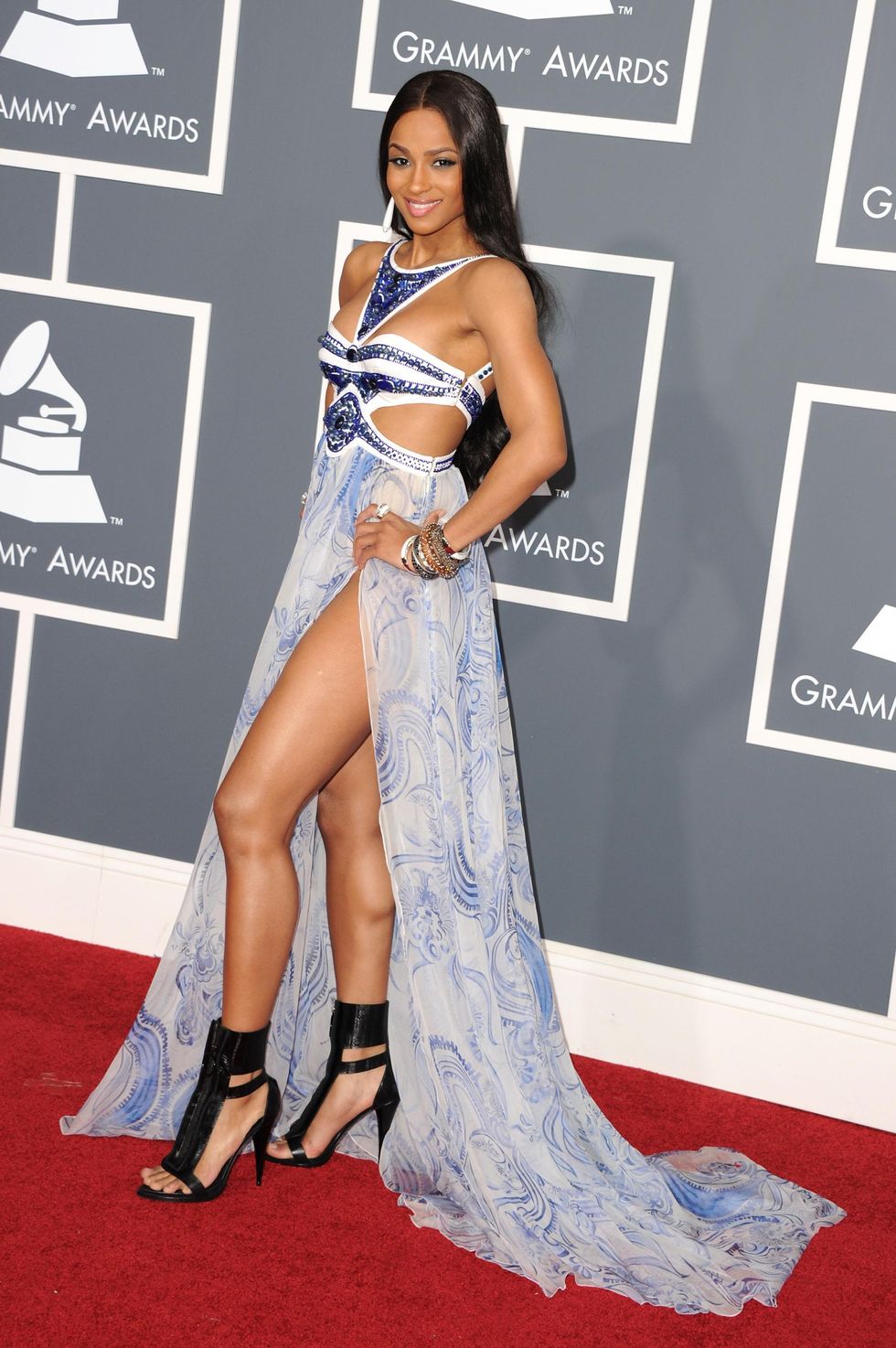 Jason Merritt/Getty Images
By 2011, our favorite dancer realized her love for high slits. Ciara wore an Emilio Pucci Spring 2011 dress featuring cutouts and an extra-long train to grace the red carpet.
2012: MTV Movie Awards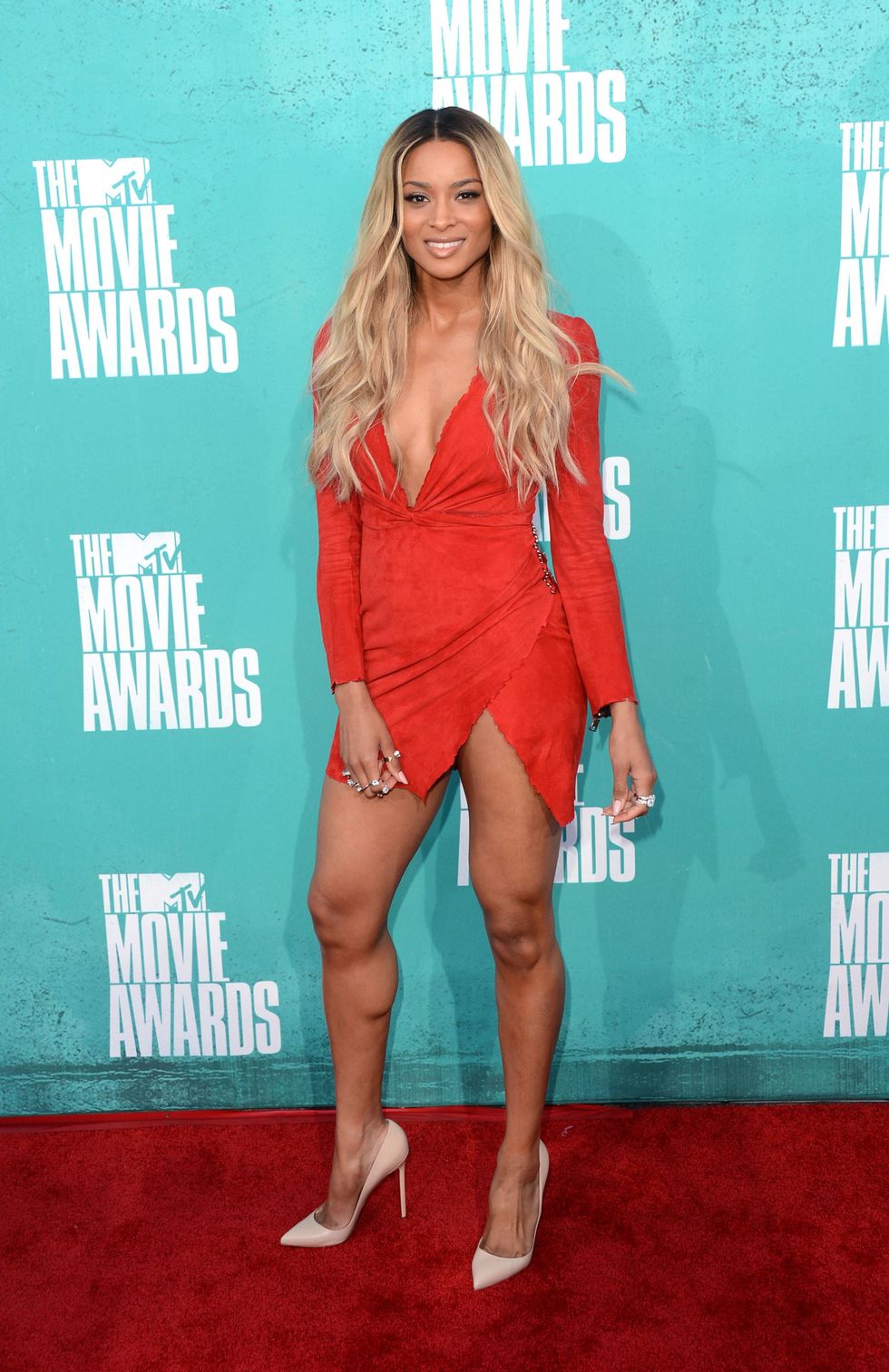 Jason Merritt/Getty Images
Is it us or do we see Ciara stepping into her grown and sexy bag on this red carpet? She brought the heat to the carpet in a red, hot Balmain dress paired with the nude Christian Louboutin 'Pigalle' pointed-toe pumps. It's a timeless look that could be worn in any era.
2014: 56th Annual Grammy Awards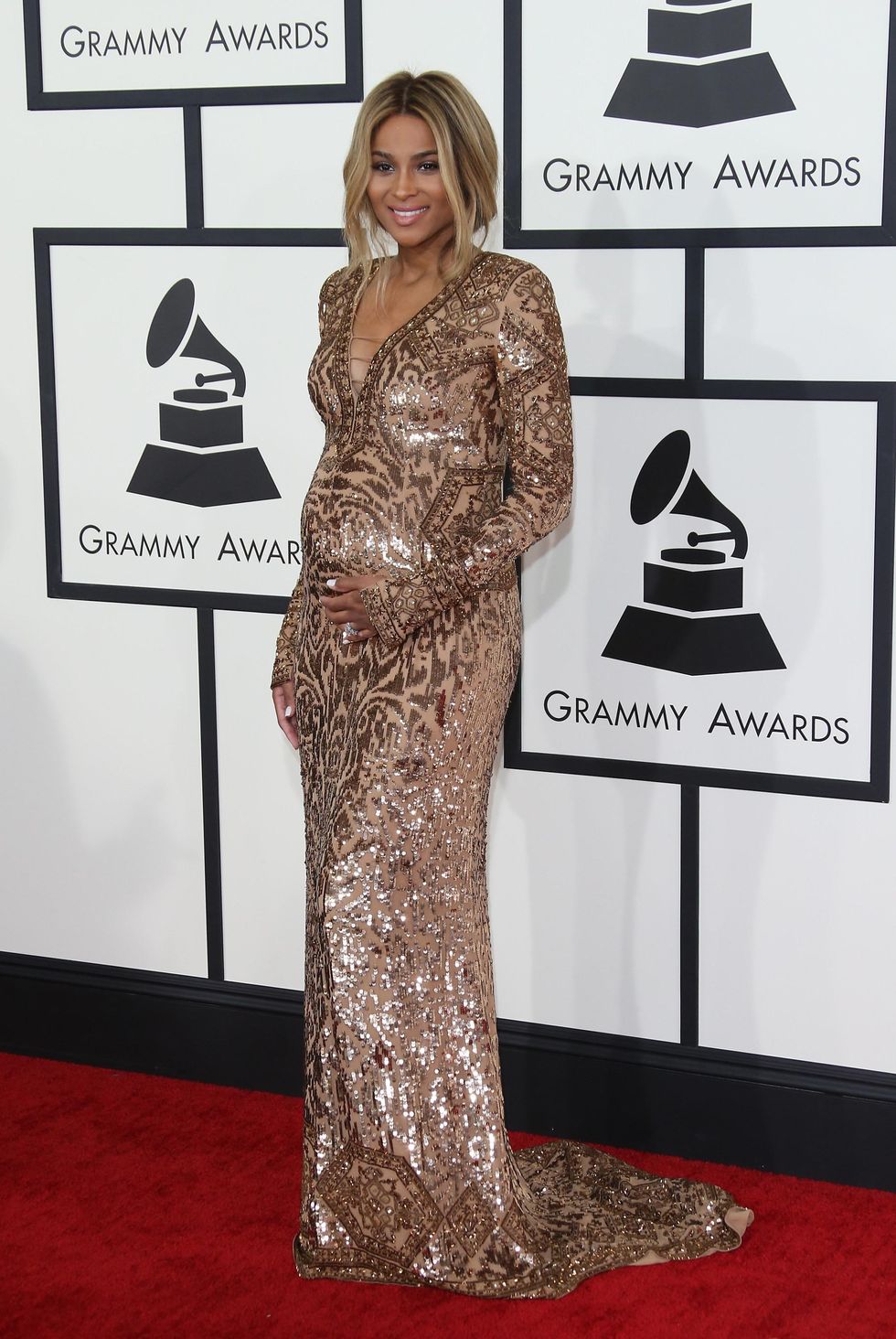 Dan MacMedan/WireImage
The year is 2014 and the singer is expecting her first child with rapper, Future. We remember being so excited to see her on the carpet with her adorable bump. The pregnant star stole the show in a custom Emilio Pucci gown and her simplistic beauty made for a perfect ensemble.
2015: American Music Awards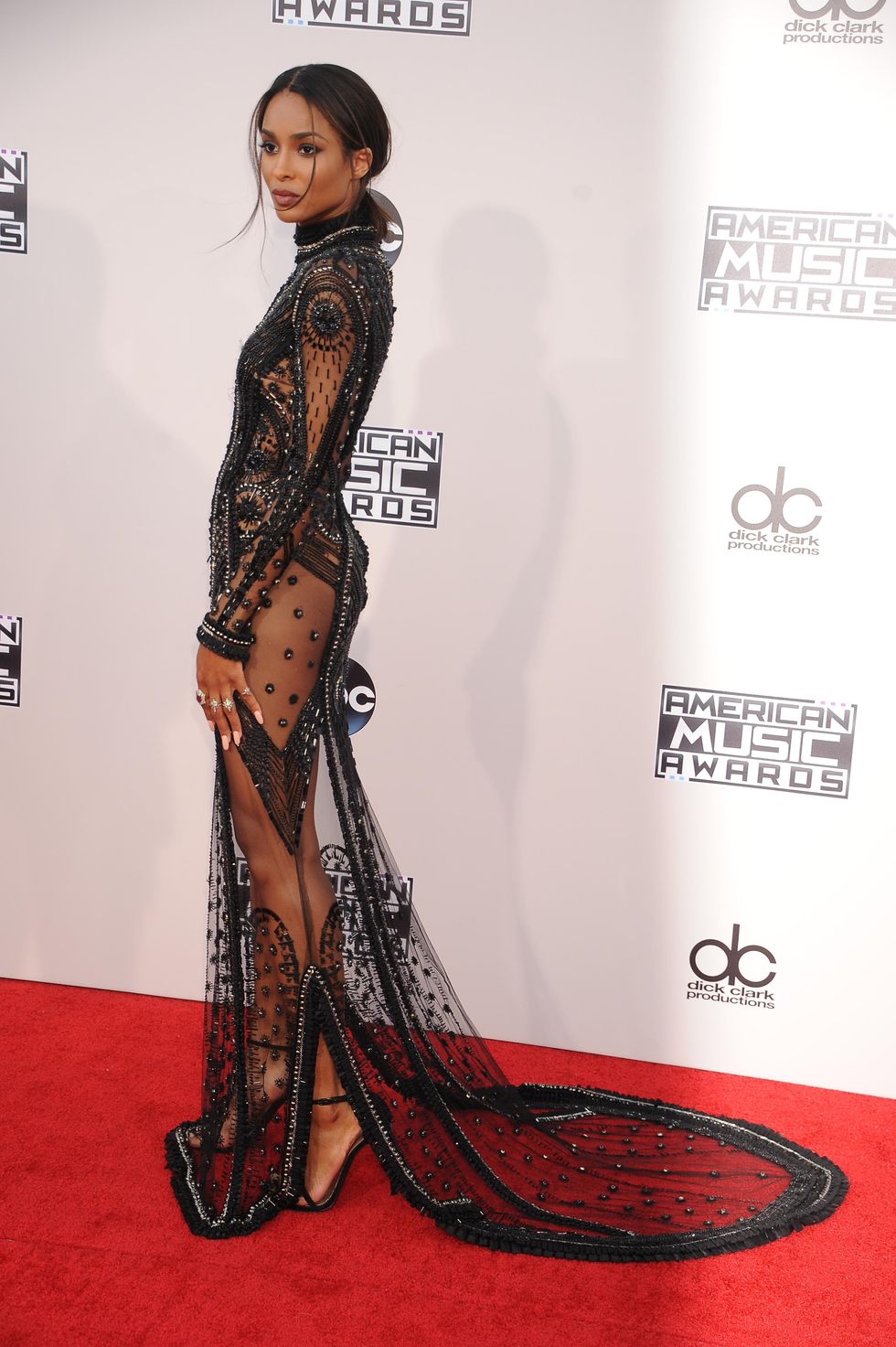 Frank Trapper/Corbis via Getty Images
Reem Acra never looked as good as it did on the R&B beauty during the 2015 AMAs. She was a presenter this night and if we recall, we had just fallen in love with her new relationship with Russell Wilson. They made their pro-BAEte at the White House State Dinner earlier that year and we have been stanning ever since.
2016: Billboard Music Awards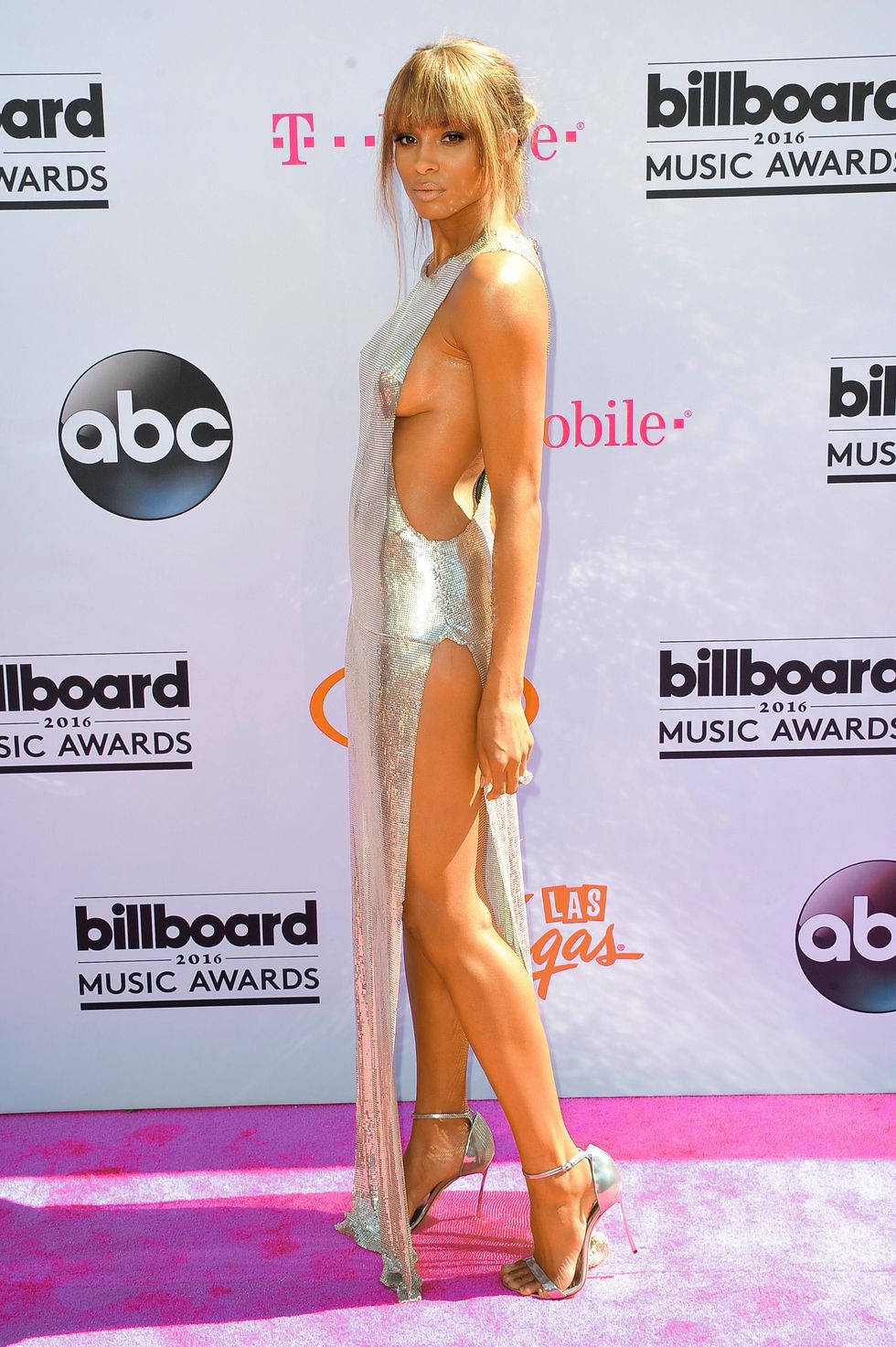 Allen Berezovsky/Getty Images
As the co-host of the 2016 Billboard Awards, Ciara had to bring it. She did so in a metallic chain dress designed by Phillip Plein. The sheath-style dress accentuated every curve and gave a new meaning to the side-boob. These Casadei Blade Sandals were also all the rage back then as strappy sandals had a chokehold on red carpets.
2017: Vanity Fair Oscar After Party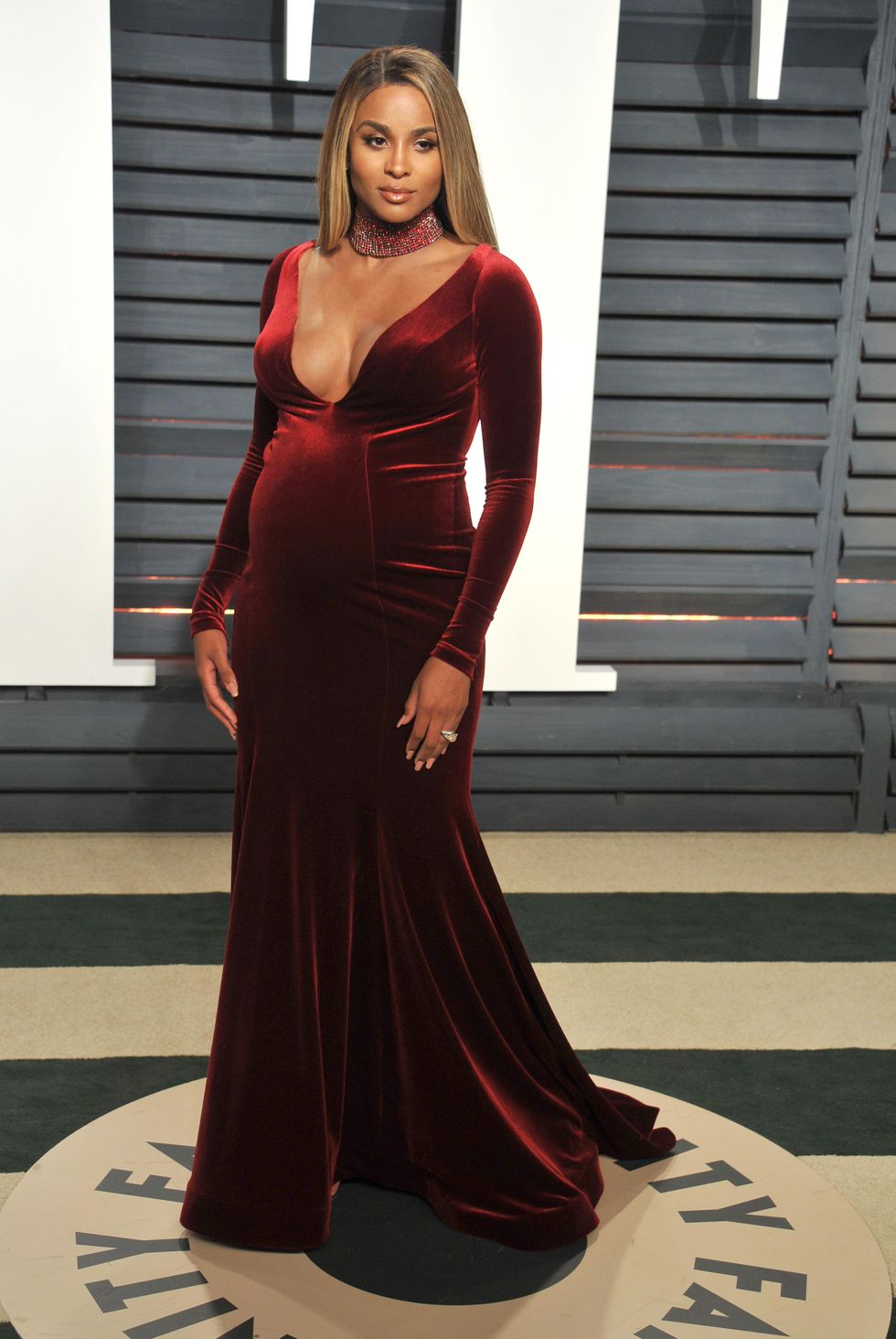 Gregg DeGuire/Getty Images
The Vanity Fair Oscar after-party is one of the biggest nights in Hollywood. All of the biggest and brightest stars gather after the Academy Awards to have a party comparable to a night spent with your favorite people eating In-N-Out burgers and drinking Veuve Clicquot while indulging in deep conversations.
Picture Ciara strutting down the not-so-red carpet in this plush velvet, oxblood Jovani Signature gown that perfectly shows off her burgeoning baby bump. She did that. She and her hubby were welcoming their first child together and this was a perfect way to make memories of a beautiful union.
2018: Nickelodeon Kids' Choice Sports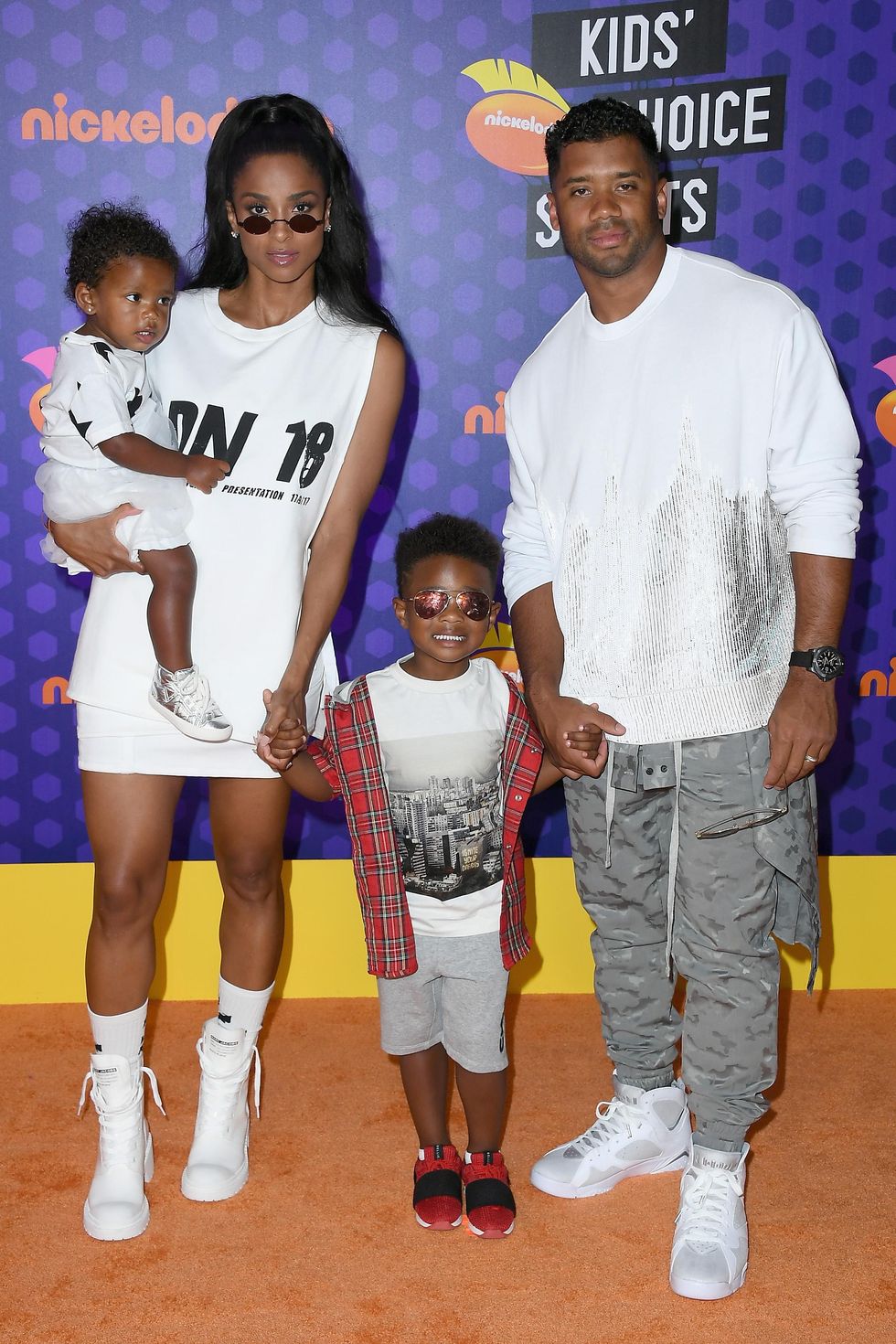 Steve Granitz/WireImage via Getty Images
Ciara is not like regular moms; she's a cool mom. And this is shown to be facts on the 2018 Nickelodeon Kids' Choice Sports carpet where the star rocks a Maison Margiela getup with her baby boy and baby girl in tow. We know Ciara to have a boyish-chic vibe since her introduction to the music scene so this is very on-brand.
2019: MET Gala Celebrating Camp: Notes On Fashion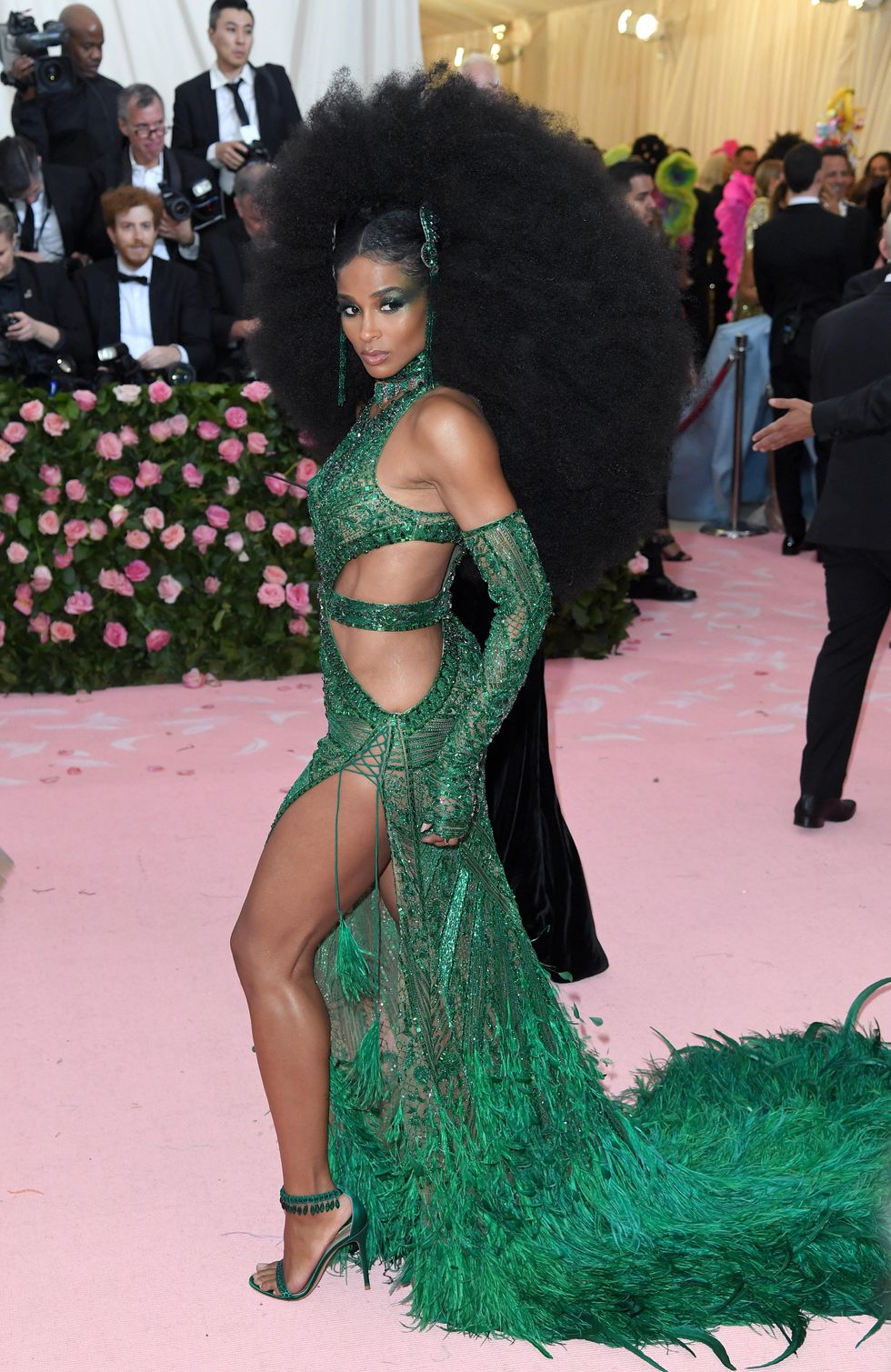 Karwai Tang/Getty Images
This look from 2019's MET Gala will go down in history. The Dundas gown is stunning but this hair defined the moment. Interestingly enough, Peter Dundas was once the creative director of Emilio Pucci, an obvious fave of Ciara's. So when she chose this Dundas frock for the Camp: Notes on Fashion theme, it was serendipitous. Her larger-than-life hair was the winner of the night. Diana Ross had to be proud.
2020: Vanity Fair Oscar Party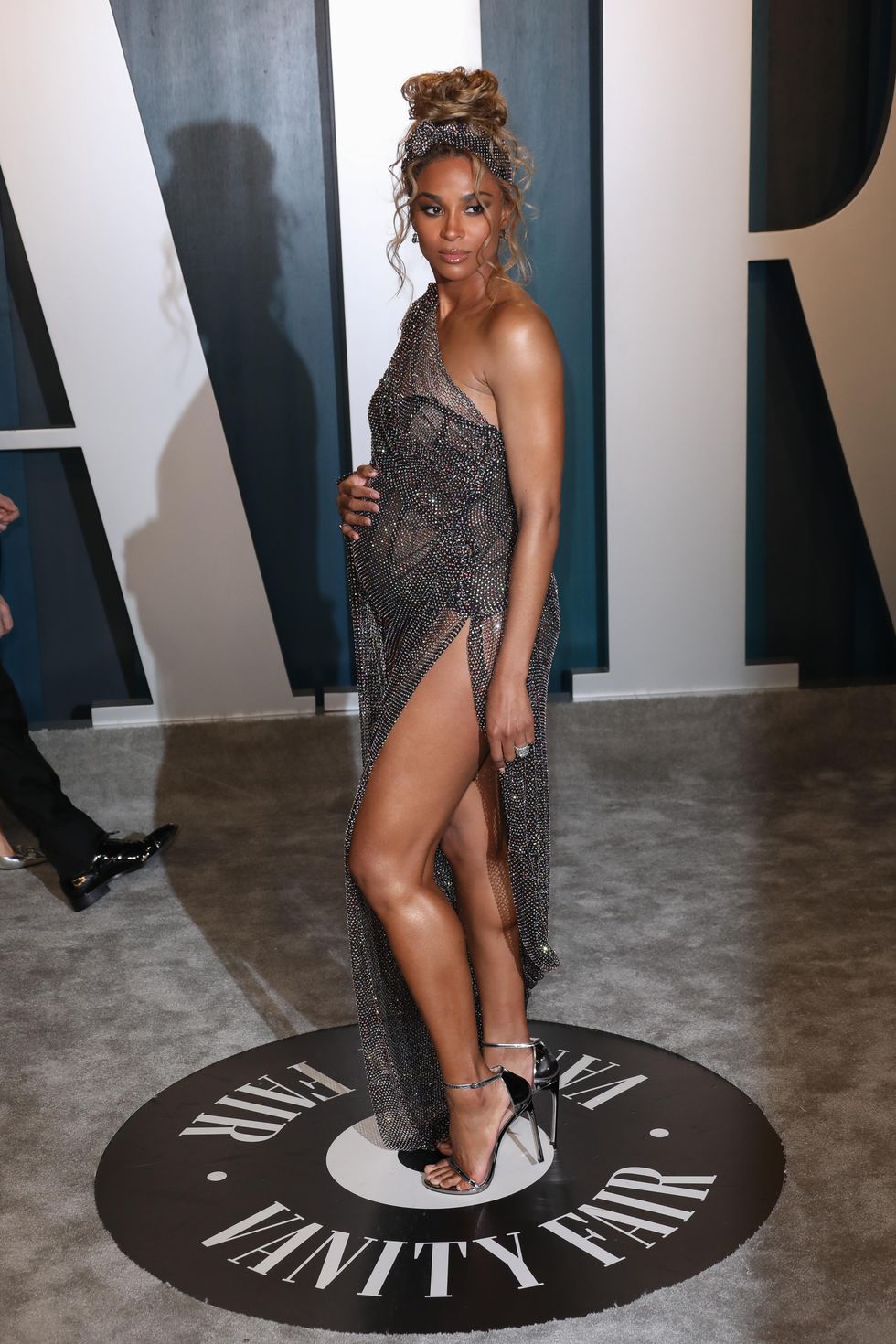 Toni Anne Barson/WireImage
It might be safe to say that the mommy mogul loves showing off her baby bump at the premier Vanity Fair event. Wearing Ralph & Russo, the "Level Up" singer made this sheer sequined number look like the ensemble of angels. It screams ethereal goddess and the styling of her hair brought it all together.
2021: 27th Annual ELLE Women In Hollywood Celebration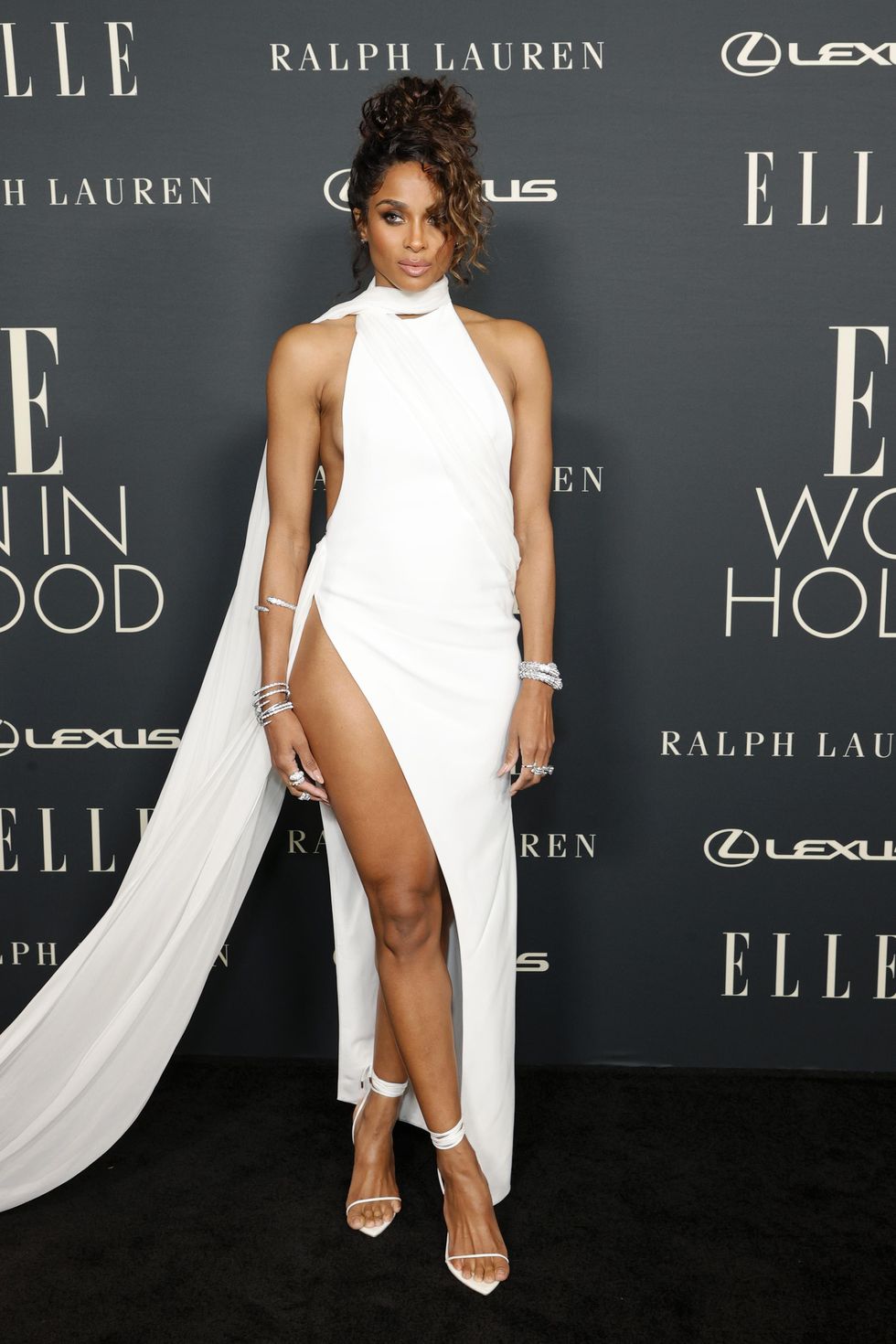 Amy Sussman/Getty Images
Looking heavenly in white, Cici donned a Mônot Spring 2022 gown to ELLE's annual event celebrating the achievements of women in entertainment. This year, like many events, was a comeback from 2020 which means the stars shined super bright in their high-fashion garments. Ciara stunned us all in this Ready To Wear piece by Lebanese designer, Eli Mizrahi, dramatized by a thigh-high slit and "gone with the wind fabulous" cape.
To get your fashion fix and to stay up to date with the latest trends, check out the xoNecole Style section here.
Featured image by Toni Anne Barson/WireImage
It's no secret that for the past few years most of us were dying to get a glimpse of Ciara's prayer. In the wake of the disastrous dating scene, we desperately needed answers, sis. It was evident that God had done it for her, delivered her from Future unto Russell, and we wanted in on the secret. So when Summer Walker released her album and blessed us with Ciara's prayer, it quickly stirred up a frenzy. I went on Instagram and within the hour, at least 20 women I followed had posted it on their Instagram Stories. Let's not even talk about the running commentary ranging from, "I will recite this prayer daily" to "I am going to have it tattooed on me."
While this is commendable that we finally realize that our love lives need Jesus, I felt we were missing the point. That same evening during my quiet prayer time God said to me, "What you need is Russell's prayer in order to see the whole picture." You see we are so accustomed to thinking that women are the only ones that give God their requests for a partner, specifications and all. We forget that just as God is protective of his Queens, he is just as loving and protective over his Kings. God loves his daughters, but if at any point God felt Ciara was not ready to receive Russell, then she was going to have to wait and the opposite scenario would be true.
Both Ciara and Russell had to have a conducive environment within themselves individually and around them in order to envision, manifest and nurture this relationship we now admire. Once I got this, God was like, "I'm not done yet, just so you know the power to deliver what Ciara asked for wasn't vested in what she said. It wasn't her choice of words, her diction, that got the spirit moving." Well, OK so what was it? Stay with me, sis. The following analysis will tell you what you need to know.

Featured image by Rich Fury/Getty Images
Ciara recently released a 0:26-second TikTok where she showed her "Wild Side," and reminded us all how effortlessly she slays when it comes to the dance moves. In the video, she winds to Normani and Cardi B's hit single, before hopping on a chair to finish the routine with a twerk. And then, to everyone's surprise, Russell Wilson appears. He enjoys the show for a quick few seconds before covering the camera with his hand, as if to playfully tell us, that's all we need to see! It was such a cute and sultry video, and definitely put us in our feels.
Over the years, Ciara and Russell Wilson have shared many special couple and family moments that can cause you to smile a little too hard at your screen.
But, here are a few of our favorites.
1. Their Couples Quiz
At the beginning of the year, they took GQ's Couples Quiz. And I don't know what was sweeter, the fact that they answered most of the questions so easily or the happiness and laughter throughout.
2. Stunting At The MET Gala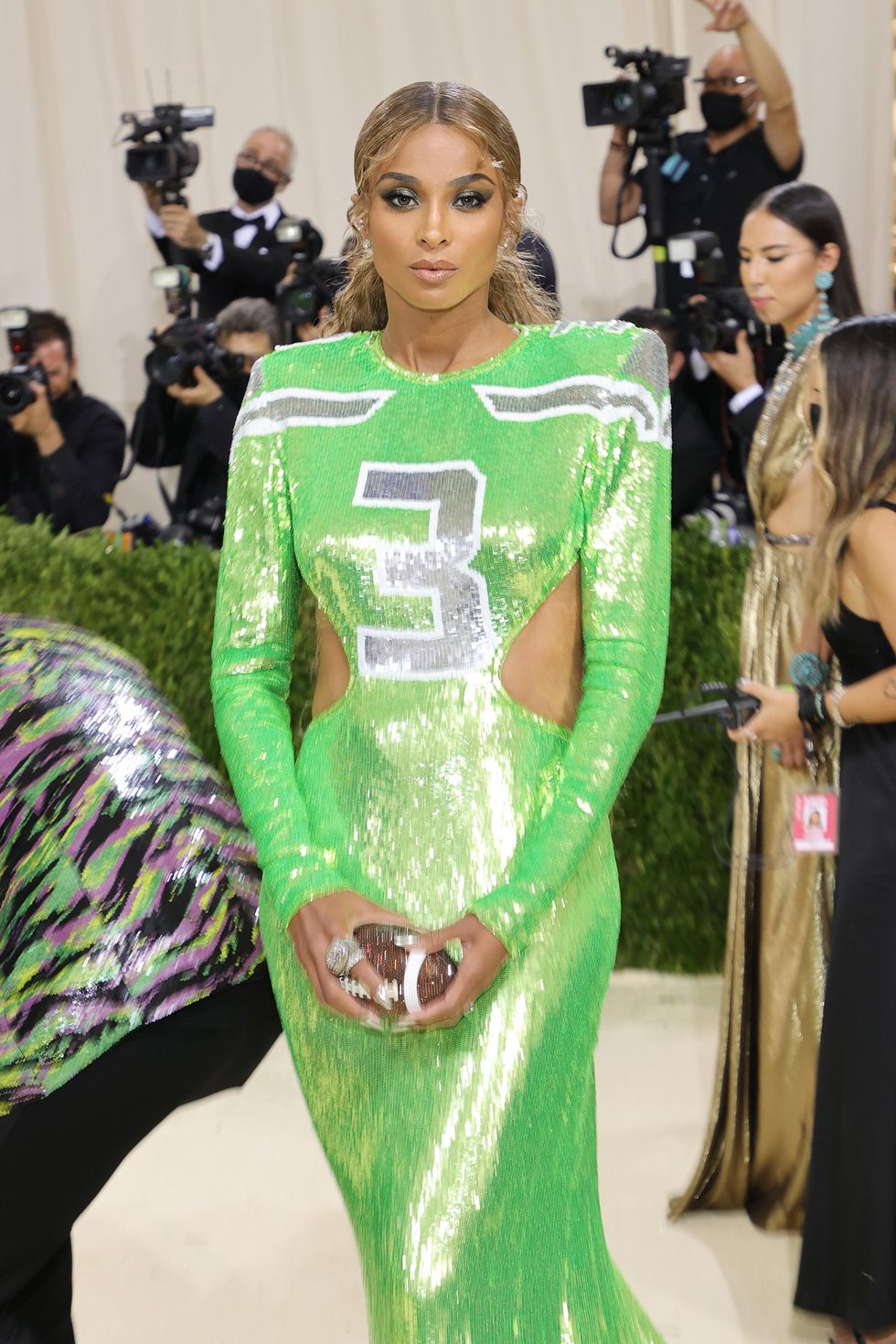 Mike Coppola/Getty Images
The recent MET Gala was filled with looks! But, there was something about Ciara pulling up in a custom jersey dress with her husband's number on it paired with his Super Bowl ring that made her fit one of the most memorable. Although Russell wasn't on the red carpet, Ciara made sure to represent who has her heart in spirit.
3. Their Christmas Video
I know we just got to fall, and it's way too early for Christmas videos. But doesn't this make you want to grab bae and take selfies in front of the tree, no, just me?
4. Their TikTok Video
Because laying in bed studying and performing TikToks was a way of life for everyone for a while. And in this video, the celebrity couple showed that they're just like the rest of us. It's giving Quarantine and chill vibes, and we're here for it.
5. Their "How We Met" video
This was so beautifully simple. In this one, the couple is cozied up at home and reflecting on meeting each other five years prior. While sharing about the special day, they speak powerful words of affirmation to each other such as, "the day I met you was the best day of my life," and "I'd be quarantined with you forever."
For more of Ciara and Russell, follow them on social media at @Ciara and @DangerRussWilson.
Featured image by David M. Benett/Dave Benett/Getty Images for Spotify
Outside is open for much of the world, and we can all celebrate in our masked glories! And although there are some countries that aren't with the tourism at this time, Italy seems to be welcoming any and everybody with arms wide open. Mainly the celebs of the world, who have been taking advantage of their open borders and living it up, Italian-style.
Famously, celebs such as Serena Williams and hubby, and Ciara and Russell Wilson took the trek over to the land of pasta, for their full-on flex baecations.
Now, a few of the ladies are back, all in the name of fashion.
In fact, this past weekend was the Dolce & Gabbana Alta Moda fashion show in Venice, Italy and the stars now only showed up and showed out, but it seems that some new friendships were formed in the process. And listen, the gworls came to play, mkay?! Stars such as Ciara, Vanessa Bryant, Megan Thee Stallion, Queen Normani, Doja Cat, and so many more came to represent in their best dressed and it was everything we didn't know we needed.
In a video captioned, "It's Party Time! @dolcegabbana Venice," Ciara can be seen teaching the ladies Italian en route to the show, singing a few jams, and hanging with A-listers alllllll over the place. And because Ciara is the friend we all need in our lives, of course there was full on footage of her supporting her bestie, Vanessa Bryant, as Kobe's birthday passed a few days prior.
Diddy a.k.a. 'LOVE' was all love as his three daughters ​showed that they get it from mama, Kim.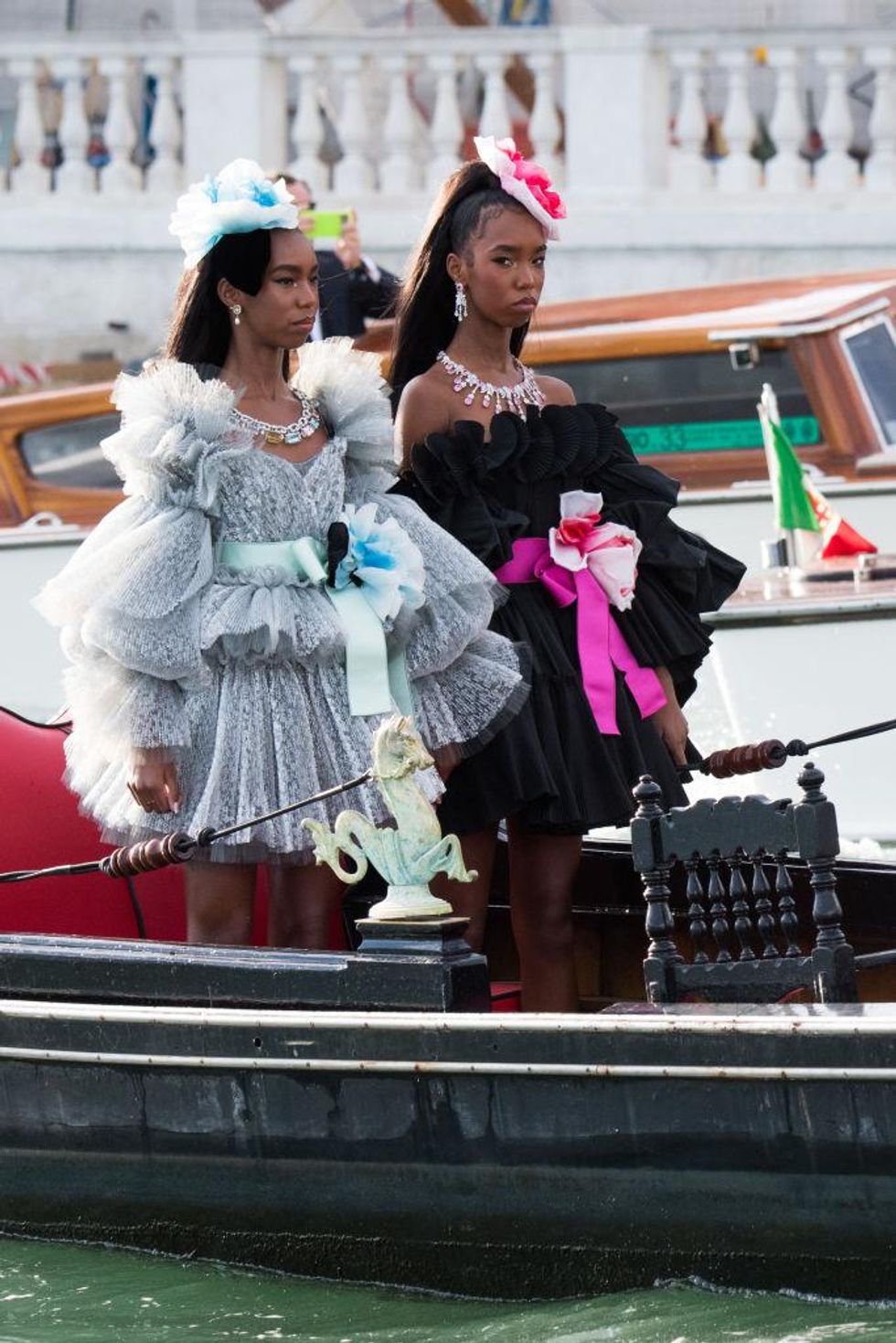 Jacopo Raule/Getty Images
The Combs twins and Chance all walkedslayed the runway as dad looked and cheered his babies on.
"LOVE LOVE LOVE!! Live from Venice"
The rapper, who currently goes by Sean "Love" Combs, took to Instagram to share a few flicks from Venice, Italy, where 14-year-old D'Lila and Jessie walked the runway for Dolce & Gabbana. Diddy shares both children with his late ex, Kim Porter, who died nearly three years ago. D'Lila and Jessie's half-sister, 15-year-old Chance Combs, also made an appearance in he best dressed, which she thanked her dad on IG saying:
"Venice has been AMAZING with my family! Thank you daddy for everything and I'm honored to have been a part of Dolce & Gabbana Alta Moda show. Thank you @dolcegabbana for having us!!! Grazie! #moarmagic."
Queen Normani shut shit down with a hand-painted number that screamed 'Disney Princess'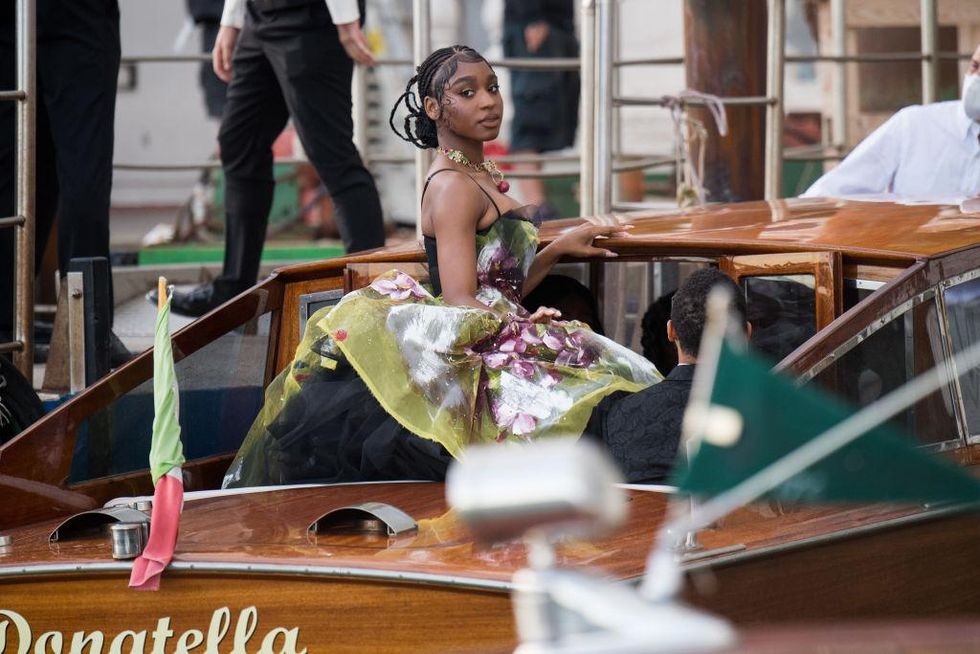 Jacopo Raule/Getty Images
The pop star donned a full ball gown from Dolce & Gabbana's spring 2008 ready-to-wear collection, which she flaunted in a series of photos posted to Instagram by her hairstylist, Ashanti Lation. Sis channeled her inner princess in a green gown and full black tulle skirt that sent the people gagging.
She enjoyed the show alongside Megan Thee Stallion, with whom she previously collaborated on the song "Diamonds" from the Birds of Prey soundtrack, and they each shared videos of themselves seated next to each other on their Instagram Stories, with Normani captioning the clip, "My seester."
Saweetie wore hotel slippers and made us love her even more!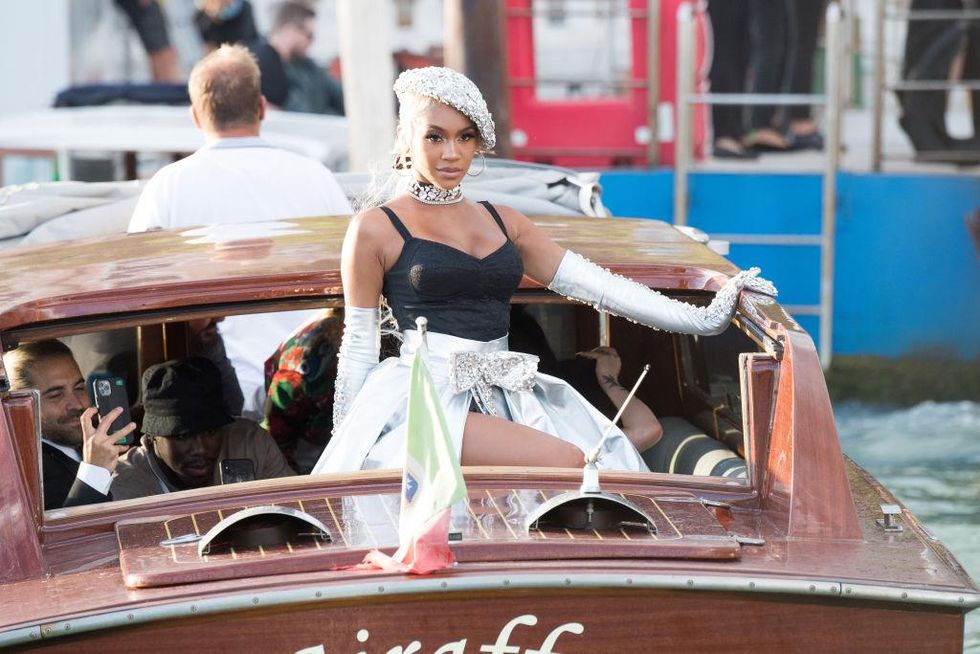 Jacopo Raule/Getty Images
Saweetie mixed high-fashion with the hotel slipper trend yesterday during her time in Italy after her appearance at the Dolce & Gabbana Alta Moda runway show. The rapper was seen at the Excelsior Hotel in Venice with an emerald off-the-shoulder satin dress, which she paired with a jewel-encrusted clutch, crystal hairpins, a silver anklet, a custom necklace with her name and the most comfortable footwear—hotel slippers. It's giving, 'high-fashion, but make it comfortable.'
Sis knows how to keep the people talking. Here for it!
Other celebs such as Aldis Hodge, Doja Cat, PJ Tucker, Vin Diesel, Zoe Saldana, and more made the weekend a star-studded one for the books. Dolce, himself, topped it all off by saying:
"I've worked in fashion for 43 years and I've never known anything like that. I can't take the emotion."
Us either, Mr. Dolce. Us either.
Are you a member of our insiders squad? Join us in the xoTribe Members Community today!

Featured image by Jacopo Raule/Getty Images
Ciara has built a life that many of us admire and envy at the same time. She is a loving wife, mother, and friend with a hugely popping career. She balances all of the above so gracefully, managing to insert 'super' in front of all of her labels. Over time, both her and husband, Russell Wilson, have built an impressive portfolio, from venture funds, to insurance, to charity and more, and now, they are adding 'fashion designer' to the resume, as the duo welcomes LITA by Ciara.
It's founded by Ciara, husbae Russell Wilson, and former Lululemon CEO, Christine Day.
Announced in December of 2020, Ciara decided that she wanted to make LITA, a luxury fashion brand that has a mission beyond just selling t-shirts.
"We're not only doing the fashion part. We're also combining the passion for fashion but also the passion for impact. That was really important to both Russell and I and also Christine in creating our company. There has to be more to it than fashion."
LITA shares space under the umbrella of the House of LR&C, with Good Man Brand, which Wilson founded in 2016, Human Nation, a gender neutral apparel influencer vibe, and Dare To Roam (DTR), a line of chic minimalist backpacks and accessories crafted from antimicrobial nylon. They decided to merge fashion and philanthropy with their launch of the parent company, but now LITA, is speaking strictly to the ladies and most importantly, falling in line with the other brands who's looking to appeal to younger shoppers who are socially minded.
Three percent of each purchase goes to the 'Why Not You Foundation,' which Wilson founded in 2014.
Before any money touches Ciara, Christine, or Russell's pockets, three percent of sales are donated to the foundation, which supports organizations that provide kids with educational resources and raise money to cure and treat pediatric cancer. Ciara opens up to ELLE about the process, saying:
"It's more than an opportunity to create cool fashion designs and to keep my ladies fly and fashionable around the world. There's also this great opportunity to make a difference together, hence we give back 3 percent of what we make. We're a give back first company."
She continues:
"Having the opportunity and platform to do all of that good is a big part of the 'why we do this.'"
The collection is priced between $68-$895.
Ciara is looking out for our purses, ladies! She kept the prices extremely affordable for the everyday woman, something she says was a focus of hers.
"My ultimate goal for LITA is to be a woman's best friend in fashion. I'm a high-low kind of girl, and so I've been able to pour some of that influence into the line. I'm also a tomboy, so there's going to be a little bit of edge and attitude in all the pieces. LITA is for the woman who wants to be fly but doesn't have to spend a crazy amount of money."
At the end of the day, Ciara wants us to know, that LITA is all about love, first.
Each garment is carefully crafted throughout the collection, down to the materials used. And according to Ciara, sustainability is one of the greatest acts of love consumers can practice right now, which is why LITA uses conscious materials that will last.
"At the house, you don't have to sacrifice fashion to be sustainable. We're thinking about durability. Factoring sustainability into every part of the process and putting love into every part of the process was really important. And being able to have an environmental impact at the same time. It all comes back to love."
We're proud of you, Ci!
LITA by Ciara is officially live and available for purchase on their website.
Watch Ciara and business partner Christine Day, discuss the brand below:
Are you a member of our insiders squad? Join us in the xoTribe Members Community today!

Featured image by Rich Fury/Getty Images