Outside is open for much of the world, and we can all celebrate in our masked glories! And although there are some countries that aren't with the tourism at this time, Italy seems to be welcoming any and everybody with arms wide open. Mainly the celebs of the world, who have been taking advantage of their open borders and living it up, Italian-style.
Famously, celebs such as Serena Williams and hubby, and Ciara and Russell Wilson took the trek over to the land of pasta, for their full-on flex baecations.
Now, a few of the ladies are back, all in the name of fashion.
In fact, this past weekend was the Dolce & Gabbana Alta Moda fashion show in Venice, Italy and the stars now only showed up and showed out, but it seems that some new friendships were formed in the process. And listen, the gworls came to play, mkay?! Stars such as Ciara, Vanessa Bryant, Megan Thee Stallion, Queen Normani, Doja Cat, and so many more came to represent in their best dressed and it was everything we didn't know we needed.
In a video captioned, "It's Party Time! @dolcegabbana Venice," Ciara can be seen teaching the ladies Italian en route to the show, singing a few jams, and hanging with A-listers alllllll over the place. And because Ciara is the friend we all need in our lives, of course there was full on footage of her supporting her bestie, Vanessa Bryant, as Kobe's birthday passed a few days prior.
Diddy a.k.a. 'LOVE' was all love as his three daughters ​showed that they get it from mama, Kim.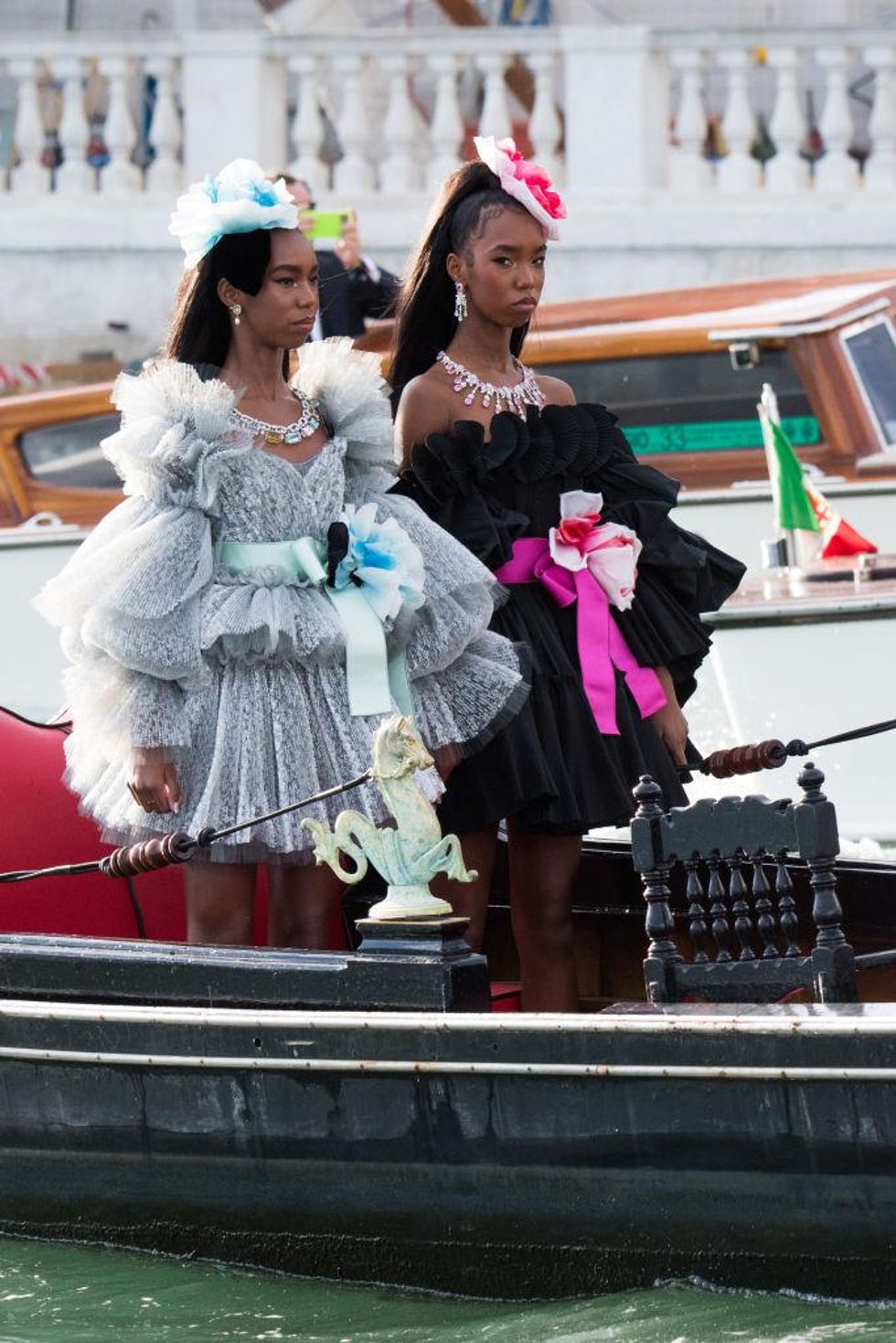 Jacopo Raule/Getty Images
The Combs twins and Chance all walked slayed the runway as dad looked and cheered his babies on.
"LOVE LOVE LOVE!! Live from Venice"
The rapper, who currently goes by Sean "Love" Combs, took to Instagram to share a few flicks from Venice, Italy, where 14-year-old D'Lila and Jessie walked the runway for Dolce & Gabbana. Diddy shares both children with his late ex, Kim Porter, who died nearly three years ago. D'Lila and Jessie's half-sister, 15-year-old Chance Combs, also made an appearance in he best dressed, which she thanked her dad on IG saying:
"Venice has been AMAZING with my family! Thank you daddy for everything and I'm honored to have been a part of Dolce & Gabbana Alta Moda show. Thank you @dolcegabbana for having us!!! Grazie! #moarmagic."
Queen Normani shut shit down with a hand-painted number that screamed 'Disney Princess'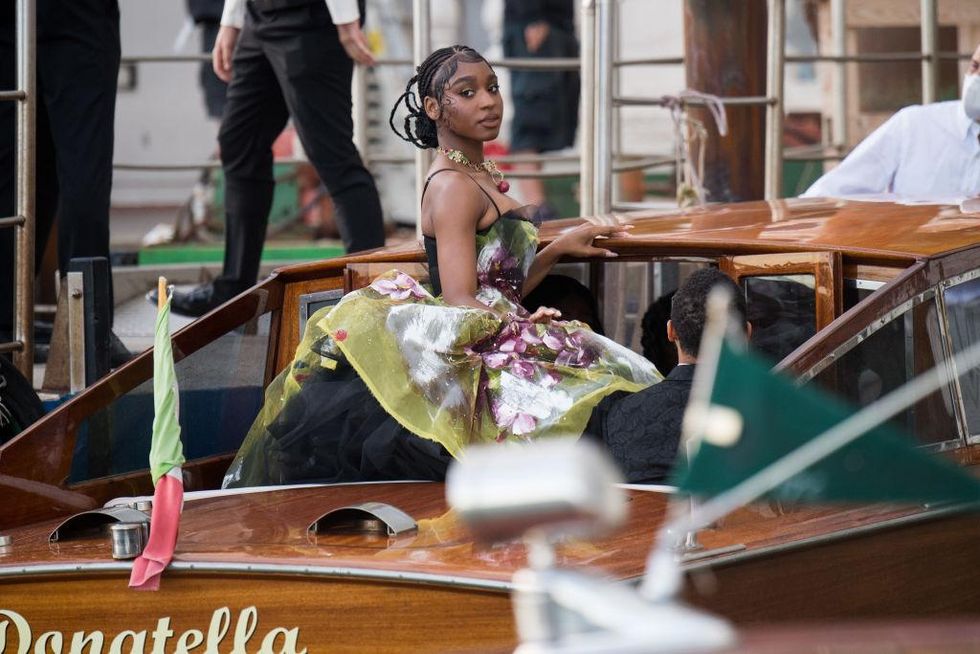 Jacopo Raule/Getty Images
The pop star donned a full ball gown from Dolce & Gabbana's spring 2008 ready-to-wear collection, which she flaunted in a series of photos posted to Instagram by her hairstylist, Ashanti Lation. Sis channeled her inner princess in a green gown and full black tulle skirt that sent the people gagging.
She enjoyed the show alongside Megan Thee Stallion, with whom she previously collaborated on the song "Diamonds" from the Birds of Prey soundtrack, and they each shared videos of themselves seated next to each other on their Instagram Stories, with Normani captioning the clip, "My seester."
Saweetie wore hotel slippers and made us love her even more!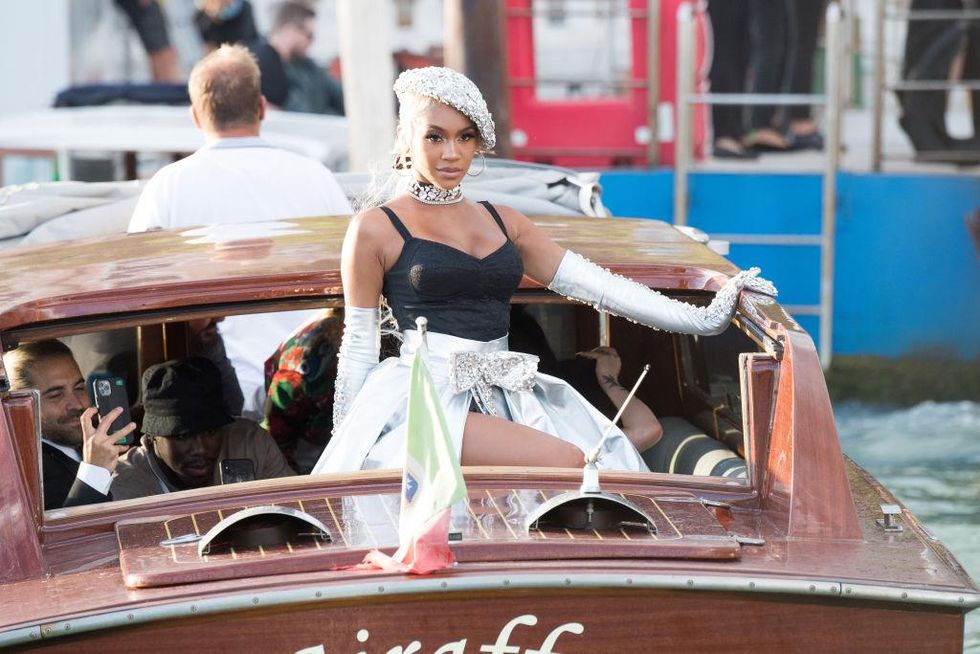 Jacopo Raule/Getty Images
Saweetie mixed high-fashion with the hotel slipper trend yesterday during her time in Italy after her appearance at the Dolce & Gabbana Alta Moda runway show. The rapper was seen at the Excelsior Hotel in Venice with an emerald off-the-shoulder satin dress, which she paired with a jewel-encrusted clutch, crystal hairpins, a silver anklet, a custom necklace with her name and the most comfortable footwear—hotel slippers. It's giving, 'high-fashion, but make it comfortable.'
Sis knows how to keep the people talking. Here for it!
Other celebs such as Aldis Hodge, Doja Cat, PJ Tucker, Vin Diesel, Zoe Saldana, and more made the weekend a star-studded one for the books. Dolce, himself, topped it all off by saying:
"I've worked in fashion for 43 years and I've never known anything like that. I can't take the emotion."
Us either, Mr. Dolce. Us either.
Are you a member of our insiders squad? Join us in the xoTribe Members Community today!

Featured image by Jacopo Raule/Getty Images
Keep reading...
Show less
Ciara has built a life that many of us admire and envy at the same time. She is a loving wife, mother, and friend with a hugely popping career. She balances all of the above so gracefully, managing to insert 'super' in front of all of her labels. Over time, both her and husband, Russell Wilson, have built an impressive portfolio, from venture funds, to insurance, to charity and more, and now, they are adding 'fashion designer' to the resume, as the duo welcomes LITA by Ciara.
It's founded by Ciara, husbae Russell Wilson, and former Lululemon CEO, Christine Day.
Announced in December of 2020, Ciara decided that she wanted to make LITA, a luxury fashion brand that has a mission beyond just selling t-shirts.
"We're not only doing the fashion part. We're also combining the passion for fashion but also the passion for impact. That was really important to both Russell and I and also Christine in creating our company. There has to be more to it than fashion."
LITA shares space under the umbrella of the House of LR&C, with Good Man Brand, which Wilson founded in 2016, Human Nation, a gender neutral apparel influencer vibe, and Dare To Roam (DTR), a line of chic minimalist backpacks and accessories crafted from antimicrobial nylon. They decided to merge fashion and philanthropy with their launch of the parent company, but now LITA, is speaking strictly to the ladies and most importantly, falling in line with the other brands who's looking to appeal to younger shoppers who are socially minded.
Three percent of each purchase goes to the 'Why Not You Foundation,' which Wilson founded in 2014.
Before any money touches Ciara, Christine, or Russell's pockets, three percent of sales are donated to the foundation, which supports organizations that provide kids with educational resources and raise money to cure and treat pediatric cancer. Ciara opens up to ELLE about the process, saying:
"It's more than an opportunity to create cool fashion designs and to keep my ladies fly and fashionable around the world. There's also this great opportunity to make a difference together, hence we give back 3 percent of what we make. We're a give back first company."
She continues:
"Having the opportunity and platform to do all of that good is a big part of the 'why we do this.'"
The collection is priced between $68-$895.
Ciara is looking out for our purses, ladies! She kept the prices extremely affordable for the everyday woman, something she says was a focus of hers.
"My ultimate goal for LITA is to be a woman's best friend in fashion. I'm a high-low kind of girl, and so I've been able to pour some of that influence into the line. I'm also a tomboy, so there's going to be a little bit of edge and attitude in all the pieces. LITA is for the woman who wants to be fly but doesn't have to spend a crazy amount of money."
At the end of the day, Ciara wants us to know, that LITA is all about love, first.
Each garment is carefully crafted throughout the collection, down to the materials used. And according to Ciara, sustainability is one of the greatest acts of love consumers can practice right now, which is why LITA uses conscious materials that will last.
"At the house, you don't have to sacrifice fashion to be sustainable. We're thinking about durability. Factoring sustainability into every part of the process and putting love into every part of the process was really important. And being able to have an environmental impact at the same time. It all comes back to love."
We're proud of you, Ci!
LITA by Ciara is officially live and available for purchase on their website.
Watch Ciara and business partner Christine Day, discuss the brand below:
Are you a member of our insiders squad? Join us in the xoTribe Members Community today!

Featured image by Rich Fury/Getty Images
Keep reading...
Show less
I'm not sure how many times we can brag on Ciara and Russell Wilson, but here's one more for you. The two traveled to Venice, Italy to celebrate their five-year anniversary and we can't help but to swoon over the pics.
It all started last week when a video of the two broke the internet while posing for photos in a hotel suite. Captioned:
"He said pack your bags, we're going to Italy."
The lovebirds rocked shades and matching Versace for the gawds and showed off their usual enviable love.
Russ followed Ciara with:
"5 years of Love as husband & wife, mom & dad, best friends, business partners and more. You leave me speechless. There are no words that could ever describe my love for you. Only Heaven knows. 5 years & Forever to go! Andiamo!"
The rest is in "OK, it's time for a baecation" history as they visited landmarks, ate in the best restaurants, and more.
And as they should, because Venice has become a popular celeb/tourism hotspot.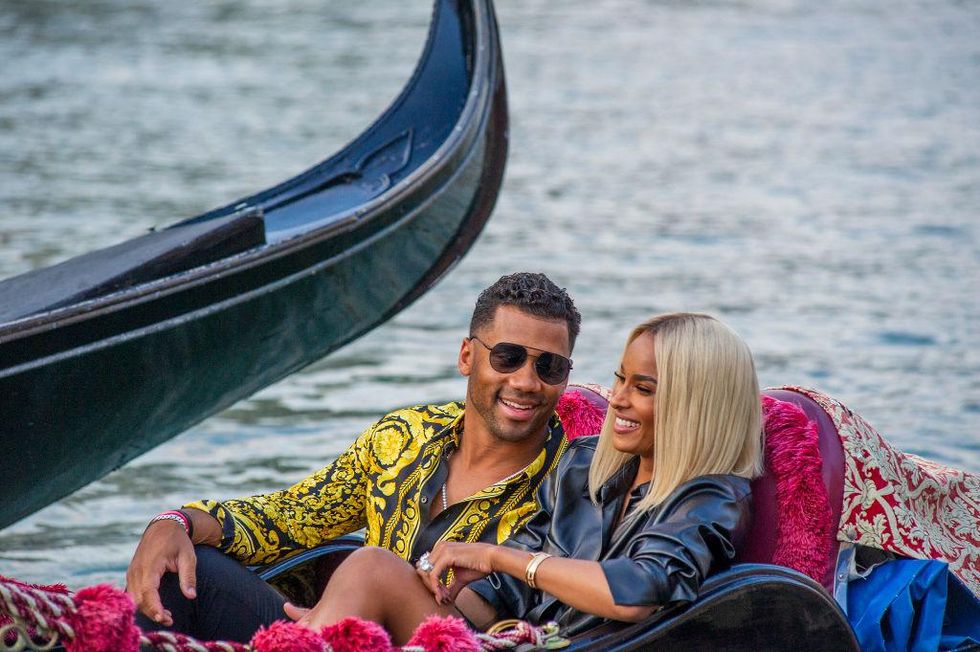 Luca Zanon/Awakening/GC Images
Actually, Italy has always been a popular celebrity romance destination, with couples such as Katy Perry and Orlando Bloom and John Legend and Chrissy Teigen recently trading in the fast life and heading to the land of pasta, architecture, and love with bae. And in 2018, Serena Williams famously told her husband she wanted pasta for dinner and he swooped her off to Venice for a few days as well. But now, with outside opening back up, Venice is becoming a hotspot for them hot spots, m'kay?!
So, if you and the boo are looking to Venice for your next baecation, here's what you should check out while there:
The Food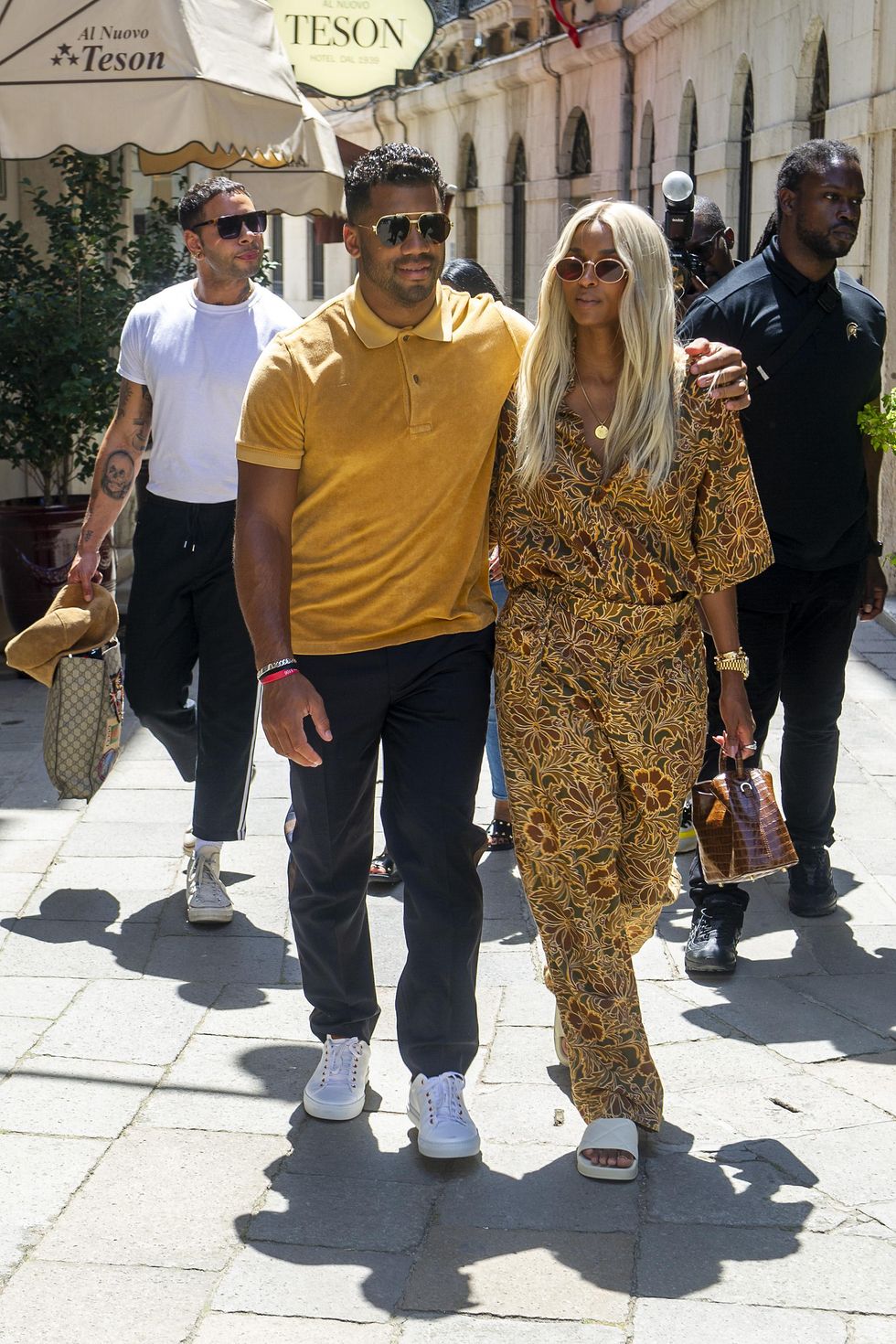 Luca Zanon/Awakening/GC Images
Italy is known for its endless food contribution to the world. But actually being in Italy, gives Olive Garden a run for its money. With freshly made pastas, and ingredients that will even make granny mad, visiting the various amounts of restaurants, or taking the time to take a cooking class is what baecation dreams are made of. And although pasta and pizza are staples, the reality, however, is that Italy is home to variety of cuisines and people often make the mistake of flocking to touristy eateries serving food that reflects their expectations (such as pasta and pizza) and not what the locals or veneziani really eat.
But Venice's unique lagoon location and proximity to the island gardens of Sant'Erasmo, means that their genuine cuisine consists of some truly flavorful and refined dishes relying heavily on fish and vegetables.
Spend a night out on the town and try local dishes such as the sarde in saor, risotto al nero di seppia, fritole, or the various, various amounts of wine. Bon appetit!
The Canals + Gondola Rides
The gondola is a traditional Venetian rowing boat, similar to a canoe, that's flat-bottomed and narrow in order to fit along with other gondolas into small canals in Venice. The gondola is operated by a gondolier with a rowing oar. In the past, it was used as a major mode of transportation in Venice. These days, however, the gondola ride is primarily a tourist attraction.There is no better way to see many amazing parts of Venice without this gondola ride. Venice historically has been connected by canals, so the only way to see many historical sights or just beautiful architecture is from the water.
Also, riding the gondola gives you a different angle from the water and you get a much better view of many structures. Plan to be serenaded by the gondoliers and see the best of what Venice has to offer.
(Rides are generally 40 minutes and during the day, costs 80 euros. If you want a longer ride, every 20 minutes will cost you $40 extra. After 7 p.m., the gondola rides are slightly more expensive, costing 100 euros for a 40-minute ride).
The Architecture Tours
If you don't appreciate architecture, then Venice may not be the place for you. Venice's architecture is unlike that of anywhere else in the world—owing, of course, to its natural context. Everything is built on stilts in the middle of a lagoon and it's so amazingly popular, that the Venice Biennale of Architecture exhibition, also known as Mostra di Architettura di Venezia (in Italian), is held every other year. Grab bae and explore the history of Venice through its buildings, squares and canals to see the works by Carlo Scarpa and Mario Botta (who shaped much of Venice).
Also, add the Rialto Neighborhood, St. Mark's Square, Campo San Giovanni e Paolo, and Campo Santa Maria Formosa to your to-do list as well.
Enjoy, guys!
Are you a member of our insiders squad? Join us in the xoTribe Members Community today!

Featured image by Luca Zanon/Awakening/GC Images
Keep reading...
Show less
Black really is king and we are so happy we are gang! As we inch back into our new normal, we can't help but gush over the events we missed last year. The BET Awards is at the top of the list because of its Blackity, Black, Blackness. Since 2001, Black Entertainment Television has made it their business to highlight the achievements of our people in music and entertainment overall. This year marks the 20th year of the awards show that has always shown up and shown out as a true custodian of the culture.
In a press release, EVP of Specials, Music Programming & Music Strategy, Connie Orlando, shared, "As we return LIVE with culture's biggest night, this year's show marks many firsts-including the highest number of performers in 21 years of BET Awards; and viewers can expect several surprise moments. Some of today's hottest talent will join us for our return to LA for an unforgettable night celebrating Black excellence."
This year's theme: The Year of the Black Woman. The stars are aligning to "honor and celebrate the immense cultural impact of Black women." From the ultimate cheerleader Taraji P Henson as the host, to showcasing the magic of superheroes like Stacey Abrams and Lifetime Achievement Award recipient, Queen Latifah, the motif couldn't be more accurate for this year and every year.
Of course, we are here for any celebration of Black women and we are also here for the lewks! After a year of no glam, this feels like Christmas. Keep reading for some of our favorites from this amazing show of Black excellence.
Taraji P. Henson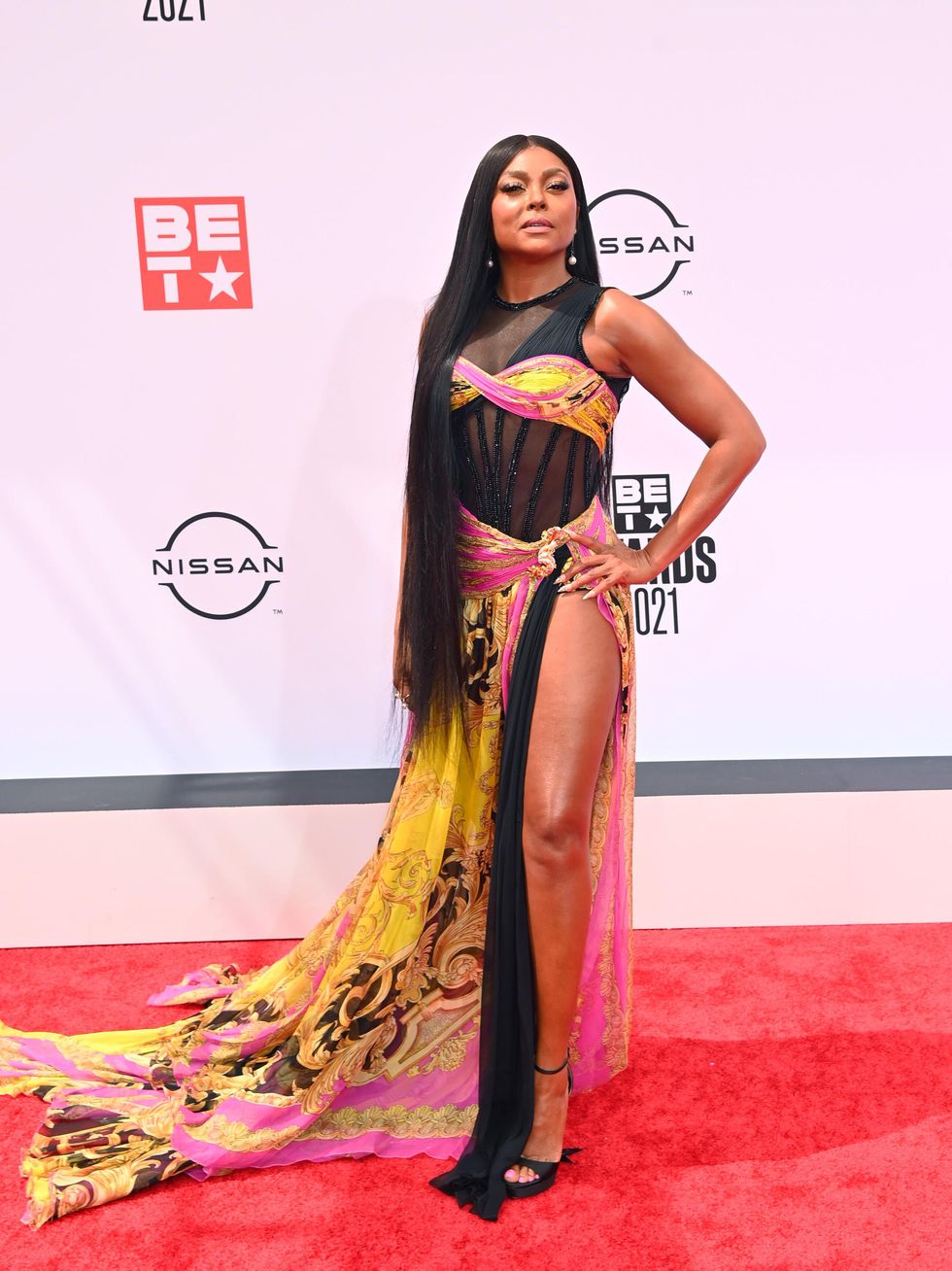 Paras Griffin/Getty Images for BET
We love a hostess with the mostest and this multi-hyphenate boss came to slay dripping in Versace. The high-slit showing off her gorgeous gams, the cutouts, the colors – it's everything. The platform heels and long, silky-straight hair creates a true Hollywood getup ideal for tonight's show.
As the quintessential girls' girl, Taraji told People that she's so thrilled "that young Black and brown girls have a large selection of successful women to look up to like politician and activist Stacey Abrams and historic Vice President Kamala Harris."
Lonnie Chavis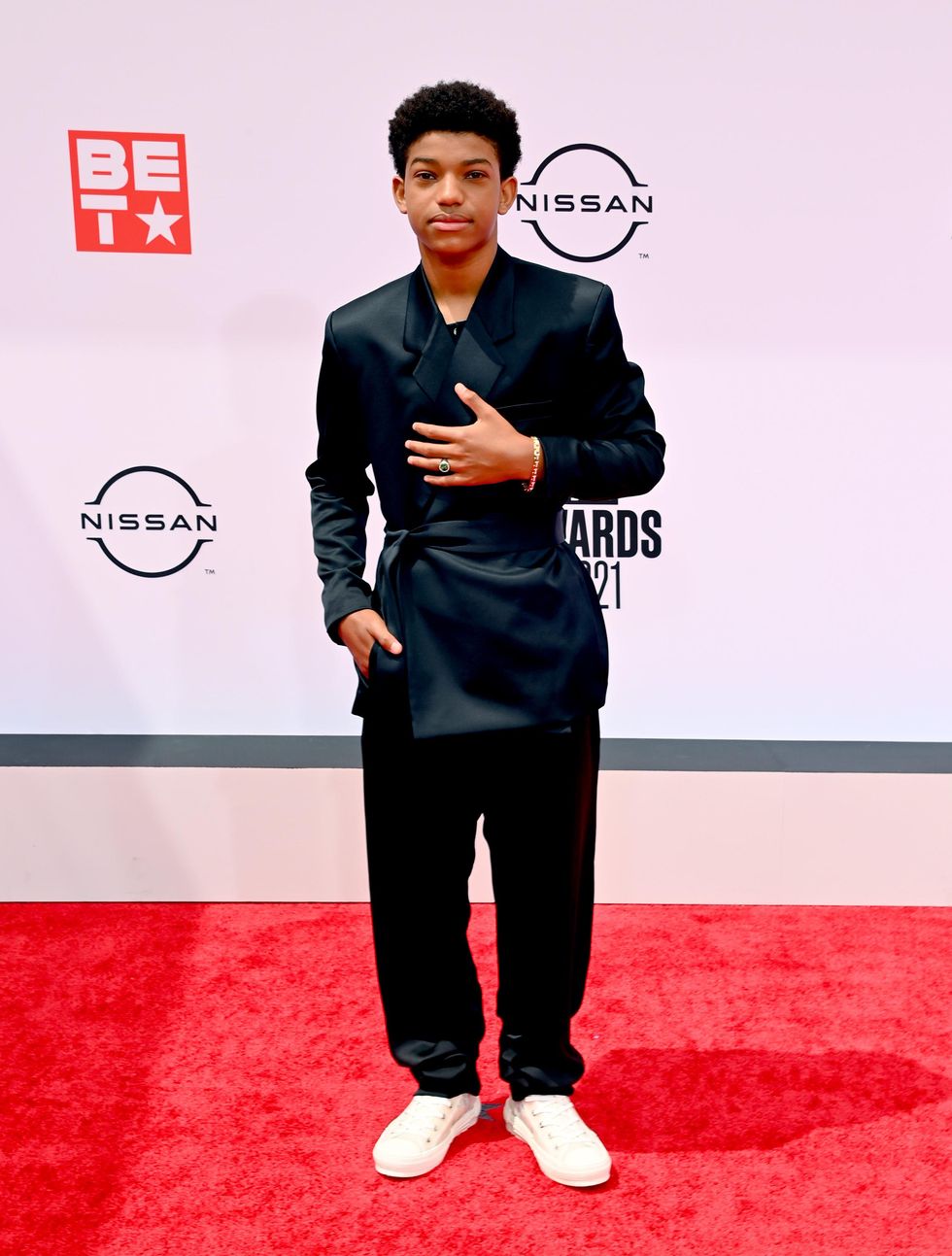 Paras Griffin/Getty Images for BET
Somebody tell Lonnie Chavis that we aren't ready for him to grow up because he isn't Lil Randall anymore. Especially in this Dior fit because he looked fire in the matching silk suit. When he's not making us cry on This is Us, he's apparently showing us Black Boy Joy is so real.
Zendaya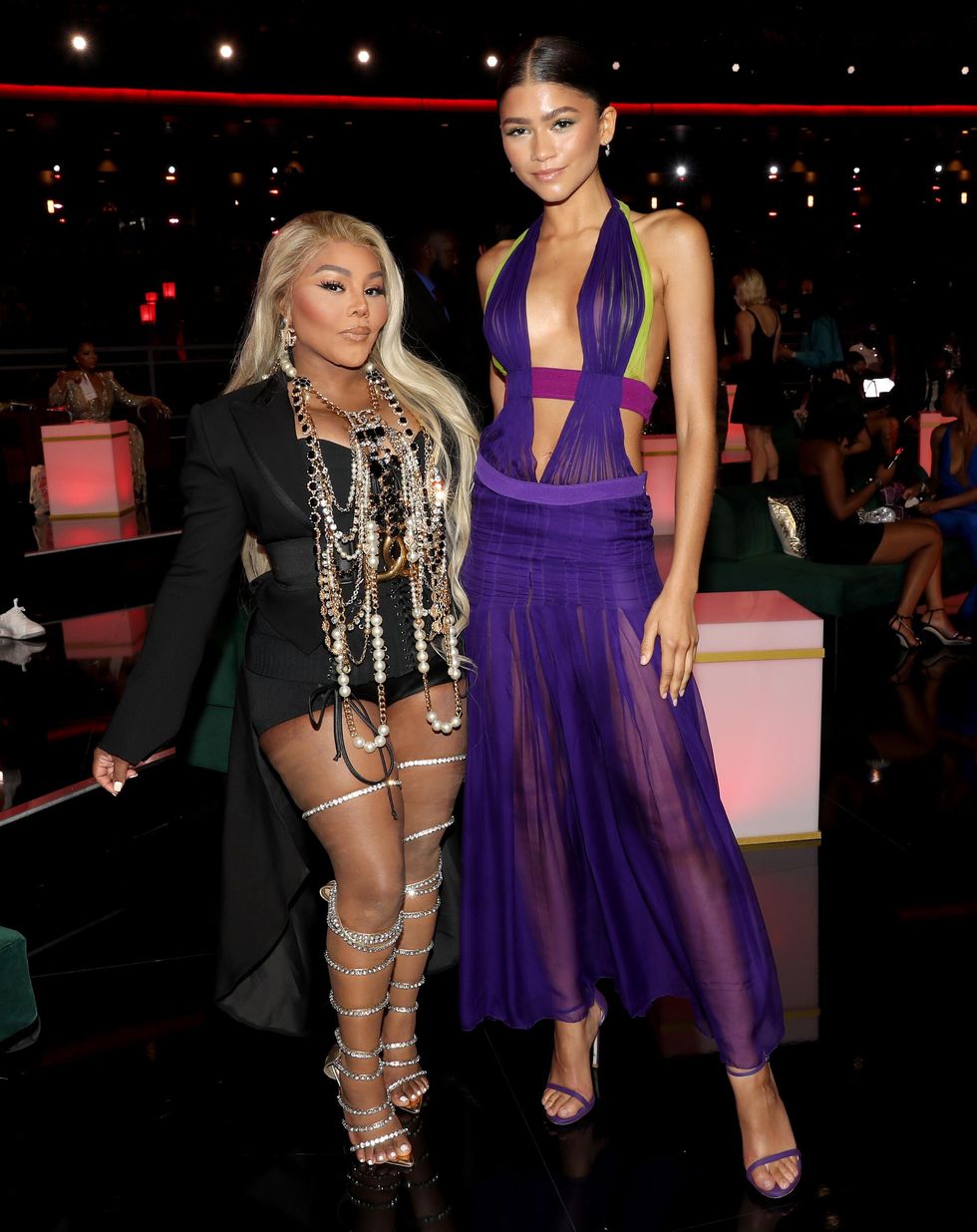 Bennett Raglin/Getty Images for BET
Leave it to the red carpet slayer, Zendaya, to give us all the BET Awards nostalgia we didn't even know we needed. Wearing vintage 2003 Versace, the style icon paid homage to Beyonce by wearing the same dress she donned at the 2003 BET Awards during her unforgettable "Crazy In Love" performance. Zendaya's stylist, Law Roach, always understands the assignment and tonight was no different.
Giveon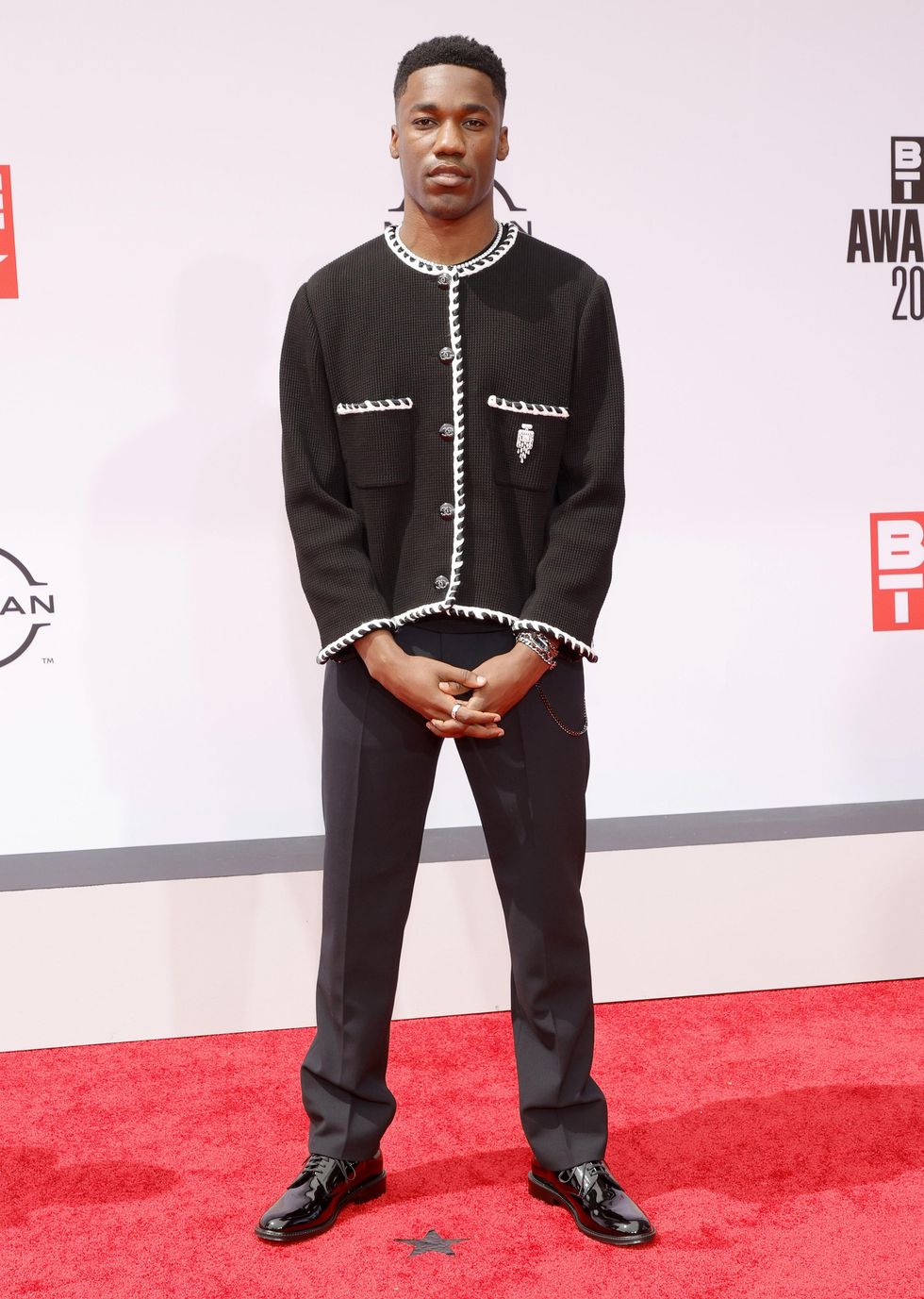 Amy Sussman/FilmMagic
It's not our Heartbreak Anniversary but we are fawning over Giveon's black on black outfit. God took his time with this Black man and we just want to stop and say thank you father!
Saweetie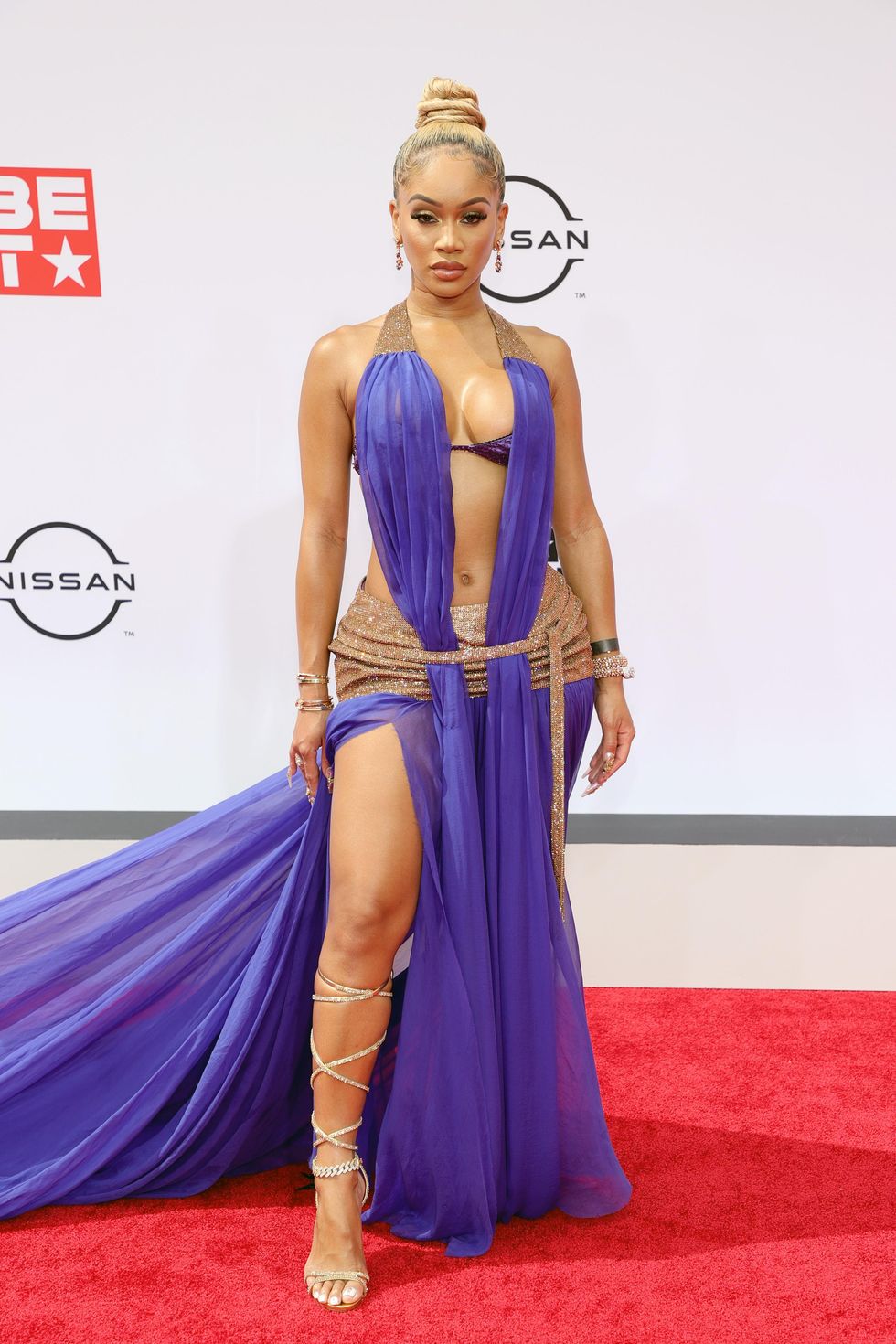 Rich Fury/Getty Images
Our unproblematic queen, and bestie, Saweetie pulled up to the awards in the most queenly Dolce & Gabbana gown. Please get into this makeup look also because she is glowing like never before. It may have something to do with the way she minds her business and drinks her water but that's just our theory.
Lil Nas X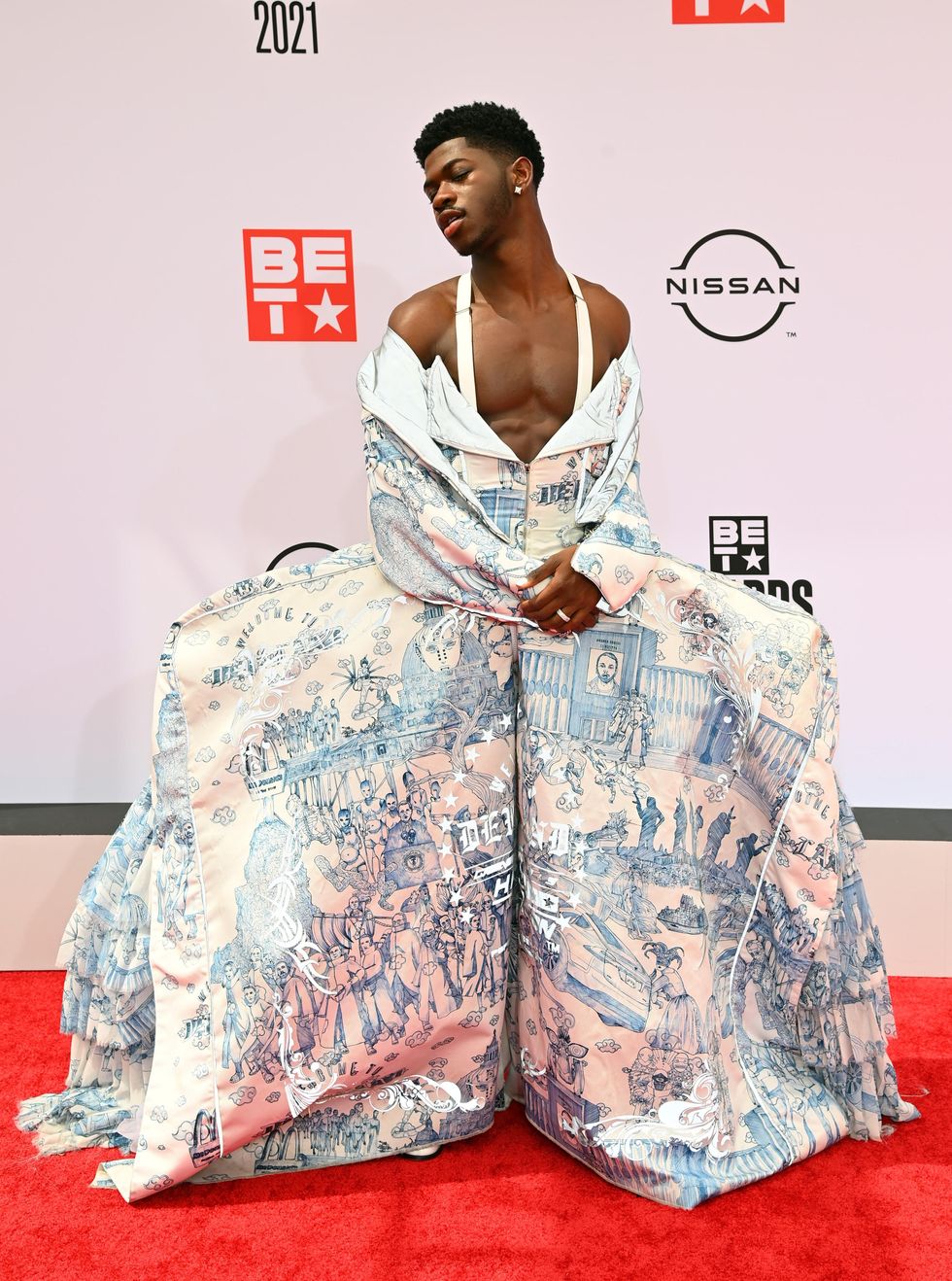 Paras Griffin/Getty Images for BET
"MONTERO" singer, Lil Nas X, glided down the red carpet in a beautifully structured gown. He is living his Cinderella dream and we are so honored that we get to experience his light.
H.E.R.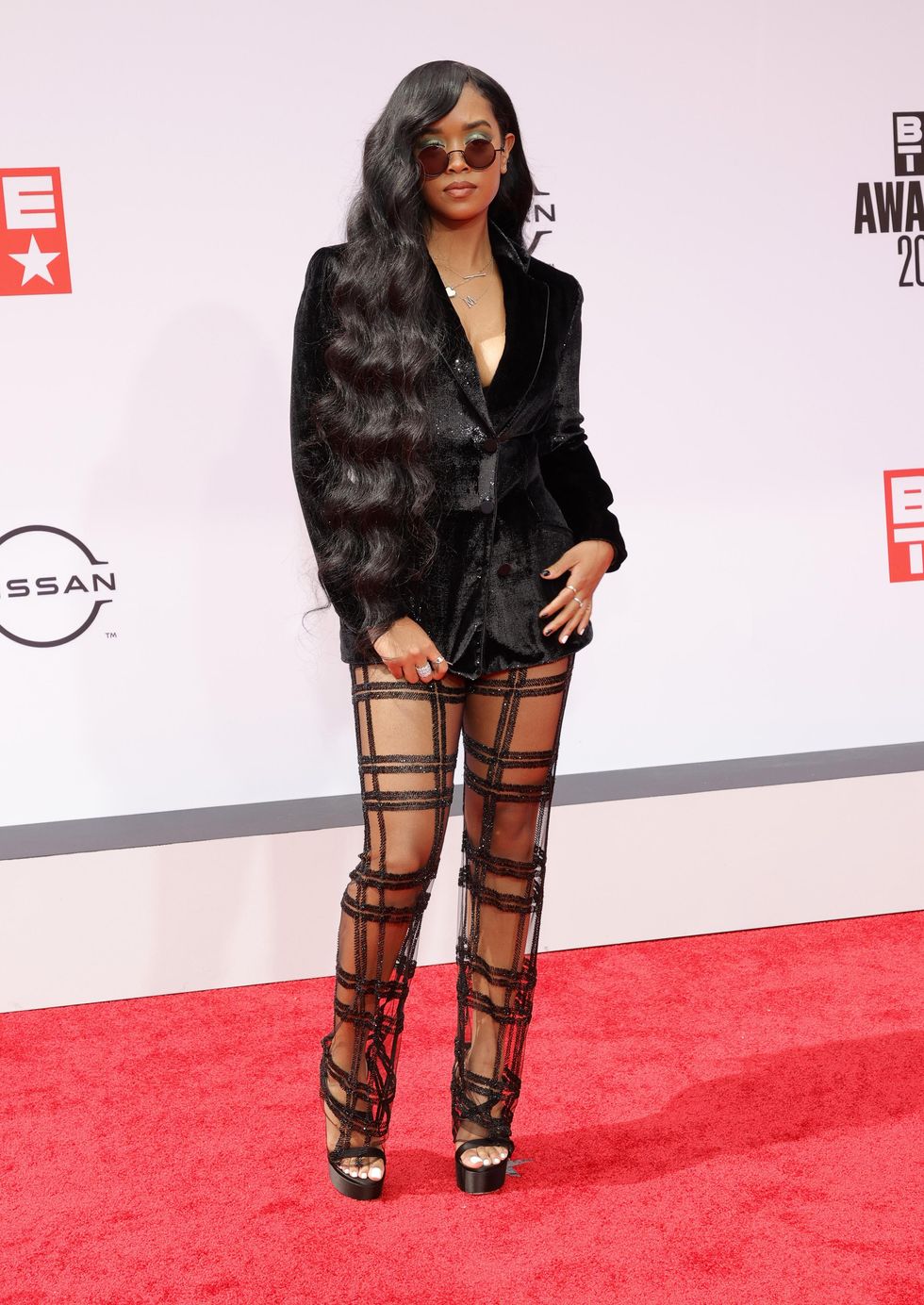 Amy Sussman/FilmMagic
We can always depend on this songbird to serve up a crazy, sexy, cool lewk. Her take on the classic suit matches the star-studded night. Fun fact: H.E.R. is celebrating her birthday today at the BET Awards. What better way to celebrate than at the biggest night for the culture celebrating the amazingness of our Blackness.
Sevyn Streeter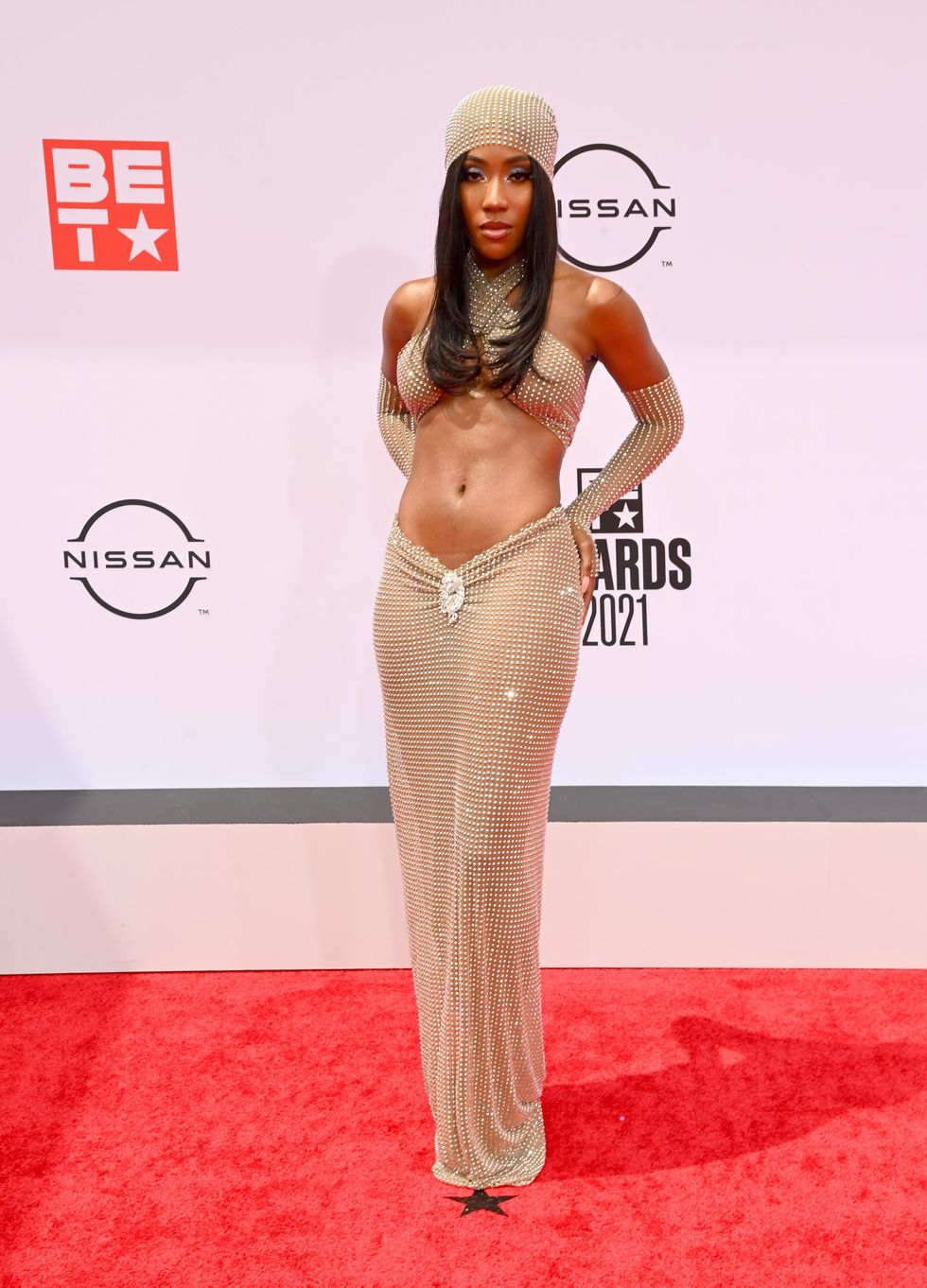 Paras Griffin/Getty Images for BET
Aaliyah is definitely smiling down from heaven looking at Sevyn Streeter in this pearl-embellished ensemble. From her body giving what it's supposed to had gave to the matching headscarf, Sevyn was definitely a style stunner on tonight's carpet.
Chloe Bailey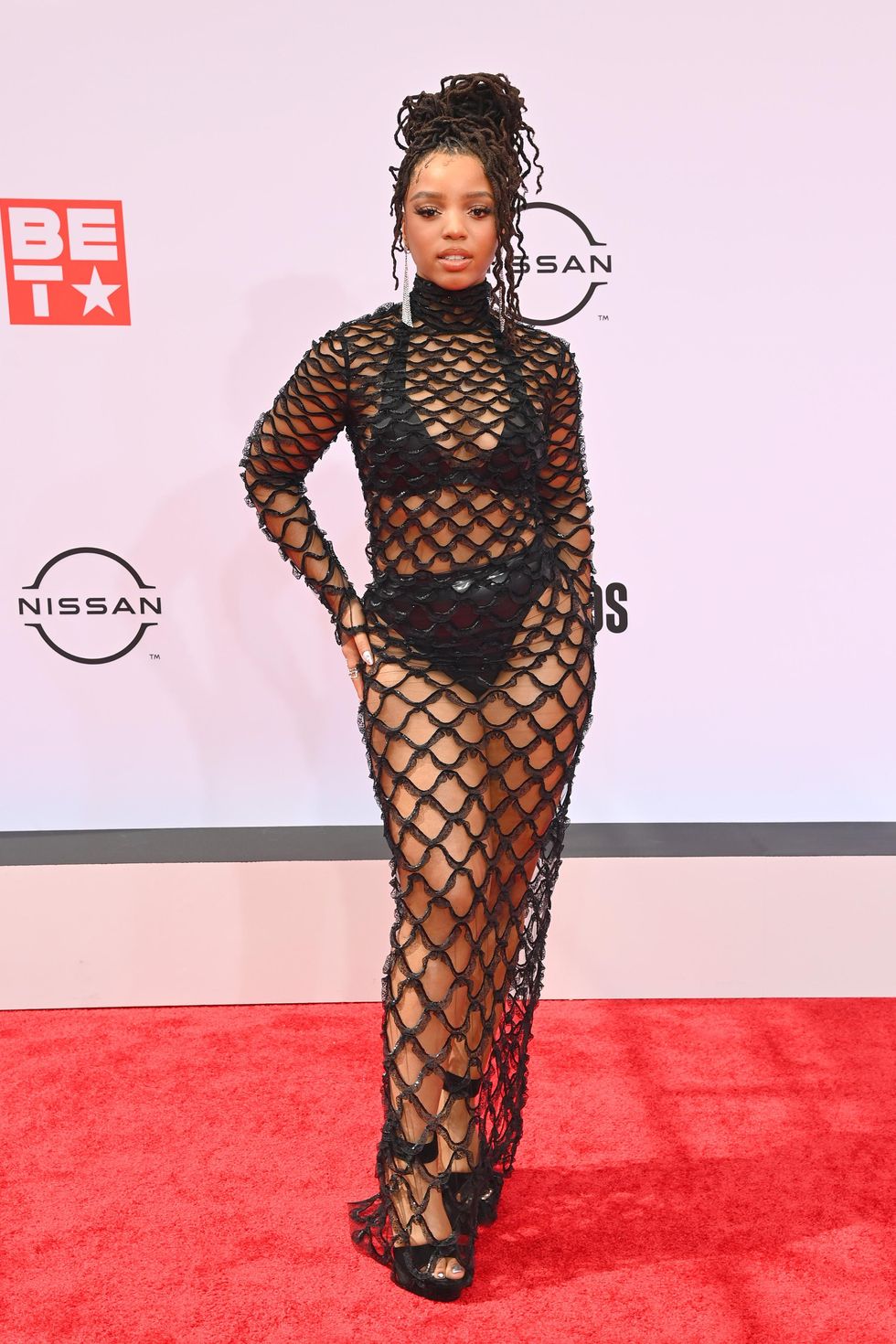 Paras Griffin/Getty Images for BET
One thing about the elder half of Chloe x Halle, she's going to break the internet when she leaves the house. Wearing a lace netted frock with leather undergraments, she is proof that Black girls are straight magic. Even her locs perfectly drape her face because they know their place on an angel's face.
Ciara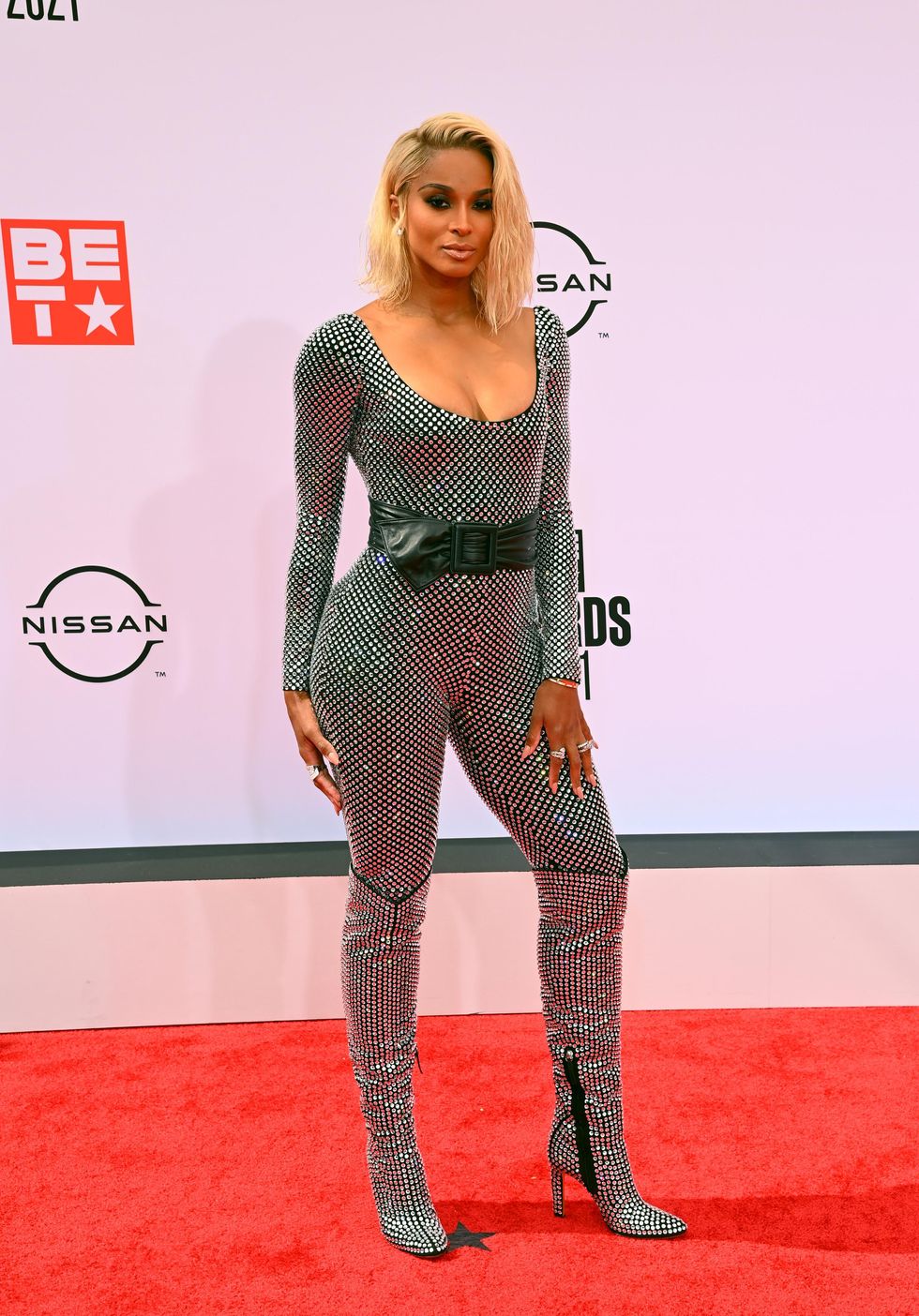 Paras Griffin/Getty Images for BET
Alexandre Vauthier must have sewn this onto CiCi's bawdy because it is perfection. She has always been a vision in her lewks but she has really stepped it up as of late; it's safe to say this is a Ciara stan account.
Tyler, the Creator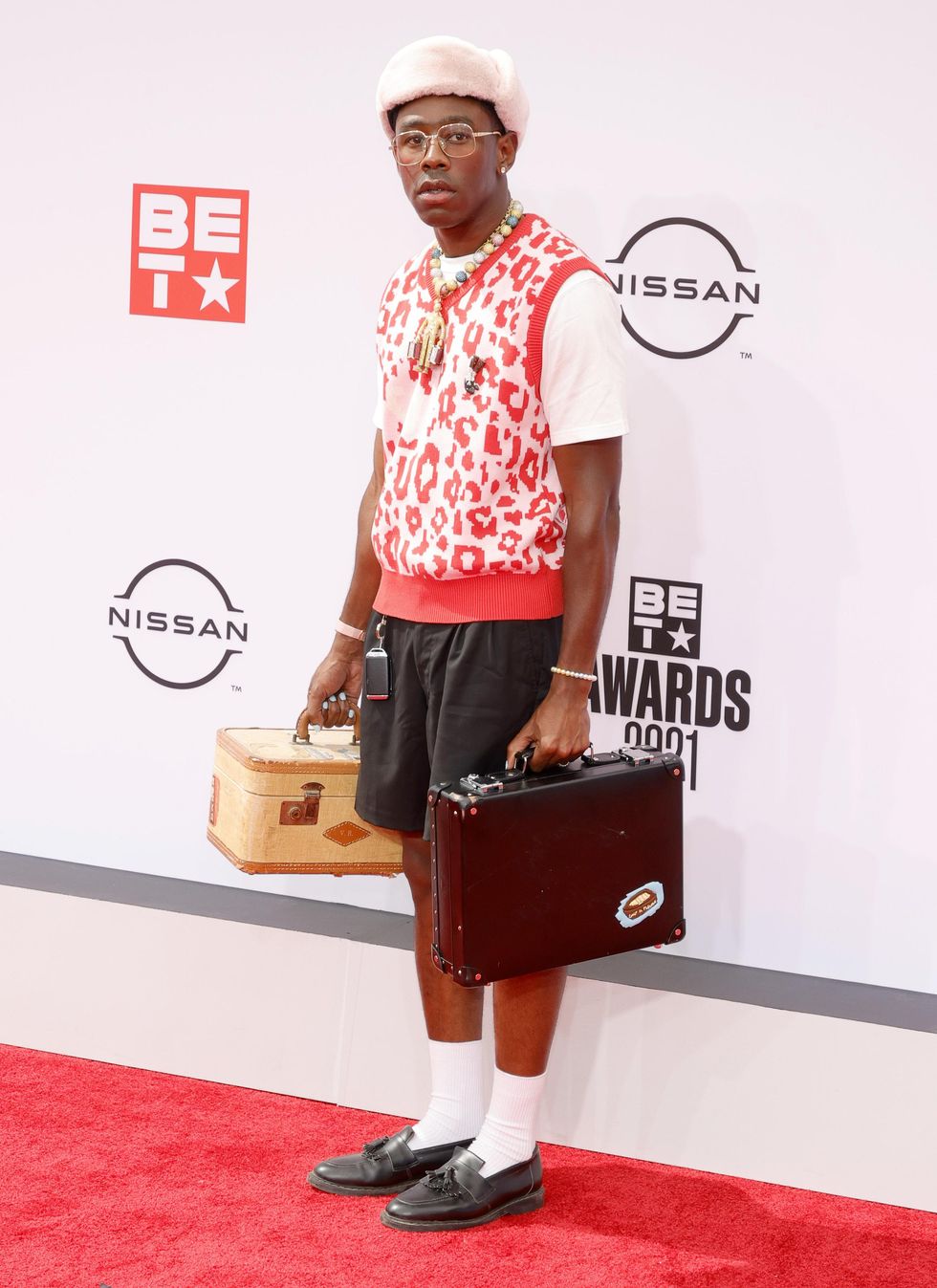 Amy Sussman/FilmMagic
Oh, Tyler. Thanks for being you. We need little Black boys to see your quirkiness and know that it's OK to try different things. We are not a monolith and that's what makes us.
Ashanti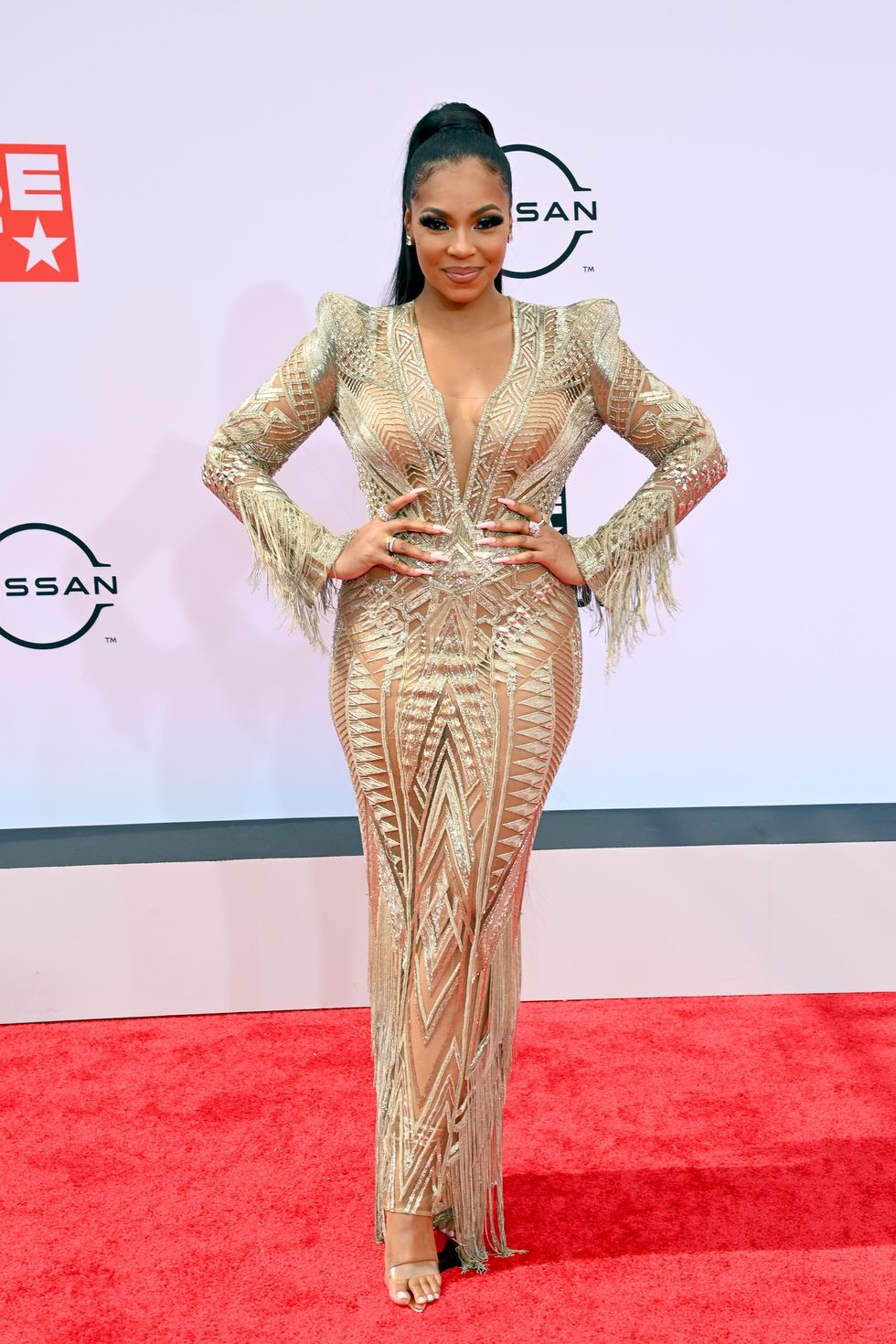 Paras Griffin/Getty Images for BET
Baby, baby, baby, baby, babbbbbyyyyyyy... Ashanti always reigns supreme whenever she graces us with her presence. This Julien Macdonald gown exudes whimsy on the Long Island native's melanated skin. The high pony paired with the plunging neckline deserves its own award.
Join our xoTribe, an exclusive community dedicated to YOU and your stories and all things xoNecole. Be a part of a growing community of women from all over the world who come together to uplift, inspire, and inform each other on all things related to the glow up.
Featured image by Rich Fury/Getty Images
Keep reading...
Show less
Like Love & Basketball, Timbaland, and Bratz Dolls, for many of us, Raven-Symone was culturally defining in the 2000s (high-key, well before the 2000s). The child star went from rubbing elbows with Dr. Huxtable as Olivia on The Cosby Show to starring in her own Disney Channel original That's So Raven. To put it simply, sis has been doing the damn thing for over 30 years!
Recently, the 35-year-old made headlines for getting real about her weight loss journey and losing 30 pounds in three months. Although Raven first broke the news about her 30-pound weight loss last month in an Instagram Live, she went into detail in an exclusive interview with Good Morning America.
"I am low-carb as much as I can be. I do very minimal exercise and I am an avid faster. I make sure I have a minimum of 14-hour fast between dinner and…break-fast."
Throughout the years, weight loss has been a struggle for Raven and she admits to trying most things out there to drop the weight unsuccessfully. Most notably, Raven lost a shocking 70 pounds in 2011. But although news outlets celebrated her, Raven herself isn't proud of that moment.
"The way people were treating me while I was bigger was emotionally damaging so when I lost weight, and I remember the moment when I went on the red carpet, and in my head I was cussing everyone out. I mean, I'm like, 'Wow, now you want to look at me because I'm skinny?' Thanks."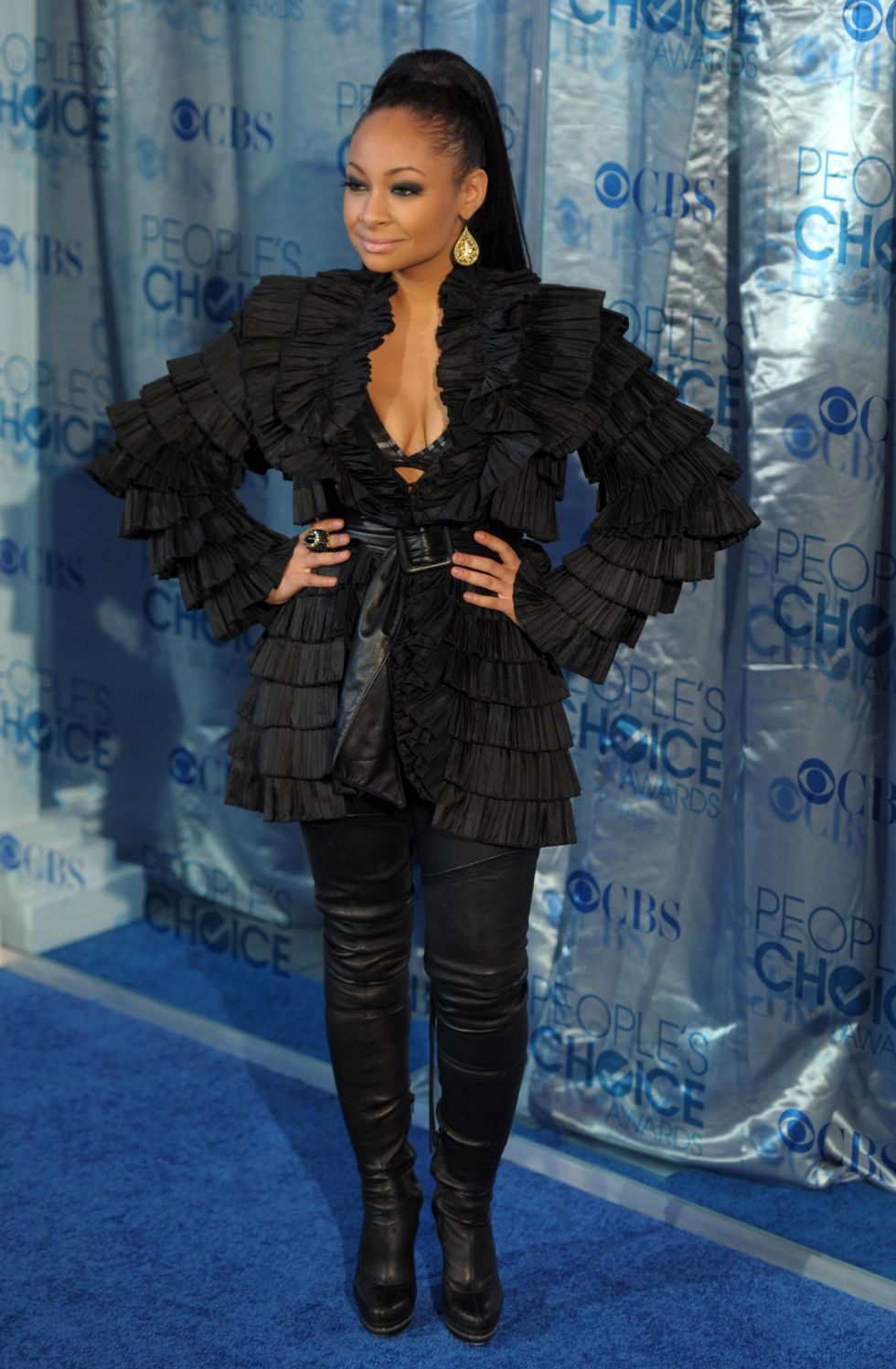 Raven-Symone arrives at the 2011 People's Choice Awards at the Nokia Theatre L.A. Live on January 5, 2011 in Los Angeles, California.
Kirby Lee/WireImage
However, the former child star says this time is different. This time, it's the bigger picture for her. In the past, weight loss might have been about attaining a certain size but now Raven's eye is on a different prize: her health.
"I'm not over here trying to be a little twig... I want to make sure that my body is healthy and prepared to deal with old age."
And while a minimum 14-hour fast might seem extreme, Raven assures the interviewer that she has done the research to educate herself and is fasting daily safely. When she opts for longer fasts between meals, Raven says that she drinks a lot of water, electrolytes, and reaches for the bone broth to sustain her.
She also credits her health goal and the support system she has in her wife, Miranda Pearman-Maday, with helping her stay focused on her journey. All we know is, sis looks damn good and we're excited for her to continue to live her best healthy life!
Raven is not the only star making headlines for their weight loss journeys. Below are four other celebrities staying on top of the health and fitness goals this year so far.
Ciara On Her 30-Pound Weight Loss
Ciara revealed she has lost a total of 39 pounds since starting her WW (formerly Weight Watchers) journey after giving birth to her third child, Win. She captioned a recent Instagram photo:
"Goodbye to those last 10lbs I've been working on these past 5 weeks, Hello to me-pre baby weight! I'm so proud of myself– down 39 pounds on my @ww journey! The @ww app really made the process easy and fun!"

And with how WW is set up, Ciara didn't have to be restrictive about what she ate in order to achieve her results. However, she and hubby do credit Peloton as their "favorite thing" to do together (and we're sure that hobby doesn't hurt). The WW ambassador also shared in a statement:
"Looking back on my journey, I feel so proud and fulfilled. Yes, I had a goal weight in mind, and I lost 39 pounds on WW!! But I have also gained so much more than what I had set to lose. I've enjoyed every step of the process, and loving my curves along the way that my baby gave me! I am honestly feeling stronger than ever and embracing life with my beautiful family and three babies – you can't put a number against that."
Tiffany Haddish On Her 50-Pound Weight Loss
Over the years, Tiffany Haddish has shed an impressive 50 pounds in her overall weight loss transformation. In a recent interview with Extra, she jokingly stated she was trying to "get my high school body back." Her favorite workout of the moment?
"At first, I was doing like 15 minutes running, you know, running on the beach for 15 or 20 minutes, or my Peloton. But then I got these Oculus glasses that changed the game. I'm kind of addicted to the VR and this app called 'Supernatural'…I'll do 20 minutes, or maybe 10 minutes in the morning, and I'm fiending to get back on."

In regards to where she is with her body now, she noted:
"I discovered I'm stronger than what I thought I was. I definitely have more endurance than I thought I have."
Sherri Shepherd On Her 20-Pound Weight Loss
OK, but have y'all seen Sherri Shepherd lately? Sis looks tf goodt! The comedian and current Dish Nation co-host spoke previously about her 46-pound weight loss but also went on another weight loss journey this year. Sherri has lost 20 pounds this year so far. Health is wealth for Sherri and in April, she told PEOPLE:
"At 54, this is best I have ever felt. My goal is to be living a long and active life with my son Jeffrey, who shares the same birthday as me."
Thanks to an active lifestyle and a weight loss program, Healthy Wage, Sherri was able to meet her goals and then some.
"I walked 3 miles, four times a week, did Zumba in my backyard and I started boxing. Now, I roller skate three times a week and I'm also taking pole dancing lessons, and call myself a pole-dancer-like-ish woman!"
Exercise is important but diet is integral. Sherri says she does a combo of intermittent fasting and keto diet.
"I had already been off sugar for two years; so I then made the difficult decision to give up dairy, pork and beef. I love eggs with avocados, onions and peppers and grilled chicken and salads. I love to make kale chips as a snack. I also started cooking my meals, which has made a huge difference because I know exactly what ingredients are in the food I prepare."
LeToya Luckett On Her 30-Pound Weight Loss
LeToya Luckett is on a weight loss journey to lose a total of 50 pounds after giving birth to her second child with her former partner, ex Tommicus Walker. So far, the singer/actress has shed 30 pounds. In addition to an active lifestyle, she also credits Body Complete RX for helping her meet her goals:
"Here we are month 3 update on my weight loss journey with @bodycompleterx 🙌🏽 I'm officially now 30 lbs down and feeling sooooo good y'all!! Their trim system is theee truth! So happy I'm starting to feel like myself again. Only 20 more pounds to go!"
Featured image by Amy Sussman/Getty Images
Keep reading...
Show less
Here's something that will make you wonder where the time went: Ciara and Russell Wilson welcomed their third child Baby Win to the world almost a year ago. Ciara, who's also mother to Sienna (4) and Future (7) couldn't be more excited to watch him grow and she's opening up about life after baby number three and the transition of going from two kids, to three.
In fact, the adjustment has been similar to what any mom of three will tell you. From becoming more lax with each child that comes along, to figuring out how to divide your time. In an interview with POPSUGAR, she divulged in what the Wilsons are up to since welcoming the newest family member.
Continue reading for our favorite highlights!
On the transition from two to three kids:
"From day one, of course, I always wanted to love my babies as best as I can; that never changes. But I will say, I do think when you have baby number one, you're so particular about everything. You're like, 'Oh, you dropped that, I got to rinse it like crazy," and now it's like, 'Alright, we got the five second rule.'"
The "Level Up" singer even opened up on how the Wilsons juggle bedtime, which they have adopted the same mindset for a smooth nightcap. Every night before bed, she and Russell have "book time" and read to the kids, and while they usually pick out threeish books a night. But with three kids, they decided they needed a better game plan. She jokes:
"Future's seven, Sienna's four, so their books are a little different. Win, obviously, his books are different. So I'm like, Win is just going to just be reading some big kid books, because we're going to have to tag team. Everybody's going to be reading the same book and if you don't understand it, you're just going to get better."
On raising a family during a chaotic year:
"I think kids are way more resilient and have way more fight than we even know. They really adapted well. When President Joe Biden and Kamala Harris came into office, I remember Sienna saying, 'The COVID's over!' Just the cute little jokes and things that they made of it. They have been able to bring a lot of light in the midst of the storm and that's been a blessing."
But one thing that took their mind off of the fact that outside was shut down, was her kid's love for TikTok.
"Sometimes it's like herding cats when you're trying to get kids to do a TikTok and focus. But they managed to pull together some seriously impressive videos and entertain themselves. My 'Got Me Good' song was also one of the first TikTok songs that was really starting to build up and go viral on TikTok, and Sienna the other day said, 'My back is aching and my bra too tight' in the car. That was cute."
On sharing her music with her kids:
Ciara may not be a fan of listening to her own music, but she loves seeing her kids jam out to her songs.
"I knew 'Level Up' was a hit from my kids' reactions, I knew that was their favorite. They asked for it over and over... It's cute when they know it's me. They're like, 'That's Mommy.'"
On her plans for Russell for Father's Day:
Our girl didn't go into detail about her plans for her hubby this year, but she did mention that she had to get creative this year.
"I just always want him to feel as loved as he makes me feel. And for him to really feel proud of himself on that day, but not just that day, every day really. Because he's an incredible father day in and day out."
On how she's made time for self:
Ciara says that taking care of her skin and body, as well as finding ways to be creative have all been forms of self-care this year. She even revealed that she's recently taken up...pickle ball.
"It's been a unique way for me to sweat, but also just have a good time and really love myself. I think when the world slows down, it's good to slow down too, sometimes. Step back and reevaluate. I've been able to do a little bit of that too, and prepare my game plan for all the things that I want to accomplish next."
We love to hear that she's also prioritizing herself, get it Ci!
Are you a member of our insiders squad? Join us in the xoTribe Members Community today!

Featured image via Stefanie Keenan/Getty Images for TOM FORD: AUTUMN/WINTER 2020 RUNWAY SHOW
Keep reading...
Show less