While Ciara's claim to fame is singing and dancing, she has been taking steps to become a mogul over time. The southern beauty became an instant star after releasing her debut album Goodies in 2004 with the lead single of the same name that reached number one on the Billboard charts. From there, she one, two stepped her way into being a worldwide sensation with her Crunk&B sound and unbelievable dance moves. While Cici will always be known for her legendary moves and bops, she has shifted her focus and has been working on expanding her brand.
The mother of three made headlines recently when she revealed that she bought back her masters while starting her independent label Beauty Marks. And while she is the CEO of her own music imprint, she has also been making waves in other industries because a real boss diversifies their portfolio.
Here are five businesses that Ciara has launched over the years.
Skincare
The Grammy award-winning singer just announced that she will be launching a skincare line called OAM, which stands for On A Mission. She made the exciting announcement on Instagram. "You've been asking… and here it is. Meet my secret sauce ✨Years in the making. Coming 09/15/22. #OAMskin," she wrote.
In an interview with Allure, the singer shared her motivation behind the line. "I used to think I was my most beautiful self with all the makeup on," Ciara said. "But that's not real. That's not how to live….While being on a mission to do so many things that I want to do, it's important to me that I'm loving who I am at the core and loving myself when there's not a whole lot going on."
The line, which is set to launch on Sept. 15, features Vitamin C Hydrating Cleanser, Vitamin C Brightening Pads, 20% Vitamin C Brightening Serum, Vitamin C Eye Revitalizer, and Vitamin C Radiance Moisturizer.
Fashion and Accessories
In 2021, Ciara released a fashion line called LITA by Ciara. LITA, which stands for Love is the Answer, is under her and her husband Russell Wilson's brand The House of LR&C. The line features dresses, matching two-piece 'fits, shoes, and accessories.
​She also launched a travel accessories line called Dare to Roam which has a collection of fanny packs, duffel bags, backpacks, and more. The collection can be found at Kohl's and Target.
Spirits
Cici has followed in the footsteps of the likes of Diddy and Nicki Minaj and decided to throw her hat into the wine and spirits game. In 2019, Ciara co-founded Ten to One Rum with entrepreneur Marc-Kwesi Farrell. She is also an investor in the brand.
In an interview with Forbes, she revealed why she jumped at the opportunity to join the spirits community. "When I get a chance to do things and projects like this, I'm pretty involved," she said. "I look a step before the actual product to work with really great business partners."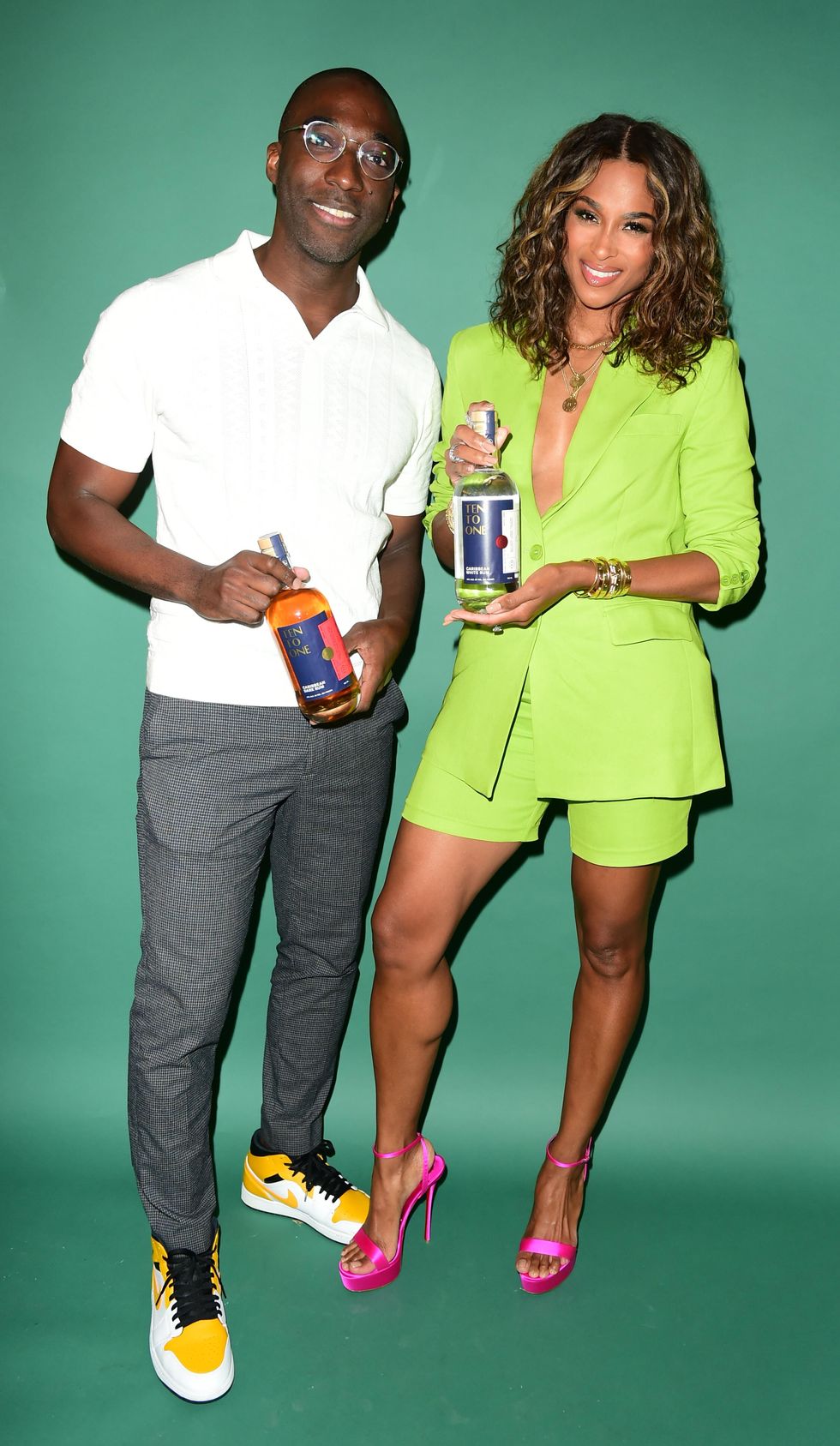 Founder of Ten To One Rum Marc Farrell and co-owner of Ten To One Rum Ciara.
Vivien Killilea/Getty Images for Pronghorn
​"For me, all the boxes were checked. This is a space that not too many women occupy, and I saw a tremendous opportunity as an entrepreneur, and as a woman of color."
Fragrance
The "Jump" artist also has a fragrance with Russell called R&C. The fragrance, which can be found in Nordstorm, has three collections such as the Fragrance Duo, the Harmony Duo, and the Intense Duo. The bottles are magnetic and they click together for a unique scent. In 2021, their Harmony Duo perfume won gold at the Pentawards, which is a prestigious award for packaging and design.
Featured image by Vivien Killilea/Getty Images for Pronghorn
Since their union, Ciara and Russell Wilson have been admired and viewed as Black love and Black excellence. From how they complement each other on the red carpet to their cute family moments that are often shared on social media, fans have deemed Ciara and Russell goals. They constantly gush about each other in the press and on social media. Who can forget the Denver Broncos quarterback begging the "Level Up" artist for a fourth baby while she was hosting Ellen?
And who can forget Ciara revealing her prayer for landing Russell, which fans have dubbed the Ciara prayer? Not only are they partners in love but they are also partners in business and philanthropy. They opened the Why Not You Academy together in Seattle and have given back to the community on countless occasions. The 2014 Super Bowl champion wrote a love letter to his wife for Sports Illustrated where she modeled for the swimsuit issue and shared what it was like opening the school together.
"When Ciara and I visited during the opening of the school, it was amazing to see how excited the students were to have her there," she said. "She didn't just speak to them. She spoke life into them. She told them to write out their goals, to envision what's next—and then to go out and do it. What struck me was the glow and smiles on the kids' faces, then and in the moments that followed, when we checked in and had the students share their progress toward reaching their dreams."
He even shared how inspiring she is and how excited he is to see her bring happiness to others' lives. "She inspires people because she connects with them. She tilts rooms when she walks into them; it really seems like all the furniture just slides her way," he said. "Maybe it's an interaction with a fan, where she'll suggest they take a selfie together before the fan can even ask. Or it might be a far more serious situation. I remember our first visit to Seattle Children's Hospital when a mother of a boy who was ill held on to her for a good five minutes without letting go. That's the kind of woman Ciara is—a ray of light."
Their love makes everyone smile as well as what they say about each other. Here is everything Russell has said about his wife Ciara over the years.
Love at First Sight
In July 2015, Russell participated in a Q&A with The Rock Church in San Diego, and he shared that he was interested in Ciara before ever meeting her. "I told somebody that's the girl I want to be with before I even met her," he said. "I was like 'I'm probably going to end up with Ciara.' She's a special girl."
Being Abstinent
In the same interview with The Rock Church, the Denver Broncos quarterback opened up about being abstinent from sex. "I asked her, 'What would you do if we took all that other stuff off the table and did it Jesus' way, no sex? He explained. "I knew God had brought me into her life to bless her and for her to bless me and to bless so many people with the impact that she has and I have. We're not going to be perfect, by any means."
Endless Love
After losing a Seattle Seahawks game, Russell gushed about his wife in a January 2017 Instagram post. "I will forever win bc I get to come home to you every night. The love of my life. I love you. This past year has been full of so much joy & happiness. From getting Married to having our little one on the way, to your constant endless love. I couldn't be more grateful to have you in my life Mrs. Wilson. You make everyday a perfect day. #ForeverGrateful."
Russell's Prayer
While the Ciara prayer has been widely popular among fans who want to find a love like the singer, Russell shared what his prayer was for finding a wife. In the prayer, he said that he wanted a woman of faith, "a woman who was gonna love me the way that my mom loved my dad when he was on his deathbed" and "a woman who was gonna tilt the room."

First Date
During an appearance on Kevin Hart's Laugh Out Loud radio show, Russell recalled his first date with the "Goodies" singer and the line he used that won her over. "First day we met — and we had been talking for two-and-a-half hours, hanging out — she saw the wallet, sitting on the table. She said, 'What the hell is that? You're losing with that,'" he said. "I put my finger [up] and said, 'First of all, with me, you're never losing.'"
"'Second of all, that wallet, that shows consistency. That's what you're going to get from me. You're going to get somebody who is consistent for you every day. Inside that wallet, there's something that's real in there.'"
Biggest Fear
The power couple were on the cover of the February 2021 issue of GQ and during the couples quiz, they were asked about their biggest fears. Ciara said her biggest fear was not being prepared, but the Denver Broncos star said his biggest fear was "losing you."
Proud Hubby
In the Sports Illustrated issue, Russell also shared how proud he was of his wife and the goals she has been able to reach.
"As you can probably tell, I'm incredibly proud of my wife. And now that she's on the cover of SI Swimsuit, that's one more thing for me to take pride in. I know it's something she's always wanted. And I know she'll use the visibility that comes with being on the cover to inspire even more people—not only as a mother and the beautiful angel and the powerful woman that she is, but also as the businesswoman that she is, the fashion icon that she is."
Featured image by Lionel Hahn/Getty Images
Ciara is gushing over her friendship with tennis great Serena Williams. The 23-time Grand Slam champion was recently on the cover of Insider's first digital issue and in the interview, the superstar singer was asked about her bond with Serena. The two have been friends for many years and have supported each other through the milestones in their lives.
Cici has been there for Serena's tennis matches, wedding, and baby shower. In fact, they were both pregnant at the same time with Serena expecting her first child Alexis and Ciara expecting her second child Sienna. Their daughters also had their first playdate while they were both in Cannes in June 2019.
​"The moments I cherish ❤️. @serenawilliams and I with our girls in Cannes. #SweetMemories #MomLife," the "Goodies" singer wrote in the caption.
The tennis champion also attended Ciara's big Las Vegas girls' getaway back in 2016. In the Insider story, Ciara shared the key to their long-lasting friendship in an email.
"I think the key to our friendship is the fact that when we get together it's not about what we do in our professional lives — it's about being free to experience our authentic selves with each other," she wrote. "The world gets to see her passion for tennis when she's on the court, but behind the scenes, she carries that same passion and enthusiasm."
Serena also shares that same passion and enthusiasm for business. The 40-year-old multi-hyphenate created an investment firm called Serena Ventures where she focuses on providing funding for women and Black people. With all of her career moves, the mother of one admitted that she loves to take on challenges and prove to others that you can do anything you set your mind to.
"Whether it's venture people saying that I shouldn't be doing it, or it's tennis when people said I'll never be good at it, I do think there's a part of me that always will enjoy proving people wrong," she said. "And sometimes you just need something to feed the fire, right?"
"I'm like, 'Oh that's what I needed to hear. You're going to regret what you just said.' But that's me, and growing up behind Venus, I had to have that personality."
Featured image by Allen Berezovsky/Getty Images
Ciara one-two-stepped her way into our lives over two decades ago and she's been giving ever since. I remember wanting to be just like her as I entered high school. She was beautiful, talented and an all-around five-star chick. From her style to the way she just seems so effortless, she was all that I wanted to be. To this day, she is still goals. Ciara once said about style, "I believe a person's style is an expression of who you are - way more than dancing."
In December of 2020, she created The House of LR&C, a fashion house that intersects fashion and philanthropy and that's when my love for the ATLien grew stronger. Ciara stated in a press release:
"Fashion has always been my avenue for creative self-expression, and throughout my journey, I've always been looking for a brand that's a one-stop-shop, from investment pieces to budget-friendly items."
The fact that she is using her platform to create a line that can be a woman's best friend in fashion speaks to why she deserves multiple bouquets of flowers. So we are going to do just that. Ahead, find an assortment of Ciara's most memorable looks which makes up one hell of a style evolution.
2005: 10th Annual Soul Train Lady of Soul Awards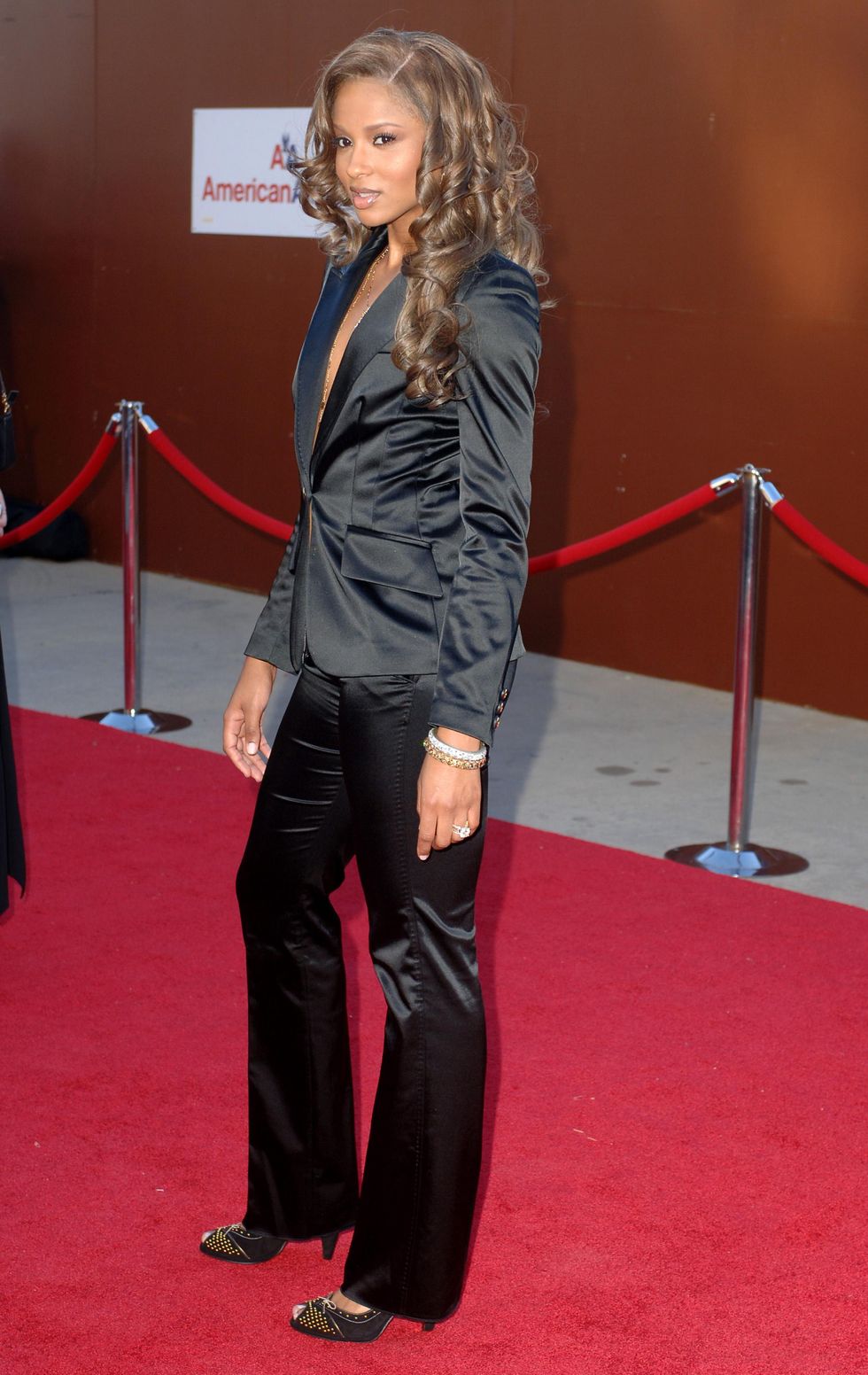 At the Soul Train Lady of Soul Awards, Ciara opted for a black satin suit with black open-toed heels. At this point in the game, the singer was still figuring out how to make her mark on the carpet but it was still very fitting for the year 2005.
2006: 48th Annual Grammy Awards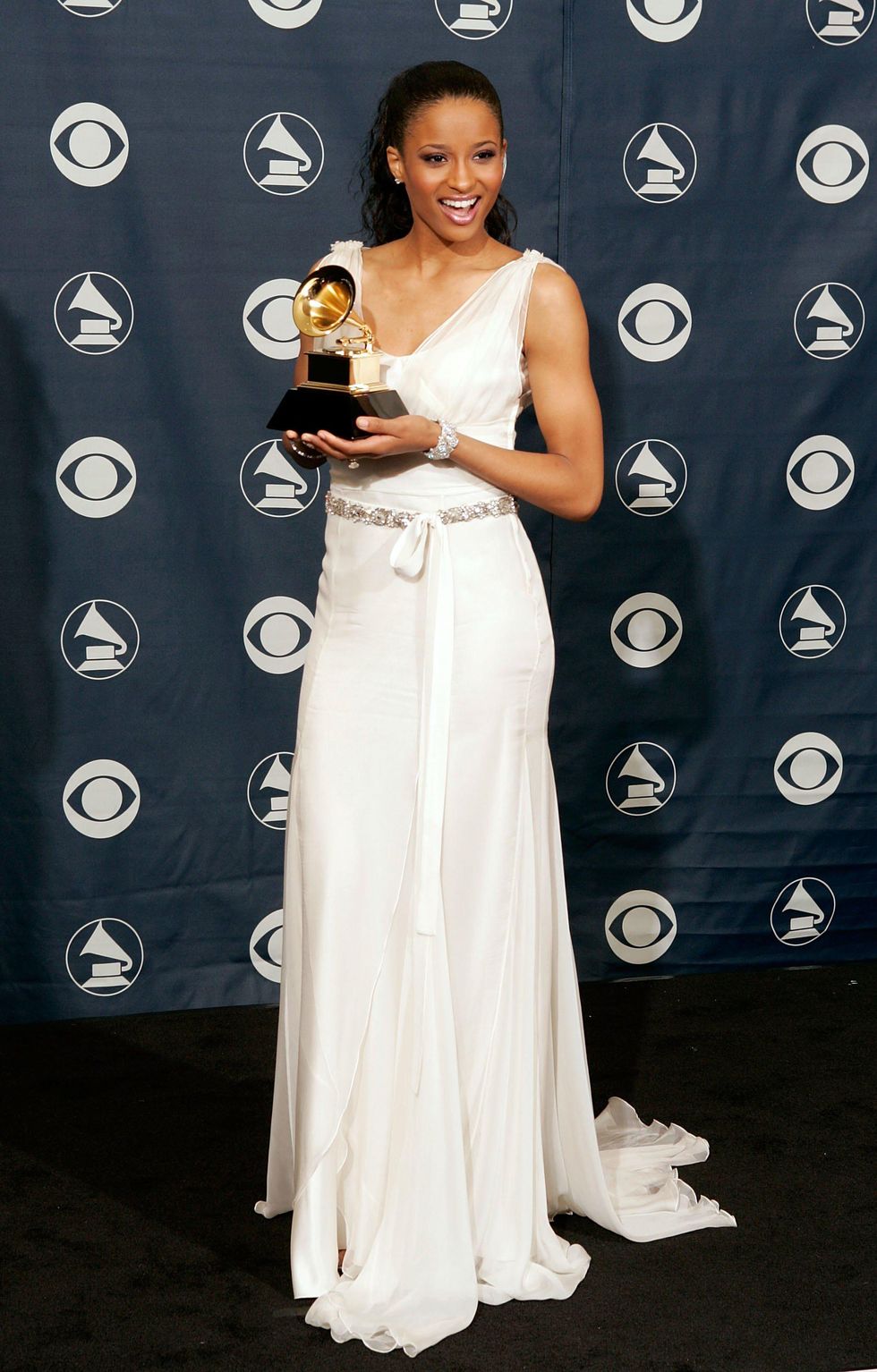 Kevin Winter/Getty Images
Fast forward to 2009, you see Princess Ciara draped in a beautiful and delicate white gown. This was also a monumental night as she won her first Grammy for Best Short-Form Music Video for "Lose Control," featuring Missy Elliott & Fat Man Scoop.
2011: 53rd Annual Grammy Awards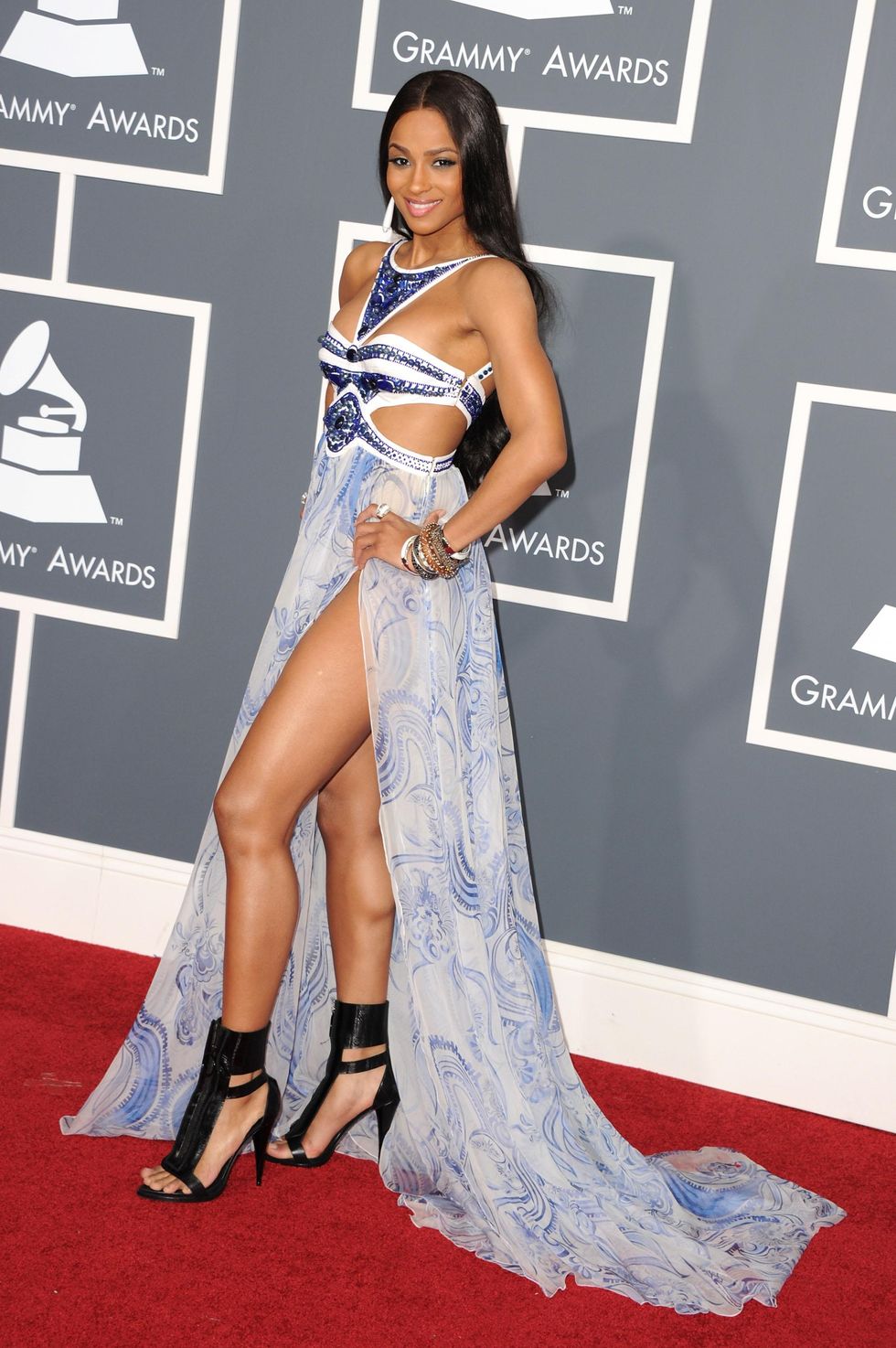 Jason Merritt/Getty Images
By 2011, our favorite dancer realized her love for high slits. Ciara wore an Emilio Pucci Spring 2011 dress featuring cutouts and an extra-long train to grace the red carpet.
2012: MTV Movie Awards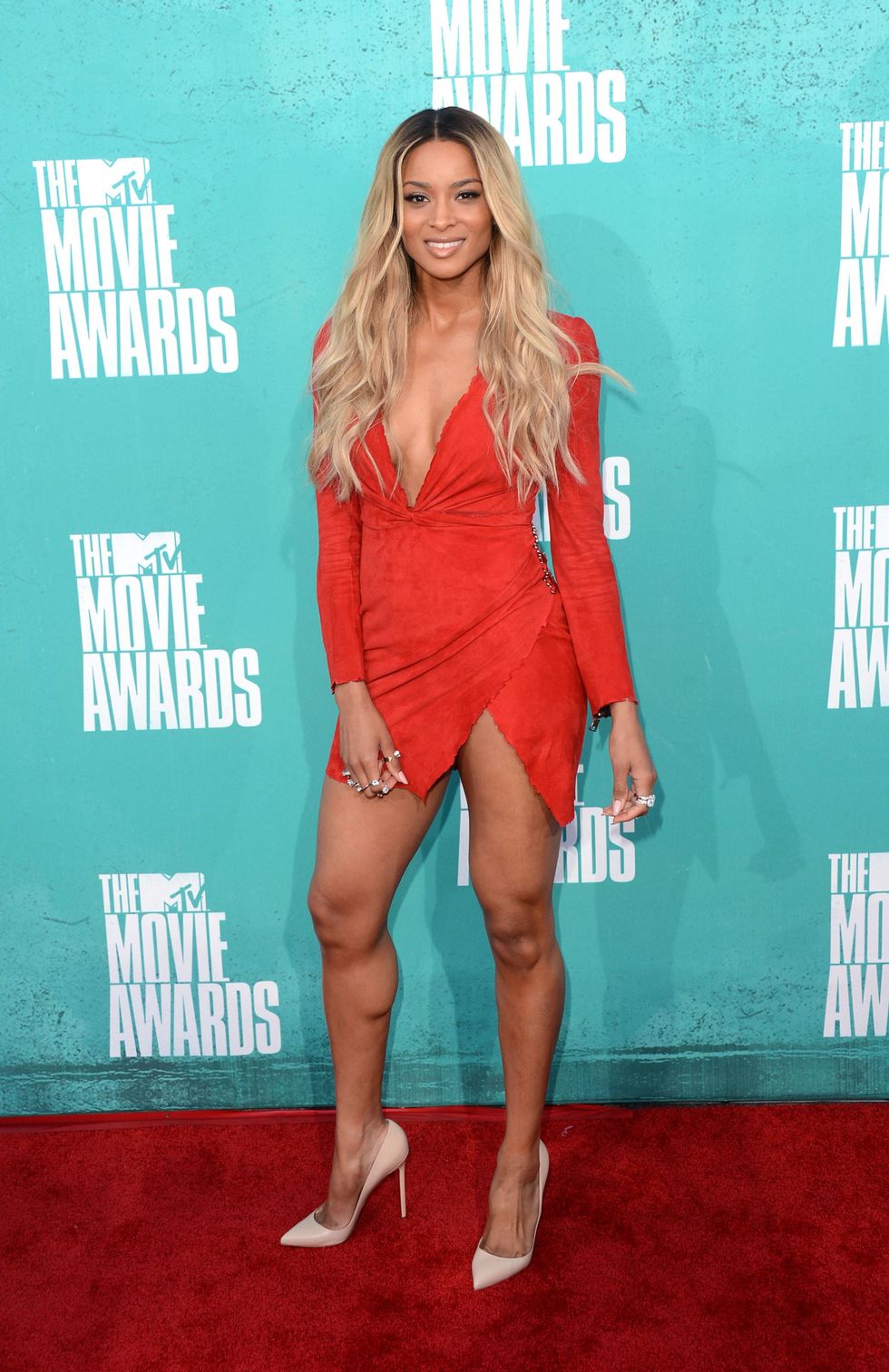 Jason Merritt/Getty Images
Is it us or do we see Ciara stepping into her grown and sexy bag on this red carpet? She brought the heat to the carpet in a red, hot Balmain dress paired with the nude Christian Louboutin 'Pigalle' pointed-toe pumps. It's a timeless look that could be worn in any era.
2014: 56th Annual Grammy Awards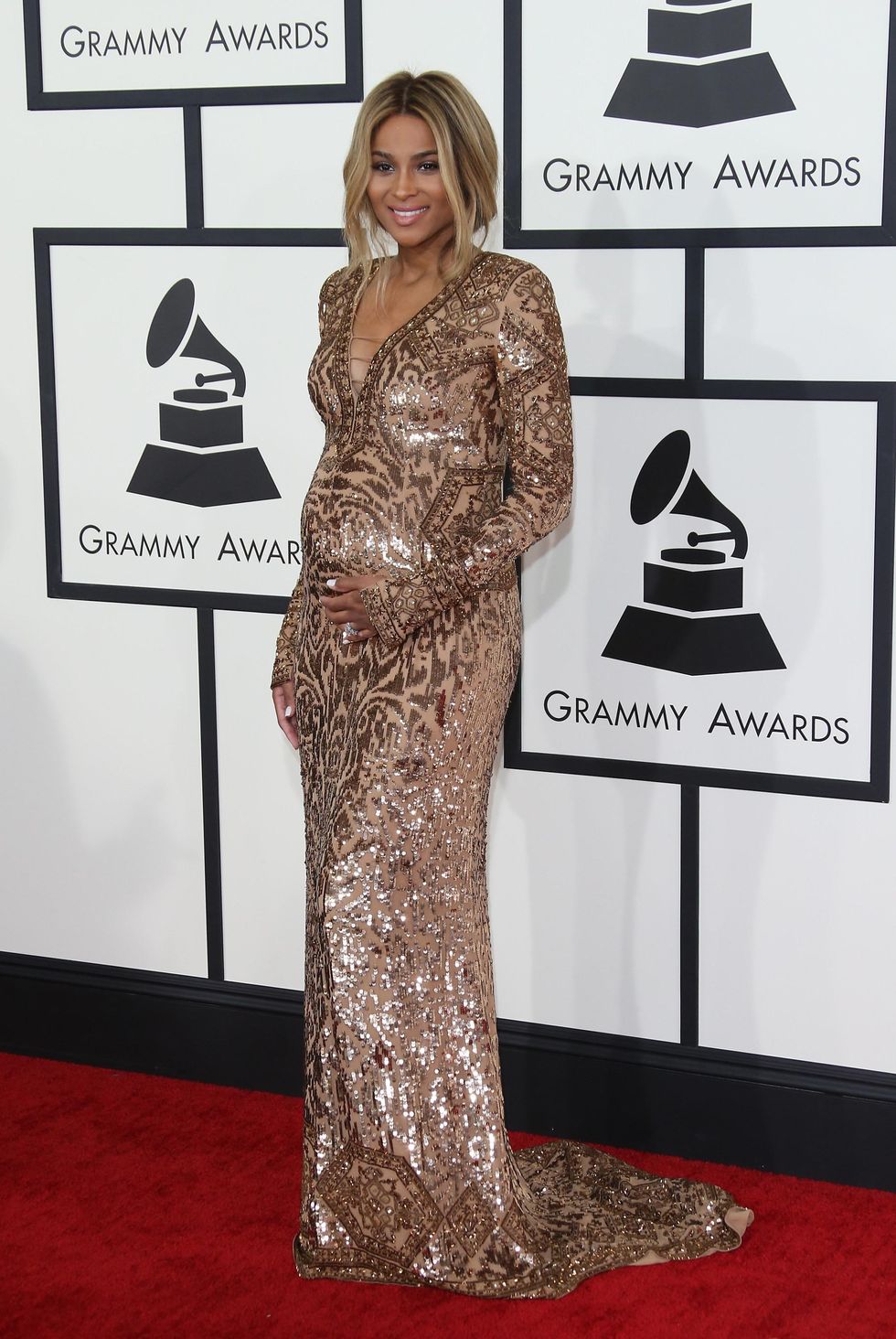 Dan MacMedan/WireImage
The year is 2014 and the singer is expecting her first child with rapper, Future. We remember being so excited to see her on the carpet with her adorable bump. The pregnant star stole the show in a custom Emilio Pucci gown and her simplistic beauty made for a perfect ensemble.
2015: American Music Awards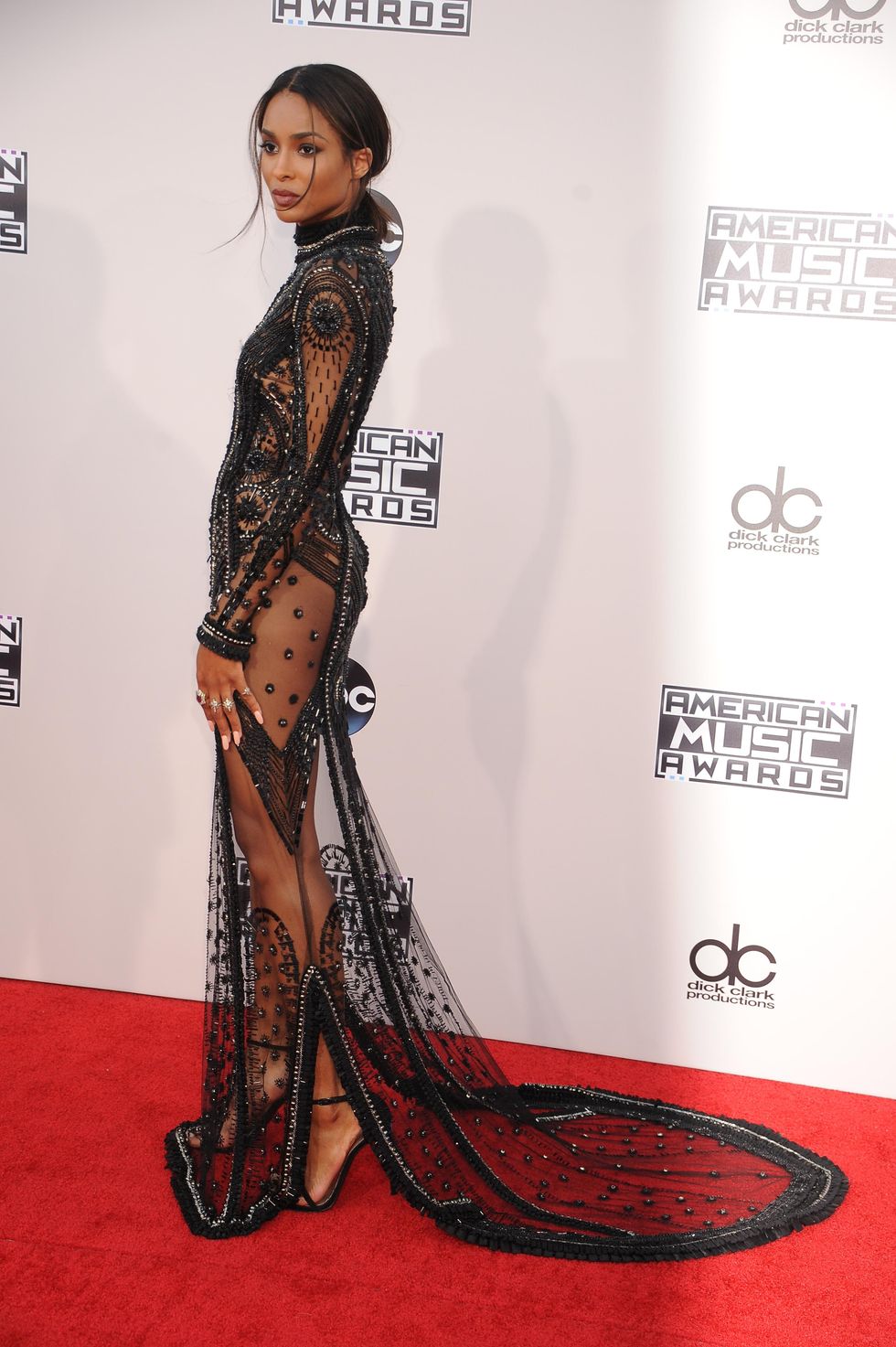 Frank Trapper/Corbis via Getty Images
Reem Acra never looked as good as it did on the R&B beauty during the 2015 AMAs. She was a presenter this night and if we recall, we had just fallen in love with her new relationship with Russell Wilson. They made their pro-BAEte at the White House State Dinner earlier that year and we have been stanning ever since.
2016: Billboard Music Awards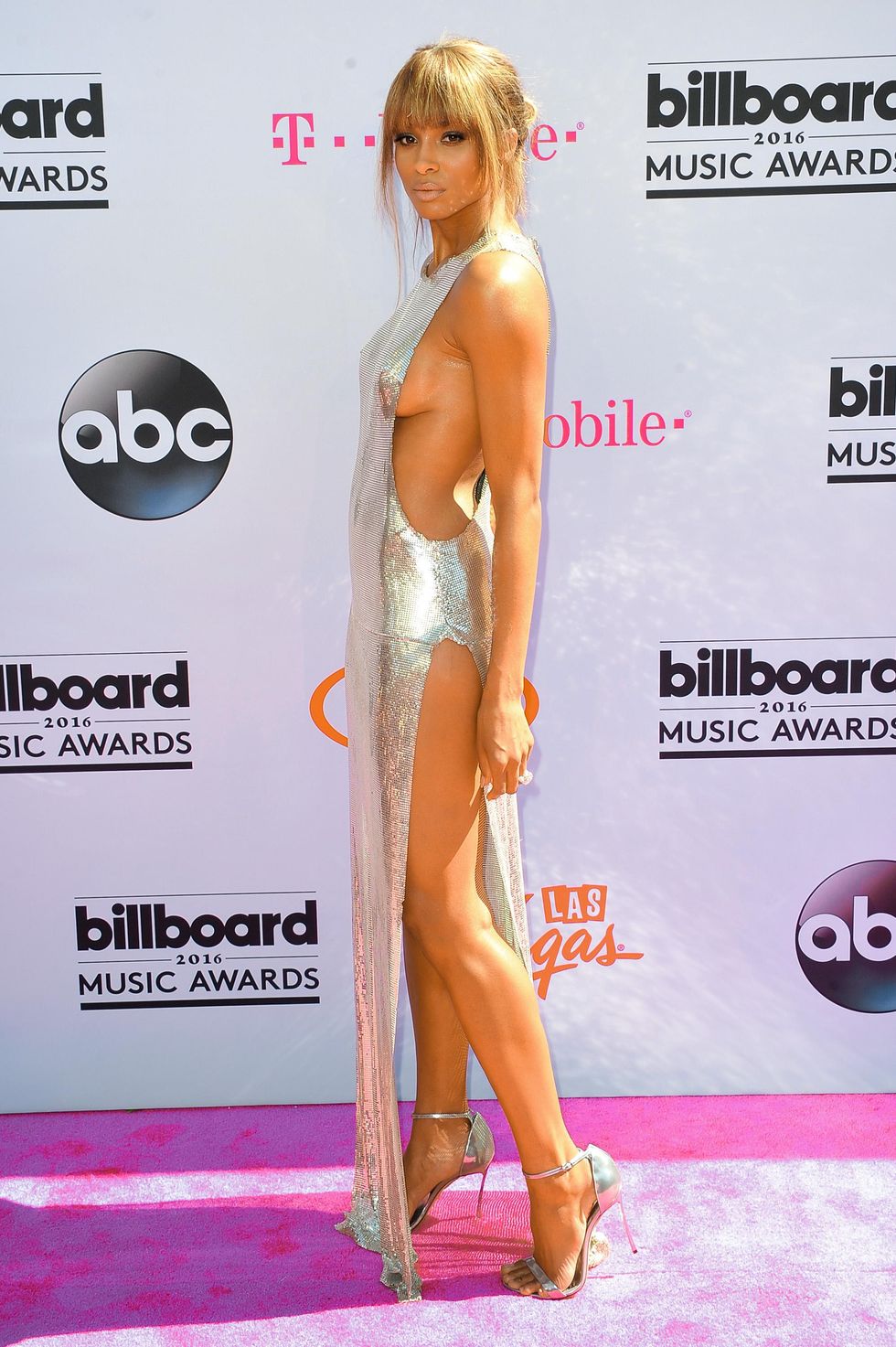 Allen Berezovsky/Getty Images
As the co-host of the 2016 Billboard Awards, Ciara had to bring it. She did so in a metallic chain dress designed by Phillip Plein. The sheath-style dress accentuated every curve and gave a new meaning to the side-boob. These Casadei Blade Sandals were also all the rage back then as strappy sandals had a chokehold on red carpets.
2017: Vanity Fair Oscar After Party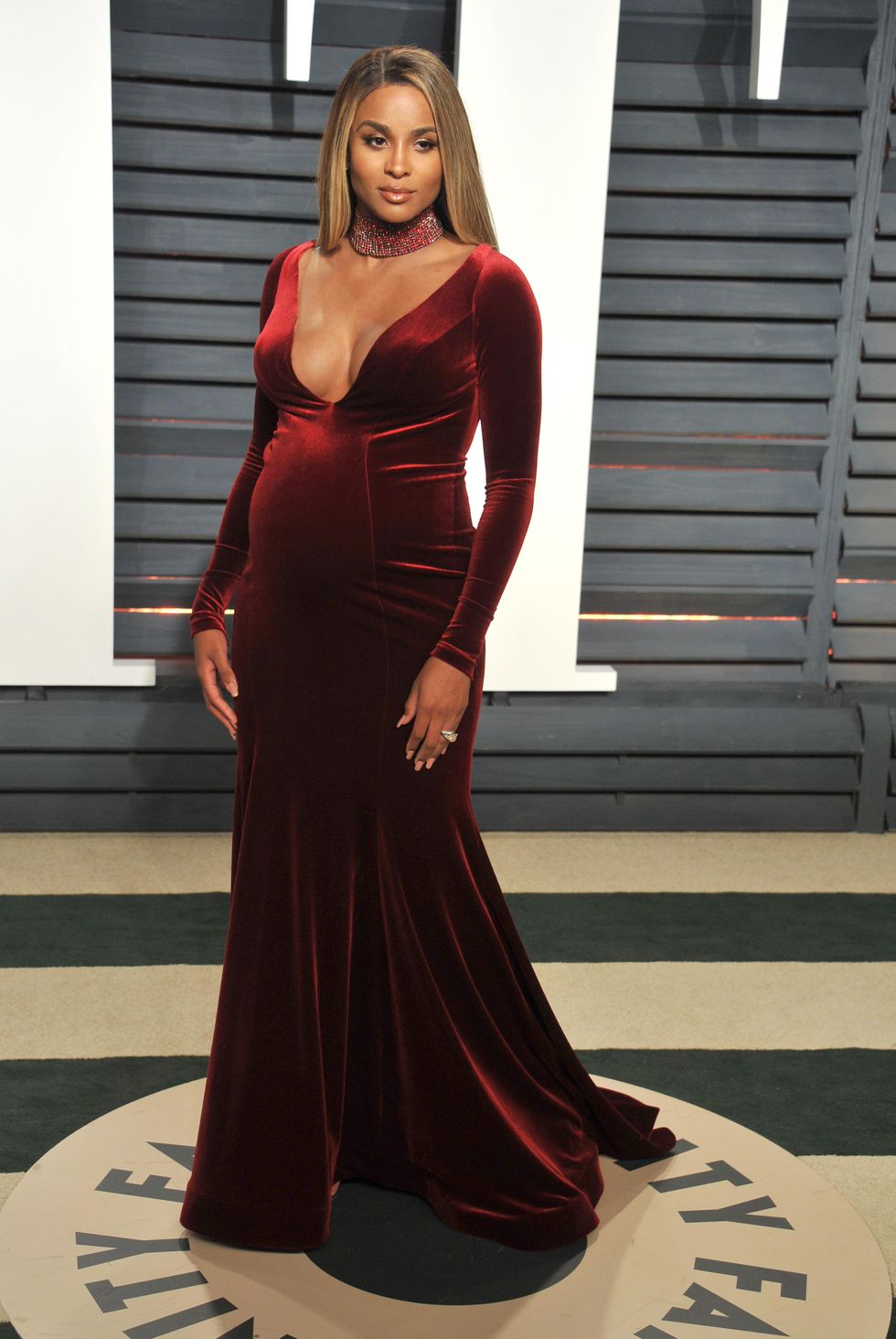 Gregg DeGuire/Getty Images
The Vanity Fair Oscar after-party is one of the biggest nights in Hollywood. All of the biggest and brightest stars gather after the Academy Awards to have a party comparable to a night spent with your favorite people eating In-N-Out burgers and drinking Veuve Clicquot while indulging in deep conversations.
Picture Ciara strutting down the not-so-red carpet in this plush velvet, oxblood Jovani Signature gown that perfectly shows off her burgeoning baby bump. She did that. She and her hubby were welcoming their first child together and this was a perfect way to make memories of a beautiful union.
2018: Nickelodeon Kids' Choice Sports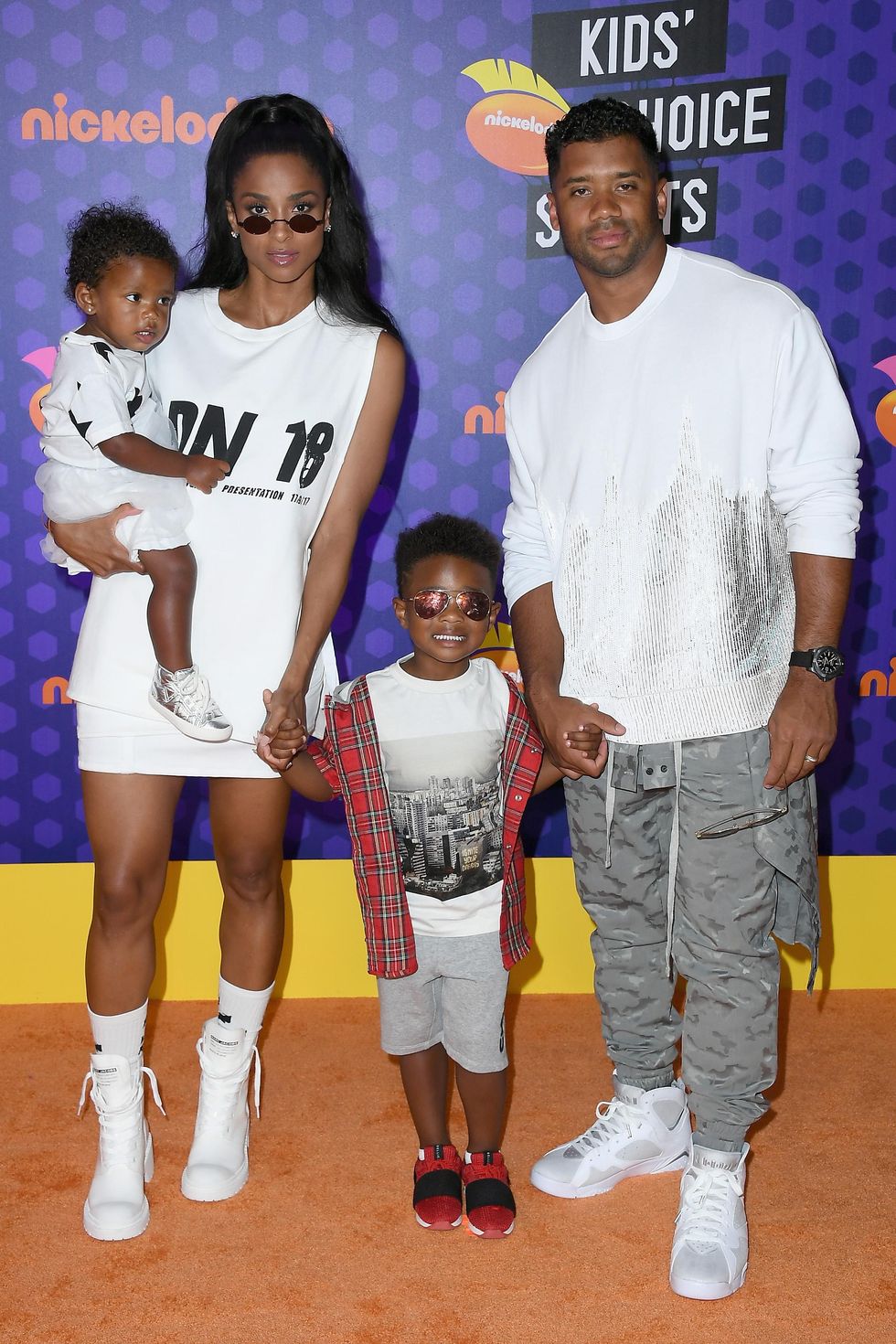 Steve Granitz/WireImage via Getty Images
Ciara is not like regular moms; she's a cool mom. And this is shown to be facts on the 2018 Nickelodeon Kids' Choice Sports carpet where the star rocks a Maison Margiela getup with her baby boy and baby girl in tow. We know Ciara to have a boyish-chic vibe since her introduction to the music scene so this is very on-brand.
2019: MET Gala Celebrating Camp: Notes On Fashion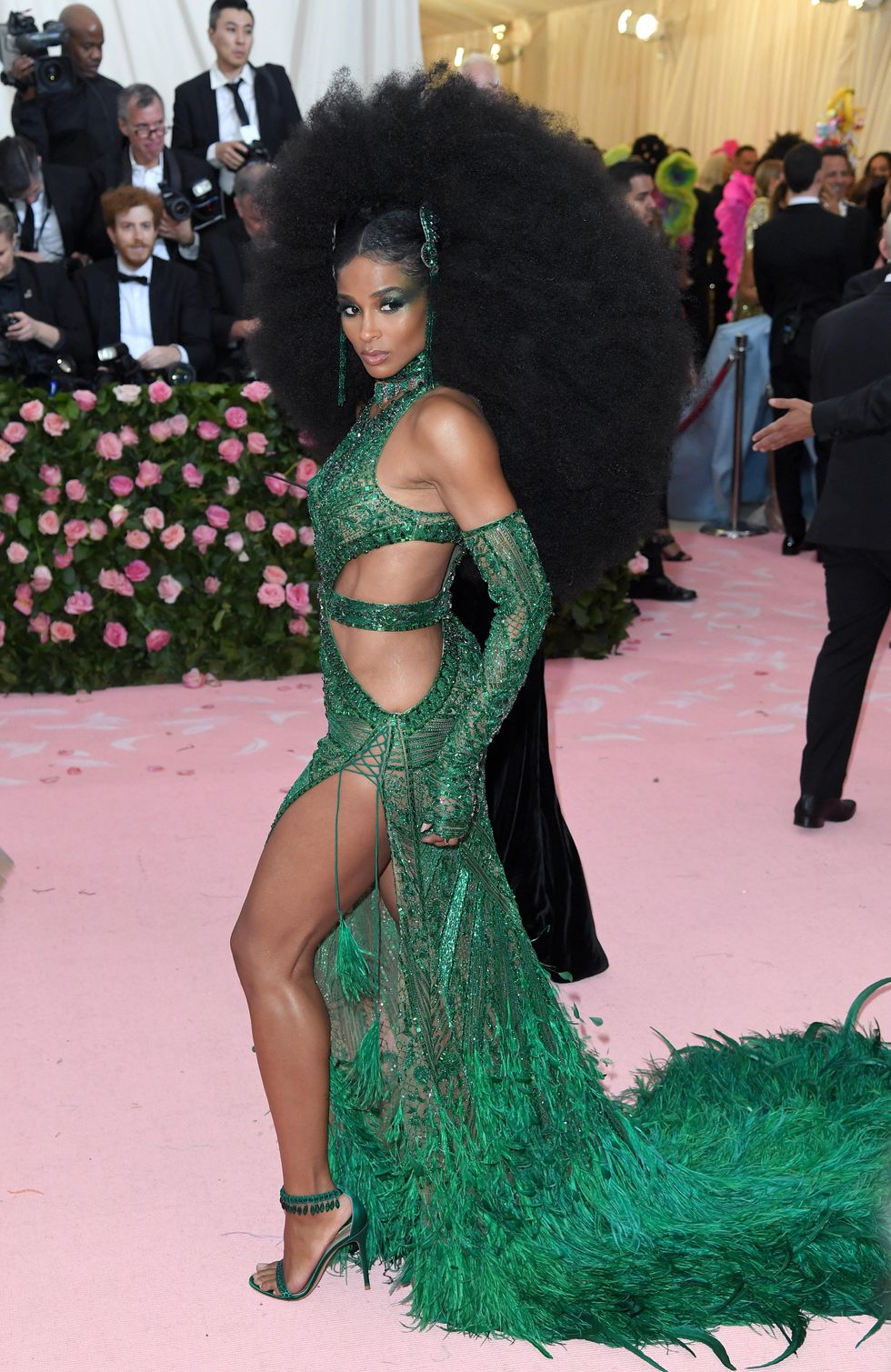 Karwai Tang/Getty Images
This look from 2019's MET Gala will go down in history. The Dundas gown is stunning but this hair defined the moment. Interestingly enough, Peter Dundas was once the creative director of Emilio Pucci, an obvious fave of Ciara's. So when she chose this Dundas frock for the Camp: Notes on Fashion theme, it was serendipitous. Her larger-than-life hair was the winner of the night. Diana Ross had to be proud.
2020: Vanity Fair Oscar Party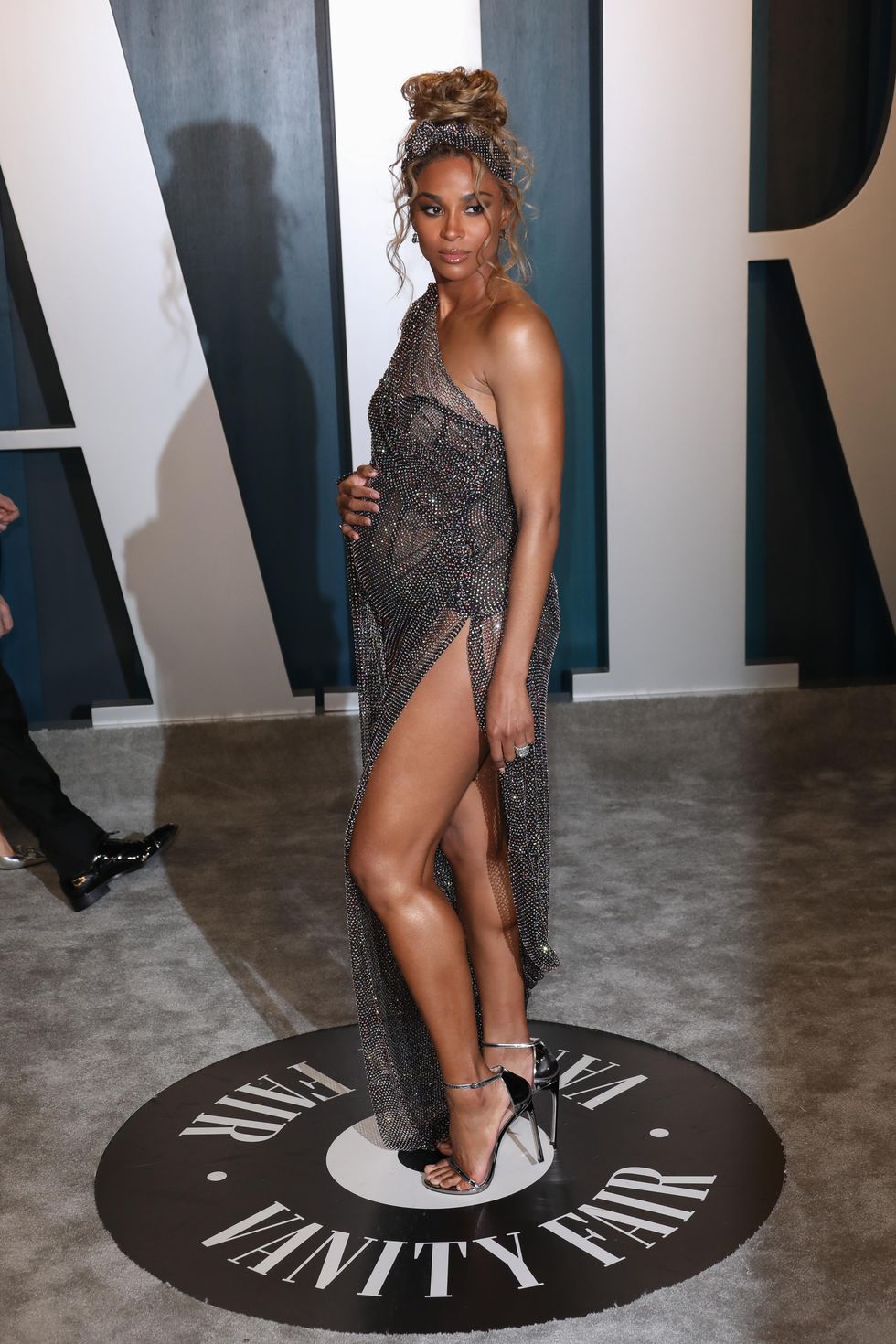 Toni Anne Barson/WireImage
It might be safe to say that the mommy mogul loves showing off her baby bump at the premier Vanity Fair event. Wearing Ralph & Russo, the "Level Up" singer made this sheer sequined number look like the ensemble of angels. It screams ethereal goddess and the styling of her hair brought it all together.
2021: 27th Annual ELLE Women In Hollywood Celebration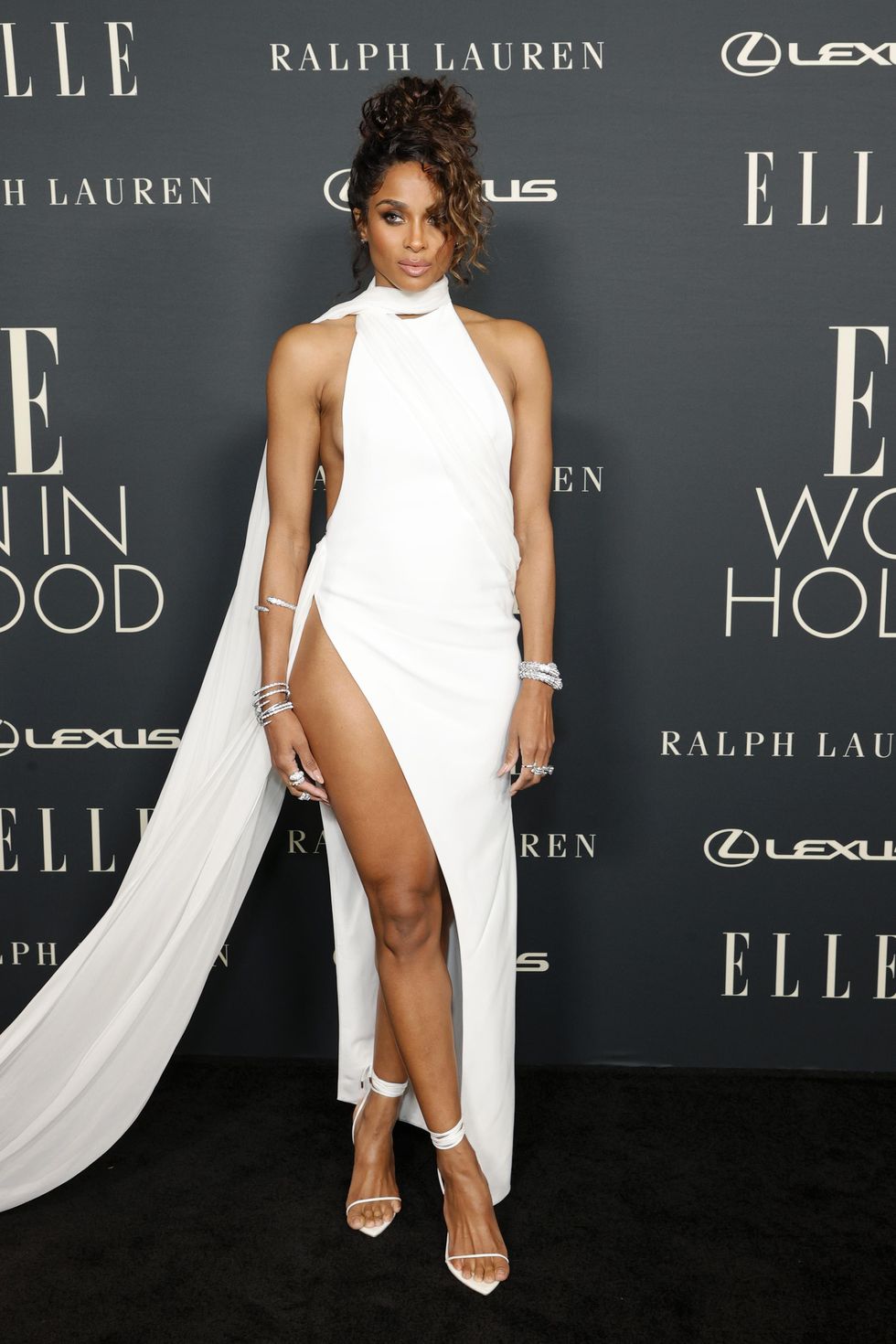 Amy Sussman/Getty Images
Looking heavenly in white, Cici donned a Mônot Spring 2022 gown to ELLE's annual event celebrating the achievements of women in entertainment. This year, like many events, was a comeback from 2020 which means the stars shined super bright in their high-fashion garments. Ciara stunned us all in this Ready To Wear piece by Lebanese designer, Eli Mizrahi, dramatized by a thigh-high slit and "gone with the wind fabulous" cape.
To get your fashion fix and to stay up to date with the latest trends, check out the xoNecole Style section here.
Featured image by Toni Anne Barson/WireImage
It's no secret that for the past few years most of us were dying to get a glimpse of Ciara's prayer. In the wake of the disastrous dating scene, we desperately needed answers, sis. It was evident that God had done it for her, delivered her from Future unto Russell, and we wanted in on the secret. So when Summer Walker released her album and blessed us with Ciara's prayer, it quickly stirred up a frenzy. I went on Instagram and within the hour, at least 20 women I followed had posted it on their Instagram Stories. Let's not even talk about the running commentary ranging from, "I will recite this prayer daily" to "I am going to have it tattooed on me."
While this is commendable that we finally realize that our love lives need Jesus, I felt we were missing the point. That same evening during my quiet prayer time God said to me, "What you need is Russell's prayer in order to see the whole picture." You see we are so accustomed to thinking that women are the only ones that give God their requests for a partner, specifications and all. We forget that just as God is protective of his Queens, he is just as loving and protective over his Kings. God loves his daughters, but if at any point God felt Ciara was not ready to receive Russell, then she was going to have to wait and the opposite scenario would be true.
Both Ciara and Russell had to have a conducive environment within themselves individually and around them in order to envision, manifest and nurture this relationship we now admire. Once I got this, God was like, "I'm not done yet, just so you know the power to deliver what Ciara asked for wasn't vested in what she said. It wasn't her choice of words, her diction, that got the spirit moving." Well, OK so what was it? Stay with me, sis. The following analysis will tell you what you need to know.

Featured image by Rich Fury/Getty Images
Ciara recently released a 0:26-second TikTok where she showed her "Wild Side," and reminded us all how effortlessly she slays when it comes to the dance moves. In the video, she winds to Normani and Cardi B's hit single, before hopping on a chair to finish the routine with a twerk. And then, to everyone's surprise, Russell Wilson appears. He enjoys the show for a quick few seconds before covering the camera with his hand, as if to playfully tell us, that's all we need to see! It was such a cute and sultry video, and definitely put us in our feels.
Over the years, Ciara and Russell Wilson have shared many special couple and family moments that can cause you to smile a little too hard at your screen.
But, here are a few of our favorites.
1. Their Couples Quiz
At the beginning of the year, they took GQ's Couples Quiz. And I don't know what was sweeter, the fact that they answered most of the questions so easily or the happiness and laughter throughout.
2. Stunting At The MET Gala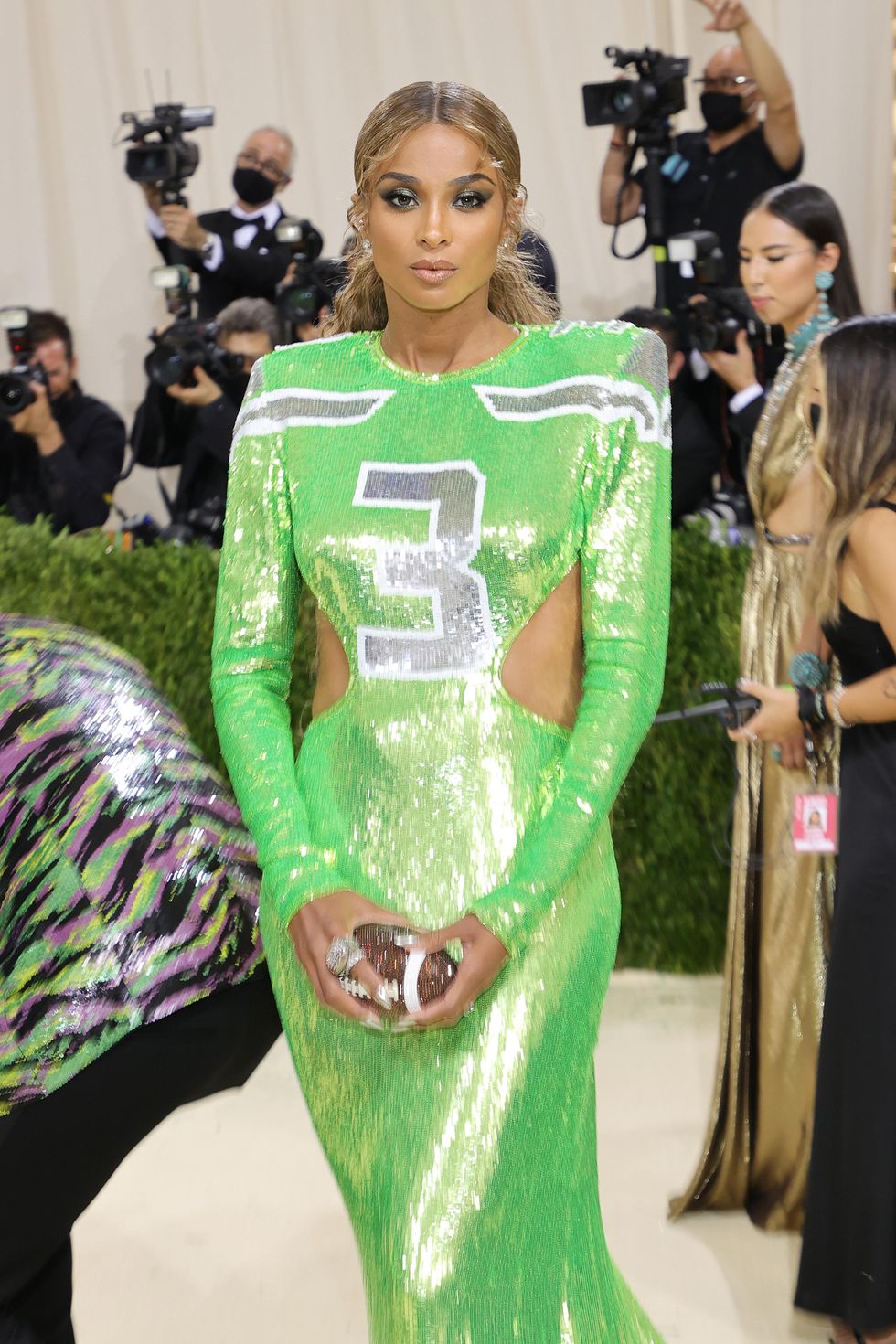 Mike Coppola/Getty Images
The recent MET Gala was filled with looks! But, there was something about Ciara pulling up in a custom jersey dress with her husband's number on it paired with his Super Bowl ring that made her fit one of the most memorable. Although Russell wasn't on the red carpet, Ciara made sure to represent who has her heart in spirit.
3. Their Christmas Video
I know we just got to fall, and it's way too early for Christmas videos. But doesn't this make you want to grab bae and take selfies in front of the tree, no, just me?
4. Their TikTok Video
Because laying in bed studying and performing TikToks was a way of life for everyone for a while. And in this video, the celebrity couple showed that they're just like the rest of us. It's giving Quarantine and chill vibes, and we're here for it.
5. Their "How We Met" video
This was so beautifully simple. In this one, the couple is cozied up at home and reflecting on meeting each other five years prior. While sharing about the special day, they speak powerful words of affirmation to each other such as, "the day I met you was the best day of my life," and "I'd be quarantined with you forever."
For more of Ciara and Russell, follow them on social media at @Ciara and @DangerRussWilson.
Featured image by David M. Benett/Dave Benett/Getty Images for Spotify