Alicia Keys has been opening up about her journey to self-care. Since the launch of her skincare brand Keys Soulcare, the 15- time Grammy award-winner has been more vocal about her life experiences and how it has shaped her to become the person she is today. In a cover story with Fast Company, the musician/mogul is once again speaking about what she's learned about herself over the years.
"I value myself now, and I think for a lot of years, I didn't," she said. "I learned that in order for me to be the most productive, I have to be well. I prioritize myself in a way that I just didn't [before]."
The singer and songwriter became a breakout star at 20-years-old with her mega-hit "Fallin'" and with her fame quickly rising more eyeballs were on her and so was the pressure to be perfect.
"I think we all deal with this idea that we're supposed to be perfect in some way. The same thing happened to me when I was 20. You don't even know who you are at 20. You're a little bit of what your mama told you. You're a little bit of what the world told you. And then you're supposed to go off into the world," she said.
In her 2020 memoir More Myself, Alicia recounted the time she broke down in tears in a dressing room in 2006 after her need to be perfect started to take a toll on her. "Amid the constant moving…the constant pleasing and pretending, I'd delivered my grandest performance yet: convincing the world that, behind my smile, all was as perfect as it appeared," she wrote.
She also had a bout with depression, Peoplereported. "I was feeling so sad all the time, and I couldn't shake it," she said. "I started burying my feelings, and it got to a point where I couldn't even tell my family or my friends, 'I'm twisted,' or 'I'm exhausted,' or 'I'm so angry.' … I became a master of putting up the wall so that I was unreadable."
Now, she's able to enjoy the "simple things" in life such as spending time with her family.
Featured image by Taylor Hill/Getty Images
Two of the most talented people in the world recently celebrated their 11th wedding anniversary. It's hard to believe singer/songwriter extraordinaire, Alicia Keys, and superstar producer, Swizz Beatz, were wedded over a decade ago even though they have proven to be made for one another. To celebrate their bliss, they went on a 72-hour date that included a trip back to the house where their wedding was held. In Swizz's words, "Time goes by fast make every moment count." There's something so whimsical about the joining of two souls when they are icons separately and a force together.
On their anniversary, Alicia shared the sweetest words saying that she and Swizz are deeper than soulmates, they are twin flames. By definition, a twin flame is someone you have an incredibly intense soul connection with. Think "mirror to your soul."
Deeper Than Soulmates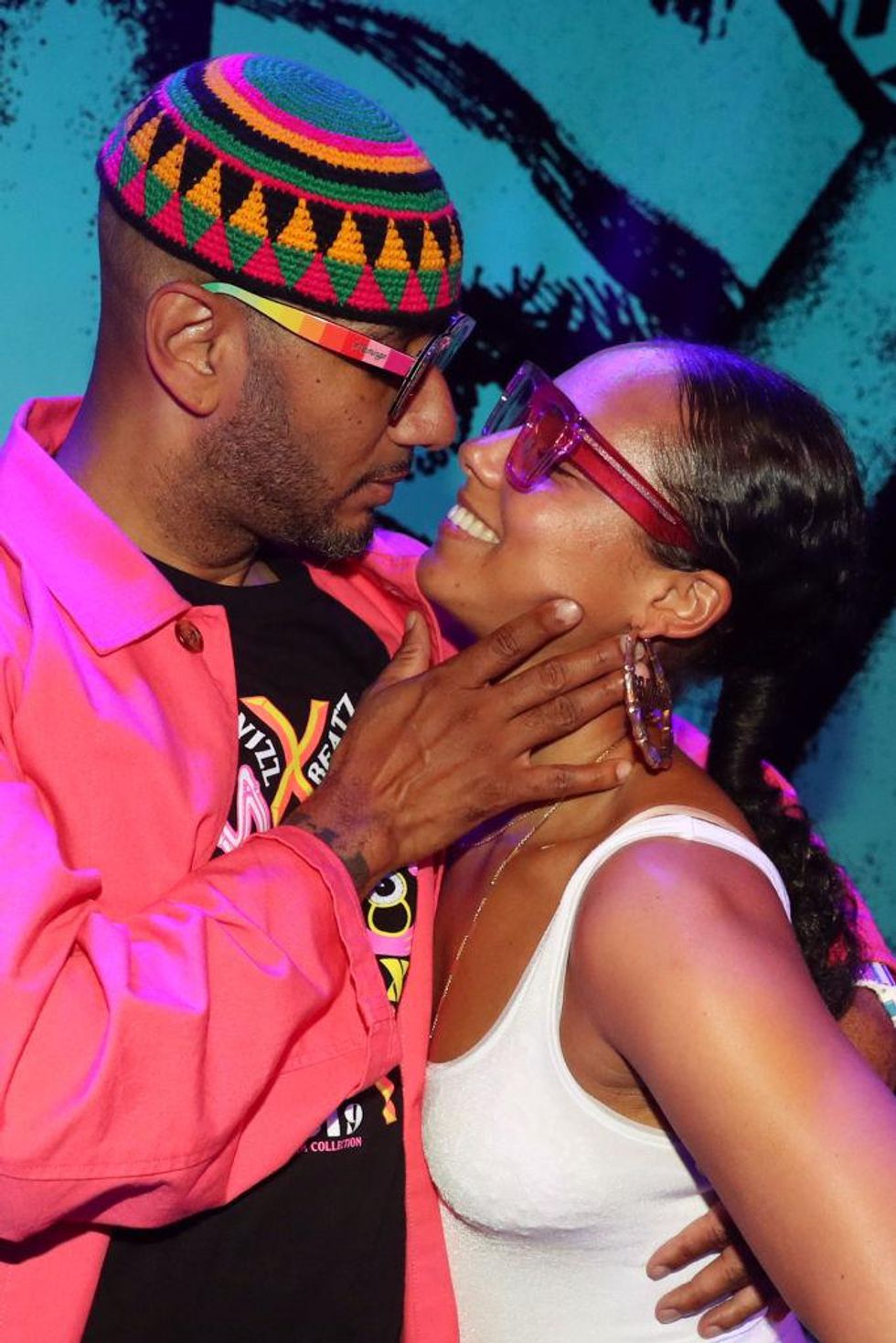 Johnny Nunez/WireImage
We all swooned when reading Alicia's caption honoring their vows on Instagram. Their love is real and we appreciate the authenticity of it all. Do you know how deep it is to say that someone is your soul's mirror? That's deep, deep. It's evident that their souls are made up of the same abundance and how beautiful is it that Alicia and Swizz found that kind of love when they found each other.
Alicia Keys & Swizz Beatz's Relationship History
Their love story didn't begin like a fairy tale. The two met as teenagers during a music project trip to Egypt. Alicia's first impression of Swizz was far from love at first sight. In 2013, she told Marie Claire, "Honestly, I didn't really like him that much. I thought he was too ostentatious." She went on to say:
"Swizz will have the fastest car, the biggest jewelry, the loudest jacket. Everything with him is really over the top. I used to see him and think, 'He is so annoying.'"
Once the Grammy-winning artist started seeing the rapper in a different light, this began the lovers' controversial journey. It's no secret that Swizz was still married to his first wife, Mashonda Tifrere, when rumors started swirling about his relationship with Alicia in 2008. Before we knew it, Mashonda told the world via Twitter that Alicia was "destroying her family." Swizz had a different perspective; he and Mashonda were separated. Chile, the whole situation was messy because there was also word that he had been having multiple affairs.
Despite all the schadenfreude, Alicia kept "Fallin" for Swizz and became the poster child for "I'mma stick beside him!" In 2010, Swizz proposed and the couple tied the knot just two months after the engagement. Together, they share two children, Genesis and Egypt. And they have also found a way to be one big happy blended family with Mashonda. The three superstars have noted that it took lots of time and prayers to make it on their love roller coaster. During an ABC Nightline special, Alicia shared:
"We love each other. We hang out with each other. We go to dinner together. Our family is one big, beautiful family... It is a beautiful partnership. I'm very, very proud of that. It's a real thing, and it's possible."
Mashonda even asked the wedded couple to help her with her book, Blend: The Secret to Co-Parenting and Creating a Balanced Family, a guide to creating an environment for kids rooted in happiness and health.
Today, you see a strong, loving husband and wife because they have really done the work. We pray their love gets stronger and stronger and make it another 11 years and another 11 years after that. To keep the lovefest going, keep reading for some of the sweetest quotes on their love.
Alicia on meeting Swizz after their initial introduction: 
"The more we talked the more I noticed how his mind worked. Beyond the baggy jeans and arm tats there was depth. He was so aware of what was happening around the world."
Swizz to Alicia on their 11th Anniversary:
"Your love is the Key to my life."
Alicia on being his canvas:
"Later, stroke by stroke in the shadows of dusk, he turned me into his masterpiece, covering me in swirls of yellows, reds and purples. Never have I experienced anything more sensual. Which is why, when I missed my period a few weeks later, I wasn't exactly surprised. As that winter gave way to spring, we relished two pleasures: the engagement and the pregnancy."
Alicia to Swizz on their love:
"One of the best secrets is that we're friends. Best friends. We actually listen to each other and share with each other and are thoughtful about how the other feels."
Are you a member of our insiders squad? Join us in the xoTribe Members Community today!
Featured image by Steve Granitz/WireImage
Snowball Wealth says, "By spreading your risk across different income streams, you also set yourself up to be able to take advantage of great opportunities when they arise." It makes perfect sense because when one fails, you have the others to fall back on. This isn't anything new to us because we love a good side hustle. Like all things, it's about being more intentional. Be it buying power or financial stability, make clear goals and decisions that will only get you closer to economic freedom. One of the best ways to add more streams of income is by diversifying your streams. Kirby Porter calls it the "beauty of re-invention."
When I look at the trajectory of Elaine Welteroth, Rihanna, and Issa Rae I remember the beauty in re-invention. \n\nWhere we start in our careers & passions is not the limit, it's a stepping stone in a story to something larger if we allow ourselves to evolve.

— Kirby Porter \u26a1\ufe0f (@Kirby Porter \u26a1\ufe0f) 1628460513
Lucky for us, we have some role models that have shown us the power of monetizing our passions, no matter what they are. Ahead, you'll find celebs who are living proof that there are various ways to create your own wealth. Their successful money moves have earned them their rightful place on this list.
Rihanna Net Worth: $1.7B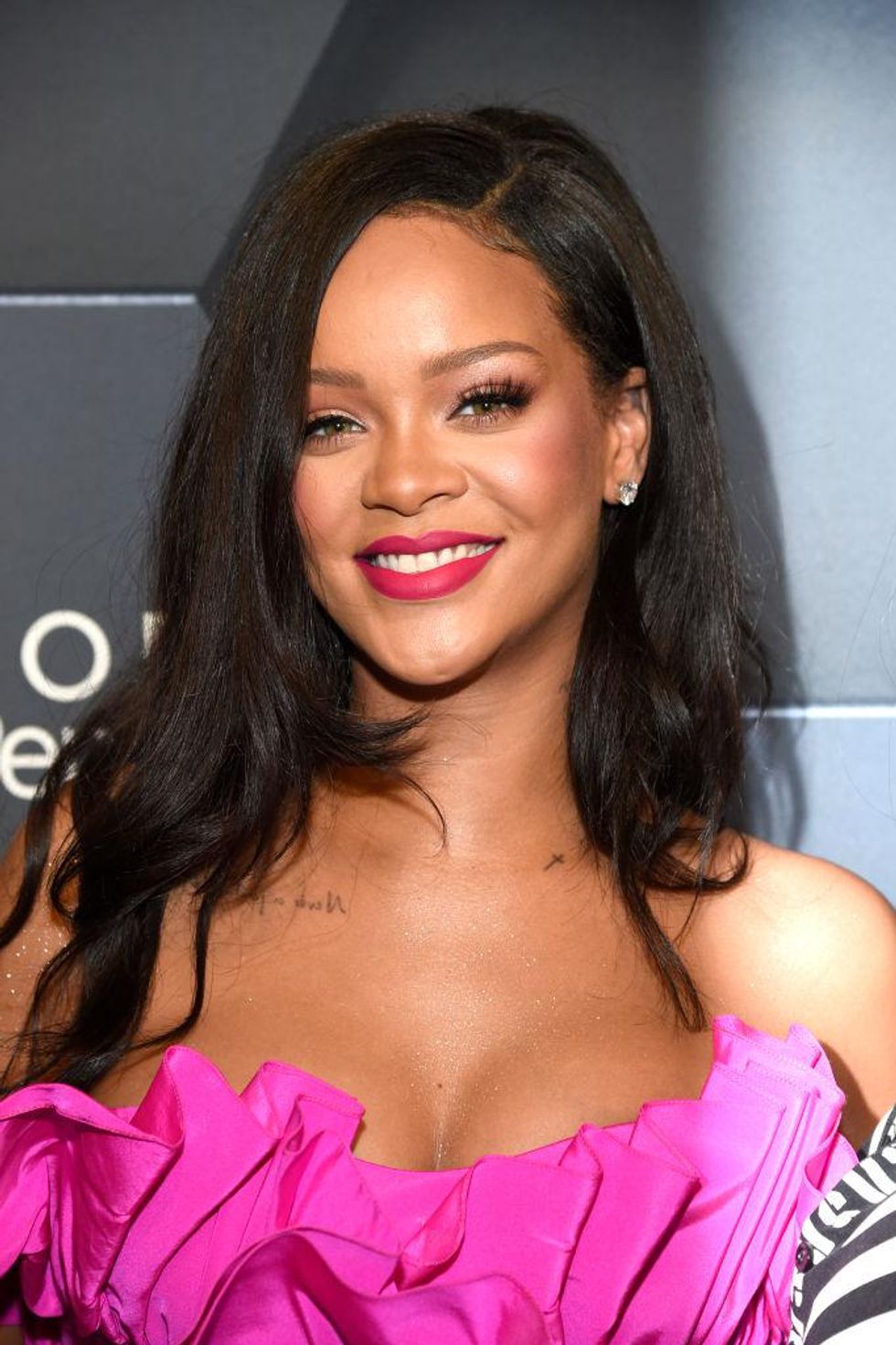 Kevin Mazur/Getty Images for Fenty Beauty
Our girl Rihanna is now a billionaire and no one is more than deserving of that title. Yes, we all want an album from her, but we also can't help but support every venture she takes on. The way she dominates every arena she steps in is simply inspiring. Forbes estimates Robyn Rihanna Fenty is the wealthiest female musician in the world with the majority of her wealth deriving from her inclusive beauty line, Fenty Beauty.
Some other streams of income:
Savage X Fenty, lingerie clothing brand
Fenty Skin, skincare line that acts as an extension of Fenty Beauty
Fenty Maison, a luxury clothing brand
Fenty Parfum, her newly released sold-out fragrance
Music
The Rihanna Book
Issa Rae Net Worth: $4M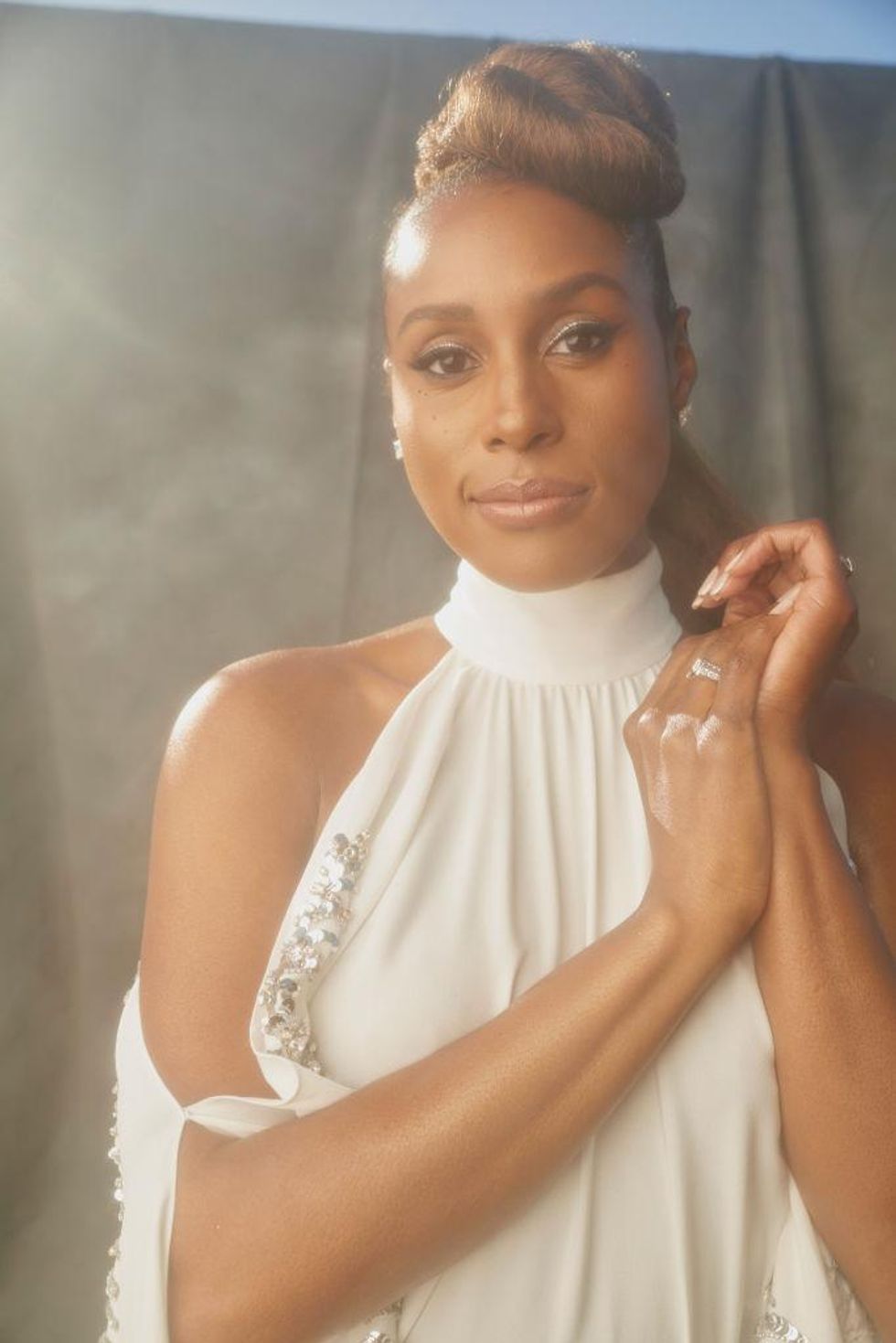 Lee Vuitton/AM PR Group via Getty Images
On- and off-screen, Issa Rae is the poster child for creating your own table. The once YouTube star became a media mogul in a little over a decade by staying true to herself and creating work that moves our culture forward. Rae's cult-favorite HBO show Insecurehas garnered her a loyal following. So watching her lay the groundwork for her next level is everything a creative needs.
That groundwork includes:
ColorCreative TV, production company
The Misadventures of an Awkward Black Girl, New York Times bestseller non-fiction book
Hilltop Coffee & Kitchen; Rae partnered with the coffee shop to open multiple locations
Raedio, music label with Atlantic Records
Executive Producer Deal with Netflix
Sienna Naturals, co-owner of haircare brand
Serena Williams Net Worth: $210M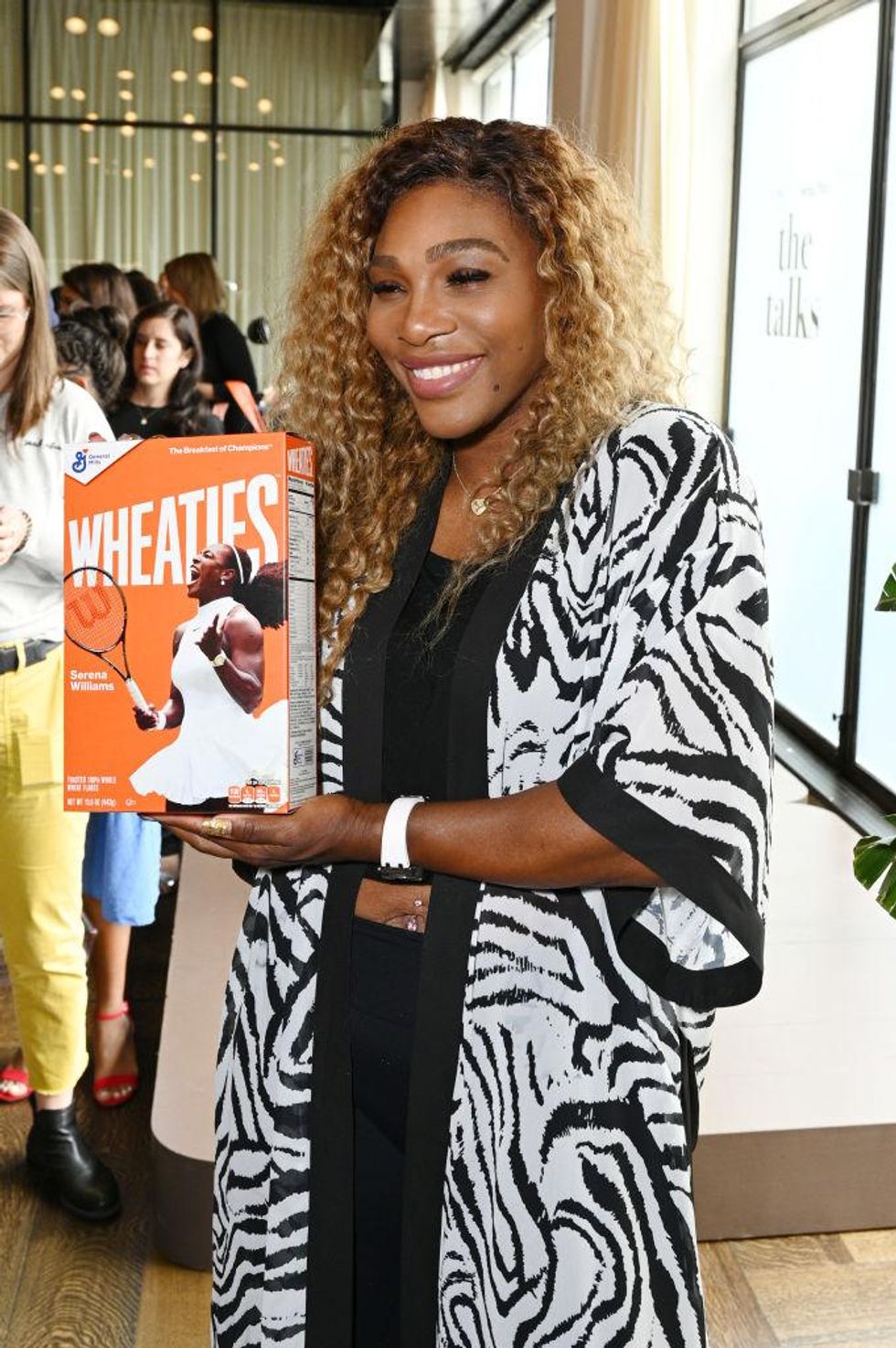 Bryan Bedder/Getty Images for IMG
Did you know that Serena Williams has over 15 corporate partners? Her $94 million in career prize money is twice as much as any other female athlete has made. That's according to Forbes, who also says that the tennis star has invested in over 50 startups over the past seven years.
When she's not reigning supreme on the court, she is:
sitting on the boards of Poshmark and SurveyMonkey
investing in the non-fungible tokens (NFT) platform, Bitski
signing a first-look TV deal with Amazon Studios that includes a docuseries about her life
creating products for her clothing line, S by Serena
sitting pretty as a 0.5% owner of the Miami Dolphins
Not to mention her endorsement deals from Aston Martin to Beats By Dre.
Oprah Winfrey Net Worth: $2.7B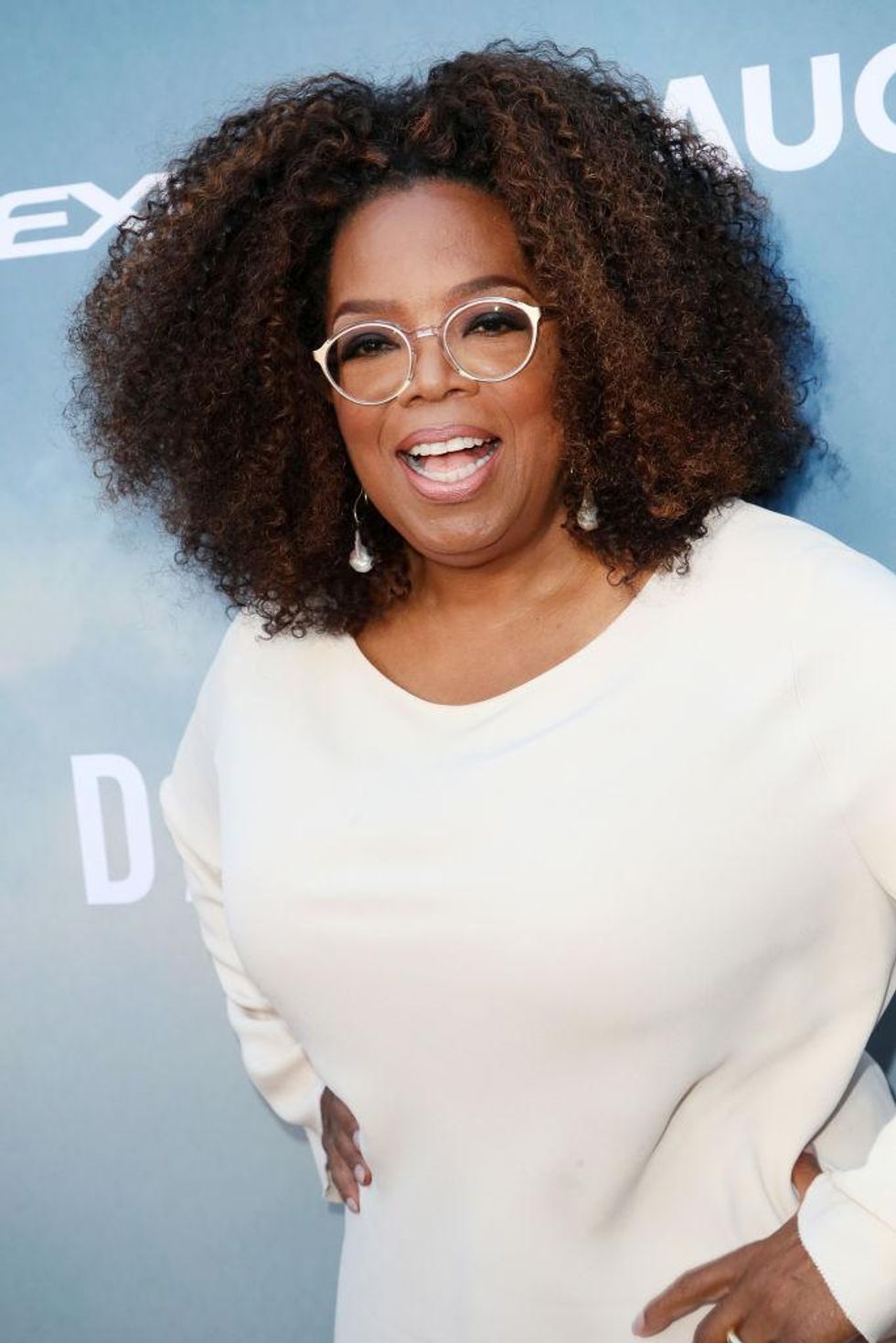 David Livingston/Getty Images
When your work ethic is so strong that it's been dubbed "The Oprah Effect", you know it's real. Funny enough, Winfrey has been quoted saying, "The reason I've been able to be so financially successful is my focus has never, not for one minute, been money." Who would have known that the woman who used to borrow money from her mom's purse would be the same woman who has nine streams of income?
To name some streams:
The Oprah Winfrey Show, spanning over 25 years
Harpo Productions (chief executive of the Oprah Winfrey Network, founder of O, The Oprah Magazine, etc)
Actress & voice actor
Producer of hit series and films, Queen Sugar, Greenleaf, The Immortal Life of Henrietta Lacks and Oprah's Master Class
Weight Watchers investor
Author of books like The Wisdom of Sundays and What I Know For Sure
Freelance journalist
Beyonce Net Worth: $440M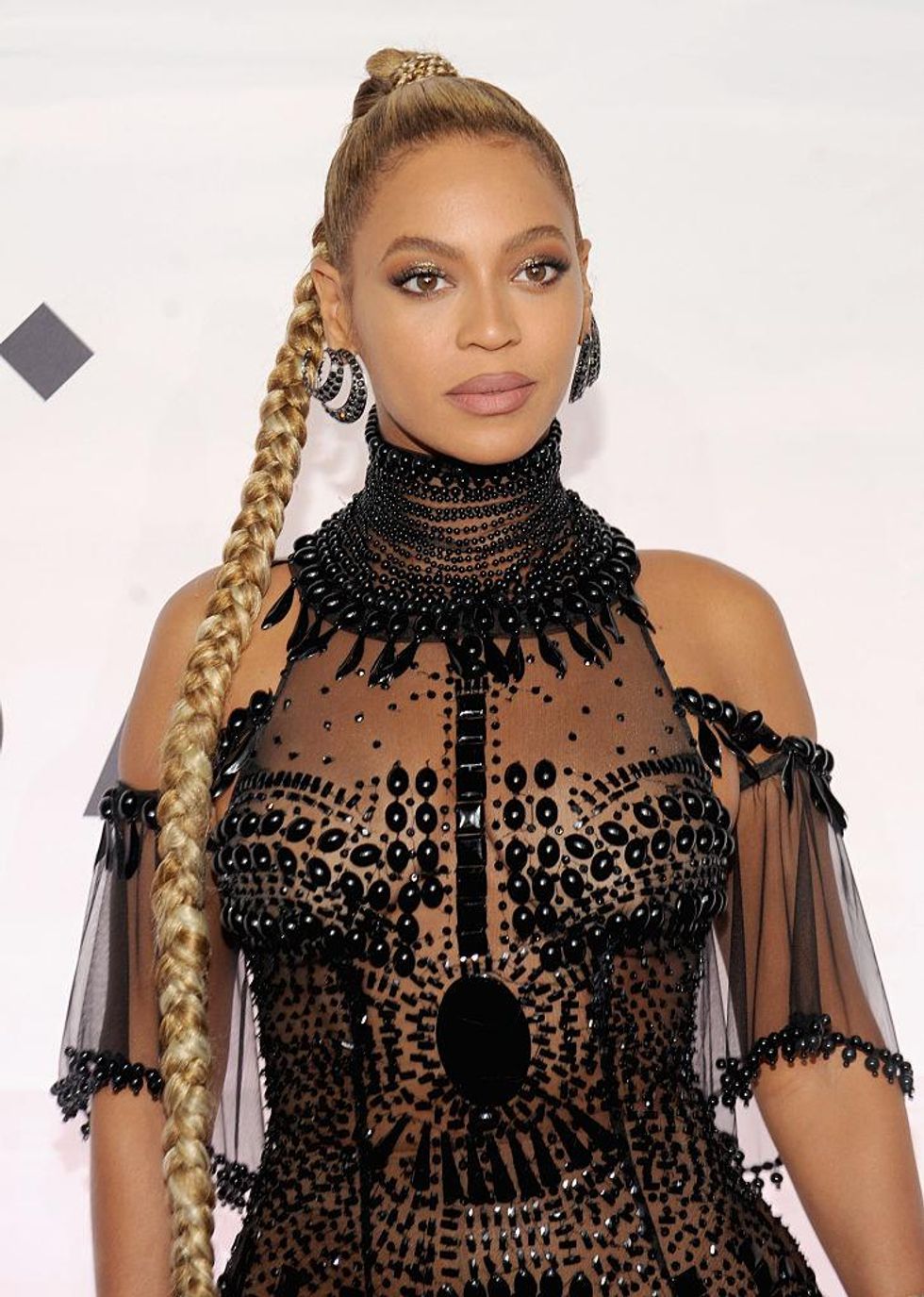 Brad Barket/Getty Images for TIDAL
"I have paid my dues and followed every rule for decades, so now I can break the rules that need to be broken," Beyonce recently shared in Harper's Bazaar's Icon issue. She is the epitome of a self-made woman and a living icon. We love watching her pave the way for new talent in the most authentic way. It's definitely the quality for us because she gives 200% to everything attached to her name. This child of Destiny is a global brand from music sales, publishing, touring, and endorsements.
We can't forget her other accomplishments:
Founder of Parkwood Entertainment, management, and entertainment company
Owner of IVY PARK, an athleisure clothing line with Adidas
Netflix deal worth $60 million
Recently sold her stake in TIDAL streaming service
Alicia Keys Net Worth: $150M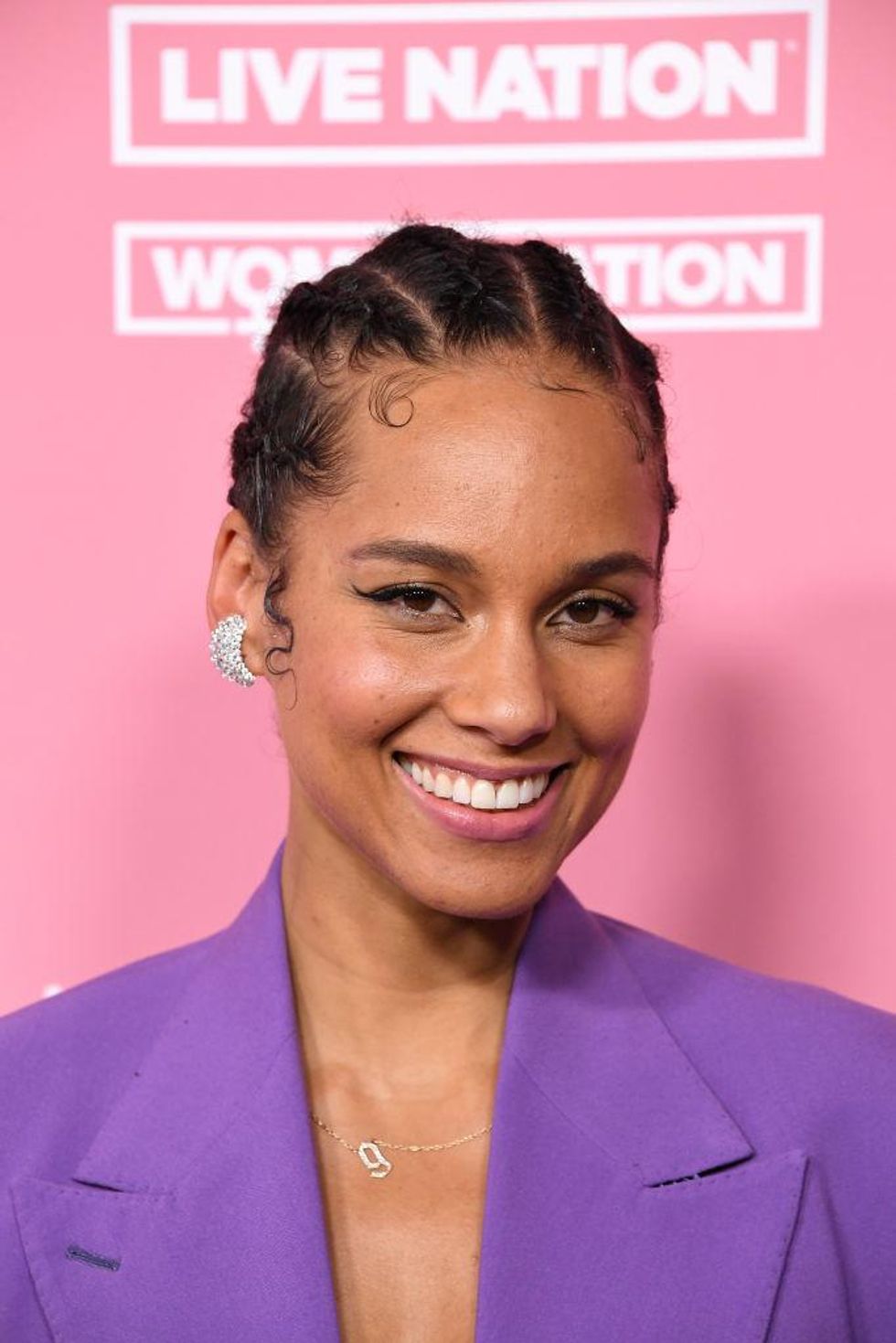 Steve Granitz/WireImage
Alicia Keys is a superwoman. She is also a proud businesswoman. In an interview with PINK, she says, "Business is about trial and error. There's no foolproof [business] plan and whatever you end up doing, you need to be passionate about. It's not about getting rich overnight, but about your belief in it and your passion – that's the way amazing things happen." Keys also believes that as an artist and a person that has been in business for a lot of years, going outside of her main business of music, helps her discover her creative potential as an entrepreneur.
Some ways she's exploring that potential include:
AK Worldwide, an investment firm
Partnership with Bento Interactive, "The Journals of Mama Lee and Lee Lee", an interactive storytelling app for kids that features her original, exclusive tracks
Co-creator of Keys Soulcare, a beauty and wellness brand
Queen Latifah Net Worth: $70M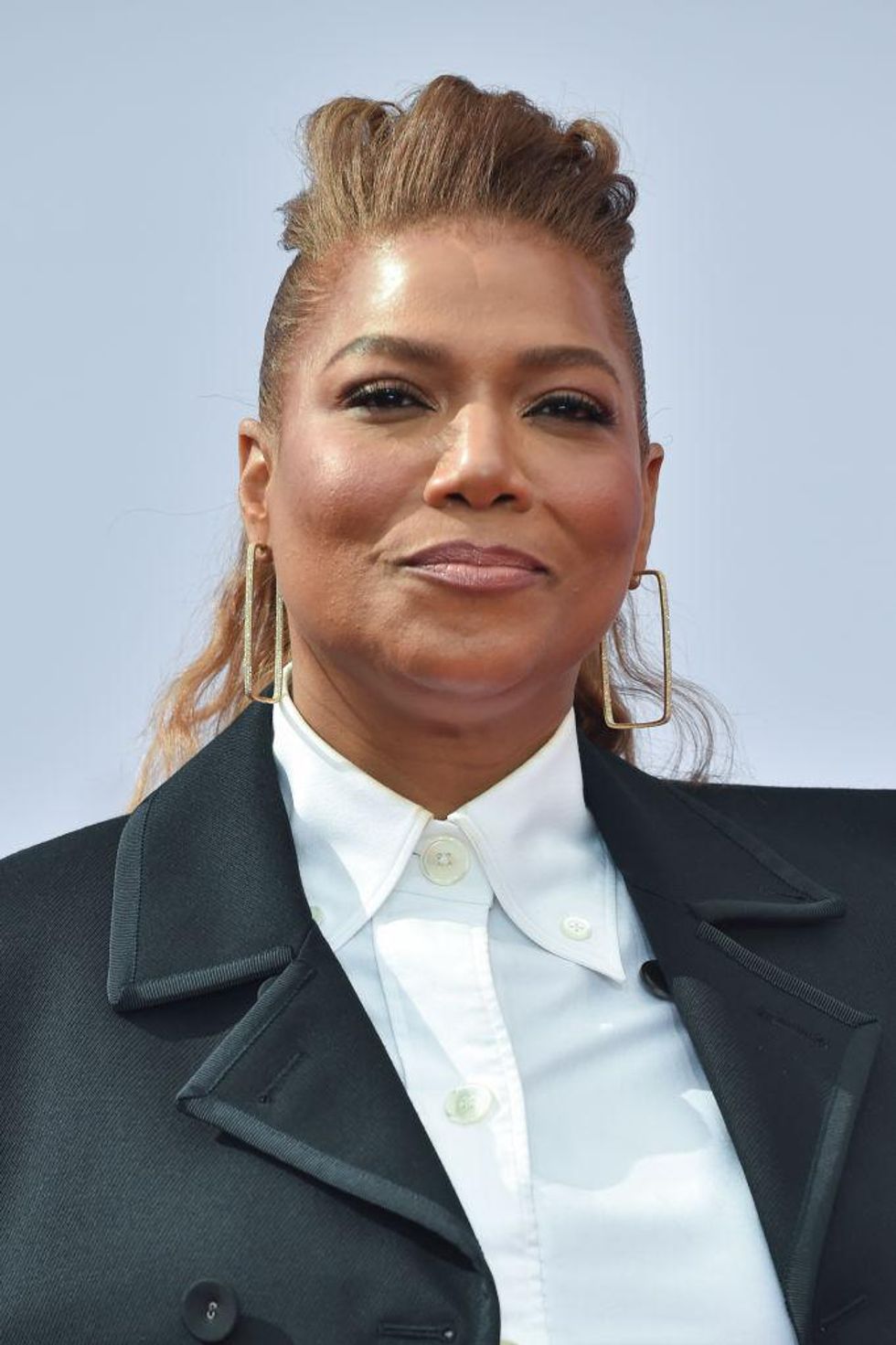 Aaron J. Thornton/Getty Images
It's no secret that Queen Latifah is a Jackie of All Trades. Since she entered the game, she has made sound money moves. Back in the day, she started investing and never stopped. The multi-hyphenate's first investment was in a delicatessen and a video store located on the first floor of the building where she lived. We have enjoyed watching the queen transition from hip-hop to television to the big screen.
Queen Latifah's Resume:
Co-owner of Flavor Unit Entertainment, a firm that includes television and film production units, a record label, and an artist management company
Partnership with CoverGirl, The Queen Collection
Partial owner in New York Spring Water, the manufacturer of VBlast vitamin-fortified water
Author, Put on Your Crown: Life-Changing Moments on the Path to Queendom
Queen By Queen Latifah Eau-de-parfume
Ready to level up your streams of income? Head over to our Career section for some tips and tricks!
Featured image by Lee Vuitton/AM PR Group via Getty Images
It's no secret that Alicia Keys exudes inner peace and bares the succulent skin of our youth that we're spending $$ in adulthood trying to re-capture. So when sis listed her commandments to balanced beauty and wellness in Elle, you better believe we took notes. Adding to her credibility as a skincare guru, the star launched a wellness brand—Keys Soulcare—in the midst of the pandemic that included a line of facial products.
Now, the 40-year-young mom of two is launching an equally soothing body care line we're deeming essential. The newbies to Keys Soulcare include a Renewing Hand and Body Wash, Rich Nourishing Body Cream, and Sacred Body Oil.
First Things First, Rituals and Affirmations Are a Must
According to Alicia, affirmations have the "ability to remind ourselves how incredible we are." She believes this so much so that each product under Keys Soulcare comes branded with an affirmation. The idea is that even taking just a moment for yourself by reciting one of these affirmations while using your fave product creates a ritual that brings you one step closer to inner peace.
One of her most popular face products was the Golden Cleanser, which she reformulated for use all over as the Renewing Body + Handwash. "The mantra of this product is, 'I love myself as I am.'" She also shared her thoughts on her personal fave, the Sacred Body Oil. "When you get out of the shower, put some drops on your damp skin and say the mantra is 'Everything I do is an act of creation,' which is powerful. Think of that as you're creating this moment for yourself and your day."
Be Kind to the Skin and Body You're In—It's the Only Set You Have
Alicia says she suffered from "skin issues for a long time" and classified herself as having been a thicker girl. "I had a lot of curves early," she explained while adding the added attention was an insecurity of hers in her younger years. But she says it's important to note that the body and skin are ever-evolving. As she got older she had a new set of insecurities to embrace.
"When I had kids, I felt like, 'Oh, my gosh, I'll never look the same ever again.' And that creates insecurity. It fluctuates and flows, but I feel like today, right now, I feel really good about my body. Every day, what your body does is a miracle. We're like the walking embodiments of miracles, and I like to remember that."
Her point? Beauty is not only skin-deep, and finding things that bring a healthy beauty perspective is important. She shared, "I feel really beautiful after a hard hike. My strength and ability is sexy and sensual. Or laying on a beach chair with some sun beating down on me. And I feel beautiful when I'm just with my family and my sweatpants on a couch, and we're all just cuddled up and hugging, watching a movie—that feeling of pure bliss and love."
Always Be Gracious and Always Celebrate 
Don't forget to thank yourself for how far you've come, which is a practice that Alicia enforces with herself regularly. "I'd have never thought 20 years ago [when I released my first album] that I'd be here flourishing and more creative than ever and creating the best music of my life, making the best connections of my life. When I look back [at my 20-year-old self], I'm just profoundly appreciating her because she helped to create me now," says the singer.
She adds, "The advice I would give my 20-year-old self is, you already have it right. You don't have to change anything. You don't have to fix anything, you don't have to try to fit in anything or be whatever people want you to be. All you have to do is keep doing you."
Featured image by Rich Fury/Getty Images for dcp

For most of us, nighttime is the most glorious time of the day. The kids (if applicable) are in bed, your work for the day is done, you've got your essential oils burning, and it's time to wind TF down. But personally, one of my favorite times of the evening is when I can light a candle, roll a fat one, and completely consume myself in my skincare routine.
I've grown to learn that no matter how busy I am, I owe it to myself (and my skin) to take at least 30 minutes out of my day to truly take care of myself and not feel bad about it, damn it, and Alicia Keys agrees with me.
Recently, the famously bare-faced beauty dropped a "Get Unready With Me" video on her youtube page where she broke down her skincare regimen and filled us in the products that keep her sometimes difficult skin blemish-free and according to her, incorporating sulfur into your nighttime routine might be the stinky skincare secret you didn't know you needed. She explained:
"If you've ever gone to places that have sulfur, it's like when you're driving down the highway and you smell that egg smell, and everybody in the car is like, 'Oh, who farted?' That's sulfur. It smells like a fart. But whatever the case, sulfur is the bomb."
Along with her sulfur-infused Advanced Anti-Blemish Lotion, Alicia says things like her candles, essential oils, Sacred Rose Water aromatherapy spray, and the palo santo stick are essential parts of her nighttime routine that allow her to get her intentions all the way together (and camouflage the smell of sulfur before she gets in bed). In the video, Alicia explained that as a wife, a mother, and an entertainer, her skincare routine has become less of task on her to-do list and more of an act of self-care:
"For me, even if it's just five minutes at the end of the day I need it and I bet you need it too. I actually love getting undone at night. My husband always like, what are you doing in there? But it's my time. No, I love taking the time to just bring it down."
For more of the nighttime products that prepare Alicia's slay for the next day, scroll below!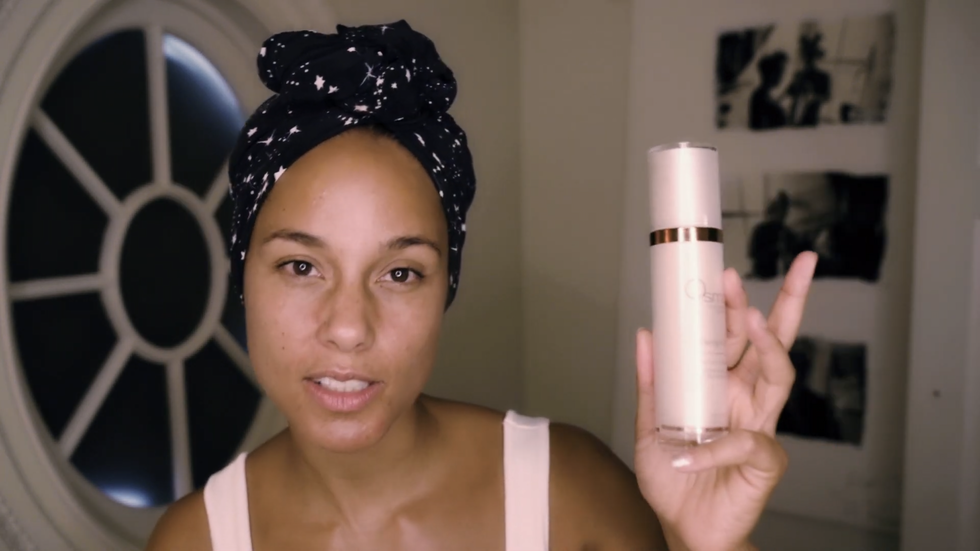 Photo via YouTube
An Organic Therapeutic Toner with Honey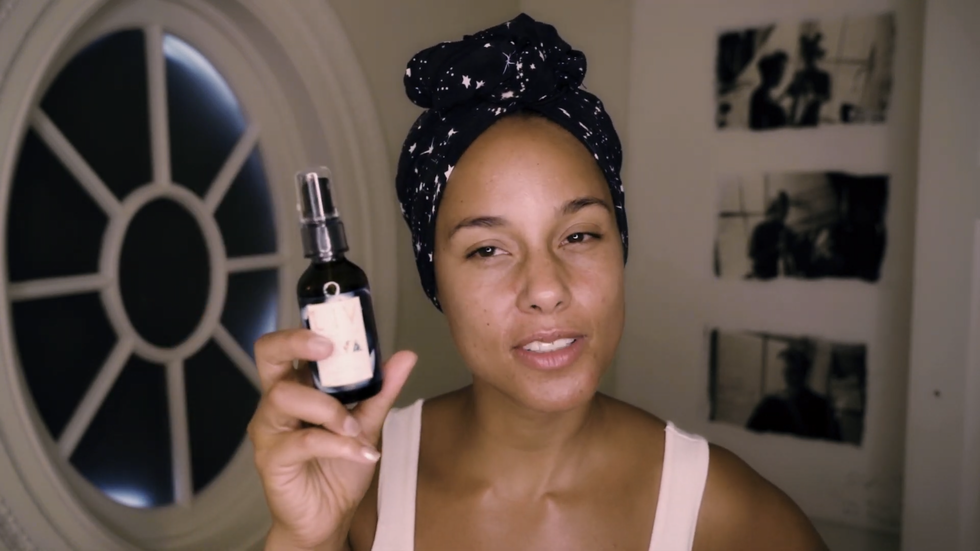 Photo via YouTube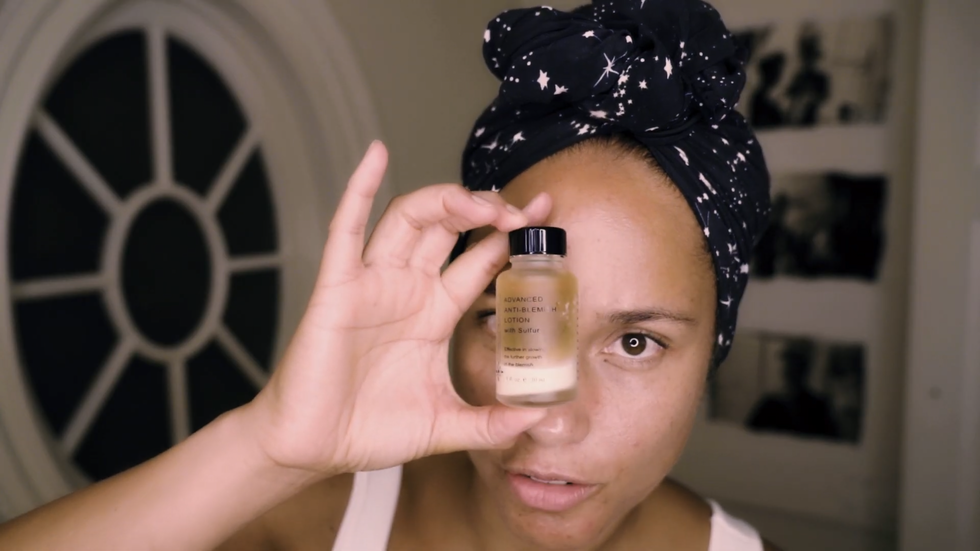 Photo via YouTube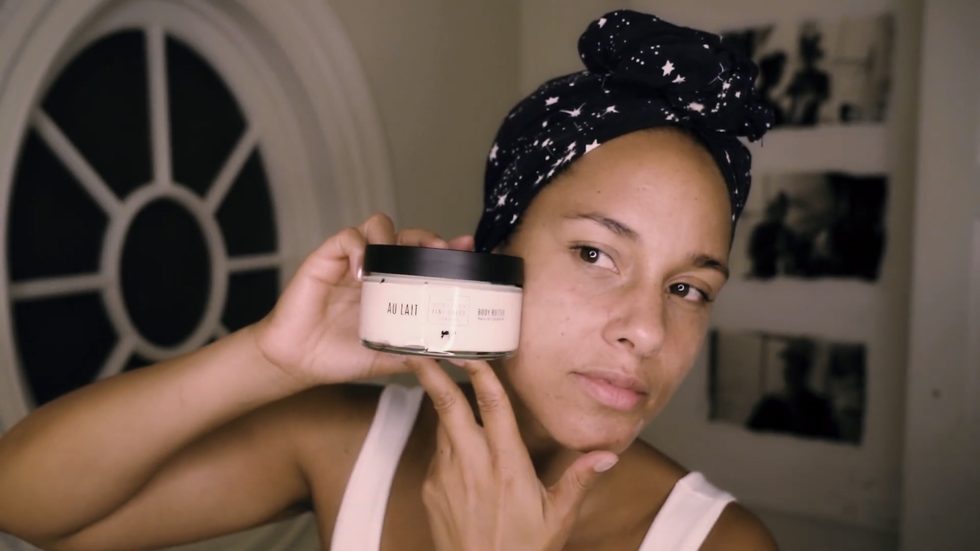 Photo via YouTube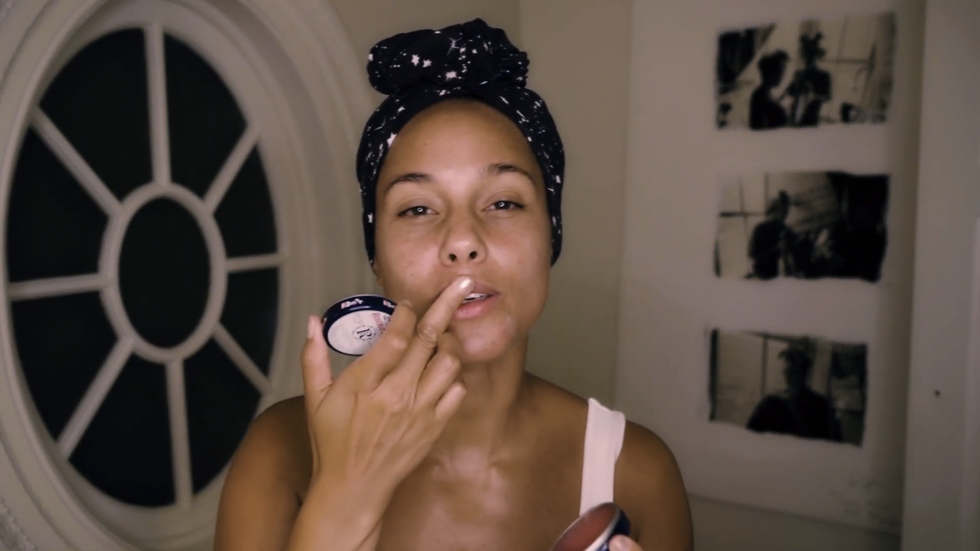 Photo via YouTube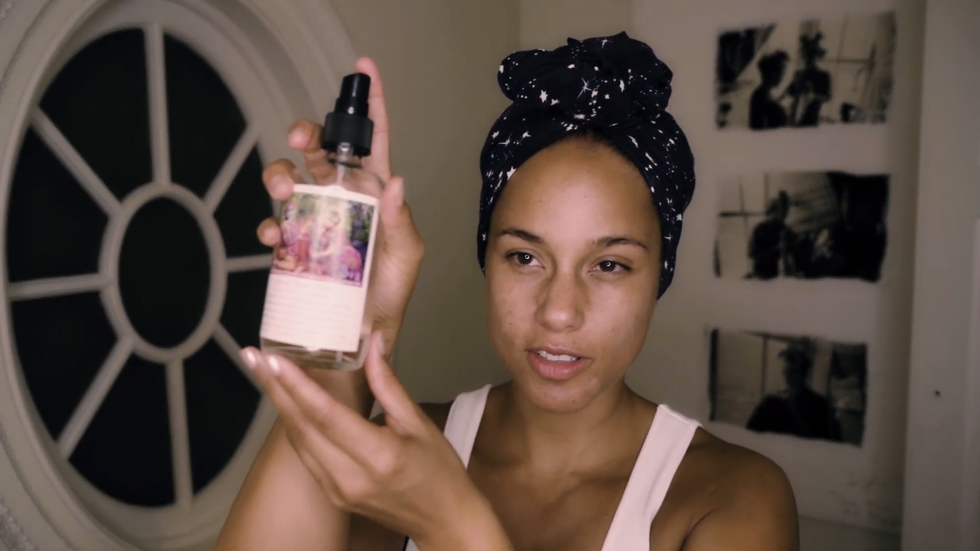 Photo via YouTube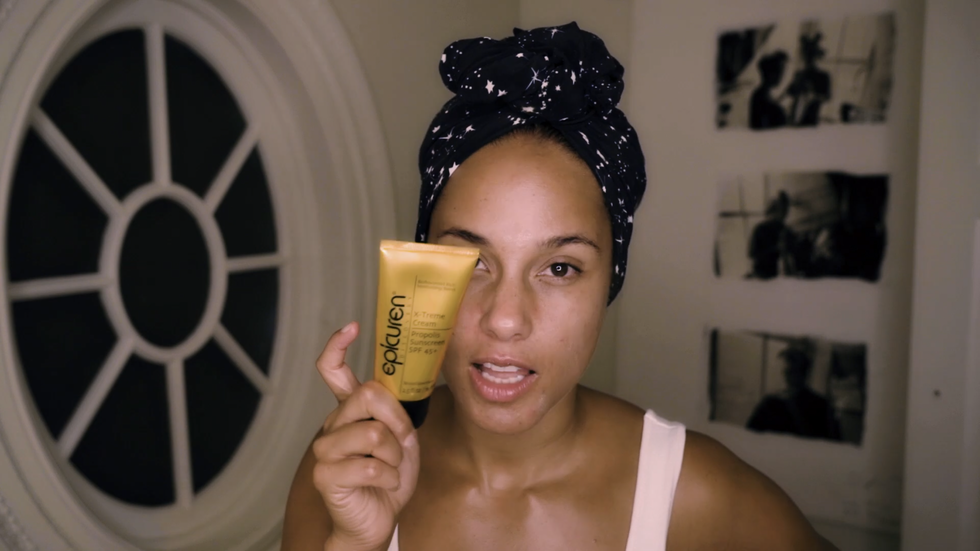 Photo via YouTube
Watch the full clip below!
Get Unready With Meyoutu.be
Featured image screengrab via Alicia Keys/YouTube

Only Jada Pinkett-Smith and her mama can have me crying in front of my computer at 10 o'clock on a Monday morning and the latest Red Table Talk drop was no exception. In a special episode, Jada, Willow, and Adrienne were joined by GRAMMY-award winning artist, Alicia Keys, who replaced the legendary red table with a piano for today's segment.
During their discussion, Alicia opened up about the lessons she's learned in life, love, and motherhood and shared what she thinks is the biggest misconception she thinks that people have about her:
"Probably that I'm very happy or that I'm very strong. But I get the sense that people expect me [to be]. They're like, what do you mean you don't feel bad? Oh, and my favorite one. They don't think I curse. I'm like, what the f*ck?"
Along with dropping a few F-bombs and sharing some laughs, there were also some deeply intimate on-camera moments that Alicia had with Jada and her gang where they discussed the real reason behind her no-makeup campaign, struggling with self-worth, and being a recovering people-pleaser.
Alicia Keys On Her Issues With Self-Worth…
According to Alicia Keys, many of the empowering anthems that flooded the radio over the years were written from a place of despair. Although songs like "Girl on Fire" and "Superwoman" may be about strong, independent women who know what they want in life, she wasn't always one of them.
"I have been doing this thing for many years where I have been downplaying whatever it is that I need because I never want to come off too demanding. I just need that little bit; I don't need a lot and I've always thought that that was actually a very righteous, beautiful way to be."
It wasn't until recently that Alicia learned that pouring from an empty cup isn't only unrealistic, it's impossible.
"I realized that, in fact, what I've been doing to myself and what I've been actually asking the universe to give me is only a little bit, I've been battling potentially some self-worth issues because, for whatever reason, I'm feeling like I'm not deserving of greatness. And I've been smushing it down for so long that if it's become a habit, a bad habit."
On Being A Recovering People-Pleaser...
"I don't even know how to get mad. I don't even know what it's like to just lose my mind on somebody just totally lose it. And my mother, on the other hand, is very good at being angry and kind of sharing her true feelings, which I actually admire deeply about her. So many times I looked at her like, I wish I could do that, which would be so freeing. But I think because she raised me and it was her and there was a certain balance that I had to naturally take in order for the relationship to work. And then I kind of took that with me everywhere. So then I became that person with everybody."
Alicia Keys On Why She Stopped Wearing Makeup...
We all hate the infamous "wow, you look tired" comment at work when the truth is, you really just aren't wearing makeup today, so Alicia Keys decided to do away with it all together. According to her, after years of wearing a full face of makeup, she eventually didn't recognize herself at all.
"I didn't even know my face. I didn't even know my own face. When I took off all the stuff and I looked into the mirror, I didn't know that person. It was that drastic."
Eventually, Alicia saw that her need to wear makeup stemmed from the same people-pleasing mentality that she had been trying to overcome all along.
"I was realizing that I wanted to know myself more. Then I started getting in his head trip about like, oh my gosh, I've done that because I've been told to do that. Succumbing to whatever people's expectations of me are, which is mostly pretty much my life. Like, Oh, what do you expect from me? Oh, let me do it."
On The Most Challenging Time In Her Life…
"I would say finding the strength to let go of the people that weren't serving me. Yeah. When they were so integral in everything that I had known and I felt almost so dependent on them, I felt in my mind I thought that without them I wouldn't be me. Yeah. And that took a long time to come to terms with that. People definitely assist you in your journey for sure. But they don't make you. Yeah. Nobody makes you, I make me."
Alicia Keys On Lessons In Motherhood…
There are people in your life who are meant to be blessings, and those who come into your life to teach you a lesson; but Alicia Keys says that her son and bonus children have been both.
"They've taught me to appreciate the vibe, to appreciate the magic and to know when it's not there. There [are] moments when something is actually magic and you're like, you know what, I'm gonna go ahead and stay here. Yeah. And I might be really late tonight, but the magic is here and it's worth it. And then there's other moments where I'm like, there is no magic. I don't have to try to conjure up the magic, hurry up and make the thing happen. No, it's not happening today."
Alicia says that the lessons she's learned in motherhood have even crossed over to her professional life.
"Go, make sure you're where you need to be, you know. So that's been cool cause I used to just beat things to death. If I wasn't working 19 hours a day, I wasn't actually working. That's stupid."
Watch the full clip below!
Featured image by lev radin / Shutterstock.com