It's no secret that Alicia Keys exudes inner peace and bares the succulent skin of our youth that we're spending $$ in adulthood trying to re-capture. So when sis listed her commandments to balanced beauty and wellness in Elle, you better believe we took notes. Adding to her credibility as a skincare guru, the star launched a wellness brand—Keys Soulcare—in the midst of the pandemic that included a line of facial products.
Now, the 40-year-young mom of two is launching an equally soothing body care line we're deeming essential. The newbies to Keys Soulcare include a Renewing Hand and Body Wash, Rich Nourishing Body Cream, and Sacred Body Oil.
First Things First, Rituals and Affirmations Are a Must
According to Alicia, affirmations have the "ability to remind ourselves how incredible we are." She believes this so much so that each product under Keys Soulcare comes branded with an affirmation. The idea is that even taking just a moment for yourself by reciting one of these affirmations while using your fave product creates a ritual that brings you one step closer to inner peace.
One of her most popular face products was the Golden Cleanser, which she reformulated for use all over as the Renewing Body + Handwash. "The mantra of this product is, 'I love myself as I am.'" She also shared her thoughts on her personal fave, the Sacred Body Oil. "When you get out of the shower, put some drops on your damp skin and say the mantra is 'Everything I do is an act of creation,' which is powerful. Think of that as you're creating this moment for yourself and your day."
Be Kind to the Skin and Body You're In—It's the Only Set You Have
Alicia says she suffered from "skin issues for a long time" and classified herself as having been a thicker girl. "I had a lot of curves early," she explained while adding the added attention was an insecurity of hers in her younger years. But she says it's important to note that the body and skin are ever-evolving. As she got older she had a new set of insecurities to embrace.
"When I had kids, I felt like, 'Oh, my gosh, I'll never look the same ever again.' And that creates insecurity. It fluctuates and flows, but I feel like today, right now, I feel really good about my body. Every day, what your body does is a miracle. We're like the walking embodiments of miracles, and I like to remember that."
Her point? Beauty is not only skin-deep, and finding things that bring a healthy beauty perspective is important. She shared, "I feel really beautiful after a hard hike. My strength and ability is sexy and sensual. Or laying on a beach chair with some sun beating down on me. And I feel beautiful when I'm just with my family and my sweatpants on a couch, and we're all just cuddled up and hugging, watching a movie—that feeling of pure bliss and love."
Always Be Gracious and Always Celebrate 
Don't forget to thank yourself for how far you've come, which is a practice that Alicia enforces with herself regularly. "I'd have never thought 20 years ago [when I released my first album] that I'd be here flourishing and more creative than ever and creating the best music of my life, making the best connections of my life. When I look back [at my 20-year-old self], I'm just profoundly appreciating her because she helped to create me now," says the singer.
She adds, "The advice I would give my 20-year-old self is, you already have it right. You don't have to change anything. You don't have to fix anything, you don't have to try to fit in anything or be whatever people want you to be. All you have to do is keep doing you."
Featured image by Rich Fury/Getty Images for dcp

Keep reading...
Show less
For most of us, nighttime is the most glorious time of the day. The kids (if applicable) are in bed, your work for the day is done, you've got your essential oils burning, and it's time to wind TF down. But personally, one of my favorite times of the evening is when I can light a candle, roll a fat one, and completely consume myself in my skincare routine.
I've grown to learn that no matter how busy I am, I owe it to myself (and my skin) to take at least 30 minutes out of my day to truly take care of myself and not feel bad about it, damn it, and Alicia Keys agrees with me.
Recently, the famously bare-faced beauty dropped a "Get Unready With Me" video on her youtube page where she broke down her skincare regimen and filled us in the products that keep her sometimes difficult skin blemish-free and according to her, incorporating sulfur into your nighttime routine might be the stinky skincare secret you didn't know you needed. She explained:
"If you've ever gone to places that have sulfur, it's like when you're driving down the highway and you smell that egg smell, and everybody in the car is like, 'Oh, who farted?' That's sulfur. It smells like a fart. But whatever the case, sulfur is the bomb."
Along with her sulfur-infused Advanced Anti-Blemish Lotion, Alicia says things like her candles, essential oils, Sacred Rose Water aromatherapy spray, and the palo santo stick are essential parts of her nighttime routine that allow her to get her intentions all the way together (and camouflage the smell of sulfur before she gets in bed). In the video, Alicia explained that as a wife, a mother, and an entertainer, her skincare routine has become less of task on her to-do list and more of an act of self-care:
"For me, even if it's just five minutes at the end of the day I need it and I bet you need it too. I actually love getting undone at night. My husband always like, what are you doing in there? But it's my time. No, I love taking the time to just bring it down."
For more of the nighttime products that prepare Alicia's slay for the next day, scroll below!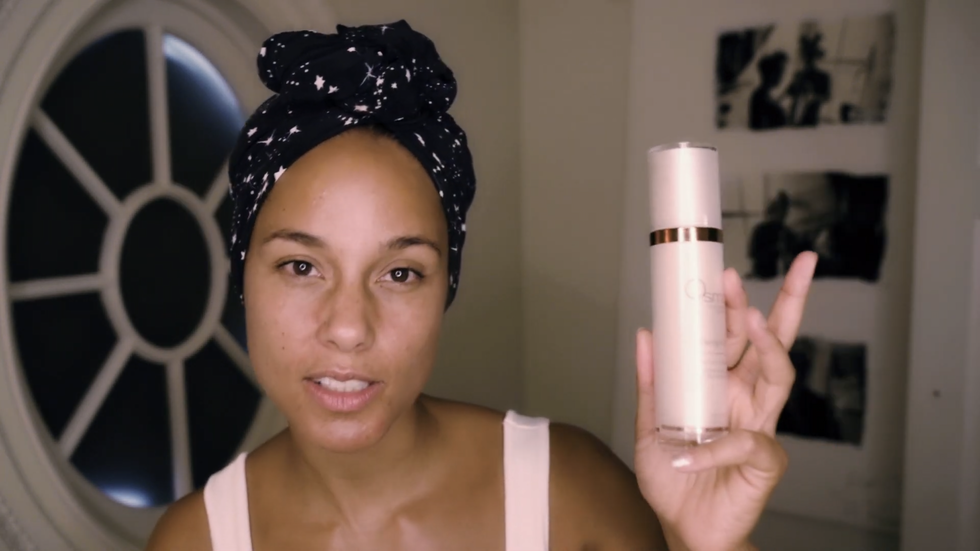 Photo via YouTube
An Organic Therapeutic Toner with Honey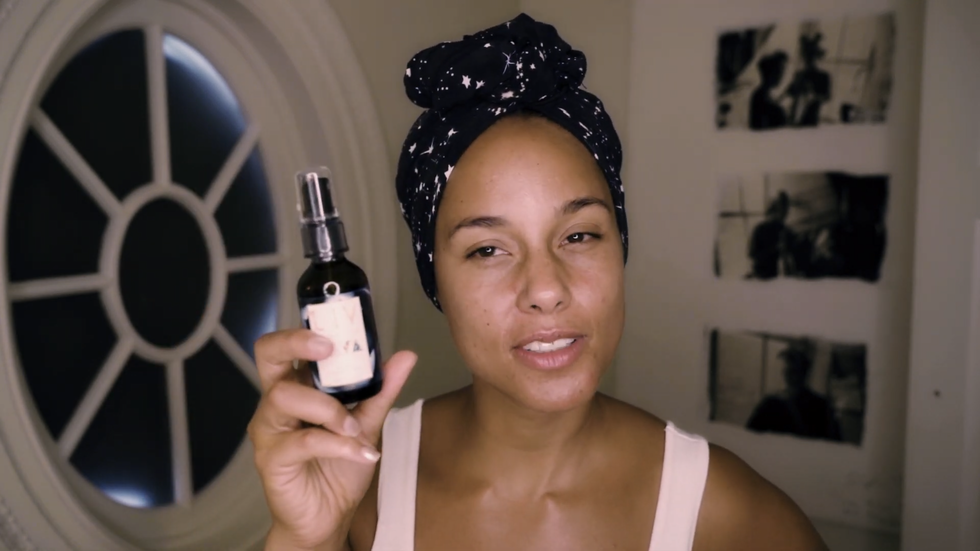 Photo via YouTube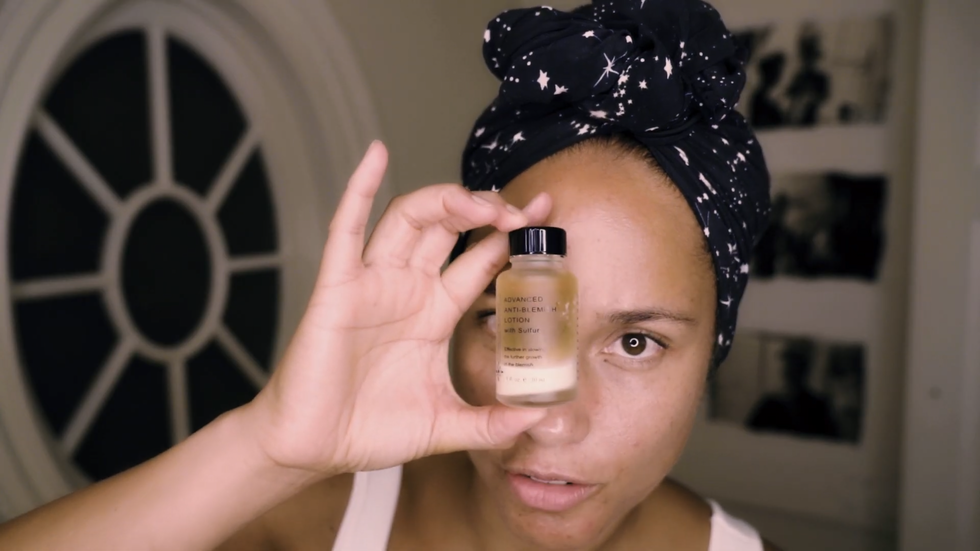 Photo via YouTube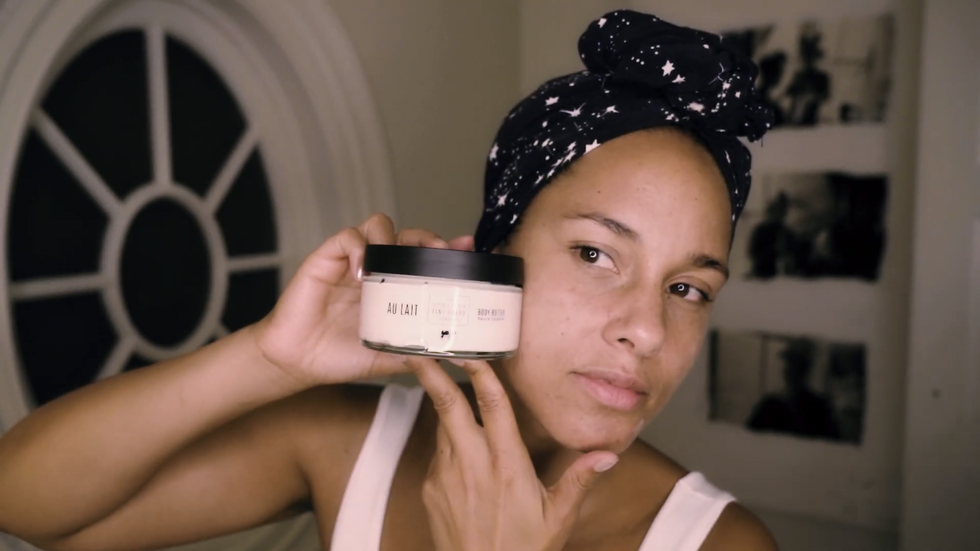 Photo via YouTube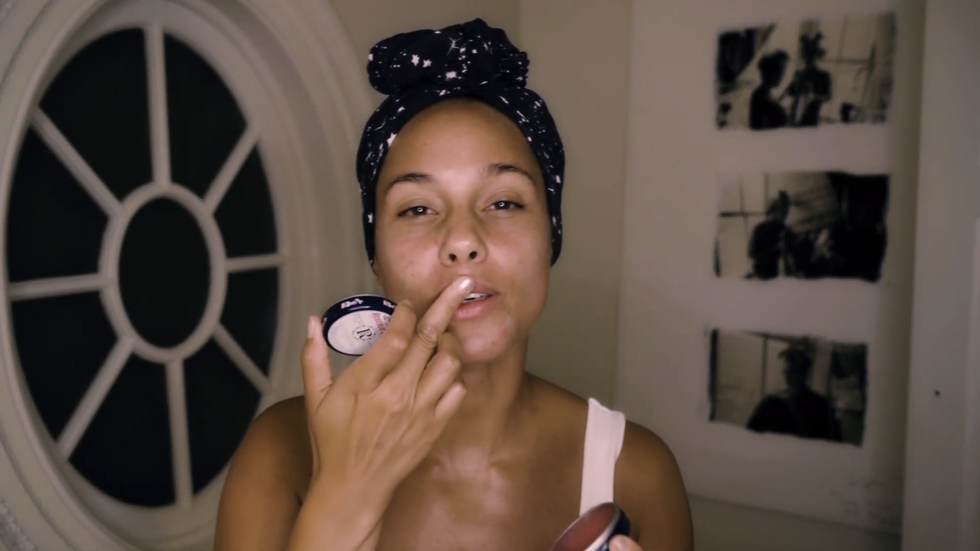 Photo via YouTube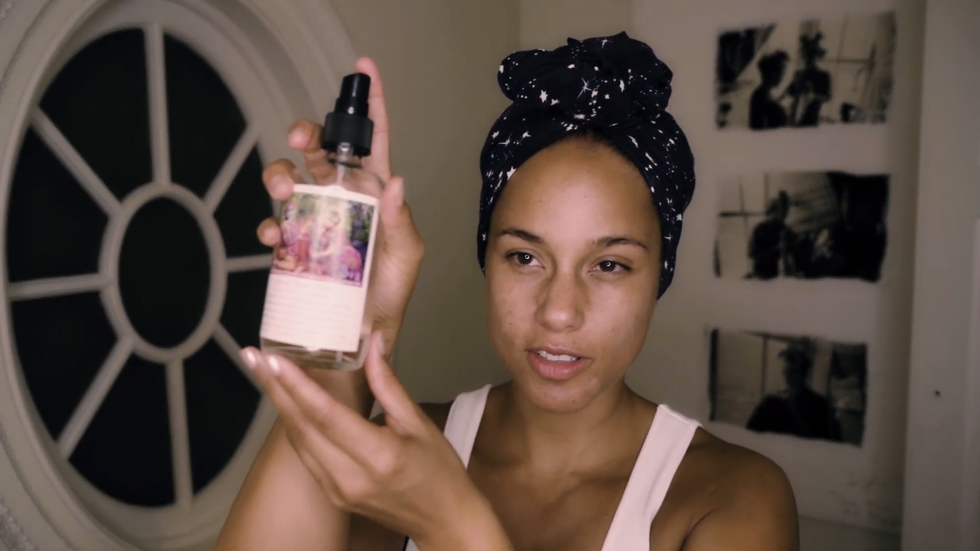 Photo via YouTube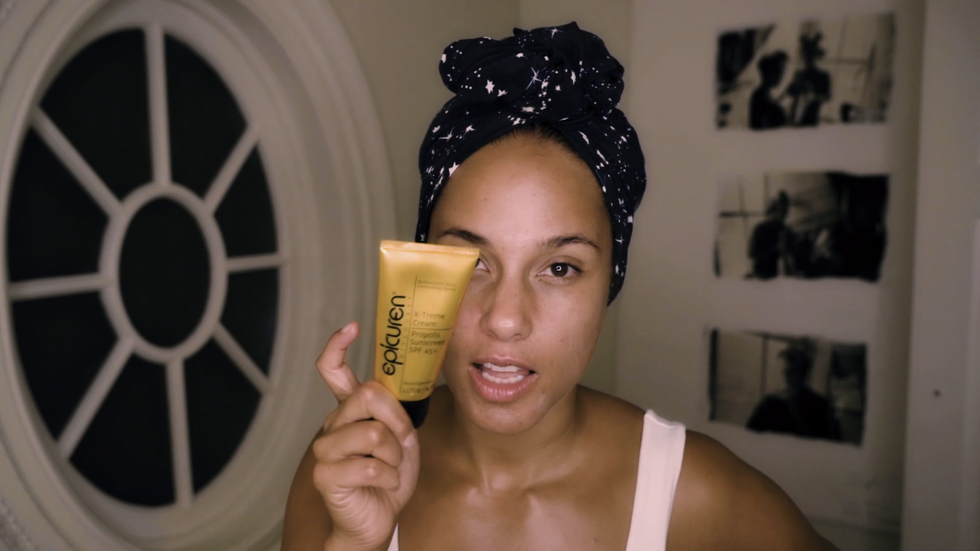 Photo via YouTube
Watch the full clip below!
Get Unready With Me youtu.be
Featured image screengrab via Alicia Keys/YouTube

Keep reading...
Show less
Only Jada Pinkett-Smith and her mama can have me crying in front of my computer at 10 o'clock on a Monday morning and the latest Red Table Talk drop was no exception. In a special episode, Jada, Willow, and Adrienne were joined by GRAMMY-award winning artist, Alicia Keys, who replaced the legendary red table with a piano for today's segment.
During their discussion, Alicia opened up about the lessons she's learned in life, love, and motherhood and shared what she thinks is the biggest misconception she thinks that people have about her:
"Probably that I'm very happy or that I'm very strong. But I get the sense that people expect me [to be]. They're like, what do you mean you don't feel bad? Oh, and my favorite one. They don't think I curse. I'm like, what the f*ck?"
Along with dropping a few F-bombs and sharing some laughs, there were also some deeply intimate on-camera moments that Alicia had with Jada and her gang where they discussed the real reason behind her no-makeup campaign, struggling with self-worth, and being a recovering people-pleaser.
Alicia Keys On Her Issues With Self-Worth…
According to Alicia Keys, many of the empowering anthems that flooded the radio over the years were written from a place of despair. Although songs like "Girl on Fire" and "Superwoman" may be about strong, independent women who know what they want in life, she wasn't always one of them.
"I have been doing this thing for many years where I have been downplaying whatever it is that I need because I never want to come off too demanding. I just need that little bit; I don't need a lot and I've always thought that that was actually a very righteous, beautiful way to be."
It wasn't until recently that Alicia learned that pouring from an empty cup isn't only unrealistic, it's impossible.
"I realized that, in fact, what I've been doing to myself and what I've been actually asking the universe to give me is only a little bit, I've been battling potentially some self-worth issues because, for whatever reason, I'm feeling like I'm not deserving of greatness. And I've been smushing it down for so long that if it's become a habit, a bad habit."
On Being A Recovering People-Pleaser...
"I don't even know how to get mad. I don't even know what it's like to just lose my mind on somebody just totally lose it. And my mother, on the other hand, is very good at being angry and kind of sharing her true feelings, which I actually admire deeply about her. So many times I looked at her like, I wish I could do that, which would be so freeing. But I think because she raised me and it was her and there was a certain balance that I had to naturally take in order for the relationship to work. And then I kind of took that with me everywhere. So then I became that person with everybody."
Alicia Keys On Why She Stopped Wearing Makeup...
We all hate the infamous "wow, you look tired" comment at work when the truth is, you really just aren't wearing makeup today, so Alicia Keys decided to do away with it all together. According to her, after years of wearing a full face of makeup, she eventually didn't recognize herself at all.
"I didn't even know my face. I didn't even know my own face. When I took off all the stuff and I looked into the mirror, I didn't know that person. It was that drastic."
Eventually, Alicia saw that her need to wear makeup stemmed from the same people-pleasing mentality that she had been trying to overcome all along.
"I was realizing that I wanted to know myself more. Then I started getting in his head trip about like, oh my gosh, I've done that because I've been told to do that. Succumbing to whatever people's expectations of me are, which is mostly pretty much my life. Like, Oh, what do you expect from me? Oh, let me do it."
On The Most Challenging Time In Her Life…
"I would say finding the strength to let go of the people that weren't serving me. Yeah. When they were so integral in everything that I had known and I felt almost so dependent on them, I felt in my mind I thought that without them I wouldn't be me. Yeah. And that took a long time to come to terms with that. People definitely assist you in your journey for sure. But they don't make you. Yeah. Nobody makes you, I make me."
Alicia Keys On Lessons In Motherhood…
There are people in your life who are meant to be blessings, and those who come into your life to teach you a lesson; but Alicia Keys says that her son and bonus children have been both.
"They've taught me to appreciate the vibe, to appreciate the magic and to know when it's not there. There [are] moments when something is actually magic and you're like, you know what, I'm gonna go ahead and stay here. Yeah. And I might be really late tonight, but the magic is here and it's worth it. And then there's other moments where I'm like, there is no magic. I don't have to try to conjure up the magic, hurry up and make the thing happen. No, it's not happening today."
Alicia says that the lessons she's learned in motherhood have even crossed over to her professional life.
"Go, make sure you're where you need to be, you know. So that's been cool cause I used to just beat things to death. If I wasn't working 19 hours a day, I wasn't actually working. That's stupid."
Watch the full clip below!
Featured image by lev radin / Shutterstock.com
Keep reading...
Show less
"Baby mama drama" is an outdated, chauvinistic term that's sometimes used to describe the familiar dynamic among a blended family. In 2018, the traditional idea of a family unit looks much different than it did to generations that precede ours, and young parents are totally hip to the impact of effective co-parenting.
Sometimes the one who we've created love and life with is not necessarily the person we're destined to be with forever, and that's okay. Millennial parents understand this inevitable reality and are determined to change the dynamic of blended families and now, even celebrities are joining the wave.
Stars like Jada Pinkett Smith and Mashonda Tifrere are among the women determined to change the narrative of "baby mama drama" in the black household and address the dysfunction that currently exists.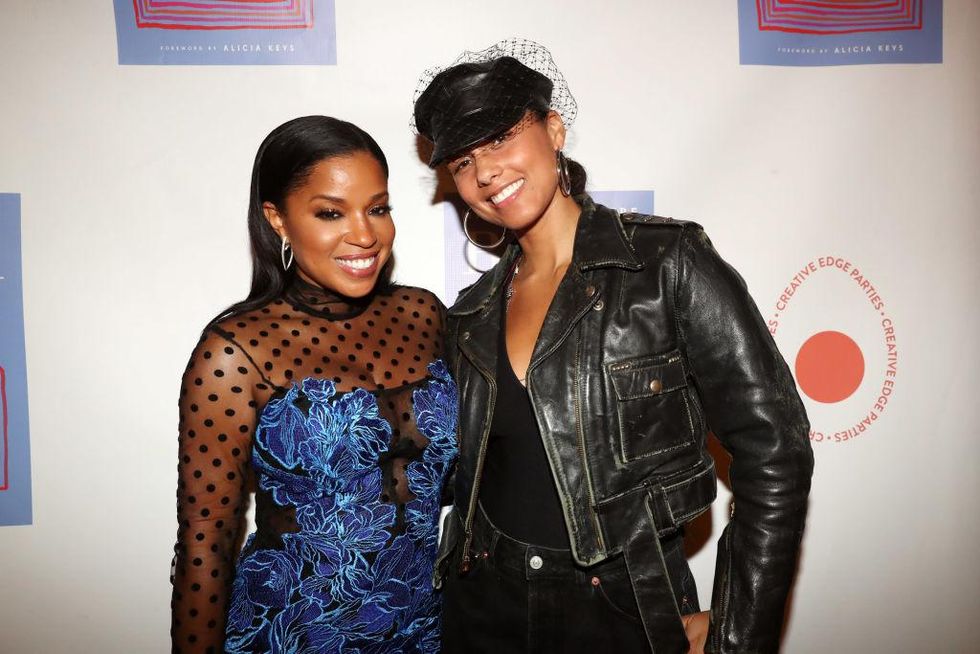 Johnny Nunez/WireImage
At the end of any relationship, tensions are high as the culmination of a whole lot of love ceases to exist on either or both ends. When you throw a young life into the mix of all of that, things can get messy. Swizz Beatz, Alicia Keys, and Mashonda are testaments to the fact that blended families can be complicated, but a healthy relationship among every party is well worth the trouble.

Swizz Beatz and Mashonda began their relationship in 1998 and married in 2004. Shortly after announcing their separation in 2008, tabloid rumors began to speculate that Swizz Beatz and Alicia Keys were an item, which was later confirmed in 2009.
After a multitude of media coverage about the situation unfolded, Mashonda publicly confronted Alicia Keys in an open letter, adding salt to an already open wound in the tabloids. Since then, the trio seems to have resolved their issues, though never publicly confronting how their big happy family came to be.
Despite all our personal mess and biases, we tend to forget that when there are children involved, and when we keep that in mind-- all that other sh*t goes out the window. Mashonda, author of the new book, Blend: The Secret to Co-Parenting and Creating a Balanced Family, recently opened up about when she realized that she had to make a change in her family dynamic for the sake of her son's well-being:

"Six years ago, my [then] 5-year-old son asked me why his father and I didn't like each other anymore. I realized that he was reacting to our lack of communication and unity as parents. It was a wake-up call. Co-parenting and blending is a universal topic and many don't know where to begin. This book will serve as the inspiration and blueprint that is needed to raise emotionally and mentally healthy children."
The book is set to release Oct. 2 and will include advice from therapists, relationship experts, and stories from other blended families.

"With a dedicated chapter for fathers written by Swizz and a heartfelt foreword penned by Alicia, the three of us are raising our voices to help generations of families worldwide. I'm certain that the book will become a toolbox for mindful parents all over the world."
Yandy Smith is also among the stars seeking to change the narrative of blended families and wrote a book that tells the story of her own blended reality. She told CEOMom that she was inspired to write the book after a heartbreaking conversation with her son:
"'My Blended Family' is a book that evolved from a very personal experience. We, of course, are in a blended family. My son's older brother could not make it to his birthday party, because of a prior obligation with his mommy. My son was completely disappointed that his brother wasn't coming to his birthday party. He was more distraught that his brother had a different mommy. For that reason, I created this book for parents to have an easier way to explain to their children that some families are different, but they are still normal. I wanted him to know that he is not alone. He is not the only kid who has siblings with different families or parents."
Though AK and Mashonda have had a tumultuous history, the famous trio have been adamant about restoring their relationship for the sake of their family. The group even linked up last Mother's Day at the Beatz family home in a public display of comradery for a special meal with the whole crew.

Alicia Keys wrote on Instagram:

"I never thought love could be so deep, so wide, so open, so full, so elevating! Such a teacher!" Keys wrote on Instagram Monday. "Thank you for teaching me, growing me, deepening me!! I'm Forever yours Egypt, Genesis, Kasseem, Nas and Nicole."
Mashonda and AK prove that with a little faith a whole lot of work, blended families can be lit.
Featured image via Johnny Nunez/WireImage