Teyonna Lanez
Teyonna Lanez is a brand strategist and producer with a love for doing the inner and outer work -- mindset shifting and marketing. The Atlanta native is passionate about social media storytelling and sharing positive affirmations to help people maintain inner peace despite external chaos. Connect with on Instagram @TeyonnaLanez or on her site TeyonnaLanez.com.
The global pandemic due to the outbreak of COVID-19 has put a halt on everything --- especially creativity. For many people, including artists like Ari Lennox, it's been challenging to find creative inspiration with all that's going on in the world, from the pandemic to continued police brutality to natural disasters. The chaos around us makes it hard for creativity to thrive.
However, the right opportunity can find you when you least expect it and help re-spark your creativity. That was the case for Ari Lennox when she was approached by Crown Royal to remake the song "If You Want Me To Stay" by Sly & The Family Stone.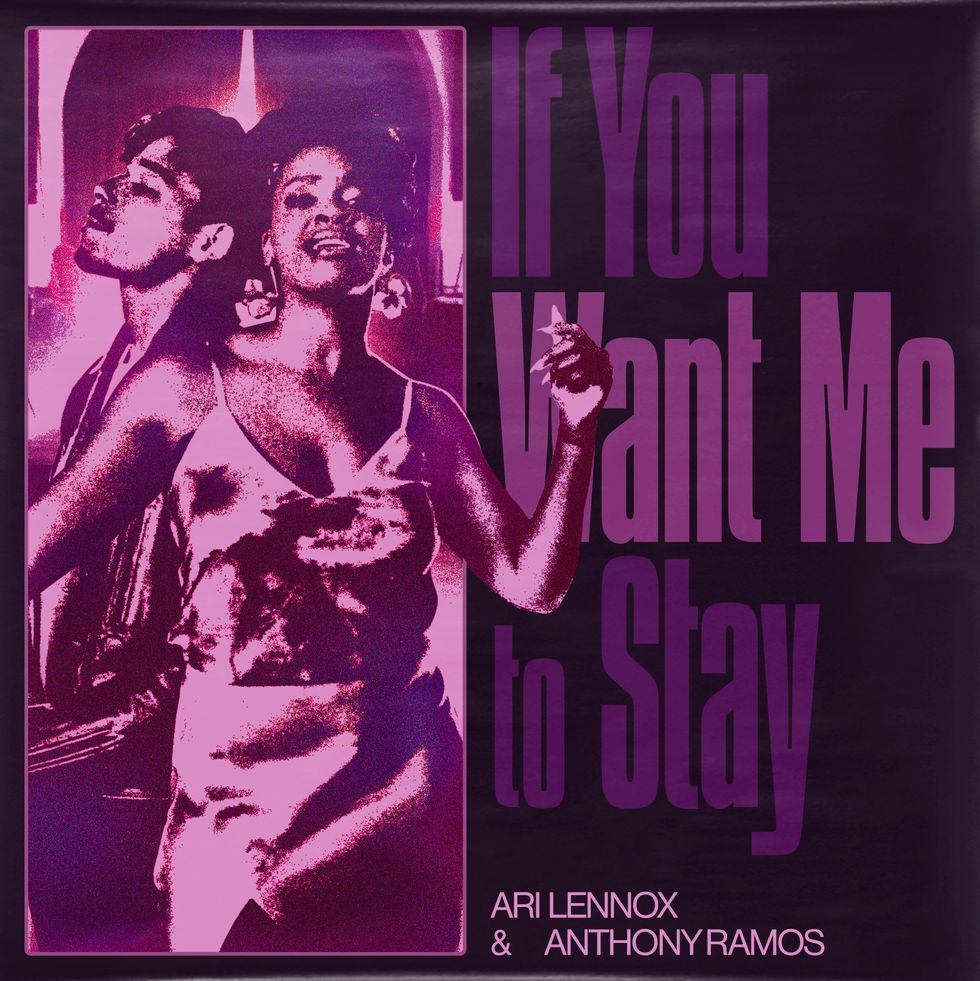 Courtesy of Crown Royal
"Crown Royal came to me with a beautiful opportunity to work with Anthony Ramos and I couldn't turn that down. They're amazing, and Anthony is amazing. I just felt like it'll be an honor to work with them."
On the track, the Shea Butter Baby artist collaborated with singer and actor Anthony Ramos (Netflix's She's Gotta Have It). Their rendition of "If You Want Me To Stay" seeks to support businesses that help us heal through music and entertainment, such as bars, clubs, and venues. These spaces are in danger of closing due to COVID-19.
"I'm thankful that this cover happened because it's hard to find inspiration during this time to create about what I normally create about, which is love and romance. How do you find anyone or get some during this time?" she laughs. "I'm not sure how it's possible at all."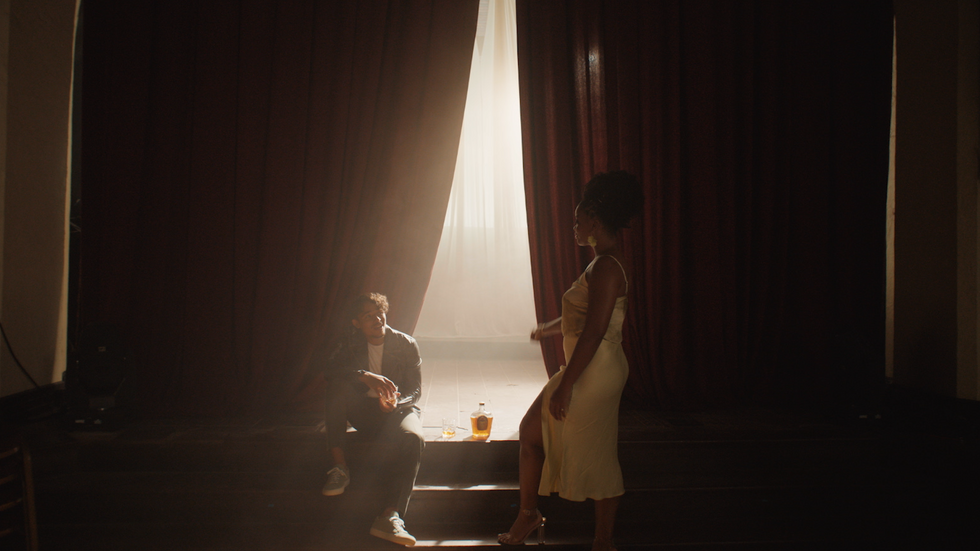 Courtesy of Crown Royal
"It's nice to be led by the greats, the legends, like Sly & The Family Stone who can offer words and his beautiful song so that I can find inspiration and try my best to do his song justice."

When asked to describe the process of creating this record in one word, Ari called it "refreshing", similarly to Peach Crown Royal, one of her favorite flavors of the whiskey.
If you need to refresh your creativity during this difficult time, here are three lessons you can learn from Ari's experience remaking this classic track:
Study the greats that came before you.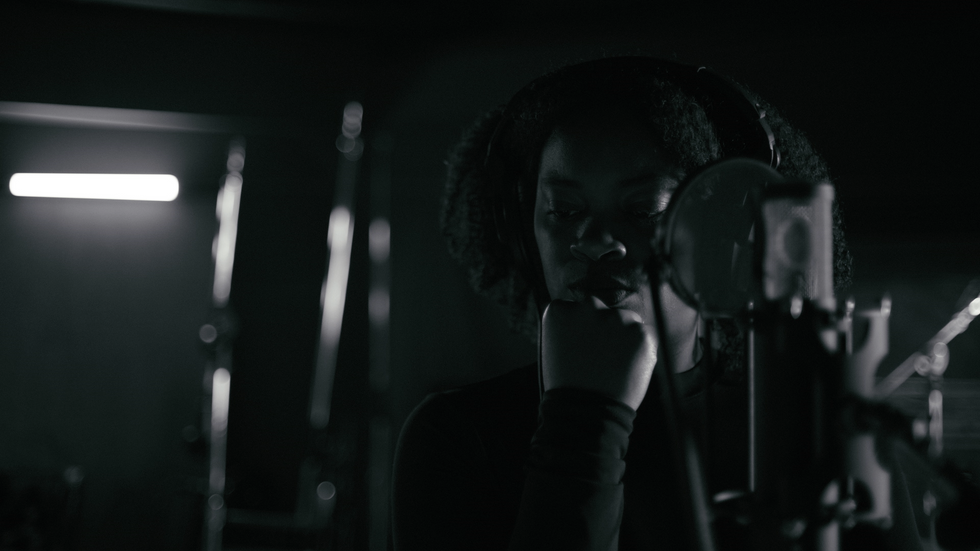 Courtesy of Crown Royal
After Crown Royal approached Ari with the opportunity to remix the song with Anthony, she intentionally analyzed the lyrics. "I studied the record because I wanted to properly execute and be respectful to Sly & The Family Stone. So I did my best in learning it."
The internet gives us access to so much information. To re-spark your creativity, go beyond merely reading about the greats and take the time to really study their work like Ari did to prepare for the record. Read articles, watch interviews, pay attention to the social media captions of those who you admire to better understand their journey and how you can apply it to your life.
Make a human connection and feel the vibe.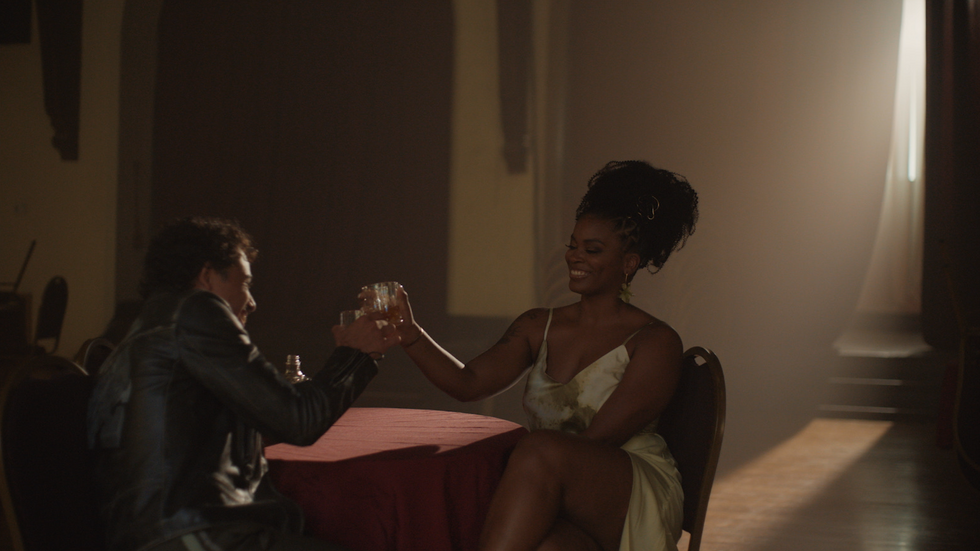 Courtesy of Crown Royal
One of the biggest lessons that we've learned from 2020 is that we truly need each other to get by. The forced isolation of quarantine makes us appreciate authentic human connections more than ever. Ari built a genuine relationship with Anthony while recording the song together that was based on good vibes from the start. "First, we had a Facetime call, and he was so funny, always cracking jokes. I could tell he was good vibes. Then it was the same thing when I met him in real life."
During the studio session, they decided which person would sing which part of the song and how to do the remix justice. "It was great, good vibes. It was fun, he's so hilarious. It was good, good energy... Anthony really helped me stay kind of calm, and it was nice. In the studio session, we really got to know each other and focused on making sure we respect Sly & The Family Stone with each word that we sung."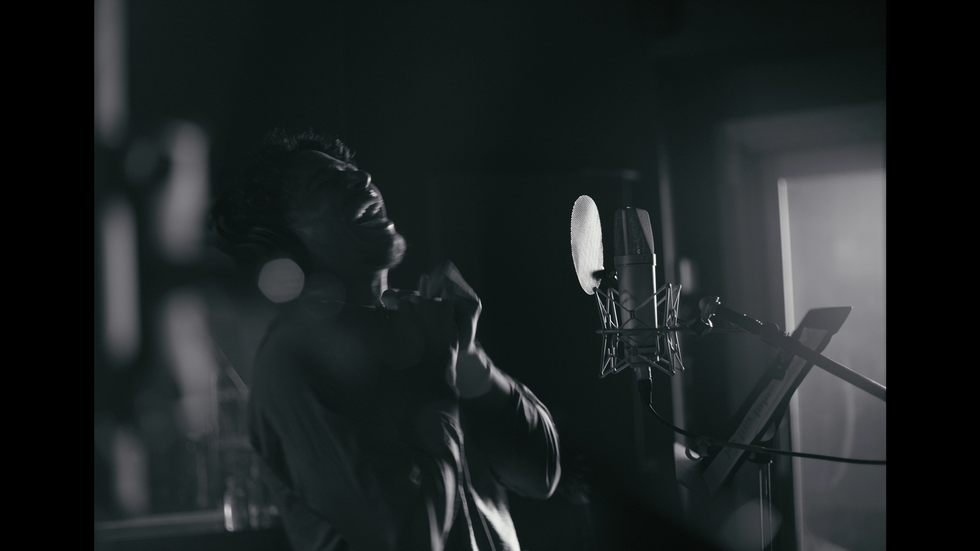 Courtesy of Crown Royal
"Outside of the fact that we had on masks, it just felt supernatural. It was like a relief -- it kind of felt like outside was open again because it was good vibes and everybody was just so sweet, thoughtful, and had good energy."
Ari's experience is a reminder that energy is so magnetic that nothing can interfere with it. If you're struggling to find creative inspiration right now, consider bouncing ideas with someone else. Set up a coffee chat on Zoom with someone you've been wanting to get to know and learn more about their dreams and aspirations to see if there's an opportunity for you two to collaborate or support each other.
Think about the bigger picture and how you can impact others.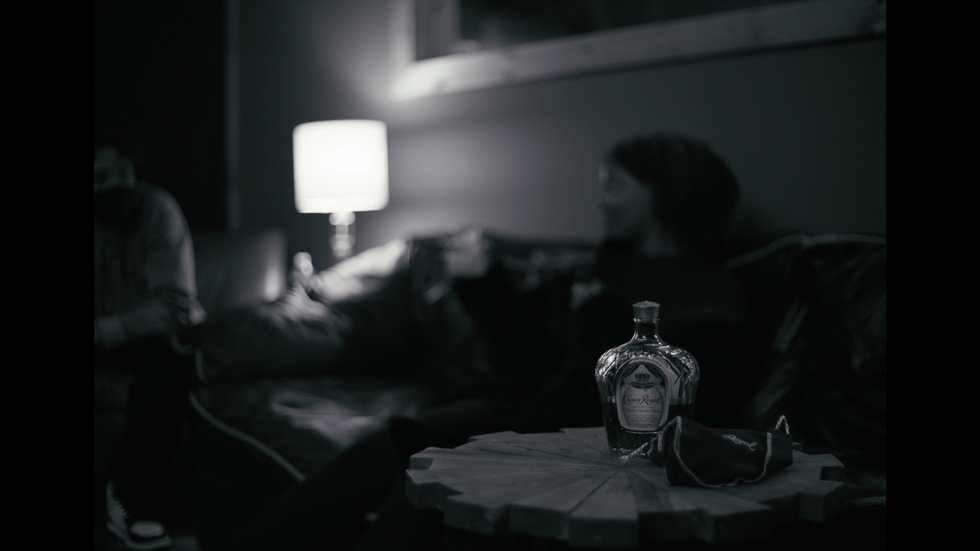 Courtesy of Crown Royal
Ari and Anthony's remake of "If You Want Me to Stay" is backed by a bigger purpose. Crown Royal partnered with The Main Street Alliance, an organization dedicated to supporting small businesses in the United States, to launch a national relief campaign that supports bars, stages, and clubs that are in danger of closing due to COVID-19. For every stream of the track, Crown Royal pledged to donate $1 (up to $500,000) to The Main Street Alliance to help music venues that were impacted by the pandemic.
"We need these venues. They're therapeutic for who's watching and whoever is on stage delivering the music," says Ari. "Also, all of the staff. [It's important to] make sure people stay employed once outside opens. Whether it's the owners, the bartenders, security, technicians, electricians, backstage people, caterers… There are just so many people involved."
Crown Royal will also continue supporting these music venues as they reopen their doors by providing updated point of sale assets, training staff on how to leverage brand ambassadors, and sponsoring events to further raise charitable funds. One of the reasons why Ari jumped at this opportunity was because she recognized the impact that the song could have and how it can give people hope during the craziest year this generation has experienced.
Similarly, you can find creative inspiration by thinking about your role in the bigger picture. If you don't know what your purpose is, spend some time analyzing what people ask you for and what comes naturally to you. If you already have an idea of what you're supposed to be doing, lean into that and try to be inspired by your divine calling. The ideas that you're sitting on because it doesn't feel like the right time can change someone's life, or at the very least, give them encouragement to keep going.
"One day outside will be open again. I think it's important that we come together and let the therapy happen," says Ari.
Stream Ari Lennox and Anthony Ramos' new song "If You Want Me To Stay" on all major digital platforms to support cultural landmarks, like bars, clubs, and stages that've been impacted by COVID-19 and learn more about Crown Royal's commitment to these businesses at crownroyal.com/generosity.
Featured image courtesy of Crown Royal
The best power move you can make this year is to learn how to manage your boss. In short, managing up is making your boss shine and getting what you need from them. Managing up is especially crucial if your boss is uninvolved or not tending to your work or career needs.
When done respectfully, managing up helps you build a relationship with someone in your industry and ensures that you get what you need out of your job while you're there. A lot of us millennials don't see ourselves working at the same place for years -- we tend to bounce around and explore other opportunities. Instead, utilize the resources and relationships that are available where you are now, knowing that it's temporary.
Some may say, "But it's not my job to manage my boss. I don't get paid enough to do that."

Managing up is for your personal gain. At the end of the day, your manager has someone to report to that they want to please. Do your job well and find ways to add value to make your manager look good. Plant seeds by being a hard worker and team player now, so you can reap the benefits later.
Here are a few key ways to master the art of managing up:
1. Make them shine.
The first step to managing up is to be a superstar employee -- get your work done, meet deadlines, flag issues ahead of time, and slay daily! This not only makes you look good, but it also makes your manager shine to their boss.
No matter what type of manager you have, they want to keep their job, so find simple ways to help them. See what admin tasks you can take off their plate, like printing the agendas for a meeting or copyediting documents. Pitch in so you make your manager's life a tad bit easier.
2. Understand their management style and preferences.
These psychological concepts are key elements to mastering the art of managing up. To have a better working relationship with your manager, learn their management style. Are they hands off and laid back? Or are they a lowkey micromanager who wants to know everything you're doing?
Also, understand their communication preferences and writing tone. Do they prefer to send emails or talk in person? When reviewing your work, do they prefer a digital version, a hard copy, or both? Study your manager's writing tone, especially during the first few months of working with them. Is it friendly or direct? Are happy faces acceptable or inappropriate?

Another helpful way to understand their management method is to take the DISC Assessment together to better understand each other's work styles. This personal assessment can help improve work productivity, teamwork, and communication by analyzing conflict resolution tactics, motivations, stress triggers, work preferences, and more.
The assessment analyzes where you fall on the spectrum of dominance, influence, steadiness, and conscientiousness. I took the assessment with my coworkers and found that my boss and I were more similar than I thought -- we ranked high on the conscientiousness scale and I learned that he also is motivated by opportunities to gain knowledge and appreciated details and independence. Knowing his DISC Assessment helped me understand how to approach him and work with him throughout the year.
3. Check in regularly and have open communication.
One of the biggest issues that people have with their manager is poor communication. If you don't already have recurring meetings with your manager, be proactive and schedule them.
The frequency of the meetings depends on your needs and working relationship with your manager. If they are involved in your day-to-day work, you might want to meet weekly or biweekly. If they are hands off or travel often, put a monthly invite on their calendar to touch bases on everything. Even if they are busy -- they are obligated to give you time and attention when necessary.
Have a brief agenda or a few key points you'd like to touch on during your meetings, such as current work, career goals, raises and promotions, or recent events. Be prepared so you get the most of the meeting.
To build trust with your manager, it's important to have open communication. Be sure to flag issues early -- if you'll miss a deadline or be late to work, tell them as soon as possible so you aren't leaving them in a bind.
4. Be personable and seek guidance.
The key to winning people over is to have a genuine interest in their lives. Get to know your boss by allowing them to talk about themselves (people usually LOVE to talk about themselves). Work appropriate topics include hobbies, children, weekend plans, holiday plans, favorite books or podcasts, and lessons they've learned through navigating their career. If you're traveling to a city that your boss has visited, ask what their favorite restaurants or attractions were.
While some people may still be cold despite your efforts to be personable, this is usually a great way to build a good relationship with your boss.

5. Help your boss help you.
In life, but especially at work, it's important to speak up! Have an open dialogue with your manager about your career goals. Don't expect your manager to know what you want to do. If you aren't feeling challenged, or if you're interested in other projects, it's up to you to bring it to your boss. Also pick their brain about their career experiences to see if it can shape your journey somehow.
Navigating your career is challenging, but understanding how to get the most from your managers is a skill that you'll always appreciate! In what ways do you build a relationship with your manager? Share in the comments below!
Featured image by Getty Images
Think back to your favorite activity as a kid.
It may have been creating stories for Barbie and Ken, or building skyscrapers with Legos. Maybe it was playing school with your teddy bears or drawing images that crossed your mind.

As children, our creativity was encouraged, but over the years some of us began to dim our imagination and originality. We found it easier and more convenient to blend in than to stand out. This is what brand marketing strategist and 2x Amazon best-selling author Audria Richmond considers being cloned.
Through her platforms, she encourages people to develop an UnCloned Life, which essentially means to live with "the essence of freedom, expression, and humanity." Audria continued:
"Here, we just live however we damn well please."

Tapping into your creativity is a key component of living your best life. Here's five ways to do that:
Change The Way You Think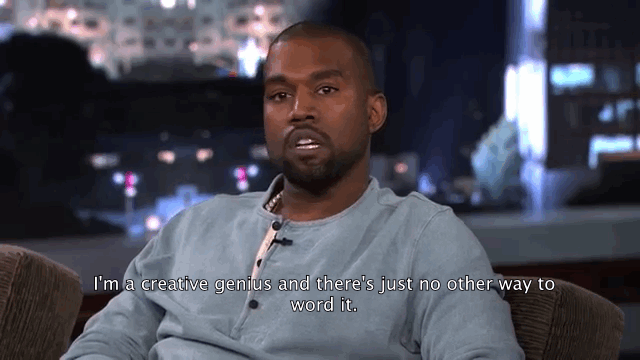 "Creativity is not only for kids, who are exploring the world, or for artists who are trying to interpret the world. Everyone is creative," says Audria. "Everyday, we're creative in deciding what to wear, how to style our hair, how colors go together. It's all a form of creativity. We've limited and put creativity in a box, as if only certain people can access it."
It's also important to know that creativity can't be forced. It doesn't always come to us when we want it to, but the more we integrate it into our lives, we can build it like a muscle.
Find Opportunities To Explore Your Eccentricities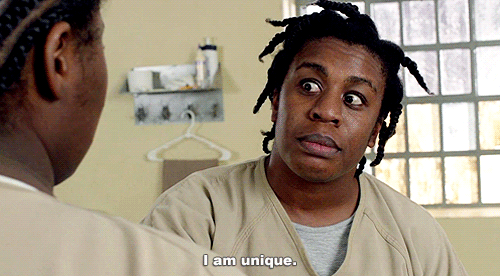 Originality is at the root of innovation. It's impossible to be creative if you always follow the status quo.
Everyday thinking and problem-solving are great ways to flex your creativity. Experiment with colors or patterns in your wardrobe, or go thrifting and see what outfits you can put together. Listen for the instruments in your favorite songs instead of focusing on the lyrics, or take on a DIY project and repurpose old items in your home. Brainstorm ways to solve the issues that matter to you, or add a different seasoning to your favorite meal -- the opportunities to be creative are endless, we just have to be open to doing things differently. Audria agrees:
"When you're willing to challenge the norm, that is when creativity is most available within your mind."
She's leveraging her creative eccentricities by hosting UnCloned Con 2018, a virtual conference to help entrepreneurs thrive in business.
"I had a desire to create an experience that was unique to business owners and that set them up for success. Many individuals who come to me have been burnt by service providers who have half-delivered goods or services. I wanted to create a non-judgment environment that told the truth about business and wasn't going to fabricate information about how to grow your brand."
Breathe. Stretch. Shake. Let It Go.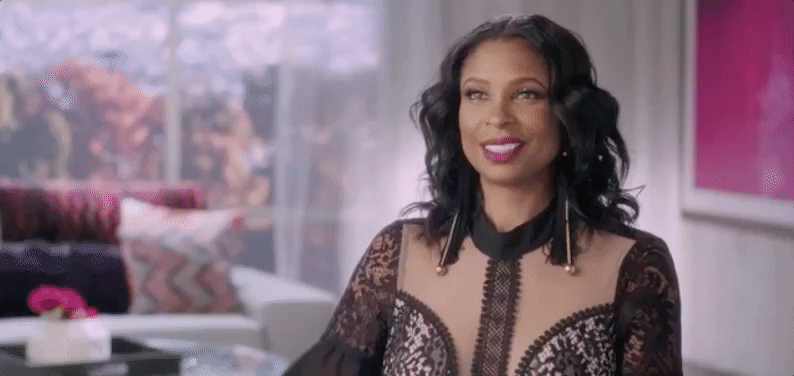 There's truly no room for growth in your comfort zone, and your willingness to get uncomfortable impacts your creative spirit.
I went skydiving for my 25th birthday and it was as scary as you'd imagine. However, it changed my perspective of fear, which I believe is false evidence appearing real. Now, I try to find creative (and safer) ways to step outside my comfort zone - whether that's asking a guy out, being transparent about my insecurities on social media, or taking a pole dancing class. Audria says:
"If you truly want to see a difference in your life and in your thought process, you have to be willing to be uncomfortable by trying new things."
"I always expose myself to new ways of thinking. For instance, if I go to Barnes & Nobles, I may spend my time in the Children's section. I believe that if you are doing the same routine everyday, it's hard to be creative. In your day, when are you allowing for creativity? You have to disrupt your normal pattern."
Explore & Optimize Social Media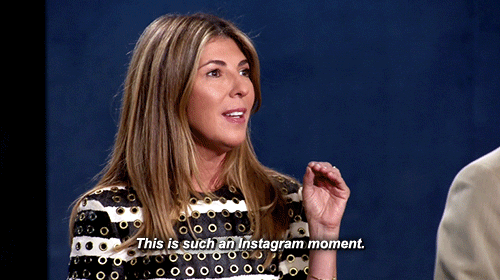 One of the best ways to unleash your creativity is to be playful, and social media gives us the opportunity to have fun while showcasing who we are online. From GIFS and questions on Instagram Story Highlights, to long form video content on IGTV, we can build our personal brand by showing what makes us unique.
"If you're a hairstylist, go behind the scenes and tell us what made you choose that particular style for your client," Audria explains. "Slow down your process to build up a more creative and engaging experience. Don't be afraid to show your process, it shows your individuality."
Find Inspiration Everywhere And Keep Track Of It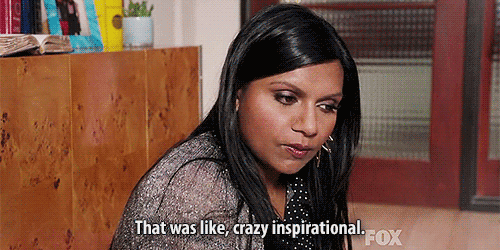 While you can definitely find inspiration on social media, put your phone down to get your imagination running. Try taking a walk through the park, listening to diverse types of music, and doodling and journaling to tap into your creativity.
Audria discovers creativity for her business by studying how Netflix curates content for individuals, in addition to finding inspiration in art, bookstores, magazines and more. She has a creativity folder on her computer to store inspiration that she finds online, including photos, videos, and processes to show a user experience.
You can use the "saved" feature on Pinterest, Instagram, and Facebook to house inspiration that you find on those platforms. Evernote is also a great tool to screenshot inspiration that you find browsing on the Internet.
We all are creative -- we just have to toss logic out the window sometimes and find ways to let our imaginative spirit shine.
How do you express your creativity? Share in the comments below!

The #blackgirlmagic was real at Summit21. Created by women's lifestyle brand 21Ninety, the event brought more than 1,200 Black women together in Atlanta to network and discover ways to elevate their life.
I've been to a few amazing conferences over the years, but Summit21 transformed me in a way that I could never imagine. I laughed, cried, and said "yasssssss" more times than I can count.
There were so many gems dropped by the speakers, but here are five that stood out most:
1. You can't afford to not take care of yourself.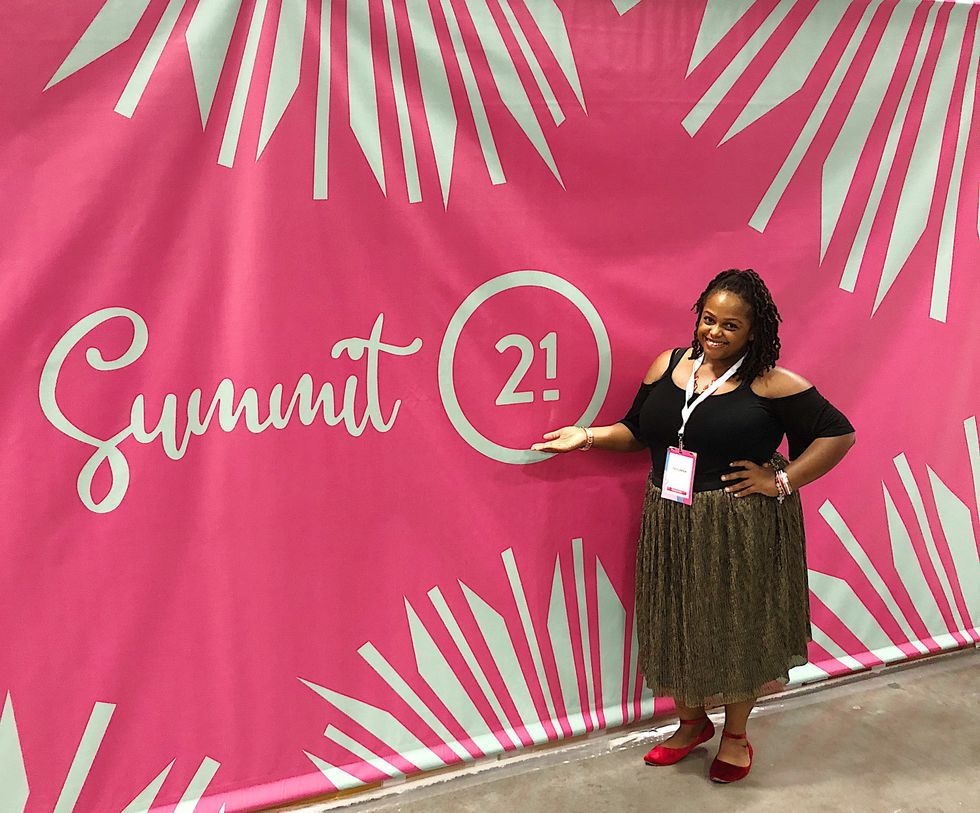 Author Teyonna Lanez
Self-care was a big focus during Summit21. Each day began with meditation to set the tone for the day.

Celebrity wellness and lifestyle guru, Latham Thomas, shared that self-care includes doing check-ins to see how you're feeling and asking for what you need. Equally important is creating boundaries to protect your space and taking your time so you aren't rushing through life.
For branding mogul Karen Civil, self-care includes meditation and leveraging the power of crystals.
To close out Summit21, the founders of GirlTrek highlighted their goal to inspire one million women to commit to 30 minutes of exercise each day. Through their "Tubman Doctrine," a radical self-care practice for freedom fighters, they encouraged women to channel Harriet Tubman by saving themselves first and finding wellness practices that brings them joy.
Throughout the conference, these ladies and many others emphasized the need to take care of yourself to truly lead an enriched life.
2. Know your why.
"If you stand on your why and learn the lessons you need to know this season, you'll get where you need to be," said author and business executive Sarah Jakes Roberts.
She described how your "why" keeps you grounded. Whether it's for the culture, community, or your family, it's bigger than you and ensures that you stay committed to what's important.
A part of knowing your why is understanding your purpose.
"You can choose your passion but you can't choose your purpose," said actress Ashley Blaine Featherson during her fireside chat with comedian Robin Thede. "If you're living in your purpose, success is inevitable. You can't fail because God created you for it."
3. You are culturally wealthy.
Writer Alex Wolf helped me see the power in being a Black woman in a different way. During her session about capitalizing on your blackness, she showed how the people who make Black culture aren't the same people who make money off of Black culture.

Alex highlighted that as Black women, we are the mother of American culture, and we're sitting on a goldmine just for being ourselves. Her "Issa-Cardi Theory" showed an example of how to capitalize on our cultural wealth. Using Issa Rae and Cardi B as inspiration, Alex says that we can resonate with others by starting where we are, being unapologetically Black, and focusing on being relatable.
"The whole world is in love with our culture, and if you don't own it, someone else will."
4. Getting involved with politics is not an option.
"Our lives are literally on the line," said political strategist Angela Rye during her fireside chat.
She discussed the importance of identifying our top concerns (such as justice, prison reform, or women's rights), so we're prepared to raise our voices during the midterm elections this November.
Natasha Murphy of Black Girls Vote and Dr. Wendy Osefo of 1954 Equity Project echoed Angela during their impact session. Black votes are crucial because blood was paid through our ancestors. We owe it to them and ourselves to get involved with our local, state, and federal government elections.
5. Embrace the growing pains.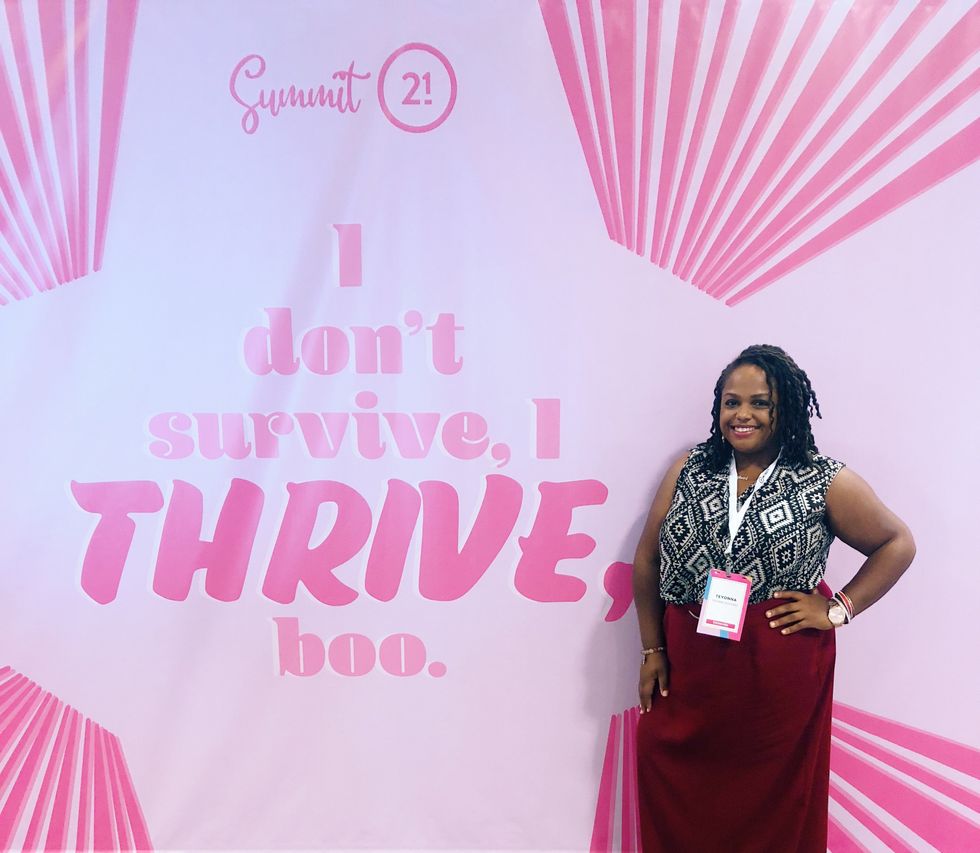 Author Teyonna Lanez
Singer Sevyn Streeter talked about how she gets excited when she feels things coming to an end because it signals a new beginning. She mentioned that it's important for us to understand that change doesn't have to be perceived as negative - instead view it as an opportunity to add different things to your toolbelt of life.

"Don't be afraid of transitioning," says Sevyn. "If God is tapping you on the shoulder, telling you to jump, don't be afraid of the water."
Summit21 helped me see my life more clearly and provided me with actionable steps towards making my dreams a reality. If you weren't able to attend, I encourage you to come to this transformative conference next year!
*Featured Image via Sistas In Stem/Instagram
Whether or not you're strategic about it, you have a personal brand. It's how you make a living or pursue your passion, your social media posts, the way people describe you, and even the vibe you give off when you walk into a room. Your entire being makes up your personal brand.
Personal branding has been a buzzword over the last few years, and there are many articles about why you need to define yours and use it to your advantage. But it isn't clear HOW to build an authentic personal brand that resonates on and offline.
There's so many gems that we can learn from rapper Cardi B about personal branding. Since her rise to fame, she's shown the world her authentic personality. If I had to guess, I'd say that Cardi B is an ESFP (Extravert, Sensing, Feeling, Perceiving), according to the 16 Personalities Test and the Myers-Briggs Type Indicator.
She's someone who treats the entire world like a stage. She describes herself as a comedian at heart -- it's clear that's true every time she's in public or on social media. Cardi's strengths includes being bold, original, and artistic.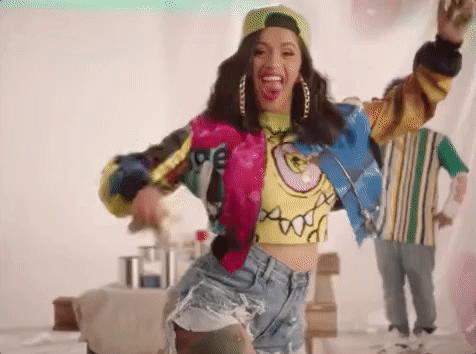 Her authenticity is electric because she unapologetically lets her personality shine.

Like Cardi, you can build a personal brand based on your personality. Although I'm sure you already have a grasp of who you are, you can learn a lot about yourself by taking a personality test.
Take THIS free test and then answer the seven questions below to build a genuine personal brand like Cardi B.
What are five strengths and values from your personality test results?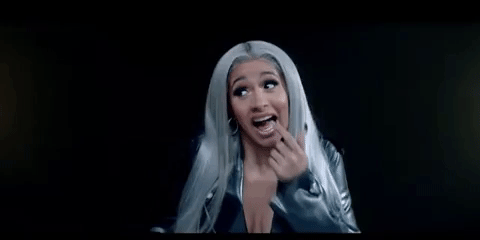 This describes who you are at your core and what's most important to you. Those strengths and values should be shown through everything you do and say in person or online.

ESFPs have excellent people skills. Cardi effectively communicates in her unique and comedic way that makes her hard to dislike as a person, even if you aren't a fan of her music. In her interviews and social media posts, it's clear that she values honesty, her loved ones, and her desire to create music that makes her feel good.
What do you want to be known for?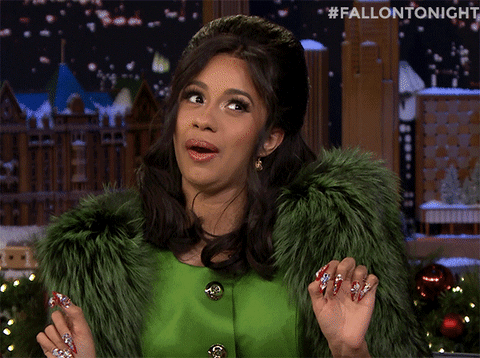 Your legacy isn't something you should think about when you get old - it should continuously be built on. The results from your personality test, particularly in the career section, can help reveal the answer to this question. Write a few sentences describing how you want to be perceived and the impression that you'd like to leave on people.

According to the 16 Personalities Test, ESFP's have "plenty of creative energy, and many build fulfilling careers in music, fashion, photography, and interior design.... They need freedom, novelty, and above all, human contact. "
That's Cardi for you. Her witty one-liners in songs, affordable mixed with high-end fashion statements, and creative catchphrases shows that she wants to be known as a unique artist who keeps it real at all times.
What's your content focus?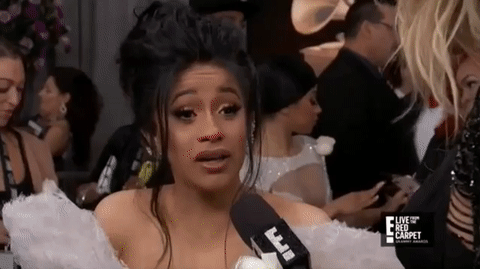 You don't have to be a lifestyle blogger or business coach to build your brand. Just by posting on social media, you, too, are a content creator. Use the first two questions, along with where you are in your life, to help guide your content and create a few subject pillars that you're going to focus on.

On Cardi's Instagram, you'll see posts about her music, Fashion Nova endorsement, engagement, unfiltered sexuality, and her glamorous yet ratchet lifestyle.
What platforms will you focus on?
While you may be active on multiple platforms, think about where you can make the most impact and be consistent and relevant. LinkedIn, Instagram, and Twitter are some of the best brand-building channels because you can showcase your work, personality, and creativity.

With more than 20MM followers, Instagram is Cardi's primary channel. She's on Facebook and Twitter as well, but she focused on IG to build her fanbase even before she was on Love & Hip Hop.
Who's your target audience?
You can't be everything to everyone. Don't change who you are to reach people.

Use your personality type to draw them in.
As a potential ESFP, Cardi's personality is entertaining. She's goofy, loud, in your face and honest. She didn't need to be everyone's cup of tea for her debut album "Invasion of Privacy" to break records. Cardi knows who she's creating music for, and if you don't like her songs then you aren't her target audience.
What's your writing style and tone of voice?
For the record !!!Thank you !!BardiGANG https://t.co/FURd5CXnYi

— iamcardib (@iamcardib) 1523636661.0
This is how you can really let your personality shine through your personal brand. Fun, relatable, professional, serious, witty and inspirational are just a few ways you can communicate online. Look at your personality test results to find keywords that can describe your tone of voice.

Cardi takes a funny and casual approach in her writing - she uses a lot of emojis and all caps showing that she's just as social and loud AF online as she is in person.
What's your personal brand statement?
Last but not least, bundle your personal brand into a memorable, punchy 2-3 sentence statement about who you are, what you do, and the unique value that you add to your target audience.

Cardi B is an animated and unapologetic global superstar on the rise. From her music to her partnerships, she's making major money moves and giving fans permission to let their true personality shine.
How are you building an authentic personal brand? Let us know in the comments below!
Featured image by Shutterstock