It is like witnessing magic when you watch an athlete do what they do best. To see a mere human soar in the air over to the other side of a bar or to witness someone run at a speed quicker than a human thought. A basketball player defying gravity just to get a ball into a hoop. A ballerina turning their body into a top, spinning and spinning without fatigue.
We all know the athletes whose talents have defied logic. The Jordans. The Woods. The Copelands. However, there is probably no person who has achieved alchemy in their career quite like Serena Williams.
For decades we've watched the magnetic chemistry Williams has fostered between her racket and the ball. The thunderous force in which she served. Her muscular physique that looks as if it's been sculpted in the image of a Goddess.
In the recent issue ofVogueshe speaks on her plans to retire or "evolve," as Williams put it, from tennis, the sport she's dominated since the 90s. In the article, Williams is frank about the mixed emotions she's experiencing with this decision she's made. "There is no happiness in this topic for me," Williams says. "I know it's not the usual thing to say, but I feel a great deal of pain." She continues: It's the hardest thing that I could ever imagine. I hate it. I hate that I have to be at this crossroads. I keep saying to myself, I wish it could be easy for me, but it's not. I'm torn: I don't want it to be over, but at the same time I'm ready for what's next."
It seems like Williams' anxiety over leaving can only be rivaled by fans' sorrow of having to say goodbye to the sports legend's career.
To have watched Williams play tennis since she was just a child was a chance to watch as someone took the gift they were born with and turned it into something otherworldly. From the moment she stepped into our collective imaginations donning a head full of beads that adorned her braids at just 14 years old in 1995, she was bringing all of us Black girls along with her.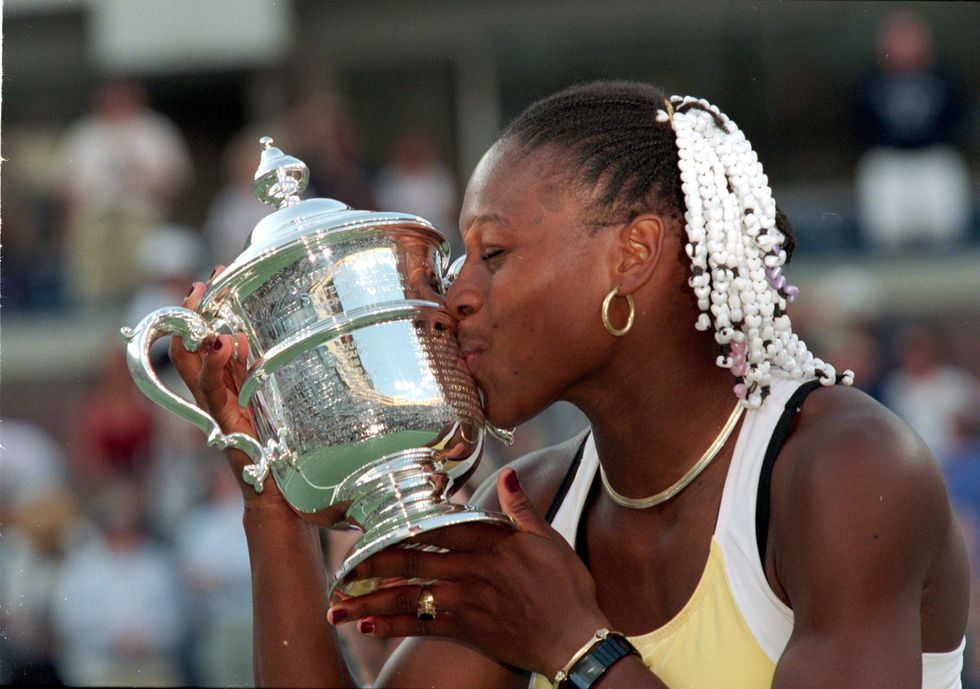 Serena Williams 11 Sep 1999: American tennis player Serena Williams kisses her trophy after winning a match (against Martina Hingis of Switzerland) during the US Open at the USTA National Tennis Courts in Flushing Meadows, New YorkCredit: Jamie Squire /Allsport
There were people perplexed that a Black girl and her equally talented sister hailed from Compton, California — a place that had become synonymous with violence and poverty. Their story had become one about defying the odds, as if not becoming a casualty of the various societal ills was an accomplishment and not an indictment of the system they had to work against in the first place.
This would become a recurring problem throughout her career. From dog whistle comments from the "competitors" she frequently bested like Maria Sharapova, to the media and sports officials, Williams was never able to be just an athlete. She was also forced by the many instances of misogyny and racism in her career to embrace a life of activism.
It's difficult to surmise how much she's impacted a new generation of athletes like Naomi Osaka, Sloane Stephens, and many more Black girls who see themselves in Williams. We are her legacy of Black woman magic and excellence. Whatever the future holds for her is yet to be determined, but if it's anything like her tennis career, it will be iconic.
Let's make things inbox official! Sign up for the xoNecole newsletter for daily love, wellness, career, and exclusive content delivered straight to your inbox.
Featured Image: Getty Images

Ciara is gushing over her friendship with tennis great Serena Williams. The 23-time Grand Slam champion was recently on the cover of Insider's first digital issue and in the interview, the superstar singer was asked about her bond with Serena. The two have been friends for many years and have supported each other through the milestones in their lives.
Cici has been there for Serena's tennis matches, wedding, and baby shower. In fact, they were both pregnant at the same time with Serena expecting her first child Alexis and Ciara expecting her second child Sienna. Their daughters also had their first playdate while they were both in Cannes in June 2019.
​"The moments I cherish ❤️. @serenawilliams and I with our girls in Cannes. #SweetMemories #MomLife," the "Goodies" singer wrote in the caption.
The tennis champion also attended Ciara's big Las Vegas girls' getaway back in 2016. In the Insider story, Ciara shared the key to their long-lasting friendship in an email.
"I think the key to our friendship is the fact that when we get together it's not about what we do in our professional lives — it's about being free to experience our authentic selves with each other," she wrote. "The world gets to see her passion for tennis when she's on the court, but behind the scenes, she carries that same passion and enthusiasm."
Serena also shares that same passion and enthusiasm for business. The 40-year-old multi-hyphenate created an investment firm called Serena Ventures where she focuses on providing funding for women and Black people. With all of her career moves, the mother of one admitted that she loves to take on challenges and prove to others that you can do anything you set your mind to.
"Whether it's venture people saying that I shouldn't be doing it, or it's tennis when people said I'll never be good at it, I do think there's a part of me that always will enjoy proving people wrong," she said. "And sometimes you just need something to feed the fire, right?"
"I'm like, 'Oh that's what I needed to hear. You're going to regret what you just said.' But that's me, and growing up behind Venus, I had to have that personality."
Featured image by Allen Berezovsky/Getty Images
Serena Williams is a mother to four-year-old Alexis Olympia Ohanian Jr. whom she shares with her husband Alexis Ohanian. Being that Alexis was the tennis champ's first and only child, Serena excitedly was ready to have the full experience of being pregnant, pains and all. But what she didn't know was that she would almost lose her life in the process. The Centers for Disease Control and Prevention reported that Black women are three times more likely to experience a pregnancy-related death than white women.
The 23-time Grand Slam winner wrote an essay about her alarming childbirth experience for Elle, in which she recalled feeling like she was going to die. However, leading up to the day she was to give birth, Serena enjoyed her pregnancy.
"I was completely in the moment," she wrote. "I loved the cramps. I loved feeling my body trying to push the baby out. I wasn't on an epidural; to get through it, I was using my breath and all the techniques I'd learned from birth training (I had taken every birthing class that the hospital had to offer)." Once her contractions started to come more frequently and the baby's heart rate kept going up and down, the doctors decided to give her a C-section and she gave birth to Olympia.
"When I finally saw her—and I just knew it was going to be a girl, that was one thing I knew about her before we even had it confirmed—I loved her right away," she wrote. "It wasn't exactly instantaneous, but it was there, and from that seed, it grew. I couldn't stop staring at her, my Olympia."
But after giving birth was when problems arose. In 2010, Serena was diagnosed with blood clots and she feared that they would return. After giving birth, she felt paralyzed and couldn't get out of the bed because her legs were numb. She began asking for a heparin drip, which helps prevent blood clots but her concerns were ignored.
"No one was really listening to what I was saying. The logic for not starting the blood thinners was that it could cause my C-section wound to bleed, which is true. Still, I felt it was important and kept pressing," she wrote. But it got worse from there. She began coughing hysterically, which ripped her stitches from her C-section and she had to go back into surgery. Little did she know that one surgery would turn into four surgeries after doctors found blood clots. Before her third surgery, she demanded that the nurses give her a CAT scan and a heparin drip and after some persistence, they finally gave in.
"Finally, the nurse called my doctor, and she listened to me and insisted we check. I fought hard, and I ended up getting the CAT scan. I'm so grateful to her," she wrote. "Lo and behold, I had a blood clot in my lungs, and they needed to insert a filter into my veins to break up the clot before it reached my heart." After a week of back-to-back surgeries, Serena was finally able to take her daughter home.
Serena's harrowing experience is just one of many pregnant Black women have faced. Here are some other Black women who had similar stories.
Tatyana Ali
"When I asked my OB-GYN what positions I could be in during labor and delivery, he said that I 'could hang from the lights' if that made me happy," she said. "This being my first birth, the dismissal of my very earnest query into birthing techniques hurt. I felt silly. That should have been a warning."
She continued, "One doctor climbed onto the side of the bed and pushed his forearm into my belly so hard that I could still feel the pain days later. My baby had been crowned for hours. I could feel his hair. We said 'no' when they offered forceps. They used a suction, a plunger-type apparatus, and tried four times. The suction aggressively popped off of his head again and again. I knew instinctively that they would hurt my baby irreparably if this circus continued."
It got even more dangerous when the actress asked to have a C-section. She recalled how a doctor "pushed my baby back inside me in an extremely dangerous procedure called the Zavanelli maneuver. I began to convulse and shake. Then my world went dark."
Once her son, Edward, was born, he was put in the neonatal intensive care unit, and he couldn't urinate without assistance "because of his traumatic birth." via SheKnows.
Allyson Felix
​Allyson Felix opened up about being diagnosed with preeclampsia and having to undergo a C-section when she gave birth to her daughter Camryn. "I'm an athlete. I take great care of my body and was in great health. I had a birthing plan. I was at one of the best hospitals in the country. There was no way anything could go wrong, right? But my eyes were completely opened to the fact that no one is immune from this reality and that Black women face significantly higher risks– ones I wasn't really aware of and looking for." via Today.
Beyoncé
"I was 218 pounds the day I gave birth to Rumi and Sir. I was swollen from toxemia and had been on bed rest for over a month. My health and my babies' health were in danger, so I had an emergency C-section. We spent many weeks in the NICU. My husband was a soldier and such a strong support system for me. I am proud to have been a witness to his strength and evolution as a man, a best friend, and a father. I was in survival mode and did not grasp it all until months later."
"Today I have a connection to any parent who has been through such an experience. After the C-section, my core felt different. It had been major surgery. Some of your organs are shifted temporarily, and in rare cases, removed temporarily during delivery. I am not sure everyone understands that. I needed time to heal, to recover. During my recovery, I gave myself self-love and self-care, and I embraced being curvier. I accepted what my body wanted to be. After six months, I started preparing for Coachella. I became vegan temporarily, gave up coffee, alcohol, and all fruit drinks. But I was patient with myself and enjoyed my fuller curves. My kids and husband did, too." via Vogue.
Featured image by Getty Images
Serena Williams is addressing the retirement conversation surrounding her career. The tennis star has left an indelible mark on the sports industry with her impressive skills that made her a 23-time Grand Slam champion. However, her last few matches have been challenging due to injuries such as a torn hamstring that kept her from competing in the 2021 U.S. Open. But the 40-year-old designer hasn't given up yet.
While she is prepared for retirement, she is still eyeing another Grand Slam title. If Serena wins another title, she will be tied with Margaret Court who has 24 Grand Slam titles. Serena spoke with Entertainment Tonight about retiring and expanding her family.
"I am prepared for that day, I've been prepared for that day for over a decade," she said about retiring. "So, I've always -- if you've seen King Richard you know that my dad always said you got to prepare, so I've been prepared for that. You know, at the end of the day, I think it's really important to always have a plan and that's kind of what I did. I always had a plan." A part of her retirement plan may also involve her and her husband, Alexis Ohanian, having more kids.
The couple share 4-year-old daughter Alexis Olympia Ohaninan Jr. and she seems to be following in her mother's footsteps. Serena shares photos and videos of Olympia playing tennis and the two of them wearing matching outfits on Instagram.
The tennis champ revealed that she enjoys motherhood and she strives to be the "best mom" and right now she's trying to balance it all. "I definitely want to have more kids, it's just like, balance is key, you know, and just trying to find that balance," she said. "I don't know, it's always like, OK, are we ready? And I know the clock is ticking so I'm just like OK, I need to figure out when that's going to be, but hopefully soon when I will feel no pressure."
Currently, Serena is on a high after finding out that King Richard was nominated for six Oscar's including Best Picture. She reacted to the news on Instagram. "I woke up to this. Our film is really nominated for an OSCAR!!!!!!! This is CRAZY!!!!!!! From Compton to Wimbledon to Academy awards. Everyone can dream. And your dream can come true. OK, I am definitely crying this morning. Congrats to the entire film and crew," she wrote. She went on to tag all of those who were involved with the making of the film and ended her caption with, "Congrats to EVERYONE I did not '@' as I am so emotional 😭😭😭😭."
Serena and Venus' older sister Isha Price served as an executive producer on the film.
Featured image by Taylor Hill/WireImage/Getty Images
Nicki Minaj is bouncing back into music after giving birth to her now one-year-old son whom she affectionately calls Papa Bear. However, being a new mother has influenced her to make some changes in her life and her music. While doing a press run for her new single "Do We Have a Problem?" featuring Lil Baby, the "Seeing Green" rapper stopped by The Dana Cortez Showto talk about how motherhood has made her more cognizant about what she raps about.
"There was a song—my label wanted me to go full out with a single and everything, right, when I was pregnant and I couldn't bring myself to put out a song about p–sy and d–ks and sucking and eating," she said. "I couldn't bring myself to put a record out like that while my son was growing in my body. Nothing wrong with anybody that was able to do it, but me, I just felt in a very different, new space."
Nicki was also offered an opportunity to be on Gunna's song "P Power" which featured her labelmate Drake, but she turned it down due to the song's explicitness. She said she "couldn't bring [herself]" to hop on the track."
Featured image by Rich Fury/Getty Images for Billboard
Janet Jackson is not only a talented force to be reckoned with, but she is also viewed as a sex symbol. From her infamous 1993 Janet album cover, whose full photo was later used on the cover of Rolling Stone where she posed topless to her sensual songs and dance moves, Janet has long been revered as one of the sexiest women on the planet.
But while fans view her in that way, the "Control" singer hasn't always seen herself in that light. At 55 years old, Janet is reflecting on her career and how she came to love her body in an interview with Allure. When the Why Did I Get Married? actress hit music stardom, she was usually fully clothed and wore baggy suits and her self-titled album was a way for her to tap into that body confidence.
"It took a lot of work, a lot of work," Janet said. "It was something very tough, very difficult. But I'm glad I walked through it. I'm really glad I got in. It was a way of accepting and loving, accepting yourself and your body."
She described that time in her life as "embracing me and trying to learn to love me for me, my body, all of that. Trying to feel comfortable in embracing that. Throwing myself in the lion's den. Just going for it, wanting to do something different."
Her talent and confidence live on in other artists such as Ciara and Teyana Taylor to name a few who have been influenced by the "Pleasure Principle" singer.
While it may be shocking to think that someone like Janet lacked body confidence, she isn't alone. Here are some other women who also opened up about body confidence and loving the bodies they are in.
Serena Williams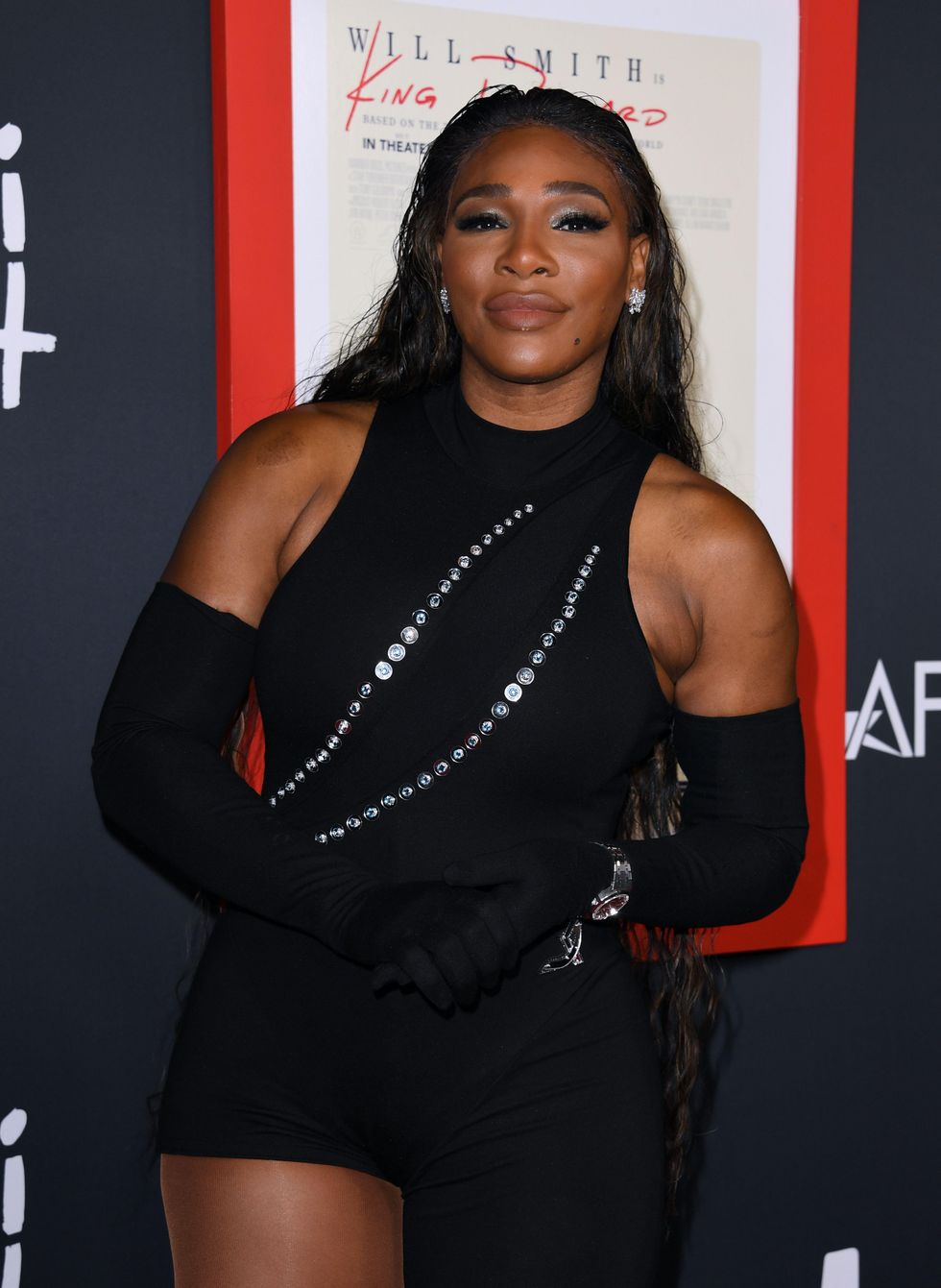 Jon Kopaloff/Getty Images
Despite being arguably one of the greatest athletes of all time, something that used to be a hyper-focus when talking about Serena Williams was her body. Strength and having a muscular body overall were seen as innately masculine. Serena would receive criticism for her body of being "too strong," especially for a woman.
In the past, she shared with The Undefeated, "There was a time when I didn't feel incredibly comfortable about my body because I felt like I was too strong. I had to take a second and think, 'Who says I'm too strong? This body has enabled me to be the greatest player that I can be.'"
"For every negative comment, there are 300,000 positive ones. My fans are incredibly supportive. I look like a normal athlete, a normal woman walking down the street, a thicker one. I'm OK with that. I love that," Serena toldThe Miami Herald about how she learned to love her body.
"You have to be OK with yourself no matter if you're size 0 or a little bigger, like me. A lot of other people say I inspire them to be comfortable with themselves. My mom was really strong on that, on learning to love yourself."
Coi Leray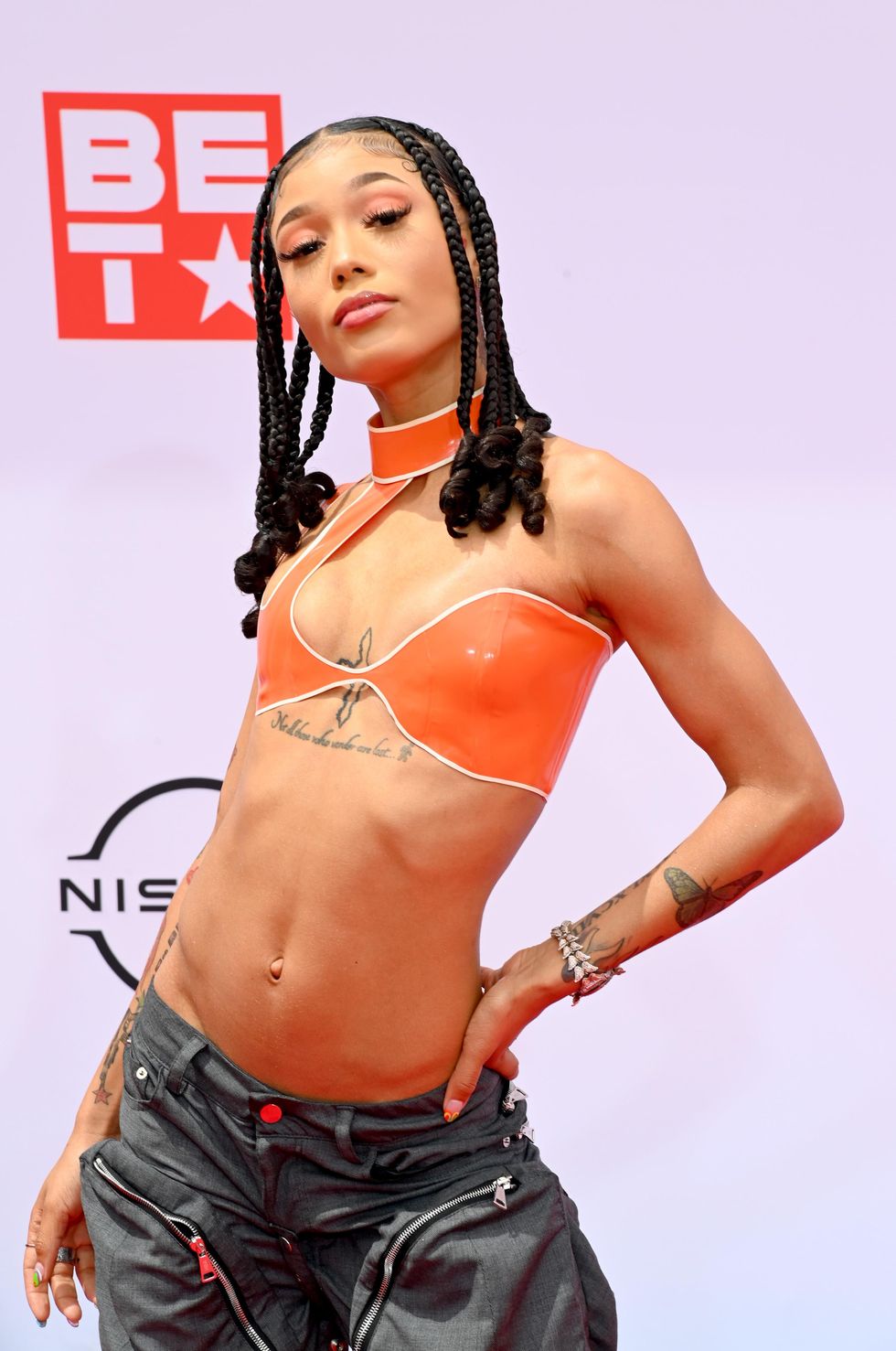 Paras Griffin/Getty Images for BET
Coi Leray has been at the center of a lot of "body shaming" conversations. Since the "Twinnem" rapper rose to popularity, more eyeballs have been placed on her small frame, and with it more unsolicited critiques. Earlier last year, she defended herself in a series of tweets.
"Lot of y'all do this bullying shit to every celebrity," she prefaced in her tweets. "I get it, y'all human. But a lot of people don't understand how much it could kill someone. If you tryna kill me, just know I ain't afraid to die. I'm ready for whatever."
In them, Coi made it clear that even if some felt she was "too skinny," she was confident with her body and in her own skin. "Get used to my body because I'm never changing anything on it. Get used to this lil ass cause I ain't never gonna stop shaking it.
Lizzo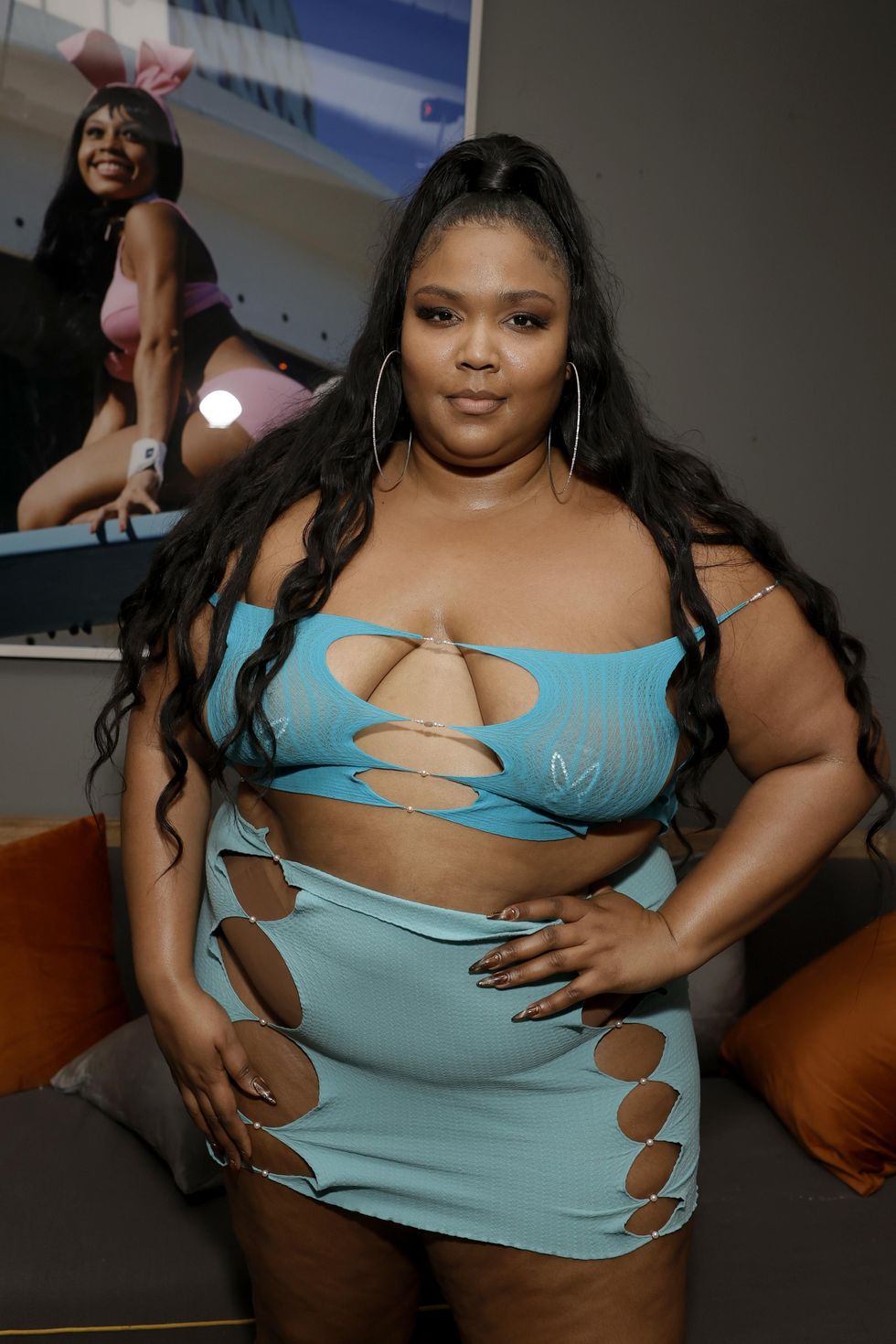 Frazer Harrison/Getty Images for Playboy Enterprises International, Inc.
Over the years, Lizzo has become synonymous with self-love and self-acceptance. From the hits like "Truth Hurts" that put her on the map, to transparent truths on her platforms, Lizzo has become somewhat of a relatable icon. The reason is, so many of us can see ourselves in her. Some days we feel "Good As Hell" in our bodies and the skin that we're in, others we feel the exact opposite.
Lizzo owns that and has shared her feelings with the world on numerous occasions. In an Instagram post shared last year, the singer revealed, "I started talking to my belly this year. Blowing her kisses and showering her with praises. I used to want to cut my stomach off I hated it so much. But it's literally ME. I am learning to radically love every part of myself. Even if it means talking to myself every morning. This is your sign to love on yourself today!"
Rihanna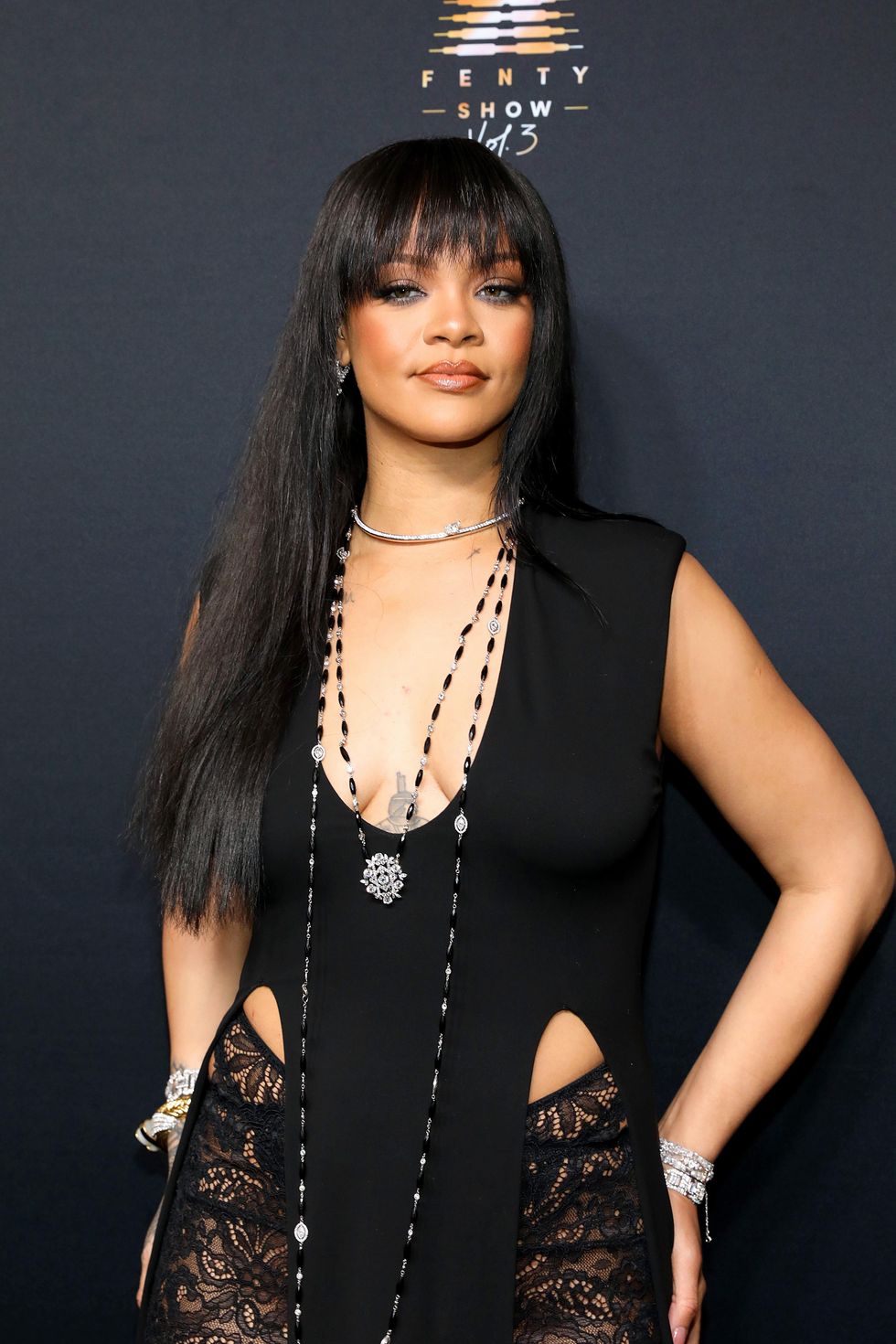 Monica Schipper/Getty Images for Savage X Fenty
While Rihanna is held as one of the most beautiful women in the world, like many women, she also struggles with body confidence. However, the "Kiss it Better" singer has learned to work with her body when it comes to clothing.
"Well, I actually have had the pleasure of a fluctuating body type, where one day I can literally fit into something that is bodycon, and then the next day — the next week — I need something oversized; I need a little crop here and a high-waist there to hide that part, you know?" she told The Cut.
"I really pay attention every day when I go into the closet about what's working for my body that morning. I feel like that's how everyone should go after fashion because it's an individual thing."
*Takes notes*
Featured image by David Becker/Getty Images for Park MGM