Actress Marsai Martin is showcasing the importance of advocating for one's health after recently opening up about her ovarian cyst surgery. For context, the 18-year-old revealed in a now-deleted Instagram story last December that she underwent a medical procedure to remove the large ovarian cyst that gave her "constant pain" for years, especially during her menstrual cycle.
According to Mayo Clinic, an ovarian cyst is described as a sac "usually filled with fluid" in an individual's ovary or near it. Although it is relatively common, with one in ten women diagnosed with a cyst, many experience little to no symptoms because it usually goes away. Those with pain and discomfort often have a large ovarian cyst, which was the case for Martin.
During a discussion with Women's Health magazine, Martin opened up about her menstrual cycle and when she started noticing the symptoms. The black-ish star told the publication she started her period at 11 but didn't experience any unusual pains until she was 14.
Coincidentally this event occurred a little after she was diagnosed by a medical professional with an ovarian cyst "the size of a small grapefruit."
Martin's Symptoms With A Large Ovarian Cyst:
In light of her diagnosis, Martin didn't think much of it because, at the time, her doctor told her that cysts usually disappear on their own. Over the years, as she got her menstrual cycle, Martin had extreme pain and severe nausea.
Even though she often combated the cramps with medication such as Aleve and naproxen, per doctor's orders, Martin shared that the pain would eventually progress so much that she couldn't keep "food or water" in her system.
Martin also revealed that these symptoms negatively impacted her daily routine, such as work and participating in social activities. The star further explained that she thought these signs were typical and didn't go to the hospital because of what her mother, Carol Martin, previously mentioned and warned her about while discussing the history of her own menstrual cycles.
Martin's Health Took a Toll At Age 17:
All this came to a head when Martin was 17 years old. The Little star decided to go to the hospital because the pain became unbearable.
"But one day, when I was 17, I just couldn't take it anymore. I had extreme cramps, and I was so nauseous, I wasn't able to eat or drink," she said. Martin added that the pain and nausea had limited her mobility.
"It felt like I couldn't move. The slightest sip of water would make me projectile vomit. I had lower back pain, dizziness, migraines, and tender breasts, and on top of that. The pain had been constant from the moment I woke up, and it was so unbearable that I finally went to the ER around 8 p.m.," the star stated.
During her hospitalization, Martin was informed that she was dehydrated and that the pain she was going through was because of the large cyst. Despite already being well aware of the ovarian cyst, which was "9.5 centimeters in diameter," due to her diagnosis years before, Martin shared she didn't know that it was the primary cause of her pain.
Following her stay, Martin's physician would refer her to a gynecologist, who gave her various options to resolve the issue. The list included taking birth control pills to shrink the cyst or having surgery to remove it completely. Martin disclosed after taking two weeks to weigh her options following her 18th birthday, she ultimately decided to undergo the procedure and scheduled it for December 2022.
Although Martin was initially afraid about the operation because she was uncertain how her body would react, all of that disappeared after the surgery. Martin would go on to express that it was one of her best decisions ever.
Following the procedure, even though Martin experienced some pain post-surgery, it ceased as the days passed, and she started moving around. Since the operation, Martin shared that her menstrual cycles have drastically improved.
Martin On Why She Shared Her Story:
Near the end of the interview, Martin explained that one of the main reasons she's been very vocal about her experience with her ovarian cyst by sharing it online is because she doesn't want others to remain silent about their health struggles and wants them to get a "second opinion."
"I hope my story will encourage other women to not accept a life of pain, to get a second opinion. Pain is not normal," she said. "I want other women to talk about their pain, and to keep speaking out until they're taken seriously. And to the women out there suffering silently right now: You owe it to yourself to speak up."
Let's make things inbox official! Sign up for the xoNecole newsletter for daily love, wellness, career, and exclusive content delivered straight to your inbox.
Featured image by Paras Griffin/Getty Images for Paramount+
Marsai Martin is making moves. At only 17 years old, the actress has founded a production company, Genius Productions, became Hollywood's youngest producer after starring and producing Little, and more recently, she launched a luxury press-on nail company called Mari by Marsai.
The two-time SAG Award winner made the announcement on Instagram in January and the line dropped February 2. So, what prompted the black-ish star to go into the luxury press-on nails business? According to her Instagram, "everybody and they momma was doing makeup so I wanted to do something different."
Marsai's press-on nail packs range from $20-$22 and she also provided a tutorial on how to properly apply the nails. But while the actress is now getting to the press-on nails bag, she isn't the only one. There are many Black-owned press-on nails companies to choose from.
Check them out below:
Nail Candy Press-Ons
Nail Candy Press-Ons are handmade acrylic press-on nails that offer a variety of styles and sizes that are trendy and chic. According to the site, Nail Candy was founded by a "small-town gal" who wanted to provide beautiful nails at an instant.
Nailed By LA Studios
Atlanta nail artist LeAndrea, aka LA, provides acrylics, gel as well as press-on nails for her clients. The prices range from $35-60 and she provides various shapes from short coffin to XL square.
The Sassy Nails Studio
The Sassy Nails Studio is a custom press-on nails business founded by Jamie Barbie. From jelly nails to blingy nails, The Sassy Nails Studio does it all and has it all. They also have an option where you can create your own press-on manicure by providing clients with their own tools.
Nailed By Ren
According to Renee's Instagram, Nailed By Ren offers "100% handcrafted affordable and reusable press-on nails." Based in Toronto, you can choose your pick from ballerina, stiletto, or almond-shaped nails and if you're really feeling bold, you can even choose from press-on toenails.
Pretty N Pressed
Pretty N Pressed provides you with all of your press-on nails' needs such as sizing kits, E-files, and budget-friendly options that start at $12. If you're looking to start your own press-on nails business, they also offer classes that show you how to get started in the right direction.
Featured image by Emma McIntyre/Getty Images
What exactly did Blue Ivy say back when people were speculating about the way she was rocking her natural hair? Nothing because she could not talk, she was a baby. And while it is disturbing that so many people had and continue to have something to say about how little black girls wear their hair the way it naturally grows, it is the harsh reality that they face. These little girls turn into young women who deal with that obstacle during different walks of life, from relationships to the workforce.
The thing about Blue is the first sentence I ever heard her speak was, "Never seen a ceiling in my whole life." And right then and there, I knew Ms. Carter was gonna be a force to be reckoned with. She is being taught that she holds the power to change harsh realities.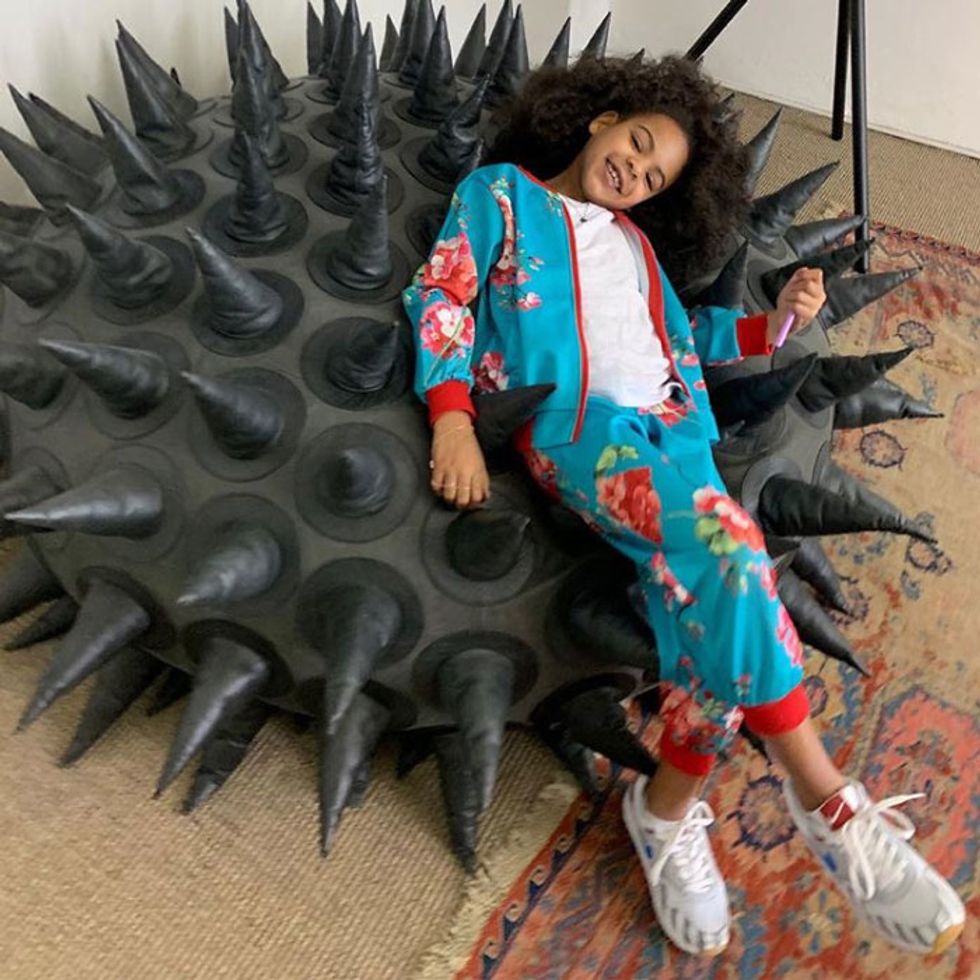 Beyonce/Instagram
At only eight years old, the carefree, intelligent, socially conscious young lady already has many accomplishments under her belt, including being the youngest recipient of a BET Award and throwing Black women the bag. What is so endearing to see is that her mogul parents are teaching her how to use her voice at an early age to impact others without necessarily telling her what to say. Though she lives a very luxurious life, the most valuable thing that her parents are giving her is absolutely free, yet one of the hardest things for parents to do: the freedom to be herself.
Blue, you're doing amazing sweetie!
For more celeb kids who are proving to be moguls in the making by making names for themselves in their own right, keep scrolling.
Willow And Jaden Smith Walk To The Beats Of Their Own Drums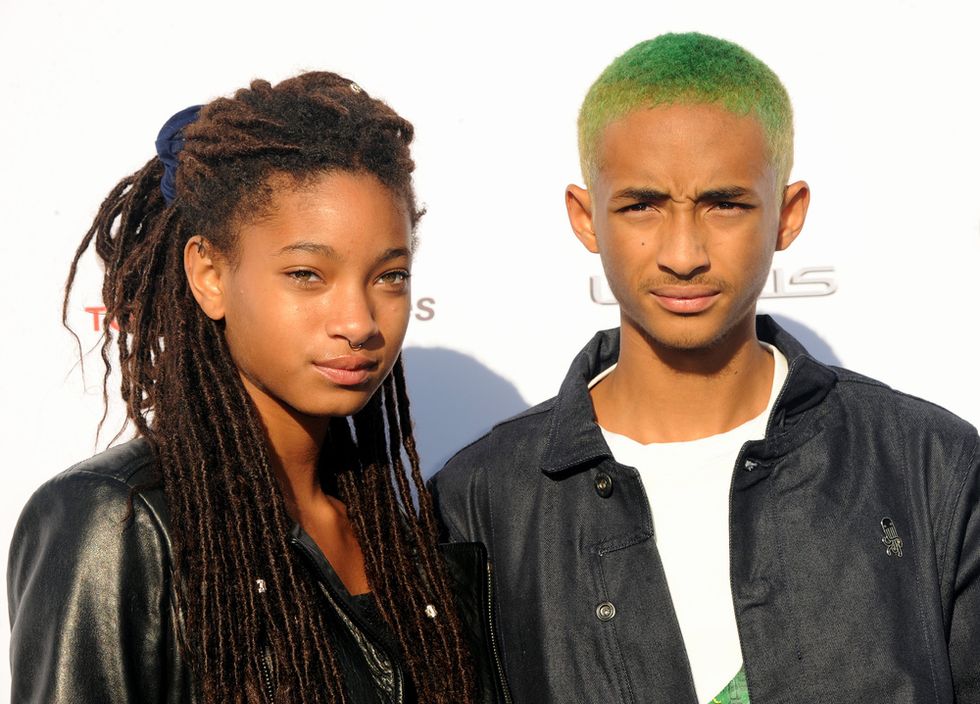 Tinseltown / Shutterstock.com
In addition to being kids of black Hollywood power couple Will Smith and Jada Pinkett Smith, Willow and Jaden have paved impressive careers for themselves by marching to the beat of their own drum. While Willow was primed to become a popstar phenom as a child with the success of her hit "Whip My Hair", she took a step back and decided to make music that moves her. Now the solo artist divides her time between making music, co-hosting the Emmy-nominated talk show Red Table Talk, and modeling when the cameras turn on.
Her older brother Jaden had a similar path. After his breakout role starring as his father's son in Pursuit of Happyness, Jaden briefly delved into acting before deciding to focus on music. Jaden struck gold with his 2017 debut album Syre, which spun hits like "Icon". In addition to his music, Jaden also gives back through his company, Just Water, which has a mission to create a cheap water filtration system that will allow for accessibility in poorer nations and areas of the world.
Ming Lee And Aoki Lee Simmons Make Navigating Through Life Look Damn Good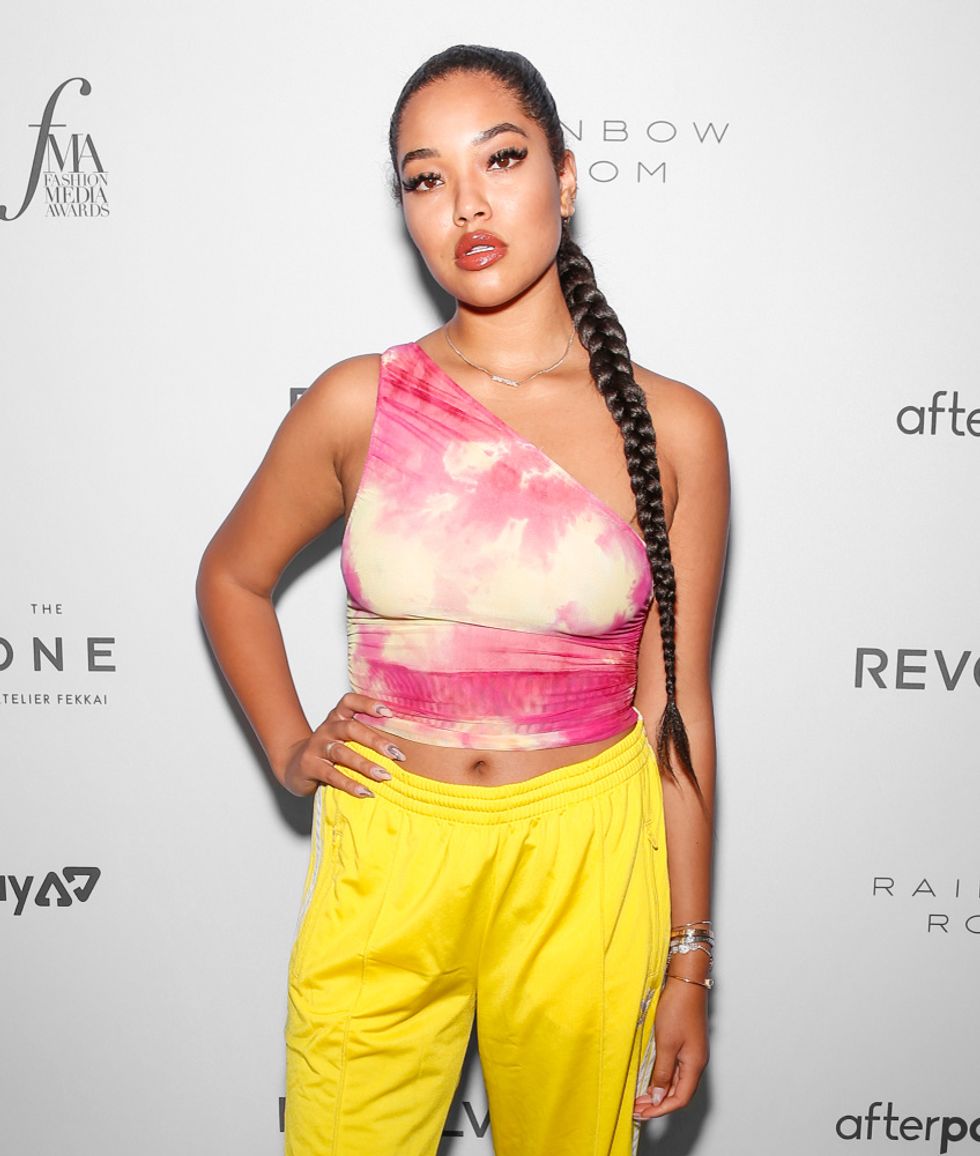 Ming Lee SimmonsOvidiu Hrubaru / Shutterstock.com
Ming Lee and Aoki Lee Simmons have long since grown from the two tots that used to walk the runways with their mom, mogul Kimora Lee Simmons, during fashion shows. These days, the sisters still move as a unit, working as integral parts of the relaunch of the Baby Phat brand, including their work with Baby Phat Beauty.
Aside from that, Ming Lee is taking Baby Phat from the 99' to the 2020s with her natural modeling abilities in front of the camera. While Aoki Lee juggles working behind the scenes with taking her baby phat to Harvard's Class of 2023.
The Combs Kids Shut Down The Industry In Their Own Way
With a father like P. Diddy, there's no doubt all the Combs kids could do is win. The young men of the next generation have all followed their millionaire father's footsteps by putting the work in through music. While his eldest son Justin lived his best football dreams, his sons Quincy and Christian have both made waves in the music industry. Quincy has also added some acting roles underneath his belt, including a starring role in the hit show Star.
Twins Jessie and D'Lila are using their natural modeling skills gifted from the late and beautiful Kim Porter to collaborate with brands like Missguided along with their sister Chance. All of the Combs kids have stock in taking their fashion influence to the next level. How could they not? Look at their pops.

Marsai Martin Makes Show Business Work For Her
Perhaps one of the most impressive young moguls in the making, the ever-talented Marsai Martin is in a league all her own. Her road to success involves paving a legacy in Hollywood on her own. As the youngest Black executive producer in history with her hit film Little, the Black-ish star continues to act, model, host, all while pushing the black hair movement.
Featured image by Beyonce/Instagram @beyonce
With movies like What Men Want, Shaft, and The Lion King dropping in theaters this year, 2019 is truly the year of the reboot done right. Now, Marsai Martin is making history as the youngest executive producer in Hollywood with her new spin on a legendary film. The 1988 classic, Big, told the story of a 12-year-old who makes a wish on a vintage fortune teller carnival game to be "big" and wakes up the next day as a 30-year-old man (played by Tom Hanks).
Little, produced by Marsai Martin, Kenya Barris, and Will Packer flips this narrative and gives us a black girl magic trifecta of actresses we didn't know we needed. Will shared exclusively with xoNecole:
"You think about it, and we've got Regina Hall in it who is clearly an established star and Issa Rae, who's, you know, this is her time now. And, and then you've got a Marsai who's got next, you know, so you've got all three, three levels of amazing actresses in this movie. Everybody says, black girl magic. This is literal black girls. And the movie's magical. This is actual, real black girl magic."
Our team had the opportunity to go behind the scenes of Little, which was written, directed, produced and is starring black women and one thing is for damn sure -- there was some true movie magic made in this must-see remake.
Behind The Scenes Of The Little Moviewww.youtube.com
In our behind-the-scenes look at Little, creator and 14-year-old style goddess Marsai Martin gives the tea on where she got this great idea for the film, why she chose Regina Hall as her future self, and what surprises we can expect to see in the new movie. The film is set to release April 12, but if you're like me and can't wait until it hits theaters, never fear; xoNecole is here with all deets.

Check out our interview with some of the Little's star players and executive producer Will Packer in the video above.
Featured image courtesy of Universal Studios.
Have you ever sat down and really reflected on love, the definition of it, the action behind it, and the feeling you get when you're immersed in it? Love is powerful. It can make you do things you never imagined. But, what happens when love hurts you to your core? Do you build up a hard exterior as a way to ward men or women off, or shake it off and try again?
Unfortunately, most of us have a difficult time with the thought of starting over again, so we build a wall so hard, the mere idea of romance seems insane.
This scenario is a reality for Jordan Sanders, Regina Hall's character in the new film Little.
Like so many men and women, Jordan can't and won't entertain love because she is so guarded. The closest thing to love Jordan has experienced is regular sex from a man she could care less about. It isn't until Jordan is transformed into her 13-year-old self that she realizes her boy toy is more than a disposable penis. He cares for her so deeply, he's willing to knock down her walls and love her the way she deserves to be loved. It takes Jordan being transformed into a tween to realize what she was missing as an adult.
Can you imagine if we all had the opportunity to transform into the younger versions of ourselves and learn something about the love we so desperately needed or missed?
Celebs On Advice They'd Give Their Younger Self Regarding Love
During the Atlanta premiere of Little, we asked attendees if they could go back and give their younger selves advice on love, knowing what they know now, what would they say?
Regina Hall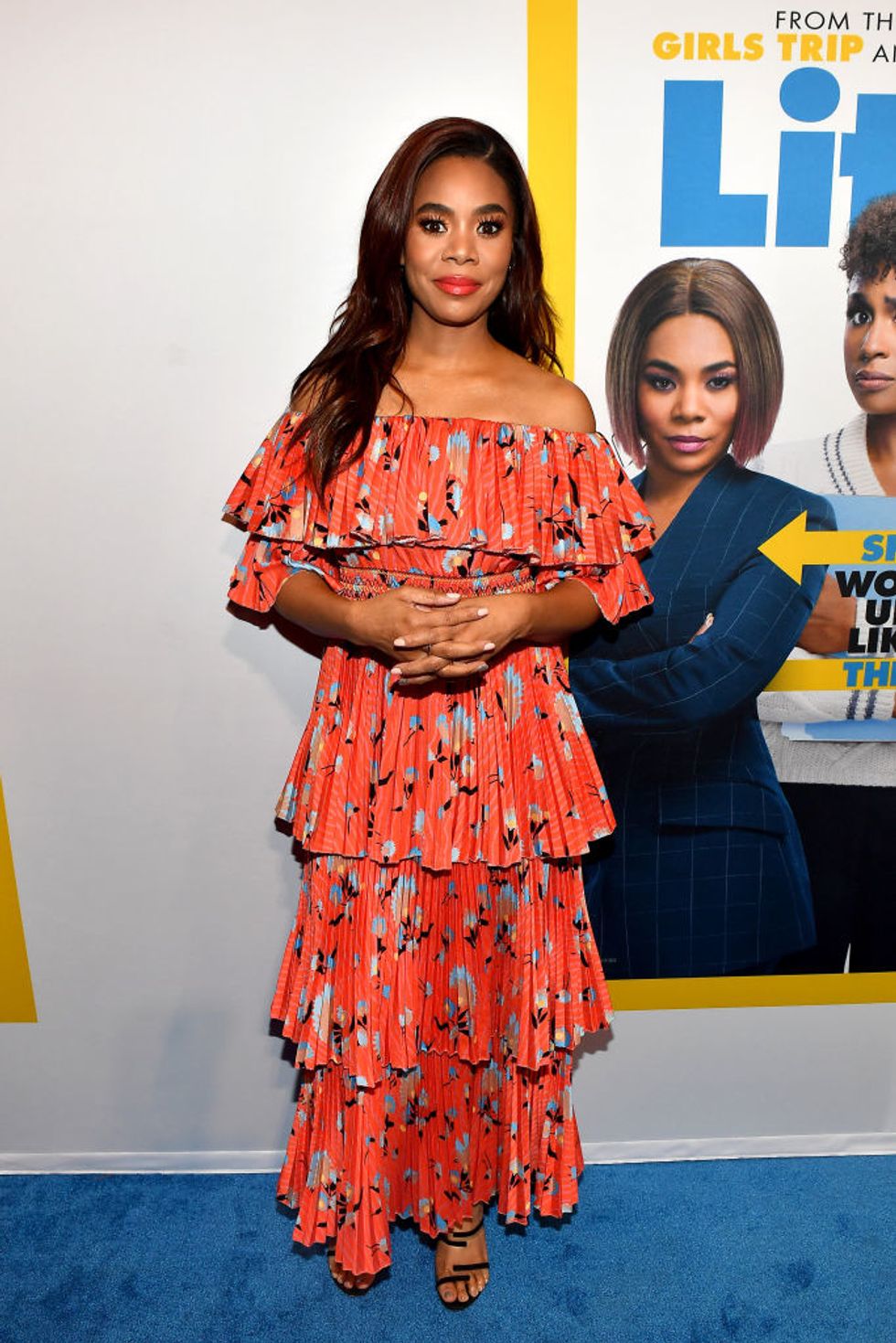 Atlanta Red Carpet Screening Of "Little" With Regina Hall, Issa Rae, Marsai Martin, Will Packer And Tina Gordon At Regal Atlantic Station
Paras Griffin/Getty Images for Universal
"Do not cry over one, there are a million of fish in the sea. Sometimes we have to realize our own worth at a younger age, so we realize we're a blessing. Someone who doesn't appreciate that is not worthy."
Jade Novah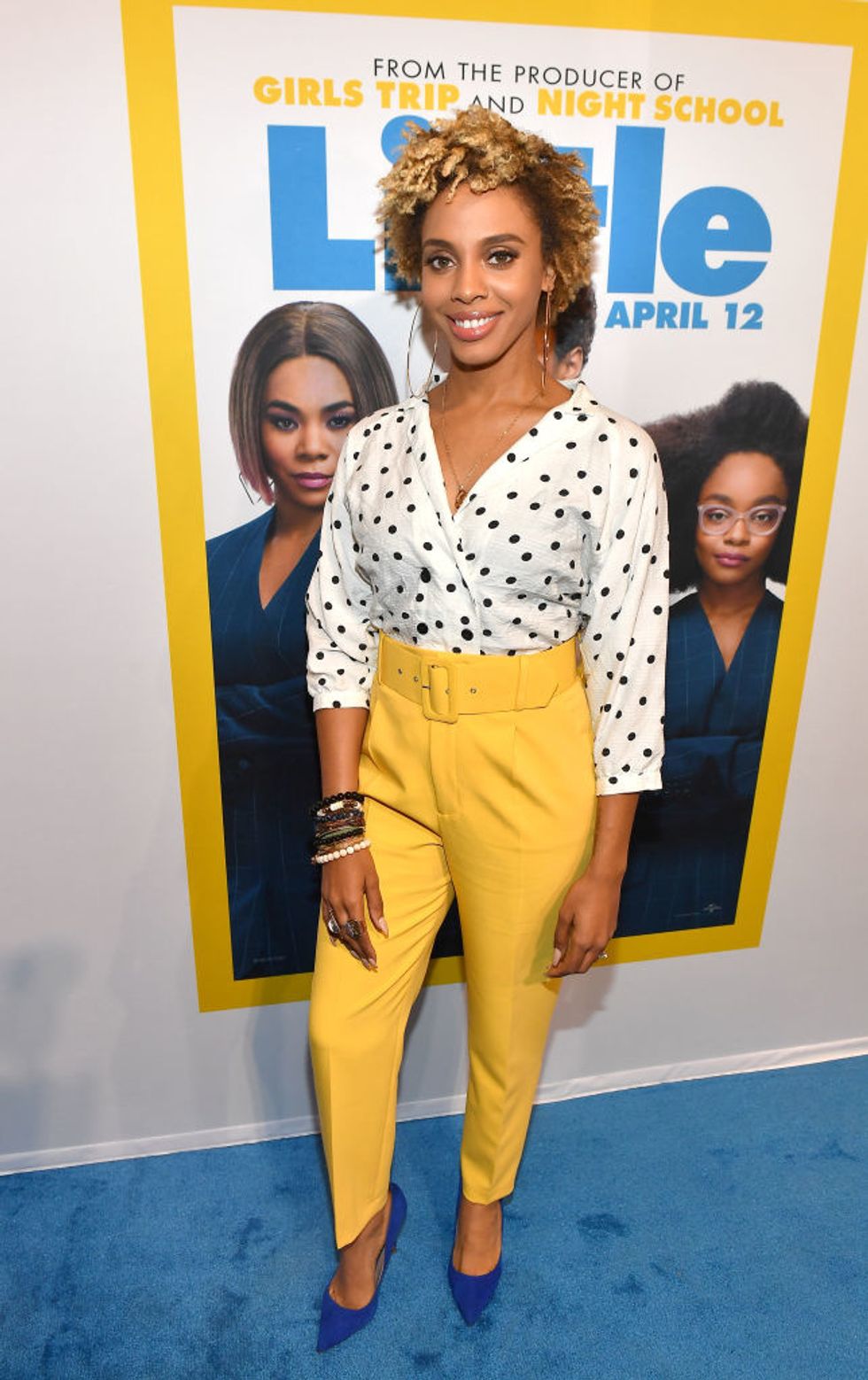 Atlanta Red Carpet Screening Of "Little" With Regina Hall, Issa Rae, Marsai Martin, Will Packer And Tina Gordon At Regal Atlantic Station
Paras Griffin/Getty Images for Universal
"Being territorial is not synonymous with love. I think ownership has become synonymous with love, and if I knew that wasn't the case at an early age I wouldn't have taken things so seriously. Love is not ownership. Love is not being territorial."
Mayor Keisha Lance Bottoms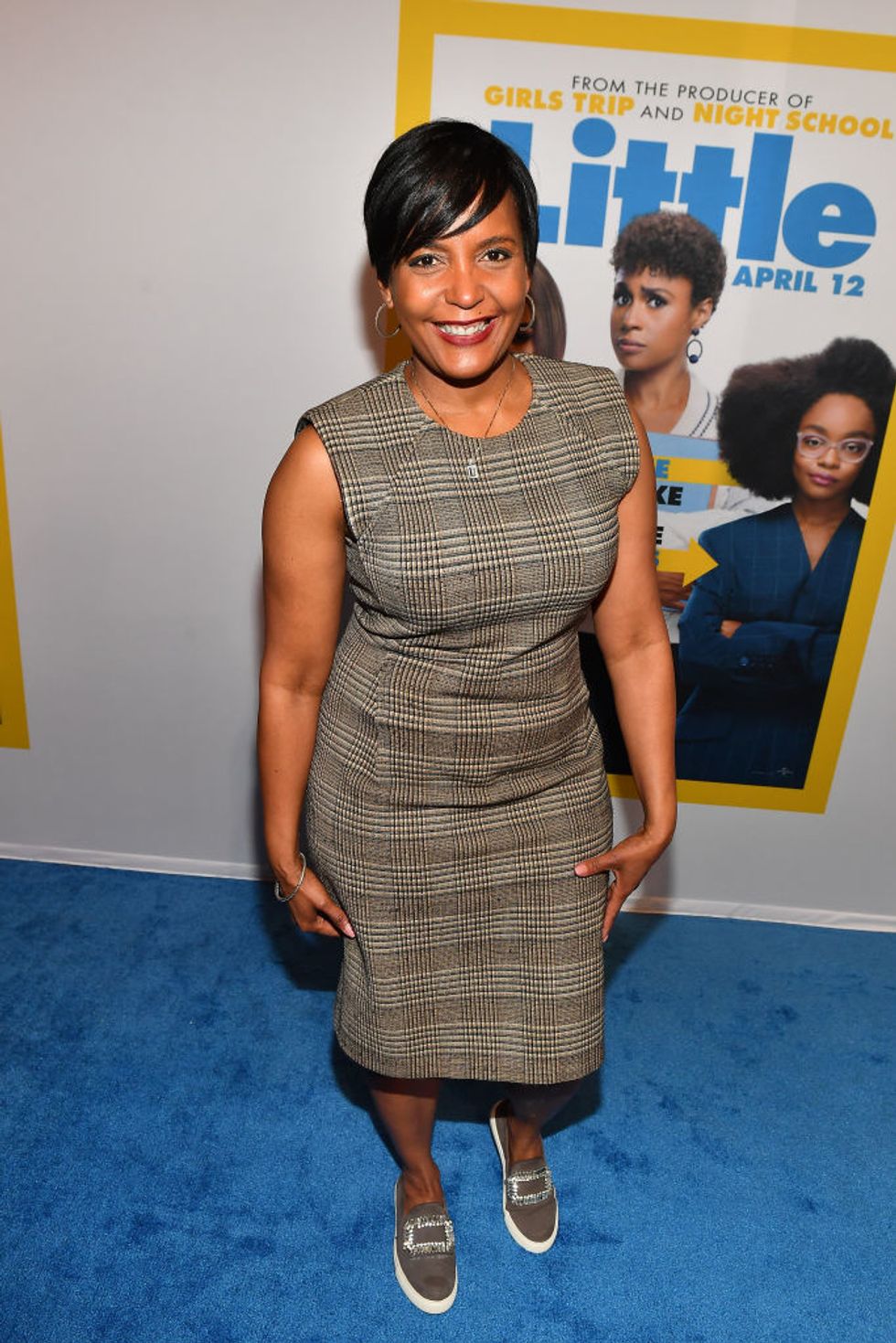 Atlanta Red Carpet Screening Of "Little" With Regina Hall, Issa Rae, Marsai Martin, Will Packer And Tina Gordon At Regal Atlantic Station
Paras Griffin/Getty Images for Universal
"Don't take them so seriously! I met my husband when I was 21, and I'm thankful. We joke and I thank him all the time for saving me from having to be out here in the streets looking for a mate. I would say it's not personal. Sometimes it's about the other person's insecurities, and not about you."
If you could go back and give your younger self advice on love, knowing what you know now, what would you say? Leave your answer in the comments below.
Be sure to catch Little in theaters everywhere April 12th.
Featured image by Featureflash Photo Agency / Shutterstock.com

At just 14 years old, Black-ish star Marsai Martin is the epitome of black girl magic.
Unapologetically natural and confident, Marsai is the youngest executive producer in Hollywood. Yes, you read that correctly! Not only is she the star of the highly anticipated film Little, she's also the executive producer. Talk about boss moves!
Thursday night (April 4), hundreds of movie lovers gathered at Regal in Atlantic Station for the blue carpet premiere of Little. Filmed in Atlanta, the film follows the life of an overbearing tech mogul Jordan Sanders (Regina Hall). Scorned by her catastrophic childhood, Jordan has a larger than life attitude. So much so, she treats everyone including her assistant, April (Issa Rae), like trash. Jordan's life gets turned upside down when a spell turns her back into the person she tries so hard to forget -- her 13-year-old self. Now, younger Jordan (Marsai Martin) must depend on the very person she treated poorly to help her navigate life as a tween.
To walk the evening's blue carpet were Marsai Martin, Issa Rae, Regina Hall, Will Packer, Little director Tina Gordon, Star's Luke James, Stranger Things' Caleb McLaughlin, Atlanta Mayor Keisha Lance Bottoms, V-103 host Jade Novah, and many more.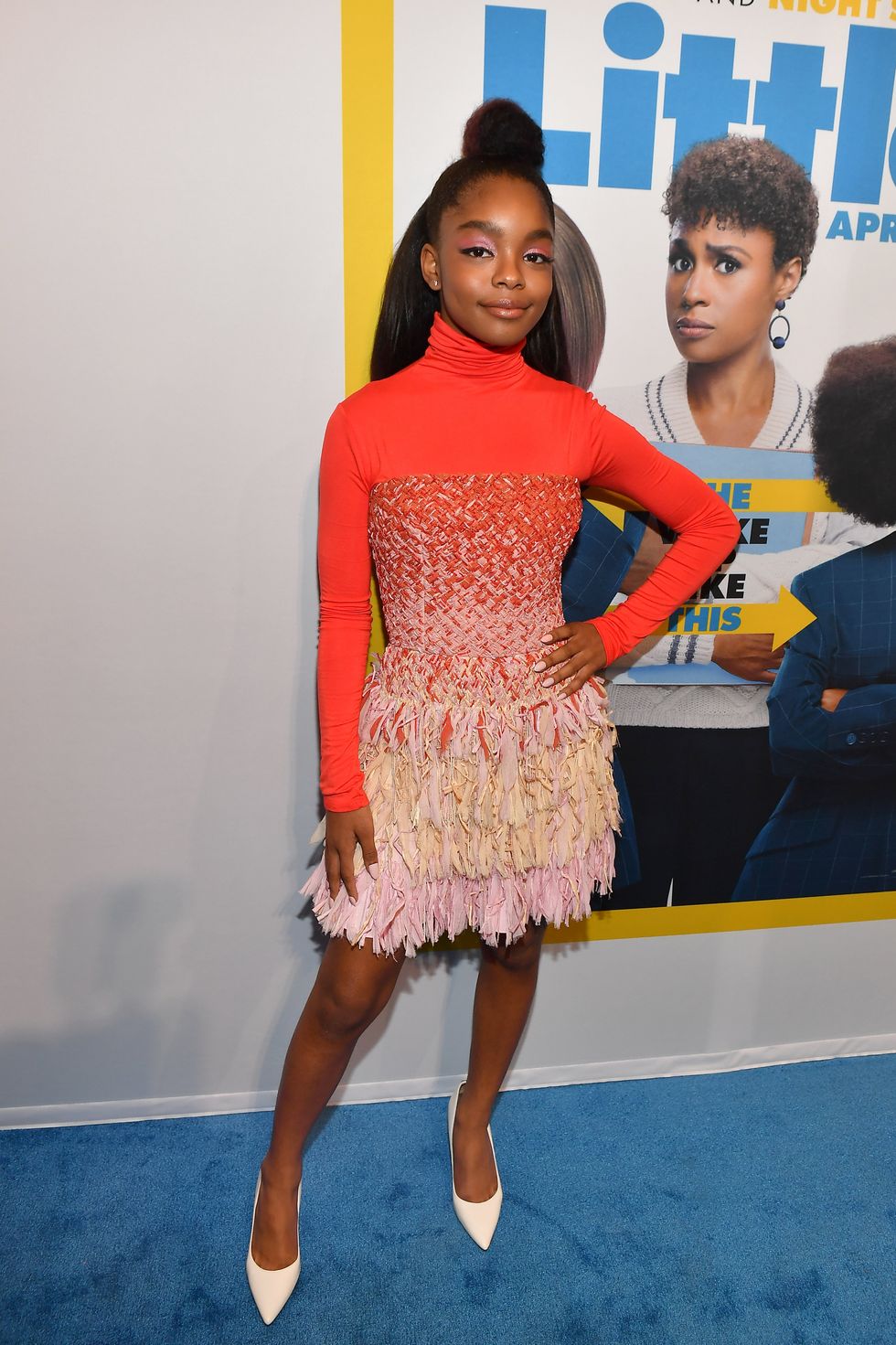 Atlanta Red Carpet Screening Of "Little" With Regina Hall, Issa Rae, Marsai Martin, Will Packer And Tina Gordon At Regal Atlantic StationGetty Images
On the carpet, xoNecole caught up with Marsai to find out what it was like working with such beautiful, talented black women:

"It was amazing! I worked with Gina on 'Black-ish,' so we go way back. It was more of a family reunion with her and most of the people on the crew. But, with Issa, I was actually nervous. I was nervous because she's actually a creator herself. So, I was like do you like the script? But, when I started working with her the chemistry was there, and she's so chill and easy to work with."
Marsai and Issa's chemistry on-screen is simply undeniable! Together, they resemble the female version of Shawn and Marlon Wayans.
INSIDE THE ATLANTA PREMIERE OF LITTLEwww.youtube.com
Brighter than Issa's smile was the glacier sitting gracefully on her ring finger. From the success of her hit HBO show, Insecure, to landing a lead role in the upcoming film The Photograph, it's safe to say Issa is having what I like to a call a "Cardi B year".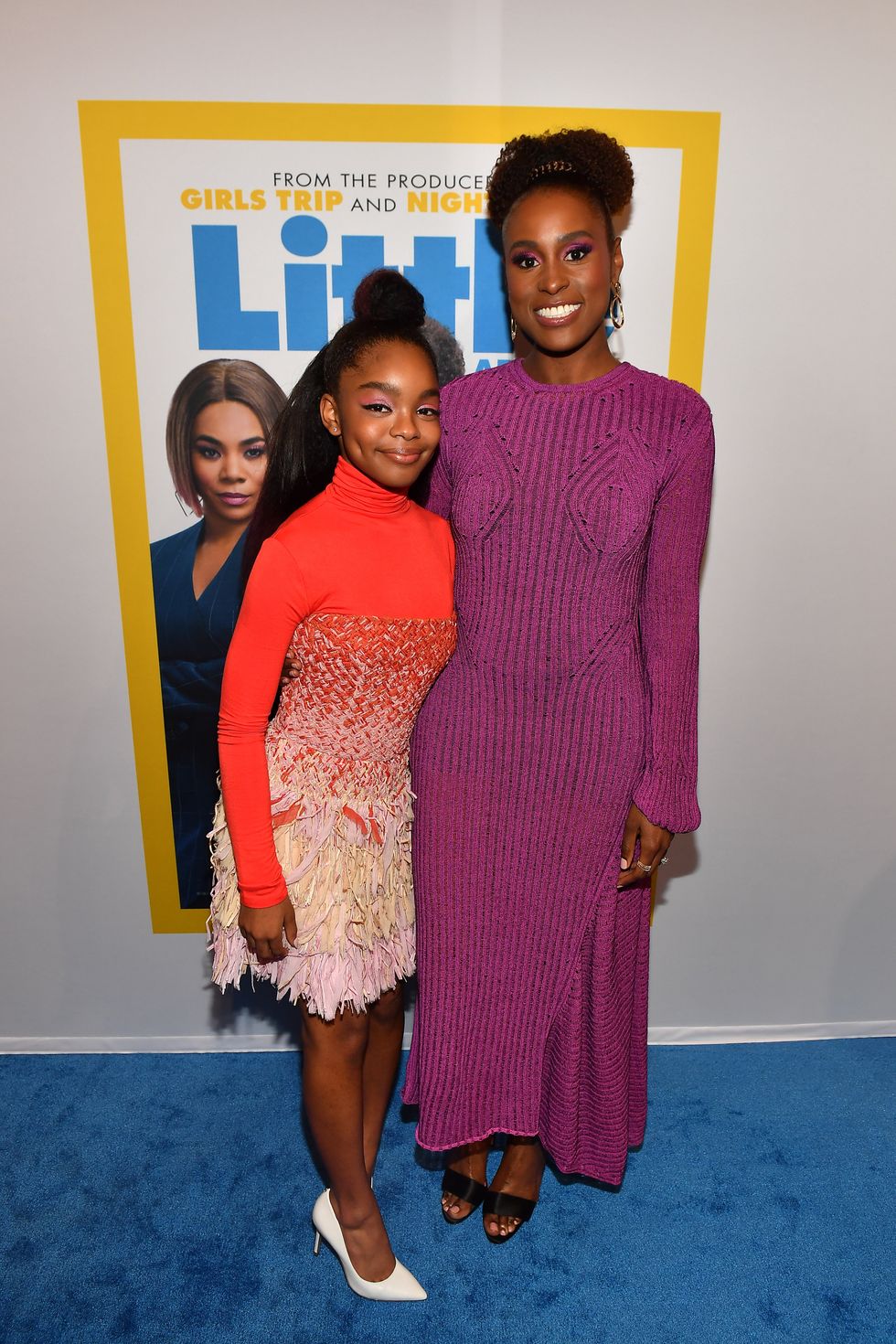 Atlanta Red Carpet Screening Of "Little" With Regina Hall, Issa Rae, Marsai Martin, Will Packer And Tina Gordon At Regal Atlantic StationGetty Images
Issa wasn't the only lady basking in her black girl magic. While most children are concerned about recess and cartoons, Marsai had her eyes on something bigger. She noticed the lack of black characters in the 1988 film Big and thought why not do a modern version, but with a majority black cast. She pitched her idea to producer Will Packer and the rest was history. Will loved the idea so much he enlisted the help of an all-black female crew to bring Marsai's vision to the big screen.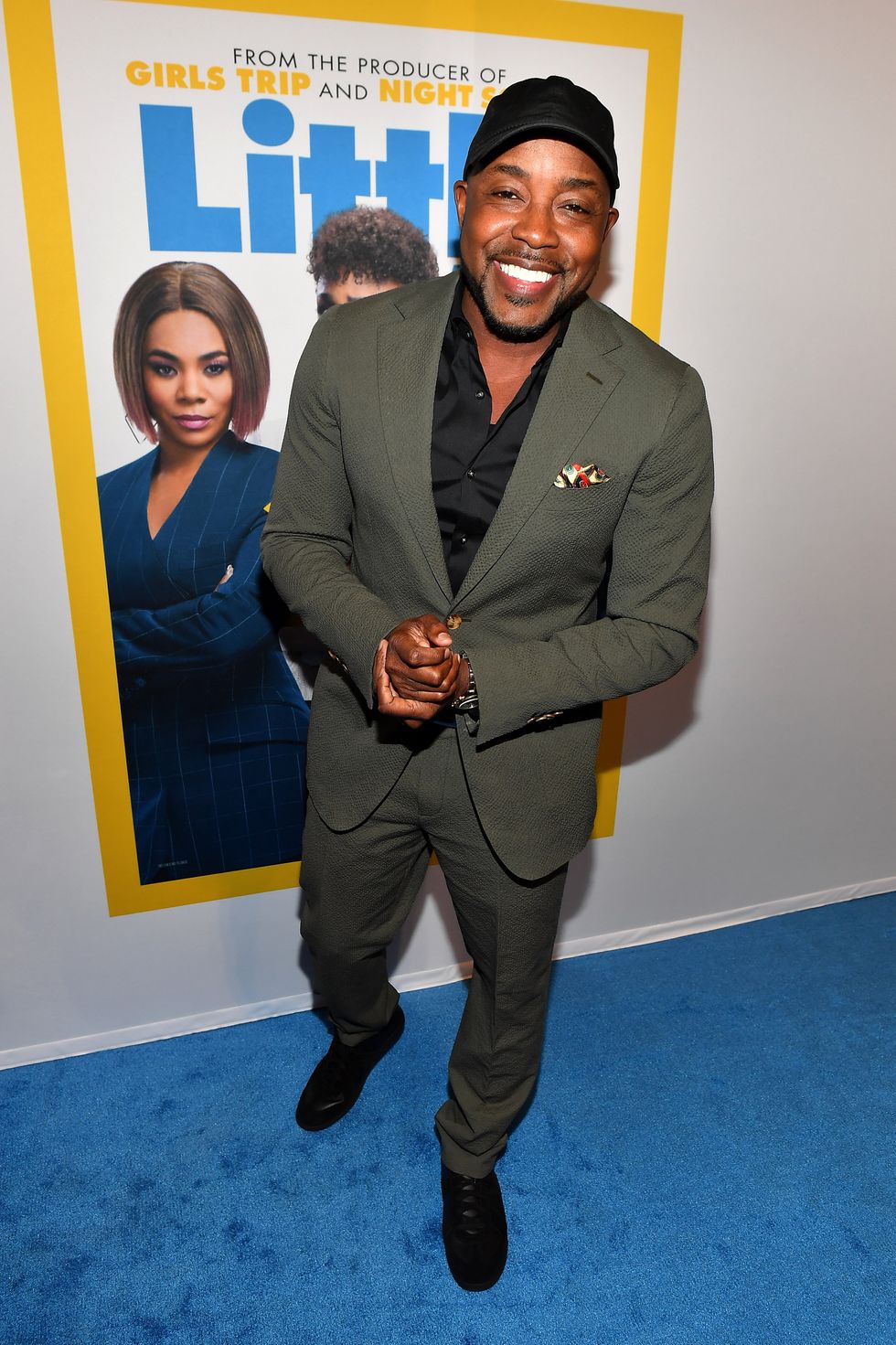 Atlanta Red Carpet Screening Of "Little" With Regina Hall, Issa Rae, Marsai Martin, Will Packer And Tina Gordon At Regal Atlantic StationGetty Images
To reintegrate the importance of a black woman's perspective in Hollywood Will told xoNecole:

"First of all, it hasn't been told enough. We don't have enough black female storytellers telling their story. So, for me to be able to empower somebody like a Tina Gordon…when you think about black female directors, there are very few, and especially very few in the comedy space. So, I'm just proud to be able to left one up."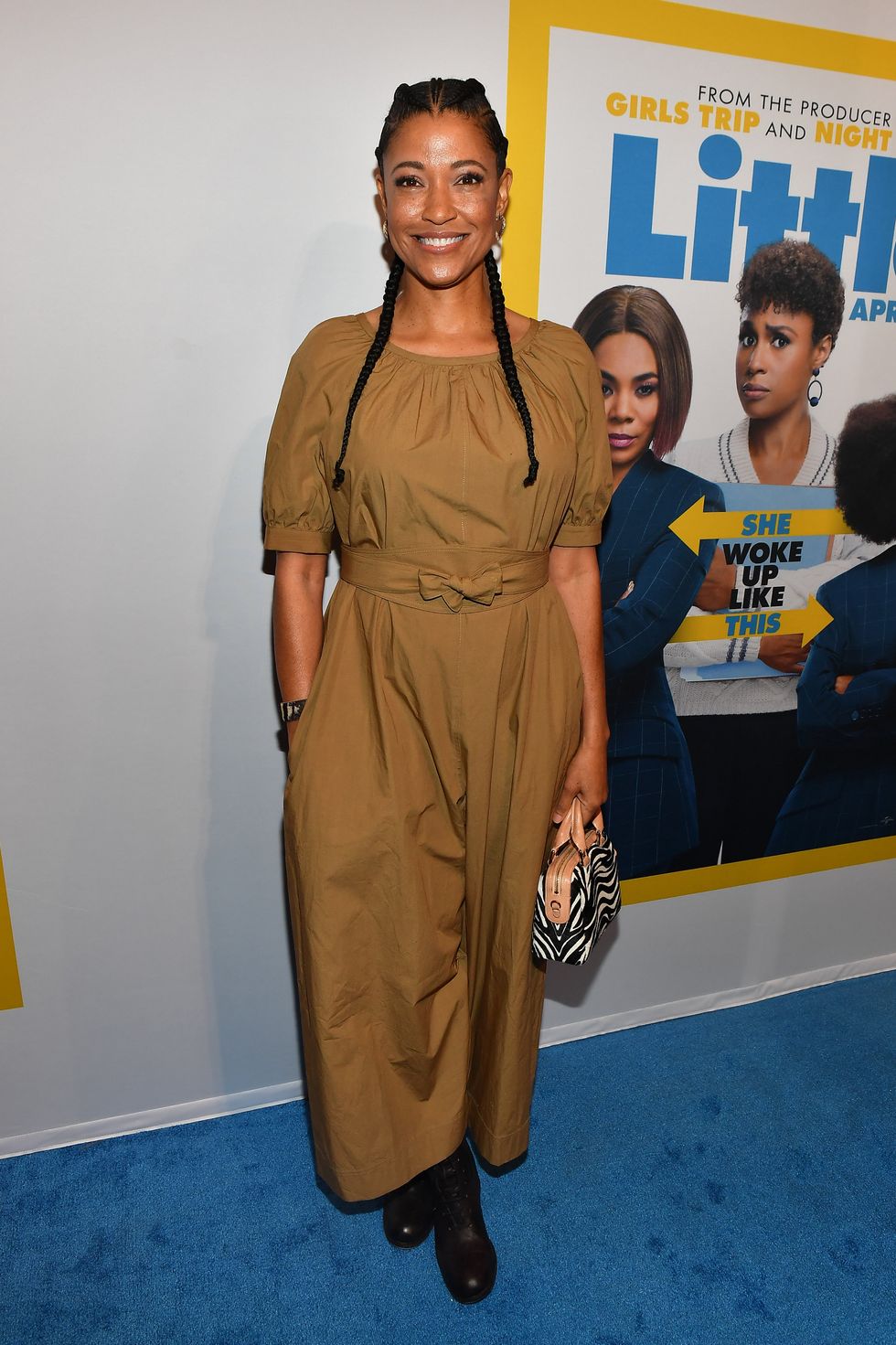 Atlanta Red Carpet Screening Of "Little" With Regina Hall, Issa Rae, Marsai Martin, Will Packer And Tina Gordon At Regal Atlantic StationGetty Images
Uplifting and funny, Little touches on themes of self-empowerment, personal evolution, bullying, and the importance of encouraging those around you. Director Tina Gordon explained to xoNecole why the theme of being authentic really resonated with her:

"People say it as something simple, but a lot of things can get in the way of you being your authentic self. So, the idea of people saying you can't do this or no one has ever done that before—in the case of Marsai. Little negative things that people say along the way sometimes changes who we really are. So, the movie just asks you to take a moment and think about if you've adjusted anything in yourself because of something someone said negatively about you and get back to being authentic."
Do your inner child a favor and be sure to catch Little in theaters everywhere April 12.
Check out some of our favorite celebs that showed up and showed out at the ATL screening by clicking through the gallery below.
Featured image by Getty Images