Whew. Doesn't it seem like we just had a holiday season not too long ago? And here we are. In October. Eight weeks (give or take a few days) from Thanksgiving and roughly 12 weeks away from Christmas. Where did the freakin' time go? If you're someone who likes the cold weather, holiday movies and music and the delicious food that is oh so characteristic of the holiday season yet the planning and some of the people that come with it all can cause you to low-key hyperventilate, months in advance, I just wanted to offer up a quick cheat sheet that can remind you to mentally, emotionally and financially put some steps into place.
That way, this year, you can go through the holidays feeling more refreshed than drained.
How to MENTALLY Prepare for the Holidays
Ask yourself what YOU want to do.
If there's one thing that the holidays and weddings have in common, it's the fact that so many times, people end up getting so caught up in other people's plans and expectations that they don't get to do what they really want to do themselves. While, in all actuality, you will probably have to engage in a bit of compromising over the holidays, don't lose sight of what you'd like to do during that time too. If you want to be friends rather than family, take a trip alone or even just chill at your house for one or both of the holidays, better to state that now and prepare everyone than A) totally blindside them with your plans or B) concede to what's expected of you while internally seething the entire time.
Put a weekly to-do list together.
October is here. Again, this means that November is right up the street and if you hang a sharp right, there's December. I'm not sure what it is that makes so many of us want to feel stressed out and overwhelmed because we waited until the last minute to get all that we need but that is so oftentimes the case. This year, decide to be revolutionary, to buck the system and to do a little bit at a time, each week, until Thanksgiving and Christmas arrive.
For instance, if you're hosting one of the days, set aside one week to purchase items that you may need for your guests, another week to clean the downstairs of your home, another week to do upstairs, another week to go grocery shopping, another week to cook, etc. Breaking things down into small projects will help to keep your anxiety levels low. It can also help you to do a more thorough job in each area because, since you won't be rushing, you can really think through what needs to be done in every category.
Pre-determine to only control what you can control.
Your auntie talking crazy (in someone else's home). Your parents missing their flight. Your car not starting. These are examples of things that, to a large extent, you are not going to be able to control.
Thing is, once you accept that as being a part of your reality, it can actually help to take a lot of pressure off because when you determine in your mind to do what you can do and let the universe handle the rest, it prevents you from getting all frazzled and bent out of shape.
Speaking of the car thing, if folks are staying with you, it can never hurt to encourage them to rent a vehicle. One more car for people to do what they want, so that they aren't solely relying on you is always beneficial.
How to EMOTIONALLY Prepare for the Holidays
Jot down what your boundaries are.
Say that you're newly married and while you and your in-laws are cool overall, your mother-in-law has shown clear signs of being passively aggressively pushy and demanding, pretty much since you met your boo. You can best believe that someone like that is either going to try and intimidate you into surrendering to their holiday plans or guilt your husband so that you both give in. The point here? Setting boundaries are key. If you are married, you and your husband need to decide what your united front will be and then express it.
If you're single and the control freaks are other family members, whether it's a phone call or even an email with a heads up on what you will and won't be able to do, that is something that definitely needs to go down. Listen, for whatever the reason, a lot of family folks think that boundaries don't apply to them. You don't have to go along with that way of thinking. In fact, the better (and clearer) the boundaries are, the easier, ultimately, it can be for drama to not be (as much of) an issue. Figure out what yours should be for the sake of your sanity. Then put everyone on notice, sooner than later, so that they can emotionally…adjust.
Ponder your triggers and how to deactivate them.
Speaking of boundaries, something that's fascinating about the holiday season is people typically run on high energy and high expectations. The challenge that comes with both of these is they can lead to great disappointments, if you're not careful. That's why I'm such a huge fan of "trigger deactivation" — you know, really taking out the time to figure out what or who triggers you and why, so that you can come up with beneficial ways to not let it or them push your buttons so much.
Since a lot of triggers center around past experiences, nothing says a colossal trigger fest quite like sitting around a table on Thanksgiving or an evergreen tree on Christmas. That's why now would be a really good time to assess what really gets on your last nerve, why that is the case and then follow that up with ways that you keep "it" from getting to you too much. Because the reality is, you will probably only be around your trigger(s) for a couple of days; however, if things go way left when it comes to how you respond/react to them, the fallout could continue for years to come. Anyway, if you'd like a bit of assistance in this area, feel free to check out "How To Handle Folks Who 'Trigger' You".
Make self-care essential.
Why oh why do people decide that the holiday season is the best time to run themselves absolutely ragged? If ever there was the right time to make sure that your mani/pedi, massage, waxing, hair and whatever other self-care rituals that you are used to transpire, now until New Year's Day is definitely when you should make those happen. In fact, because the holiday season is when booking appointments can be an absolute headache, strongly consider hitting up the salons/spas now to schedule everything well in advance. One, so you won't have to freak out when they tell you they are filled up come November and two, so that you'll know to stash some money aside for yourself…because you deserve it.
How to FINANCIALLY Prepare for the Holidays
Determine which holiday you want to spend the most money on.
This hack right here is super important because I've actually read that Americans, on average, spend close to $1000 just on Christmas gifts alone. If you spend that much on presents before even getting into travel expenses, food, stuff for yourself, etc., it's easy to see how folks can start off a new year in the hole. That's why it's super important to 1) create a budget that's specifically for the holidays and 2) decide which holiday you want to spend the most on because, just like you can run up a tab on gifts for Christmas, food can be super pricey on Thanksgiving too.
By determining ahead of time what you will and will not do, financially, and then holding yourself accountable (for instance, saying that you'll spend $500 in gifts and using your credit cards are absolutely not an option), that can provide you peace of mind that you're living within your means, so that you can start another year off on the right foot.
Put $50 aside per paycheck.
If money is super tight and you have absolutely no idea how you're going to make your coins stretch, I've got two tips. First, check out an article that I wrote last November entitled, "Coin Collection: 10 Easy Ways To Save $500 By Christmas". It's got some practical ways for you to store up some cash. If you don't wanna do all-a-dat, you can always discipline yourself to put aside fifty bucks per pay day. If you get paid on a bi-weekly basis, that can still give you around an extra $200 by Thanksgiving or $300 by Christmas.
Cop plane tickets now.
If you plan on flying out somewhere, did you know that you can get the best rates if you start checking for flights between four months and three weeks prior to when you have to leave? While I know there are a ton of sites that can help you to book last-minute cheap tickets, a lot of them come with long layovers and/or extra fees. You know, one time, I booked a roundtrip ticket for under $100 to see my goddaughters and I know it was because I looked a couple of months ahead. Anyway, for hacks on how to get a super inexpensive flight, check out Thrifty Nomads, "How to Book the Cheapest Flight Possible to Anywhere". It's got quite a few hacks that I think you will enjoy.
BONUS: An Effective Way to PHYSICALLY Prepare for the Holidays
Shed a few pounds now. Proactive is always better than reactive, right? Keeping that in mind, did you know that reportedly, on average, we gain somewhere around eight pounds between Thanksgiving and New Year's Day?
The sad part is a lot of us try and curtail this by either avoiding all of the foods that bring us so much joy during the holiday season or going on some sort of a starvation diet after the fact. This year, don't do either. Instead, determine to comfortably shed that amount of weight before Thanksgiving even comes by cutting back on sugar and carbs, exercising a bit more and shoot — drinking more water.
I promise you that whenever I want to lose five pounds or so, all I've got to do is replace whatever I typically drink with water and weight falls right on off. A lot of us don't realize that we're drinking calories via alcohol and juice, but we are but if you sacrifice those things now, that can mean more hot chocolate and eggnog without feeling any kind of guilty over the holiday season — and just how awesome is that?
Join our xoTribe, an exclusive community dedicated to YOU and your stories and all things xoNecole. Be a part of a growing community of women from all over the world who come together to uplift, inspire, and inform each other on all things related to the glow up.

Featured image by Getty Images
Keep reading...
Show less
Upon reading the title of this article, you might've immediately thought that it was a shout-out to all singles this holiday season. Eh. Not quite. For one thing, that got covered last year (check out "A Single Girl's Guide To Getting Through The Holiday Season"). Second, we all know that 2020 wasn't your typical year—not by a long shot—and so, I wanted to approach feeling lonely from a bit of a different angle this time; especially after recently reading a New York Times piece entitled, "Combating an Epidemic of Loneliness". One of the things that it mentioned was while human beings cannot go more than three minutes without air, three days without water and three weeks without food, interestingly enough, we also cannot go more than three weeks without some form of companionship. And y'all, we've been officially quarantining since March. And as you well know, it is now…December.
Something that I've found myself saying, pretty much on repeat, ever since the summer is, while 2020 was a trip-and-a-half, 2021 is also sure to have its own customized bullshishery between the evictions, financial struggles and mental health side effects that will come from having to endure so much from these past several months (and this current administration) alone. Knowing this can bring on a different kind of loneliness—whether you share your living space with someone or not.
So, as we're literally just days away from Christmas Eve, Christmas Day, New Year's Eve and New Year's Day, if something just doesn't feel quite right within, first, know that you aren't alone (again, not by a long shot) and second, here are some suggestions that can hopefully make this holiday season just a little bit easier to endure.
What Are Some Telling Signs That You're Battling Loneliness?
Something that I get for the "little friends" in my life is a feelings chart. Unfortunately, a lot of us didn't grow up with parents who weren't emotionally intelligent enough to even know what they were feeling, so they couldn't really teach us emotion-related words beyond happy, sad, and angry (didn't know how to model any others appropriately either). So, as adults, some of us really struggle with discerning which emotion we're experiencing at any given time. That's why I think it's important to share what some signs of loneliness actually are. Not to patronize you; just for clarity's sake.
People who are lonely tend to struggle with sleeping soundly at night. Constantly being online rather than interacting with people you have a "real" relationship with can trigger loneliness. If you make mountains out of molehills, that can be a sign of overthinking which can result from feeling isolated and lonely. A weakened immune system can be a sign of loneliness. Constantly binge-watching television is a sign of loneliness. Did you know that being around negative individuals can also make you feel lonely (which is how married folks can feel lonely)? Interestingly enough, shying away from intimacy—physical or emotional—is also a sign of loneliness (many people see it as a way of protecting themselves from further relational disappointment).
Another reason why it's so important to know these kinds of things is so you don't assume that feeling depressed is the only indication of loneliness. It absolutely is not. If you notice that you're going through any of the things that I just shared, and you can't connect these instances to any specific instance, it very well could be that you are dealing with loneliness—the feeling that comes over you when you feel like you are lacking in some level of sympathy, support or companionship.
Figure Out If It's About the Holidays or Something Deeper
Now that we've touched on some not-so-surface signs of loneliness, it's important to spend some time figuring out what's causing it for you specifically. Again, if you said it's simply PTSD from dealing with 2020, I would totally get that. Plus, there is something that is literally known as "holiday depression". Whether it's the changes in the seasons and time (which can trigger seasonal depression); watching all of the Christmas Hallmark movies where everyone seems boo'ed up and full of Christmas cheer; reflecting on past memories—good or bad—with loved ones; having a hard time keeping up with your coins; thinking back on what you wanted to accomplish over the past year and quite possibly didn't—again, it makes perfect sense why this may be the time of year when you feel lower than the rest of it.
Another spin is having a few days off around Christmas and New Year's Day may cause you to slow down enough to actually feel what you've been ignoring for the past several months. This is why it's important to make some time to really process what the source of your loneliness actually is. What I mean by that is, even if you feel isolated, detached or like no one really "sees you" or "gets you" right now, what initially got you to feeling that way? Journaling is something that can help you in this area. There is something else that you can do as well. This brings me to my next point.
Let Someone Know What's Going On
The times in my life when I've felt lonely, it's weird. While I was feeling like no one had my back, I also didn't want to reach out to people who I knew, deep down, actually did. That's the thing about loneliness—from an emotional standpoint, it tends to encourage you to remain in the state that you are in which ultimately only makes matters worse in the long run.
Sometimes, when you feel like you're out here, all alone, loneliness will tell you that reaching out to someone else—especially during the holiday season—is selfish and inconsiderate. Don't let it lie to you like that. People who truly care about you don't take days off, and while they may be more preoccupied than usual, that doesn't mean that you don't matter to them or that they don't want to help you if you need it.
So, whether it's an emotionally safe family member, friend, or reputable life coach, counselor, or therapist, if you just can't seem to "shake" what you're going through, don't hesitate to let someone know that. Sometimes, just having someone sympathize or even empathize with your situation can help to get you on the path to getting out of the rut that you are in.
Whatever Makes You Feel Better? DO THAT.
While it's kind of another article for another time, there is a fine line between doing things that will mask your loneliness (like going on shopping sprees you can't afford, drinking or smoking a lot of weed or engaging in reckless sex or even sex that serves as nothing more than a temporary distraction) vs. doing things that will help you to feel less lonely. Still, when it comes to Column B, there are beneficial ways to make holiday season depression a lot easier to bear. Today, I'll list 10 of 'em.
Pamper yourself. It reminds you that you are important and deserve self-care.
Get off social media and actually connect with a human. OK, there is still a pandemic going on; however, meeting up with someone to go on a winter walk or setting up an appointment to watch a favorite throwback movie with a friend over Zoom (so that you can share the same screen) can get you past being on IG or Twitter all day long. It can make it easier to have personal conversations too.
Take some real time off from work (at least 3-4 days). You would think that getting off of the grid and being quiet would only make you feel lonelier but actually, overworking yourself can cause you to feel overwhelmed which can put more pressure on you and can actually make you feel worse. So yeah, time off is also a helpful tip for overcoming feelings of loneliness.
Do some minor house upgrades. Purchase some items for your home that are in your favorite color. Get some soy-scented candles that can help to lighten your mood (citrus, jasmine, peppermint, vanilla, cinnamon, lavender, and cedarwood are all beneficial). Invest in some new bedding (so that you can sleep better). Get a couple of plants (they are proven to improve your mood and increase productivity and creativity). Buy things that will encourage you to be more active like new cooking utensils or some arts and crafts.
Pray and meditate. Sometimes, remembering that there is a power higher than you, can take the pressure off of feeling like you have to do everything—including figuring out how to feel better—alone.
Switch up your diet a bit. It's pretty common that when we're in a bad mood, our diet pretty much sucks. Sugary drinks like sodas and even a lot of fruit juice can cause our energy levels to skyrocket and then instantly crash. Anything from a white grain (like bagels, doughnuts, or even white bread or white pasta) are carbs that turn into sugar (and ultimately do what I already said about sugary drinks). Baked goods are made from refined sugars and saturated oils which can result in emotional roller coaster rides. Margarine contains processed saturated fats which can cause your blood sugar levels (and your moods) to be all over the place. Fast food can ultimately make you feel sluggish and lethargic. So, what in the world can you eat that will give you a bit of a pick me up instead? Good question. Articles on our platform like "In A Bad Mood? These Foods Will Lift Your Spirits!" and "Eating Well: 10 Foods That Can Improve Your Mental Health" can help to get you back on track.
Get a pet. Sometimes, being responsible for something else can help to make you feel more necessary and valuable. Pets are great at offering unconditional love too.
Treat yourself this holiday. Something else that can trigger feelings of loneliness around this time of year is feeling like you have to think so much about everyone around you that your own needs end up taking the back burner. Release this toxic mindset because it's totally untrue. There is absolutely nothing wrong with getting a few Christmas gifts for yourself in order to put a bit of a smile on your face. In fact, I encourage it.
Have sex. Not "needy sex". What I'm saying is that if you're in an exclusive relationship, sex can also lift your spirits, and de-stress you, and, ladies, giving head (until completion) is like taking the ultimate multivitamin. It really can't be said enough.
Create a sleep routine. Loneliness that results in sleepless nights that only lead to you feeling worse the next day can be a bit of a vicious cycle. That's why it's not a good idea to wait until you "feel like going to bed" before turning in at night. It's important to actually cultivate a sleep routine. Soak in the tube. Get offline. Sip some herbal tea. Read a book. Go to bed at the same time. Get naked (so that you don't overheat). RELAX. A good 6-8 hours of rest is a miracle resolution for loneliness that isn't praised nearly enough.
Remember That This Too Shall Pass
While I'd be lying to you if I came up with a timeframe for how long bouts of loneliness tend to last, what I will say is getting a ballpark idea depends on what's triggering it in the first place. If it's a break-up, it kind of depends on how long the relationship was (and if you're dealing with it or denying it); however, a couple of months does tend to turn the "wound" into a "scab". If it's due to seasonal depression, you should feel more like yourself come spring. If it's because you're hormonally all over the place, altering your diet and making an appointment to see your doctor can definitely help. If it's because of the holidays, well, those will be over in just a few days. If you are disappointed in yourself—using this time to think about what you love about you and writing down some goals for what you'd like to achieve next year can be helpful.
You know the main thing that you need to do, though? Remember that this feeling won't last forever. Like I once heard Dylan McKay's mom say on an episode of Beverly Hills, 90210, "Even despair exhausts itself." It might not feel like it right now but be gentle with yourself, be forgiving of yourself, be compassionate towards yourself. Feeling lonely is nothing to feel ashamed about or be scared of. You feel like you're not getting support so again, reach out for some. And yes, remember sis, that like all seasons of life, this too shall pass.
Now get yourself a cup of hot cocoa, snuggle under a cable knit blanket and call a friend. I'm pretty sure they would be happy to hear from you. Especially since it's the holiday season.
Featured image by Shutterstock
Keep reading...
Show less
The Christmas season is in full effect, and one great thing about that—beyond the festive decor, sales, feasts, and much-needed break—is the music. I don't know about you, but Black Christmas songs are a major part of family celebrations and are connected to great memories. We all have a soundtrack of the times, whether it was Christmas at Grandma's house, that wild trip abroad to "do something different" or your first Christmas with bae in your new home.
Check out 38 classics and new hits—from R&B and hip-hop to dancehall and reggae—to get you into the holiday spirit and keep the good vibes going this Christmas:

"I Saw Mommy Kissing Santa Claus" — The Jackson Five
"Silent Night" — The Temptations
"All I Want For Christmas Is You" — Mariah Carey
"8 Days of Christmas" — Destiny's Child
"Christmas in Hollis" — Run-DMC
"My Favorite Things" — The Supremes
"Everyday is Christmas" —Vybz Kartel
"Someday at Christmas" — Stevie Wonder
"Sleigh Ride" — TLC
"Let It Snow" — Boyz II Men and Brian McKnight
"Christmas In Harlem" — Kanye West
"St. Brick (Intro)" — Gucci Mane
"No Gift" — Tamar Braxton
"Santa Looking for a Wife" — Bindley Benjamin
"Christmas in the City" — Mary J. Blige
"This Christmas" — Chris Brown
"Give Love on Christmas Day" — Ledisi
"Oh Santa" — Mariah Carey, Ariana Grande, and Jennifer Hudson
"Oh Come Emmanuel" — The Clark Sisters
"We Wish You an Irie Christmas" — Jacob Miller and Ray-I
"A Christmas Wish" — Beverley Knight
"Holiday" — Lil Nas X
"I Want to Come Home For Christmas" — Marvin Gaye
"Christmas Without You" — Xscape
"What Christmas Means to Me" — Fantasia
"Snow" — Leslie Odom Jr.
"Joy to the World" — Whitney Houston
"It's Christmas All Over the World" — New Edition
"Merry Christmas Baby" — Faith Evans
"Give Love on Christmas Day" — Johnny Gill
"Have Yourself a Merry Little Christmas" — Keyshia Cole
"Christmas Trees Remix" — Lil' Duval
"Be My Holiday" — TGT (Tyrese, Ginuwine and Tank)
"I'm Your Santa" — Chance the Rapper and Jeremih
"Make It Jingle" — Big Freedia
"Doggy Dogg Christmas" — Snoop Dogg
"Thank God It's Christmas" — Wayne Marshall and Sean Paul
Featured image by Shutterstock

Keep reading...
Show less
Celebrating the holidays is going to look a lot different this year. The holidays can be stressful for many. Now, with a pandemic and an economic crisis, it is filled with uncertainty. All of us are trying to navigate through something. These are trying times, as some of us have lost jobs or loved ones to COVID-19. We all want the comfort of our families, young and old. But we also want to protect the health of our loved ones too.
But no matter the circumstance, when you sit down to eat Thanksgiving or Christmas dinner, there is always that one aunty that has to be in your business. It's like they have this impulsive need to ask you a million questions. Why are you single? When are you getting married? Are you planning to have a baby? Their mouth just cannot hold water and rumors spread like wildfire. And from my experience, family rumors are the worst. This same aunty must comment on your body image too. Like it is their God-given right to tell you how much weight you've gained, or you need to eat some food.
The A-U-D-A-C-I-T-Y.
And then there are the estranged family members. It's like being the elephant in the room; noticeable, questionable, and silent. It's something that no one wants to bring up or mention. You can feel the tension in the room. It's thick and heavy, just waiting to be cut with a knife. The drama is real and sometimes is never-ending. And this is what we call a generational curse. One wrong comment can trigger World War III.
For others, holidays are NOT the most wonderful time of year. Maybe you can't be home with your family because of work, school, military deployment, or the current state of the world. Maybe you have lost a family member and you're still grieving. You prefer to be alone and sit with your feelings. And that's OK. Take the time you need. Maybe you have a toxic family member, and you need to protect your peace. That's OK too. Just thinking about my own toxic family gives me anxiety but that's a different story. And maybe you don't have any family at all. `
Family can be loving and warm, but they also can be overwhelming and bothersome. And yet no one wants to be alone for the holidays. For whatever reason, Thanksgiving, Christmas Eve, Christmas, Hanukkah, Kwanzaa, New Year's Eve, and New Year's Day are just hard.
So, how do you navigate family dynamics during the holidays, you ask? I can tell you how.
Boundaries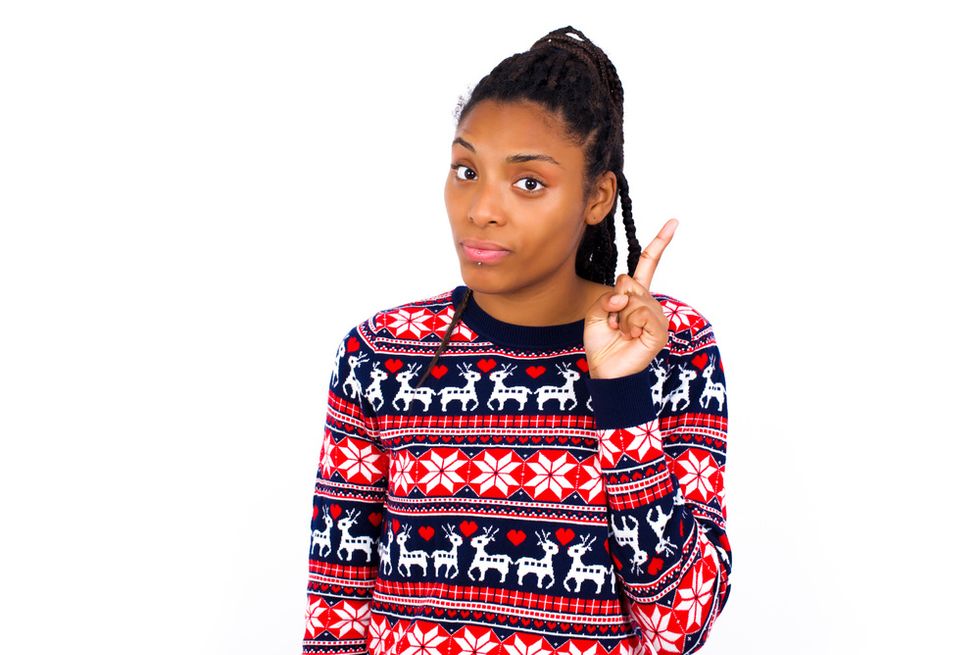 Shutterstock
Boundaries are what keep you sane, especially around the holidays. If you're not creating and practicing boundaries, I insist you do. Boundaries keep you from any stress or hurt you might feel from family interactions. Establishing boundaries with family seems hard, but I promise it's easy. A boundary can look like showing up, being present for a few hours, and sneaking out. It can also be a quick stop by, with an excuse to leave "due to other plans". A boundary can also look like choosing not to engage in certain conversations. This means using your voice to express where you stand on certain dinner table topics. Either way, there is a level of security in keeping your boundaries intact.
Limit Your Time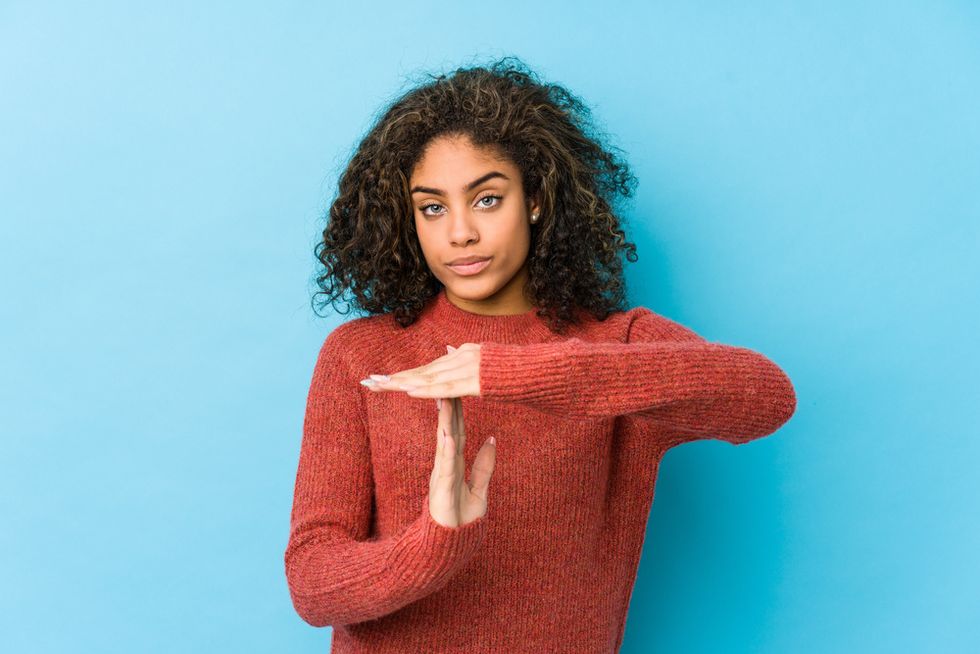 Shutterstock
Don't feel obligated to spend your entire Thanksgiving or Christmas with your family just because it's the norm or expectation. Have a conversation with yourself and ask yourself these questions. How much time do you want to spend with your family? What part of my day do I want to set aside for family? How does my family make me feel during the holidays? Is it necessary to be with family on this day? You can even pick and choose which holidays you choose to give to your family. Because who said you have to be present for every single Thanksgiving, Christmas, and New Year's Eve anyway. Feel free to put your family on an annual holiday rotation. Trust me, you will thank me later.
Use Technology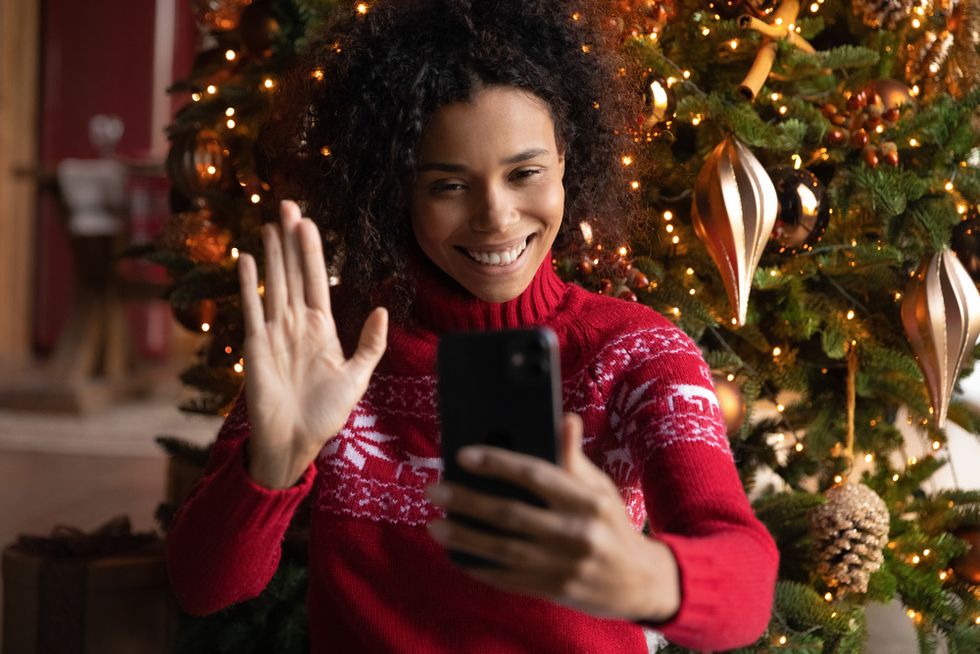 Shutterstock
If you can't go home for the holidays or spending time with family is not an option for you, get you some good ole' FaceTime in with your loved ones in a video chat. There are so many options to connect with family through technology. Set a time and date and enjoy a virtual holiday meal with your family. I mean, it's 2020. We have Zoom, Houseparty, WhatsApp, Facebook Messenger, Instagram, Snapchat, and Telegram. We have no excuse. This way, you're able to see family, feel the holiday feels, be safe, and still be able to protect your peace.
Gather With Friends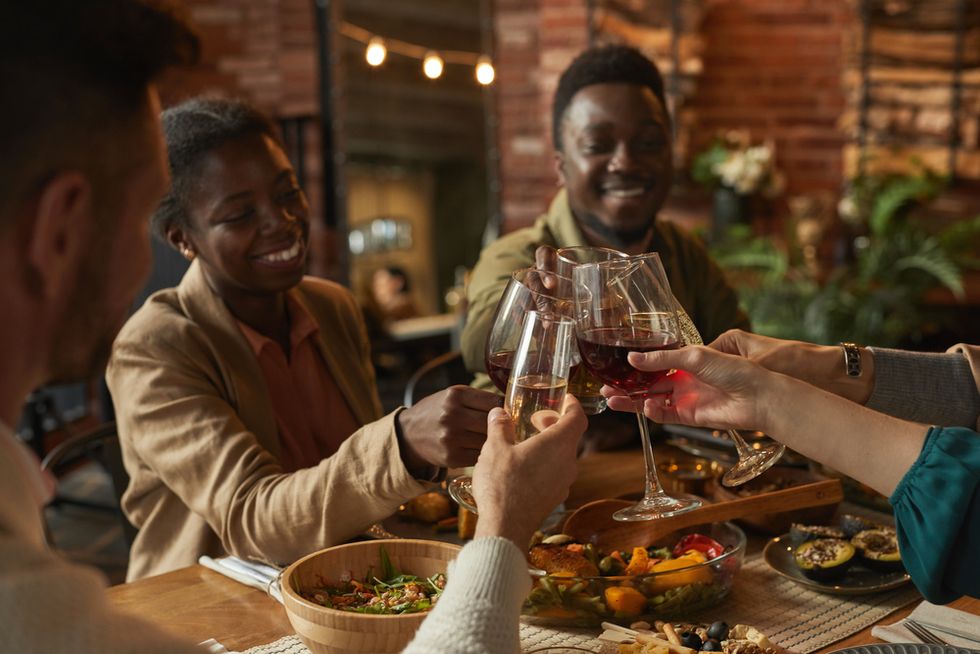 Shutterstock
Nowadays, Friendsgiving has become more relevant than an actual Family Thanksgiving. The presence of nonjudgmental friends having dinner, drinks, and talking. No questions asked. But if questions are asked, it's in a safe space. Friends know the meaning of boundaries, unlike family, which makes gathering with friends much more pleasant than being with actual family.
Do Your Own Thing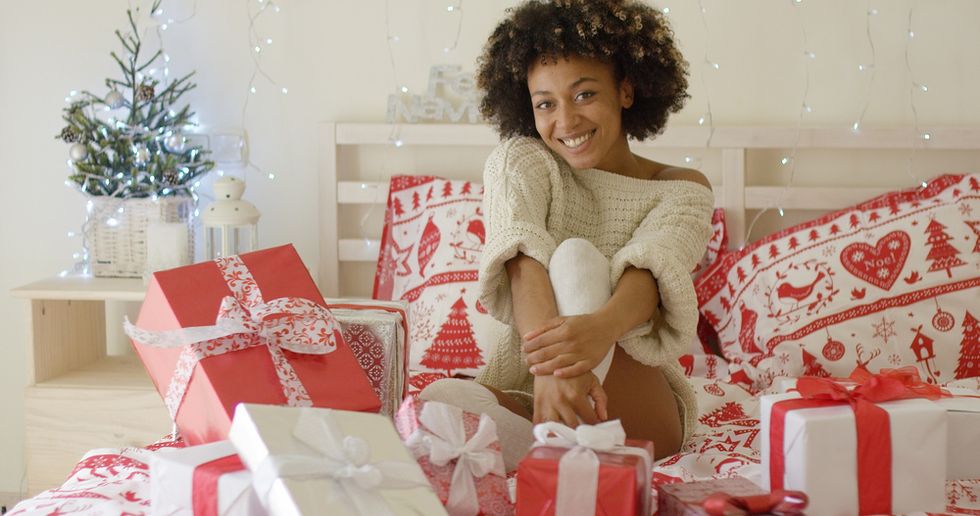 Shutterstock
When all else fails, including boundaries, do your own thing. You can enjoy your own company during the holiday season. Yes, you read that right. There is nothing wrong with it and don't let anyone tell you differently. It is perfectly OK to get into the holiday spirit alone. Decorate your home, cook a holiday meal for one, and buy yourself some Christmas gifts too. Enjoy a staycation, order take out, bake Christmas cookies, sip on some hot chocolate or a holiday cocktail, and binge-watch your favorite holiday movies. Take that solo holiday vacation to the tropics because the Caribbean is always nice. We are moving towards less traditional holiday celebrations anyway.
I have learned to do all of these things because of my own family dynamics. I set boundaries with my parents and my brother. When I do see my family, I limit my time with them to a few hours or less. And no, I do not feel guilty. I have FaceTime dates with my dad every now and then. And since I live 2,000 plus miles away in a different state, my friends have become "framily". I typically spend holidays with them. Oh, and this year, I am taking that holiday vacation to the Caribbean.
Every holiday season, navigating family dynamics sends my anxiety through the roof followed by feelings of loneliness. It's inevitable. I long for my family. We all do. Our first memories of any holiday are with our families. The key is to continue to make yourself happy regardless of your family dynamics. It's important to keep pouring into yourself because some family or circumstances may never change. But you can still show your family love and appreciation during the holidays, it's just going to look a little different this year.
And at all costs, please protect your peace.
Are you a member of our insiders squad? Join us in the xoTribe Members Community today!
Featured image by Shutterstock
Keep reading...
Show less
How crazy is it that we're just days away from Thanksgiving? How even crazier is it that, at least most of us, are trying to figure out how to make this holiday happen when we're still—still, y'all—in the middle of a pandemic? Because let's be real. While when it comes to protecting our overall health and well-being, it would probably be best to sit this year out, since we've already made so many sacrifices, especially socially in 2020, I get that some of you may want to semi throw caution to the wind and share a meal with some of your loved ones anyway.
And that's just what we're gonna tackle today. If you're sick and tired of COVID-19 totally running your life and so you're gonna make Thanksgiving happen, one way or another, here are some things that can significantly decrease your chances of you or your people getting sick as a direct result.
1. Grocery Shop Carefully
Before we get into how to carefully handle the people who will be in your house, let's first get into the main reason they're coming over (other than to see you, of course)—the food! The last thing you want to do is have an awesome day with everyone, only for them to fall ill a few days later. So, have a clear shopping list (the less time that you're in the store, the better). Also, make sure that you try and go grocery shopping during a time when there is less "people traffic" (definitely not a couple of days before Thanksgiving or during the times when most people are off work). Always wear a mask and sanitize the handle of your grocery cart. Fresh produce vs. frozen or canned goods isn't that much of an issue (as far as which is safer when it comes to avoiding COVID-19); however, do make sure that when you get home that you wipe off cans, that you thoroughly rinse your produce and that the foods that needs to be refrigerated are put into a fridge that is set at 40 degrees (your freezer needs to be zero degrees) Fahrenheit. Doing this will decrease the chances of foodborne pathogens developing.
2. Prep Your Home
While you're cooking, clean all surfaces constantly (with soap and water; then follow that up with a disinfectant). Contamination can spread quicker than you might think, so wiping down counters and swapping out dishrags for different things (like using one for dishes and another for cleaning your stove) that you're preparing is important. Oh, and also be intentional about cleaning anything that folks will be touching a lot including door handles, tables, faucets, and light switches. While you won't have time to follow up behind everyone the entire time, wiping these things down right before company arrives, once during their visit, and again after everyone leaves is a good practice.
So that air can be well-ventilated throughout your house, crack open a few windows. You also might want to turn on a humidifier in the space where most people will be hanging out. Aside from the fact that indoor air pollution is automatically 3-5 times worse than anything that's happening outside, dry and poorly ventilated areas also make it easier for germs to spread. I actually read that using a humidifier in the wintertime can lower your risk of getting COVID-19. The more you know, chile.
3. Avoid Potlucking
Here's the thing about potluck. While, on one hand, it takes the burden off of you having to cook as much, the flip side is you don't always know if other people are as semi-OCD as you are when it comes to cleanliness. While this is great food for thought, no matter what, it's especially important to keep this in mind during this pandemic. So, unless you are absolutely at peace with someone bringing a homemade dish, request that your guests bring pre-packaged items like drinks, paper products—stuff like that.
Also, you might want to avoid going the takeout route this Thanksgiving as well. Although I actually wrote an article for the platform earlier this year entitled, "10 Safety Practices For Ordering Takeout (During A Pandemic)", restaurants tend to be slammed during the holiday season, and while it would be wonderful if they were all as cautious as we are with following COVID-19 cleaning protocols, assuming that they are is a risk that you might not wanna take. Because, after all, the only person you can ever truly be sure about is yourself. Right?
4. Go the Paper Products Route
As far as serving your meal to your guests, while properly washing (or dishwashing) dishes and utensils typically knocks out most germs, take extra precaution this year and consider going the paper and plastic products route. That way, people can throw away their plates, forks and cups once they are done. As a bonus, you won't have to do as much clean-up once everyone is gone.
If that is way too "low-end" for you, just make sure that you clean and disinfect every item that you and your guests use. By the way, running your pans, dishes and utensils through a dishwasher is considered to be the most effective for getting rid of germs while letting everything air dry is a fair follow-up alternative. Whatever you do, just make sure to avoid using the same towel for drying everything. Out of all of the drying options, that one basically sucks at preventing germs from spreading.
5. Cut the "Body Count" Down
One of the reasons why a lot of kids continually get sick in daycares is because there are so many of them in a tight space. Five children in a big room is very different than 20 in a smaller one. This line of thinking brings us to my next point. If you have a small gathering of 5-7 people (especially if you live in an apartment or a smaller house), that makes it so much easier for everyone to socially distance than if you've got a houseful. Listen, already opting to host Thanksgiving, in your home, during a pandemic, is a pretty bold feat. Don't you dare feel bad or guilty that you can't invite as many folks as usual. You've still gotta go to work on Monday. The lower your body count is, the better—for all parties involved.
6. Avoid Folks Who Haven't Been "Acting Right"
I can count on one hand, the amount of people who've been in my home ever (chalk it up to the ambivert in me). Anyway, there is one person, in particular, I had to "put on punishment" because when I tell you that they are out here in these streets, like there isn't a pandemic happening, right at this very moment? Whew. My point? People who aren't wearing masks. Folks who haven't been social distancing. Anyone who even hints at having a fever or cold symptoms. Someone who has recently traveled and hasn't quarantined at all. These are the kinds of people who should skip out on Thanksgiving at your house this year. One workaround is to have them check in on Zoom, Skype or Google Hangout. While it won't be exactly the same, it's safer which ultimately makes it all good.
7. Establish a Strong Hygiene Protocol
Once people step into your house, consider having them take their shoes off and leaving them at the door (so that germs aren't tracked throughout your home). Have some hand sanitizer waiting at the door and/or ask them to wash their hands before actually getting comfortable. When it comes to sneezing and coughing, a minimal amount of that is natural, even when someone is well. That said, make sure that there are tissues on tap and maybe even cough drops or warm tea and honey so that your guests' coughing reflex can be calmed down; the less sneezing and coughing, the less particles of spit that ends up flying around. If there are kids who are coming, make sure that someone sees that they wash their hands before leaving the bathroom, and definitely have no problem with encouraging social distancing, especially if you are hosting indoors.
8. Consider Having Thanksgiving Outdoors
In many cases across the country, global warming has been showing all the way out. A silver lining in this is it's been proven that being around people outdoors (when you're social distancing, of course) is exponentially safer than when you're spending time with them while being inside of a space. So, if the weather permits, why not host Thanksgiving outdoors? Put a picnic table in your backyard (if you've got a backyard) and spread the seats apart. If you like this idea but you're worried that it will be way too cold come the end of November, you can always move Thanksgiving up a bit. Hey, nothing about this year has been conventional. I don't think folks will trip too much about having Thanksgiving dinner with you a week early and then being able to chill at their home on actual Thanksgiving Day.
9. Limit the Time Spent
Here's the thing about COVID-19—the longer that you spend time around an infected individual, the more you significantly increase your chances of them transmitting the virus onto you. According to the CDC, if you spend more than 15 minutes, in close proximity to someone who has COVID-19, you significantly increase your chances of them passing the virus on to you.
Look, we all know that none of us are interested in doing a drive-by Thanksgiving. However, this is a good enough reason to again implement social distancing and not having folks at your crib from noon until midnight.
10. If You're Flying, Follow CDC Guidelines
So, what if you're not the one who is hosting Thanksgiving but instead, you're traveling to be with relatives or friends this year? Definitely keep your immune system up in the days leading up to your fly-out date (check out "Ready To Try 10 Quick & Easy Immune-Boosting Hacks?" and "10 All-Natural Ways To Avoid Catching A Cold"). If you want to take a test before you leave, many Walgreens and CVS stores offer the service (although it's not the cheapest; CVS is around $140, I believe). Be sure to wear a mask at the airport as well as during the flight. Don't forget to have some hand sanitizer (one that contains around 60 percent alcohol) on tap. While traveling, try and socially distance (remain two arm lengths apart) as much as you can, that you avoid touching others and that you keep your hands off of your eyes, nose, and mouth. (For more info on CDC travel guidelines, click here.)
Oh, if you decide to take a road trip instead, have some disinfecting wipes so that you can wipe down any ATMs or gas pumps that you may come into contact with.
And finally, if you feel, even a little bit under the weather, within 48 hours before traveling, strongly consider not going. Again, it's always better to be safe than sorry.
I know this all might be a bit "much" compared to years past. Yet I'm confident that if you stick to these 10 tips, you can have a pretty normal Thanksgiving. And after all that 2020 brought our way…"normal" is outstanding.
Featured image by Shutterstock
Keep reading...
Show less
Last week, I had a conversation with a young woman who shared with me how much she pretty much loathes this time of the year; although she did admit that it wasn't always that way. It's been the past three years when she has pretty much given Thanksgiving through Valentine's Day a symbolic middle finger.
"I just hate not having someone around the holidays," she said with a long Waiting to Exhale-like sigh.
At the risk of sounding like a corny PBS segment, can you guess what my response was? "Girl, you do have somebody—yourself. Problem is, single folks aren't encouraged to see all of the good that can come out of making the holidays be all about them instead of about being in a relationship with someone else."
I get that, between the mistletoe, fireplaces and marriage proposals, not having a boo might feel like a cosmic trick or some triggering b.s., but I promise that if you choose to alter your perspective, just a little bit, Christmas through New Year's doesn't have to be something to sleep right through. It can actually be kinda dope—if you simply choose for it to be.
Shellie, how I am supposed to do that? I'm so glad that you asked, sis.
First, Remember That Singleness ALWAYS Has Its Perks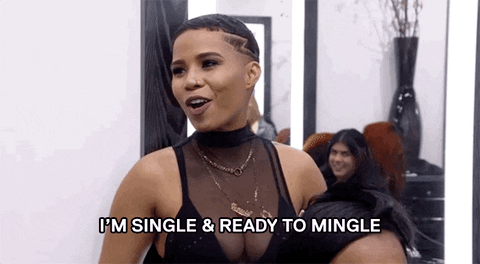 Have you ever wondered why this time of year seems to be when so many folks are boo'ed up? Yes, a part of it has to do with cuffing season (chiiiiiile), but apparently it's also the time of year when couples get engaged the most. Yep, December is the most popular month for marriage proposals. With that, all of the romantic Christmas flicks that are in heavy rotation, and our relatives asking us, like clockwork, when we're finally gonna bring somebody home—yes, I get it if, deep down, you feel some type of way about being single this time of year.
But every coin has its flip side and if you check out articles like "10 Bona Fide Benefits Of Being Single", "How To Own The Power Of Your Single Season", "If You're Not In Love With Being Single, Ask Yourself These 6 Questions", "It's Okay to Be Single" and "10 Words That'll Make You Totally Rethink The Word 'Single'"—they all just might remind you that singleness has some real perks and pluses too. If those pieces still don't "scratch the itch", ask some of your married aunties to share with you what they miss about their single days.
Trust me, a (healthy) relationship is a beautiful thing, but it also comes with making compromises and sacrifices that we single ladies don't have to even worry about; things that auntie reminisces on in the midst of frying turkeys and getting your uncle yet another sweater that he's never going to wear.
Reconnect—with a Purpose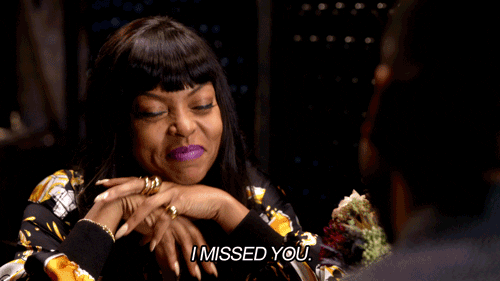 So, here's a peek into my present private life. About a week ago, on a "fluke" (meaning, I ran into his cousin and we exchanged numbers that way), I reconnected with my first love. Y'all don't have the time and I don't have the energy to get into how deep the saga goes. But long story short, after almost four hours on the phone and a dinner to follow, a table full of married white women got me out of the nostalgia of walking down memory lane with my ex. It wasn't that I wanted to get back with him; that ship has sailed. But we always seem to have an inexplicable connection; one that, if one lady in particular (shout out to Page) didn't say, "If you're not gonna pursue Shellie, what are you doing here?", our chatting probably would've gone on for six months rather than one night. (Thanks Page!)
Moral to the story—there's something about the holiday season that tends to make us more open to taking walks down memory lane and reconnecting with folks. It makes sense; just enter with caution, though. If there is not a real point and purpose to hitting up a blast from the past or even having dinner with a former friend, why are you doing it? Just to have something to do? Yeah, that's not even close to being a good enough reason because your time is way too valuable. Real talk, if you can't find five good reasons for why he/she/they should be a part of your future, leave them as ghosts from Christmas's past. Before you end up being haunted in an Italian restaurant parking lot like I was. SMDH.
Limit Your "Christmastime Chick Flick" Consumption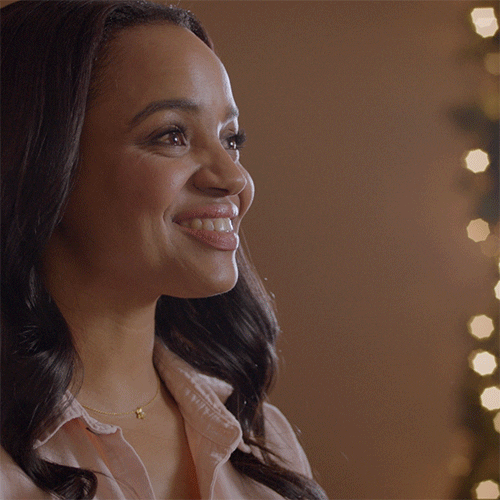 There are trials; then there are manufactured trials. What's the difference? The first are things that happen to us, sometimes whether we can control it or not. Then there are things that we do to make life more difficult. Buying shoes instead of paying rent on time? That's a manufactured trial. Getting into arguments with toxic family members? That's a manufactured trial. And spending hours of your time off crying while watching chick flicks and screaming out "Why God why?" and "When God when?"—that's a manufactured trial too.
If you know that you are triggered by the romance of this time of year, why would you keep hurting your own feelings by surrounding yourself with nothing but reminders that…you are triggered by the romance of this time of the year? Minus the fact that they don't have nearly enough Black folks on their channel (side-eye), I enjoy a Hallmark Christmas movie as much as the next gal. But I'm not gonna watch one every single day. There's more to life—and entertainment—than kissing under the mistletoe. Right about now, those are words to live by. Why not go to a movie, listen to a podcast or read a book instead?
Drink. With Wisdom.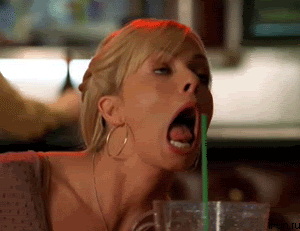 So, according to Alcohol.org, while drinking does have a tendency to make us feel, at least temporarily happy, that's not the only emotion that it causes. It can also make us feel nostalgic, creative, anxious, overwhelmed, surprised, sad and scared (and horny; not sure why the article didn't mention that). You know what all of this boils down too, right? Having a little spiked eggnog or a Grinch drink might seem like a fun and festive thing to do, but if it's gonna result in you drunk dialing a former sex partner or worry one of your friends to death as you're crying non-stop on the phone about how horny you are (I've been there; without the alcohol), maybe you should push the glass back. Or at least not consume a ton of your alcoholic fave. Hot chocolate is delicious too. And if you go that route instead, you can trust that whatever it is you're feeling, it's all you—not the alcohol that's speaking (and acting up) for you.
Hang Around SUPPORTIVE People (Family or Otherwise)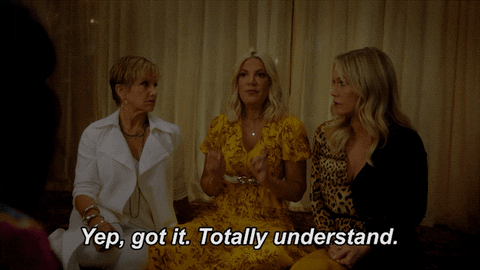 Just yesterday, I was having a premarital counseling session with a newly engaged couple. As the soon-to-be-husband was asking me about what I thought one of the biggest mistakes that married couples make is, I said, "Knowing what their partner's triggers are and then continuing to push them." Not only is it disrespectful, it's an effective way to get your spouse to build up all kinds of ways in order to emotionally protect themselves.
I know you're not married, but where I am going with that is this—something else that can make the holiday season extra trying on your spirit is if you continue to put yourself around toxic energy. You know, people who gaslight you, narcissistic parents, envious and/or opportunistic individuals (whether they are family members or not). I know not all of us have the kind of personality that can leave, 15 minutes into dinner, if someone gets out of line, without giving it a second thought. At the same time, don't volunteer to be a martyr by spending all day long, several days at a time, around individuals who emotionally drain you, harp on your dating or baby status or don't make you feel esteemed as an individual.
People who are supportive are sympathetic, encouraging and helpful. If you're not catching those kinds of vibes, politely dismiss yourself so that you can get around those who are on a totally different vibration level.
Create a "Salute Yourself" Calendar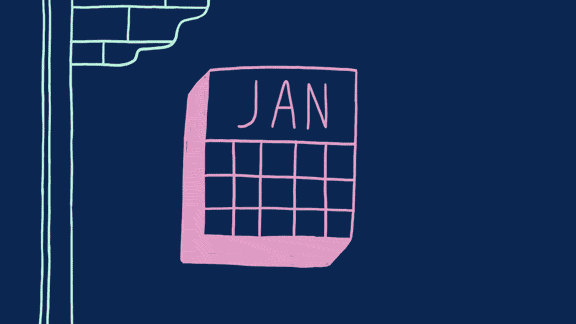 I'm pretty sure you've got at least a couple of off days coming, right? On one of them, pick up a 2020 calendar and then give it a "salute yourself" theme. What do I mean by that? Salute means "to address with expressions of goodwill, respect, etc." If ANYONE needs to be doing that for you…it's you. Jot down things, every month, that you plan to do that will boost your self-esteem, remind you to be kind to your being and to pamper yourself too.
Then get a big ole' jar. Listen, when it comes to married folks, I encourage them to have sex jars. When it comes to single women, they need to have a pamper one. Every time that you reach a goal, dodge a relational bullet or make a decision that benefits your mind, body and/or spirit (check out "Need To Make A Big Decision Quickly? Do This." and "If You Want To Get To The Root Of Things, Try My One-Word Test"), put some money in the jar. It can be fifty dollars or fifty cents. Then, at the end of the year, spend what you've accumulated on something that's all about spoiling yourself. I'm telling you, I speak from personal experience when I say that, the more you focus on celebrating your singleness, the less you'll be caught up in feeling some type of way about actually being single.
Go to a Hotel for a Night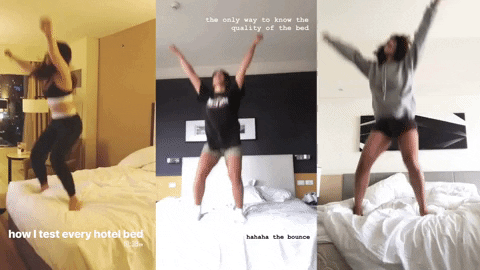 Back when I was doing a significant amount of touring, the folks I would travel with would get pretty irritated with me. Why? Because while they wanted to take in the sights, I preferred to order room service and chill in my hotel bed. I must admit that while hotel beds are best when shared, I have some very fond memories of kicking it in them alone too.
That's why, I highly recommend that you book a night in one before New Year's. Go to a hotel in your city (or the next one) that you've always been curious about. It will provide a change of scenery, it will make you feel pampered, plus—there's something about lying up in a hotel bed for hours on end that has no guilt attached to it. You can sleep, eat, watch television—then rinse and repeat. Shoot, if you can find a hotel that offers in-room massages and facials, that's even better!
Take Some Sort of Social Media Fast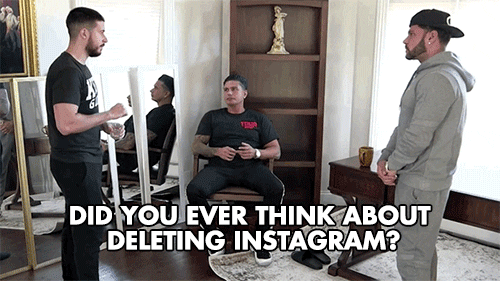 You're not going to be able to fully embrace all that comes with having some time off work if you are still plugged in to the good, bad and sometimes super-duper ugly of what's happening on the internet. So please take at least 48 hours off to do anything but clap back on Twitter or peep in to see what your ex is up to. There are all kinds of mental and psychological benefits that come from putting your smartphone down. Why not use that time instead to journal (even sex journal), write yourself a love letter or—here's a thought—do absolutely nothing?
One thing about social media is, although things are constantly happening, most of it isn't going anywhere. Like a soap opera (to a certain extent, there's a pun that's totally intended here), you can miss a week, come back and pick back up where you left off. Test that theory by spending some much-needed time away. You might be surprised by how little I exaggerated.
Do What Makes YOU Happy on NYE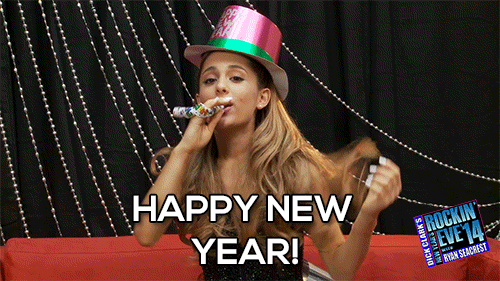 Don't let the tube fool you. Although it might look like everyone and their great-grandma is out on New Year's Eve, a survey from a couple of years ago revealed that only about 11 percent of individuals actually party on that night. 45 percent prefer to hang with family, 24 percent stay at home and seven percent do something with their friends. So no, you don't have to feel like you're taking an L if you don't go out to watch some ball drop somewhere or if someone doesn't slob you down at midnight. It is perfectly fine to have sleepover with some other single friends or to even ring in the new year while soaking in your bathtub.
Many people believe that the way you exit one year speaks volumes to how the next year will go. Although I'll not even remotely superstitious, that has been the case for me for the past few years. So, don't call it a night at eight so that you can sleep New Year's Eve away. Instead, plan something that will set the tone for 2020. Then watch how the Universe responds to your effort.
Treat Your Own Damn Self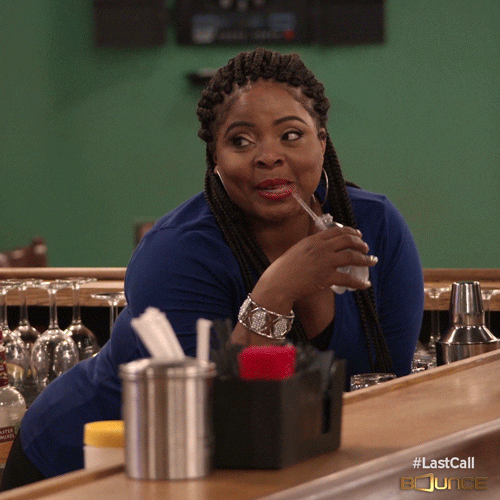 Do you wish that you were receiving a diamond this Christmas? Buy yourself a piece of jewelry. Are you hot about not being able to go to a romantic resort? Go on a weekend road trip. Wish you were cuddling in bed with someone? Get yourself some new bedding (in the meantime). One of the best things about being single, yes even during this time of year, is that you/we have the awesome pleasure of being our top priority. Short of being a single mom, you can buy for yourself—FIRST. You can do what you want without having to explain yourself (unless you want to). You can totally make this a season of real self-indulgence—unapologetically so.
So, don't dread being single over the holidays—relish in it. Someday you may look back and wish that you had. Don't say a sistah didn't warn you.
Want more stories like this? Sign up for our newsletter here and check out the related reads below:
Here's How To Know You're At Total Peace With Yourself
What It Means To Find True Self-Love
Sanaa Lathan Wants You To Know She's Her Own Knight In Shining Armor
What Loving Yourself Actually Looks Like
Feature image by Shutterstock
Did you know that xoNecole has a podcast? Subscribe on Apple Podcasts or Spotify to join us for weekly convos over cocktails (without the early morning hangover.)
Keep reading...
Show less