I started my period when I was nine years old. For as long as I can remember, I suffered from severe cramps and body pain. And I'd continue to suffer from my menstrual cycle until I was 33.
Growing up, my mom reassured me my aunt also had bad cramps. So, she would keep me home from school the first two days of my cycle and I would take over-the-counter medication to help with my pain. When I was 15 years old, my mom passed away and I learned a lot about my body and my strength. When I went off to college, my pain and symptoms got worse, so I went to the gynecologist. After multiple medical examinations and tests, a mass was found on my right ovary.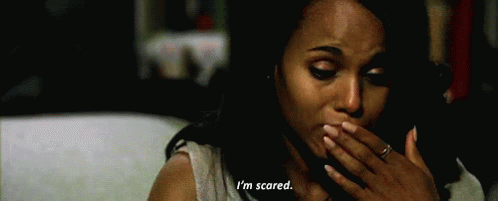 media.tenor.co
I was terrified.

The doctor informed me that I had to have surgery. At the age of 21, my surgery determined that I had a chocolate cyst (ovarian endometrioma) the size of a golf ball on my right ovary. The doctor also told me that I had a condition known as endometriosis, not because of the cyst, but due to all of the tissue growth and adhesions that came along with it.
Endometriosis is an autoimmune disease that affects 1 in 10 women, typically during childbearing years. It typically affects the reproductive system, but in rare occasions, it can also travel to the lungs and the brain. Over time, my endo traveled to my kidneys, uterus, ovaries, bladder, and bowel. After my initial surgery and "treatment", I completed college and moved back home which meant looking for another doctor because I continued to have severe pain. I went to a total of three doctors who I stopped seeing after one visit each. The reason being, when I met with each doctor and discussed my medical history, they'd read my chart and respond with, "Just because you had a chocolate cyst doesn't mean you have endometriosis," or "I think you're not used to pain, birth control pills will help," or "Typically when you start having children, endometriosis will go away." Blah, blah, blah. That's not all I was told, but you get the gist.
After seeing those individuals, I just stopped trying to find a gyno for seven years. Yes, I know that's a long time, but when you spend your whole life sick and in pain, you finally have a name for it and still no one can help you understand what it is happening -- you feel cheated. The process became discouraging to go in and out of doctors' offices with the same results that didn't work. But in 2012, that cycle came to an end. I saw a commercial on television about a doctor who specialized in endometriosis. The next morning, I scheduled my appointment.
On the day of my appointment, I was very nervous. All I could think was, Is he going to say the same thing as everyone else? I sat in the waiting room, then on to the exam room. When the doctor came in, he greeted me and said, "Tell me about your menstrual cycle." I began explaining my medical history and what my periods have been like, he looked at me and said, "Okay, it sounds like endometriosis to me, I'm going to do the pap smear then a pelvic exam and we'll go from there."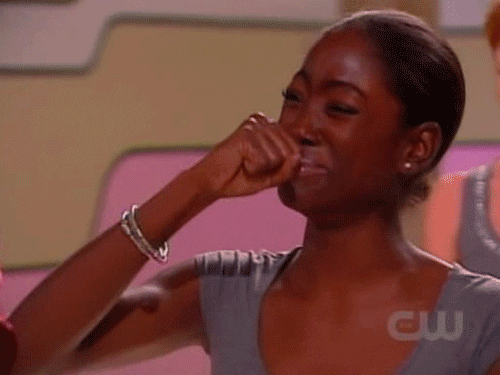 media1.giphy.com
I wanted to cry. I couldn't believe it. I finally found a doctor.

From 2012 to 2014, my doctor performed three surgeries in the efforts to preserve my ability to give birth, but endometriosis ate my uterus, ovaries, and fallopian tubes. The day my doctor told me I had to have a hysterectomy, I felt like I was in a Charlie Brown cartoon. I prayed and cried like a baby just about every day up until the surgery and well after my surgery. After my hysterectomy, I went into surgical menopause and my emotions were on a roller coaster ride that seemed like I would never get off. The reality of not being able to give birth to children along with other menopausal symptoms like hot flashes, insomnia, anxiety, and weight gain was overwhelming.
During all of my menopausal madness, I decided to go to therapy. This Black woman fluffed pillows and laid back on the couch to talk about all of my challenges. Though therapy helped, I started feeling like I needed to do something, I knew there were others like me. On March 1, 2018, the first day of Endometriosis Awareness Month, I launched my business, Millennial In Menopause®. As I started sharing my journey and providing insight, I began receiving lots of good feedback in the comments of my Instagram and in my DMs. I didn't realize just how much this platform was needed.
With all that I was going through in my body, I decided to learn more about nutrition. In January 2019, I received a certification as a Nutrition and Wellness Consultant. I decided to take what I've learned to inspire women on how to live their best lives while managing reproductive health challenges. Although I still have my days where I feel emotionally withdrawn, I think back to where I was at the age of 33 and the woman I am today at 38, giving birth to what God has turned in my favor.
This feeling is priceless.
xoNecole is always looking for new voices and empowering stories to add to our platform. If you have an interesting story or personal essay that you'd love to share, we'd love to hear from you. Contact us at submissions@xonecole.com.
Keep reading...
Show less
Gabrielle Union has been a champion for women who have struggled with infertility. The 45-year-old actress has gone into detail about her struggles with getting pregnant, her ineffective cycles of IVF, and has even revealed that she has suffered "8 or 9 miscarriages." And while the We Need More Wine author has been candid about her ordeal, there is no doubt everything she has gone through has taken its toll.
Speaking at the BlogHer conference in NYC, Union recently discussed her struggles but also revealed that she finally has more clarity as to what is actually happening with her body. After a slew of misdiagnoses, the doctors were finally able to pinpoint the exact cause of her infertility: Adenomyosis.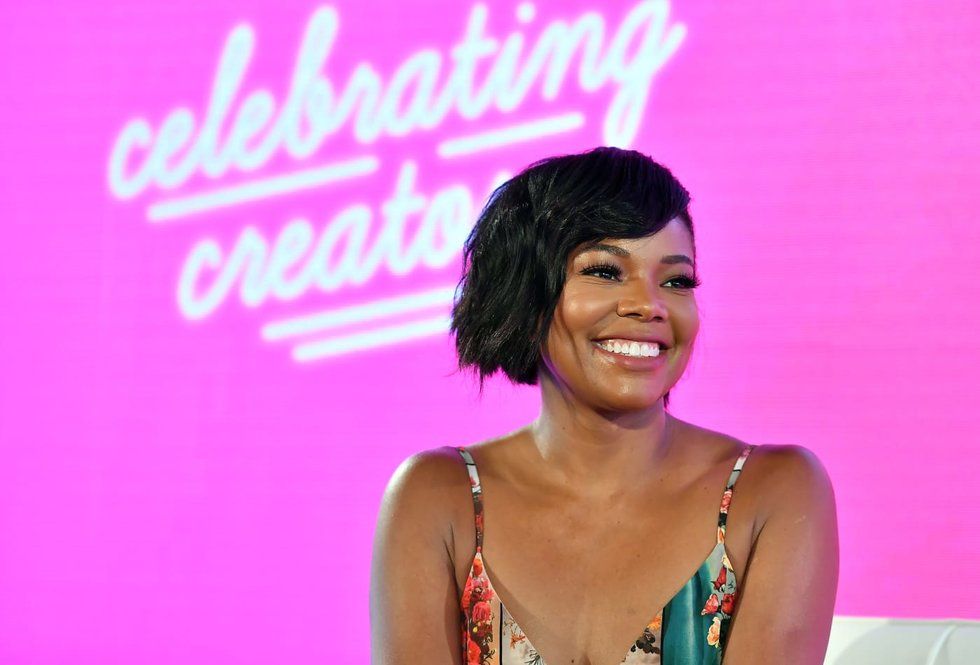 Getty Images
Adenomyosis is a gynecologic medical condition defined as the abnormal presence of endometrial tissue, the inner lining of the uterus, growing within the myometrium, or the thick, muscular layer of the uterus. While it is similar to endometriosis and can occur at the same time, they are two distinct conditions. Like endometriosis, adenomyosis presents with symptoms that include heavy menstrual bleeding, chronic pelvic pain, prolonged and painful periods, pain during intercourse, among other symptoms. 11-12% of women suffering from adenomyosis also experience fertilityissues.

Many of the symptoms she was experiencing were treatable with the use of birth control. Doctors wanted to help her control many of the symptoms, but the end goal of getting pregnant didn't seem to be one of them. The pill became a "mask" for the real underlying issue she was having. For anyone trying to get pregnant, the use of birth control is clearly not the answer, and we're left wondering if this approach did more harm than good. She says:

"Every doctor I saw was like let me put you on birth control. Right? The catch all. Note: if you are on birth control for anything other than birth control, to address or treat any sort of period issue, you are not actually treating or addressing a period or reproductive issue. You are masking it. The pill can mask all kinds of things. It is amazing at preventing pregnancy; not so great with addressing anonymous."
Union always felt that she had been misdiagnosed. The Being Mary Jane star says that she spent a lot of time trying to get pregnant with the help of IVF to no avail. She says she felt like "a prisoner" to her efforts. She said:

"For three years, my body has been a prisoner of trying to get pregnant. I've either been about to go into an IVF cycle, in the middle of an IVF cycle or coming out of an IVF cycle."

Many couples will spare no means in the quest to get pregnant. However, not only is IVF expensive, ranging from $12,000 to $17,000 for one round of which many insurance companies will not cover, it's exhausting. Couple that with being misdiagnosed to begin with, Union certainly has dealt with a lot more than anyone should have to. As someone in the public eye, there are so many people with their opinions and mischaracterizations, and for Union, people were especially insensitive in suggesting that she prioritized her career over starting a family. She told the crowd at the BlogHer conference:
"Towards the end of my fertility journey I finally got some answers, because everyone said 'You're a career woman, you've prioritized your career, you waited too long and now you're just too old to have a kid — and that's on you for wanting a career.' The reality is I actually have adenomyosis...The gag is I had it in my early 20s, and instead of someone diagnosing me, they were like, 'Oh you have periods that last 9 or 10 days and you're bleeding through overnight pads? Not a mere inconvenience perhaps there's something more there.'"
While it is beyond unfortunate that it took this long for her to receive a diagnosis, if she chooses, she still has options. There is a procedure that can greatly improve the symptoms of the condition, which, in turn, can increase fertility rates up to 78% (Myometrium or adenomyoma resection). However, the only real "cure" for this medical condition requires complete removal of the uterus, i.e. a hysterectomy.
Her testimony is shining a light on the complexities of fertility issues and giving other women the chance to see that they are not alone. Union's bravery in sharing her story is remarkable, and there is no doubt that she is giving hope to other women with similar issues. The one thing she would tell other women facing similar issues is:
"Just know if you are out there having fertility issues, you are not alone."
Thank you, Gabrielle, for sharing you story. The strength you have shown us on your journey of infertility and misdiagnoses leaves us inspired and hopeful for a positive outcome in your future.
Gabrielle Union at #BlogHer18 with Samantha Skey on Fertility Challenges & Finding Your Confidence www.youtube.com
Featured image by Getty Images

Keep reading...
Show less
My earliest symptoms were heavy cycles. I would bleed so much, it would make me pass out.
I was 19 when I had my first myomectomy and 23 when I had the second.
My periods were so intense, that I tried every birth control possible to control the bleeding. When I was put on Depo, I bled for 6 months straight. Nothing worked and I felt hopeless.
I didn't find out I had endometriosis until I was 26, but the news hadn't come from a doctor. My symptoms were familiar to a close friend's who urged me to have a full examination. It wasn't until I was in my mid-twenties that I was diagnosed with a condition that I now know affects nearly 5 million women every year, and I didn't even know it. That condition is called endometriosis and is prevalent amongst black women.
Endometriosis affects me every day and causes pain even when I'm not menstruating. And when I am menstruating, I have to wear pulls ups when my cycle comes on because the bleeding is so heavy. If I'm scheduled to do something and my cycle comes on, that's a wrap. I have to cancel.
With endo, I have to schedule my entire life around my period.
For years, I have been bed-bound for 7 days a month, 12 months a year because the pain is unbearable. So far, I've had three blood transfusions and often need iron to replace what I lose during my cycle. Almost a year ago, I had a blood transfusion and had a near death reaction. My eyes turned yellow. I couldn't swallow and was hospitalized for days. The days I wake up pale and find it hard to breathe are signs that it's time for another trip to the hospital.

My diagnosis has taken a toll on me mentally, physically, and emotionally. To the women who have have battled with this ruthless condition: I understand your pain. I know it's frustrating, but please don't not give up. Your story matters. Your life matters.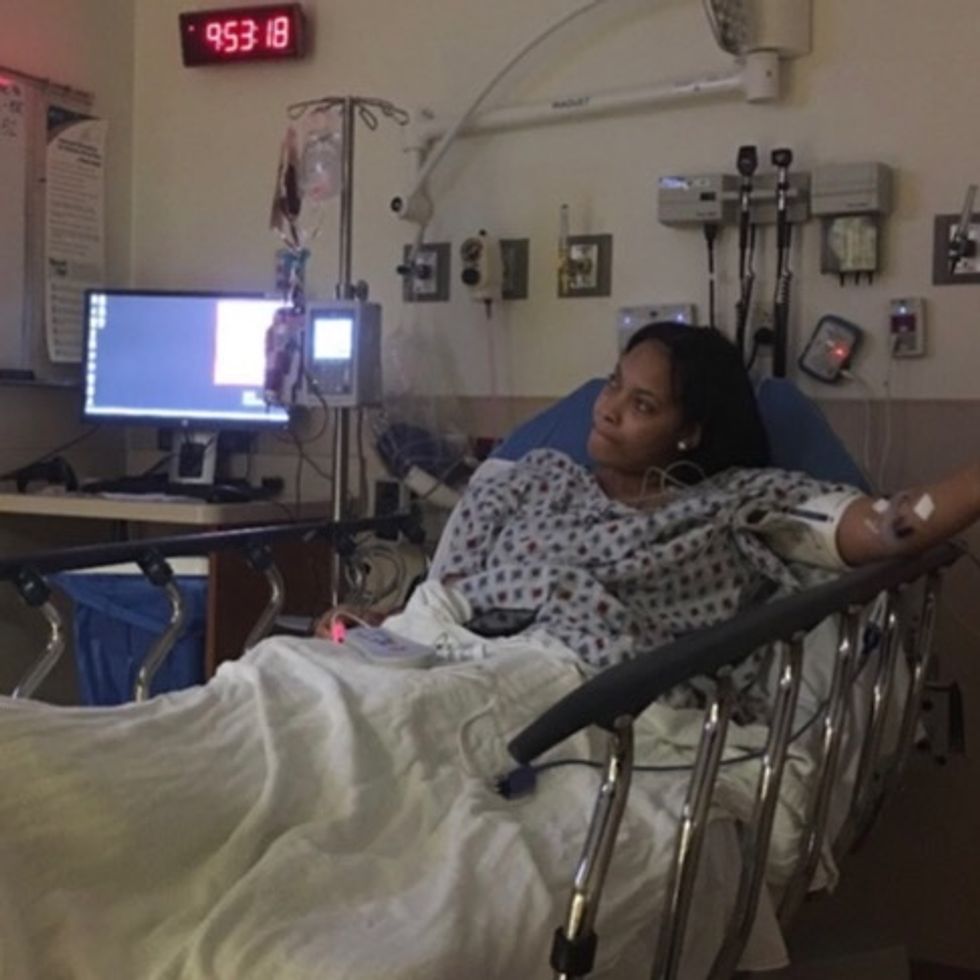 Courtesy of Rachel Borders
Most people don't know that endometriosis has stages just like cancer. I started to share my story and bring awareness because there are so many women are suffering in silence and depressed, some of which have even committed suicide. It's a lot to deal with mentally.

To manage my pain, I pray A LOT. I believe God is going to heal me. There are a lot of women suffering alone. I suffered for years without me or my doctor being aware that endometriosis was a possible cause of my symptoms. I've learned not to dwell on the past, but to make it my mission to make more women aware in the future.
Here are three tips that I have for women that are currently struggling with endometriosis:

Avoid Surgery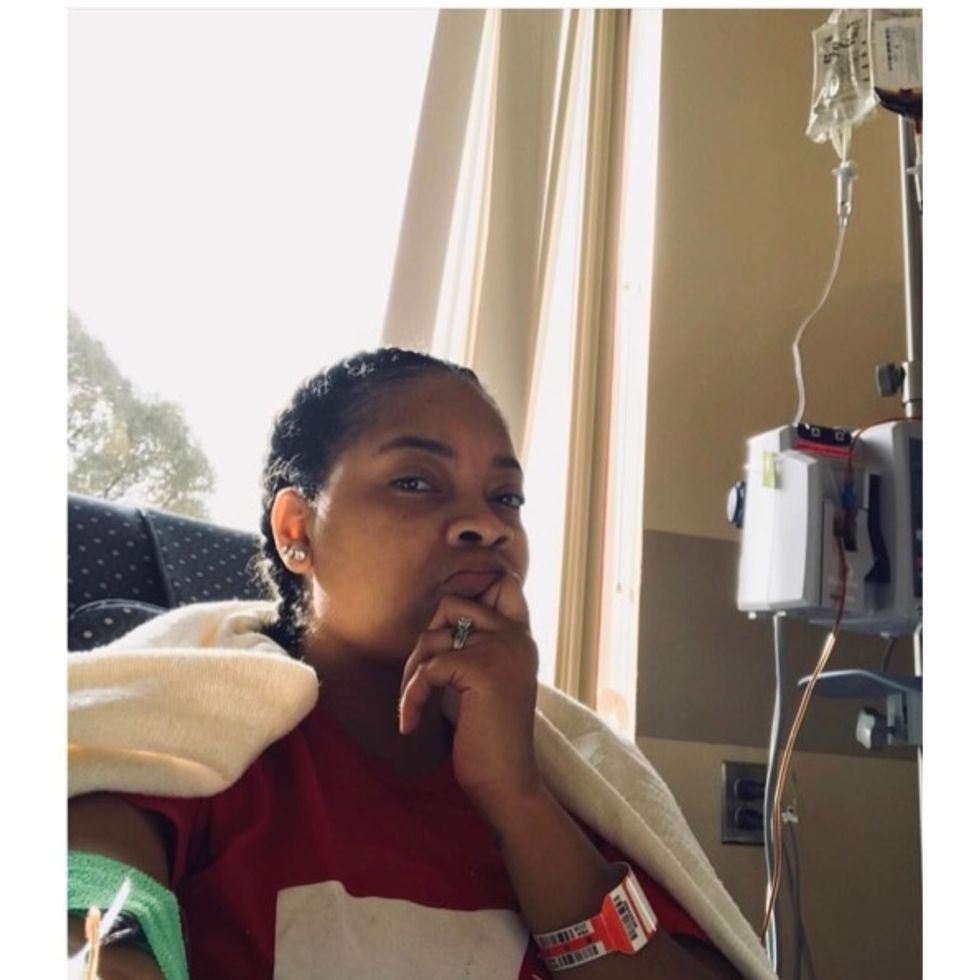 Courtesy of Rachel Borders
A hysterectomy will NOT cure endometriosis. A hysterectomy causes so many side effects. I had two myomectomies to remove fibroids and endometriosis grew in the lining of my surgical scar. When my cycle comes on, I still feel swelling and pain along my surgical scars.
Skip Birth Control and Try Holistic Healing
When women complain to their doctors about their menstrual pain, the first suggestion that we hear is to try birth control. I can promise you that it will only put a band-aid on your condition, and has the potential to make things worse. Don't keep trying birth controls because the hormones make the fibroids grow. Try acupuncture and holistic remedies instead.
Change Your Diet
Change your diet and change your life. Fast food isn't great for your reproductive system and dairy products only make things worse. To ease the symptoms of endometriosis, try to avoid consuming fast food, sugar, or dairy products. They will make fibroids grow.
I'm currently trying holistic ways to heal my endometriosis. I was on a regimen by Dr. Wallach that included all-natural hormonal supplements for a few months, and they helped me a lot. My cycles were way lighter and I didn't experience as much pain.
10% of black women battle with the debilitating effects of endometriosis, but with a healthy diet and the right resources, we can still win the war
I turned 30 in April, and it has been four years since I was diagnosed. I cut my hair off because years of birth control made it thin, and I am now reclaiming the time my condition tried so desperately to steal from me. I decided that endometriosis would no longer run me. Every day is an effort to take my power back, and I sure look good doing it.

- As told to Taylor Honore
Featured image courtesy of Rachel Borders
Keep reading...
Show less
Imagine waking up, preparing to delightfully jump out of bed to pursue the black girl sorcery that the day has set forth for you, but you are paralyzed because there are 100 knives stabbing you in your uterus and blood from your sacred space seems to leave you in quarts.
This traumatic reality is one that women with endometriosis struggle with for 7-9 days each and every month.
According to BlackDoctor.Org, about 10% of women in the U.S. are affected by endometriosis, so that means that about 5 million women consider physically cutting their own uteruses out of their bodies at least once a month. Endometriosis is a painful reproductive condition where the tissue that normally grows on the inside of the uterus abnormally grows on the outside, which results in painful scarring and inflammation that can yield permanent side-effects.
It's estimated that 30-40 percent of women that are diagnosed with endometriosis may become infertile, one reason why many women are taking advantage of procedures like egg-freezing. This list of women includes pop singer, Halsey, who recently opened up on The Doctors about her personal experience with the painful condition. She mentioned that it is one that her mother, and her mother's mother also endured.
"My whole life, my mother had always told me, 'Women in our family just have really bad periods.' It was just something she thought she was cursed to deal with and I was cursed to deal with, and that was just a part of my life."
Halsey said that the added stress from her chaotic professional life only intensified her symptoms. She was misdiagnosed a number of times before she discovered that the root of her problems were endometriosis. The singer went on to describe the time when her condition escalated and she wound up bleeding and passed out in the middle of the road, which led to her being hospitalized.
"The thing with endometriosis is a lot of it comes down to... I think doctors can tend to minimize the female experience when it comes to dealing with it."

"My tour manager had to take me to a hospital. And the whole time I was there, no one knew what to tell me. Dehydration, stress, anxiety. And I'm saying, what about my pain?"
While there are some holistic treatment options, there are no preventive measures or cures for the condition, which leaves many women playing catch-up for a week every month due to the diabolical and debilitating disease that is endometriosis.

When I was 16, I went to the doctor about my extremely painful periods and overwhelming blood flow, and he prescribed a birth control that led me to develop gallbladder stones and I had to have an organ removed before I was 18. Here I am, 25 years old and doctors still have the same solution, and I ain't going for it. Halsey said that she was finally diagnosed and had surgery in 2017 and I can only imagine her relief.
"It was the relief of knowing that I wasn't making it up, and I wasn't being sensitive, and it wasn't all in my head, but it also kind of sucked to know that I was going to be living with this forever."
The "Bad At Love" singer said that she made the decision to put her foot down and become more aggressive about her treatment after a traumatic experience on stage.

"I was on tour, and I found out I was pregnant. Before I could really figure out what that meant to me and what that meant for my future... the next thing I knew, I was on stage miscarrying in the middle of my concert. The sensation of looking a couple hundred teenagers in the face while you're bleeding through your clothes and still having to do the show, and realizing in that moment... I never want to make that choice ever again of doing what I love or not being able to because of this disease."
"The sensation of looking a couple hundred teenagers in the face while you're bleeding through your clothes and still having to do the show, and realizing in that moment... I never want to make that choice ever again."

Halsey is among the women that are becoming more proactive about her condition, by considering options like egg freezing and laparoscopic surgery. She reminds us that although endometriosis can be a real bitch, we're the ones in charge of both our bodies and our quality of life.
"I'm 23 years old, and I'm going to freeze my eggs. And when I tell people that, they're like, 'You're 23, why do you need to do that? Why do you need to freeze your eggs?' Doing an ovarian reserve is important to me because I'm fortunate enough to have that as an option, but I need to be aggressive about protecting my fertility, about protecting myself."
To watch the full interview, watch below:
Featured image by Denise Truscello/Getty Images for LARAS
Keep reading...
Show less