This past year was a wake-up call for many of us, and Tamar Braxton knows this all too well. On July 16, 2020, the now 44-year-old star was rushed to the hospital after a suicide attempt that sent the media into a tizzy and gave her family the biggest scare they could possibly imagine. She recently spoke to People about the re-surfaced childhood trauma that led her to that very scary moment nearly a year ago. What opened up old wounds was her experience being molested as a child being brought up in a 2018 taping of her WE tv docuseries Tamar Braxton: Get Ya Life! without her consent.
"I thought I had successfully buried that part of me, but it was manifesting in different ways," she said of her time on the show. "It was coming out in how I dealt with things emotionally, how I looked at situations, how I conducted myself."
It all came to a head when Tamar made a conclusion—that she now realizes was false—that her 7-year-old son Logan was better off without her. She felt the drama-filled show, which often co-starred her ex-boyfriend David Adefeso, wasn't something that Logan could be proud of.
"I didn't want to continue being a disappointment for him. How can his friends' parents respect me if this is what they see every day? I wouldn't let my kid go over to a child's house if this is what was portrayed on television. In my sickness, I thought that if I can take the embarrassment out of his life, maybe he would have a chance to have the best life."
Even in the midst of her darkest moment, she knew she needed to immediately start the steps to her recovery. After her scare and a weekend in the hospital, she checked herself into a mental health facility for additional treatment for depression and anxiety brought on by traumatic circumstances. To this day she meets with a life coach and a psychiatrist multiple times a week.
On an Instagram post, she also credits shadow work, acupuncture spiritual therapy, and mandatory workouts as part of her new wellness regimen. "I know now that that probably would have destroyed him, that the best life that I can set for him is to be the example, get counseling and show him how to communicate," Tamar says.
If it wasn't clear already how she feels about reality TV now, she writes in a caption on Instagram under a video of her People shoot:
"My job in reality tv was creating and manipulating this story for me that I absolutely hated….& just like any other abuser, there is little or no accountability and denial.🥴"
A more public forum for her healing has been a podcast she started during this journey, Under Construction with Tamar Braxton. Having reflected on everything, she says:
"I'm not where I was, but there's still work to be done."
Featured image by Prince Williams/Wireimage

Keep reading...
Show less
The classic album that launched Mary J. Blige's career in the mid-'90s is the inspiration behind the newly released Amazon Prime documentary entitled, Mary J. Blige's My Life. When Mary dropped the album in 1994, it connected with women of all ages on a different level than ever before, dubbing her the Queen of Hip Hop Soul. She admittedly recorded the album during one of the darkest times in her life.
Depression and an abusive relationship (with singer K-Ci of K-Ci & JoJo) contributed to the album's timeless soulful tracks and the reason she's finally decided to tell the whole story of that period on the silver screen.
"I've done pretty much everything that I've always wanted to do," the Power Book II: Ghost star said in the doc. "But success comes when you're successful inside. And for a long time, I didn't know I was successful outside because I was a wreck inside."
Raise your hand if you've ever been a wreck on the inside. *Raises hand* It's true her relatability and the resilience that she's displayed in her music over decades has transformed her into the icon she is. In the doc, Mary also talks about being molested, her battle with addiction, and childhood traumas.
Below read Mary's best quotables while doing press for the film that shows the power in her vulnerability.
On wanting no more drama in her life...
"For years, from album to album, I was still in so much pain until I got to the No More Drama album [released in 2001]. That's when I made the choice, 'I'm tired of feeling like this. I'm tired of having suicidal thoughts. I'm tired of hating myself, and now I don't want to die. How do I live?" Mary told Yahoo Entertainment while promoting the doc.
"So it was still heavy for me when everyone else was like, 'Oh my God, this album did so much for me. This album saved my life.' When I was still stuck in hell."
On growing up in underserved communities…
Mary's parents divorced when she was just five and she grew up with her mother and her three siblings in Schlobohm housing projects in Yonkers, New York.
"I think [what] people don't understand about the families that live in the projects, is that it's like a prison… people are just suffering…. I remember hearing women being beaten. My mother was one of those women. I carried her pain. I carried the neighbors' pain. I carried people all over the environment's pain. And I carried my own pain," she said of her experience.
On her self-love journey…
"Now, I love my sharp, pointy nose. I love my high cheekbones. I love my lips. I love everything about me and, nowadays, people are buying these features [laughs]."
On the abuse she endured...
The songstress opened up about her failed relationship with K-Ci.
"It became very dark, the whole thing, and abusive," she shared. "There was a lot of manipulation," to the point where she decided, "I'm gonna dumb myself all the way down, play myself all the way down, so I don't think I'm special, so I can be with you."
"I've had to physically fight for my life a lot," she continued.
On the advice she would give to the young women out there…
"My advice would be to keep going," Blige said during an interview at ESSENCE Fest. "You're going to fail, you're going to have ups and downs, but just don't stop whatever you're doing."
Mary J. Blige's My Life is currently streaming on Amazon Prime.
Featured image by Rodin Eckenroth / Stringer
Keep reading...
Show less
When Trayvon Martin was senselessly murdered for doing what any average teenager does on a rainy afternoon - making a run to the corner store wearing a hoodie - it made blatant to the world what Black people have long suspected. That, despite centuries of injustice, despite having a Black president, and despite living in a so-called post-racial society, our Black lives still didn't matter.
I remember hearing the audio tape of his killing as I carried my unborn child. I followed Trayvon's trial extremely close that year as I struggled through a high-risk, life-threatening pregnancy. It was an extremely low, uncertain period in my life exacerbated by frequent hospitalizations, the brutal murder of Trayvon Martin and the realization that I, my family, and my unborn child were not safe from racial violence. In fact, I myself had been a victim of excessive force by police officers seven years prior.
My pregnancy was marked by frequent instances of pre-term labor, symptoms of heart failure and dangerously high blood pressure. It wasn't until late into my second trimester that my mother made a startling connection:
Every single time I watched the trial or allowed myself to get worked up by new developments in the case, I ended up being hospitalized. My physical symptoms were directly connected to the emotions the trial brought up in me.
She told me to turn off the TV and to block out the violence and negativity going on around me. "Pregnancy is supposed to be the happiest time of your life. Watch comedies, eat the foods you enjoy. Don't expose yourself to negativity." Despite my initial resistance, I found that, surprisingly, my hospitalizations immediately ceased once I took her advice to heart.
This experience made me realize two things:
The mind-body connection is incredibly strong, especially for empaths, introverts and highly-sensitive people like me.
People of color internalize trauma so deeply that we may not realize the effect it has on us, on our children, on our relationships, and on our physical and emotional well-being.
Studies show a direct link between being exposed to racial injustice and generational trauma. Stress hormones, susceptibility to anxiety and depression and symptoms of PTSD, throughout history, have been passed down from traumatized Black mothers to their unborn children through the womb.
Renowned author and researcher Joy DeGruy has coined a term for this phenomena: Post-Traumatic Slave Syndrome. "Post Traumatic Slave Syndrome is a condition that exists when a population has experienced multigenerational trauma resulting from centuries of slavery and continues to experience oppression and institutionalized racism today." Healthline.com notes:
"For the Black community, the impact of centuries of unaddressed trauma still manifests today...being Black in America means living with chronic post-traumatic stress disorder (PTSD) caused not only by one's lived experiences, but the experiences of our ancestors…"
Black people have been exposed to racial injustice and police brutality for centuries. But for the past eight years especially, since the brutal murder of Trayvon Martin and the wide availability of smartphones, coverage of these events have markedly increased. Much to our benefit, but also to the detriment of our physical and emotional health.
Exposure to graphic images of murder and death is adversely affecting our collective health. This is quite literally a public health crisis that isn't being adequately addressed.
Until it is, it's on us to protect ourselves and our loved ones. Here are 4 steps that you can take to off-set the dangerous effects of these traumatic events on your psyche and on your physical health:
1

.

Unplug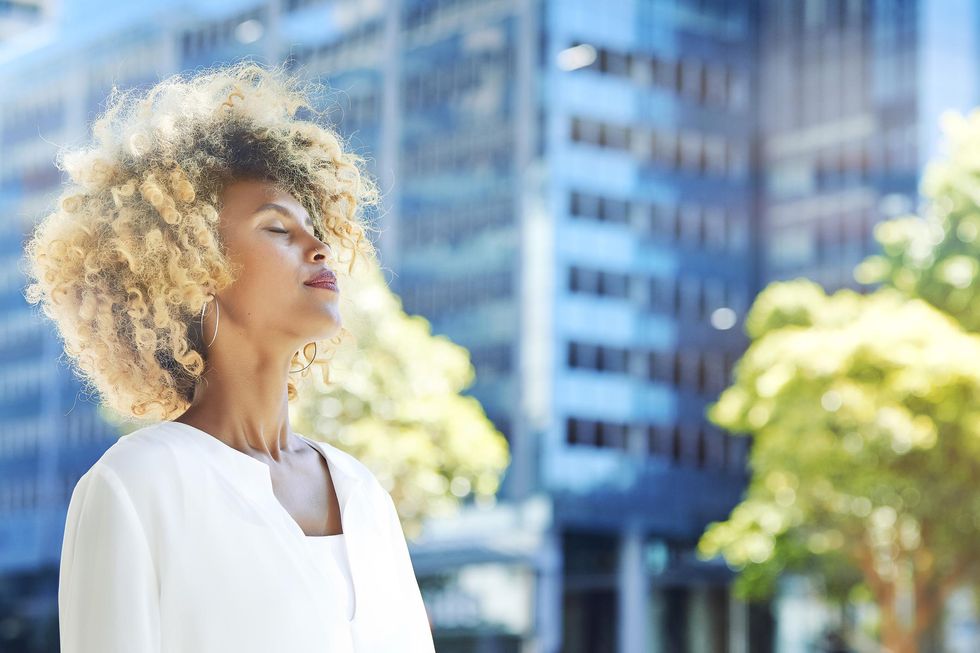 Getty Images
Turn off your television. Take a break from Instagram, Twitter and Facebook. In fact, turn off your phone altogether. Limit your exposure to negative news, conversations and graphic violence. Our generation, more than generations prior, is subject to an "always on, 24-hour" news cycle that makes it difficult to turn away from what's trending in the news and on social media.
Studies show that our generation is experiencing "information overload" by the constant influx of news. This increased access is linked to an increased risk of depression.
2

.

Evaluate Your Feelings
It is normal to experience FOMO (the Fear Of Missing Out), but you don't have to know and publicly react to everything that's going on in the world. Often, when incidences of racial violence go public, there is a pervasive pressure to immediately issue a public reaction. There is a feeling that if you don't respond right away, you're not "woke."
Don't ever allow yourself to feel guilty about protecting your emotional and mental health.
Empaths and highly sensitive people need time to process traumatic events. This is especially true for empaths who absorb everyone else's feelings so deeply to the point where you may become confused about where your feelings end and someone else's begins! You need time to process your feelings and to determine whether or not you're actually carrying on the emotions of someone else or of society at large. Take your time.
Take a moment to connect with nature. Take a walk in the park. Run a bath. Allow yourself some solitude and the chance to clear your mind. Practice grounding exercises and carry dark crystals like Black Tourmaline and Black Obsidian to stave off negative vibes.
3

.

Think Critically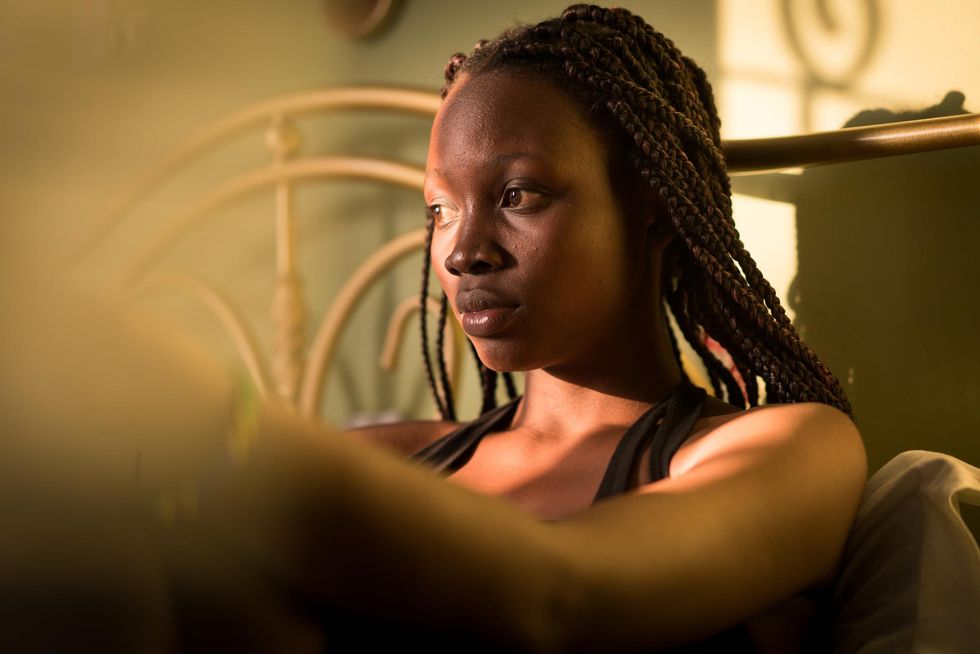 Getty Images
Don't allow yourself to be so easily persuaded by what's being reported in the news, by social media influencers and by social media justice warriors. Some of these people and groups profit off of permanent outrage. The louder and the more outraged they sound, the more "woke" they seem, the more clout they get and the more followers they receive.
Be introspective. Reflect on whether or not the feelings you are experiencing are indeed your own, or if you are being influenced by performative outrage. The same adage about cutting off negative people, environments and situations also applies to the people and pages you spend time on on social media too!
Don't underestimate the impact social media has on mental health. Studies show that since social media first appeared on the scene in the early 2000s, rates of suicide, anxiety and depression have surged.
4

.

Don't Bottle Up Your Emotions
Set an appointment with a therapist. Speak with a trusted friend. Pour your emotions out in your journal or through your preferred artistic medium like illustration, music, or dance. Allow yourself to deeply feel and experience the influx of emotions that you may not be able to express outwardly. Cry if you need to. Go somewhere private and scream at the top of your lungs. Allow yourself to fully experience the pain that these events inevitably bring. And then LET IT GO.
Don't allow stress and pain to live and fester inside of your mind and body. It will inevitably manifest in harmful ways.
Brutality against people of color is embedded into the fabric of America since the days of our founding fathers. Instances of police brutality will likely continue until major systemic reforms are made.
Remaining mindful of the effects these events have on you can help you survive and prosper in the face of injustice and brutality against people of color.
How do you cope with news of racial violence or police brutality? Let me know in the comments!
Are you a member of our insiders squad? Join us in the xoTribe Members Community today!
Featured image by Getty Images

Keep reading...
Show less
When I was 19, I lost my father, the only caretaker I'd known my entire life.
Growing up in Brooklyn, NY in the '80s, it was common for black children to be raised by drug-addicted parents. My mother abandoned my sister and I while succumbing to her addiction to crack cocaine. But my father, he stayed. And that man loved me fiercely for the years we had, while battling his own addiction to heroin. Despite his own pain, he took care of me. Losing him is still the worst pain I've ever felt in my life.
Throughout my 20s, I was excessively drinking, crying uncontrollably, and thinking of ways to cause myself harm. It wasn't until 2015 that I was finally able to put a name to the despair: I was diagnosed with major depressive disorder at 27.
For as long as I can remember, I soothed the painful experiences of my life with achievement.
As a child, it was E (excellent) and G (good) marks on my report cards, perfect spelling test scores, and Student of the Month awards. As a teenager, it was acceptance to every college I applied to, thanks to my 1800 SAT score. After my father died, I kicked that soothing into high gear with college and starting my career. I loaded my school schedule to the brim. I pulled long nights at the college paper. I brought home A's and B's. I interned at VIBE Magazine, and nabbed an editor job. I worked 14-hour days on weekends. From VIBE, I landed at BET Digital and became the Entertainment Director. I worked and worked––all day, and all night.
After my diagnosis, I was in and out of therapy, wholly unprepared to tackle the roots of my gripping sadness. By 2017, I decided to commit to the work: I began weekly sessions, started learning coping practices and adding two-and-two together between my childhood traumas and my current behaviors. I began what was, and still is, a necessary and exhausting crawl towards my own healing.

While doing this healing work, I had to face some tough realities. The first one was that I simply could not handle the external workload I'd piled onto myself anymore; I began to find it more and more difficult to get through the day with dry eyes. Secondly, but more piercing, I had to face the fact I had made success a mechanism of distraction and a marker of my self-worth. I wasn't just achieving all my life to numb pain, I was achieving to find reasons to love myself.
My inner work was showing me my unhealthy relationship with my outer work.
Ultimately, I had to put one on hold for the other. Without a healthy mental and emotional state, I was not able to perform at work, and was asked to take a short-term disability leave. Disability? I struggled with the term for weeks. But according to the World Health Organization, depression and anxiety cost the United States $1 trillion in lost productivity, and is one of the leading causes of disability filings.
For the first few weeks of my leave, I grappled with feelings of failure. How dare I not be strong enough to cry and work? I wrestled with anxiety by putting pressure on myself to "figure this out". I wept on the phone as I told insurance reps things I had never said out loud: "I have a hard time getting out of bed in the morning," "I ask to work from home when I'm crying and can't figure out why," "I'm having a hard time focusing," "Some days I'm really sad and have a hard time being around people." I felt useless. Defeated. Unworthy.
But as the weeks went on, a necessary detachment from achievement took place. I started to muse over who I was outside of all the gold stars. I started to find things I liked to do that didn't include my job. I found things to be happy about that didn't equal "success". I cried––a lot. I made room for myself outside of the hustle and bustle. I slowed down.

And when I did all of this, I learned something that I will never forget for the rest of my life: I am not a superhero.
Black women are groomed to be super. We are groomed to carry heavy weight, to endure––all while still getting shit done. But we are human. Humans who deserve healing. Humans who deserve to be extraordinary without being left on empty. And I am glad I afforded myself that space and time. I don't have anything figured out. But I feel more prepared to continue the fight.
To all the black women pouring from an empty cup: Take a break. It is so necessary.
xoNecole is always looking for new voices and empowering stories to add to our platform. If you have an interesting story or personal essay that you'd love to share, we'd love to hear from you. Contact us at submissions@xonecole.com.
Originally published June 20, 2019.
Keep reading...
Show less
Mary J. Blige. There's none other like her. She is the queen of the bounce back and reinventing herself for the next level that she's manifested. She's been in the music industry for a whopping 30 years, and she still resonates just as full. We can't get enough of her triumph, therefore she's celebrated at all times.
Nothing less.
Another major component to Mary's brand, is how she's gotten to to level of peace that she has, because it's no secret that she didn't always exist the headspace that she has now. Mostly because she has been, seen, and done it all--three times. But lately, although our sis has chosen happiness, during those times where it's gotten tough (like in this panorama), she has sought comfort in her damn self.
And honestly, that's the level of peace we ALL should want for ourselves.
She told Garage Magazine:
"I don't like to reflect on negativity through my work, but I tend to go into hiding when something is not feeling correct or there's some moments that are, like you said, trials and tribulations. I think that that is a time of reflection, and I love to look at what I need. When I look back—because lately I've been listening to a lot of my material, just to get me through the pandemic. I don't know why. I've just been playing a lot of Mary J. Blige."
Same sis, same. She continued:
"And what I learned is that I was stronger than I even thought I was. When I listen to the song 'My Life', when it comes to the lyrics, this little girl was lost. She was traumatized, she was drinking her pain away, she was doing drugs till she couldn't do them no more. She was depressed, she was dark, she was all these things.
"But she was writing these songs that resonate with this Mary J. Blige. So when I listen to those songs, it just gives me the chills, because they minister back to me. They inspire me again."
Whew, a whole word for the congregation!
Mary has also welcomed being a part of history. When the Vice President, Kamala Harris famously strutted to her song (which admittedly took her by surprise), during her historic campaign win, Mary knew then that her life had aligned with the space she has so gracefully entered at the age of 50.
Kamala Harris walks out to Mary J. Blige's "Work That" for her first speech as Vice President-elect. 🇺🇸 https://t.co/b8dOMC7Hud

— Pop Crave (@Pop Crave)1604799130.0
"I was just writing the things I didn't have, and I was writing from a place of lows, when now, when I look at those words, those places were high. And I looked into the 'Growing Pains' album the other day, because Kamala [Harris] made me think about the song 'Work That'. I listened to those lyrics and said, 'Oh, my gosh. I was really stronger and smarter than I thought I was.'"
Yes, you are, queen. We love it when a Black woman witnesses her full circle of life. *throws on My Life to get me through this week*
Are you a member of our insiders squad? Join us in the xoTribe Members Community today!

Featured image by Kathy Hutchins / Shutterstock.com
Keep reading...
Show less
I'm a natural-born wanderer. Adventure is my thing. I'd like to think every moment of life is an adventure. I seek it, I crave it, and I need it. It's one drug I will always be addicted to. From horseback riding in Baja Cali, whitewater rafting in the Kern River, riding an ATV in Mexico, hiking in Hawaii, and driving up to the highest mountain peak in Colorado. It's the adrenaline rush for me. Typically, travel fulfills my endless need for adventure. Airports and airplanes excite me. Since the 'Rona, I have opted for short road trips within my home state. And many of us have indulged in cross-country road trips to reduce our FOMO as travel was canceled for most of this pandemic.
BUT what if you can make road trips a lifestyle? Because you absolutely can and it's not a new thing. Men and women have been converting vans into living spaces for decades. From 2017 to 2019, van life has been trending among millennials. If the pandemic showed us anything, it's working remotely, and traveling is more than doable. And more recently, not only has solo female van life emerged, but black women are choosing to live this bohemian lifestyle too. If you search the hashtag #blackvanlife, 5,000 plus photos and videos of melanin poppin' queens and their beautifully remodeled vans in picturesque places across the United States will pop up.
So, what is a van build, you ask? It's when you purchase a van, remove the interior, and convert it into a dope-ass living space. Some van builds include a sink, solar panels, shower, and a toilet. Most van builds are equipped with a bed, table, hidden storage spaces, table, stove, oven, and a mini-refrigerator. It's whatever you want it to be. That's the beauty of it – you make your living space work for you.
xoNecole interviewed five black women on their van builds. Meet these free-spirited black queens and learn what they had to say about the solo female van life below.
Meet the Black Women Living Their Best Lives in Solo Van Builds
Candyss is known as the "Beyonce of Van Life". She travels solo with her German Shepard Cleo. She is a military veteran, police officer, criminal justice instructor, life coach, and entrepreneur. Candyss is an empowered solo female world traveler that traded in fear and trauma for purpose and intentional growth.
Paulett has spent 26 years in the mental health industry and is now a certified life coach, motivational speaker, and author of Best Secrets Unfold. She is currently studying for her Leadership and Ministry degree and her life's work allows her to change lives with deep compassion and honesty.
Tasha is a full-time EMT/Scheduler Assistant, single mom, and van lifer. When she's not working, wrangling a six-year-old, or improving her van - you can find her out in the wild exploring a new location, or researching a new adventure. Natasha believes that life should be lived to the fullest and that the only things holding us back are ourselves. Her passion is breaking out of her comfort zones and raising her daughter to love nature and challenge herself.
4. Angie Vasquez, mid-forties
Based out of Florida, Angie currently lives in her self-converted van named Parker. Angie is a lover of the outdoors. Nature is her way to keep herself connected to herself and the universe. As an avid explorer who loves to travel and find places off the beaten path, Angie teaches outdoor classes to women. Her passion for nature allowed Angie to start a women's hiking group, Girls Who Hike Florida. Angie's goal is to continue exploring and teaching other women about all the benefits of the outdoors while learning new things traveling in Parker.
Antoinette Yvonne is an African-American travel and lifestyle content creator, entrepreneur, van lifer, and nomad. Her entertaining vlogs capture the life of a solo female traveler navigating through life in a luxury converted van. Antionette documents her life, showcasing her up and downs equally. She is also the founder of Globally Abroad, a study and travel company committed to providing international opportunities for the minority youth.
The Inspiration Behind the Van Life
Solo female van life is off the beaten path and unconventional AF. The inspiration to convert a van into a living space van varies across the board. Women desire so much more than what society tells us to be. Most women desire their freedom. Other women just love to travel and want to save the coins while doing so. Some women would even refer to van life as a calling or a healing journey. And for women like Angie and Candyss, a van build was a combination of all of the above. It was also a way to cope with their mental health.
Angie: "I dreamed of van life and knew one day I'd find the perfect one for me. I had previously been living in my car to save money for a van and pay off debt. I bought my van Parker in December 2019 and planned to build it out fall of 2020. I was returning to Alaska to work for the summer season when COVID-19 began. My season was canceled, and I had to choose what to do next.
"Like many, I fell into a bit of depression during the lockdown. I needed to find a way out of my funk, I had to regain control of my circumstances. I asked a friend if I could stay with her and I put my car up for sale to fund the build. I figured what better time to build the van than during quarantine. I spent 10 to 12 hour days for the next couple months to build my tiny home on wheels."
Candyss: "As I journey to exploring the depths of myself, healing my emotional past and intentionally choosing to grow, the quest for FREEDOM became extremely loud internally. I realized I had to decide what freedom meant and looked like for ME outside of the societal norms I'd been programmed and conditioned to follow.
"Going to college, getting married and having a baby just haven't been on my priority list and, as a way to honor myself, I gave myself permission to make my own rules and learn what actually makes me feel happy and free. I chose Van Life because it's truly a tool that helps me connect deeper with myself, my growth, and my spirituality."
Lessons Learned During the Van Build Process
Would you be able to do a van build? Easier said than done, right? It's not for everyone; converting a van into a living space is a process. It takes patience, sacrifice, time, money, and a well-thought-out plan. Some women do it themselves and others have their vans custom-built for them. Below, Angie and Tasha share their experience on the solo van conversion experience.
Angie: "The van build was a bit difficult for me because I had no prior building experience. I knew how to get around a few tools, but I'd never really built anything other than an Ikea bookcase or two. I learned many lessons during the build on how to use larger tools like multiple types of saws, drills, and measuring correctly. My biggest lesson was I can do anything I put my mind to. I built 90 percent of the van on my own through trial and error. It gave me the confidence to get out of my comfort zone and try new things.
"As women, we can sometimes sell ourselves short because of confidence. Building the van showed me I was stronger physically and mentally. It allowed me to understand my needs and teach myself that through trial and error amazing things happen."
Tasha: "I learned that that feeling of knowing nothing is EASILY remedied as you begin the process of a build. I watched videos on several builds but as I started mine and had a non-existent budget, I knew I would need to just try my frugal build ideas and see if they worked. Friends gave me leftover wood flooring so I did a lot of googling how to install a wood floor and then adjusting it to how I would need to do it with minimal tools, or money. I learned I can easily up-cycle furniture, and building things is not as hard as it looked. I'm still learning, but I'm less afraid of the process."
The Van Life Chose Me
Van life is not a movement. It's not just a lifestyle either. It's a calling. A true calling that women feel drawn to live. It's not just about freedom, adventure, travel, and saving money. Van life is about honoring yourself and redefining the American dream. It's realizing what matters more in life – happiness, peace, growth, moments, and memories. Antoinette, Paulette, and Tasha reveal their why behind pursuing the van life.
Antoinette: "Unlike many, van life was something that only took one search down the YouTube rabbit hole and I was hooked. Everyone has their reasons of why they want to but it's the adventure and freedom for me. Two weeks after watching my first #vanlife video, I flew down to Georgia to pick up my van. One month later, I drove her over to Ohio to have her outfitted. I love being 'rich in experience' and this lifestyle was an investment that is beyond priceless.
"I also wanted to be challenged. I've traveled all over the world - many times solo (which pushed me out of my comfort zone). I conquered that. And I knew it was time for a new one. I was getting way too comfortable for my liking. Something that I've learned about myself is that I thrive when challenged. I knew van life would push me to greater heights (mentally, physically, and emotionally) and I was right!"
Paulette: "I purchased my school bus in the year 2019, and almost a year later, the pandemic hit, and I wasn't very sure if I was going to take that leap of faith and continue my plans. However, one day my landlord entered my apartment, and I asked him, 'How the pandemic is treating him?' His exact words were, 'I'm going to move to Florida, retire because I don't like the governor of California, and play golf.' I grabbed my pen, added up how much money my landlord received from me in the past four years. I was blown away by the figures, over $70,000.
"In the middle of a pandemic, he's going to golf. I am 45 years old this upcoming March; I said enough is enough. I've been working in the mental health field for 26 years. I have rescued girls from prostituting, attempt suicide, and so much more. I worked 10 hours shifts for rent, ongoing bills, and hustling every day to stay afloat. All to keep up with the American dream that was embedded in me since I was a little girl. I no longer desire the white picket fence and expensive car in the driveway. I desire peace and understanding."
Tasha: "After a hard separation, I wanted to no longer live paycheck to paycheck. I decided to take my financial freedom back, lessen my bills by living full-time in my van, and to choose my future. Finances play a huge part in all of our lives for freedom, and I didn't want to feel obliged to chase money in order to survive. I wanted to stay working as an EMT, and go on amazing adventures with my daughter, and not get pulled further into the rat race as a single momma. My time is everything and I would rather spend it hiking with my daughter, camping, or backpacking than constantly looking for ways to make more money in the future."
Black Girl Van Life
If you search the hashtag #solofemalevanlife, over 10.1 thousand Instagram posts flood your feed. And if you search the hashtag #vanlife, over 9.2 million posts are returned. But the majority of the posts are white women with an inkblot of women of color. It makes me wonder why van life is seen as a lifestyle that only a subset of women can pursue, when the reality is that there are many Black women and other women of color doing the same thing. Candyss, Tasha, and Paulette share their thoughts on why more Black women are choosing the van life.
Candyss: "I believe as melanated beings, we are of the earth and so many black women embarking on the van life journey is a subconscious form of being called to return home into nature, into exploring and finding ways to thrive without the bounds of society and its unrealistic norms.
"I believe black women are taking their power back and giving themselves permission to embody freedom and cultivating safe spaces to decided what freedom actually means, looks, and feels like for them."
Tasha: "I think that a lot more Black women are choosing this lifestyle because they're finally seeing more diversity in van life and realizing it's a very viable option. Van life is like clay - you can mold it however you desire, and financial freedom helps us reach our goals faster or with less stress and debt. I'm excited to see more women of color choosing this life because by doing so, we show the world the possibilities of how richly we can live life in any circumstance."
Paulette: "I believe we have been conditioned to think a certain way and allow others to define what is the American dream and what is success. I feel black women are saying, 'Enough is enough. It's time to live in peace and harmony of who we truly are.' We are creating our own space and our own opportunities to embrace financial freedom and become more for ourselves. We are black women; we are powerful and it's time to live with grace and understand who we are and who we want to become."
Advice for Other Women Considering the Van Life
If you are considering taking that leap and saying goodbye to the stereotypical American life as we know it, now is the time. This pandemic has not ended. More and more women of color are pursuing remote opportunities and entrepreneurship. And the good thing is, we're moving toward a society that allows for it. Angie, Antoinette, and Tasha share words of encouragement for those seeking the van life.
Angie: "The advice I'd give to other women thinking of building a van and living nomadically is research like there's no tomorrow. Buy a notebook and jot down all of the things you want to accomplish by living in a van. Make a list of what you cannot live without, i.e., sink, bathroom, heat, being able to stand up, storage, etc. Watch van build videos and ask questions. The van life community is really open about helping others. Rent an RV or camper van for the weekend to test out the waters. Join a women's group on Facebook and follow other women in vans on Instagram or YouTube. I'd also say you don't have to have the expensive Mercedes Sprinter with all of the upgrades. It isn't all about the expense but the experience."
Antoinette: "First, know your 'why'! Once you have a full understanding of why you want to do a van build or #vanlife, the process becomes easier. From there you'll discover the where, when, and how. Figuring all of that out will make the van build process ten times easier because you'll build your van with all of those components in mind."
Tasha: "The advice I would give to other women wanting to do a van build is to not give too much time to the fears. Start frugal, don't get what you can't afford, and be willing to take the leap. If you don't like it, you can always do something else. Our biggest boundaries are in our minds and we won't know how something will go unless we try it. As you become who you want to be, you start to find more and more people doing it as well and your community will blossom through the journey."
As a fellow solo female traveler and a woman of color, I always say, you never know until you leap. I tell other women who are wanting to travel solo or live a different lifestyle, that the initial fear is always going to be there. But you must choose what you do with this fear.
Are you going to continue to feed this fear or conquer it? Your intuition is your best friend. Trust yourself sis, and watch your life unfold.
Featured image courtesy of candyss.love/Instagram
Keep reading...
Show less