There will be times in life when you don't feel motivated to do something. It might be because you are burnt out and over-extended or because you are depressed and feel a lack of drive and energy to push through and tackle certain tasks or responsibilities. Either way, showing yourself grace and compassion when you're running on empty and having a low moment is essential for your healing, and if you are trying to figure out how you can do that, here are six practical tools to try:
Featured image by Renata Angerami/Getty Images
The fall season promises many things: cool crisp air, warm scented flavors ruminating throughout, and cozy cable knit sweaters. For many of us, however, the fall is also the beginning of Seasonal Affective Disorder, or simply SAD.
According to John Hopkins Medicine, SAD is a kind of depression that occurs most often in fall or winter, when the days are shorter and colder, there's less sunlight, and your body produces more melatonin. Anyone who experiences this form of depression knows that blizzards and holidays with your family aren't the only brutal things to worry about.
Women get SAD more often than men, and the risk increases with age. If you feel more irritable, anxious, drowsy, withdrawn, or depressed this fall, ask your doctor about SAD. In the meantime, xoNecole has compiled a list of tips to help make these next few months more bearable.
Vitamin D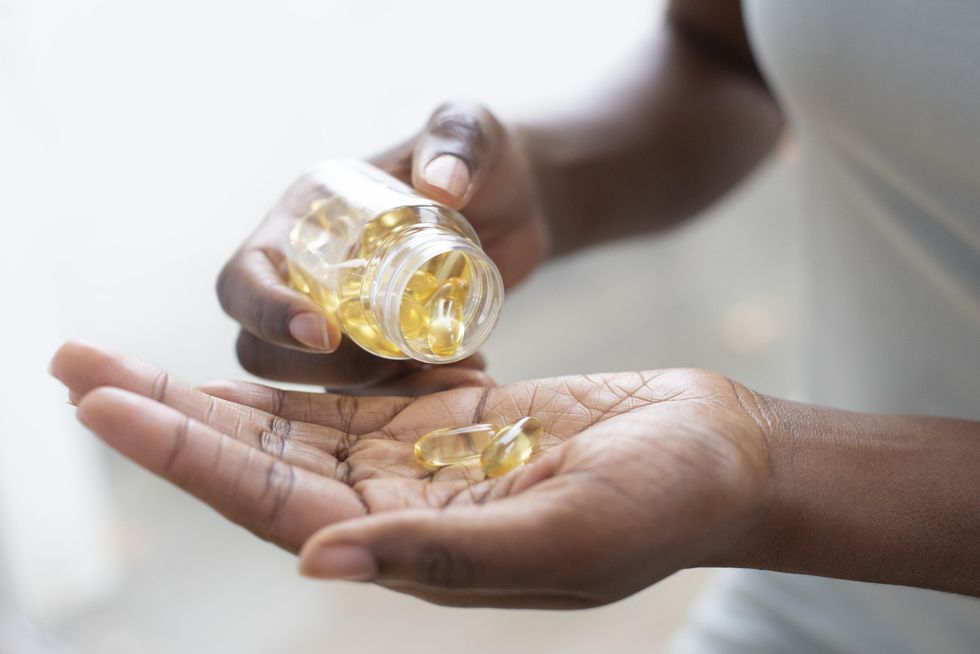 Getty Images
The sun is our biggest source of Vitamin D, which is an important component of bone health and calcium absorption. When the days become shorter and darker, however, we lose out on the sun's natural benefit. It's why it's important to start taking Vitamin D supplements and consuming vitamin D-rich foods and drinks like salmon, orange juice, mushrooms, dairy milk, and tofu to substitute the benefits we'll lose from the sun.
Carbs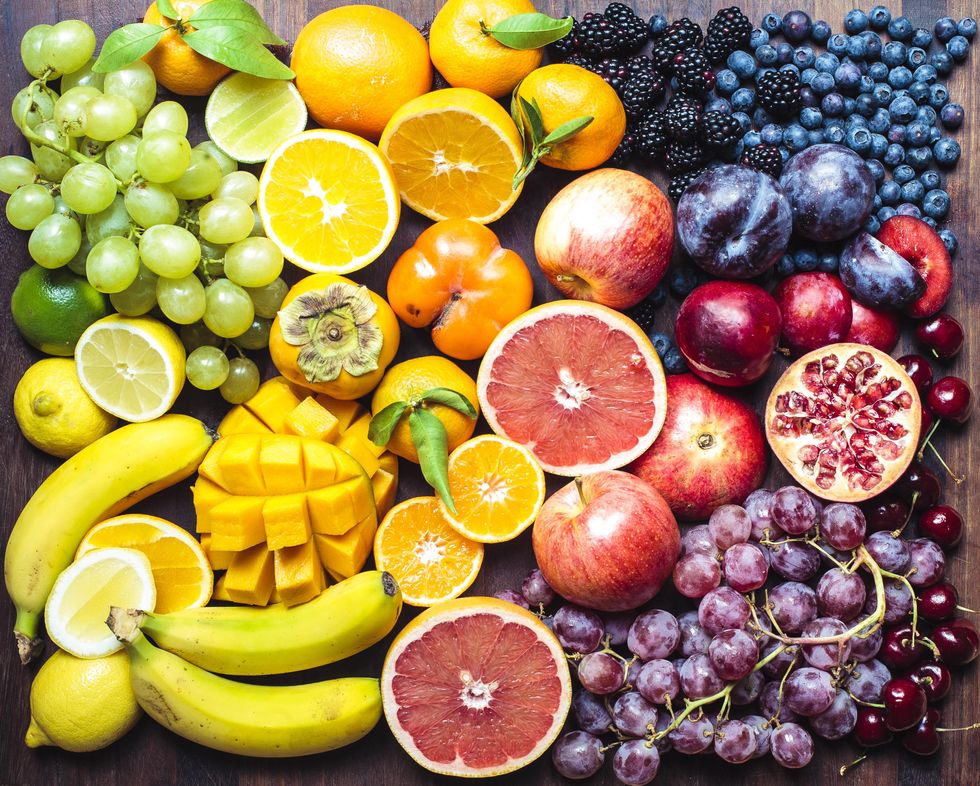 Getty Images
Due to the evils of diet culture, we've been taught that carbs are a bad thing for you, only to be consumed in small doses. However, carbs are a necessary nutrient that provides us with a needed energy boost. Foods like bananas, apples, beans, cauliflower, and oranges are high in carbs and will help to get you through this sluggish part of the year.
Sun Lamp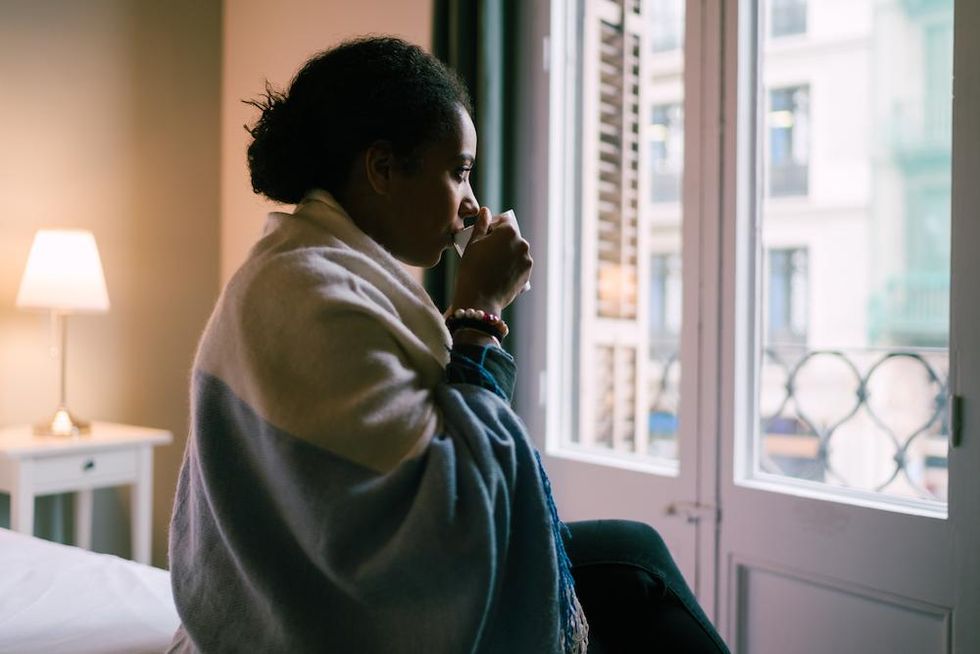 Getty Images
With limited to no energy from the sun during these months, a sun lamp can be the next best thing for those struggling with SAD. A sun lamp is specially made with bulbs that mimic sunlight. This provides you with a needed boost in serotonin, vitamin D, and immune boosting.
Hot exercises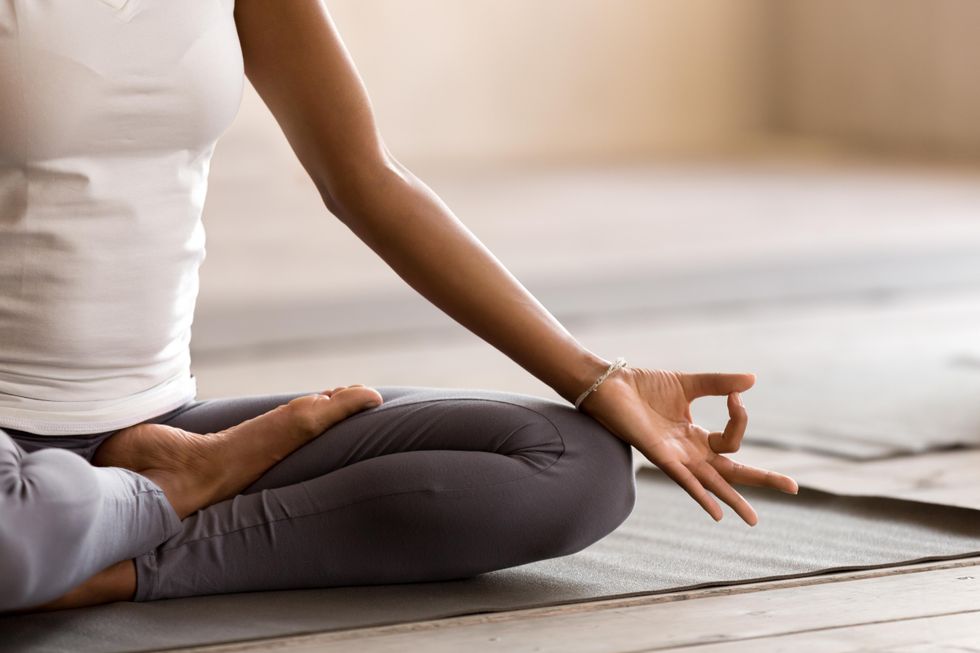 Getty Images
A great way to reinvigorate your senses that have gone dormant in response to the cold weather is by doing hot exercises. That includes such activities like hot yoga, hot pilates, hot cycling, and more. With movement plus the heat, hot exercise will help your tight muscles to loosen up while also having a bit of heat infused into your chilly days.
Rest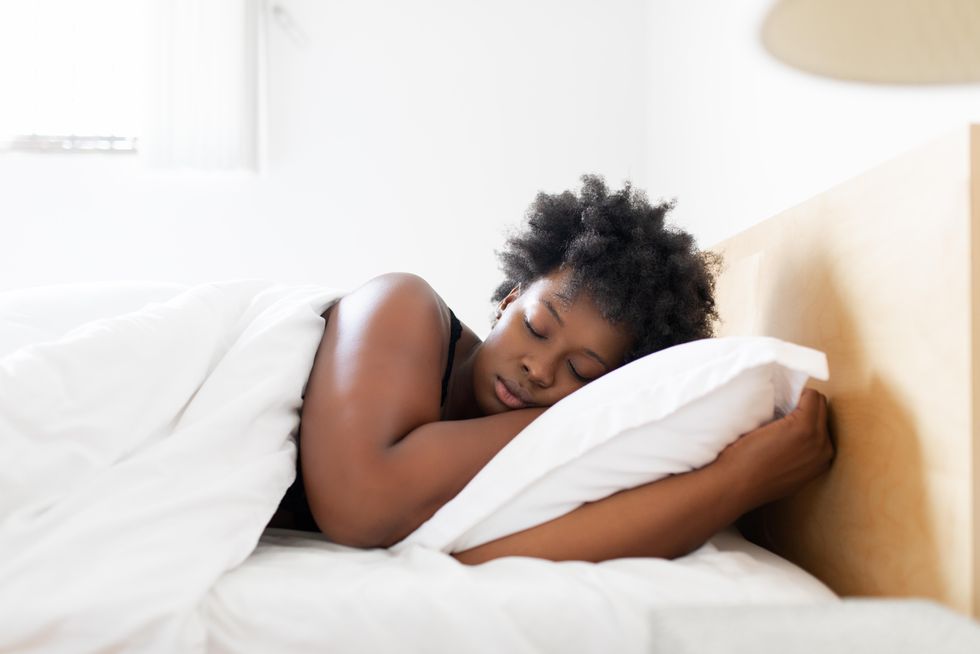 Getty Images
Even with all these tips, it's still important to know that the best way to honor your body and mind during these darker months is to rest when you can. There's no shame in a mid-afternoon nap or simply resting for a few minutes to help you recalibrate. If bears can hibernate all winter, then you should certainly be allowed an hour to sleep in the middle of your day.
Let's make things inbox official! Sign up for the xoNecole newsletter for daily love, wellness, career, and exclusive content delivered straight to your inbox.
Featured image by Getty mages
This past year was a wake-up call for many of us, and Tamar Braxton knows this all too well. On July 16, 2020, the now 44-year-old star was rushed to the hospital after a suicide attempt that sent the media into a tizzy and gave her family the biggest scare they could possibly imagine. She recently spoke to People about the re-surfaced childhood trauma that led her to that very scary moment nearly a year ago. What opened up old wounds was her experience being molested as a child being brought up in a 2018 taping of her WE tv docuseries Tamar Braxton: Get Ya Life! without her consent.
"I thought I had successfully buried that part of me, but it was manifesting in different ways," she said of her time on the show. "It was coming out in how I dealt with things emotionally, how I looked at situations, how I conducted myself."
It all came to a head when Tamar made a conclusion—that she now realizes was false—that her 7-year-old son Logan was better off without her. She felt the drama-filled show, which often co-starred her ex-boyfriend David Adefeso, wasn't something that Logan could be proud of.
"I didn't want to continue being a disappointment for him. How can his friends' parents respect me if this is what they see every day? I wouldn't let my kid go over to a child's house if this is what was portrayed on television. In my sickness, I thought that if I can take the embarrassment out of his life, maybe he would have a chance to have the best life."
Even in the midst of her darkest moment, she knew she needed to immediately start the steps to her recovery. After her scare and a weekend in the hospital, she checked herself into a mental health facility for additional treatment for depression and anxiety brought on by traumatic circumstances. To this day she meets with a life coach and a psychiatrist multiple times a week.
On an Instagram post, she also credits shadow work, acupuncture spiritual therapy, and mandatory workouts as part of her new wellness regimen. "I know now that that probably would have destroyed him, that the best life that I can set for him is to be the example, get counseling and show him how to communicate," Tamar says.
If it wasn't clear already how she feels about reality TV now, she writes in a caption on Instagram under a video of her People shoot:
"My job in reality tv was creating and manipulating this story for me that I absolutely hated….& just like any other abuser, there is little or no accountability and denial.🥴"
A more public forum for her healing has been a podcast she started during this journey, Under Construction with Tamar Braxton. Having reflected on everything, she says:
"I'm not where I was, but there's still work to be done."
Featured image by Prince Williams/Wireimage

The classic album that launched Mary J. Blige's career in the mid-'90s is the inspiration behind the newly released Amazon Prime documentary entitled, Mary J. Blige's My Life. When Mary dropped the album in 1994, it connected with women of all ages on a different level than ever before, dubbing her the Queen of Hip Hop Soul. She admittedly recorded the album during one of the darkest times in her life.
Depression and an abusive relationship (with singer K-Ci of K-Ci & JoJo) contributed to the album's timeless soulful tracks and the reason she's finally decided to tell the whole story of that period on the silver screen.
"I've done pretty much everything that I've always wanted to do," the Power Book II: Ghost star said in the doc. "But success comes when you're successful inside. And for a long time, I didn't know I was successful outside because I was a wreck inside."
Raise your hand if you've ever been a wreck on the inside. *Raises hand* It's true her relatability and the resilience that she's displayed in her music over decades has transformed her into the icon she is. In the doc, Mary also talks about being molested, her battle with addiction, and childhood traumas.
Below read Mary's best quotables while doing press for the film that shows the power in her vulnerability.
On wanting no more drama in her life...
"For years, from album to album, I was still in so much pain until I got to the No More Drama album [released in 2001]. That's when I made the choice, 'I'm tired of feeling like this. I'm tired of having suicidal thoughts. I'm tired of hating myself, and now I don't want to die. How do I live?" Mary told Yahoo Entertainment while promoting the doc.
"So it was still heavy for me when everyone else was like, 'Oh my God, this album did so much for me. This album saved my life.' When I was still stuck in hell."
On growing up in underserved communities…
Mary's parents divorced when she was just five and she grew up with her mother and her three siblings in Schlobohm housing projects in Yonkers, New York.
"I think [what] people don't understand about the families that live in the projects, is that it's like a prison… people are just suffering…. I remember hearing women being beaten. My mother was one of those women. I carried her pain. I carried the neighbors' pain. I carried people all over the environment's pain. And I carried my own pain," she said of her experience.
On her self-love journey…
"Now, I love my sharp, pointy nose. I love my high cheekbones. I love my lips. I love everything about me and, nowadays, people are buying these features [laughs]."
On the abuse she endured...
The songstress opened up about her failed relationship with K-Ci.
"It became very dark, the whole thing, and abusive," she shared. "There was a lot of manipulation," to the point where she decided, "I'm gonna dumb myself all the way down, play myself all the way down, so I don't think I'm special, so I can be with you."
"I've had to physically fight for my life a lot," she continued.
On the advice she would give to the young women out there…
"My advice would be to keep going," Blige said during an interview at ESSENCE Fest. "You're going to fail, you're going to have ups and downs, but just don't stop whatever you're doing."
Mary J. Blige's My Life is currently streaming on Amazon Prime.
Featured image by Rodin Eckenroth / Stringer
When Trayvon Martin was senselessly murdered for doing what any average teenager does on a rainy afternoon - making a run to the corner store wearing a hoodie - it made blatant to the world what Black people have long suspected. That, despite centuries of injustice, despite having a Black president, and despite living in a so-called post-racial society, our Black lives still didn't matter.
I remember hearing the audio tape of his killing as I carried my unborn child. I followed Trayvon's trial extremely close that year as I struggled through a high-risk, life-threatening pregnancy. It was an extremely low, uncertain period in my life exacerbated by frequent hospitalizations, the brutal murder of Trayvon Martin and the realization that I, my family, and my unborn child were not safe from racial violence. In fact, I myself had been a victim of excessive force by police officers seven years prior.
My pregnancy was marked by frequent instances of pre-term labor, symptoms of heart failure and dangerously high blood pressure. It wasn't until late into my second trimester that my mother made a startling connection:
Every single time I watched the trial or allowed myself to get worked up by new developments in the case, I ended up being hospitalized. My physical symptoms were directly connected to the emotions the trial brought up in me.
She told me to turn off the TV and to block out the violence and negativity going on around me. "Pregnancy is supposed to be the happiest time of your life. Watch comedies, eat the foods you enjoy. Don't expose yourself to negativity." Despite my initial resistance, I found that, surprisingly, my hospitalizations immediately ceased once I took her advice to heart.
This experience made me realize two things:
The mind-body connection is incredibly strong, especially for empaths, introverts and highly-sensitive people like me.
People of color internalize trauma so deeply that we may not realize the effect it has on us, on our children, on our relationships, and on our physical and emotional well-being.
Studies show a direct link between being exposed to racial injustice and generational trauma. Stress hormones, susceptibility to anxiety and depression and symptoms of PTSD, throughout history, have been passed down from traumatized Black mothers to their unborn children through the womb.
Renowned author and researcher Joy DeGruy has coined a term for this phenomena: Post-Traumatic Slave Syndrome. "Post Traumatic Slave Syndrome is a condition that exists when a population has experienced multigenerational trauma resulting from centuries of slavery and continues to experience oppression and institutionalized racism today." Healthline.com notes:
"For the Black community, the impact of centuries of unaddressed trauma still manifests today...being Black in America means living with chronic post-traumatic stress disorder (PTSD) caused not only by one's lived experiences, but the experiences of our ancestors…"
Black people have been exposed to racial injustice and police brutality for centuries. But for the past eight years especially, since the brutal murder of Trayvon Martin and the wide availability of smartphones, coverage of these events have markedly increased. Much to our benefit, but also to the detriment of our physical and emotional health.
Exposure to graphic images of murder and death is adversely affecting our collective health. This is quite literally a public health crisis that isn't being adequately addressed.
Until it is, it's on us to protect ourselves and our loved ones. Here are 4 steps that you can take to off-set the dangerous effects of these traumatic events on your psyche and on your physical health:
1

.

Unplug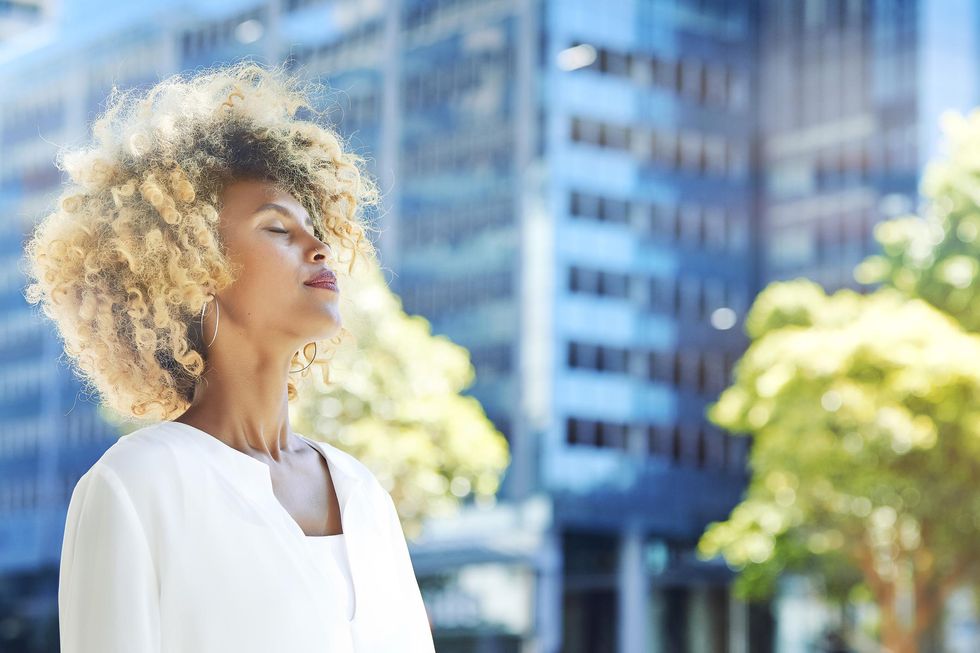 Getty Images
Turn off your television. Take a break from Instagram, Twitter and Facebook. In fact, turn off your phone altogether. Limit your exposure to negative news, conversations and graphic violence. Our generation, more than generations prior, is subject to an "always on, 24-hour" news cycle that makes it difficult to turn away from what's trending in the news and on social media.
Studies show that our generation is experiencing "information overload" by the constant influx of news. This increased access is linked to an increased risk of depression.
2

.

Evaluate Your Feelings
It is normal to experience FOMO (the Fear Of Missing Out), but you don't have to know and publicly react to everything that's going on in the world. Often, when incidences of racial violence go public, there is a pervasive pressure to immediately issue a public reaction. There is a feeling that if you don't respond right away, you're not "woke."
Don't ever allow yourself to feel guilty about protecting your emotional and mental health.
Empaths and highly sensitive people need time to process traumatic events. This is especially true for empaths who absorb everyone else's feelings so deeply to the point where you may become confused about where your feelings end and someone else's begins! You need time to process your feelings and to determine whether or not you're actually carrying on the emotions of someone else or of society at large. Take your time.
Take a moment to connect with nature. Take a walk in the park. Run a bath. Allow yourself some solitude and the chance to clear your mind. Practice grounding exercises and carry dark crystals like Black Tourmaline and Black Obsidian to stave off negative vibes.
3

.

Think Critically
Getty Images
Don't allow yourself to be so easily persuaded by what's being reported in the news, by social media influencers and by social media justice warriors. Some of these people and groups profit off of permanent outrage. The louder and the more outraged they sound, the more "woke" they seem, the more clout they get and the more followers they receive.
Be introspective. Reflect on whether or not the feelings you are experiencing are indeed your own, or if you are being influenced by performative outrage. The same adage about cutting off negative people, environments and situations also applies to the people and pages you spend time on on social media too!
Don't underestimate the impact social media has on mental health. Studies show that since social media first appeared on the scene in the early 2000s, rates of suicide, anxiety and depression have surged.
4

.

Don't Bottle Up Your Emotions
Set an appointment with a therapist. Speak with a trusted friend. Pour your emotions out in your journal or through your preferred artistic medium like illustration, music, or dance. Allow yourself to deeply feel and experience the influx of emotions that you may not be able to express outwardly. Cry if you need to. Go somewhere private and scream at the top of your lungs. Allow yourself to fully experience the pain that these events inevitably bring. And then LET IT GO.
Don't allow stress and pain to live and fester inside of your mind and body. It will inevitably manifest in harmful ways.
Brutality against people of color is embedded into the fabric of America since the days of our founding fathers. Instances of police brutality will likely continue until major systemic reforms are made.
Remaining mindful of the effects these events have on you can help you survive and prosper in the face of injustice and brutality against people of color.
How do you cope with news of racial violence or police brutality? Let me know in the comments!
Are you a member of our insiders squad? Join us in the xoTribe Members Community today!
Featured image by Getty Images

When I was 19, I lost my father, the only caretaker I'd known my entire life.
Growing up in Brooklyn, NY in the '80s, it was common for black children to be raised by drug-addicted parents. My mother abandoned my sister and I while succumbing to her addiction to crack cocaine. But my father, he stayed. And that man loved me fiercely for the years we had, while battling his own addiction to heroin. Despite his own pain, he took care of me. Losing him is still the worst pain I've ever felt in my life.
Throughout my 20s, I was excessively drinking, crying uncontrollably, and thinking of ways to cause myself harm. It wasn't until 2015 that I was finally able to put a name to the despair: I was diagnosed with major depressive disorder at 27.
For as long as I can remember, I soothed the painful experiences of my life with achievement.
As a child, it was E (excellent) and G (good) marks on my report cards, perfect spelling test scores, and Student of the Month awards. As a teenager, it was acceptance to every college I applied to, thanks to my 1800 SAT score. After my father died, I kicked that soothing into high gear with college and starting my career. I loaded my school schedule to the brim. I pulled long nights at the college paper. I brought home A's and B's. I interned at VIBE Magazine, and nabbed an editor job. I worked 14-hour days on weekends. From VIBE, I landed at BET Digital and became the Entertainment Director. I worked and worked––all day, and all night.
After my diagnosis, I was in and out of therapy, wholly unprepared to tackle the roots of my gripping sadness. By 2017, I decided to commit to the work: I began weekly sessions, started learning coping practices and adding two-and-two together between my childhood traumas and my current behaviors. I began what was, and still is, a necessary and exhausting crawl towards my own healing.

While doing this healing work, I had to face some tough realities. The first one was that I simply could not handle the external workload I'd piled onto myself anymore; I began to find it more and more difficult to get through the day with dry eyes. Secondly, but more piercing, I had to face the fact I had made success a mechanism of distraction and a marker of my self-worth. I wasn't just achieving all my life to numb pain, I was achieving to find reasons to love myself.
My inner work was showing me my unhealthy relationship with my outer work.
Ultimately, I had to put one on hold for the other. Without a healthy mental and emotional state, I was not able to perform at work, and was asked to take a short-term disability leave. Disability? I struggled with the term for weeks. But according to the World Health Organization, depression and anxiety cost the United States $1 trillion in lost productivity, and is one of the leading causes of disability filings.
For the first few weeks of my leave, I grappled with feelings of failure. How dare I not be strong enough to cry and work? I wrestled with anxiety by putting pressure on myself to "figure this out". I wept on the phone as I told insurance reps things I had never said out loud: "I have a hard time getting out of bed in the morning," "I ask to work from home when I'm crying and can't figure out why," "I'm having a hard time focusing," "Some days I'm really sad and have a hard time being around people." I felt useless. Defeated. Unworthy.
But as the weeks went on, a necessary detachment from achievement took place. I started to muse over who I was outside of all the gold stars. I started to find things I liked to do that didn't include my job. I found things to be happy about that didn't equal "success". I cried––a lot. I made room for myself outside of the hustle and bustle. I slowed down.

And when I did all of this, I learned something that I will never forget for the rest of my life: I am not a superhero.
Black women are groomed to be super. We are groomed to carry heavy weight, to endure––all while still getting shit done. But we are human. Humans who deserve healing. Humans who deserve to be extraordinary without being left on empty. And I am glad I afforded myself that space and time. I don't have anything figured out. But I feel more prepared to continue the fight.
To all the black women pouring from an empty cup: Take a break. It is so necessary.
xoNecole is always looking for new voices and empowering stories to add to our platform. If you have an interesting story or personal essay that you'd love to share, we'd love to hear from you. Contact us at submissions@xonecole.com.
Originally published June 20, 2019.